Are you a Shopify store owner looking to boost your organic traffic and drive more sales? One effective way to achieve this is by creating a blog that engages and educates your audience. But with so many Shopify blog examples out there, how do you stand out from the competition?
In this article, I will explore the 15 best Shopify blog examples that have successfully doubled their organic traffic.
By analyzing these successful blogs, you can gain inspiration and insights into how to create a blog that will skyrocket your store's visibility and generate more sales. So, let's begin!
Top 15 Shopify Blog Examples For Dropshippers
What is Spirit Animal about?
First on my list of Shopify Blog examples is Spirit Animal. It is a website that specializes in selling jewelry and totems inspired by spirit animals. Their informative content assists customers in selecting the perfect products that align with their individual preferences.
For instance, when individuals want to purchase spirit animal jewelry, they may desire to discover their corresponding spirit animal beforehand.
Therefore, the company provides a comprehensive compilation of spirit animal meanings, serving as a valuable resource for their clientele.
Spirit Animal Blog Design & Navigation
When it comes to Spirit Animal's blog design, I have to say that I'm really impressed. They have a content-first approach, making it clear that their main goal is to provide valuable and educational content.
Also, the layout is clean and easy to navigate, with a focus on delivering helpful articles to their audience.
Hence, the content is divided into headings that differ in typography and colors from the other text, and high-quality photos related to the text.
What I particularly like is how they seamlessly integrate product-related content within their blog posts, providing a perfect balance between informative articles and promoting their products. Plus, they add call-to-action buttons that provoke customers to take action quickly.
In terms of their top sections, Spirit Animal has three standout pieces that consistently generate a high level of monthly search traffic and shares. 👇
Their article "How to Choose the Right Spirit Animal for You" offers insightful guidance on finding your spirit animal and has become a go-to resource for many.
Another popular article is "The Symbolism and Meanings Behind Different Spirit Animals," which dives deep into the significance of various spirit animals and resonates with readers seeking a deeper understanding.
Finally, their article "Connecting with Your Spirit Animal: Practices and Rituals" provides practical tips and rituals for developing a deeper connection with one's spirit animal.
However, what I find really annoying is the website ads, which come across the blog, or as a pop-up. This can create frustration for users.
When to use this approach?
I recommend you use this approach when you want to point out the product advertisement. Hence, I would use it when I am in a product niche where the significance of the product extends beyond its mere physical existence.
What is Huel about?
Huel is an online store that offers a nutritionally-balanced food product that includes all the necessary carbohydrates, proteins, and fats.
While Huel does not have a traditional blog, it provides a single page containing approximately 30 incredibly valuable and informative articles. Let's discuss what makes this blog one of the best Shopify blog examples out there.
Huel's Blog Design & Navigation
Huel's Blog Design takes a unique approach by not having a traditional blog section. Instead, they have a compiled list of valuable articles under their "Guides and Articles" page.
This page presents four different types of content, or blog articles, which are about healthy eating, keeping fit, losing weight, and living well. Hence, the sections are presented and organized with a grid layout.
Furthermore, once you dive into a certain category you can find information for whatever you are passionate about. Moreover, this approach also helps them build internal links within their website, directing traffic to their store and products.
As you can see, these links lead to different pages of blog articles on their website. Next, the blog article is easy to read, with paragraphs divided by heading, and high-quality photos.
With their page-based blog design and commitment to informative content, Huel ensures that their readers have a wealth of valuable resources at their fingertips.
When to use this approach?
I recommend you use this approach from the Shopify blog examples when opting for a page-based blog instead of a feed-style blog, this strategy allows you to increase attention to each content piece, as well as the process of including internal links.
What is Gaiam about?
Gaiam is an online fitness store that sells yoga equipment. Hence, in their store, you can find equipment for every kind of exercise, like standing balls, mats, resistance bands, rubbers, and many more. Plus they also have equipment for kids.
However, their blog is quite typical, and not something unique. It only offers valuable guidance on yoga, meditation, and tips for well-being.
Gaiam Blog Design & Navigation
Gaiam's blog design is simple yet effective in providing valuable advice on yoga techniques, meditation, mindfulness, and overall wellness.
First thing first, the Blogs landing page is easy to navigate, listing the blogs starting from the latest ones with the grid layout. Plus, from the right corner, you can also check on recent articles, categories, etc.
The clean layout and easy navigation make it a pleasure to explore the various blog posts.
Once you dive into each blog post, you can see that the content is organized pretty well. Each section is divided with well-defined headings and photos. In fact, each article is carefully crafted to inspire and educate the audience, offering practical tips and insights into living a mindful and healthy lifestyle.
Gaiam's blog is undoubtedly a great example to follow for those looking to create a blog that not only looks visually appealing but also delivers high-quality content that resonates with readers.
When to use this approach?
In my opinion, you should use this approach when you want to build a blog around a specific dropshipping niche, or when you want to build a specific customer base, like in this case yoga lovers.
What is Beavertown Brewery about?
This dropshipping store sells a variety of products, like beer with different dimensions and other drinks, clothing, gifts, glasses, etc.
Beavertown Brewery Blog Design & Navigation
Beavertown Brewery is a prime example of a successful blog that combines exceptional design with a thoughtful content strategy. Their blog design is visually appealing, with a clean and modern layout that is easy to navigate.
Hence, they use the GemPages page builder to create a customized and personalized experience for their readers.
One of the standout features of Beavertown Brewery's blog is the way they personalize their blog posts. They understand that their existing customers have different interests and preferences compared to first-time visitors, so they tailor their content accordingly. This personalization ensures that each reader feels like the blog is speaking directly to them, increasing engagement and satisfaction.
Also, what's unique about their blog is the chick style that they represent. First, instead of a white basic background, they use an orange one. Plus, they use high-quality photos throughout the blog.
Also, they have their products listed in the blog article, and customers can click on the "add-to-cart" button and make a purchase.
Furthermore, Beavertown Brewery excels in providing helpful content through its blog. Whether it's educational articles about the brewing process, product recommendations, or even behind-the-scenes stories, their blog offers valuable information that keeps visitors coming back for more. T
Additionally, Beavertown Brewery seamlessly integrates its products within its blog posts. They strategically include direct links to their products, allowing interested readers to make a purchase with just a few clicks.
When to use this approach?
I will definitely use this approach from the Shopify blog examples if the personalization of my product is highly important. Plus, by providing helpful content you can engage both existing customers and first-time visitors.
What is Game Of Bricks about?
Game of Bricks is a dropshipping store selling LEGO light kits. Their main goal is to provide the best lights for LEGO customization.
Game Of Bricks Blog Design & Navigation
When it comes to blog design, Game Of Bricks has nailed it. Their clean and visually appealing layout immediately grabs your attention. From the moment I landed on their page, I could tell that they had put a lot of thought into creating a user-friendly experience.
Another great aspect of Game Of Bricks' blog is their anticipated LEGO content. They provide lots of information in their blog posts, from features to how-to-use guides, sneak peeks, news, and updates about upcoming LEGO sets, etc. Not to mention the high-quality photos they use.
The detailed information, high-quality images, and honest opinions provided in these reviews make them a valuable resource for anyone interested in LEGO.
When to use this approach?
If you have a more complicated product or service that requires a learning curve, this approach is the best for you from the Shopify blog examples! Plus,
Also, if you want to create a sense of community and provide your customers with a wealth of valuable information, this can be useful.
This online store is a business based in Australia that specializes in providing a wide range of matcha, green tea, and teaware products.
Pure Matcha Blog Design & Navigation
Pure Matcha does a fantastic job with its blog design. Their blog is visually appealing, with a clean and modern layout that's easy to navigate. They have organized their blog posts into categories, such as recipes, green tea news, and health & wellness.
One aspect that sets this Shopify blog apart is its strategy of writing locally. They focus on topics and trends that are relevant to their specific location, which helps them establish a sense of community and connect with their target audience.
Furthermore, I love how this blog incorporates its tea-adjacent products within its blog posts. They seamlessly integrate product recommendations and mention their other offerings in a natural and informative way.
And, this not only adds value to their blog content but also provides potential customers with additional options and opportunities to explore their range of tea-related products.
When to use this approach?
I recommend you use this approach if you have a locally oriented dropshipping business, and want to deliver additional value to customers.
What is Perfect Keto about?
Perfect Keto operates as an online platform specializing in food products that cater to specific diets. Their blog serves as a prime illustration of the immense potential of content marketing as a valuable asset for your company.
Perfect Keto Blog Design & Navigation
Perfect Keto Blog stands out with its unique layout and design choices. The blog is content-intensive, covering a wide range of categories related to the Keto diet and healthy living.
With a clean and visually appealing design, it's easy to navigate and find valuable articles on various topics. But what sets it apart is the incorporation of a sales funnel within the blog design. Hence, from informative blog posts to product promotions, Perfect Keto seamlessly guides potential customers through the sales process, converting them into buyers.
When to use this approach?
You should use this strategy when you are aiming to use content as the main method to generate traffic to your dropshipping store.
👉 Read about How To Increase Organic Traffic To Your Dropshipping Store?
What is PrettyLitter about?
This online store offers cat litter that is free from any unpleasant smell, maintains cleanliness, and ensures the safety of your beloved furry companion.
PrettyLitter Blog Design & Navigation
PrettyLitter's blog design stands out for its simplicity and easy navigation. The layout is clean and organized, with categorized sections that make it easy to find the desired content. Plus, you can even search for blogs using their search bar.
It also offers valuable guides and articles on cat ownership and care. From feeding tips to litter box training, their blog covers a wide range of topics, providing helpful information for any cat owner.
Also, when you dive into the content of any blog post, you can see that the content is well-organized, dividing the sections with headings. Hence, there's internal linking across the text, and high-quality photo at the beginning.
The user-friendly interface allows for a seamless browsing experience, ensuring that finding the information you need is quick and hassle-free. with valuable content.
When to use this approach?
I suggest using this strategy when marketing a product that offers a solution to a specific issue, and you aim to offer comprehensive information and instructions on utilizing your product to address that problem.
What is Koprez about?
Koprez encourages and advocates for a dynamic way of life by providing a diverse range of supportive equipment for the body. Hence, their customer base spans from dedicated fitness enthusiasts to individuals experiencing body pain, and searching for comfort.
Koprez Blog Design & Navigation
Koprez's blog design is clean and minimalist, with a focus on providing helpful information to potential customers.
The blog uses GemPages' simple blog template, which adds to the overall aesthetics and readability. Each blog post is written in a concise and informative manner, showcasing their knowledge and proficiency in the industry.
However, they don't use photos in the blog article, but they bold some important information across the text. This way, they make the sections more eye-catchy for users.
Why use this approach?
You should use this approach from the Shopify blog examples if you have a product that is specific for usage and requires good guidance before use.
What is Rowan about?
Rowan is an online store that offers dog products with human-grade ingredients. Hence, you can find products for fur care, hair care, glam, etc.
Rowan Blog Design & Navigation
Rowan's Blog stands out with its sleek and eye-catching design. The blog layout is clean and well-organized, making it easy to navigate and find what you're looking for. One unique feature is the use of engaging visuals that accompany each blog post, enhancing the overall reading experience.
In terms of content, Rowan's blog goes beyond the typical product promotion and offers valuable articles that educate and inform its audience. Thus, the topics covered range from hair care tips to industry news, catering to a wide range of interests.
What sets Rowan's blog apart is its content marketing strategy. The blog doesn't solely focus on product recommendations but also includes customer stories and expert-backed content, giving readers a sense of community and trust.
What's more, the blog also incorporates calls-to-action buttons and product carousels, seamlessly integrating the company's offerings into the content.
However, what I don't like about the blog articles is that there's too much white space from the sides. I don't recommend you do that.
When to use this approach?
I suggest you use this approach if the blog articles are the primary marketing strategy used to increase traffic to your store and engage customers.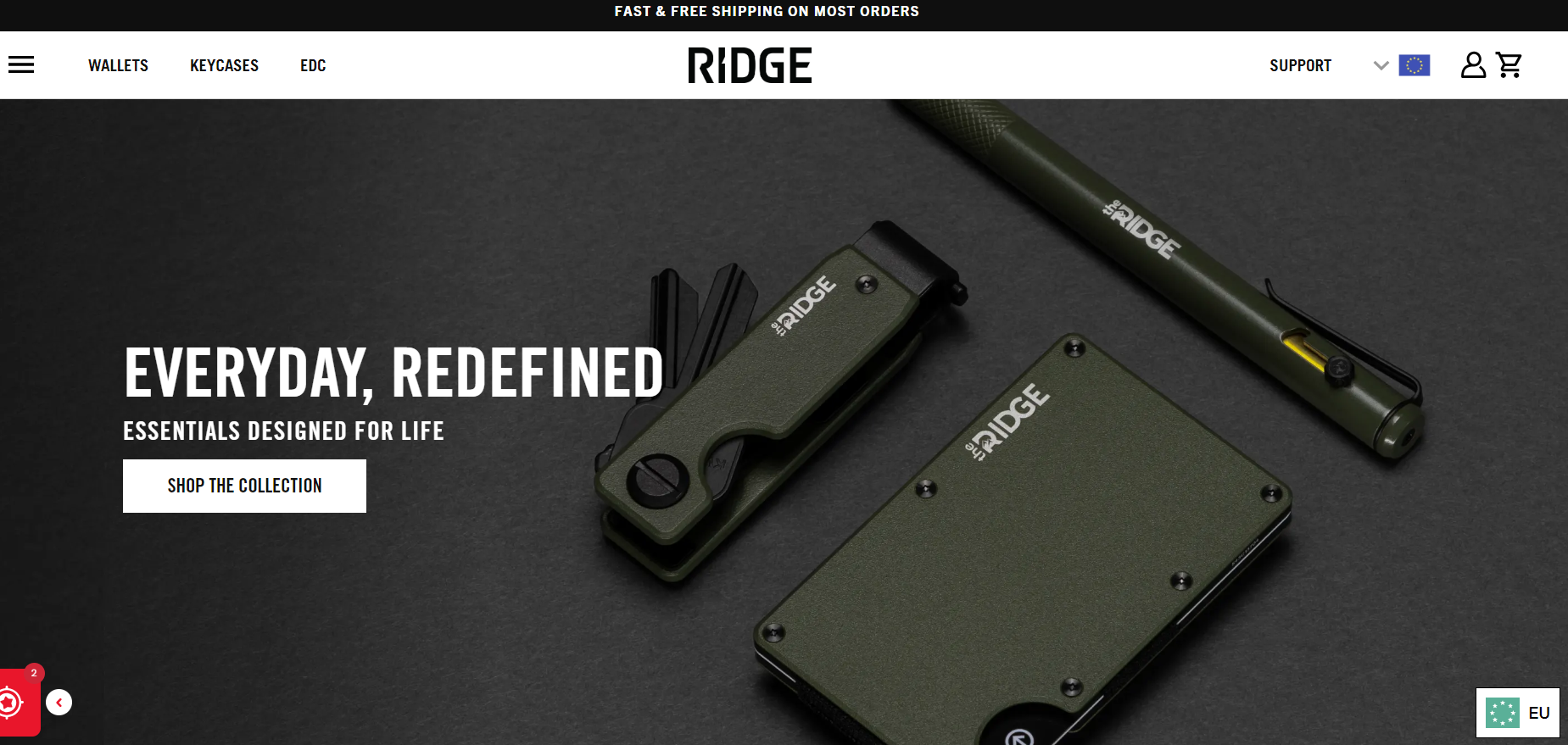 What is Ridge Wallet about?
Ridge Wallet offers sleek and practical metal wallets. Hence, their goal is to simplify their customers' daily lives by reducing the bulk of items they need to carry, including bulky wallets, backpacks, pocket knives, and other accessories.
So, let's see why this one is on my Shopify Blog examples list.
Ridge Wallet Blog Design & Navigation
Ridge Wallet's Blog design stands out with its clean and minimalist aesthetic. The use of ample whitespace creates a sense of spaciousness, allowing the content to breathe and the reader's eyes to easily navigate the page.
The choice of easily-readable fonts enhances the overall readability and ensures that visitors can digest the information effortlessly.
One aspect that sets Ridge Wallet's blog apart is its focus on educative content related to wallets and organization. The blog posts dive deep into topics such as minimalist wallets, smart travel tips, and effective organization strategies.
When to use this approach?
You can use this approach if you are a one-product store and you want to deliver additional value for users by giving valuable insights, and educational content.
When to use this approach?
What is Wandering RV about?
This online store offer RVs (Recreational Vehicles) and travel-themed clothing. Initially, The Wandering VR began as a blog centered around the RV lifestyle and subsequently evolved into a prominent figure in the realm of RVing.
Wandering RV Blog Design & Navigation
I love Wandering RV Blog design. Firstly, when you enter their "Blog" category there's a Full-Screen high quality photo of their products. Plus, the blog articles are presented with grids layout. So, it is pretty easy for users to find what they want to read and what their blog offers. 
Furthermore, with its clean and organized layout, the blog makes it easy to navigate through various sections, including detailed product reviews and camping guides. Also, the sections are divided with well-defined headings, and you can see that there's internal linking as well.
The blog's design reflects its expertise and authority in the RV world, having started as a platform for fellow RV enthusiasts before becoming an influential figure in the community.
When to use this approach?
I suggest you use this approach if you want to drive traffic to your store through SEO and promote your products through content marketing.
What is Rhone about?
Rhone offers high-quality apparel designed specifically for men. Rhone's blog stands out among the other blogs on this list with its extensive development, and they refer to their content as a 'Journal For Men Who Embrace Challenges'."
💡 Tip: Check out Dropshipping Mens Fashion 101: Top 8 Mens Fashion Dropship Suppliers.
Rhone Blog Design & Navigation
Known to as "The Pursuit", their blog showcases an extensive collection of top-notch articles primarily focused on men's endurance and wellness subjects.
What sets Rhone's blog design apart is its magazine-like layout, which offers a visually appealing and easy-to-navigate experience for readers.
In fact, I simply love it – huge attention-grabbing titles, high-quality photos, easy-to-read text, and internal and external links! What else do I need?
Plus, Rhone understands that their customers aren't just looking for product recommendations. Hence, they want valuable articles that cater to their lifestyles. With their blog, Rhone aims to provide helpful content that goes beyond just selling their activewear. This focus on men's endurance and wellness topics creates a unique and valuable perspective for their potential customers.
Also, Rhone's blog design is not just a marketing tool but a lifestyle magazine that aligns with the brand's values and aspirations. It serves as a content-to-sales path, educating and engaging readers while subtly promoting their products.
This strategic approach creates a seamless blend of information and promotion that appeals to Rhone's target audience.
When to use this approach?
I recommend using this strategy if your goal is to prioritize building dropshipping brand awareness rather than pursuing a direct path from content to sales.
What is Connected Apparel about?
The Connected Apparel brand embraces women of all body types and ages, offering a collection of modern fashion items characterized by a minimalist aesthetic. Hence, this is one of the best Shopify blog examples.
👉 Read about How to Start a Dropshipping Clothing Business in 2023 [+Suppliers List].
Connected Apparel Design & Navigation
Connected Apparel Blog is a fantastic example of a Shopify blog that excels in providing valuable content to its customers.
Their blog is a hub of information that helps customers navigate the world of fashion, making it easier for them to create stylish and put-together looks. Whether it's advice on how to mix and match different pieces or step-by-step tutorials on creating specific outfits, Connected Apparel's blog is a go-to resource for fashion lovers.
Also, what I want to point out is that their blog articles are SEO-friendly. Starting from the title, to heading, high-quality photos, and easy-to-read text.
They truly understand the power of educating their customers through their blog, and it's evident that they value the relationship they have with their audience.
When to use this approach?
You should definitely include this approach if you want to boost your SEO marketing strategy and drive more dropshipping sales while keeping customers happy.
👉 Check out the Shopify Clothing Stores: Top 10 Examples For Dropshippers [2023].
What is Korean Skincare about?
Korean Skincare is an online store that offers a variety of skincare and beauty products, ranging from cleaners, toners, moisturizers, treatments, hair care products, makeup, and more. Hence, it is one of the best Shopify blog examples.
👉 Discover the Top 11 Best Health and Beauty Dropshipping Suppliers & Trending Products.
Korean Skincare Design & Navigation
When it comes to Korean Skincare Blog, I have three words to say – I LOVE IT!
Firstly, they categorize their blog articles, so it is easier for users to find what they are looking for.
Also, one of the things I appreciate about this brand is its personalized skincare advice. This way they show huge customer care. And, this builds trust and customer loyalty.
What caught my attention is their marketing strategy of creating content in English. This not only helps them reach a wider audience but also increases their exposure in the international market.
Another thing that stood out to me about Korean Skincare is how they seamlessly integrate their own products into their blog posts through visual content. Hence, they give product suggestions about skin treatments and dealing with asking problems. 
In terms of design, the blog has a minimalistic layout that is visually appealing and easy to navigate. The clear call-to-action buttons make it easy for visitors to take action and explore the range of products.
I believe this kind of design can serve as inspiration for other dropshipping stores looking to create a clean and user-friendly blog. Because I simply love their strategy!
When to use this approach?
If you are focusing on giving personalized advice to users and your attention is on detail in the design so you can drive organic traffic and attract potential customers, this one is for you.
Discover top dropshipping suppliers of original US/EU products
You're 2 minutes away from building your ecommerce empire
No credit card required. No commitment.
Get started for free
The Content Marketing Strategy Behind The Best Shopify Blog Examples (step-by-step)
One of the most effective ways to engage with your audience, drive organic traffic, and convert potential customers is through a blog. However, there are various tips to make this thing work.
In this article, I will take you through a step-by-step analysis of the content marketing strategies behind some of the best Shopify blog examples. Let's start!
Step 1. Brainstorm Related Keywords
To kickstart the process of finding the most effective and relevant keywords for your Shopify blog, the first step is to brainstorm related keywords. These are the broad ideas that lie at the heart of your dropshipping niche or industry. By generating a list of seed keywords, you'll have a solid foundation to build upon for your keyword research.
To begin, take some time to think about your business and what it entails. Consider the products or services you offer and the industry you operate in. Brainstorm relevant terms that come to mind.
Also, think about the problems or needs your potential customers might have and the solutions you provide. These seed keywords should encompass the core aspects of your business and target audience.
So, let's say that you want to dropship scented candles. Hence, you can think of any search queries that your customers might use to find scented candles.
For example, you can check on inspiration in Google Trends results and related queries and topics. Hence, that's how I usually shape my mind to think about it. 
Step 2. Put Keywords into A Keyword Tool
Once you have brainstormed your seed keywords, the next step is to put them into a keyword tool for research.
One tool you can use is Ahrefs, which allows you to enter your seed keywords and obtain valuable keyword ideas. Another option is Semrush, which also provides a similar feature for keyword research.
So, let's try out my option- Semrush, and see how it works. I love this tool firstly because it shows me dozens of results for related keywords.👇
Let's say that you want to dropship scented candles. This tool helps you assess the search volume, level of keyword complexity, and backlink profile of any given keyword or niche.
Step 3. Appraise Keywords for Volume & Competition
Once you have a list of keyword ideas generated by the keyword research tools, it's time to appraise them for volume and competition. The goal is to find keywords with a decent search volume and manageable competition.
In Semrush, you can easily filter keywords based on their keyword difficulty (KD) and search volume (Vol). Look for keywords with a lower KD score, as this indicates that they are easier to rank for.
Also, Semrush gives you thorough insights into competitors and their most successful keywords. Furthermore, it is evident that scented candles have a relatively low average keyword difficulty, indicating low competition.
💡 Tip: Check out the Best 8 Profitable Niches With Low Competition For Dropshippers.
Additionally, choose keywords with a higher search volume to ensure they have the potential to bring organic traffic to your blog.
Plus, in Ubersuggest, use the search volume and the 'SD' (SEO difficulty) metric as a proxy for competition. Look for keywords with a higher search volume and a lower SD score.
Step 4. Think About Keyword Relevancy
When it comes to appraising keywords for your Shopify blog, it's crucial to consider keyword relevancy. Keyword relevancy refers to the alignment between the keywords you choose and the content you create. Understanding the search intent behind each keyword is key to determining its relevancy.
To ensure that your chosen keywords are relevant, you need to evaluate how they align with your brand's content goals. Think about the purpose of your blog and what you aim to provide to your potential customers. Does the keyword fit into your content strategy and help address your audience's needs?
For example, you can take a look at the top 10 Google search results for each keyword. Do the blog posts and articles in those results match the intent and goals of your own blog? If they do, it's a good indication that the keyword is relevant to your niche.
By considering keyword relevancy, you can ensure that your blog delivers valuable and helpful content that aligns with what your audience is looking for.
Step 5. Create a Content Calendar & Start Writing
Now that you have researched keywords, outlined your article, and gathered valuable insights, it's time to take the next step in your Shopify blog journey.
Creating a content calendar is crucial for ensuring consistency and organization in your blog posts. It allows you to plan ahead, strategize your content topics, and maintain a steady flow of posts.
To begin, open a spreadsheet or use a project management tool like Trello. Hence, you can create a calendar template with columns for dates, blog post titles, keywords, and any other relevant information.
This will serve as your guide throughout the writing process, helping you stay on track with your content goals.
Next, if you want to start writing, visit the "Blog Posts" menu and click the "Create blog post" button.👇
Here, you can add your text, images, videos, and links to create engaging and visually appealing blog posts. 👇
Also, to create my blog posts I personally use AI tools like Frase.io. This tool helps me with researching, outlining, writing, editing, and optimizing SEO.👇
Remember, creating a content calendar and starting the writing process is just the beginning. Consistency, high-quality content, and a well-planned strategy are key factors in building a successful Shopify blog.
Step 6. Get Backlinks
Last but not least, backlinks play a crucial role in improving your blog's performance and search engine rankings. They act as a vote of confidence from other websites, signaling to search engines that your content is valuable and worth ranking higher.
There are several methods you can use to gain backlinks. One effective strategy is guest posting on other blogs within your dropshipping niche. By contributing high-quality articles to other blogs, you not only gain exposure to new audiences but also have the opportunity to include a link back to your Shopify blog.
Another method is reaching out to influencers within your industry. Identify key influencers who have a significant following and engage with their content. Building a relationship with them can lead to them sharing your blog posts or mentioning your brand, which can result in valuable backlinks and exposure to a wider audience.
👉 Read about Influencer Marketing For Dropshipping In 2023 – Beginner's Guide.
Furthermore, sharing your blog posts on social media platforms and via email is another effective way to gain backlinks. 
Additionally, participating in expert round-ups or collaborative content can provide an opportunity to showcase your expertise and gain backlinks. These round-ups typically gather insights from multiple experts in a particular field, and each expert is usually credited with a link back to their website.
And, that is what all of the Shopify blog examples use to make their blogs stunning.
Benefits Of Blogging For Shopify Brands
Blogging is a powerful tool for Shopify brands, offering numerous benefits that can help drive organic traffic, engage potential customers, and boost sales.
Therefore, in this section, I will discuss some of the key advantages of having a blog as part of your content marketing strategy.
✅ Optimize SEO & Attract Organic Traffic.
Blog posts are a great source for boosting SEO. And, why do you need a good SEO? Well, that's the secret weapon of driving traffic and bringing potential customers to your dropshipping store.
To capture organic traffic with great SEO, it is crucial to understand the importance of search engine optimization.
SEO helps boost the visibility of your website in search engine results pages, driving free organic traffic and increasing your site authority. By optimizing your blog content with relevant keywords, meta tags, and headers, you can attract potential customers who are actively searching for information or products related to your industry.
Hence, high-quality blog content not only provides valuable information to your audience but also improves your chances of ranking higher in search engine rankings. This increases the likelihood of your website being discovered by potential customers and can lead to increased conversions and sales.
👉 Read about SEO for Dropshipping Stores: How to Improve Your Rankings?
✅ Convert Subscribers Into Customers
To make subscribers into customers, it is crucial to provide valuable blog content that engages and educates them.
What's more, incorporating email marketing techniques can also help in nurturing leads and converting them into buyers. By leveraging blog posts as a platform for merchandising products and featuring special offers within engaging newsletters, you can entice subscribers to make a purchase.
In addition to email marketing, promoting your Shopify blog on various social media platforms and online forums can help attract potential customers. Social media platforms like Facebook, Twitter, and Instagram provide opportunities to share blog content, engage with followers, and build a community.
In fact, that's what most of the Shopify blog examples above do. If you check their blog posts, you can see that most of them have social media share buttons included.
Furthermore, online forums and communities related to your niche can be a great way to connect with potential customers who are already interested in your industry. In fact, what I constantly do is share my blog posts in different communities, like in the Dropshipping.com Facebook group. 👇
✅ Keep Existing Customers Interested In Your Brand
You must create an environment where your customers will feel important. Firstly, what is already clear is that your blog posts must be engaging and informative. This means addressing their questions and concerns, providing regular updates on new products and special offers, and sending relevant email newsletters.
For example, Spirit Animal has a great way of engaging customers. Hence, I love their quiz for discovering which animal spirit you have through several questions. 
Storytelling is also a powerful tool to connect with your audience and establish a consistent voice for your blog. By sharing personal stories or anecdotes related to your brand, you create a sense of authenticity and build a stronger bond with your customers.
Remember, the key is to offer valuable and relevant content that goes beyond simple product promotion.
Shopify Blog Examples FAQ
1. Can Shopify be used for blogging?
Can Shopify be used for blogging? Absolutely! One of the great things about Shopify is its functionality and features that support blog creation and management. With Shopify, you can easily create and customize your blog within the platform itself, eliminating the need for a separate blogging platform.
2. How do I write a blog post on Shopify?
When it comes to writing a blog post on Shopify, the process is quite straightforward. To begin, you need to access your Shopify admin and navigate to the Blog posts section within the Sales Channel menu in your Online Store.
Once you land on this page, you can easily add a new blog by clicking the "Create blog post button". From there, you can begin writing your blog post, incorporating relevant keywords, and optimizing it for search engines.
3. What's the best Shopify app for blogging?
In my personal opinion, the best Shopify app for blogging is DropInBlog. While Shopify already has its own built-in blogging platform, using a blog-specific app like DropInBlog can provide additional functionality and flexibility.
Also, with PageFly, you can create visually stunning blog posts with drag-and-drop elements, add product carousels or call-to-action buttons, and optimize the blog content for search engines.
4. Does it Cost Money to Start a Shopify Blog?
When it comes to starting a blog on Shopify, the good news is that it doesn't cost any money if you create the content in-house. You can write and publish blog posts on your Shopify website without any additional fees.
However, if you choose to hire writers or utilize keyword research tools, there may be some costs involved. In addition, there is a small cost associated with using an advanced blogging app on Shopify, such as PageFly or Shogun.
5. Which Shopify Theme is Best for Blogging?
There are various paid and free Shopify themes that are good for blogging. Hence, you can try on Prestige, Trendway, or Dawn.
Find winning dropshipping products & spy on your competitors
Minea analyses all online advertising to help you find the best products to launch, and the best creatives in your niche in just a few clicks.
Use coupon: DROPSHIPPING30 and get a 30% discount
💡Try Minea For Free
The Bottom Line
Blogging is a crucial aspect of any successful Shopify brand. By implementing a well-planned and executed blog strategy, you can capture organic traffic, convert subscribers into customers, and keep existing customers engaged and interested in your brand.
Also, the flexibility of Shopify's blog layout allows you to create a cohesive brand experience while still maintaining a dedicated blogging section.
In this article, I provide you with the top 15 Shopify Blog Examples and a step-by-step guide on how to implement a successful content marketing strategy. So, take your notes & Start!