Everything You Need To Know: Dropshipping Business Model Explained
Are you an aspiring entrepreneur thinking about making money online with the dropshipping business model? Or are you currently running your online business, but you are not sure if you are doing everything right?
If you want to learn more about what the dropshipping business model looks like and how to keep your business growing, then this article is for you.
This article includes everything from the fundamentals of dropshipping to detailed information about the Shopify business model. This information should help you set up and manage a profitable dropshipping business.
However, before we get any further, it is important that you have an idea of what exactly we are going to cover in this article.
What Is Dropshipping?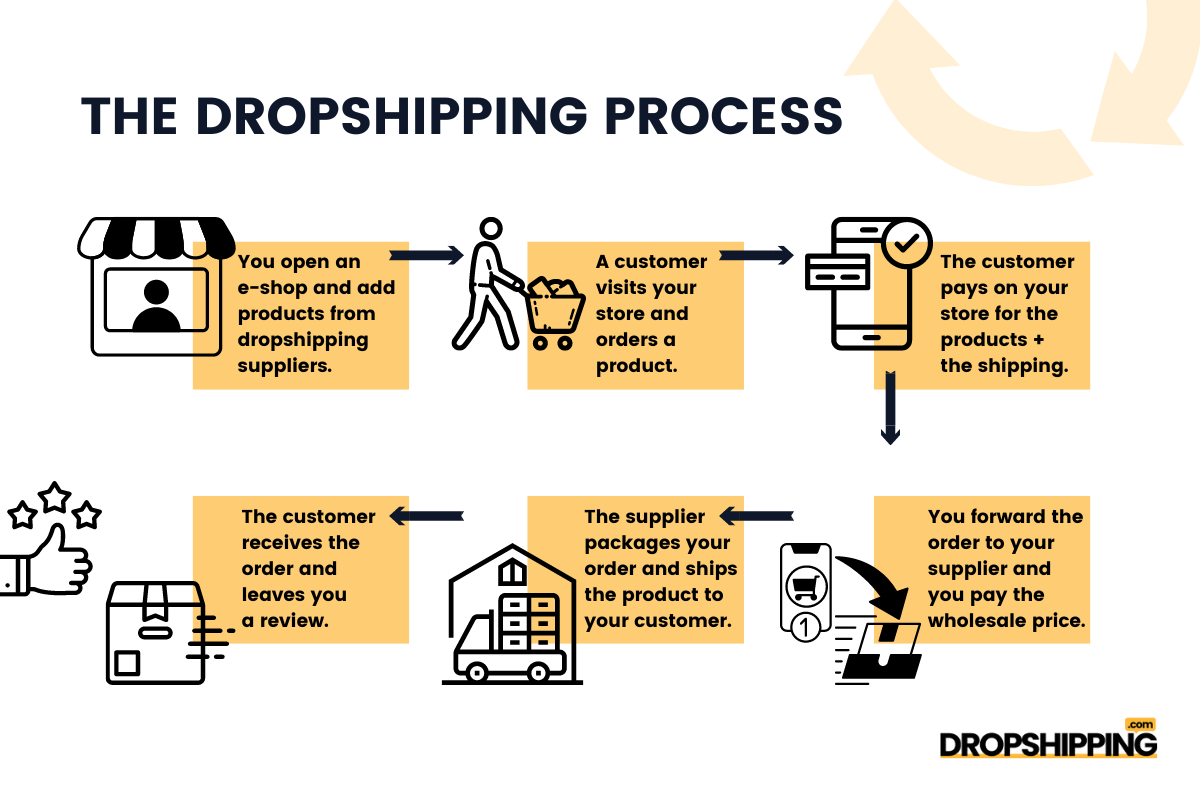 The dropshipping business model enables you to start an e-commerce business and sell physical goods to your customers completely online. And the best part – you can do that without even stocking the products yourself.
Let us illustrate this by giving an example. Let's say you are interested in selling clothing online, but you do not possess a physical location or warehouse to store your inventory.
Then, adopting the dropshipping business model could be a great option for you. With this business model, you can offer your fashion-loving online fanatics unique clothing pieces through your e-commerce store.
And you can have a dropshipping supplier pack and ship the products to your customers.
Here we cover How Does Dropshipping Works.
💡 Tip: Learn How To Escape The Rat Race The Real Way? – Leaving The 9 To 5.
👉 Check out the Top 11 Richest Dropshipping Store Owners In The World.
Lifetime deal: Get all-access to everything on Dropshipping.com
Access all DSCOM features, resources, courses, live workshops, discounts, winning products, weekly deep dives, directories and all future updates under all-in-one dropshipping HUB.
DROPSHIPPING IS A REAL BUSINESS, DON'T DO IT ALONE. 4553 MEMBERS ALREADY JOINED. YOU CAN PAY OFF YOUR SMALL INVESTMENT WITH JUST 2 SALES ON YOUR STORE.
Grab the deal before it's gone
The Dropshipping Business Model Canvas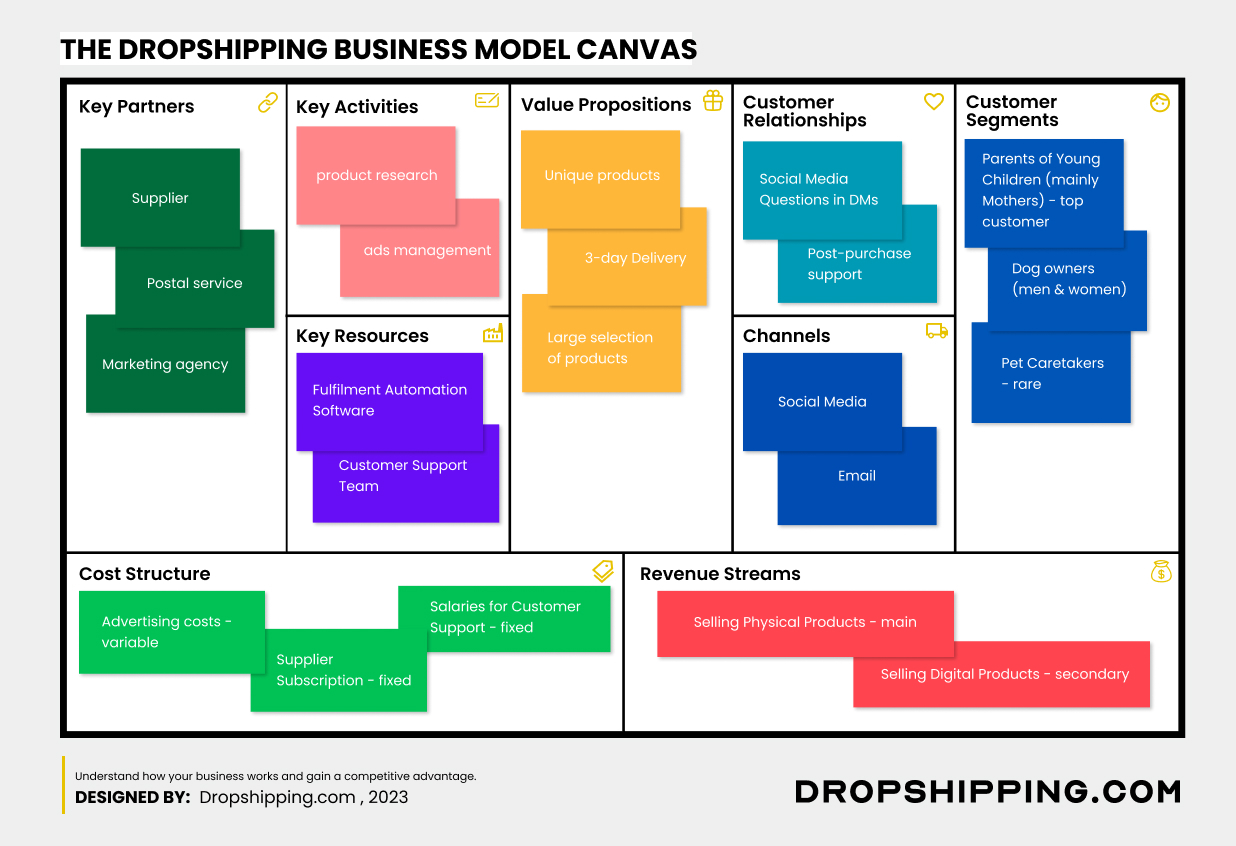 The Pros and Cons of the Dropshipping Business Model
Each business model has its own pros and cons, and the dropshipping business model is no exception.
👉 Learn about Dropshipping: Is It A Real Business or a Get-Rich-Quick Scheme?
Check our full article on the topic.
Pros
Unlike with a brick-and-mortar store, you do not have to lease or buy commercial space to run a dropshipping business. More importantly, you can use your own home as your base of operations.
To embark on your online journey, all you need to do is find a profitable and not-so-competitive niche, pick a trustworthy dropshipping supplier, build an e-commerce website and store, and drive customers to your store.
Perhaps the greatest advantage of the dropshipping business model is that you can establish a dropshipping business without investing thousands of dollars in inventory upfront. This means that you will only buy a product once your customer has made an order and paid for it.
Since you do not have to buy your stock upfront, far less capital is required to establish and run a dropshipping business.
It goes without saying that dropshipping is a low-risk business model. In essence, you will not lose as much if you fail.
You can run your business without having to incur huge running costs like a wholesaler would have. This is the main reason why it is considered a low-risk business model.
Cons
High level of competition
As mentioned above, it is easy to start a dropshipping business. And this is equivalent to fierce competition. Although there is no simple way to beat your competition, you can do so with the right strategies. Just read on!
In the highly competitive market, many dropshipping businesses tend to sell their products at rock-bottom prices. They do so in order to grow revenue.
Plus, as a dropshipper, you do not buy in bulk directly from manufacturers. Therefore, you may not get heavily discounted merchandise, which is another reason for the low-profit margins.
Heavy reliance on dropshipping suppliers
With the dropshipping business model, other businesses will handle much of your business supply chain in your place.
These other businesses are actually the dropshipping suppliers you are about to work with. And they will be responsible for the storage, packaging, and shipping of your products.
What does this mean? This means that the success of your dropshipping store will largely depend on who you work with.
That's why you should not jump into collaborating with a supplier without carefully reviewing them.
Is the Dropshipping Business Model Worth the Effort in 2023?
According to Statista, global online retail sales reached US$4.3 trillion in 2020. Additionally, global online sales growth is expected to continue in 2023. Or more precisely, the revenue is estimated to reach US$4.9 trillion this year.
Despite these appealing numbers, some people believe that the dropshipping business model is dead in 2023. But the truth is that this business model is not dead.
Remember that ups and downs are possible as in any other industry. And this business model can be highly profitable if you do everything the right way.
Dropshipping Business Model: How to set up and manage a profitable dropshipping store?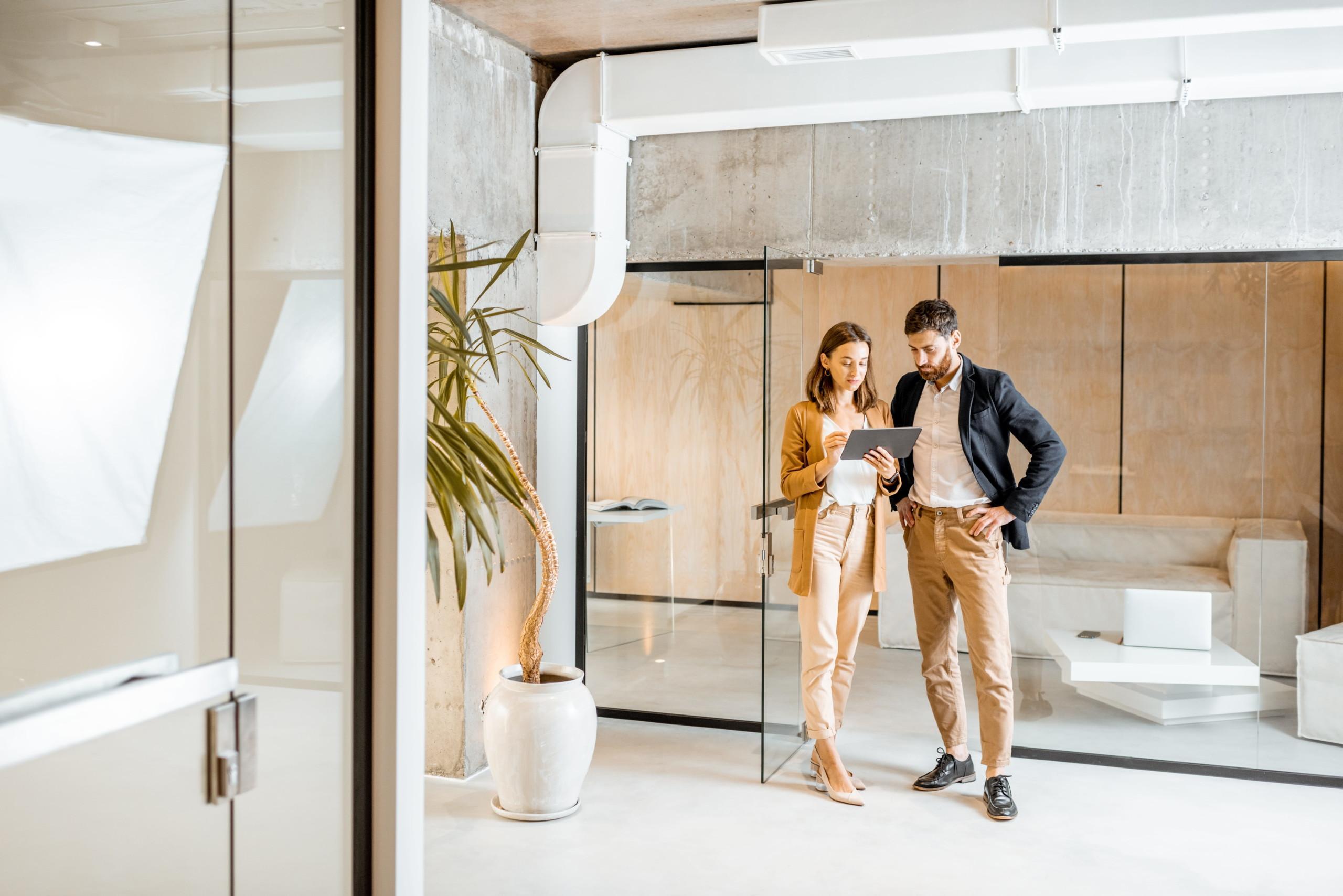 Here is how to do everything the right way:
1. Identify your target market and find in-demand products
Many dropshipping beginners choose their products first, and then, they identify their target market.
But you need to start with a market and then choose your products to increase your likelihood of success.
The point is that you need to find a group of people that are looking for a solution to a problem. Next, you need to give them the solution to their problem.
Here's a list of dropshipping products & suppliers to consider for your new dropshipping business:
In other words, you need to offer them the products they are looking for to satisfy their specific needs.
You can identify your target market and find in-demand products by:
Visiting online forums. By doing so, you can see what kind of questions people ask and what kind of problems they want to solve.
Keeping an eye on what is trending and doing keyword research. Google Trends is a potent research tool that can help you a lot with this. To be more specific, it can help you see if there is demand for a certain product.
Joining the Trend Hunter Community. It is the largest and most popular trend community in the world.
Solving customer pain points is a powerful way to come up with an incredible product idea.
2. Conduct competitive research
Once you have identified your target market and found in-demand products, the next step to learning how to start a dropshipping business will be analyzing your competitors.
As mentioned earlier, the competition associated with the dropshipping business model is intense. To be able to cope with and beat the competition, you must conduct competitive research first. But how can you do that?
You can identify the main market players, figure out what their strategies are to succeed, and come up with your own strategy to dominate the market by:
3. Write a business plan
Now is the time to write a business plan.
Developing a business plan for your dropshipping business helps you spot any potential challenges down the road. Also, it helps you plan for future growth and prosperity.
The information you have gathered in the first two steps can give you a good base from which to create your business plan.
When it comes to the steps to creating a business plan for your dropshipping business, feel free to check out our previous article.
4. Choose a business name
The next thing you need to do is to choose a business name that's both catchy and reveals what your dropshipping business is about. Bear in mind that your business name is what people will remember about your business.
So, it is best to choose a short, pronounceable, creative, and descriptive name for your business. Since your business will function online, your chosen name has to be available for registration within the digital space.
But how can you check the availability of your chosen name within the digital space? You can do so by checking if your chosen name is available as a domain name.
To check if a domain name is available, you can use tools such as Name, Instant Domain Search, and Shopify Domain Search.
5. Find the right dropshipping supplier
As we said before, with the dropshipping business model, your supplier will be responsible for many aspects of your business. The more reliable the supplier, the more likely you are to improve your customer satisfaction.
Thus, you should ensure you are working with top-notch players. To seek out potential dropshipping suppliers that specialize in your product, you need to:
Search on Google. Type "[your product] dropshipping supplier" into Google. For instance, if you are planning on selling luxury clothing, just type "luxury clothing dropshipping supplier" into Google. You will find a few businesses specializing in this segment, with BrandsGateway being the first Google result.
Subscribe to dropshipping supplier directories like SaleHoo, Worldwide Brands, Wholesale Central, etc. Though your Google search can give you a few options, a subscription to a directory gives you access to a database of suppliers that is organized by product, niche, or market.
Attend trade shows or conferences. This allows you to find suppliers in the area where you want to start selling.
Join industry forums, groups, and other professional networks. This enables you to connect with many experienced online merchants in your niche or industry. These people are usually the best source of information about dropshipping suppliers.
Check our supplier's directory with 9oo+ suppliers.
After you have found a few potential dropshipping suppliers, narrow the list down to one or two suppliers.
Before picking the best one, make sure they can provide the most suitable (high-quality) products at the most suitable prices. Also, make sure they do not charge huge fees.
Plus, ensure they are able to deliver the right products on time and provide great customer service.
6. Build an e-commerce store
Choosing the dropshipping business model requires you to build an e-commerce store. You know that, right?
And the best way to build an e-commerce store is to use an e-commerce platform like Shopify. Moreover, this platform can help you create and launch your dropshipping store with ease.
Furthermore, it enables you to build a website and use a built-in shopping cart solution to sell goods to customers globally. Shopify allows you to easily manage products, accept payments, and sell in multiple currencies.
Sounds impressive, doesn't it? Please find below more detailed information about the Shopify business model and how to create a store with Shopify.
7. Market your store
With the dropshipping business model, you do not have to deal with shipping and inventory management. But you have to focus on marketing.
In a nutshell, you have to promote your store to inform people about the products you are selling, cultivate a strong reputation, and generate income for your business.
After all, your dropshipping business is not a hobby. Sure, you may have a passion for what you are about to do. However, your dropshipping business should be something that provides a regular supply of money.
Therefore, you must create an effective marketing strategy to maintain a long-lasting relationship with your audience and help your business flourish.
An effective marketing strategy includes everything from SEO and content marketing to video marketing and Google Ads.
First, define a set of specific marketing tactics, depending on your budget and business goals. Then, try to successfully implement your marketing strategy.
For further information about what you need to do before starting your dropshipping business, check out our checklist.
The Dropshipping Business Model: 3 Common Mistakes To Avoid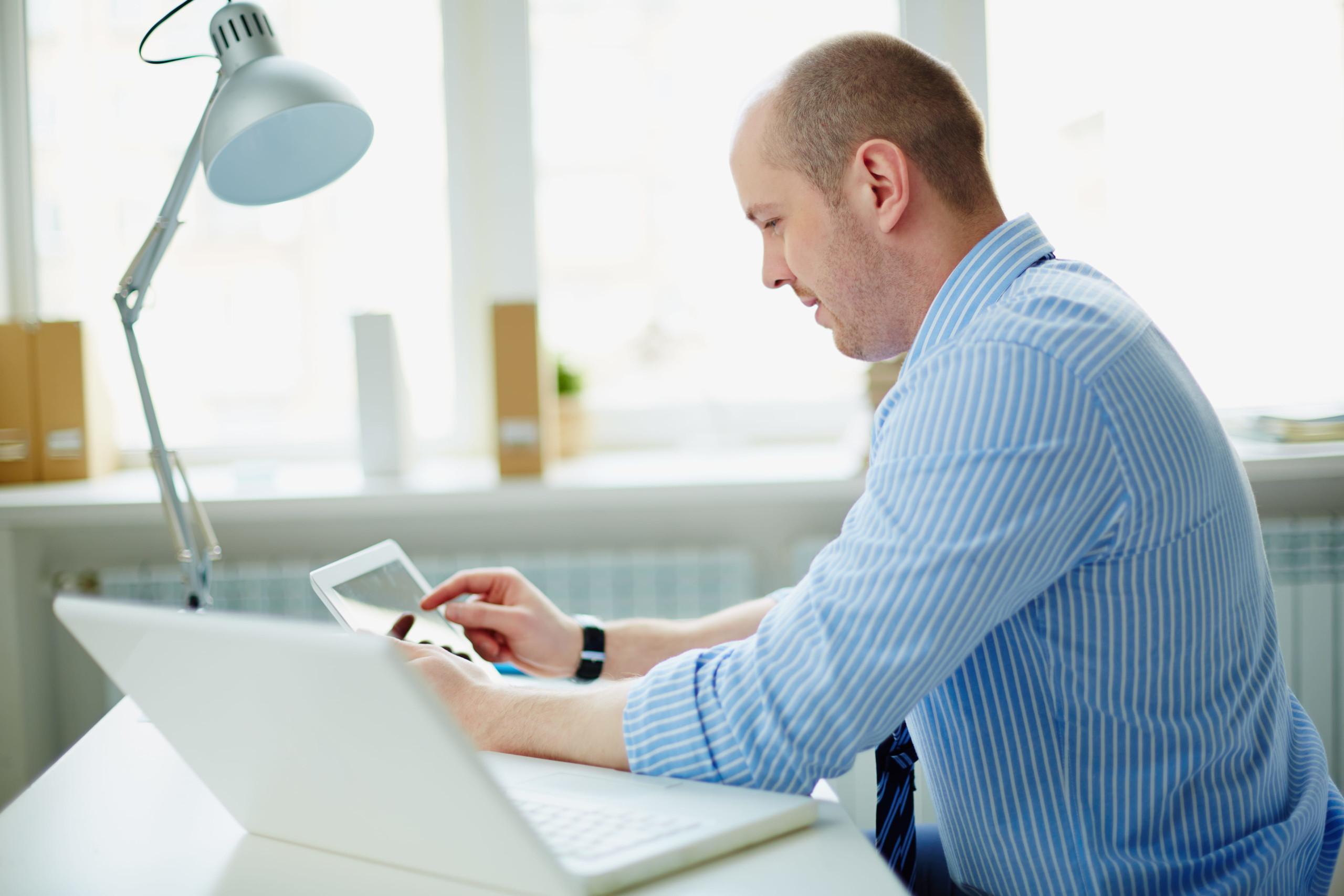 Many dropshipping store owners fail in the first couple of months. The main reason for this is that they tend to make certain mistakes. Fortunately, these are avoidable mistakes, meaning that they can be prevented.
The most common mistakes that many dropshippers make are as follows:
1. Not being patient and persistent
Many dropshippers are overly optimistic and expect easy money. And they tend to give up because their businesses are not making enough progress in the beginning.
Additionally, they are not aware of the fact that becoming a successful dropshipping entrepreneur is an ongoing, long-term process. Success does not happen overnight.
So, do not make the same mistakes as these people. Be patient and persistent and work hard. And, ultimately, be ready to celebrate success!
2. Not being able to deal with returns
With the dropshipping business model comes the possibility of returns. And it is totally okay.
But dropshippers, who work with unreliable dropshipping suppliers, receive many returns. Over time, this may lead to both frustrated dropshippers and unsatisfied customers.
To avoid this, it is important to find and cooperate with trustworthy and certified suppliers.
3. Not knowing the chosen e-commerce platform
Another common reason why many dropshippers fail is that they do not know how to effectively use their chosen e-commerce platform.
They are not even able to get started if there is a hitch or if they get stuck on a technical issue.
Want to find out about The Best Aliexpress Dropshipping Alternatives? Check the Article here.
That's why you need to choose an easy-to-use and beginner-friendly e-commerce platform, particularly if you do not possess tech skills.
The Shopify Business Model: How To Create an Ecommerce Store With Shopify
What is the Shopify business model about? How does the Shopify business model work? We will try to provide answers to these two questions in this section.
Among the major ecommerce platforms out there, Shopify keeps being one of the best and most popular platforms for building a professional dropshipping store.
Although Shopify boasts various tools and features, it is a user-friendly platform. This means that you can create an ecommerce store using this platform with ease.
With the Shopify business model, you can build an online store and start dropshipping via a monthly subscription fee. You can try the platform free for 14 days.
If you determine that the platform is not the best option for your online start-up, just cancel your account.
But you will have to choose one of the following monthly subscription plans if you want to keep using the platform:
Basic Shopify for 39 USD;
Shopify for 105 USD;
Advanced Shopify for 399 USD.
You can find out more about the features of each monthly subscription plan here.
Now that you know why it is great to build a dropshipping store using this platform, let's focus on the steps you need to take to do so.
If you want to learn how the Shopify business model works and how to build your online store, keep reading!
Steps To Creating a Dropshipping Store With Shopify:
1. Sign up with Shopify and start your free 14-day trial
You can try Shopify for free for 14 days. To do that, go to Shopify.com and click "start the free trial" in the upper right corner.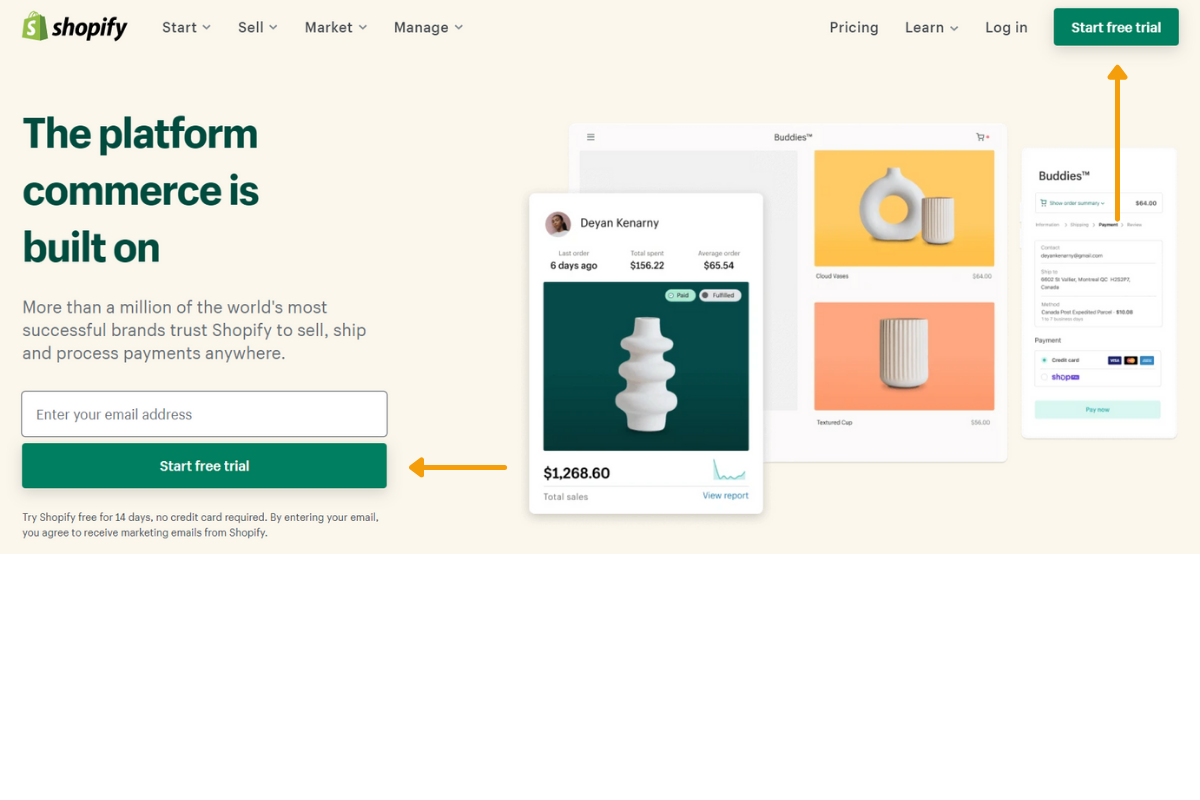 As you can see, you need to provide certain information like your e-mail address and your store name. Sure, choosing a name for your business is something we have discussed previously in this article.
Then, you will have to provide more information, including some personal information and whether you are already selling something. Once you have answered these questions, you will find yourself inside your Shopify dashboard.
2. Add products to your Shopify Store
What is the next thing you need to do after choosing the Shopify business model? The next thing you should do is add products to your store.
Simply go to Products > Add the product in the left-side navigation of your Shopify dashboard. By doing so, you can create your first product listing.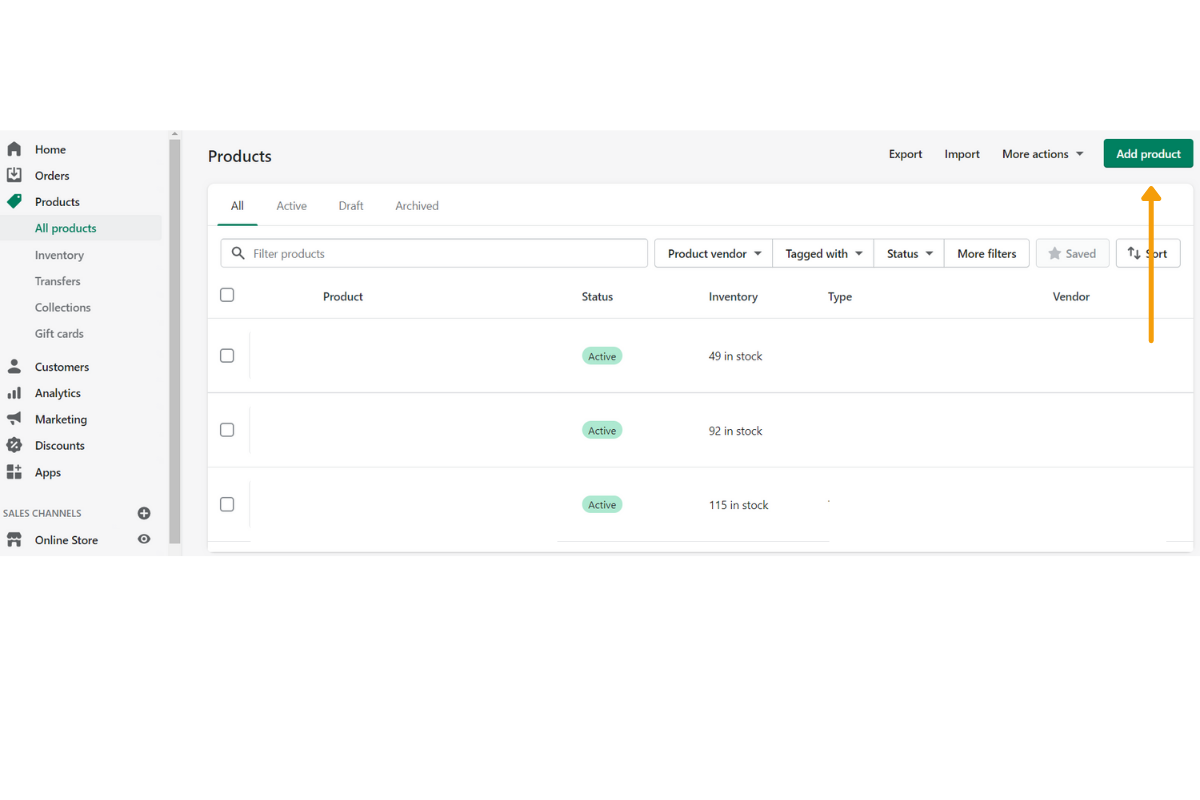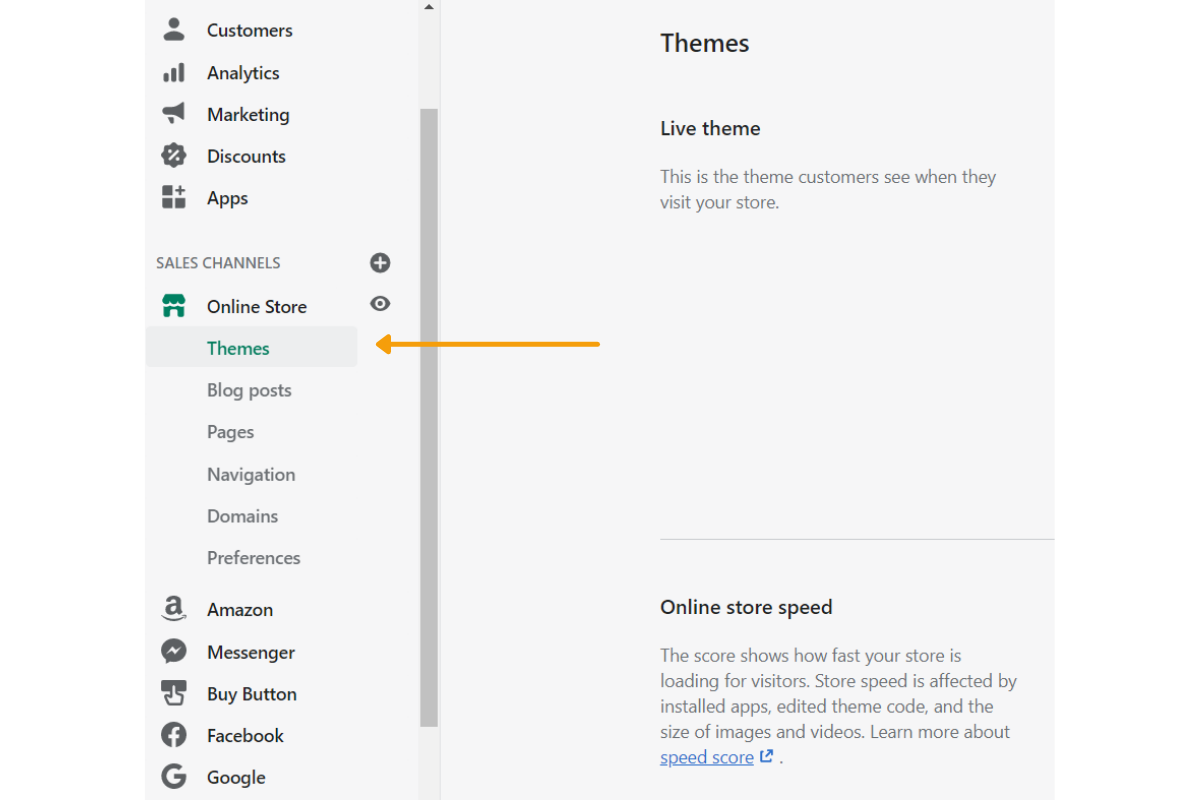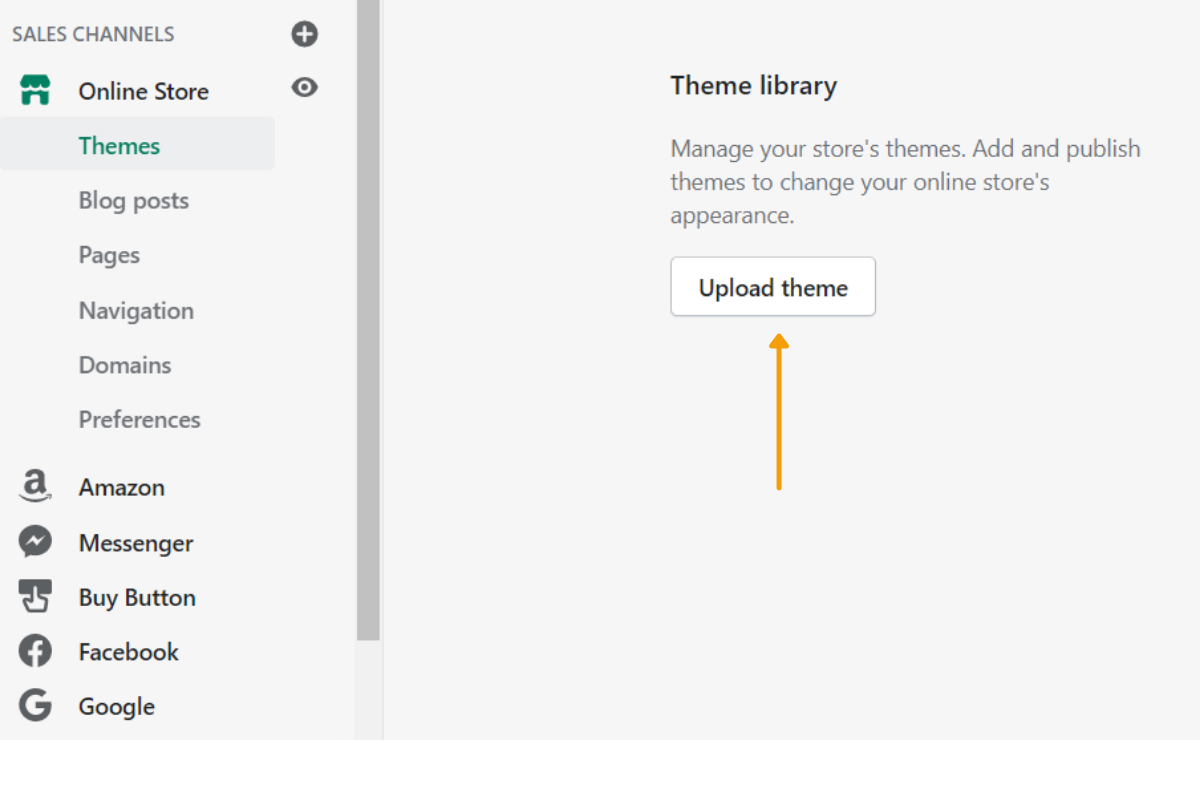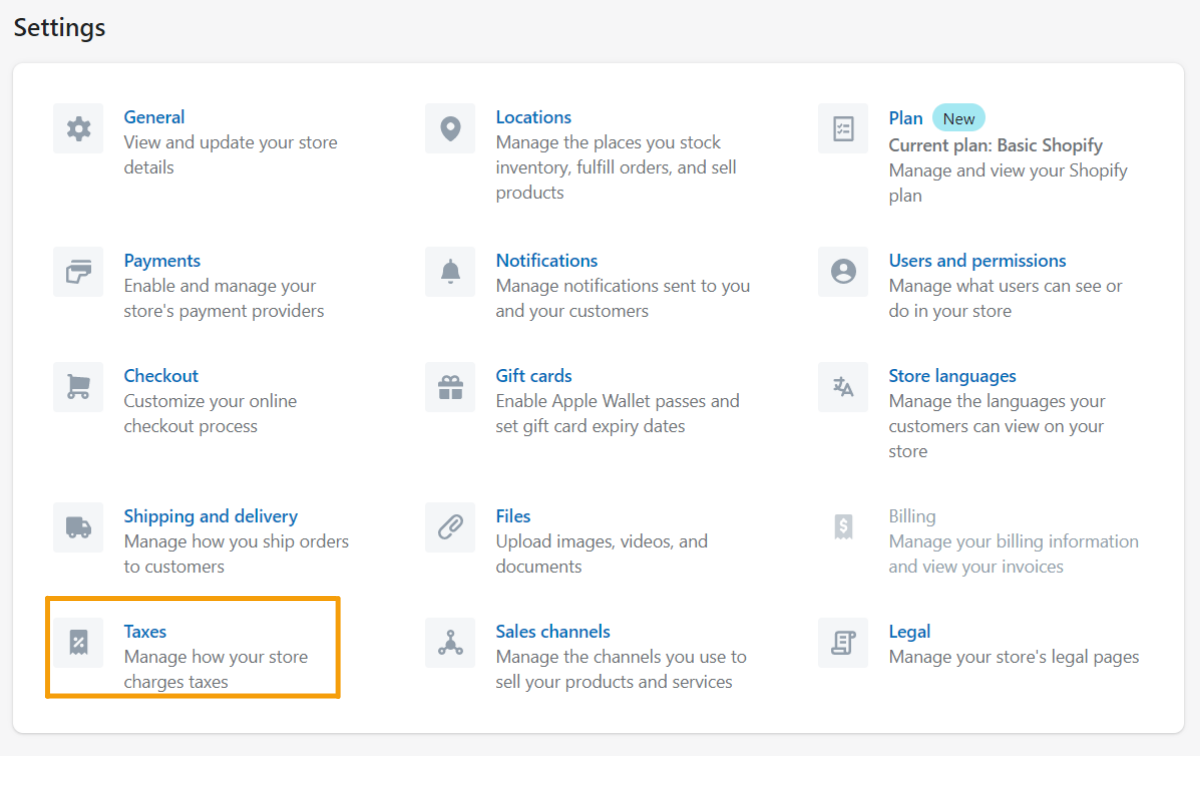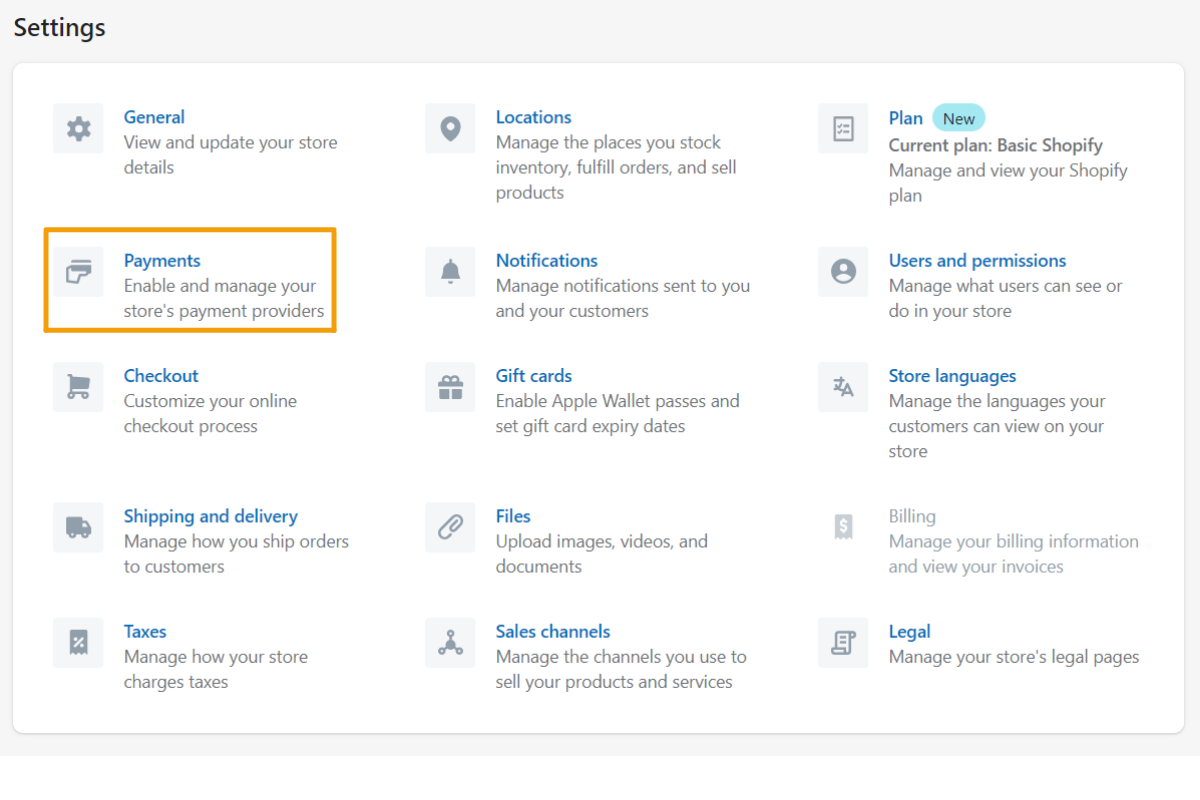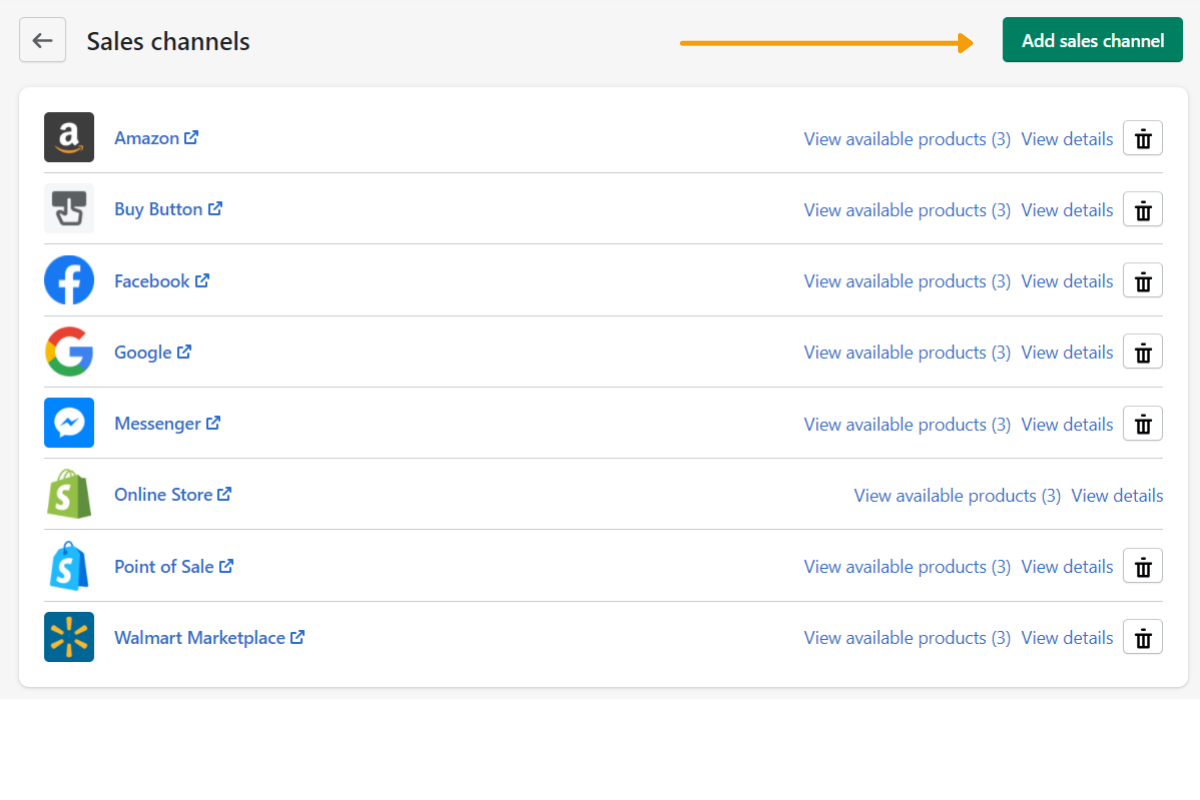 Here, you will have to take some important steps, including:
Write your product titles & descriptions.
Add product images.
Set prices.
Organize your products.
3. Customize your store
Now, we are finally at the most interesting part of creating an online store – time to design your website.
You need to put some effort into enhancing the look of your dropshipping store. And you can do that by going to Online Store > Themes and:
Choosing a theme that is right for your store.
Designing your homepage.
Customizing your navigation menus and checkout.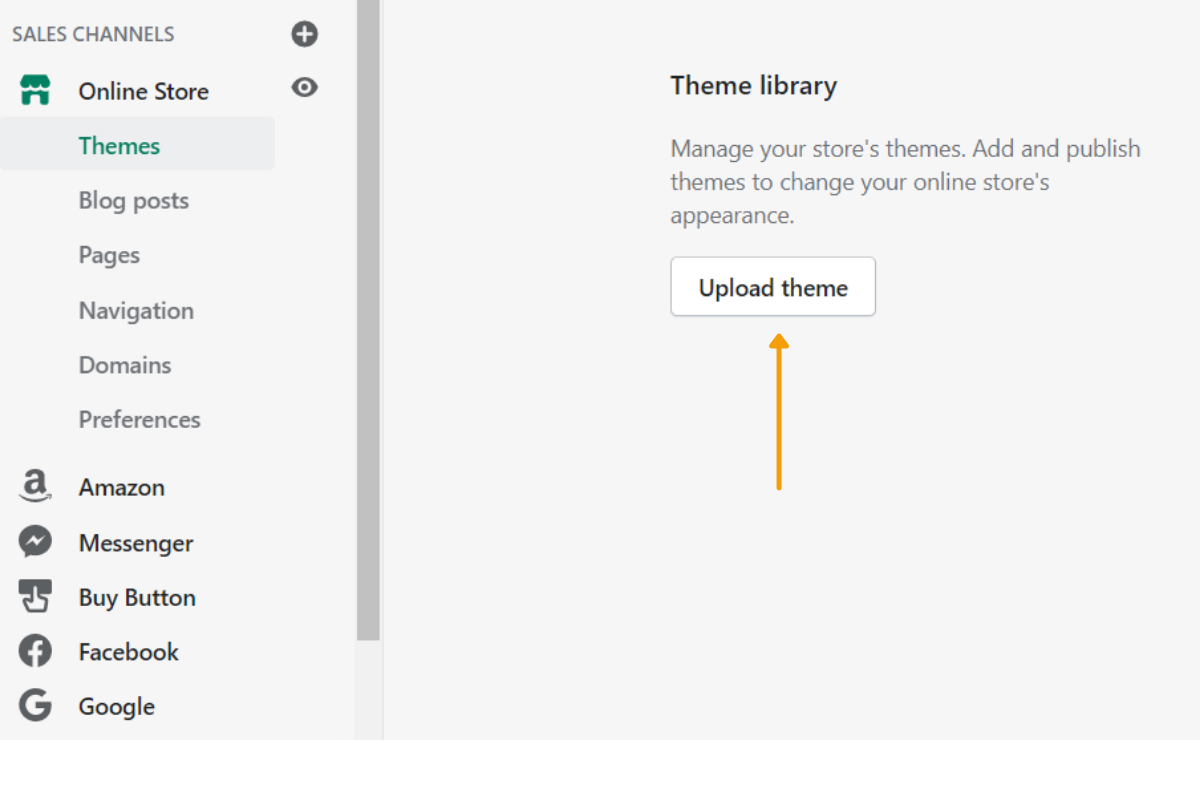 Also, keep in mind that a few factors, like functionality, simplicity, consistency, colors, imagery, and typography, all contribute to extraordinary website design.
4. Create the main pages
Your dropshipping store must have a few important pages to help visitors and potential customers get an understanding of what your business is about as well as give them reasons to trust you.
The main pages for your dropshipping store include:
'About Us' page (a brief company history, vision or mission statement, etc.).
'Contact Us' page (your e-mail address, telephone number, etc.).
Policy pages (privacy, shipping, and return policy).
FAQ page (Frequently Asked Questions).
Most of these pages can be created under Online Store > Pages.
5. Set up your taxes
You are about to start a dropshipping business, right? And this means that you are about to sell physical goods online.
Since you will sell products online, you will have to collect taxes whenever a customer makes an order from your store.
Of course, we are not tax professionals. So, to make sure you file and remit your taxes correctly, consult a tax professional.
You can set up your taxes in Shopify by going to Settings > Taxes. Although this platform enables you to automatically handle most tax calculations using default sales tax rates around the globe, it is still advisable to consult a tax professional.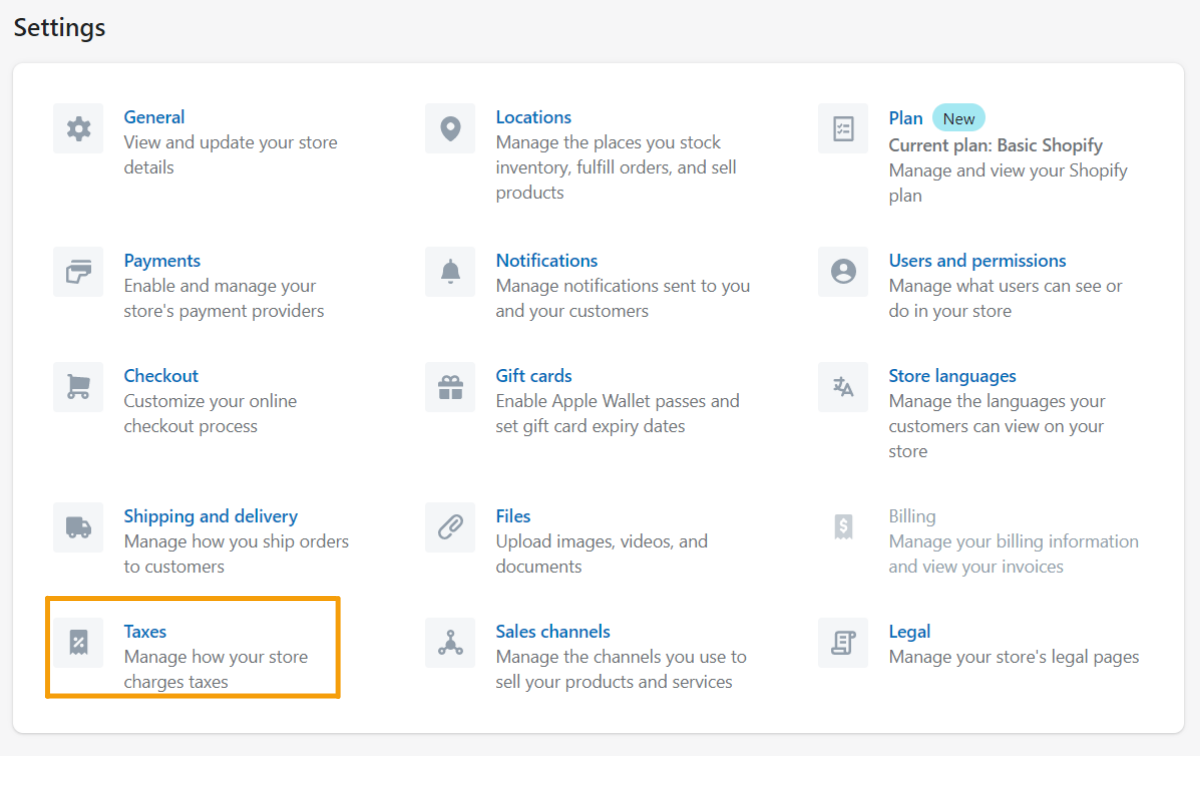 6. Pick the preferred payment methods of your customers
Fortunately, you can enable various payment methods with the Shopify business model. From Shopify Payments to more than 100 other payment gateways, Shopify has got you covered.
Simply head over to Settings > Payments and pick the preferred payment methods of your customers.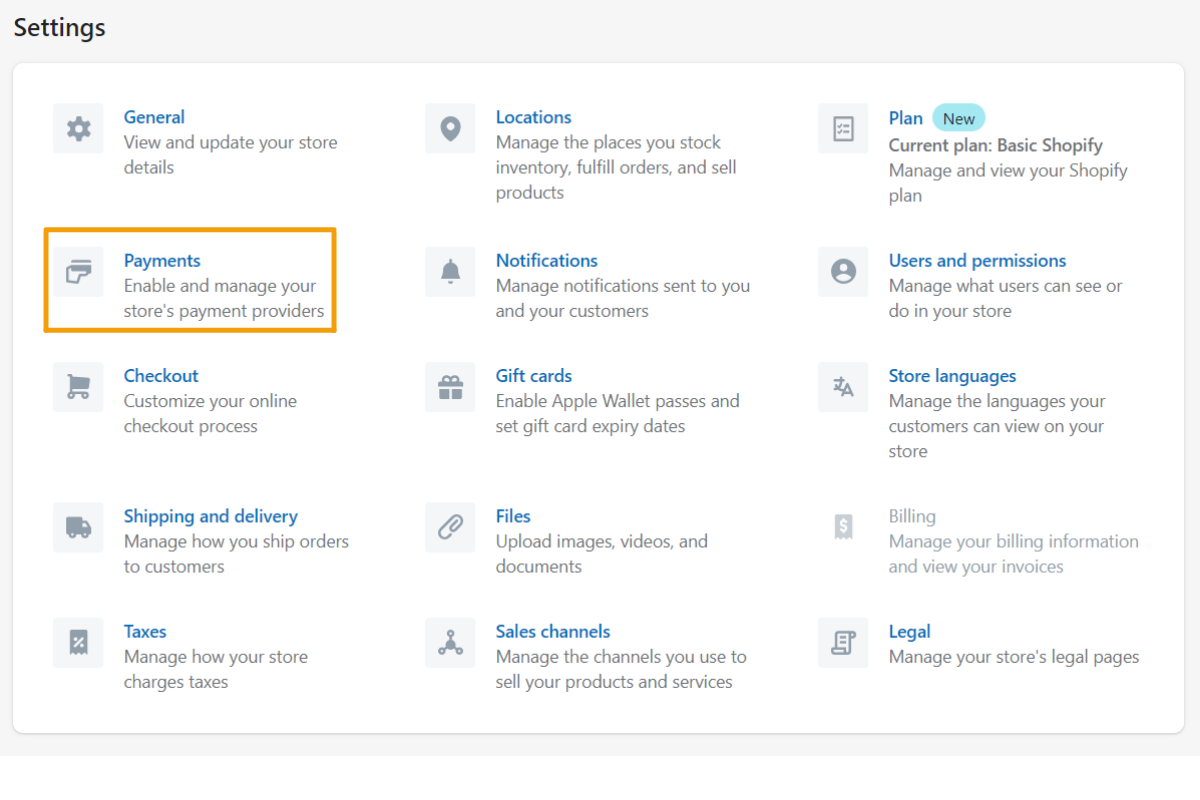 7. Go "live" and launch your store
Finally, it is time to announce to the world that you are open to business. But before going "live" and launching your store, you also need to do a few more things like:
Add a custom domain. You can buy a domain to replace yourbusinessname.myshopify.com with yourbusinessname.com as your public URL.
Add relevant sales channels like Shopify POS, marketplaces, and social media, to name a few.
Disable password protection. Head over to Sales Channels > Preferences > Password protection and click disable password protection. But you cannot do this if your store is not on a paid monthly plan.
Take the time to market your store through social media, e-mail, Google Ads, etc.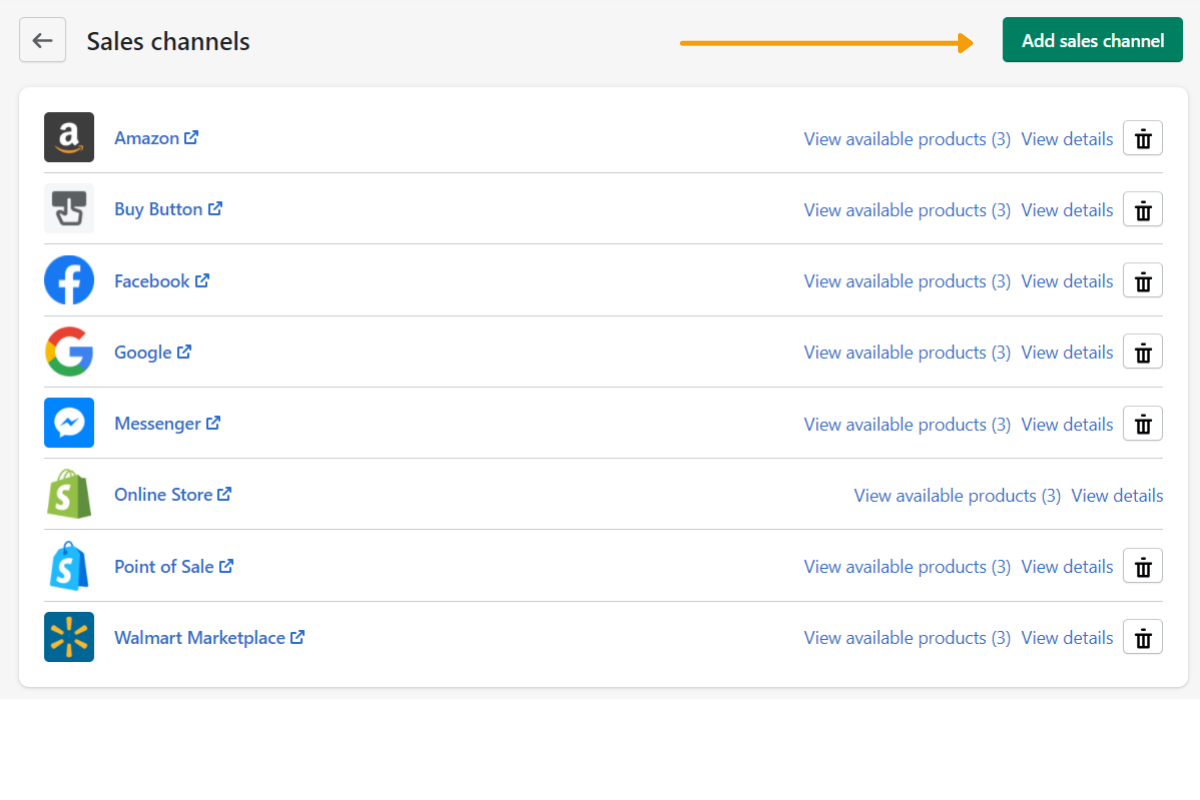 Join the only community and resource hub you'll ever need to succeed with dropshipping
Find winning dropshipping products, learn marketing, download templates and engage with real dropshippers
Never pay for a "guru's" course again. See why 4543+ dropshippers joined us this year!
💡Try DSCOM Hub Now
Dropshipping Business Model – The Bottom Line
In this article, we have covered everything from the pros and cons of the dropshipping business model to what the Shopify business model looks like.
When you are just starting out, you are prone to make mistakes. In fact, the best way to learn is by trial and error.
However, some mistakes just cannot be corrected. So, it is advisable to learn from other dropshipping entrepreneurs to prevent yourself from making huge mistakes.
Also, allow plenty of time and follow the steps carefully to set up your business and take it to the next level.