BigCommerce Review: Is BigCommerce Right for Dropshipping?
by
Aleksandra -
Aleksandra teaches marketing and management at various levels in High School. She writes about marketing, the economics and logistics of the dropshipping business and ecommerce in general.
Chief of Content Marketing
In this big commerce world, of course, you need a platform exactly like BigCommerce. And, we got you covered with everything you need to know in our BigCommerce Review.
In fact, BigCommerce is an eCommerce solution that will help you build your dropshipping store. And, not just that, but help you manage your inventory, orders, marketing & more.
Therefore, in this article, we will guide you through an in-depth BigCommerce Review. Let's learn!
What Is BigCommerce?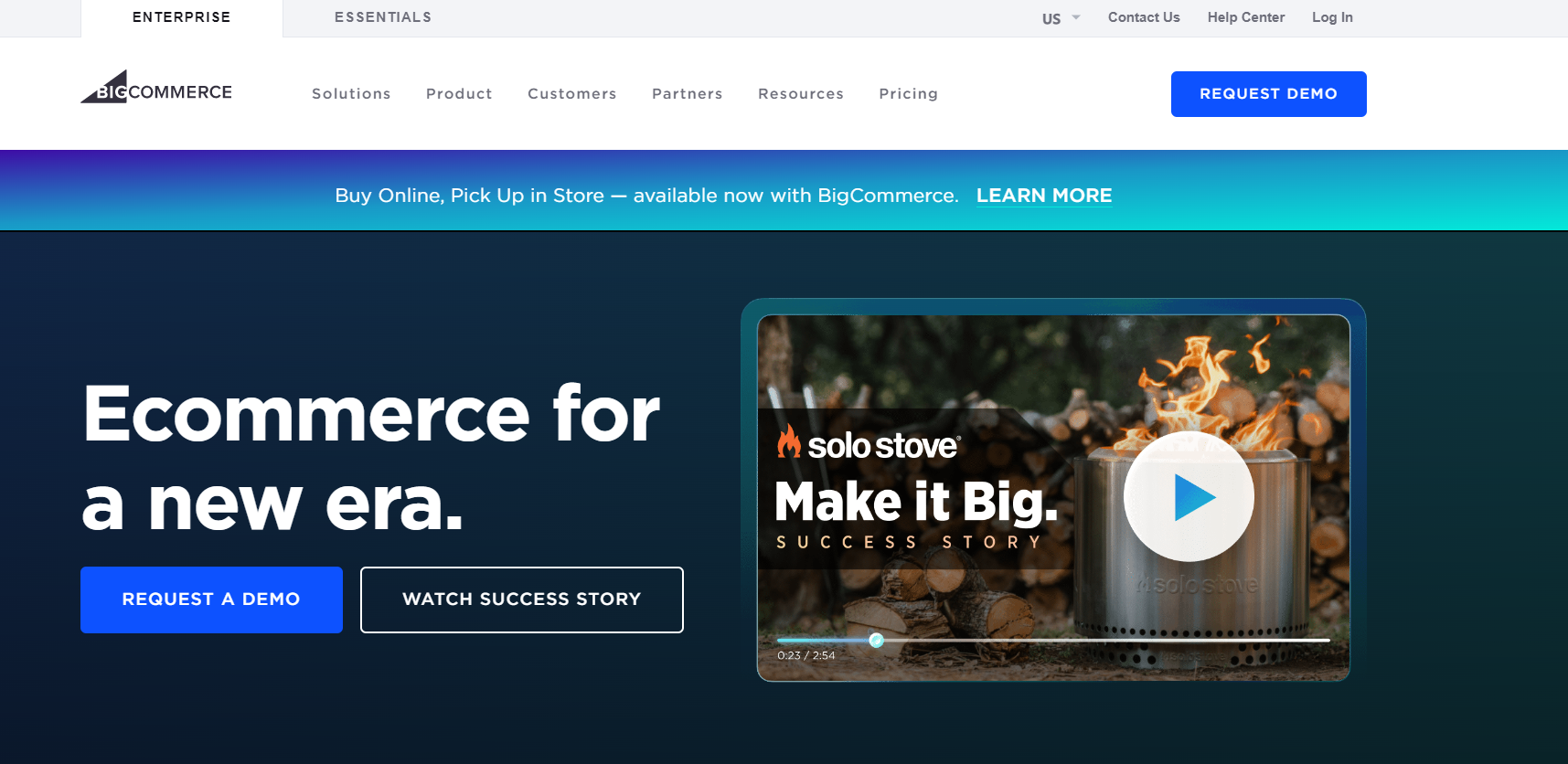 BiCommerce is an ecommerce solution that allows you to create and manage your store from anywhere with internet access, without needing to buy web hosting or install any software.
This means that it runs on its own servers. As a result, you don't have to worry about server maintenance or the costs that come with it. Instead, you simply pay a monthly fee to access the platform as a software-as-a-service (SaaS) solution. Great, right?
Moreover, it has customizable templates designed to help all dropshipping stores, regardless of whether you're selling physical or digital products.
In addition, BigCommerce includes a range of marketing tools to help you grow your business.
Plus, the platform is also an excellent option for more tech-savvy users and developers. Thus, this is because it offers the ability to edit the HTML and CSS of your store.
Thankfully, this gives you greater flexibility to customize and optimize your store to suit your business needs.
Now, let's dive into our BigCommerce Review.
Lifetime deal: Get all-access to everything on Dropshipping.com
Access all DSCOM features, resources, courses, live workshops, discounts, winning products, weekly deep dives, directories and all future updates under all-in-one dropshipping HUB.
DROPSHIPPING IS A REAL BUSINESS, DON'T DO IT ALONE. 4553 MEMBERS ALREADY JOINED. YOU CAN PAY OFF YOUR SMALL INVESTMENT WITH JUST 2 SALES ON YOUR STORE.
Grab the deal before it's gone
What Are the Pros and Cons of BigCommerce?
Multichannel Sales Features
Impressive Security Features
Free Themes can be difficult to edit
No multi-language support
Limited customization options
✅ Pros
➡ Multichannel Sales Features
With its multi-storefront capability, you can grow your brand by smoothly generating more storefronts for each part of your business. Also, you can manage multi-storefront from one location.
What's more, with configurable themes, currency, personalized transactional emails, custom pricing, unique product filtering options, and domain and SSL certificates, BigCommerce lets you minimize expenses, streamline operations, and expand into new markets.
➡ Great Customer Support
BigCommerce provides superior support and services 24/7 to answer all questions in less than two minutes.
Thus, provides its users with onboarding teams to assist them with easily managing and launching their dropshipping store, as well as 24/7 chat, email, and US-based phone support for technical difficulties. Also, there's a Premium Services team.
Plus, BigCommerce delivers a wealth of in-depth online resources through its help center and provides frequent updates from its leadership team.
➡ Highly Customizable
This website builder has various customization options, like free and paid themes and templates, widgets, buttons, sections, landing pages, and more. Also, you can change their style fonts, photos, drag-and-drop elements, etc.
➡ Great Search Engine Optimization (SEO)
BigCommerce includes the necessary HTML elements in its back-end code for your website, which improves your Search Engine Results Page (SERP) rating.
In addition, your product page is designed to capture microdata from your customer's behavior, which you can utilize to improve your dropshipping store.
➡ Impressive Security Features
BigCommerce manages your dropshipping store's security and hosting. It has hardware firewalls capable of detecting hacker activity.
Also, the platform complies with the Payment Card Industry Data Security Standard (PCI DSS) and is kept up to date with the most recent security measures.
❌Cons
➡ Free Themes can be difficult to edit
Some of the Free BigCommerce themes can be difficult to edit. For example, on the "Vault" theme it is difficult to remove the search bar, while on the " Fortune" theme it can be difficult to hide the sidebar without resorting to adding some CSS.
➡ No multi-language support
BigCommerce is just available in English and does not support any other languages.
➡ Limited customization options
BigCommerce has various customization options. However, they are limited due to the widget's placement, colors, fonts, etc.
BigCommerce Review: Features
🔸 Store Design
If you're looking to build an online storefront that's uniquely yours, BigCommerce has got you covered. With more than 200 paid and free themes available, as well as plenty of customization options, you can create a stunning storefront that truly represents your brand.
And the best part? You don't need to be a coding wizard to make it happen.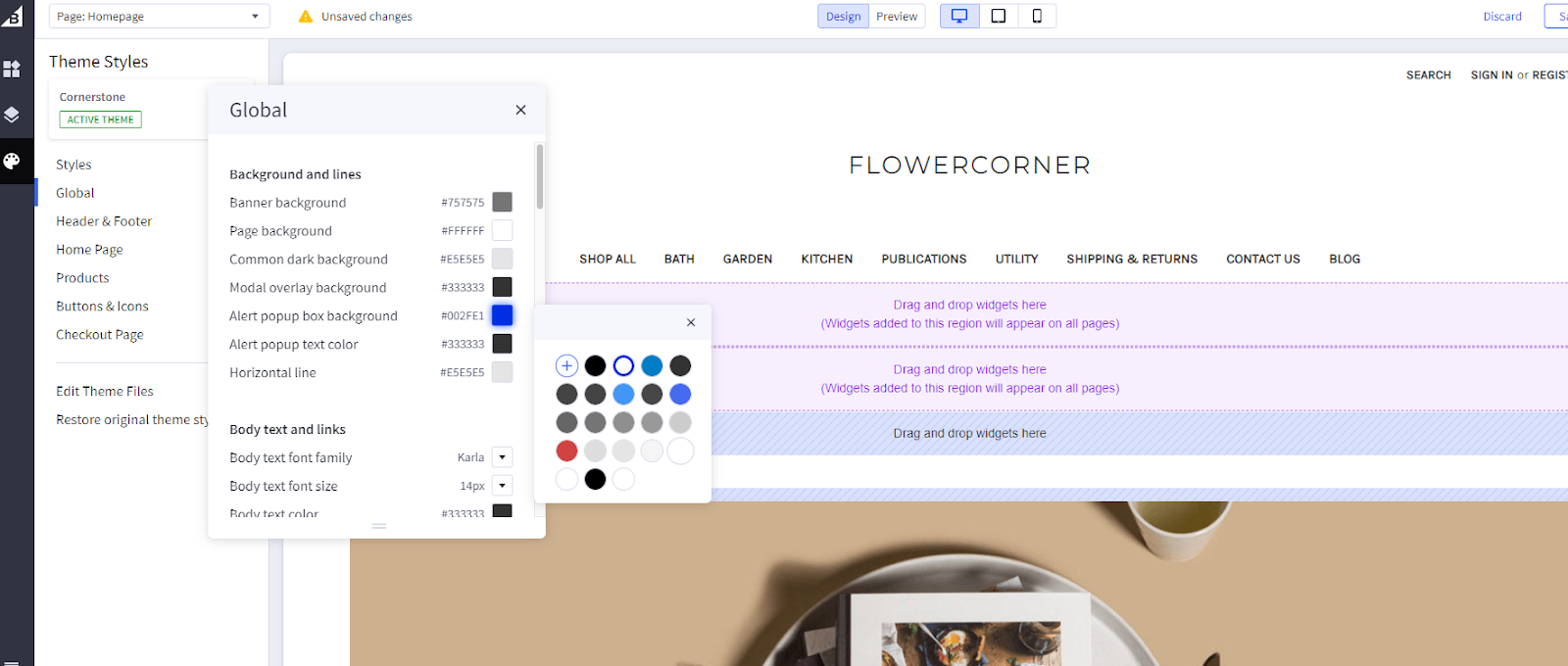 Firstly, BigCommerce's intuitive drag-and-drop editor makes it easy to design your store from scratch, complete with widgets, carousels, and more. But if you do have coding chops, the possibilities for customization are virtually endless.
Indeed, with the ability to access and manipulate every element of your storefront, you can let your creativity run wild.
And the cherry on top? BigCommerce's Store Design tool allows you to customize specific sections of your page in real time, giving you instant control over everything from background colors to logo positions.
However, we will explain this in detail below in this BigCommerce Review.
🔸 Products
BigCommerce lets you sell physical, digital, and service-based products. Also, if you still don't have or do not know what you want to sell, they have a product list to choose from.
However, BigCommerce's product management features are truly exceptional. With the ability to create up to 250 product options per item, you can provide your customers with a level of customization that truly sets your business apart.
But that's not all – BigCommerce takes it even further with a generous limit of up to 600 product variants per item.

What does this mean for you? Essentially, product variants are the number of different combinations of product options that you can offer. So, for example, if you're selling vases, you could offer a small, pink vase as one variant, and a large, purple vase as another – the possibilities are endless.

And if you're worried about managing all of those options, don't be. BigCommerce makes it easy to set product options and organize your inventory into categories that make sense for your business.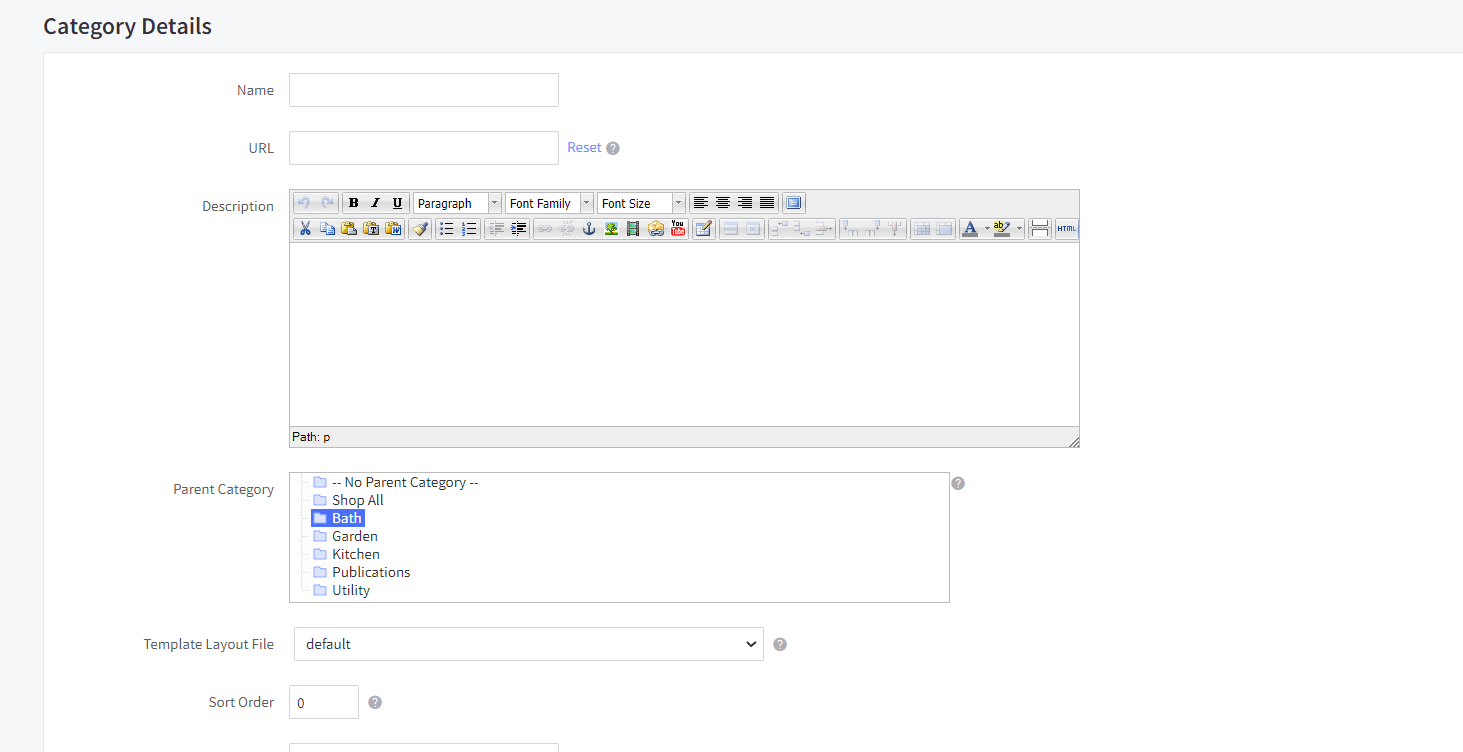 🔸 Built-in SEO tools
The platform's SEO tools are robust and easy to use. You can easily edit page titles, meta descriptions, and headers to optimize your pages for search engines. Plus, creating and changing product-specific URLs is a breeze.
Furthermore, BigCommerce's responsive templates ensure that your site is optimized for all devices, which is key to adhering to Google's SEO guidelines on web design.
In addition, the platform even takes care of image optimization for you, ensuring that your images are sized correctly and load quickly – a crucial factor in improving page speed and ranking higher in search results.
Also, SEO & Sharing option in the "Products" section is actually what completes the process. Here, you can optimize your page URL, add a meta description, or opt for open graph sharing.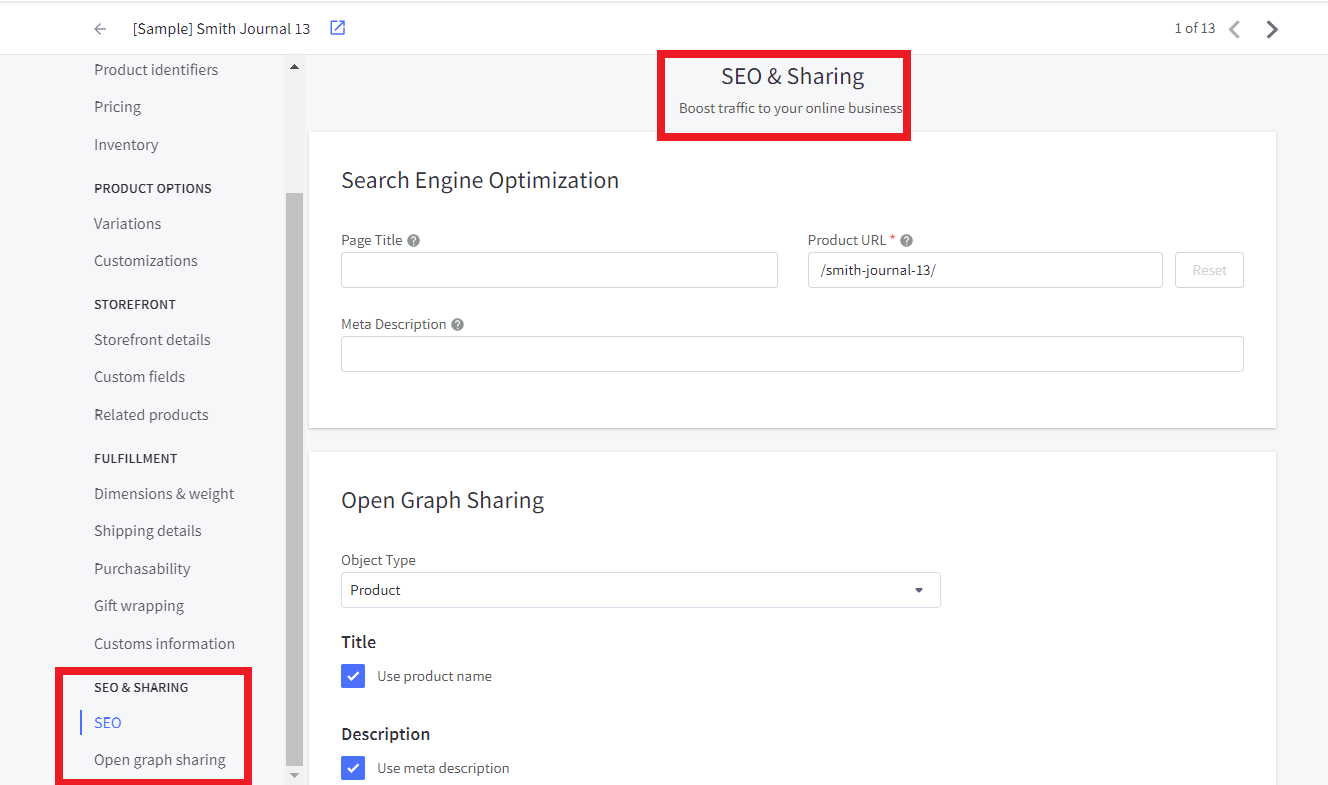 But BigCommerce's SEO capabilities don't stop there. The platform also features "Lazy Loading," which ensures that your content and photos load quickly as your customers navigate or scroll through your site – yet another factor that can boost your search engine ranking.
🔸 Multi-Channel Selling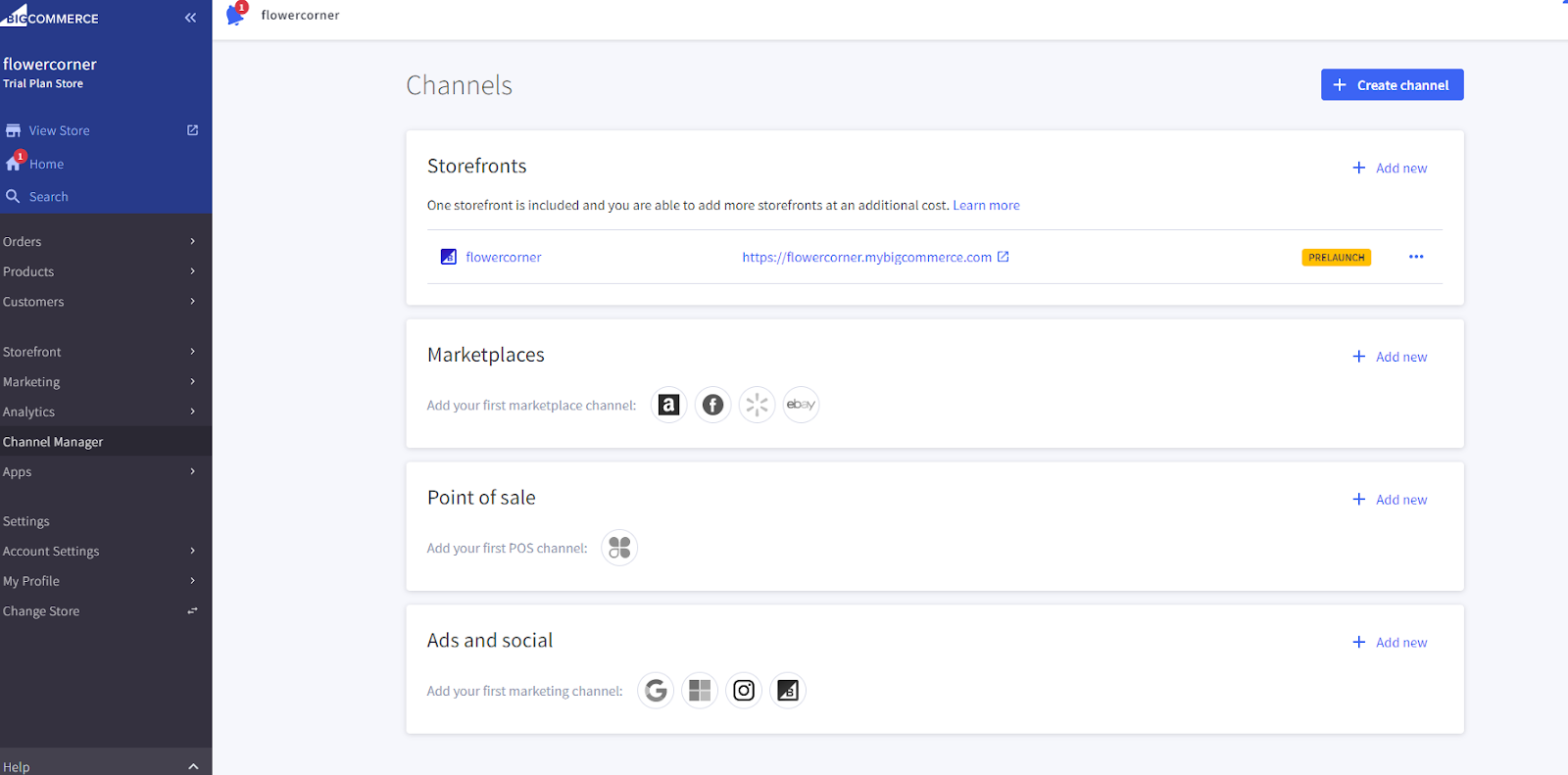 BigCommerce is famous for its multi-channel selling. And, that's for a reason. This dropshipping platform lets you sell over various sales channels.
Thus, BigCommerce makes it seamless with its intuitive integrations with Facebook, Amazon, eBay, and more. This means that not only will your inventory sync up across all platforms, but any changes made to product listings or titles automatically carry over to all channels.
Hence, this eliminates the need for manual updates and streamlines your sales process, allowing you to focus on more important aspects of your business.
But it doesn't stop there. With Instagram, BigCommerce offers a way to enhance the user journey by displaying up to five products with detailed product views on your account.
And, for those looking to expand their reach even further, BigCommerce offers a Walmart Marketplace integration with an expedited application review process, allowing you to get started as quickly as possible.
🔸 Payment Gateway Integrations
When it comes to accepting credit card payments on BigCommerce, you have two options.
The first and simplest option is to use the default payment gateway, Paypal powered by Braintree. This allows for an easy setup process and offers discounted credit card transaction rates that decrease as you move up the pricing tiers.
In the US, for instance, rates are:
BigCommerce Standard: 2.59% + 49c
BigCommerce Plus: 2.35% + 49c
BigCommerce Pro: 2.05% + 49c
BigCommerce Enterprise: 2.05% + 49c
However, keep in mind that rates may differ in other countries.
Alternatively, you can use a third-party payment processor, with around 60 payment gateways currently available depending on your country of operation.
Some of the available payment gateways here are:
PayPal
Stripe
Square
Apple Pay
Amazon Pay
Adyen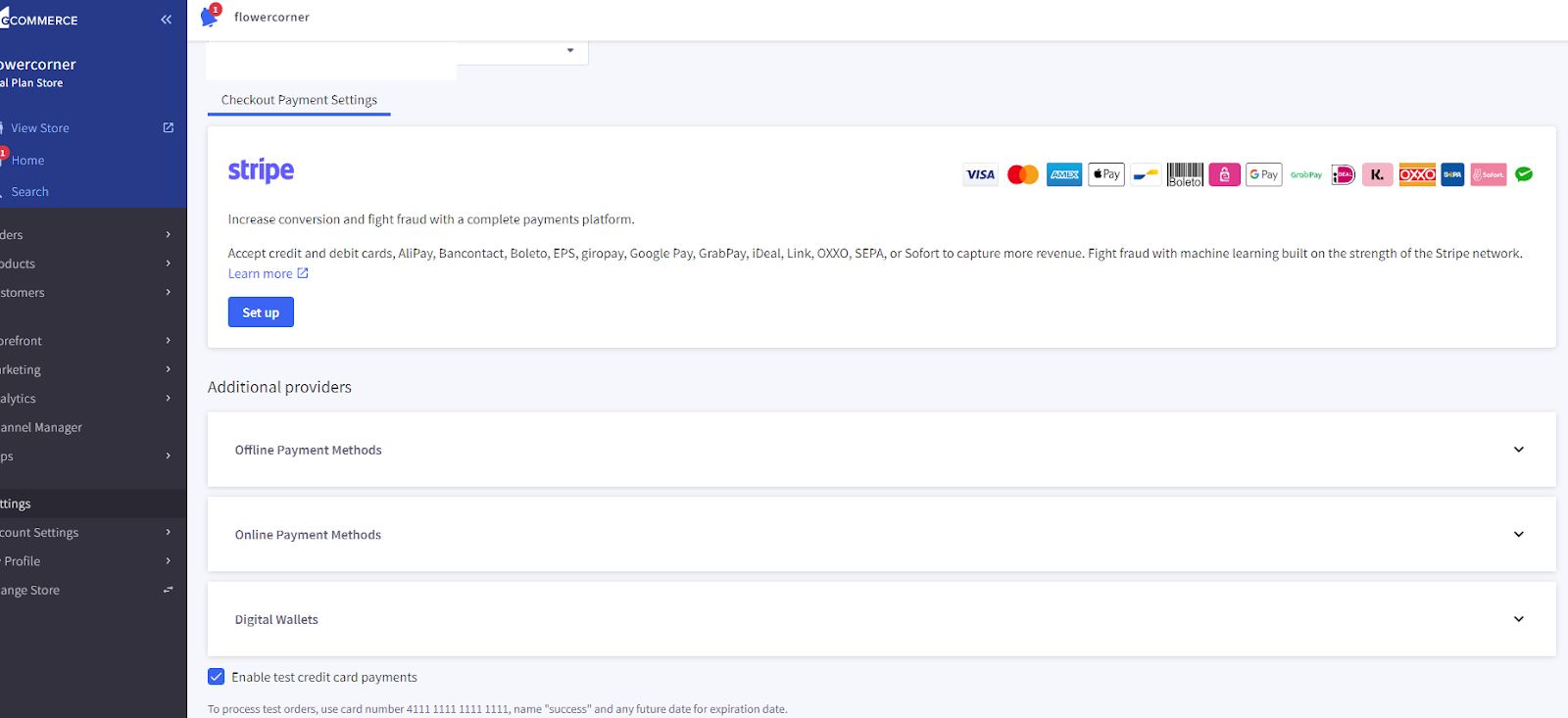 Also, please note that integrating a payment gateway with a hosted ecommerce solution like BigCommerce can sometimes be a bit of a lengthy process, requiring you to set up merchant accounts with your chosen provider and configure them to work with your store.
🔸 Inventory management
BigCommerce is a big commerce because of this feature. Their unlimited data storage capabilities are a game-changer for businesses looking to scale.
With the ability to store vast amounts of data, from product catalogs to customer data, the platform's cloud-based SaaS architecture ensures that website loading times remain speedy and front-end operations remain unaffected, even with massive data loads.
So, as you expand your business, you can be confident that BigCommerce's robust data storage will keep up with your growth, making it a powerful tool in your arsenal.
🔸 Customer management
Another extensive BigCommerce feature is customer management. Here you can also add new customers. Thus, you can save your customer's personal information. What's more, you can organize your customers into groups.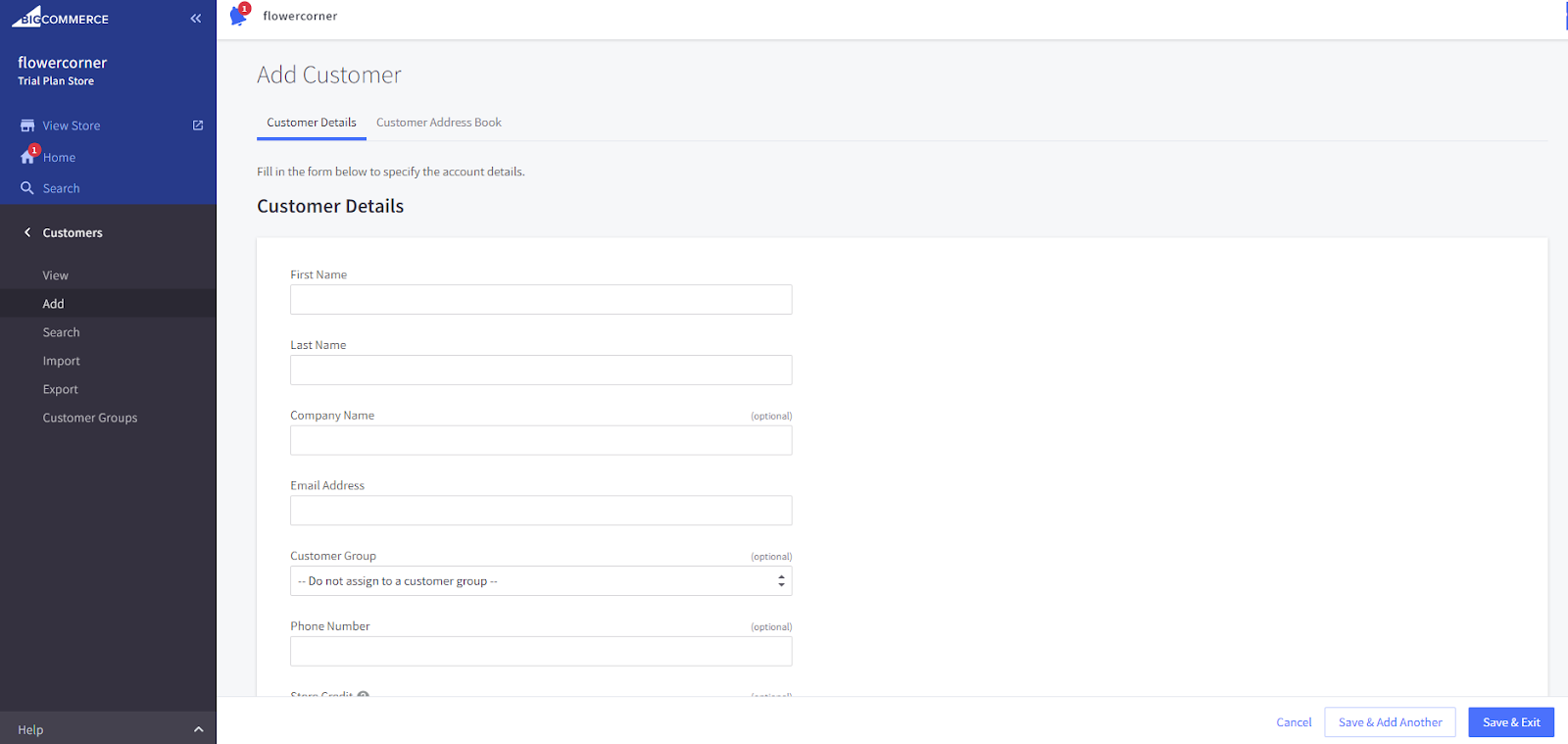 This is very helpful when creating marketing campaigns, or using email marketing. Thus, it is easier for you to target your audience and promote your products. Plus, you can also create and issue gift vouchers for specific customers from the "Order" tab in your BigCommerce account.
🔸 Shipping Options
BigCommerce offers a plethora of shipping options to ensure you can deliver products to customers efficiently.
Its platform allows you to provide real-time shipping quotes, offer free shipping, and even print shipping labels with ease thanks to third-party integrations.
However, what sets BigCommerce apart is its all-in-one shipping service, which offers incredible discounts of up to 80% off with USPS, DHL, and FedEx. Simply install the free BigCommerce Shipping app to access these perks.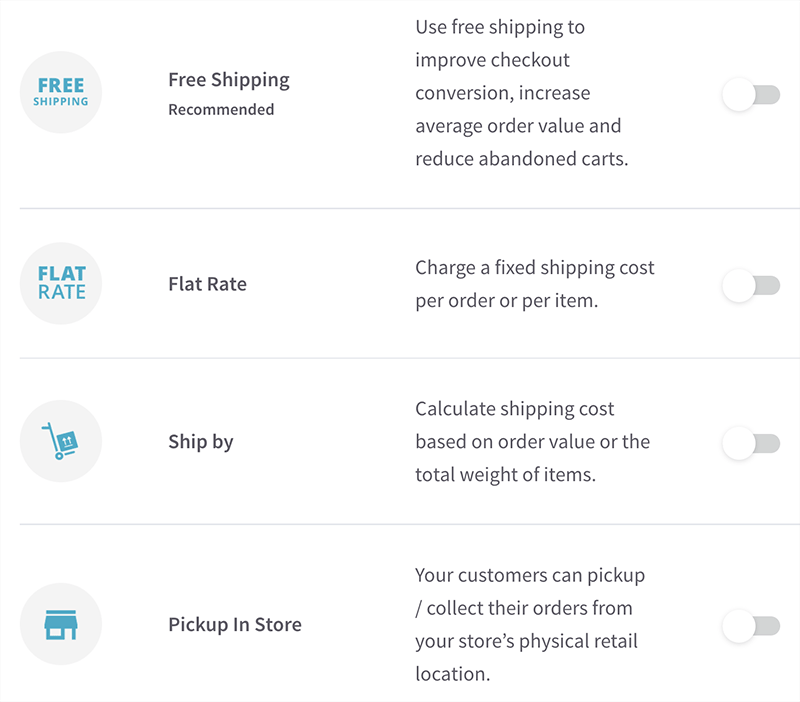 Additionally, you can customize your shipping options by setting up different rules and methods:
Free shipping rates
Flat rates
Price-based rates
Weight-based rates
In-store pickup
Real-time shipping rates from third-party carriers
Unlike other ecommerce platforms, which usually limit third-party real-time shipping rates to their most expensive plans, BigCommerce offers this feature across all its plans.
🔸 Marketing tools
As we already mentioned above, one of BigCommerce's marketing tactics is its Built-in SEO feature. However, there are various others. So, let's see what else we got on this BigCommerce Review.
Banners
On BigCommerce you can create banners and promote your products, or deals. Thus, from the sidebar navigate to Marketing>Banners. And, here you can create your own banner.
Also, you can choose where you want to place it and set up the date range.
Promotions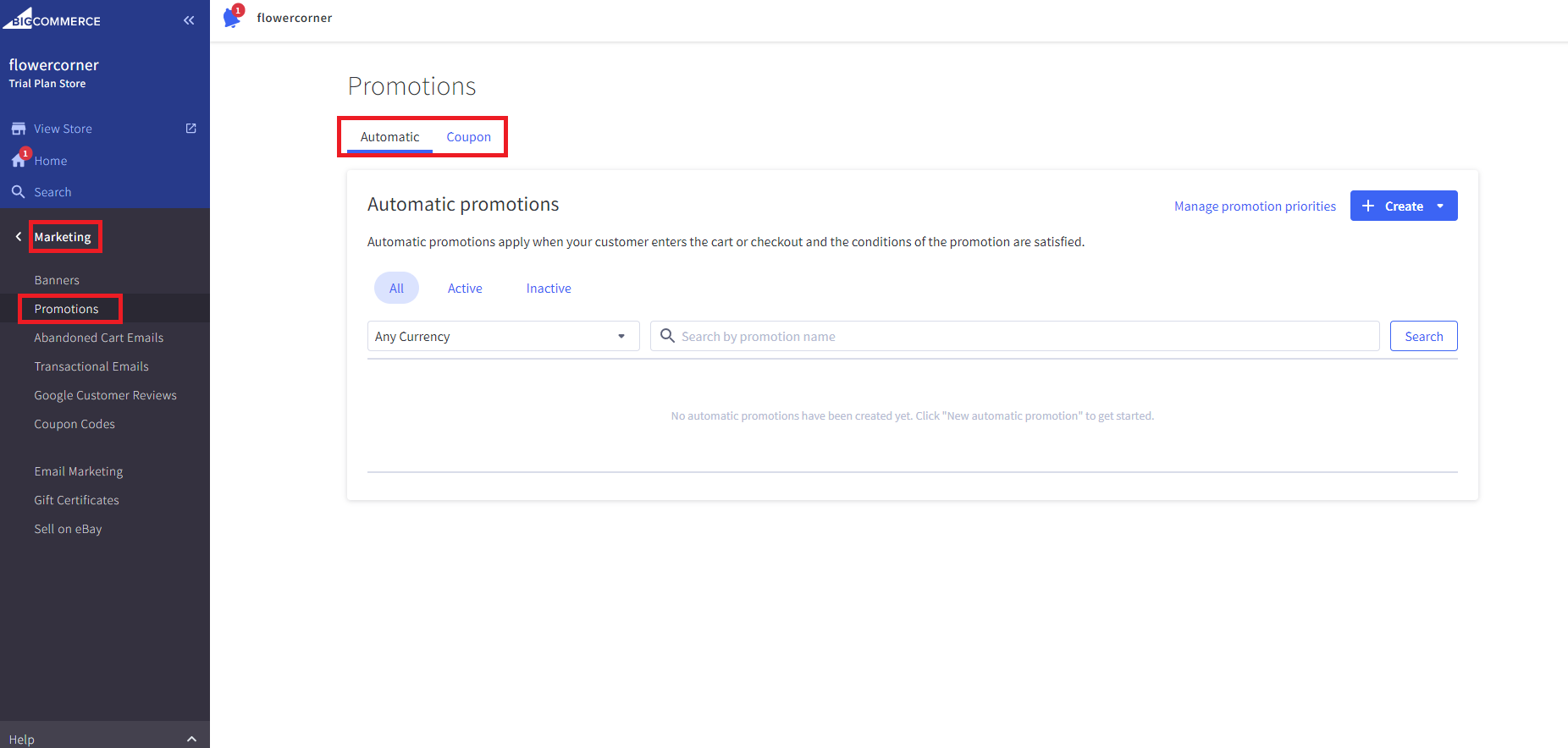 Furthermore, BigCommerce also enables you to make promotions or coupon promotions. Thus, you can specify your promotion rules, target customers, set-up date, currency, and more.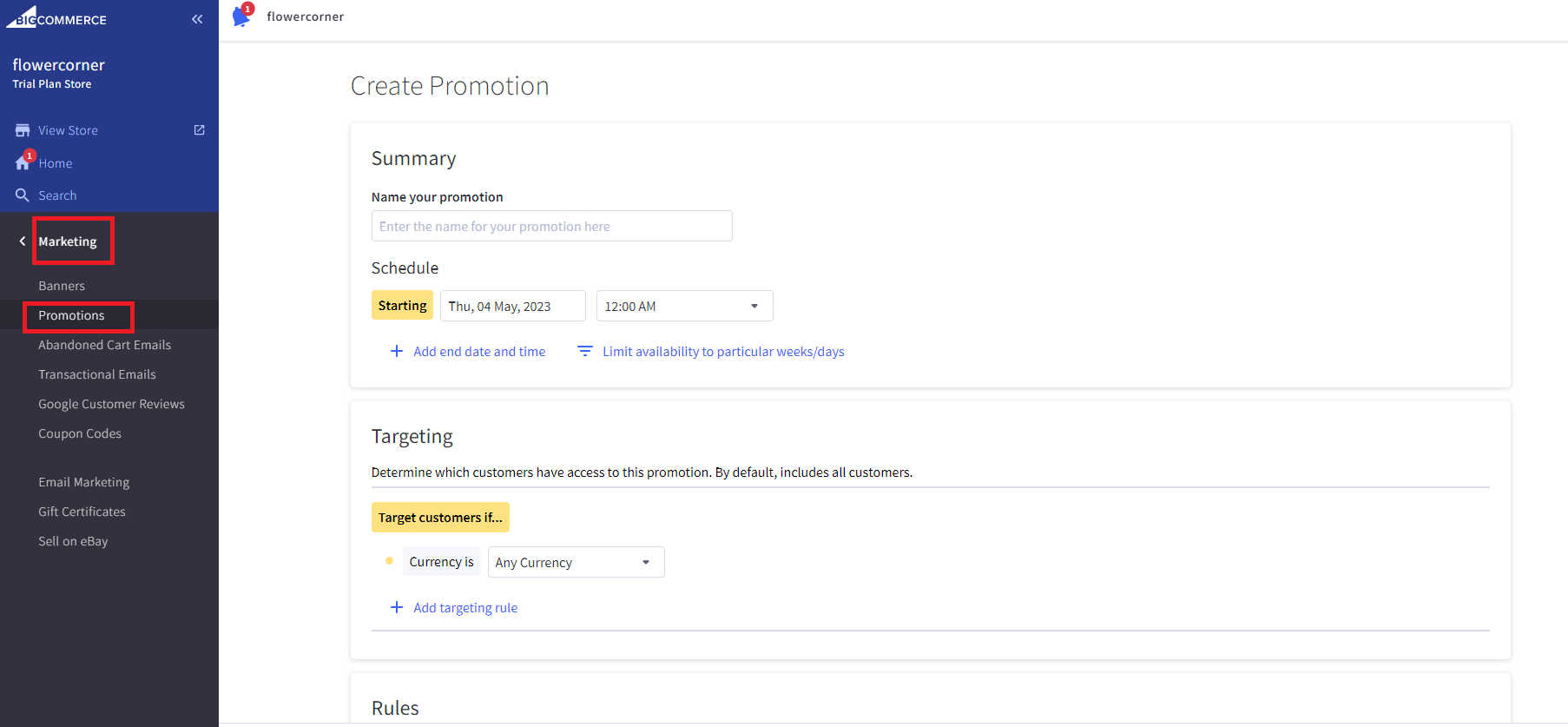 Abandoned cart emails
BigCommerce's abandoned cart feature is a powerful tool for businesses that want to recover lost sales. In fact, it enables you to identify shoppers who have halted their purchase midway and trigger automated reminder emails urging them to finalize the transaction.
Unlike some of its competitors, BigCommerce allows you to send up to three automated reminder emails to visitors who have abandoned their carts, offering incentives like discount codes to encourage them to complete their purchases.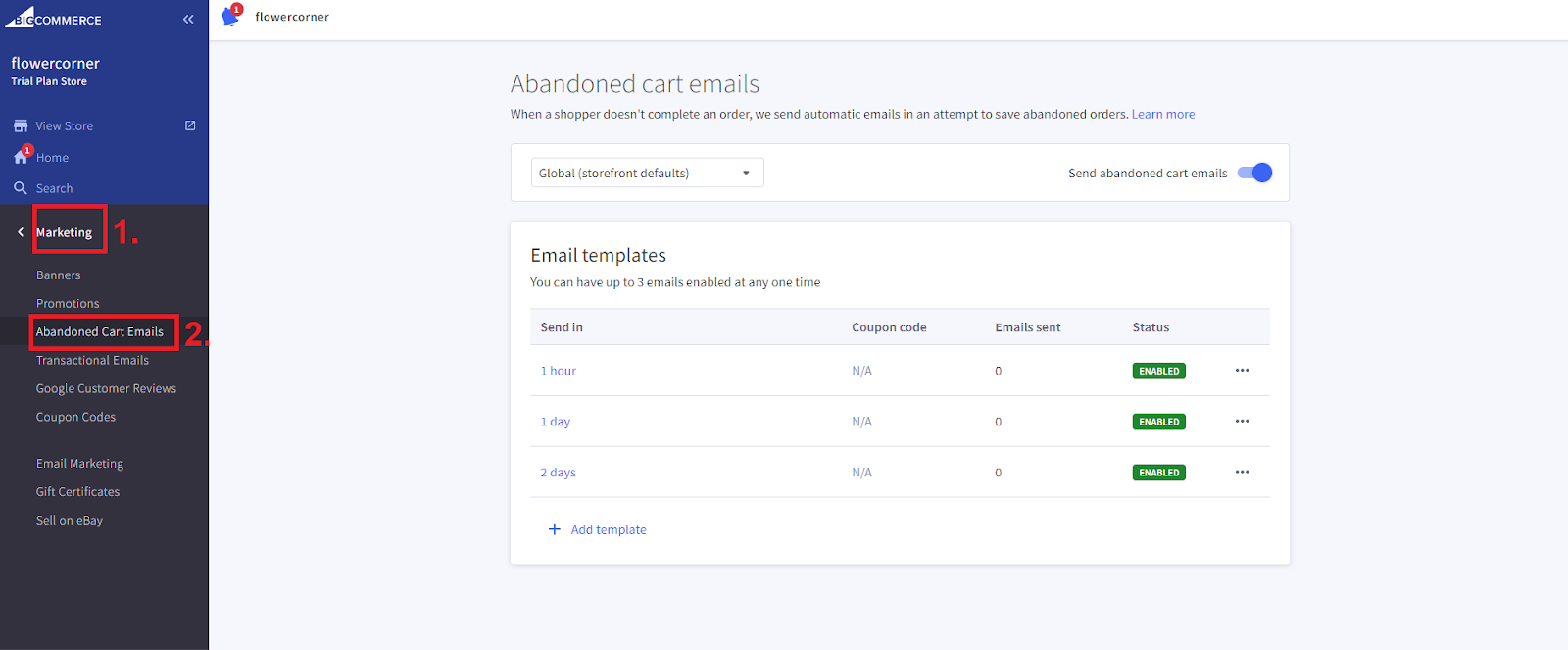 What's more, you can also take advantage of their abandon cart email templates.
However, it's worth noting that this functionality is only available on the Plus, Pro, and Enterprise plans. So if you're serious about recovering lost sales, these plans are worth considering.
Transactional emails
Next, to make it easier for you, BigCommerce has plenty of templates for transactional emails to choose from.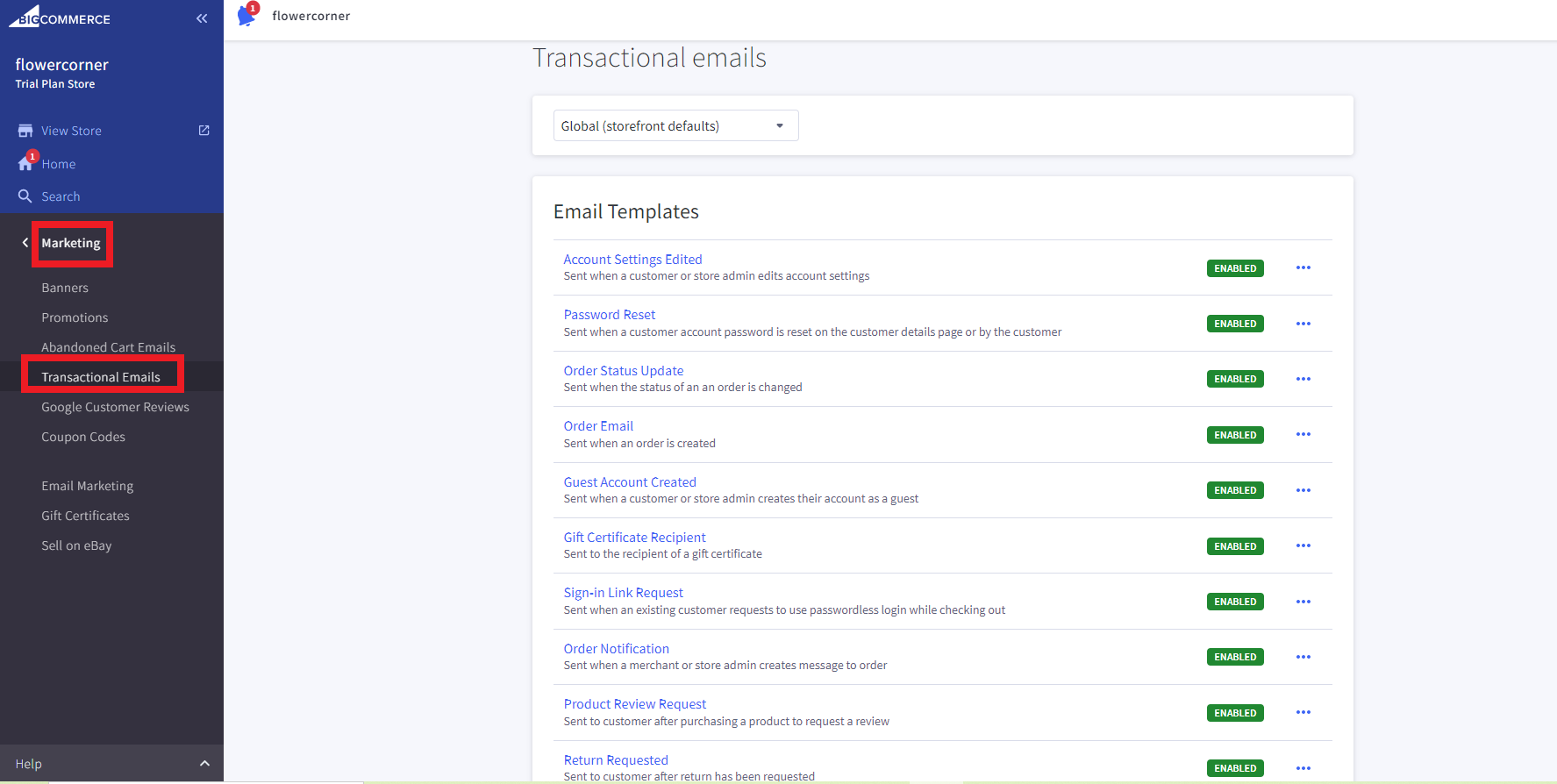 What's more, you can even edit the templates and add additional info.
Coupon Codes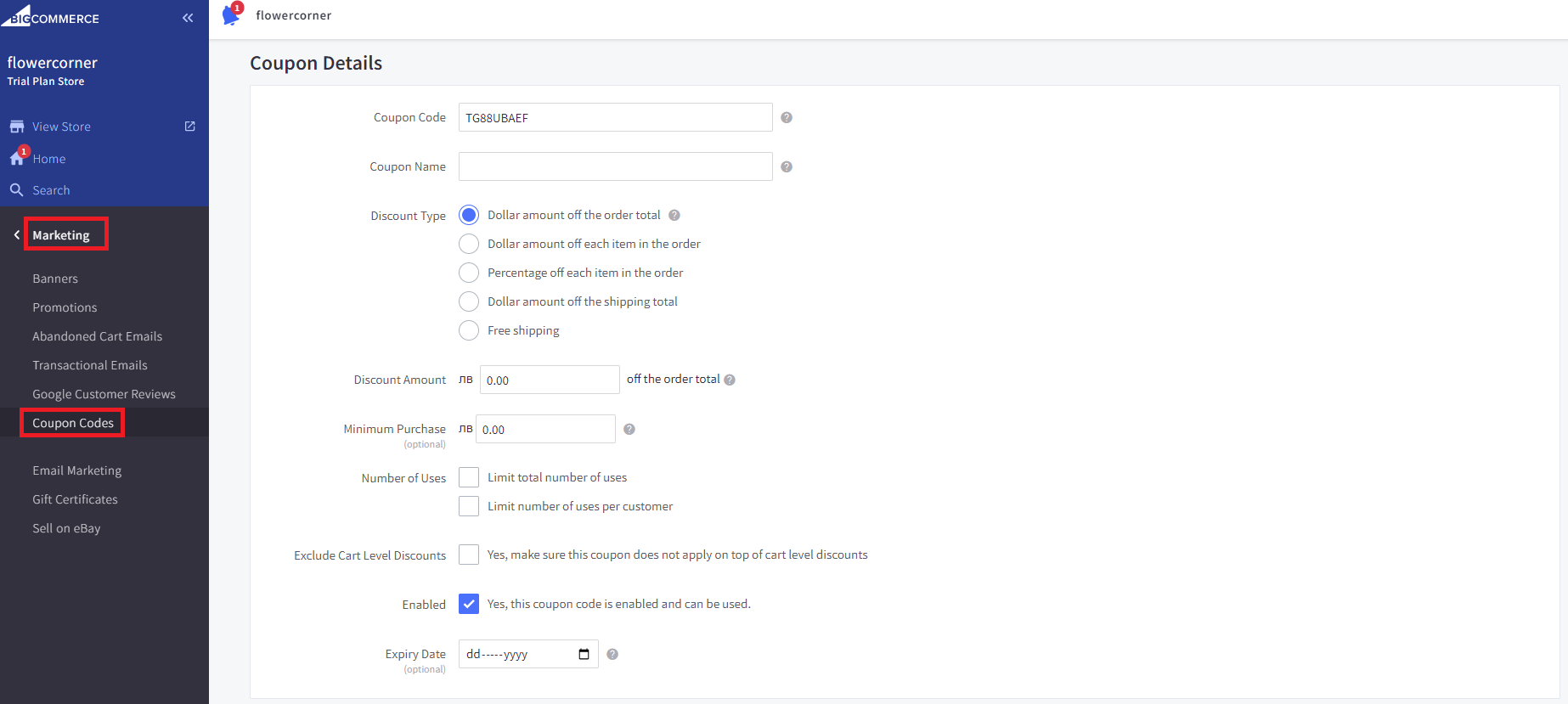 Hence, you can add coupon coupons for first-time customers, returning customers, etc. So, you can specify the discount type, amount, number of uses, date range, etc.
Gift Certificates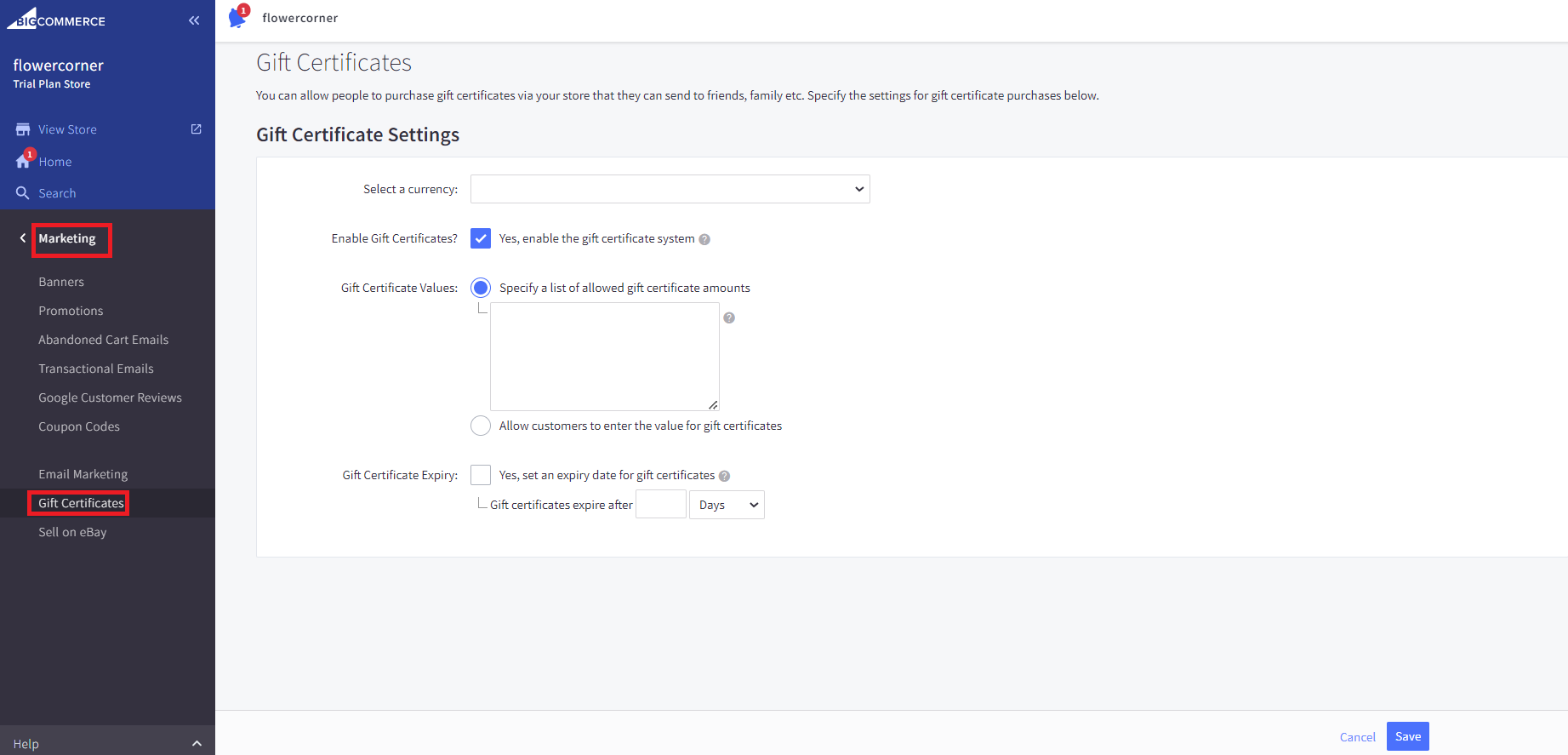 The best part, you can create individual gift certificates for each of your customers based on their purchasing habits.
🔸 Point of Sale
BigCommerce is more than just a dropshipping platform. It also enables dropshippers to sell at the point of sale (POS).
One remarkable feature of this platform is its ability to seamlessly integrate online and offline payments, an area where other ecommerce platforms often fall short.
BigCommerce offers a centralized solution for businesses with physical stores or those who sell in person. Thus, they have integrations with:
Clover
Square
Epos Now
Vend,
iZettle
Hike
What's more, by keeping inventory synced and finances centralized, BigCommerce simplifies the process of managing sales across all channels So, whether you're a brick-and-mortar business or sell at events and markets, BigCommerce provides a robust platform for managing your sales operations.
🔸 Helpful Tutorials & Support Resources
Luckily, BigCommerce offers a range of help options to ensure your dropshipping business is back on track in no time.
However, the type of support available varies depending on the price plan you choose.
So, BigCommerce provides 24/7 phone and live chat support, so you can easily access assistance regardless of the time of day.
Thus, no need to anxiously wait for business hours to start. But, simply pick up the phone or initiate a live chat, and your problem will be resolved by morning.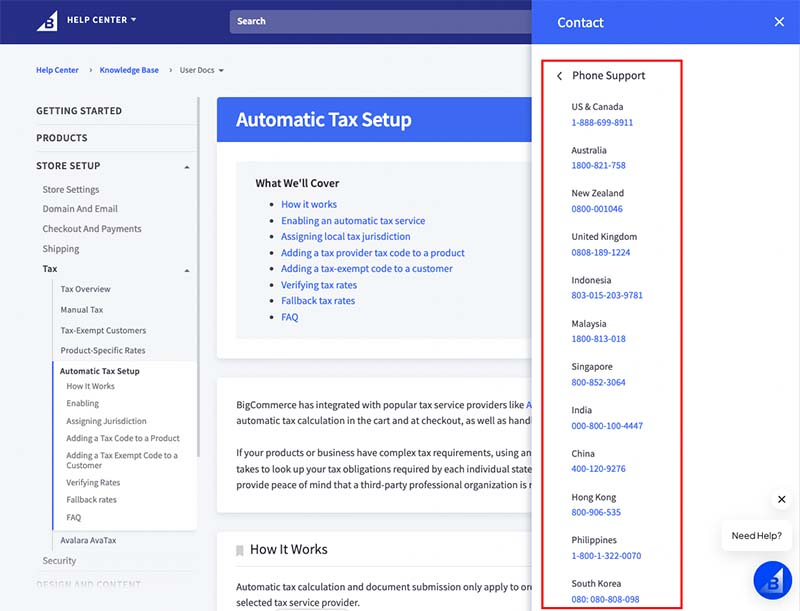 But that's not all. As a BigCommerce customer, you'll also have access to email support.
In fact, when you sign up for a free trial, you'll receive an email inviting you to schedule a 10-minute call to discuss your business goals and how BigCommerce can help you achieve them.
Beyond traditional support channels, BigCommerce also provides helpful video tutorials, as well as a comprehensive Help Center packed with resources and guides to empower you to troubleshoot issues on your own.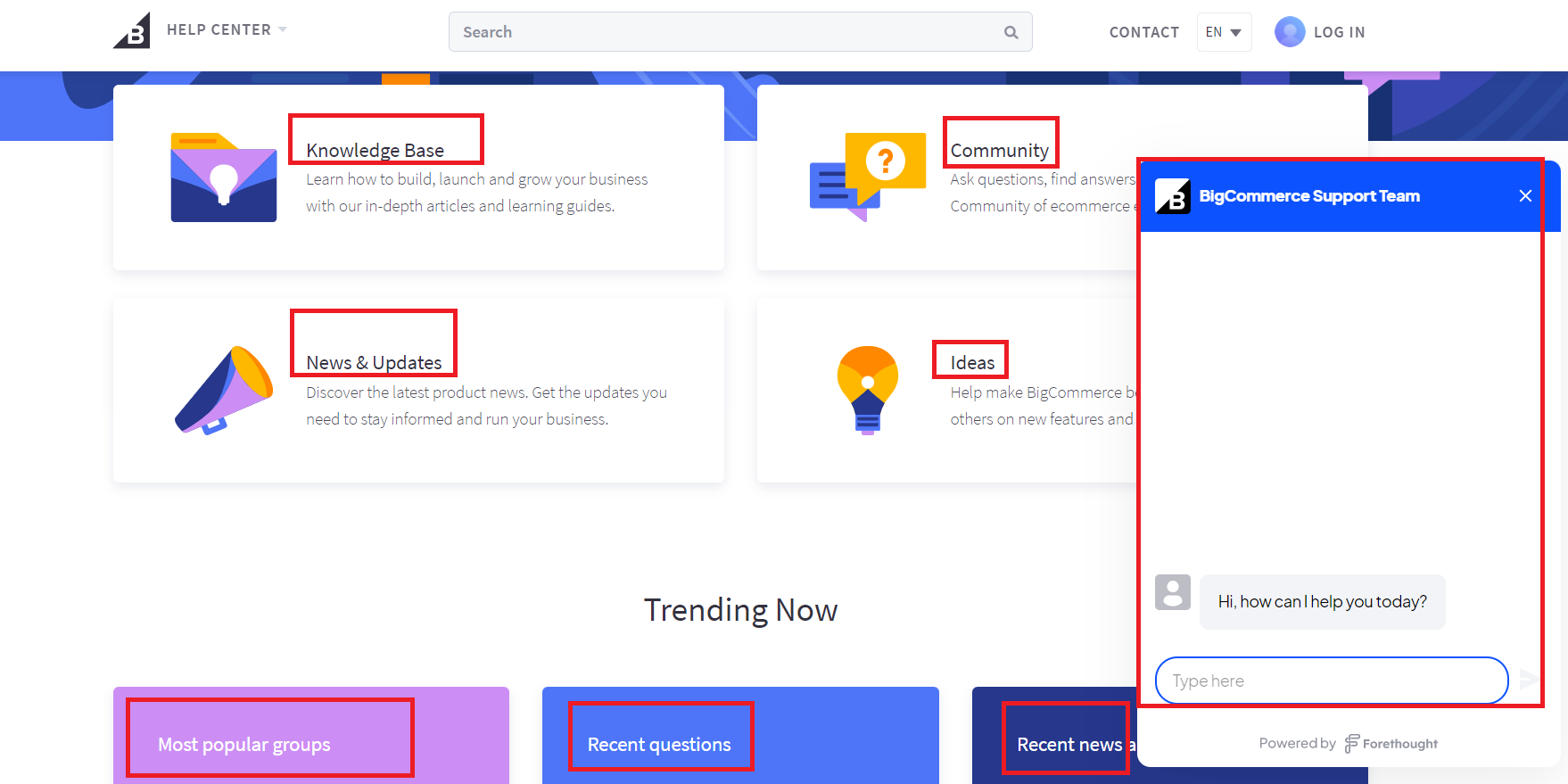 With BigCommerce, you can rest easy knowing that expert help and guidance are always within reach.
Now, let's dive into more details about customization and design in our BigCommerce Review.
BigCommerce Review: Themes & Templates
Further, BigCommerce has a wide range of free and paid templates. Thus, you can definitely find a good choice since they have each dropshipping niche.
👉 Learn How to Start a Dropshipping Clothing Business in 2023 [+Suppliers List].
Now, there are 12 free themes available, each with multiple variants to choose from. Hence, the free themes, while limited in number, offer a contemporary and professional look that serves as a solid starting point for your store. 👇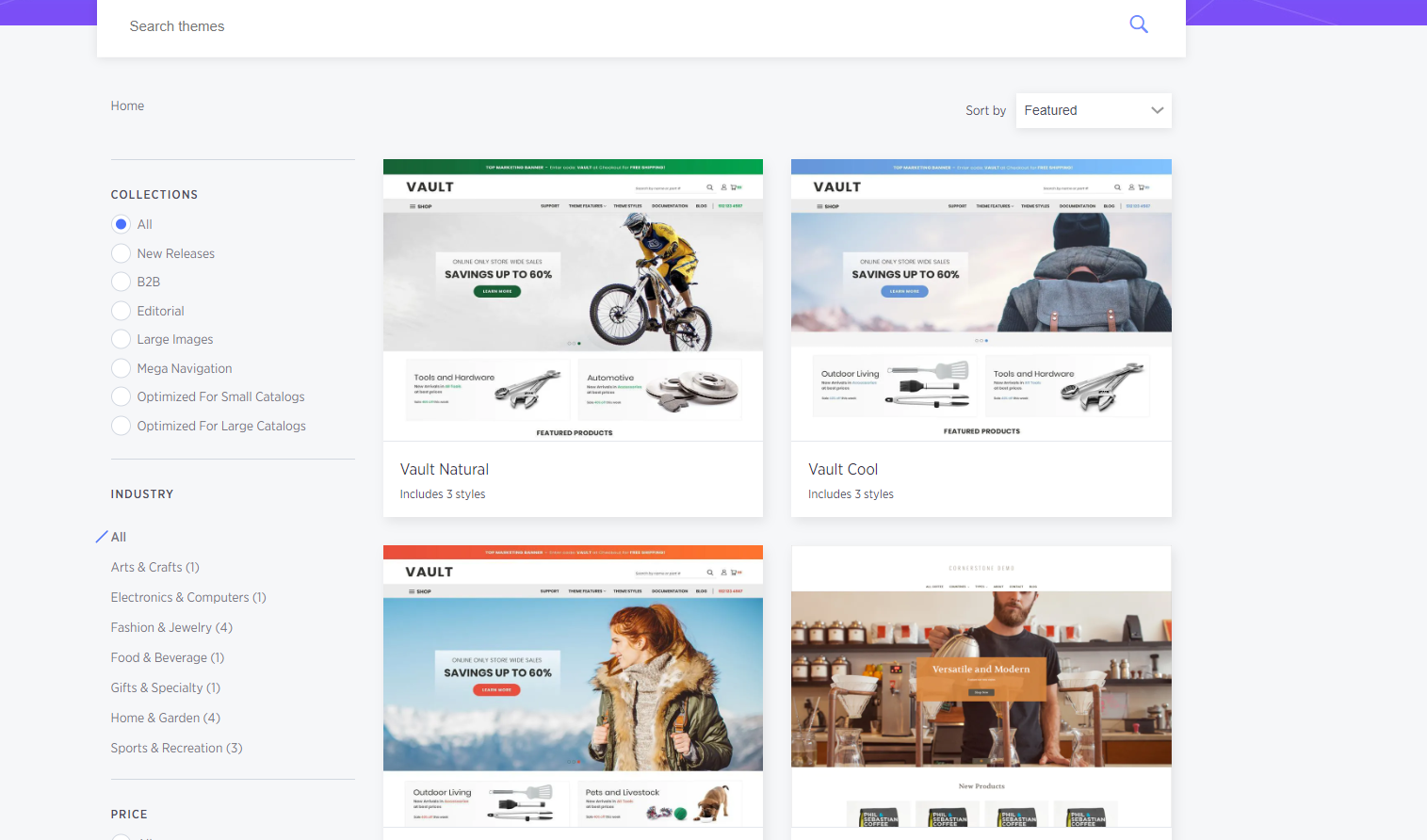 However, keep in mind that a few of these free themes can feel quite similar to one another, differing only in their color schemes.
On the other hand, investing in one of the paid-for BigCommerce themes is worth considering. Thus, there are around 190 paid templates at the moment. And, the pricing ranges from $150 to $399. 👇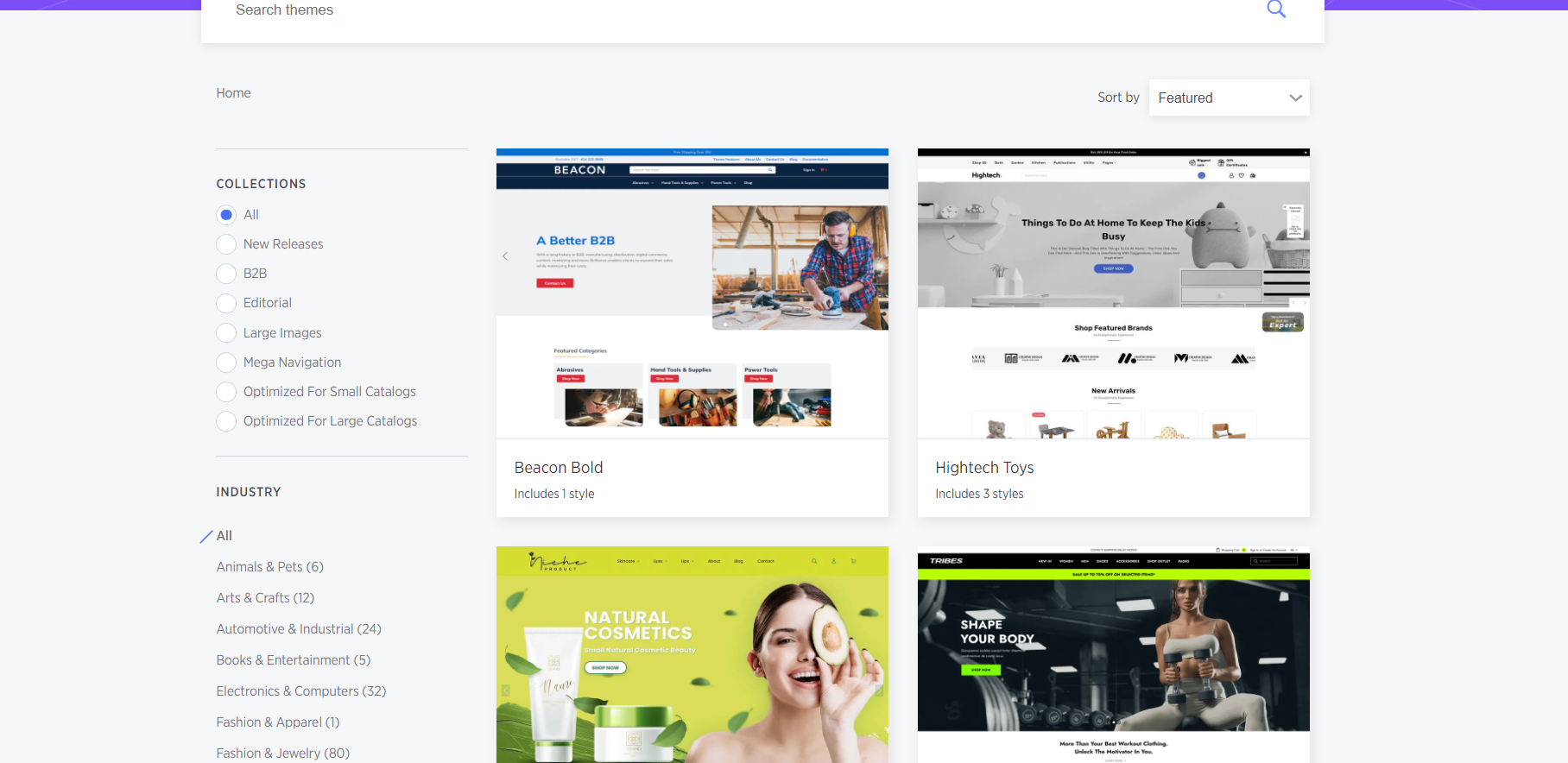 Next, customizing themes is very easy. Let's see how we ca do it in our BigCommerce Review.
With the Store Design tool at your fingertips, you have the power to craft a truly unique shopping experience that sets you apart from the competition.
Thus, you can pick and choose specific sections of your page and tailor them to your liking in real time. What's more, you have complete control over everything from background colors to logo placement, product displays, navigation arrows, and more.
Thus, you can create as many landing pages as you want. 👇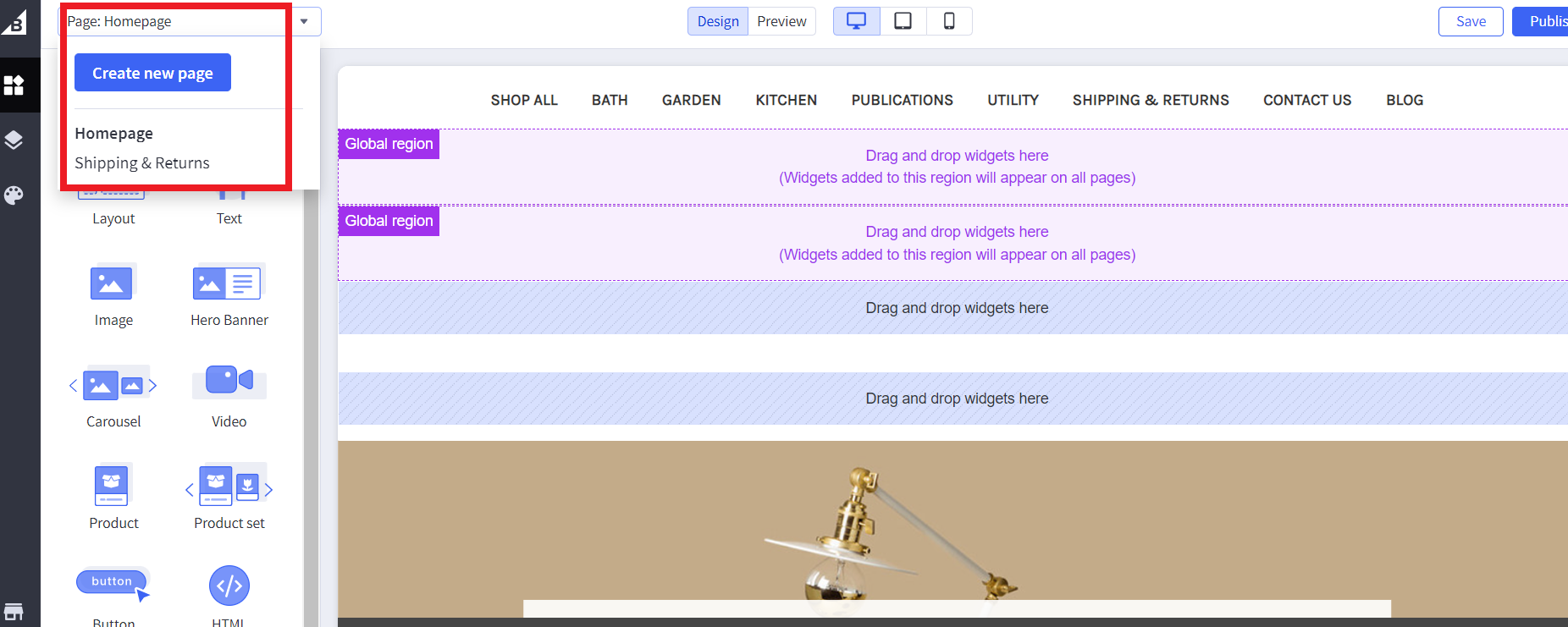 Also, you can set images, banners, videos, buttons, products, product sets, carousels, etc. And, all this is easy thanks to their drag-and-drop editor.
What's more, for each theme there are theme styles to choose from. 👇

Furthermore, you can even change colors, fonts, descriptions, and more on each storage element. However, please note that there can be limitations to the choices of web fonts or colors available in some themes.

Plus, all the themes are fully responsive, and automatically display on any device like mobile, tablet, etc.
How Does BigCommerce Work?
First thing first, you need to create your dropshipping store. So, this requires several steps, like filling out a form with personal info, and a few questions about your dropshipping business.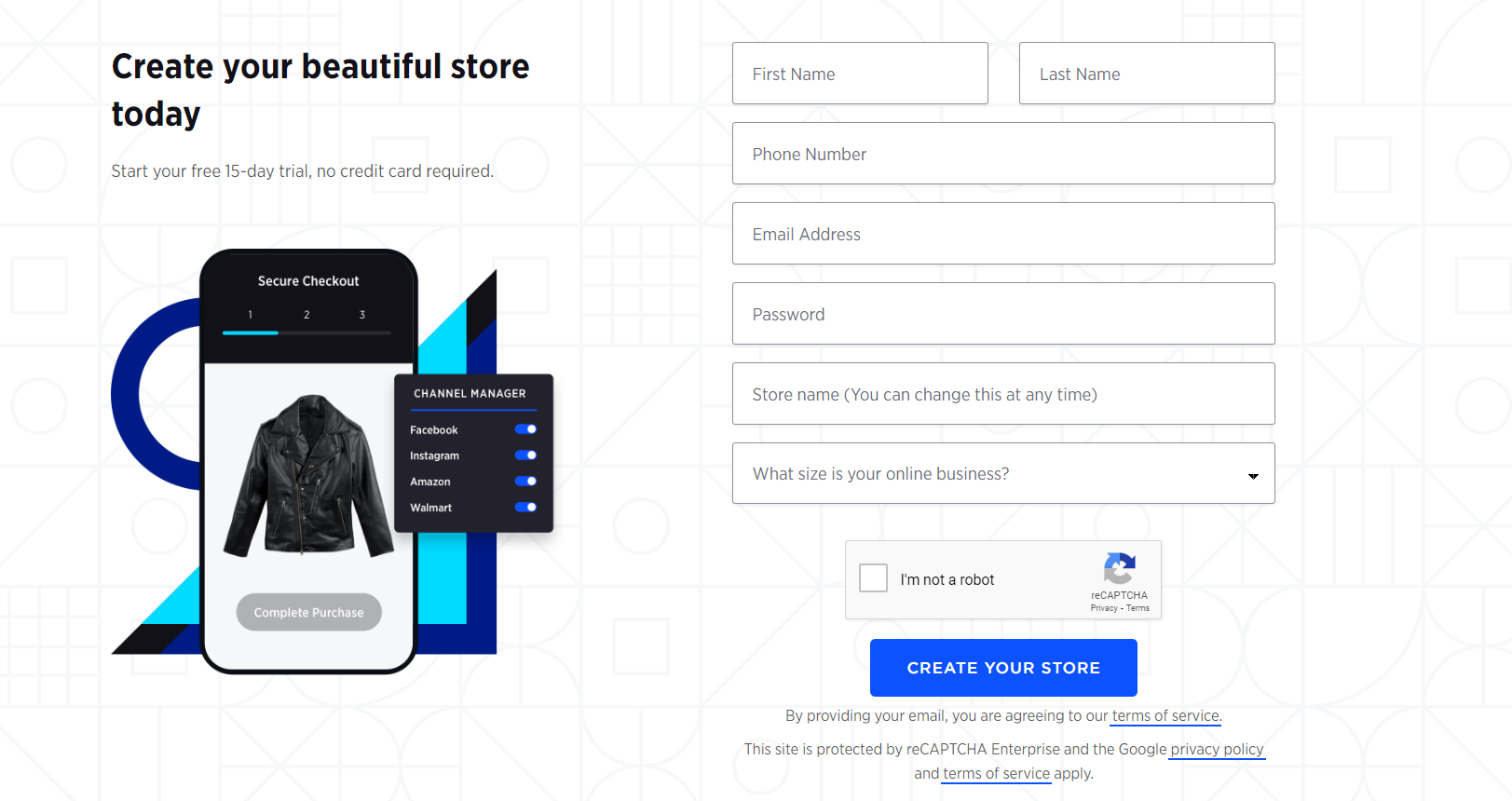 Once you create your dropshipping store, the first thing you land on is the BigCommerce dashboard.
Well, thankfully, it's all clear like a bright day! Thus, you can access each of BigCommerce Features from here. As you can see, you just need to click on the section you need from the sidebar menu, and you are there. 👇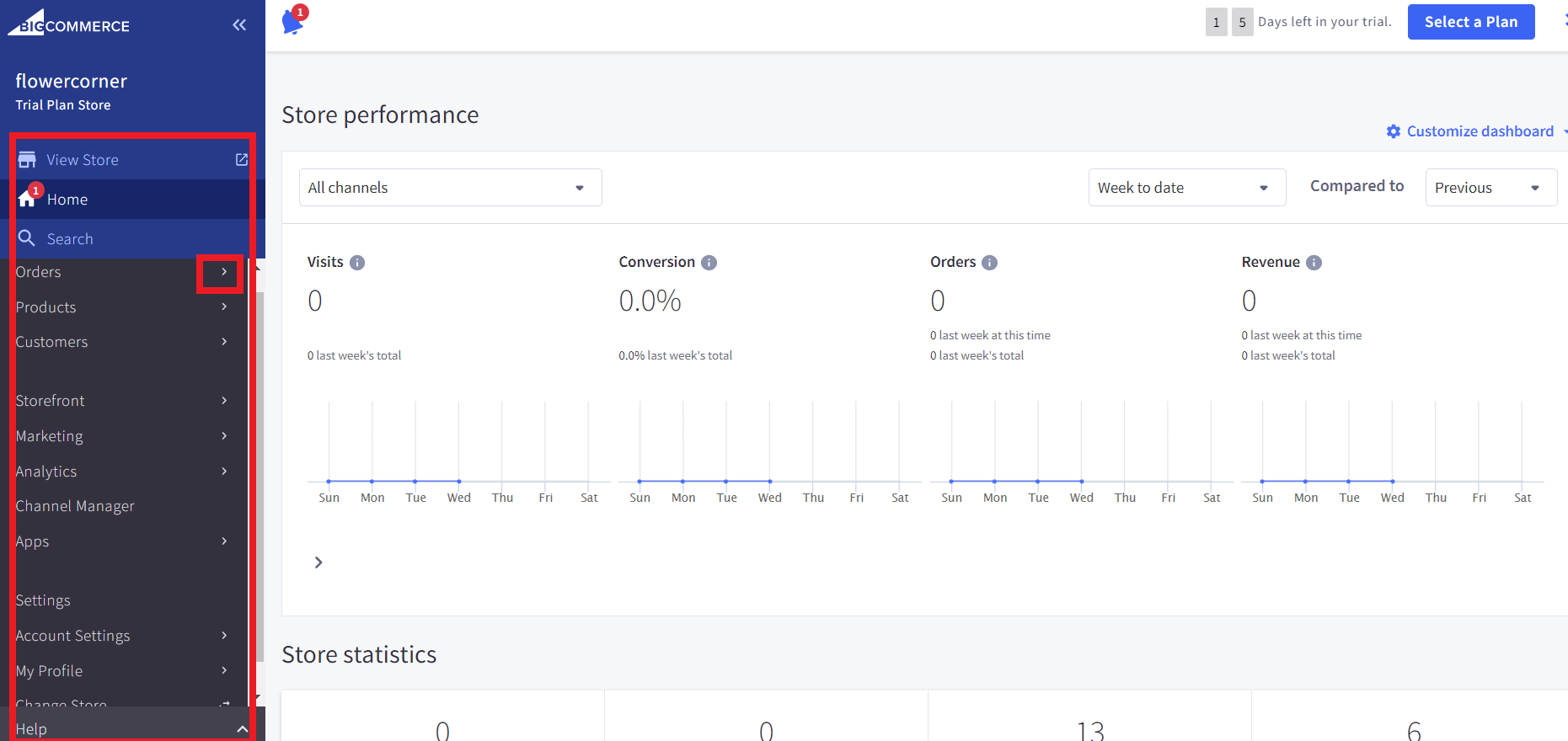 What's more, you can even customize the dashboard, and choose what information to be displayed. 👇

Add Products
Next, as we start setting up our dropshipping store, the first thing we do is add products. So, from the sidebar click on Products. Here you can choose from the BigCommerce products list, or click on "Add" if you want to add your product.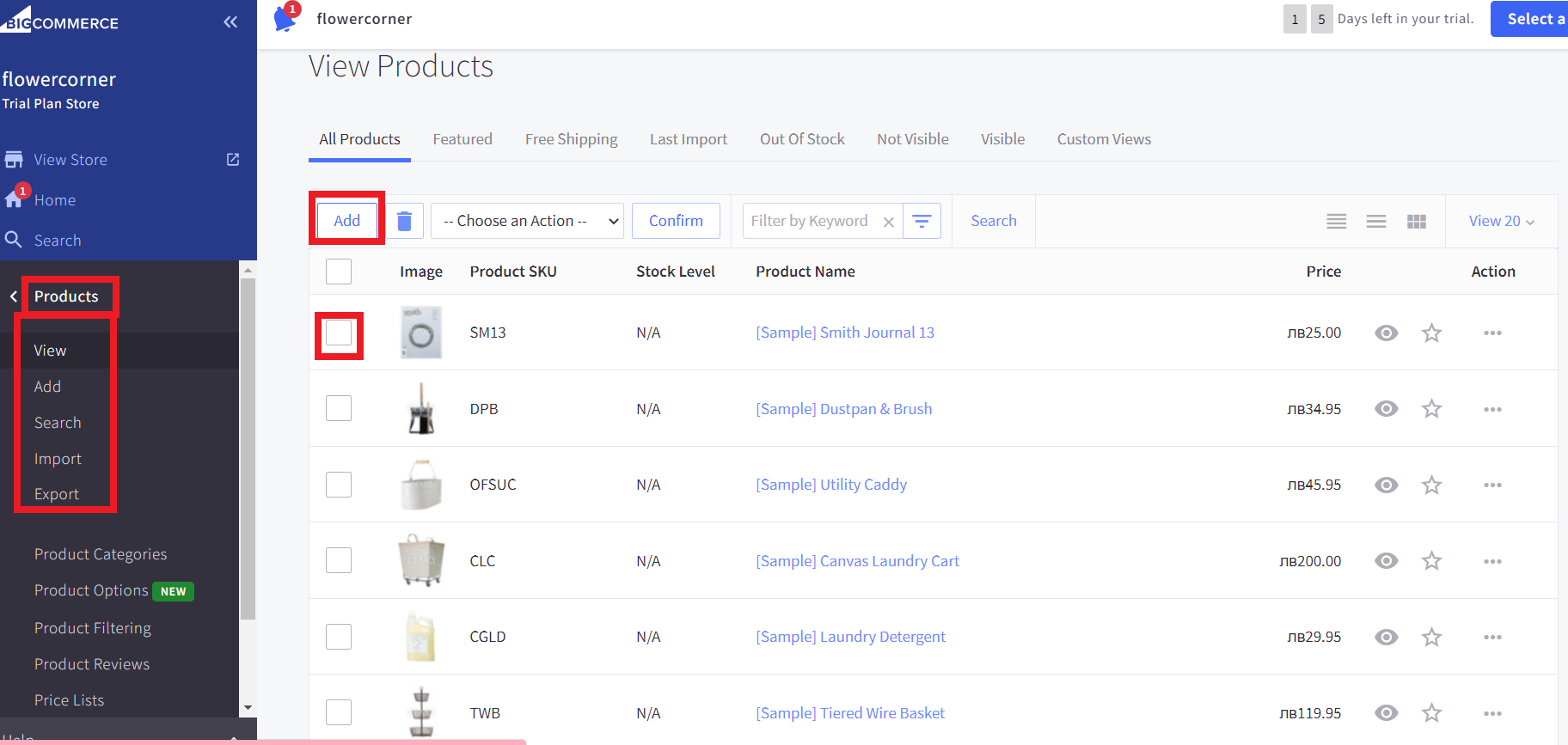 In this section, you can add product info like name, descriptions, images, price, inventory, product identifiers, variations, search keywords, SEO & Sharing options, etc. Also, you can place the product in a specific category.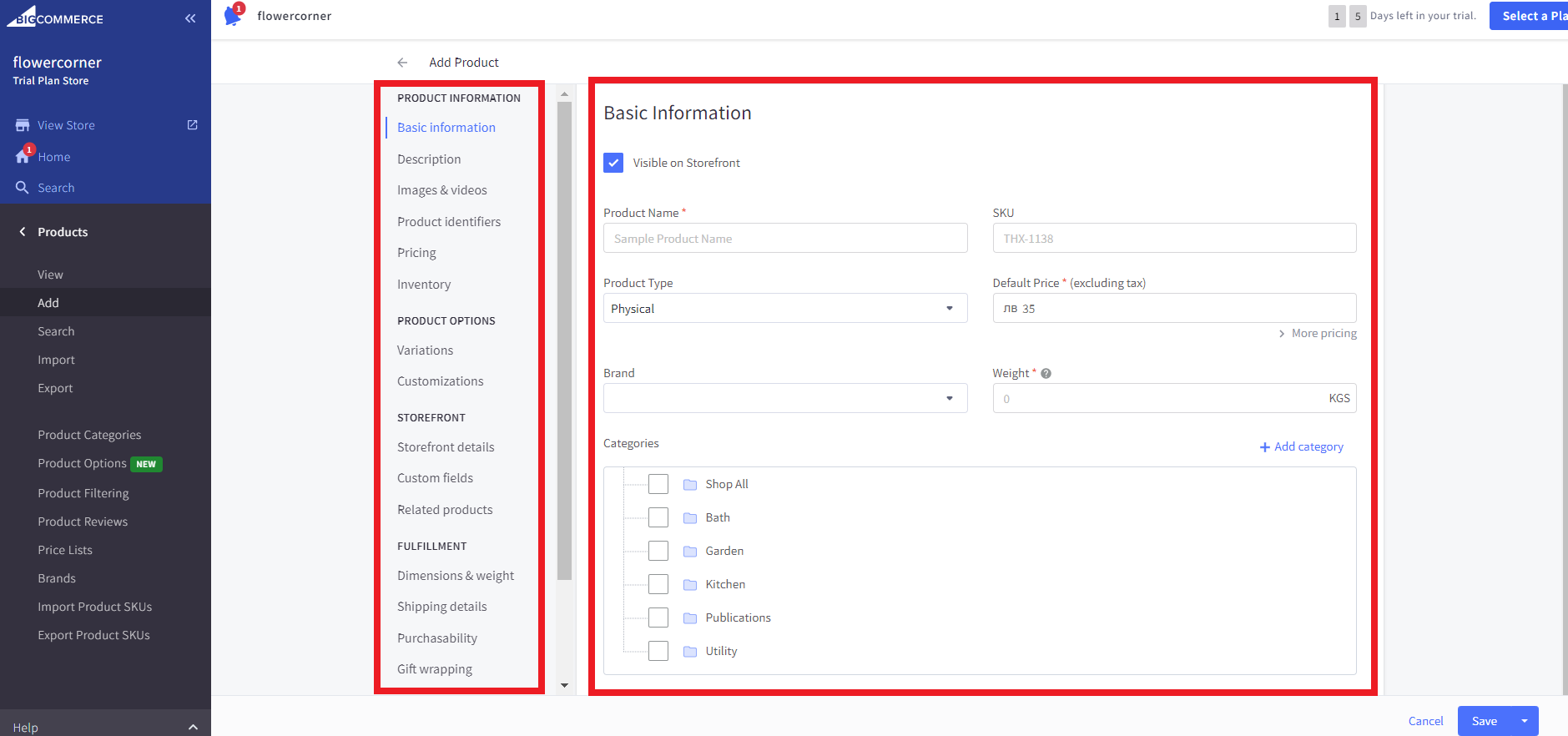 Once you finish, click on the "Save" button. You can also, import and export product listings.
Furthermore, you can also create product categories and sort your products here. So, simply click on " Product Categories" and then fill out the needed information.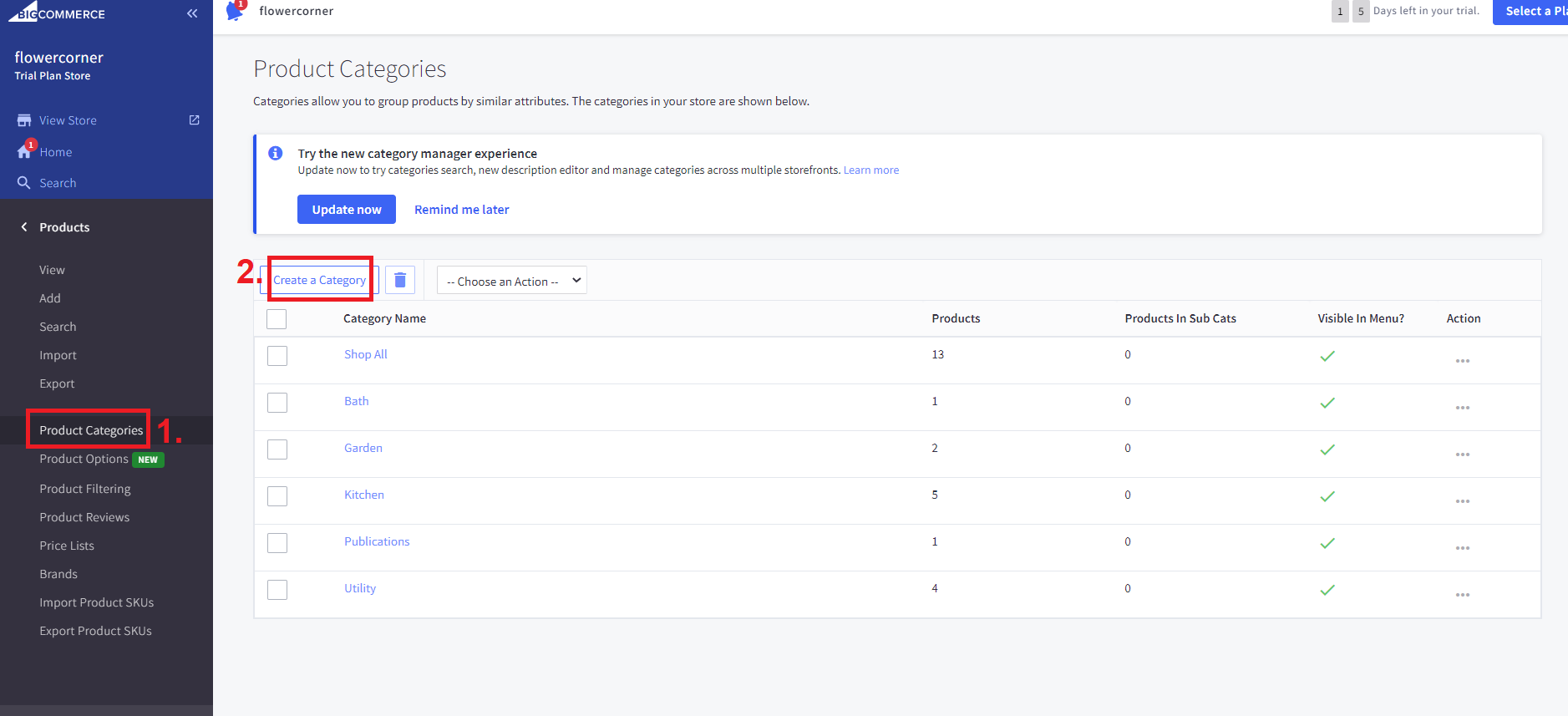 Thus, add category name, description, and all others. And, once you are done click on "Save & Exit" or "Save and Add Another".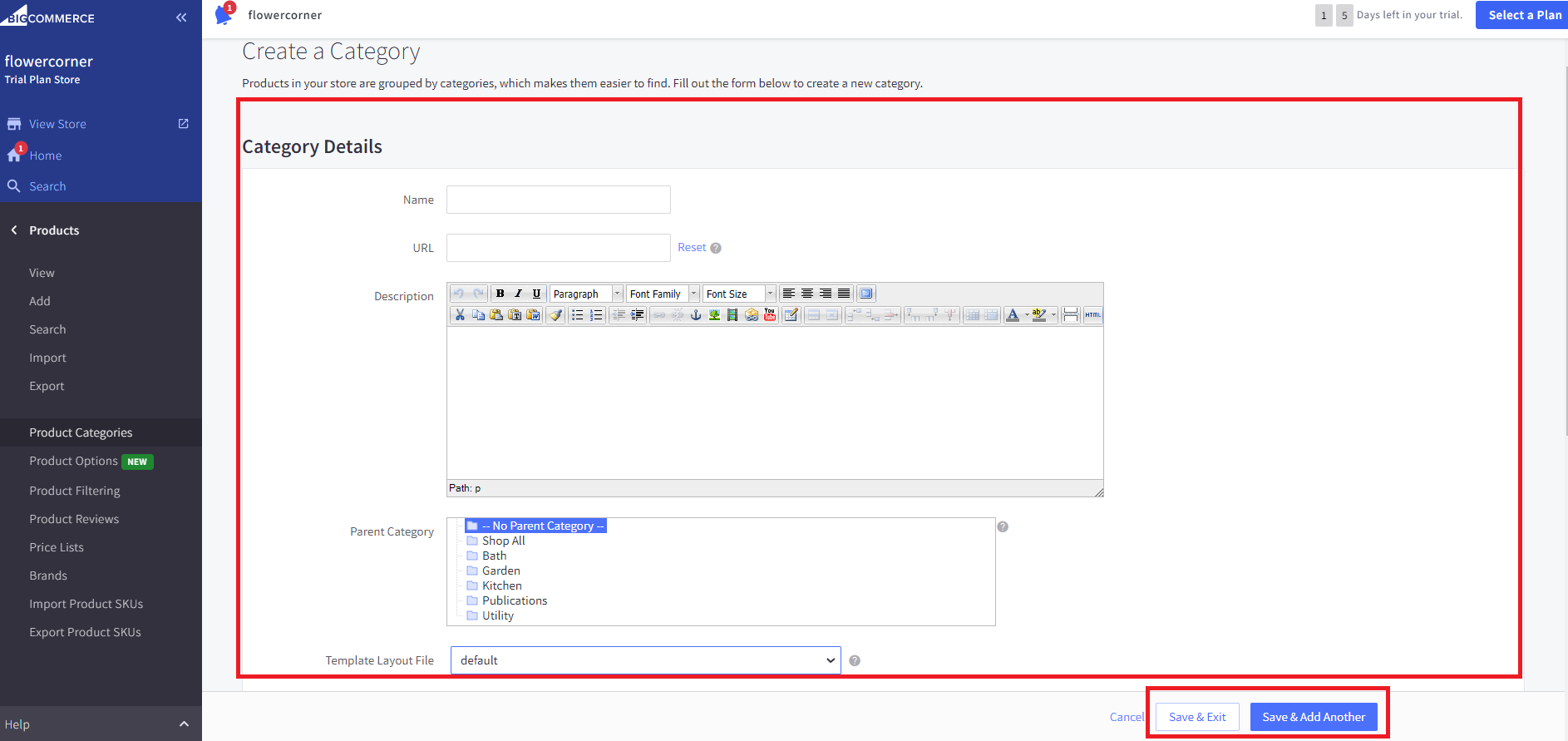 What's more, you can also add product filtering, reviews, SkUs, etc.
Customize Storefront
Next, in order to customize your store look, from the sidebar click on Storefront. Further, you need to choose the theme you want. So, you can customize the theme that is already set, and then click on Theme >Customize.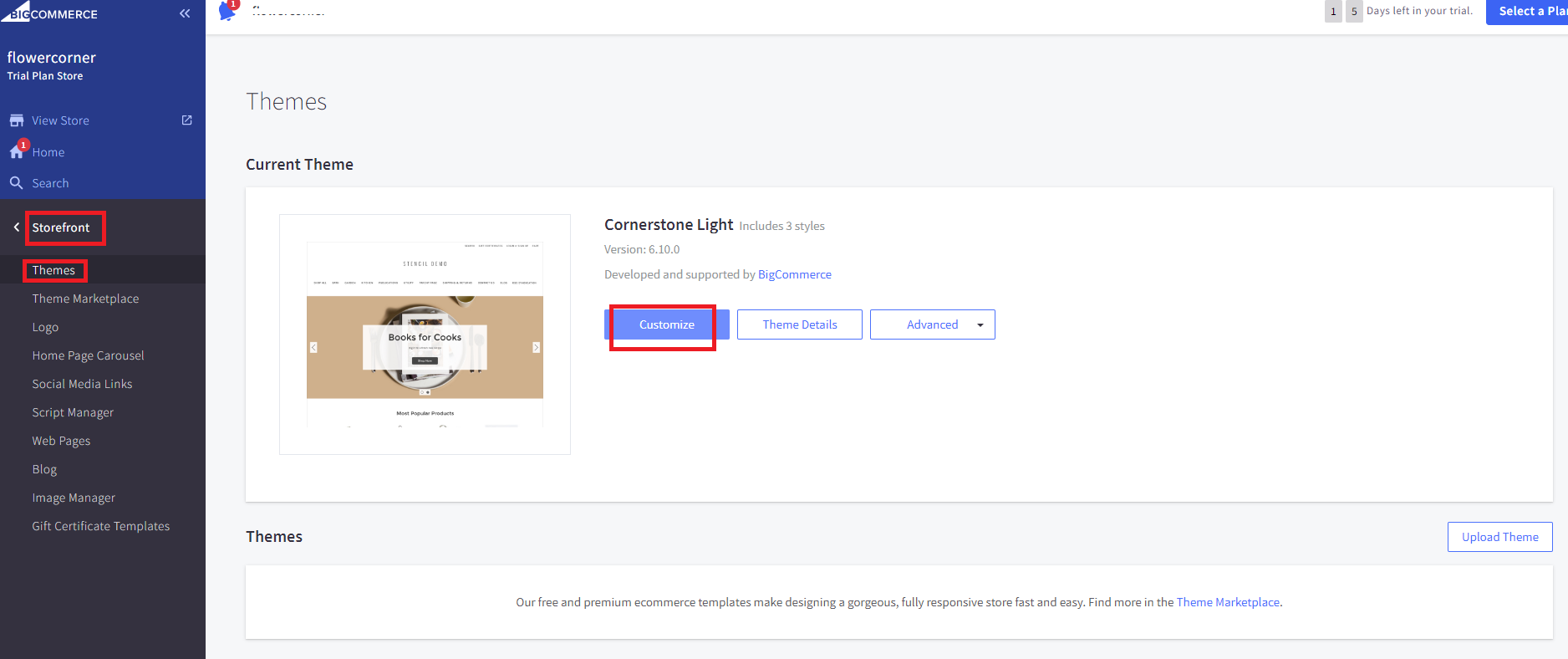 Or, go to Storefront >Theme Marketplace, and find the theme you want. Next, select the theme, and click on "Add Theme".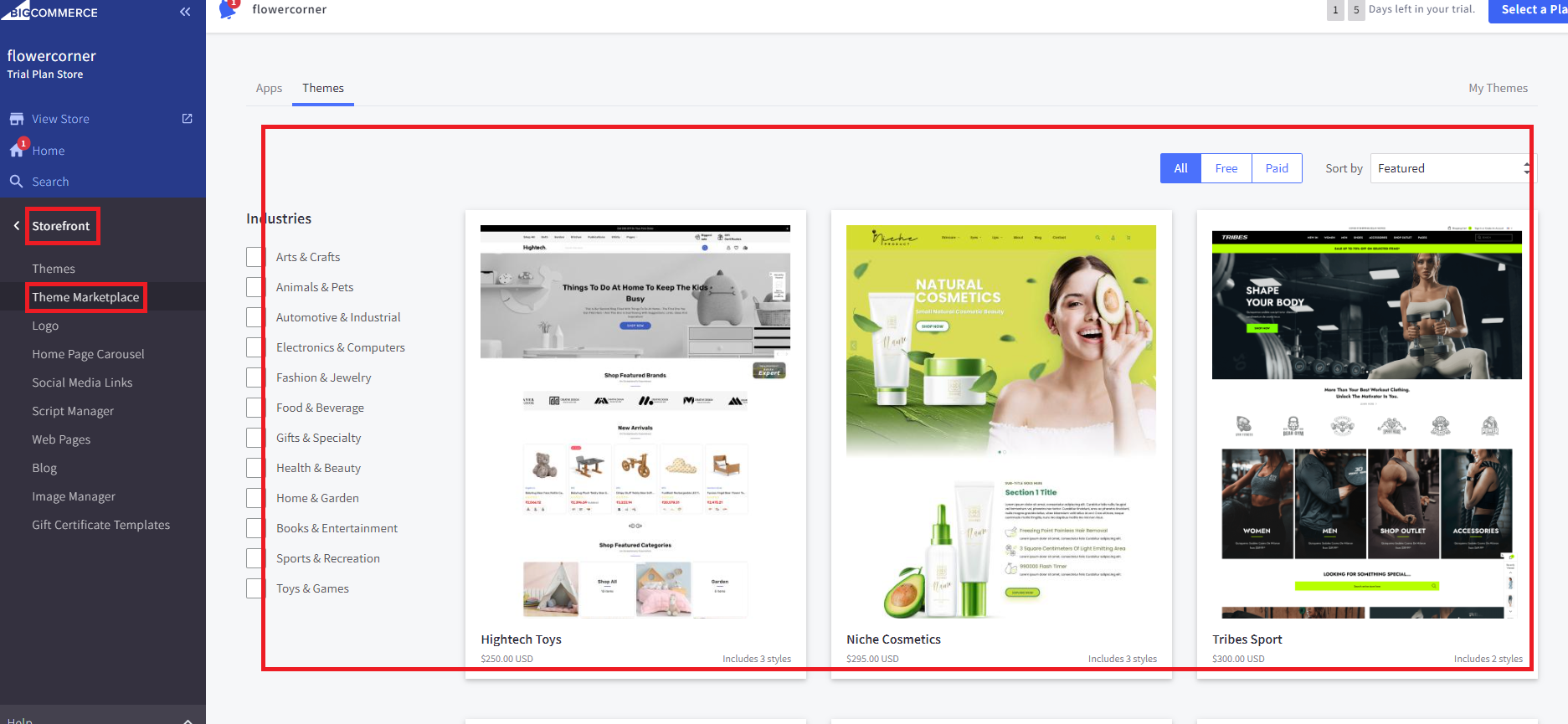 Afterward, you can completely customize your theme. Thus, you can add images, banners, videos, buttons, products, product sets, carousels, etc. What's more, you can even change the colors, fonts, descriptions, and more on each storage element.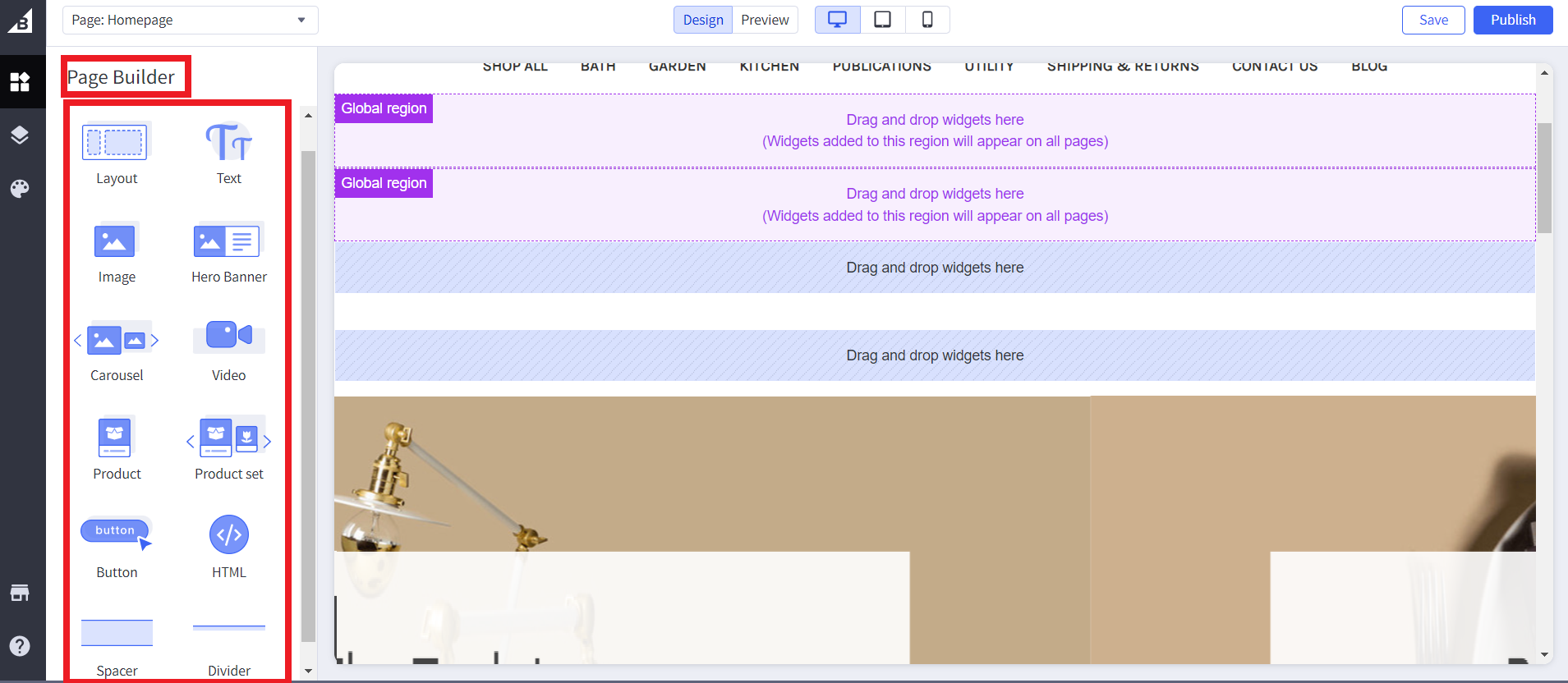 Moreover, you can change the layout, and add grids, sections, and more.

In addition, you can also sort out and change the placement of each element. Thus, all this is easy thanks to their drag-and-drop editor.
As you can see from the sidebar below, there are a range of options when it comes to customization. But, we want to point out the "Lazy Loading". So, you should enable this option if you want to have better SEO results.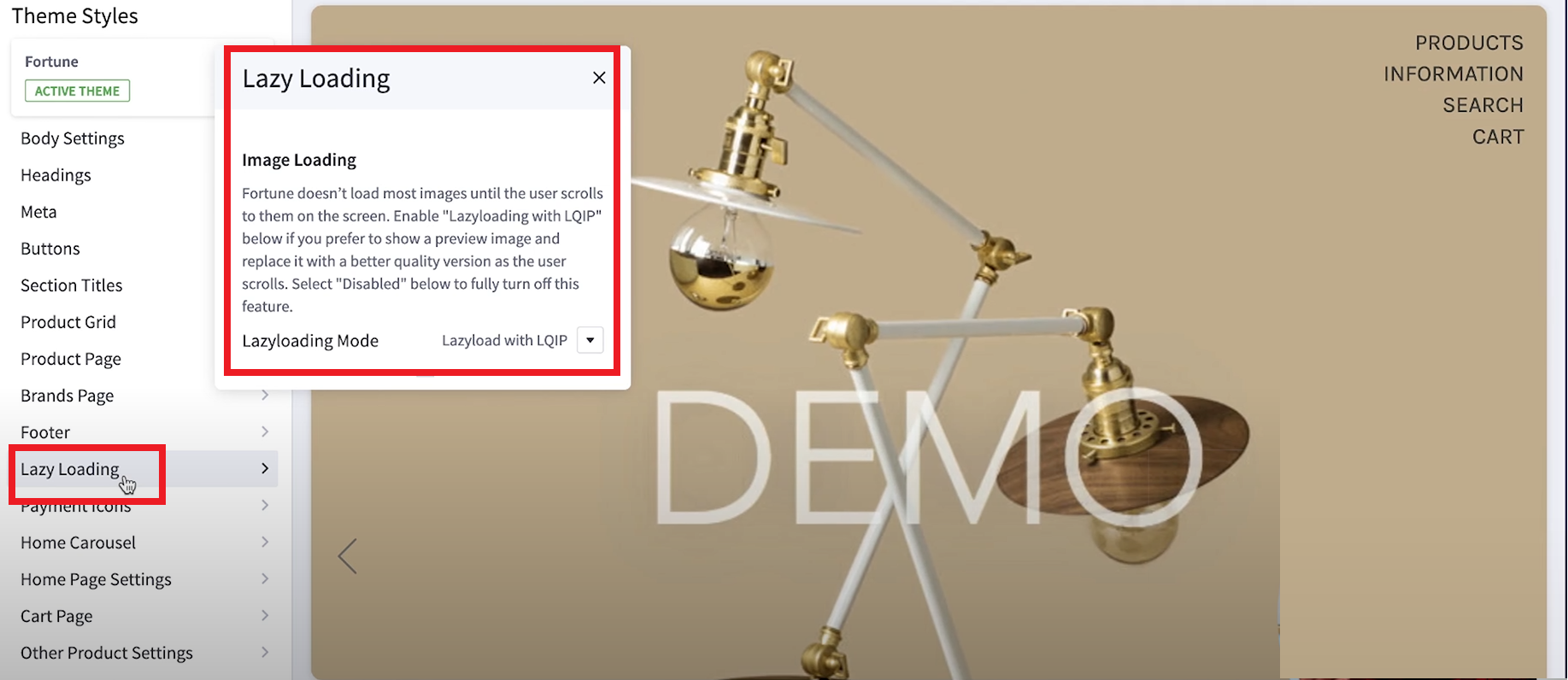 In fact, it ensures that your dropshipping store runs faster since the images will load as the user scrolls down on your website, and not all at once.
Customize Homepage Carousel
Next, you can also customize your Homepage Carousel. So, click Storefront> Homepage Carousel. You can add multiple photos by dragging and dropping, specifying swap times, etc. Once you are done, click "Save".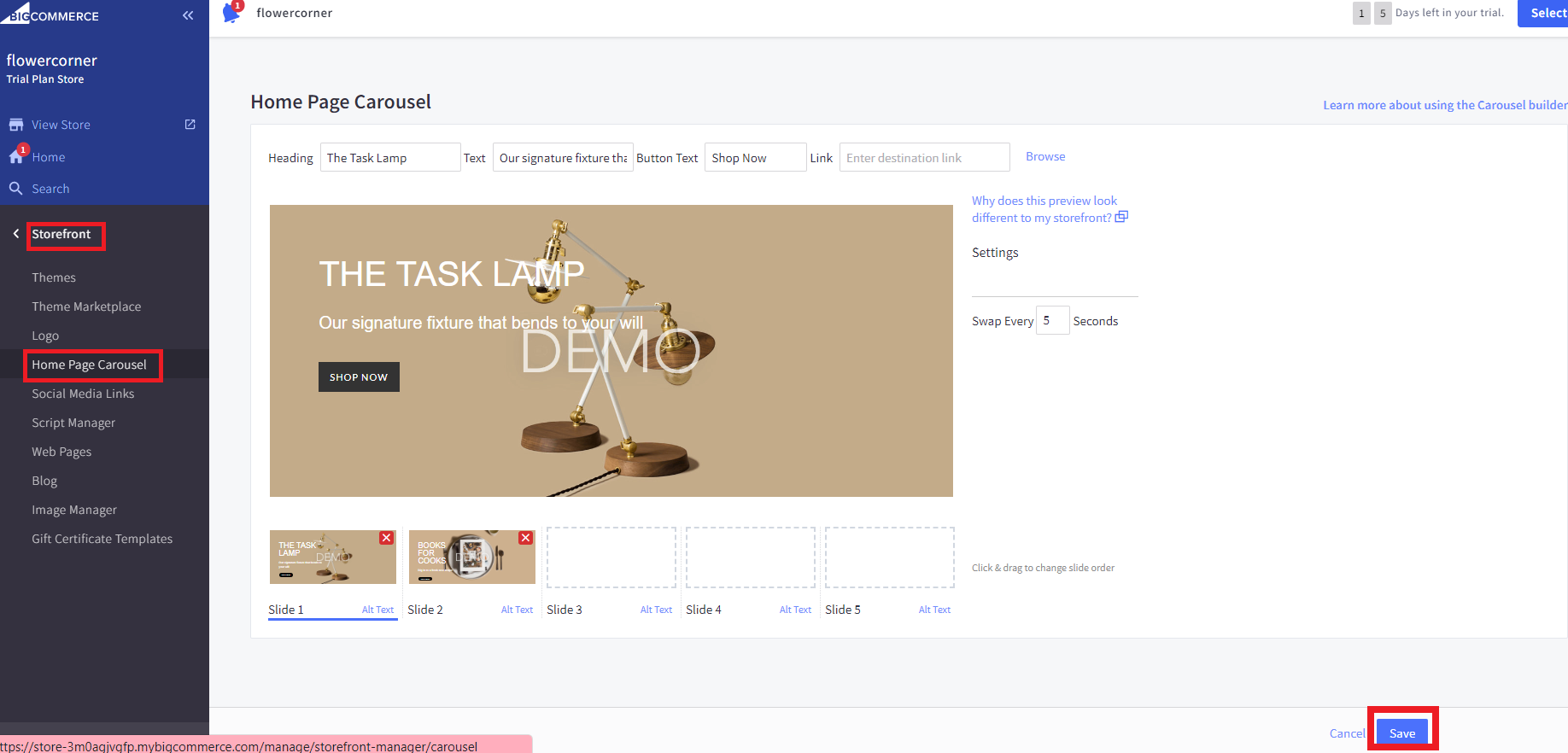 Add Logo
Next, you can also add a logo. So, simply click on Storefron>Logo. Here you can choose to create a logo or add your existing logo.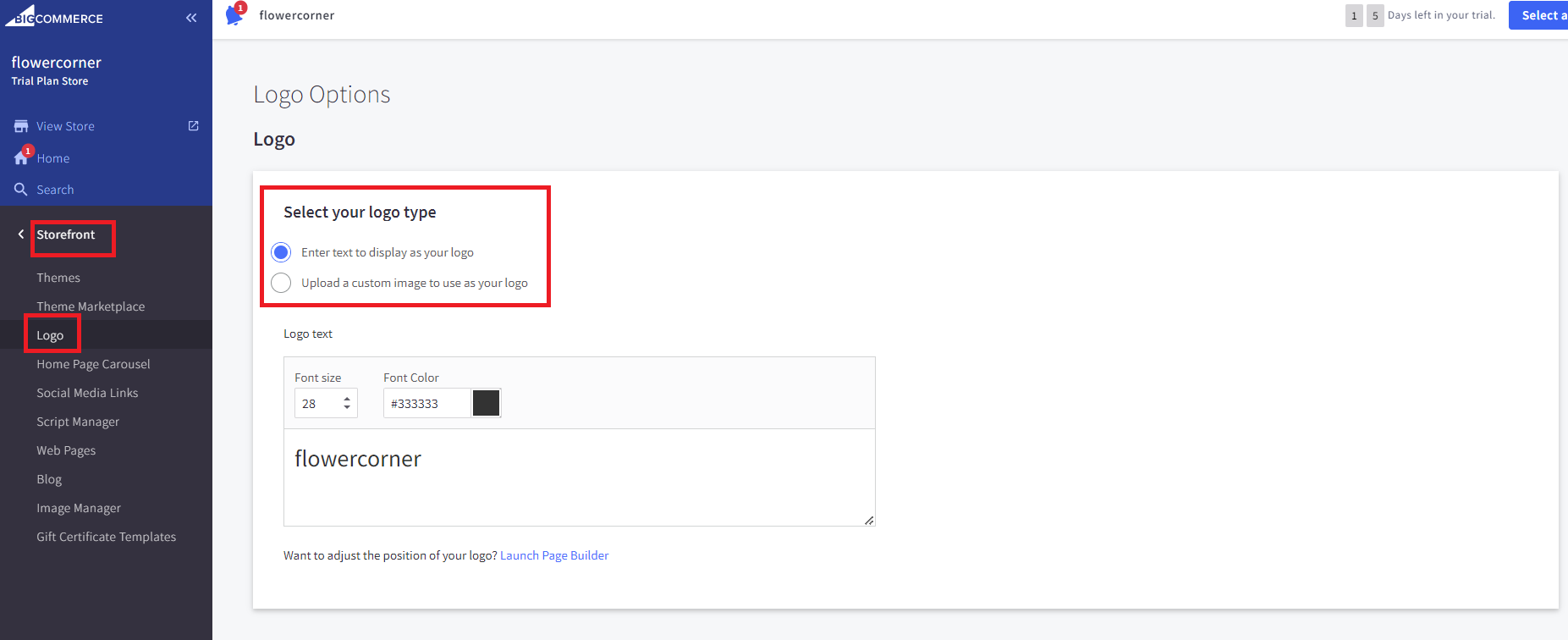 Add Social Media Links
Furthermore, if you are trying to build a brand, you can also add social media links. Therefore, simply go to Storefront> Social Media Links, and choose the links you want to add by dragging and dropping.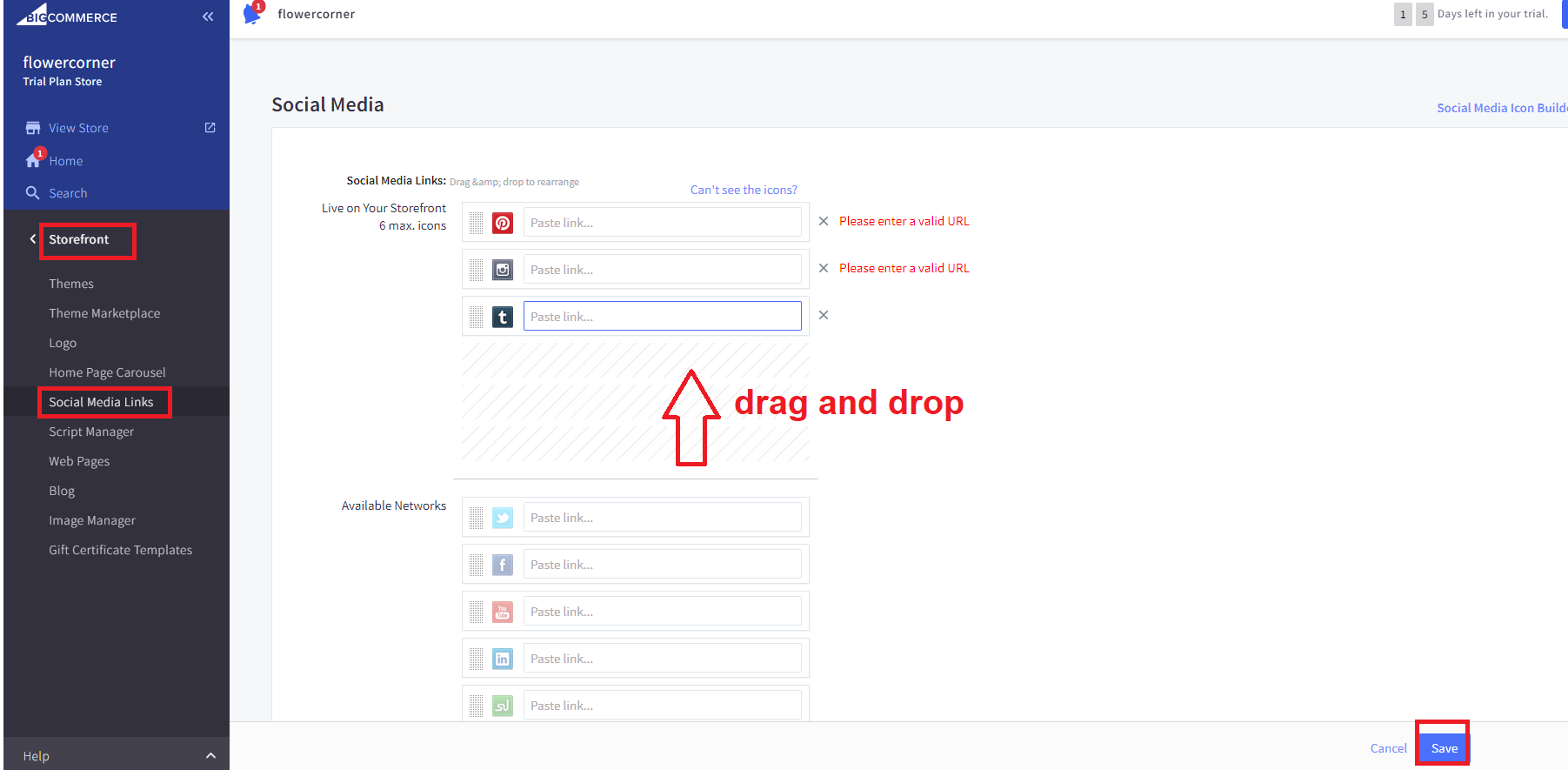 Add or Remove Web Pages
Lastly, from the Storefront section, you can add or remove Webpages. Thus, you have the option to "Create a New Page". On the other hand, you can select the web page you want to delete, and then click on the bin icon.

Marketing
BigCommerce also gives you various marketing options. So, you can create:
banners
Promotions
abandoned cart email
coupon codes
transactional email
Google customer reviews and more.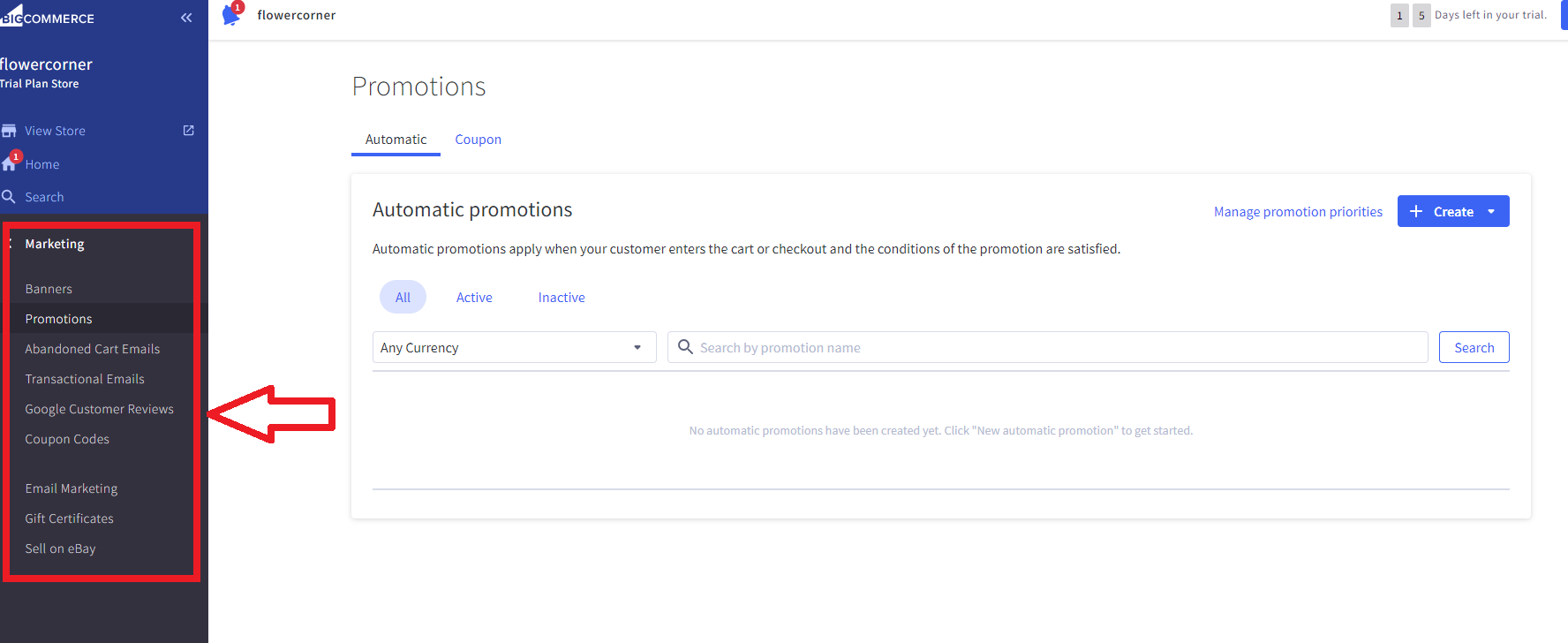 Analytics
Last but not least, BigCommerce platforms enable you to check on how your dropshipping store is running. So, from the dashboard, choose Analytics. You can get information about marketing campaign results, visits, revenue, conversion rate, customers, orders, AOV, and more.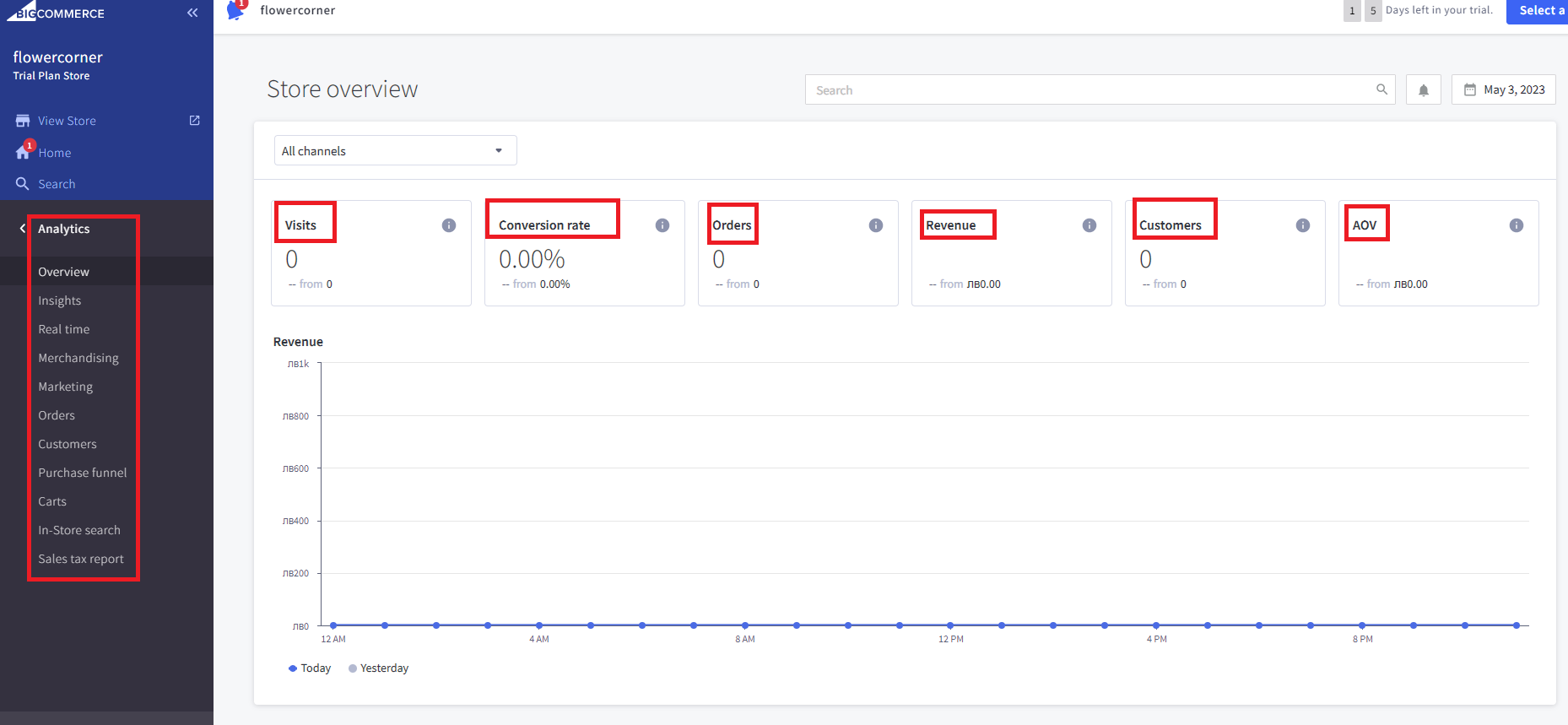 BigCommerce Review: Pricing and Plans
BigCommerce offers four pricing plans:
Standard – $39 per month
Plus – $105 per month
Pro – $399 per month
Enterprise – Custom pricing
Thus, if you choose to pay on a monthly basis, the pricing starts at $39/ month. 👇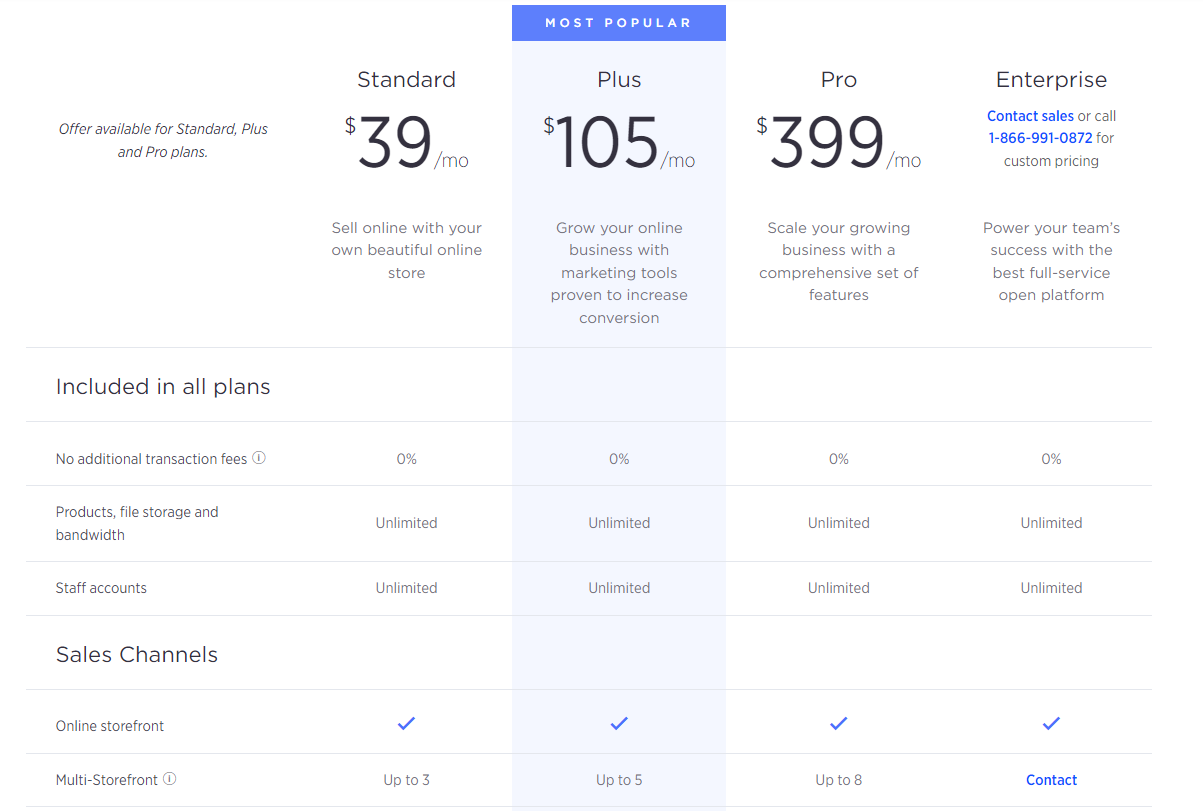 However, if you choose to pay annually, you get 25% OFF. Then, the pricing starts at $29/ month. 👇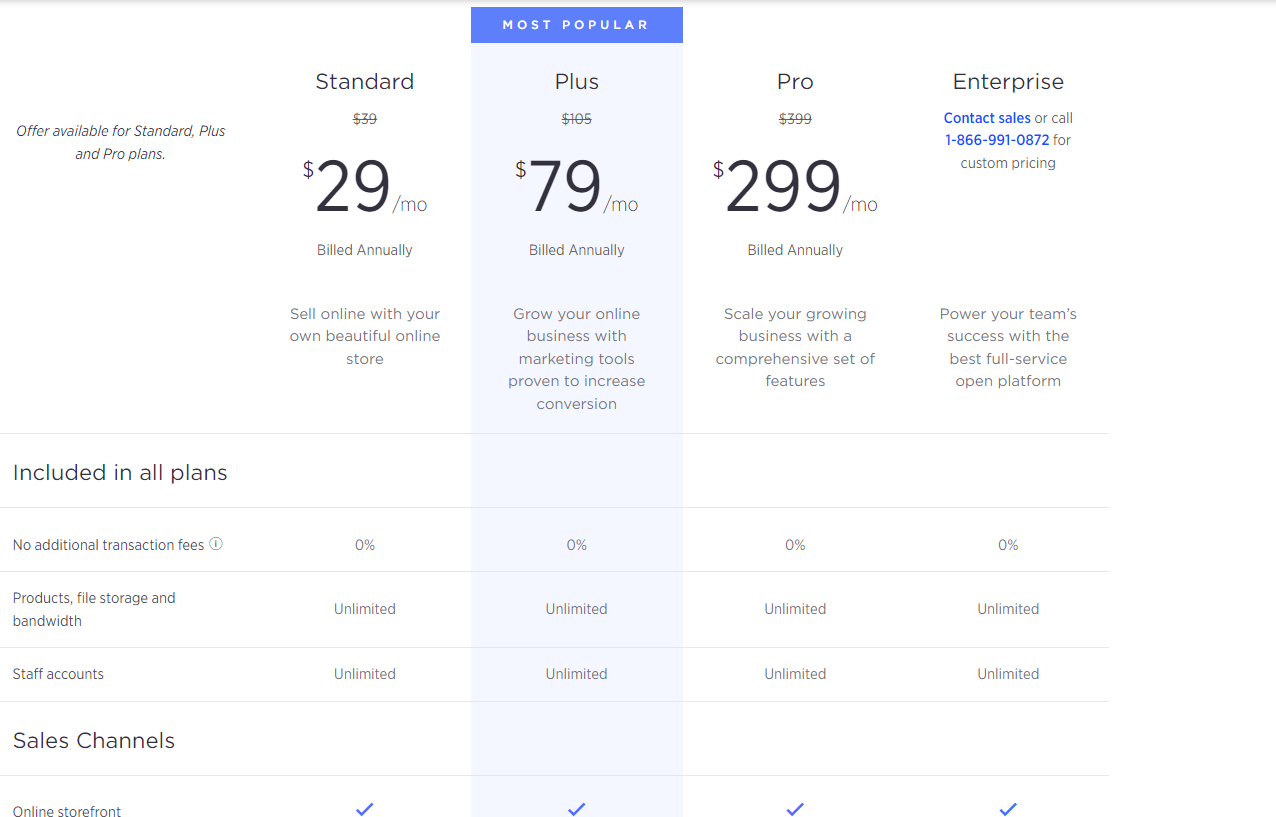 Now, let's discuss the pricing plans a little bit in this BigCommerce Review.
Firstly, the Standard plan is BigCommerce's cheapest option and is suitable for the new medium to large businesses. Unlike entry-level plans from other competitors, the Standard plan enables multiple currency selling, with automatic currency conversion being a unique feature.
However, the plan does not include abandoned cart saving features, which is a drawback. There is also an annual sales limit of $50,000.
Furthermore, the Plus Plan allows customer grouping and allows you to segment customers and create loyalty programs. Also, this plan has an annual sales limit of $180,000.
On the other hand, the Pro plan permits up to $400,000 in online sales with an additional fee of $150 per month per $200k in sales. Also, its Google Customer Reviews feature is noteworthy, allowing you to collect and display feedback from customers who made purchases from your store.
Overall, while the additional functionality in the Plus and Pro plans may be limited, the increased sales limits and unique features like Google Customer Reviews make them worthwhile for businesses with higher sales volumes.
Lastly, the Enterprise plan is for larger corporations with over 1,000,000 sales, and that require advanced selling features and high bandwidth. Thus, this plan is customizable and reflects your dropshipping business requirements.
Is BigCommerce Right for Dropshipping?
Overall, in our opinion, BigCommerce is great for dropshippers looking for a comprehensive and sophisticated eCommerce platform. It can help dropshippers sell a large number of items and earn large profits.
Plus, it's also an excellent strategy to establish a brand in the marketplace. It boasts an easy-to-use UI and all the tools you'll need for your dropshipping shop.
Moreover, you can integrate numerous tools and sources from the proper dropshipping suppliers.
However, keep in mind that BigCommerce can have a lot of tech-heavy HTML and CSS capabilities, and it can be a challenge to new users. But, on the other hand, you can choose not to go as deep in customization and stick with the options you have.
In fact, a BigCommerce platform can be an excellent place to start a dropshipping business. However, this mostly depends on your dropshipping business requirements.
BigCommerce Review: Customer Reviews
It is not just us, but most of the customers that used BigCommerce also talk about their experience. So, as on Software Advice results, BigCommerce Review has a 4.4/5-star rating. 👇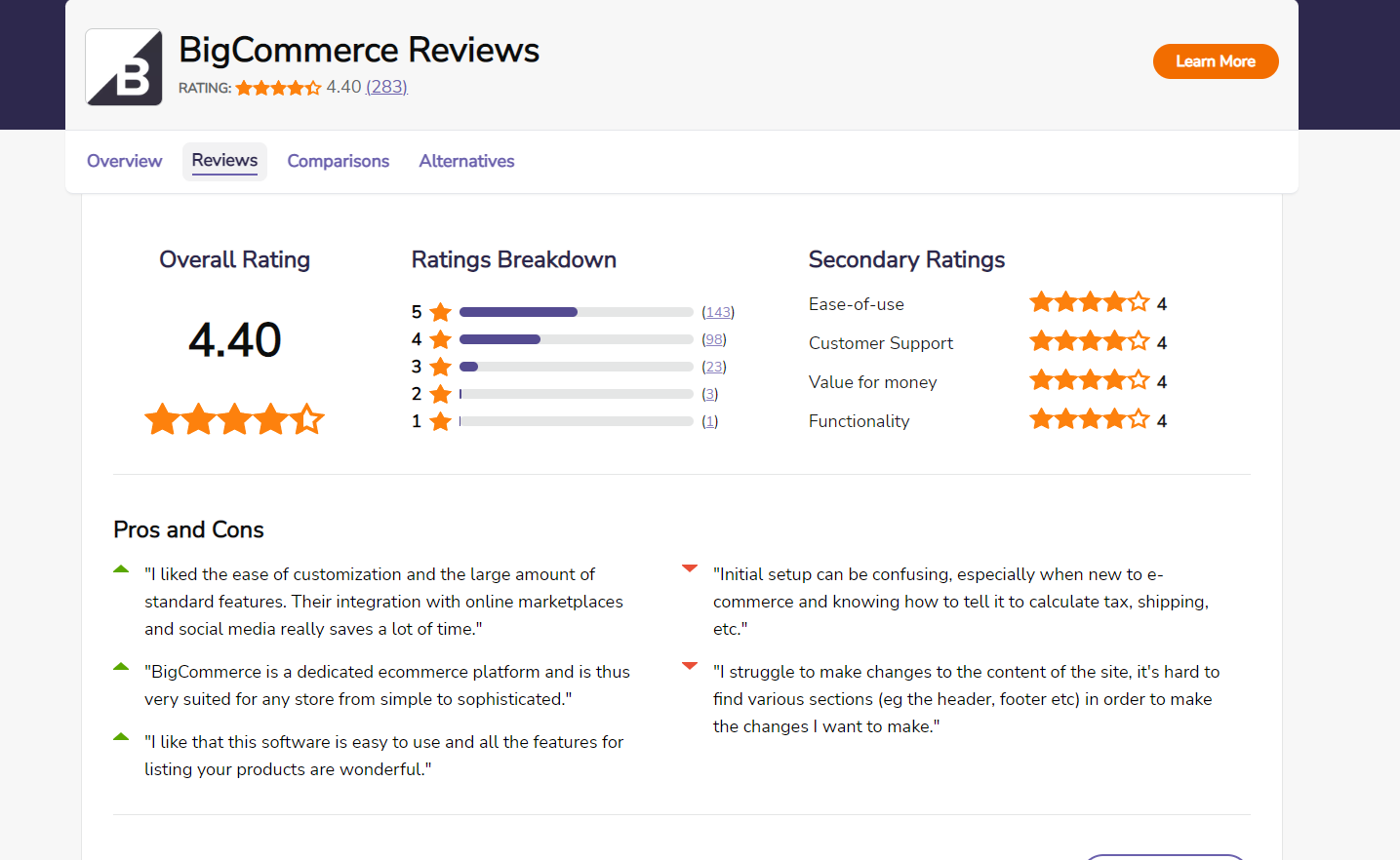 What's more, most of the customers talk about the ease of use, excellent features, and customization. However, there are also cons mentioned about the confusing setup process. Check out some of them. 👇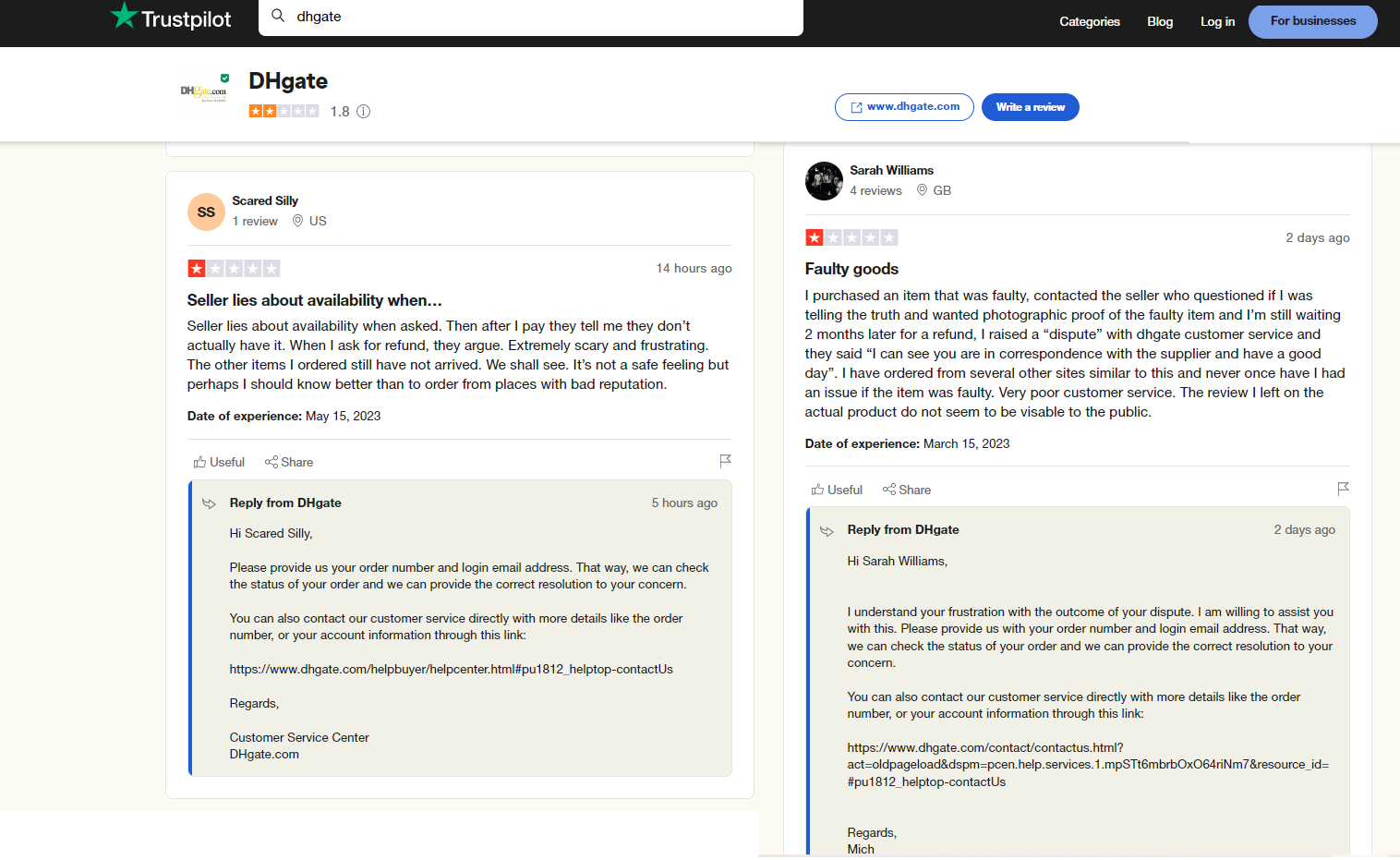 Also, the BigCommerce review on Captera shows similar results as previously, with a 4.4/5-star rating. 👇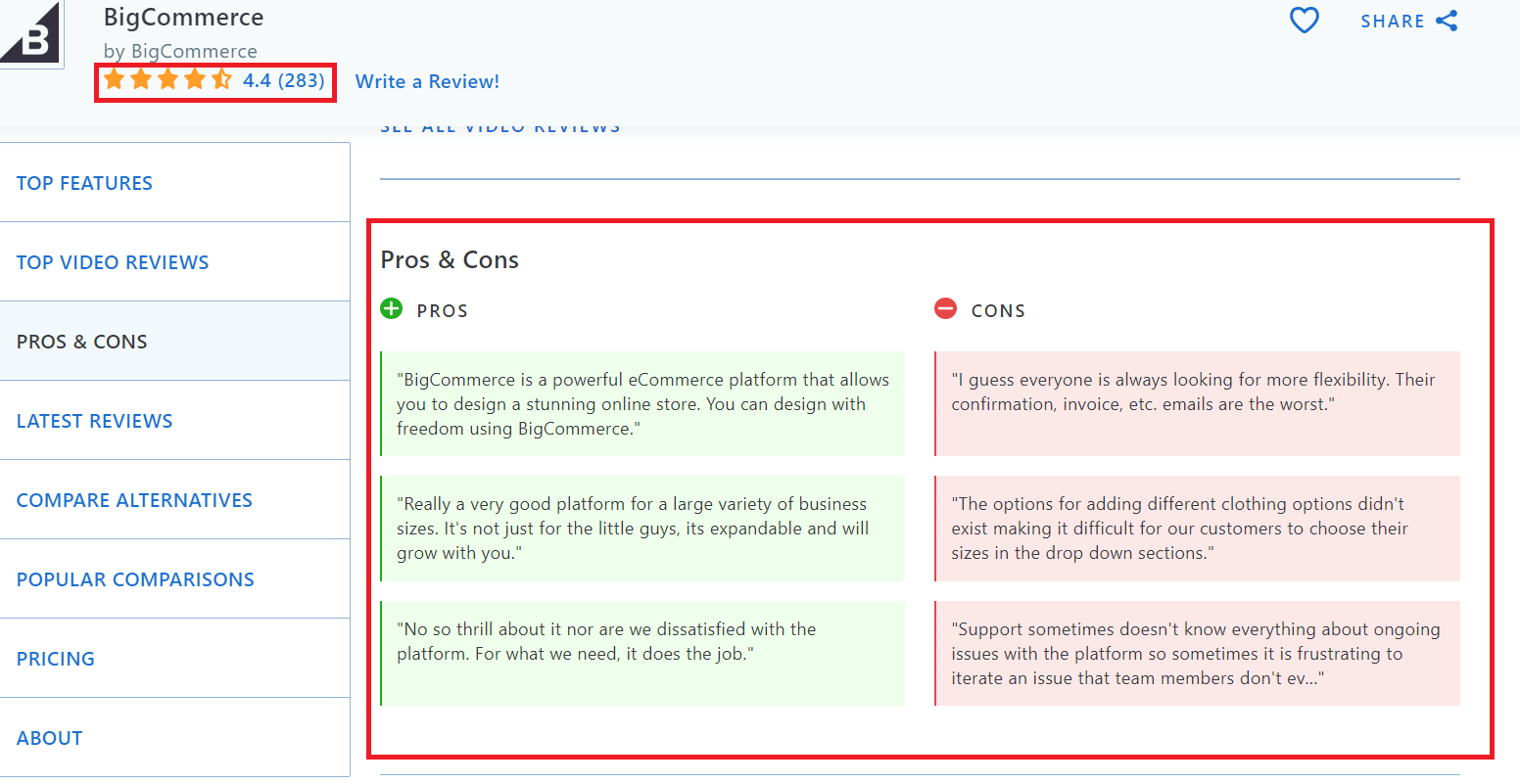 Join the only community and resource hub you'll ever need to succeed with dropshipping
Find winning dropshipping products, learn marketing, download templates and engage with real dropshippers
Never pay for a "guru's" course again. See why 4543+ dropshippers joined us this year!
💡Try DSCOM Hub Now
Conclusion
If you are a dropshipper looking for a great Shopify alternative or want to build a dropshipping store and manage it in the future, we got you covered.
In this article, we provided a full BigCommerce Review for you. We talked about everything you need to learn if you want to start dropshipping with BigCommerce.
And, is BigCommerce the right choice for dropshipping? In our opinion, yes, definitely. So, take advantage of this blog article and learn about its features, how it works, how to use & more!