If you learn how to do dropshipping product research the right way, you can expect the whole dropshipping process to be much easier down the road.
Why?
Because some products sell easily while others are just a waste of time and resources.
Here, we're going to teach you how to find the best dropshipping products that sell easily and can make a ton of money.
What Is Dropshipping Product Research?
Dropshipping product research allows you to find winning dropshipping products that can make you a lot of money.
Winning products are products that sell easily and grab the customer's attention in an instant.
To clarify, not all products that you will dropship will succeed. Some won't even sell a single unit despite your marketing skills and copywriting abilities.
With this in mind, not learning how to do product research for dropshipping is one of the biggest dropshipping mistakes you can make.
On the other hand, winning dropshipping products do all the heavy work. They sell themselves. If you learn the tips inside this guide, you won't need to rely heavily on marketing or copywriting to sell these products.
Find Winning Product Now
Why Is Dropshipping Product Research Important?
Dropshipping product research is absolutely crucial if you want to enjoy these benefits:
Waste less money on marketing
Make hundreds and even thousands daily after launching your store
Large potential to quickly scale to six and seven figures per month
With this in mind, you should already be 100% invested in learning how to do dropshipping product research. So, let's dive in.
How to Do Product Research for Dropshipping — Step-by-Step?
All it takes to find a winning dropshipping product is research!
Product research for dropshipping is a fairly simple process that requires always following a plan. A set of steps and criteria will guide you from start to finish. Once you master this process, you'll know a winning product when you see it, even from miles away.
Step 1: Choose a Dropship Product Research Tool
Considering how many product research tools there are out there, it would be pointless not to use one. It stops you from wasting time, helps you manage product information, and shows you items with the highest potential of becoming winning dropshipping products.
With this in mind, our guide on the 10 best product research tools for dropshipping will help you choose the right tool for your store.
In brief, a few of the top choices on the market are the following:
Step 2: Go With the WOW Factor
Next up, after you've chosen which dropshipping product research tool to use, you need to open a few dozen tabs of the most attractive and appealing products you spot.
So, for example, let's say you chose to use Ecomhunt. This is what you will see when you first start using this tool. 👇
From here, all you have to do is simply open every single product that instantly catches your eye in a new tab.
Don't think about it, don't analyze them, don't look at their prices, don't do any of that!
Just look at the images, get a glimpse at its name, and immediately open it in a new tab if it seems interesting, appealing, exciting, or anything that might force a person to say, "WOW, I GOTTA BUY THIS NOW!".
That's all you have to do in step two.
Step 3: Research the Selling Potential for Your Top Picks
Now that you've selected enough products, here's where things get a bit technical. But don't worry, you will be given all the instructions you need to crush this final step.
So, researching how much potential a dropshipping product has (if it has any at all) is basically doing market research.
Market research is simply gathering as much information as you can about a particular type of product, service, or even niche based on how well or poorly it's done in the past.
In other words, it involves making an educated guess on whether a product will work or not once you start selling it.
Below, you will find all it takes to learn and execute effective market research for dropshipping products.
How to Do Market Research for Dropshipping Products?
There are several steps that you can do in a sequence to effectively research your dropshipping product's market.
At the end of your research, you will know ten times more about your product, what is its ideal target audience, how much you should price it, and whether or not it's worth dropshipping it in the first place.
Let's begin!
Step 1: Spy On Your Competition
The first step requires you to find out who your competitors are. You can do this by doing a simple google search of your product or an extremely similar product to it.
For example, if you decide to sell this pet grooming hammock. 👇
Your job now would be to search for "pet grooming hammock" on Google and see what types of results pop up. You will notice that most of the results will be from online stores, including Amazon.
Then, open a few of the top pages and start taking notes, such as:
After this, your job is going to be to try and beat as many of these criteria as possible. You can do this by finding better suppliers, negotiating better prices, building a much better online store, and so on.
Step 2: Research Your Target Audience
The next step of your dropshipping product research journey is to find out what type of audience likes to buy your product. If you get this right, you'll be enjoying some well-deserved dropshipping profits pretty soon.
So, here's how to do some research on your ideal type of audience for any product.
Go on Facebook, Instagram, TikTok, or any other social media you can think of. Search relevant keywords and try to find out what type of people talk about stuff related to what you're selling.
You need to find out their fears, their desires, what they love, and what they hate, as much as you can. The more information you have about these people, the more your ads and offers will convert.
How to Find Winning Dropshipping Products with Dropshipping.com
Dropshipping.com can help you find a winning dropshipping product in two ways.
Initially, your best bet is to become a member and enjoy premium tips, insights, and more benefits such as:
Regular updates on the best dropshipping products
Access to all the best dropshipping suppliers in countless niches
Access to spy on the most successful online dropshipping stores
Frequent advice from expert dropshippers
The second way is to use the free dropshipping guides and articles on everything dropshipping.
Our massive list includes hundreds of guides on everything a beginner, experienced, and advanced dropshipper will ever need. With this in mind, there's nothing stopping you from starting today, even if you don't have any budget whatsoever.
5 Best Dropshipping Product Research Tools in 2022
Finally, as a bonus value, we'll share five of the current most popular dropshipping product research tools on the market.
Here's a short explanation of the main benefits and drawbacks of each:
Sell The Trend
Sell the Trend is a massive platform with a smart and powerful AI that knows which dropshipping products work and which don't. – Main Advantages: It includes millions of products to choose from; it can help with much more than just researching dropshipping products; it has one of the most powerful AI systems for this sort of work. – Main Disadvantages: The platform is not available for free but there is a 7-day free trial.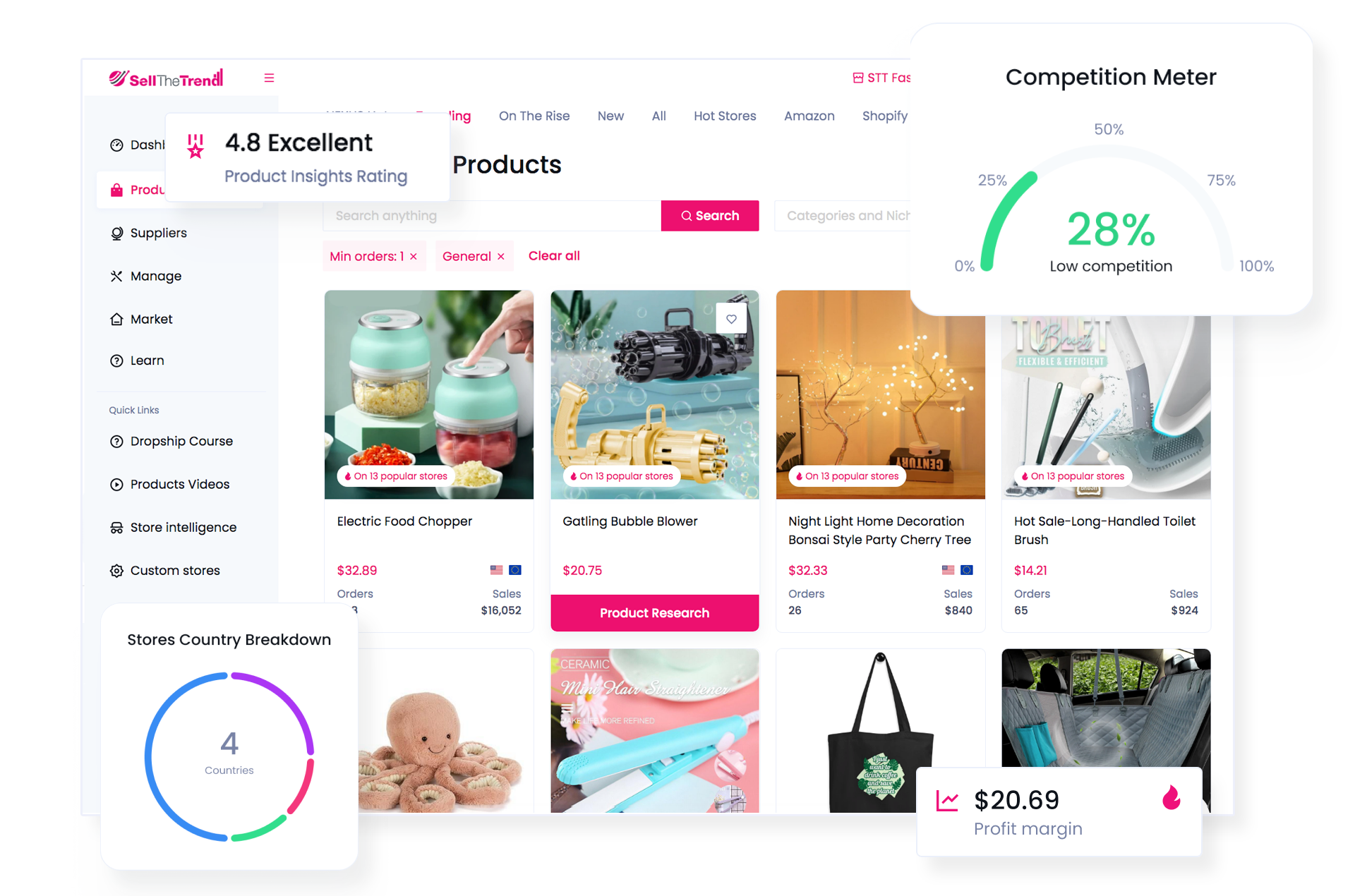 Automated Order Fulfillment
Niche Scraper
Niche Scraper lets you spy on other stores and their ads in addition to helping you find trending and winning dropshipping products at any given time. – Main Advantages: There's no limit to how many products it can scan through AliExpress and Shopify; it's extremely easy to integrate with Shopify stores; it makes video ads for you; Niche Scraper is ideal for complete beginners. Main Disadvantages: The free plan is basically useless for someone who is serious about dropshipping.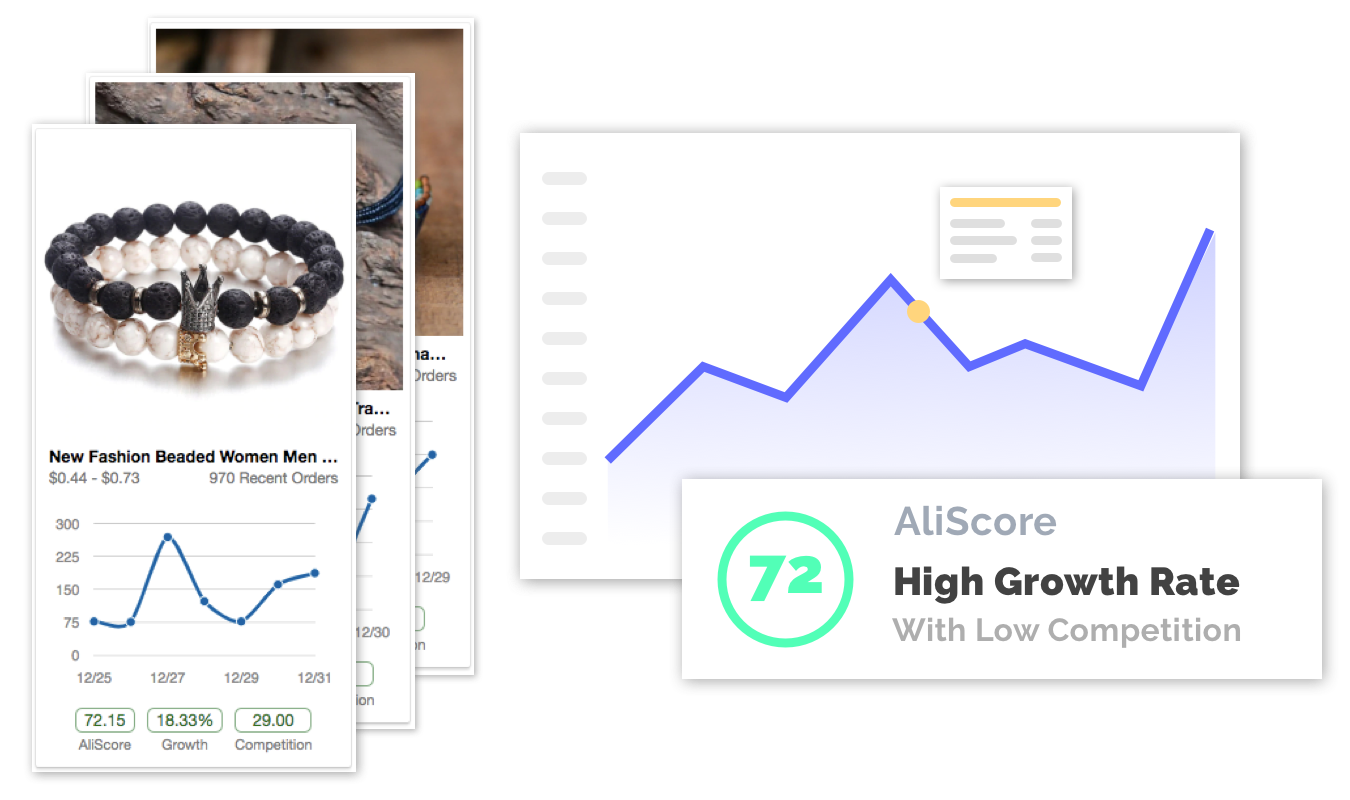 Handpicked database of 100+ products
Real-time product scraper
Spy on successful dropshipping stores
Detailed product analytics
Links to top AliExpress sellers
Import unlimited winning products
On top of being one of the cleanest and most effective dropshipping product research tools, Ecomhunt is also packed with tons of resources for new dropshippers to learn how to effectively find winning products.
Main Advantages: Ecomhunt offers incredible analytics and stats about each and every product on the platform; it gives you very useful info about certain Facebook ads, has a reasonable pricing plan, it features a special Winners Club where top sellers enjoy various perks.
Main Disadvantages: You can't use the free version for too long. It also features a lot of restrictions unless you're on the paid plan, which is understandable.
As the name suggests, AliShark is the ultimate dropshipping product research tool if you're sourcing from AliExpress.
Main Advantages: Features an advanced filtering system that shows you what you're looking for; it is constantly updated and has a massive database; it offers highly relevant information on all products.
Main Disadvantages: There aren't too many resources on how to properly use this tool.
Also see: The Complete AliShark Review
DropiSpy is an excellent product research tool for both beginners and more experienced users. It's easy to use, it's very effective, and also has a free plan.
Main Advantages: The tool has an expanding database of millions of dropshipping ads to help you find winning products; it offers extremely helpful customer support; it's one of the rare dropshipping product research tools that offer real-time data.
Main Disadvantages: The premium plan isn't the cheapest out there; the free plan itself is great up to a certain point until you need access to more of its unique features.
Dropshipping Product Research – Main Criteria
Here are X things you must remember from this guide on how to do product research for dropshipping stores. These criteria will significantly increase your chances of being more successful.
The product must be unique
It must not be extremely saturated (it can be slightly saturated but not too much)
It's ideal if it isn't available in offline stores
It has to solve a problem or add tons of value to your customer
The product must have interesting features that will grab attention in ads
BONUS: Top 10 Products To Dropship In September 2022
Conclusion
Learning how to do product research for dropshipping may sound complex at first, but it's really not once you break it down into smaller steps just as we've done here.
With this in mind, read the guide carefully, take notes, and try to follow the exact steps we've laid out here.
Also, something to remember, regardless of how many winning products you find, they all require testing. However, the more you learn about dropshipping product research the less money you'll have to waste on your testing phase.