With the help of Ecommerce fulfillment services, your online store can enjoy the following benefits in no time:
You will save lots of extra time to focus on scaling the business
Ecommerce fulfillment services offer more control (you can customize your packages, including personal messages, and so on)
It actually reduces your operating costs by quite a lot
If any of this sounds like you'd benefit a lot from it, then let's dive in deeper and explore everything you need to know about Ecommerce order fulfillment services and how they work.
What Is an Ecommerce Fulfillment Service?
In its simplest form, an Ecommerce fulfillment service has one purpose – to take over the entire order processing and fulfillment part of your online store.
For instance:
Inventory management
Returns management
Fulfilling single orders and orders in bulk
Providing detailed reports and analytics
Packaging orders
Delivery management
Kitting services
Easily connecting with your online store
Product quality control
However, in order to understand how Ecommerce fulfillment services work, you first need to learn about the importance of having substantial Ecommerce fulfillment in your eComm or dropshipping store.
In short, having a great fulfillment process means getting all of your orders delivered on time, without damage, without issues, without any sort of excuse – ALWAYS!
Giving refunds to customers is not hard, but you should never allow it to get to that point, as it can damage your brand and reputation over time.
Discover top dropshipping suppliers of original US/EU products
You're 2 minutes away from building your ecommerce empire
No credit card required. No commitment.
Get started for free
How to Choose Ecommerce Fulfillment Services?
Choosing great Ecommerce or dropshipping fulfillment services is only a matter of making a list of several such companies and selecting one that meets your requirements.
By requirements, we mean the following:
Budget
Order capacity
Workload
Tools and technology
For more details, check out our guide on how to truly find the best fulfillment company for your dropship business.
How Much Do Ecommerce Order Fulfillment Services Cost?
Different Ecommerce fulfillment services have different methods of pricing for their services.
Usually, the majority of them will charge you by the pellet. An average estimate we've seen across the Ecommerce fulfillment services market is between $50 to $1000 per month depending on how many orders you have.
For all other services that Ecommerce fulfillment companies offer individually, the average prices are the following:
$15 per pellet per month for storing your products
$1 – $5 per order packed
$0 – $30 per hour for inventory receiving
$2 – $3 per order returned
$5 – $30 for account management
Learn More: What Is the Minimum Dropshipping Budget to Start a Successful Online Store With
11 Best Ecommerce Fulfillment Services to Fulfill Your Orders
As both beginners and experienced dropshippers, all of you can highly benefit by working with any of the following Ecommerce fulfillment services.
ShipBob is one of the most beginner-friendly Ecommerce fulfillment services you can find. It has a very convenient app for Shopify stores and many other Shopify alternatives for dropshipping as well.
As a result, thousands of brands work with ShipBob and trust this company to handle everything related to order fulfillment for their businesses. This is an ideal service to work with if you'll be fulfilling and sending out orders from the US, Canada, the UK, the EU, and Australia.
ShipBob Main Services:
Complete inventory management
Advanced analytics and reporting
Batch order fulfillment
Account management
Returns management
Omni-channel order fulfillment
Branded dropshipping services
ShipBob Pricing:
ShipBob doesn't work with fixed rates. In other words, the only way to know how much you will have to pay this Ecommerce fulfillment company is by getting a quote here.
In addition, their extremely convenient calculator will let you know the exact price if you already have all the information that is requested about your product by them.
Learn more: In-depth ShipBob Review.
Did you know that Shopify, the mighty Ecommerce giant, has its own Ecommerce fulfillment services?
It's actually one of the best services on the market but only considering your store is on Shopify and not on other platforms. Plus, by using Shopify and their Fulfillment Network, you are relieved from paying any upfront storage fees for the first six months.
Here's how you can build a high-quality brand and satisfy all of your customers by using the Shopify Fulfillment Network. 👇
SFN Main Services
Two-day delivery
Order packing
Returns Management
Branding services
Inventory management
Order fulfillment automation
Analytics
SFN Pricing
You don't pay anything upfront when working with Shopify's Fulfillment Network. There are no overhead costs, meaning you only pay a fee after you've sold a product and Shopify has fulfilled it for you and sent it on its way to your customer.
AFS, also known as Fulfillment by Amazon is probably the most premium fulfillment experience you can get and offer to your customers.
Why?
Because it's Amazon. You get their 24/7 customer support, seamless inventory management, extraordinary analytics, fast returns management, and much, much more.
Fulfillment by Amazon Main Services
Omni-channel fulfillment
Outstanding customer service and support
Limitless warehousing
Access to very helpful apps
Easy integrations
Discounts on shipping
Returns management
Amazon Prime 2-day shipping
Fulfillment by Amazon Pricing
You can calculate how much this service will cost to fulfill your orders based on your product specifications. Visit Fulfillment by Amazon's page to learn more about their pricing.
If you're looking for Ecommerce fulfillment services that have warehouses in Europe, as well as in the US, then you'll definitely want to consider ShipMonk.
This service integrates with almost every major Ecommerce platform you can think of. Combining both state-of-the-art technology and reliable software, ShipMonk can handle the complete fulfillment process for companies of all sizes.
Regardless of what you're selling, regardless of how you do business, or regardless of which issues you're facing, ShipMonk will take care of it for you.
ShipMonk Main Services
Analytics and reports for every order
Extremely flexible services
Order fulfillment automation
Inventory management
Unmatched customer service
Branding services
Reliable order tracking
Subscription box fulfillment
ShipMonk Pricing
ShipMonk allows you to request a quote or use their own pricing calculator to get an estimate of their fees and the total cost.
With Red Stag Fulfillment, you can truly experience how such a service can help your business without having to pay anything for the first thirty days. Their free trial is one of the best offers that get them so much business.
In addition, Red Stag also offers tons of value. They easily connect with the most popular Ecommerce platforms, offer end-to-end ecommerce logistics services, and can completely overtake the fulfillment and order processing part of your online store.
Red Stag Fulfillment Main Services
Fast integration with online shopping carts
End-to-end logistics services
Same-day shipping and fulfillment
Inventory monitoring
Order management
Returns processing
Ecommerce warehousing
Optimized Ecommerce packaging
Red Stag Fulfillment Pricing
To get their latest prices, you need to contact Red Stag by completing the form at the bottom of this page. In addition, they also offer a risk-free 30-day trial where you have nothing to lose, but tons to gain.
High-volume Ecommerce sellers are definitely going to appreciate letting Fulfillment.com handle their order fulfillment process.
This company specializes in handling large order quantities and fast-growing Ecommerce businesses. So, if you meet this criterion, then you don't need to look for Ecommerce fulfillment services any longer.
Fulfillment.com Main Services
Worldwide fulfillment
Seamless order management
2-day delivery
Product manufacturing
Custom packaging
Inventory management
Quality checks
3PL logistics
Warehousing
Fast integration with tons of shopping carts
Returns management
Client support
Accounting services
Fulfillment.com Pricing
You can request a quote regarding the price at Fulfllment.com by creating an account here and answering some of their questions.
FedEx Fulfillment is a highly trusted fulfillment company that works internationally. It's an ideal choice for companies of all sizes, making sure to provide various services that can benefit your business.
This service also supports tons of integrations and allows you to easily set everything up.
FedEx Fulfillment Main Services
Custom packaging
Insights and analytics
Logistics services
Returns managing
Advanced shipment tracking
Design and printing services
Account management
FedEx Fulfillment Pricing
FedEx Fulfillment doesn't charge any setup fees. Their average receiving fees are around $30-$40 per hour and their monthly storage fees will cost you between $8 and $15 per pallet per month. Picking and packing with FedEx fulfillment costs anywhere between $2 and $8.
Thanks to eFulfillment's reliable and modern technology, you can expect an easy setup process and a fast fulfillment operation that can handle as many orders as you can throw at them.
This is a reliable service that definitely takes away the stress of having to deal with order fulfillment day and night. All you have to do is work on your high-converting Ecommerce landing page and just keep driving sales and orders towards this highly reliable service.
They will handle the rest!
eFulfillment Main Services
Warehousing and storage
FBA prep
Kitting
Returns management
Business growth services
eFulfillment Service Pricing
You can get a quick quote from this service by visiting this link. Enter all the needed details and you will get an accurate estimate of how much it will cost you to use their Ecommerce fulfillment services.
Simpl Fulfillment is a top pick among the best Ecommerce order fulfillment services out there for several reasons.
It can handle as many products per day as you need
It offers a remarkably simplified process that's ideal for anyone
Simpl Fulfillment offers an incredible list of extra services to grow your business
Simpl Fulfillment Main Services
FBA prep
Subscriptions box fulfillment
Branded packaging
Dedicated account manager
Same-day shipping
Automated order fulfillment
Hundreds of integrations
Real-time inventory management
Returns processing
Fast inventory receiving
100% pick accuracy
Simpl Fulfillment Pricing
Visit Simpl Fulfillment's pricing page to get detailed pricing about all of their services.
Deliverr offers an elegant and hassle-free Ecommerce fulfillment service for small and medium-sized businesses that don't want to deal with the stressful and time-consuming tasks of fulfilling orders.
This service takes away all of your stress and risk when it comes to fulfilling orders effectively. In addition, they also help you grow your business and offer extremely satisfactory results that make customers happy.
Deliverr Main Services
Easy integration with most shopping carts
Free 2-day delivery
Fast order fulfillment
Freight
Prep
Storage and warehousing
Warehouse receiving
End-to-end Ecommerce fulfillment
Deliverr Pricing
Deliverr's cost calculator can help you determine an approximate amount that you will have to pay for their Ecommerce and dropshipping fulfillment services every month.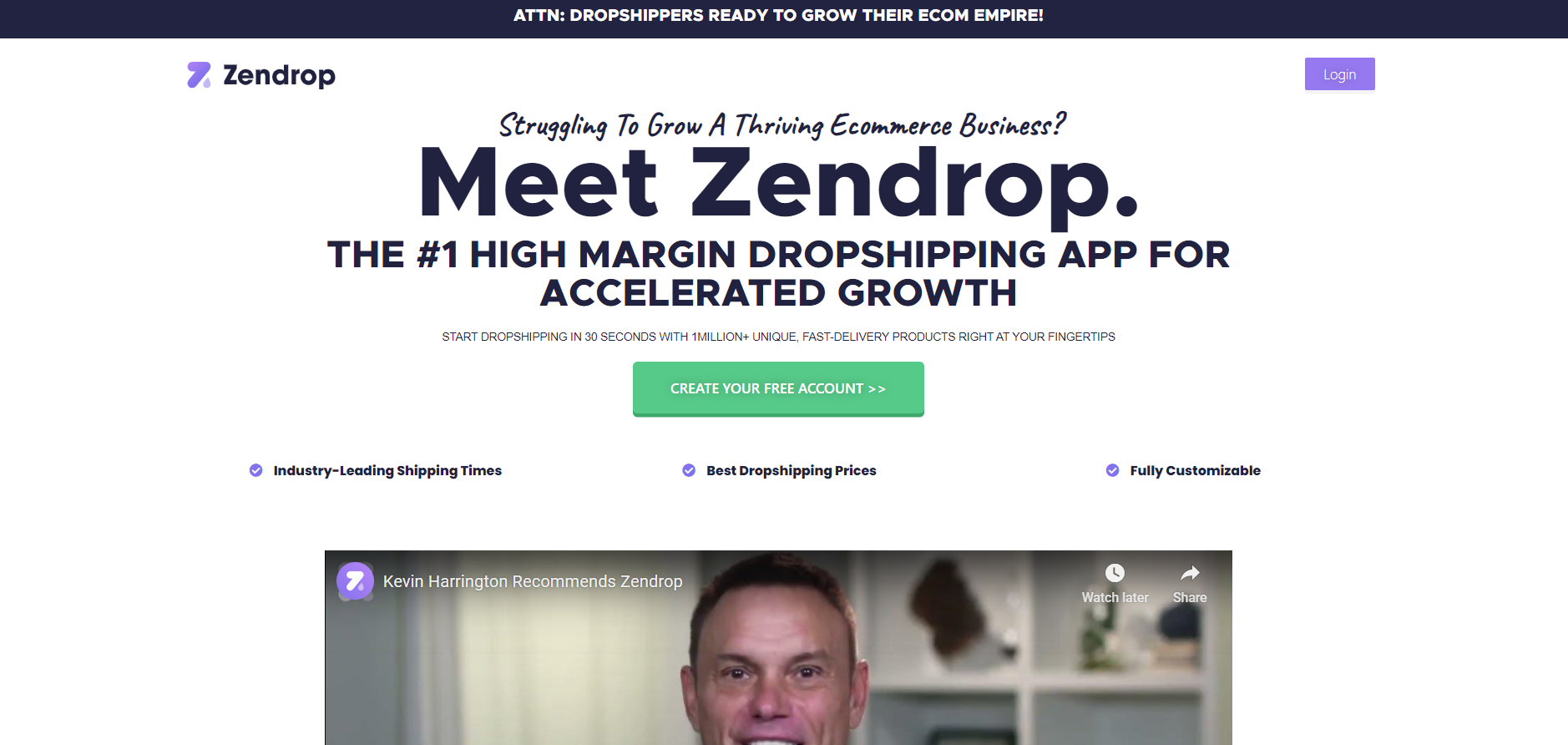 Zendrop is a one-stop shop that connects trustworthy suppliers with online retailers and dropshipping businesses. Thus, its comprehensive inventory consists of over a million products, spanning multiple categories such as fashion, home and kitchen, beauty and personal care, electronics, sports and outdoors, children's goods, and more.
Moreover, the platform offers the option for fully personalized packaging on any product in their stock.
Indeed, this online marketplace empowers dropshippers to seamlessly find and import products from high-performing suppliers and manufacturers, streamline their order management, and automate their business operations.
Furthermore, Zendrop's shipping timeframes are subject to variation depending on the destination country. Thus, it offers you three shipping options, including:
Economy Shipping: This option has a fixed fee of $1.50 for shipments within the United States and $3 for all other locations.
Regular Shipping: This option has a fixed fee of $2 for shipments within the United States and $3.50 for international deliveries.
Express Shipping: For items weighing less than 450g, the cost of this shipping option is $6, while packages weighing over 450g cost $9 to ship.
Also, utilizing its sophisticated tools, users can effortlessly add new items to their dropshipping store, configure competitive pricing, and fulfill orders with just a few clicks.
Zendrop Main Services:
Automated Dropshipping
Inventory management
Product Sourcing
World-Class Support
Fast Shipping
Custom Branding
Private Labeling
Real-Time Analytics
500,000+ US-exclusive products
High-Volume Sellers
Subscription Boxes
Zendrop Pricing:
This dropshipping platform offers one FREE, and two pricing plans:
Pro Plan – $49/month
Plus Plan – $79/month
However, both pricing plans offer a 7-day free trial.
Upgrade to a paid plan for 50% OFF for 3 months → Use code: DROP350
Find winning dropshipping products & spy on your competitors
Minea analyses all online advertising to help you find the best products to launch, and the best creatives in your niche in just a few clicks.
Use coupon: DROPSHIPPING30 and get a 30% discount
💡Try Minea For Free
Conclusion
Choosing an Ecommerce fulfillment service doesn't have to be difficult. Sure, there are so many of them out there. However, you need to focus on your own needs and simply find a service that meets most or all of them.
It's that simple! Now, get another close look at this guide, analyze these services carefully, and you will know which one will best suit your needs, budget, and workload.