Facebook Marketplace Dropshipping: How To Dropship On The Facebook Marketplace In 2023
by
Aleksandra -
Aleksandra teaches marketing and management at various levels in High School. She writes about marketing, the economics and logistics of the dropshipping business and ecommerce in general.
Chief of Content Marketing
Are you looking for a new and profitable way to make money online? Have you thought about Facebook Marketplace Dropshipping?
With over 2.9 billion monthly active users, Facebook has established itself as one of the largest online platforms for connecting people and businesses. Yeah, TikTok can't beat FB. At least not yet.
So, if you're interested in dropshipping and want to explore the potential of the Facebook Marketplace in 2023, you've come to the right place.
In this article, I will guide you through the process of setting up a successful dropshipping business on the Facebook Marketplace. I will discuss the strategies, tips, and best practices to help you maximize your profits and stay ahead of the competition.
So, let's dive in and discover the world of Facebook Marketplace dropshipping in 2023.
What Is The Facebook Marketplace Dropshipping?
The Facebook Marketplace is an online platform where you can buy, sell, and trade various items within your local community. It is integrated into the Facebook platform, allowing you to browse and discover products or services offered by individuals or businesses in your area.
Hence, you can search for specific items, filter results by location or category, and communicate with sellers or buyers directly through Facebook Messenger.
And, as for dropshipping, it is a business model where you sell your products online, without holding inventories. Thus, dropshipping suppliers are the ones that prepare and ship orders to your customers.
So, to sum it up, Facebook Marketplace Dropshipping is the marketplace where all users can buy and sell items, without holding inventory. Hence, you can browse for listings, search for items to purchase, and find available products for shipping.
Lifetime deal: Get all-access to everything on Dropshipping.com
Access all DSCOM features, resources, courses, live workshops, discounts, winning products, weekly deep dives, directories and all future updates under all-in-one dropshipping HUB.
DROPSHIPPING IS A REAL BUSINESS, DON'T DO IT ALONE. 4553 MEMBERS ALREADY JOINED. YOU CAN PAY OFF YOUR SMALL INVESTMENT WITH JUST 2 SALES ON YOUR STORE.
Grab the deal before it's gone
Can You Dropship On Facebook Marketplace?
Yes, you can dropship on Facebook Marketplace. Hence, you can list and sell dropshipped products on the platform. However, it is important to review and comply with Facebook's policies and guidelines for selling on Marketplace to ensure a smooth and successful dropshipping experience.
For example, One user from Reddit ( U/rosstct4) only invested $150 in Facebook ads, $12 in his domain, and a few bucks to order products from AliExpress. His total investment was only $200 at the beginning. He made his first sale within the day he invested in his Facebook ads!
Some of his advice is to find your niche and to sell products that really impact and affect the lives of someone, something they actually need.
Moreover, there are many successful dropshippers who only use Facebook as a platform for dropshipping, without having any website.
So, here are the main features of Facebook Marketplace Dropshipping:
Product pages – The Facebook Dropshipping Marketplace has product listings
Communication – Facebook messenger
Payment – Facebook has its own checkout
Product inventory – listing partners
Order management – Facebook has the order management tools
Based on the features I listed, the Facebook Dropshipping Marketplace offers everything you need for dropshipping.
👉 Read more about the Fulfilment Processes while dropshipping.
Why Should You Dropship on Facebook Marketplace?
Dropshipping on Facebook Marketplace is relatively new. Although, it is definitely great at driving organic growth to your website or to the platform itself.
So, here's what I think you should dropship on Facebook Marketplace. 👇
➡ Large User Base
Facebook Marketplace has a large and active user base, with millions of people using the platform to buy and sell products every day. In fact, as of Q1 2023, the number of Facebook users worldwide is 2.99 billion.
This presents a huge opportunity for dropshippers to reach a wide audience and potentially generate a high volume of sales.
Plus, as of 2023, Facebook will have over 10 million active marketers. Furthermore, Facebook advertising is seen by 63.7% of Americans over the age of 13.
➡

Cost-Effective Option

Dropshipping on Facebook Marketplace is cost-effective, as it eliminates the need for maintaining inventory or investing in warehouse space.

Dropshippers can simply list products on the platform and fulfill orders directly from their suppliers, saving on upfront costs and reducing the risk of unsold inventory.

Plus, the advertising costs can be as low as $10.
➡

Easy And Convenient Shopping Experience For Users

Users spend lots of time on Facebook for fun. So, they know how to navigate, or they are used to it.

That's why, they get a seamless and convenient shopping experience, making it easy for them to browse and purchase products directly within the platform.

This can lead to higher conversion rates and increased sales for dropshippers.
➡

Built-In Messaging System

The platform's built-in messaging system allows for direct communication between buyers and sellers, enabling you to provide personalized customer support and address any inquiries or concerns.

This can help build trust and loyalty among customers, leading to repeat purchases and positive reviews.

👉 Read about Testimonial Advertising: 11 Proven Examples To Sell More.
➡

Great Target Audience Features

Facebook Marketplace allows dropshippers to target specific geographic locations, making it ideal for local or regional businesses.

This can help increase visibility and attract customers who are more likely to be interested in purchasing products from nearby sellers.
➡

Great Insights and Analytics Report

The platform provides valuable insights and analytics, allowing you to track the performance of their listings and make data-driven decisions to optimize their sales strategies.

This can include adjusting pricing, refining product descriptions, or targeting specific demographics based on user behavior data.

Plus, you get great insights and reporting on your ads' performance. This way, you can get better at your marketing strategy and decision-making. For instance, check out what results I get for my ad performance. 👇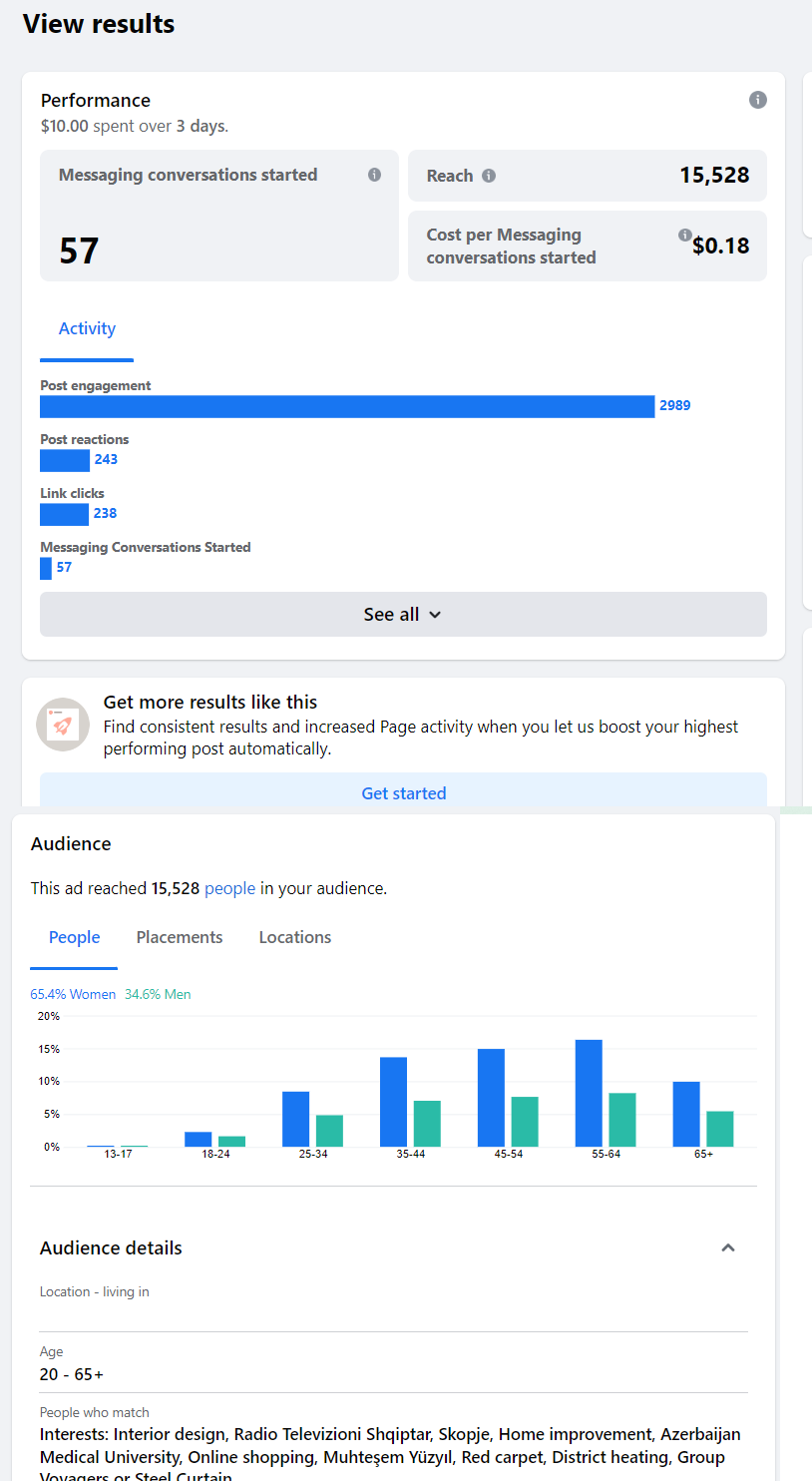 ➡

Advertising Tools

Facebook Marketplace is integrated with Facebook's advertising tools, providing you with additional opportunities to promote your products and reach a larger audience.

This can be particularly beneficial for new or lesser-known brands looking to increase brand awareness and drive traffic to their listings.

👉 Check out the 16 Best Marketing Apps On Shopify.
➡

Easy To Go Viral

The social nature of Facebook allows for easy sharing and virality of products listed on Marketplace.

Users can share listings with their friends and followers, potentially leading to increased exposure and word-of-mouth referrals for dropshippers.

👉 Check out How To Make Money On Youtube Without Making Videos [2023].
➡

Secure Payment System

Facebook Marketplace offers a secure payment system, providing peace of mind for both buyers and sellers.

This can help build trust and credibility for dropshippers, encouraging more people to make purchases and reducing the risk of fraudulent transactions.

💡 Get Inspired: Top 10 Best Health and Beauty Dropshipping Suppliers + Trending Products.
How Much Does It Cost to Dropship on Facebook Marketplace?
Let's start this way, this is something that I can't discuss in exact numbers. Why?
Well, firstly, because all of us have different requirements, and plan our budgets differently.
However, there are a few things you should consider when I talk about dropshipping on the Facebook marketplace.
➡ Individual sellers on Facebook Marketplace do not have to pay any fees. But, if you run as a merchant, you will be charged a 5% transaction fee on each sale. The minimum transaction charge that must be paid is $0.40.
➡ Furthermore, Facebook dropshipping advertising is a MUST. And, these costs depend on you! Facebook ads are connected to Facebook Dropshipping Marketplace, and their costs are usually $0.50-2 per click.
However, the average CPC for all industries is estimated at around $1.72.
Moreover, when your sales increase, you may want to consider investing in dropshipping software or applications. This will help you in Facebook Marketplace automation for dropshipping.
💡 Tip: Learn about Ad spy tools, and why you need them.
Is Dropshipping on Facebook Marketplace Profitable?
Maybe I should rethink changing this question to Why Facebook Marketplace dropshipping is profitable, instead of Is it? Because, Yes dropshippers, IT IS!
First of all, I can certainly say that Facebook is the "GOD of organic traffic". It has a huge customer base, which means potential buyers for your dropshipping products.
💡 Tip: Learn How To Increase Organic Traffic To Your Dropshipping Store?
What's more, dropshipping on Facebook Marketplace uses a peer-to-peer system. It implies that buyers and sellers will interact through the Facebook Messenger app. Also, the payments will take place from here too.
As a result, more dropshippers are now seeing this platform as a new powerful, and profitable sales channel.
👉 Read about other profitable sales channels.
Furthermore, one of the finest aspects of this platform for dropshipping vendors is that it is fully undiscovered, which means that there is no strong competition, as on other marketplaces like Alibaba.
How To Dropship On Facebook Marketplace- My Step-by-Step Guide
If you agree to dropship on the Facebook marketplace, here is a step-by-step guide for setting everything up:
🔸

Step 1: Create A Facebook Account
First things first, you need to create a Facebook account, or you can use your existing one if you have one.
Hence, go to Facebook.com, and by following a few steps about entering your personal information, you can create your account.
Before you do anything, keep in mind that you can't dropship on the Facebook marketplace if you are under 18 years old.
Also, in some countries, your account must have been active for 5 months before you can start selling on Facebook Marketplace.
🔸

Step 2: Find The Dropshipping Products You Want To Sell

So, the next step refers to finding your winning products. Hence, what I personally do in this case is use a product research tool.

For example, I am using Minea, which helps me find trending products on social media. So I select "Facebook" as a social media channel I am interested in, and I can see what products are selling best.
What's more, Minea serves as a valuable resource for discovering successful products. On the Facebook platform, you have the ability to use advanced search filters such as date, media format, gender, geographical location, and language in order to narrow down and refine your search.
Plus, I got two files with one more. This way, I am also spying on my competitors, and see how they are selling.
🔸 

Step 3: Read Facebook ECommerce Policy & Merchant Agreement
The e-commerce policy and merchant agreement show you which products you can and cannot sell on Facebook.
You wouldn't be surprised that the e-commerce policy actually prohibited 25 product categories from being sold on the platform. Here are a few products that you can't sell on the platform:
Adult products (sexual toys, clothing, etc.)
Weapons, clothing with violent messages.
These were only a few, but there are many more products that are not allowed to sell.
Therefore, you should check the guidelines carefully and see every product category that is prohibited. This is best for avoiding any issues when you start dropshipping on Facebook Marketplace.
Wanna sell on more marketplaces? Here's my guide for Etsy Dropshipping 101.
🔸

Step 4: Find Your Dropshipping Suppliers

Also, once I make a decision about the dropshipping niche I want to dive in, I use the Dropshipping.com supplier directory to find reliable dropshipping suppliers. Thus, you have over 2000 suppliers to choose from in every dropshipping niche. 👇
💡Tip: Take a look at my Top 100 dropshipping suppliers for FREE.
You can also check dropshipping suppliers for the Clothing niche, Electronics niche, Shoes, Car accessories, Socks, and Home decor. All these niches dropship on the Facebook marketplace extremely well.
👉Also, check out the Free list of the best dropshipping suppliers from China.
🔸

Step 4: Go To Facebook Marketplace

Now, once you decided on what you want to sell, and found your dropshipping suppliers, from Facebook Dashboard, click on "Marketplace" from the left sidebar.
Next, you will land on Facebook Marketplace. So, remember that the products listed here are based on your location. However, you can always use the "Filters" and change it.
Now, if you want to start selling on Facebook Marketplace, you need to click on "Selling", from the left sidebar.
🔸

Step 5: Create New Listings

Now, once you are in the "Selling" section, click on "Create New Listing". 👇
Next, you need to choose the listing type.
Lastly, you can create your product by adding product photos, title, description, pricing, and more.
However, as you are dropshipping products, you probably already have a dropshipping supplier, or for example source products from famous marketplaces like Walmart, or eBay.
So, what you need to do here is navigate to your supplier's website, and find the products you want to add on Facebook Marketplace Dropshipping.
Thus, as I am using eBay products for dropshipping on Facebook, here's what I do.
I go to eBay, I do my little research on products and suppliers, etc. Once I find my dropshipping winning product, I use a product research Chrome extension. In this case, I am using the Dropshipping Titans Marketplace extension.

The Dropshipping Titans Marketplace Helper simplifies the process of listing products on Facebook Marketplace and eBay. It seamlessly integrates with popular e-commerce websites such as Amazon, Walmart, and Home Depot.
So, it automatically transfers images, titles, and descriptions, into the Facebook Marketplace listing. Plus, it changes the pricing as I request it to be.
👉 Read about Dropshipping On eBay in 2023 – Pros, Cons & Tips for Beginners.

🔸

Step 6: Publish Your Listings

Finally, once your listing is ready to sell, you can select the place you want it to be published (Facebook Marketplace), and click on "Publish"
🔸

Step 7: Promote Your Dropshipping Products

Furthermore, I highly recommend you create Facebook ads. Hence, they are an affordable option, and you can reach your target audience quickly.

For instance, you have various targeting options that can help you narrow down your target audience. Plus, it is very easy. 👇
What To Do After You Set Everything Up?
So, once you set up your dropshipping store and product listing, here's what you should do. 👇
➡

No confirmation from Facebook

The dropshipping Facebook marketplace has an acceptance process, which usually takes anywhere from 1 to 2 days. If you don't get contacted during this period, do the following:
Try using other photos because Facebook robots can easily detect duplications
Try relisting the item in a new region
➡ Customer claims
Next, if many customers contact you, you can:
Chat directly with your customers
Always try asking your customers open questions to learn about their buying behaviors.
Lower shipping fees as much as you can
Inform them about everything related to the shipping process.
Ask them to confirm the purchase
Make sure to get the necessary shipping information such as name, address, phone number, etc.
➡

Scale Your Dropshipping Business

If you are thinking about scaling your dropshipping business on Facebook, here are 4 ways you can do so:
List new items from other categories. Try mixing up products of different categories.
Test different products. Facebook dropshipping marketplace may be different. So, check what works. Again, you can use ad spy tools like Minea and Adserea to see what dropshippers that sell in different niches are doing.
Promote your product listings frequently. Facebook ads for dropshipping have excellent promotion options. So, launching ads more frequently is great for reaching new targeted people.
How Do I Become Eligible to Dropship on Facebook Marketplace?
First of all, you need to keep in mind that Facebook marketplace or Dropshipping Facebook marketplace is not available in all countries that Facebook is.
Furthermore, there are different eligibility requirements for different countries. However, there are a few basic eligibility requirements that apply to everyone, like
You must be at least 18 years old.
You must have a Facebook account that is active.
Your Facebook app must be up-to-date.
You must give complete product details if you want your product listings to be approved.
Also, I will list some additional eligibility requirements that only apply to the USA market. So, except for the basic eligibility requirements that apply to the USA, there are some specific:
As long as shipping and check-out options are in place, dropshippers in the United States can sell/dropship products nationwide.
If a drop shipper exceeds the $500 sales limit, they must provide their Social Security Number to prove that they are US citizens.
How to Dropship From Aliexpress To Facebook Marketplace?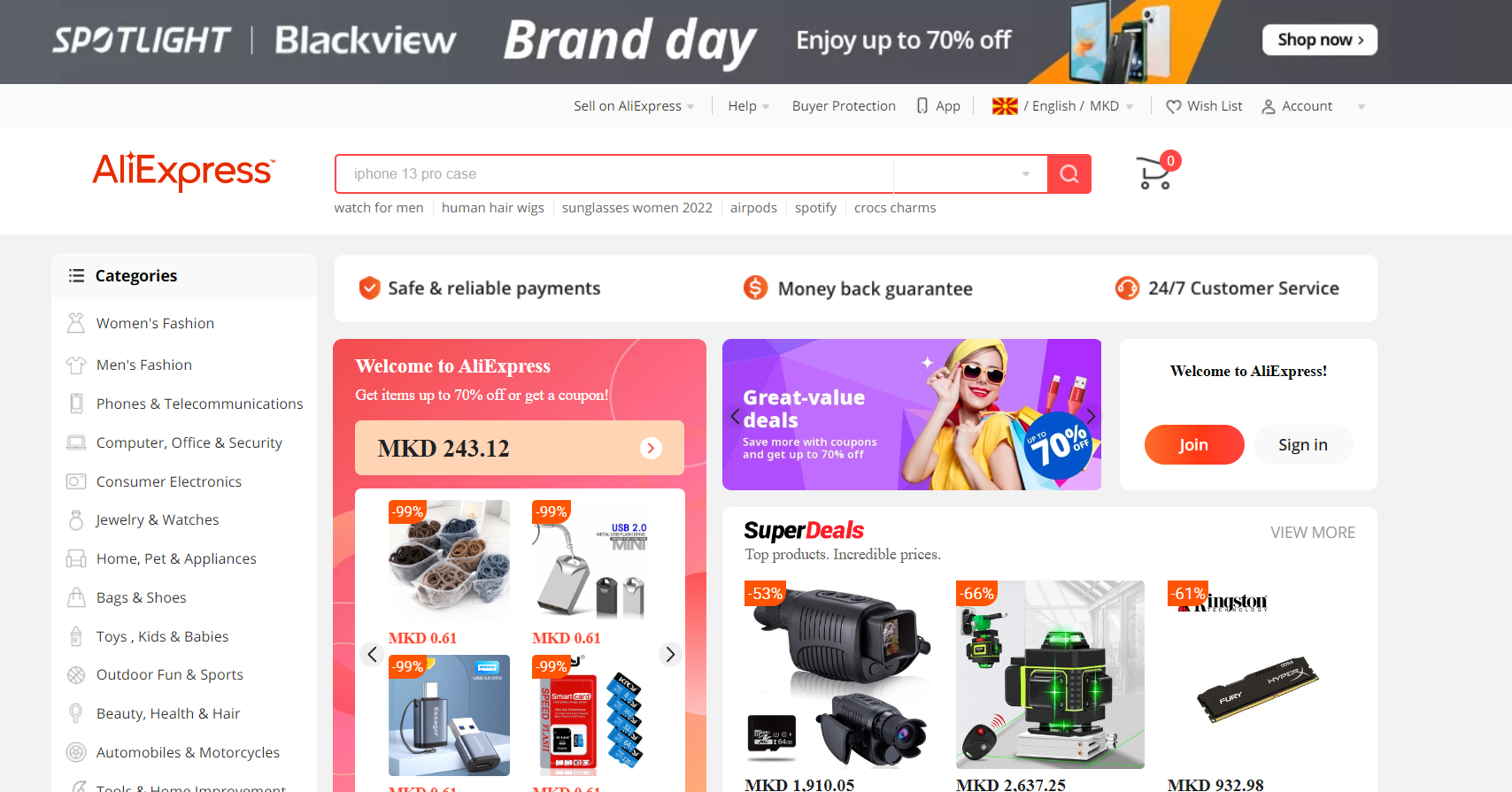 The Aliexpress goods can be imported to Facebook, by first filling out a form. So, you should contactAliexpress to transfer product details into Facebook Marketplace.
Hence, dropshipping from AliExpress to Facebook Marketplace is actually pretty simple. All you have to do is type in the keyword of the product into the search bar and click the "Browse" button on Aliexpress to find the products you want to dropship. Once you find your dropshipping product, paste the product price, product description, and photos into the Facebook Marketplace listings.
Dropshipping from AliExpress to Facebook Marketplace, on the other hand, is possible with the help of a dropshipping tool, such as the Google Chrome extension.
This allows Facebook dropshippers (store owners)to reach thousands of dropshipping items at wholesale pricing. 👇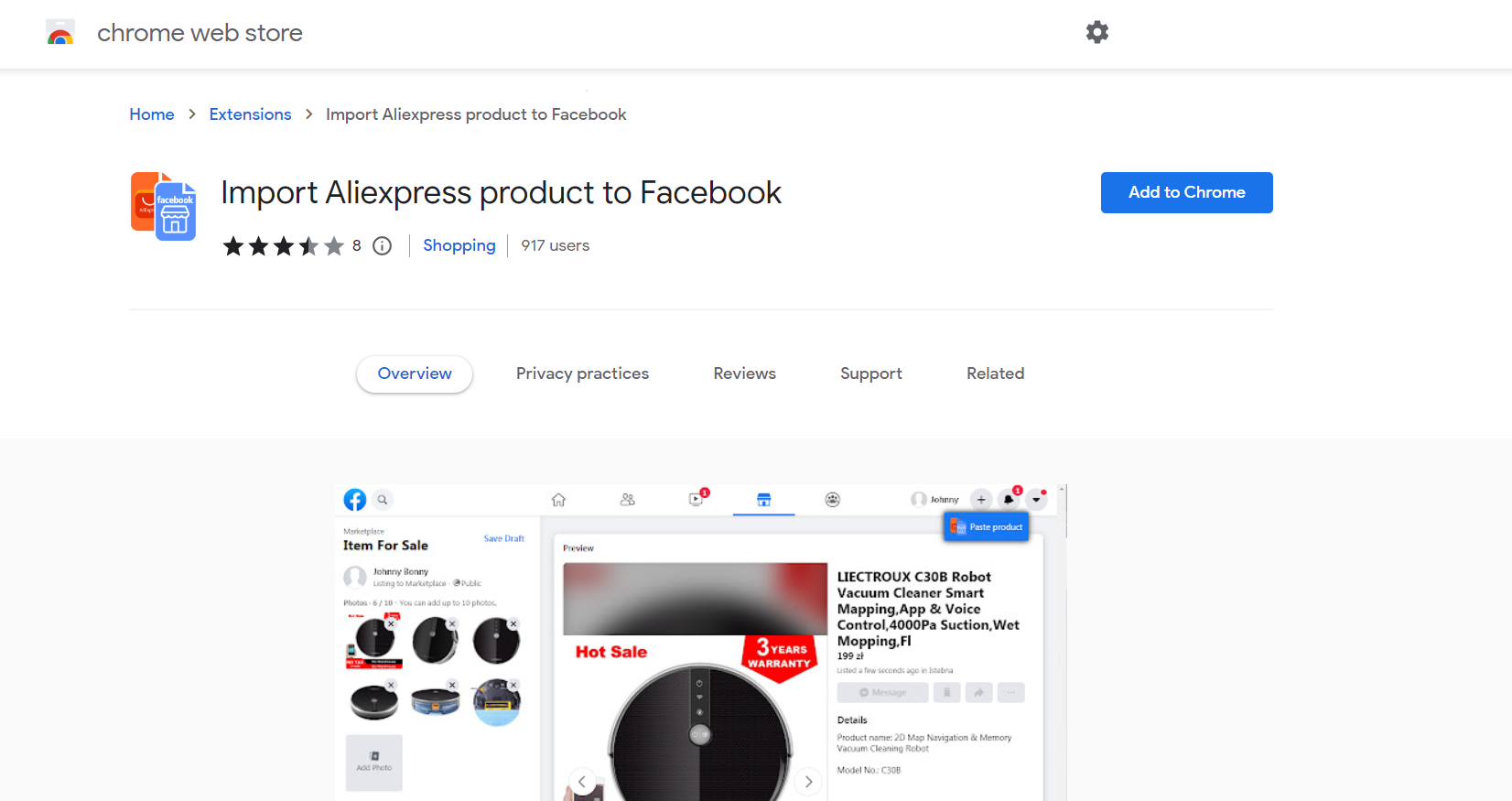 You may copy Aliexpress items and put them on Facebook Marketplace using this free product importer tool. Simply navigate to the Aliexpress product and click the "save" button that will appear.
Next, click the button to paste the title, photos, description, and price into Facebook Marketplace.
Furthermore, there are several dropshipping tools available for dropshipping with AliExpress. For example, the AliExpress Dropshipping Center is one of them and is worthy of our attention. It's a free tool for researching dropship products.
Plus, dropshippers are not required to pay any registration fees to visit the center. The tool has two features: "Find a product to sell" and "Product analysis." You may use it to discover the finest goods to start selling on Facebook Marketplace.
👉 Read about Is AliExpress Legit And Safe For Buying And Selling?
How to Sell from CJDropshipping to Facebook Marketplace?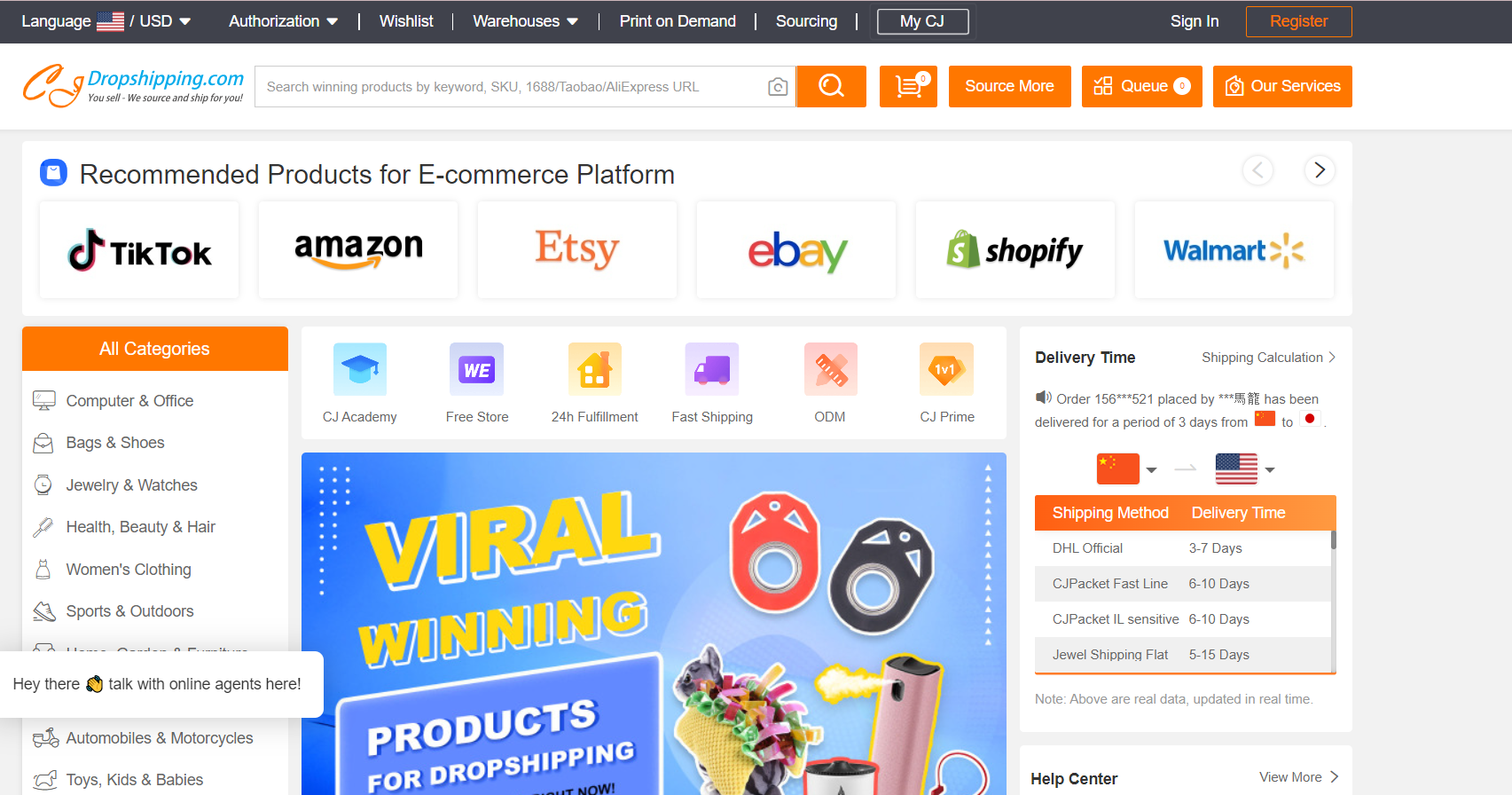 If you want to sell on Facebook Marketplace via Cj Dropshipping, the first thing you need to do is create a Cjdropshipping account.
Next, you search for products with affordable prices on Cjdropshipping. Once you pick the items you want to sell, the next thing you need to do is copy the product information (description, photos/videos, price) into your Facebook Marketplace.
After a customer places an order, you simply order the products from Cjdropshipping using your Cjdropshipping account, adding the customer's shipping info, so the supplier can send the items to the customer's address.
The best part here is that you get connected to unlimited inventory, and you never hold stock. Moreover, you get the cheapest supplier prices.
👉Learn more about Facebook Ads for dropshipping.
However, if you want to upgrade your business, and have Facebook Marketplace automation, you can connect to Shopify, and use their Cjdropshipping tool.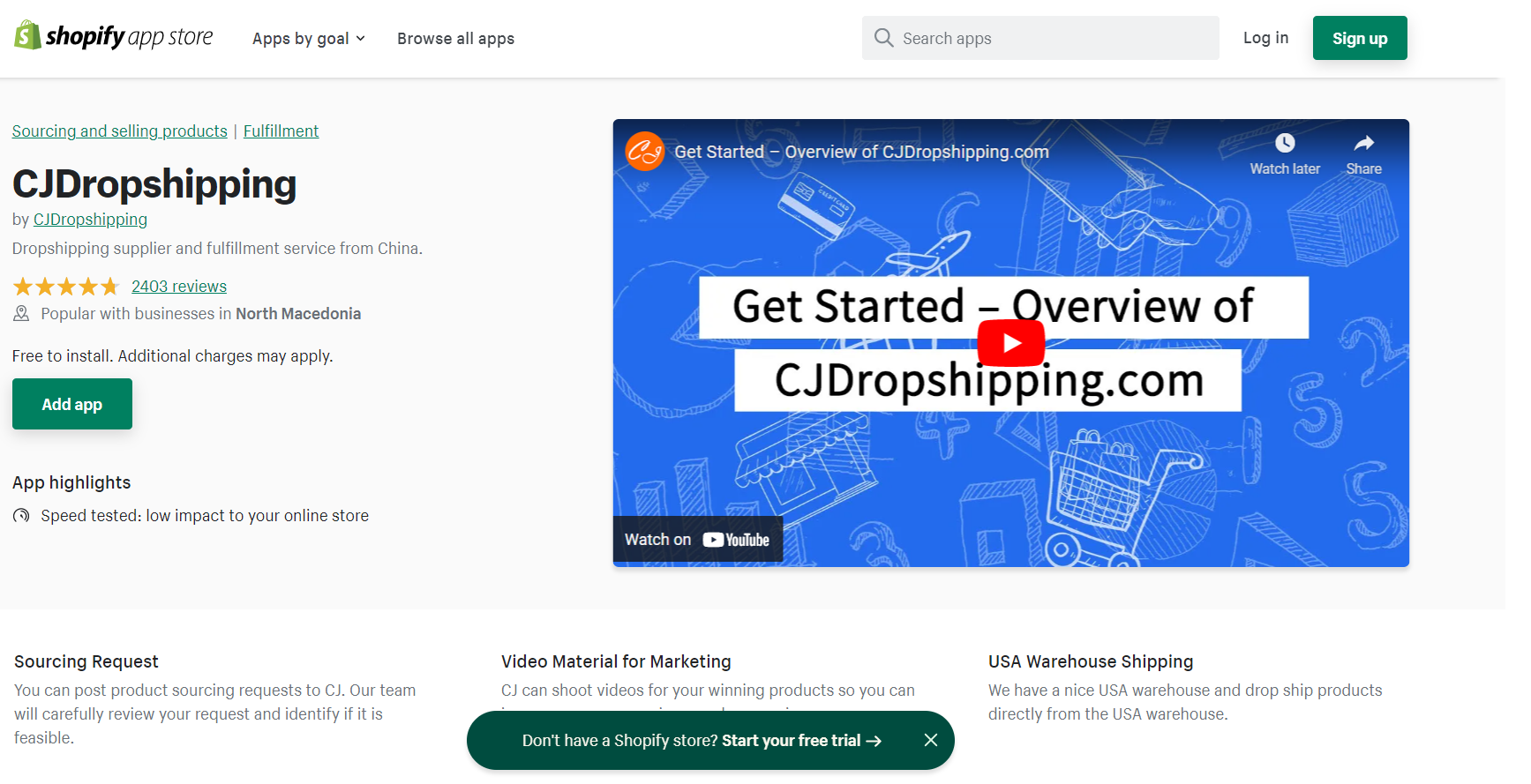 Also, you can check out their Facebook Dropshipping Marketplace, and get the newest updated info.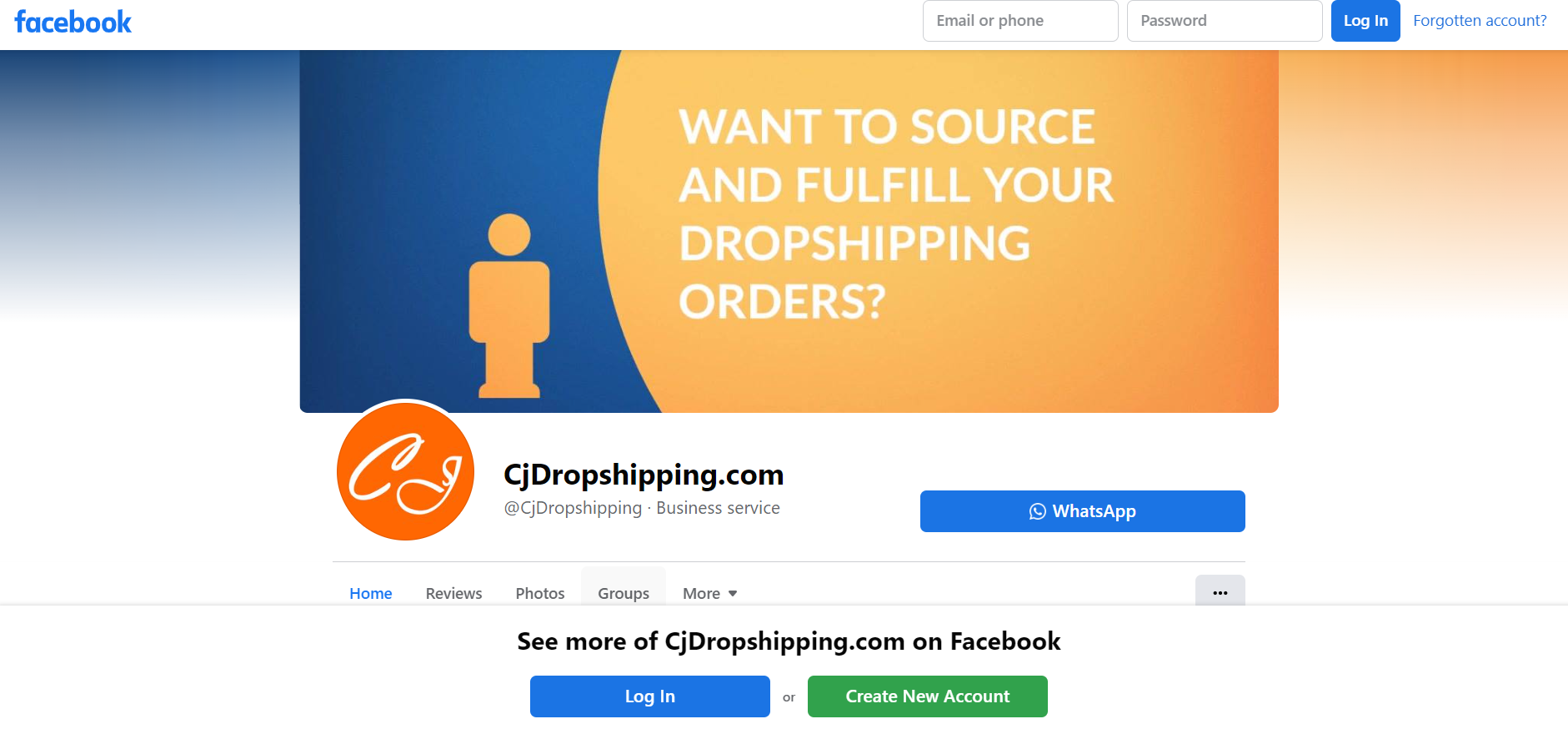 How To Sell From Walmart To Facebook Marketplace Dropshipping?
Dropshipping from Walmart to the Facebook Marketplace is a simple and profitable strategy.
The first step is to identify popular and profitable products on the Walmart website that you can list on the Facebook Marketplace.
When dropshipping from Walmart to the Facebook Marketplace, it's important to adjust the prices accordingly to make a profit. You should consider factors such as shipping costs, marketplace selling fees, and your desired profit margin.
Also, the process of dropshipping from Walmart to the Facebook Marketplace is similar to dropshipping on other platforms like eBay. You need to import product listings from Walmart to your listing on the Facebook Marketplace and ensure you provide accurate and captivating product descriptions.
Additionally, you need to manage your inventory, update product availability, and handle customer inquiries through Facebook Messenger.
Tip: Read about Is Walmart Dropshipping Still Working? – My Guide, Tips & Tricks.
How To Sell From eBay to Facebook Marketplace Dropshipping
Dropshipping from eBay to Facebook Marketplace can be a lucrative business venture as it allows you to tap into the vast user base of both platforms. So, here's what you can do.
First, you must find your dropshipping products. eBay has a huge product catalog, so you can try to find your products manually.
Also, you can use eBay's tool – Seller Hub, to identify trending niches and profitable products for dropshipping.
This tool provides valuable insights into the demand and popularity of various items, helping you make informed decisions.
Next, once you have chosen your products, create a compelling eBay listing. Optimize your product title, description, and images to attract potential customers. Also, set competitive prices consider factors such as shipping, eBay fees, and desired profit margins.
To upload your eBay listing to Facebook Marketplace, you can use third-party listing tools or manually create a new listing. So, again, you can use Seller Hub, for this purpose as well.
Next, you need to regularly update your eBay inventory to avoid selling out-of-stock products and handle customer inquiries promptly.
Using Facebook Marketplace Dropshipping Software
Managing all your product listings and monitoring your prices and product stocks for all your suppliers is really time-consuming.
For that reason, there is software specially designed for handling these tasks. AutoDS offers a popular Facebook Marketplace dropshipping software. Plus, it is one of the world's most advanced Facebook marketplace automation partners.
The automation dropshipping software is designed to find trending products to sell, monitor prices and stock, and handle product listings.
How to Install AutoDS Helper Chrome Extensions?
As a result, it is definitely not a bad idea to include AutoDS Chrome extensions.
Depending on what browser you are using, go to the Chrome web store and search for the Facebook Marketplace Dropshipping helper. Next, click on "Add To Chrome", and there you go.
Right after, "Add to Chrome" the Chrome AutoDS Dropshipping Helper Extension. This AutoDS Helper Chrome Extension makes order processing much easier by copying customer addresses on supplier websites.
After adding these 2 extensions, you can easily set up your Facebook Marketplace Dropshipping store.
The Pros of Facebook Marketplace Dropshipping
Before I get to the downsides, here are the pros of using the Facebook marketplace:
✅

Dropship With No Website
A huge upside of Facebook is dropshipping without a website. Thus, you can dropship with or without it.
Facebook Marketplace already has all the tools you need, so it has a green light for dropshipping.
You could use the onsite payment processing, the order management tools, and Facebook's own listing partners to manage your dropshipping inventory.
✅

Easy Communication
What gets better than Facebook's Messenger? A fast and reliable way of communicating with your customers.
On Facebook's messenger, you can directly communicate with your customers. They can ask you any question they may have, or vice versa.
Facebook Messenger creates a positive buyer experience and increases customer loyalty in the long term. Something other dropshipping e-commerce stores don't have!
✅

Free Advertising Costs
You can reach millions or billions of users, and you don't have to pay for anything. Unlike many other dropshipping platforms, Facebook Marketplace doesn't charge you unless you start setting up Facebook ads.
The best thing about the Facebook Marketplace is that the users who are scrolling through it, are already ready to buy.
Moreover, Facebook takes care of the personalized shopping experience, so if your product is there, it'll be shown to the most interested in them.
The Cons of Using Facebook Marketplace Dropshipping
Here are a few downsides of using Facebook Marketplace:
❌

Location Requirement
Facebook Marketplace doesn't allow you to list a product without stating its location. You can only select one location and this means that the entire world won't be able to see it.
If you select your product to be shown in the United States, then you can't select another country.
❌

No Clickable links In The Product Description
When listing a product, you can't add any clickable links to the product description. You can add your website domain but potential buyers won't be able to click on any links.
The best alternative is to always find a local dropshipping supplier when dropshipping with the Facebook Marketplace.
Join the only community and resource hub you'll ever need to succeed with dropshipping
Find winning dropshipping products, learn marketing, download templates and engage with real dropshippers
Never pay for a "guru's" course again. See why 4543+ dropshippers joined us this year!
💡Try DSCOM Hub Now
Conclusion
I gave you many reasons why Dropshipping Facebook Marketplace is the right choice for you. It is always a good idea to expand your dropshipping store and earn as much revenue as you can.
The Facebook Marketplace is a platform that can be used for dropshipping, allowing e-commerce businesses to reach a large audience.
Hence, it does not require a website and offers features such as product listings, communication through Facebook Messenger, and order management tools. Plus, you get access to a large and active user base, making it a great opportunity for dropshippers to reach a wide audience and generate sales.
In this article, I guide you through the step-by-step process of Facebook Marketplace Dropshipping. Plus, you get valuable insights about dropshipping products from popular marketplaces to Facebook Marketplace.
Take your notes & Start Dropshipping!