Have you ever thought about dropshipping on the Facebook marketplace? Or, actually, can you dropship on the Facebook marketplace?
Notably, the Facebook marketplace is a platform that can be used for dropshipping!
Thus, whether you have a website or not, it doesn't really matter. This amazing platform allows all e-commerce businesses to reach a large audience.
Hence, Facebook has the most active users in the world, nearly 3 billion as of July 2022.
That sounds like a great deal, right? Well, let us take you in a depth look at how we can dropship on the Facebook marketplace.
Also, in this article, we will cover what are its pros and cons, how to dropship on the Facebook marketplace, what to expect when dropshipping on the Facebook marketplace, and even more!
So, let's start digging into our FULL guide about dropshipping on Facebook Marketplace!
What Is the Facebook Marketplace Dropshipping?
We already know that dropshipping is a business model where you sell your products online, without holding inventories. Thus, dropshipping suppliers are the ones that prepare and ship orders to your customers.
Moreover, the marketplace is a destination on Facebook where all users can buy and sell items. Users may browse for listings, search for items to purchase and find available products for shipping.
Can You Dropship on Facebook Marketplace?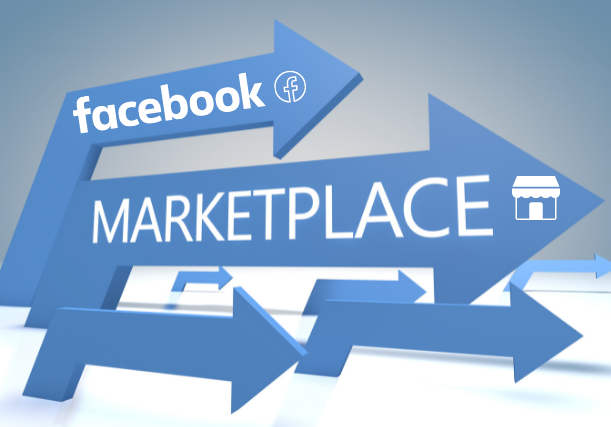 The Facebook marketplace was initially launched in 2016. Its initial purpose was to allow Facebook users to buy and sell items in their local communities.
However, It was not until 2019, that Facebook would start adding additional features that were in favor of dropshippers. These additional features allow dropshippers to sell products on the platform and create a new Business to customer (B2C) opportunity.
Here are the main features a platform must have for dropshipping, and what Dropshipping Facebook Marketplace has:
Product pages – The Facebook Dropshipping Marketplace has product listings
Communication – Facebook messenger
Payment – Facebook has its own checkout
Product inventory – listing partners
Order management – Facebook has the order management tools
Based on the features we listed, the Facebook Dropshipping Marketplace offers everything you need for dropshipping.
Moreover, there are many successful dropshippers who only use Facebook as a platform for dropshipping, without having any website.
👉 Read more about the Fulfilment Processes while dropshipping.
Why Should You Dropship on Facebook Marketplace?
Dropshipping on Facebook Marketplace is relatively new. Although, it is definitely great at driving organic growth to your website or to the platform itself.
Moreover, the competition is relatively low, compared to dropshipping on other platforms (Amazon, Walmart, and many other Shopify e-commerce stores).
Get Inspired: Top 10 Best Health and Beauty Dropshipping Suppliers + Trending Products.
Best-sellers that you find on other sites and sell on the Dropshipping Facebook marketplace can easily drive your revenue up.
To clarify, there's quite a competition out there too! But, the positive side is that these dropshippers are not as experienced, as the ones on the eCommerce platforms.
How Much Does It Cost to Dropship on Facebook Marketplace?
Let's start this way, this is something that we can't discuss in exact numbers. Why?
Well, firstly, because all of us have different requirements, and plan our budgets differently.
However, there are a few things you should consider when we talk about dropshipping on the Facebook marketplace.
Individual sellers on Facebook Marketplace do not have to pay any fees. But, if you run as a merchant, you will be charged a 5% transaction fee on each sale. The minimum transaction charge that must be paid is $0.40.
Furthermore, Facebook dropshipping advertising is a MUST. And, these costs depend on you! Facebook ads are connected to Facebook Drioshipping Marketplace, and their costs are usually $0.50-2 per click.
However, the average CPC for all industries is estimated at around $1.72.
Moreover, when your sales increase, you may want to consider investing in dropshipping software or applications. This will help you in Facebook Marketplace automation for dropshipping.
💡 Tip: Learn about Ad spy tools, and why you need them.
Is Dropshipping on Facebook Marketplace Profitable?
Maybe we should rethink changing this question to Why Facebook Marketplace dropshipping is profitable, instead of is it? Because, Yes dropshippers, IT IS!
First of all, we can certainly say that Facebook is the "GOD of organic traffic". It has a huge customer base, which means potential buyers for your dropshipping products.
What's more, dropshipping on Facebook Marketplace uses a peer-to-peer system. It implies that buyers and sellers will interact through the Facebook Messenger app. Also, the payments will take place from here too.
As a result, more online retailers are now seeing this platform as a new powerful and profitable sales channel.
👉 Read about other profitable sales channels.
Furthermore, one of the finest aspects of this platform for dropshipping vendors is that it is fully undiscovered, which means that there is no strong competition, as on the other marketplaces like Alibaba.
How to Dropship on Facebook Marketplace- Step-by-Step Guide
If you agree to dropship on the Facebook marketplace, here is a step-by-step guide for setting everything up:
Step 1: Create a Facebook Business Account
Before you do anything, you can't dropship on the Facebook marketplace without having a business account.
Therefore, you can set up a Facebook page and manage all your product listings, through your Facebook business account.
Likewise, If you live in the USA, you won't be needing a personal account. But, if you live outside the USA, Facebook will require you to set up a personal account to use a business account.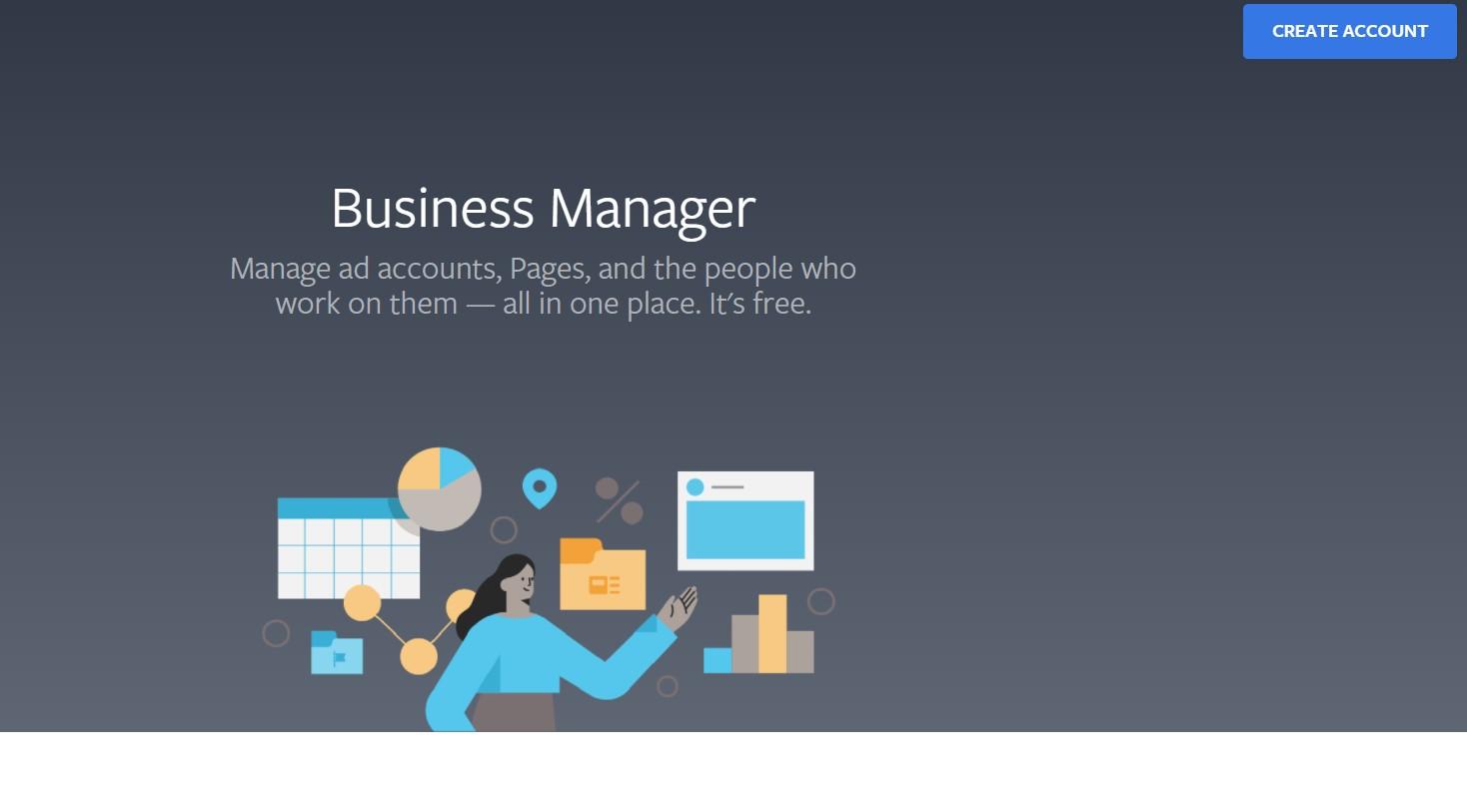 Step 2: Use Facebook's listing partners
To list your products and manage your inventory, make sure to use Facebook's listing partners. The product listings will differ based on where you are located.
If you aren't located in the US, then, you will have to manually create product listings when selling products.
Businesses that have a website aren't allowed to add any hyperlinks to their listings. Although, they may add their website domain in the product description.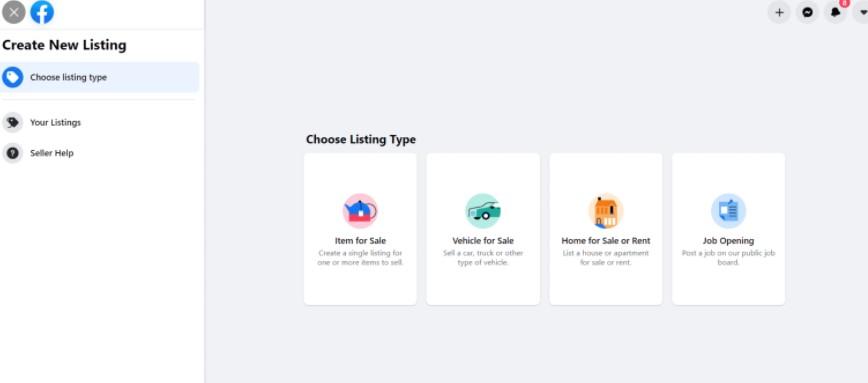 Step 3: Read Facebook's E-commerce Policy and Merchant Agreement
The e-commerce policy and merchant agreement show you which products you can and cannot sell on Facebook.
You wouldn't be surprised that the e-commerce policy actually prohibited 25 product categories from being sold on the platform. Here are a few products that you can't sell on the platform:
Adult products (sexual toys, clothing, etc.)
Alcohol
Recalled items
Weapons, clothing with violent messages.
Animal products
Gambling, etc.
These were only a few, but there are many more products that are not allowed to sell.
Therefore, you should check the guidelines carefully and see every product category that is prohibited. This is best for avoiding any issues when you start dropshipping on Facebook Marketplace.
Wanna sell on more marketplaces? Here's our guide for Etsy Dropshipping 101.
What to Do After You Set Everything Up?
Here is an in-depth review of what you should do after you setup your account and product listing:
Choose the type of product you wish to sell
Write a title for your product
Choose a high-quality photo
Select the category of your product
Set a price
Write the features and details in the description
Submit and wait for approval from Facebook
The dropshipping Facebook marketplace has an acceptance process, which usually takes anywhere from 1 to 2 days. If you don't get contacted during this period, do the following:
Try using other photos because Facebook robots can easily detect duplications
Try relisting the item in a new region
Here's what you should do if many customers contact you:
Chat directly with your customers
Always try asking your customers open questions to learn about their buying behaviors.
Try offering discounts
Lower shipping fees as much as you can
Inform them about everything related to the shipping process.
Ask them to confirm the purchase
Make sure to get necessary shipping information such as name, address, phone number, etc.
If you are thinking about scaling your dropshipping business on Facebook, here are 4 ways you can do so:
How Do I Find Dropshipping Suppliers for Facebook Marketplace?
Let's get straight here! You can find dropshipping suppliers for the Facebook dropshipping marketplace exactly the same way as for any other dropshipping platform.
So, as we already mentioned thousands of times in our previous articles, suppliers are of huge importance! They are the ones that can even make or break your business.
Therefore, as a beginner, you better ask for little help.
There are various reliable dropshipping platforms, like Dropshipping.com that have large supplier directories for many dropshipping niches. So, it is a great start to seek help there.
Moreover, of course, there are other ways like Google search, dropshipping forums, a lot of research, etc. But why all this, when you can save your precious time? And also, be careful it is not a scam.
💡Tip: Take a look at our Top 100 dropshipping suppliers for FREE.
You can also check dropshipping suppliers for Clothing niche, Electronics niche, Shoes, Car accessories, Socks, and Home decor. All these niches dropship on Facebook marketplace extremely well.
👉Also, check out the Free list of the best dropshipping suppliers from China.
How Do I Become Eligible to Dropship on Facebook Marketplace?
First of all, you need to keep in mind that Facebook marketplace or Dropshipping Facebook marketplace is not available in all countries that Facebook is.
Furthermore, there are different eligibility requirements for different countries.
However, there are a few basic eligibility requirements that apply to everyone, like
You must be at least 18 years old.
You must have a Facebook account that is active.
Your Facebook app must be up-to-date.
You must give complete product details if you want your product listings to be approved.
Also, we will list some additional eligibility requirements that only apply to the USA market. So, except for the basic eligibility requirements that apply to the USA, there are some specific:
As long as shipping and check-out options are in place, dropshippers in the United States can sell/dropship products nationwide.
If a drophipper exceeds the $500 sales limit, they must provide their Social Security Number to prove that they are US citizens.
How to Dropship from Aliexpress to Facebook Marketplace?
The Aliexpress goods can be imported to Facebook, by first filling out a form. So, you should contact Aliexpress to transfer product details into Facebook Marketplace.
Then, click the "Browse" button on the Aliexpress product to save it to your dropshipping store. After that, paste the product price, product description, or photos into the Facebook Marketplace URL.
Dropshipping from AliExpress to Facebook Marketplace, on the other hand, is possible with the help of a dropshipping tool, such as the Google Chrome extension.
This allows Facebook dropshippers (store owners) to reach thousands of dropshipping items at wholesale pricing.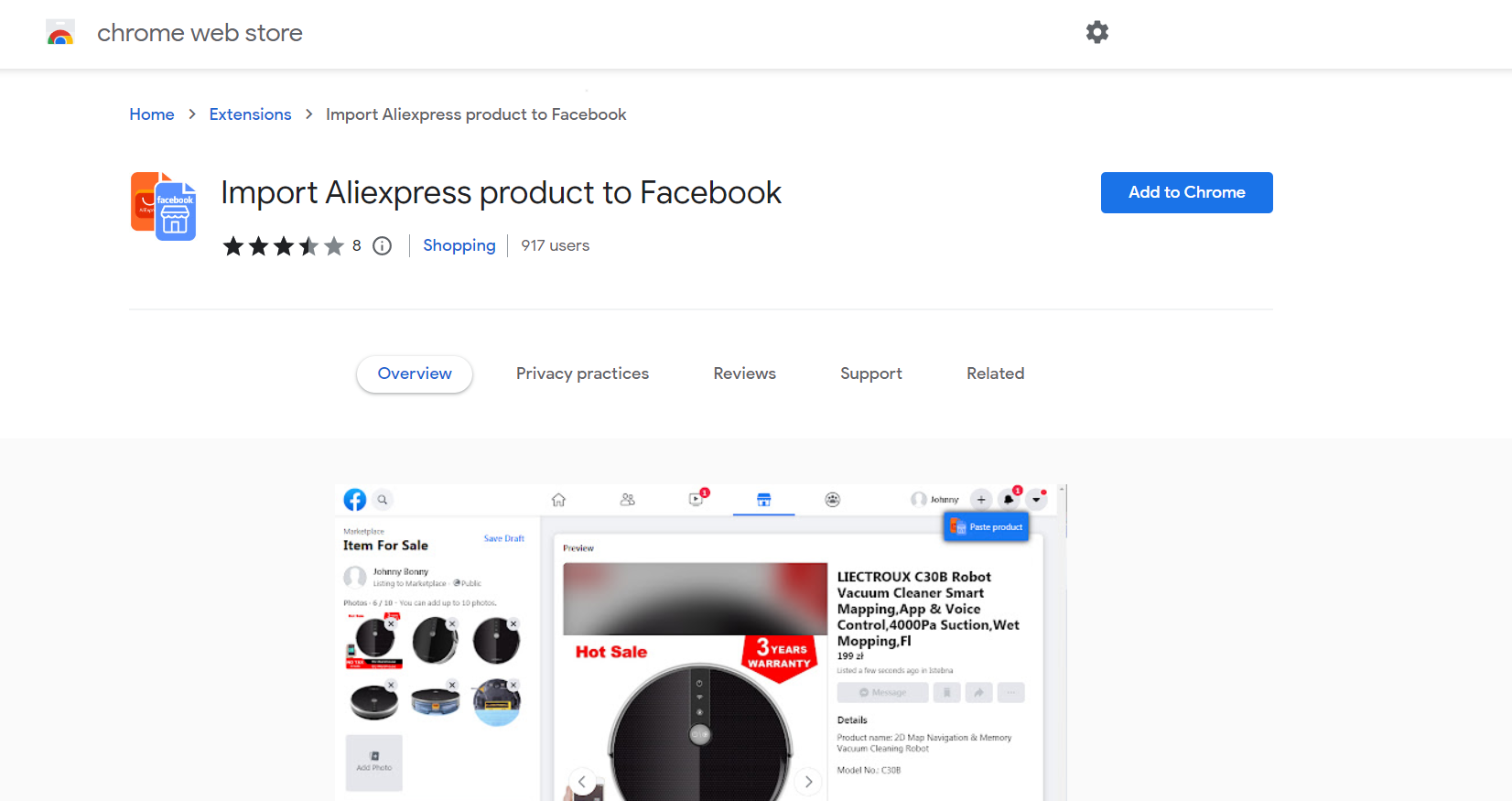 You may copy Aliexpress items and put them on Facebook Marketplace using this free product importer tool. Simply navigate to the Aliexpress product and click the "save" button that will appear.
Next, click the button to paste the title, photos, description, and price into Facebook Marketplace.
Furthermore, there are several dropshipping tools available through Google. For example, the AliExpress Dropshipping Center is one of them and is worthy of our attention. It's a free tool for researching dropship products.
Online sellers are not required to pay any registration fees to visit the center. The tool has two features: "Find a product to sell" and "Product analysis." You may use it to discover the finest goods to start selling on Facebook Marketplace.
How to Sell from CJDropshipping to Facebook Marketplace?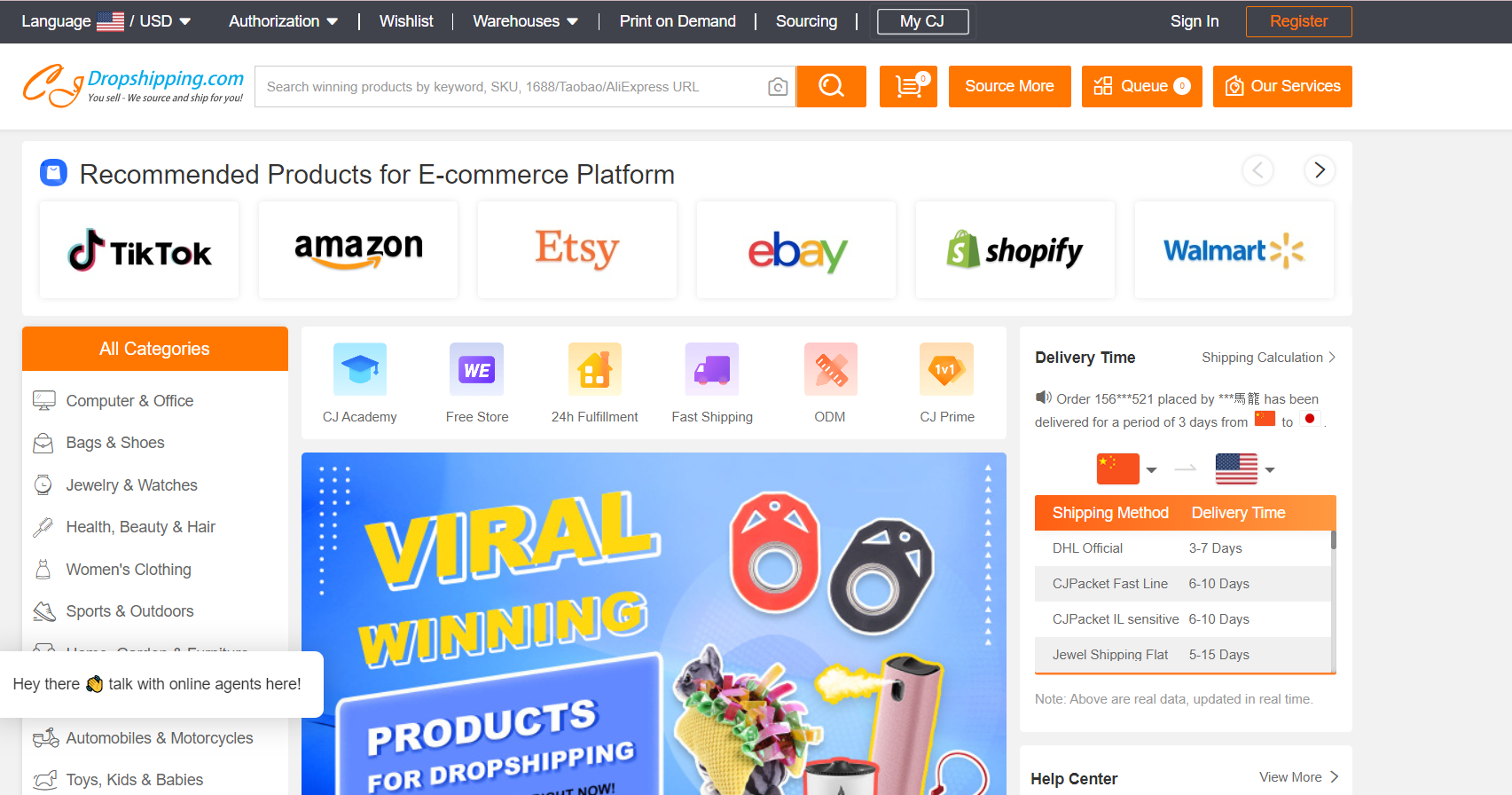 If you want to sell on Facebook Marketplace via Cj Dropshipping, the first thing you need to do is create a Cjdropshipping account.
Next, you search for products with affordable prices on Cjdropshipping. Once you pick the items you want to sell, the next thing you need to do is copy the product information (description, photos/videos, price) into your Facebook Marketplace.
Furthermore, the process here is easy. It is a person-to-person contact, rather than an automated one, where you can negotiate the price, and get customers' info, like address and everything needed for shipping the products.
After a customer places an order, you simply order the products from Cjdropshipping using your Cjdropshipping account, adding customers' shipping info, so the supplier can send the items to the customers' address.
The best part here is that you get connected to unlimited inventory, and you never hold stock. Moreover, you get the cheapest supplier prices.
Also, promotion is the most crucial aspect of selling things on Facebook Marketplace. You must ensure that consumers are aware of your goods and can easily purchase them.
👉Learn more about Facebook Ads for dropshipping.
However, if you want to upgrade your business, and have Facebook Marketplace automation, you can connect to Shopify, and use their Cjdropshipping tool.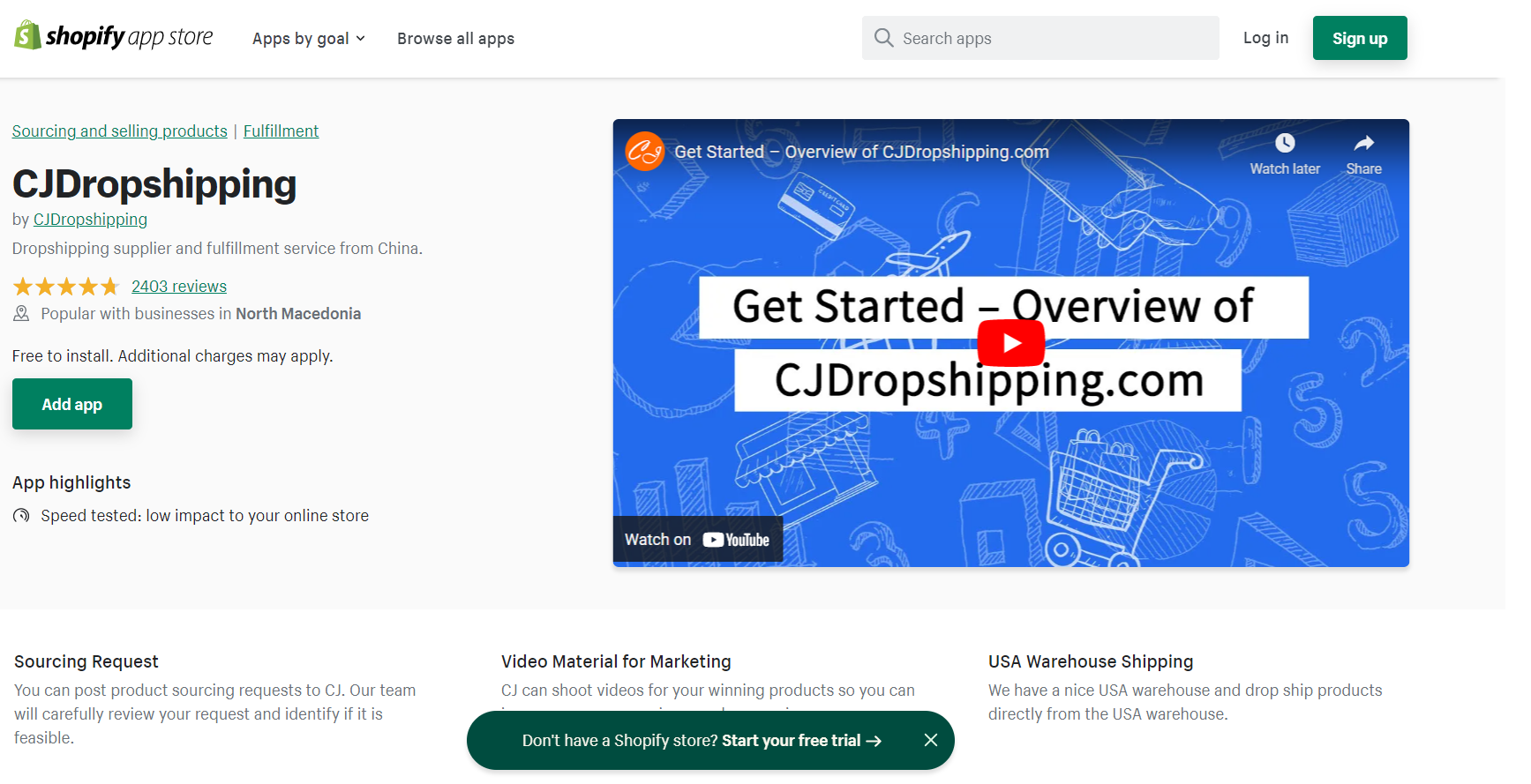 Also, you can check out their Facebook Dropshipping Marketplace, and get the newest updated info.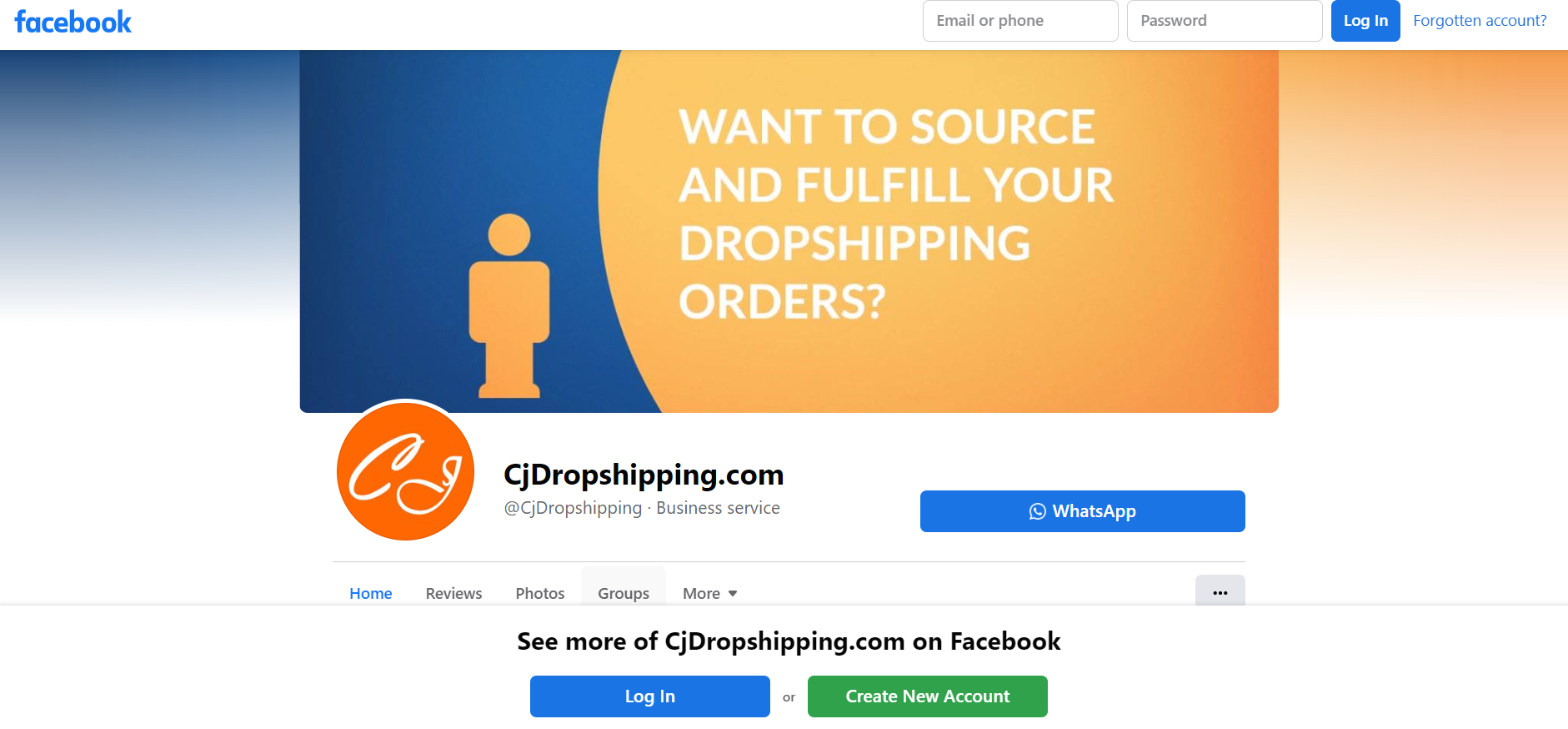 Facebook Marketplace Dropshipping Software
First, you can install software that will help you manage multiple suppliers on Facebook Dropshipping Marketplace.
Managing all your product listings and monitoring your prices and product stocks for all your suppliers is really time-consuming.
For that reason, there is a software specially designed for handling these tasks. It was designed especially for dropshipping on Facebook Marketplace.
AutoDS is a popular Facebook Marketplace dropshipping software. It is one of the world's most advanced Facebook marketplace automation partners.
The automation dropshipping software is designed to find trending products to sell, monitor prices and stock, and handle product listings.
NOTE: Start Dropshipping Watches with the best product categories.
MORE: Explore why AutoDS is rated as one of the best all-in-one dropshipping apps.
Let's take a look at a few other benefits this automation software can offer you:
Dynamic pricing- changing prices based on sales.
Virtual assistants- access your store with multiple user access.
Combines suppliers and winning product combinations.

Here are the best Product Research Tools.
How to Install AutoDS Helper Chrome Extensions
As a result, it is definitely not a bad idea to include AutoDS Chrome extensions. Depending on what browser you are using, go to the Chrome web store and download the Facebook Marketplace Dropshipping helper. It'll help you automate most tasks on your dropshipping store.

Right after, go and download the Chrome AutoDS Dropshipping Helper Extension. This AutoDS Helper Chrome Extension makes order processing much easier by copying customer addresses on supplier websites.

After installing these 2 extensions, we can set up our Facebook Marketplace Dropshipping store.
The Pros of Facebook Marketplace Dropshipping
Before we get to the downsides, here are the pros of using the Facebook marketplace:
Dropship With No Website
A huge upside of Facebook is dropshipping without a website. Thus, you can dropship with or without it.
Facebook Marketplace already has all the tools you need, so it has a green light for dropshipping.
You could use the onsite payment processing, the order management tools, and Facebook's own listing partners to manage your dropshipping inventory.
Easy Communication
What gets better than Facebook's Messenger? A fast and reliable way of communicating with your customers.
On Facebook's messenger, you can directly communicate with your customers. They can ask you any question they may have, or vice versa.
Facebook Messenger creates a positive buyer experience and increases customer loyalty in the long term. Something other dropshipping e-commerce stores don't have!
Free Advertising Costs
You can reach millions or billions of users, and you don't have to pay for anything. Unlike many other dropshipping platforms, Facebook Marketplace doesn't charge you unless you start setting up Facebook ads.
The best thing about the Facebook Marketplace is that the users who are scrolling through it, are already ready to buy.
Moreover, Facebook takes care of the personalized shopping experience, so if your product is there, it'll be shown to the most interested in them.
The Cons of Using Facebook Marketplace Dropshipping
Here are a few downsides of using Facebook Marketplace:
Location Requirement
Facebook Marketplace doesn't allow you to list a product without stating its location. You can only select one location and this means that the entire world won't be able to see it.
If you select your product to be shown in the United States, then you can't select another country.
No Clickable links In The Product Description
When listing a product, you can't add any clickable links to the product description. You can add your website domain but potential buyers won't be able to click on any links.
The best alternative is to always find a local dropshipping supplier when dropshipping with the Facebook Marketplace.
Conclusion
We gave you many reasons why Dropshipping Facebook Marketplace is the right choice for you. It is always a good idea to expand your dropshipping store and earn as much revenue as you can.
If you want to learn more about the best e-commerce platforms of 2021 check our article and find out more.