Printful vs Printify – Which Platform Is Better For Print on Demand?
by
Aleksandra -
Aleksandra teaches marketing and management at various levels in High School. She writes about marketing, the economics and logistics of the dropshipping business and ecommerce in general.
Chief of Content Marketing
Out of all the print-on-demand brands out there, Printful and Printify are by far the most popular. This, of course, begs the question, "why"? What's all the fuss about Printful vs Printify that makes them so popular and such huge rivals?
That's exactly what we're going to cover in this comparison between the two print on demand brands.
We'll dive deep and find out every single difference these two services have. In return, this will help you finally choose which one to start your clothing dropshipping business with.
Ready? Then let's start our investigation and discover the crucial differences between Printful vs Printify, once and for all.
Printful vs Printify – Quick Comparison
First of all, there aren't that many major differences between these two print on demand services. However, it is often the small differences that can change everything about your business.
So, here they are.👇
Printful manufactures its own merchandise (including printing), whereas Printify has many different dropshipping suppliers and factories handling all the work.
Printify integrates with way fewer platforms than Printful. But still, Printify still includes the most popular ones.
Printify's user interface is more convenient and easier for beginners.
Printful has real-time updates regarding the product manufacturing time, whereas Printify doesn't display the same level of precise updates.
Lifetime deal: Get all-access to everything on Dropshipping.com
Access all DSCOM features, resources, courses, live workshops, discounts, winning products, weekly deep dives, directories and all future updates under all-in-one dropshipping HUB.
DROPSHIPPING IS A REAL BUSINESS, DON'T DO IT ALONE. 4553 MEMBERS ALREADY JOINED. YOU CAN PAY OFF YOUR SMALL INVESTMENT WITH JUST 2 SALES ON YOUR STORE.
Grab the deal before it's gone
What Is Print on Demand and How Does It Work?
First things first, we need to briefly explain the concept of print on demand so that everyone understands it clearly.
Print on demand (POD) is a process or service that allows you to customize and brand your own products. Usually, most of these services offer mainly fashion and clothing product catalogs. However, that's not always the limit.
👉 Learn about T Shirt Dropshipping: The Ultimate Guide To Sell PoD T-shirts.
When you work with a POD service, you get to choose from a number of white-label products that you can fully customize, brand, and ship directly to your customers.
To put it simply, here's how the process goes when it comes to a successful POD business:
Select a basic product from the POD service you picked
Use their mockup generator to create your design (or upload your own)
Market those designs, products, and your business as a whole
Have the POD service print and ship as many products as you need when customers purchase from your store
That's basically it! It looks simple, and it is. However, the way you execute each step can make the difference between success and failure.
👉 Learn How To Start Print On Demand Journals,Calendars, Notebooks
What Are the Benefits of Print on Demand?
So, now that we explained what a print-on-demand business is, what are some of the biggest benefits that come with this business model?
Let's look at the most worthwhile ones that come with either Printful, Printify, or others:
You don't pay for the inventory of any products upfront
Total freedom over product customization
Doesn't take a lot of money to start
Extremely brandable
One of the easiest businesses to set up
It's very easy to scale and produce an almost unlimited inventory
There are usually higher profits in POD than in many other dropshipping businesses
What Is Printful and How Does It Work?
Now, let's finally dive into what both of these POD brands have to offer. First, we'll start with Printful.
The number of reasons why Printful is among the most popular print on demand brands is many.
When you first visit their website, you can quickly scout around and look at every type of product they have available in their catalog.
This includes anything from men's and women's clothing, kids' clothing, dropshipping hats, accessories, even pillows, coffee mugs, towels, mouse pads, and much more.
Keep in mind, you can customize all of these products in any way you see fit.
Now, let's see how Printful actually works!👇
Now, once you've chosen the first product you want to start selling, it's time to start designing.
First, create your account. Then, go to Product Templates, and here is where all the fun can begin. This will lead you to their mockup generator, where you can select a product and start creating your custom designs.
When it comes to Printful vs Printify, there are many differences, including in their mockup generators and editors as well.
Printful's editor allows you to upload custom images to add your designs. You can also add text, change colors, and design both the outside and the inside of many products.
Printful Pros & Cons
There are no minimum order limits
A large number of online stores and marketplaces to integrate with
Many helpful resources are available
Amazing scaling opportunities
A limited number of available products
The user interface could be better
What Is Printify and How Does It Work?
At first glance, Printify is a very similar service to Printful. They even have quite similar names. However, there are also many differences between them behind the scenes.
First, let's look at some of the similarities when it comes to Printful vs Printify.
Printify also has a great mockup generator tool that allows you to fully customize your designs. However, both the editor and the user interface look simpler and clearer when it comes to Printify.
Then, Printify also has hundreds of available products for you to print on demand.
Both brands have almost the same categories of products. Printify also includes anything from clothing for men, women, and children, to home and living decorations and accessories, and much more.
Creating your account, designing products, and ordering them is also quite similar.
Overall, both services are easy to use when it comes to starting your own print on demand business. The process is almost the same in terms of steps and starting from scratch.
👉 Check out Print on Demand Dropshipping: Apliiq vs Printful – Which is Better?
Printify Pros & Cons
Very user-friendly and easy to use
Available discounts for bulk orders
Excellent resource and help center
The most popular e-commerce platforms are available for integrating
No costs upfront for the merchandise
Printify's resource center isn't as beneficial as Printful
There are more difficult requirements for bulk orders
Printful vs. Printify: Integration
Printful generally offers a lot more information about how to integrate their platform with your online business.
Also, the list of available integrations with Printful is quite large.
To give you a slight overview of which platforms they include, some of the most popular ones are Shopify, Wix, WooCommerce, Amazon, Etsy, eBay, Wish, Magento, and many more.
The link above shows you every single one on the list. In addition, you get to see how long the setup time will take with each platform that is available in that list.
What about Printify?
Printify also doesn't lack in terms of integration with online stores. The list of available Printify integrations also includes some of the biggest e-commerce platforms such as Shopify, Etsy, WooCommerce, eBay, and more.
However, Printful wins at this one since it offers more integrations than Printify.
Conversely, you probably won't need that many, to begin with, as chances are that you'll only be using platforms like Shopify or WooCommerce to start.
Printful vs. Printify: Fulfillment and Shipping costs
Printful offers two fulfillment options: Print-on-Demand and Warehousing & Fulfillment.
For clothing products, Printful's POD dropshipping service typically takes 5-7 days, while non-apparel products typically take 3-5 days.
On the other hand, if purchases are submitted before 12 PM, the warehouse fulfillment service offers the option of same-day shipment.
What's more, Printful has facilities in Mexico, the US, and Europe for printing and shipping your designs printing and shipping your designs. And, this is one of its leverages over Printify since they have a warehouse only in the US.
Another useful piece of information is that they provide a 20% discount rather than free product samples.
Printful has a detailed pricing plan when it comes to shipping rates. Everything is calculated based on the type of product itself and the regions.
The best thing about Printful shipping rates is that they have a flat fee on every product, allowing you to easily calculate your profit margins and price your items accordingly.
If you deal with a supplier that is close to your customer, Printify might be your better option for shipping and fulfillment area.
Therefore, there is no difference between Printful and Printify in terms of order fulfillment for print-on-demand orders as both take 2 to 7 business days.
Additionally, Printify outsources your orders to many print providers, thus the completion of your purchase depends on the print provider you select.
For print-on-demand items, the typical order fulfillment or production time at Printify's print partners is 2–7 business days from the day the order is submitted.
Printify's process of calculating your shipping rates is a bit more complex.
They work with several different carrier companies. You can only calculate your rates after you've chosen which company will be handling your shipping.
The shipping rates of every Printify carrier company immediately let you know the prices for every single product and the region they'll be shipped to.
Printful vs. Printify: Product Design and Quality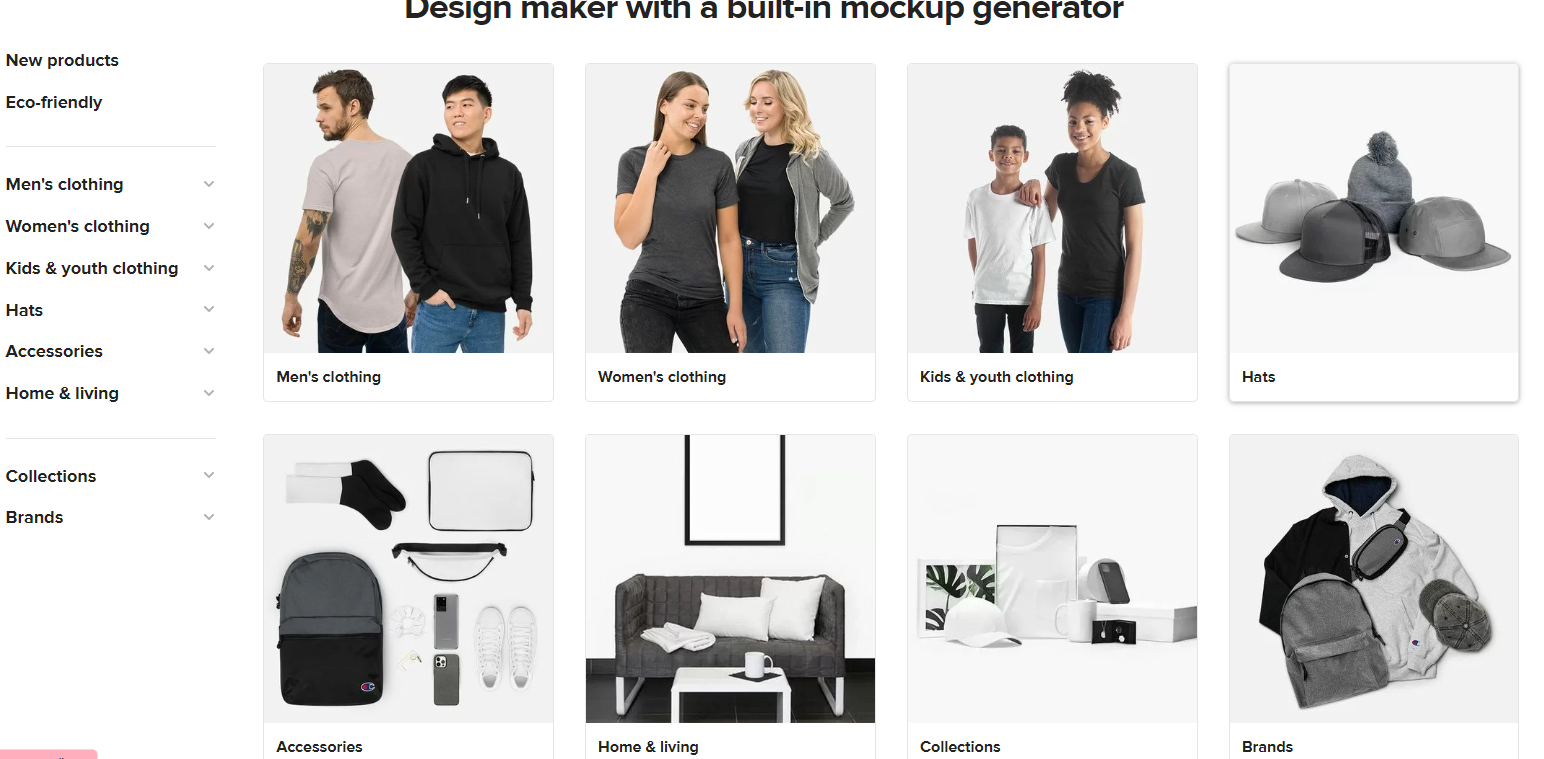 You can upload photos and put them wherever you want on your items using Printful and Printify.
With Printful's Design Maker, you can make unique designs even if you're not a graphic designer. Additionally, they both have a mockup generator.
When it comes to quality, it's a bit difficult to control every aspect of it unless you physically inspect your products. These two print on demand services offer a few ways for you to achieve that.
First off, Printful manufactures its own merchandise, as we stated earlier. This fact does help ensure good and constant quality.
Given that it's not practical to order every single product they have and check for quality, knowing that all their products overgo the same manufacturing process is quite reassuring.
Not to mention that Printful has invested around $50 million in manufacturing equipment, and that's why they offer more expensive services. On the other hand, Printify hasn't invested anything.
Printify's story is a bit different.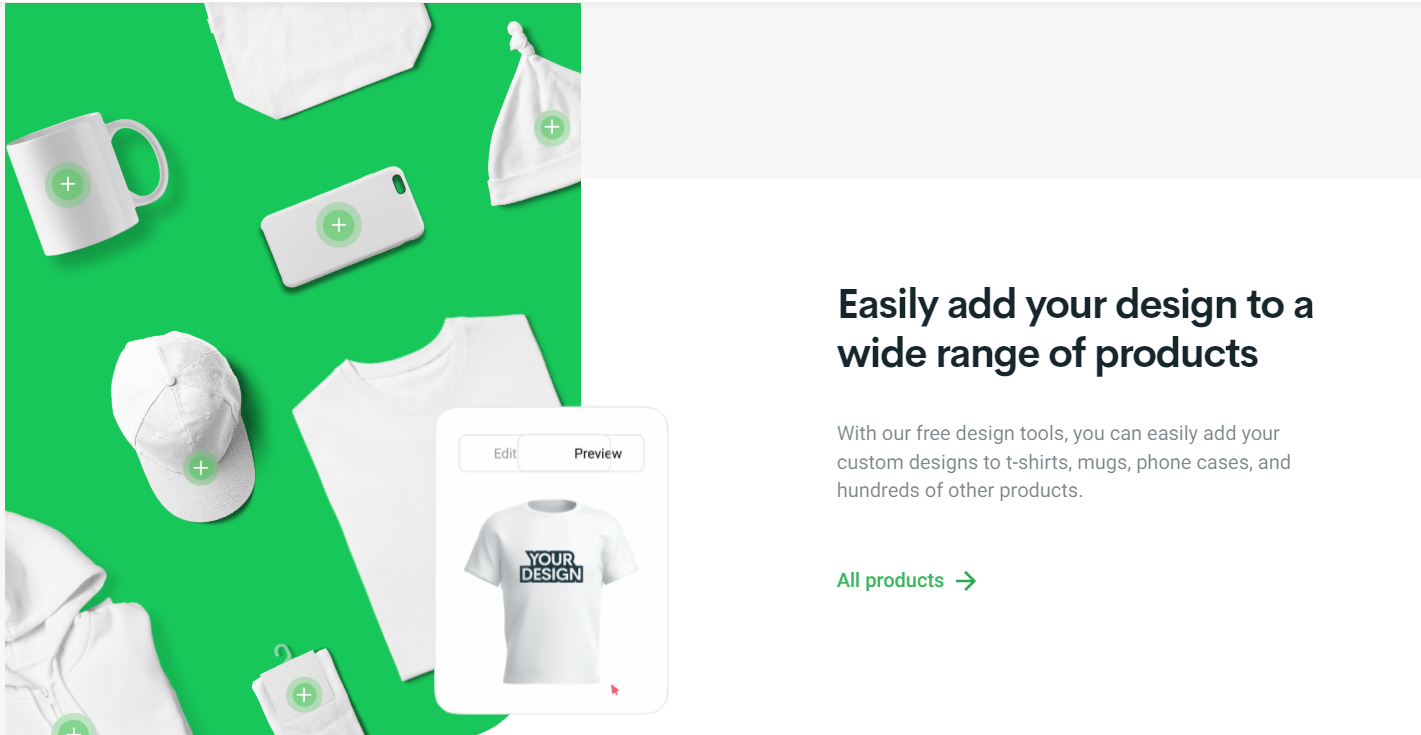 Unlike Printful, their products come from a variety of different suppliers and manufacturers. Now, is this good or bad?
Well, it can be both.
The bad part is that the quality isn't consistent or the same. Some products are better, while others can be worse.
The good part is that you can always choose and switch between working with different suppliers. So, when you find the right one, you'll be good to go and start scaling with them.
Printful vs. Printify: Overall features
➡ Suppliers
Printful creates its products in its own factories and warehouses.
Currently, Printful has several warehouses and fulfillment centers in the United States and Canada. In addition, they also feature a few other locations in Europe, including Spain and Latvia.
👉 Check out the Dropshipping Wholesale Suppliers in the USA and Top Dropship Suppliers in Canada.
This can result in much faster processing and shipping times in those particular areas.
Printify, on the other hand, works with third-party suppliers. They don't create their own merchandise such as Printful. This may affect the quality of the products, but it can also be a good thing.
Having lots of different suppliers means the seller can choose who makes the products. Each supplier offers different types of features, varying in everything from product quality, prices, materials, and much more.
Basically, you get a lot more freedom to choose your products (and suppliers) with Printify.
➡ White Label & Branding
As you may already know, branding your dropshipping business can be extremely beneficial. So, which of these two services, Printful vs Printify, can help you brand your products better?
First of all, both services offer excellent branding opportunities. Both of them also feature only white-label products.
This means that their brand names won't be on any of your merchandise. They won't even show up on any shipping information or packaging.
Now, what types of branding services do both of these companies actually offer?
Printful's branding services include the following:
Inside and outside labels on clothing
Sleeve prints on the left and right sides of all clothing items
You can place your logo on the front, back, or sides
Branded pack-ins and packaging slips
Custom messages for customers on the outside of the packaging
Printify's branding services:
Printed neck labels and sleeve prints
You can add your store name as text only on the packaging
Inside and outside branded labels
NOTE: Not all of Printify's print partners offer branding services for hats or every single clothing item.
So, which one is it? Which has the better branding services Printful vs Printify?
According to what we've seen from our extensive investigation, Printful has more to offer in terms of branding options.
➡ Product Categories
When it comes to products, categories, and the overall catalog, both of these brands offer similar options.
Printful's product catalog includes a total of 307 products.
This list offers a wide variety of different items, including everything from clothing to pillows, mugs, and more. Each category and product is displayed clearly on their website.
The same can be said about Printify as well. Even though they may differ slightly in terms of the number of available products and the product designs in general, it's still quite similar merchandise.
Product availability shouldn't be a problem when you're trying to decide who to choose when it comes to Printful vs Printify.
➡ Bulk Orders
Printful makes selling in bulk an effortless and straightforward process.
They offer discounts for bulk orders but there's also another program called "Printful Enterprise". This allows you to take things a step further and easily launch new products, sell in bulk, and scale relatively quickly.
Printify also offers bulk order discounts but it's not as easy or straightforward as with Printful.
With Printify, you can apply a bulk order discount upon request only. However, not all orders can qualify for this. On top of that, the order also has to consist of at least 60 products to be eligible.
On the other hand, subscribing to their paid plans can help make things a bit more convenient, but it's still not as straightforward as Printful.
Printful vs. Printify: Customer Support

Printful's customer support presents so many benefits and opportunities that make it really hard to complain.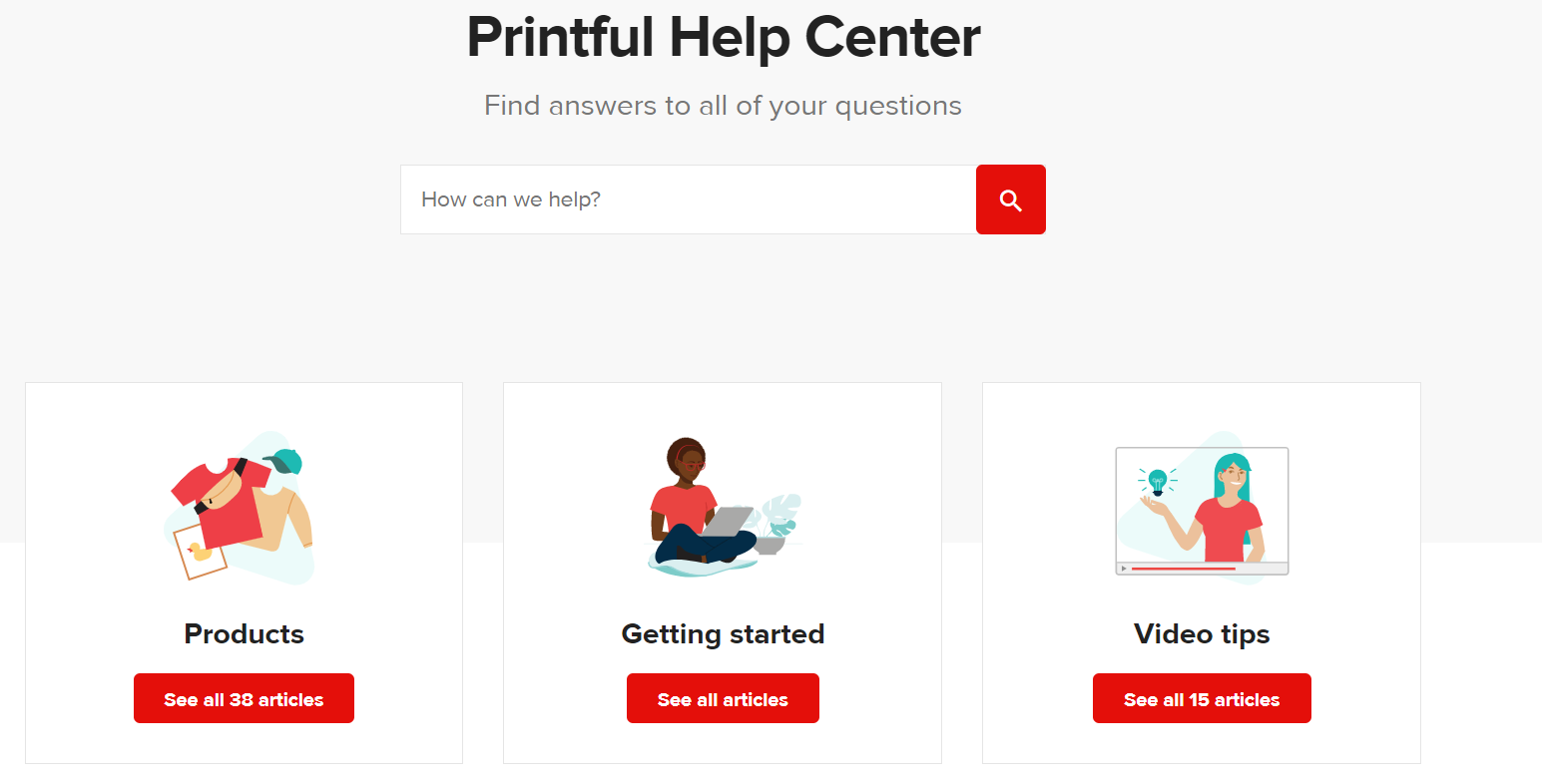 First of all, the service includes so many resources, onboarding workshops, apps, guides, marketing resources, affiliate marketing tools, and more that helps each new seller start on the right track.
Plus, the company also includes affiliate and referral programs.
You can reach Printful's customer support in two ways. Either send an email or live chat with one of their staff. Either way, you will get a response back almost 100% of the time.
With Printify, you also get access to tons of resources and educational content.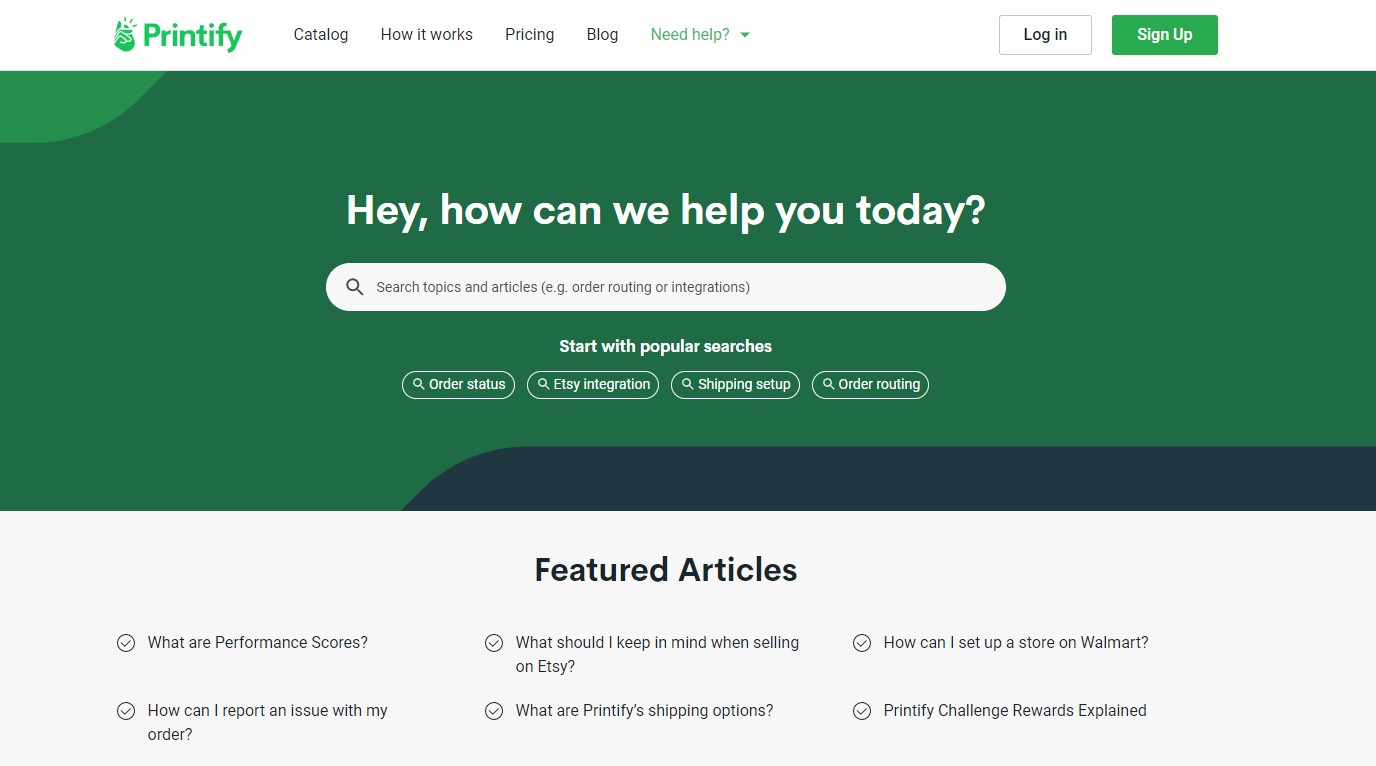 From how to set up payments to how to market your merch and even new business trends that can skyrocket your earning potential.
Aside from all that, Printify's only downside in terms of customer support is its lack of live chat.
The only way to reach them is through email, which will make you wait either one or a few days.
Printful vs Printify: Pricing
In order to save you a lot of time, we'll review the pricing plans both services offer. This way, you can hopefully make an easier choice based on your budget.
But if money is no object, you can still continue reading and find out more about each service.
Printful Pricing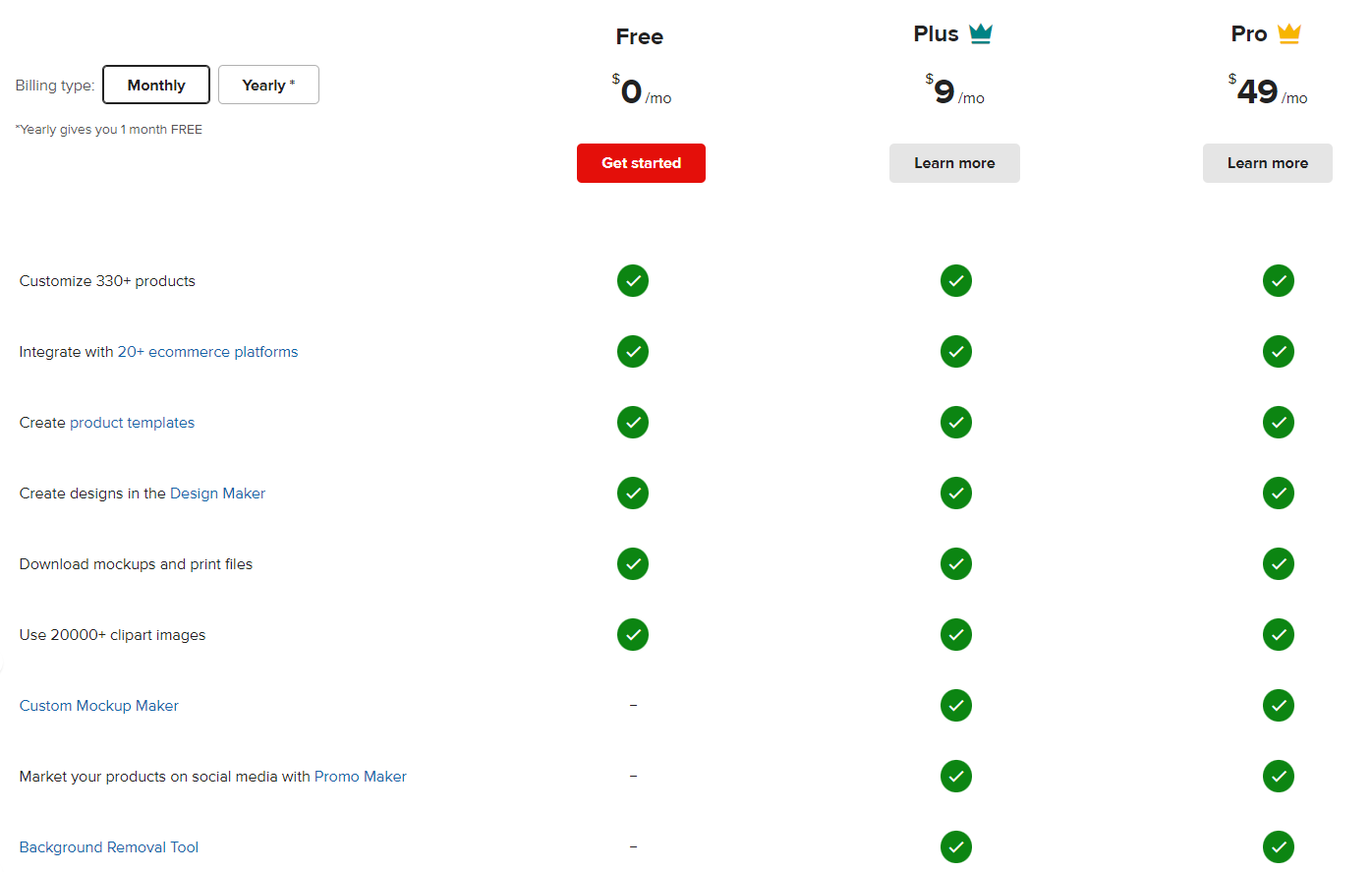 There are three different plans available with Printful – a free plan, Printful Plus, and Printful Pro. 👇
Free Plan – offers no monthly feel and lets you use most of their major services, including customizing every single product, free templates, access to thousands of clipart images, and more.
Printful Plus ($9/Month) – includes everything in the Free Plan plus a great background removal tool for images and a custom mockup maker for personalized product images.
Printful Pro ($49/Month) – includes everything in the previous plan, plus access to their Promo Maker, exclusive images, a Keyword Scout, digitized embroidery files, and much more.
Printify Pricing

Printify also offers three monthly plans, including a free plan, Premium, and Enterprise. Let's have a look at each. 👇
Free Plan – this plan gives you access to most of their major services plus five available stores and unlimited product designs.
Printify Premium ($24.99/Month) – includes everything from the Free Plan but with a total of 10 stores per account and up to 20% discounts on all of their products.
Enterprise (Custom Pricing) – this plan offers unlimited stores per account, unlimited product designs, up to 20% discounts on all products, custom API integrations, dedicated account managers, and early access to new features.
Printful vs. Printify: How Do They Compare With The Others?
Printify vs Printful vs Redbubble
Printful, Printify, and Redbubble are all print-on-demand (POD) platforms that allow users to create and sell custom products. However, all of them have their ups and downs.
So, if we look at the products they offer, Printify and Printful are pretty similar, offering apparel, accessories, home decor, and more. On the other hand, Redbubble primarily focuses on selling artwork and designs on various products, including apparel, phone cases, stickers, and more.
Furthermore, if we look at their integrations, we will realize that Printify has the biggest list here, including popular e-commerce platforms such as Shopify, WooCommerce, and others. Printful integrates with most popular platforms as well, but not as much as Printful. Lastly, Redbubble provides integration with various e-commerce platforms, including Shopify and WooCommerce, through their API.
Also, there's a difference in pricing as well. For instance, Printify charges a markup on the production cost of each product, which varies depending on the product and the printing partner chosen.
Next, Printful charges a base price for each product, which includes printing, fulfillment, and shipping costs. They also offer various pricing plans based on volume and order frequency.
And, Redbubble takes a percentage of each sale made on their platform as a commission, typically around 20%.
👉 Discover Is Redbubble Legit? Everything You Need To Know In 1 Review.
Printify vs Printful vs Print Aura
First, when it comes to product offerings, the three print-on-demand platforms are pretty similar, and offer similar products.
However, there are slight differences in the features they are best at.
In comparison to Printify and Printful, Print Aura is far less efficient. It diverges from the majority of the expectations of print-on-demand vendors.
Also, its mockup tool is not the ideal combination for bespoke printing. Even worse, the page for the design tool isn't designed to load quickly. On the other hand, this feature is excellent at Printful and Printify.
Furthermore, Printify offers a large selection of printing facilities, giving you the ability to choose the one that best suits your needs.
Next, Printful offers a robust order management system, allowing you to easily track your orders and production process. And, Print Aura offers seamless integration with a number of e-commerce platforms, making it easy to set up and manage your store.
Unlike the other two POD providers, Printify offers the opportunity to upgrade to a more advanced plan. However, Printful is the only service in this group with a broad production network. So, dropshippers are allowed to select their preferred print designer. Both Printify and Print Aura have restrictions on this freedom.
💡 Tip: Learn everything you need to know about Print on Demand Hats: How Can You Sell It For Profits?
Printify vs Printful vs Sellfy
First and foremost, the biggest difference between these three is that Printify and Printful offer a wide range of physical products, while Sellfy focuses on selling digital products.
So, If you are looking to sell physical products, Printify or Printful might be a better choice, while if you want to sell digital products, Sellfy might be the way to go.
Next, when it comes to integrations Printful has the most extensive selection of integrations, with over 70 e-commerce platforms supported. On the other hand, Printify and Sellfy both have integrations with a smaller number of e-commerce platforms.
Also, Sellfy wins in its customizable storefront, checkout process, and payment gateway.
Printify vs Printful vs Teelaunch
First, Printful and Printify have a similar and wide range of products. But, Teelaunch offers a limited range of products, with a focus on home decor and accessories.
Furthermore, all three companies have great features, but Printful is best at customizing products, Printify is best at keeping track of orders, and Teelaunch is best at getting products to customers quickly and without a minimum order requirement.
All three companies have similar pricing, depending on what you want to sell and how you want it printed.
In terms of brand designs and product quality, we would say that Printful is the most effective option out of the three print-on-demand services. Teelaunch, a newcomer to the dropshipping business model, has a lot to learn.
Printify vs Printful vs Custom ink
These three POD businesses offer very similar products, and they are similar in terms of product quality and design.
However, each company has its strengths and weaknesses, and the best choice for you will depend on your specific needs and preferences.
So, if you're looking for a wide range of products and flexible pricing, Printify might be the way to go.
But, if you prefer a comprehensive order management system, Printful might be a better choice. Also, if you're looking for a user-friendly design platform and a focus on custom-printed products, Custom Ink might be the right fit.
Printify vs Printful vs Bonfire
Bonfire, Printify, and Printful are all great POD companies that offer a wide range of products. Bonfire focuses mainly on custom-printed apparel, like t-shirts and hoodies.
All three companies have great features, but Bonfire has an added bonus with its fundraising platform. This allows you to sell custom apparel and raise money for causes you care about.
When choosing between these companies, it depends on what you're looking for. If you want a wide range of products and flexible pricing, Printify might be best. If you want a comprehensive order management system, Printful might be a better option.
But, if you want a user-friendly design platform to sell unique, custom products without having to buy a lot of inventory, Bonfire is a great choice.
Join the only community and resource hub you'll ever need to succeed with dropshipping
Find winning dropshipping products, learn marketing, download templates and engage with real dropshippers
Never pay for a "guru's" course again. See why 4543+ dropshippers joined us this year!
💡Try DSCOM Hub Now
Printify vs Printful Review Verdict
So, there it is. Hopefully, this Printful vs Printify review was able to clear up the mist and showed you what you needed to know.
Overall, both brands are amazing. They are among the best in the print on demand industry and definitely offer tremendous value for sellers.
Now, the best way to choose is to use the information we've shown here and see what fits you best.