How To Start Vitamins Dropshipping? From A to Z(inc) Guide
by
Aleksandra -
Aleksandra teaches marketing and management at various levels in High School. She writes about marketing, the economics and logistics of the dropshipping business and ecommerce in general.
Chief of Content Marketing
Are you interested in starting your own business in the health and wellness industry? Have you considered vitamins dropshipping as a lucrative opportunity? If so, you're in the right place!
The health and wellness industry is booming, and vitamins are in high demand. With more people becoming conscious of their health and looking for natural ways to support their well-being, the market for vitamins is only expected to grow.
Dropshipping, on the other hand, offers a low-risk and cost-effective way to start your own business without the need for inventory or upfront investment.
In this comprehensive guide, I will walk you through the step-by-step process of setting up your own vitamins dropshipping business. So, let's get started on your journey to becoming a successful vitamins dropshipper!
Why Dropship Vitamins & Supplements?
There are several reasons why dropshipping vitamins and supplements have become popular.
Firstly, the setup process for a dropshipping business is quick and easy. You don't need to worry about manufacturing or storing inventory, as the products are directly shipped from the supplier to the customer.
Secondly, there is a high demand for supplements in the market. People are becoming increasingly conscious of their health and are actively seeking ways to supplement their diets.
And, for you as a dropshipper, this presents a lucrative opportunity for tapping into a wide customer base.
Thirdly, dropshipping is an affordable way to start a company. With minimal upfront investment and no need to purchase inventory in bulk, it is a cost-effective option for entrepreneurs looking to enter the supplement industry.
Moreover, based on Grand View Research, the global dietary supplement size reached $164 billion in 2022 and is expected to reach $177.5 billion in 2023. So, yes, it is profitable.
💡 Tip: Also read about Dropshipping Medical Supplies: Top 10 Medical Products & Suppliers.
Lifetime deal: Get all-access to everything on Dropshipping.com
Access all DSCOM features, resources, courses, live workshops, discounts, winning products, weekly deep dives, directories and all future updates under all-in-one dropshipping HUB.
DROPSHIPPING IS A REAL BUSINESS, DON'T DO IT ALONE. 4553 MEMBERS ALREADY JOINED. YOU CAN PAY OFF YOUR SMALL INVESTMENT WITH JUST 2 SALES ON YOUR STORE.
Grab the deal before it's gone
How To Start Your Vitamins Dropshipping Business?
In this article, I will guide you through the process of getting started with vitamin dropshipping, from finding reliable suppliers to effective marketing strategies, and everything you need to know to succeed in this industry. So let's dive right in!
Step 1- Curating Your Product Range
To stand out in the supplements industry, it's crucial to curate a product range that caters to the needs and preferences of your potential customers.
So, you can offer a wide variety of vitamins, including health and beauty supplements, and even custom formulas.
Therefore, I recommend you consider the latest trends in the industry and the specific needs of your target market.
For example, what I personally do in such cases is check on product demand using Google Trends. Let's say, I want to dropship sports nutrition. So, I will just type in the keyword and check it out. 👇
So, as far as I can see, these products are in constant demand, but it is expected to drop off in the next period. Thus, I will do further research.
Moreover, I also use product research tools like Minea. This tool helps me discover lucrative products by monitoring social media ads. This enables me to gain valuable insights into the most sought-after purchases. 👇
Step 2- Choose a Vitamins Dropshipping Supplier
First of all, let's talk about the importance of choosing a supplier for dropshipping supplements. The supplier you choose will play a significant role in the success of your online business.
It is crucial to find a trusted and reliable supplier who can provide high-quality, affordable products and ensure quick shipping to your customers.
When evaluating potential suppliers, there are several criteria you should consider.
Firstly, customer service is essential. You want a supplier who is responsive, helpful, and can address any concerns or questions that may arise. A supplier with excellent customer service will ensure a smooth and efficient partnership.
Secondly, consider the supplier's return policy. In the unlikely event that a customer wants to return a product, you want a supplier that offers a hassle-free return process. A flexible and customer-friendly return policy will enhance customer satisfaction and build trust in your brand.
Remember, the supplier you choose for dropshipping supplements will greatly impact your business's success. Thus, you are selling products that consider customers' health. So, be careful.
As an example, I frequently discover valuable information in the supplier directory on Dropshipping.com. They offer a free compilation of over 2,000 trustworthy suppliers to choose from. 👇
This directory allows me to customize my search according to my specific dropshipping niche, supplier location, shipping costs, and other factors.
Moreover, I gained access to invaluable details about each supplier's pricing, order processing time, minimum order quantity (MOQ), warehouse location, product range, and additional information.
Step 3- Launch Your Vitamins Dropshipping Store
Moving on to step three, it's time to launch your dropshipping store. This is where your online presence begins, and it's crucial to make a strong first impression.
To attract customers and keep them engaged, it's important to create a website that is easy to navigate and visually appealing. A user-friendly interface with clear menus and categories will make it effortless for customers to find what they're looking for.
So, when designing your website, it's essential to showcase your products effectively. Therefore, I recommend you include detailed information about each vitamin, such as ingredients, dosage instructions, and any supporting research. Also, high-quality product photos and videos can further enhance the customer's understanding and desire for your offerings.
And, that's why, I always prefer using Shopify as my website builder option.
First of all, this platform features a user-friendly interface and offers a wide range of visually appealing themes, which can be accessed in both paid and free versions for your dropshipping store. Moreover, it provides a diverse selection of customizable features.
Additionally, you have the ability to personalize templates according to your preferences, and their intuitive drag-and-drop editor allows for easy creation and modification of your store. 👇
Second of all, Shopify seamlessly integrates with numerous dropshipping apps and tools, facilitating a completely automated supply chain process for your business.
And, the best part? Shopify Magic AI tool really does magic. With it, you can effortlessly generate product descriptions, emails, blog posts, and more. 👇
Step 4- Advertise Your Vitamins Dropshipping Business
Now that you have your website up and running with an impressive range of vitamin products, it's time to focus on promoting your dropshipping business. This step is crucial to attract customers and drive sales.
👉 Learn How To Make Dropshipping Ads To 10x Your Sales.
One effective strategy to promote your vitamin dropshipping business is through social media marketing. So, you can use platforms like Facebook, Instagram, and TikTok to create engaging content, run targeted ad campaigns, and interact with potential customers
Plus, you can narrow down your target audience, thanks to its array of robust targeting tools, and set various ad goals and specifics. 👇
Another powerful technique is affiliate marketing. So, you can collaborate with influencers or bloggers who have a strong following in the supplement industry.
Thus, you can provide them with a unique affiliate code or link, so they can promote your products to their followers. This way, you can tap into their existing customer base and benefit from their influence and credibility.
💡 Tip: Check out the 10 Best Shopify Affiliate Apps for Shopify Affiliate Marketing.
Furthermore, what I think is really effective for product advertisement ismaking videos. Through videos, you can show your dropshipping products in a visually engaging way. Also, you can present to customers how to use the products, its features, benefits, and more.
What Types Of Supplements And Vitamins Are Best For Dropshipping?
🔸 Omega-3 Fish Oil
Omega-3 fish oil is a sought-after product with a broad consumer base. It's a popular choice for dropshipping because it's in constant demand for heart and joint health.
Hence, based on Google Trends results, these product demands never drop off, but if fluctuate over time. However, it is a great opportunity for dropshipping.
Hence, it has a long shelf life, making it easy to store and ship. Moreover, it's available in various forms, allowing you to offer customers options and cater to different preferences.
In fact, they come in soft gel, liquid, and gummy forms. Also, the market prices for these products are around $10-$30 per bottle. And, as a dropshipper, your potential profit margin per salecan range from 20-50%.
🔸 Protein Powder
Protein powder is a staple for fitness enthusiasts and athletes, creating a consistent market demand. The product is lightweight, which makes it cost-effective to ship. The variety of protein sources and flavors allows for niche targeting, and it's a versatile product that can be marketed to various audiences.
Thus, you can offer them with variety of ingredients, like whey, casein, and plant-based. Also, you have different protein tastes like vanilla, chocolate, fruits, and more.
Furthermore, these products market prices range between $15-$50 per container. Also, the profit margins can be good, particularly if you can market to fitness enthusiasts. Hence, it ranges from 20-50%.
The best part, their demand grows more and more over time. Based on Google Trends results, there's no perfect time to start out, in fact, it is always the perfect time!
👉 Read about Fitness Dropshipping: Best Fitness Dropshipping Suppliers, Top Fitness Niche Products & Store Examples.
🔸 Collagen Supplements
Collagen supplements are increasingly popular due to their potential benefits for skin, hair, and joint health. These products can be sold as powder, capsules, and liquid. Also, some of them contain additional ingredients like vitamin C.
So, you can offer, collagens come in various forms to cater to different preferences. Thus, you can offer, collagen creams and serums, coffee and teas, protein bars, capsules, peptides, etc.
Plus, collagen's versatility makes it suitable for up-selling and cross-selling promotion with other health and beauty products. Also, they are in high demand pretty much always.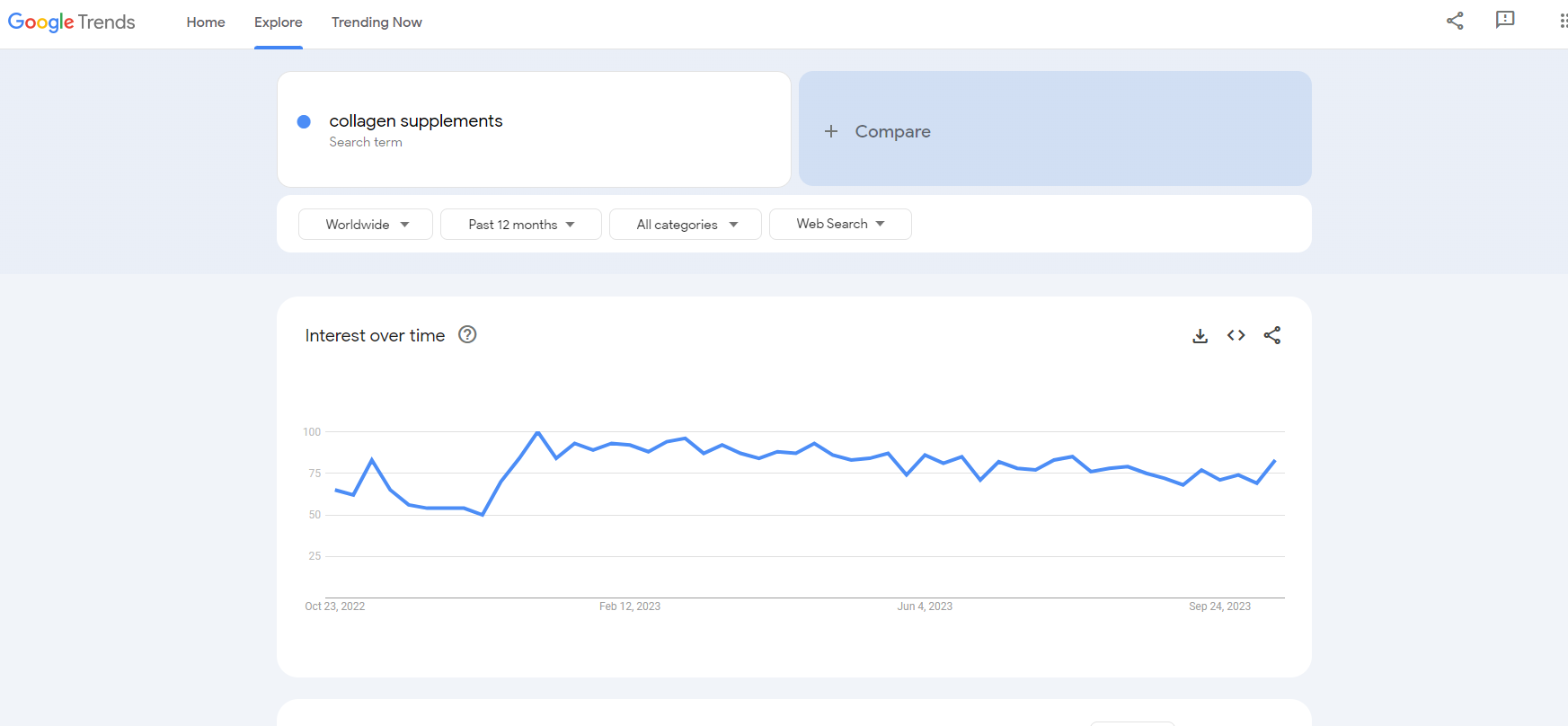 In addition, these product's price range is between $15-$40 per container or bottle. Also, the profit margins typically range from 20-50%.
🔸 Detox Teas
Detox teas are one of the best options for vitamins dropshipping stores. They are popular among individuals looking to cleanse their bodies, aid digestion, and promote weight loss. They have a specific target audience interested in health and wellness, making them a good fit for dropshipping.
Also, based on Google Trends, the demand for these products is high, and it is expected to grow even more in the next period. 👇
Detox teas often come in various blends, flavors, and herbal combinations, providing options for niche marketing. For example, they are great for offering product bundles. Plus, you can even open a one-product store and still succeed.
So, you can think of dropshipping green tea, dandelion root, and ginger, known for their detoxifying and digestive benefits.
Furthermore, detox teas price ranges between $10-$40 per package. Also, their profit margins are great, ranging from 30-60% or more. The higher quality and unique blends can command premium pricing.
💡 Tip: Check out BlendJet Review: How This One-product Store Is Making Millions?
🔸 Slimming Coffee
So, just like teas, slimming coffee is also a great option for adding to your vitamin dropshipping products list. However, It is more appealing to those who prefer coffee as a part of their daily routine. So, that's how you should start your thoughts when building a dropshipping marketing strategy.
Moreover, based on Google Trends, this niche has a consistent market demand. 👇
Furthermore, slimming coffee often includes ingredients like green coffee extract, Garcinia Cambogia, and other compounds believed to promote weight loss.
In addition, its price range is between $10-$30 per box or package. Also, profit margins for slimming coffee are typically good, ranging from 30-50%.
💡 Tip: Check out the 8 Best Dropshipping Coffee Suppliers & Private Label Products.
🔸 Hemp Oil (CBD Oil)
Want to succeed in your vitamins dropshipping business? Let's stop here for a second. This dropshipping product demand is going to the roofs. Just look at Google Trends results. 👇
However, what exactly is this?
Hemp oil, particularly CBD oil, is highly sought after for its potential health and wellness benefits, including relaxation, pain relief, and stress reduction. Hence, it comes in various concentrations and forms, including tinctures, capsules, and topical products.
So, as a dropshipper, you have a lot to offer. Your customers can choose between full-spectrum and broad-spectrum varieties.
The best part? These products prices range between $20-$100+ per product and the profit margins often range from 40-70% or more.
👉 Read about CBD Dropshipping Shopify: Best Suppliers & Products to Sell.
Top 10 Supplements & Vitamins Dropshipping Suppliers
Inventory Source is a comprehensive solution that simplifies the process of finding dropshipping suppliers and optimizing your business operations. This platform is highly regarded as a top choice for vitamins dropshipping.
Inventory Source offers a complimentary directory of wholesale and dropshipping suppliers that you can explore. Within this directory, you can uncover a vast selection of over 4,000 wholesalers and dropshipping suppliers.
Moreover, Inventory Source provides dropshipping suppliers in various niche categories, including fashion, apparel, jewelry, furniture and home décor, vitamins and supplements, consumer electronics, baby products, and more.
So, if you want to find vitamins dropshipping products, you can check out these categories. 👇
Additionally, Inventory Source seamlessly integrates with numerous platforms and marketplaces such as Shopify, BigCommerce, Magento, WooCommerce, PrestaShop, Shift4Shop, Amazon, eBay, Walmart, and others.
In terms of pricing, Inventory Source offers a free directory account with no monthly cost, an Inventory Automation option for $99 per month, and a Full Automation plan for $199 per month.
👉 Read my FULL Inventory Source Review: The Best Automation Software for Dropshipping?
Supliful is a platform that empowers dropshippers to successfully launch and sell their own branded supplements.
👉 Read my full Supliful Review: Is It Good For White Label Dropshipping?
One of the key advantages of Supliful is its wide-ranging product assortment, which encompasses a variety of offerings such as vitamins, proteins, and even unique options like customized coffee.
What sets Supliful apart is their unwavering commitment to ensuring that these products not only possess attractive labels but also adhere to the highest standards of quality and safety.
Furthermore, as a company registered with the FDA, Supliful guarantees that your private label designs undergo thorough scrutiny to ensure full compliance with regulations.
Subsequently, Supliful takes care of the packaging and shipping of your products to your valued customers.
When it comes to pricing, Supliful offers a variety of pricing plans to suit different needs, starting from $49/month. Also, it has a free plan.
GreenDropShip distinguishes itself with its unique features and advantages. They maintain warehouses in Chicago, Los Angeles, and Pennsylvania.
As a supplier specializing in dropshipping, GreenDropShip focuses on natural and organic brands, making it an excellent option for businesses concentrating on health and wellness products.
Consequently, they offer an extensive selection of over 20,000 natural beauty and health items, with a great inventory of supplements, vitamins, minerals, herbs, probiotics, and more.
With multiple fulfillment centers strategically positioned throughout the United States, GreenDropShip guarantees prompt and dependable delivery to customers.
Furthermore, this dropshipping supplier provides competitive wholesale rates and does not require a minimum order quantity.
They also offer a Shopify application that streamlines the automation of your dropshipping store and seamlessly integrates our premium, specialty, or gourmet products with a simple click. The cost for this service is an annual fee of $149.00.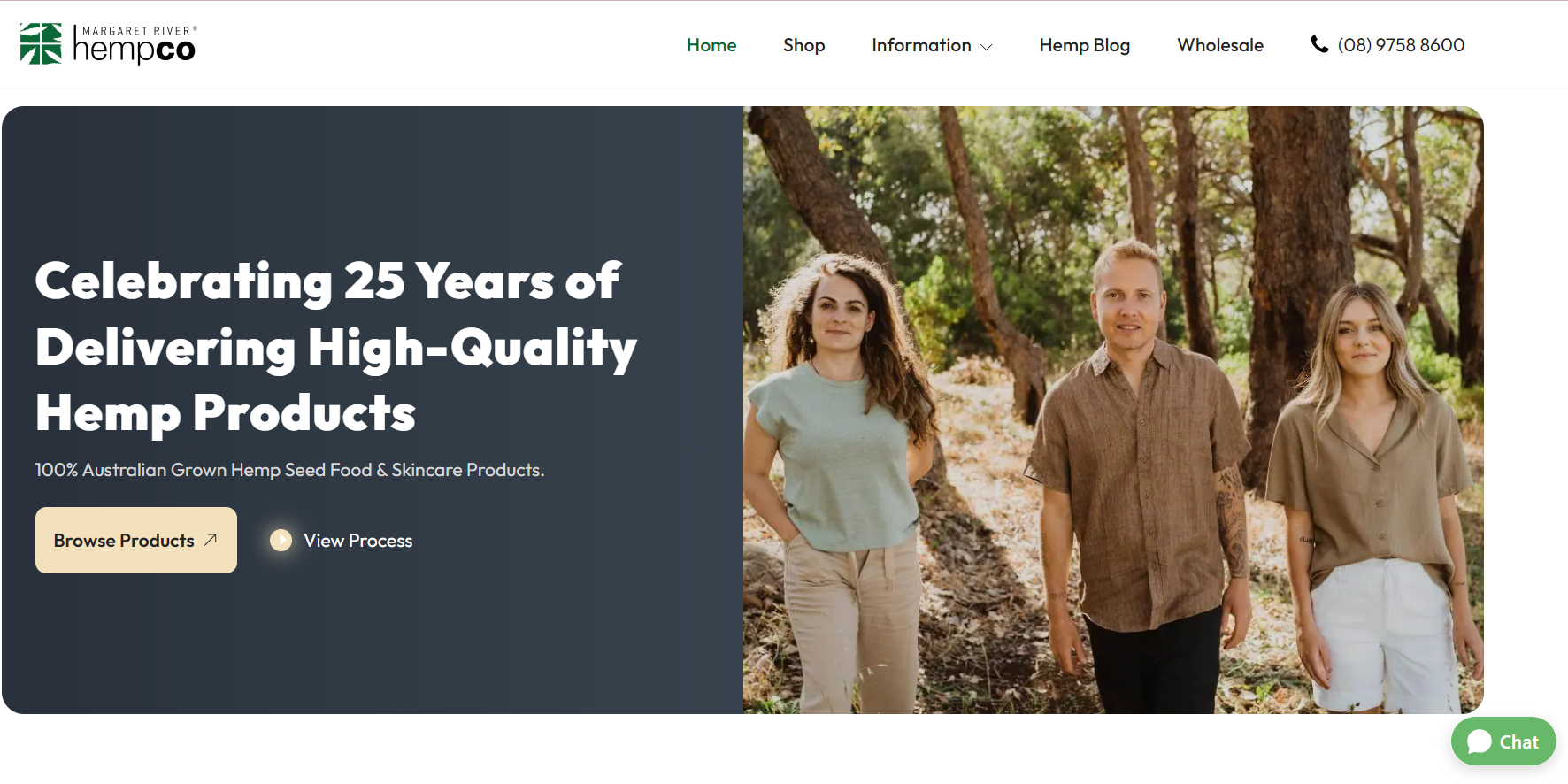 Margaret River Hemp Co., as its name suggests, is a specialist company that focuses on a wide range of hemp products. When it comes to hemp, there are very few things that Margaret River Hemp Co. doesn't offer.
This company, based in Australia, offers a diverse selection of products including hemp food, skincare items, clothing, and even products for pets.
Nevertheless, there is a drawback when it comes to international customers dealing with this company – it may take up to 21 business days for shipping to be completed.
CBD Essence is not a newcomer in the vitamin dropshipping industry. It was established in 2014 and has since been dedicated to crafting top-notch CBD products that are pure, high-quality, and completely organic. These products are carefully made in small quantities.
So, their diverse product line showcases an array of items such as CBD oil tinctures, capsules, candies, topicals, pet products, and more.
At CBD Essence, they prioritize the prompt delivery of their products. Within 24 hours of placing your order, they ensure that your products are produced and shipped to maintain their freshness and exceptional quality.
Moreover, they offer free shipping for orders exceeding $49.
Troo Healthcare has earned an exceptional 5-star rating for buyer protection, instilling immediate trust in merchants seeking to make purchases on their site.
Renowned for providing top-notch health supplements throughout the UK, Troo Healthcare has built a stellar reputation. They prioritize customer satisfaction above all else.
Moreover, Tro Health products are produced in the UK with robust scientific backing and approval. With over 15 years of industry experience, they are also a proud member of The British Association for Nutrition and Lifestyle Medicine (BANT).
Youbar is an expert in crafting individualized nutrition bars and snacks. They provide a diverse selection of customizable choices, enabling customers to design their own distinct products.
So, they offer a variety of nutrition, including protein bars, nutrition bars, energy bars, balls, bites, protein shakes and mixes, and more.
When it comes to cost, Youbar offers competitive prices for their personalized items. The pricing may differ based on the ingredients and customization options selected by the customer. They maintain a transparent pricing system, guaranteeing that customers have a clear understanding of their expenses.
Regarding delivery times, Youbar is dedicated to delivering fast and efficient shipping services. They present a range of shipping alternatives to accommodate various customer requirements, including standard and expedited shipping choices.
However, they require an MOQ of just 5,000 bars for true production. Also, the production cost depends on the bar type (ingredients, size) and the order quantity. However, this can be as low as 39 cents.
Vitalabs, based in McDonough, Georgia, USA, is a well-established provider and producer that specializes in custom branding.
Their assortment of products is available at prices ranging from $1 to $10, and they are committed to expediting order processing within a timeframe of 1-3 days.
They present an extensive array of top-quality health supplements and nourishing goods, which includes the opportunity for personalized branding of vitamins and supplements.
Furthermore, they offer supplements that are non-GMO and vitamins that are organic for manufacturing purposes.
Therefore, if you are engaged vitamins dropshipping and dietary dropshipping supplements, it is highly advisable to consider forming a partnership with them.
OK Capsule is a dropshipping supplier based in the United States, specializing in the distribution of supplements and vitamins.
They offer the flexibility to customize the formula of the supplements, ensuring that it contains only the specific ingredients required for your target audience.
Moreover, this particular dropshipping supplier presents unique packaging options. For example, you have the opportunity to create personalized supplement packs that cater to specific conditions such as high cholesterol. Alternatively, you can fully customize the packs to align with the individual goals of your end customers.
Unfortunately, to establish a partnership, an initial deposit is necessary to initiate the process, and a minimum order quantity (MOQ) of 4,000 orders must be placed annually.
Trusted Health Products offers oral care, skin care, and nutritional products. This vitamins dropshipping supplier is based in the USA, and ships worldwide.
Furthermore, their product's costs are from $20-50, and the average order processing time is around 4-7 days.
Tip: You can check out more medical and health dropshipping suppliers in my supplier directory.
Pros & Cons of Dropshipping Supplements & Vitamins
Pros of Dropshipping Supplements & Vitamins
There are three main benefits of dropshipping supplements that make it an attractive option for starting a supplement company.
✅ An effective method for rapidly establishing a dropshipping business
Firstly, dropshipping supplements is a great way to build a business quickly. By taking advantage of the existing infrastructure provided by dropshipping suppliers, you can focus on marketing and sales without having to invest in inventory or wait for shipments.
This allows you to fast-track your business and start generating revenue in no time.
✅ High Demand
Supplements are in high demand due to the growing awareness and focus on health and well-being. The market for supplements has seen significant growth in recent years, with a current market value of millions of dollars.
As a result, there is a wide range of supplement products available to cater to different needs and preferences. With such a thriving market and potential for growth, dropshipping popular supplements can be a lucrative business opportunity.
✅ Low Entry Barrier
Starting a dropshipping business for vitamins and supplements requires a relatively low upfront investment compared to other types of retail businesses.
In fact, in the USA selling vitamins and supplements online is legal since they are not classified as drugs.
Cons of Dropshipping Supplements & Vitamins
However, there are certain pitfalls that you should be aware of and avoid to ensure the smooth operation and growth of your dropshipping business.
❌ Not all vitamins dropshipping suppliers are reliable
Yeah, not all glitters are gold. And, dropshipping scams and fraudulent suppliers do exist. So, that is why it is crucial to thoroughly research and select reputable suppliers.
When it comes to vitamins dropshipping, the quality of the products and the reliability of the supplier can make or break your business. So, don't go on this blindly.
In fact, it is important to find suppliers who work with reputable manufacturers and source their products from high-quality ingredients.
❌ Legal Responsibility
When it comes to dropshipping vitamins and supplements, it's crucial to understand that you bear legal responsibility for the products you sell.
Vitamins and supplements are subject to regulations in most countries. Familiarize yourself with the specific regulations in your target market.
In the United States, the FDA regulates dietary supplements under the Dietary Supplement Health and Education Act (DSHEA).
Moreover, some supplements may have certifications from respected organizations such as the United States Pharmacopeia (USP) or NSF International. Also, these certifications can provide an extra level of quality assurance.
❌ Lower Profit Margins
Due to competition, profit margins for generic or commonly available products can be relatively low.
However, that is not always the case. Yes, some of the products might have lower profit margins like 10-15%. But, most of them have average dropshipping profit margins higher than 30%.
Supplements & Vitamins Dropshipping FAQs
1. Why is dropshipping vitamins and supplements popular?
Dropshipping vitamins and supplements is popular because it allows businesses to start selling these products without the need for upfront inventory investment. This means that entrepreneurs can launch their businesses with minimal financial risk and overhead costs.
Moreover, these products are in high demand since people are becoming more aware of their physical and psychological health.
In fact, the global dietary supplement size reached $164 billion in 2022 and is expected to reach $177.5 billion in 2023.
2. Can I dropship vitamins?
Yes, you can definitely dropship vitamins. To do this, you'll need to find a trustworthy supplier or manufacturer who can provide good-quality products and manage the shipping to your customers.
It's crucial to do your homework and make sure the supplier you select follows all the necessary rules and standards for selling vitamins.
3. Can I dropship protein powder?
Absolutely, you can dropship protein powder. All you need to do is find a dependable supplier who offers protein powder and is willing to collaborate with you in your dropshipping venture.
4. Can I sell vitamins on Shopify?
Yes, you can sell vitamins on Shopify. Using Shopify, you can easily display and market your vitamin products, handle customer orders, and manage payments. It's a user-friendly platform for setting up an online store.
5. Can I dropship products from other categories as well?
Yes, absolutely! When it comes to dropshipping, the opportunities are not limited to just one niche.
As a dropshipper, you can explore a range of different product categories to diversify your business and cater to a wider audience. In fact, you can consider opening a general dropshipping store.
6. Can I set my own price markup rules for vitamins and supplements?
Absolutely! As a dropshipping business, you have the flexibility to determine your desired profit margins and set your own pricing for these products. This control over pricing allows you to maintain consistent profitability and maximize your earnings.
Join the only community and resource hub you'll ever need to succeed with dropshipping
Find winning dropshipping products, learn marketing, download templates and engage with real dropshippers
Never pay for a "guru's" course again. See why 4543+ dropshippers joined us this year!
💡Try DSCOM Hub Now
Conclusion
Dropshipping vitamins and supplements is gaining popularity due to several factors. It offers a quick and straightforward setup process, as you don't have to worry about manufacturing or storing inventory.
The high demand for supplements and vitamins, driven by health-conscious consumers, creates a lucrative opportunity. On the other hand, dropshipping is cost-effective and, according to market trends, the global dietary supplement market is on a steady growth trajectory, making it a profitable venture.
So, since I see a great potential for dropshipping in this, I decided to give you insights about vitamins dropshipping. Therefore, in this article, you can learn about how to start dropshipping supplements, what are the best suppliers, and the winning dropshipping products.
So, get all the info you need and start!