Want to start a CBD dropshipping Shopify business? In this article, we will take you through what CBD is, everything you need to know about it, and details on how to sell it on Shopify.
Of course, we will also create a list of several trustworthy CBD dropshipping suppliers and the most profitable product ideas so that you can better serve potential customers.
What is CBD?
CBD, also known as cannabidiol, is an active ingredient present in the Cannabis sativa plant or hemp.
However, it does not cause a "high" by itself because it contains low doses of or no THC at all. And THC is what is responsible for the psychoactive effects of cannabis.
CBD products are most commonly used for health and beauty purposes. They are reportedly used to help with a wide range of conditions, including anxiety, epilepsy, skin conditions, etc.
Find your next winner in less than 5 minutes
Find your first winning dropshipping product. No credit card required. No commitment.
USE COUPON: DROPSHIPPING30 and get a 30% discount immediately
Start for €0
Is CBD legal?
The legal status of CBD has been in flux in the United States. The good news is that CBD (with less than 0.3% THC) is now legal in all 50 U.S. States.
It is also legal in Europe. But according to EU law, you can sell CBD products unless they exceed 0.2% THC.
This is part of the reason that the CBD industry has seen a steady rise in e-commerce sales.
Namely, online CBD sales are expected to increase from about US$2 billion in 2021 to more than US$6 billion by 2026 in the United States alone.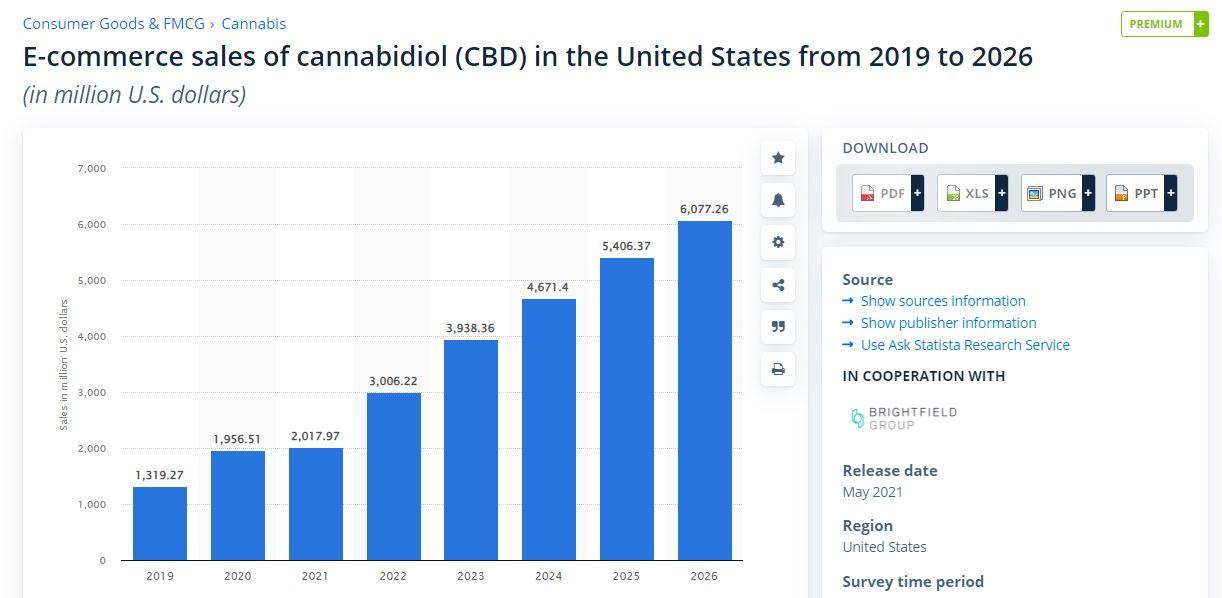 Is it possible to start CBD dropshipping with Shopify?
Yes, you can sell products that contain CBD on Shopify. To start a CBD dropshipping Shopify business, you need to set up a Shopify store first.
But you cannot sell such products to any country you want. You should not rush to incorporate hemp or hemp-derived products that contain CBD in your product offerings.
Remember that although CBD is legal in the United States and Europe, it is not the end of the story.
You must learn more about and comply with the laws surrounding hemp and hemp-derived products that might apply to your online business. Needless to say, it is also a good idea to consult legal counsel before dropshipping such products.
Dropshipping Niche Idea: Dropshipping Medical Supplies (+Product Ideas).
How to start CBD dropshipping with Shopify
Starting a CBD dropshipping Shopify business is not hard work. But it requires a lot of determination on your part. Also, you will have to make a few very important decisions along the way.
Simply follow the steps below for a successful launch of a CBD dropshipping store using Shopify:
1. Sign up for Shopify
Shopify has always been a great way to start an online business. It now officially supports the selling of hemp and hemp-derived products that contain CBD through its platform.
And as you have guessed, if you want to start a CBD dropshipping Shopify store, you need to sign up for Shopify.
Shopify is an easy-to-use e-commerce platform. So, do not worry if you have not built a store using the platform yet.
Feel free to read our previous article for more detailed information about how to set up your first store on Shopify. Also, try to avoid certain mistakes when setting up your Shopify store.
2. Fill out and submit the Attestation Form for the Sale of Hemp Products
The laws are constantly changing in this field. So, to sell CBD on Shopify, you must become familiar with and stay up-to-date on the Shopify CBD policy.
You must also fill out and submit the Attestation for the Sale of Hemp and Hemp-Derived Products. However, you can do that only if you are located in the United States.
To fill out this form, you need to sign in to your Shopify account.
Once you have submitted it, you do not have to wait for a response from Shopify. Why? Because the attestation process is automatic.
3. Choose a third-party payment processor that supports the sale of CBD
Shopify supports many payment gateways, including Shopify Payments, PayPal, Stripe, Google Pay, etc. This means that you can offer your customers multiple payment choices when selling on Shopify.
But there is one catch – CBD is considered to be a "high-risk" product. Thus, there are certain restrictions on online sellers, including dropshippers, when it comes to accepting online payments for such products.
For instance, when selling CBD products on Shopify, you cannot use Shopify Payments. You must choose and set up a third-party payment gateway that supports the sale of hemp and hemp-derived CBD products.
One such third-party payment provider that supports CBD payment processing on Shopify is DigiPay.
4. Find a dropshipping supplier
You need to find a dropshipping supplier to source high-quality CBD products from. Finding a reliable dropshipping supplier is critical to the success of your online CBD business.
So, we decided to create an entire section in this article dedicated to this topic. Just keep reading.
5. Select and add products to your store
So, you have identified your dropshipping niche. In other words, you have decided to break into the CBD niche and start a CBD dropshipping Shopify business.
Obviously, you want a piece of the CBD pie. Still, you must determine what kind of products to add to your online store.
Since the CBD industry is expanding, it is creating a market not only for health and beauty brands but also for a pet, food, and fashion brands. We will also cover this topic in more detail later in this article.
Top 6 dropshipping suppliers of CBD products
Do you have deep pockets and significant botanical expertise to manufacture your own CBD products? Just kidding! You want to start a dropshipping business, right?
Therefore, you need to choose a dropshipping supplier that can send CBD products straight to your customers. Here is a list of the best suppliers in the industry: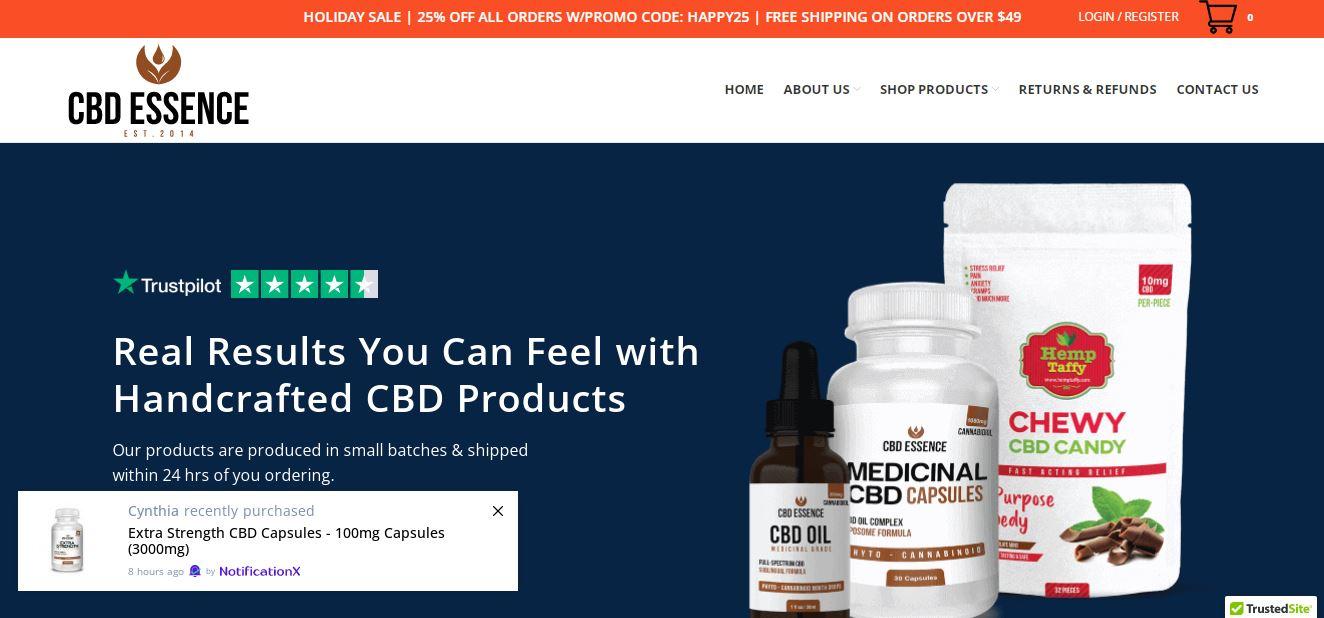 CBD Essence is not the new kid on the block. The company was founded in 2014. Since then, it has been creating high-quality, pure, and 100% organic CBD products in small batches.
At CBD Essence, they ship their products within 24 hours of your order. They do so to maintain the freshness and quality of their products. Also, they have free shipping on orders over $49.
And as you will see from their product range, they produce and sell things like CBD oil tinctures, capsules, candies, topicals, pet products, and more.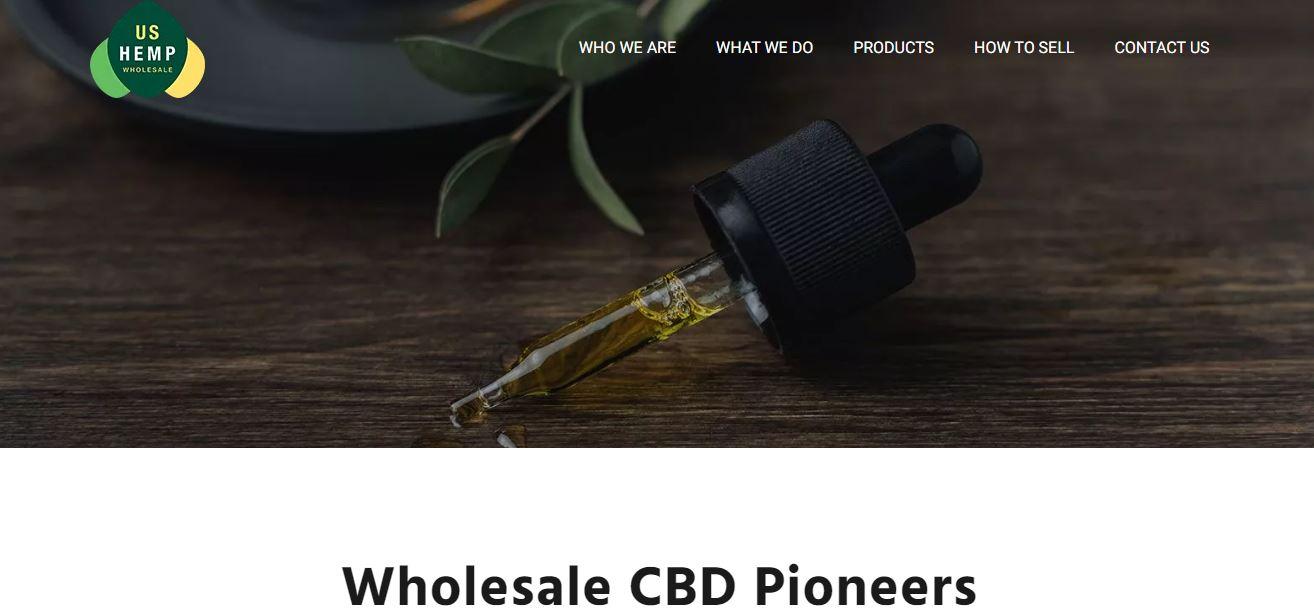 US Hemp Wholesale claims to be a pioneer in the global hemp market. It offers a wide range of hemp-derived CBD oil products, edibles, skincare & topicals, etc.
Are you prepared to join the world of CBD dropshipping? If so, why not join forces with this dropshipping supplier?
But to do so, you need to be a US-based online seller, have an established URL for your site, and obtain an Employer Identification Number (EIN).
US Hemp Wholesale also offers white label and private label dropshipping services.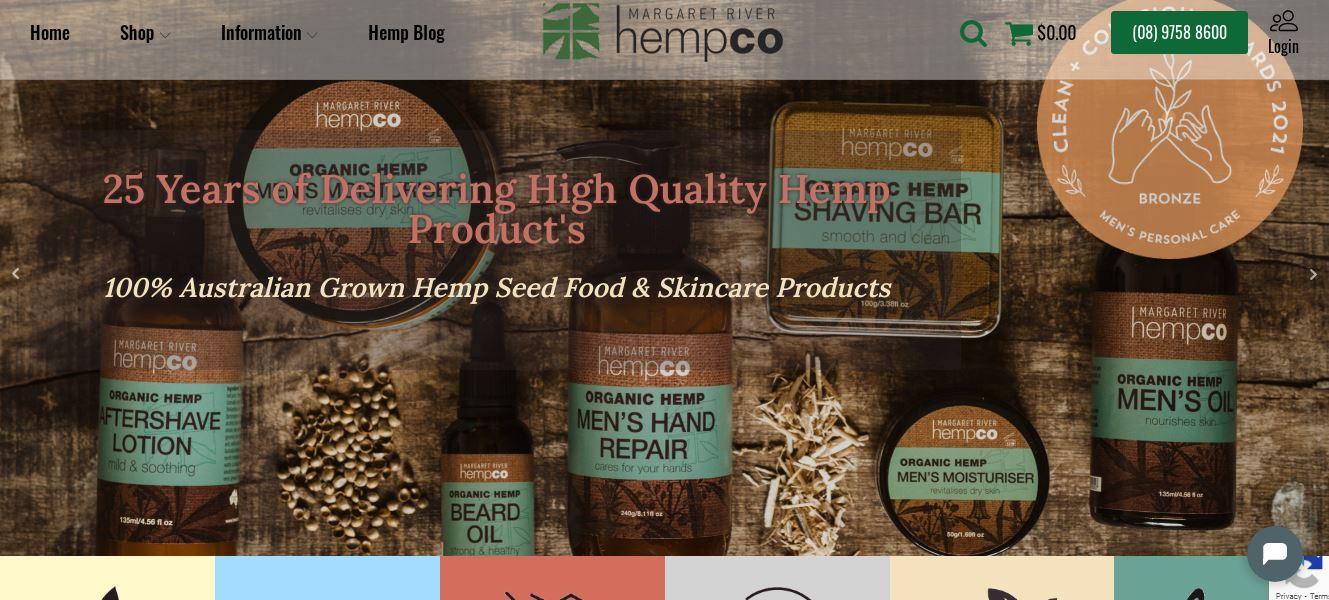 Margaret River Hemp Co., as its name implies, is a company that specializes in hemp products. As far as the hemp goes, there is not much Margaret River Hemp Co. does not do.
This is an Australian-based company carrying everything from hemp foods and skincare products to hemp clothing and pet products.
However, there is one downside of working with this company – shipping to international customers may take up to 21 business days.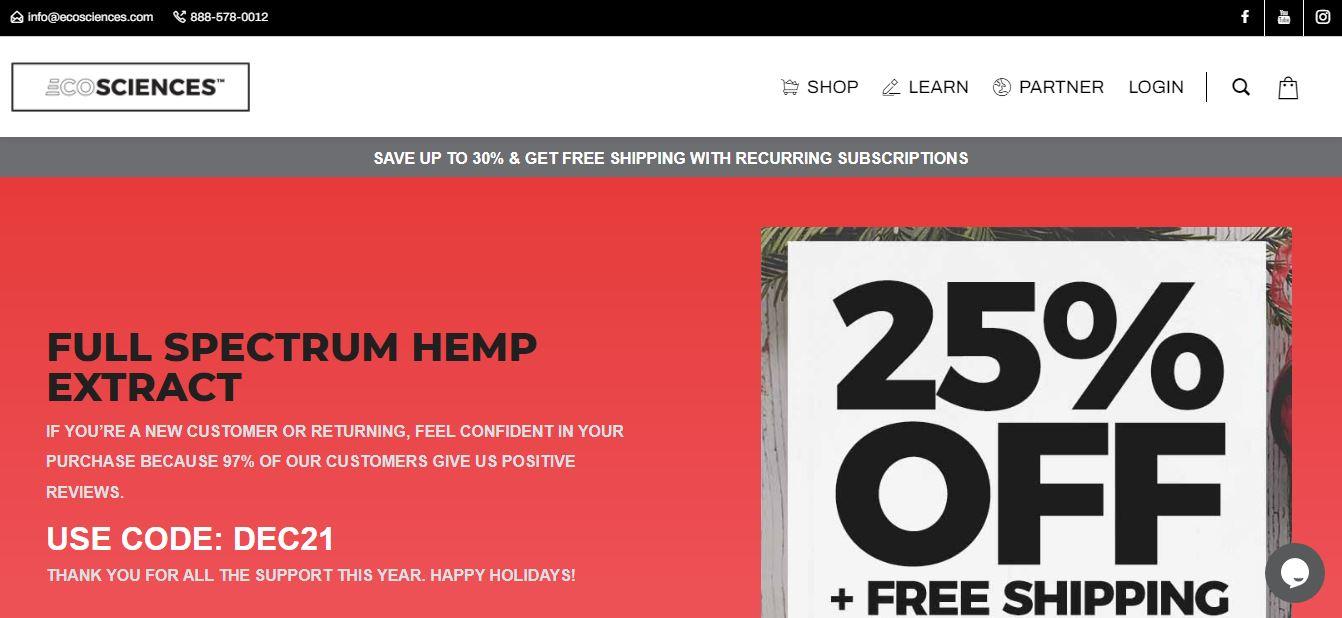 Interested in CBD dropshipping with Shopify? Eco Sciences may help you with this. Just remember that you will have to place orders manually with it because it does not have integrations with Shopify.
To source CBD products from this dropshipping supplier, you need to have an EIN, an active merchant account, and a functioning e-commerce website (for example, hosted on Shopify).
If you meet these requirements, you can add this company's CBD products to your online store. Its product portfolio includes CBD tinctures, capsules, creams, gummies, drinks, and additives.
The supplier also offers CBD oils for dogs. Located in Newport Beach, California, Eco Sciences offers products made in the USA.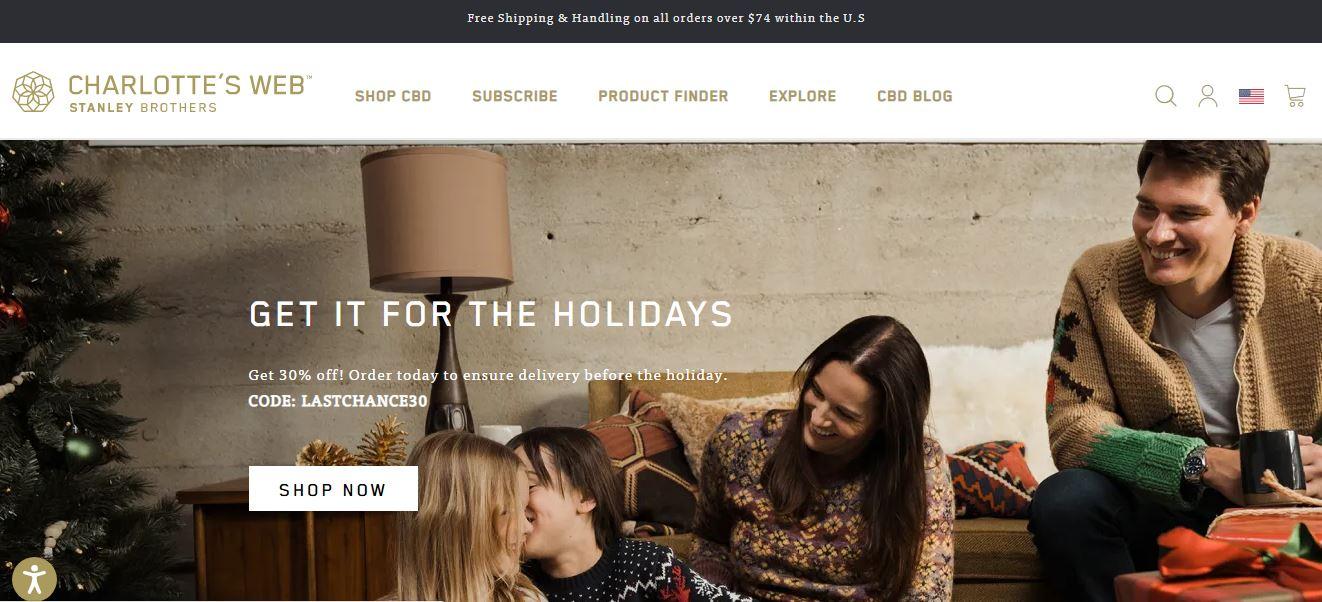 Charlotte's Web is a well-respected and loved brand in the CBD community. The company's mission is to improve life, naturally.
And Charlotte's Web does so by providing its customers with high-quality hemp and hemp-derived products.
Based in the United States, Charlotte's Web offers free shipping on all orders over $74 within the country. Unluckily, its dropshipping program is currently under construction. But it will be launched soon.
To join it, you must meet a few requirements.
For example, you must have an e-commerce website, an approved CBD merchant processor, and a shopping cart compatible with its dropshipping management system (coming soon).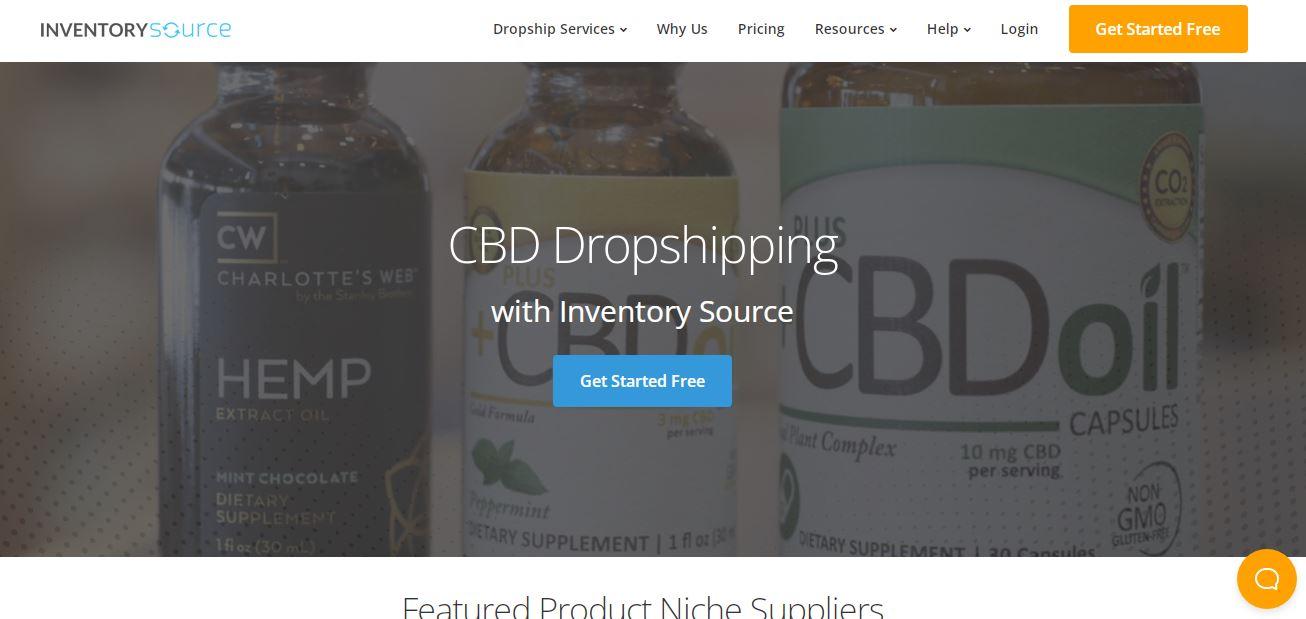 Inventory Source is not a CBD dropshipping supplier. But what is it, then? It is one of the best Shopify dropshipping apps – it allows you to automatically upload products and place orders with dropshipping suppliers to your Shopify store.
If you want to start a CBD dropshipping Shopify business, Inventory Source is an app to install.
By using this app, you will surely find a trustworthy CBD dropshipping supplier based on your needs.
What to sell in your CBD dropshipping store: 6 product ideas to consider
As you can see, some of the most common hemp-derived CBD products available nowadays include topicals and edibles.
Sure, you can add some of the following products to your dropshipping store:
• Edibles
Consuming CBD products/edibles is an easy, tasty, and discreet way of ingesting some CBD. The most common CBD edibles include:
Cookies;
Candies;
Chocolates;
Protein bars;
Gummies.
All these products make for an excellent snack. However, customers are becoming increasingly concerned with the quality of the foods/snacks they are consuming.
Therefore, when you are narrowing down the CBD dropshipping suppliers you are interested in working with, ensure they use high-quality ingredients to make their products.
• Drinks
Experts predict a substantial increase in the US retail sales of CBD-infused beverages over the coming years.
That's why the following types of CBD drinks are worth considering if you intend to start a CBD dropshipping Shopify business:
Energy & relax drinks;
Tea;
Coffee.
Choose the right supplier that carries such products and let your customers relax with some of these CBD-infused beverages at the end of a busy day.
• Sublingual tinctures
Sublingual tinctures, also known as CBD oils, come in small bottles with droppers inside. They are usually taken under the tongue. And, therefore, they are absorbed easily.
When visiting the websites of the above-mentioned suppliers, you may have noticed that you have lots of choices when it comes to CBD oils and tinctures.
They are some of the most versatile kinds of CBD products. This might be a good indicator that they are quite popular among consumers.
• Supplements & capsules
CBD also comes in a capsule or supplement form. CBD supplements and capsules are easy to use. Unlike tinctures, CBD supplements and capsules are subject to additional breakdown in the digestive tract. And this might lower their potency.
Nevertheless, they continue to gain momentum in the health and wellness world.
• Skincare & beauty products
What happens inside is reflected on the outside – hence the connection between health and beauty.
In the skincare & beauty market, CBD products are used for their soothing and antioxidant properties.
These plant-based products are appealing to almost all kinds of customers, especially those concerned about acne, dry skin, skin sensitivity, and wrinkles.
Although some might be skeptical about using CBD products in their skincare and beauty routines, the demand for such products is increasing, particularly in the skincare market.
Here are some product recommendations, provided that you want to create a CBD dropshipping Shopify store:
Soaps;
Topical balms;
Lotions;
Creams;
Face serums;
Hair serums;
Shampoos.
• Pet products
The perceived benefits of hemp, high awareness among pet parents, and preference for natural products have caused the CBD pet market to become a lucrative place to make money.
The US CBD pet market is predicted to grow to US$1.7 billion by 2025, to be precise.
These are great CBD pet products to consider selling in your dropshipping store:
Pet treats;
Oils for dogs/cats;
Topical pet salves.
Dominate The Ecommerce Space With Zendrop
Start your free dropshipping account and get access to 600K+ ready-to-ship products!
Upgrade to a paid plan for 50% OFF for 3 months → Use code: DROP350
Try Zendrop For Free
Conclusion
To conclude, setting up a CBD dropshipping Shopify business should not be a tough task if you follow the steps above.
Make sure you comply with the Shopify CBD policy and choose the best supplier and products for your business. Good luck!