BlendJet Review: How This One-product Store Is Making Millions?
by
Aleksandra -
Aleksandra teaches marketing and management at various levels in High School. She writes about marketing, the economics and logistics of the dropshipping business and ecommerce in general.
Chief of Content Marketing
Why do you need this BlendJet Review? Wondering how a one-product store can make millions? Hmm, there can be various ways. But, most dropshipping stores win the game by driving high conversions and traffic.
However, as your dropshipping store is the first spot and impression your customers get about your business, you must deliver it just right! So, you need the right navigation, design, marketing tactics, etc.
So, let's discuss it over the perfect example – our BlendJet Review.
What is BlendJet?
BlendJet is a one-product dropshipping store that sells blenders, like the BlendJet 2 blender, for making smoothies and other drinks.
Of course, as with any other dropshipping business, it started with the great idea of a food blogger and now is a million-dollar dropshipping business.
So, make sure to start creating your dropshipping business plan.
However, how did their dropshipping store succeed, and what brought customers? Let's discuss that in our BlendJet Review because we need tactics!
💡Tip: Learn How To Make 5k a Month With A Real Business.
Lifetime deal: Get all-access to everything on Dropshipping.com
Access all DSCOM features, resources, courses, live workshops, discounts, winning products, weekly deep dives, directories and all future updates under all-in-one dropshipping HUB.
DROPSHIPPING IS A REAL BUSINESS, DON'T DO IT ALONE. 4553 MEMBERS ALREADY JOINED. YOU CAN PAY OFF YOUR SMALL INVESTMENT WITH JUST 2 SALES ON YOUR STORE.
Grab the deal before it's gone
BlendJet Review: Website Navigation
Home Page
Do you know that you have every piece of information on their home page, and it is still easy to navigate? Yes, that's BlendJet's website specialty!
Hence, let's start our BlendJet Review from the top – the header. 👇
The Header
The BlendJet easy navigation starts from their header. So, let's start with the navigational menu which is divided by the website's logo. It consists of four well-defined categories, and there are no sub-categories.
So, it is pretty easy for customers to navigate and find the information they need.

Plus, the logo serves as a great escape hatch. In fact, it is a link that navigates customers on the home page. So, whenever they are on any other landing page, they can always come back to where they came from.
Furthermore, in the right upper corner, there's a search button, a log-in button, and a shopping cart button.
Therefore, you should place these buttons exactly in this spot since this is the place where users first search for them.
And, the sooner they find the information they need, the simpler navigation you deliver.
The Body
Next, as we speak about navigation here. First, in the middle of their Full-Screen Video background, there's a call-to-action button "get yours today" that requires customers to make only a single click and navigate to the product page.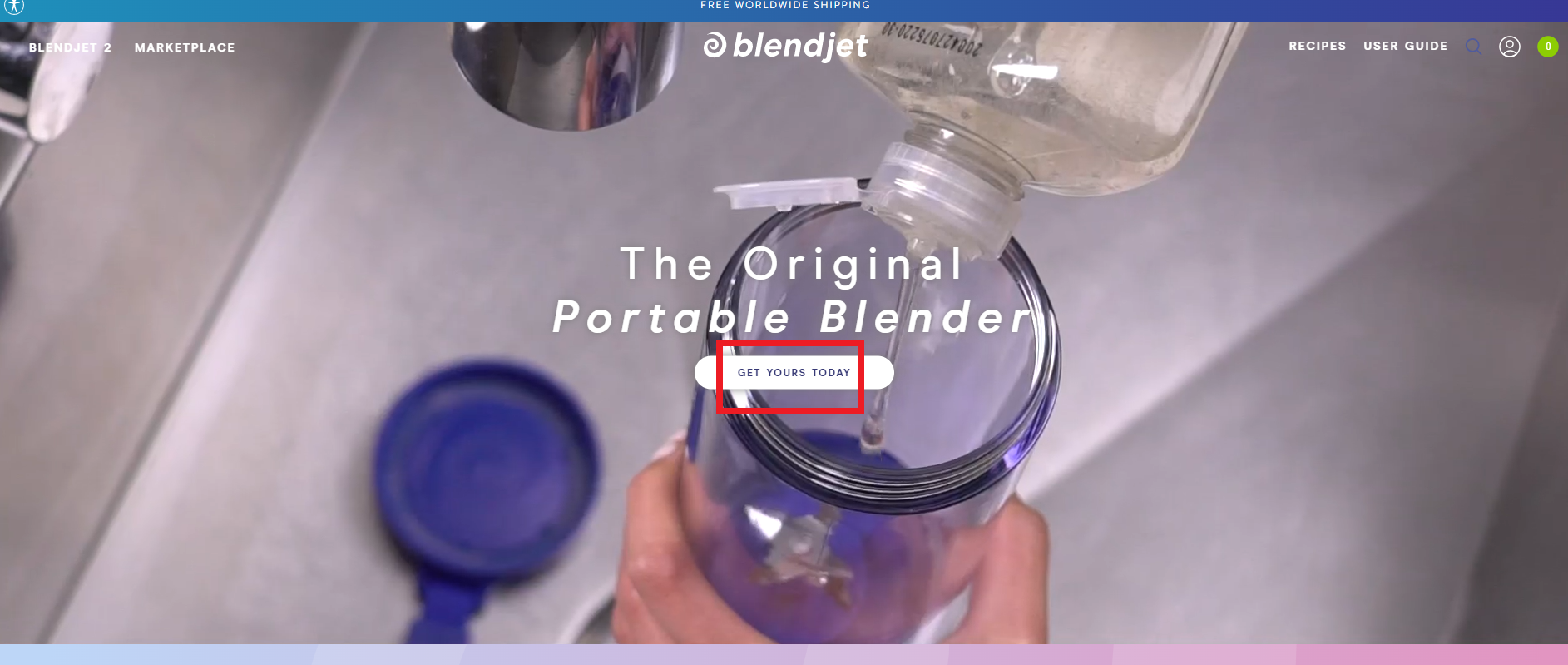 Furthermore, the content on the home page is well-organized thanks to the grid layout. This helps you sort out various information on the home page, and still achieve easy navigation.

What's more, there are navigation buttons, like the previous and next buttons, that help users to navigate as well.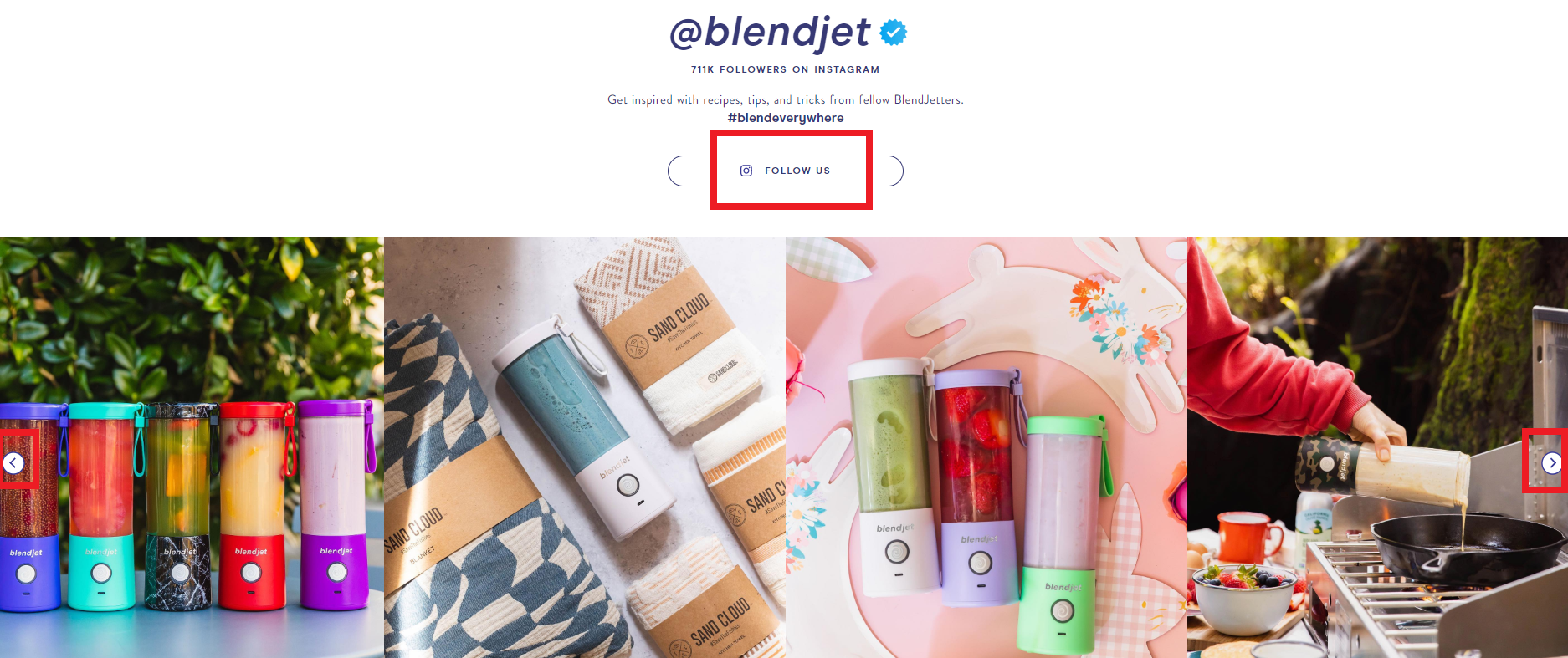 Our advice, use as many call-to-action buttons as you can and make customers take the action you want them to.
Also, another example where they use the grids layout is the Recipes page. Check it out. 👇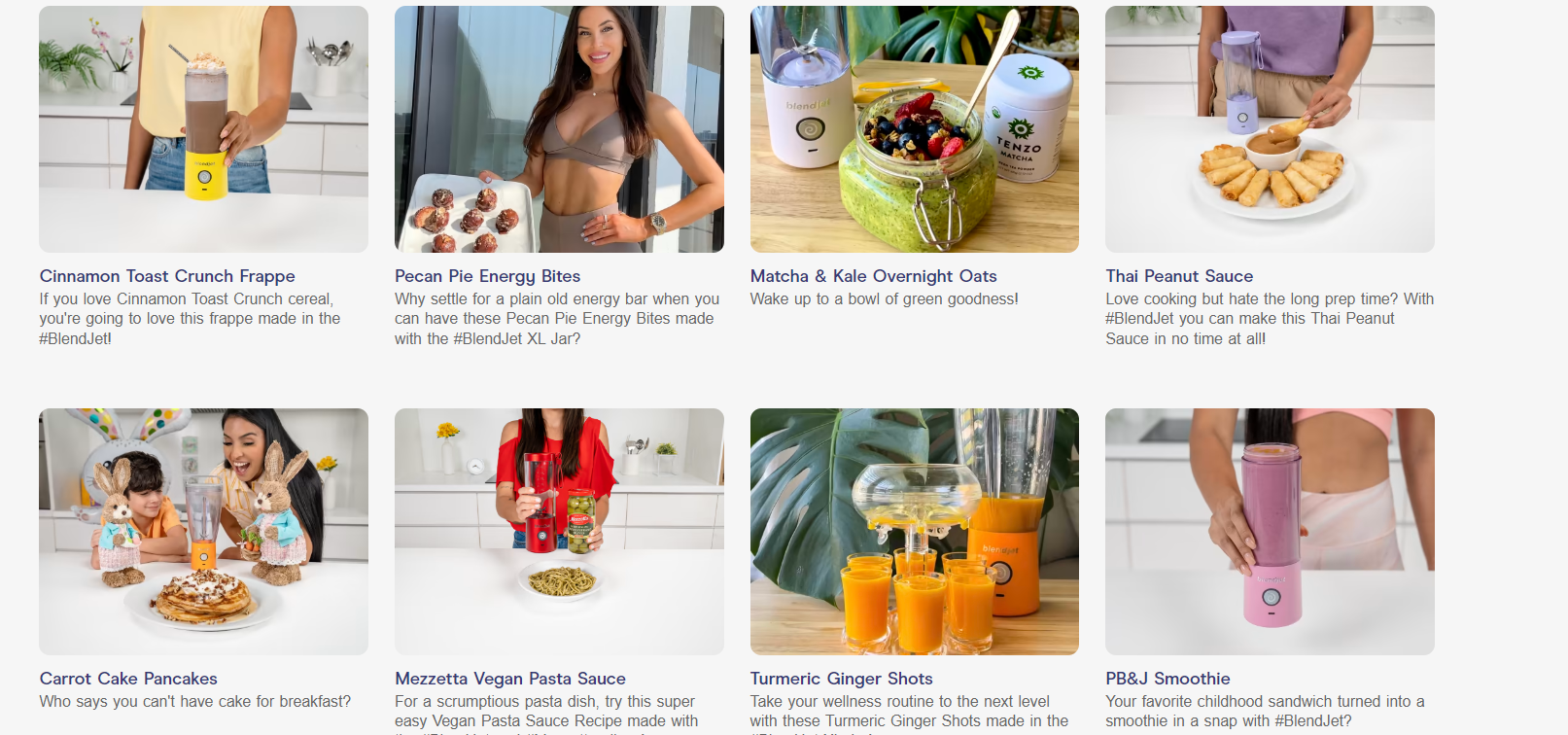 The Footer
The website's footer is just like a sitemap. Wondering why? Well, it links to every single landing page on the website. Also, it has links to all the social media platforms of BlendJet.

So, you can benefit a lot, and help your conversion rate, by adding information like:
Social channels buttons
Important categories or sub-categories links
Payment gateways information
Shipping Info
contact info
Newsletters, etc.
The Marketplace Page
The marketplace page is pretty simple to navigate. So, it does not contain any sub-categories, since there aren't many products. But, it is divided into two sections: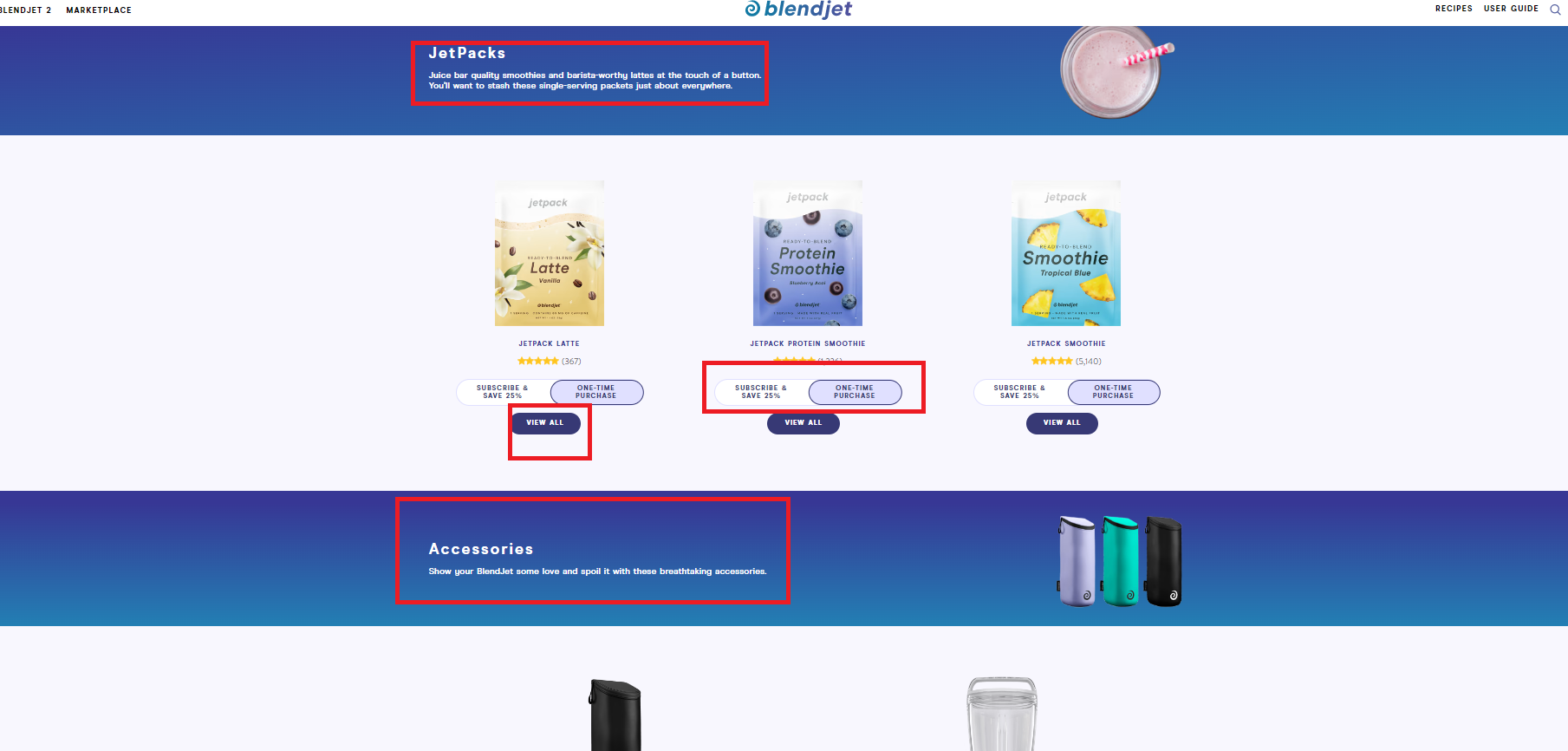 Furthermore, what simplifies the navigation, even more, are the call-to-action buttons ("view all") under each product image, which navigates customers right to each product page.
So, if you don't have a variety of products, this landing page is a great example of delivering a great customer journey.
Product Page
The first thing you see once you land here is their pop-up. In fact, this is a great marketing trick, but we will discuss it in navigation as well.
So, if you are planning to add pop-ups to your page, always give customers multiple escapes catches. Don't let them panic and feel like they don't have a way out. 👇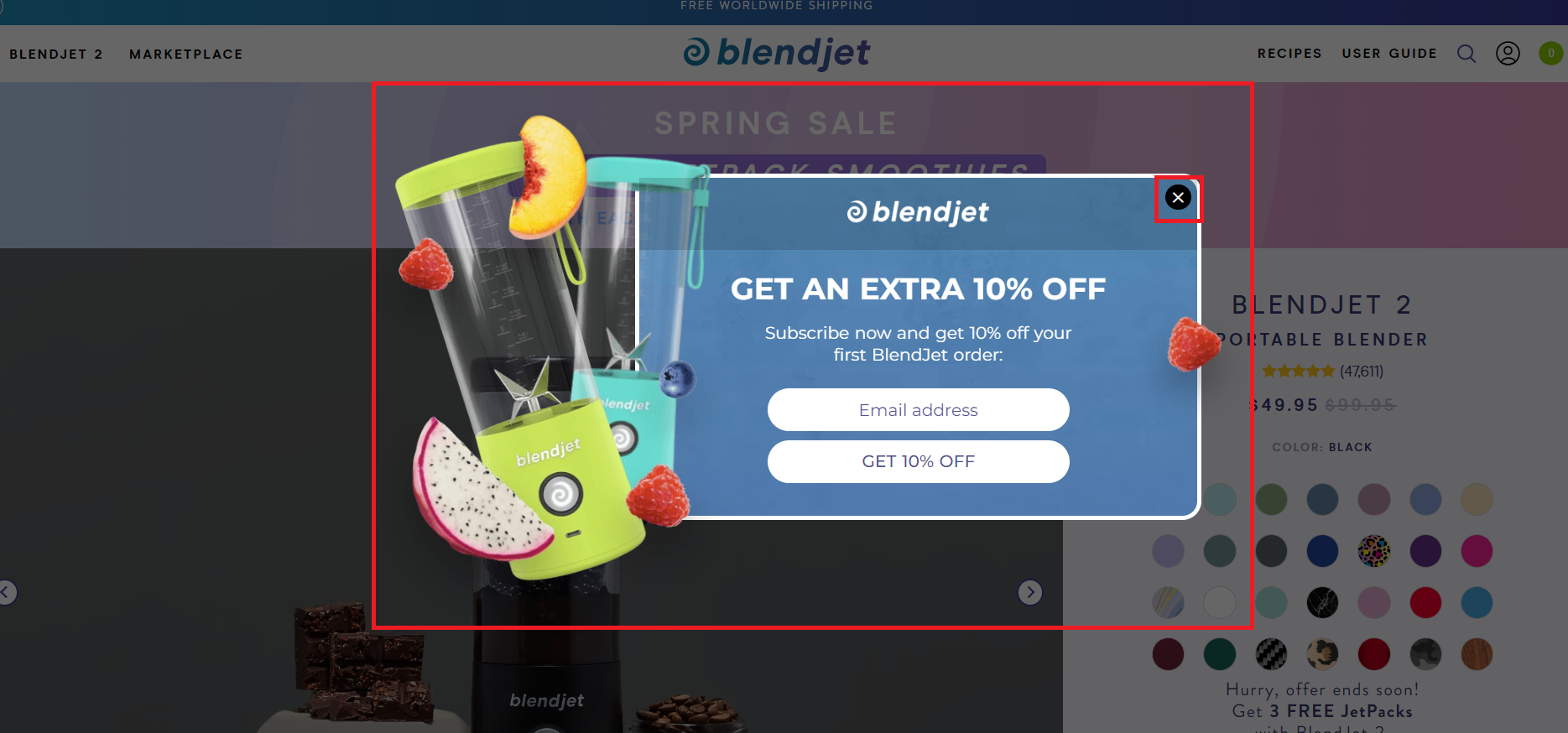 Now, let's see what else we got in the BlendJet Review.
The product page is also simple to navigate. Thus, it's all a one-click street! First, there are the previous and next navigation buttons placed on the image. So, customers can easily navigate through images.
Furthermore, the page consists of a call-to-action button "add-to-cart" which is essential, the quantity button, etc.
What we found interesting is that they have the option to put bundle products in the shopping cart as well. And, for simpler navigation, they do have this call-to-action button here as well.
Also, customers can find all information they need about products from the product page, like customer reviews and comments, the how-to-use guide, features, etc.
Checkout Page
BlendJet has a one-page checkout! Imagine the convenience of completing all the necessary steps to receive your order without having to jump through multiple pages.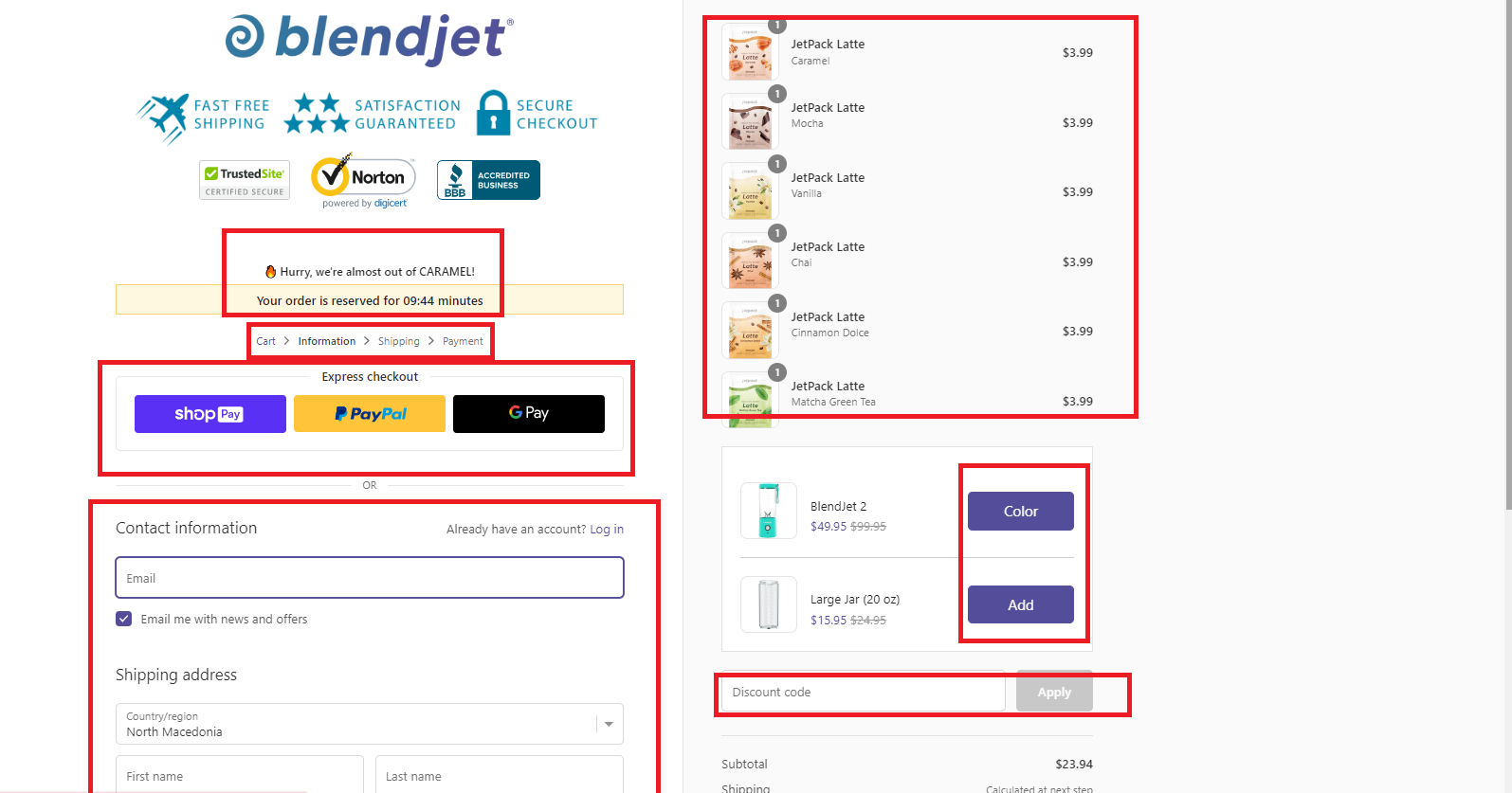 Well, that's exactly what their streamlined checkout process offers. Customers can effortlessly fill out their shipping information, read important details, choose the payment gateway, and even apply discount codes all on one convenient page.
What's more, customers can even add additional products to their order, from the checkout page.
To take the user experience to the next level, they've included a handy breadcrumbs section that keeps shoppers informed of their progress every step of the way. Plus, a prominent call-to-action button ensures a seamless checkout process.
BlendJet Review: Website Design
Once you come to their doorstep you will find a Full-Screen video of their products. So, instead of an image, like most of the dropshipping store's layout, there's a perfect video showcasing how their product actually works.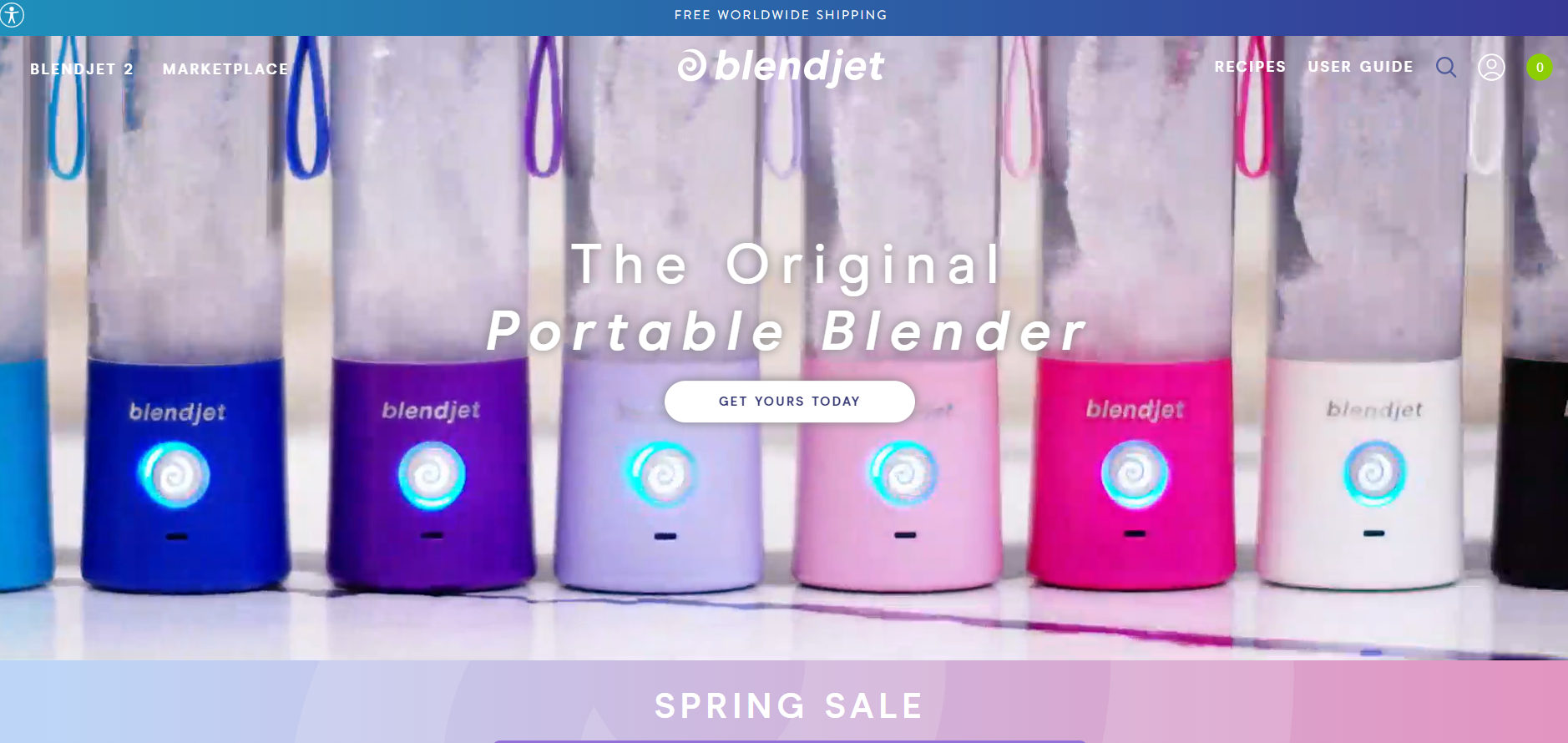 Furthermore, the colors are perfectly aligned and present different types of fruits and vegetables that most people use to make smoothies. What's more, it gives customers a pleasant and freshening feel. This is what their brand actually delivers.
Also, they use the grid layout not just for navigation purposes, but also, really help in organizing and sorting out your content.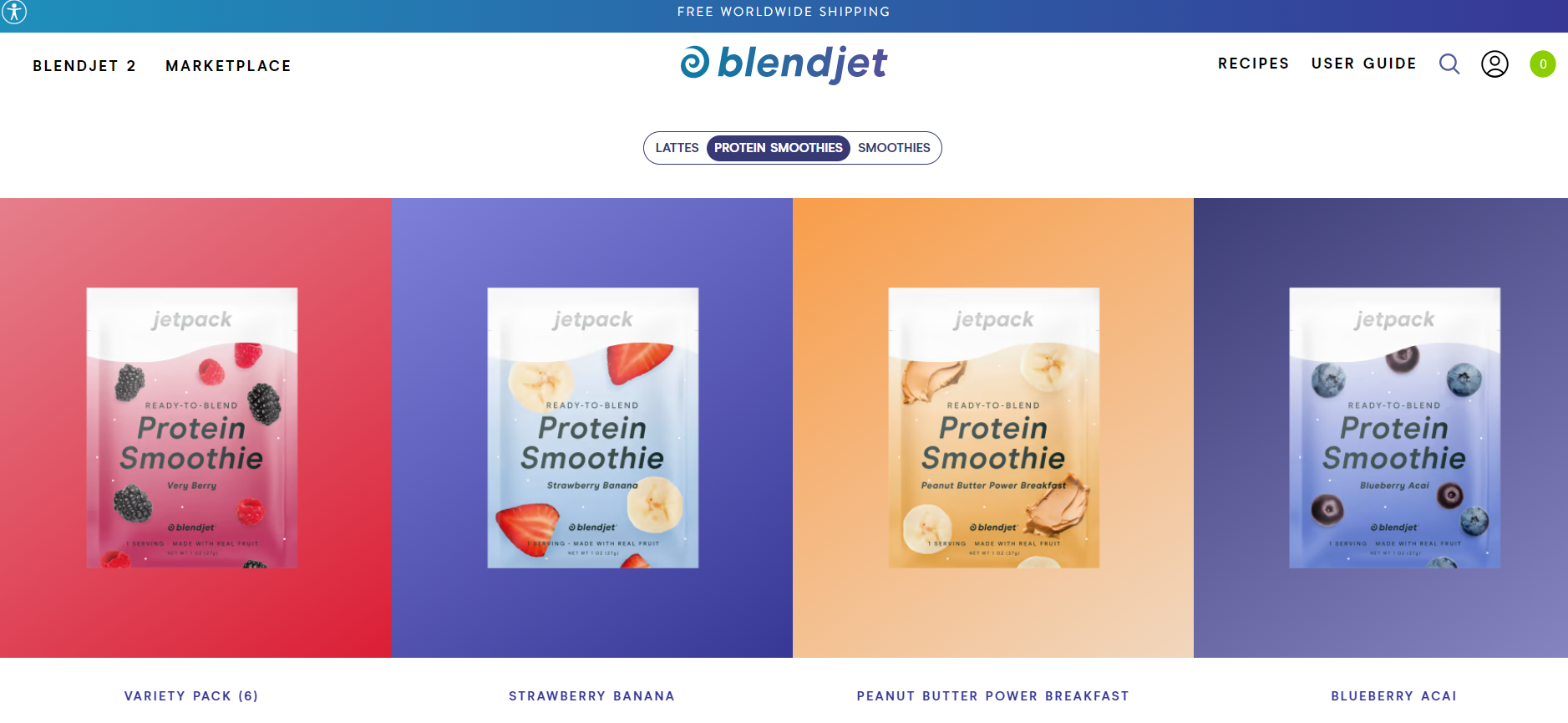 Also, BlendJet uses a symmetrical design all over their dropshipping store, which helps their zoom-in layout look simple. Furthermore, what helps its simplicity is the typography as well. They do not use hard-to-read fonts to make it fancy, and it still does look this way.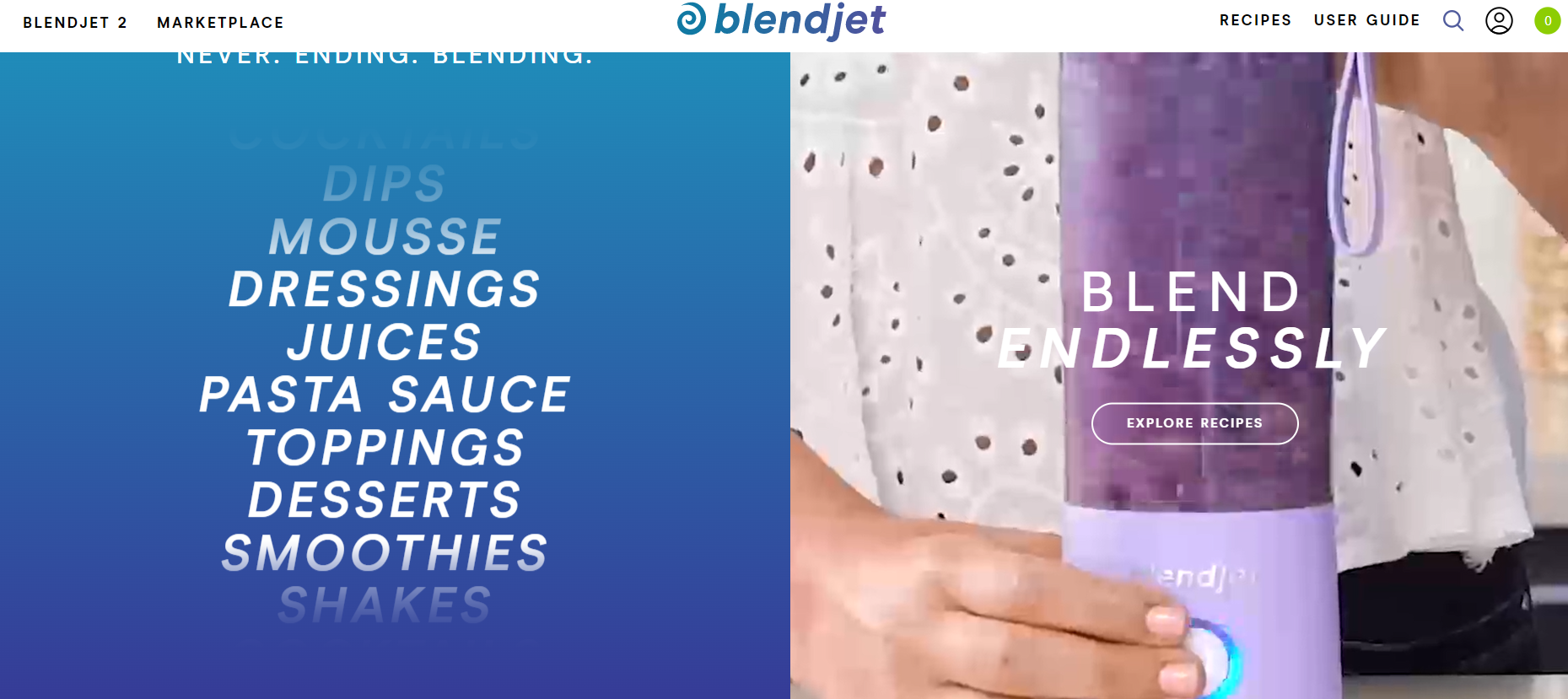 Also, when they want to keep your attention or catch your eyes watching into details of call-to-action buttons, they use a rather strong coloring and contrast, than the rest of their design, like the background, or other sections on the page.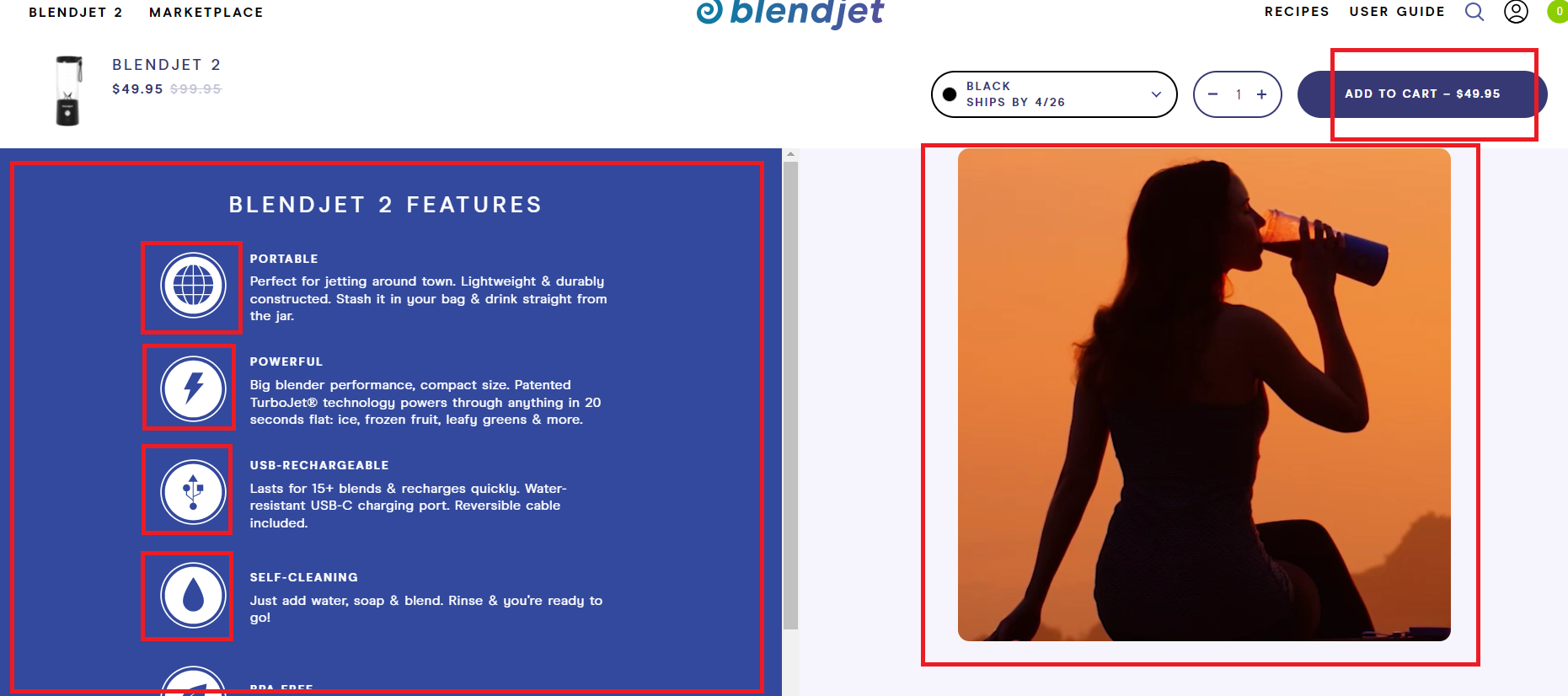 Furthermore, to make the design more playful, BlendJet also uses interesting graphics.
BlendJet Review: Marketing Tactics & Social Proof
BlendJet is great at keeping its customers happy! In fact, marketing is everywhere on their page!
Let's start with their recipe guides. Not just that they sell their one product, but also they deliver additional value.
On their website, there's a category with dozens of recipes that gives customers ideas for making smoothies, and more.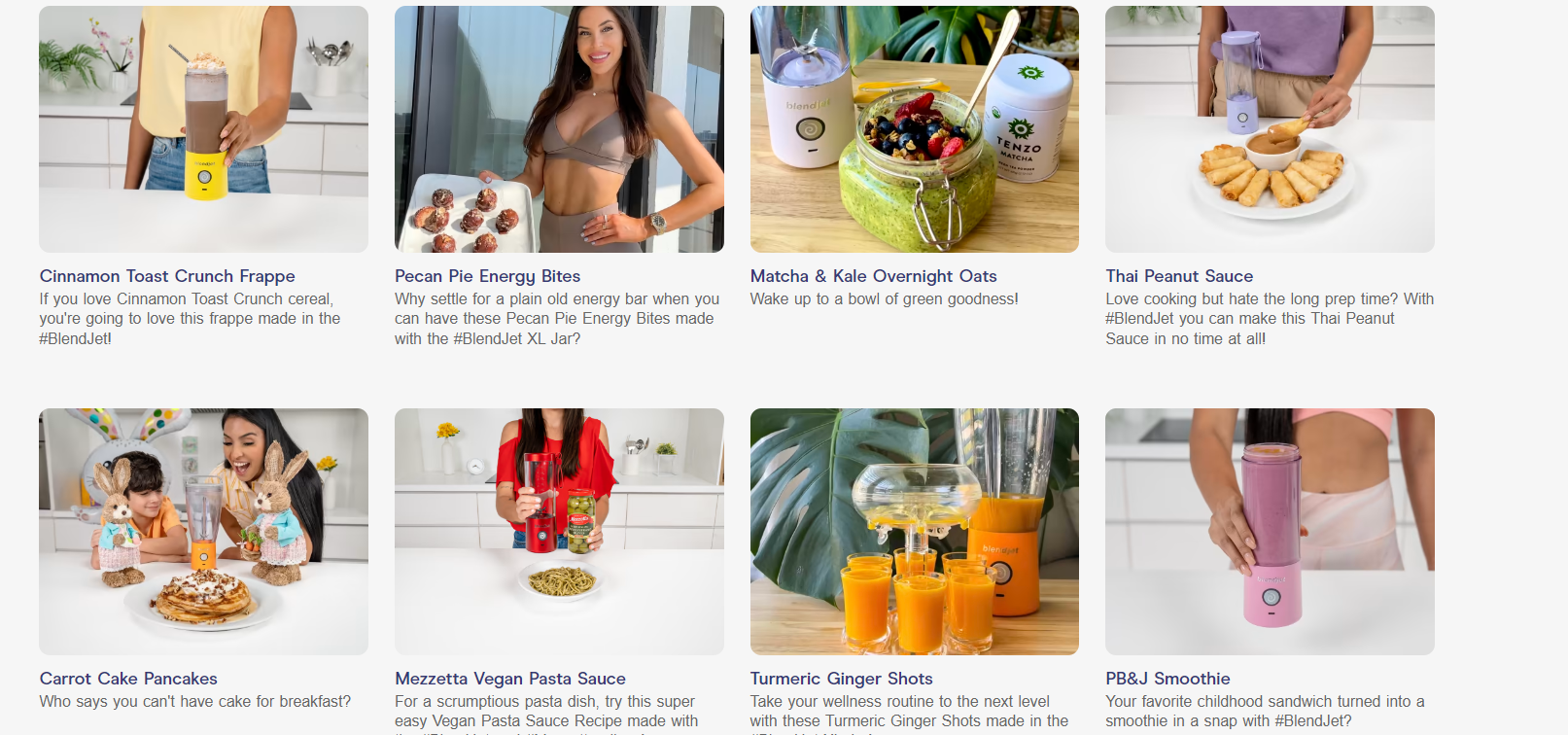 But, they do not stop here, there's also a user guide, where they teach customers how to use their product properly, they discuss it step-by-step, and every do's and don'ts. And, this delivers a message that you are never left alone as a customer.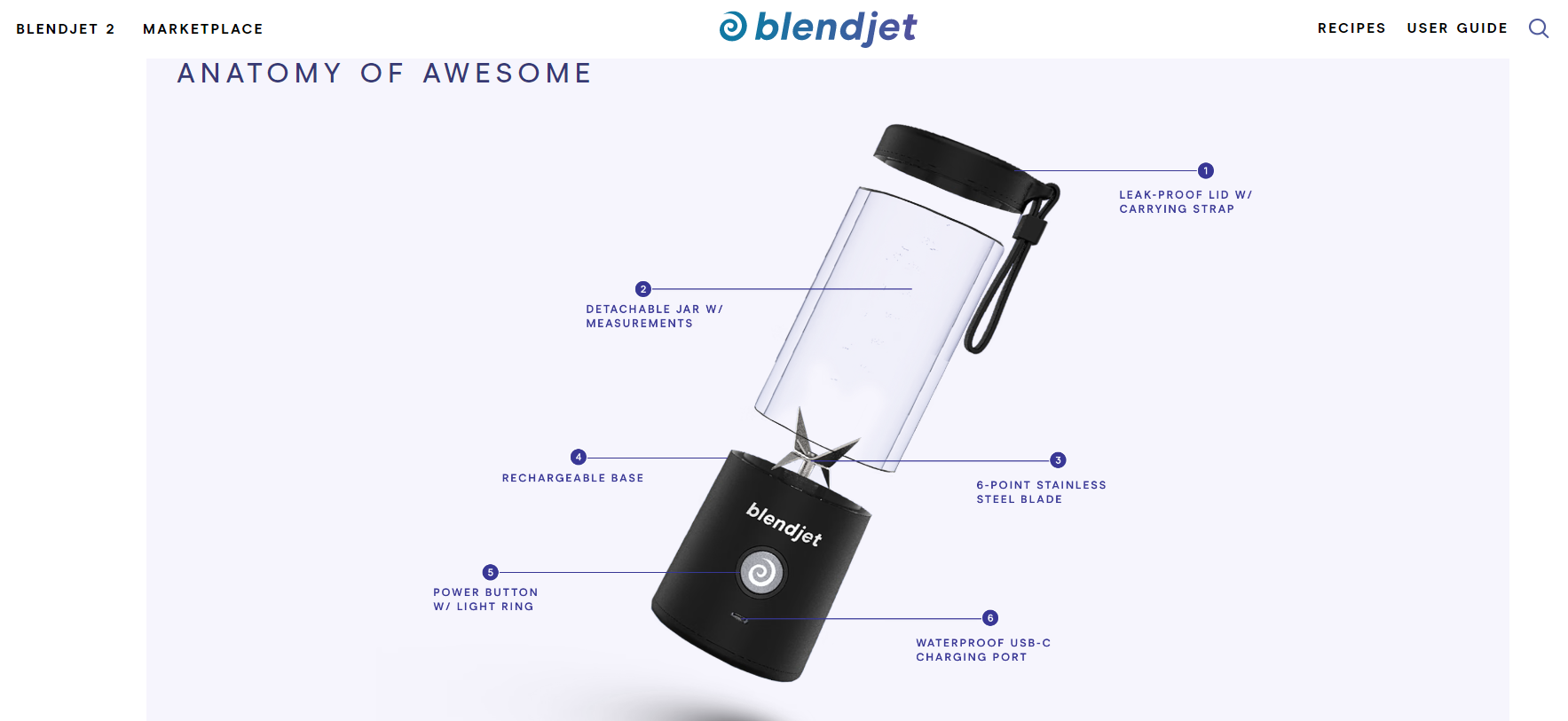 But, we are not even close to finishing the marketing insights of BlendJet Review. In fact, they really are on fire!
Next, is social media marketing. BlendJet is active on Instagram, Facebook, TikTok, Youtube, Pinterest, and Twitter. And this is what you need! Build a social presence, and it will help you drive traffic and conversions to your dropshipping store.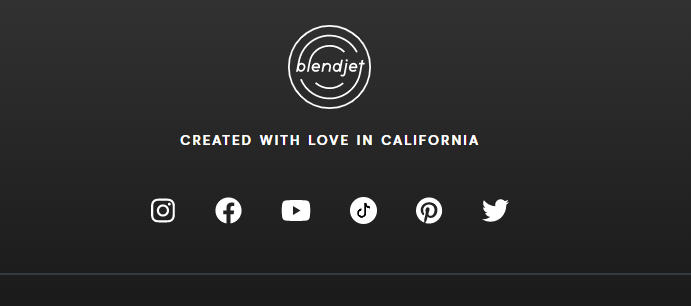 👉 Learn How To Create a Winning Social Media Marketing Plan For Your Dropshipping Store?
Furthermore, this dropshipping store also uses email marketing as its marketing tactic. So, customers can subscribe and get information about promotions, discounts, news, and more.

Also, never forget that customers want to know other customers' experiences. So, consider sharing customer reviews and comments on your dropshipping store. This builds trust faster than you think.
Of course, BlendJet shares their customer comments, and you can find them on their Home Page, and Product Pages.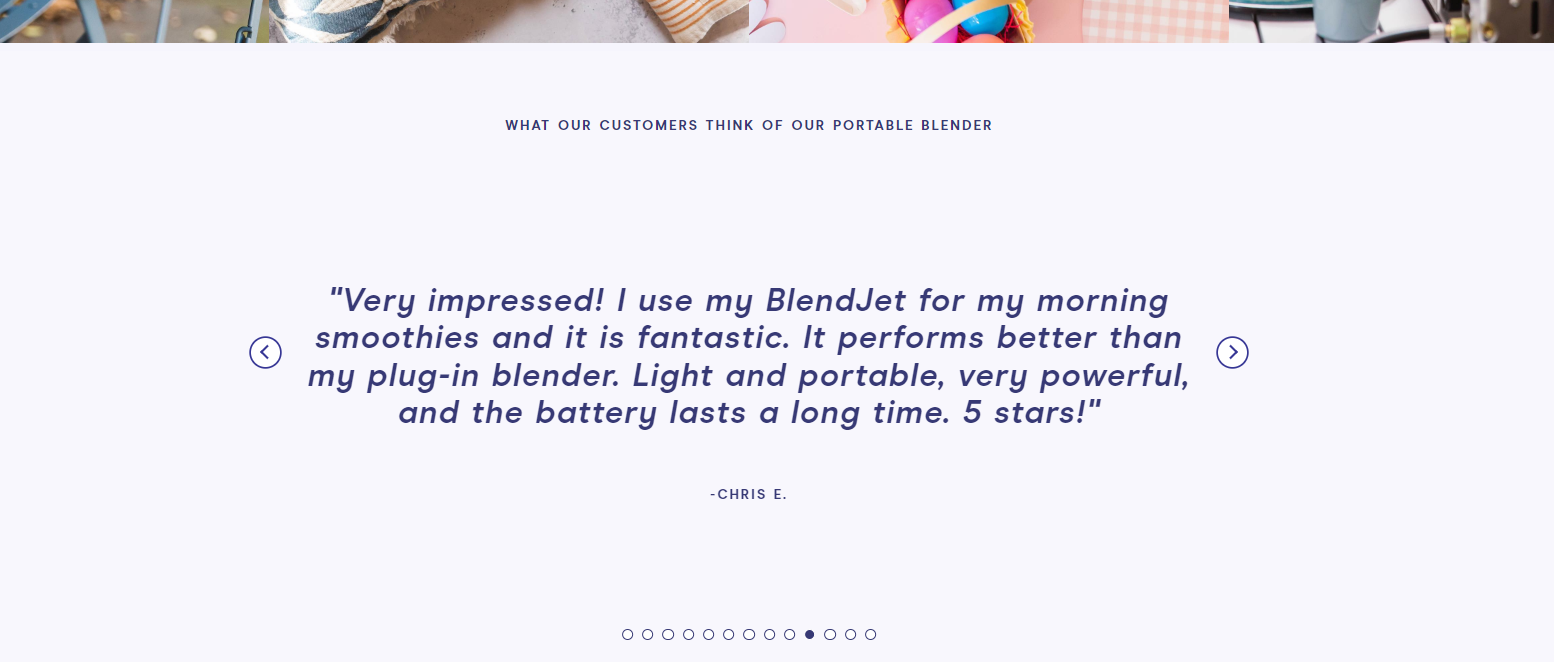 In addition, what we find interesting is that they display their promotions, like " free shipping", right on their home page.

You can find other interesting marketing tricks, on the Marketplace Page with the discount call-to-action buttons, or the pop-up that appears on the product page offering a 25% discount.
What's more, at the bottom of each product page, there's a product recommendation section.

Furthermore, on the checkout page, there's a countdown timer that calls for urgency. This makes customers take the deal faster and increases your dropshipping sales.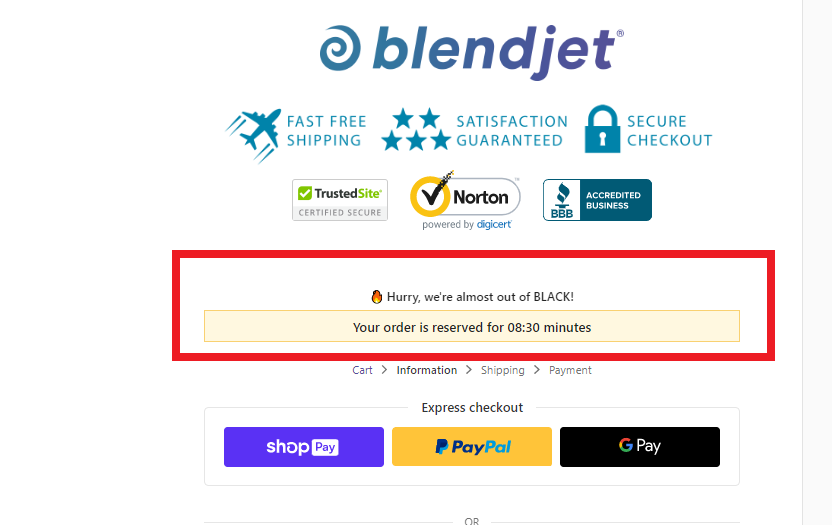 BlendJet Review: Pros & Cons
Well-organized navigation menu
Great marketing strategies
No return buttons on the checkout page
✅ Pros
Simple navigation
BlendJet provides easy navigation for users, with its grid layout, call-to-action buttons, and placement, it makes customer's journey on the website easier.
Well-organized navigation menu
The categories in the navigation menu are well-defined and organized. Also, the marketplace does not consist of sub-categories, but it decides the products through sections on a single page. So, it is simpler for customers to search for products.
Colorful design
The design is colorful and still freshening and neat. Also, it represents the BrendJet dropshipping brand.
👉 Check out the Best Practices for Building a Successful Dropshipping Brand.
Great marketing strategies
Tons of marketing strategies! In fact, BlendJet is everywhere on social media.
Not just that, but they have marketing tactics on every single landing page, which require customers to take a desired action.
💡 Tip: Read about Facebook Ads for Dropshipping: The Ultimate Guide For Beginners.
❌ Cons
No Live Chat
BlendJet does not offer 24/7 live support for customers, and they still have worldwide shipping and services. That's why this is a serious disadvantage.
No Return button on the checkout page
Once a customer clicks on the checkout button, there's no going back. Thus, there's no return button on the checkout page, nor does the checkout page display in a separate tab.
So, this brings frustration to customers. Don't do it!
No FAQs section
BlendJet does not include the FAQs section, which is good for engaging customers and building trust. What's more, it helps you rank higher in search engines.
Join the only community and resource hub you'll ever need to succeed with dropshipping
Find winning dropshipping products, learn marketing, download templates and engage with real dropshippers
Never pay for a "guru's" course again. See why 4543+ dropshippers joined us this year!
💡Try DSCOM Hub Now
Conclusion
BlendJet is a one-product dropshipping store that has achieved success through its excellent website navigation, design, and marketing tactics.
In fact, the website's easy navigation is one of its key strengths, with well-defined categories, call-to-action buttons, and a footer that links to every landing page on the website.
Additionally, the website's design is visually appealing and easy to navigate, with a streamlined checkout process that makes the journey from cart to doorstep an absolute breeze.
So, By taking cues from BlendJet's website design and navigation, you gather ideas and enhance your customer journey and drive conversions and traffic.