Are you a beginner in the world of dropshipping and worried about falling victim to dropshipping scams? It's no secret that the dropshipping industry has its fair share of fraudulent practices.
But fear not! With the right knowledge and awareness, you can protect yourself and your business from these scams. And, I got your back! 👐
Beware, falling for a dropshipping scam can not only result in financial loss but also damage your reputation as a business owner. Therefore, to ensure a successful and secure dropshipping journey, it is crucial to familiarize yourself with the common scams and learn how to avoid them.
This article will provide you with valuable insights and practical tips on how to identify and steer clear of dropshipping scams, allowing you to build a profitable and trustworthy business.
What Is Dropshipping & How Does It Work?
Before I dive into dropshipping scams, let's explain what exactly dropshipping business model is!
Dropshipping is a business model where an online retailer doesn't keep products in stock. Instead, they partner with a wholesale supplier who stocks the inventory. When a customer purchases a product from the retailer's online store, the retailer then purchases the item from the supplier. Then, the supplier ships the order directly to the customer. This means that the retailer never physically handles the product.
Hence, the dropshipping business model has gained popularity due to its low costs and ease of entry.
They can sell a wide variety of products from multiple suppliers, without the need to handle inventory or manage shipping logistics.
👉 Check out the Pros And Cons Of Dropshipping: Does It Actually Work?
For instance, have you heard about ZAFUL? It is one successful example of a dropshipping business. 👇
They specialize in selling trendy fashion items and accessories. Zaful partners with various wholesalers to source their products and showcases them on their website. Plus, through effective marketing and a focus on customer service, Zaful has become a popular and profitable brand in the dropshipping market.
💡 Tip: Read about Is Dropshipping Worth It In 2023? The Harsh Truth.
Now, let's dive into the most common dropshipping scams!
Discover top dropshipping suppliers of original US/EU products
You're 2 minutes away from building your ecommerce empire
No credit card required. No commitment.
Get started for free
Why People Think Dropshipping Is A Scam?
As a dropshipper myself, I can confirm that dropshipping as a business is not a scam.
Hence, unlike pyramid schemes and other business models that are for the most part taking advantage of people and essentially scamming them, dropshipping is a very legitimate way to make money and provide value to your customers. 
However, because there are many scammers looking for ways to take advantage of this business model, the consumers and the dropshippers themselves, some people have the impression that dropshipping itself is a scam.
Hence, let's see why people think that dropshipping is a scam ( which definitely it is NOT). 
➡

What do Scammers do?

In the role of a consumer, you might have experienced this yourself. If you ever received poor quality goods (when you were expecting the opposite) or fake goods you know exactly what I am talking about. Some illegitimate dropshippers (scammers) take advantage of uninformed and not very careful consumers by promoting one thing but delivering something completely different.
➡

NOT the customer's fault 

But sometimes, it's not the consumer's fault. Some scammers go the distance to create the facade that demonstrates trust – fake reviews, photos of a better quality version of the product, false claims, etc and even a careful person might fall for it. This is why consumers often consider dropshipping a scam.
➡

NOT dropshippers fault

On the other side, if this has happened to you, it might not be the dropshipper's fault either. There are suppliers that are also scammers, that will take advantage of inexperienced dropshippers and deliver low-quality goods to their customers while presenting something completely different. There are ways to protect yourself from this which I will get into in a minute.

And then, there is the biggest scam of all. Because this is a hot topic and attracts many young people and inexperienced entrepreneurs, they easily fall for the aggressive advertising that dropshipping is a way you can get rich overnight. As you can imagine, this is obviously not true. At least for 99.9% of people.

So, beginners that are not informed correctly, or do not research before jumping into a certain niche, might expect more, and get less. This might lead them to a bad experience of dropshipping, and they might think that it is a scam.

However, people frequently forget that all businesses, regardless of their format, run the danger of being scammed. Let's find out what you should watch out for!

👉 Also, check out Is Shopify Legit in 2023? +6 Common Shopify Scams.
How To Identify Dropshipping Scams?
Although not always is easy to identify dropshipping scams, some of them can give common signs. Thus, I will list the most common dropshipping scams. Let's start!
Scam 1: Fake Products, Low Quality, High Price
As a dropshipper, you don't get access to products you sell, as a matter of fact, dropshipping is the kind of business model where suppliers ship products directly to the customers, and you do not hold inventory.
But, you must be aware that various suppliers aren't trustworthy. You can order products for low prices from suppliers because this gives you space for higher profits, but these products might have low quality.
Furthermore, never believe that dropshipping products are original! In fact, most of the dropshippers supply their products from Aliexpress. There are products from a variety of brands, like Nike, Adidas, Puma, Converse, and many more at incredibly low prices. And of course, they are fake! For instance, just take a look a the store's names on AliExpress.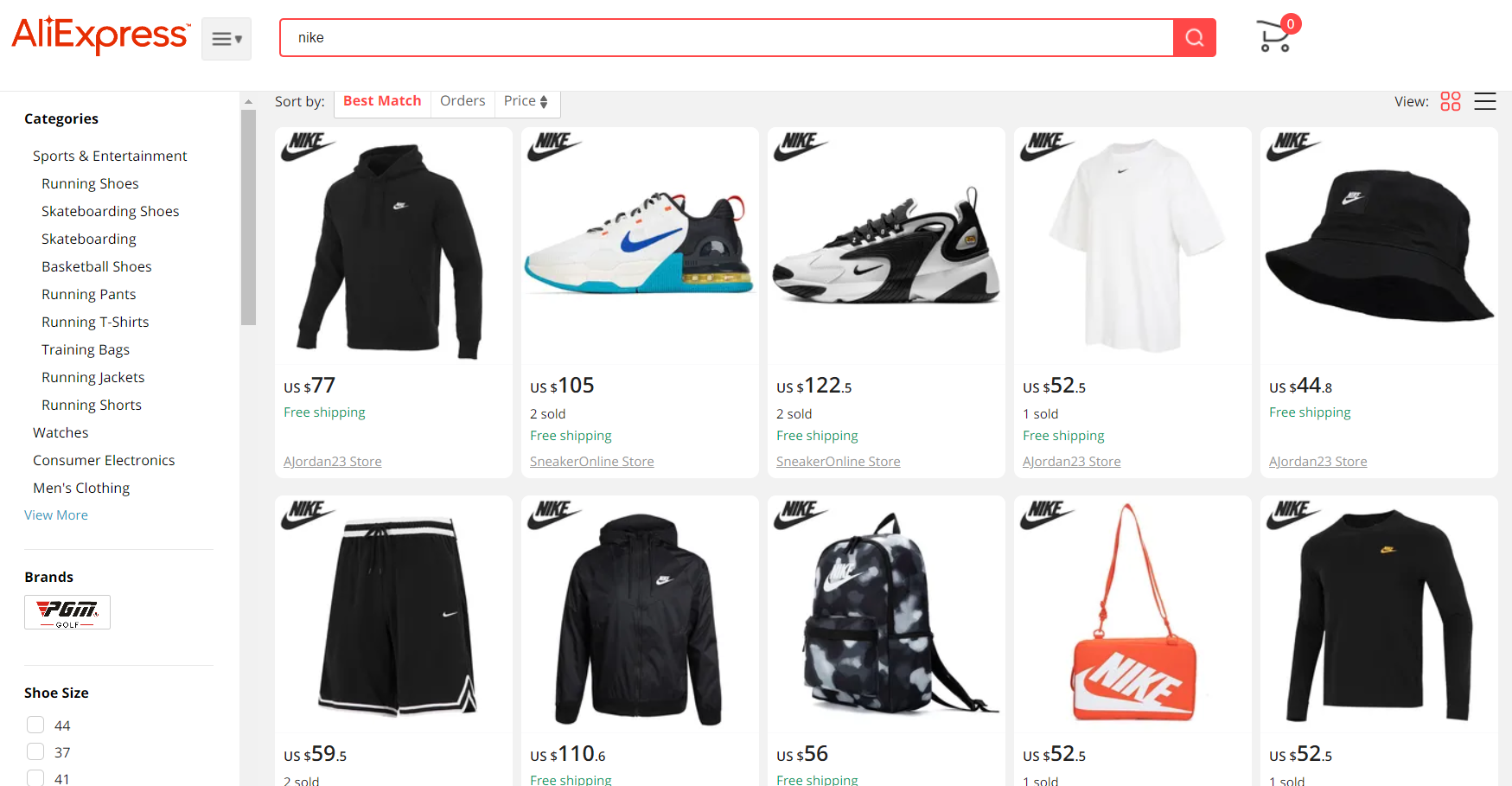 But, many dropshipping suppliers claim that they are the Original Equipment Manufacturer of the product, which is obvious that they are not.
Do you want to examine this little further? Let's check out the customer reviews. 👇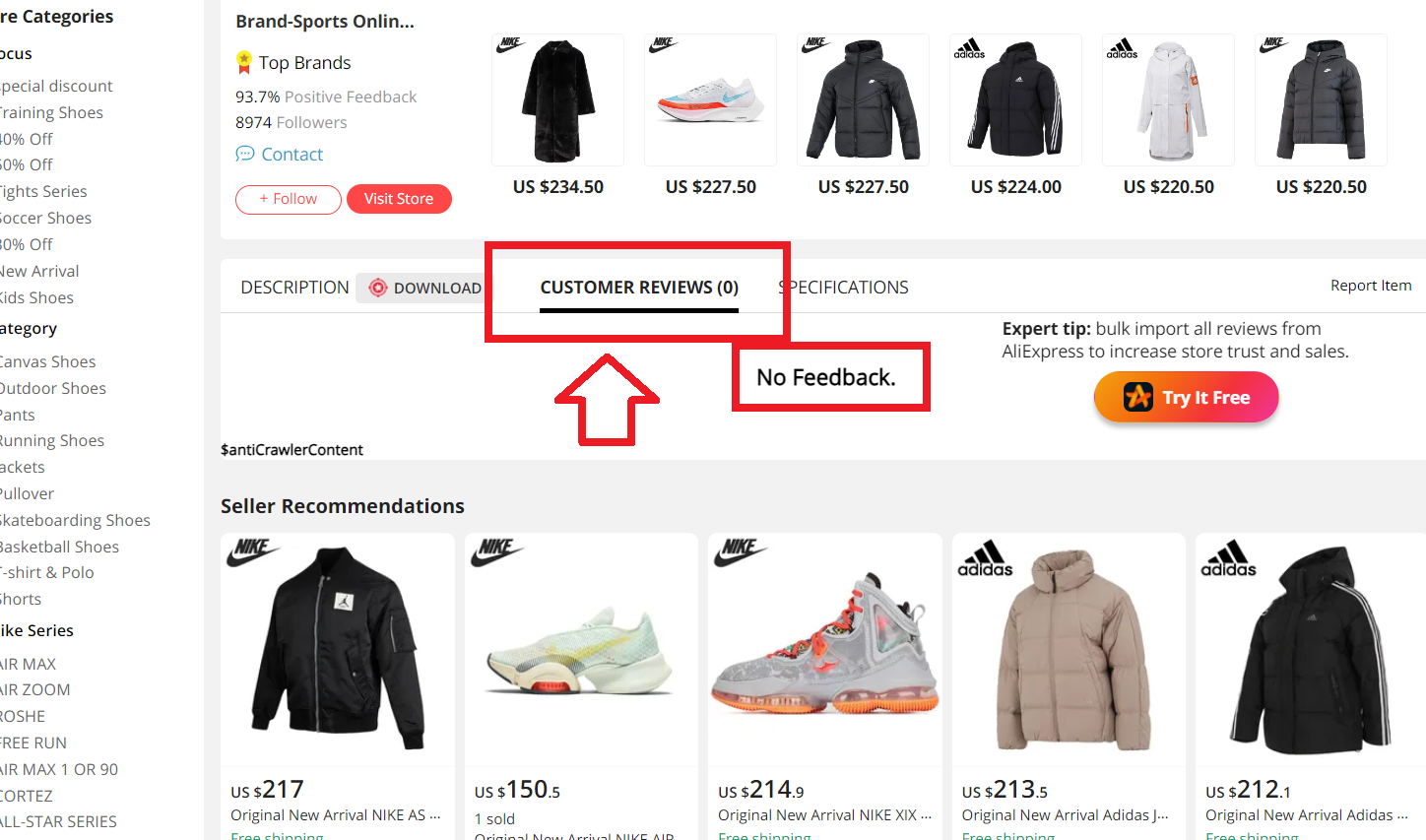 And of course, as I expected – 0 reviews! This rings the bells in the sound of -FAKE! Hence, believe me, AliExpress shoppers love leaving reviews, and this one has none. So, be careful.
So, you will eventually get negative reviews or refund requests from customers who claim that the product they received is not what was described. This can be critical to your business's success.
Scam 2: Phony Product Samples
Be careful about this matter, because not all seems as it looks! At first sight, you might say- "Yeah, how nice, this supplier seems legit, and sends product samples". But a moment later, you might be surprised.
Many sellers give misleading samples, yet the final product may be damaged or of poor quality.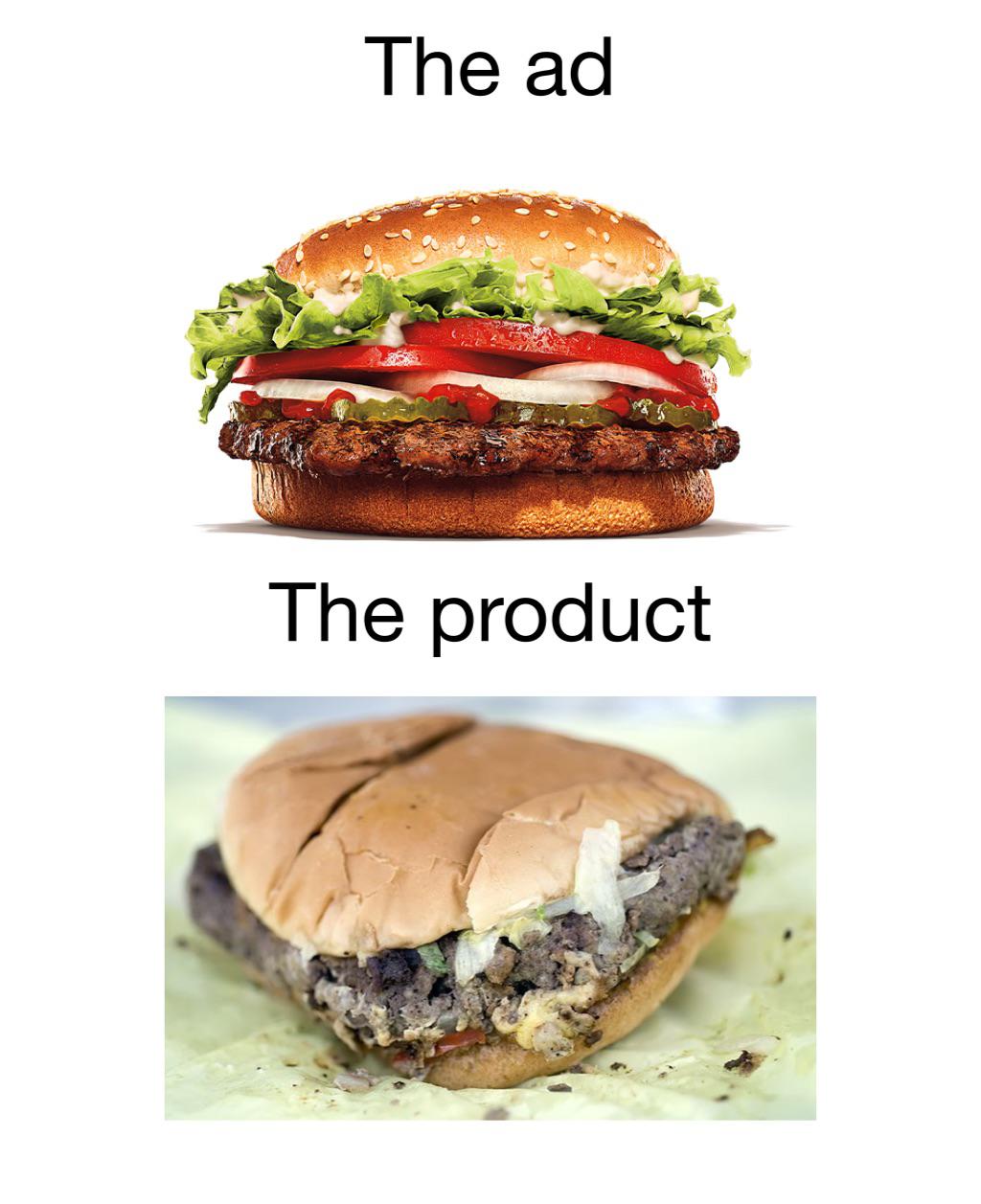 Since you cannot personally examine each product as a dropshipper, they take advantage of this.  Instead of simply stealing your money, they would supply poor products to your customers to earn a good profit.
This might be the cause of consumers complaining about the quality of your products frequently. Moreover, this has the potential to ruin your brand's reputation entirely.
Scam 3: Fake Suppliers and Reviews
It's possible to find dropshipping businesses that are completely fake while looking for the ideal dropshipping supplier.
By displaying an excessive inventory and maintaining their claim that they are selling their goods at wholesale pricing, these scammers may come across as credible.
Furthermore, it might be challenging to confirm that you've dealt with this particular scam because many reliable suppliers do sell certain things at retail pricing.
Moreover, scammers can easily create fake websites and fulfill them with false positive testimonials and feedback, so sometimes it's hard to report it as a scam.
👉 Read about Testimonial Advertising: 11 Proven Examples To Sell More.
Scam 4: Fraudulent Payments
 Another scam you should pay attention to is suppliers that may disappear after a payment!
The majority of the time, scammers would make an attractive offer and portray it as a once-in-a-lifetime chance to win your trust. But, they would just vanish after receiving the payment.
Furthermore, this type of supplier will probably ask for payment offline.
Scam 5: Schemes for Get-Rich-Quick
Dropshipping's appeal as a simple way to earn passive money while working from home contributes to some of its development. While some people do experience financial loss, a large majority do not.
Unfortunately, social media advertising is one of the main ways that people get into the dropshipping industry. If you spend enough time on Facebook, Instagram, or Youtube, you'll probably come across an advertisement with a person boasting about how much money they earned while working from home.
And here's how it happens!
First, you will be contacted by a "dropshipping expert" who claims to have the "success recipe for dropshipping".
Next, you'll learn the way that makes it possible for you to reach your financial objectives and earn thousands of dollars. The drawback is that there is a little price involved with learning the "success recipe".
What happens next? You are guessing it already, the dropshipping expert would block you and vanish from sight as soon as you sent the fee.
At the end of the sad story, you got scammed.
Scam 6: Middleman vs True Wholesalers Dropshipping Program
Most middlemen in dropshipping pretend to be wholesalers by offering a similar dropshipping program. However, it's not the same.
A middleman is what stands between a product's manufacturer and its retailer or the consumer is a middleman. A middleman is a person who represents a company's products but does not actually deliver the goods themselves, and also they do not have a warehouse.
 They are only acting as a channel for the actual business that will fulfill the orders and ship the goods to the store or the customer.
Working with a middleman or sub-wholesaler prevents you from receiving the best wholesale prices since these "wholesalers" increase the wholesale price, instead of you purchasing the goods straight from the manufacturer at a lower price.
💡 Tip: Check out the 15 Best Dropshipping Wholesale Suppliers in the USA.
How To Avoid Dropshipping Scams?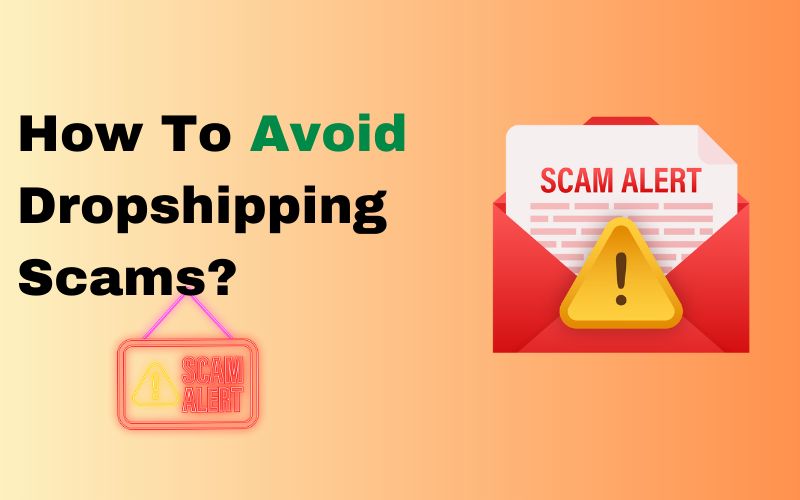 Unfortunately, dropshipping scams occur, and you cannot stop them. But, there's always a way to avoid them. So, next, I will give you a few solutions for dropshipping scams and how to avoid them.
Solution 1: Fake Products, Low quality, High price
Firstly, if you can meet the suppliers in person, this is your best option. For example, you can also attend a trade show intended for the niche you sell in. Renting a booth at a trade show costs a lot, so this might be the sign that suppliers that are attending there are legit.
Moreover, if you can't meet the suppliers in person, you can browse their website better and see if there is some more information. Always search for contact info and physical address. You can also require product samples from suppliers to verify the product quality.
Furthermore, you may explore a supplier's store and go through the reviews before deciding to work with them. You decide whether to place an order or not after the evaluation. Typically, a supplier will be trustworthy if the majority of the store's feedback is positive.
For instance, I am using the Adserea app which helps me check on winning products that are selling well over different marketplaces. Plus, I can also see the dropshipping suppliers that deliver these products. 👇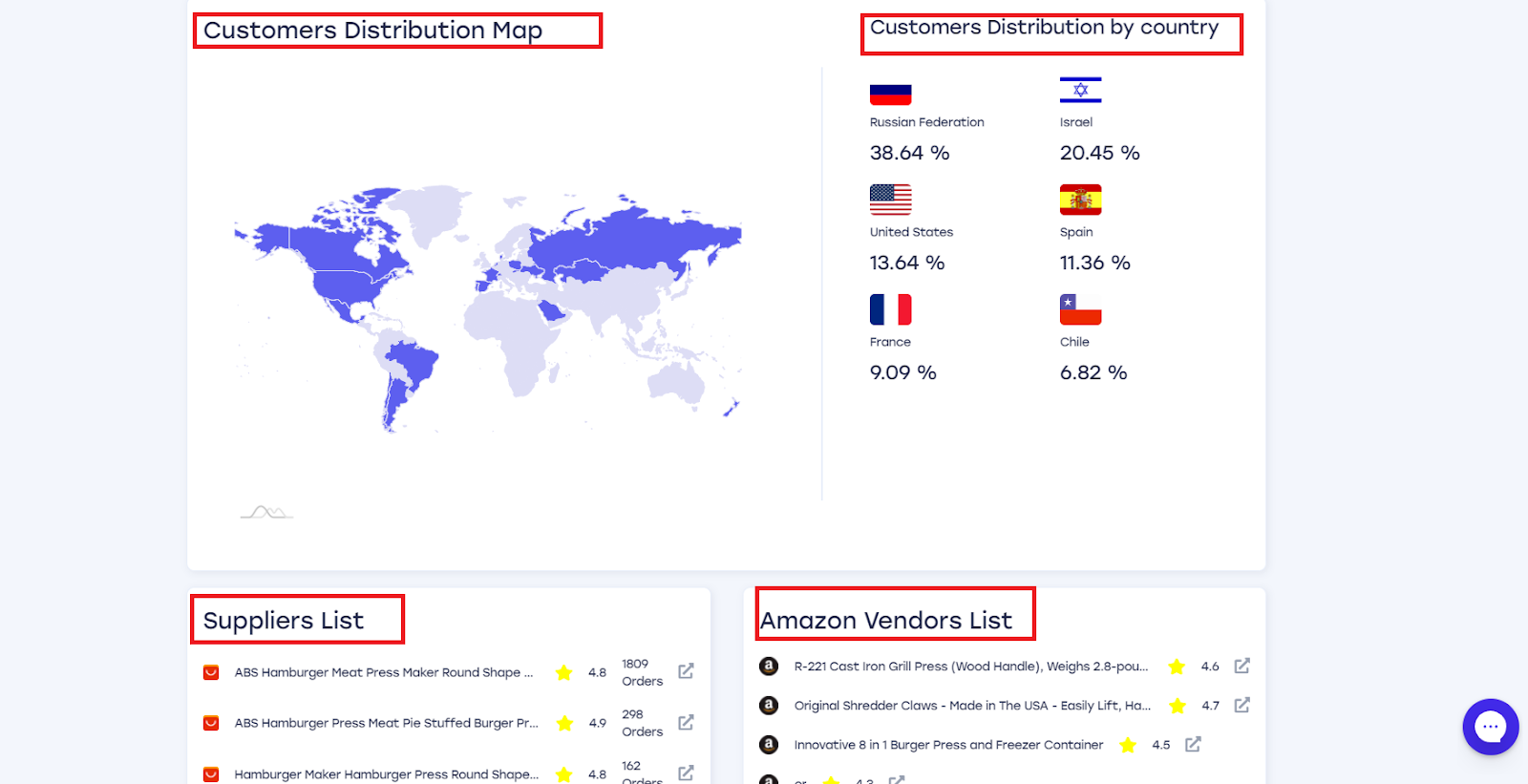 Also NOTE: I suggest you stay away from selling counterfeit products unless you are sure that you work with reputable distributors or direct manufacturers. Otherwise, you can be dragged into legal accusations and copyright issues.
Check out Dropshipping Product Research Tools: How To Find Winning Products In 2023?
Solution 2: Phony Product Samples
Scammers can make tricks, but so do you! The first thing you can do is place an order in other names, or from another address and see what the supplier is sending. This is the cheapest method you could use and inspect suppliers' legitimacy.
Moreover, the best solution for your business might be to hire a third-party QA agent. The QA inspects each product before it is shipped. If the product has a defect, the QA agent addresses the issues with the supplier.
Solution 3: Fake Suppliers and Reviews
There are various ways to verify suppliers' legitimacy. First, you can ask for their company registration number and business license number. Scammers don't give such basic registration information online, in order not to be tracked.
Furthermore search for their area code, not just the firm address or phone number.
Another good solution to this matter is hiring a dropshipping agent. There are various reliable dropshipping agents or directories like Dropshipping.com that can find or list trustworthy suppliers.
What's more, to confirm a supplier's legitimacy is to read their reviews, but only if the reviews are legitimate. Today, many suppliers are receiving false reviews that might be challenging to reveal if reviews are real or not.
For example, what I personally do is browse for negative reviews. Also, right after a consumer posts a negative review, suppliers frequently receive many false positive comments. So, be careful.
For instance, if the supplier has only a few positive reviews, let's say five out of 50, it is likely that those five reviews are fake!
Also, you can review customer complaints and see if the majority of them deal with the same problem with the products then it might be likely that the supplier is faking the reviews.
However, for this purpose, I personally use the Up Assistant extension. 👇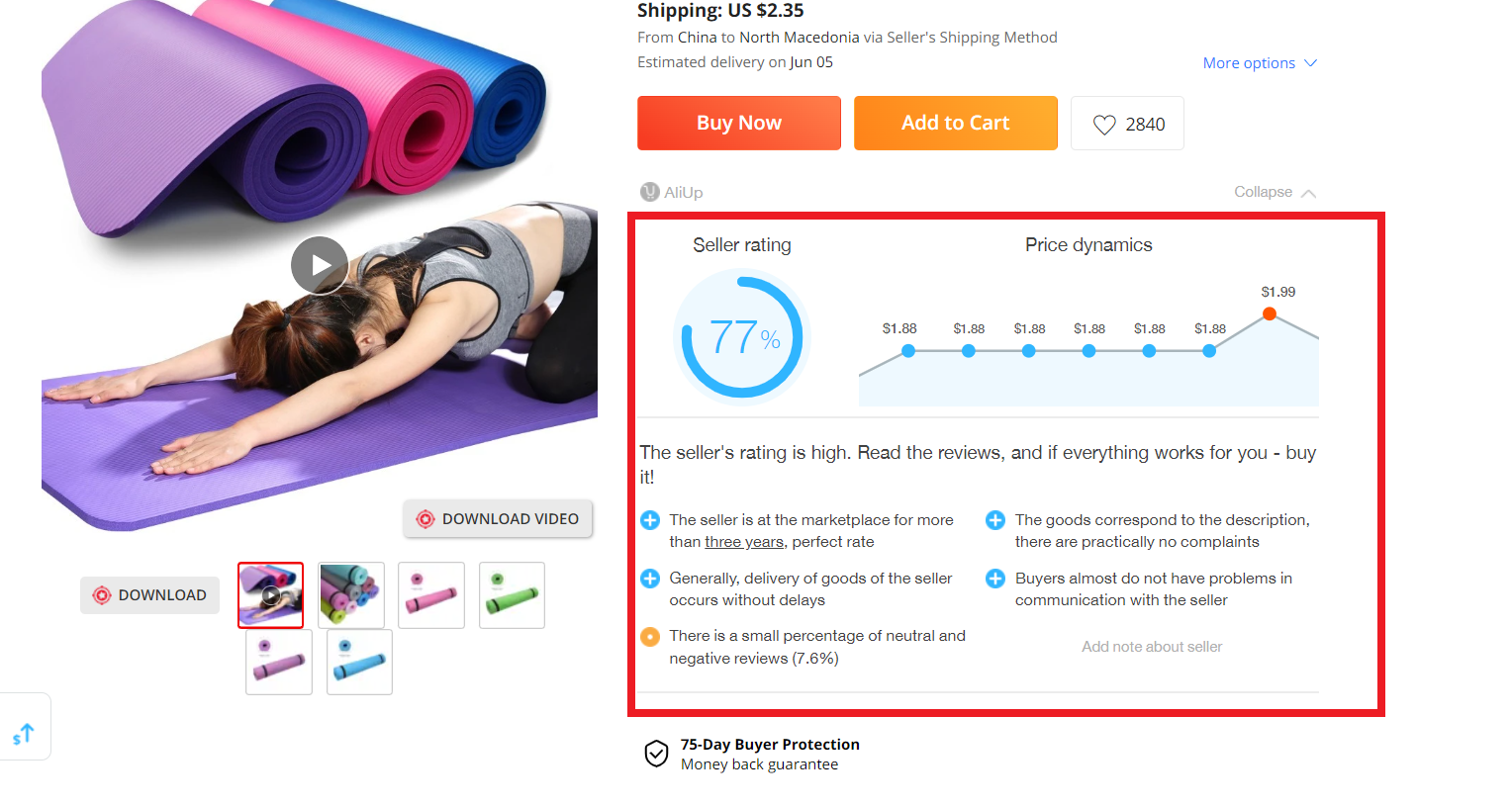 This revolutionary Chrome extension from AliExpress adopts a comprehensive approach to evaluating sellers, taking into account more than just their feedback. It also incorporates additional important factors like their duration of presence on AliExpress and their ability to communicate effectively with buyers.
Solution 4: Fraudulent Payments
First thing first – DO NOT send money offline! Most of the dropshipping platforms like Aliexpress, or Alibaba for example have an escrow service designed to build trust between buyers and sellers
However, even if you are working outside Alibaba or Aliexpress, the options you have are using an escrow service or reading customer testimonials on dependable websites like Trustpilot.
You can check some of the best payment gateways for dropshipping nowadays based on payment types, fees, integrations, insurance, etc.
Solution 5: Schemes For Get-Rich-Quick
Anyone that claims that by giving them a monthly fee, you may start earning money right away is scamming you.
Moreover, those scammers can go that far by convincing you that you can succeed by creating a fake customer base (followers) on social media and selling in large portions.
The best way to avoid this scam is to know that there's NO short way to success. Every business model requires hard work, time, and energy.
If you want to help yourself, you better educate yourself with dropshipping experts or free online resources to learn dropshipping, rather than paying fees to fake professional dropshippers.
Solution 6: Middleman vs Wholesalers dropshipping program
Instead of sourcing items and offering amazing catalogs, pricing, and shipping dates, middlemen and their dropshipping program excel at SEO and self-promotion.
If a term or phrase appears on the top page of the search engine, it does not always imply that the website and the business are legitimate. A middleman covers the source while posing as the supplier.
It's noteworthy to note that the majority of genuine supplier programs don't typically have "dropshipping" in their title, URL, or even most of their keywords.
They frequently start as a bulk wholesaler for their merchants and only provide the dropshipping program as an additional choice that you may utilize on its own or in conjunction with your wholesale orders for your website.
👉 Read about Seller's Permit vs. Business License: What Do You Need to Start Selling Online?
FAQs – Dropshipping Scams
1. What are common dropshipping scams to watch out for?
There are several common dropshipping scams that aspiring entrepreneurs should be aware of. These include fake websites, fraudulent purchases, poor product quality, credit card fraud, and fake reviews.
Identifying these scams early on can help dropshippers avoid potential losses and protect their reputation. It is important to thoroughly research and vet potential suppliers and partners to ensure legitimacy and reliability.
2. How can I avoid dropshipping scams?
To avoid dropshipping scams, it is essential to conduct thorough due diligence before engaging with any suppliers or partners.
This includes verifying their contact information, checking for negative reviews or complaints, examining their product quality, and assessing their overall credibility.
Additionally, dropshippers should use secure payment methods and track their transactions to mitigate the risk of credit card fraud.
3. How do drop shipping scams work?
Dropshipping scams work by deceiving unsuspecting entrepreneurs who are looking to start their own online businesses.
These scams typically involve fraudulent dropship suppliers who promise low-cost wholesale prices and a wide range of products. They often request upfront fees or monthly costs for access to their supplier network.
Once the entrepreneur makes the payment, they soon realize that the products they purchase from these suppliers are of poor quality or never arrive at all. The scammers may also use fake websites and provision fake contact information to create the illusion of a legitimate business.
4. Is dropshipping considered high risk?
Dropshipping itself is not considered high risk. It is a legitimate business model that allows entrepreneurs to start an online store without inventory. However, like any business, there are risks involved.
One of the main risks associated with dropshipping is the potential for scam suppliers or fraudulent purchases.
5. Are Dropshipping sites legit?
Yes, dropshipping sites can be legitimate. However, it is important to exercise caution and do thorough research before partnering with any dropshipping company.
6. How many dropshippers fail?
Many dropshippers can fail due to various reasons such as poor product quality, unreliable suppliers, intense competition, and lack of marketing skills. While dropshipping can be a profitable business model, it requires dedication, research, and careful planning to succeed. 
💡 Tip: Read about Dropshipping Business Plan: Tips for Creating A Short Business Plan.
Find winning dropshipping products & spy on your competitors
Minea analyses all online advertising to help you find the best products to launch, and the best creatives in your niche in just a few clicks.
Use coupon: DROPSHIPPING30 and get a 30% discount
💡Try Minea For Free
Conclusion
Dropshipping, like any other business model, can be a profitable business model, but only if you dedicate yourself to it with your time, energy, and effort.  
However, the majority of dropshipping beginners start their businesses uninformed or falsely informed that dropshipping is easy to lead and get-rich-quick business model, and this is when they make their first mistake. Moreover, they get disappointed when things go wrong, or they are left without money. 
All these things are not negativities on the dropshipping account but on the dropshippers!
Dropshipping scammers are everywhere, just like scammers in every other business. So the smartest decision you can make is to inform yourself about the dropshipping scams and ways to avoid them! This is what this article is here for, to help you out!