12 Best Shopify Alternatives For Dropshipping
by
Aleksandra -
Aleksandra teaches marketing and management at various levels in High School. She writes about marketing, the economics and logistics of the dropshipping business and ecommerce in general.
Chief of Content Marketing
Most people would ask why someone needs any Shopify alternatives when Shopify is clearly the most popular platform for selling online.
That may be so but let's face it, Shopify may be extremely popular but it's not always the ideal choice.
Some of Shopify's best premium themes come at outrageous prices, especially for beginners with low budgets.
👉 Check out the 11 Best Shopify Themes for Dropshipping Stores.
Next, their editing tools aren't exactly the easiest to grasp. Additionally, editing Shopify store code isn't as easy as someone who only dabbles in HTML might think.
As a result, depending on a specific requirement, there are many Shopify alternatives that can make everything much easier for you.
Below, we'll look at the best ones right now.
However, we will also focus on answering some crucial questions for the fresh dropshippers who are just getting to know this business.
What Is Shopify?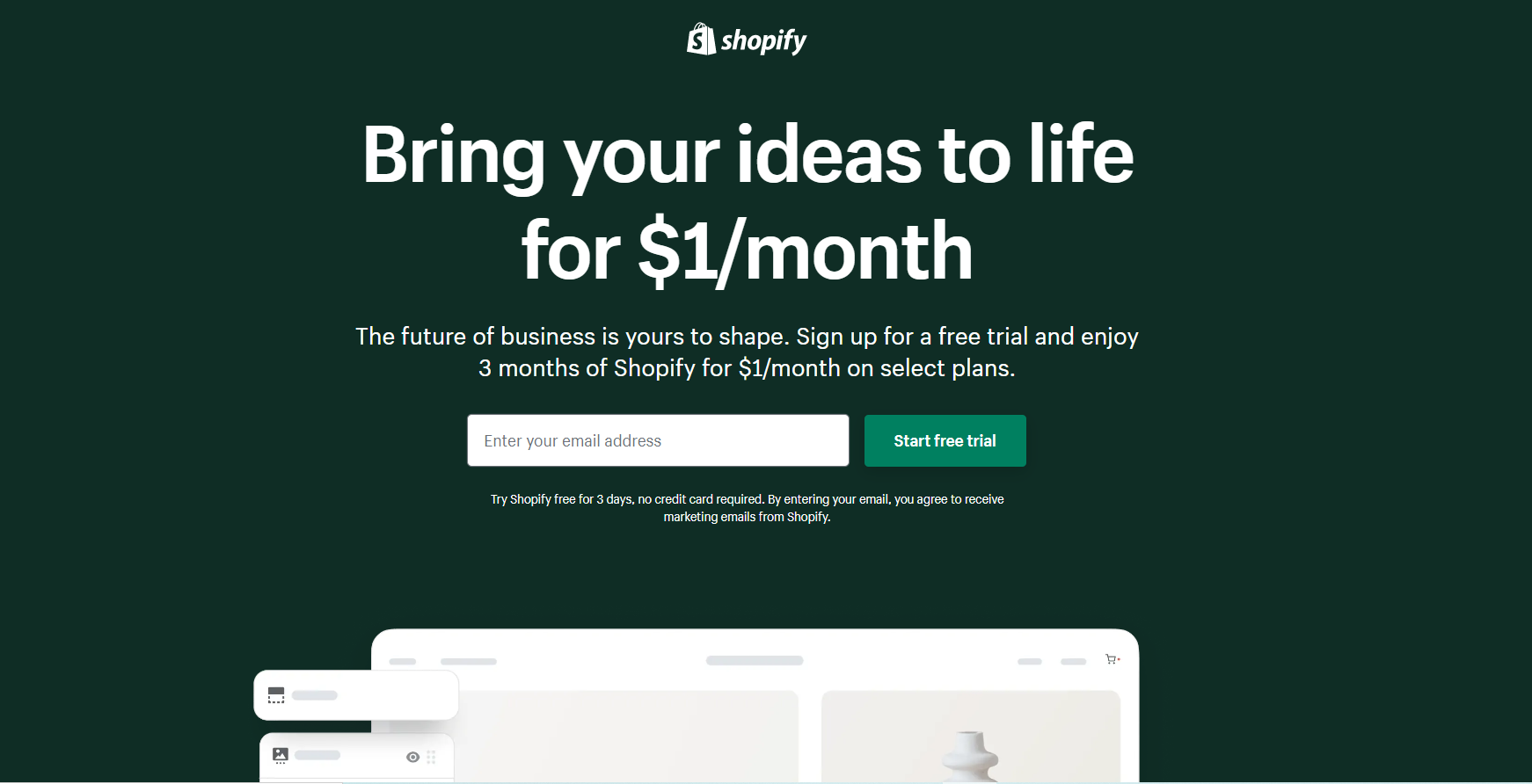 Shopify provides a platform that quickly and easily lets you sell products or services online. 
In fact, learning how to set up your first Shopify store is rather easy, thanks to the staggering popularity of the platform.
This popularity is among the main reasons why most choose Shopify as their eCommerce and dropshipping platform.
Hence, Shopify also lets sellers get access to a wide variety of payment gateways. However, not everyone will get access to the fast Shopify Payments feature. Some won't even have access to PayPal.
💡Tip: If you have trouble deciding on payment gateways, here are 7 of the best Shopify payment gateways that are definitely worth considering in 2023.
There are many areas where Shopify excels, but there are also a good number of areas where it falls short.
Consequently, this is why it isn't a bad idea to start looking at Shopify alternatives that have the potential to solve most of your problems.
👉  Learn How To Open and Manage Multiple Shopify Stores (Tips + Apps).
Lifetime deal: Get all-access to everything on Dropshipping.com
Access all DSCOM features, resources, courses, live workshops, discounts, winning products, weekly deep dives, directories and all future updates under all-in-one dropshipping HUB.
DROPSHIPPING IS A REAL BUSINESS, DON'T DO IT ALONE. 4553 MEMBERS ALREADY JOINED. YOU CAN PAY OFF YOUR SMALL INVESTMENT WITH JUST 2 SALES ON YOUR STORE.
Grab the deal before it's gone
The Pros & Cons of Shopify
As with any online service out there, there are bound to be separate pros and cons. After all, nothing and no one is perfect.
When it comes to Shopify, here are the main pros and cons that can help you determine whether it's worth using the platform or to look for other great Shopify alternatives.
Pros
Thanks to Shopify themes, everything is pretty much already built
There are countless free Shopify apps and plugins
Great built-in hosting and website security
Easy to integrate with almost anything eCommerce-related
Built-in features for marketing and SEO
Amazing customer support and live chat
Countries that support Shopify Payments don't pay transaction fees
Cons
You don't have as much customization freedom as you'd think
It won't be easy to migrate from Shopify to another platform
Too few countries support Shopify Payments
Integrating with some payment gateways isn't easy
You can't pause your Shopify store until it's been on a paid plan for a minimum of two months
There aren't many free templates to choose from
Many websites like Shopify are much simpler to use
👉  Learn How To Pause Or Cancel Shopify Subscription? [2023].
4 Reasons To Look For a Shopify Alternative for Dropshipping
The Pricing
You must pay additional transaction costs if you use a payment gateway other than Shopify Payments, regardless of the price plan you select.
Also, please NOTE that the Shopify Payments system is still unavailable in several regions.
Moreover, you'll also have to pay credit card processing costs with Shopify. Even if the costs are reduced significantly if you upgrade to a more costly plan, it is still an additional cost.
Furthermore, if you don't use Shopify Payments, you lose access to some capabilities, such as the option to transact in several currencies. Additionally, if you are offering high-risk goods, you cannot use Shopify Payments.
More control over SEO
Search engine optimization (SEO) is a crucial part of advertising services in the dropshipping business model.
👉 Learn about SEO for Dropshipping Stores: How to Improve Your Rankings?
While Shopify handles basic SEO operations well, you may want greater control over your website, especially if you rely significantly on organic search.
The biggest issue is that Shopify does not permit users to read or modify robot.txt files. Therefore, as your dropshipping store expands, you'll undoubtedly want greater control over how Google crawls and indexes it.
Have a larger and more complex catalog
If you want a larger catalog, then Shopify might not be the best option for you.
Let's assume you own a shoe dropshipping business and you are trying to be as diverse as possible. So you offer several sizes available, different styles, colors, and shoes for men, women, kids, etc.
So, your product catalog will rapidly become incredibly extensive, and Shopify may be unable to keep up because you are limited to 100 SKUs per product and only three alternatives per product.
👉 Check out Top 10 Shoes Wholesale & Dropshipping Suppliers + Product Ideas.
Easy-to-learn platform
Shopify promises to be an easy-to-use platform, and this is somewhat true. However, while you do not need to be a skilled web developer to create an online store using Shopify, there is a learning curve.
As a result, if you don't have any experience, there are several Shopify tutorials, and Shopify experts available online to assist you in creating an online store.
👉 Learn How To Set Up Your First Store On Shopify [For Dropshipping Beginners].
However, the learning curve is not as straightforward as it appears, and if you're not searching for anything too sophisticated and simply want to start selling a few things online—Shopify might not be the greatest option for you.
12 Great Shopify Alternatives for Dropshipping
As you can see, Shopify can be both a great and a bad choice based on what is most important for you.
If the cons outweigh the pros, then you'll be glad to know that some of the best Shopify competitors on this list will most likely solve the majority of these issues.
The first admirable alternative to Shopify is an open-sourced WordPress plugin known as WooCommerce.
Don't worry, it's a well-equipped platform that comes with everything you need to sell online. The only difference is that WooCommerce is built on WordPress.
💡 Tip: Read Dropshipping WooCommerce: Everything You Need To Know About WooCommerce Dropshipping.
As a result, if you already know your way around WordPress then you're going to have an easier time using WooCommerce.
NOTE: If you are using WordPress, go and check our WoodMart WordPress Theme Review.
Now, what makes WooCommerce one of the best Shopify alternatives today?
Once you've found a few of the best dropshipping products to sell, you can easily create a gorgeous website that entices visitors to buy from you with this platform.
WooCommerce is free to use at the start. However, if you want to scale, it can cost a relatively hefty bag of pennies.
If you are new to dropshipping, here you can learn how to build an eCommerce website from zero.
The platform itself won't charge you to use it, but adding necessary plugins, extensions, and similar features can quickly add up to your balance sheet.
👉 Check out the Best WooCommerce Dropshipping Plugins for Your Store.
One of the main reasons why WooCommerce is among the best Shopify competitors is that it offers remarkable freedom over customization. Shopify does that too, but it doesn't come as easily.
While Shopify requires skilled and expensive developers who know Liquid, WooCommerce can easily be customized any way you wish with simple HTML and CSS.
Pros:
Unlike Shopify, WooCommerce doesn't charge fees on order transactions
Shopify's theme catalog pales in comparison with WooCommerce's list of themes
Quick and easy integration with WordPress
Countless plugins and extensions available to improve your store
Given that it's open-source, you're free to customize every bit of code
Cons:
No dependable 24/7 support like with Shopify
Won't be as easy to customize if you don't know any HTML or CSS
Your site performance will depend on your hosting knowledge and research
Should I Use WooCommerce?
✔ You should use WooCommerce if you're looking for a quick and easy way to set up an online store. It's not as beginner-friendly as Shopify but it's also nothing anyone couldn't learn in a few days.
❌ You shouldn't use WooCommerce if you have a minimum dropshipping budget and if you've never had your own website. Cost can accumulate quickly with WooCommerce as you start needing more features.
Another one of the strongest Shopify competitors is BigCommerce. This platform works in a very similar way to Shopify.
The major difference between Shopify and BigCommerce is that the list of BigCommerce features is bigger and more appealing.
Check our full BigCommerce Review.
What does this mean for your store?
It means that with BigCommerce, you won't have to install as many apps, as most of what you'd get with Shopify apps is already built in here. As a result, store app costs can be reduced.
💡 Tip: If you still plan on using Shopify, our detailed Shopify app buyer's guide will help you make better choices and save money in the process.
Furthermore, BigCommerce's one-page checkout is a highly admired feature that simplifies the buying process for customers, thus reducing abandoned carts.
BigCommerce isn't as easy to use as Shopify at the start, but it's much better for scaling, fast.
On the other hand, BigCommerce does offer unlimited staff accounts with all pricing plans, whereas Shopify doesn't, even with its most expensive plan.
Pros:
Each plan offers a significant number of all available features by the platform
Drag & drop store builder that easily lets you customize
No transaction fees on orders
More than 50 secure payment gateways that are easy to set up
Lots of freedom to make your website SEO friendly
Remarkable 24/7 technical support
Excellent opportunities for scaling your business
BigCommerce is praised for its multi-channel selling capabilities
Cons:
Won't prove as easy to set up as with Shopify
Offers about half as many free themes as Shopify
It is known to have inconsistent loading speeds
Should I Use BigCommerce?
✔ You should use BigCommerce if you already know how to grow your eCommerce store and you expect very fast growth. BigCommerce has many features that are suitable for this type of business and is especially useful for fast-growing stores.
❌ You shouldn't use BigCommerce if you have a small business and a very limited starting budget. It's also not necessary to use BigCommerce if you don't have any need for all the special features it has compared to Shopify.
If you've been using Shopify for a while and have found that it's simply not enough anymore, then one of the best Shopify alternatives, in that case, is Magento.
Magento is an eCommerce platform that specializes in handling large demand. It's an amazing option for scaling and offers cutting-edge solutions for taking your dropshipping store to the next level.
👉 Read about the best Shopify eCommerce platforms.
This excellent Shopify alternative offers a wide range of features that will come in handy sooner or later.
In addition, it isn't only for large stores, as the platform is also available as an open-source project offering tons of free features for small businesses.
However, even though it's great for both smaller and large eCommerce businesses, Magento also doesn't come without a few downsides.
For example, this is a platform that will require learning how to build a website. You will most likely need to hire a developer to maintain your website, install updates, and so on.
But, it will be more than worth it given that you already know what you're doing and you want a secure and reliable platform that can handle a serious business like yours.
Pros:
There is a free, open-source version of Magento available for everyone
A wide variety of apps and add-ons are available
Magento has extreme potential for large-scale operations
It is relatively easy to find a skilled Magento developer for your store
It offers some of the best SEO tools
Magento supports a big list of available payment gateways
Exceptional custom design capabilities
The platform itself doesn't charge transaction fees
Cons:
The extremely useful, but paid, version of Magento is very expensive
You will most likely be forced to hire skilled developers if you can't do it yourself
It's not recommended for beginners in this business
Should I Use Magento?
✔ You should use Magento if you already have exceptional knowledge and results in the eCommerce industry. Magento is great for large businesses that can cover expensive website support and the countless other growth features the platform offers.
❌ You shouldn't use Magento if you're a beginner at eCommerce or dropshipping. The platform can get expensive quickly. It requires extensive knowledge of web development or the funds to hire the right help.
Wix's popularity is ever-growing, as it's one of the most convenient and easy-to-use website builders today.
Why is Wix among the best Shopify alternatives? It's because this platform offers outstanding eCommerce store-building tools and themes.
You'd be surprised by how easily Wix lets you customize your store. There's definitely a lot more freedom than Shopify will ever offer in this department.
👉 Learn How to Start and Grow Your Wix Dropshipping Store.
Wix can let you easily recreate any of the biggest and most inspiring dropshipping Shopify stores currently out there.
Wix also offers outstanding discounts to use their platform if you decide to pay annually.
In addition to that, you don't even have to find a hosting service or a domain provider, Wix will provide all of that for you.
Wix also has several different plans depending on which features you need.
For example, you don't have to pay for any video hours if you don't even plan on uploading videos to your site.
They are surprisingly flexible regarding features, pricing, and what you want and don't want your store to include.
Although, the storage space limit with even their most expensive Business VIP plan is still 50GB. It doesn't have to mean it's an issue but it may be for some.
And lastly, given that Wix isn't only built for eCommerce websites, you may find it a bit hard to navigate around their tools and features at first.
Our guide on how to start and grow your Wix dropshipping store can definitely help you make things much easier.
Pros:
You get a lot of freedom to easily customize your store
Wix isn't very expensive compared to some other alternatives to Shopify on this list
There are plenty of resources that can help you fix most Wix-related issues
They offer lots of freebies, even a free 1-year domain with a premium plan
It has some of the most amazing free website themes on the market
You can even use their platform for free if you don't mind Wix ads
Wix adds up to lower transaction fees compared to Shopify
An ideal choice for beginners
Cons:
Wix isn't the best choice if you intend to focus on SEO a lot
Doesn't offer nearly as many apps as Shopify does
Not the best option for really big businesses with tons of traffic
Should I Use Wix?
✔ You should use Wix if you're starting a new store and you don't want to spend a lot of time learning how to create it. The Wix Editor makes designing your store a cinch. In addition, Wix is also a very affordable choice for beginner dropshippers.
❌ You shouldn't use Wix if you're selling a lot of goods on multiple channels at once. It's also not a great idea to use Wix if you are planning to market your products mainly with SEO. The platform isn't the best at getting pages indexed and doesn't handle tons of traffic easily.
Shift4Shop is known previously as 3dcart, an eCommerce website builder available since 1997. This makes Shift4Shop one of the most established and oldest Shopify alternatives.
So, what exactly does Shift4Shop offer? Even though we have a detailed Shift4Shop review explaining everything from start to finish, here's a short summary of the main things you should know.
Shift4Shop is among the best Shopify competitors in terms of organic reach opportunities. It offers excellent SEO features that better your chances of reaching more visitors who are ready to buy.
So, if you know your SEO and you plan on using it as the main marketing channel, then Shift4Shop is definitely in the top five Shopify alternatives to consider.
Every plan features remarkable blogging tools that make creating content a breeze. It also offers more value for the money, especially for US merchants.
You get to choose from around 100 payment processors, and the list of benefits keeps growing.
A few downsides to consider with Shift4Shop include slightly worse support compared to Shopify, and worse themes.
You can still customize your store any way you want, but it may take you more time.
Pros:
No need for countless pricey apps – it has enough built-in features and tools
No transaction fees are taken by the platform itself
Approximately 100 payment gateways to choose from
Stunning SEO capabilities and opportunities
Shift4Shop offers a free domain with every plan
Single-page checkout for faster purchases and increased conversion rates
It's among the top free Shopify alternatives thanks to its 100% free monthly plan
Cons:
There is customer service but it's not the best or most helpful out there
Dated themes with unimpressive design
It's not the easiest platform to master and is sometimes hard to navigate
Should I Use Shift4Shop?
✔ You should use Shift4Shop if you intend to heavily focus on SEO to drive traffic and sales. The platform has impressive marketing tools built in and offers quite a lot of value for the money. Regarding budget, Swift4Shop is great for users with low to moderate budgets.
❌ You shouldn't use Shift4Shop if you plan on just installing a free theme and not customizing your store. It would also be a waste to use this platform if you don't plan on taking advantage of SEO. It's a great platform for novice dropshippers but not the ideal one for absolute beginners.
💡 Tip: Great customer service is crucial for any business. Here's why and how to establish amazing customer service for dropshipping.
It may not be as popular as Shopify, but Volusion is still among the best Shopify alternatives serving hundreds of thousands of sellers.
The similarities between Shopify and Volusion are astonishing in terms of the features both platforms offer.
However, Shopify and Volusion differ in terms of pricing. The thing is, either one can end up being more expensive depending on what you look at. Let's explain!
For example, Volusion beats Shopify in transaction fees, as Volusion offers none.
Also, the basic plan that both of these platforms offer may be the same in price, but they aren't the same in features.
Shopify's basic plan offers 2 staff accounts, free abandoned cart recovery, unlimited products, and a few more features. Volusion offers only 1 staff account, 100 products, and lower-quality support for the same price.
Overall, Volusion is still a great Shopify competitor, as it's an excellent choice for beginners who don't know how to run a store very well.
It's great for learning the business and quickly progressing without wasting money.
Pros:
The platform features 0% transaction fees
It's often reviewed as much easier to use than Shopify
Built-in one-page checkout for more convenience
Volusion's mobile app is outstanding, simple, and responsive
Excellent shipping integrations and instant tax & shipping calculations
You get simple and helpful tutorials on setting up your first store
Cons:
Shopify's plans are better in a few areas than Volusion
Doesn't feature the prettiest themes out there
Not the most effective product search feature
Not as many available apps as Shopify
Should I Use Volusion?
✔ You should use Volusion if you're looking for great Shopify alternatives that are easier to start with and at the same time offer no transaction fees. Volusion has many features that make selling online especially easy for beginners.
❌ You shouldn't use Volusion if you don't want to pay for an expensive plan but intend to sell 100+ products. In addition, Volusion's Basic Plan limits you to only selling 100 products, it offers only one staff account and has no detailed reports to help you keep growing and managing orders.
Ecwid is an eCommerce solution that solves a very particular problem.
Let's say that you already have a website and you want to start selling some products on it.
Well, instead of hiring a developer to reconstruct a huge portion of it, you can integrate it with Ecwid and you can easily sell on your existing site.
This is a basic explanation of what this platform can do. Obviously, there's much more to it than that.
Lucky for you, we've prepared a thorough Ecwid vs Shopify comparison review that will explain all the details.
Also, check out the Ecwid vs Shopify: The Ultimate Comparison of The 2 Dropshipping Titans.
A few ways that Ecwid is better than Shopify are the fact that it takes no transaction fees, it's slightly better for mobile use, it's easier to manage everything using only your phone, and Ecwid is overall much cheaper than Shopify.
On the other hand, when it comes to SEO for dropshipping, Shopify offers a lot more than Ecwid.
In addition, Ecwid lacks customization freedom. And lastly, the lower price plans with Ecwid aren't really worth it.
But then again, their most expensive plan is awesome and is still a lot cheaper compared to Shopify's most expensive pricing plan.
Pros:
Remarkably easy to use
Inexpensive plans
Can turn any existing website into an online store
Ecwid can easily adapt to your site's existing theme
There's a functioning free plan that isn't useless
Ecwid doesn't charge any transaction fees
Their support is one of the most admirable features
Cons:
You don't have a lot of freedom to customize your store with Ecwid
The free plan limits you heavily
Ecwid isn't the most SEO-friendly platform – lots of missing features
Should I Use Ecwid?
✔ You should use Ecwid if you already have your own website and you want to add a storefront to it. You can't build a store from scratch using only Ecwid. Also, this service is ideal for complete beginners who aren't willing to spend much.
❌ You shouldn't use Ecwid if you intend to focus heavily on SEO and if you want to build a new store from scratch. Ecwid is among the top free Shopify alternatives and is extremely easy to use, but it lacks certain features for highly scalable eCommerce businesses.
💡 Tip: You don't have to pay to learn dropshipping. Here are 12 places to learn dropshipping for free.
A unique feature that makes Prestashop one of the most compelling Shopify alternatives is that there are two versions of this service.
There is an open-sourced version of Prestashop that's useful for those skilled in editing code. This version offers total freedom over store customization.
The other one is a hosted version. It's called PrestaShop Ready and is a Software as a Service (Saas).
💡 Tip: Also, learn How To Find High Profitable Dropshipping Sales Channels.
It may not offer as many customization features, but this is significantly more user-friendly and ideal for beginners.
PrestaShop also features some very helpful marketing tools, especially for SEO. It supports over 200 payment gateways that you can integrate.
And, lastly, depending on the features you use, PrestaShop can be a more affordable alternative to Shopify.
Fortunately, when it comes to the advantages and disadvantages of Prestashop, the advantages outweigh the rest.
Pros:
There's a free open-source solution everyone can use
Exceptional customization features and tools
You get to choose which hosting service to use
It's very easy for beginners to get used to
Flexible pricing for extra features
A large community of PrestaShop users to reach out to
Cons:
Doesn't scale well and isn't ideal for large businesses
There's no official support team to fix your problems
Should I Use PrestaShop
✔ You should use PrestaShop as a better Shopify alternative that offers easier ways to customize your store. As any PrestaShop review out there will tell you, it's actually an amazing platform to sell internationally and can cost less than Shopify as well.
❌ You shouldn't use PrestaShop if you aren't a bit skilled in HTML or editing code to customize your store. It can be costly to hire a developer and there's also no official expert support from PrestaShop that can guide you along the way.
Out of all the amazing Shopify alternatives we've seen here so far, Sellfy is probably the best one for beginners who want to start as soon as possible.
This platform has it all. You can create a custom storefront, sell on social media, embed a shopping cart into your existing website, and much more.
Best of all, you can easily achieve all of this within the day.
Also, the pricing! Currently, all of Sellfy's plans combined are cheaper than Shopify's most expensive plan.
Sellfy's most expensive plan and Shopify's most expensive pricing plan have extremely similar features.
💡 Learn: Check our in-depth Sellfy review.
Further, Sellfy lets you have unlimited products and get up to $200.000 in sales per year with absolutely no transaction fees.
Besides, what's extremely worth mentioning about Sellfy is that it's one of the best Shopify competitors to let you sell both physical and digital products, as well as subscription plans, with ease.
Also, as far as print-on-demand goes, Sellfy is one of the top Shopify alternatives in this area.
Let's check out all the major pros and cons you must hear from this mini Sellfy review section.
Pros:
All paid plans include unlimited products
You can fully customize your store
No transaction fees
Instant access to print-on-demand products and suppliers
More affordable plans compared to Shopify
They offer excellent 24/7 support
You can instantly turn your existing website into an online store
Sellfy is among the best free Shopify alternatives to effortlessly sell digital products
Cons:
Expensive email credits for sending email promotions
You will need a third-party app to run affiliate programs, as Sellfy offers no such tool
Should I Use Sellfy?
✔ You should use Sellfy if you literally want to set up an online store on the same day. It offers lightning-fast solutions to create and customize your store. It also offers many features to help you run your small business smoothly.
❌ You shouldn't use Sellfy if you are more experienced in eCommerce and depend on detailed reports and analysis to grow your store. Sellfy is great for beginners, but you will find that it lacks certain features to help you significantly scale your business.
Chances are that it's the first time you've heard about a GoDaddy online store. You may have heard of GoDaddy as one of the best domain registrars, but probably not this.
Well, let's conduct a brief GoDaddy eCommerce review to see what exactly their online store service has to offer.
To start with, GoDaddy's eCommerce solution is another great option for less tech-savvy users who like to waste no time. Building your website is fast, easy, and extremely simple.
In addition, you also get access and smooth integration with all other GoDaddy tools, services, and features.
This list includes GoDaddy's social media marketing tools, appointment booking, content creation, email marketing tools, and so on.
Note: These services are included in every GoDaddy eCommerce pricing plan.
Speaking of pricing, GoDaddy is also one of the cheapest Shopify alternatives. It doesn't have a free plan like some other Shopify competitors on this list, but all their monthly plans are ridiculously affordable.
On the downside, the ability to fully customize your GoDaddy store will be extremely limited. You can't change many individual features.
For example, you can't change the font size of an individual paragraph, as all other paragraphs will be affected.
Pros:
Very simple to use
Super affordable
Lots of helpful GoDaddy tools to take advantage of
Great for beginners who are still learning the business
Cons:
Little freedom to customize your store
You can't customize email receipts
Checkout is hosted on a third-party domain name
Taking care of taxes with GoDaddy can be difficult
Should I Use GoDaddy Ecommerce?
✔ You should use GoDaddy Ecommerce if you're just starting out in eCommerce and if you don't have a lot of money to spend. They offer pre-built stores, and simple customization, and can get you up and running very quickly.
❌ You shouldn't use GoDaddy Ecommerce if you're ready to invest a lot of money in your online store and expect to grow rapidly. Chances are that you will quickly outgrow GoDaddy and end up having to migrate to one of the more scalable Shopify alternatives.
Weebly allows you to build an online store without much technical knowledge. The platform has an advanced website builder that lets you build many other types of websites, not just eCommerce ones.
👉 In addition, read the Weebly Ecommerce Review: Creating A Dropshipping Store With Weebly?
Now, considering you pay annually, Weebly is one of the best Shopify alternatives in terms of pricing. Their plans are remarkably affordable and offer great features to reduce upfront costs even further.
For example, if you pay annually, you get a free domain worth up to $20. You also get $100 worth of credit to use for your Google Ads dropshipping campaign.
Best of all, this comes included with all plans. The most expensive plan also adds close to $100 of email marketing credits as well.
So, bottom line, Weebly is an exceptionally easy-to-use eCommerce platform that will let you easily create your store.
The most notable thing here is that it is affordable and doesn't require you to have any coding skills. You can customize your store just fine without that.
Pros:
Very affordable pricing plans
Helps reduce upfront costs for those with low budgets
Includes highly beneficial features to manage finances, inventory, etc.
A simple editor that is easy to learn
It is easy to migrate from Weebly to other platforms
Offers a vast app store that can add additional features to your site
Great selection of quality themes
Excellent email editor that is super easy to use
Offers decent analytics for monitoring store performance
Cons:
Not the best blogging tools
Getting help from their support can be expensive
Weebly isn't among the best Shopify alternatives for editing media online
💡 Tip: You must learn about the most common pitfalls and mistakes in Dropshipping to avoid making them yourself.
Should I Use Weebly?
✔ You should use Weebly if you want an affordable platform that lets you easily create your online store. Furthermore, Weebly is a great choice for spending less money upfront on things like domains, promotions, and email campaigns.
❌ You shouldn't use Weebly if you don't want to pay transaction fees on all orders after you've started growing your business. The transaction fee is 3% and can add up quite a lot if you start selling more. Weebly may not be ideal for fast-growing or large businesses.
When it comes to finding worthwhile Shopify alternatives for selling digital products online, SamCart is probably the best out there.
Why?
Well, even though the platform lets you sell physical products as well, it's more catered toward selling digital ones.
It's easier, faster, looks better, and has even proven to perform better.
SamCart also makes payments for digital products super easy by allowing sellers to integrate with PayPal, Stripe, Google Pay, and Apple Pay.
However, SamCart isn't one of the Shopify alternatives that offer more payment gateways to choose from.
Their single-page selling templates are perfectly designed for selling digital products.
From what any SamCart review will tell you, this platform makes it significantly easier to sell digital goods compared to Shopify.
Pros:
Offers high-converting one-page selling templates
Has an excellent editor that allows you to customize most of your store
Includes helpful upselling features
Integrates with the best email marketing software out there
Provides advanced features for increasing customer value
Astonishing checkout experience
Cons:
Premium quality support doesn't come with every plan
SamCart's plans are more expensive than Shopify's pricing plans
Doesn't offer as many payment gateways as Shopify
Should I Use SamCart?
✔ You should use SamCart if you're planning to sell mainly digital products or subscription plans. They offer effective and high-converting landing page templates for such products. Other than that, it's a secure platform that you shouldn't find hard to use at all.
❌ You shouldn't use SamCart if your country doesn't support PayPal or Stripe, as the site doesn't integrate with many other great payment gateways. Also, if you prefer to sell mainly physical products and want to manage inventory then SamCart may not be the best choice from this best Shopify alternatives list.
💡 Tip: You can increase your sales conversions by learning how to optimize your store from these 10 high-converting Shopify landing page examples.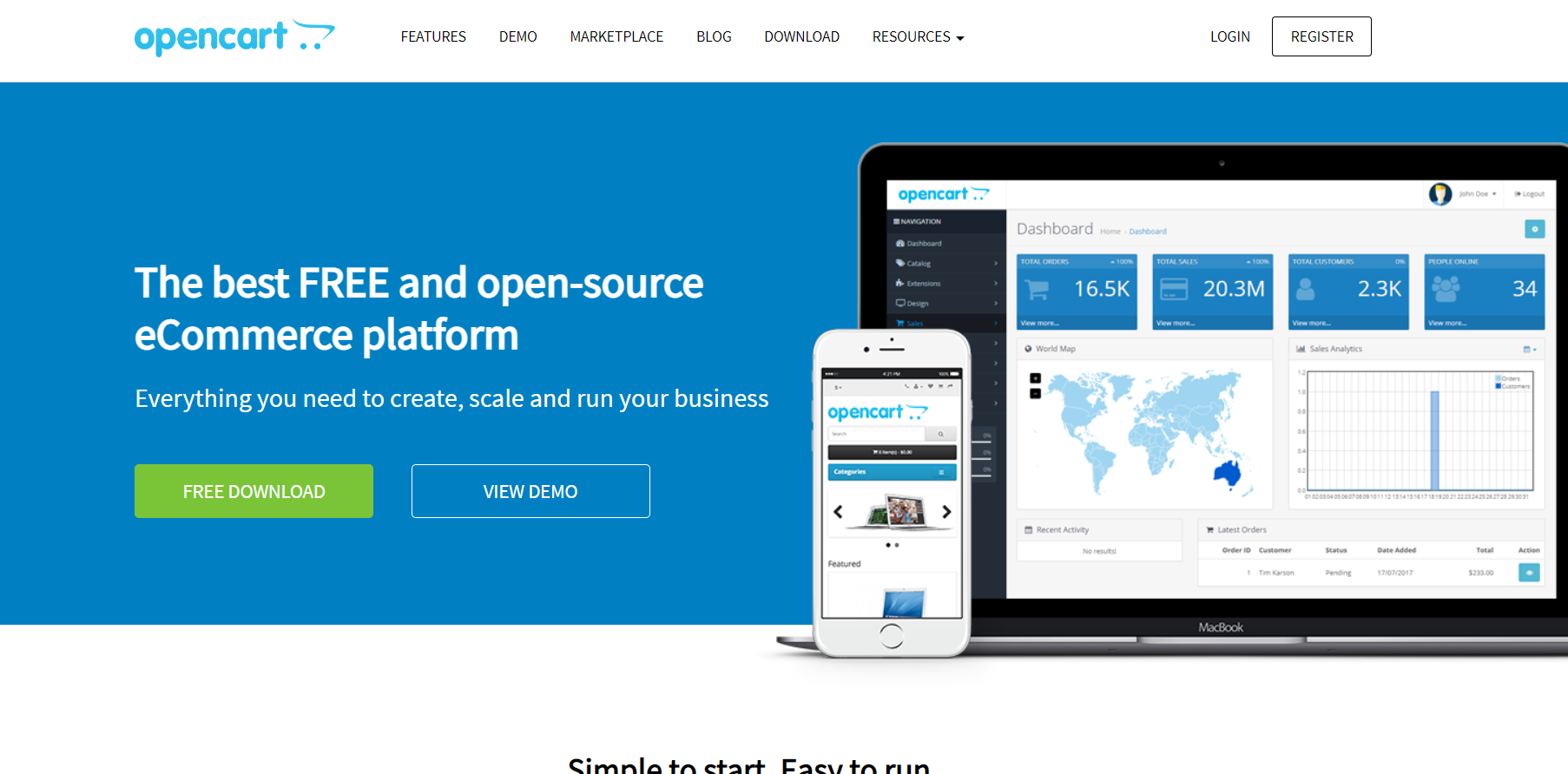 OpenCart is a nearly free open-source eCommerce solution for professional developers.
It is a Shopify alternative with a modernized platform that enables you to build a professional-looking dropshipping store that can be customized to meet your specific requirements.
OpenCart excels at providing a variety of add-ons and themes. However, not all of them are free, and you may eventually have to pay for some of them.
What's more, even though programming skills are required when creating a dropshipping store, OpenCart includes a user-friendly dashboard for maintaining an existing business.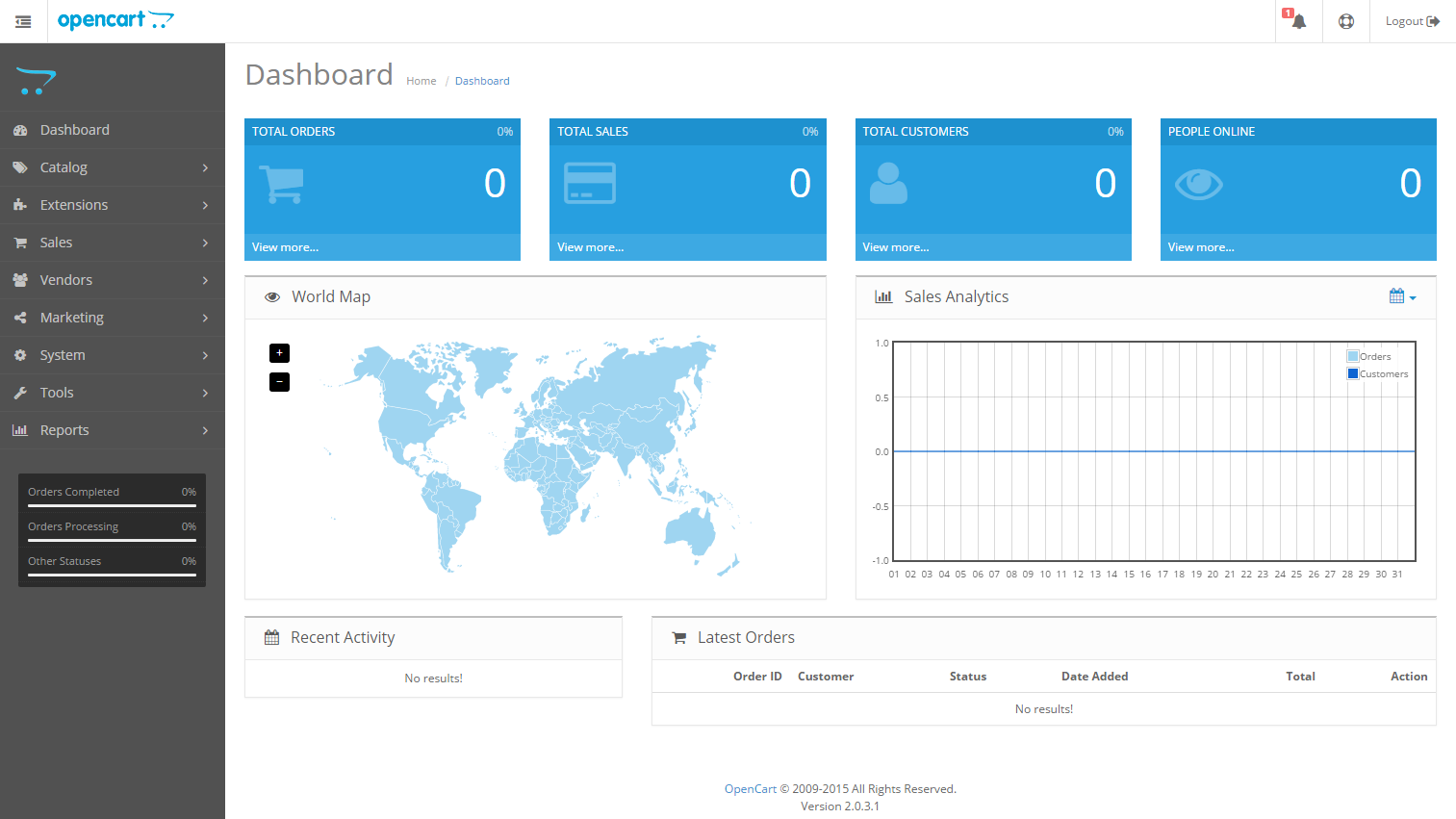 To effectively run a dropshipping business, you will need to work with a large number of people each of whom will play a specific function.
As a result, thanks to OpenCart's user management, you can set complex access permissions and separate access for user groups and users.
You may also manage several stores from a single admin interface, arrange items to appear in various stores, select a different theme for each store, localize store settings, and change product pricing per store.
Pros:
It is pretty adaptable and accepts a variety of payment gateways
Rapid setup and launches
No-cost solution
A wide range of expansions
Simple to personalize
Multiple languages and currencies are supported
Plenty of product choices
Cons:
Developer abilities are required
Not as simple to utilize as Shopify
You are responsible for web hosting and management
There aren't as many add-ons as there are with Shopify
Should I Use OpenCart?
✔ You should use OpenCart if you're on a limited budget and want to improve your personalization skills. Furthermore, if you are an expert with development experience in a dropshipping business, this is a fantastic and cost-effective choice for you.
❌ You shouldn't use OpenCart if you want an all-in-one solution for developing your online store. Then, you should definitely avoid Opencart.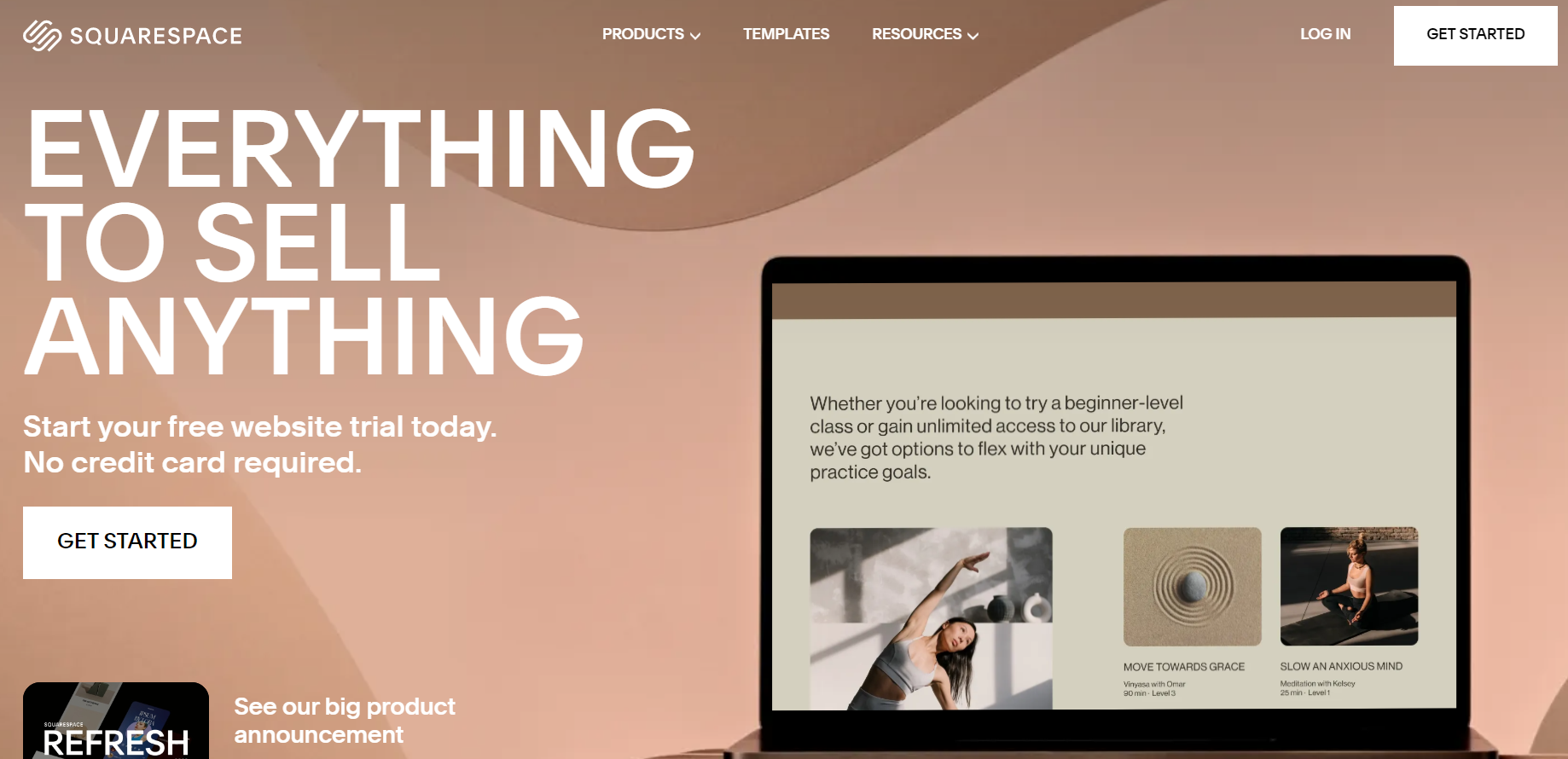 Squarespace could be precisely what you need to get your dropshipping business started if you have a relatively limited product portfolio.
The platform has an outstanding website-building tool as well as a variety of templates to pick from. It also has an excellent drag-and-drop capability, which allows you to quickly create a professional store.
This alternative to Shopify includes marketing tools such as AdWords, MailChimp, and Amazon Affiliate monitoring.
Squarespace is often regarded as the "master of design". They provide a collection of over 80 stylish and responsive dropshipping store templates that are simply customizable.
Squarespace's basic plan is $19 a month, while the advanced package costs $49 and includes an infinite number of pages, blogs, galleries, contributors, a free domain, storage, and much more. Furthermore, Squarespace exclusively accepts online payments through PayPal and Stripe.
Pros:
Ideal for smaller dropshipping stores
Very simple to set up
There is no requirement for coding skills
A fantastic collection of designer themes
Allows you to use your own product photos and templates.
Provides a huge range of stunning templates to help you create an eye-catching dropshipping store
The website builder is simple to use, allowing you to operate on the backend
Their yearly plan includes a free domain name
It is possible to sell an infinite number of items
Excellent technical assistance
Cons:
It is difficult to navigate
There are no marketing tools
Third-party app restriction
Payment choices are limited
There is no integrated add-on marketplace
It is not possible to track store visits using the tracking code API
Limited support
Multi-channel features are restricted
The website's loading speed is a little slower
There aren't as many add-ons as there are on Shopify
Should I Use Squarespace?
✔ You should use Squarespace if you want a visually appealing site with a robust blog. It's somewhat less expensive than Shopify, especially if you want a real-time shipping pricing calculator.
❌ You shouldn't use Squarespace if you are looking for an easy navigational dropshipping store. Also, we don't recommend Squarespace if you want an all-in-one solution for increasing conversion rates, building a marketing strategy, or tracking store performance. At this point, Squarespace does not contain any marketing tools, or track store visits.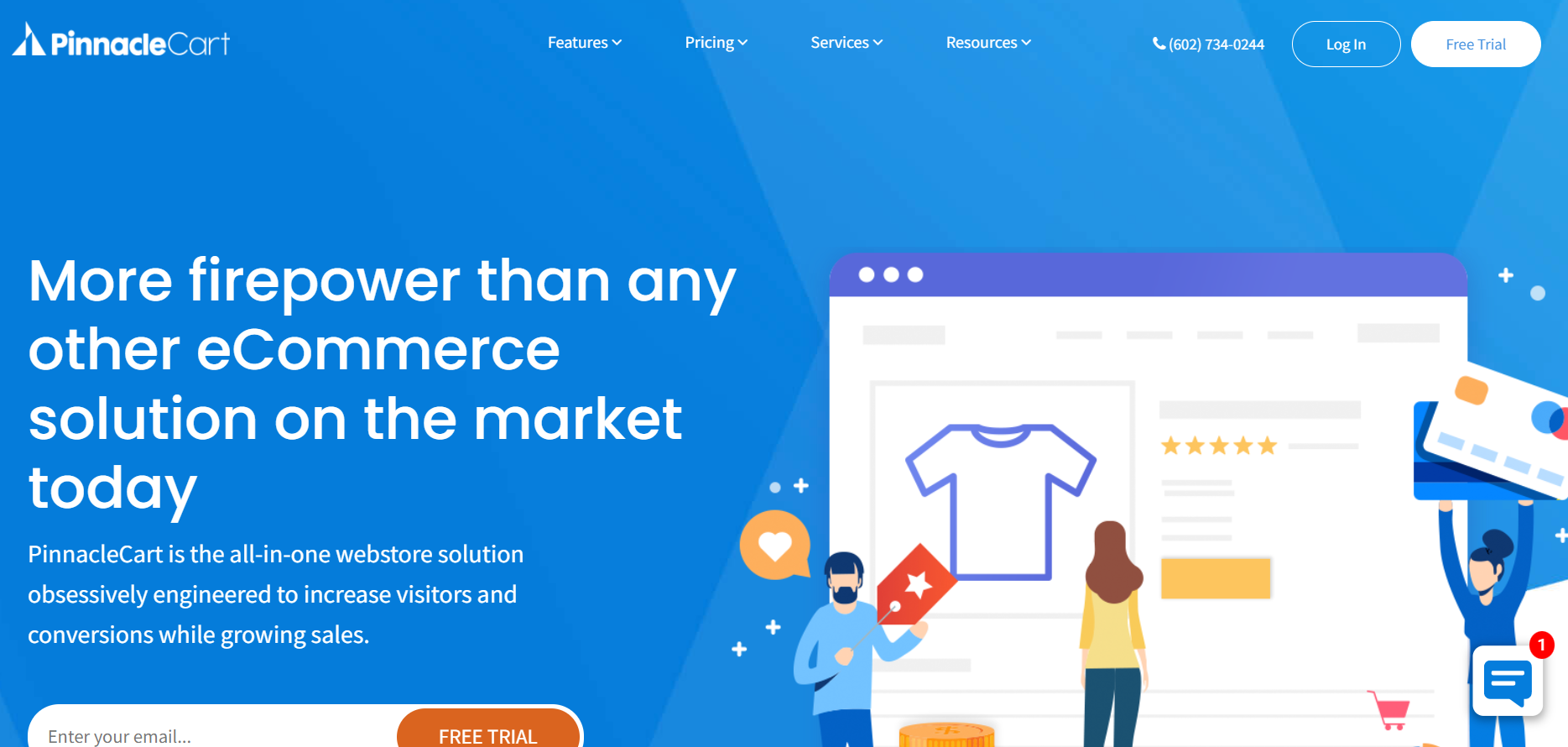 PinnacleCart is a self-hosted eCommerce platform designed for dropshippers that want to scale to the enterprise level.
If you want to start an online business, this is unquestionably an eCommerce platform to consider. First, it has a variety of built-in functions.
PinnacleCart includes around 12 free eCommerce themes that you may employ.
They are responsive, so they will appear great on any device. Moreover, it is simple and straightforward to use their backend because there are no delays.
Furthermore, its dashboard provides a reasonable amount of user-friendliness to all of its clients. It also supports a variety of languages and currencies.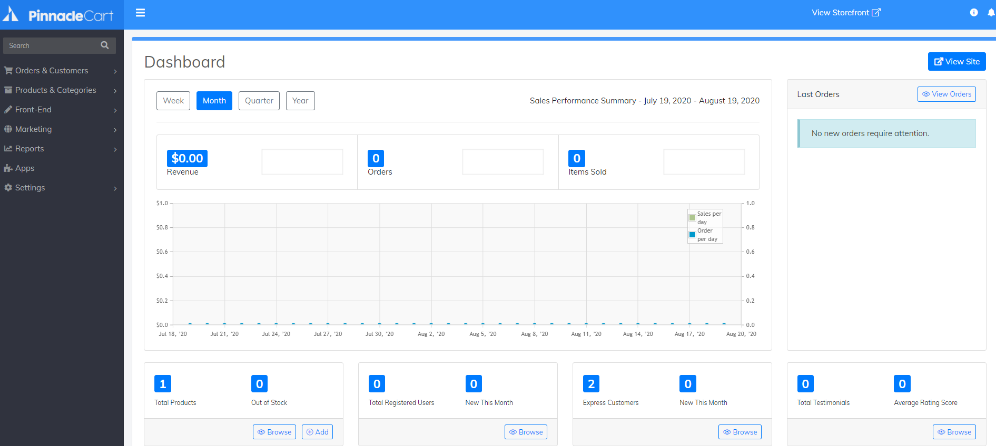 The number of payment gateways available is also remarkable. They support PayPal, Stripe, 2Checkout, Skrill, Authorize, etc.
PinnacleCart offers three pricing plans:
Start-up plan – $44.95/month
Started plan – $94.95/month
Advanced plan – $199.95/ month
Pros:
Simple to use
User-friendly interface
Provides flexibility in hosting options
Several languages are supported
HTML, CSS, and code editing tools with
Over 25 payment gateways
Themes that are customizable
Ideal for larger stores
SEO-friendly features
Every package includes an unlimited number of goods and categories
Cons:
The free version has payment method restrictions
The free version has disk space and bandwidth limitations
Expensive for the functionality provided
It is difficult to master
There is no built-in POS system
Should I Use PinnacleCart?
✔ You should use PinnacleCart if you are a dropshipper willing to start a dropshipping store without much hassles and cost. PinnacleCart can be the best platform for you if you're seeking an option that enables you to have an unlimited number of admin accounts, and won't charge additional transaction fees.
❌ You shouldn't use PinnacleCart if you are looking for the best alternative to Shopify that gives you customization freedom. Because, PinnacleCart does not allow for much custom code, which might be a constraint for businesses looking to scale in the future. Also, it's not recommended if you are a beginner who does not have any online selling experience.
Cartzy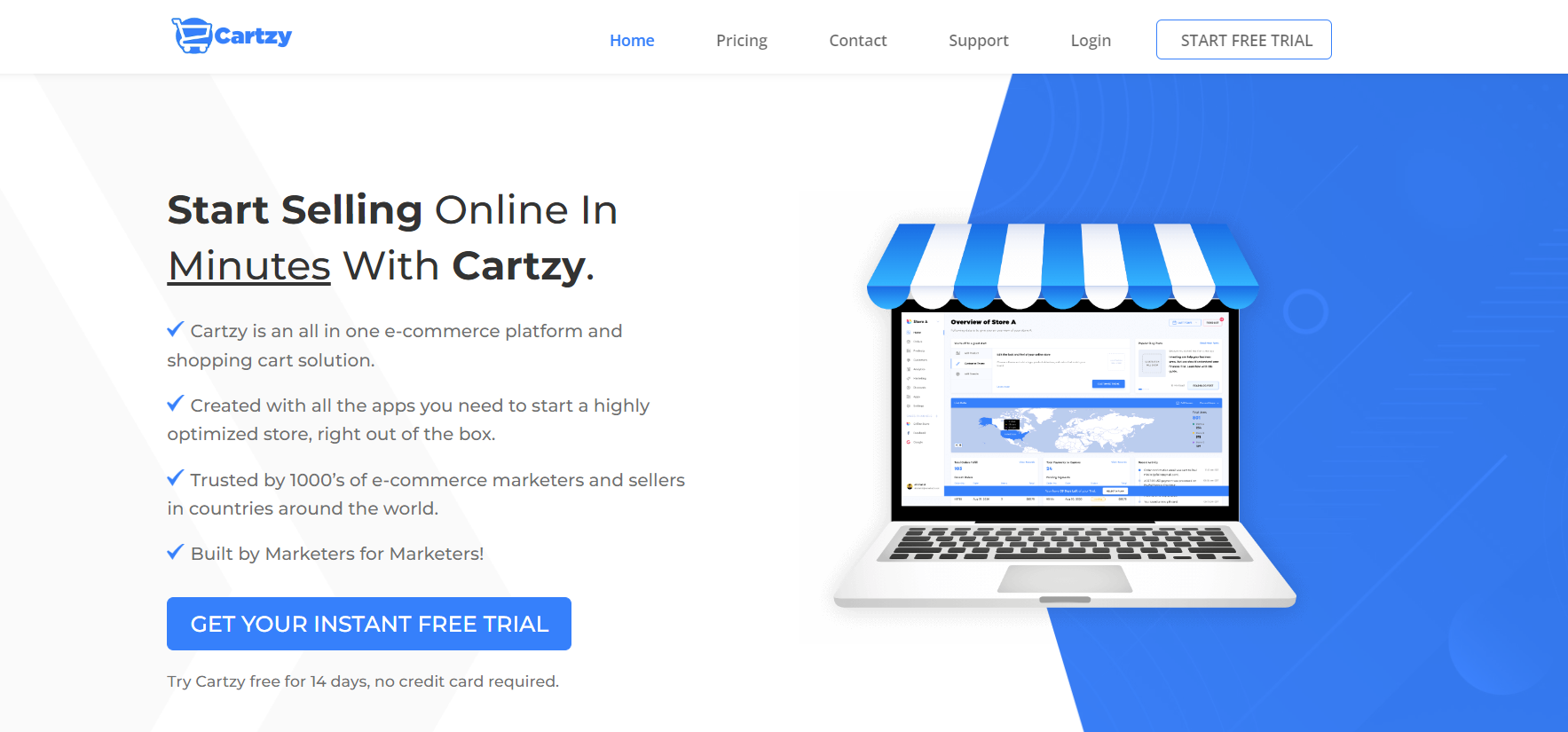 One of the Shopify alternatives that are excellent for beginners is this one.
Although, Cartzy is still a fantastic option if you want to avoid the hassle of setting up many items to make sure that you establish the right funnel to sell and make money over the long run.
Thanks to this extensive dropshipping platform, you can create a highly efficient online store, without having to pay someone or perform the exhausting coding and tasks that are frequently needed.
Not only that helps you create an online store, but Cartzy provides you with store management and theme customization, sales analytics, domain setup, built-in store SEO feature, etc. Other features that you will benefit from when using Cartzy are:
Inventory and order management
Integrated payment solutions
Storefront building
Order tracking
Multi-user management
Shopping cart tracking
Social media integration
Email templates
Advanced admin dashboards
Unlike other e-commerce platforms, Cartzy comes with all the integrated applications required to manage a successful online business. Additionally, there are no third-party apps or hidden fees.
An interesting fact about this Shopify alternative is that For more than ten years, the Cartzy Team has been preparing students to be profitable internet sellers. Also, they provide free training too.
Furthermore, Cartzy offers two pricing plans:
Cartzy PLUS – $29/month
Cartzy PLATINUM – $99/month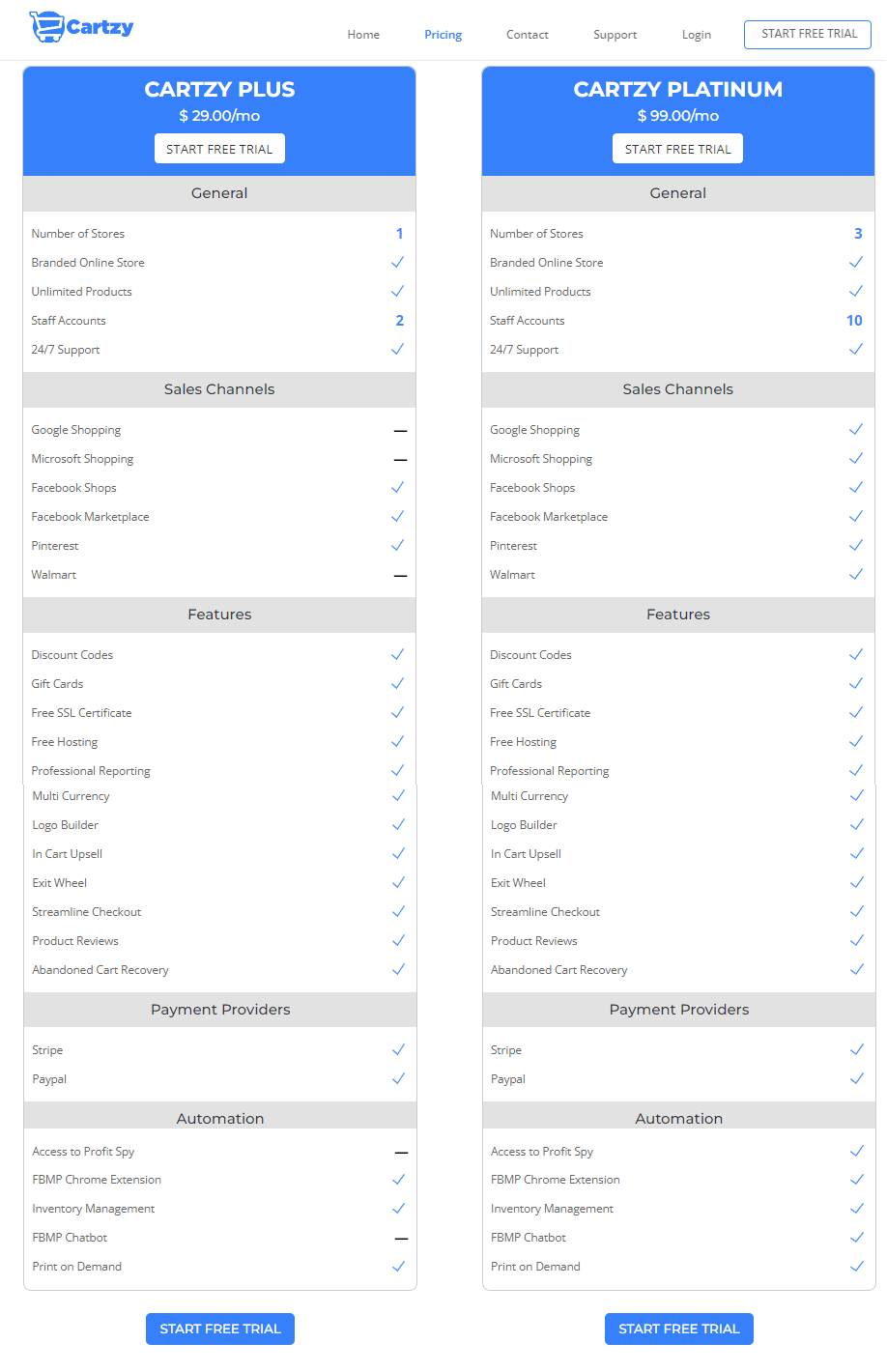 You can have one store and two employee accounts under the basic plan. Also, you will receive endless items and round-the-clock assistance. What's more, you can get a few sales channels and the majority of the key features.
On the other hand, Cartzy Platinum allows you to add up to three stores and 10 staff accounts.
Pros
A complete e-commerce platform, it.
The process of setting it up a store is simple.
You can use the free training that helps you to succeed in your goal.
You follow full instructions to build up a website ( You are not left on your own)
Incredibly quick automation tools
No in-depth understanding of web programming is necessary
Free instruction for store construction
Create a high-converting store in less than 30 minutes with no additional costs
Default Currency converter
Cons
The full package costs $99 per month and contains fewer features than the standard version.
Should I Use Cartzy?
✔ You should use Cartzy if you are a beginner or not a coding-skilled dropshipper for building a dropshipping store. Also, if you are looking for the easiest and fastest way to start selling online, Cartzy might be great for you!
❌ You shouldn't use Cartzy if you are tight with your budget, because there are a lot of other apps that contain more features for this pricing or less.
Shopify Alternatives: How to Choose the Best One?
So, now you've seen some of the best Shopify alternatives on the market. If one of them doesn't have something you need, another one probably will.
When it comes to choosing the best one, you should consider your needs. Don't focus on which alternatives to Shopify are best, most affordable, or most popular.
Focus on what exactly you need.
If you have a low budget, choose an affordable one. If you have no coding skills, choose a simple one that offers lots of customization options.
And finally, if you have a vast business and a large budget, choose one that is scalable and supports lots of traffic.
You get the idea!
Join the only community and resource hub you'll ever need to succeed with dropshipping
Find winning dropshipping products, learn marketing, download templates and engage with real dropshippers
Never pay for a "guru's" course again. See why 4543+ dropshippers joined us this year!
💡Try DSCOM Hub Now
Best Shopify Alternatives: FAQ
Which Shopify alternatives work best for large businesses?
BigCommerce and Magneto are similar to Shopify platforms that are most likely to provide a better user experience.
Also, they would be better than Wix or Weebly if you are a really large business that has to sell to customers worldwide.
Which open-source Shopify alternatives are the best?
Shopify competitors which are excellent open-source technologies that provide you total control over your website are WooCommerce and Magento.
What are the best cheap alternatives to Shopify?
You'll probably pay particular attention to the tools that fit your budget while looking through programs like Ecwid, BigCommerce, Shift4Shop, and Volusion.
Also, WooCommerce and Weebly are one of the best alternatives to Shopify that are cheaper.
Which are the best free Shopify alternatives?
Thus, sites like Shopify that you can get for free are Ecwid, Shift4Shop, Sellfy, BigCommerce, Squarespace, WooCommerce, etc.