Sellfy Review: Underatted Ecommerce Platform for Dropshipping
by
Aleksandra -
Aleksandra teaches marketing and management at various levels in High School. She writes about marketing, the economics and logistics of the dropshipping business and ecommerce in general.
Chief of Content Marketing
Since you are already here, I assume that you want to build an online store. But, are your needs related to selling both physical and digital products in one place? Having trouble with monetizing? My Sellfy Review is all you need!
Dropshippers, creators, musicians, videographers, or whoever you are, don't you worry! I got your back.
Have you heard about Sellfy? Yes, this is your lifesaver!
In this article, I will guide you through my in-depth Sellfy Review. Let's get started!
What is Sellfy?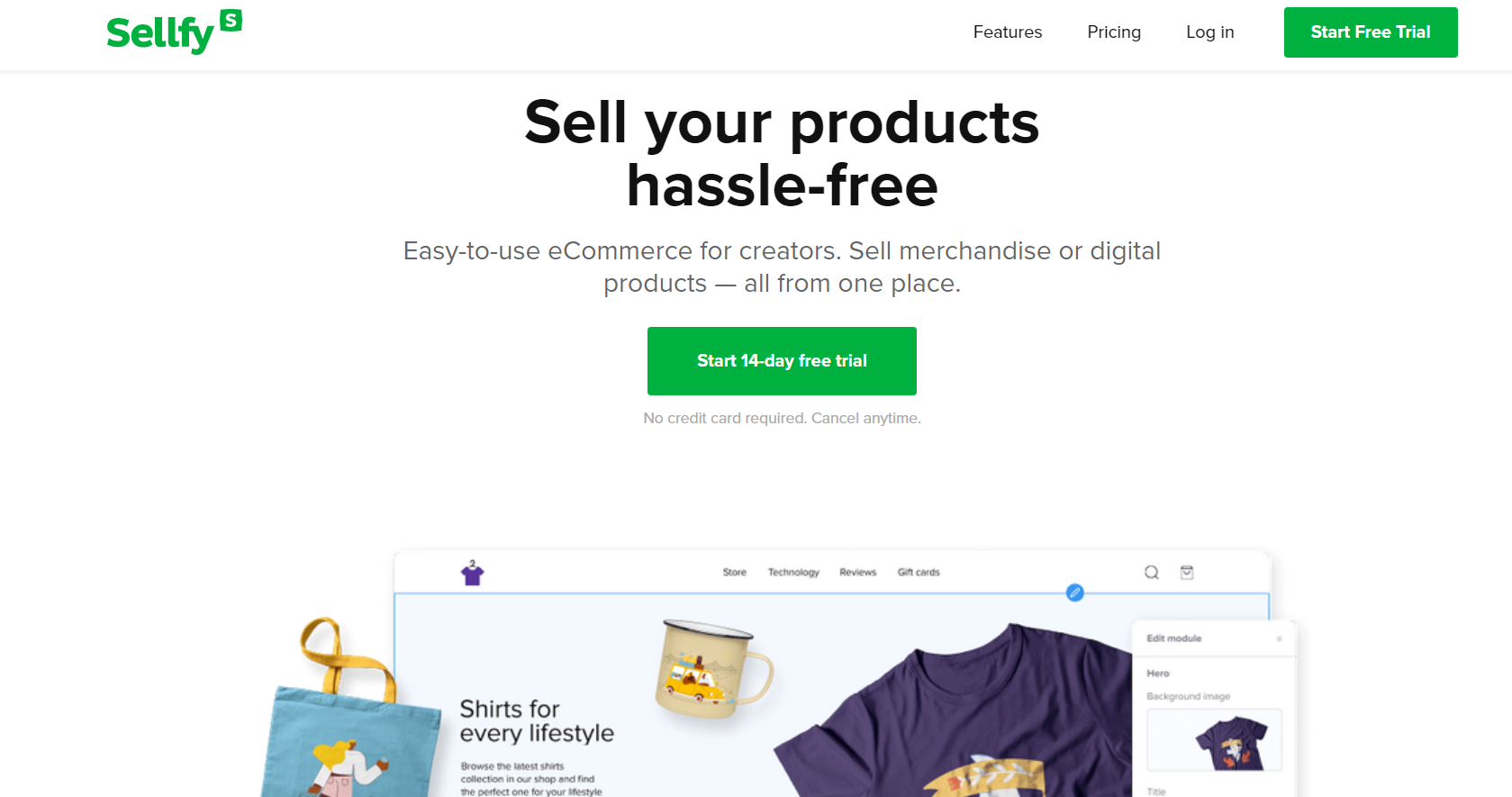 Sellfy is an e-commerce platform, particularly for the selling of digital goods including music, pictures, graphics, books, and videos in digital formats. It works well for businesses that sell digital products and need a complete online store setup.
Thanks to the Sellfy store, creators have a platform to sell their digital goods to customers online.
💡 Tip: Learn How To Make Money On Youtube Without Making Videos [2023].
First, they can sell products like ebooks, movies, music, works of art, and online courses. And also there's the opportunity to sell actual goods, like Jewelry, Clothes, Socks, Furniture, etc., even though this option is not as often advertised. But all in one place? Amazing!
You can use Sellfy in two different ways:
as a standalone storefront – where you can construct a website, sell items, and communicate with consumers
as a website embedder – where you can add a "Buy Now" button to any already-existing website.
For example, let's say you are a musician and you run a WordPress blog about music hits, music genres, or something else, but ultimately want to sell to your followers.
In this matter, there is no need for several websites because the Sellfy store embed feature enables you to integrate an online store with your WordPress website.
Now, let us guide you deeper into my Sellfy Review.
Lifetime deal: Get all-access to everything on Dropshipping.com
Access all DSCOM features, resources, courses, live workshops, discounts, winning products, weekly deep dives, directories and all future updates under all-in-one dropshipping HUB.
DROPSHIPPING IS A REAL BUSINESS, DON'T DO IT ALONE. 4553 MEMBERS ALREADY JOINED. YOU CAN PAY OFF YOUR SMALL INVESTMENT WITH JUST 2 SALES ON YOUR STORE.
Grab the deal before it's gone
Sellfy Summary
The best
Excellent marketing tools

Print On Demand Features

The software is easy to use

Sell Anywhere
The worst
Limited email credits

Limited SEO Functionality

Poor Google PageSpeed Scores

Limited Features and Integrations
Starting from
Starter plan – $29/month; Business plan – $79/month; Premium plan – $159/month

Is Sellfy Worth it?
One of the key benefits of Sellfy is the ease of use, which speaks directly to dropshippers and creators who want to spend their valuable time developing their creative goods rather than necessarily constructing and managing their dropshipping store.
Well, I must admit Sellfy employs the motto, "Get your store up and running in 5 minutes." for a reason.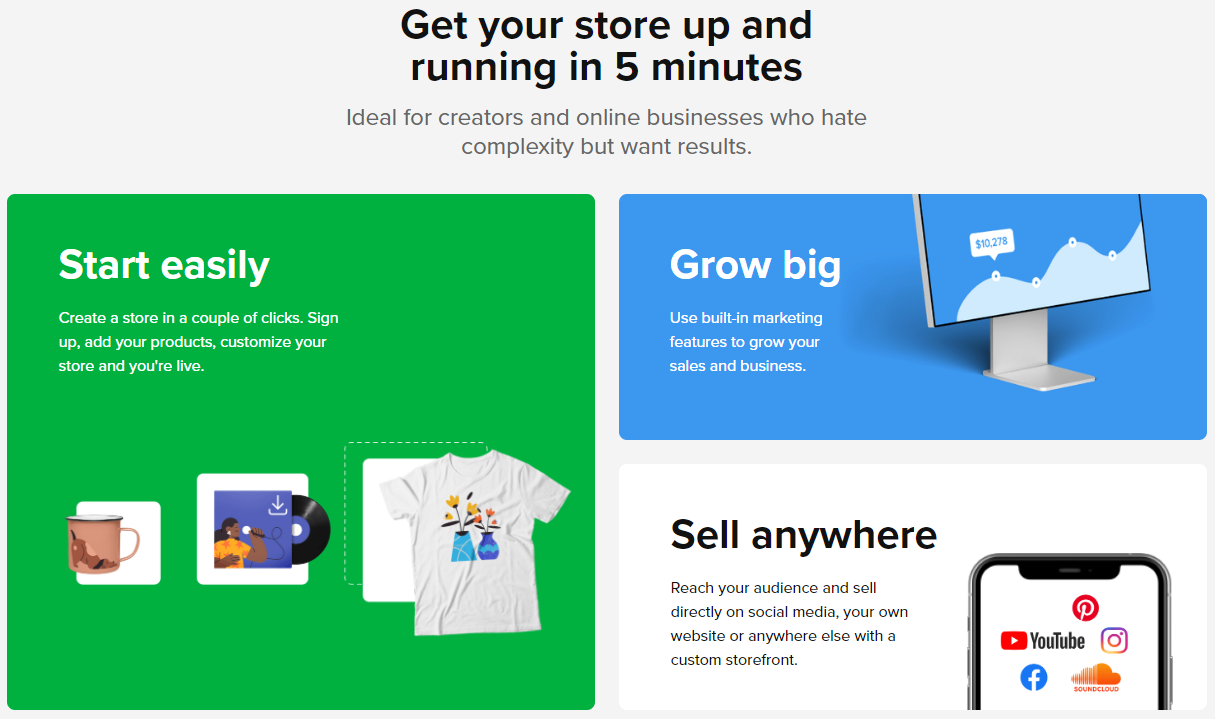 Additionally, setting up your store, customizing, adding your items, and starting to sell immediately (however you like) are all made simple and quick by using the Sellfy store.
Next, you may grow your business with integrated marketing tools to any degree.
You can sell straight on social media, your own website, or any place else having a bespoke storefront because you can reach your audience everywhere.
Wait, all this for $29? Well, this is not "all" at all!
You can also become a part of a community of thousands of creatives that share your goals and are all attempting to monetize their passions through online businesses.
This is undoubtedly a strong yet user-friendly platform with all the tools you need to set up and manage a lucrative online business.
Plus, it will save you a ton of time and money that you would otherwise spend attempting to link and integrate various sales and marketing platforms.
Still having doubts about its worthiness? Hmm.. I bet you don't.
However, I need more info. So, below in this Sellfy Review, I will guide you through all this stuff in more detail. 
Who is Sellfy Good For?
First thing first, Sellfyy is good for all dropshippers who want to build their online store easily without the need for any technical skills.
In just five minutes, you can sign up and set up an online store, giving you the chance to thoroughly learn the software's ins and outs in 14 days for free.
However, mostly Sellfy's features are suitable for:
Musicians
Photographers
Videographers
YouTubers
Bloggers

👉 Learn What Is A Digital Creator vs Influencer + How To Boost Your Brand?
Sellfy Review: Pros and Cons
There's no denying that Sellfy is a great and easy platform for building your online store in only 5 minutes. But, as with any other platform, there are Pros and Cons. So, you better consider it all before employing it.
Therefore, I have made a complete list of Pros and Cons in my in-depth Sellfy Review. 👇
| | |
| --- | --- |
| Pros ✅ | Cons ❌ |
| ✅ Excellent marketing tools | ❌ Limited email credits |
| ✅ Print On Demand Features | ❌ Limited SEO Functionality |
| ✅ The software is easy to use | ❌ Poor Google PageSpeed Scores |
| ✅ Sell Anywhere | ❌ Limited Features and Integrations |
Pros
✅ Excellent marketing tools
Sellfy's built-in marketing tools, which let you send emails, use coupons, upsell items, and employ tracking pixels and analytics tools, are one of its biggest strengths.
👉 In addition, Check out the 21 Best Ecommerce Marketing Tools for Dropshipping Store Owners.
✅ Print On Demand Features
With the built-in print-on-demand features, you may start selling products on your dropshipping store right now. Hence, your business has print-on-demand options that enable you to upload designs and sell products directly to customers.
👉 Check out The 10 Best Print-On-Demand Dropshipping Companies.
✅ The software is easy to use
Anyone can signup and instantly establish their dropshipping store.
The ease of use, which immediately appeals to consumers who want to spend their time developing their goods rather than necessarily constructing and managing their shop, is one of Sellfy's key advantages.
Plus, everything needed to create a website is available, including hosting, file security, and a shop customizer.
What's more, the Sellfy platform is easy to use, allowing you to rapidly set up your store, add your items, and start selling.
Also, there is a straightforward ease of use when it comes to tax and VAT configuration settings.
💡 Tip: Read about Dropshipping Taxes and Payments – Must-Know Facts.
Additionally, all online stores feature mobile-responsive designs, and you may manage them from a mobile app.
👉 Learn about Seller's Permit vs. Business License: What Do You Need to Start Selling Online?
✅ Sell Anywhere
You are not limited to merely selling on your website any more thanks to the platform's embed feature. Instead, you can now sell your goods wherever you like, including through forums, social media, email, and other channels.
Cons
❌ Limited email credits
The functionality to send emails is not available with the Starter package. You would need to purchase more once your email credits ran out.
❌ Limited SEO Functionality
If Search Engine Optimization is a top priority for you, you must use alternative solutions as Sellfy only offers basic SEO functionality.
❌ Poor Google PageSpeed Scores
When compared to competing platforms like Wix, Shopify, or WooCommerce that are comparable, the platform's speed is a little slower.
❌ Limited Features and Integrations
Last but not least, Sellfy appears to just have one storefront template, making it difficult to differentiate your business look.
Furthermore, even though Sellfy provides three pricing plans, just a small number of features genuinely set them apart from one another.
Sellfy doesn't have an app store like other eCommerce platforms, therefore there is limited integration with third-party apps.
Also, please keep in mind that The Starter plan has Sellfy branding present.
Sellfy Review: Top Features
Sellfy divides its features into several categories: Products, Customers, Orders, Marketing, Apps, and Store Settings. This is exactly what you will see once you log in and the Dashboard displays. 👇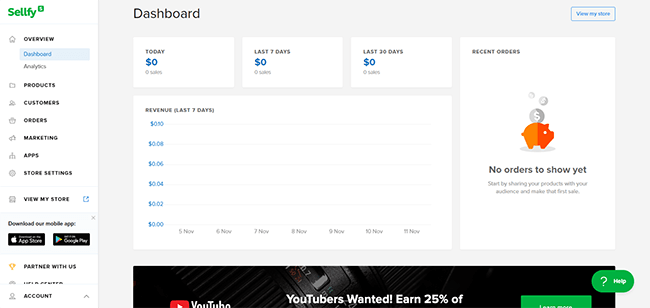 Each of them is broken down into sub-categories, or sub-features that are equally important when building your dropshipping store. Thus, let's go through this Sellfy review in-depth.
Products
This feature can be entered from the left sidebar of the Sellfy Dashboard. Thus, by clicking on Products you will be headed to the Products Section. Here you can manage inventory, add a new product, etc.
First, you can select the type of products you want to sell. Thus, you can add a new product from several categories:
Digital products
Print-on-demand
Subscription
Physical products
Freebie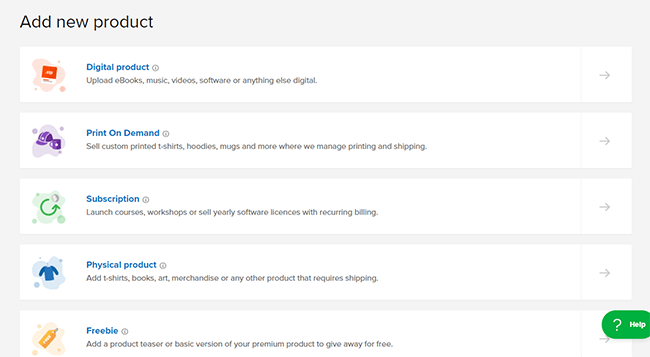 Next, adding a new product is simple. You just need to click on the Add New Product button to get started. This will open a menu that will guide you through every step of the procedure.
You must decide on a product type. So, let's assume that you are selling a digital product, such as a PDF.
Therefore, you'll be requested to upload the product file on the next screen. Also, you will be requested to add the specifics of your product, such as name, description, category, price, and variations.
Lastly, to save your work, simply click Save Product.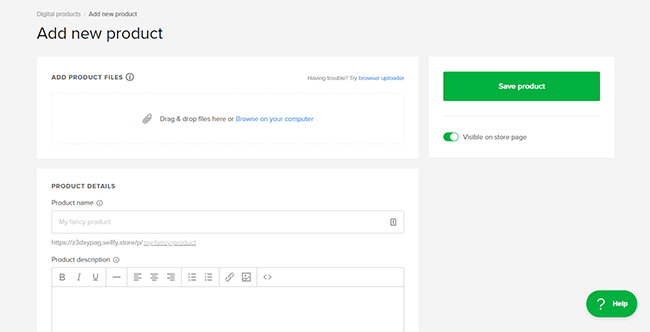 Please NOTE that if you choose Print on Demand, a list of goods that Sellfy may print and deliver to clients on your behalf will appear. So, carefully examine what types of products they work with.
Customers
The Customers category is divided into two sub-categories:
All customers
Subscriptions

You may see all of your customers' purchases by selecting All Customers.
On the other hand, if you set up a subscription, the Subscriptions section will display customers who paid for a weekly, monthly, or yearly membership.
Along with information like the date of purchase, the buyer's email, the status of the subscription, and the amount paid, You'll also see the order history of your subscriptions.
Orders

In the Orders category, you can see your list of purchases made on your website. What's more, you may add filters to make it easier for you to sort through them if there are too many.
Additionally, there is a different area where you may find simply unfulfilled orders.
Furthermore, you can export all orders for a given date period in CSV format. It will include details such as the buyer, the item purchased, the country, tax information, and an email address.
Additionally, it will indicate if the customer agreed to receive newsletters from you.
Marketing
In the Marketing category, you can set up email marketing, discounts, coupons, cart abandonment, and upselling.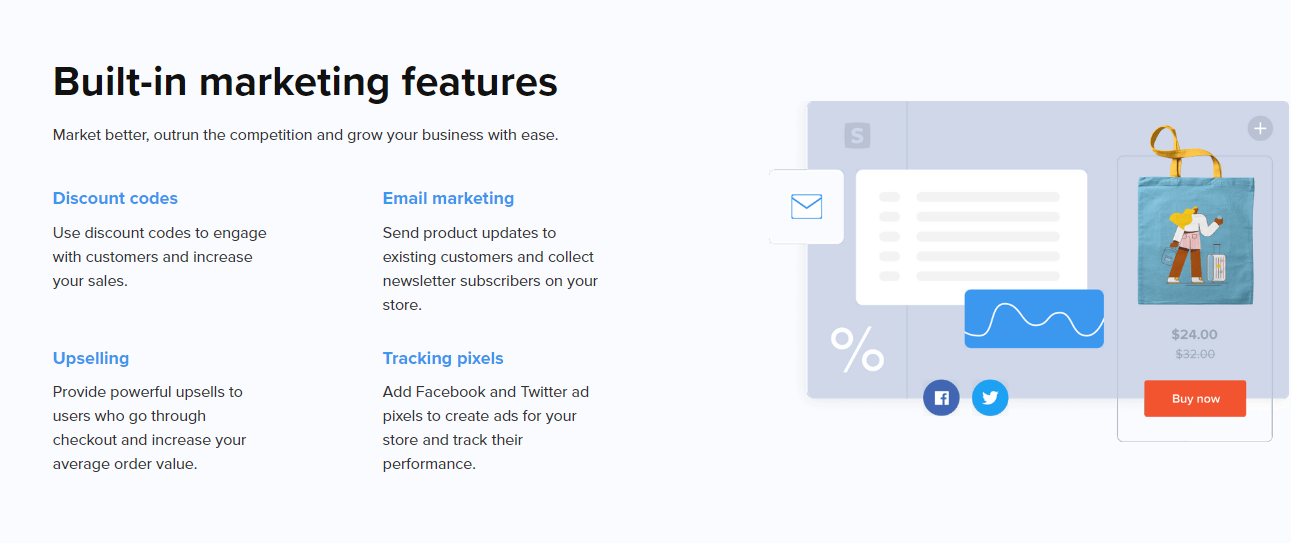 Email Marketing

You can use email marketing to promote new products or exclusive offers you may have in the works to customers who have already made purchases from you.
However, you have a limit on the number of emails you send each day. But, you can purchase additional credits as needed.
👉 Check out the 15 Best Email Marketing Tools For Shopify.
Coupons & Discounts
You can apply discounts to any number of goods from the Coupons & Discounts section.
Alternatively, you might start a deal that applies to all of the items in your store.
Additionally, you have the choice to include a freebie with every transaction.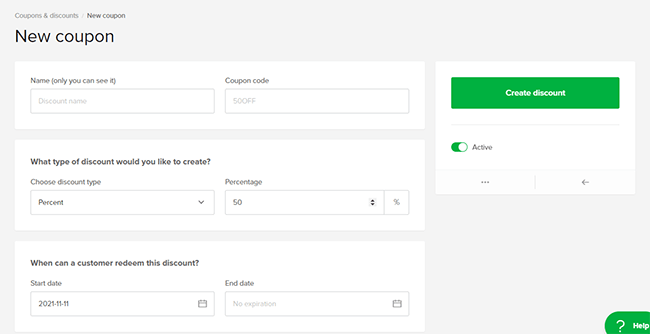 So, when creating a coupon, there are several pieces of information you should fill out in their form, like
name of the discount (which is only for you and won't be displayed to customers)
the coupon code
the type of discount (percent vs amount)
the percentage or amount of the discount
the start and end date of the promotion
the discount limit
the products eligible for the discount
💡 Learn How To Open and Manage Multiple Shopify Stores (Tips + Apps).
Cart Abandonment
Users of Sellfy can view the statistics about unsuccessful orders under Cart Abandonment.
There are several statistics available, including the number of abandoned carts, potential revenue, recovered carts, and recovered income.
Moreover, you may configure your cart abandonment email options here as well. 👇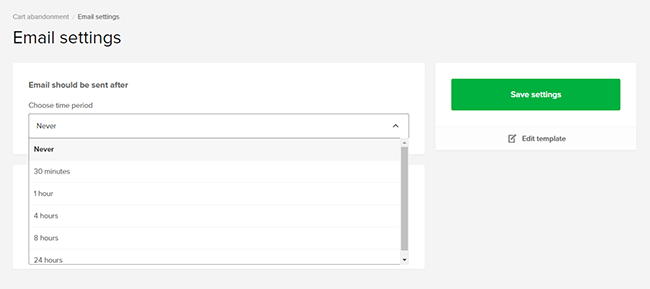 Maybe you are asking yourself why you need this, but reminding clients of their abandoned carts may bring leads even to the top of your sales funnel.
And that is not all! Thanks to the email option, you can also provide a discount to customers who abandoned their shopping carts to further attract them.
👉 Also, Learn How To Recover Abandoned Carts For Shopify Dropshipping Stores.
Upsell
In the Upsell section, after consumers add goods to their carts, Sellfy presents them with these products.
Simply choose a product to upsell, start an upsell campaign, and add all other necessary information. 👇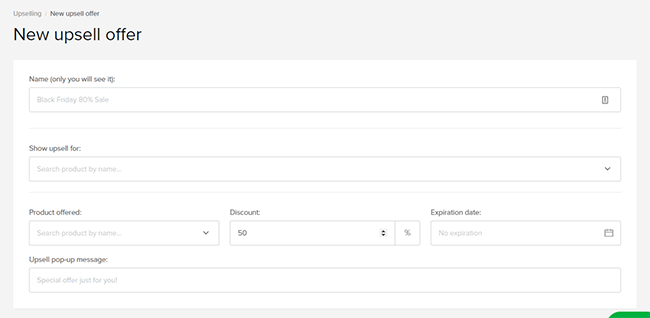 Also, check out the Top 11 Shopify Checkout Apps: How to Optimize Your Checkout Page?
💡 Tip: Read about Why Upselling and Cross-Selling When Dropshipping.
Apps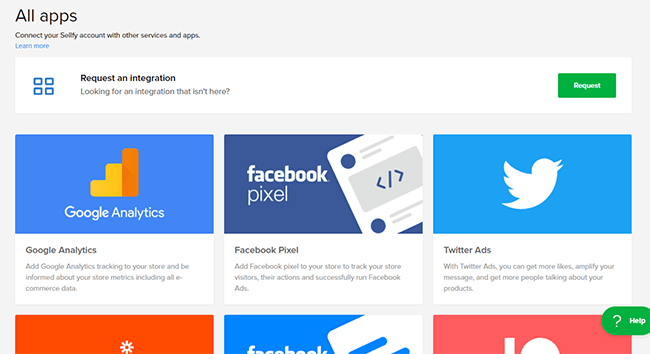 If you want to integrate with third-party tools, you can simply do that from the Apps category.
There are several options from which you can choose, like Patreon, Facebook Pixel, Twitter Ads, and Google Analytics.
However, if you can't find the app you want to integrate with, you should simply write and send a request for integration to the Sellfy team.
👉 Also, check out the 18 Best Shopify Dropshipping Apps [Review & Comparison].
Store Settings
And the last feature in my Sellfy Review is the Store Settings. Maybe it is last mentioned, but I can say that is the most important for sure!
All of your website design settings are located in Store Settings. It displays your online store's current appearance and enables you to modify it to suit your needs.
👉 Read about Shopify vs. Custom Store for Dropshipping – What's Better & Why?
Let's see what I got here.
🔸 Customization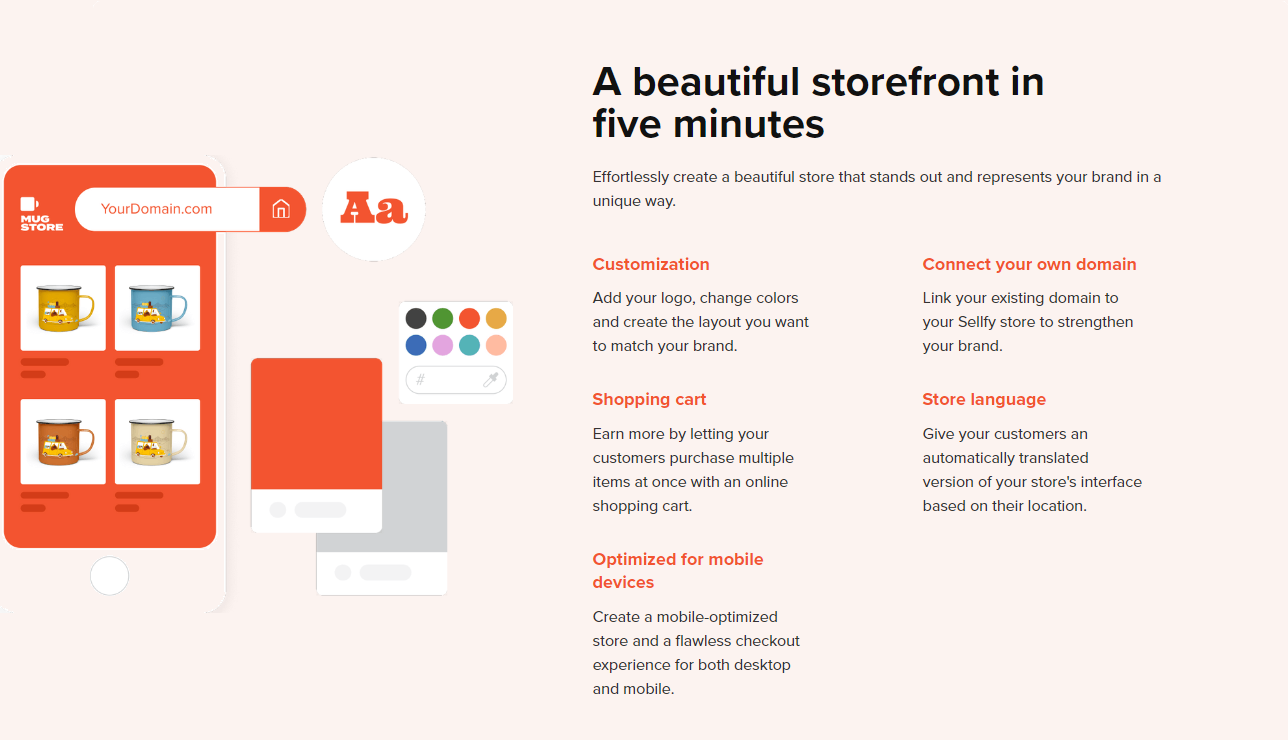 Here, you may modify the colors and layout to better reflect your brand and add your logo.
It's simple to change the appearance of your website. Simply click an element on your landing page and make the necessary adjustments.
For instance, let's say that you want to modify your header. You may modify the background color of your website, the text size, the alignment, and the font. Additionally, you have the option of using a custom picture as your header.
Products may also be moved about by dragging and dropping them into other positions.
Here are some other methods to modify your online store:
Use an online shopping cart – enable clients to buy many things at once so that your store can generate more revenue.
Optimized for Mobile Devices – You may build a mobile-optimized online store that offers a faultless checkout process on both mobile and desktop that you can use for your company website and eCommerce platforms.
Custom Domain – To assist establish your brand and gain the trust of your visitors, you have the option to utilize your current domain and connect it to your Sellfy store.
Store Language – Depending on the visitor's region, provide your consumers with an automatically translated interface for your online store.
👉 Check out the 13 Most Successful Shopify Dropshipping Store Examples.
🔸 Payment Settings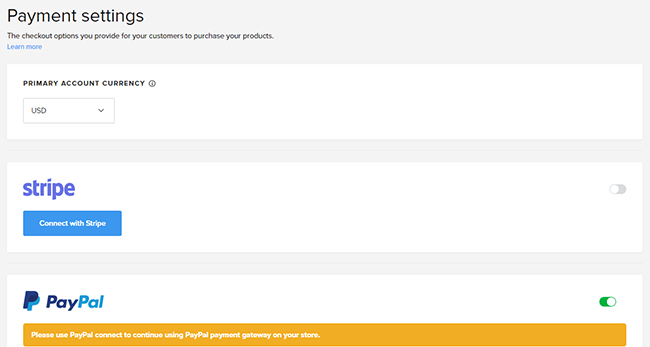 With Sellfy, you can accept payments from anywhere in the globe and keep them safe thanks to top security precautions like SSL.
Offering secure credit card payment choices and accepting payments from clients in more than 200 countries are both possible with PayPal and Stripe.
Because the platform is PCI-DSS compliant, trustworthy payment processors like PayPal and Stripe will manage the payment information of your customers.
👉 However, check out the 7 Best Payment Gateways For Shopify.
🔸 Embed Option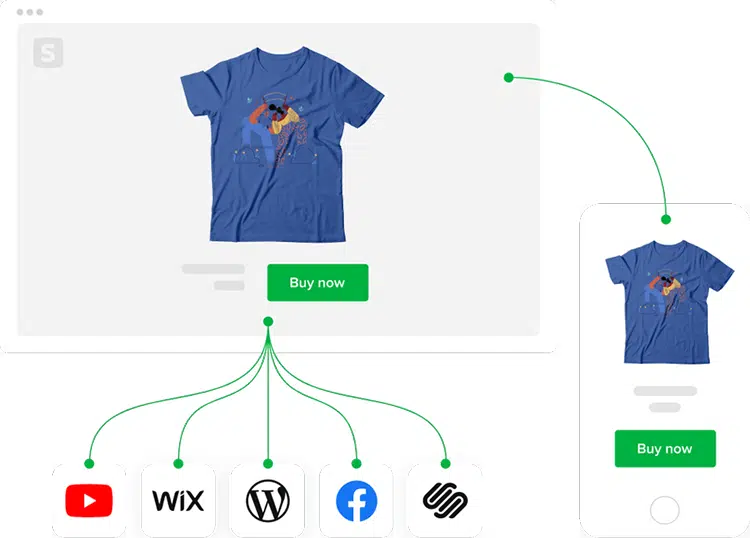 Embed options are available to assist you in integrating Sellfy with your current website. You have the option to display all of your inventory, highlight a specific item, or add a Buy Now button.
Also, you can integrate your website with your social media presence, or other platforms where your target audience is present.
Here's what you can do with the Embed Feature:
"Buy Now" Buttons. To instantly transform any of your current sites into an online store, add a conspicuous "buy now" button to any website.
Product Cards. Include product cards on your website so that you may monetize any of your content by including products from your online shop.
Product Links. You may sell almost any place by using links. These are excellent for direct com, communication, or social media texting.
YouTube End Screens and Cards. Sellfy enables you to utilize end screens and cards on your YouTube videos to drive more traffic to your online store.
Store Embed. You can integrate your full dropshipping store with all of your real or digital items.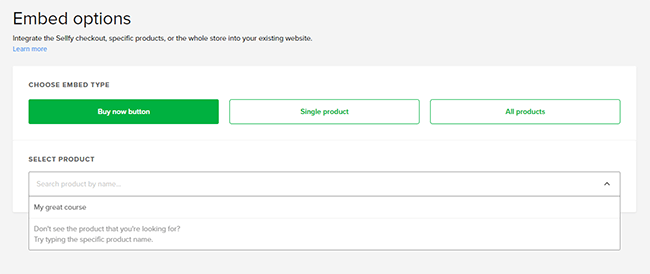 Since I covered all of the key features, let's continue with my Sellfy Review. Hmm… Let's see, is Sellfy free?
Sellfy Review: Pricing
There are three plans available on Sellfy:
Starter plan – $29/month;
Business plan – $79/month;
Premium plan – $159/month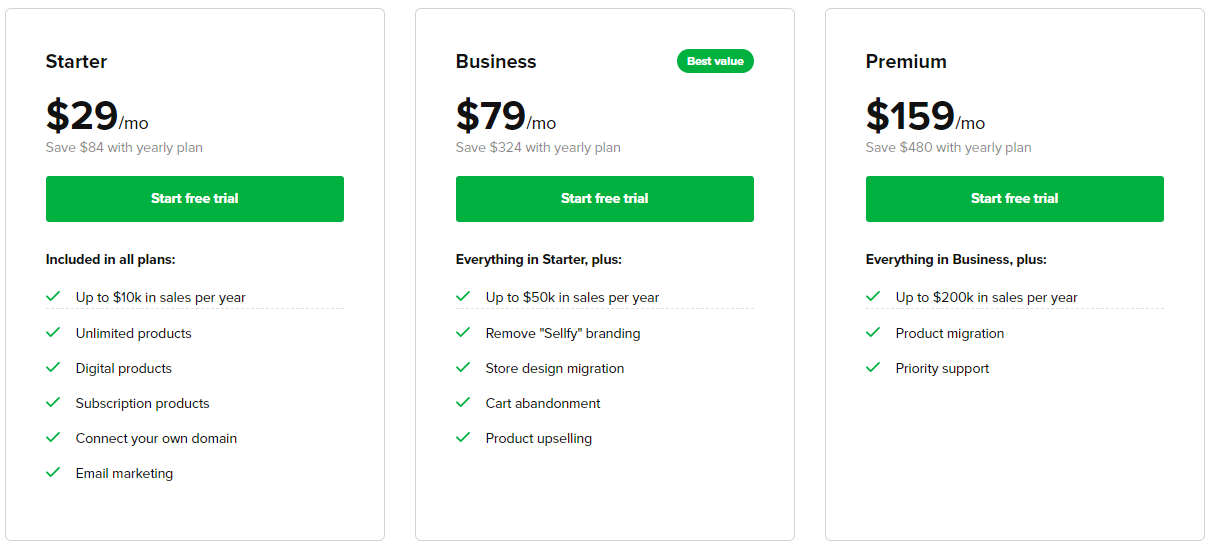 However, if you choose yearly payment then you will be charged:
Starter plan – $22/month; $264/year
Business plan – $59/month; $708/year
Premium plan – $119/month; $1,428/year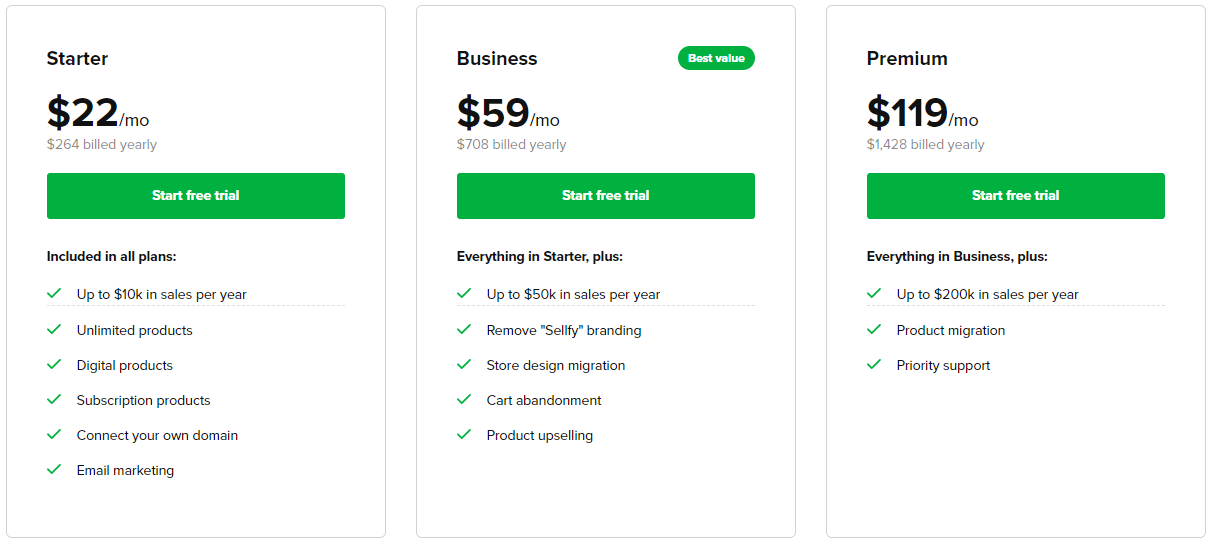 When compared to paying monthly, the yearly plan saves at least 34%. A 14-day free trial is offered with each package. Also, there are no transaction fees or hidden costs.
And, there's a whole other pricing story when it comes to two-year payments. Check it out. 👇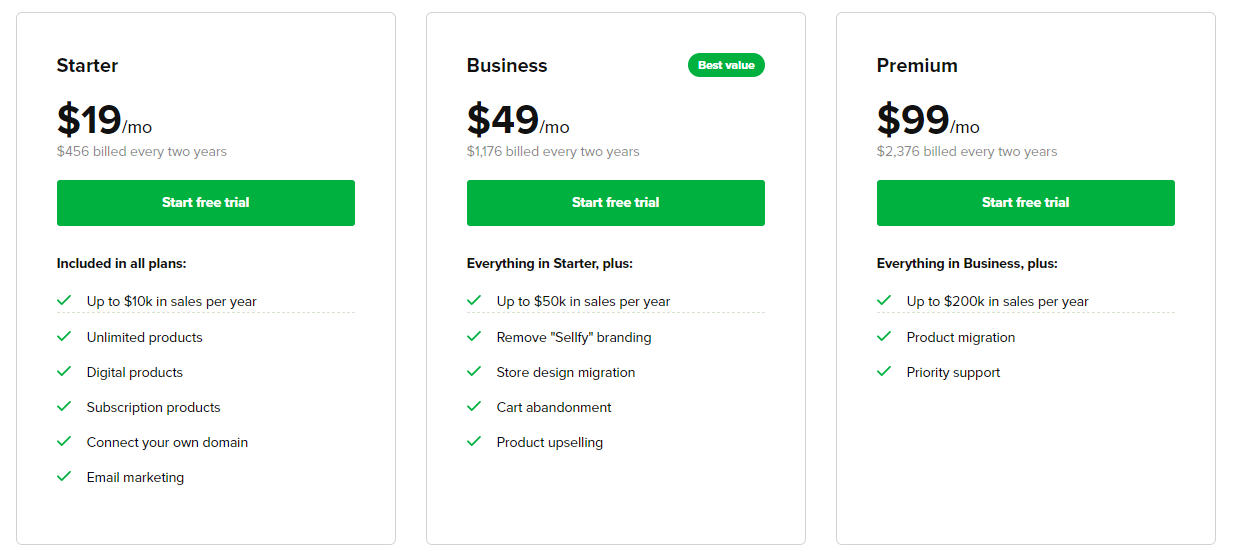 Wait a minute, I am not leaving without looking after Sellfy's competitors. So, the next topic in our Sellfy Review is exactly the Sellfy alternatives. Let's see!
Sellfy Alternatives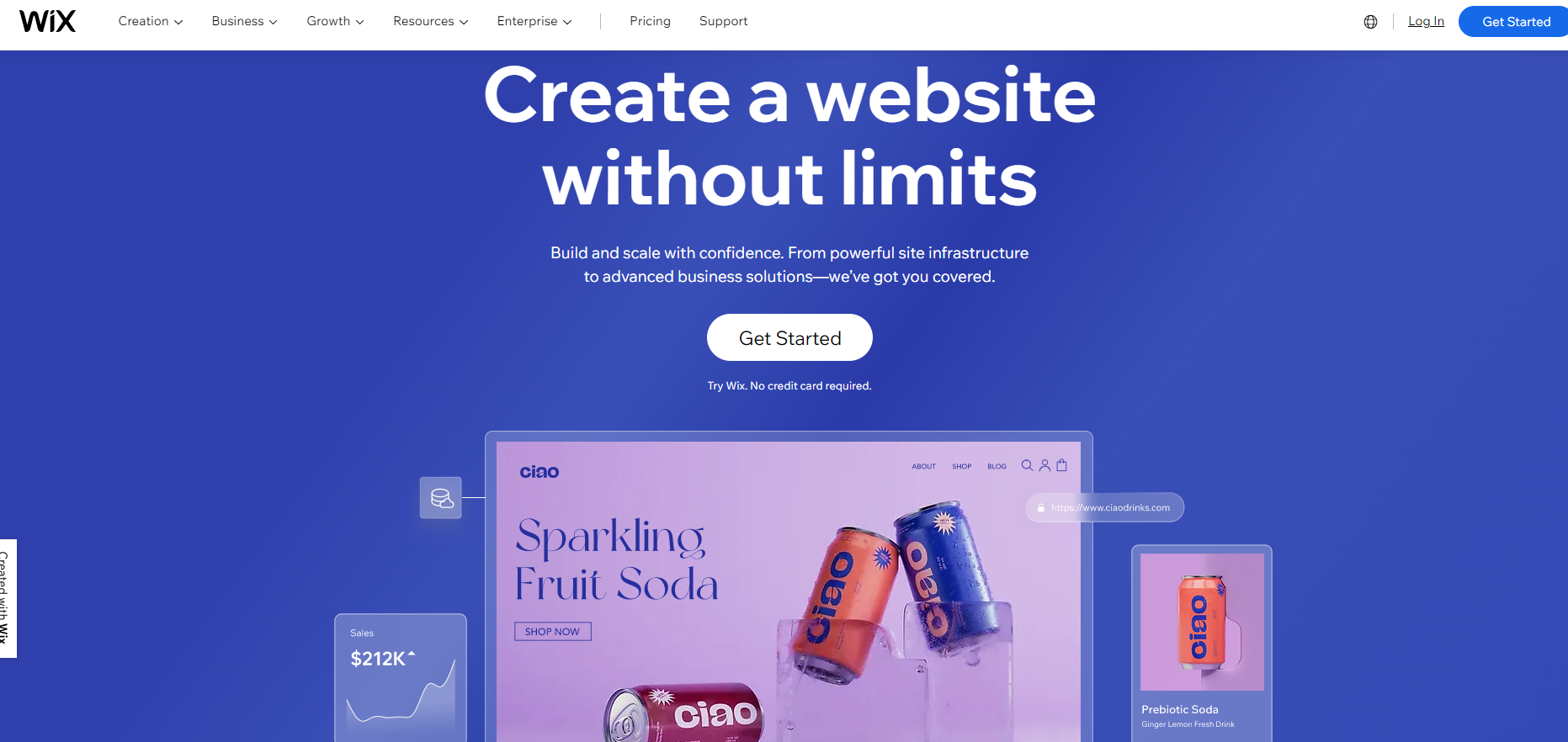 Wix is much more than simply a tool for creating websites. Specifically, it provides a comprehensive suite of eCommerce tools to assist you in developing your online presence and setting up a stunning and fully functional dropshipping business.
However, you must select one of Wix's three business and e-commerce price plans, starting at just US$17 per month, to begin Wix dropshipping.
👉 Learn How to Start and Grow Your Wix Dropshipping Store.
You should use Wix if you're launching a new dropshipping store and don't want to spend a lot of time learning how to build it. Additionally, Wix is a highly cost-effective option for new dropshippers.
Looking at Sellfy vs Wix, I can say that both Wix and Sellfy offer print-on-demand features and are providing a simple way to sell products online. 
On the other hand of Sellfy vs Wix, when compared to Sellfy, Wix does provide more payment methods. The platform is also substantial and well-established, making it perfect for larger eCommerce businesses.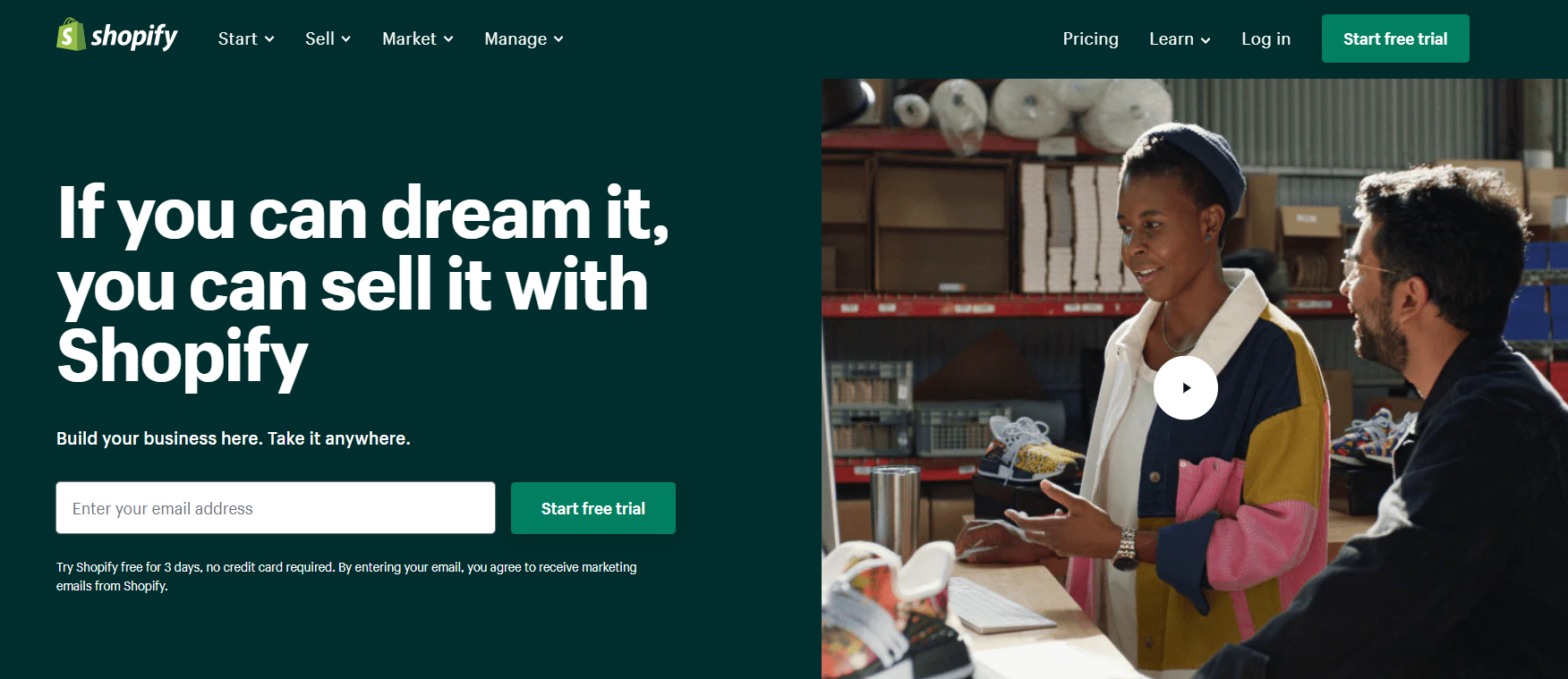 One of the most well-known brands in the SaaS eCommerce platform market is Shopify. It's not surprising that Sellfy is a major rival given that its price points are comparable.
💡 Tip: Check out How To Set Up Your First Store On Shopify [For Dropshipping Beginners].
When comparing Sellfy vs Shopify, I can state that Shopify offers far more design freedom and customization options, whereas Sellfy offers far fewer built-in features.
A significant difference between Sellfy vs Shopify is the number of payment providers it offers and the transaction fees it charges. Shopify has more than 100 payment gateways and very affordable and focused pricing plans.
👉 Learn How To Pause Or Cancel Shopify Subscription? [2023].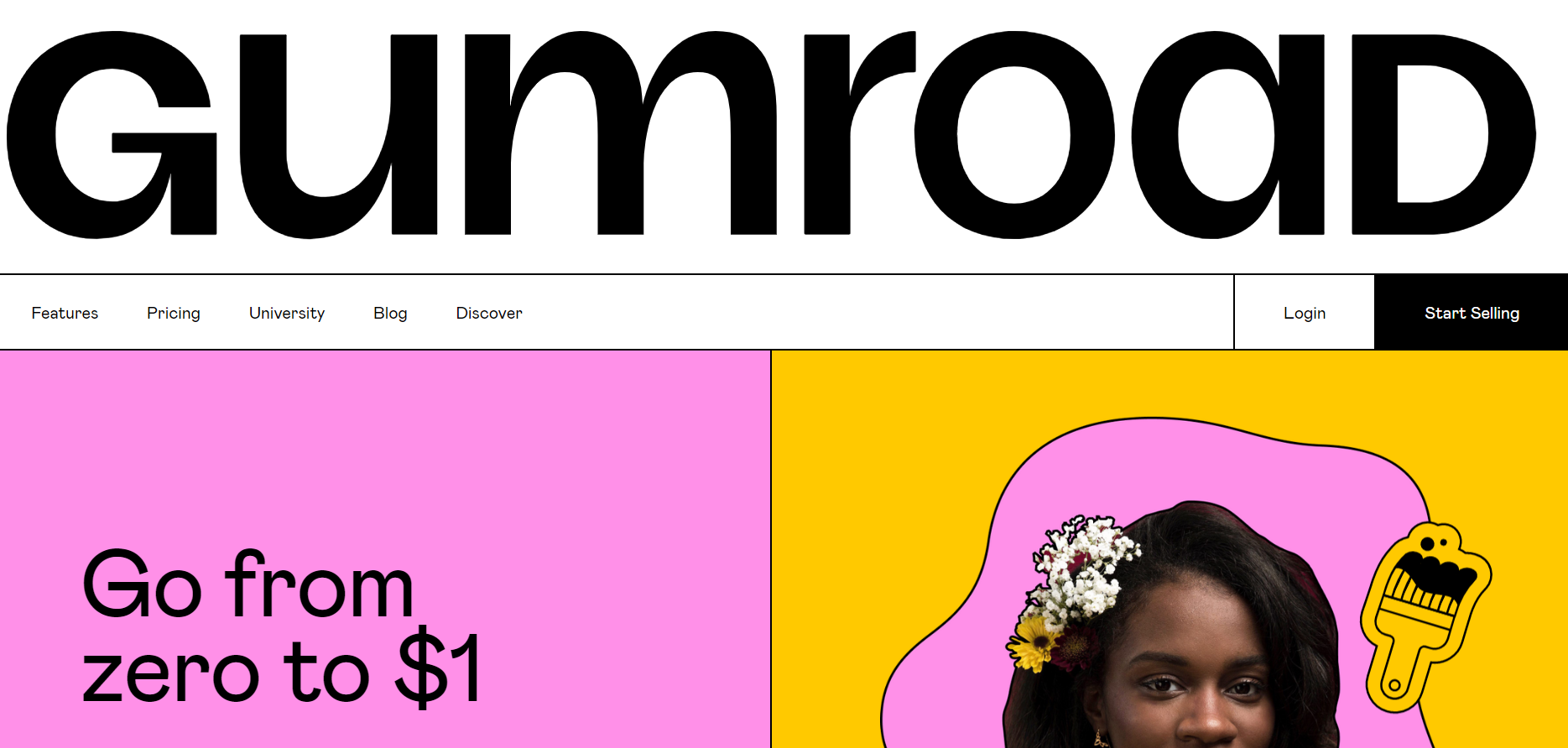 Gumroad is an easy way to host and market digital goods or subscriptions. You may easily sell anything on Gumroad, including ebooks, music, videos, photographs, and other types of files.
Conducting a Sellfy vs Gumroad comparison, I can say that Sellfy does not need you to search for any external print-on-demand services or connect anything to your business.
Additionally, by using Gumroad, you are essentially saying goodbye to a sizable portion of your hard earned money with only a 9% transaction charge.
However, Sellfy does not take any commissions, transaction fees, or other expenses from your earnings. You'll never have to be concerned about unexpected fees while using Sellfy.
What's more, you will have to wait till your weekly paychecks before using Gumroad to get your money, which is not the case with Sellfy.
Join the only community and resource hub you'll ever need to succeed with dropshipping
Find winning dropshipping products, learn marketing, download templates and engage with real dropshippers
Never pay for a "guru's" course again. See why 4543+ dropshippers joined us this year!
💡Try DSCOM Hub Now
Is Sellfy Legit?
Let's start with numbers here. Sellfy helped over 270,000 creators since its foundation in 2011. So, it's definitely not a scam!
Also, Sellfy reviews do not show any difference. The platform is rated ⭐ 4.5/5 stars, with 90% positive comments. Most of the rates and comments show excellent Value for money, Ease of use, Features, and Customer support. 👇

However, there are also a few negative comments, showing poor development in some aspects.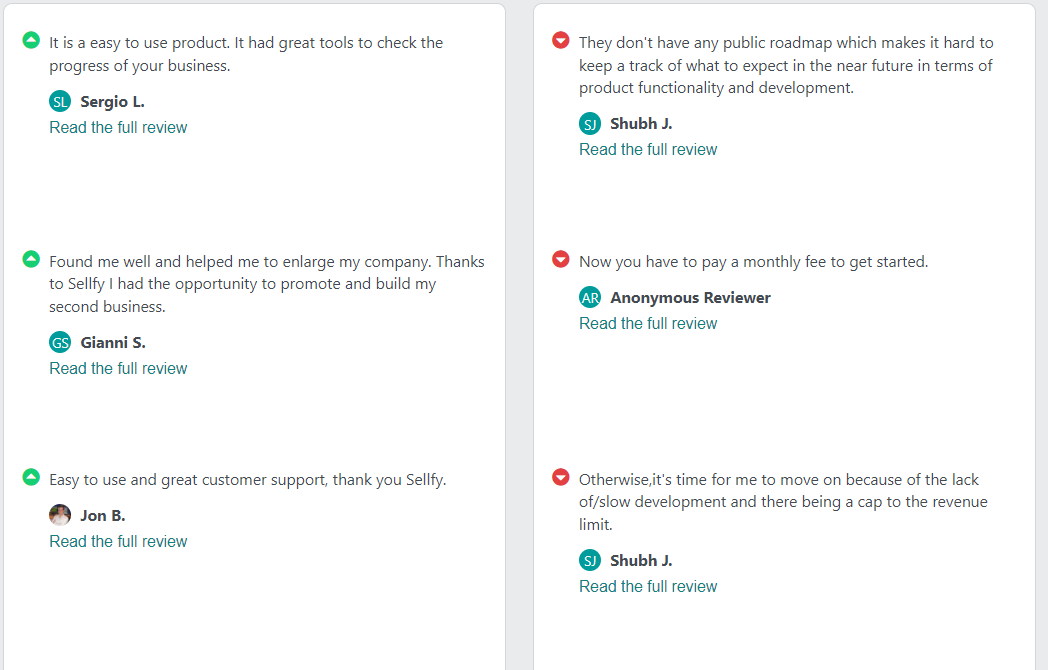 Either way, It will be worth using the Sellfy store, and if you are still not sure once you read our Sellfy Review, I will sum it all up again. 
The platform manages all aspects of operating a profitable online store, including hosting your items, processing payments, shipping your products, and automatically sending download emails.
With simply a link, Sellfy enables you to start selling your goods right away. You can concentrate entirely on producing outstanding content for your website since you don't have to bother about digital product storage, distribution, or payments.