Weebly Ecommerce Review: Creating A Store With Weebly [2023]
by
Aleksandra -
Aleksandra teaches marketing and management at various levels in High School. She writes about marketing, the economics and logistics of the dropshipping business and ecommerce in general.
Chief of Content Marketing
Wondering why you need this Weebly Ecommerce Review? Well, since you are reading this, you probably know the key steps for starting a dropshipping business in 2023. And one of them is building a dropshipping store! 
But, don't worry I got your back!
However, this step can be even the easiest or the toughest one. It all depends on the way you choose to build it, and all other supporting tools.
Nowadays, the best and fastest way to build a dropshipping store is by employing a website builder.
Therefore, let us show you one of the best website builders available. Take a tour in my in-depth Weebly Ecommerce Review! 
What is Weebly?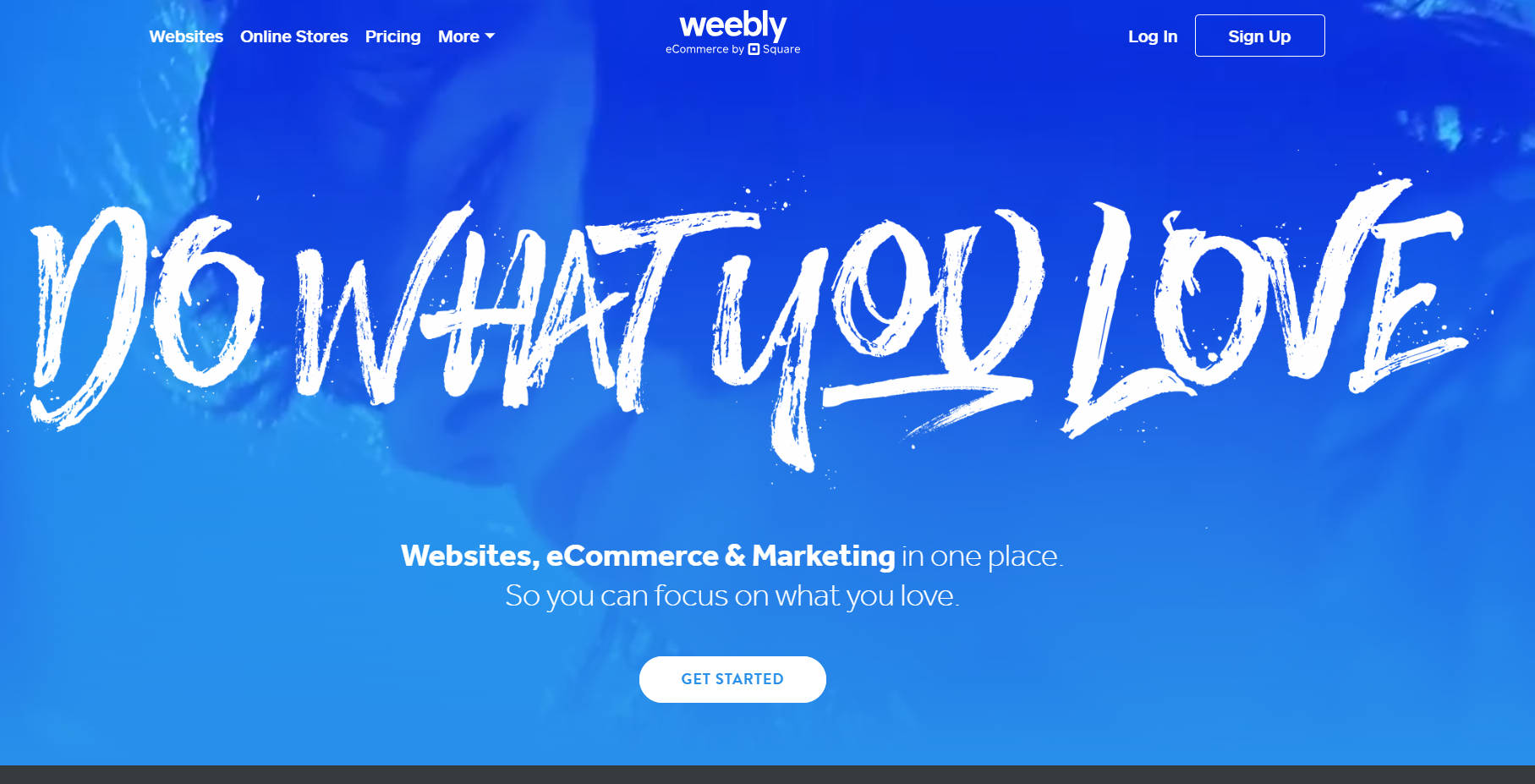 Weebly is one of the most effective drag-and-drop website builders available today. It is also one of the simplest platforms for creating your own online store.
Weebly Ecommerce is designed for small to medium-sized eCommerce businesses that want to start selling online as soon as possible.
What makes this platform, even better is that there are no complex setup or maintenance requirements. As a result, it's ideal for newbies and users who don't want to become dragged down in technical complexities.
Besides, Weebly website builder gives you access to personalized web page designs as well as useful tools to assist you in the creation of your dropshipping store.
Furthermore, you may quickly build a free website to increase brand awareness and customer base.
👉 Check out the 5 Expert Tips to Create a High-Converting Ecommerce Landing Page + Examples.
However, I haven't said even half of what they provide. So, let's get to my in-depth Weebly Ecommerce Review!
Lifetime deal: Get all-access to everything on Dropshipping.com
Access all DSCOM features, resources, courses, live workshops, discounts, winning products, weekly deep dives, directories and all future updates under all-in-one dropshipping HUB.
DROPSHIPPING IS A REAL BUSINESS, DON'T DO IT ALONE. 4553 MEMBERS ALREADY JOINED. YOU CAN PAY OFF YOUR SMALL INVESTMENT WITH JUST 2 SALES ON YOUR STORE.
Grab the deal before it's gone
How To Start Dropshipping With Weebly?
To use the Weebly website builder, you must first sign up, then create a domain name and select a price plan. This may appear to be a lot, but don't worry!
A Weebly website can be established in eight simple steps:
Sign up
Select a Theme
Choose a domain
Design your Weebly website
Add apps
Choose pricing plan
Publish your Weebly Website
Grow and improve your store.
Later in this post, I will cover the fundamentals from start to finish and everything in between, such as: how to use Weebly's editing features, templates,  domain picking, integrating applications, and setting up an online store.
So, let's start my FULL Weebly Ecommerce Review.
Weebly Ecommerce Review: Ease Of Use
Weebly is simple to use because, instead of dealing with abstract lines of code, you move actual photos, text boxes, buttons, and other elements about your website until you're satisfied.
Plus, their website builder allows you to create your page precisely as you would see it online. There's no need to switch between a backend and a front end or to alter raw code merely to relocate an image.
Furthermore, using Weebly's drag-and-drop editor, you just drag and drop items like text boxes, forms, buttons, and photos throughout your website. This makes creating your website simple to navigate.
However, please NOTE that there are limitations to where you may move objects, and you are somewhat limited by the theme's framework. As a result, because of the restricted flexibility, the Weebly website builder is not as simple as its main competitor Wix.
👉 Learn How to Start and Grow Your Wix Dropshipping Store.
Nonetheless, for those searching for a quick start, Weebly is a good option.
Weebly Ecommerce Review: Key Features
Next, we will make a detailed overview of all the features listed on Weebly's website. So, let's start! Weebly Website Builder consists of five very important features to customize your dropshipping store.
Drag and Drop editor
You can use the drag-and-drop editor with all the features that Weebly provides. It means you can move the elements and put them whenever you want to on a certain page.
This implies that all of the content, layout, and design options are strict "drag-and-drop."
While developing your website, you may select from Store, Settings, Help, Pages, Build, Theme, and Apps blocks, and there is a clear blue button for the "Publish" choice as you go.
A page can also have video, audio, text boxes, maps, photos, and material added to it at any moment.
You may, for example, create an e-mail marketing campaign by dragging and dropping information directly from your site into a template, then choose how and where to distribute them.
Now, let us show you what content elements the Weebly Website builder provides. Shall we dive into this Weebly Ecommerce review for real?
Store Pages and Product Search
1. Product Pages
One of the primary features that differentiate Weebly eCommerce is the ability to build independent, dedicated Product Pages for each of your items.
You may enter numerous photos on the Product Pages, with the main image and "sub-images" underneath the main image in a gallery that your customers can view by clicking on them.
There is also a zoomed-in version of the photos. As a result, when a consumer moves their mouse over the photo, they can examine the product in greater detail.
➡ Product Variations
Furthermore, Weebly offers a variety of product variations. You may edit this in Weebly Editor and include numerous product alternatives for your consumers to choose from.
Weebly allows you complete control over how variants (size, color, and type) of your items are displayed, which is a really strong and versatile feature.
For example, let's see how it looks on one of Weebly's websites – Wall-in. 👇
Let's assume I wish to configure the color and size of a product. I can do that, with only a few clicks: 
However, keep in mind that you may create as many product variations as you need. After you've customized your own product options, they'll appear on your Product Page, allowing your consumers to choose whatever variety they want to buy from you.
Furthermore, Weebly has a sales option that displays the discounted price alongside the crossed-out usual price. This is an extremely successful strategy for leveraging people's enthusiasm for sales.
You may also add your unique product description to your Product Page, as well as conduct some basic formatting like bold text, underlining, italics, and inserting numerical or bullet points.
Furthermore, social sharing buttons are available on each Product Page, making it simple and quick for your customers to share your items with their friends via their social media network profiles.
In addition, you have a full drag-and-drop area directly below the main picture and the product variant settings where you can place additional Weebly features such as slideshows, further text descriptions, image galleries, videos, maps, contact forms, and so on.
2. Storefront page
You may add a Storefront Page that allows you to select which goods to display on this page.
Besides, this enables you to highlight certain goods to present to your customers, which is very useful for promoting best sellers, seasonal items, or promotional deals. Your customers may get to the product pages by clicking on any of them.
This is an extremely effective method of directing your customers to appropriate product pages.
Let's take the Weebly website from the example above. You can see this feature the second you land on the Wall-in website (homepage). 👇
Customers can see the offer, and they can click on the "Learn more" button which will lead them to the product landing page. Now, let's discuss the category pages in this Weebly Ecommerce review.
3. Category Pages
Weebly also allows you to categorize your items so that your customers may start refining their search to get what they're looking for.
You may create many categories and choose which products to include in each one.
4. Filtered Product Search
Weebly's filtered product search helps your customers easily discover the most relevant goods. They can search for items by filtering them by criteria such as color, size, price, material, or any product variations you have set up.
As you can see from the Wall-in menu, you do not just have categories, but you can break down your products into sub-categories, and sub-sub-subcategories. This makes the menu very easy to navigate for users.
Website Template
Weebly provides a free website template (theme) for every design style, from ultra-modern minimalist to bold and traditional. And, in my Weebly Ecommerce review, I will discuss the best ones.
Even though the template is ready to use, you can still modify the entire layout.
You have complete control over any website template thanks to simple and powerful customization features.
From a very simple interface, you may change the font, header, color scheme, and other important site design aspects. Therefore, you can combine these configurable parts to create an unlimited number of design possibilities.
Not to mention that you can further personalize your website design by choosing a high-resolution stock photo from Weebly's gallery of free background photos or you can upload your own.
Then, utilizing Weebly's robust background editor, you can adjust the advanced blur, darkness, and filter options for even more flexibility.
Now, let's take a glance at a few Weebly templates:
The Bradley theme is a fully responsive, user-friendly, and completely configurable template. It's quick and fluid, making it suitable for CSS and HTML coders alike.
Features included:
Responsive
Call to Action
Navigation Top
CSS buttons
Full-width header image
Color Palettes
Vector Social Icons
Navigation Fixed
As spectacular as the site appears on the outside, it is just as so on the inside.
Being CSS-friendly has many advantages, but HTML coders may also unite since this theme is a developer's dream.
If I had one complaint, it would be that the template does not work as well when changing backgrounds.
Features included:
Responsive
Navigation Top
CSS buttons
Full-width header image
Color Palettes
Vector Social Icons
Infiniti is the finest Weebly business theme because it focuses on gorgeous, clean but sharp layouts and elements of design, as well as strong theme options to make your website professional and stylish.
The portfolio feature may be employed to boost conversions, and the extra online store can be used to offer your items against a simplified and clean background.
The Inspiron theme has a traditional yet modern appearance, which makes it so special in this website world.
Visitors will love the aesthetics as well as the simplicity of navigation with a basic and modest design
However, the responsive design of Inspiron may be entirely changed using Weebly's drag-and-drop builder.
Free Domain Hosting
Purchasing your own domain name with Weebly is simple. There is no further setup necessary. Within a few minutes of publishing, your website will be available in the new domain.
Here's how to create your domain name:
Step 1: Find a domain name
To see if your ideal domain is available, use Weebly's Domain Name Search tool. Find a domain that appeals to you and your aspirations for online publication.
Step 2 – Create a free Subdomain
It is simple to set up a free Weebly subdomain. If you aren't ready to commit to a complete domain purchase or import, this option allows you to get your dropshipping store running fast.
Keep in mind that if you decide to upgrade to a new domain later, all traffic will be routed to your new domain automatically.
Step 3: Import from a Different Provider
If you acquired a domain from somewhere else, you can use Weebly's domain import tool to send it to your website.
NOTE: Weebly provides clear instructions for importing domain names from other major domain name registrars.
And there you have it, in three simple steps!
On top of that, from the Weebly dashboard, you can manage A records, CNAME, WHOIS information, and other important domain administration aspects. You can manage your domain without leaving the Weebly platform.
Now, I will continue with other stunning features in this Weebly Ecommerce Review.
Mobile Website
Weebly now includes iPhone and Android mobile apps, allowing you to monitor and edit your dropshipping store while on the move. You can add new items, images, product descriptions, product variations/options, and change prices.
You may also receive notifications on your phone anytime someone buys something from you!
Correspondingly, Weebly provides you with advanced mobile website builder features with a visual editor that allows you to drag and drop elements into a completely responsive design.
Also, it provides full mobile optimization and customization.
As a result, establishing a mobile website has never been easier due to Weebly. All Weebly themes are mobile-friendly and look fantastic on any device.
You can rapidly create a mobile website that provides a high-quality experience to your visitors, whether using a phone, tablet, or desktop.
Search Engine Optimized
Weebly Ecommerce also offers numerous tools that help your dropshipping business rank higher in SERPs.
In fact, your website is created with search engine optimization automatically.
A sitemap, SEO-friendly HTML formatting, meta descriptions, responsive design, and other features are included in the SEO tool.
What's more, complex SEO options are included as well, such as alt tags on photos and page-specific descriptions.
👉 Check out our article about SEO for Dropshipping Stores: How to Improve Your Rankings?
Start A Blog
Starting a blog with Weebly is very easy thanks to their drag-and-drop interface.
Meanwhile, the sophisticated design and publishing functionality allows you to concentrate on your content while Weebly handles the heavy work in the background.
You may use this Weebly tool to build custom URLs, title tags, and meta descriptions to help your blog articles rank higher in search results and drive more traffic to your dropshipping store.
Plus, they provide free blog themes that may be customized and adjusted to meet your needs.
Every blog template has RSS and social sharing options to help you spread your content across the channels.
Also, you can schedule sharing on Facebook and Twitter, as well as custom network messaging.
👉 Check out The Top 15 Best Facebook Ad Spy Tools For Dropshipping.
Online Form Builder
You can create custom Forms with Weebly. The drag-and-drop web form builder on Weebly makes it simple to create personalized contact forms, RSVP lists, and surveys.
You can integrate these features onto your website to provide a range of unique interaction and data collection options.
Thus, you can customize a form by simply dragging and dropping additional fields into any configuration, such as text boxes, checkboxes, and drop-down menus, as well as fully customize questions and response types to construct the exact form type you want.
Reliable & Free Web Hosting
The strong and free web hosting solution offered by Weebly delivers an important sense of security. Your website loads quickly and is functional during all seasonal changes.
This is great since we deal with generations that don't want to wait so a certain page to load. Thus, this feature helps you sustain customer satisfaction.
Weebly serves your website over the complete server architecture that supports millions of websites and visits every day.
The data center's redundant, cloud-based hosting infrastructure offers outstanding results and a smooth online experience for Weebly website visitors.
Video Hosting
This Weebly feature makes it simple to integrate videos from YouTube and other video-sharing websites into your Weebly website.
You could also employ Weebly's easy video embed tool to change spacing and presentation components on your current website.
Moreover, you can benefit from this feature since direct uploads will be converted to playing directly from your Weebly website. Visitors will not be required to download any files or use a separate media player to see your video.
👉 Read about How To Make Money On Youtube Without Making Videos [2023].
Website Statistics
This is one of the features that make Weebly stand out from competitors. You can check all of the important statistics that help you grow your dropshipping business.
Correspondingly, directly from the Weebly dashboard, you can quickly measure how many people visited your website, which pages they viewed, what search keywords they used to locate your site, and which websites referred traffic to your site.
All of the website metrics are calculated in real-time, allowing you to keep track of your statistics and traffic patterns.
Moreover, Weebly makes it simple to integrate Google Analytics code for sophisticated website tracking for even more insight into your online data.
Weebly's free plan includes a simple statistics feature. More advanced statistics tools are available in all premium subscriptions. 
👉 Read about The Ultimate Guide: How to Use Google Trends for Dropshipping.
Weebly Ecommerce Review: Shopping Cart
When you enable the eCommerce functionality in Weebly, a shopping cart menu item appears on the menu bar, indicating to your customers how many products they have placed in the shopping cart.
Next, your customers will remain in your store as they fill out their information throughout the checkout process, while their Order Summary is presented on the same page to remind them of what they are about to purchase.
However, the shopping cart is not the same for all pricing plans. So, if you upgrade your checkout process to some of their pricing plans (Personal, Professional, or Performance plan) your entire process will be under your customized domain name.
Thus, let's say that we have a dropshipping store named coffeecorner.com. So, while using some of Weebly's pricing plans, your checkout process URL will be:
👉 www.coffeecorner.com/checkout
On the other hand, if you keep using the free plan, then you will use the Weebly subdomain. In that case, your URL would be
👉 yourWeeblyaccountname.checkout.weebly.com
This is very important if you want to build a brand and image with your dropshipping business. Also, it's even more important if you want to build customer trust and loyalty. And redirecting them to another site when they want to make a purchase is not the best way to do that.
Therefore, you better consider having a customized domain name for your checkout process.
💡 Tip: Check out the Top 11 Shopify Checkout Apps: How to Optimize Your Checkout Page?
Weebly Ecommerce Review: Payment methods
The Square payment processor owns Weebly. Its setup procedure is fully built-in, so getting started is as simple as a few clicks.
As a result, Weebly gives you the option of using one of three top payment processors:
PayPal – If you want to use this payment processor then you need the Weebly Performance plan. PayPal is undoubtedly the most well-known payment processor. Because of PayPal's reputation, using it adds trust in your customers. Moreover, this is a fundamental option that all website builders include.
Stripe – It is included with all Weebly plans. Stripe is a rapidly expanding payment processor that allows you to deposit money straight into your bank account. Although, It takes 7 days to send money straight into your bank account, mostly because Stripe's requirement refers to retaining a reserve in case your clients have any complaints or chargebacks.
However, please NOTE that Stripe is not available in all countries. It is only available to businesses in Canada, the United States, Australia, a few Asian countries, and a few European countries.
Square – It is compatible with all Weebly pricing plans. It is a fast-growing processor, and it owns Weebly. Also, it is a credit card processor that connects to a smartphone, allowing consumers to make payments with their phones.
Furthermore, your money is paid into your bank account within 1 to 2 business days, which is significantly faster than Stripe. However, it is only available to businesses in the United Kingdom, the United States, Canada, Australia, and Japan.
👉 Read about Dropshipping NZ: Top 14 New Zealand Dropshipping Suppliers.
Weebly Ecommerce Review: Integrations
As previously mentioned (the App Center feature), there is a vast variety of services and applications from which customers can pick, including those intended specifically for marketing, calendars, menu integration, and more are being introduced daily.
With the cutting-edge applications that Weebly is continually introducing to its app inventory, users may efficiently grow their websites.
However, Weebly does not yet allow you to sell directly on marketplaces or social media. But, let's also consider that this has long been seen as an eCommerce feature available solely to 'pure' online store builders, such as Shopify and BigCommerce.
Weebly Ecommerce Review: Pricing
First and foremost, Is Weebly free?
Yes, Weebly provides a free version, which has no time limitation, therefore you can publish your dropshipping store without paying anything.
However, there are some limitations, such as no personalized domain, restricted features, and Weebly advertisements displayed on your site.
What really pays off is Weebly's very cost-effective pricing plans. Thus, there are four price tires: 
Free – $0/ month
Personal – $10/ month
Professional – $12/month
Performance– 26/month

Here you can take a detailed look at all the features that these pricing plans include. Once you land on their pricing page, just scroll down and you will see it all
Also, consider that all the Weebly pricing plans come with a 30-day money-back guarantee.
Weebly Ecommerce Review: Pros & Cons
Next, let's take a look at Weebly's pros and cons. 👇
| | |
| --- | --- |
| PROS ✅ | CONS ❌ |
| ✅ Provides excellent extra features such as blogging tools | ❌ Check-out choices are limited (you cannot modify the check-out page |
| ✅ It is simple to use, making it an excellent choice for beginners | ❌ PayPal is only available on the most expensive plan |
| ✅ You may sell items while on their free plan | ❌ There are no integrations with other platforms ( Their competitors, like Wix and Squarespace, include that feature) |
| ✅ Physical products, digital products, and services are all supported | ❌ Because it lacks big data features, like inventory management, it is unsuitable for large businesses |
| ✅ SSL encryption on your own website domain | ❌ Doesn't allow you to sell on various platforms, such as Facebook and Instagram. |
| ✅ Highly beneficial SEO guides | |
💡 Tip: Read our Step-By-Step Guide to Instagram Marketing For Dropshipping.
Weebly Ecommerce Alternatives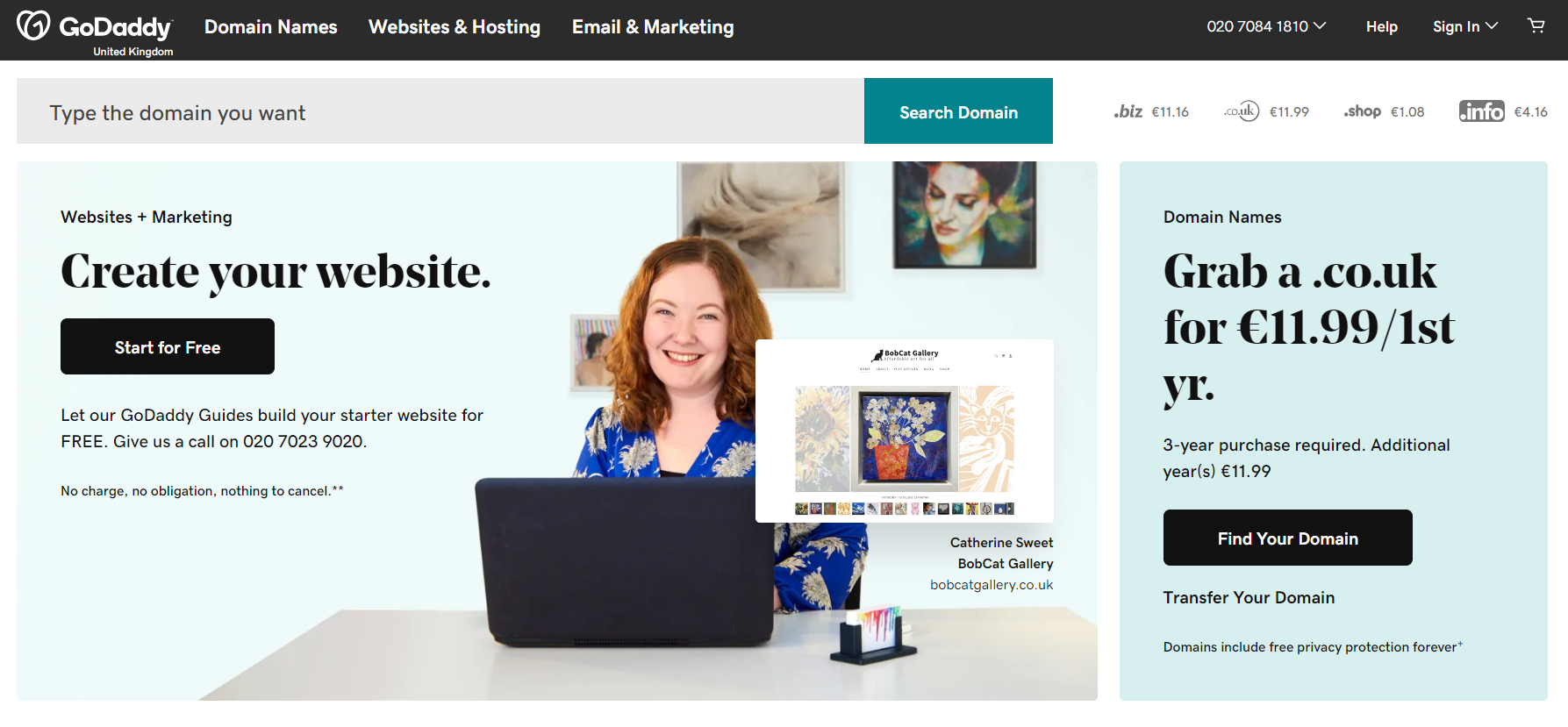 GoDaddy is a company specializing in web hosting and domain registration, catering to the needs of individuals and businesses of various scales.
This provider enables users to search for and register their desired domain name, while also allowing them to conveniently manage multiple domains from a single account. Additionally, they offer a user-friendly website builder tool, empowering users to create and customize their own website without the need for coding expertise.
Furthermore, GoDaddy offers reliable and secure web hosting services suitable for websites of any size. Moreover, they provide email hosting services, enabling users to create personalized email addresses for their businesses.
In addition to these services, GoDaddy offers a diverse range of e-commerce solutions and marketing tools, such as online store builders, social media tools, search engine optimization (SEO), and payment processing services. These resources are designed to assist users in effectively selling their products and services online.
Starting at 5.99 euros, GoDaddy offers competitive pricing for its web hosting services.
💡 Tip: Also, check out The 8 Best GoDaddy Alternatives For E-Shop Hosting In 2023.
Wix is much more than a website builder. Specifically, it provides a comprehensive range of eCommerce tools to assist you in developing your online presence and creating an awesome and completely functional dropshipping store.
This platform provides a free plan. However, the usefulness of its free plan is limited. This implies you can't connect it to a domain or sell anything with it. As a result, you should learn more about its price plans.
Wix allows you to create a website from scratch. Additionally, There are over 800 distinct website templates to pick from on this platform. Fortunately, around 500 of them are appropriate for online companies, including dropshipping businesses.
Not to mention, Wix accepts all of the common payment methods, including PayPal and Stripe.
In fact, the platform supports over 50 different payment channels, giving you additional alternatives for your dropshipping store.
💡 Tip: Learn everything you need to know about start dropshipping with Wix.
Squarespace is one of the top website builders for dropshipping businesses. It includes pre-built website templates as well as a simple drag-and-drop tool.
This website builder includes over 100 templates, an advanced blog section, a highly adaptable design, a custom domain name, an SSL certificate, etc.
Furthermore, it offers 24/7 customer support and aid in the development of your dropshipping shop. Squarespace has four pricing plans that start at $16.
👉 Check out Shopify vs Squarespace For Dropshipping – Which is Better in 2023.
The Zyro features cover the majority of what you'll need to get your business up and running. Zyro offers a free trial that includes 500 MB of bandwidth and storage, SSL security, designer templates, SEO, and AI branding.
It contains features that significantly simplify the process of launching a business. Besides, Zyro provides three price levels, each with a 30-day money-back guarantee.
However, keep in mind that their customer service team is not attentive and responsive, and they do not provide a large choice of dropshipping apps. Furthermore, their customization choices are restricted.
👉 Also, check out another excellent e-commerce website builder and Weebly competitor – PageFly.
Shift4Shop is a solid and trustworthy dropshipping website builder.
It contains several cutting-edge features, such as built-in SEO capabilities, over 100 professional themes, and interaction with a huge number of third-party systems, such as Facebook, Aweber, eBay, MailChimp, and others.
Shift4Shop has a free plan and three other pricing plans starting at $29. However, keep in mind that the free plan has limited options.
👉 Check out my Shift4Shop Reviews: Full Platform Review for Dropshippers.
Weebly Ecommerce Review: FAQ
Can I sell for free on Weebly?
Yes, you can! Also, there are no hidden charges with Weebly's free plan. You can immediately set up your website and begin receiving payments. But, you cannot use a custom domain, and your storefront will display Weebly advertisements.
1. Is Weebly Ecommerce good for SEO?
Yes. Fortunately, Weebly scored highly for SEO and includes beginner-friendly SEO tutorials to help newcomers get started.
2. Is it possible to buy a domain name straight from Weebly?
You may use an existing domain name that you already own. However, a free Weebly domain that contains their suffix, or if you sign up for any premium plan, you will get one free for the first year.
3. Is there a free plan available for online stores?
No, you must purchase the Pro, Business, or Business Plus subscription if you want to sell online with Weebly.
4. Is it beneficial to create an online store with Weebly?
The essential tools and functionality of Weebly website builder make the minimal investment worthwhile. Building a modest or sizeable dropshipping store is neither time-consuming nor expensive.
Still, you'll need to investigate the many eCommerce features of each price plan to determine the overall cost for a certain type of dropshipping store.
So, summing it all up, YES – Weebly is a good value.
Join the only community and resource hub you'll ever need to succeed with dropshipping
Find winning dropshipping products, learn marketing, download templates and engage with real dropshippers
Never pay for a "guru's" course again. See why 4543+ dropshippers joined us this year!
💡Try DSCOM Hub Now
Conclusion
Since you already know the importance of building a high-converting and good-looking website, you are more than aware of the benefit of using website builders.
👉 Check out the 10 High-Converting Shopify Landing Page Examples.
Weebly is one of the most powerful drag-and-drop website builders nowadays. It is also one of the most user-friendly platforms for setting up your own online business.
Weebly Ecommerce is intended for small to medium-sized eCommerce companies who want to begin selling online as soon as feasible.
This platform is much better because there are no complicated setup or maintenance needs. Correspondingly, it's great for newcomers and users who don't want to become troubled by technical complexities.
What distinguishes it from others is all of the features it offers, which we examined in depth in this Weebly Ecommerce Review.
Furthermore, Weebly is quite cost-effective, so using it is not time-consuming or expensive.
So, instead of wasting your time doubting, why not start?