Etsy dropshipping is an excellent option for those who are passionate about handmade items.
Luckily, the handmade or homemade crafts community has grown into a full-fledged industry in recent years.
Whether you like to create your own unique products and satisfy your creative side, or you just want to resell in vintage and craft supplies categories, you have probably heard of Etsy.
But before we go any further, let's find out what Etsy actually is.
What is Etsy?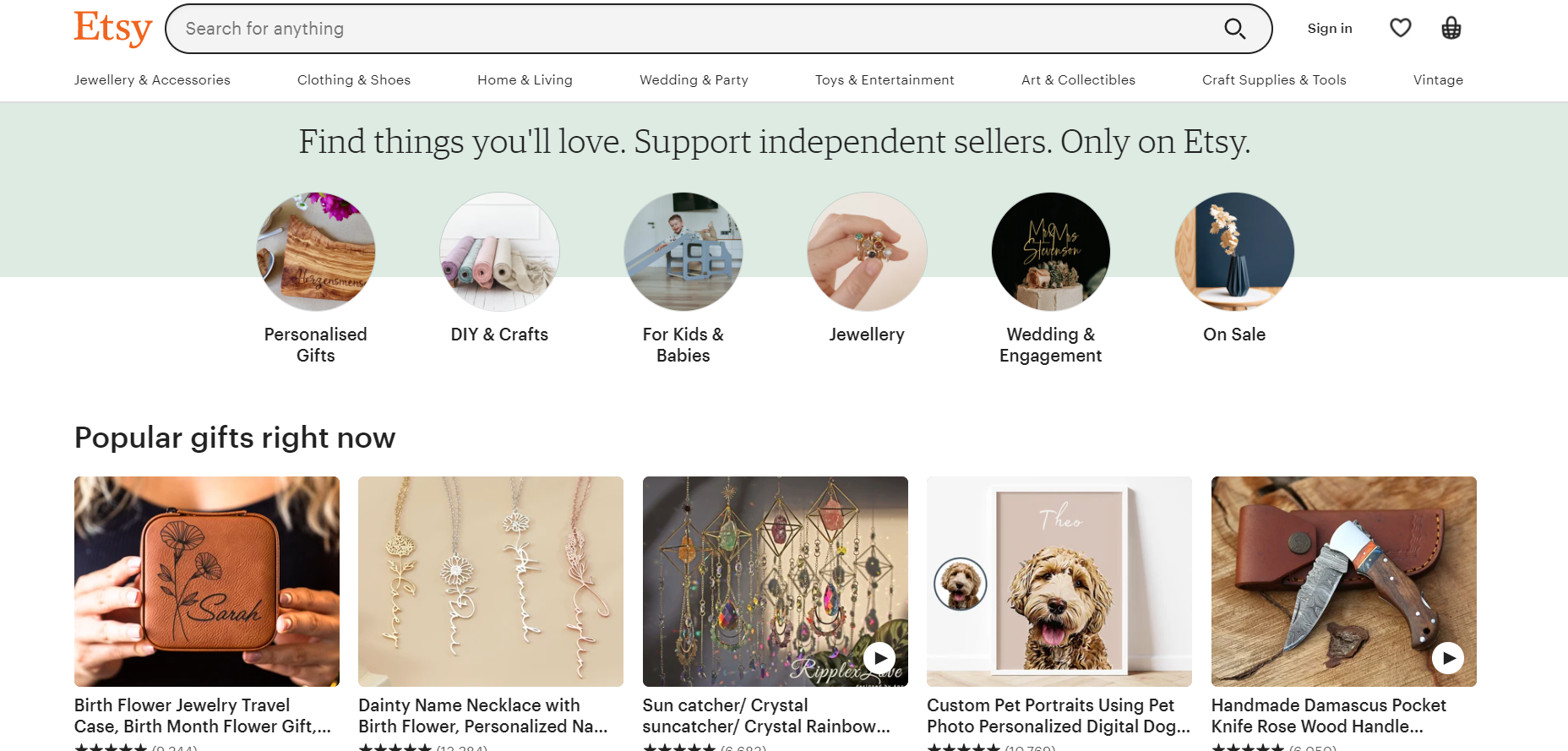 Etsy is a global online marketplace, where you can buy and sell unique handmade and vintage items and craft supplies.
In addition, the products found on Etsy fall under many different categories like jewelry, arts, toys, clothing, bags, furniture and home décor, craft supplies, etc.
In a nutshell, the marketplace is home to a wide range of special, extraordinary products, from vintage treasures to unique handcrafted pieces. Unlike AliExpress and Amazon or other Wholesale Marketplaces, everything on Etsy is made, curated, and sold by its sellers.
👉 Here's the complete overview of selling on Amazon Handmade vs Etsy marketplace.
Discover top dropshipping suppliers of original US/EU products
You're 2 minutes away from building your ecommerce empire
No credit card required. No commitment.
Get started for free
How Does Etsy Dropshipping Work?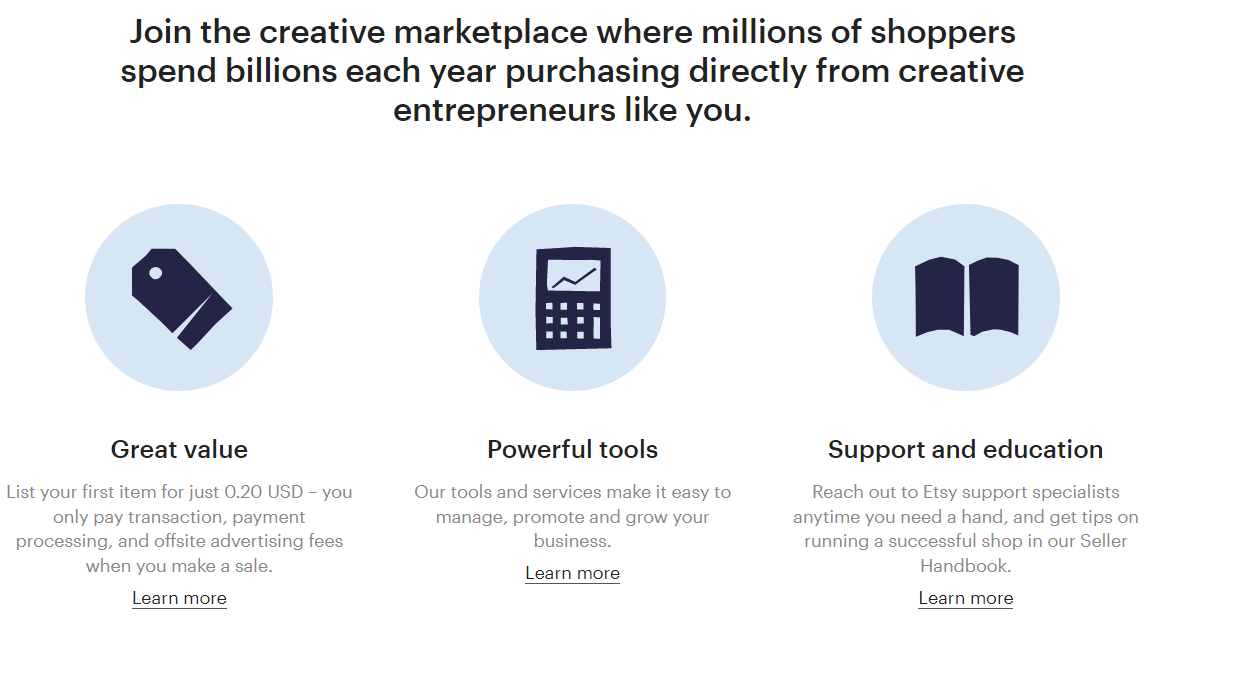 Since Etsy's platform makes dropshipping incredibly challenging, the majority of dropshippers get scared off and leave.
In fact, it will be difficult to discover any communications on its website that specifically forbid dropshipping. But, even though dropshipping is not specifically included in Etsy's seller policies, it is one of the ways to offer products on the website.
However, let us explain why and how can you dropship on Etsy.👇
First of all, Etsy dropshipping sells only handmade products, and since dropshipping is a business model where you as a dropshipper have no previous contact with the products you sell, it is impossible for those products to be hand-made.
So, for instance, if you want to sell a t-shirt, you must create a graphic or quotation that will be printed on them. You can't just market pre-made t-shirts. This would be seen as reselling, which is prohibited.
Now you may use a third-party website to produce and fulfill your custom T-shirt orders.
👉 Check out the 11 Best Clothing Dropshipping Suppliers In the USA & Europe.
Thankfully, to manage your orders, Etsy lets you link your dropshipping store with these third-party on-demand fulfillment businesses. And, this is something that reminds us of print-on-demand. And YES, it is accepted by Etsy!
Now, there are two ways to dropship on Etsy:
To sell items on your online storefront, purchase them from Etsy. This technique involves sourcing goods from Etsy dropshipping vendors and reselling them in your own dropshipping store. However, since you won't have Etsy's built-in customer base, having your own storefront gives you more control and requires you to promote and drive traffic to it on your own.
Open an Etsy shop and outsource the manufacturing of your products. This outsources manufacturing, just like dropshipping, so you don't have to worry about production. However, you must still manage order fulfillment, though.
The Pros & Cons of Etsy Dropshipping
Now that you know what Etsy is, it is time to look at the advantages and disadvantages of dropshipping with Etsy.
The Pros of Etsy Dropshipping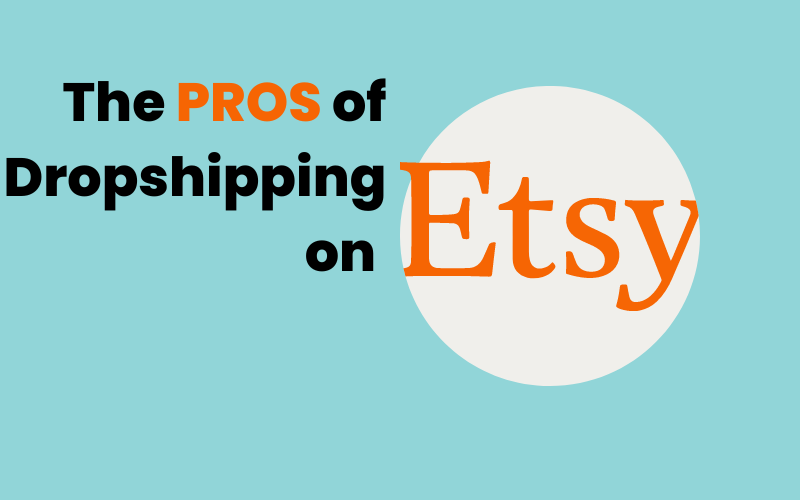 • Huge customer base
Believe it or not, more than 81 million buyers purchased goods through the creative Etsy marketplace in 2020. According to Statista, the marketplace generated revenues worth US$1.7 billion in the same year.
This means that you can sell your unique, handcrafted items to millions of customers worldwide and build a loyal customer base.
Wanna try other marketplaces too? Here's our guide for Facebook Marketplace for Dropshipping.
• Uniqueness
Since dropshipping is highly competitive, it is getting harder and harder for dropshippers to sell dropshipping products that stand out in a crowd.
However, this online marketplace allows you to fill your virtual shelves with one-of-a-kind items that customers cannot find anywhere else.
Plus, this can provide you with substantial differentiation, which may be enough to sustain a long-term competitive advantage.
• Conscious and patient customers
Although handmade items do take longer to make, Etsy customers are conscious and patient.
Moreover, they value uniqueness, craftsmanship, and quality. They know that all products sold on the marketplace are made with love and that every single creation incorporates an element of creativity. They simply value the creative spirit of Etsy dropshipping sellers.
And that's why they are accustomed to longer manufacturing times and willing to pay more for such products.
The Cons of Etsy Dropshipping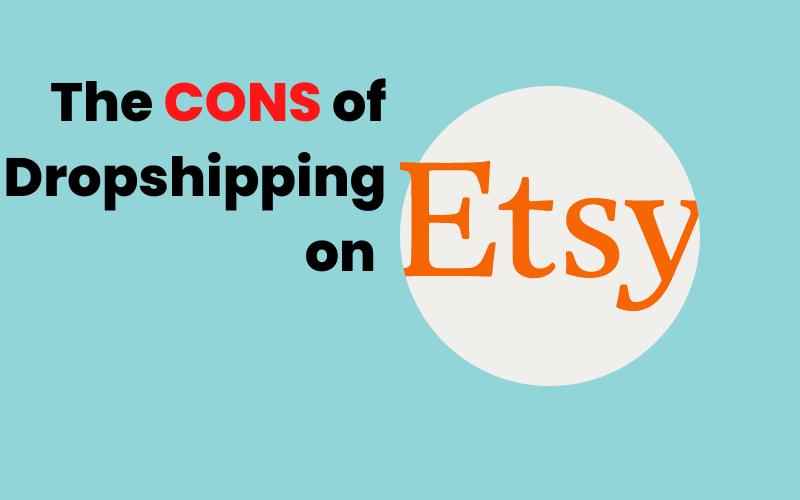 • Intense guidelines for the dropshipping business model
Etsy is a special online marketplace. It lets you buy things you can't find anywhere else. You can also sell things on Etsy, but there are rules about it.
Still, you can only sell vintage or craft supplies if you want to use dropshipping. This means you don't actually make the things you're selling, but instead someone else makes them for you.
Also, if you want to sell handmade products, you have to make or design them yourself. But, if you have a good idea for a product but can't make it yourself, you can work with a partner who can make it for you.
Just remember, if you work with a manufacturing partner, you have to tell your customers about it.
• Different types of fees
As with other online marketplaces, you are subject to some fees when selling on Etsy.
To set up an Etsy dropshipping store, you may need to pay a few types of fees. And the most common types of fees include listing fees, transaction fees, shipping fees, subscription fees, advertising & promotional fees, etc.
For further information about Etsy dropshipping fees, check out this policy.
How to Dropship with Etsy – Etsy Dropshipping Options
After weighing the pros and cons of dropshipping Etsy, you can approach your decision objectively, without letting your "gut feeling" affect your choice. So, now let's see how to dropship on Etsy.
And once you have decided to start your dropshipping business on Etsy, remember that the marketplace does not support the standard dropshipping business model. To start dropshipping with Etsy, you have a few options. So, let's explore those options.
1. Find a manufacturing partner to work with
If you have an idea for a product, but don't have the tools or know-how to make it, you can find a company to help you. Some popular companies that work with Etsy, an online marketplace, include Printful, Printify, Gooten, and Art of Where.
Before reaching out to one of these partners, it's important to have a solid plan for your product and make sure your designs are ready.
You also need to think about how much it will cost to make the product and if you can still make money after those costs.
Finally, you need to make sure the company has the ability to actually make your product. This is a way to sell products on Etsy without having to keep the products yourself. In other words, Etsy dropshipping!
💡 PRODUCT IDEA: Dropshipping Coffee Products With Suppliers
2. Build and sell your own product on Etsy
Perhaps the best way to sell on Etsy is to design and create your own product. Have you ever heard someone say to you something like, "Wow! This is amazing. You should open a DIY store!"?
If the answer is yes, then you should consider turning your DIY craft hobby into a real business. With creative energy pulsing through your veins, you can make money online with ease.
Sure, whatever you sell on Etsy has to be within the marketplace's guidelines. Having said that, you can also dig deeper and do your research to find out what sells best on the site. You can find the best-selling items on Etsy dropshipping here.
Now, you can turn your idea into a marketable product.
3. Sell Your Etsy Products on Shopify
Now, if you want to start dropshipping on Etsy, and you have your own products, here is our suggestion and several steps you should do. Take advantage!👇
➡ Step 1 – Sign up for an Etsy seller account
Signing up on Etsy is pretty easy. Of course, the first step would be typing in www.etsy.com on google, and next Click "Register" at the top of the page.
Furthermore, you will need to fill out the required personal information such as name, email, and password. Also, provide a valid credit card or PayPal account for payment purposes. Lastly, click "Create your Etsy account."
➡ Step 2 – Set up your store on Etsy
Complete the setup process for your Etsy shop, including adding information about your business and payment methods. Also, you need to pick a memorable and unique name for your shop that represents your brand.
More importantly, add product listings to your Etsy shop, including product descriptions, pricing, and images.
➡ Step 3 – Set up payment and shipping options
If you want to set up payment and shipping options you can do that from the "Shop Manager". Here you need to click on Settings —> Payments.
Now, you can choose from Etsy's built-in payment system or third-party payment providers such as PayPal.
Next, go to the "Shipping & Delivery" section and set up your shipping options. You can choose to calculate shipping based on weight and destination or offer flat-rate shipping. And, here you go!
➡ Step 4 – Customize your Etsy dropshipping store
Next, if you want to customize your store on Etsy, the first thing you should do is open their Store Manager. Then click Settings –> Info & Appearance.
Now, you can customize your shop's appearance by adding a Shop title, Shop icon, cover photo, profile photo, and banner, Shop announcement, and links to your social media presence, blog, or other.
➡ Step 5 – Promote your Etsy dropshipping store
Start promoting your shop on social media, online forums, and other platforms to reach a wider audience.
Actually, you have the option to participate in Offsite Ads, which means you can display your items on Etsy's own marketing and promotional channels.
What's more, you may have your items appear on Etsy's Facebook, Google, and display advertisements.
However, we recommend you use your own marketing tactics and do better!
👉 Therefore, check out How To Increase Organic Traffic To Your Dropshipping Store?
➡ Step 6 – Start dropshipping on Etsy
Finally, once your shop is set up, start selling your products and fulfilling orders. Fingers crossed! 🤞
Is dropshipping from AliExpress to Etsy allowed?
Again, everything sold on Etsy dropshipping has to be handmade, vintage, or a craft supply. Thus, dropshipping from AliExpress to Etsy is not allowed. Simply put, you cannot buy a product from AliExpress and resell it on Etsy.
Needless to say, you cannot also dropship from Wish, eBay, Amazon, etc. to Etsy. Otherwise, you will be breaking the rules, and you may be likely to lose access to your Etsy account.
👉 Check out Wish Dropshipping: Everything You Need To Know As A Beginner.
4 Pro Tips on How To Sell More With Etsy
You should do more than just set up your store in order to become a successful Etsy seller. And here is what you need to do.
1. Join the Etsy community
Being part of an excellent community of sellers is what makes this marketplace such an exceptional place to run your business.
You can join the Etsy community to discuss ideas, share knowledge, find inspiration, keep up with the latest Etsy news, and build relationships. The community consists of Teams, Forums, and the Seller Handbook. By joining it, you can grow your creative Etsy dropshipping business.
2. Take high-quality product photos or put your trust in a professional photographer
Customers are visual – they like to see, touch, and feel products before they buy them. So, as an Etsy dropshipping store owner, you need to post quality product images.
There is one thing to keep in mind when taking your product photos. Make sure your product photography includes lifestyle and hero shots.
To clarify, hero shots are product images that are enriched with props, lighting, and background to impart brand spirit, infuse mood, and provide context to the photographed product.
And lifestyle shots are images of people using the product. For instance, if you are selling handmade rings, you or your photographer may want to take a photo of a smiling woman wearing your ring while holding a glass of wine at a restaurant.
3. Market your Etsy dropshipping business
It goes without saying that marketing is an essential component of running a successful Etsy business.
Let's say you have just made an earth-shatteringly brilliant product. But, even if that is the case, no one will buy your product without a good dropshipping marketing strategy.
So, do not overlook the two important marketing tactics like Instagram marketing and influencer marketing for dropshipping.
4. Make your products even more desirable with creative packaging
Once upon a time, packaging was durable and served its purpose. But, nowadays, online stores are becoming increasingly aware that the more beautiful the packaging, the better.
Just think of the influx of people sharing 'unboxing' or 'package opening' moments across social media sites, especially Instagram. You should not be judgemental of those who have taken the time and effort to make package displays and take photos of them. Some of those people might be your customers.
And this can be a powerful marketing technique that may take your Etsy business to the next level. That's why creative and stunning packaging should be high on your marketing priorities.
Best Print on Demand Companies for Etsy Dropshipping
Printful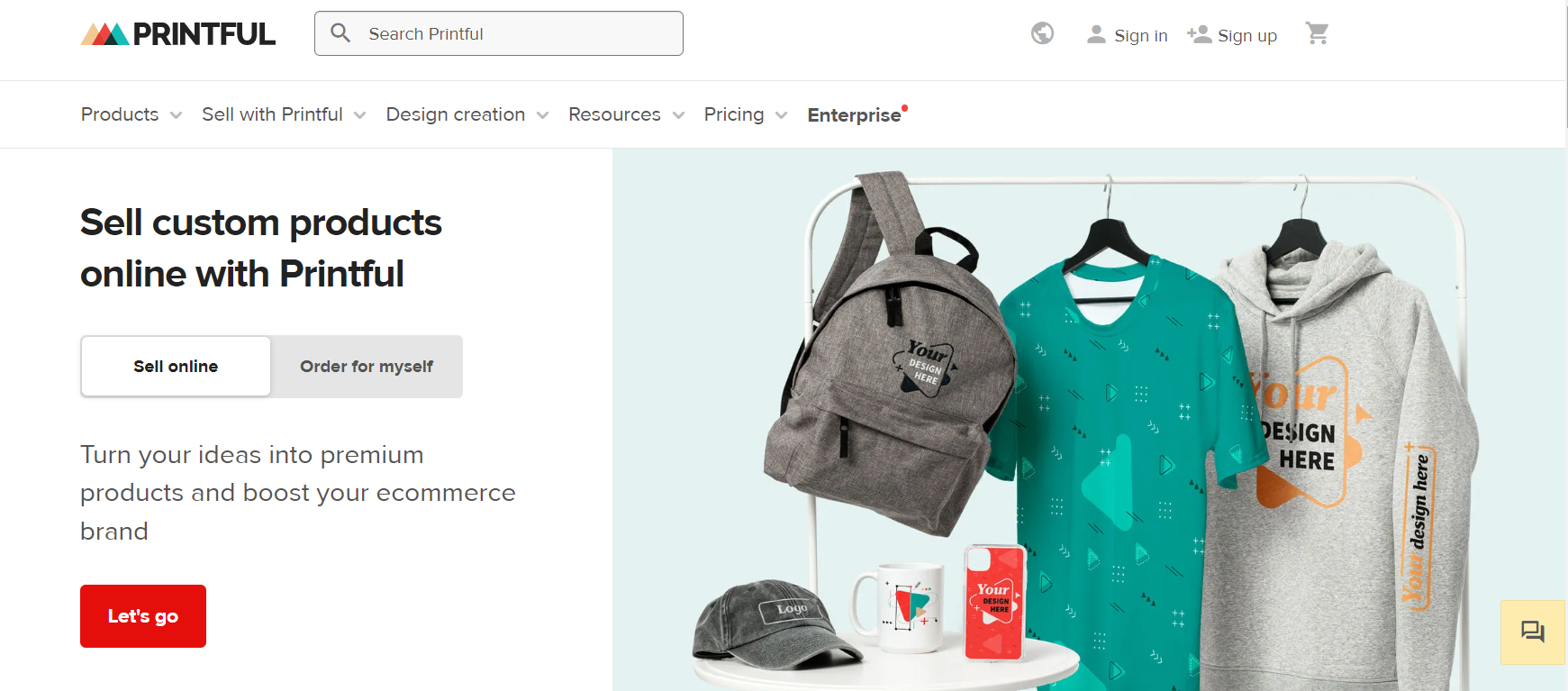 Printful is one of the first print-on-demand businesses. It is a fantastic choice for both inexperienced and expert dropshippers.
What's more, Printful features a built-in mockup generator for all dropshippers, so that you can immediately review the designs and begin selling as soon as possible.
More importantly, this print-on-demand business integrates with Etsy, making dropshipping from Etsy simple!
Additionally, Printful offers a wide variety of goods, including apparel, accessories, and home goods, allowing you a vast range of options from which to develop their stores. Not just that, but the process of fulfilling orders through Printful is automated, making it efficient and streamlined.
Also, you can brand your products using your logo. It's also incredible how quickly Printful can package, ship, and fulfill items. They can send any order to Mexico, the United States, or Europe in 2 to 5 working days.
Printify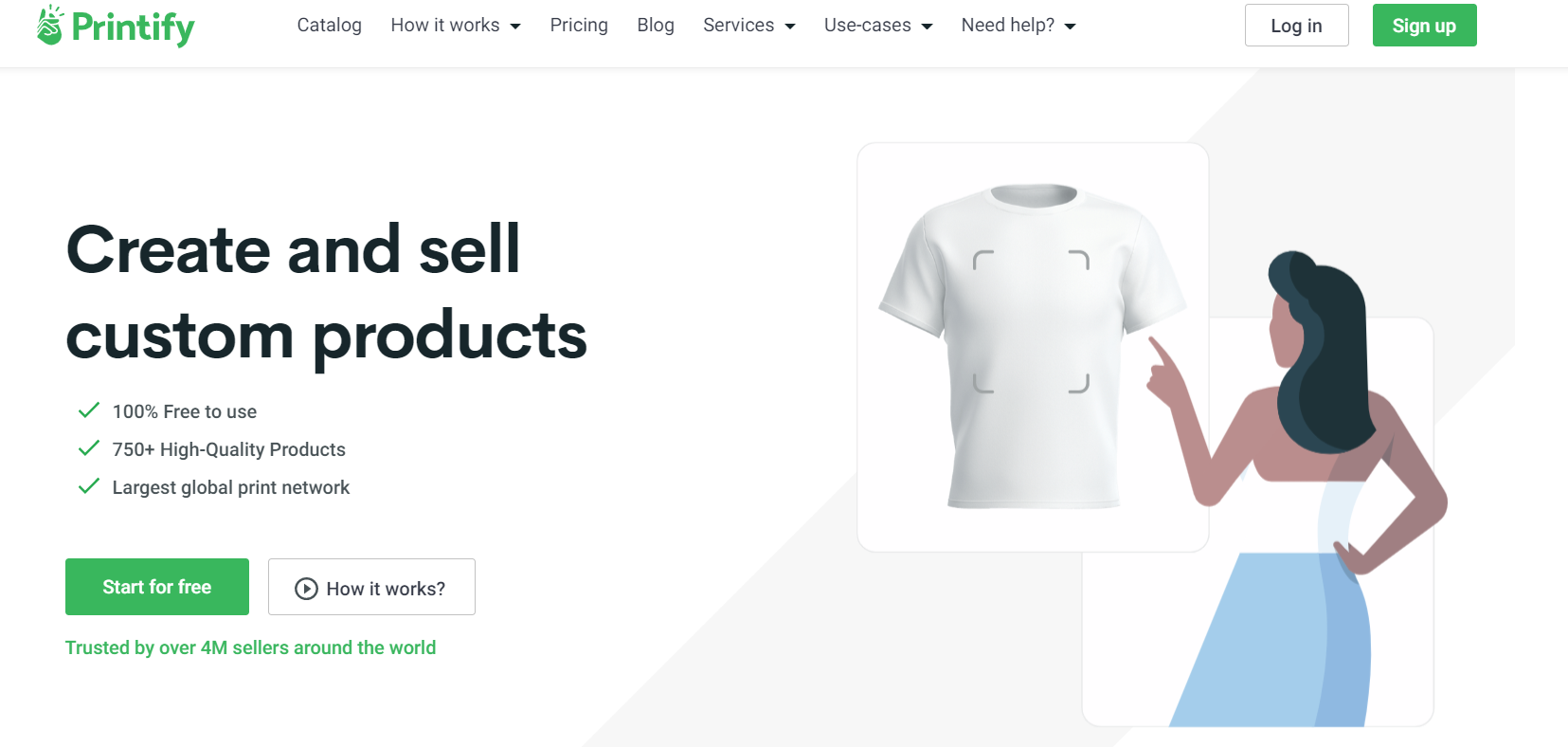 Another well-known dropshipping website that integrates with Etsy is Printify. Their catalog is pretty comparable to Printful's.
Printify is renowned for its wide selection of products. It sources products from suppliers all around the world and prints them. This indicates that your design selections will be influenced by the supplier you choose.
Since Prinitfy often offers cheaper costs than Printful, you, the seller, stand to make more from using them.
Additionally, you may print names and logos on seasonal bestsellers, home & living items, AOP apparel, clothes, and accessories.
Contrado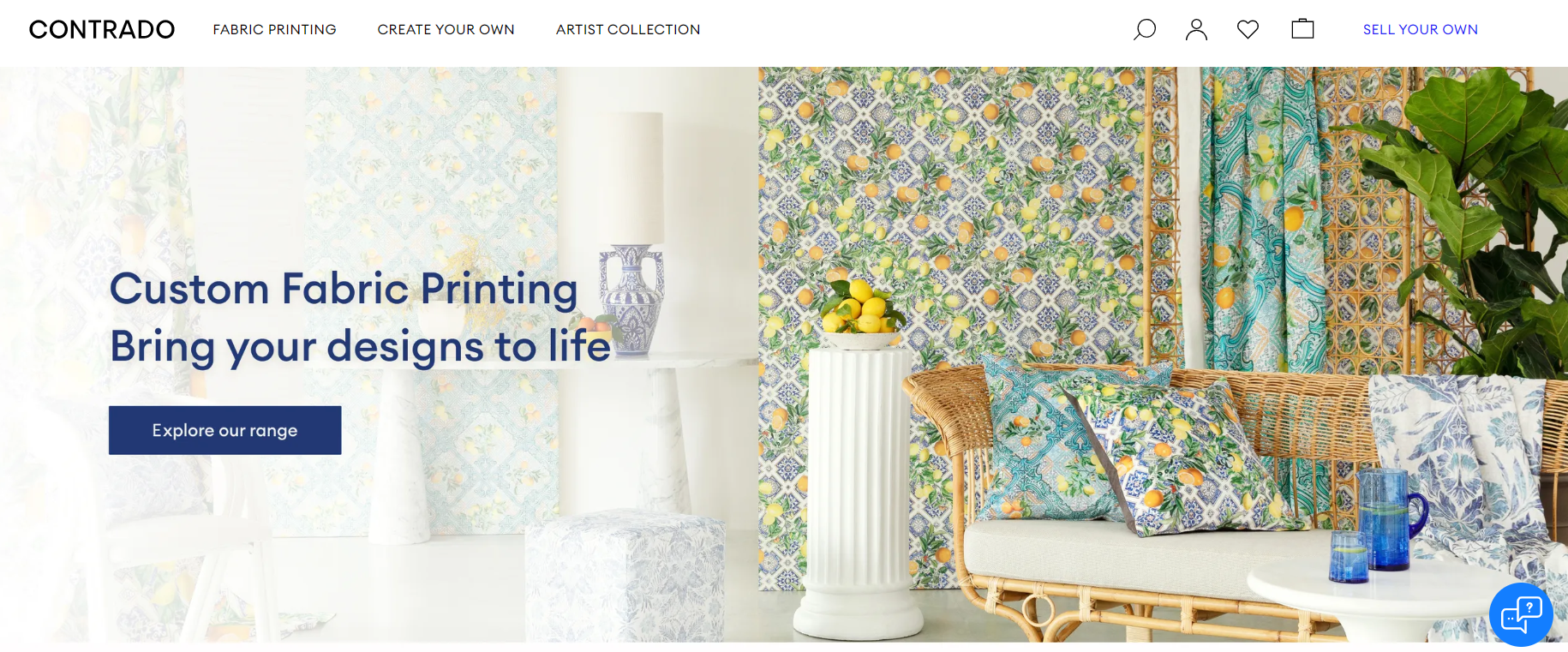 Etsy integrates perfectly with Contrado. Actually, to start dropshipping with Contrado on Etsy, one needs to create an Etsy store, sign up with Contrado, and list their products on their Etsy store.
This Print on Demand Jewelry supplier is ideal for individuals who want to dropship jewelry, women's apparel, sportswear, etc.
Consequently, Contrado also provides an online marketplace for artists who want to sell customized things on their site. More crucially, a 20%–40% wholesale discount helps merchants.
SPOD (Spreadshirt)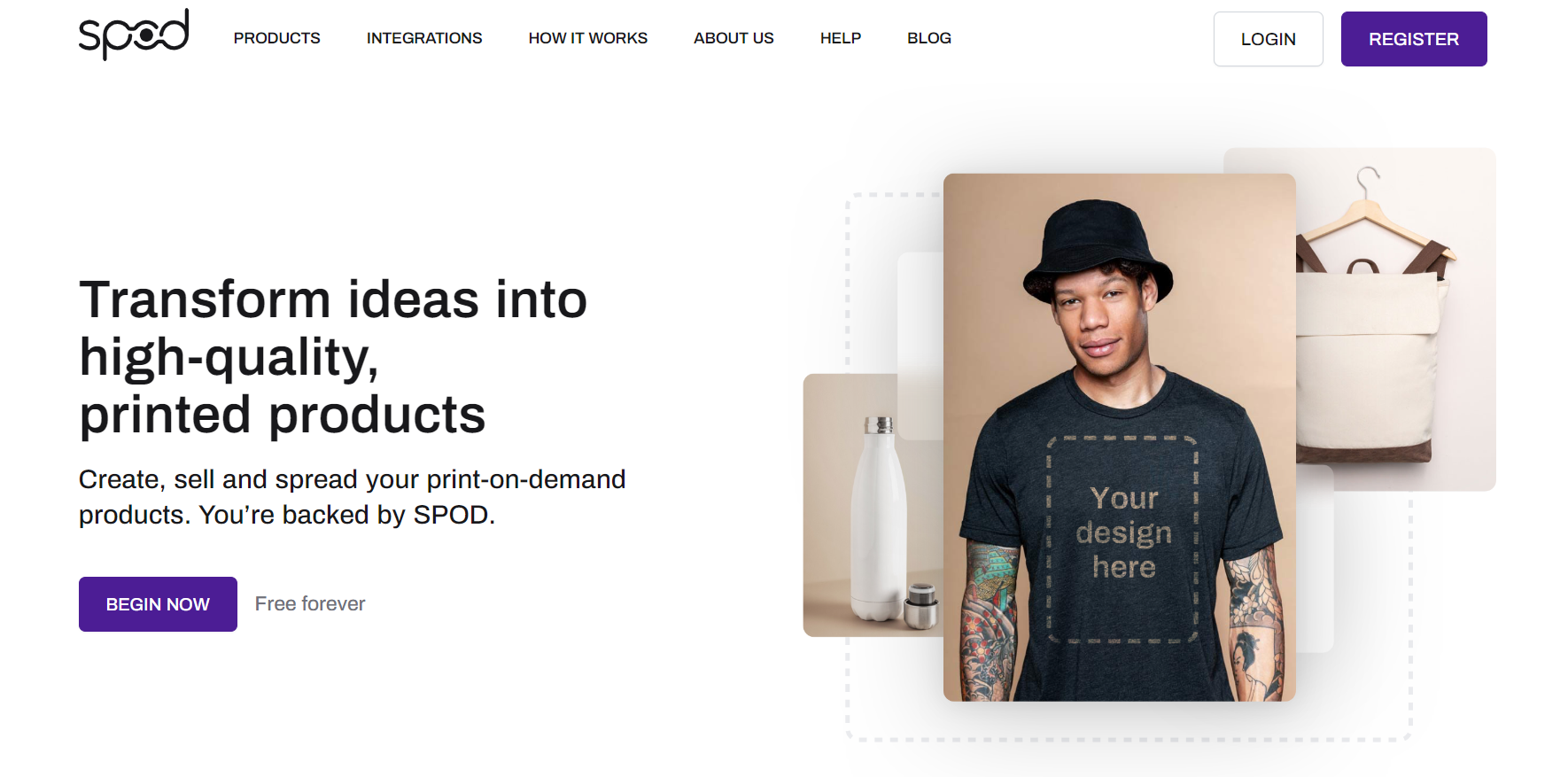 SPOD integrates with Etsy and may be downloaded for free from the Shopify app store.
SpreadShirt's SPOD app is a Shopify product. It's one of the biggest free design libraries on the web.
What's more, their rates are lower than those of other vendors, and there are 50.000 free designs available to be printed on more than 110 goods of your choosing.
Also, even while some suppliers provide print-on-demand for a range of items, these dropshipping suppliers offer bigger profits.
Teelaunch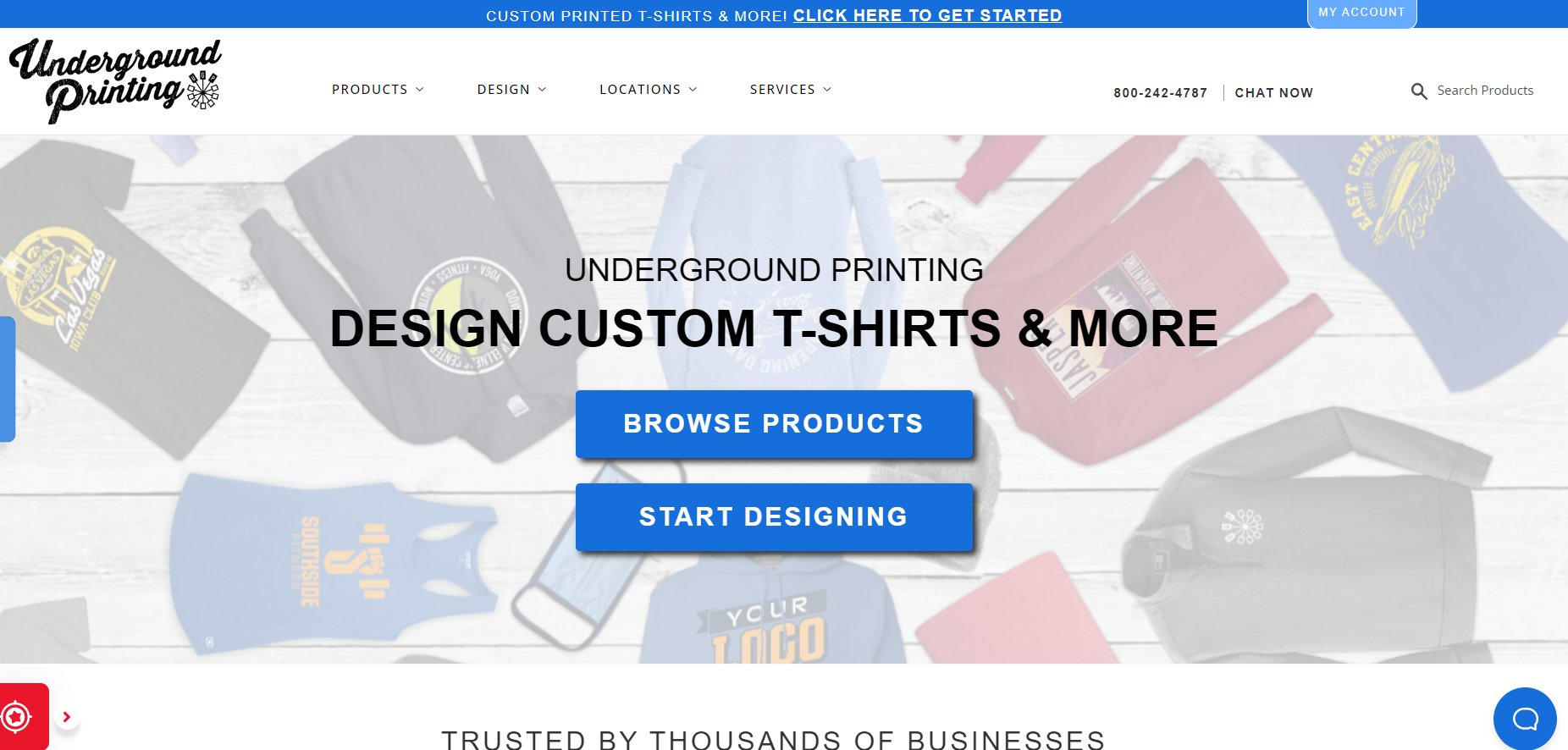 With Teelaunch, there are several printing possibilities available, including laser engraving on technology and accessories and printing for all types of clothing.
In general, Teelaunch is excellent for anyone who wants to sell great products at cheap prices. Depending on the goods you're attempting to sell, profit margins change.
However, Teelaunch produces its products slowly. They examine, pack, and dispatch the goods internationally after 3-6 working days. Thankfully, they have storage facilities in the US, Canada, and the UK.
Best Product Categories to Dropship on Etsy
Craft & Supplies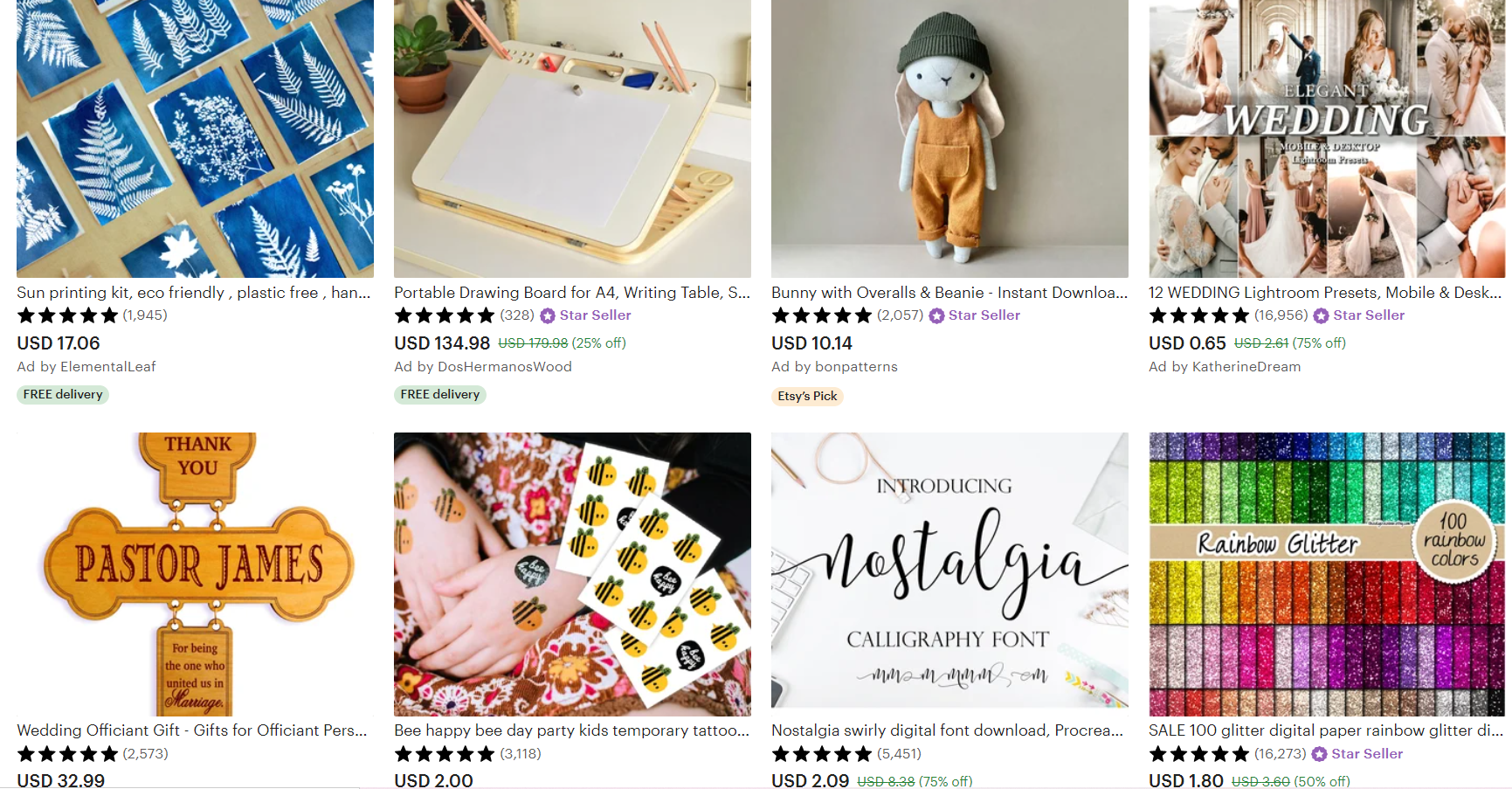 The most popular category on Etsy is dropshipping craft supplies. The options include beads, jewelry-making supplies, miniatures, craft supplies, and much more.
What's more, stickers, vintage charms, hooks, claws, and beads are among the best-selling goods in this category on Etsy.
In addition, the top Etsy sellers in this category are clbeads (with over 1,830,000 total sales), Beadboat1 (with over 1,427,000 sales), and Yadanabeads ( with over 960,000 sales).
Also, the products in this category range from $.0.05-134, and most of the sellers offer free delivery.
Vintage products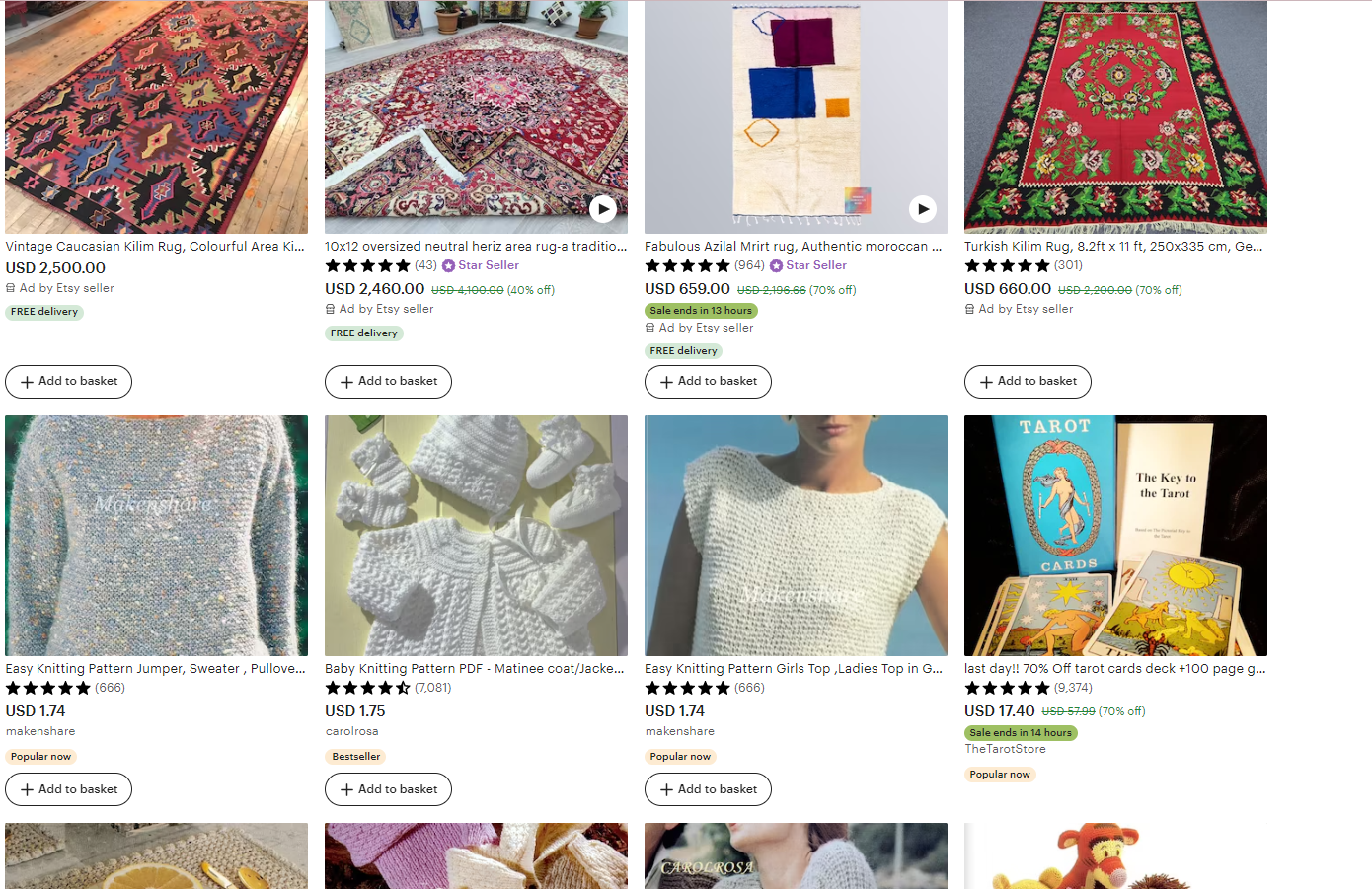 Etsy allows dropshipping of vintage products. Thus, this category is huge on this marketplace, ranging products from home and living to jewelry and collectibles!
Of course, the product price range is huge from $1-600, since there are different types of products.
Also, the best Etsy approved manufacturers in this category are:
Jewelry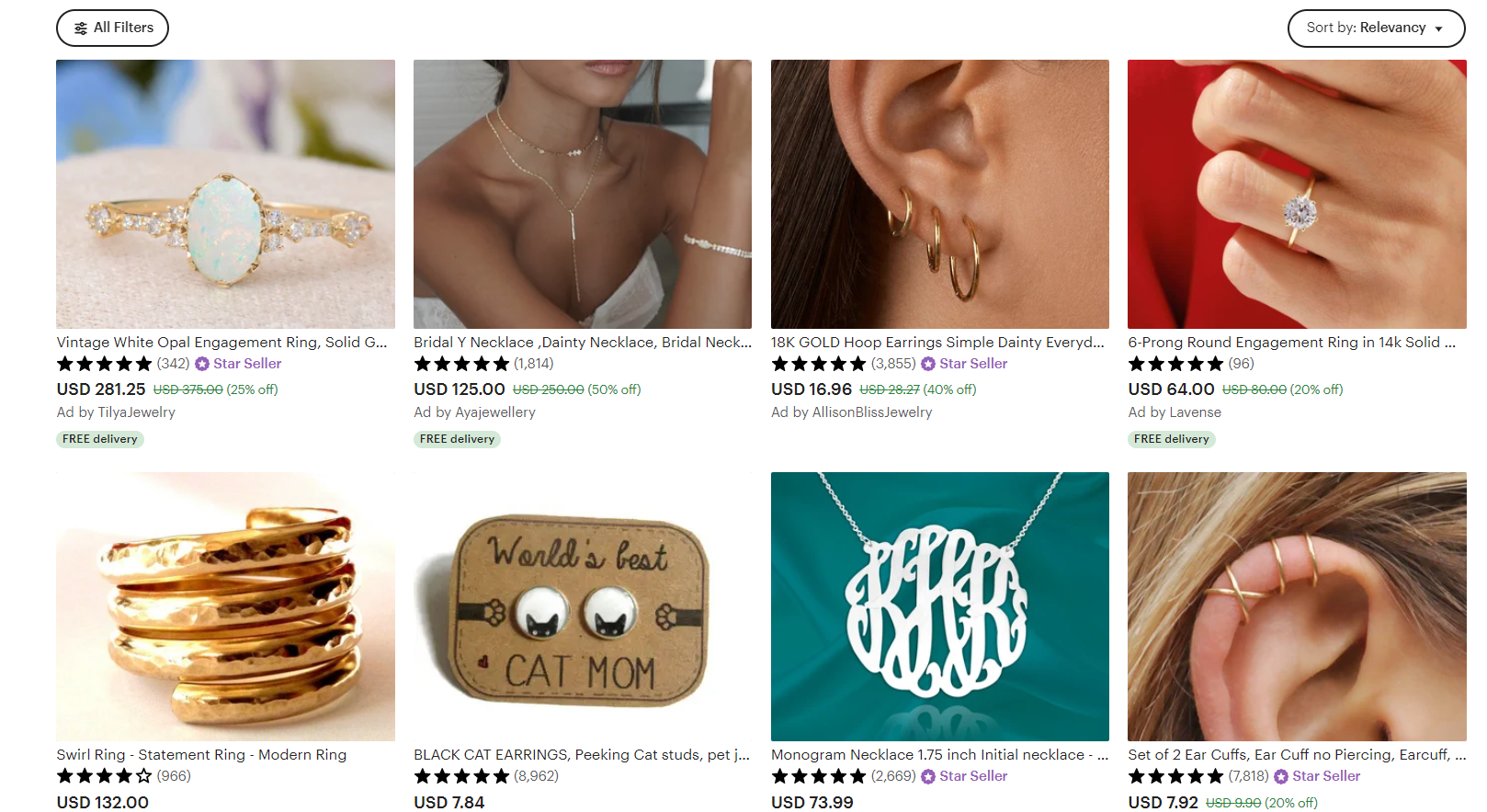 The majority of jewelry selections on Etsy are both bespoke and self-designed.
In reality, Etsy is a creative place. People naturally look for and purchase jewelry-making kits and supplies. As a result, dropshippers make sales on Etsy very fast.
So, Jewelry products on Etsy are very affordable with prices varying from $0.05-281. Also, the top Etsy-approved manufacturers of stunning jewelry are MignonandMignon ($1,526,000 sales), CaitlynMinimalist ($1,526,000 sales), and GLDNxLayeredAndLong ($540,000 sales).
👉 Check out the Top 12 Print on Demand Jewelry Companies.
Party supplies
Party decorations are one of the top-selling items on Etsy as well. So, Etsy party supplies include dropshipping wedding decorations, birthday decorations, Christmas, etc. And, the best part is all of them sell very well!
These products' prices vary from $0.08-40. Also, the best stores here are PlumPaperDesigns, DeisgnMyPartyStudio, etc.
Clothing & Shoes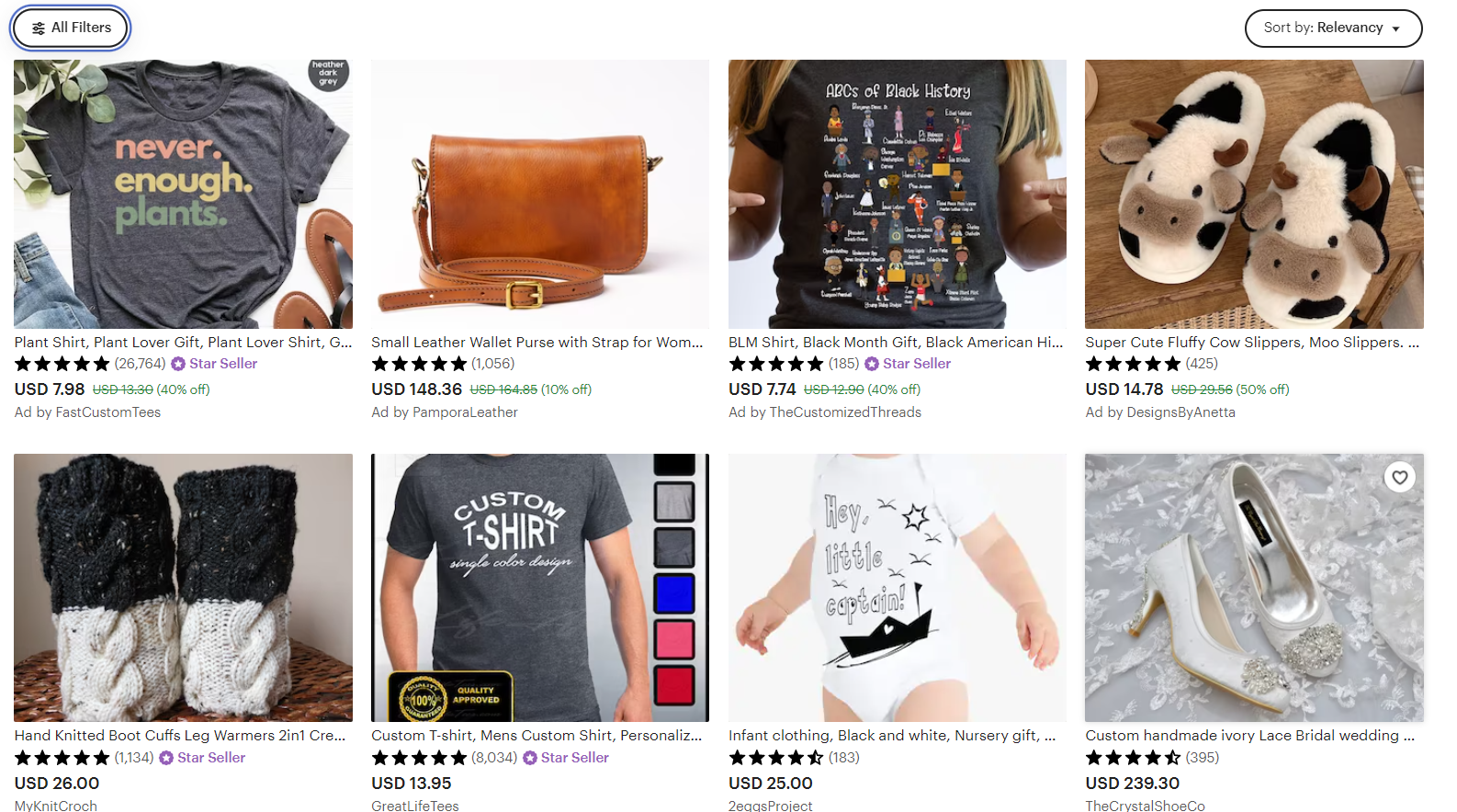 These items sell like crazy everywhere. But, Etsy offers uniqueness, since the designs on these products are hand-made. Thus, customers know that and are more attracted to buy from here.
There are clothes and shoes for women, men, and kids, and the product prices vary from $7-148.
What's more, the best clothing collections are available at Up2ournecksinfabric (over $330,000), Zoeysattic (over $337,000 sales), and BabySquishyCheeks.
How to Dropship Products from Etsy?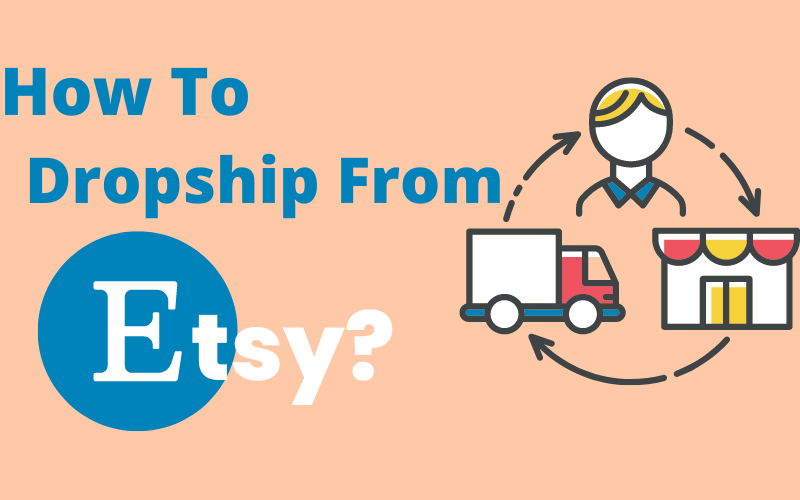 Many sellers on Etsy are multi-channel retailers. That's to say, they sell their products on multiple platforms or marketplaces.
So, if you already have a storefront on Etsy but also want to build your own brand identity outside of the Etsy world, you can sell your Etsy products on Shopify (or any other platform).
Before discussing Etsy dropshipping on Shopify, it is important to tell the difference between Etsy and Shopify.
As we have already said, Etsy is an online marketplace for unique and creative items. With about 81 million active buyers and a small entry fee for sellers (US$0.20 to list a product), Etsy is a good choice for first-time online sellers.
Shopify is a very popular e-commerce platform offering a lot of control in terms of features and flexibility. Many dropshipping apps are available on the site. Therefore, Shopify is unquestionably one of the best options to create a dropshipping store.
If you are completely new in the game and you are looking for an easy solution for web creation, consider using Wix for Dropshipping stores.
When it comes to Etsy dropshipping on Shopify, there are multiple apps out there that can help you link your Etsy products with Shopify to avoid duplicate listings. One of these apps is called "Etsy Marketplace Integration." And it allows you to do just that.
Just, keep in mind that if you do not create your own products but source them from another Etsy seller, they may not be able to handle all the requests you send over. The main reason for this is that Etsy sellers make their products with their own hands.
What's more, as products are unique, you will be unable to find an alternative to source products from if you stop working with the seller.
Also, make sure the seller is able and willing to ship products directly to your customers.
Is Etsy Dropshipping Worth It?
Etsy Dropshipping can be worth it if done correctly, as it offers a platform to reach a large audience and sell unique products.
However, dropshipping on Etsy might not be the best choice for you if you're hoping to earn quick money.
But, it may be a lucrative platform if you have the time and money to establish a solid dropshipping business. It has a sizable consumer base, affordable costs, and a variety of goods.
Selling handmade goods is available on Etsy dropshipping, which is not possible on other dropshipping marketplaces.
Also, Etsy is worth it if you are a small dropshipping business. But, if you want to grow big, this might not be the smartest option for you.
Find winning dropshipping products & spy on your competitors
Minea analyses all online advertising to help you find the best products to launch, and the best creatives in your niche in just a few clicks.
Use coupon: DROPSHIPPING30 and get a 30% discount
💡Try Minea For Free
The bottom line
Fortunately, people love to spend money on creative, handmade items. And the world needs creative entrepreneurs like you. So, Etsy dropshipping may be a good way to show off your creativity and create a customer experience that goes beyond the ordinary.
Evidently, Etsy does not support the standard dropshipping business model. However, it allows working with production partners. Also, you can design and make products yourself.