15 Best Clothing Dropshipping Suppliers In the USA & Europe
by
Aleksandra -
Aleksandra teaches marketing and management at various levels in High School. She writes about marketing, the economics and logistics of the dropshipping business and ecommerce in general.
Chief of Content Marketing
Why did we make this list of the best clothing dropshipping suppliers? Without a doubt, reselling clothes online is among the most popular (and profitable) online businesses in the past few years.
Predictions are, that it will keep rising in the next 20 years, which is why many people switch from traditional clothing retail business to reselling apparel and accessories online.
The money is there to be found, you only need to find the right clothing dropshipping suppliers.
Before you dive in, check our ultimate guide on starting a clothing business online. And yeah, here's our process for finding a supplier or manufacturer to work with.
Free List Of The Best Clothing Dropshipping Suppliers
👉 Read my FashionGo Review: Is This the Future of Fashion Dropshipping?
BrandsGateway is one of the best designer clothing dropshipping suppliers that links branded clothes manufacturers with retail buyers.
You can buy the latest arrivals of wholesale shoes, wholesale handbags, wholesale boutique clothing, and wholesale accessories. Here you can check our complete BrandsGateway Review.
At BrandsGateway, you will find some of the world's most famous clothing brands and manufacturers.
They import original wholesale apparel from Dolce & Gabbana, Armani, Versace, Michael Kors, Cavalli, Balmain, Prada, Gucci, and other famous designer brands.
With BrandsGateway, there are much larger profit margins compared to other dropshipping suppliers. This allows dropshippers to make much more by selling just a few products.
👉 Check out the 14 Best New York Wholesale Distributors.
---
Nordstrom is one of the largest clothing dropshipping suppliers in the U.S., with over 115 department stores, 215 outlet stores, and multiple e-commerce websites, scattered all across the Americas and Canada.
A well-known brand to many shoppers and off-price retailers, it offers a dropshipping program with low prices, fast shipping and delivery, and great logistics.
As for products, they sell casual clothing, as well as designer apparel from brands like Givenchy, Balenciaga, Prada, Saint Laurent, Gucci, and other famous designer brands.
There are plenty of products for women, men, and kids. For all dropshippers, there are often clearances at Nordstrom, with designer clothes being sold with up to 60% discounts.
---
Patches are gaining popularity as one of the distinctive accessories now. If you are looking for the right custom patch manufacturer for your clothing business, Patches Co. is the place for you.
Patches Co. supplies high-quality products at competitive prices, delivering wholesale to dealers, franchisees, and customers globally.
They provide their customers with the right products and options at reasonable prices. Patch products are available in a wide range of materials such as Embroidery, PVC, Printed, Woven, Leather, Chenille, 3D Embroidery, and Flexstyle.
Even if you're not a design expert, as long as you have your thoughts, they'll provide you with on-trend designs, intuitive tools, and support options that enable all clients to create professionally designed marketing.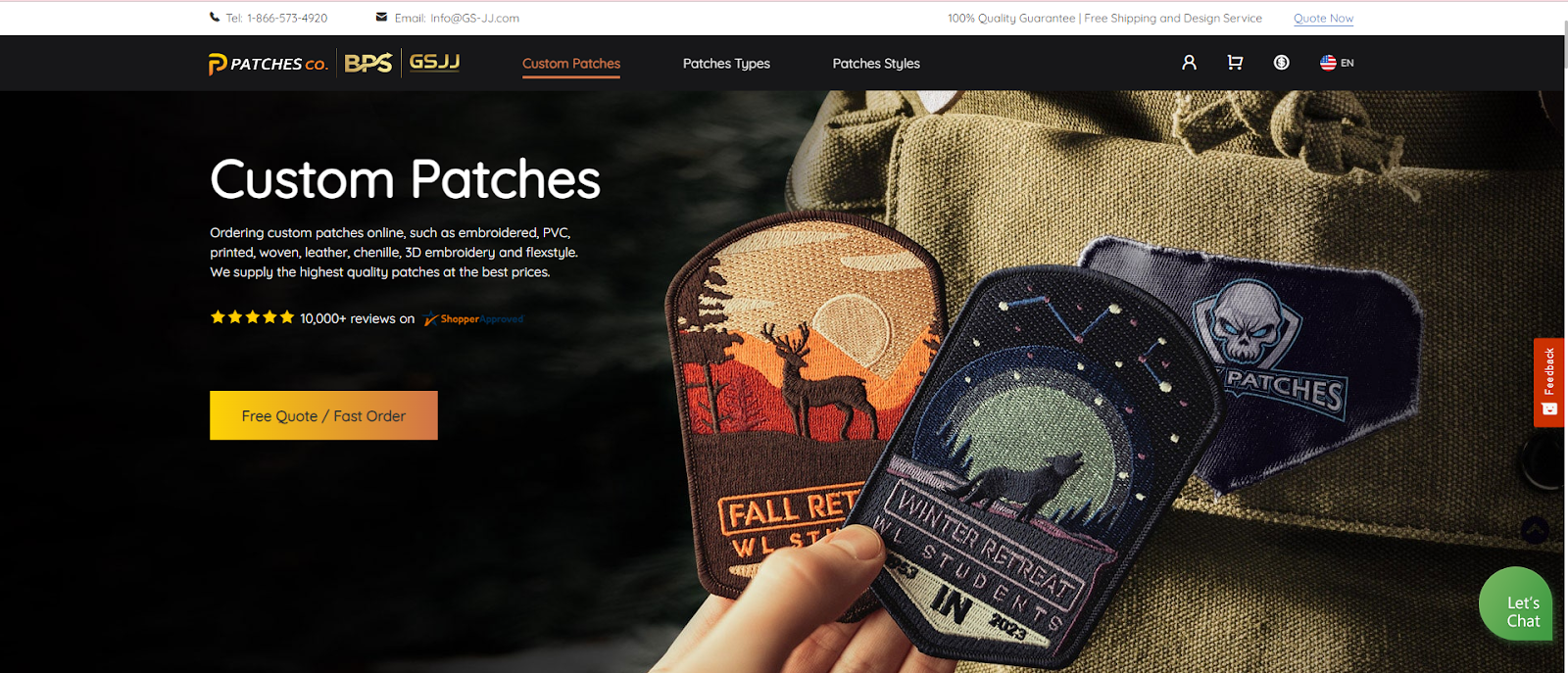 ---
CCWholesaleClothing is one of the best clothing dropshipping suppliers based in Los Angeles, California.
They sell regular and plus-size clothing, jewelry and accessories, sleepwear, kids' clothing, activewear, sets, and underwear. Lately, they've included beauty products in their catalog.
💡 Tip: Read about Selling Underwear Online Without Holding Inventory.
Check the Free List of the top 10 Dropshipping Sunglasses Suppliers.
Minimum orders are set at $100, while free shipping is offered for orders over $300.
There's a variety of fashion clothing available on the site, at fairly cheap prices, meaning bulk wholesale is the best option here.
---
The California-based clothing distributor is known for blind dropshipping processes, boutique-quality products, and quick business launch assistance.
With a free trial version included, users can select from over 6500 clothing products and accessories, then resell for larger profits.
Upon the expiration of the trial version, paid plans begin at $29 per month. There are auto inventory updates and order tracking, as well as custom inventory software.
---
Based in both Santhià, Italy, and L.A., California, Buy2Bee has two drop shipping warehouses, ideal for luxury clothing distribution within both continents.
It's free to register, shipping has a flat rate of €9.90 per order, and delivery is between 3-6 business days. DHL is the main shipping provider in Europe.
Check the free list of the TOP European dropshipping suppliers.
Products include formal wear, underwear, accessories, kid's wear, shoes, handbags, and other fashion products, for both men and women.
Among their most recognizable brands, we'll mention Armani, Dolce & Gabbana, Hugo Boss, Ralph Lauren, and Chloé.
---
With automated inventory management and tracked shipments via UPS & DHL, Griffati has over 20.000 products from more than 200 fashion brands available for online fashion clothing stores.
There is no minimum order per piece (for dropshippers), while profit margins may reach up to 100%.
For beginners, there is a 'free' plan with limited features – a great way to try it out and discover the world of dropshipping luxury brands.
Users can sell mid to high-end luxury clothing with large profit margins, depending on sales. Brands include Armani, D&G, Moschino, Michael Kors, Cavalli, and others.
This clothing dropshipping supplier is among the best, along with BrandsGateway.
Here, you can learn how to boost your dropshipping sales by building profitable ecommerce sales funnels.
---
Tasha Apparel has only recently started offering drop shipping but is highly popular among US resellers.
They offer great products at great prices, although profit margins might vary due to not having high-end clothing.
Established in L.A. in 2005, retailers of all kinds including clothing stores, boutiques, online clothing stores, eBay, or Amazon sellers can find wholesale trendy clothing at up to 50-80% below the regular wholesale price.
Free shipping from the USA on orders over $300 is available, as well as free HQ images for sellers to use.
---
If you're willing to get creative and start selling custom brands online, Printful is the go-to supplier. There are many similar dropshipping companies like this one.
However, Printful's staff are always available to help and explain things, even to beginner dropshippers.
Don't miss: Printful vs Printify – the ultimate review. Which one is better for print-on-demand?
Users can create their own logos and designs, then have the company print as many pieces as possible.
White-label printing and branding are also available, and if you're not that creative, they also offer graphic design services.
It can be integrated with eBay, Shopify, WooCommerce, Amazon Marketplace, and many others.
As for products, you can sell custom-designed leggings, hoodies, t-shirts, hats, dresses, and even phone cases and mugs.
---
Located in Dallas, Texas, B&F Maxam has been around since 1950. Today, they sell to both major retailers (including Fortune 500 companies), as well as independent sellers.
They are focused on selling in several categories, including apparel.
You can find gloves, hats, coats, and vests here, some made of genuine leather. They have a MOQ for the first order, which stands at just $100.
From then on, there is no minimum on orders. As for fees, there is a $4 handling fee if you order a product under $100, but no fees on orders valued over $100.
B&F tends to ship all orders within 2 business days, with $5 express fees available as an option.
---
This Toronto-based company allows dropshippers to resell baby apparel and accessories, hosiery, footwear and slippers, loungewear, tights, and cold-weather accessories.
Brands include Snugabye, Sophi, Great Northern, and Densley & Co. In case you're in need of a private label manufacturer and supplier, Gertex is available for new customers.
With enough resources and research, your private label brand is in safe hands.
Collaborating with major companies on multiple occasions, this team of designers and entrepreneurs will create whatever is on your mind, when it comes to apparel.
---
If you're looking for some original American products, these guys have over 6000 products available at your disposal. More importantly, MOQs open at $100 and there are orders.
Benjamin International isn't perhaps one of the best clothing dropshipping suppliers, but it's certainly useful.
Custom services such as white labeling are available through pad printing and hot stamping. They import all their textile from Asia, before turning them into apparel and accessories.
If you need to resell bags, clothing, footwear, accessories, and jewelry, try your luck with Benjamin International.
EPROLO can find and source the clothes you're selling, personalize them, and mail them to your consumers. They make it possible for clothes and print-on-demand e-commerce owners to undertake dropshipping with personalized logos.
You may customize labels, hangtags, packing bags, scotch tape, and gift cards as part of your membership privileges.
There is no order minimum! Your excellent logo gives each product a formal and professional appearance, as well as demonstrates the trustworthiness of your dropshipping business.
👉 Read my Eprolo Review 2023 (Features, Pros, Cons, Pricing).
SeeBiz is an emerging US-based wholesale marketplace and business networking platform that bridges the gap between clothing suppliers and buyers. This free platform has hundreds of clothing vendors from across the country.
A majority of their clothing suppliers offer exclusive drop shipping programs.
As a B2B website, SeeBiz provides a platform for wholesale clothing suppliers and buyers to connect with each other.
Shipment of goods is the responsibility of the supplier and buyer based on their mutual understanding.
Dropshippers can benefit a lot from this arrangement since there is no middleman involved. From casual wear to wedding clothes, SeeBiz's clothing suppliers have everything. These clothes also include items from renowned designers and clothing manufacturers.
If you're looking to get into direct contact with wholesale clothing suppliers for free, give SeeBiz a shot.
---
Shewin is a dropshipping supplier exclusively for the USA market. They offer an extensive collection of a diverse array of women's southern wholesale clothing, including everything from tops, dresses, bottoms, sets, occasion-specific attire, footwear, bags, and ACCS, to plus-size clothing, all at remarkably affordable prices.
Their impressive factory spans over 5,000 square meters, and they've fostered partnerships with over 100 esteemed supply chain collaborators.
Also, Shewin ensures an accessible entry point, allowing orders to start from just $39, with support for open packs and no MOQ for dropshipping.
So, if you're seeking a reliable partner for your wholesale clothing venture, Shewin is the name to remember.
Join the only community and resource hub you'll ever need to succeed with dropshipping
Find winning dropshipping products, learn marketing, download templates and engage with real dropshippers
Never pay for a "guru's" course again. See why 4543+ dropshippers joined us this year!
💡Try DSCOM Hub Now
Lifetime deal: Get all-access to everything on Dropshipping.com
Access all DSCOM features, resources, courses, live workshops, discounts, winning products, weekly deep dives, directories and all future updates under all-in-one dropshipping HUB.
DROPSHIPPING IS A REAL BUSINESS, DON'T DO IT ALONE. 4553 MEMBERS ALREADY JOINED. YOU CAN PAY OFF YOUR SMALL INVESTMENT WITH JUST 2 SALES ON YOUR STORE.
Grab the deal before it's gone
Wrapping Up
Finally, we've come to an end. We hope you'll like the list and all of the best clothing dropshipping suppliers.
You can browse through each one and find the best way to earn big and fast.
What if you're into other ventures? Perhaps you're interested in different niche dropshipping suppliers?
Check out our:
List of the Best 21 US-based Dropshipping Suppliers
List of the Top 10 Turkish Wholesale Clothing Suppliers
List of 20 UK Dropshipping Suppliers for Your E-commerce Store
Free list of 10 Best UK Clothing Suppliers
The 10 Best Dropship Suppliers In Australia
Free List Of Dropshipping Beauty Suppliers & Products
Free List Of The 9 Best Toy Dropshipping Suppliers