UK Clothing Dropshipping Suppliers & Winning Product Ideas
by
Aleksandra -
Aleksandra teaches marketing and management at various levels in High School. She writes about marketing, the economics and logistics of the dropshipping business and ecommerce in general.
Chief of Content Marketing
Are you interested in dropshipping UK clothing? Great! Because we are more than happy to help you. Dropshipping UK clothing is one of the most lucrative niches nowadays. Wondering why?
First, customers in the UK tend to buy clothes online, rather than in brick-and-mortar stores.
Second, there aren't any significant shipping problems, no matter in which part of the world your suppliers are based, and the shipping can be done properly, without any delays.
Furthermore, eCommerce sales of fashion items such as clothes generated 26.5 billion British pounds in revenue, and it is expected to reach over 39.5 billion GBP by 2025.
Simply, online clothes sales in the UK are growing. As a result, dropshipping UK clothing will help you to increase your profits, and gain brand awareness and popularity.
Want to start a dropshipping clothing business? Let's find out some of the best dropshipping UK clothing suppliers, and brainstorm some winning product ideas!
Top 11 Dropshipping UK Clothing Suppliers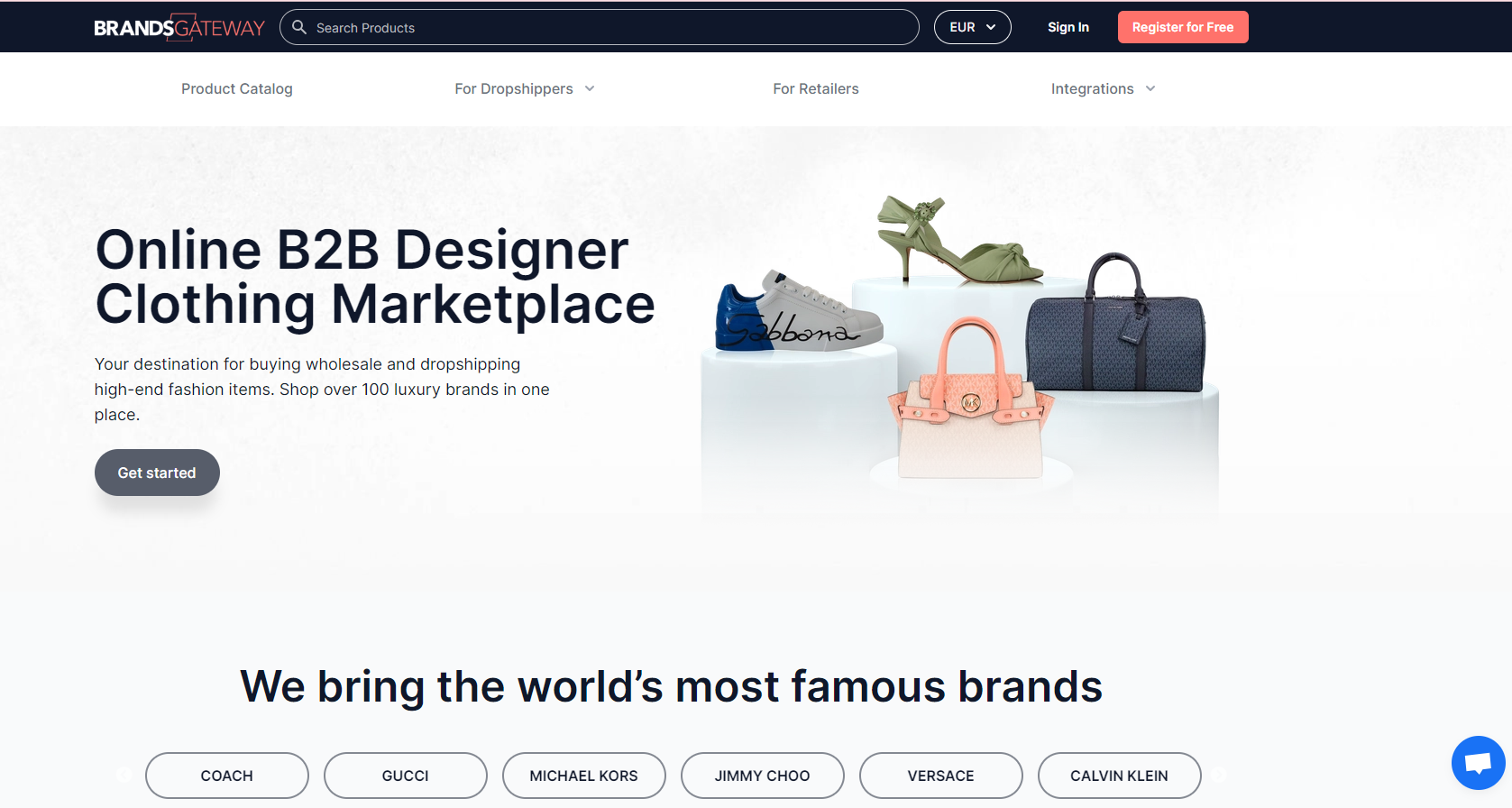 BrandsGateway is a dropshipping and wholesale supplier. Also, it's a lively B2B luxury fashion marketplace revolutionizing how retailers and manufacturers link up.
BrandsGateway has very fast shipping times between 1-7 days. The reason behind this is that they have several warehouse locations worldwide:
Italy
Germany
Sweden
USA
UK

Also, this dropshipping supplier delivers to over 170 countries around the world. And, they use reliable carriers like UPS, FedEx, or DHL, and the shipping rates start at just €15 per order.
The company presents a range of luxurious products in the fashion sector:
Apparel
Footwear
Handbags
Accessories
Jewelry
Sunglasses & Frames
Watches
However, if you want to see the pricing, you must first log in. Moreover, the platform has a rating of 3.9/5 stars on Trustpilot, and over 90% positive comments and reviews.
👉 Check out my in-depth review of Dropshipping with BrandsGateway: Review, Comparison, Pros & Cons, How-to Guide.
CJ Dropshipping is a verified dropshipping supplier by dropshipping.com. It is based in China but ships its products worldwide at variable shipping costs.
Furthermore, CJ Dropshipping is an online marketplace where you can connect with hundreds of manufacturers and suppliers. As a result, you can offer a massive product range as well as white-label dropshipping.
The products you will find on their web store are from various dropshipping niches:
Computer & Office
Bags & Shoes
Jewelry & Watches
Health, Beauty & Hair
Women's Clothing ( including dropshipping UK clothing)
Men's Clothing ( including dropshipping UK clothing)
Baby Clothing ( UK clothing included)
Home, Garden & Furniture, and many more.
Their product costs are between $1-10, and the average order processing time is around 1-3 days.
CJ Dropshipping is a great choice for your dropshipping business, and we highly recommend you check our review of CJ Dropshipping.
Moreover, CJ Dropshipping has an excellent rating on Trustpilot, with 4.9/5 stars, and 96% of the users rated it with 5-star.
👉 Check out my ShopHunter Review: A Competitor Spying Tool For Shopify Stores.
Second to our list is Clothes2Order. This dropshipping supplier is for sure one of the best dropshipping UK clothing websites. Their company is based in the UK and ships its products worldwide.
Clothes2Order offers you customizable clothing, thus it is the biggest supplier of personalized clothes. They allow you to make a variety of fashionable items, like Polo Shirts and T-shirts.
Their product costs are around $10-20, and the average processing time is 1-3 days.
The company has won the Digital Award at the UK Customer Experience Awards. Also, their rating on Trustpilot is 4.6/5-stars, with over 22,670 reviews.
Inkthreadable is another clothing dropshipping UK and print-on-demand supplier located in the United Kingdom.
It will provide everything you need whether you want to dropship women's clothing, men's clothing, or children's clothing. Thus, in their store you will find products like:
T-Shirts
Vests
Hoodies
Jackets
Sweatshirts
Bottoms
Babygrows
Socks
Activewear
Their product costs are between $10-20, and the average order processing time is from 4-7 days.
This UK dropshipping supplier is currently focusing on Shopify, Squarespace, WooCommerce, and Etsy apparel stores for automated integration.
Furthermore, Inkthreadable sells organic white-label clothes with patterns added using vegan-friendly printing techniques. Following that, all personalized clothes will be dispatched straight from the UK fulfillment center.
Inkthreadable has 4.4/5-star users review on Trustpilot.
Printful is a print-on-demand dropshipping supplier based in four locations: North Carolina, California, Mexico, and Latvia.
There are several reasons why Printful is one of the most popular print-on-demand businesses. When you initially visit their website, you may rapidly browse through their catalog and look at every sort of product they have available. This covers:
men's clothing,
women's clothes
children's clothing
headwear
accessories
pillows
coffee mugs
towels,
mouse pads
tee shirts
tank tops
leggings
baseball hats
posters
This fashion dropshipper has opened a custom clothing fulfillment center in the UK. As a result, shipping personalized apparel to England, Scotland, Wales, and Northern Ireland take only 2 days.
Print product costs range between $10-20, and are shipped worldwide at variable shipping costs.
This dropshipping UK supplier has a great rating on Trustpilot, with 4.2/5- stars. Moreover, it is always a great choice for dropshipping personalized products, and it is a no.1 dropshippers choice compared to other print-on-demand suppliers.
New Temptations Ltd. is a UK-based company with extensive experience in the online purchasing market.
This dropshipping supplier actively supplies lingerie, swimwear, and adult toys to several Blue Chip UK mail order catalog firms, popular online merchants, and retail stores.
Their product costs range from $20-50, and the average order processing time is between 1-3 days.
Banggood is a dropshipping supplier based in the USA but ships its products worldwide.
This supplier is a good choice for UK dropshipping clothing since it offers a wide choice of women's and men's clothing.
It has over 100,00 reliable suppliers and offers 30 other categories and 1,000,000 products from consumer electronics, home appliances, tools, sports, and more. Furthermore, their product costs range from $1-10.
DHgate is a B2B online marketplace based in China. It is also a wholesaler that works with small and medium-sized enterprises.
DHgate, with 2.4 million suppliers, is an excellent alternative for a newbie dropshippers. This is because the majority of DHgate's vendors are wholesale Chinese suppliers.
In their store, you can find products from a variety of dropshipping niches, including clothing.
Having stated that, DHGate has no minimum order quantity (MOQ) limitations. In general, it is preferable to avoid suppliers who have MOQ restrictions. Moreover, this dropshipping supplier does not charge a dropshipping fee.
Their global delivery takes between 3-15 working days. Furthermore, DHgate products are available in the US and EU warehouses. They provide easy integration with Shopify and eBay.
DHgate supports 14 languages for easy communication.
👉 Check out the 10 Best Dhgate Sellers In 2023 & How To Pick The Best One?
RCC Agencies has been a wholesaler since 2000, beginning as a "one-man band" operating from a single industrial operation. They have grown significantly ever since and has expanded its facilities multiple times throughout the years.
They provide quick order turnaround with their fleet of vans delivering throughout Devon, Cornwall, and Somerset. The delivery is free for orders costing above £100+VAT in Devon and Cornwall, or £200+VAT in Somerset and Dorset.
They also serve the rest of the UK through carriers for customers who live outside of their service region.
RCC Wholesale offers a variety of products from different dropshipping niches, including women's clothing and men's clothing.
Their product costs are from $1-10, and the average order processing time takes only 1 day.
An online marketplace that links dropshippers with a large number of retail suppliers in China. AliExpress dropshipping allows you to offer items from a wide range of dropshipping niches.
It provides a vast product range in practically every area. Their apparel category diversity is amazing, with over 100 million items. Furthermore, AliExpress maintains warehouses in the United Kingdom and is well-known for its low-cost items.
Also, the AliExpress Dropshipping Center is a useful resource for dropshippers, where you can look for the best-selling or trending items.
It enables you to do product research and discovery by utilizing criteria such as categories, price range, volume sold, and others.
Last, but not least- Amazon! As an eCommerce giant, Amazon is an ideal dropshipping supplier since it provides high-quality merchandise and a wide range of apparel product options.
Amazon is one of the world's largest eCommerce brands. It is one of the vendors that has established a reputation for dependability.
As a vast marketplace, you may discover extensive clothes product catalogs. Furthermore, they have 7 distinct UK warehouses, allowing dropshippers to have faster shipment times. Furthermore, Amazon offers one-day and two-day delivery options for rapid delivery.
Lifetime deal: Get all-access to everything on Dropshipping.com
Access all DSCOM features, resources, courses, live workshops, discounts, winning products, weekly deep dives, directories and all future updates under all-in-one dropshipping HUB.
DROPSHIPPING IS A REAL BUSINESS, DON'T DO IT ALONE. 4553 MEMBERS ALREADY JOINED. YOU CAN PAY OFF YOUR SMALL INVESTMENT WITH JUST 2 SALES ON YOUR STORE.
Grab the deal before it's gone
Best Dropshipping Clothing UK Products
If you can discover high-demand, trendy products to dropship, you've already won half the battle. Because of that, let's find out which are the best dropshipping UK clothing products!
Also, there are some tactics about how to find your winning products, that you should follow.
Wide-Legged Pants
Wide-leg pants, also known as palazzo pants, fit at the waist and wide at the hips. Additionally, wide-leg pants are ideal for travel and may be worn for business meetings as well.
As this is a very comfortable wear, there's a huge demand for them. Moreover, it is perfect for dropshipping because various dropshipping suppliers are providing this type of product, and the profit margins are good.
The product costs are around $10-20, and the selling prices are between $25-51. This leads to profit margins of around 60%.
Long Sleeve Dress Shirts
Men typically wear them to business meetings or parties because of their sophisticated appearance. They are also an evergreen item that sells all year.
This product's costs are around $14-46, and the selling prices are between $36-115. The profit margins are around 60%.
Dropshipping long-sleeved dress shirts is a good approach to earning consistent revenue.
Shapewear
Shapewear is one of the fastest-rising trends and niche items of 2023, with incredible demand.
The product is an easier alternative to going to the gym for individuals who don't have the time or interest to do so but want to look in shape.
This product costs are from $8.50-63, and selling prices are around $21-159. The profit margins are around 60%.
This product is a great choice for your dropshipping store, as it is in high demand, and you can gain higher profits.
Yoga Pants
We all know yoga pants as yoga or sportswear, but nowadays yoga pants are increasingly used as fashion items, making them an ideal dropshipping UK clothing product.
Yoga Pants also fit like leggings and have an elastic waistband for support and comfort. They are a must-have in your dropshipping store since they are an item that women love to include in their wardrobes.
This product costs are from $9-25, and the selling prices are $24-64. The profit margins are around 60% to 63%.
Full Zip Hoodies
Zip hoodies are ideal for sports or casual wear since they are both functional and fashionable. They are also popular in the United Kingdom, where they have a huge market.
The product costs are from $18-24, and the selling price is from $46-60. The profit margins are around 60%.
So, if you offer a wide range of colors, sizes, and quality, you can sell them rapidly.
Join the only community and resource hub you'll ever need to succeed with dropshipping
Find winning dropshipping products, learn marketing, download templates and engage with real dropshippers
Never pay for a "guru's" course again. See why 4543+ dropshippers joined us this year!
💡Try DSCOM Hub Now
Conclusion
Online clothes sales in the UK are growing. As a result, dropshipping UK clothing will help you to increase your profits, and gain brand awareness and popularity.
Nowadays, dropshipping UK clothing is one of the most lucrative niches, due to the popularity of online sales in the UK, and the no significant shipping problems and delays.
Thus, if you made up your mind and you are willing to start dropshipping UK clothing, we provide you with a list of the Top 10 dropshipping suppliers UK and products you should consider for your business. Good luck!