Top 10 Dropshipping Sunglasses Suppliers
by
Martin -
Martin is an agency owner and SaaS projects maker. His work is featured in the leading ecommerce brands, magazines and podcasts. Talks about Marketing, Business Development, and Growth Hacking!
CO-founder at Dropshipping.com
Willing to find the best dropshipping sunglasses suppliers? We are aware, this can be a daunting task, and you can end up finding an unreliable dropshipping supplier. Don't worry! We got you.
That's why we are giving this list to you, to save you precious time and keep the bad suppliers away from your business.
Can you make money by reselling sunglasses? Sure you can, since some claim to have made over $8000 in just 30 days.
Now, let's dive in. Also, you will find some EXTRA valuable information for you here. Take advantage!
List of the Top 10 Dropshipping Sunglasses Suppliers
To back up the stats and help you enter the industry, we've decided to share this valuable list of the top 10 dropshipping sunglasses suppliers.
💡 Tip: Feel free to check our Ultimate Guide: How To Find Products To Dropship In 2023.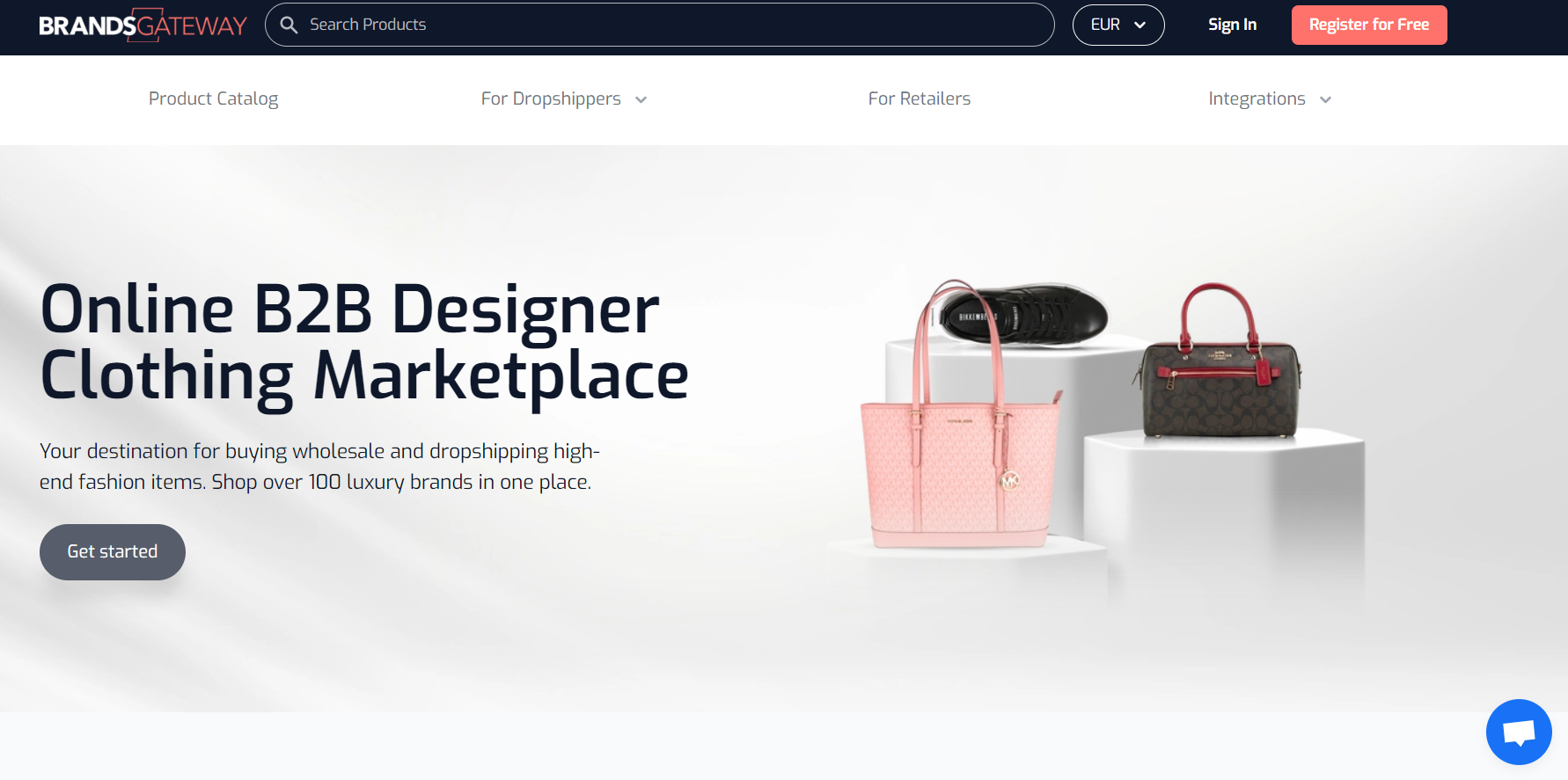 If you're looking to make some serious cash, BrandsGateway is the place to be. Want to sell brands like Diesel, Dsquared, Esprit, Gant, Guess, Cavalli, Tom Ford, and other famous name brands?
However, they do charge for monthly or yearly subscriptions, but the profits are guaranteed to be the highest, compared to the rest of the dropshipping sunglasses suppliers. However, if you want to learn about their pricing, you first need to create an account.
Also, they ship worldwide, which takes no more than 1-5 business days, depending on the location. Also, the average order processing time is around 4-7 days.
👉 Check our complete BrandsGateway Review and learn how to dropship with the best fashion supplier in Europe.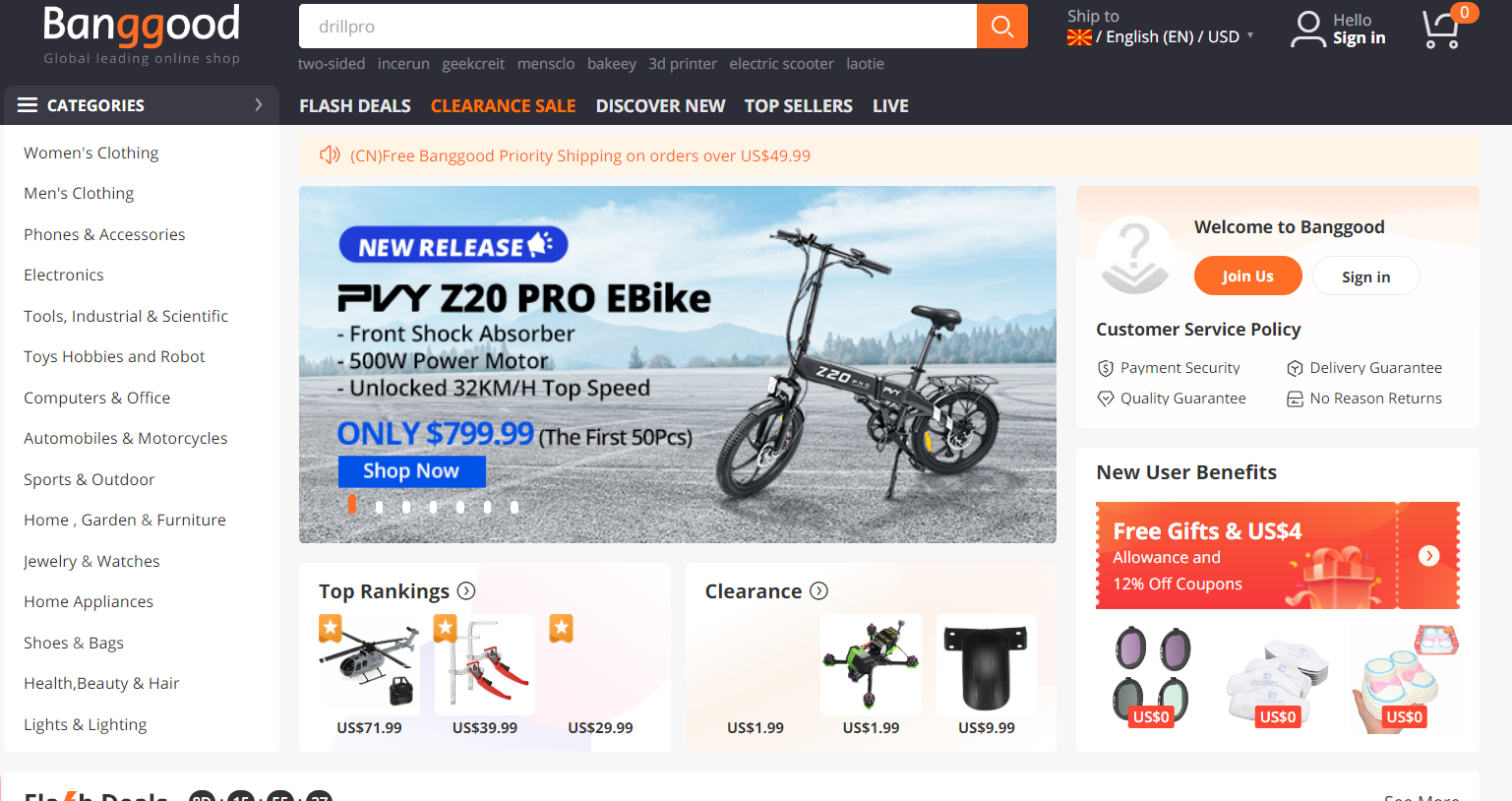 ---
---
Banggood is a dropshipping supplier based in China that offers a wide variety of products across multiple categories, including a vast selection of watches. They have an extensive catalog of more than 250,000 items. What's more, you can find sunglasses in multiple product categories, like:
Bike & Bicycle
Women's Accessories
Men's Accessories
Health Care
One of Banggood's standout features is its global warehouses, which enable fast shipping. Their dropshipping sunglasses niche offers affordable products ranging from $4.8 to $79. This means you have low costs!
Banggood accepts payment through more than 40 different methods, including popular options like Klarna, PayPal, MasterCard, Visa, and American Express.
Additionally, they offer API integration with major e-commerce platforms such as WooCommerce, Shopify, and Wix.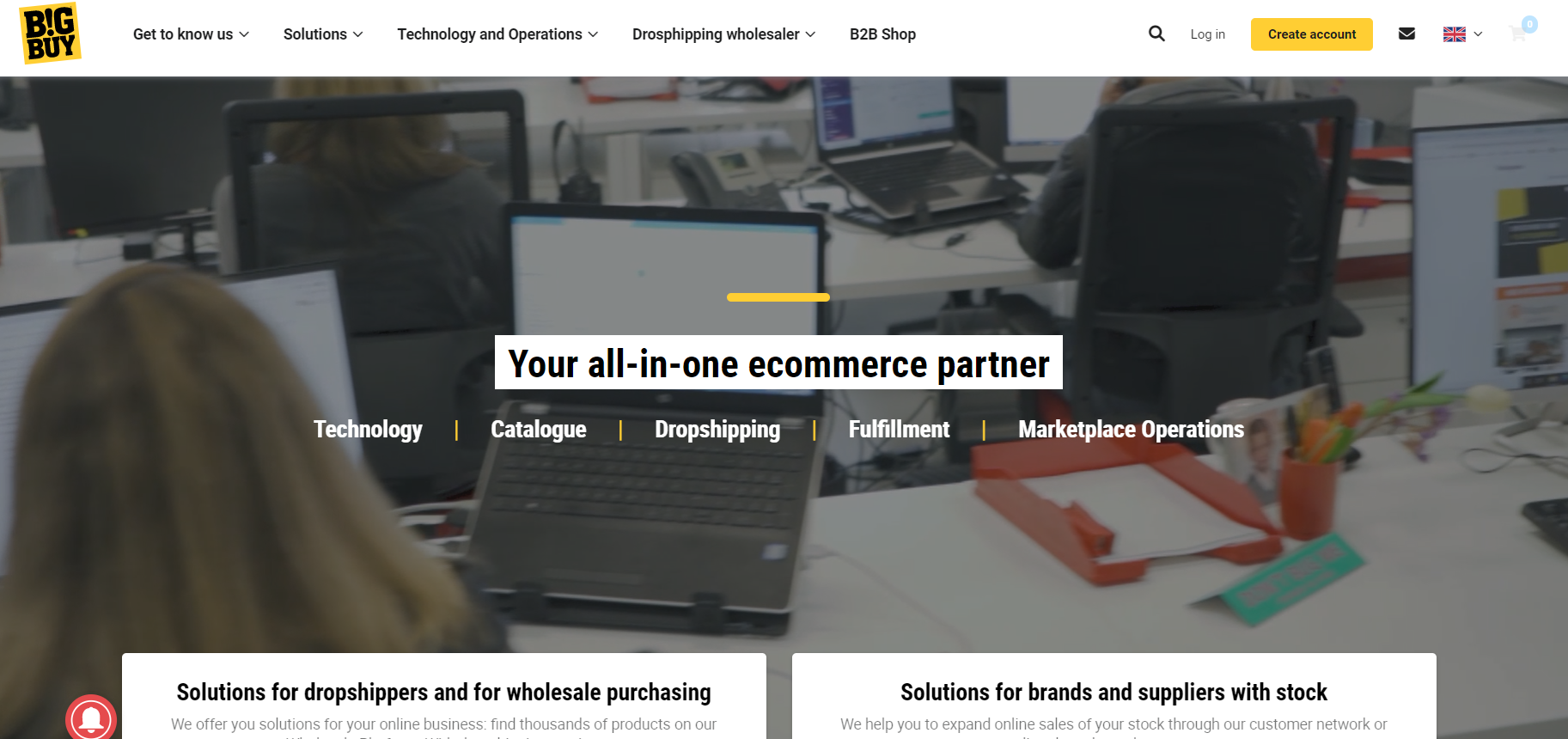 BigBuy is a Spanish B2B e-commerce supplier of various products, including eyewear.
👉 Check our complete BigBuy dropshipping review.
In fact, BigBug is an e-commerce company that has won multiple awards, including recognition from PayPal, e-awards, and other well-known events.
Moreover, they provide dropshippers with European stock and quick delivery options. Also, their dropshipping sunglasses product costs range between $20-50. In addition, the average order processing time is around 1-3 days.
However, this dropshipping sunglasses supplier requires MOQ and ships its products worldwide.
Also, if you need assistance with anything related to dropshipping, their customer support team is committed to doing everything they can to help you out.
As for brands, they got some pretty good ones, such as Guess, Just Cavalli, Kodak, Swarovski, Timberland, and Police. Given the circumstances, that's a pretty decent collection of branded sunglasses for dropshipping.
---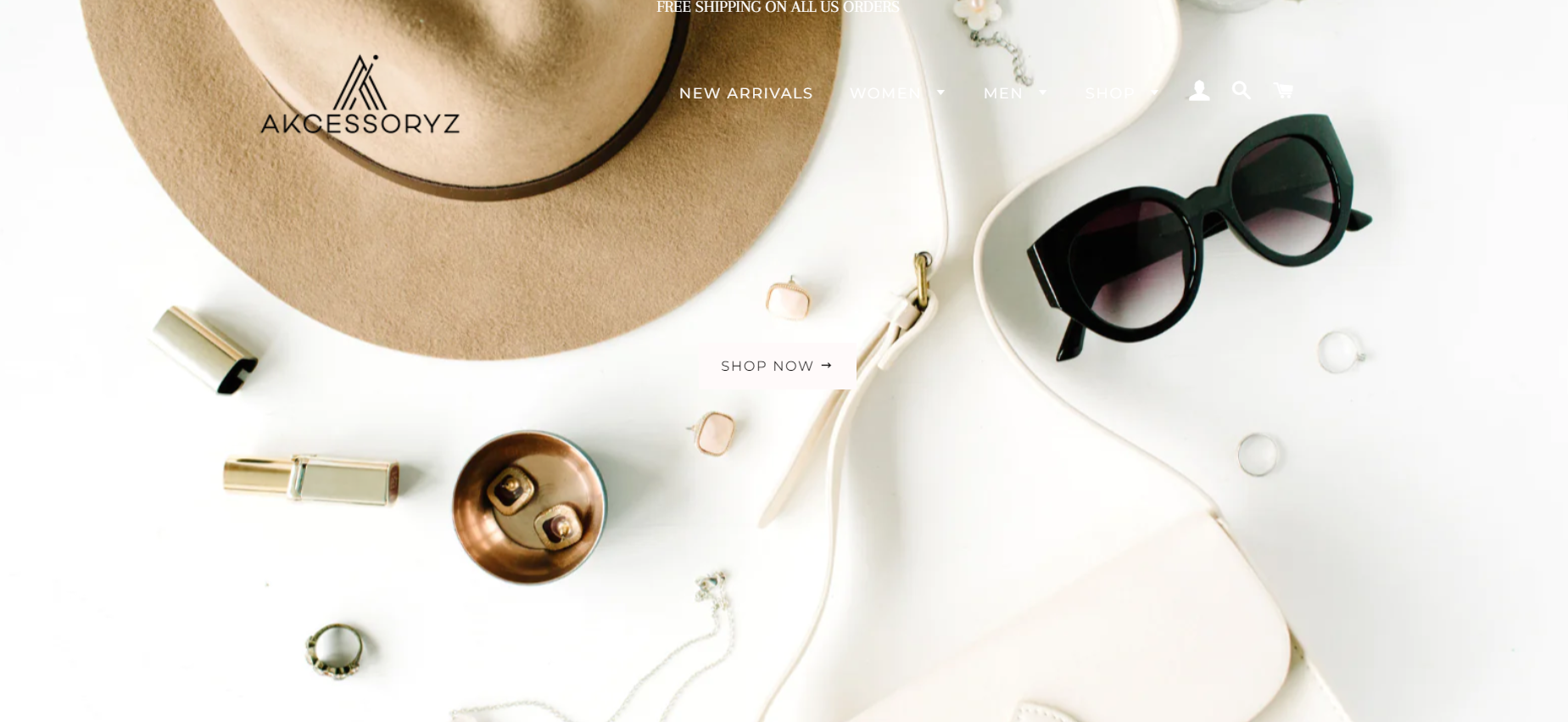 Akcessoryz has chosen to work with an affiliate program, allowing resellers to earn up to 15% in commission fees.
It's free to join, and they allow all types of advertising, as long as you sell their products.
This dropshipping supplier is based in the US but ships its products worldwide. All orders are processed within 1-2 business days, and it takes them 3-7 days until final delivery in the U.S. However, the shipping for US orders is FREE.
As for international shipping, it takes a whole lot longer to ship the products, 10-30 days on average.
Moreover, their product costs range between $20-50.
Since there aren't many sunglasses dropshipping suppliers available, we thought you might have a solution to the difficulties of using their affiliate program.
---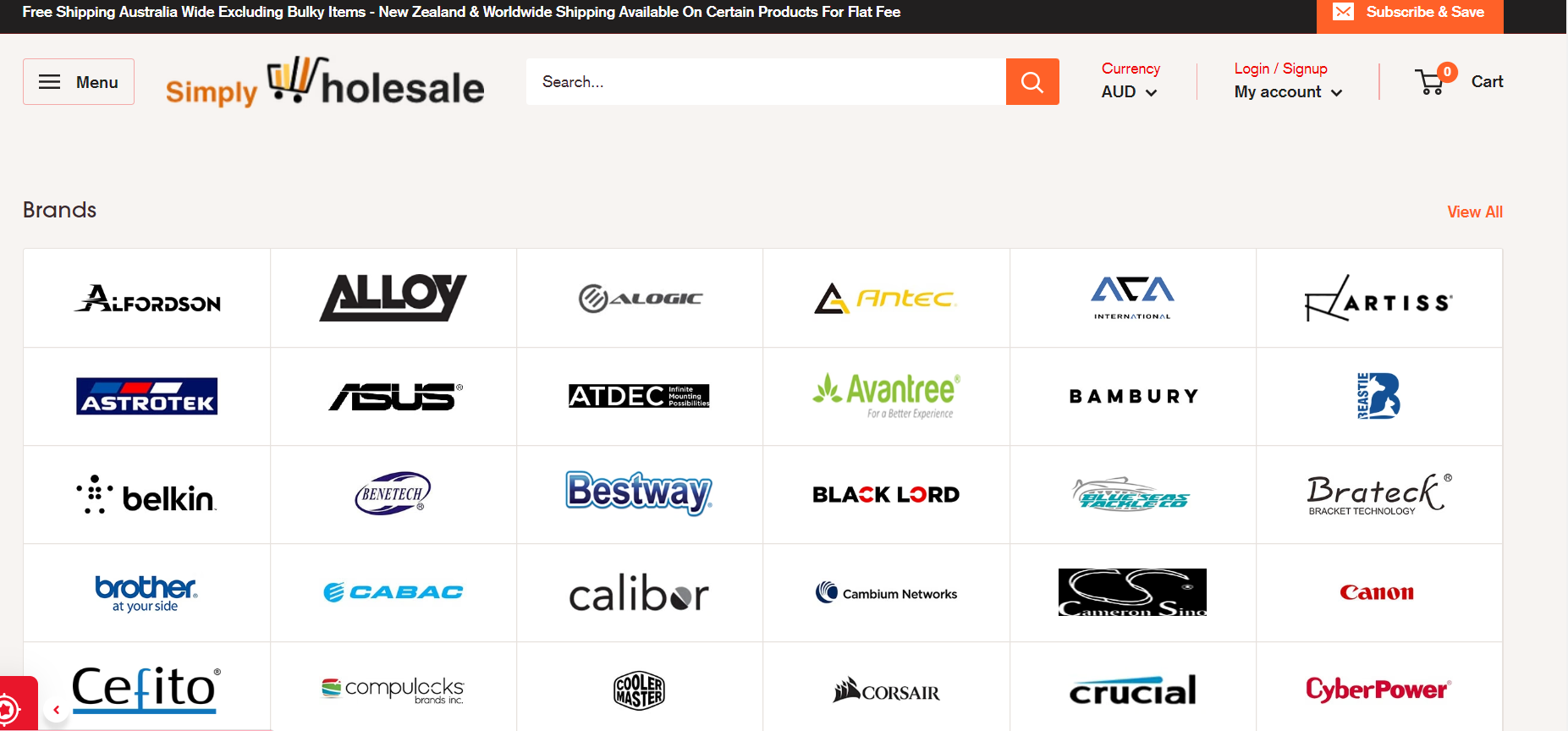 Simply Wholesale is New Zealand's largest sunglasses dropshipping supplier, with almost a decade of experience in the industry. However, they ship their products worldwide. Also, shipping for bulk orders in Australia and New Zealand is free, and $9.95 for single orders.
As for the types and brands of sunglasses, you can sell:
Starsky,
Seafolly
Zodiac,
Spitfire,
Allison Gia Franco,
Le Specs, etc.
Also, there are over 100.000 products. Moreover, the product costs range between $30-300, and their average order processing time is 7+ days.
This market is highly lucrative if you're willing to work that marketing magic in your store.
---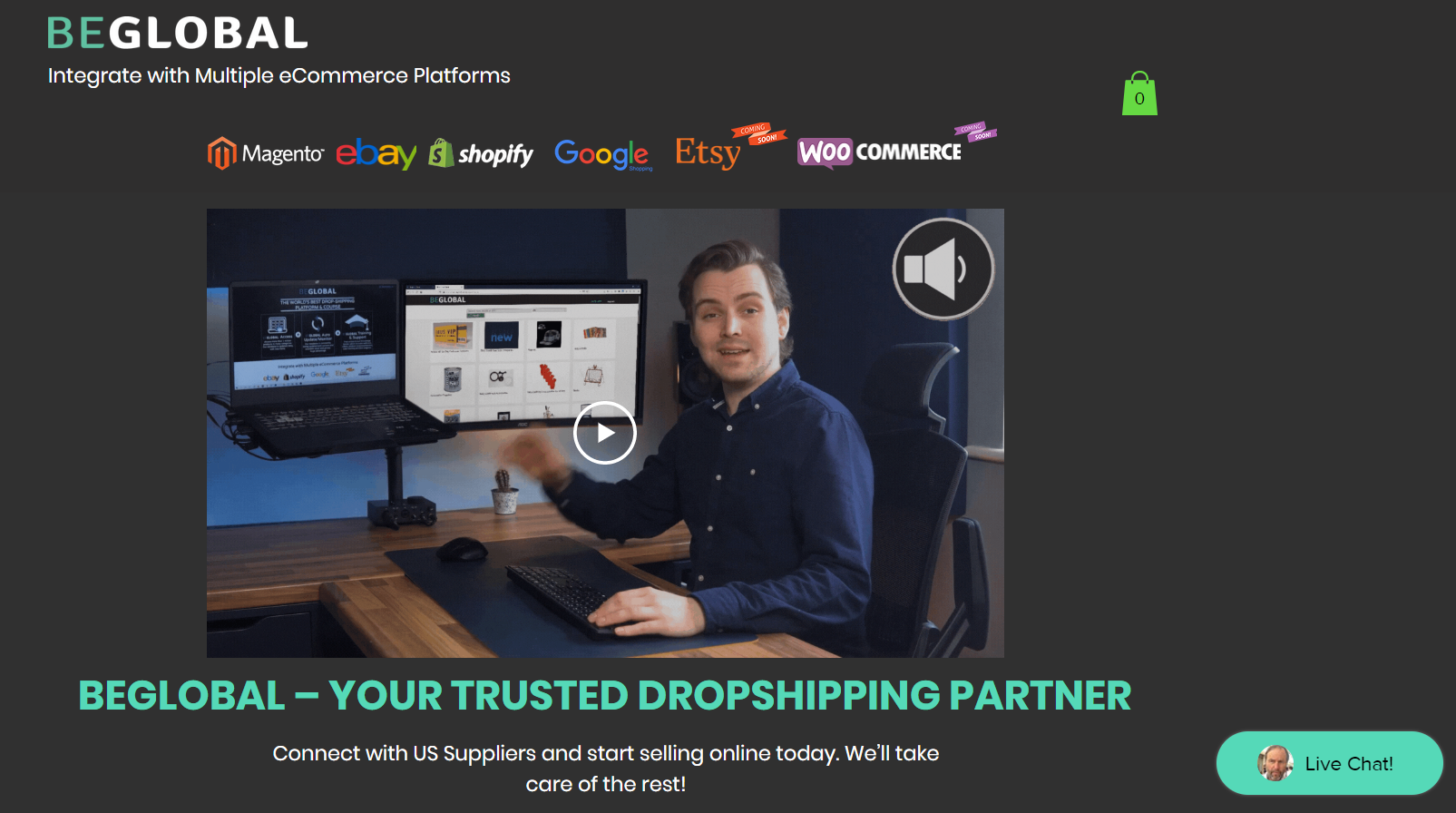 With head offices in the U.S. and Israel, BeGlobal LLC is a very popular sunglasses dropshipping supplier, with its own software for updating the entire inventory. Thus, this will avoid out-of-stock issues and make sure all the products are there.
Moreover, it integrates with multiple eCommerce platforms like:
Shopify,
Magento,
eBay,
Etsy, etc.
Learn: Dropshipping On eBay in 2023 – Definitive Guide.
This dropshipping supplier has over one million products, and the product costs range between $1-10. Also, the average order processing time is 1-3 days. However, they require a MOQ.
Unfortunately, there isn't much to be found on their website, except for a few slides of the products and the amount of inventory at their disposal.
---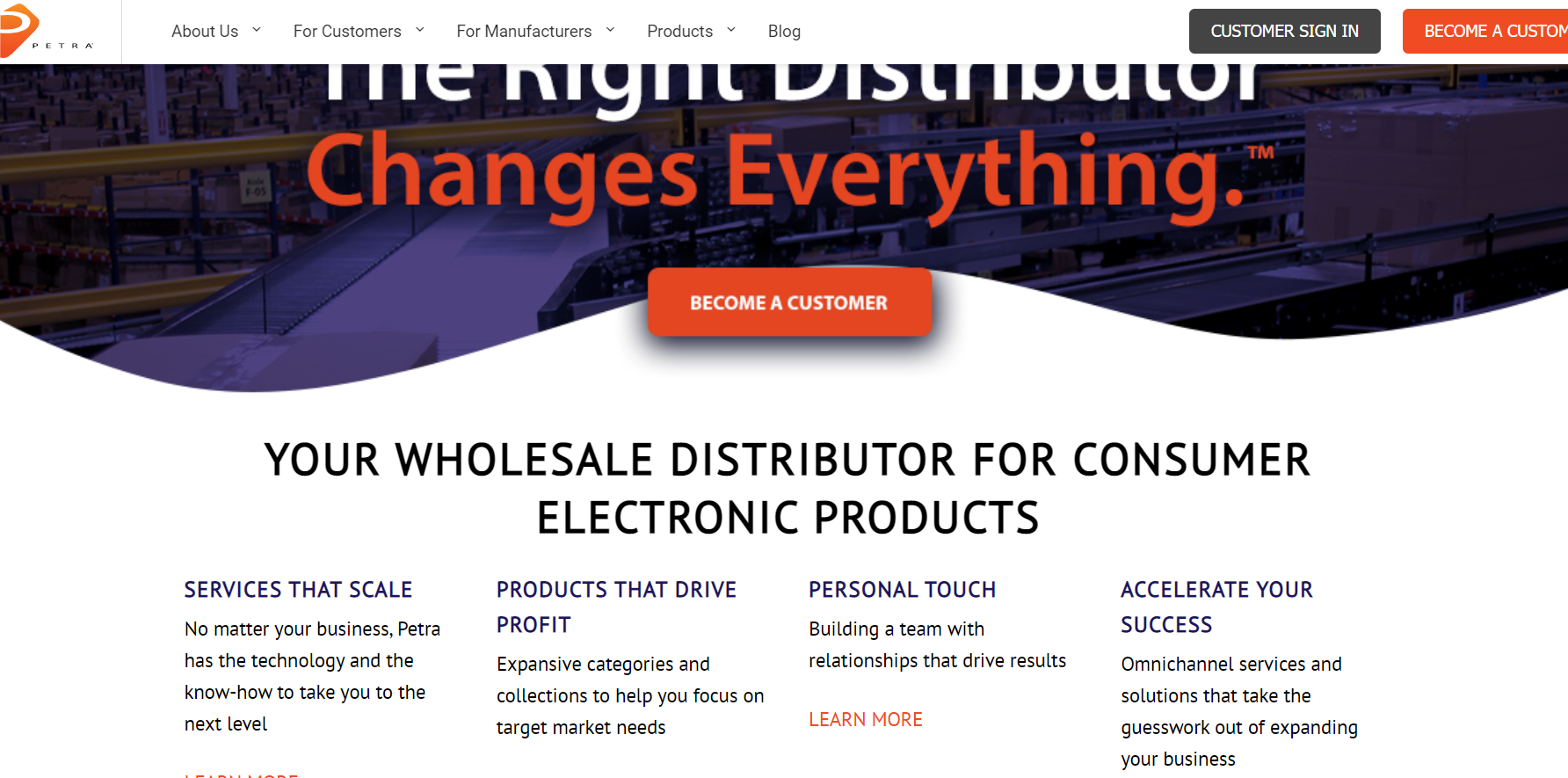 This dropshipping sunglasses supplier is based in the US and ships its products worldwide.
Petra works with hundreds of brands, from so many ecommerce product categories. There are a lot of limited-time deals and closeouts, and dropshippers often spend a large portion of their marketing on these special discounts and deals.
However, they are currently only selling one type of sunglasses – safety sunglasses. Thus, the product costs range between $1-10, and the average order processing time is only 1 day.
However, these things change quickly, so while you're waiting for their stock to refill, there are plenty of safety glasses to sell at any time.
You can become a marketplace reseller with this Oklahoma dropshipping supplier, so make sure to check out most products before choosing to deal with them.
---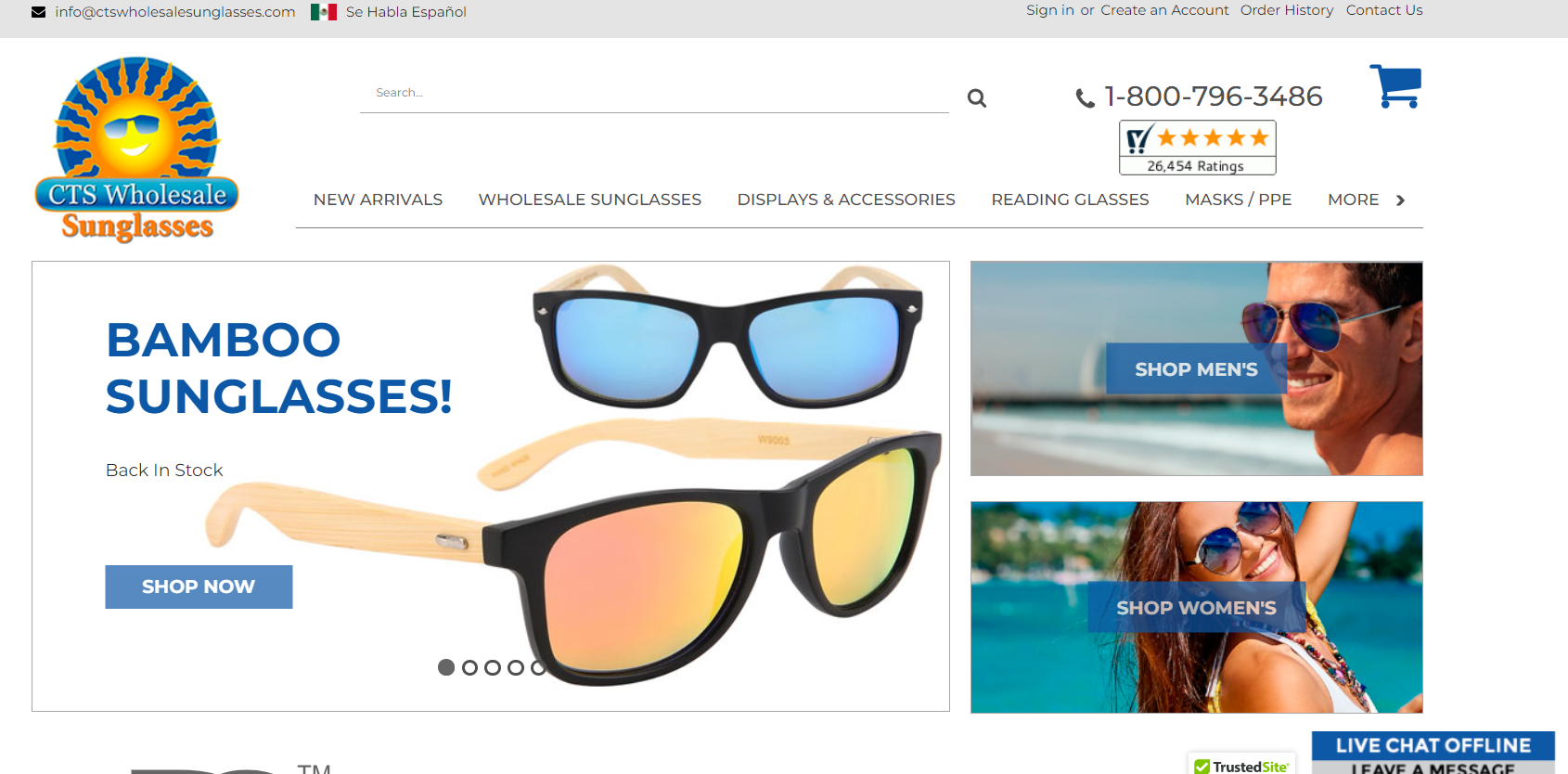 This Salem, Oregon dropshipping sunglasses supplier is a specialist in this category. In fact, with CTS Wholesale sunglasses you can dropship:
bamboo wood
party
aviator
designer, and other types of sunglasses.
What's more, custom printing is available if you're willing to create your own label. Moreover, the product costs range between $8-55, and the average order processing time is 1-3 days.
Also, CTS Wholesale offers free shipping for orders over $99.
Besides, with proper third-party logistics, you'll go a long way. However, they do not provide blind dropshipping internationally. This might be a problem if you focus on selling worldwide.
On the other hand, focus on U.S. orders and you'll do just fine. Learn more about how to dropship in the USA with the best wholesale suppliers.
---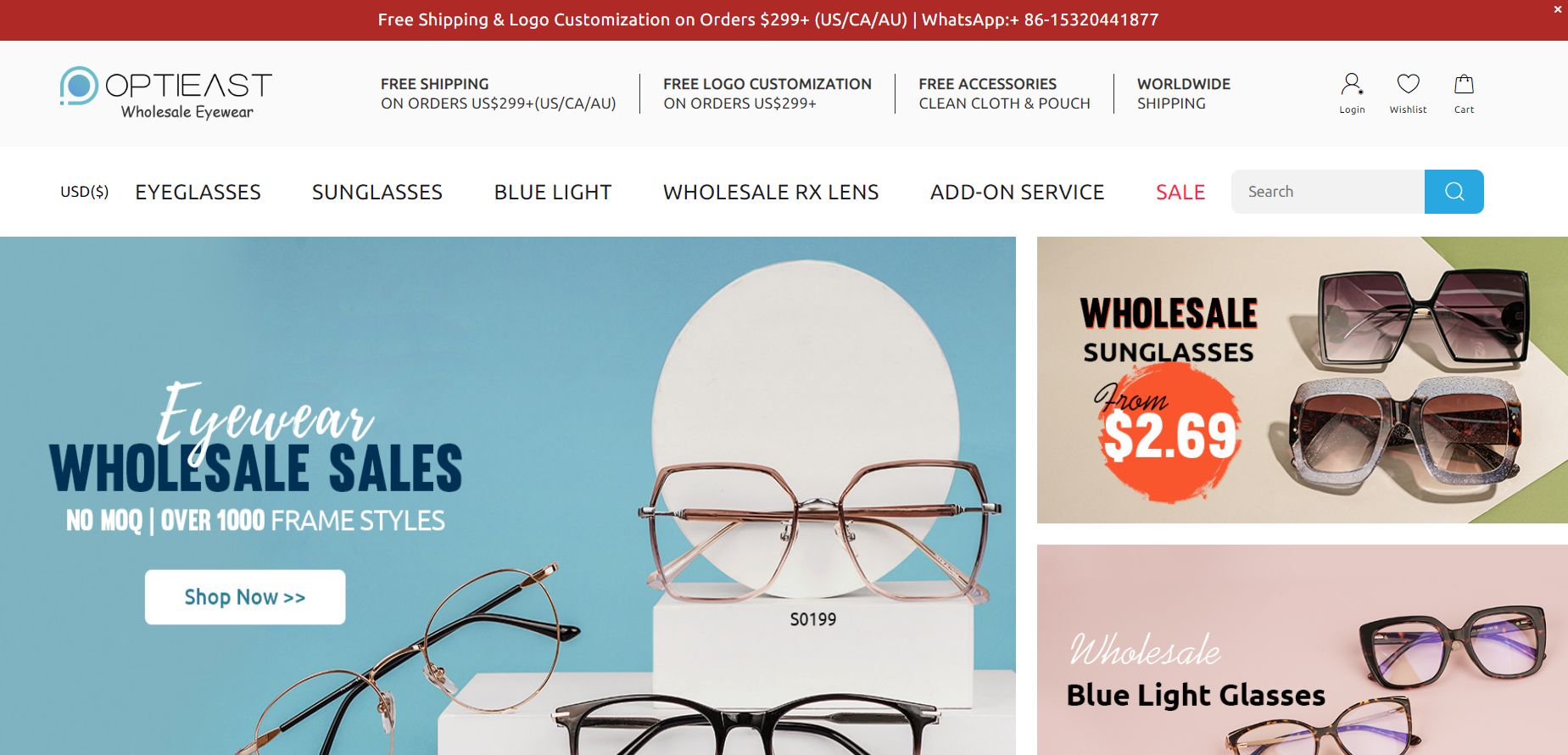 Optieast is a professional manufacturer of optical eyeglasses and sunglasses. They have their own lab and are able to supply optical frames, lenses, and finished spectacles according to your requirements. Learn how to find your product manufacturer in any niche.
What's more, they are based in China but ship their products worldwide.
Hence, on their online store, you can find 1000+ latest styles of optical glasses, blue light glasses, and sunglasses at factory price. Thus, the sunglasses costs range between $3-13. Also, the average order processing time is 4-7 days.
Moreover, they offer logo customization, dropshipping, and worldwide shipping. Also, for orders over $299, you can get free shipping and free logo customization.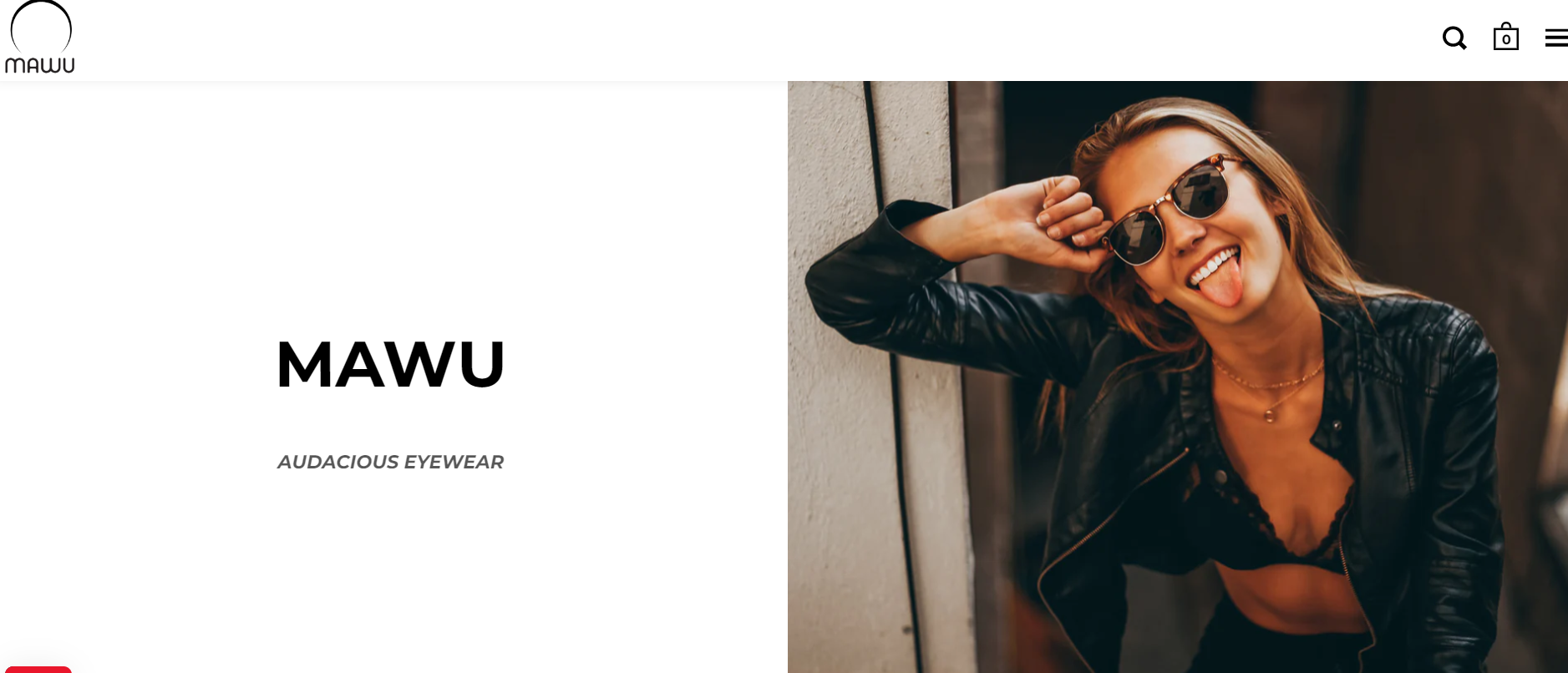 MAWU eyewear was created when two friends with different outlooks on life came together to build a shared dream of launching a global brand.
The dropshipping sunglasses supplier has gone on to collaborate with worldwide designers, photographers, video creators, and social media influencers. Thus, they are helping them to create their own destinies and step out of the ordinary.
Available on a first-come, first-served basis, Mawu eyewear dropshipping products connect those who seek something new and something worth considering for your dropshipping journey.
Also, their product costs are around $200, and the average order processing time is only 1 day.
Lifetime deal: Get all-access to everything on Dropshipping.com
Access all DSCOM features, resources, courses, live workshops, discounts, winning products, weekly deep dives, directories and all future updates under all-in-one dropshipping HUB.
DROPSHIPPING IS A REAL BUSINESS, DON'T DO IT ALONE. 4553 MEMBERS ALREADY JOINED. YOU CAN PAY OFF YOUR SMALL INVESTMENT WITH JUST 2 SALES ON YOUR STORE.
Grab the deal before it's gone
How To Start Dropshipping Sunglasses?
🔸 Create a Dropshipping Store
Of course, the first step is creating your store online. How else would you showcase your products?
Nowadays, there are various ways to create your dropshipping store. For example, you can hire a website developer and have them build it for you.
💡Tip: Learn How to Build an Ecommerce Website from Scratch – Dropshipping Store.
The second option involves creating a website from the ground up, using an open-source content management system (CMS) like WordPress.
But, we highly recommend you save up your time and effort, and use the third option – website builder or a platform.
Therefore, you can use popular e-commerce platforms like Shopify, WooCommerce, Wix, or BigCommerce to build your store.
What's more, these website builders have tons of pre-built templates and themes that can meet your needs. You can check on the 13 Most Successful Shopify Dropshipping Store Examples, and get inspiration.
👉 Check out the 8 Best Alternative Dropshipping Website Builders.
🔸 Select Dropshipping Suppliers
Next, choosing the dropshipping suppliers. Actually, this step is very important since you must find reliable ones.
In fact, dropshipping suppliers are the ones that can even make or break your business. So, choose wisely.
Hence, you can do that by yourself by simply googling it. But, this means wasting your precious time and maybe ending up with nothing, or worse – a fraud.
Therefore, we recommend you check out online directories like Dropshipping.com, and choose your dropshipping supplier. Also, you can ask dropshipping agents to contact the suppliers for you and negotiate.
🔸 Import Products
So, once you found your dropshipping suppliers, the first step is to connect their inventory to your store.
Wondering why? It's simple, you need to import products. However, most e-commerce platforms have built-in tools that allow you to import products from suppliers directly into your store.
Secondly, it's time to add sunglasses items to your dropshipping store. Hence, you will need to add details and photos to showcase each product.
Further, to create an effective product description, start by highlighting the benefits of each product. Thus, this means explaining how the item meets the needs, wants, and desires of potential customers.
Once you have a solid description, you can add product pictures.
It's best to avoid using the same pictures as other online sellers who may also be using the same dropshipping supplier as you.
Instead, you can stand out by taking your own high-quality, professional photos of your clothing items to display them in a more realistic way.
🔸 Market Your Business
The final step in starting a dropshipping sunglasses business is to market it and bring in customers to your online store
. Thus, there are different ways to market your business, such as
Thus, it's important to choose marketing strategies that fit your budget and reach the people you want to sell to.
For example, if you choose Social media advertising, and your target audience is aged between 18-24, then TikTok ads might be your best option. But, if they are around 35-44 years old, maybe you should try Facebook ads.
Building a good brand and giving your customers great service can keep them coming back for more.
👉 Check out the 7 Tips For Creating a Bulletproof Dropshipping Marketing Strategy in 2023.
Is Dropshipping Sunglasses Profitable?
First, according to Statista, revenue in the Sunglasses industry is US$24.55 billion in 2023. What's more, the market is expected to grow annually by 4.86% (CAGR 2023-2027). So, yes – this sounds like a profitable niche.
Moreover, since we started to dig up a little more, these products' profit margins are around 60-80%. WOW! We know, maybe you are surprised, but take a look. 👇 Another YES, it really is a profitable niche.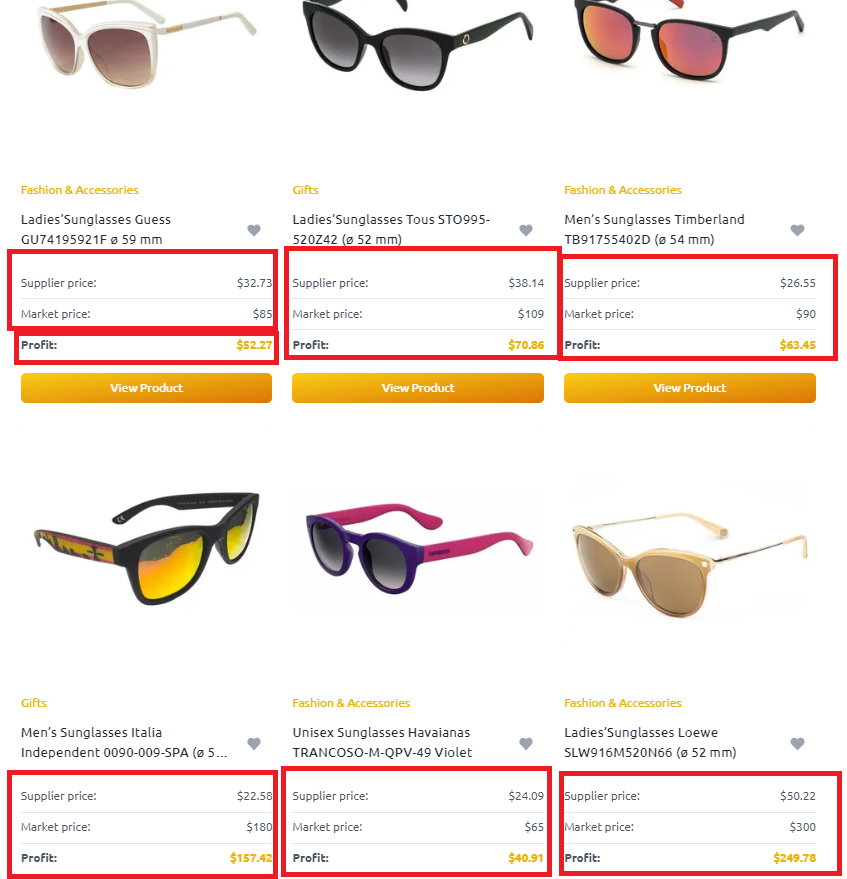 And, one more stop. Not just that it is a profitable niche, but also this is the perfect timing to start according to Google Trends.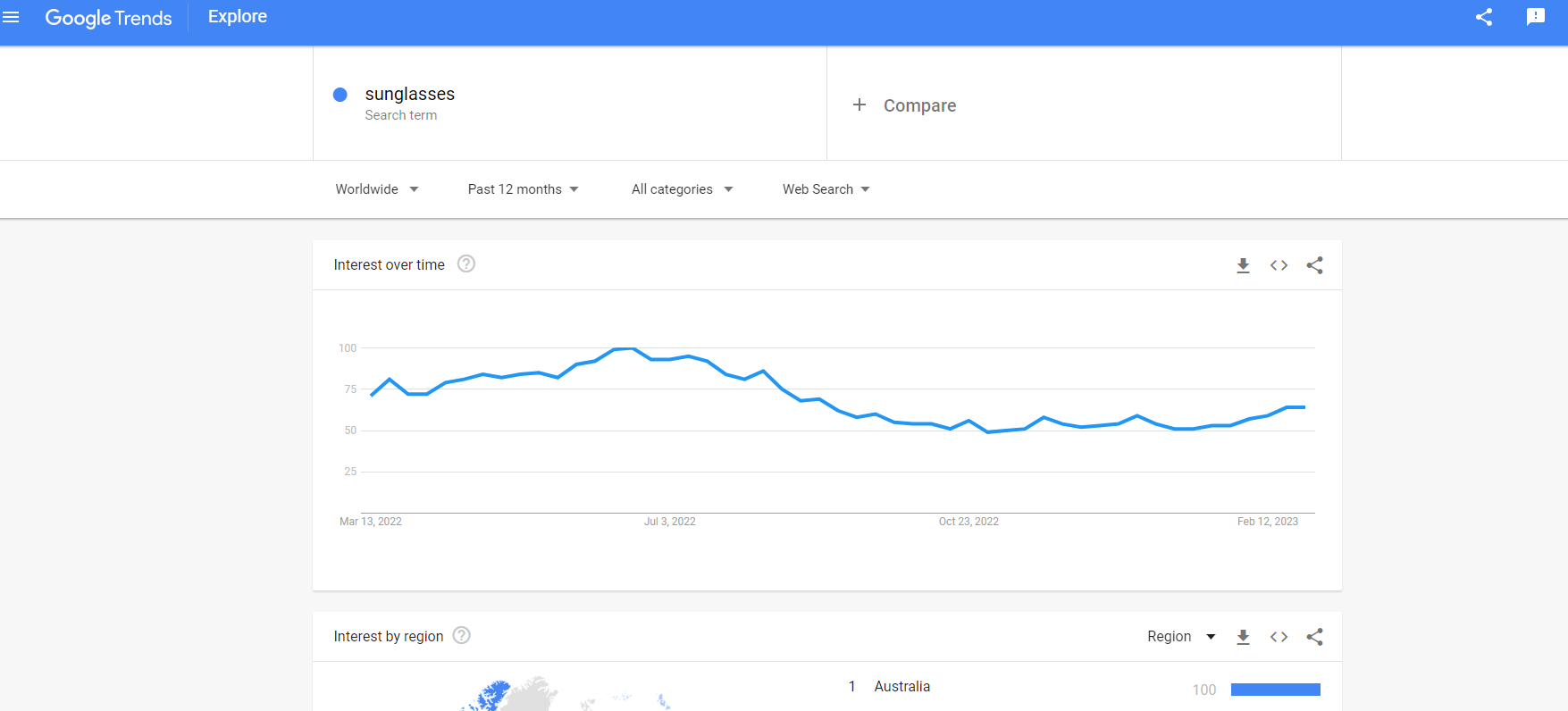 FAQs
Are Sunglasses Good for Dropship?
Yes, dropshipping sunglasses is a profitable niche. According to Statista, revenue in the Sunglasses industry is US$24.55 billion in 2023. Also, the profit margins for these products are between 60-80%.
Can I sell any type of sunglasses through dropshipping?
Yes, you can sell any type of sunglasses through dropshipping, as long as you can find dropshipping suppliers who have the products you want to sell.
In addition, some popular types of sunglasses are:
aviator
wayfarer
round
square
cat-eye styles.
How to Find Reliable Dropshipping Sunglasses Suppliers?
If you want to find trustworthy dropshipping sunglasses suppliers, you should check on some popular online directories like Dropshipping.com or Oberlo.
Also, you can contact dropshipping agents, and let them do their work.
What Are the Best Dropshipping Sunglasses Suppliers?
Some of the best dropshipping sunglasses suppliers are:
BrandsGateway
DropshipTown
BigBuy
Akcessoryz
Simply Wholesale
BeGlobal LLC
Petra Industries
CTS Wholesale Sunglasses
Optieast
Mawu Eyewear
What is the pricing structure for dropshipping sunglasses?
Pricing structures for dropshipping sunglasses vary depending on the supplier. Some suppliers may offer a fixed pricing structure, while others may offer tiered pricing based on the volume of orders you place. Also, the product costs vary from around $5-75.
However, before starting do your research, and compare different suppliers to find one that offers competitive pricing for the products you want to sell.
How to Dropship Custom Sunglasses?
You can start dropshipping custom sunglasses with dropshipping suppliers that offer print-on-demand services. Some of them are Printful, Printify, CJdropshipping, etc.
Read about Printful vs Printify – Which Platform Is Better for print-on-demand dropshipping?
Join the only community and resource hub you'll ever need to succeed with dropshipping
Find winning dropshipping products, learn marketing, download templates and engage with real dropshippers
Never pay for a "guru's" course again. See why 4543+ dropshippers joined us this year!
💡Try DSCOM Hub Now
Conclusion
The best opportunity to find and work with the best wholesalers, and of course, with dropshipping sunglasses suppliers across the globe is to find your best vendor and build a partnership.
To start, you can check our FREE Supplier's directory with more than 1600 available suppliers in any category. As a bonus, here's our ultimate and free list: Best Dropshipping Companies for all you need to start and run your business.