Dropshipping shoes can offer many perks. Namely, starting a dropshipping business and selling shoes online can be a satisfying and financially rewarding activity.
But why? Because you can let your customers put on a pair of shoes and make them feel so different. Plus, you can make money from the comfort of your own home.
So, in this article, we will compile a list of the best wholesale and dropshipping shoes suppliers.
Also, we will provide a few profitable product ideas the dropshipping shoe world (and your business bank account) will be thankful for!
Let's dive right in.
Why Dropshipping Shoes?
When you think of the footwear industry, you probably think of large manufacturing companies that manufacture shoes.
But it is made up of many manufacturers, wholesale distributors, retailers, and, of course, dropshippers.
Learn how CJ Wholesale can boost your dropshipping sales.
The footwear industry has one of the most robust supply chains. And it is a particularly interesting industry as almost everyone across the globe needs and wears shoes.
A pair of shoes is considered a necessity in almost any part of the world. And this does put unique demands on the industry.
It seems the world agrees – the global footwear market is a multi-billion dollar industry.
Plus, online sales will generate about 22% of the total revenue in the footwear market by 2023.
Discover top dropshipping suppliers of original US/EU products
You're 2 minutes away from building your ecommerce empire
No credit card required. No commitment.
Get started for free
How To Dropship Shoes Successfully?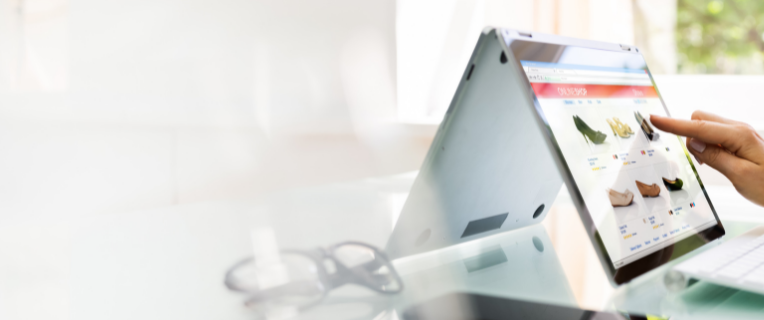 Before starting dropshipping shoes, there are a few things to consider doing:
👉 Follow our full checklist on How to start your dropshipping business.
Conduct market research and target your audience
You are probably aware by now, that there are all kinds of different shoes, by that btw cost differently. So, before even starting, it is important to make a market research.
So, why do you need it?
First of all, you need to know what the customers can, and cannot afford. That way you acknowledge at what price should vary the products you are going to dropship.
Next, find out what customers need and want! What they wear mostly, what's their style, hobby, interest, etc, and which group of customers is the largest.
That way, you will be able to narrow down your selection of shoes that would be the most profitable to dropship.
That's how you will be able to target your audience, and once you do, you will choose the types of shoes to dropship easily.
Choose the type of shoes to dropship
There are various types of shoes dropshippers can sell.
For example, you can start selling athletic, or light-up sneakers, and later expand your dropshipping store with more footwear choices, like boots, heels, dance shoes, and more.
Of course, you choose the one based on your target audience's desires. In this article, we conducted a list of top picks and profitable footwear nowadays, which can help you decide what to sell.
Create your dropshipping store
And of course, how can you even sell shoes online if you don't have a dropshipping store? Simply, you can't! But today this is easy, as you have various choices.
The easiest way is to use a website builder, and nowadays there are lots of website builders to choose from. Or, if you want more control over, or a specific website's looks, then maybe you should consider building it from scratch.
Find the best dropshipping shoes suppliers
And last, but not least- find the most reliable dropshipping shoes suppliers!
This can be challenging, since there are a lot of wholesale shoe dropshippers, and you don't know which is a scam!
💡Tip: Educate yourself on how to recognize and avoid a dropshipping scam.
Don't worry, We got your back! In this article, we provide you with a curated list of the 10 Best dropshipping shoes suppliers. Let's find out!
10 best dropshipping shoes suppliers
We have curated our list of top 10 suppliers that can make the process of dropshipping shoes easy.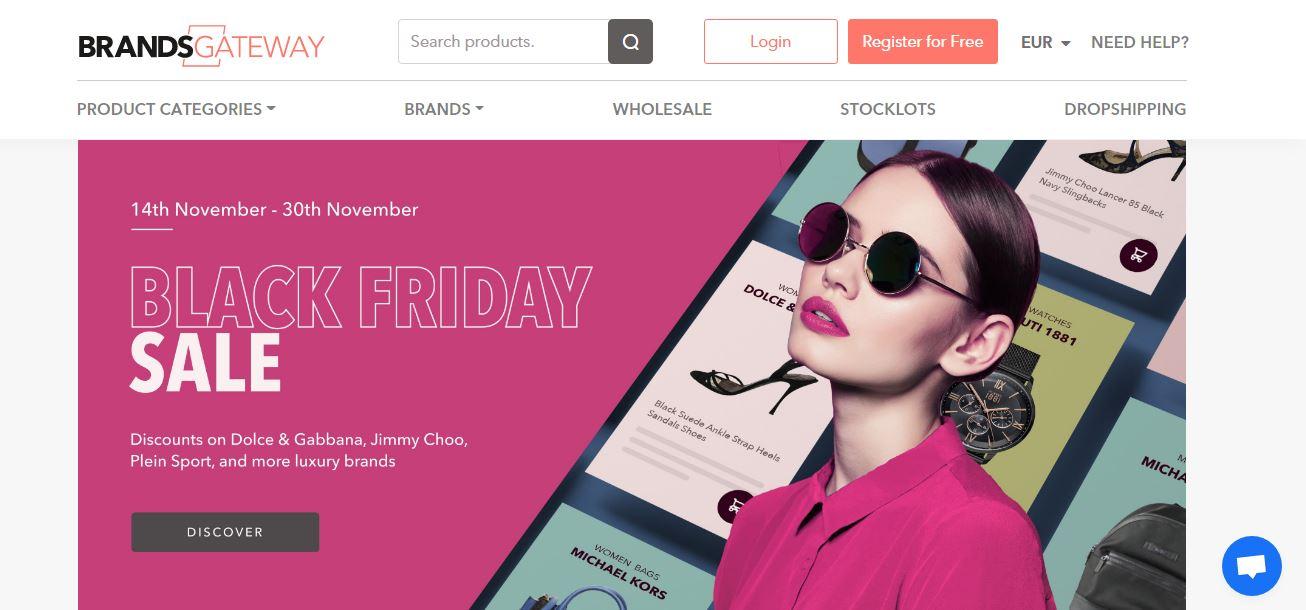 First on our list of the best dropshipping shoes suppliers is BrandsGateway. And for good reason – this supplier sells not only luxury clothing and accessories but also shoes from top designer brands.
From sneakers to boots for both men and women, BrandsGateway has something for everyone.
Yeah, designer shoes might be so expensive. But you will surely find many luxury items on the official BrandsGateway website with a profit margin of as high as 250%.
And as a dropshipper working with BrandsGateway, you can even order one product at a time and allow your customers to complete their outfits with designer shoes.
BrandsGateway is a reputable luxury dropshipping and wholesale supplier based in Europe. Still, it offers fast shipping worldwide. And Shopify and WooCommerce dropshippers can take advantage of their automated dropshipping service.
Sure, the company also offers CSV integrations for BigCommerce, Magento, ChannelAdvisor, and PrestaShop.
Check out our comprehensive BrandsGateway review if you are really curious about how dropshipping with this supplier works.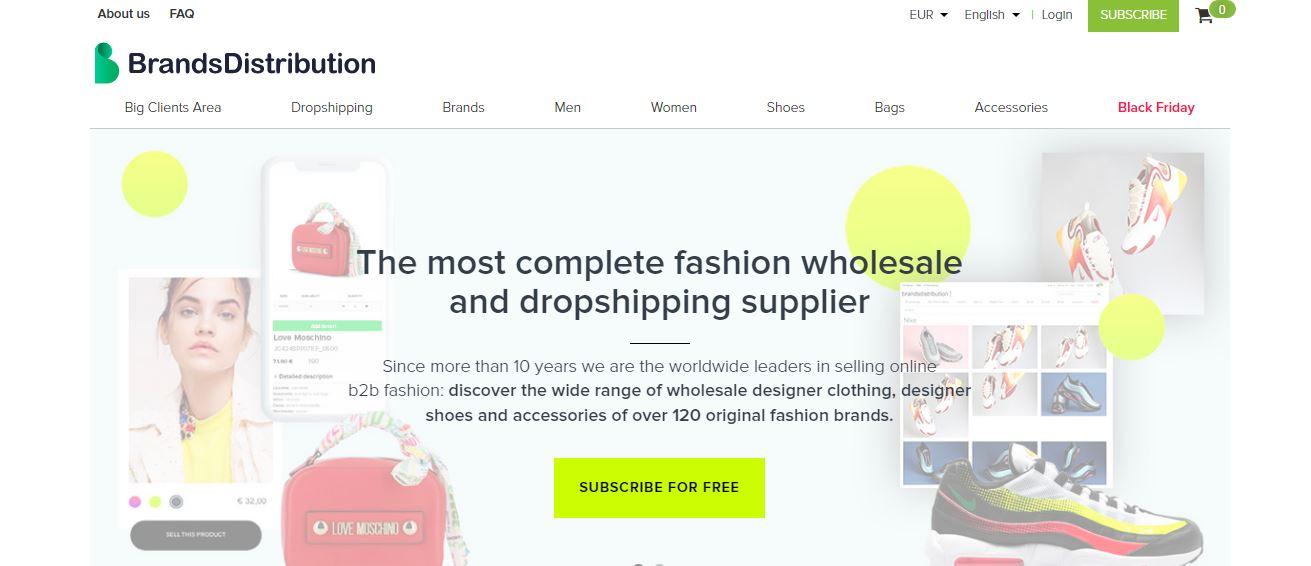 Similar to BrandsGateway, BrandsDistribution is a dropshipping shoes suppliers of brand-name products. The company boasts a catalog of 100+ well-known Italian and international brands, including Nike, Adidas, Birkenstock, Calvin Klein, etc.
BrandsDistribution is another EU-based supplier that ships worldwide. And if you are interested in dropshipping shoes with BrandsDistribution, you can do that on some online marketplaces like Amazon and eBay, or through your dropshipping store hosted on WooCommerce or PrestaShop.
What's interesting about BrandsDistribution is that through its exclusive Be The Only One service, you can sell one or more brands of its catalog exclusively in your country, provided that you already have a well-established e-commerce activity.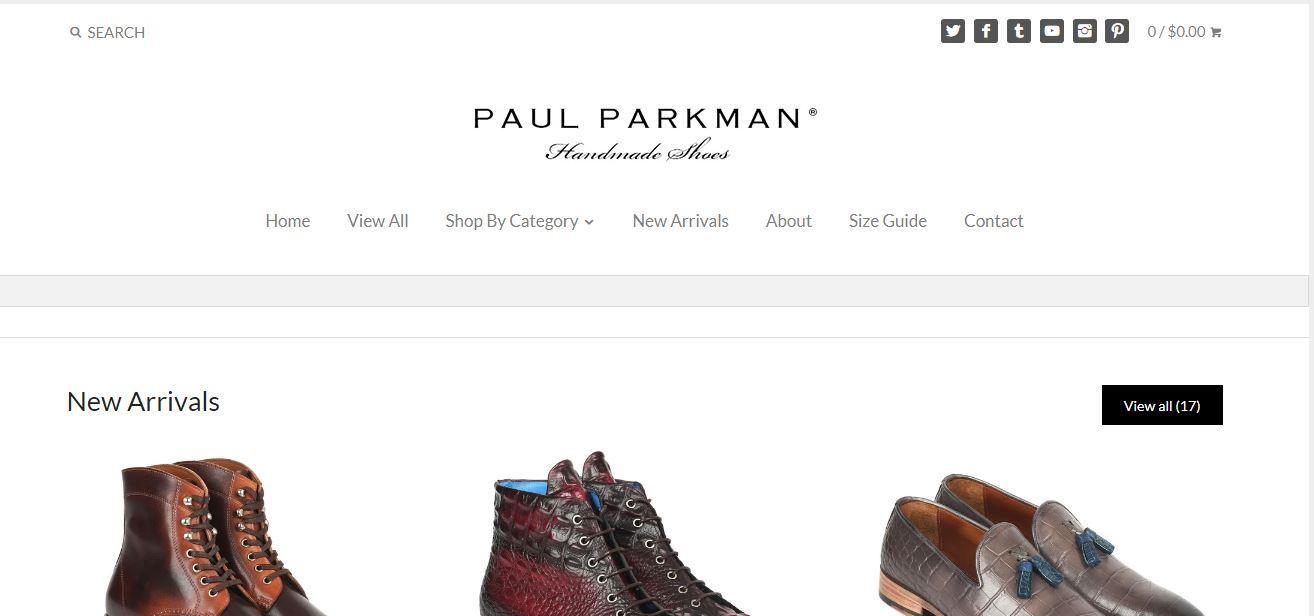 What differentiates this company from the others on our list of the best dropshipping shoes suppliers is that it has an exclusively male clientele.
But what does this mean? This means that Paul Parkman offers elegant leather shoes, like loafers and Oxford shoes, for men.
This is a US-based manufacturer and supplier of men's shoes that are all made strictly by hand, in limited numbers.
Also, Paul Parkman has a dropshipping program. But to join its dropshipping program, you need to get approved as an authorized dealer of Paul Parkman shoes.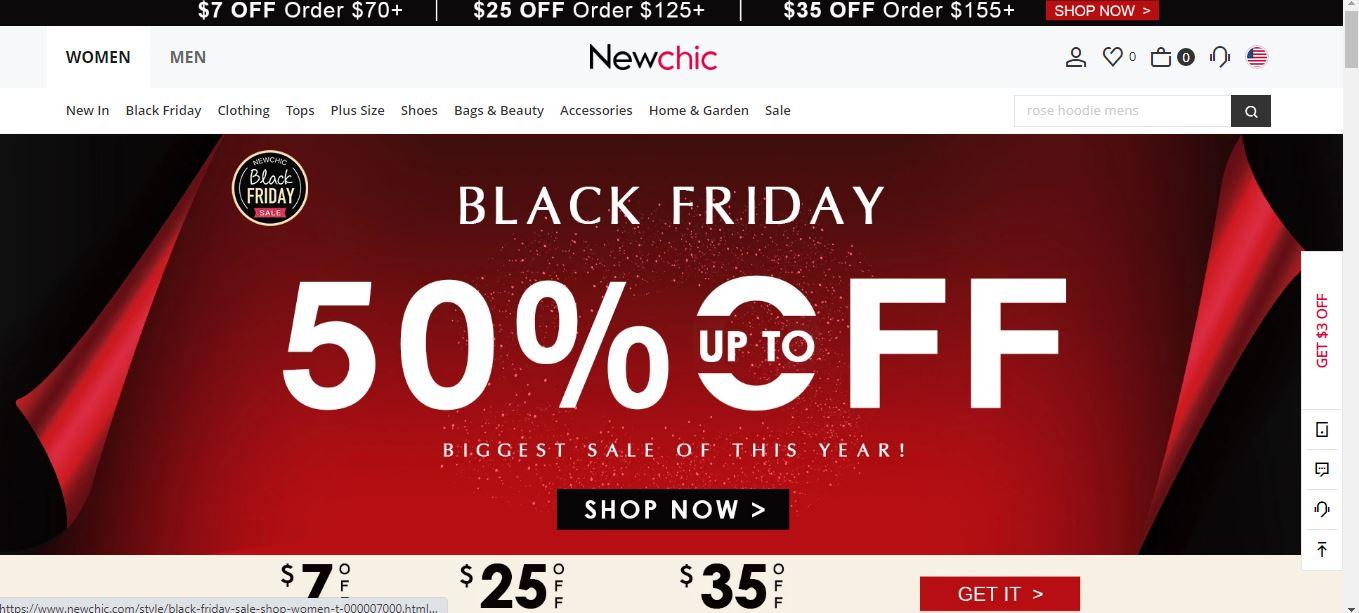 Headquartered in China, New Chic is a dropshipping supplier, specializing in clothing, shoes, and accessories.
Unlike many other online retailers in China, this company goes out of its way to ensure it ships quality products. Due to that, New Chic has better online reviews in comparison with other Chinese suppliers.
Since its launch in 2015, the company has won the trust of customers in Asia, Europe, and the United States.
And this can be greatly attributed to its dropshipping program, which includes hot-sale product recommendations, 10%-30% dropshipping discounts, no MOQ, etc.
Learn more: What is MOQ and how to handle it for your dropshipping store?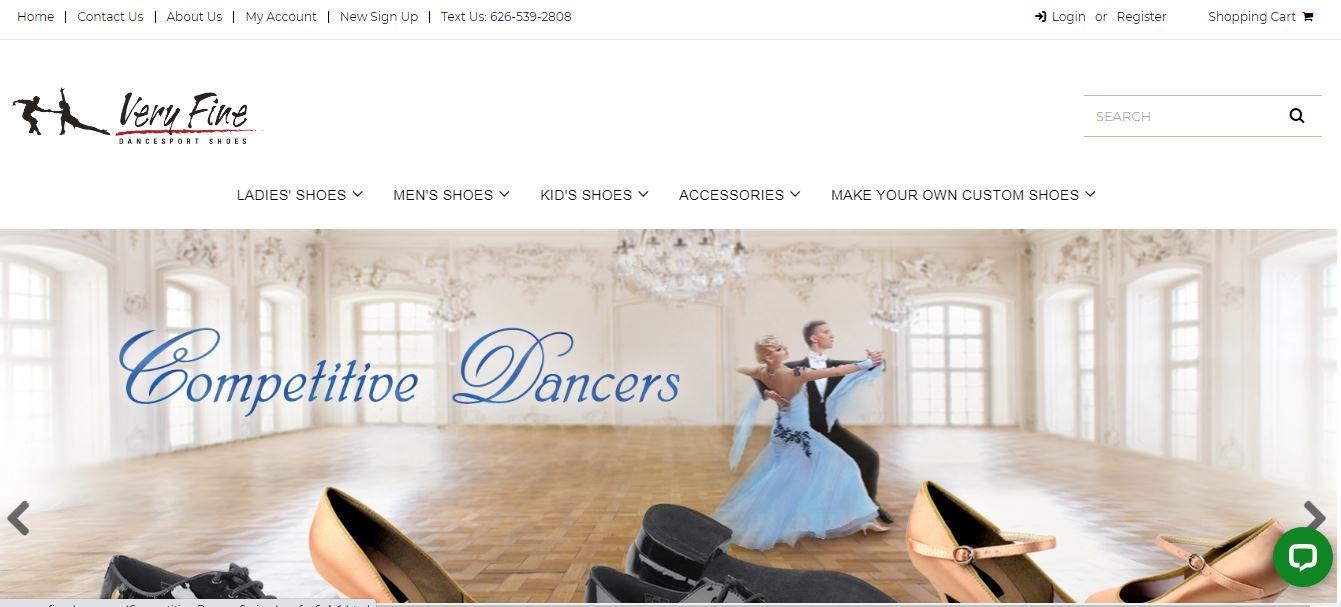 This is a US-based dance footwear manufacturer and dropshipping shoes suppliers. Very Fine Shoes, they are committed to manufacturing and selling quality dance shoes for men, women, and kids at affordable prices.
Also, they offer private labeling and custom-designed shoes. This means that with Very Fine Shoes, you do not have to invest in product development to start selling dance shoes online.
With it, you can design your own custom dance shoes and launch your own shoe line. This way, you can provide your customers with the right pair of dance shoes to shine on the dance floor.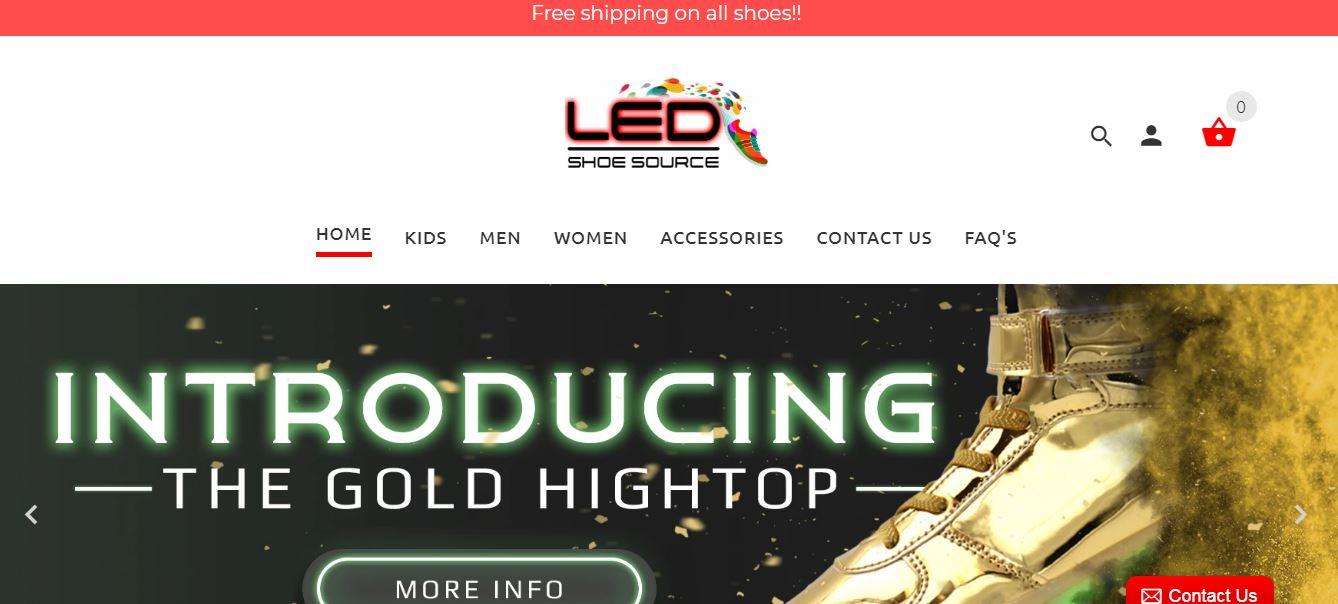 Based in Florida, the United States, LED Shoe Source carries 75+ styles of LED shoes for men, women, and kids. Moreover, the company offers free shipping on all shoes. And it offers wholesale and dropshipping services.
The LED shoes sold by this company are rechargeable light-up sneakers that come with many different LED colors and two different LED-changing patterns.
All sneakers are made with durable rubber soles, thus making them last longer and offering optimum comfort for the feet.
Want to partner with this supplier and start dropshipping shoes? If the answer is yes, apply to join its dropshipping program.
UWDress.com are manufacturers & dropshipping shoe suppliers carrying a large collection of bridal, bridesmaid & special occasion dresses, wedding shoes, accessories, and more.
Aside from offering wedding shoes, UWDress.com also sells other types of shoes at unbeatable prices.
Based in Beijing, China, the company has been in business for more than one decade and offers quality products.
Furthermore, it sells directly to its online customers. But by working with UWDress.com, you can also start dropshipping shoes because the company can send a pair of shoes straight to your customer's home.
At UWDress.com, they know that they carry products for special occasions.
So, they strive to deliver their items on time. Just keep in mind that the processing time for shoes is typically 3-7 days.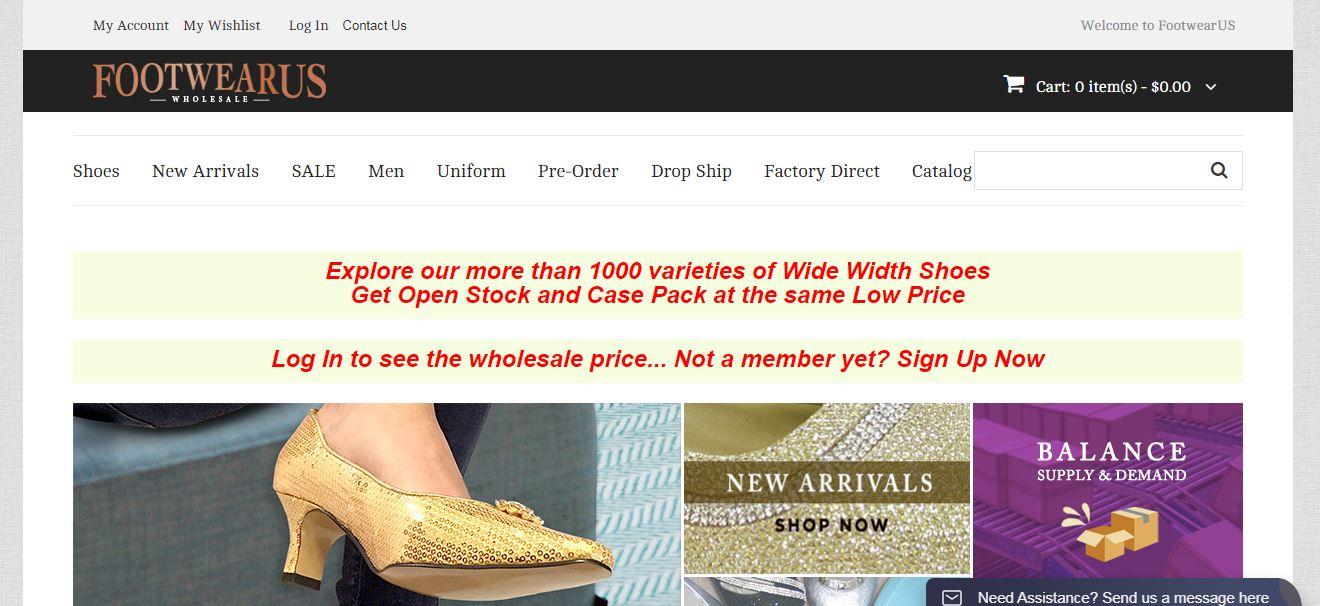 FootwearUS is a privately owned and operated manufacturer, wholesaler, and dropshipping supplier located in the United States.
It has been providing its global customers (wholesalers, retailers, and online sellers) with fashionable, comfortable, and reasonably priced wide-width shoes since 1977.
The company has a MOQ of $200. Still, if you are a dropshipper, you can even order a single pair of shoes. Plus, the company offers free shipping on all US orders.
Want to start dropshipping shoes and choose this supplier for your online business? Then, you need to complete an online application for FazPaz.com and FootwearUS.com.
FazPaz is the retail division of FootwearUS. If they approve your FootwearUS application, they will send a dropshipping discount code for FazPaz to you via e-mail.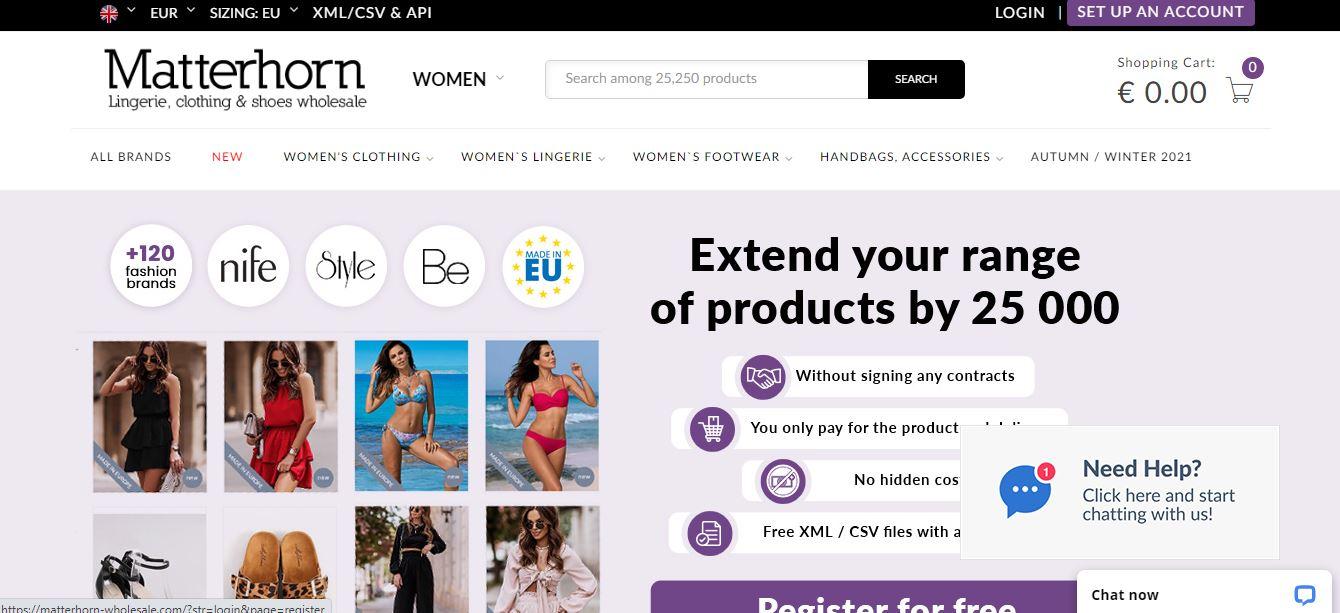 This company is based in Poland. It offers everything from women's clothing and lingerie to shoes and accessories, and it has no MOQ. And its extensive product catalog is updated every single day.
In addition, Matterhorn Wholesale supplies not only dropshipping stores but also wholesale distributors worldwide.
But how to start dropshipping shoes with this supplier? Matterhorn Wholesale has integrations with Shopify and Syncee.
So, if you are not currently using Shopify, you need to set up your store on Shopify. And then you need to add the Syncee app to your Shopify store and start adding products to it.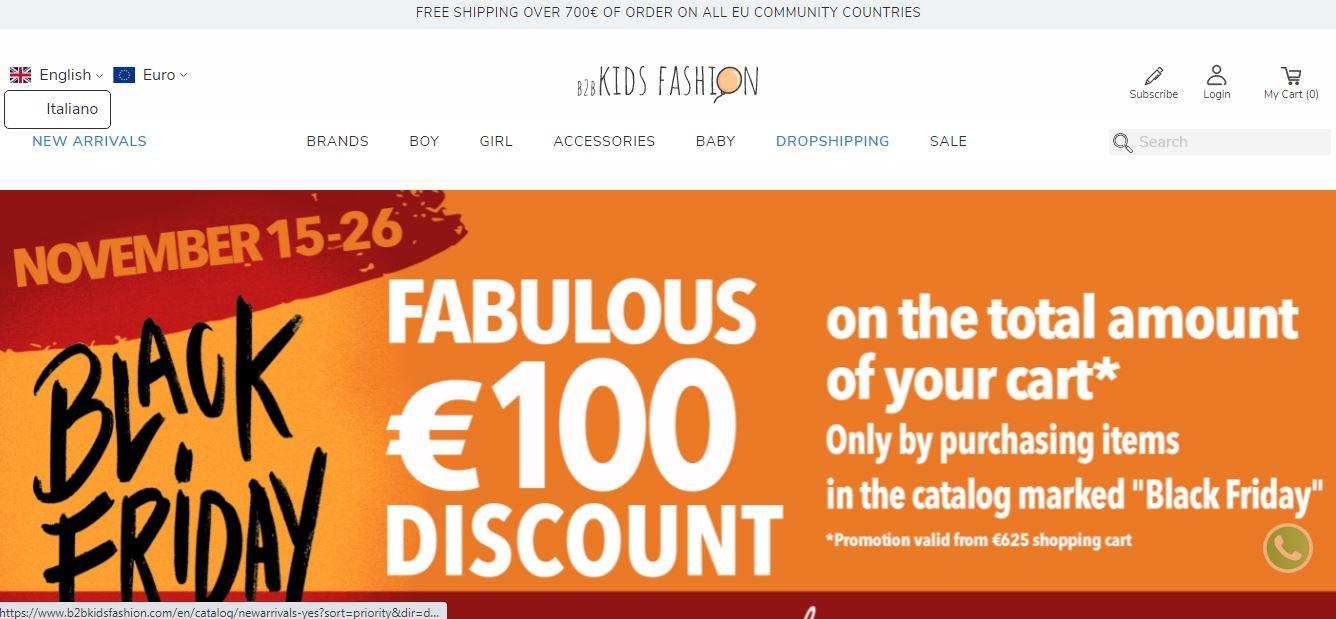 Located in Italy, B2B Kids Fashion is an excellent company that specializes in 100% authentic brand-name kids' clothing, footwear, and accessories.
On the site, you can find various types of shoes for boys, girls, and babies and get up to 90% off on certain products.
B2B Kids Fashion ships across Europe. However, it has a MOQ of €100. To become a shoe dropshipper with B2B Kids Fashion, you need to download its product catalog through a plugin suited for WordPress, PrestaShop, or Magento.
As long as your dropshipping target audience is parents who are willing to buy brand-name footwear for their children, then this supplier may be your perfect fit.
Dropshipping shoes: 5 product ideas to consider
From athletic sneakers to formal shoes, there is a wide variety of shoe styles to dropship.
Keep reading to see our hottest picks for shoe styles to sell online through your dropshipping store. They are some of the best moneymakers in the dropshipping footwear industry.
1. Athletic sneakers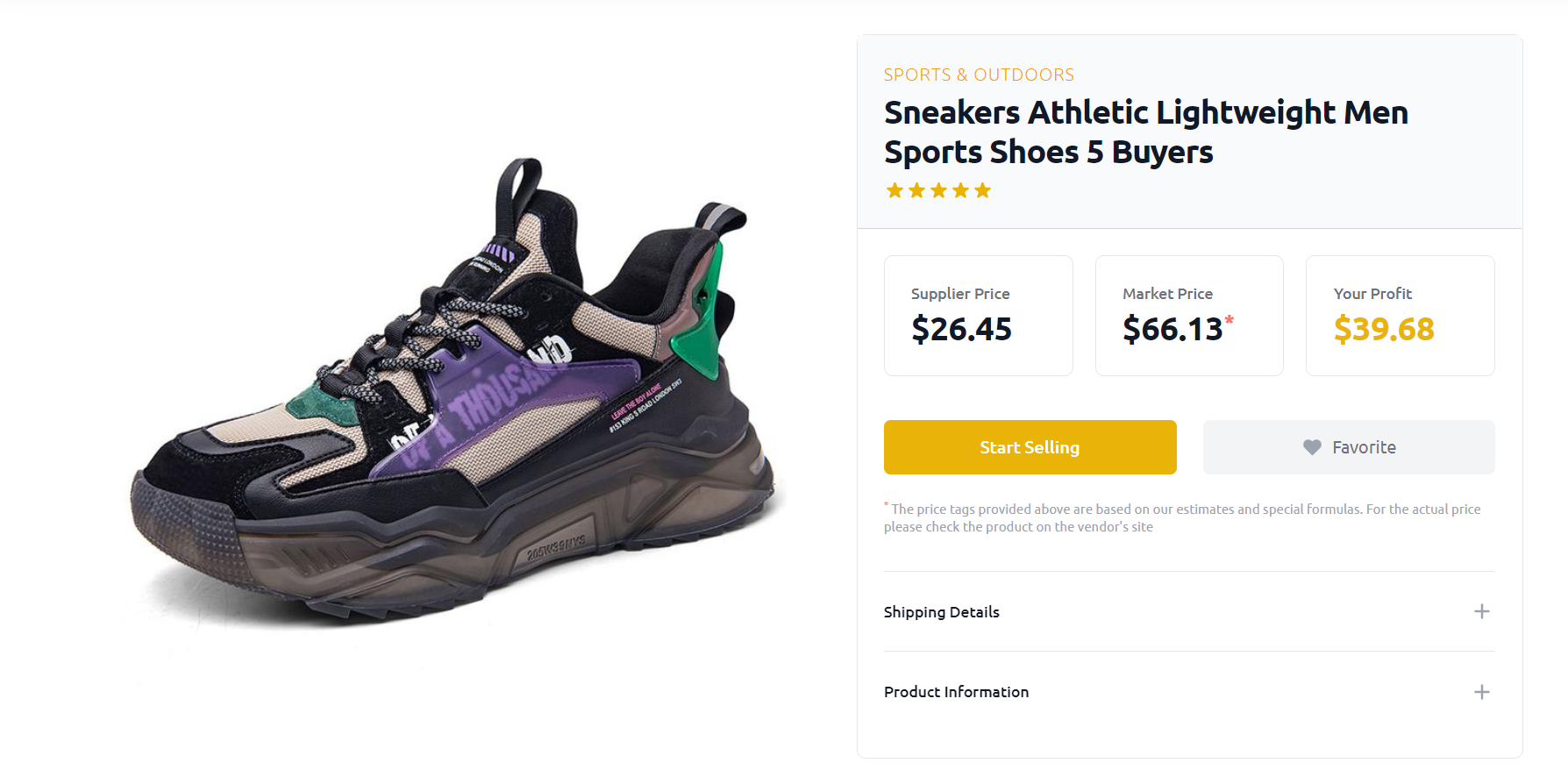 Sports activities, including running, may put extra pressure on the feet and ankles. However, wearing appropriate shoes for specific sports activities prevents injuries as well as enhances comfort and performance. Thus, people tend to invest in good athletic sneakers.
This product costs range from $16-35, and the selling prices are between $41-88. This means that you get profit margins of around 60%.
2. Light up sneakers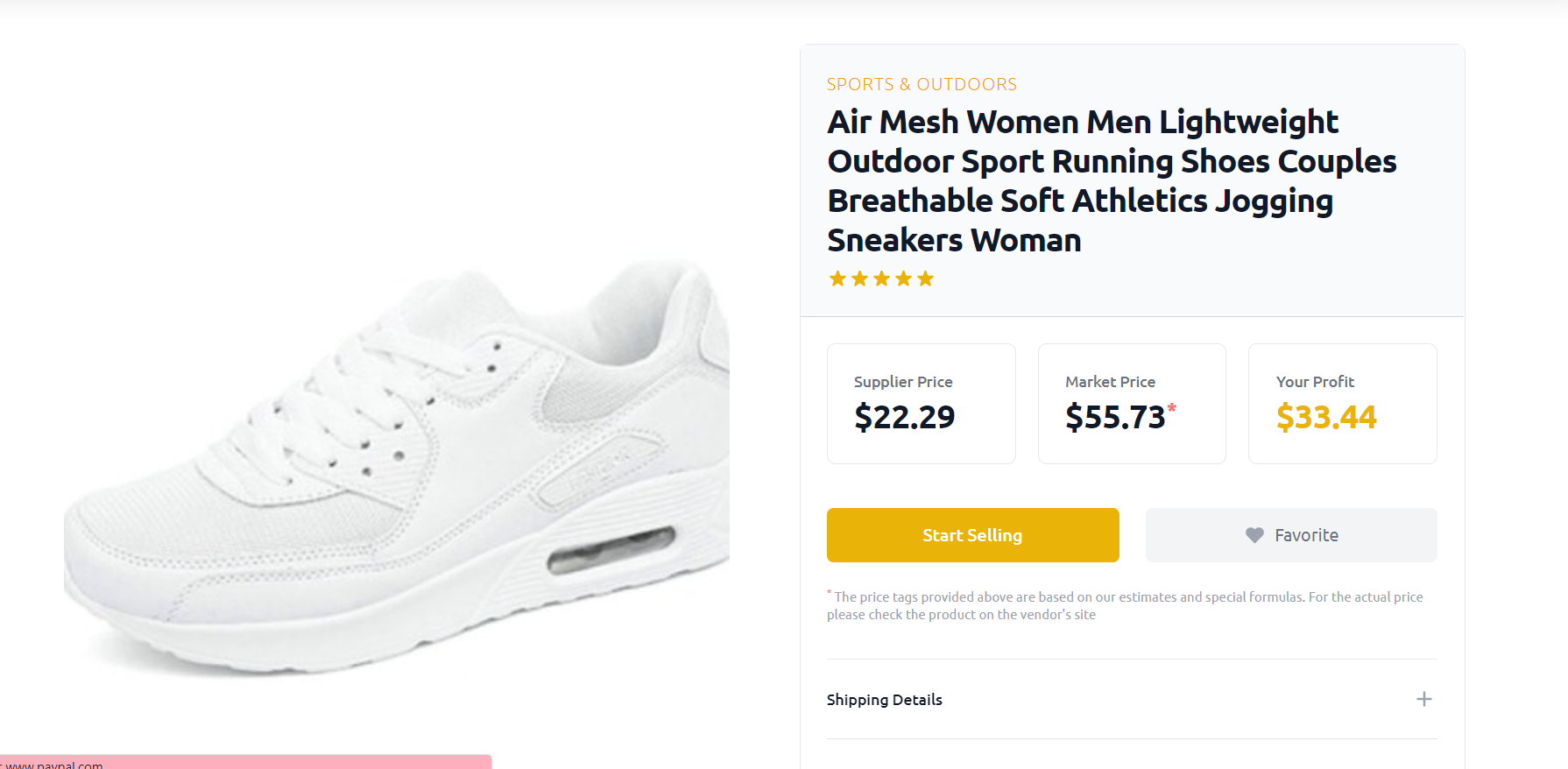 Many children have had cheerful experiences with sneakers that blink as they walk. But clearly – the times are changing. And today, children and adults alike have the opportunity to wear light-up sneakers. This type of footwear has become a hot new trend lately.
This product's supplier prices range between $21-74, and the selling prices are around $55-90. Thus, the profit margins are around 30% to 60%.
3. Winter boots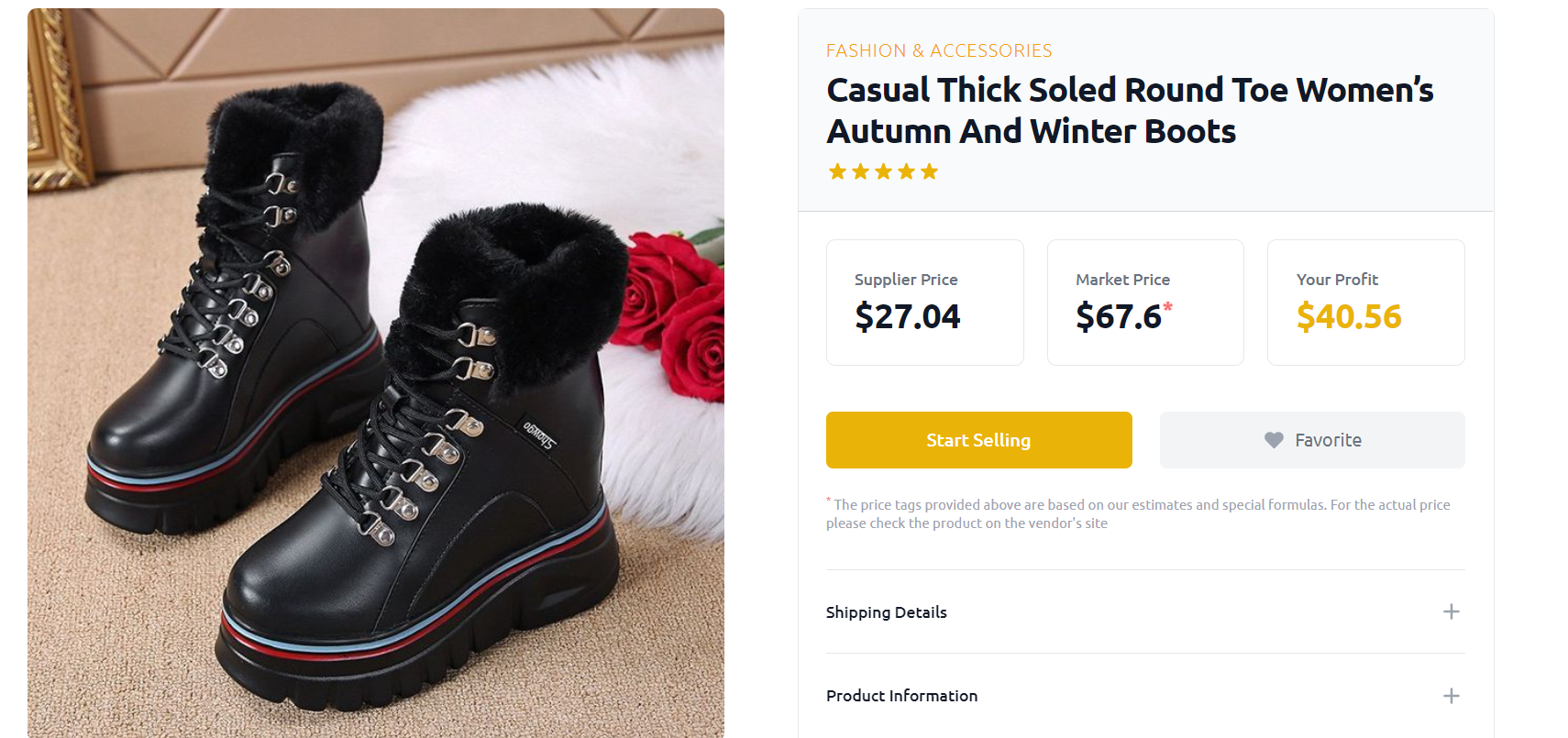 Winter boots can keep the feet warm so that people can enjoy the snow and the rain. Want to let your customers give their cold-weather wardrobe a serious boost by dropshipping shoes, i.e., winter boots? But bear in mind that they are seasonal items.
These products' costs range from $15-110, and their selling prices are from $38-275. The profit margins are around 60%.
4. Dance shoes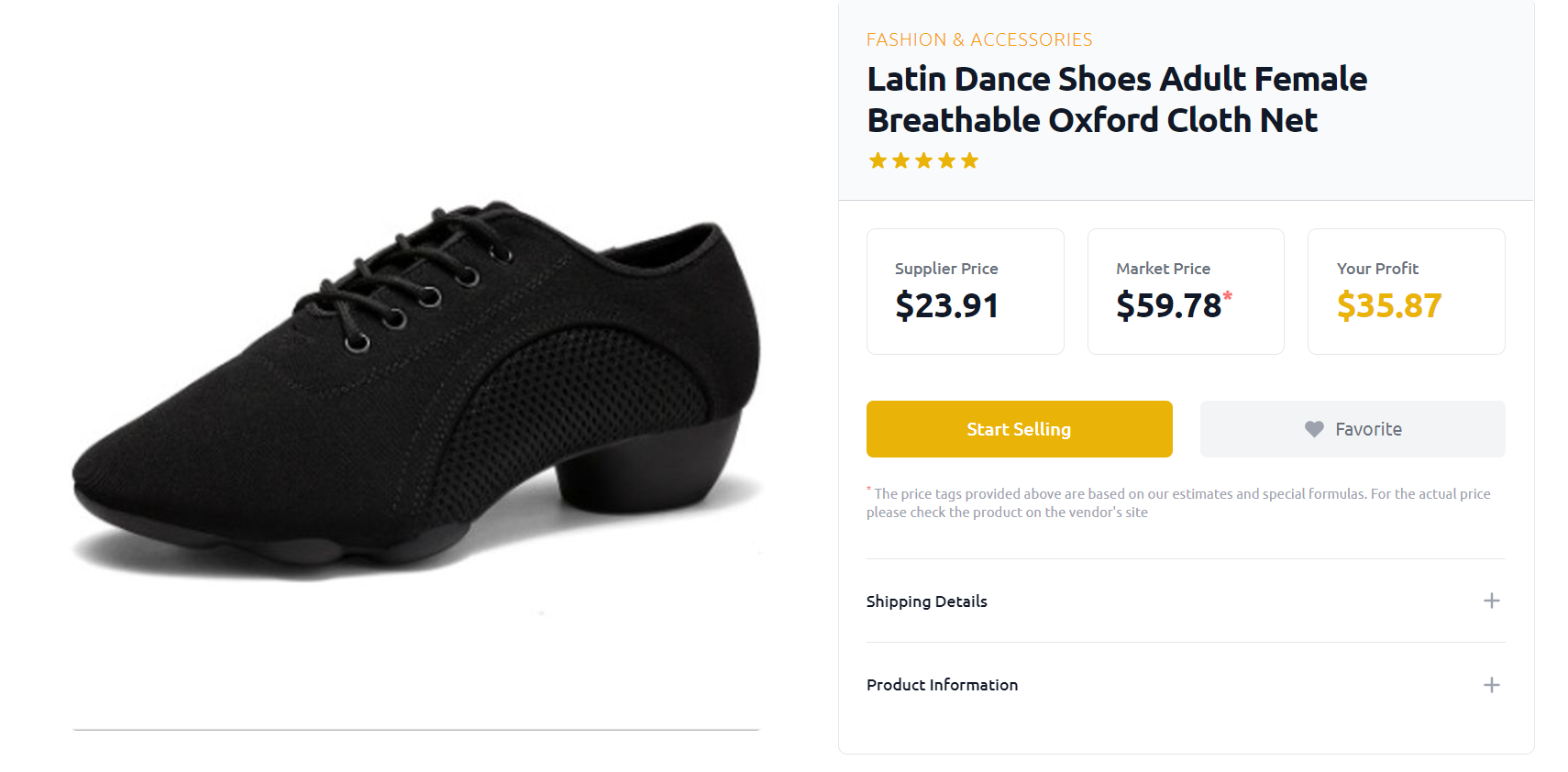 Technically, almost all types of shoes can be worn for dancing, from sneakers to high heels. However, dance shoes are made to serve a specific purpose – to fit the feet so perfectly that dancers can be more confident when they hit the dance floor.
And people of all ages, especially young people, are becoming increasingly aware of the health benefits of dancing. So, a great way to promote dance shoes is on social media.
This product costs are from $13-30, and their selling prices are between $33-75. The profit margins are between 55% to 60%.
READ: BDroppy Review: A to Z Look At The Fashion Dropshipping Platform.
5. Formal Men's shoes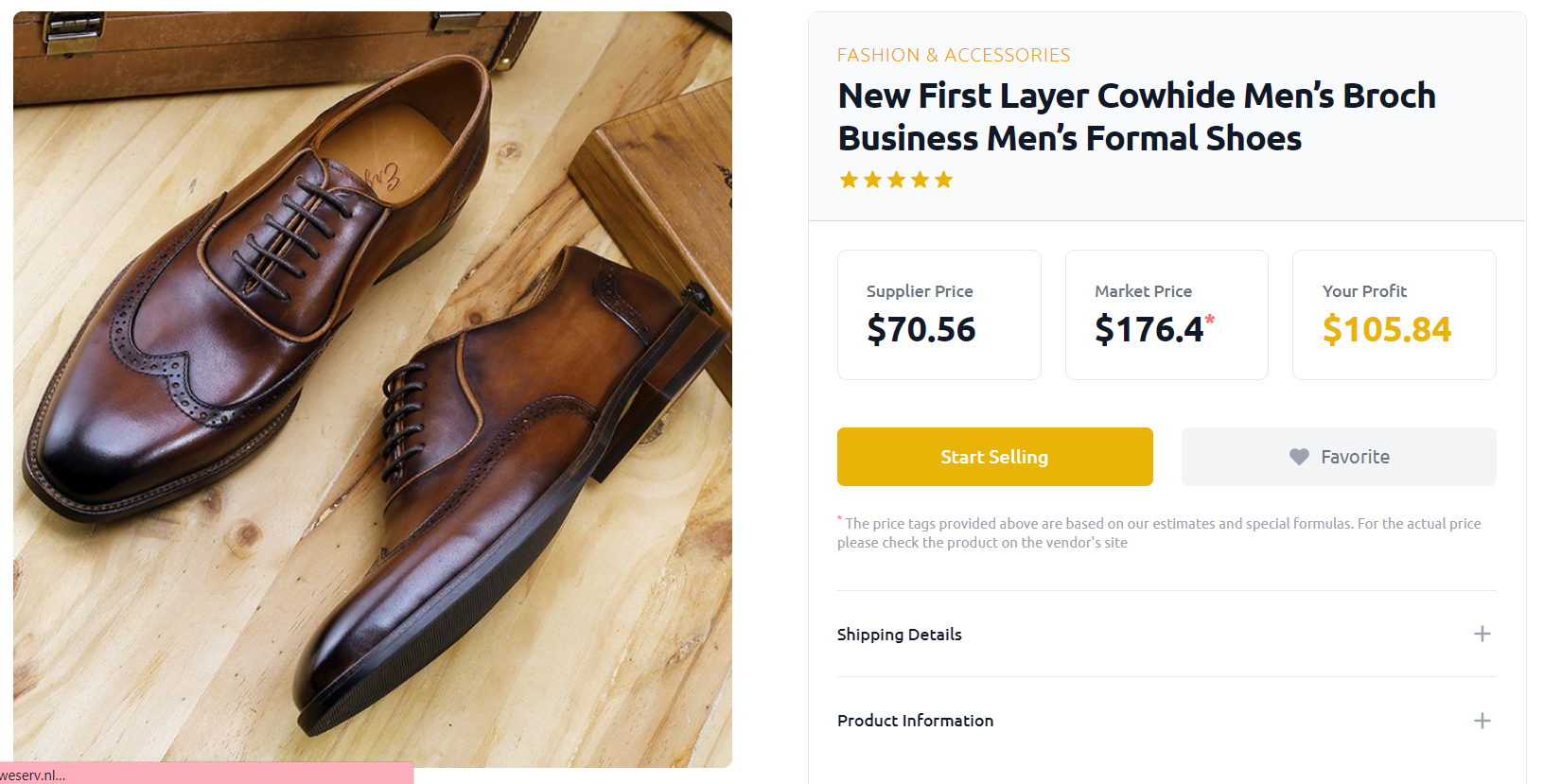 There is a common belief that a pair of shoes one wears can say a lot about their personality. Plus, wearing a pair of formal, elegant shoes can improve one's attire and transform an ordinary look into something special. And people know that a pair of formal shoes is a must-have in their wardrobe.
This product costs are from $19-70, and the selling prices are between $50-176. The profit margins range between 60% to 62%.
What Platforms Can I Use to Dropship Shoes?
As we already mentioned, you cannot start dropshipping shoes if you don't have your store set first!
For that purpose, we will list the Top dropshipping platforms that can help you sell shoes online.
Shopify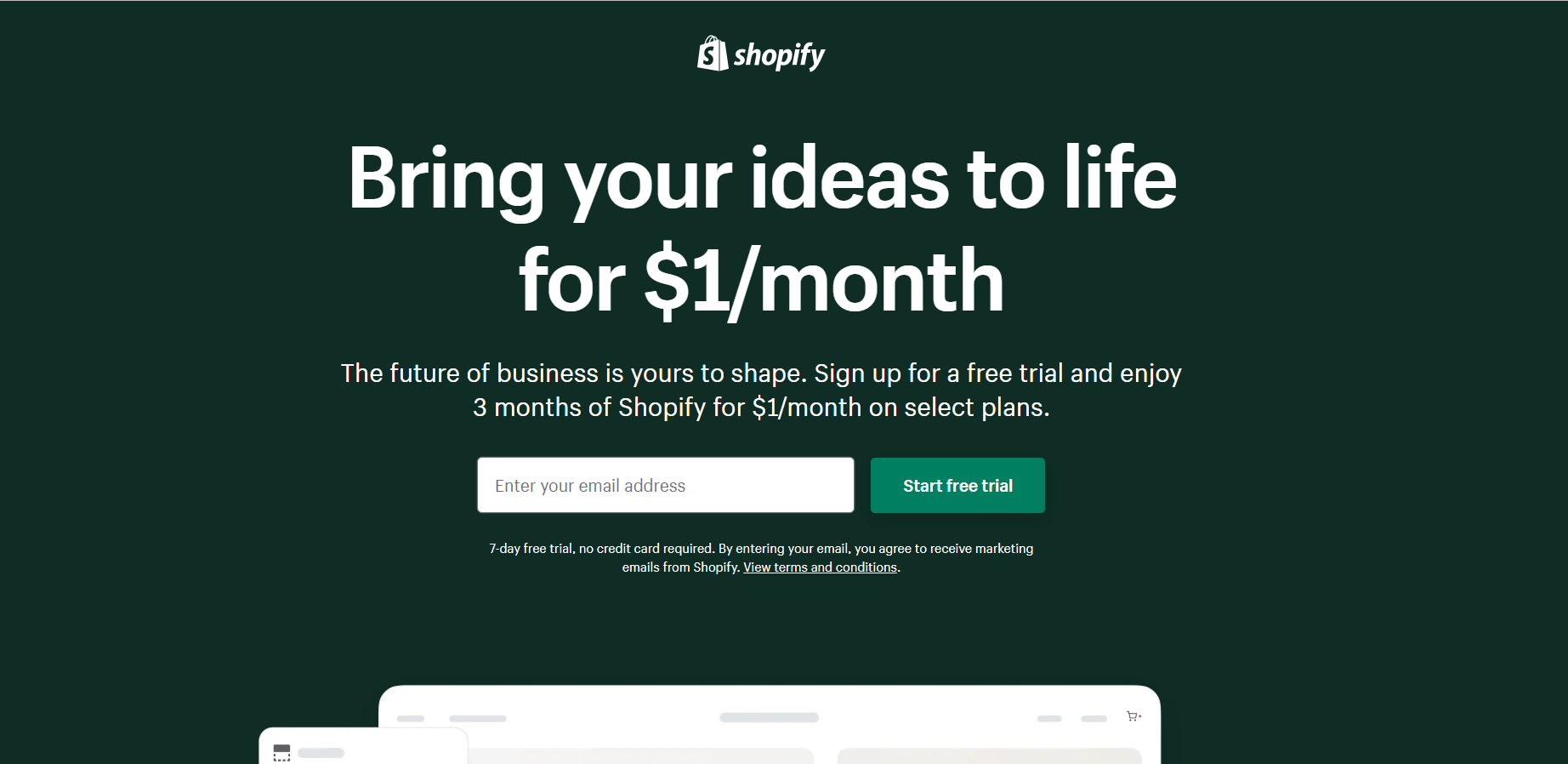 Shopify is the most popular dropshipping platform. It entails setting up a simple eCommerce store, attracting web visitors, and completing orders when customers buy your stuff.
However, even though it requires a lot of effort, it is not complex or difficult to learn. To get started, all you need is some time and a minimal dropshipping budget.
👉 Learn how to Dropship on Shopify following our article.
However, there are various amazing Shopify alternatives nowadays, that can help you run your dropshipping shoes business.
Shift4Shop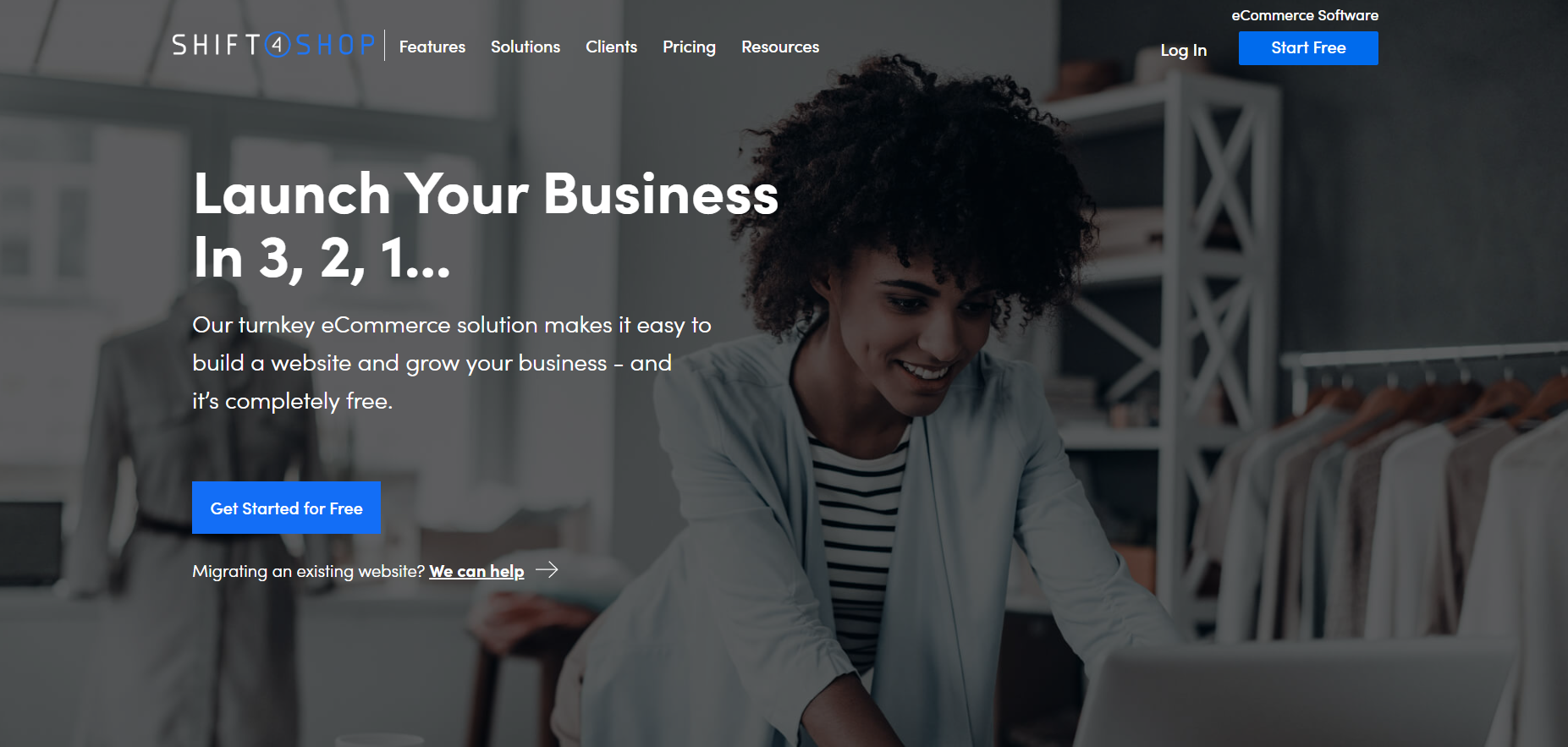 Shift4Shop is a solid and trustworthy dropshipping platform.
It can help you as a shoe dropshippers by offering you a variety of features like a Built-in Blog, Unlimited Bandwidth, 24/7 Technical Support, Domain Registration, Facebook Store, Shopping Cart, and Web Hosting.
100+ Payment Providers, Unlimited Orders, API Access, Mobile-responsive website, Fully customizable design, and many more.
👉 We highly recommend you check our Ship4Shop full platform review.
It has four pricing plans, each of which includes different features:
End-to-end eCommerce– $0/month
Basic Store– $29/month
Pro Store– $79/month
Plus Store– $299/month
Sell The Trend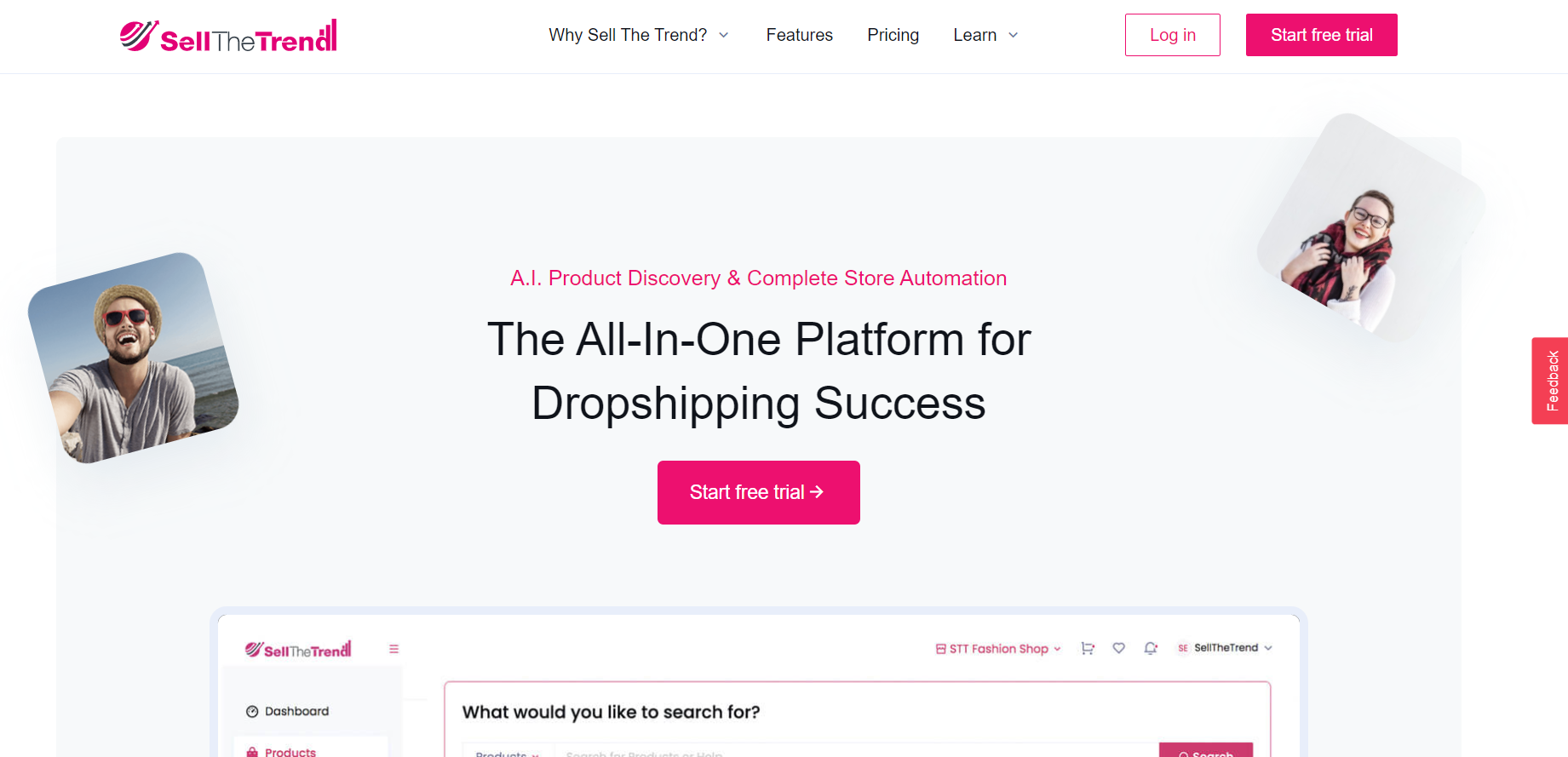 Sell The Trend is an effective tool for identifying profitable dropshipping items. It saves you the time and effort of searching for winning items every day.
These dropshipping platform key features are:
Product Explorers
The NEXUS
Store Intelligence
Marketing Tools
Store automation software, and more.
To learn more, read our Full Sell The Trend Review now!
Sell The Trend has only one pricing plan, which costs $39.97/month.
Spocket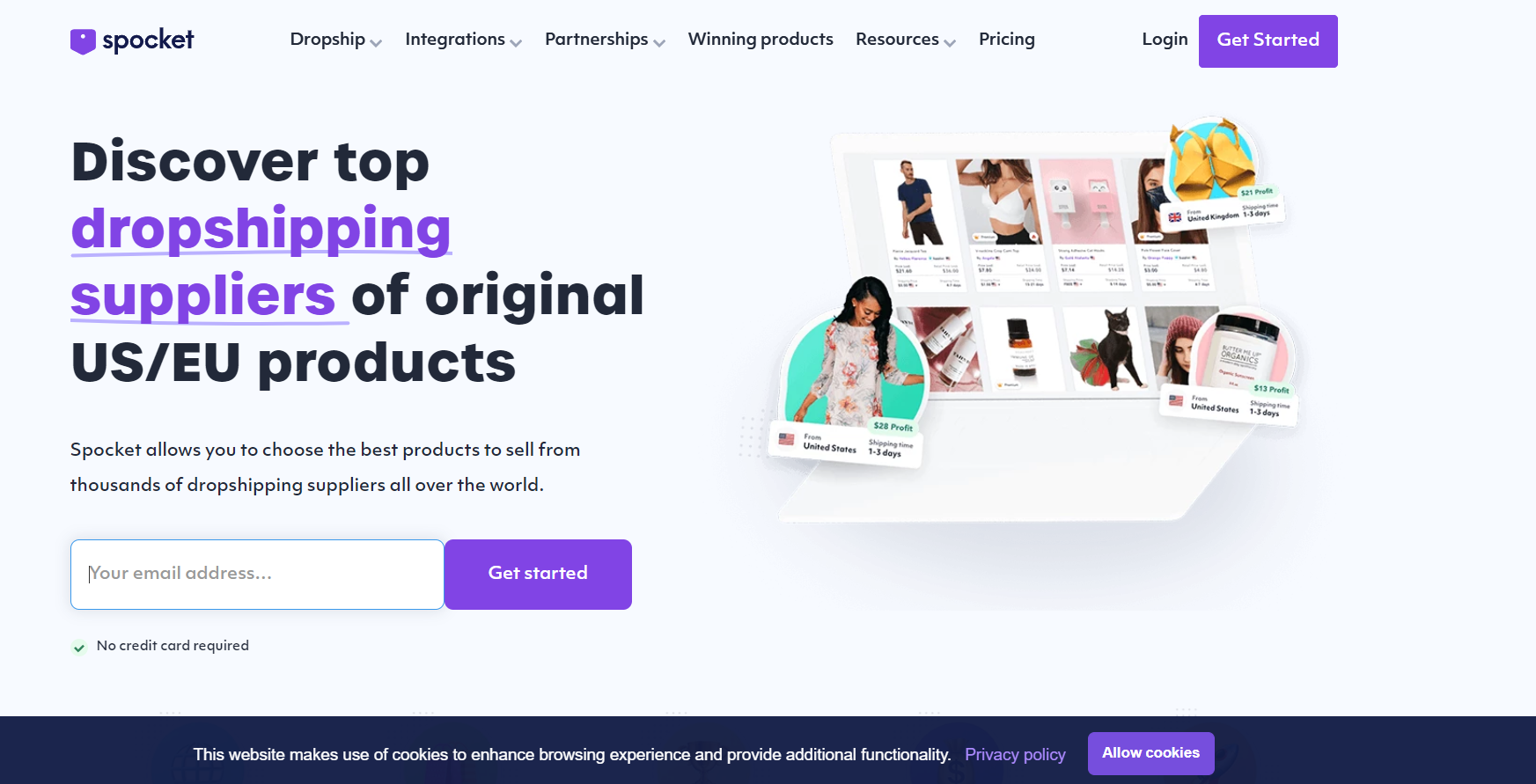 Spocket is a dropshipping platform that enables you to choose the best things to sell from thousands of dropshipping shoes suppliers across the world.
This platform offers dropshippers a variety of features like Editing products & photos, Order fulfillment, Order processing automation, Product catalog, Recommendations for the retail price, Calculating Profit Per Item, 24/7 Support, E-commerce integration, Branded Packaging, and Branded Invoicing.
Are you interested to learn more about Spocket? Check out our full Spocket review.
WooCommerce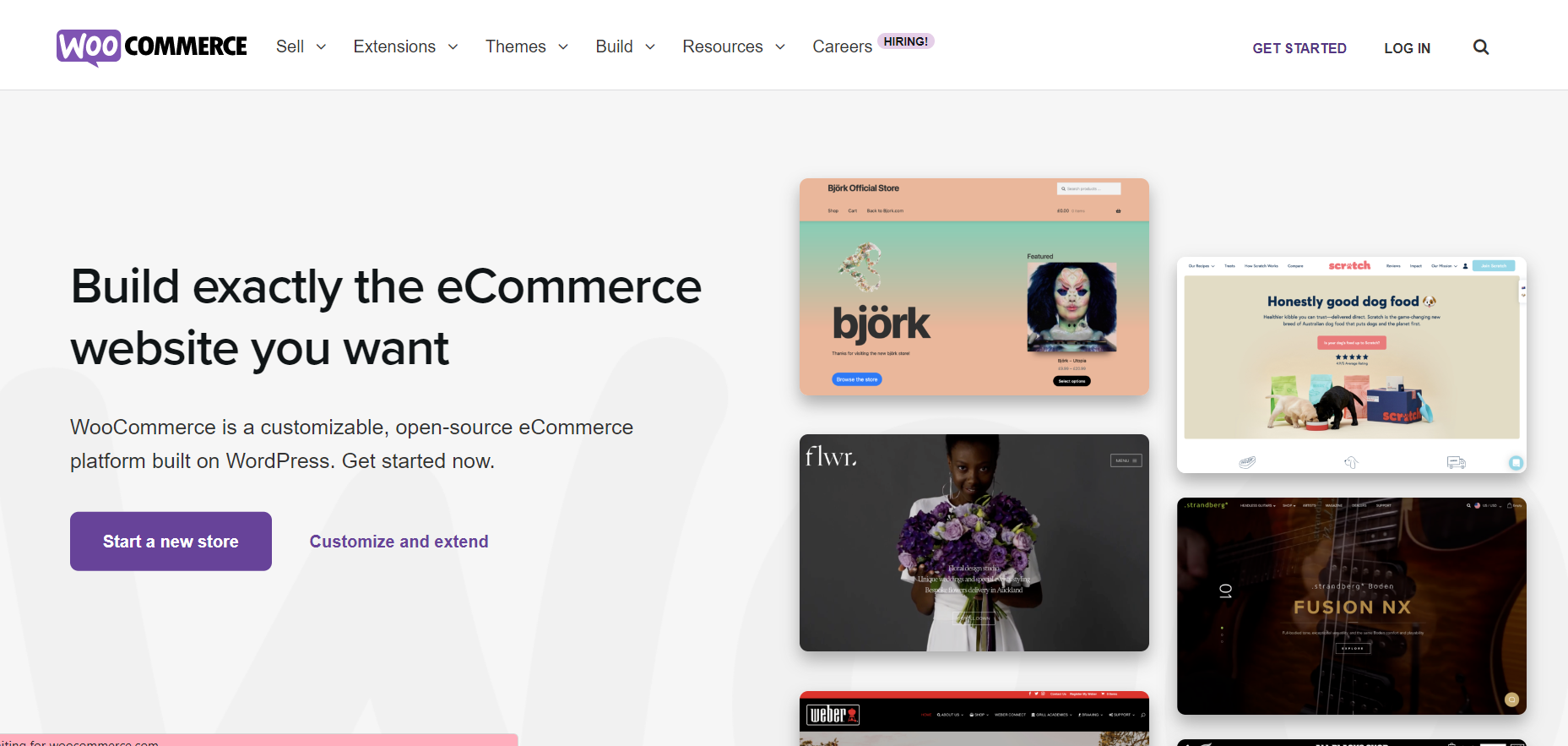 If you want to set up an online store quickly and easily, you should consider WooCommerce. It's not as user-friendly as Shopify, but it's also not difficult to master in a few days.
WooCommerce is a comprehensive platform that includes everything you need if you want to sell shoes online.
Because it is based on WordPress, you will have a simpler experience using WooCommerce if you are already familiar with WordPress.
This amazing dropshipping platform offers you a huge base of extensions covering all aspects and tasks of your dropshipping business.
👉 Read our full guide about WooCommerce Dropshipping.
First, you can use WooCommerce for free. But, if you want to scale for more and add additional extensions, or plugins, this platform can cost you a lot. So, if you are on a low budget, you better consider some other option.
FAQs on Dropshipping Shoes Suppliers
Are dropshipping shoes profitable?
Let's start with the fact that we are talking about human essentials – wear, or more precisely footwear. So of course it is profitable since it covers a basic human need.
Moreover, the global footwear market is now valued at $406.5 billion, with a projected value of $530.3 billion by 2027.
Also, there's a huge list of dropshipping shoe suppliers that offer you products for affordable prices and high-profit margins.
How can I confirm that my customers get the correct shoe size?
When you sell shoes online, size is of high importance! Why so?
Well, if you are selling clothes online, customers can be satisfied even if they get a bigger size that doesn't fit them exactly. But when it comes to dropshipping shoes, they must be comfortable and fit exactly.
That's why you must include a shoe size table on each product page in your dropshipping shoes store. However, for better understanding, you should consider adding the universal shoe size chart.
Which are the quality concerns for shoes?
You don't want to buy a new pair of shoes every month, therefore your footwear should be long-lasting. As a result, you must pay close attention to the material, leather, natural texture, and so on.
As a consequence, when deciding to dropship shoes, one must carefully select your dropshipping shoe suppliers. Every error here will result in repeated reimbursements and reputational damage.
Find winning dropshipping products & spy on your competitors
Minea analyses all online advertising to help you find the best products to launch, and the best creatives in your niche in just a few clicks.
Use coupon: DROPSHIPPING30 and get a 30% discount
💡Try Minea For Free
The bottom line
A pair of shoes is a wardrobe piece that everyone owns. It is an item that people need whenever they get out of the house. So, are you interested in becoming a shoe dropshippers, and selling shoes online?
You can find a large number of dropshipping suppliers selling cool, fashionable, elegant, and designer shoes online.
But you cannot source shoes from them because not all of them are dropshipping suppliers. Therefore, we have compiled a list of the best dropshipping shoes suppliers of shoes in the world.
There you go – we hope you now have enough information to find the right supplier, products, and platform for your e-commerce business and start dropshipping shoes.