Print on Demand Hats: How Can You Sell It For Profits?
by
Aleksandra -
Aleksandra teaches marketing and management at various levels in High School. She writes about marketing, the economics and logistics of the dropshipping business and ecommerce in general.
Chief of Content Marketing
Are you looking for a profitable business opportunity? Have you considered selling print-on-demand hats?
With the rising popularity of customized merchandise, print-on-demand hats have become a lucrative option for entrepreneurs. But how can you ensure that you sell them for maximum profits?
If you are interested in selling print-on-demand hats, it's crucial to understand the key factors that contribute to profitability. From selecting the right hat styles to designing appealing artwork and implementing effective marketing strategies, there are several aspects to consider.
In this article, I will explore the essential steps you need to take to sell print-on-demand hats successfully and generate substantial profits. Plus, you will get insights about the 14 best print on demand hats companies. So, let's begin!
14 Best Print on Demand Hats Companies
When it comes to selling print on demand hats, choosing the right company to partner with is crucial for success. In this article, I will discuss some of the best companies for selling print on demand hats.
So, let's explore these top companies and the features that make them stand out.
💡 Tip: Check out the 13 Best Print On Demand Companies For Dropshippers In 2023.
Redbubble is a prominent print-on-demand marketplace that provides a platform for independent artists and designers to sell their unique designs on a wide selection of customized merchandise.
With a substantial customer base and a diverse array of products, Redbubble enables you to exhibit your creativity and reach a global audience.
Also, Redbubble manages the entire fulfillment process. They have an extensive network of printing partners to manufacture and deliver customer orders, ensuring efficient and accurate production and shipping.
👉 Discover Is Redbubble Legit? Everything You Need To Know In 1 Review.
Key Features:
Redbubble offers a comprehensive range of customizable products that can be decorated with uploaded designs. So, you have the opportunity to personalize various items such as t-shirts, mugs, masks, and tank tops to align with their artistic vision.
The print quality is exceptional, guaranteeing that the designs come to life with vivid colors and meticulous attention to detail.
Furthermore, Redbubble provides eco-friendly products, catering to the increasing demand for sustainable and responsible options.
Pricing, Shipping, MOQ
This POD company offers free membership and permits you to set your own profit margins on top of a predetermined base price for each product.
Additionally, payouts are issued on a monthly basis, as long as the minimum order requirement of $20 has been met. However, if the minimum is not reached, the payment will be carried over to the following month.
Moreover, if you are in the U.S., UK, or Australia, payments can be directly deposited into your bank accounts, while if you are outside of these regions you can receive payments via PayPal.
Furthermore, shipping times may vary depending on the destination, product, and printing facilities utilized.
Printify sets itself apart from other print-on-demand companies by providing dropshippers with valuable access to a wide range of print-on-demand companies worldwide.
Also, this grants you more choices when it comes to product printing, materials, pricing flexibility, and more.
So, you have the opportunity to print brands and logos on clothing and accessories, home & living items, AOP clothing, eco-friendly products, and popular seasonal items.
👉 Learn about T Shirt Dropshipping: The Ultimate Guide To Sell PoD T-shirts.
Key Features:
With Printify, you will have access to a mockup generator and integration with popular marketplaces like Shopify, Etsy, eBay, and others.
It is important to note that Printify works with third-party dropship suppliers and does not produce its own merchandise.
You can design and order custom print on demand hats in bulk for your brand and save up to 30% on shipping.
One aspect to consider is the 20% discount available on all products with the premium plan. This is why the premium plan is favored by many when starting with Printify. By taking advantage of this discount on every order, you can increase your profits.
🔸 Pricing, Shipping, MOQ
Printify offers three subscription plans: free, premium, and enterprise, starting at $24.99/month. However, they also have free forever plans.
Furthermore, since they collaborate with various print providers, it is recommended to review the shipping rates of each supplier, which typically range between $3-8 per product. Also, the shipping times can take fast as 2-5 business days, to 7-10 business days.
👉 Learn How To Start Print On Demand Journals,Calendars, Notebooks
Printful is a long-standing print-on-demand company that is a great choice for both newbies and experienced dropshippers.
They have invested a significant sum of $37 million in printing equipment. And, they have successfully sold merchandise worth over $500 million and continue to do so.
The company boasts a workforce of over 1000 employees, covering Europe, Latin America, and North America.
Also, Printful has a wide range of print on demand hats to choose from. In addition, their cost starts at $12.95.
Key Features
A vast selection of customizable products, including hats, apparel, accessories, home decor, and more.
Top-notch printing techniques such as embroidery, direct-to-garment (DTG), and sublimation services.
Integration with popular e-commerce platforms like Shopify, WooCommerce, and Etsy.
A mockup generator tool that enables users to visualize and personalize their designs on various products before placing an order.
Complete fulfillment process management, encompassing printing, packaging, and direct shipping to customers, saving time and resources.
Global shipping options, white-label capabilities, branding choices customization of packaging materials, and inclusion of their own branding elements.
A user-friendly dashboard that provides real-time tracking of orders and inventory, simplifying product and shipment management for businesses.
A dedicated customer support team is readily available to address any inquiries or concerns.
Pricing, Shipping, MOQ
Printful adopts a pricing structure where they charge per item and add a shipping fee on top. Additionally, they do not impose any minimum order requirements, making it easier for small businesses to utilize their services.
Moreover, they offer promotional discounts. For instance, if you purchase 25 or more units of select products (including different colors, sizes, and designs), you can enjoy a discount of up to 30%.
Furthermore, Printful's efficiency in packing, shipping, and delivering orders is remarkable. They typically take between 2-7 working days to ship any order to Mexico, the U.S., and Europe.
However, they also provide express shipping, which takes 1-2 days for delivery, and expedited shipping, which takes 1-3 days.
Regarding shipping costs, standard shipping to the U.S. starts at $3.99 and varies depending on discounted rates and location.
Gooten is a platform that offers a wide variety of customizable products in different dropshipping niches such as fashion, apparel, home and lifestyle, wall art, and baby products.
They have partnered with production facilities around the world, in addition to their main office in New York, to serve customers in over 70 locations globally.
💡 Tip: Check out the 10 Best Dropshipping Suppliers in New York (2023 LIST).
Key Features
Extensive range of products available for customization, including fashion, apparel, home décor, wall art, accessories, and baby products.
User-friendly interface designed for beginners.
Integration with popular ecommerce platforms like Shopify, BigCommerce, WooCommerce, Etsy, and their own API, allowing seamless connection between your dropshipping store and Gooten's supply chain.
Access to a wide selection of designs created by various artists.
Automated order tracking system that handles order processing, production, and shipping, freeing up your time to focus on your business.
Pricing, Shipping, MOQ
There is no sign-up fee required, and you can start selling by providing your details to the company. They also provide a convenient calculator within their platform to help you determine the cost of a product and the potential profit you can make.
Additionally, Gooten offers a flat-rate shipping option for all their products, ensuring transparency and eliminating unexpected costs.
When it comes to print-on-demand hats, one company that stands out is Merchize. Based in Vietnam, UK, and Singapore, Merchize offers a wide range of customizable headwear options, from trucker caps to baseball caps. Also, in their catalog, you can find candles, doormats, socks, etc.
What I love about Merchize is the flexibility they provide in designing these hats. You can place your designs throughout the hat, creating a unique and personalized product.
Key Features
Catalog of 350+ Products, such as men's clothing, women's clothing, kids clothing, accessories like hats, phone cases, bags, and many more.
Effortlessly establish your own dropshipping print on demand hats store.
Seamlessly integrate with existing eCommerce platforms such as Etsy, Shopify, WooCommerce, and more.
They handle the entire production and shipping processes
Pricing, Shipping, MOQ
The platform offers three pricing plans, from which one is free, and the other two cost $79/month/store, and $299/month/store.
For an all-over print Baseball Cap, the base cost is a reasonable $17.00, which already includes shipping expenses.
What's even better is that Merchize does not impose any Minimum Order Quantity requirements.
Furthermore, Merchize order processing takes just 2-3 business days. Also, you can expect your orders to reach customers in the US within 4-7 days. The shipping costs range from $2-6.
If you have a strong desire to succeed in the clothing industry and establish a thriving business, Apliiq is the ideal company for you.
Situated in Los Angeles and highly favored by dropshippers and creative resellers, Apliiq empowers you to create exceptional streetwear from top to bottom.
Consequently, you have the opportunity to design your own garments, launch your own clothing line, and engage in worldwide dropshipping to over 150 countries.
💡 Tip: Check out Print on Demand Dropshipping: Apliiq vs Printful – Which is Better?
Key Features
Apliiq offers comprehensive customization options for clothing and accessories, including custom labels, patches, pocket tees, beanies, and more.
Plus, it has various printing options like screen and digital printing, sublimation printing, embroidery, DTG printing, and much more.
Moreover, it seamlessly integrates with either Shopify or WooCommerce and is particularly recommended for fashion enthusiasts who are eager to showcase their creativity.
Additionally, Apliiq provides bulk discounts for those selling at events and physical retail stores.
The Mockup Generator offered by Apliiq is an exceptional tool that enables you to design and personalize product photos.
Pricing, Shipping, MOQ
Apliiq's pricing structure is based on the quantity of items you intend to order, with higher discounts available for bulk orders. Therefore, ordering in bulk can significantly enhance your profit margins.
In terms of shipping, Apliiq utilizes USPS to deliver products worldwide. Shipping costs are determined by weight and start at $3.99 within the United States.
For international shipping, it is advisable to consult Apliiq's guide on setting up rates for dropshipping.
While tracking information is provided via emails, it is important to note that Apliiq is not responsible for any additional expenses related to customs, import taxes, or dropshipping for international customers.
Shirtee is a leading German print-on-demand (POD) manufacturer, that boasts state-of-the-art printing equipment and software. It offers a wide range of products, including hats and beanies that are perfect for embroidery and sublimation.
Also, with their investment in state-of-the-art printing machines and continuous software development, Shirtee ensures high-quality print results for their customized hats and beanies.
One of Shirtee's standout features is its product returns management system, which costs €8.4/month and includes a €1.22 storing fee per order. With it, you can send your customer a shipping label via email and inspect any returned packages.
Furthermore, if a customer purchases a product that has been returned to Shirtee's warehouse, the company can handle packaging and shipping, saving you the trouble. So, this service incurs a €1.22 handling fee per order and a €0.38 packing fee per item.
Key Features
Swift worldwide delivery within 2-12 days through trusted carriers like DHL, DPD, Deutsche Post, GLS, and UPS.
Various branding options, including personalized hangtags, inside and outside printed labels, edge labels, neck labels, and sleeve labels. Also, you can include custom flyers, stickers, and washing instructions in your shipment packages.
Warehousing and fulfillment services.
Convenient payment options such as PayPal and credit cards.
Seamless integration with popular platforms like Shopify, WooCommerce, eBay, Amazon, Etsy, ShopWare, PrestaShop, Wix, Squarespace, and Magento.
Pricing, Shipping, MOQ
Shirtee's hats and beanies pricing starts at €10.88.
Also, there are different shipping costs for different locations. For instance, for Germany, shipping costs are around €4.16, and for other parts of EU, the cost is €5.8. As for the US, the shipping cost is €9.90.
What's more, the platform has no dropshipping subscription fees. So, it is free to use.
The Studio is a global platform and community for print on demand hats, with members across North America, Europe, Asia, and Oceania. They offer top-notch print-on-demand hats and also provide POD production services for a variety of other products.
Unlike most suppliers, they specialize in hats, pins, socks, and key chains, rather than print on demand clothing. They offer true customization and ensure top-quality for your custom hats.
It's important to note that The/Studio does not handle customer deliveries. They solely focus on producing and shipping the items to you, leaving you responsible for the rest, including ecommerce integration and marketing tools.
Key Features
Wide range of high-quality hats
No minimum order quantity (MOQ) requirement
Bulk pricing is available from just 2 hats
Pricing, Shipping, MOQ
Their hats start at $10.36 for 200 hats. Additionally, there are no MOQ, and bulk discounts are available starting from 2+ orders.
Furthermore, they provide worldwide shipping using reliable courier services. Also, their production-to-delivery turnaround time ranges from 2-6+ weeks.
The Print Bar is an Australian-based print-on-demand provider that specializes in screen printing and embroidery for custom hats.
This product line offers customized caps with embroidery and screen printing, including
perforated caps,
dad hats,
snapbacks,
flat-peak caps,
6-panel caps,
chino & brushed cotton caps,
loop twill caps,
surf caps,
100% recycled caps, and many more.
In addition to a wide range of products, ThePrintBar provides a comprehensive website builder solution that does not require any coding knowledge to set up and is completely free of charge. Moreover, the platform can handle customer service on your behalf.
Key Features
Worldwide shipping within 7-40 business days.
Accepted payment methods include Paypal and major credit/debit cards.
Integration support with Shopify, Etsy, WooCommerce, eBay, PrestaShop, BigCommerce, and Wix (via Printify).
Easy-to-use website builder
Wide range of print on demand hats
Handles customer service
Pricing, Shipping, MOQ
The print on demand hats are available starting from $11.28. As for shipping, the shipping cost starts at $15 for other countries, while within Australia it starts at$10. Also, the global shipping typically takes 7-40 business days. Additionally, there is no minimum order quantity (MOQ).
Next on my list is Same Day Tees, a print-on-demand production company based in Illinois.This print-on-demand hats company with a rich history of over 40 years in the industry.
With their extensive expertise in POD, they have successfully crafted more than 15 million personalized garments. Catering to different needs, they offer a 3-piece minimum order quantity (MOQ) and three turnaround choices: a standard option with a seven-day timeframe, a rush option with a five-day timeframe, and an expedited same-day turnaround for specific garments.
Key Features
Wide range of print on demand products
Various customization options
Turnaround choices
Fast Shipping with popular shipping carriers
Pricing, Shipping, MOQ
What sets them apart is their low minimum order quantity (MOQ) of just 3 items, making them an excellent choice for individuals or small businesses looking to create custom hats. Additionally, Same Day Tees offers a convenient one-day turnaround time option, ensuring that you'll receive your customized hats quickly.
When it comes to shipping, Same Day Tees provides options through FedEx and USPS. However, it's worth noting that some customers have experienced delays in their shipments and have faced challenges in obtaining refunds.
While this is unfortunate, it's important to keep in mind that shipping issues can occur with any company, and Same Day Tees has made efforts to address these concerns and improve its shipping services.
DropshipCN is a Chinese print-on-demand (POD) company that offers a wide range of products. With a vast collection of over 800 merchandise, encompassing both casual and formal wear, DropShipCN caters to a diverse array of customer preferences.
Nevertheless, their prices are highly affordable, and for print on demand hats they range from $15 to $25.
However, they have limited design options and only provide a few choices for customization.
Key Features
They offer a diverse selection of items including hats, phone covers, dresses, skirts, swimsuits, and more. Moreover, international shipping is fast, taking only 2 to 10 days.
One of the notable attributes of DropShipCN is its capacity to produce and sell personalized products. They present a range of customizable goods, including hats, mugs, hoodies, tote bags, and pillows.
DropShipCN also extends comprehensive print design services. This implies that you can have your logos, slogans, or distinctive designs imprinted on the clothing items they offer, thereby further enhancing your brand identity.
Pricing, Shipping, MOQ
DropshipCN offers international shipping at reasonable rates. Furthermore, there are no minimum order requirements, and the dropshipping company handles all shipping arrangements. Additionally, substantial discounts are available for bulk purchases.
👉 Read about China Wholesale: Top 16 Websites & Marketplaces For Ecommerce.
Fast Caps offers a wide range of features and services for all your custom hat needs. Their pricing is competitive and affordable, with no set-up fees for your designs.
Hence, they offer both printing and embroidery options, allowing you to create hats with the perfect customized look. Fast Caps also offers shipping within Australia, ensuring that you can receive your hats quickly and efficiently.
With a custom embroidered design, you can create a hat that truly stands out and showcases your unique style. Fast Caps also offers different closure options for their snapback caps, allowing you to choose the one that is most comfortable for you.
Key Features
Wide range of print on demand hats like Aussie caps, aviator hats, baseball caps, bucket hats, beanies, budget caps, jeep caps, plaid caps, kids hats, fedoras, and many more.
Eco-Friendly corporate caps and Flat custom caps
Embroidery, Full-Colour Digital Transfer, Supacolour, Plastisol transfers
One of the standout products from Fast Caps is their snapback caps. These caps are one size fits all, making them great for a variety of head sizes.
Pricing, Shipping, MOQ
The company charges a $75 set-up fee for cap orders below 100 pieces. The starting price for plain base caps is $4.00, with separate charges for printing and embroidery services.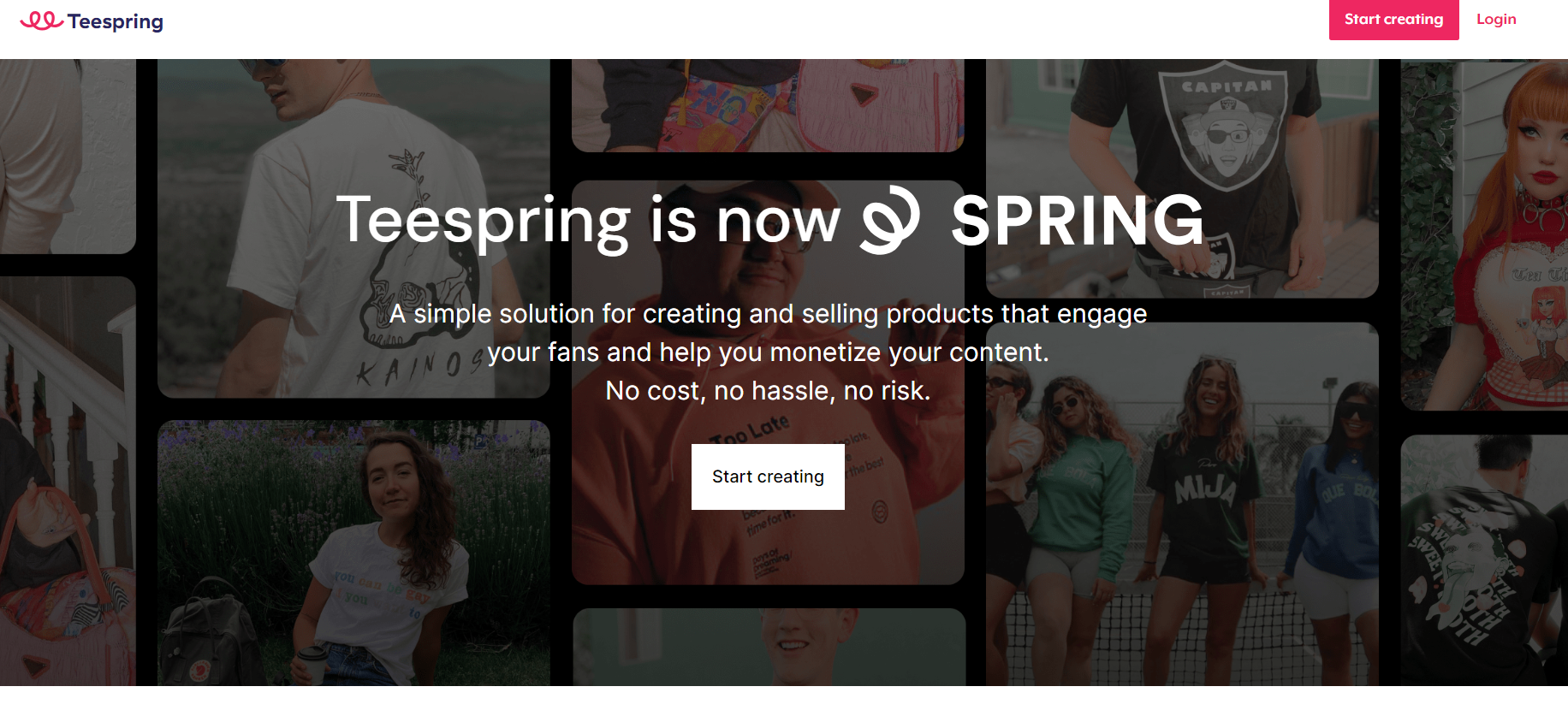 Teespring provides its own mockup generator, giving you the opportunity to preview your designs before making any financial commitments.
This POD company prioritizes fast product delivery to your customers, and in certain cases, you can even track orders in real-time.
Another notable advantage is that you don't have to start from scratch when it comes to promoting your products. Teespring offers SEO, social media marketing, etc.
Key Features
Teespring supports both screen printing and DTG
Free-to-use POD service
Easy-to-use mockup generator
It integrates with Twitch, Discord, Instagram, Streamlabs, and TikTok
Create your online storefront to display products
Great customer support
Existing marketplace and boosted network for promotion
Wide range of products and customization options
Pricing, Shipping, MOQ
When it comes to pricing, Teespring does not require a monthly subscription fee. Instead, you only pay for the base price of your products, customization costs, and shipping to your target audience.
Also, Teespring's typical shipping time is 12 business days.
Spreadshirt is well-known for its extensive selection of clothing choices including a delightful collection of baby attire and stylish hats. This remarkable service is accessible worldwide, offering a diverse range of options with the convenience of 12 language preferences.
Hence, this print on demand company allows dropshippers to unleash their creativity by designing their own personalized products or even showcasing their artwork for sale.
With complete customization capabilities, you have the freedom to determine the prices of your creations, granting you full control over your product margins. Additionally, to facilitate your journey, Spreadshirt offers shop examples to inspire and guide you as you embark on this exciting venture.
Key Features
Spreadshirt is committed to ethical and eco-friendly practices, ensuring that customers can enjoy their custom products while also considering the environment.
The platform allows you to easily customize your hats with various designs, logos, and text, giving them the freedom to create a unique and personalized product.
Spreadshirt provides the flexibility to set prices for your custom hats and determine your own profit margins.
Existing marketplace for help with promotion.
Range of printing options, such as Flex printing, Flock printing, Digital direct printing, Special flex printing, and Emdoidery.
Pricing, Shipping, MOQ
The shipping times of Spreadshirt usually take up to 10-12 business days with the standard shipping. However, they also offer an express shipping option. So, you can get your products within 2-3 business days. Also, any design you choose costs CAD$19.99.
Lifetime deal: Get all-access to everything on Dropshipping.com
Access all DSCOM features, resources, courses, live workshops, discounts, winning products, weekly deep dives, directories and all future updates under all-in-one dropshipping HUB.
DROPSHIPPING IS A REAL BUSINESS, DON'T DO IT ALONE. 4553 MEMBERS ALREADY JOINED. YOU CAN PAY OFF YOUR SMALL INVESTMENT WITH JUST 2 SALES ON YOUR STORE.
Grab the deal before it's gone
How to Choose a POD Company for Selling Hats
When it comes to dropshipping print on demand hats, choosing the right POD company is crucial for success. However, with so many options available, it's important to consider factors such as product quality, customization options, shipping times, customer service, and overall reliability.
In this article, I will guide you through the process of choosing a reliable POD company for dropshipping hats.
🔸 How do I start my own print on demand business?
Starting your own print on demand business is an exciting venture that allows you to showcase your creativity and make money. To begin, you need to follow a step-by-step process.
➡ Choose Your Dropshipping Niche
Explore the specific category of hat products that align with your interests and market demand. Determine whether you prefer to focus on a single product store or offer a range of print on demand hats, such as berets, baseball hats, boaters, beanies, etc.
For example, here's what I do. I enter Google Trends and type in a keyword to check on customers' interest and demand. So, let's try on "a baseball hat". 👇
Based on these results, the demand for these hats is higher between March to July.
By narrowing down your niche, you can effectively target your marketing efforts and differentiate yourself from competitors.
Also, for assistance in finding profitable products, I use product research tools like Minea. This tool monitors social media advertisements, providing valuable insights into popular purchases and helping you find winning products. This way, you can check on the types of hats that sell out the most. 👇
➡ Choose A Print on Demand Hats Dropshipping Supplier
The next thing you do is very important. Hence, choosing the right print on demand supplier is crucial for your success. So, you need to look at the products that the POD company offers and make sure that these are the ones you like, and that they are of a high quality.
More importantly, check if the company offers various printing techniques such as screen printing, direct-to-garment printing, or sublimation. Additionally, consider the customization options available, such as the ability to add your own designs, logos, or text to the products.
Furthermore, this POD should be able to handle orders promptly and deliver products to your customers in a timely manner. So, consider factors like shipping costs, tracking capabilities, and international shipping options. Also, If you have an e-commerce platform or online store, consider whether the print-on-demand company integrates smoothly with your existing systems.
For example, I use the Dropshipping.com supplier directory as a valuable source for finding POD suppliers. They offer a free directory of over 2000 trustworthy suppliers for you to choose from, and lots of them are print on demand.
Plus, they give me insights into suppliers prices, location, services, MOQ's, and more.
➡ Create Your Dropshipping Store
Next, you need a placement for your dropshipping products, and that would be your dropshipping store.
Hence, I personally use website builders for building a store. It saves my time and effort, and still, it looks stunning.
So, for me, Shopify stands as the top option. This platform boasts a user-friendly interface and provides an extensive selection of visually captivating themes, available in both free and paid options, for your dropshipping store.
Additionally, it offers a remarkable assortment of customizable functionalities. Moreover, their drag-and-drop editor enables you to effortlessly establish and adjust your store.
➡ Promote Your Dropshipping Store
So, once you have your store set, and your print on demand hats done, the next step is to bring them to your customers. So, there are a variety of digital marketing methods available to drive traffic to your online store.
To begin, I recommend incorporating search engine optimization, social media advertising, email marketing, and paid promotions.
Furthermore, you can enhance your sales by implementing marketing tactics such as cross-selling, up-selling, offering promotional codes, etc.
Additionally, I suggest integrating video marketing into your dropshipping marketing strategy. Videos allow you to showcase your dropshipping products in a visually captivating manner and demonstrate how to use them, their features, benefits, and more.
Lastly, I advise automating these marketing efforts using tools. For example, Shopify has a variety of automation marketing tools that can help you streamline this process.
🔸 Is print-on-demand profitable in general?
Well, this is the question many people ask when considering starting a print-on-demand business. So, here's an honest answer – while the profit margins may not be as high as bulk purchasing, it can still be a profitable venture if approached correctly.
And, by correctly, I mean careful pricing of your print on demand hats. This is essential in ensuring profitability. So, for starters, make sure that you cover the production and shipping costs while still making a profit.
What's more, the global print-on-demand market size is expected to reach $67.59 billion by 2032, growing at a CAGR of 26.71% over the forecast period from 2023 to 2032. On the other hand, the headwear market size is expected to grow by $7847.52 million from 2023 to 2027 at a CAGR of 6.57%.
So, the combination of these two can definitely bring you profits.
🔸 Is it worth starting a print on demand hat dropshipping business?
In my opinion, absolutely! The profitability of such a business is undeniable. With a stable demand for custom hats and lower competition compared to the saturated t-shirt market, there is ample opportunity for success.
👉 Check out the Best 8 Profitable Niches With Low Competition For Dropshippers.
Also, based on Google Trends, and customers' interest over time, custom hats are constantly in high demand.
Plus, the dropshipping business model adds to the appeal, allowing you to keep costs low and focus on your marketing strategy and customer service. In fact, with dropshipping, you avoid the need to purchase equipment, rent an office space, hire production staff, acquire and store raw materials, etc.
Instead, all you have to do is find a POD dropshipping supplier who offers embroidery services and carefully consider important details such as the type of accessory, material, design with logo, and embroidery format.
For instance, renowned companies like Printful and Printify offer a wide range of options, as they can embroider almost any type of clothing item, including jackets, baseball caps, bags, and towels.
Plus, they handle the entire production process, including packaging and delivery. You simply place your order and communicate with the customer if necessary.
💡 Tip: Check out my comparison Printful vs Printify – Which Platform Is Better For Print on Demand?
🔸 How do you price print on demand products?
When pricing your print on demand hats, there are several important factors to consider. So, here are a few quick steps for pricing your print on demand hats.
💡 Also, read my FULL Guide about How To Price Dropshipping Products: Definitive Guide For Beginners.
➡ Consider the Cost of Production
Start by calculating the cost of producing each item. This includes the base cost of the product, printing costs, packaging, and any additional fees charged by the print on demand platform. Also, consider your store management costs, and marketing costs.
Also, get information about the supplier's MOQ requirements and take this into consideration as well.
👉 Check out How Much Does It Cost To Start Dropshipping In 2023?
➡ Take The Profit Margins Into Account
Determine the profit margin you want to achieve. Consider your business goals, overhead expenses, and desired profit percentage.
Hence, it's important to strike a balance between competitive pricing and ensuring a sustainable profit for your business.
👉 Read about Dropshipping Profit Margin: A Step-By-Step Guide For Beginners.
➡ Do A Market Research
Next, conduct market research to understand the pricing trends in your industry. Analyze the prices of similar products offered by competitors or other sellers on the print on demand platform. This will give you an idea of the price range that customers are willing to pay.
Also, consider your target audience's price sensitivity. If your products cater to a dropshipping niche market or offer unique features, you may be able to charge a premium price. However, if you are targeting price-conscious customers, you may need to price your products more competitively.
For instance, I always make a dropshipping business plan when planning and analyzing such things. So, here are 13 Tips for Creating Yours.
➡ Assess Value For Your Print On Demand Hats
Next, define your value proposition. Assess the unique value your print on demand products offer. If your designs, quality, or customization options set you apart from competitors, you may be able to justify a higher price point. Clearly communicate the value customers will receive when purchasing your products.
However, remember, pricing is not a one-time decision. It requires ongoing analysis and adaptation to ensure your print on demand products remain competitive in the market while maintaining profitability for your business.
Important Things To Know Before Starting Print On Demand Hats
Before starting out with your POD hats, and before choosing your dropshipping supplier, you need to make sure about certain things. So, let's see what to keep in mind. 👇
🔸 Choose The Hat Type
Firstly, you need to determine the specific niche within the print on demand hats industry that you want to focus on. For example, you can choose from selling fedoras, beanies, men's baseball caps, berets, children's bucket hats, trucker hats, or any other.
Hence, for instance, one of the best-selling hats in 2023 is the bucket hat. Also, based on Google Trends results, these types of hats are most demanded between May and August.
In fact, by specializing in one particular area, you can enhance your level of competitiveness. However, if you choose to venture into multiple areas simultaneously, it becomes more complex.
Thus, you'll have to create designs for various product types, and your target audience will also expand. Ultimately, the choice lies in your hands.
🔸 Choose The Hat Material
Every hat has a suitable material of its own. So, before starting out, you must consider the type of material for your product. Hence, not all types of material are suitable for all hats.
For instance, beanie hats can be crafted from a range of materials including cashmere, cotton, fur, wool, silk, leather, and synthetic materials.
On the other hand, caps typically utilize tweel fabric, which can be 100% cotton or a blend of 97% cotton and 3% spandex, as well as jeans. Furthermore, hats can be made from felt, silk, straw, leather, or suede.
The choice of material also depends on the complexity and size of the desired embroidery design. It is important to have a clear understanding of the embroidery style you wish to adorn your product with during this phase since not all POD companies can offer you the exact service.
For example, Apliiq is a great choice for embroidery. Thus, they use high-quality machines to create intricate designs with a range of thread colors.👇
🔸 Create The Design
When it comes to creating designs, you have several options. You can either create your own designs using graphic design software or hire a designer to bring your ideas to life.
However, it's crucial to choose a supplier that specializes in print on demand hats and offers high-quality products. Also, make sure that this POD platform integrates with your dropshipping store.
For instance, the Printful Mockup Generator is very simple to use, and you do everything from the Printful dashboard.
So, the first step is to select the product you want to design from Printful's product catalog. This could be any item from their range of products. After choosing the product, you will be redirected to the mockup generator page.
This is where you can start customizing your design. You can add designs, text, graphics, quotes, colors, etc. It allows you to personalize the product according to your preferences.
What's more, the mockup generator also allows you to simulate the print quality and brand positioning. This means you can see how your design will look on the chosen product before actually printing it.
Plus, this POD company has many integrations with popular platforms like Shopify, WooCommerce, Magento, etc.
Join the only community and resource hub you'll ever need to succeed with dropshipping
Find winning dropshipping products, learn marketing, download templates and engage with real dropshippers
Never pay for a "guru's" course again. See why 4543+ dropshippers joined us this year!
💡Try DSCOM Hub Now
Bottom Line
When it comes to selling print on demand hats, the bottom line is profitability. By leveraging the power of on-demand manufacturing and customization, you can create a lucrative business with minimal upfront costs.
The key to success lies in choosing the right print on demand hat company to partner with. Look for a company that offers a wide range of products, including custom caps and trucker hats, to cater to a diverse customer base.
Additionally, consider their shipping options, ensuring they offer standard and worldwide shipping to reach customers both locally and globally.
In this article, I provided you with valuable insights about the best 14 print on demand hat suppliers. Plus, you can leverage the tips for finding the right one for you. So, choose one & Start!