Apliiq vs Printful- why do you need this so bad? Are you looking to start your own online store but don't want to spend money on inventory? Print-on-demand dropshipping might be the solution for you. However, with so many options available, it can be overwhelming to choose the right one.
In this article, we will compare two popular print-on-demand dropshipping companies, Apliiq vs Printful, to help you decide which one is better suited for your business needs.
By the end of this article, you will have a clear understanding of which company is the better option for your print-on-demand dropshipping business.
What is Print-On-Demand Dropshipping?
Print-on-demand dropshipping is a business model that involves partnering with a printing company that offers a wide range of custom products that can be sold through an online store without holding inventory or dealing with the printing and shipping process.
So, how does it actually work?
In simple terms, when customers place an order, it is sent directly to the printing partner who produces and ships the product on behalf of the merchant. This eliminates the need for large upfront investments in inventory and resources required for order fulfillment.
Also, one of the most significant advantages of using a print-on-demand dropshipping service is the flexibility and convenience it provides for businesses to create and sell custom products without incurring additional costs or dealing with the complexity of managing printed inventory.
Thankfully, there are various print-on-demand services online, and are excellent! Hence, a great example of excellence in this is Printful and Apliiq. But, there are a lot of others!
👉 Check out The 10 Best Print-On-Demand Dropshipping Companies. 👈
Overall, print-on-demand dropshipping services offer businesses a unique opportunity to create and sell custom products without holding inventory or dealing with shipping, and production processes.
💡 POD Dropshipping Business Idea: How To Sell Stickers Online: Dropship Stickers vs. Make Your Own.
💡 Tip: Learn everything you need to know about Print on Demand Hats: How Can You Sell It For Profits?
Discover top dropshipping suppliers of original US/EU products
You're 2 minutes away from building your ecommerce empire
No credit card required. No commitment.
Get started for free
Apliiq vs Printful: Quick Review
The best
Huge Product Catalog

Many customization options& printing methods.

Pay-on-demand service
The worst
Limited to streetwear apparel and accessories.

Small amount of integrations

Smaller number of fulfillment centers and warehouses than Printful
Starting from
pricing depends on the item, fulfillement, taxes, shipping; pay-as-you-go service; provides discounts
The best
Best Mockup Generator

Free to use

Lots of Integrations

Competitive shipping rates
The worst
Little control over the fulfillment process

Order fulfillment can take longer

Limited branded options
Starting from
flexible pricing based on items chosen, flexibility, taxes,shipping; no moq
Apliiq Print On Demand vs. Printful Print On Demand – Comparing Their Key Features
As a dropshipper with experience working with print-on-demand services, I have had the opportunity to compare leading players in the industry and assess their key features.
In this article, I will compare two popular print-on-demand services: Apliiq and Printful. Both services provide businesses with the ability to create and sell custom-made products.
However, there are differences in their features that can impact which one is the best fit for your business.
Let's dive into the Apliiq vs. Printful comparison and explore what sets them apart.
🔸 Apliiq vs Printful: Mockup Generator
As a content creator and online seller, I understand how crucial it is to present our products in the best possible way through product listings. One way to achieve this is by using a mockup generator, which allows us to showcase our designs on different products without the need for expensive photoshoots.
Printful and Apliiq both offer mockup generators that enable users to create visually appealing product listings. However, their usability differs in terms of how intuitive the tools are to use. So, let's see which one is more reliable!
➡ Apliiq's Mockup Generator
Apliiq's Mockup Generator is a powerful tool that enables users to design and customize product photos.
The process of creating mockup photos and print files for your store is simple and straightforward with this generator.
To use the Apliiq app for your Shopify store, simply install it from the Shopify app store and create an account on Apliiq.com.👇
Once you have logged in, you can start designing and customizing your products directly on the Apliiq website.
However, compared to Printful's mockup generator, Apliiq's mockup generator has a more complex interface with multiple customization options, making it suitable for more advanced users. Plus, you have to take multiple steps into multiple tabs to get your job done.
So, to create a mockup photo, select the product type and color on the Apliiq website, and then upload your design file.👇
The generator then creates a 3D mockup photo of your product. 👇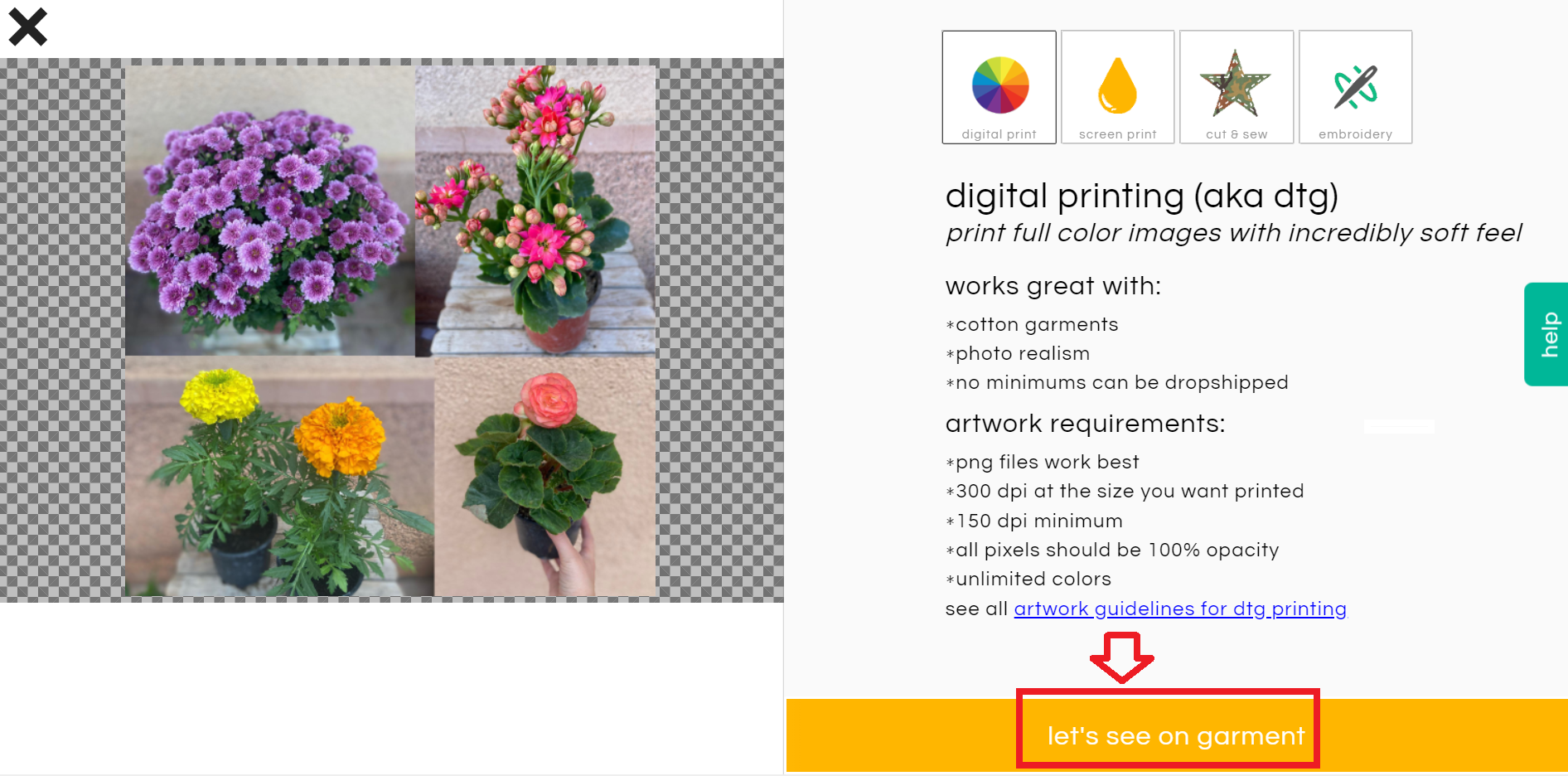 Next, you can choose your product and add your design to the product. For example, I will design t-shirts for my flower shop.
Finally, you can download the product and use it for your store.
Overall, the Apliiq Mockup Generator is a user-friendly and easy-to-use tool that simplifies the process of designing and customizing your products. It's a must-have for anyone looking to sell customized products on their Shopify store.
➡ Printful's Mockup Generator
Printful Mockup Generator is much more simple than Apliiq. Hence, you will do it all from the Printful dashboard without the need to go here and there.
So, first, you will choose the product you want to design from the Printful's product catalog. With this tool, I can easily choose from a range of apparel products and simulate print quality and brand positioning. 👇
Next thing you know, you will be redirected to the mockup generator page. And, here you can your designs, add text, graphics, quotes, colors, or whatever you want.
What's more, I can customize my designs and create mockups that truly match my unique branding. It's great to know that Printful Mockup Generator easily integrates with Shopify, making it even more convenient to use.
🔸Apliiq vs Printful: Printing Options
When it comes to printing options for apparel products, there are a few different methods to consider. DTG printing, or direct-to-garment printing, uses specialized inkjet technology to print designs directly onto fabric.
Sublimation printing involves transferring designs onto polyester material through a heat press. Embroidery involves using needles and thread to stitch designs onto garments.
Digital printing is similar to DTG printing but can be used on a variety of materials, including paper and plastic. However, let's see what Apliiq vs Printful offer.
➡ Apliiq's Printing Options
When it comes to printing options, Apliiq has a lot to offer.
Firstly, digital printing, they use a state-of-the-art process that allows for vibrant, detailed designs to come to life on a range of materials.
Screen printing is another option, with up to nine colors available per design. For embroidery, they use high-quality machines to create intricate designs with a range of thread colors. And for those looking for something unique, applique is available for a 3D effect.
One thing that sets Apliiq apart is its dedication to eco-friendliness. They use water-based inks for their screen printing, which are less harmful to the environment than traditional plastisol inks.
Additionally, their embroidery thread is made from recycled plastic bottles. So, for those looking for sustainable printing options, Apliiq is definitely worth checking out.
➡ Printful's Printing Options
When it comes to Printful's printing options, they offer a plethora of choices that cater to various needs.
The company's direct-to-garment or DTG printing technology is its standout feature as it provides top-notch quality prints on garments.
However, Printful also offers sublimation printing that works best on products made of polyester material. Another option is embroidery on demand, which provides stunning and long-lasting results.
Lastly, Printful offers dropshipped print products, which include mugs, phone cases, and posters that can be branded with custom labels or packaging. To ensure that their products are of optimal quality, Printful works with Komit and Brother printers that provide precise and accurate prints that meet their high standards.
👉 Learn Printful vs Printify – Which Platform Is Better for print on demand dropshipping?
🔸 Apliiq vs Printful: Product Catalog
In terms of product catalogs, both Apliiq vs Printful offer a wide range of clothing and accessories. Apliiq's product range focuses heavily on eco-friendly apparel such as recycled t-shirts and bamboo-based products. Printful, on the other hand, offers a vast selection of hot-new products including face scarves, stationery, shoes, stickers, bags, and pins.
Overall, product selection may vary depending on your niche and target audience, so it's worth taking a closer look at Apliiq vs Printful catalog to see which items align with your brand.
➡ Apliiq's Product Catalog
When browsing Apliiq's product catalog, customers will notice the wide range of options immediately. From men's and women's clothing to children's clothing, there's something for everyone. Hence, you can choose from hoodies, t-shirts, shorts, pants, jackets, tops, etc.
👉 Learn How to Start a Dropshipping Clothing Business in 2023 [+Suppliers List].
Also, Apliiq offers a variety of accessories, such as hats and patches, to complement any outfit.
The collections available on their website cater to different styles and preferences, ensuring that customers can find exactly what they're looking for. With such a diverse product catalog, Apliiq's range is impressive and makes finding the perfect item a breeze.
➡ Printful's Product Catalog
As someone who has used Printful for several years, I can attest to their impressive range of product options.
It's not just limited to apparel items, though they do have an extensive selection of T-shirts, hoodies, and other clothing items.
They also offer customization options for home decor products like pillows and blankets, as well as accessories like hats and bags. For those looking to customize tech gadgets, they have options for phone cases and laptop sleeves.
It's truly a wide range of products that can be customized through their print-on-demand services. Overall, Printful's product catalog is impressive and caters to both conventional and unconventional merchandise options.
🔸 Apliiq vs Printful: Product Descriptions
In my experience as a dropshipping store owner, I've learned that having well-written product descriptions is key to increasing sales and improving customer satisfaction. After all, your product description is what gives your potential customers a first impression of your product.
This is especially important for companies like Apliiq vs Printful, where there is a wide range of product options that can be customized with different custom labels, custom packaging, and branding options.
Thankfully, their product descriptions are editable. This means that you can take the basic description and make it your own while still highlighting the most important information. Let's see their options!
➡ Apliiq's Product Descriptions
With Apliiq's print-on-demand platform, I can customize apparel items to my liking and generate product descriptions instantly. So, here's what Apliiq product descriptions look like.👇
In my opinion, their product descriptions are great, informative, and contain all important information for customers.
What's even better is that I can edit these descriptions at any time to suit my preferences and ensure the utmost accuracy for my eCommerce business. In my opinion, this is a great feature that saves me time and effort.
➡ Printful's Product Descriptions
The product descriptions on Printful typically contain information such as the product name, product type, material, sizing, availability, and care instructions.
They may also include additional details such as the weight of the product, the printing method used, shipping info, and any other relevant information that may be important for users to know before making a purchase.
These product descriptions are extremely helpful for users as they provide a clear understanding of the product's features and specifications. This information helps users make informed decisions about which products to purchase and ensures that they are satisfied with their purchase once it arrives.
Furthermore, the product descriptions on Printful are editable for users. This means that you can customize the product descriptions to include their own branding, logos, and messaging.
🔸 Apliiq vs Printful: Customization & Branding Options
Customization and branding options are crucial when it comes to standing out in the print-on-demand industry. Both Apliiq vs Printful offer a wide range of options to help businesses create unique and customized products. So, let's discuss this in detail.
➡ Apliiq's Customization & Branding Options
One of the main customization options offered by Apliiq is the ability to upload custom designs or artwork to be printed on a variety of clothing items, including t-shirts, hoodies, jackets, and more. This allows customers to create one-of-a-kind pieces that reflect their personal style or brand identity.👇
In addition to custom designs, Apliiq also offers a range of branding services to help businesses create a cohesive and professional image. This includes custom labels and tags, embroidered patches, complementary keychains, etc.
Apliiq also enables you to select a specific fabric color, add patches or appliques, and even create custom pockets or zippers. With so many options available, customers can truly create a unique and personalized product that stands out from the crowd.
These customization options allow you to personalize your products with your logo or unique designs that make your brand instantly recognizable.👇
Lastly, Apliiq's branding options extend beyond just the design of your products. You can also customize your packaging with stickers, tape, or different mailers to create a cohesive brand image.
➡ Printful's Customization & Branding Options
When it comes to print-on-demand companies, Printful is a popular choice.
One of the reasons for this is their wide range of customization and branding options. They offer various printing technologies, including direct-to-garment, embroidery, and screen printing, to ensure that your designs look their best on your products.
They also have a variety of packaging options available for shipping. So, based on the branding options, you can add your logo or brand name to the products you sell. Hence, you can add scented inserts, branding presets, custom packaging, customize your order tracking page, packing slips, and more.👇
In terms of product selection, Printful offers a vast range of items that can be customized to your liking. From apparel products like t-shirts, hoodies, and hats to accessories such as phone cases and tote bags, there's a wide variety of products to choose from.
Also, each product has different customization options available, such as print location, print size, and color choices. You can also create your product templates, and use them whenever you want.👇
🔸 Apliiq vs Printful: Warehouse and Fulfilment
Apliiq and Printful are both dropshipping companies that offer a wide range of warehouse and fulfillment services to eCommerce merchants looking to streamline their operations.
At Apliiq, they provide a global fulfillment service. They have several warehouse locations around the world, including in the USA, Canada, and Europe.
Printful, on the other hand, operates its own centralized warehouse facility. So, let's discuss Apliiq vs Printful services in-depth.👇
➡ Apliiq's Warehouse and Fulfillment
Apliiq offers a range of storage options to suit different businesses, from standard shelves to hanging racks for apparel products.
Compared to Printful, Apliiq's fulfillment services are more flexible. Apliiq has several warehouse locations around the world, including in the USA, Canada, and Europe. This means they can provide faster and cheaper shipping in those regions, which can result in more satisfied customers.
For businesses that want to expand their global reach, Apliiq's warehouse options are great. They have warehouses in several different regions, including North America, Europe, and Asia.
This means that you can offer fast shipping to customers in multiple countries, which is crucial for success in the eCommerce industry.
➡ Printful's Warehouse and Fulfillment
As a POD dropshipper, I've had the chance to work with multiple print-on-demand companies, and Printful has been one of the most reliable ones.
Printful has several warehouses located in various parts of the world, including the United States, Mexico, Spain, and Latvia. These warehouses are strategically located to ensure that products can be shipped to customers quickly and efficiently.
So, when a customer places an order, Printful will automatically route that order to the closest warehouse that has the necessary inventory to fulfill the order.
Plus, Printful has a feature where you can calculate your warehouse costs in advance. Hence, from their dashboard, you can set up the properties of your products, and other parameters, and check on them. For example, based on my parameters, here's what I got.
🔸Apliiq vs Printful: Shipping Options
When it comes to selling products online, a crucial aspect to consider is shipping options.
Therefore, I'll delve deeper into why it's important to consider the different shipping options provided by Apliiq vs Printful. Specifically, I'll touch on international shipping, upgraded shipping, and other essential features to look out for.
➡ Apliiq's Shipping Options
Apliiq presents a variety of shipping choices, but standard shipping is solely accessible for dropshipping orders.
For sample and bulk orders, Apliiq offers two additional shipping options:
Upgraded shipping – ship items of 16oz or more within 2-7 days.
Rush shipping is a great option for customers who require their products sooner. However, there are no listed shipping timescales. It's available for shipments of all sizes.
Also, they offer free shipping for orders over $100. Additionally, Apliiq offers international shipping via USPS which makes it easy to reach a global market.
➡ Printful's Shipping Options
Printful offers various shipping methods to meet the needs of its customers.
Standard shipping typically takes around 2-7 business days.
Expedited shipping can take 1-3 days.
Express shipping usually arrives within 1-2 days.
Furthermore, shipping rates are calculated based on the delivery location and the weight of the package.
Printful ships to over 200 countries worldwide. They provide carrier options such as USPS, FedEx, DHL, and more to ensure the package arrives at the destination on time.
To make shipping even more convenient, Printful provides additional shipping services like gift messages and customized packing slips to make each package more personal.
Check out the
🔸 Mobile App
With so many users accessing websites and digital services through their mobile devices, it's crucial for any POD service to have a mobile app.
In fact, apps would make the user experience much smoother and more streamlined, especially for those on the go.
So, let's see which one from Apliiq vs Printful offers an app.
➡ Apliiq's Mobile App
Unfortunately, Apliiq does not have a mobile app. So, this is one of its major flaws when it comes to Apliiq vs Printful comparison.
➡ Printful's Mobile App
And, this is a big PLUS for Printful. It provides its users with a Printful mobile app. Thanks to this, I am allowed to manage my Printful store from anywhere.
The app itself is user-friendly and packed with features. One of the best aspects is the order creation capability – I can create and submit orders on the go, without needing to be in front of a computer.
Plus, the order tracking feature is also incredibly useful, as I can keep an eye on my shipments in real-time.
One of the standout features of the mobile app is the customer support options. I can submit a support ticket right from the app, and the customer support team is incredibly responsive. I also appreciate that the app allows me to place orders on hold or remove a hold if needed.
The Printful mobile app launched in English for iOS and Android devices on June 23, 2021. Since then, it has become an invaluable tool for managing my store on the go.
If you're a Printful user, I highly recommend downloading the app and taking advantage of its powerful capabilities.
🔸 Affiliate Programs
Affiliate Programs are an excellent way to earn some extra income when promoting print-on-demand services like Apliiq and Printful. While both platforms offer referral links and commission-based earning opportunities, Printful stands out for providing a more comprehensive affiliate program.
However, let's see what we got in this Apliiq vs Printful comparison.
➡ Apliiq's Affiliate Programs
First things first, joining the Apliiq affiliate program was easy, and I quickly began promoting their range of on-demand custom printing products. The commission rates are generous, and I appreciate the opportunity to earn extra income by promoting a trusted, widely recognized print-on-demand company.
In fact, you can earn 10% by creating online content, and share it over social media and other websites, and linking back to Apliiq.
Moreover, there is a paid threshold that must be met before receiving payment. However, the commission rates make it easy to achieve that threshold, and the customer support team is helpful in answering any additional questions I have.
➡ Printful's Affiliate Programs
When it comes to affiliate marketing, Printful is a winner.
Printful offers an affiliate program to its customers, which is free to join and open to bloggers, influencers, and YouTubers alike.
The process is simple: participants are provided with a unique referral link, which they can share with their audience or readers. For each order placed by customers through their referral link, participants receive a commission.
What sets Printful's affiliate program apart is that participants can create courses that teach others how to start a business with Printful.
💡 Tip: Learn How To Make Money On Youtube Without Making Videos [2023].
For every order placed by customers referred by their students, participants receive a commission. The commission rate is a generous 10%, making it a worthwhile investment of time and effort for anyone who wants to earn additional income.
Overall, I find Printful's affiliate program to be an excellent opportunity for anyone looking for a flexible and easy way to earn money. The fact that it's free to join and available to a broad range of individuals makes it even more appealing.
What's more, they also offer a referral program, where you can earn $5 in points.👇
🔸 Integrations Available
Having available integrations with various platforms and marketplaces is a key factor to consider when choosing a print-on-demand company. So, let's see what we got with Apliiq vs Printful
➡ Apliiq's Integration Options
Apliiq stands out for its wide range of integration options on various e-commerce platforms. For instance, Apliiq is fully compatible with Shopify, which is great news for Shopify store owners looking to offer custom products.
In addition to Shopify, Apliiq also integrates seamlessly with other popular platforms such as Flamory, a visual bookmarking tool that allows users to customize bookmarks with custom images, colors, and text.
➡ Printful's Integration Options
As an e-commerce entrepreneur, I understand the importance of choosing the right print-on-demand (POD) partner. One of the key factors that I consider is the range of integrations that are available. When it comes to Printful, I'm happy to report that they offer an extensive range of integrations.
Printful's integrations allow you to connect your store to its API, enabling you to seamlessly place and fulfill orders. Whether you're using Shopify, WooCommerce, Magento, or any other popular platform, Printful's compatibility with these e-commerce platforms makes it easy to manage your orders in one place.
What I appreciate the most about Printful is that their integrations extend beyond just e-commerce platforms. They have also partnered with social media channels, such as Etsy, Amazon, and eBay. This opens up a world of opportunities for those who want to sell their products beyond their online store.
Moreover, Printful is always working on new integrations to ensure that its customers have access to the most current technology available.
Apliiq vs. Printful: Pricing Comparison
When it comes to pricing, Apliiq and Printful offer different fees for their services. But first, let's put this straight – both platforms are completely FREE to use. Secondly, they both charge for different other things like fulfillment, shipping, taxes, etc.
So, let's see what their pricing is based on.👇
➡ Items
Both platforms are famous as a pay-as-you-go services, and you will pay for the products you use.
However, Apliiq print on demand has a pricing structure that's based on the number of items you plan on ordering. On the other hand, Printful charges per item and has a shipping fee on top of it.
For bulk orders, Apliiq provides discounts. However, their pricing can be higher than Printful for individual items.👇
Printful doesn't have any minimum order requirements, which makes it easier for small businesses to get started. Also, it offers promotions. So, if you purchase 25 or more units of chosen products (including variations in color, size, and design), you will receive a discount of up to 30%.
In addition, here's an example of Apliiq print on demand pricing for a men's t-shirt. 👇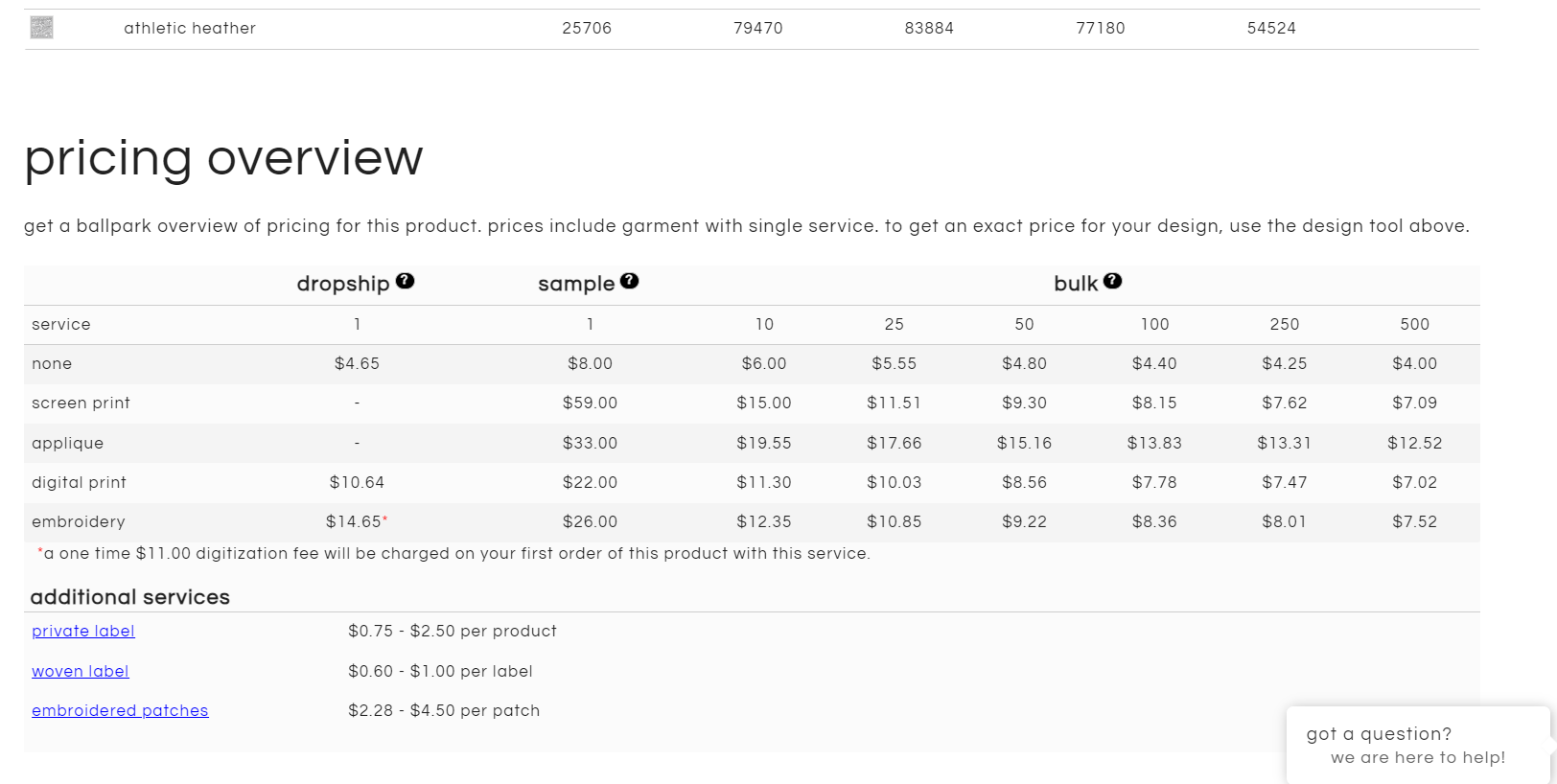 ➡ Shipping Fees
When it comes to shipping fees, Apliiq offers free standard shipping within the United States, while Printful charges a shipping fee that varies depending on the item's size and weight.
However, Printful provides worldwide shipping that can be more affordable than Apliiq for international orders.
➡ Profit Margins
Finally, profit margins can vary depending on the pricing structure of each company.
Apliiq print on demand provides higher discounts for bulk orders, which can increase profit margins for those who sell large quantities of items.
Meanwhile, Printful provides competitive pricing for individual items that can give online merchants more flexibility with their pricing.
For instance, on the Printful website, you can check how much you can make based on the number of sales per day, the type of product, and the selling price.👇
This way, you can have a better view of how much you can make from Printful print-on-demand service.
🔸 Apliiq vs Printful: Pros & Cons
➡ Apliiq Pros & Cons
Many customization options& printing methods.
Limited to streetwear apparel and accessories.
Small amount of integrations
Smaller number of fulfillment centers and warehouses than Printful
➡ Printful Pros & Cons
Competitive shipping rates
Little control over the fulfillment process
Order fulfillment can take longer
Find winning dropshipping products & spy on your competitors
Minea analyses all online advertising to help you find the best products to launch, and the best creatives in your niche in just a few clicks.
Use coupon: DROPSHIPPING30 and get a 30% discount
💡Try Minea For Free
Apliiq vs. Printful: Which One's Better for Dropshipping?
When it comes to dropshipping, Apliiq and Printful are two of the most well-known names in the industry. Both companies offer a range of similar features but are also some key differences between the two services that may make one a better choice over the other.
One area where Apliiq print on demand really stands out is in its customization and branding options. While Printful also offers some customization options, Apliiq takes it to the next level.
With Apliiq, you can create custom labels and packaging, giving you a more professional look than you might get with Printful. Additionally, Apliiq's warehouse and fulfillment options are excellent, making it easy to manage your inventory and keep your customers happy.
On the other hand, Printful can be a better choice for those who prioritize simplicity and ease of use. Its mockup generator is incredibly user-friendly, and Printful offers a mobile app that makes it easy to manage your store on the go. Additionally, Printful's affiliate program is also worth mentioning, as it is one of the most generous in the industry.
Pricing and profit margins can also be a factor in choosing between Apliiq and Printful. Generally, Apliiq's prices tend to be a bit higher than Printful's, although the difference is not significant. However, Apliiq does offer discounts on bulk orders, which can make it more cost-effective for those looking to sell in higher volume.
In my opinion, Printful is the better option overall.
Before you go, check the ultimate Printify vs Printful review.
Ultimately, the choice between the two mostly comes down to personal preference and priorities. So, get your info from this article, and Decide!