16 Best Marketing Apps On Shopify
by
Aleksandra -
Aleksandra teaches marketing and management at various levels in High School. She writes about marketing, the economics and logistics of the dropshipping business and ecommerce in general.
Chief of Content Marketing
You probably know that in this ecommerce and dropshipping world, sales without marketing are just like a cat without its mew! 😸
You probably wouldn't make sales if you don't advertise your products with a well-established marketing strategy. How would customers know about you? 🤔
Moreover, equally important is the constant monitoring of marketing results and the continuous improvement and upgrade of your marketing strategy.
"A customer is always right!". He/she has needs and wants, that change constantly. And believe it or not, you can read their minds simply by analyzing how they interact with your dropshipping business and content.
This is why we provide you with a list of the 16 Best Marketing Apps on Shopify. This is not just a list, but a detailed overview of each marketing app.
Need any "Marketing" help? Let's find the solution!
👉 Learn How To Open and Manage Multiple Shopify Stores (Tips + Apps).
Best Marketing Apps on Shopify
In this article, we provide you with a detailed overview of the 16 Best Marketing Apps on Shopify.
However, on our website, we have an overview of more than 500 other Shopify Marketing Apps. We highly recommend you check them out!
💡 Tip: Learn How To Make Money On Youtube Without Making Videos [2023].
1. Judge.me Product Reviews
Judge.me is a Shopify app for collecting and displaying star ratings and reviews for your items and dropshipping store.
You can increase conversion rate, organic traffic, and customer engagement with user-generated content.
You can take a look at Judge.me demo store version.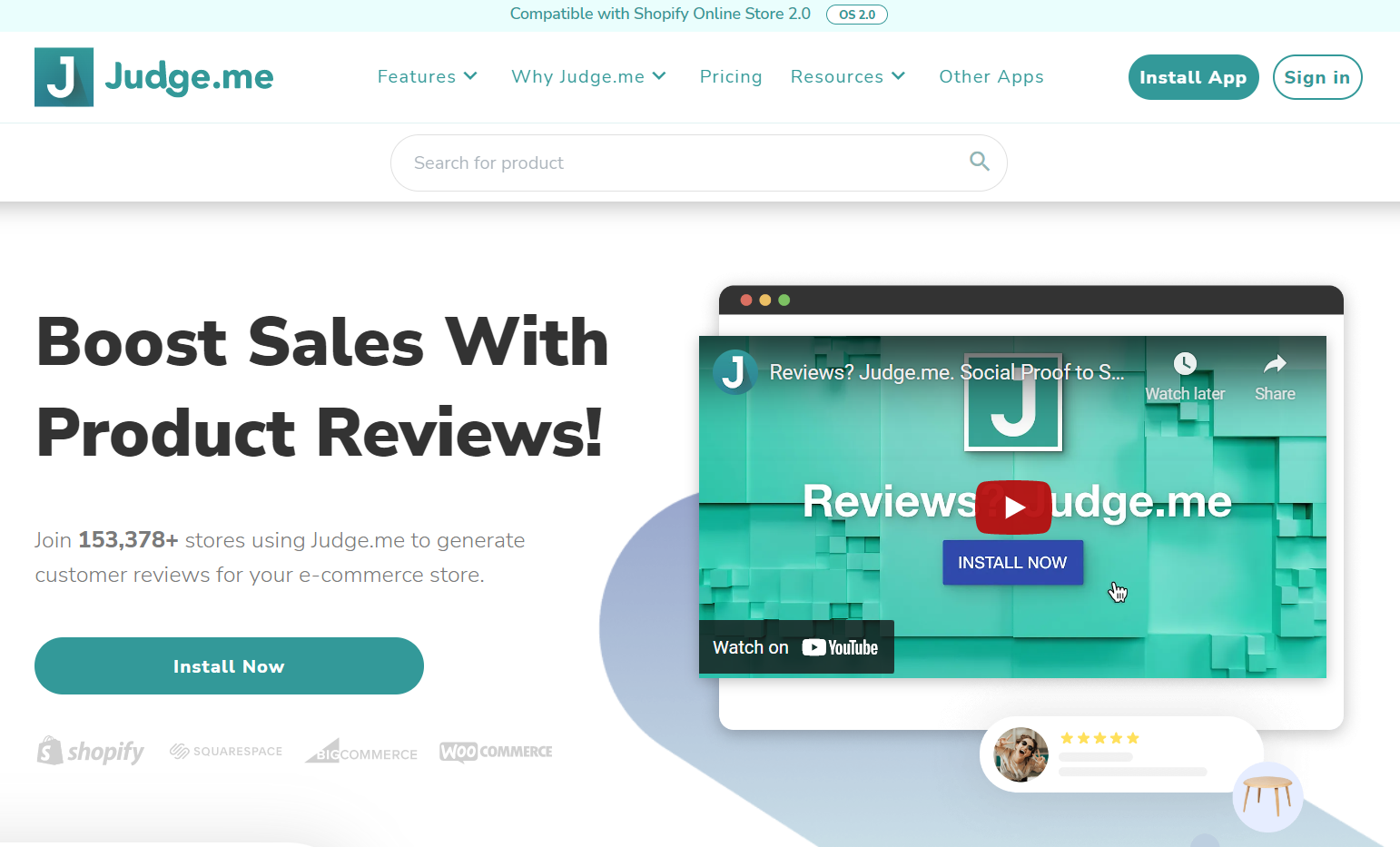 Key features
Judge me provides you with:
Product reviews in Google Shopping in order to increase conversion rates and CTR.
Use of social evidence such as photo reviews and videos.
Coupons to encourage reviews.
Product reviews using videos, images, and text
Observe Carousel
Floating Reviews Tab, All Reviews Page
Share on Instagram, Facebook, Twitter, Tumblr, and Pinterest.
Product review groups and cross-shop syndication
SEO Snippets Rich
Want to learn more? Check it out here.
Pricing
There are two pricing plans offered by Judge me.👇
Customer reviews
This marketing app is rated 5-star⭐️, with more than 9500 reviews. The majority of comments talk about the amazing experience users had from the Judge.me features.
You can read them all here.
2. Loox Product Reviews & Photos
Loox is among the most popular marketing applications on Shopify App Store.
It generates revenue and is an excellent method to drive word of mouth and repeat purchases through photo and video review incentives and referred discounts.
You may collect additional reviews, pictures, and videos, as well as create gorgeous presentations that highlight your business.
Key features
Genuine product reviews with the use of intelligent and personalized review request emails
Eye-catching widgets for displaying joyful customer content.
Increase WOM and repetitive purchases with photo and video review incentives, and discounts
Widgets for site-wide referrals
One-sided/two-sided incentives
Increase brand awareness with social media and Google Shopping.
Simple installation and 24/7 support
A content delivery network (CDN) to offer all scripts and pictures in milliseconds
Import reviews from any source
Customization and branding (defined email timing, widget colors, design, font, size, etc.)
Inline SEO
There are a lot of other features that Loox provides.
💡 Tip: Read about Shopify vs. Custom Store for Dropshipping – What's Better & Why?
Pricing
Loox offers three pricing plans:
Customer reviews
This Shopify marketing app is 4.9-star rated, with around 9K reviews.
3. Booster SEO and Image optimizer
The Booster SEO & Image optimizer is a Shopify marketing app that helps your dropshipping store to follow Google best practices when it comes to technical SEO.
Furthermore, this app is an amazing optimizer for images. It improves page load speed and SEO scores with its automated compression engine.
Booster SEO & Image optimizer provide customers with an excellent experience. They offer them 24/7 US-based Live chat support. There are no bots included, but a chat with a real person.
Key features
Using ALT-tag optimized images to increase your image search traffic
Check out if your meta tags are appropriate and optimized for ranking and conversion.
Weekly SEO Health Reports sent to you
Monitor and automatically redirect broken links that are harming your SEO and conversion rates
AutoPilot option for resolving SEO problems based on user-defined rules.
Reduce the file size of your photographs significantly using their image compression engine
Ensuring URL's design and functionality by URL Keyword Optimization tool
Builds, manage, and publishes your sitemap to Google automatically to ensure that every page is indexed and crawled by Google.
Pricing
There are three pricing plans👇
Customer reviews
SEO builder & Image Optimizer has an overall rating of 4.8⭐️. The majority of comments listed in the Shopify app store lead to positive customer experience and satisfaction.
💡 Tip: Check out Shopify vs Squarespace For Dropshipping – Which is Better in 2023.
4. Smart SEO
Smart SEO is one of the best marketing apps on Shopify that helps your dropshipping store to reach a high rank in SERPs.
It helps dropshipping businesses by optimizing their photos, generating SEO tags, fixing broken links, etc.
Smart SEO provides a 7-day trial to users, and it helps you drive more organic traffic to your website.
Key features
Image Optimization
Generate meta tags
Multi-language support
Generate image alt tags
JSON-LD Structured Data
Sitemap Support
Automatically detects and fixes broken links or pages on your website
Remove Microdata
Pricing
Smart SEO has four pricing plans👇
Customer reviews
Smart SEO is a ⭐️4.9-starred app, with nearly 1000 positive reviews and comments, the majority of them 5-starred!
5. Klaviyo: Email Marketing & SMS
Klaviyo is an email marketing and SMS app that allows you to manage your messages to customers and visitors more efficiently.
Klaviyo allows your dropshipping business complete control over customers' data and interactions. You can convert consumer transactions into profitable long-term connections, and observe what causes a visitor to click, bounce, or purchase.
Klaviyo's email and SMS templates may also be used to automate tailored notifications such as price decrease alerts, friendly cart reminders, and just-in-time suggestions.
Key features
Sync all your data with one click
Built-in customizable automation (for example, welcoming emails, birthday wishes, etc)
Segmentation ( helps you boost engagement)
Pre-built reports
Benchmarking
Pricing
Klaviyo offers three pricing plans:
Customer reviews
Klaviyo is rated with 4.2⭐️, with over 1500 reviews from customers. Most of the comments share a positive experience with this marketing app, which you can read here.
6. Mailchimp
Mailchimp is an all-in-one email marketing and automation tool that is used by millions of entrepreneurs worldwide to improve their brand – and their business.
Mailchimp's attractive, precision-targeted emails, expert insights, and powerful marketing CRM offer you everything you need to expand your business, whether you're just starting out or already operating a profitable business.
Key features
Customized automation with Mailchimp's Customer Journey Builder or from the collection of pre-built journeys.
Flexible templates and AI-generated custom designs
Advanced personalization and segments
Brand and content studio
A/B testing
Real-time reports and analytics
Social advertising and organic posting
Digital retargeting ads
Pop-up forms and landing pages
Pricing
Mailchimp offers four pricing plans to customers. Check them out below!👇
Customer reviews
Mailchimp is ⭐️ 3.7 starred, but most of the comments describe a good experience while using the app.
💡 Tip: Discover How To Optimize Shopify Image Sizes In 2023 + Pro Tips
7. Social Proof- The Urgency App
Social proof is a perfect marketing app for effective user acquisition. Instead of searching for yourself, this app provides you with all the needed information about customers' engagement with your product, product's stock, by using a widget, etc.
The simple procedure that you go through is entering the text for the widget, choosing the settings of the values display, choosing a product, and configuring the widget design.
Key features
Motivates customers to buy, by displaying info about "high number of visitors that search this product", or "low stock inventory".
Bulk changes in minutes
Fully customizable widget
Emoji usage
No manual theme modifications.
Mobile-friendly app
24/7 support
Pricing
Social proof offers a 14-day free trial and two pricing plans. Take a look!👇
Customer reviews
Social proof is rated with 4.8, with the majority of comments with satisfactory and positive user experience. You can check all comments here.
💡 Tip: Read about The Power Of Product Advertisement: How To Increase Your Sales?
8. Cozy AntiTheft
With a few easy clicks, Cozy AntiTheft protects your store's content, photos, and texts from theft. It disables key browser functionalities, making it difficult for a scammer to steal your data.
Key features
Disable Right Click – disabling right-click opens a stealing window. As a result, users are unable to copy the material or save the photos.
Disable Drag Drop – it inhibits picture theft using a common drag-and-drop method.
Disable Keyboard Shortcuts – prevents customers from copying material via keyboard shortcuts.
Responsive app – compatible with both desktop and mobile devices!
Pricing
This amazing app is FREE to use. 🤩
Customer reviews
From 770 user reviews, 735 are 5-starred! This gives the app an overall rating of⭐️ 4.9, which is fascinating. The majority of review comments share an excellent experience. Wanna read them? Click here.
9. AfterShip Order Tracking & SMS
Aftership is a Shopify marketing app that offers a smooth post-purchase experience to increase consumer loyalty and sales.
It is an All-in-1 shipment tracking app that provides you with branded tracking and order lookup, shipment notification and protection, boosting sales, etc.
Key features
Monitor all shipments at once
Auto import your tracking number
Shipment trace
Keeping customers informed and up-to-date
Shipment tracking link for customers and notifications via email and SMS
Provides branded experience (customize tracking page with your logo, store URL, etc)
Secure pages with AfterShip Protection
Quick claims approval
A high percentage of claims paid quickly
Loss and damage coverage and porch piracy
Estimate loss recovery with an ROI calculator
24/7 resolution status visibility
Analyze shipments
Pricing
Aftership offers four pricing plans: Free, Essential, Essential Plus, and Pro. It also has a 7-day free trial.
Customer reviews
Aftership overall rating is 4.7⭐️, with the majority of customers 5-star reviews and comments.
10. POWr
POWR is a one-of-a-kind suite of various plugins designed to help you increase conversions, engage your visitors, gain more followers, collect data, and support your customers.
POWR operates on every website-building platform and any device, and with only one clock you can get a variety of plugins that will help you boost your dropshipping business.
Key features
Plugins that POWR offers are:
Form Builder- You can create any type of form and customize it
Social Feed – Get more likes and followers
Countdown Timer – Creates an urgency sense for driving sales or conversions
Media Gallery– Gives you articles, videos, images, etc.
Popup– Captures contacts and promotes offers
Multi Slider – engages visitors via slideshow photos, videos, banners
PayPal buttons – get paid with Paypal
Tab– help visitors navigate your site
Hit counter-track and display visits for all website pages
Social Media Icons
Job boards
Chat
FAQ
Wanna learn more about each plugin? Be free to do it on the Shopify app store, or Powr's website.
Pricing
POWR offers four pricing plans: Free, Starter, Pro, and Business.👇
Learn more about each plan here.
Customer reviews
All POWR plugins are rated differently. The rating varies from 3.7 to 4.9⭐️, which is good! You can observe each plugin here.
11. Instafeed- Instagram Feed
Instafeed is an official Instagram app, with which you can display shoppable Instagram feeds on your Shopify store.
This marketing app focuses on customer journeys that increase sales and eliminate features that distract customers.
Instafeed helps your dropshipping business by keeping your store content fresh, creating social proof, showing customer care, expanding the reach of Instagram visitors to your dropshipping store, etc.
Key features
All themes and devices are supported.
Fully configurable – customize the feed title, spacing between posts, and layout, Intafeed best suggestions, etc.
Lightweight – Does not provide a slow-down page speed
Display posts in a grid or slider format
Link Instagram posts or launch a pop-up window straight on your store
Displays the number of likes on each post
Create shoppable Instagram feeds by tagging several goods in your photos.
Make Reels
Use hashtags to filter your posts
Multiple Instagram feeds can be published
Pricing
Instafeed offers four pricing plans. Take a look.👇
Customer reviews
The overall rating for this app is ⭐️ 4.9/5 – starred. The majority of customers give support for Instafeed referring to easy installation, and excellent technical and design support.
12. Dsers- Aliexpress Dropshipping
DSers is designed for AliExpress dropshipping, but it integrates with Shopify too.
It is aimed at processing hundreds of orders at once, faster than ever before, and discovering new items and suppliers to sell more and profitably.
This app offers a free plan to users, with 3000 product imports!
Key features
Bulk orders.
Integrates with Shopify, WooCommerce, and Wix.
PayPal order tracking service.
Chrome extension;
Shipping Method Pre-selection
Automated Address Fixing
Automated Tracking Number Sync
Find Trending Suppliers
Supplier optimizer
Split Product
Automated Order Status Updates
Pricing
DSers has a free plan with some limitations, as well as a few premium options (beginning at $19.99 per month). You can read more about it on DSers website.
Customer reviews
Dsers overall rating is ⭐️ 4.9/5. Customer reviews and comments share the best experience of using this app.
13. Clever- Google Ads & Shopping
Clever Google Ads & Shopping is a Shopify marketing app, that helps dropshipping businesses grow in various aspects.
This app provides google shopping feed and ads optimization. Google Adwords, implements conversion tags, etc.
Key features
Google Shopping Feed management
Google Shopping Feed improvements
Google Shopping ads
Conversion Tracking Pixel
Google Adwords automation, and more.
Pricing
Clever offers a 14-day free trial, and four pricing plans.👇
Customer reviews
Clever overall rating is ⭐️4.4/5. Most of the customer reviews are 5-starred. Below you can read a few comments, or for more click here.
14. Omnisend Email Marketing & SMS
Omnisend is an email and SMS marketing tool used by more than 70.000 eCommerce companies who want to grow sales.
This Shopify integration, pre-built automated workflows, and straightforward, no-code editing make it simple to get up and running without getting bogged down in the specifics.
Key features
Emails for abandoned cart recovery
Emails sent following sales and orders
Abandonment of products and browsing
New subscribers support (welcome emails)
Customers who are likely to leave
Customer comments and product reviews
Send out eye-catching newsletters.
Increase the size of your email and SMS subscriber lists.
With sophisticated segmentation, you can improve your targeting.
Email, SMS, and push alerts should all be combined.
Examine your campaigns and customers.
Custom storefronts and a single integration API
Pricing
Omnisend offers three pricing plans. Take a look below👇, and check here for more info.
Customer reviews
Omnisend has an overall rating of 4.7/5. Most of the reviews or 3910/4347 are 5-starred with positive user experience explained in comments.
15. PageFly Landing Page Builder
PageFly is unquestionably one of the best marketing apps on Shopify. No doubts!
You can publish high-quality pages and administer your site with confidence and control with PageFly.
This marketing tool offers a codeless page-building experience that is very simple.
Key features
Build any type of page, such as a Landing page, product page, pricing page, FAQ, blog page, etc.
Reduce the time to launch a new store
Shorten development time
Create page sections
Create custom elements with HTML, CSS, Liquid
Adapt the website for all marketing campaigns
Fast page loading
24/7 support
Pricing
There are three pricing plans and features included in it👇 For more info, check the pricing plans.
Customer reviews
PageFly is rated ⭐️ 4.9/5, with great customer reviews and comments, which you can read and benefit from!
16. UpPromote: Affiliate Marketing
UpPromote is one of the best marketing apps on Shopify.
We've highlighted the UpPromote: Affiliate Marketing app, which may help you increase consumer loyalty through a reward program.
It is a one-stop, automated affiliate and influencer marketing solution that is quite beneficial nowadays. You may quickly create a professional affiliate program and approach potential affiliates.
Key features
Expand your affiliate network.
Empower affiliates.
Effective affiliate management
Monitor the performance
Enterprise solutions, including multi-stores and customized development.
Multi-language Support
Connect to email services and subscription applications.
Sync affiliate contact information with Shopify customers.
Facebook pixels, Postback URL, API support
Pricing
UpPromote has four pricing plans and a 14-day free trial. Check them out below!👇
Need more info, or maybe a plan comparison? Read here.
Customer reviews
This app is one of the best-rated on Shopify, with an overall rating of 4.9/5⭐️. If you want to read about customer experiences, click here.
Join the only community and resource hub you'll ever need to succeed with dropshipping
Find winning dropshipping products, learn marketing, download templates and engage with real dropshippers
Never pay for a "guru's" course again. See why 4543+ dropshippers joined us this year!
💡Try DSCOM Hub Now
Lifetime deal: Get all-access to everything on Dropshipping.com
Access all DSCOM features, resources, courses, live workshops, discounts, winning products, weekly deep dives, directories and all future updates under all-in-one dropshipping HUB.
DROPSHIPPING IS A REAL BUSINESS, DON'T DO IT ALONE. 4553 MEMBERS ALREADY JOINED. YOU CAN PAY OFF YOUR SMALL INVESTMENT WITH JUST 2 SALES ON YOUR STORE.
Grab the deal before it's gone
Wrapping the best marketing apps on Shopify
As you already know, marketing is one of the core processes of any dropshipping business. It helps dropshippers to deliver value to customers, by developing the best marketing strategy.
But, to build a marketing strategy, businesses go through a long path of analyzing and monitoring various aspects and customer interactions with the dropshipping business.
This is why we provided you with a list of 16 Best Marketing Apps on Shopify. Help yourself and choose the solution for your problems!