If you're new to dropshipping, you probably have a lot of questions about how dropshipping works. It's important to understand the basics before getting started, and to help you do that we've put together this list of answers to the 20 most common dropshipping questions.
In this guide, we'll cover topics like how much you can earn with dropshipping, whether dropshipping is legal, how to find great products for dropshipping, and the most common dropshipping mistakes made by beginners.
Our main goal is to inform you about the facts so you can get a clear picture of the dropshipping business model, and you can make an informed decision about whether it's worth starting your own dropshipping business.
So here are our answers to the most frequently asked dropshipping questions:
Top 20 Most Frequently Asked Questions About Dropshipping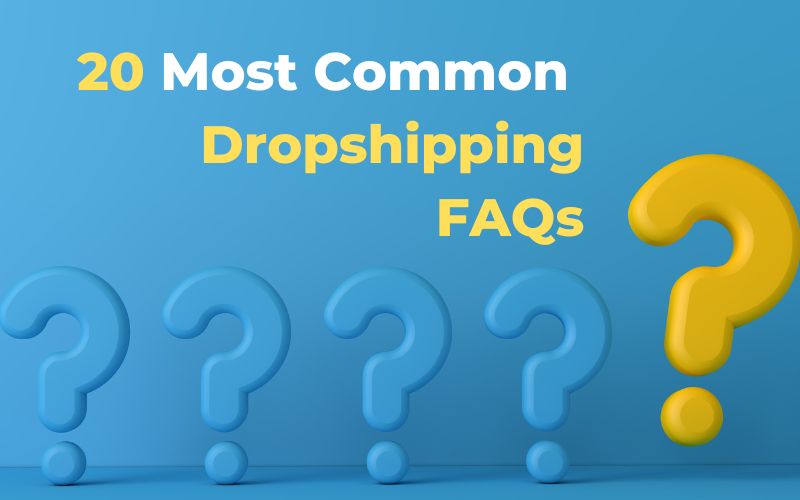 Let's have a look at what people are asking most and have these crucial dropshipping FAQs answered.
Having said that, I'll start with the most important and frequently asked dropshipping questions of all time.
1. Is Dropshipping Dead?
To put it in short, Dropshipping is not dead and it most certainly won't be any time soon.
How do I know that?
Well, the most basic reason is that We've seen the power of dropshipping first-hand ourselves. We know how powerful it is. But, obviously, that's not enough.
If you want to see facts, one of the best dropshipping answers We can give you is to have a look at the global eCommerce market size statistics. What's more, if we check on Google searches, we can confirm exactly the same. The dropshipping business model has no signs of stopping. 👇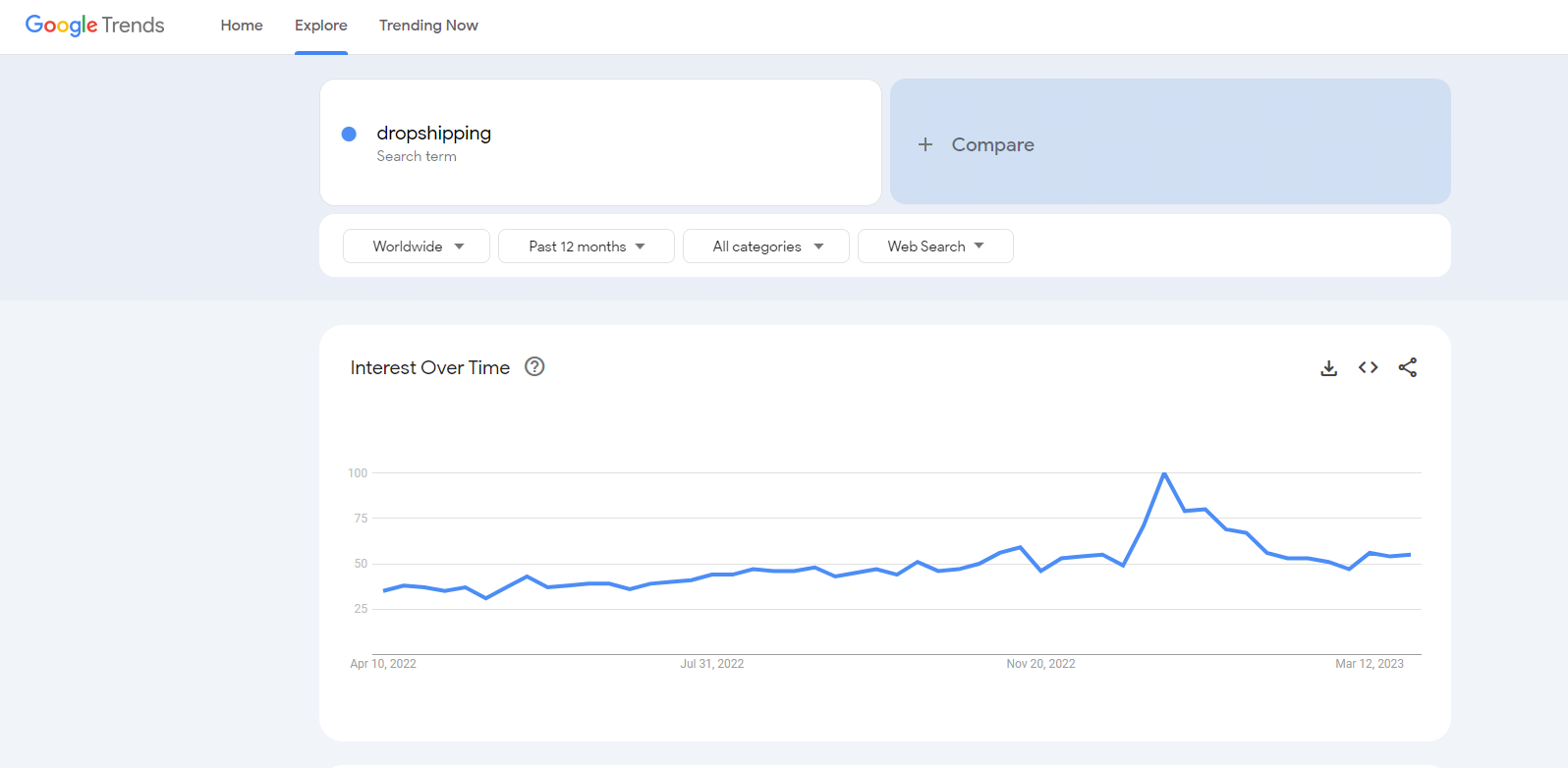 Also, if not personal experiences, who else to believe? There are lots of dropshippers nowadays that share their dropshipping stories. And, this doesn't look "dead" at all!
2. How Much Do Dropshippers Make?
First, this depends on various factors, like the dropshipping niche you are in, the dropshipping products you sell, your dropshipping supplier, how you run your dropshipping business, and many more!
💡 Read: How to Avoid Chargebacks: 9 Actionable Tips for Dropshippers.
However, on average, seasoned dropshippers make around $100.000 per year. Now, this also means that some dropshippers make over $200.000 but some will end up making nothing at all.
You should also know that this is nowhere near the limit of dropshipping. Thus, you can scale and even reach seven figures after you've mastered the craft.
For example, there are a lot of success stories about dropshipping, and the huge profits that these dropshippers make. 👇
However, it's only natural that this would be one of the most frequently asked dropshipping questions. People should definitely learn about the potential of dropshipping before they start.
👉 Also, check out the Best Dropshipping Products In Any Niche For Max Profits [UPDATED].
3. Is Dropshipping Legal?
Dropshipping is a completely legitimate business that helps people make money for years. This is actually one of the most important dropshipping questions to ask, as it holds a lot of people back.
In fact, chances are extremely high that you've already purchased a product or two from a dropshipping store online.
So, how can you be sure that dropshipping is legal?
Well, we have an entire guide on whether dropshipping is legal or not. But, let's also look at some examples.
We'll take Jack Bloomfield as an example, one of the best eCommerce and dropshipping businessmen in Australia. By the way, Jack is already a millionaire at only 19 years old. 👇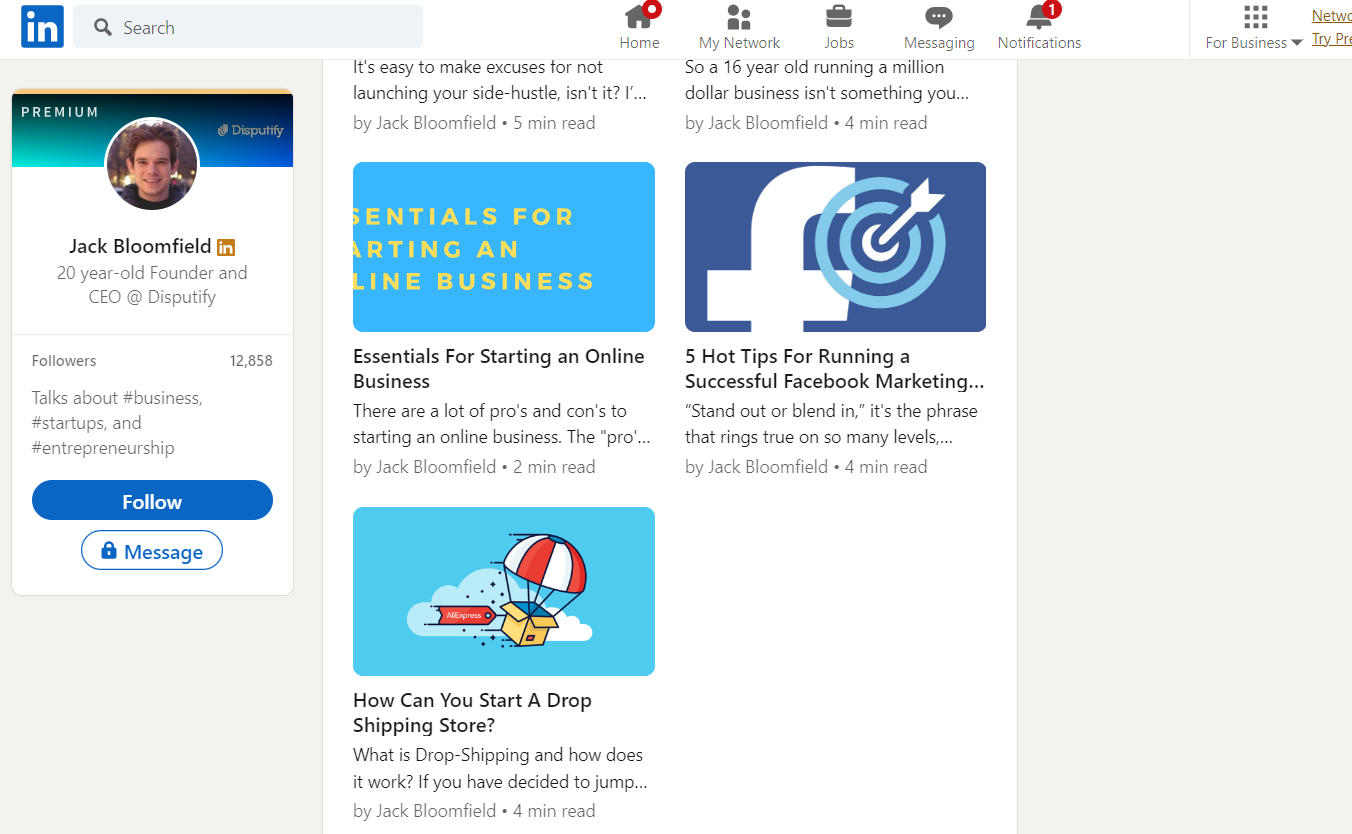 In addition, he runs several dropshipping businesses straight from Shopify. Jack also runs Disputify, an incredible Shopify app that helps dropshippers fight off refund fraud and similar dropshipping scams. 👇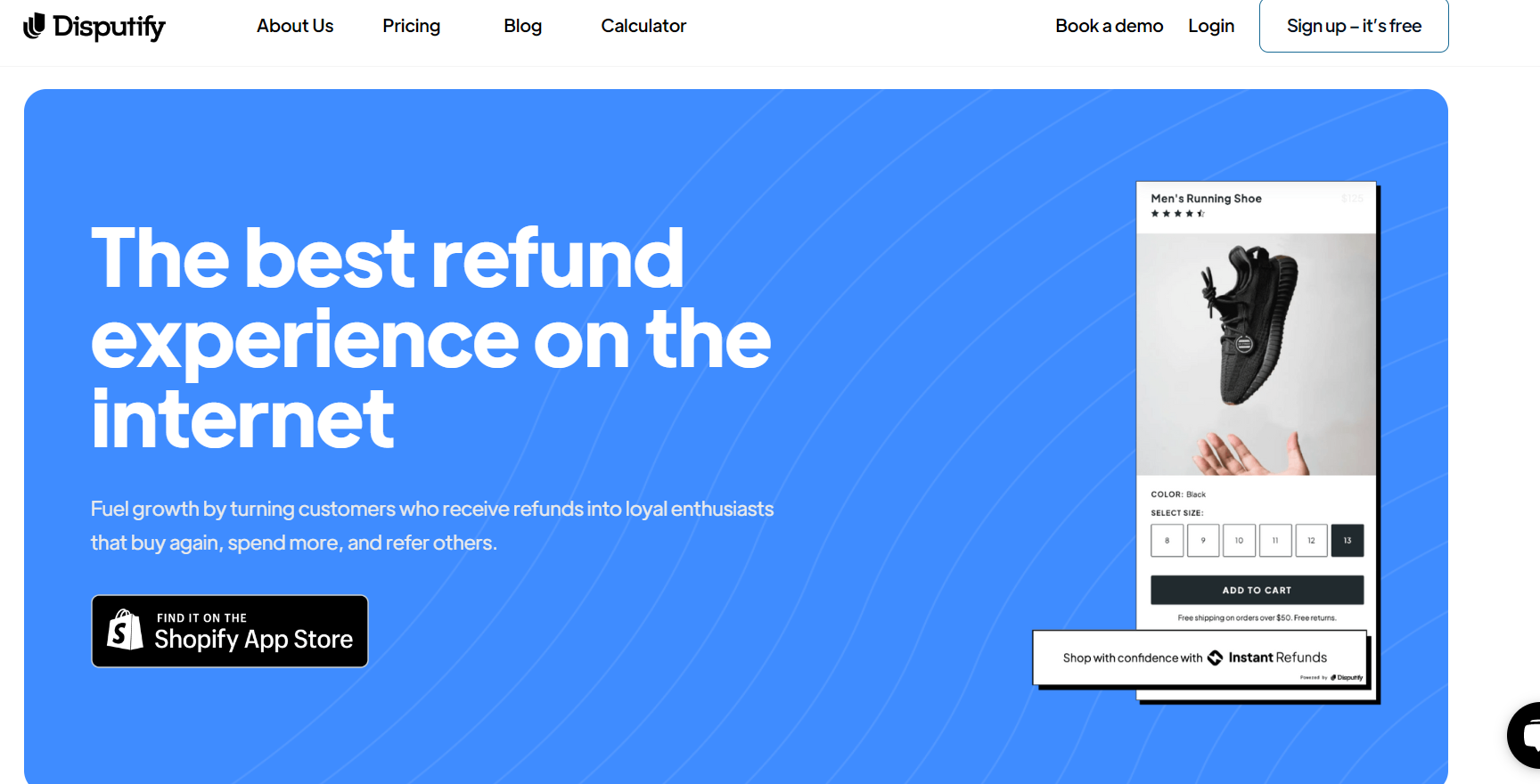 All of his stores are legit and have been functioning for years without issues even though he was a young teenager when it all started.
Furthermore, we can talk about many other companies that dropships, like Doba, Alibaba, AliExpress, SaleHoo, Brands Gateway, and many more! So, if we consider these giants, you probably don't think they are doing this illegally. It's impossible! So, yes. Dropshipping is 100% Legal.
4. Can I Get Rich With Dropshipping?
The dropshipping business model is a low-risk and highly profitable way to make money online that can easily become your full-time job. Thus, if you develop your skills, then yes, dropshipping can make you rich.
Having said that, it's quite hard to get rich quickly with dropshipping without learning any valuable skills, including copywriting, paid advertising such as Facebook ads for dropshipping, and more.
To sum it up, yes – it is possible, if you are patient and if you learn how to do it right!
💡 Tip: Learn How to Start Dropshipping for Free in 2023? (Risk-Free Guide).
5. Can I Start Dropshipping With No Money?
From the common dropshipping questions out there – Can I start dropshipping with no money? And the answer is clear – YES! You can definitely start dropshipping with no money. However, there are both upsides and downsides to this way of doing dropshipping.
The upsides of doing dropshipping with no money:
You will have incredibly high-profit margins
There's no stress from losing money on a bad product
It's an amazing way to learn quickly and hone your skills
The downsides of doing dropshipping with no money:
It's a much slower way to start earning money
It's more difficult to reach a lot of customers
Furthermore, if you want to start dropshipping with no money, we recommend you to read our guide – Free Dropship Websites: Start Dropshipping With $0.
Also, this dropshipper talks about how she started dropshipping business with no money using Shopify. Check it out! 👇
6. Can I Start a Dropshipping Business As a Teen?
As one of the most asked dropshipping questions by countless teens, it definitely deserves a thorough answer. Even though there are a few more challenges, you can absolutely start a dropshipping store as a teenager.
Thus, the main obstacle you come across as a teen is that you won't be able to have your own bank account and you can't use your own ID to verify your store.
However, there is a way around this. You can ask your parents or an older sibling to use their bank account. This way, the profits will go to that bank account and they can then withdraw them for you.
Also, here's advice from dropshippers to teenagers that want to start dropshipping. 👇
7. Is Dropshipping Too Saturated?
Compared to previous years, it's likely that you will find more competition today. However, that's not nearly as important as you may think.
Even if dropshipping is saturated, it doesn't mean you can't make any money. Far from it, actually.
Also, this only means that you have to focus more on creating value, branding your business, and truly helping your customers.
For example, check out Nick Barner's advice, and how he benefited from a saturated dropshipping product.
8. How Do I Find a Great Dropshipping Product?
Next, the dropshipping questions that are mostly asked are about finding winning products.
In order to find a successful dropshipping product to sell, you need to do a lot of research.
First, you can do this on your own. The easiest thing is to use Google Trends results and check out. For example, let's check on some product demand. Just type the keyword into the blank space, and there you go. 👇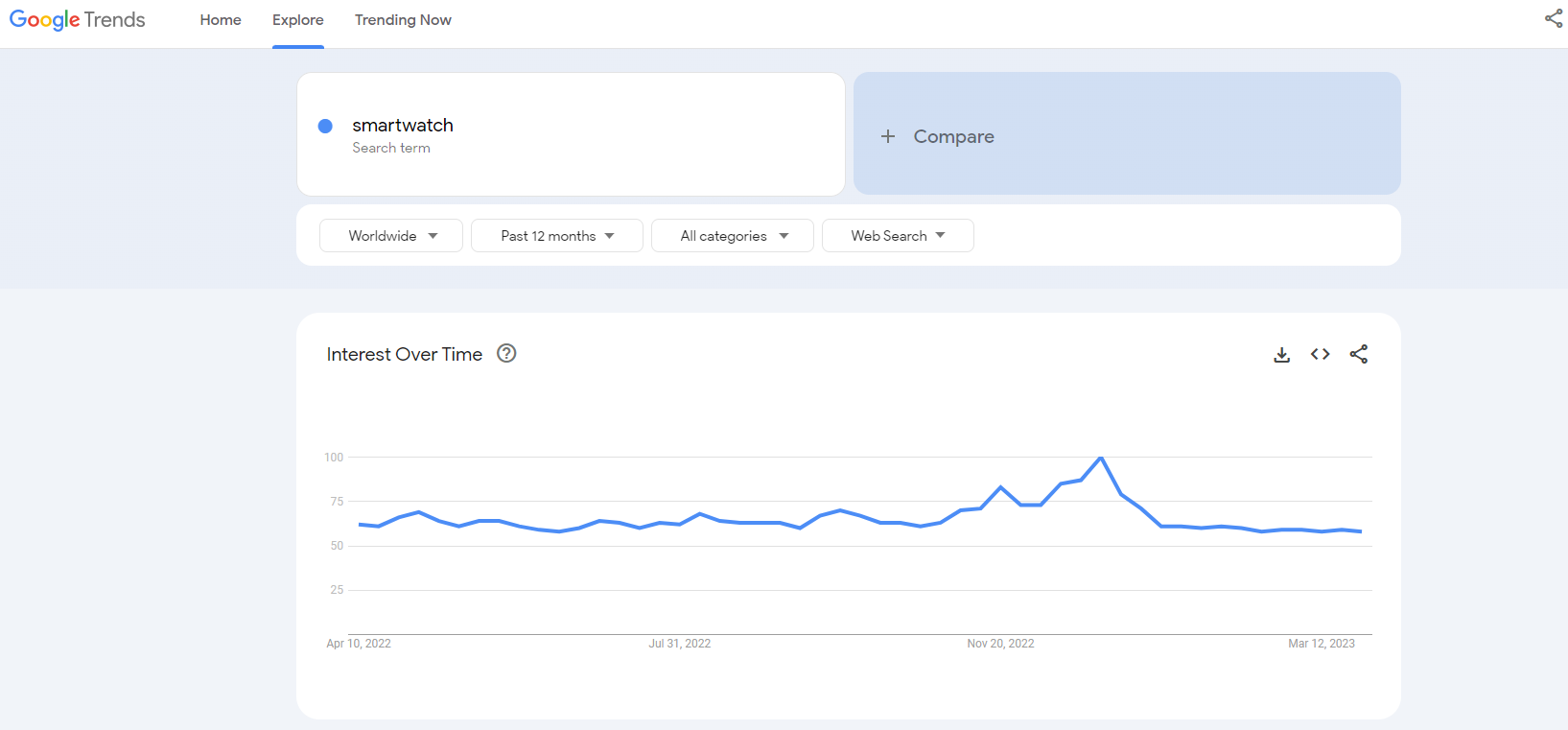 Moreover, you can use any dropshipping platform category that shows the "Trending products", " Best Sellers", etc. 👇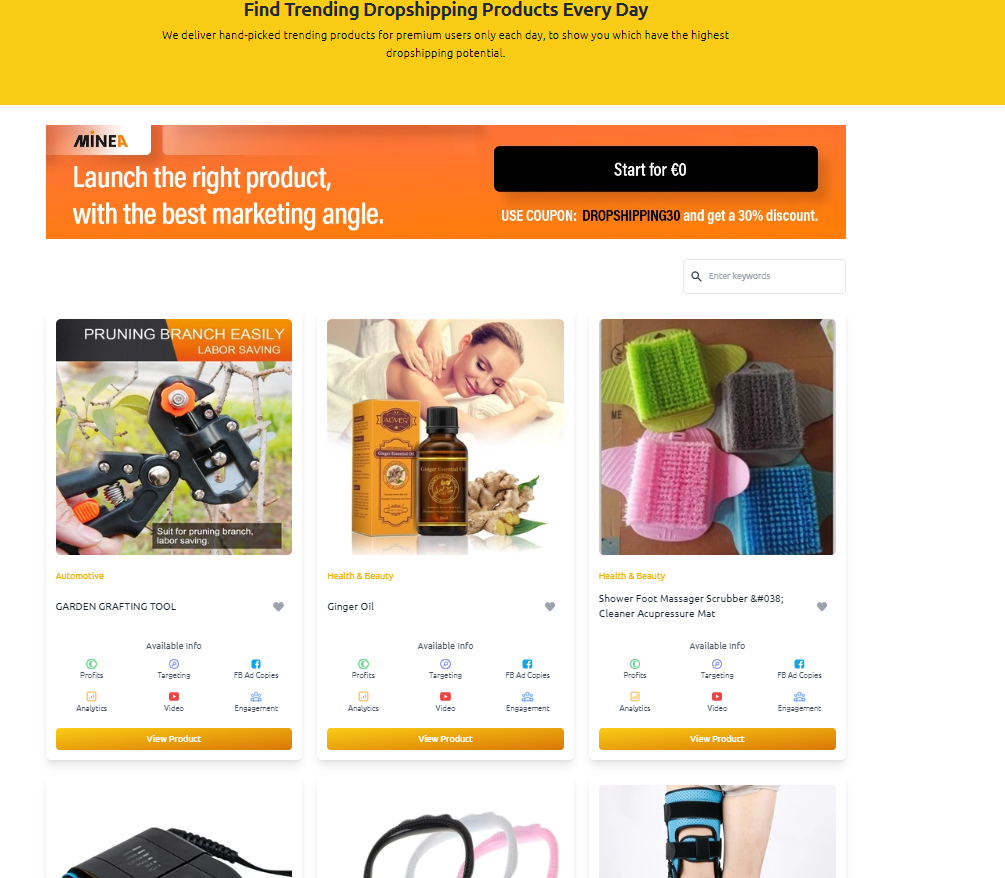 However, one of the most effective ways nowadays is using product research tools.
💡 Therefore, check out the Best Dropshipping Product Research Tools here.
Moreover, it's no secret that learning how to find a winning dropshipping product can highly impact whether you succeed in dropshipping or not. For that reason, you should put a lot of focus on this step of the process.
9. How to Create My Dropshipping Store?
You have three ways to build a dropshipping store. First, you can hire a website developer and let him build it for you. Next, you can use an open-source system like WordPress.
Lastly, the best way to build a dropshipping store is by using a website builder. Thus, the easiest way to create your dropshipping store is by using Shopify. From designing your store to importing lots of products, fulfilling dropshipping orders, and everything in between.
👉 Here Learn the Step-By-Step process of How To Set Up Your First Store On Shopify [For Dropshipping Beginners].
Also, check our quick steps about these types of dropshipping questions:
Sign up for Shopify. Go to Shopify's website and click on the "Get Started" button to create an account. Fill in the required information, including your name, email address, and store name.
Choose a plan. Shopify offers different pricing plans to suit different business needs. Choose the plan that best fits your budget and needs.
Customize your store. Select a theme that best reflects your brand, and customize it to your liking using Shopify's drag-and-drop interface.
Add products. Click on the "Products" tab in your Shopify dashboard and fill in the necessary information for each product, including the product name, description, and images.
Set up payment and shipping. To receive payments for your dropshipping products and ship them to your customers, you need to set up payment and shipping methods. Shopify supports a range of payment gateways and shipping providers, so choose the ones that best suit your business needs.
Launch your store. Lastly, click on the "Launch Website" button in your Shopify dashboard, and your store will be live.
On the other hand, you can still use a lot of amazing Shopify alternatives that you might even find easier to use.
10. Why Would Customers Buy From Me and Not from AliExpress or Amazon?
If you correctly utilize paid advertising, you will mostly be selling to customers who don't even know your products exist on AliExpress. In addition, you will never be able to build a dropshipping brand or a loyal customer base. And, who doesn't want that?
In fact, customers seek unique products and personalized customer service. And, these are the things that you cannot deliver using AliExpress or Amazon, but your own dropshipping store.
Furthermore, you can build a recognizable dropshipping brand, and build trust and credibility.
Moreover, there are numerous dropshippers that also suggest not using AliExpress as your dropshipping platform. Thus, type it wherever you want, and you will find dozens of videos about it!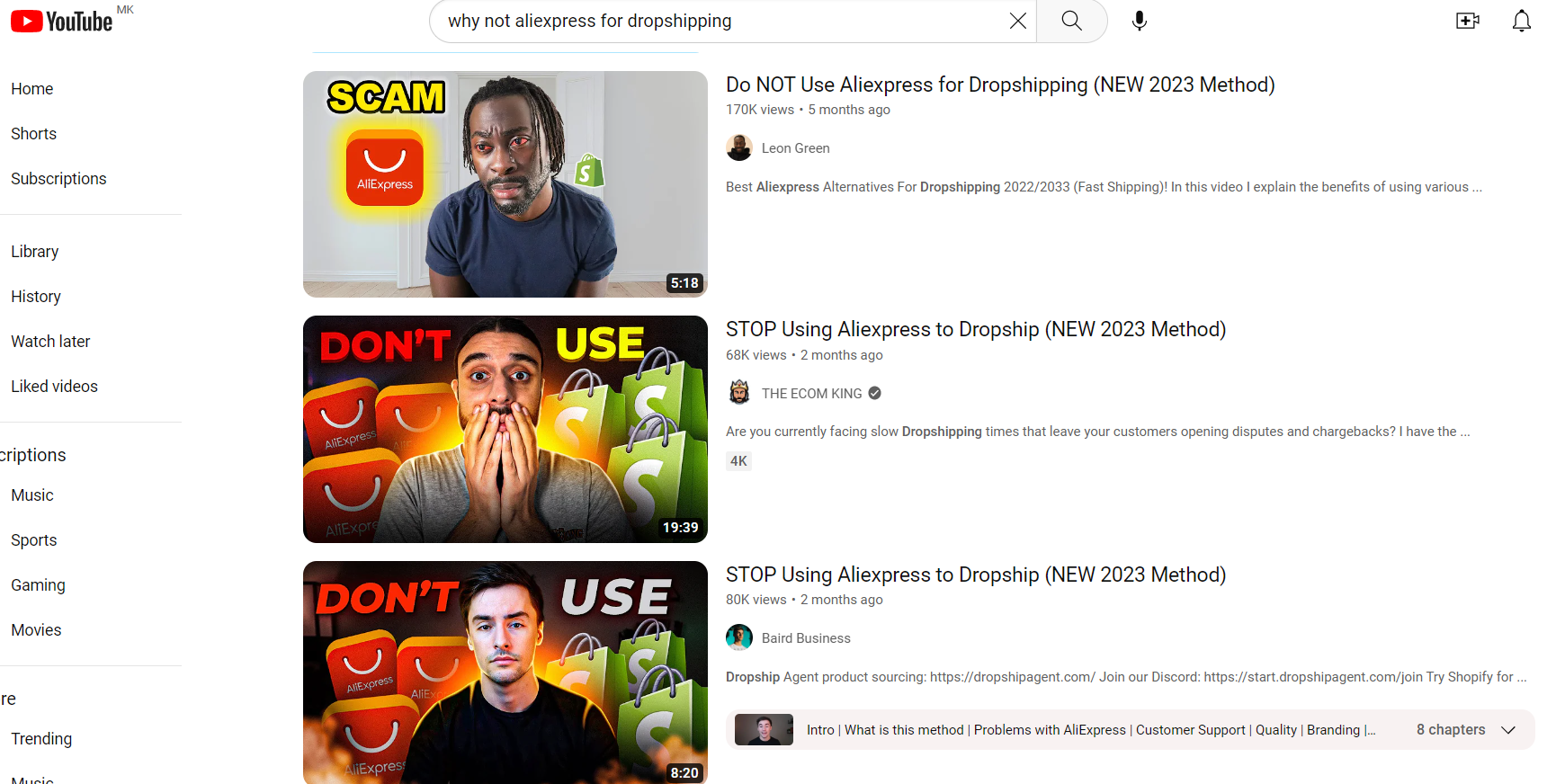 11. How Do I Handle Dropshipping Refunds?
The first thing you need to focus on is having as few chargebacks and returns as possible.
You can do this by providing great shipping times and making sure your supplier doesn't send damaged products. You also must make sure to create a clear dropshipping return & refund policy.
Furthermore, your refund policy should be easy to understand and outline the circumstances under which you will issue refunds to customers. Thus, you should include details such as the timeline for returns, the conditions of the returned items, and any restocking fees or shipping costs that may apply.
More importantly, don't forget to be responsive! Thus, when a customer requests a refund, respond promptly and professionally. Also, give clear instructions on how to initiate the return process and any information they need to provide, such as proof of purchase or tracking information.
💡 LEARN: Dropshipping Returns: How to Set up & Manage Your Shopify Return & Refund Policies? [Full Guide].
On the other hand, if you do struggle with lots of chargebacks, you can take advantage of third-party services like Chargeflow. They deal with returns, chargebacks, disputes, and similar uncomfortable and time-consuming situations so you don't have to.
Also, don't forget to add on Refund Policy category on your website. This way, customers can read it on their own. 👇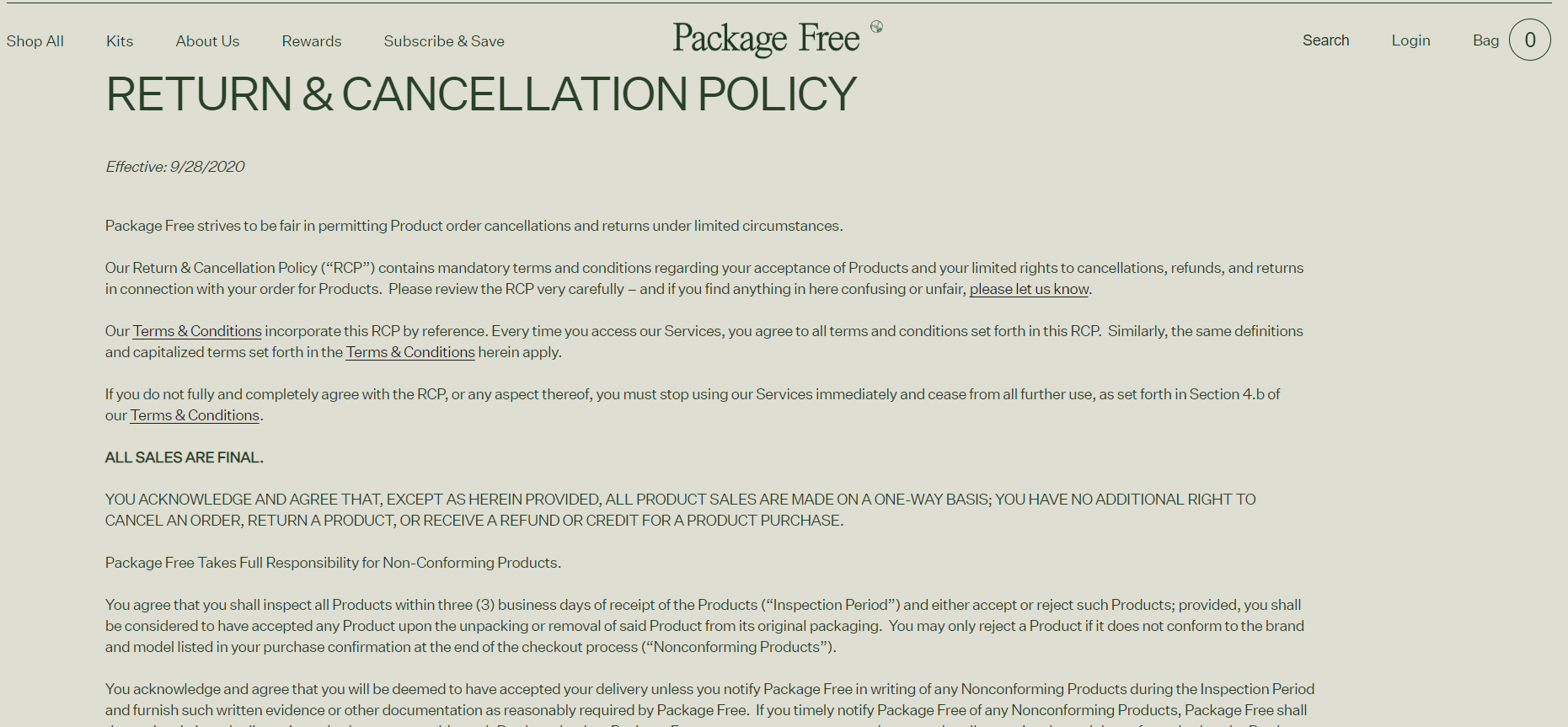 12. How to Pay Taxes When Dropshipping?
How you pay dropshipping taxes and how much you pay usually depend on where you live. This is oftentimes paid annually and based on a fixed percentage.
👉 Learn about Dropshipping Taxes and Payments – Must-Know Facts.
Just like any other business, paying taxes is important and should not be skipped. In addition, you can always hire an accountant or bookkeeper to take care of all this for you and hopefully even save you some money in the end.
13. Will Dropshipping Be Profitable in 2023?
Next, one of the most common dropshipping questions. Is dropshipping profitable?
There is no reason to indicate that dropshipping won't be profitable in the upcoming year. In fact, statistics and market predictions have lots of good news about dropshipping and the eCommerce market. 👇
The latest dropshipping statistics reveal that the global dropshipping industry is expected to soar to $243.42 billion in 2023, marking a staggering 23.7% growth from 2022 figures. This marks the first time the industry has surpassed $200 billion, signaling a shift towards an increasingly digital economy.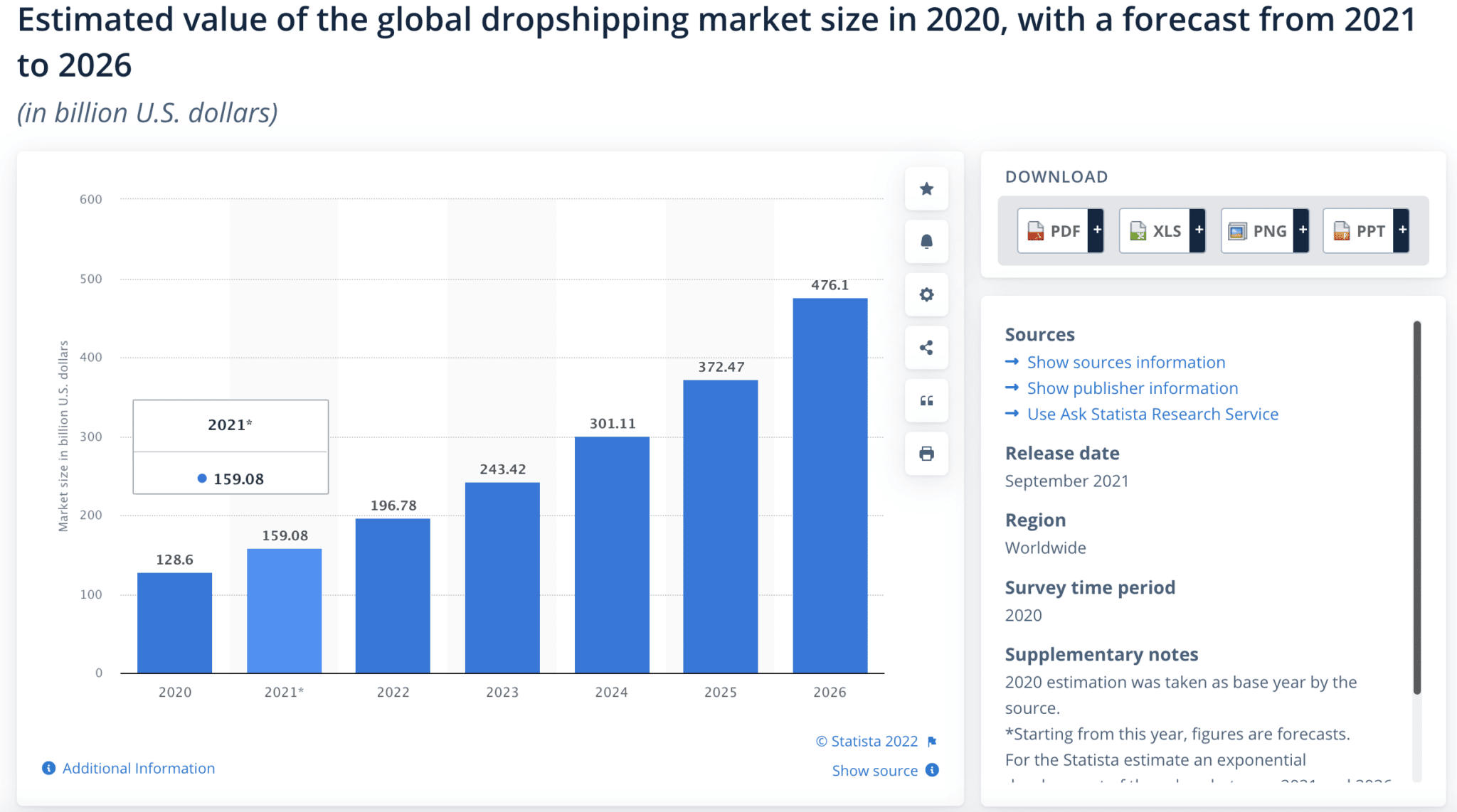 But the growth doesn't stop there. By 2027, experts predict the dropshipping business to be worth an impressive $500 billion, with forecasts showing a promising CAGR of 27.1% from 2022 to 2031.
In fact, analysts predict that the dropshipping market will reach $301.11 billion in 2024 and a whopping $372.47 billion in 2025.
👉 Check on the latest Key Dropshipping Statistics & Facts: Is The Dropshipping Market Growing?
14. How To Deliver Good Customer Service?
Delivering good customer service is essential for any dropshipping business.
In fact, experts recommend responding promptly to customer inquiries, being transparent and honest, offering personalized solutions, and going above and beyond to exceed customer expectations.
What's more, you should offer them multiple ways to contact you, like email, Live Chat, social media, phone number, etc.
💡 Tip: Read about Customer Service for Dropshipping: The Ultimate Guide of 2023.
15. How Much Money Do I Need To Start Dropshipping?
The answer to these kind of dropshipping questions mostly depend on your dropshipping business needs. Thus, it might cost you as low as $100-200, or as high as $500-2000.
Wondering how we are so certain about these numbers? Well, we pretty much calculated everything for you.
👉 Therefore, read about How Much Does It Cost To Start Dropshipping In 2023?
Also, there are various dropshippers that share their experience on this. For example, this dropshipper talks about how he started dropshipping with only $100. 👇
Moreover, if you have more budget to start, this dropshipper explains how he started dropshipping with Shopify for $1500. 👇
16. Why Do I Have Traffic On My Dropshipping Store But No Sales?
Having traffic on your dropshipping store but no sales can be frustrating.
Thus, we recommend you use strategies for optimizing your website for conversions, targeting the right audience, improving your product offering, and providing exceptional customer service to improve your sales.
What's more, it is also common that you have the best product, or deliver the best customer service, but still not getting the sales you expect. Therefore, we suggest you to inspect your conversion rates. Here's your formula: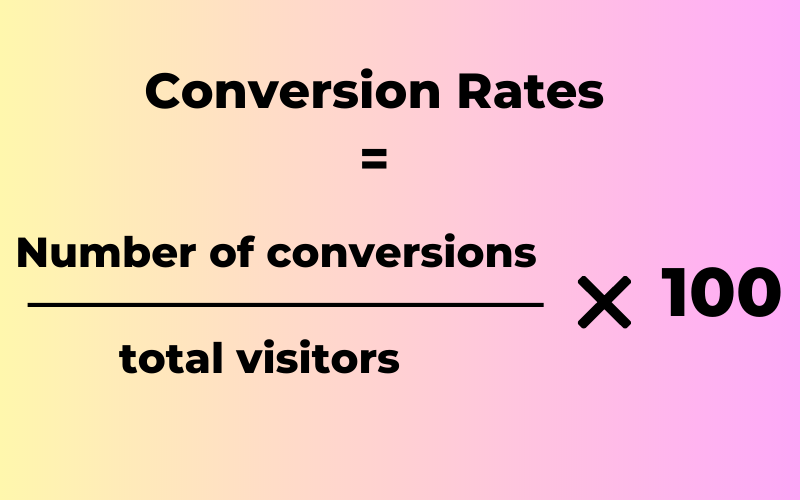 👉 Thus, here you can learn 15 Ways to Double Your Dropshipping Conversion Rate On Your Store.
17. Why Do Dropshipping Businesses Fail?
Dropshipping businesses can fail for many reasons, including:
choosing the wrong niche
poor product selection
lack of differentiation
high competition
insufficient marketing efforts
bad store navigation
long checkout process, etc.
In fact, if you search the internet you will find many dropshipping fail stories. But these people also suggest to learn from their mistakes, and what cause them fail.
For instance, here is what one dropshipper Marcelo advice you not to do. His story is about choosing the wrong dropshipping suppliers, and what this caused him. 👇
My first f***up was to select a supplier whose quality was not very good, which caused me a lot of complaints and returns. I refunded any customers that complained, which took a big part of my profit, plus I wasn't feeling proud of what I was selling.

My second supplier's product quality was much better than the first one, and I realized the difference between the quality of the same product from different suppliers can be huge. I compared the same item from both suppliers and there was a clear difference between the two items.

My advice is to be sure to get the best quality for a reasonable price. Now, with my new supplier refunds have decreased, and I feel proud of what I sell.
💡 Here's an answer to one of the most common dropshipping questions: What Are The Most Common Pitfalls and Mistakes In Dropshipping?
And don't forget! Customers talk! They leave reviews, comments, and nowadays Reels and short videos! This can really give you bad reputation. For example, try typing on "bad customer service" in TikTok search bar. What results did you get?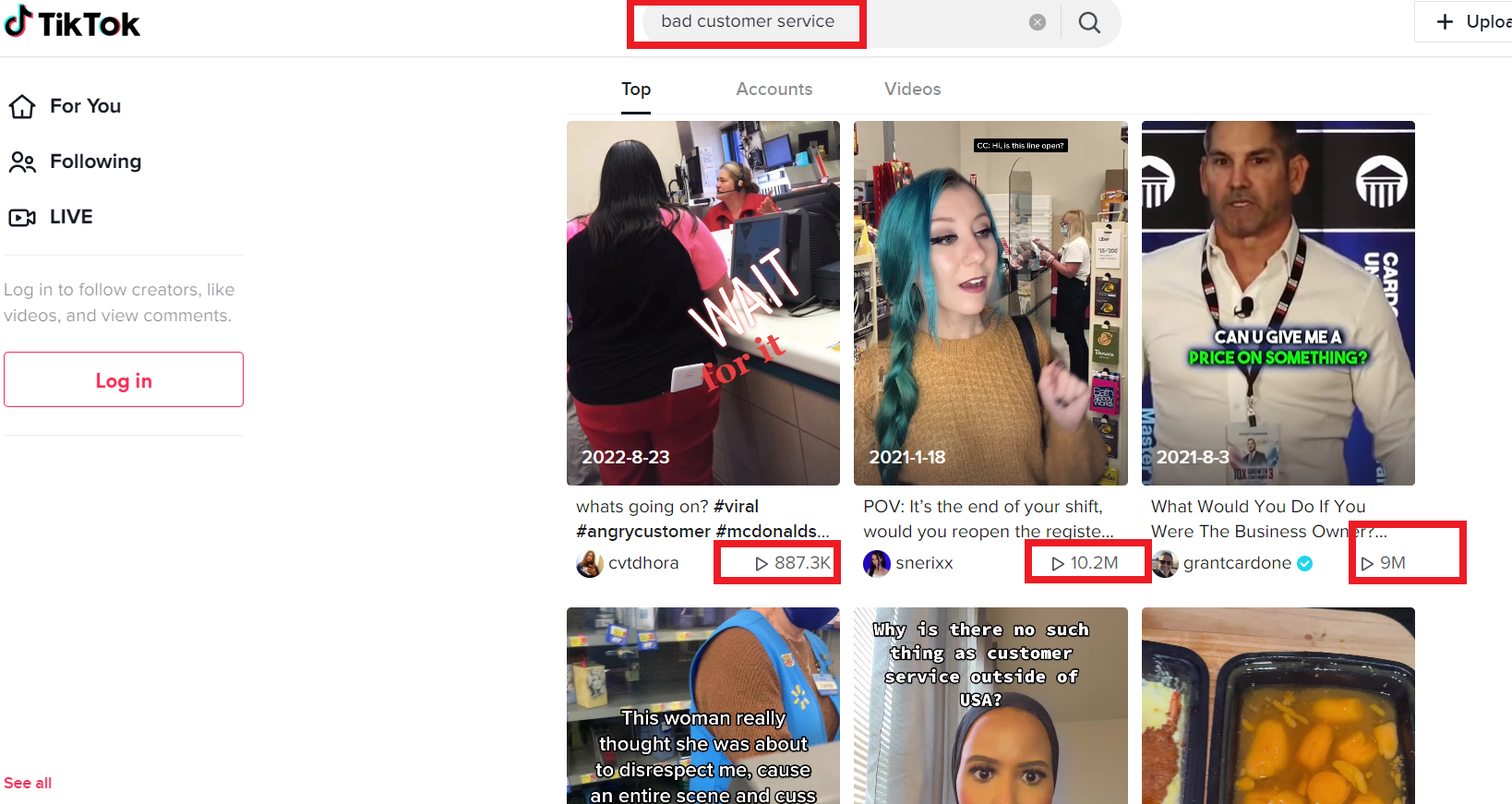 We got dozens of videos with even a milion views. And we bet you don't want to be on that list.
18. Who Pays for Shipping in Dropshipping?
In dropshipping, the customer pays for shipping. Hence, the supplier or manufacturer ships the product directly to the customer on behalf of the retailer, and the cost of shipping is included in the final purchase price.
19. Do You Need to Register Your Business to Dropship?
This depends on your location and the laws and regulations in your country or state.
In most cases, you'll need to register your dropshipping business and obtain any necessary licenses and permits to operate legally.
Thus, if you are from the US, this video might be all you need to learn abou registering dropshipping business. 👇
20. Which Countries To Target While Dropshipping?
The best countries to dropship your products are:
1. United States
2. Switzerland
3. United Kingdom
4. Australia
5. Germany
6. Canada
👉 Also, here you can check on the 15 Best Countries For Dropshipping To Target In 2023.
Find winning dropshipping products & spy on your competitors
Minea analyses all online advertising to help you find the best products to launch, and the best creatives in your niche in just a few clicks.
Use coupon: DROPSHIPPING30 and get a 30% discount
💡Try Minea For Free
Discover top dropshipping suppliers of original US/EU products
You're 2 minutes away from building your ecommerce empire
No credit card required. No commitment.
Get started for free
Conclusion
In conclusion, dropshipping can be a lucrative business opportunity, but it requires a lot of hard work and dedication to be successful.
Thus, the answers to these frequently asked dropshipping questions should provide you with the knowledge and insight they need to increase their chances of success. In fact, you will get valuable info and advice about everthing from delivering good customer service to choosing the right countries to target.
By applying the tips and strategies shared by experienced dropshippers, you can save time, increase sales, convert more customers, and build a loyal customer base.
Remember to always keep learning, experimenting, and adapting to changes in the ecommerce industry to stay ahead of the competition. Happy Dropshipping!