Dropshipping Books – How To Sell Books Without Inventory
by
Aleksandra -
Aleksandra teaches marketing and management at various levels in High School. She writes about marketing, the economics and logistics of the dropshipping business and ecommerce in general.
Chief of Content Marketing
Ever dreamt of running a bookstore without the hassle of inventory management? Well, get ready to turn that dream into reality as I delve into the fascinating realm of dropshipping books. 🚀
In this article, I'll unravel the magic behind dropshipping, a retail fulfillment method that lets you sell books without stocking a single one. Imagine being the mastermind behind a virtual bookstore where the shelves are limitless, and the investment is as light as a feather.
Also, curious about the profitability of dropshipping books? From low initial investments and a vast product selection to reduced overhead costs and easy scalability, let's discover it all!
What Is Dropshipping & How Does it Work? 
Dropshipping is a retail fulfillment method where a store doesn't keep the products it sells in stock. Instead, when you sell a product, you purchase the item from a third party (usually a wholesaler or manufacturer) and have it shipped directly to the customer.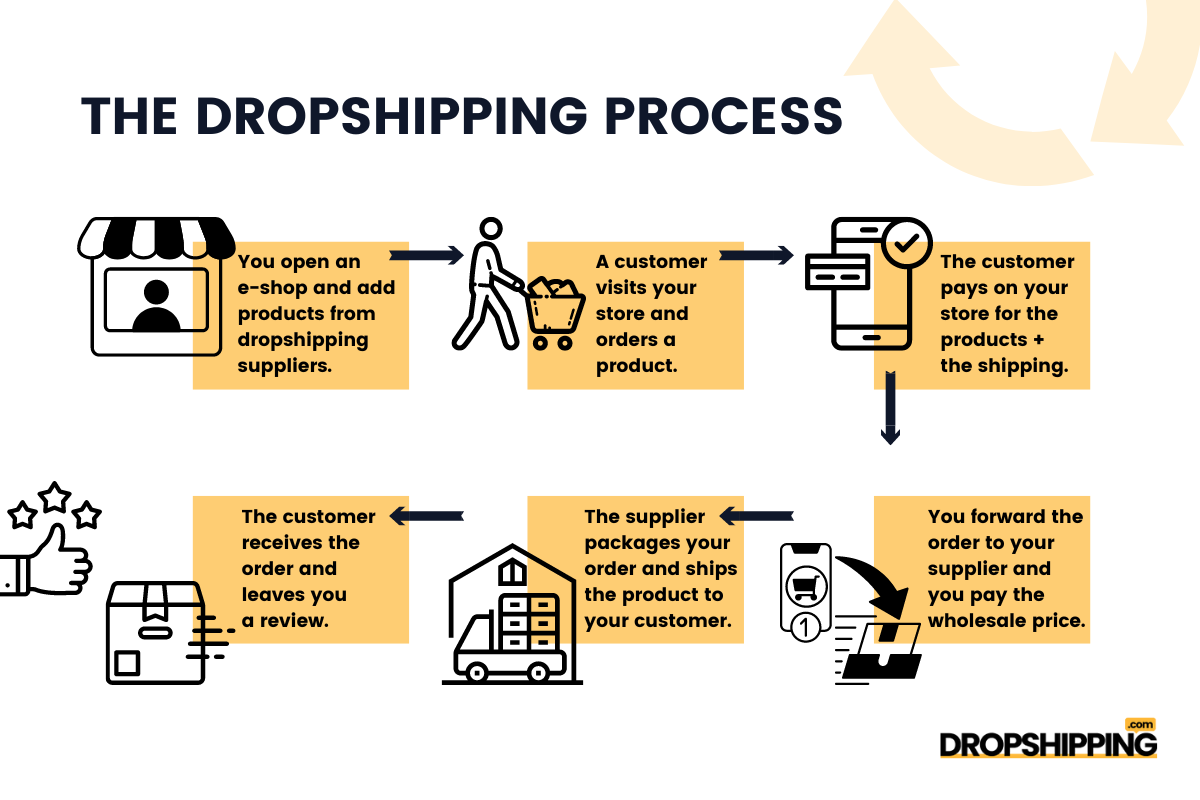 Now, imagine you have a virtual store, but instead of stocking products yourself, you partner with suppliers. When a customer buys something from your store, you purchase the item directly from your supplier, who then ships it directly to the customer.
Thus, it's like being a middleman without handling the actual products. Instead, you focus on marketing, customer service, and managing the online storefront, while your suppliers take care of inventory and shipping. It's a bit like having a magic store where you sell things you don't physically own.
💡 Tip: Check out Everything You Need To Know: Dropshipping Business Model Explained.
Lifetime deal: Get all-access to everything on Dropshipping.com
Access all DSCOM features, resources, courses, live workshops, discounts, winning products, weekly deep dives, directories and all future updates under all-in-one dropshipping HUB.
DROPSHIPPING IS A REAL BUSINESS, DON'T DO IT ALONE. 4553 MEMBERS ALREADY JOINED. YOU CAN PAY OFF YOUR SMALL INVESTMENT WITH JUST 2 SALES ON YOUR STORE.
Grab the deal before it's gone
Why Dropship Books Online?
There are several reasons why dropshipping books can be a successful venture for newcomers. In fact, based on my experience, here I will mention a few of them.
✅ Low Initial Investment
Imagine starting a bookstore without the hefty upfront costs. Dropshipping lets you dip your toes into the book-selling world without needing a small fortune.
In fact, it's like opening a bookstore with a magical "no need for a massive investment" spell. Thus, sourcing books does not need a great investment, like for instance, dropshipping luxury brands.
Moreover, you don't need to purchase inventory in bulk, reducing the financial risk associated with stocking products.
✅ Wide Product Selection
With dropshipping, your bookstore can be a treasure trove of diverse books. No need to worry about cramming shelves or finding extra room for that new bestseller. Remember, you are not storing them physically, but on your online store.
Thus, this allows you to provide a diverse and extensive catalog to your customers without the constraints of physical storage space.
✅ Reduced Overhead Costs
Operating costs are generally lower in dropshipping because you don't have to manage a warehouse or handle the costs associated with inventory storage, such as rent, utilities, and insurance.
💡 Tip: Learn How To Dropship With A US Warehouse.
✅ Test and Adapt Products Easily
Dropshipping enables you to test different book products without committing to large quantities upfront. So, if a particular book doesn't sell well, you can quickly switch to other products without incurring significant losses.
✅ Scalability
As your business grows, it's relatively easy to scale up since you don't have the limitations of physical inventory management.
Therefore, you can add new books to your catalog and expand your customer base without the logistical challenges of traditional retail.
✅ Access to Global Markets
Since you don't need to worry about shipping and handling logistics, dropshipping allows you to sell to customers around the world.
So, this opens up the potential for a broader customer base and increased dropshipping sales.
Is Dropshipping Books Profitable?
I would say, definitely YES! Let's see why.
Firstly, based on the Global Book Sales Statistics report, in 2023, the revenues made from selling books worldwide was around $78 billion, which is a bit more than last year by 2.53%. 
Also, if we look at the numbers, the global market for e-books is predicted to grow at a rate of about 4% every year from 2021 to 2026.
In fact, every year, more than 2.2 billion books find new homes. And, the biggest book buyers are the US, China, the UK, Germany, and Japan. Together, they make up nearly two-thirds of all the books sold globally. Well, these are facts dear dropshippers!
The more exciting part is your target audience! People aged 18-35 really like e-books because they're easy to get and don't cost too much. E-books offer a bunch of different kinds of stories, making reading more personal. 
Furthermore, people still love fiction, and sales prove it! Fiction sales jumped by 9%, hitting £797 million. In addition, UK books in the global market also saw an 8% increase, raking in £4.1 billion. So, Alice Oseman's Heartstopper series played a big role, making UK literature even more popular worldwide.
On the other hand, people between 35-50 see e-books as a handy way to read and discover lots of different stories without making a mess with physical books.
Plus, when it comes to dropshipping, according to the most recent dropshipping statistics, the global dropshipping industry is expected to reach $301.11 billion in 2024.
💡 Tip: Check out the 11 Best Dropshipping Books in 2023: How To Become a Better Dropshipper.
Best 6 Types Of Books To Dropship in 2023
Here I will list you the best seller book categories in 2023. Also, I want to point out the profitability chances.
In fact, all these books are way cheaper to buy online. For example, self-help books cost $10 to $30 in physical stores, while online prices range between $5-15. However, let's discuss this in more detail.
1. Self-Help and Personal Development
These books offer practical advice, motivation, and strategies to overcome challenges and achieve success in various aspects of life.
In addition, the price range of these books is $5 to $15, and the potential profit margins are around 30% to 60%.
What's more, based on Google Trends results, these products are constantly on the rise. However, if you are willing to add them to your dropshipping store, this might be the perfect timing. Check this out. 👇
2. Cookbooks and Recipes
Customers are interested in trying new recipes, exploring different cuisines, and improving their cooking skills. And, cookbooks provide a source of inspiration, creativity in the kitchen, and solutions for meal planning.
These books' price range is between $5 to $20. Also, the potential profit margins range between 25% to 50%.
Moreover, based on Google Trends results, the product demand is constantly increasing. However, the period between November and December is the best for adding them to your store.
3. Fictional Novels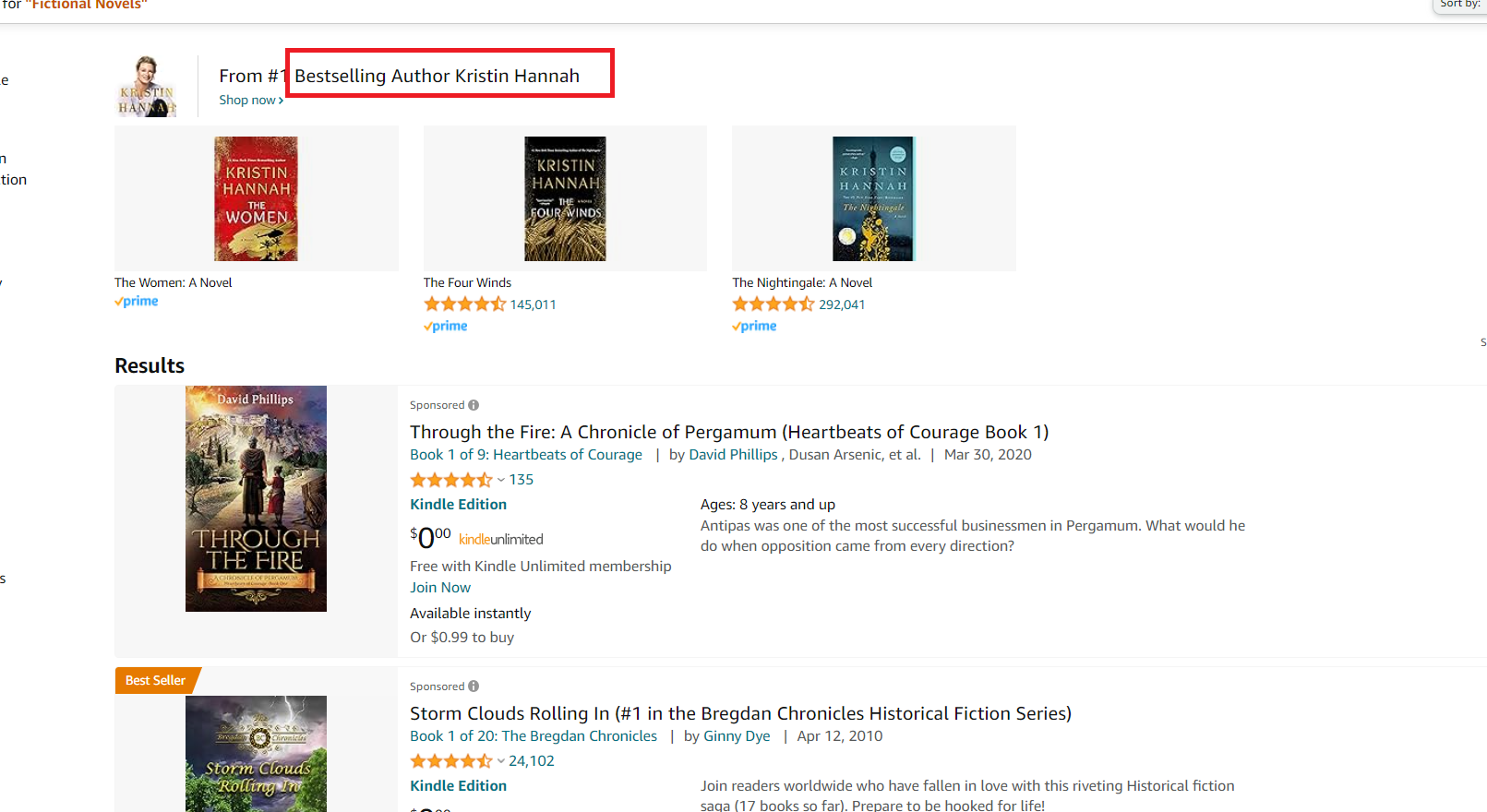 So, what's the buying intention for these books? Readers purchase novels for entertainment, escapism, and the enjoyment of a well-crafted story. Thus, novels can transport readers to different worlds, offer emotional experiences, and provide a break from reality.
As for your side of the story as a dropshipper, these books' price range can be as low as $3 to $40.
However, keep in mind that potential profit margins for these products vary. In fact, the success often depends on the author's reputation and marketing efforts. However, they go between 20% to 40%.
Also, Google Trends results show that interest over time for these books varies. 👇
However, I think that these results are because of the different keywords users use to search. In fact, they usually go straight for the book title or genre, like science fiction.
4. Educational and How-To Guides
So, customers buy educational books to acquire new skills, deepen their knowledge in a particular area, or solve specific problems. In fact, how-to guides provide step-by-step instructions and practical information on a wide range of subjects.
The price range for these books is as low as $5 to $20, and can also be up to $70 to $100. Also, the profit margins are around 30% to 55%.
Furthermore, based on Google Trends results, you don't have to worry about users' interest over time, because is constantly rising.
5. Health and Wellness
Customers are interested in maintaining or improving their physical and mental well-being. So, the health niche really rocks the market!
So, here you have a wide range of books to offer, like those that provide information on nutrition, fitness, mental health, and overall lifestyle choices to help readers lead healthier lives.
Furthermore, the price range for these products can be as low as $5 up to $80, but also they can have higher prices like $200-500. And the potential profit margins range between 35% to 65%.
The best part is that these books demand goes like crazy! Based on Google Trends results, they are constantly high. 
6. Business and Finance
Lastly, these books provide users with practical business advice, case studies, and financial strategies. And, your target audience is online sellers, dropshippers, professionals, entrepreneurs, or anyone that wants to start or grow their business.
Also, these books' prices range between lower between $10 to $30, and higher between $200-800. Moreover, the potential profit margins are around 40% to 70%.
Plus, based on Google Trends, these books have no signs of slowing down!
How To Dropship Books In 2023 ( My Step-by-Step Process)
➡ Pick a Dropshipping Books Niche
To start off, it's crucial to narrow down your focus by choosing a specific niche. Consider who you're targeting and what they're interested in.
Also, take some time to explore dropshipping stores related to your chosen niche by seeking inspiration from various sources. This will help you generate ideas for your products.
For example, I use Google Trends to check the popularity and demand for keywords like "science fiction." Seeing a consistent demand for these products gives me the green light to proceed with my research.
What's more, I also rely on product research tools like Minea. These tools assist me in figuring out if a product is profitable, in demand, and how well it sells. 
Additionally, by checking out what Minea discovers while keeping an eye on competitors across various social media platforms, I get extra information about each product and how customers interact with them.
➡ Select Reliable Dropshipping Books Suppliers
The choice of your supplier is a key factor in the success of your online business. It's essential to find a trustworthy supplier that offers high-quality, reasonably priced products and ensures prompt shipping to your customers.
For my dropshipping books, I turn to the Dropshipping.com supplier directory, which provides a list of over 2000 reliable suppliers. 
This free directory allows me to tailor my search based on my specific niche, supplier location, shipping costs, and other criteria.
It also provides valuable information about each supplier's pricing, order processing time, minimum order quantity, warehouse location, product range, and more.
➡ Set Up Your Dropshipping Books Store
Now, you need a place to showcase and sell your dropshipping books, and that is your online storefront.
Personally, I find website builders to be a convenient option for creating a store. This method saves time and effort while still achieving an impressive look. 
In my view, Shopify stands out as the top choice due to its user-friendly interface and a variety of visually appealing themes, both free and paid.
Additionally, Shopify offers customization options so you can organize your store according to your preferences. Once you've sourced your products, you can easily upload them to your dropshipping store.
What's more, this platform seamlessly integrates with various dropshipping apps and tools, that help you automate your supply chain process for your business.
And, the best part? Shopify Magic AI tool really does magic. With it, you can effortlessly generate product descriptions, emails, blog posts, and more. 👇
💡 Tip: Learn How To Set Up Your First Store On Shopify [No.1 Beginners Guide].
➡ Market Your Dropshipping Books Store
This step is crucial for success. Without effective marketing, your dropshipping store won't generate sales.
Fortunately, there are various marketing techniques available to drive traffic to your e-commerce store.
I recommend starting with search engine optimization, social media advertising, email marketing, and paid promotions. These strategies will enhance your online visibility and help you reach a broader audience, ultimately bringing more potential customers to your store.
Also, with platforms like Facebook, Instagram, and TikTok to create engaging content, run targeted ad campaigns, and interact with potential customers
Moreover, you can narrow down your target audience, thanks to its array of robust targeting tools, and set various ad goals and specifics. 👇
Furthermore, you can optimize your sales by implementing marketing tactics such as cross-selling, up-selling, and offering promotional codes. These techniques encourage customers to make additional purchases or upgrade their existing ones, leading to increased revenue.
Consider integrating video marketing into your dropshipping strategy to visually showcase your products, highlight their features and benefits, and demonstrate effective usage.
I love talking about marketing, and I gave you some of the best tips to boost your sales. But, now, let's talk about some logistics. 👇
Top 10 Suppliers For Dropshipping Books
Amazon.com is one of the world's largest and most popular online retail platforms. It was founded by Jeff Bezos in 1994 as an online bookstore, but it quickly expanded its product range to include a wide variety of goods, including electronics, clothing, books, music, and more.
When it comes to dropshipping books, this supplier has it all! Whether you want art books, self-help books, medical, fiction books, business books, or cookbooks, the list is huge! 
Moreover, I have an interesting statistic about Amazon books, Amazon sells at least 300 million print books every year.  Also,  the company reportedly controls at least 40% of the print book sales in the States.
Furthermore, the price range of their books is from as low as $3 up to $800. 
In addition to their services, Amazon FBA works by allowing me to send my inventory to Amazon's fulfillment centers, where they handle the storage, packing, and shipping of my products. 
Also, they integrate with many other popular platforms, like Shopify, Microsoft, Adobe, Red Hat, HubSpot, WooCommerce, etc..
👉 Check out the 20 Best Dropshipping Suppliers For Amazon In 2023.
Second, on my list for dropshipping books is AliExpress. This supplier also has lots of options for selling books online. Thus, here you can buy magazines, novels, kids' books, education and teaching, science books, fictional ones, etc. 
The choice is lesser than Amazon, but still, you have great options. Moreover, the prices are pretty affordable, ranging from $1 up to $200.
However, the shipping times are pretty long. So, the average shipping time is around 15 to 30 days but can be up to 45 to 60 days as well. Also, they have a pricier shipping option- Aliexpress premium shipping for shipping items from 7-15 days.
👉 Learn How to Reduce AliExpress Shipping Times in 2023.
Alibaba Group is a Chinese business that focuses on retail and online shopping. It started in 1999 with the goal of linking Chinese makers and suppliers with worldwide wholesalers and sellers.
Today, it is actually one of the largest e-commerce companies in the world. In fact, Alibaba Group owns several online marketplaces, including Alibaba.com, AliExpress, Tmall, and Taobao. 
When it comes to dropshipping books, Alibaba has more than 90.000 choices from most trending books. Also, it offers affordable prices and bulk orders ranging from as little as $0.30-4.50.
Furthermore, shipping times on Alibaba differ based on the delivery method. Air freight is the quickest, taking 2-7 days for delivery. Sea freight, on the other hand, can take longer, ranging from 20-60 days. What's more, if you choose express shipping, you can expect delivery within 3-7 days.
💡 Tip: Read about Alibaba Dropshipping: A Step-by-Step Guide For Beginners.
Banggood provides a wide array of products, ensuring you have plenty of choices. They have multiple warehouses abroad, ensuring quick delivery and affordable shipping rates on specific items.
So, when it comes to books, this dropshipping supplier offers hundreds of options as well. Plus, you have affordable prices.
The platform supports over 20 languages, making communication easy. Customers can easily create customized shipping invoices.
Banggood accepts payments through 40+ methods, including Klarna, PayPal, MasterCard, Visa, and American Express.
Moreover, they offer API integration with major e-commerce platforms like WooCommerce, Shopify, and Wix, making it easy for businesses to connect and streamline operations.
This dropshipping supplier also provides various shipping options and faster delivery times. For customers in the United States, Banggood offers Standard Shipping (7-20 business days) and Express Shipping (3-7 business days with a tracking number) for an extra fee.
eBay product list of books is huge! The platform has over 42M of books. Plus, you get affordable prices. Thus, here you can find:
Hardcover
Paperback
Trade Paperback
Box Set
Board Book
Cloth Book
Bath Book
Chapbook/Pamphlet
Also, you have various book genres like science, history, art, crime, and many more.
However, keep in mind that buying physical books that are published is legal on eBay. So, if you are dropshipping physical books, you are safe. But, there's no protection for digital book formats, so be careful when choosing this kind of dropshipping supplier.
Also, when it comes to shipping, eBay shipping times are around 4 business days.
👉 Learn about Dropshipping On eBay in 2023 – Pros, Cons & Tips for Beginners.
Walmart is a multinational retail giant that runs a series of hypermarkets, discount department stores, and grocery stores. It stands as one of the largest retail companies worldwide, operating in numerous countries.
A notable aspect is its diverse product range, encompassing groceries, clothing, electronics, home goods, and more. And, when it comes to dropshipping books, the choice is wide as well.
Thus, they offer books in multiple genres, like art, mystery and thriller, kids' books, self-help books, romance, novels, religion, etc. And, their prices can vary from $5 to hundreds of dollars. 👇
Walmart maintains a dual presence with physical stores and a robust online platform, providing the option to shop either in-store or via their website or mobile app.
In addition, Walmart imposes a commission or referral fee for each sale facilitated through its platform. As a dropship vendor, the fee is incurred only upon generating revenue. The specific referral fee varies based on the product category, typically falling within the range of 8% to 15%.
Learn about Is Walmart Dropshipping Still Working? – My Guide, Tips & Tricks.
This dropshipping supplier also has a wide range of books for dropshipping, like
Learning & Education
Painting, Drawing & Art Supplies
Papers, Labels & Indexes
Storage & Organization
Office & School Supplies
Home Decor Products
Stationery & Gift Wrapping Supplies, and more.
Also, its prices are very affordable, ranging from $1 to $40.
Furthermore, Temu usually takes 1-3 days to process your order. But keep in mind, some things you bought might take a bit longer to process.
Now, how quickly you get your order depends on whether you pick standard or express shipping.
So, if you go with standard shipping, it typically takes around 7-15 business days. But if you choose express shipping, you'll see the estimated delivery time on your order confirmation.
👉 Read about Temu Dropshipping: Is This App The Future of Selling Online?
If you've got a creative mindset, Lulu is a great platform to turn your business ideas into reality. It's super easy to sell your products on different platforms like Barnes and Noble, Amazon, and Lulu's own marketplace.
As a dropshipping supplier, Lulu gives you all the tools you need to create personalized journals, notebooks, planners, textbooks, magazines, and more.  Thus, you can either design your own stuff or use their ready-made templates. 
Moreover, they ship to over 150 countries, and you'll get your order in 3-5 working days. Plus, there's no minimum order quantity.
Lulu makes the whole publishing process simple and user-friendly. You can easily upload your content, customize your book or product, and put it up for sale without any hassle.
AmericanBookCo specializes exclusively in books wholesale. Thus, you can explore a variety of books across 23 different categories, such as kids' books, cookbooks, biographies, entertainment, history, and fiction.
Moreover, this supplier offers offers services in packaging, display, technology, distribution, and logistics.
Half Moon Bay is a dropshipping supplier based in the UK. It provides more than just books across various categories.
Also, when it comes to dropshipping books, this supplier has a variety of choices in different categories.
So, you can explore a wide selection of titles in various niches and seamlessly link them to your Shopify store for fast and straightforward sales.
Plus, what I found interesting is their bulk promotions, like a book and a cup, or book and small shelves, etc. Hence, you can think about this marketing strategy as well.
Join the only community and resource hub you'll ever need to succeed with dropshipping
Find winning dropshipping products, learn marketing, download templates and engage with real dropshippers
Never pay for a "guru's" course again. See why 4543+ dropshippers joined us this year!
💡Try DSCOM Hub Now
Conclusion
In wrapping up our exploration into dropshipping books, let me share a straightforward perspective on why diving into this business could be a good call.
The idea here is pretty practical – starting a dropshipping bookstore means you can sell books without dealing with the hassle of managing physical inventory. Hence, it's like having a virtual bookstore where you can offer a diverse range of books without having to worry about stocking them.
The perks include a low initial investment, a broad selection of products without the need for physical storage space, and lower operating costs since you don't have to handle a warehouse. Plus, you can easily test different books without committing to large quantities upfront, making it adaptable to your preferences and market demands.
Also, in this blog article, I provided you with valuable insights about the best products to sell, strategies on how to start, and the top 10 dropshipping books suppliers.
So, if you're considering turning your love for books into a business and want to do it in a way that's less burdensome, now might be the right time to give dropshipping books a shot. So, best of luck with your dropshipping journey! 📚🌐