Looking for a break from AliExpress but still want affordable prices? Look no further than our comprehensive Temu Review!
Temu is an online marketplace based in Boston, Massachusetts (US), offering a diverse range of products at unbeatable prices.
As a Chinese-owned company, Temu provides direct shipping from China, ensuring a wide selection of items such as car accessories, clothes, home appliances, outdoor furniture, power tools, and more.
But, Is it Safe and Legit? Let's find out in-depth info about Temu, and see how it works!
What Is Temu?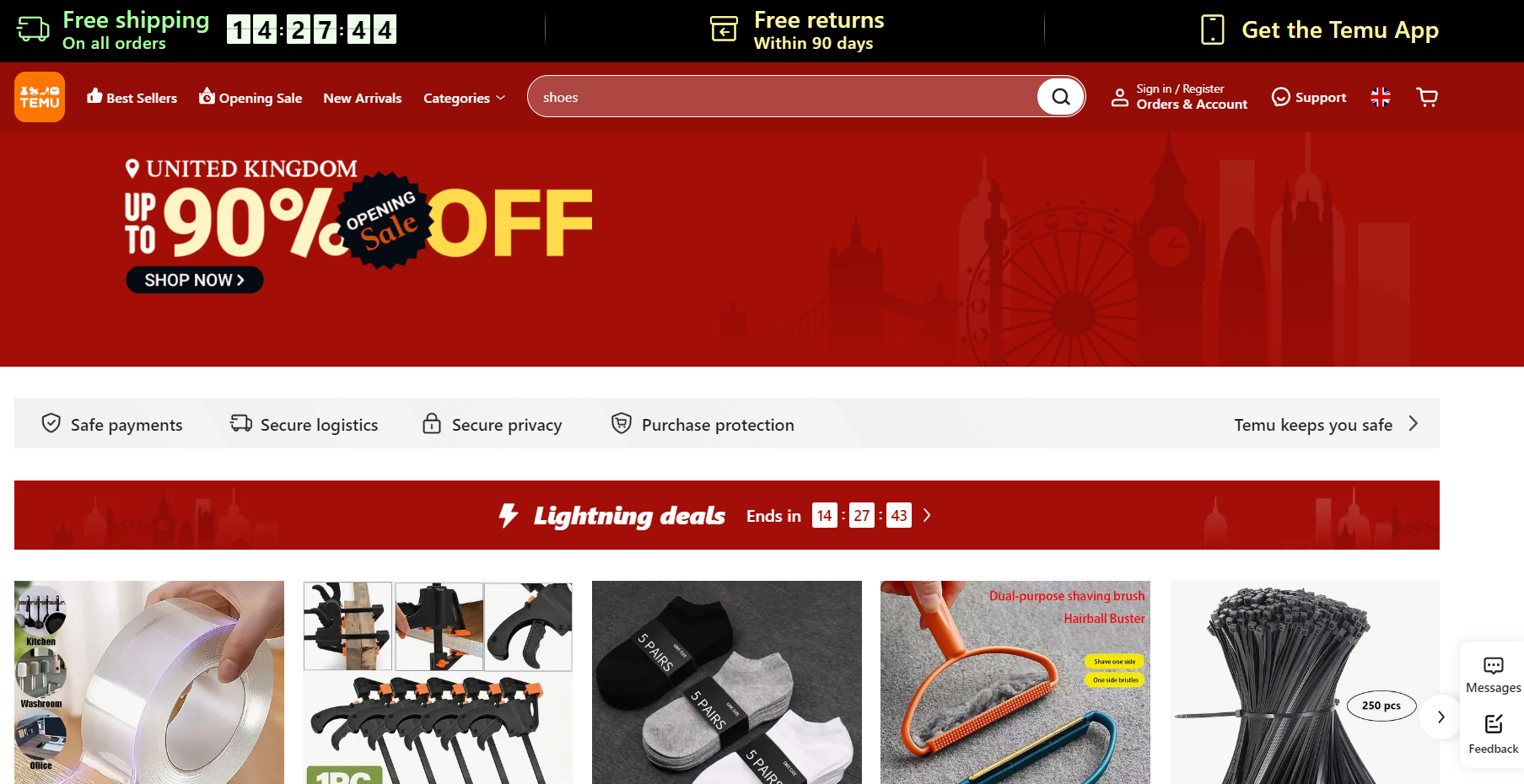 Temu is an online store based in Boston, Massachusetts (US)  that provides a wide range of products at affordable prices. These products are shipped directly from China. 
Moreover, Temu is owned by a Chinese company called PDD Holdings.
💡 Tip: Learn How To Price Dropshipping Products: Definitive Guide For Beginners.
At Temu, you can find various items for purchase, including car accessories, clothes, small appliances for your home, outdoor furniture, power tools, baby clothing, and many other things. 
👉 Check out How to Start a Dropshipping Clothing Business in 2023 [+Suppliers List].
Plus, the prices vary as cheap as $1. And, even the more expensive stuff, you can get at something like $30.
Also, most people compare this marketplace with Wish or Shein. Well, we wouldn't say that. For instance, Shein specializes in fashion, but Temu offers a diverse range of products. 
So, we would say, it is similar to what you can find on Amazon or AliExpress. 
👉 Read about Is AliExpress Legit And Safe For Buying And Selling?
Now, in our Temu Review, we will give you an answer about its legitimacy.
Find your next winner in less than 5 minutes
Find your first winning dropshipping product. No credit card required. No commitment.
USE COUPON: DROPSHIPPING30 and get a 30% discount immediately
Start for €0
Is Temu Legit?
Yes, Temu is a Legit marketplace. It is owned by PDD Holdings, which is a multinational commerce group headquartered in Dublin, Ireland.
What's more, since most people link Temu to Pinduoduo, let's clear this up! PDD Holdings owns Temu and its sister company, Pinduoduo.
Also, Temu is #7 in the eCommerce & Shopping > Marketplace category. Plus, it has over 110M visits. 👇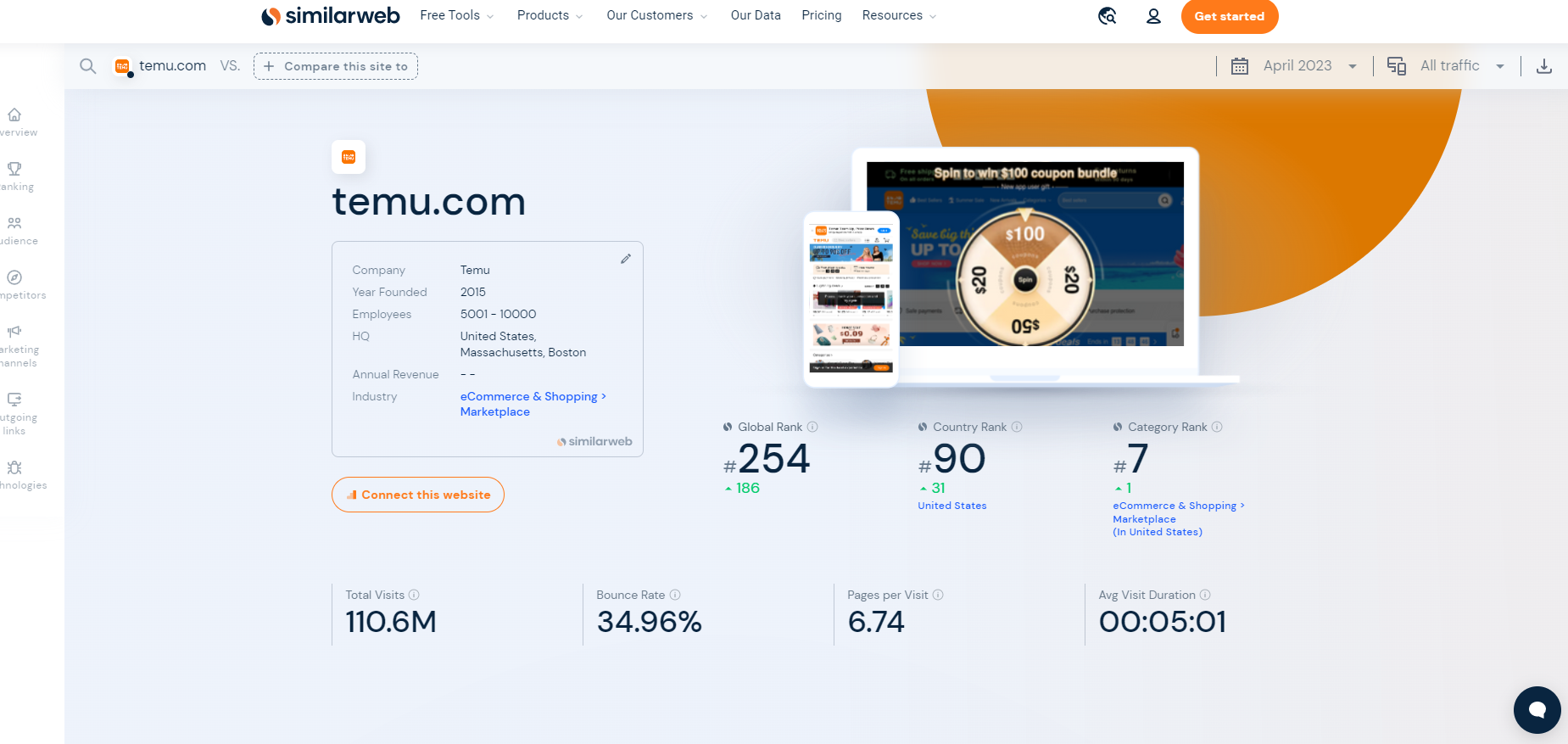 Plus, based on Temu review from customers, the company is rated with ⭐ 3.8/5 stars on Trustpilot, with most of the comments with positive reviews.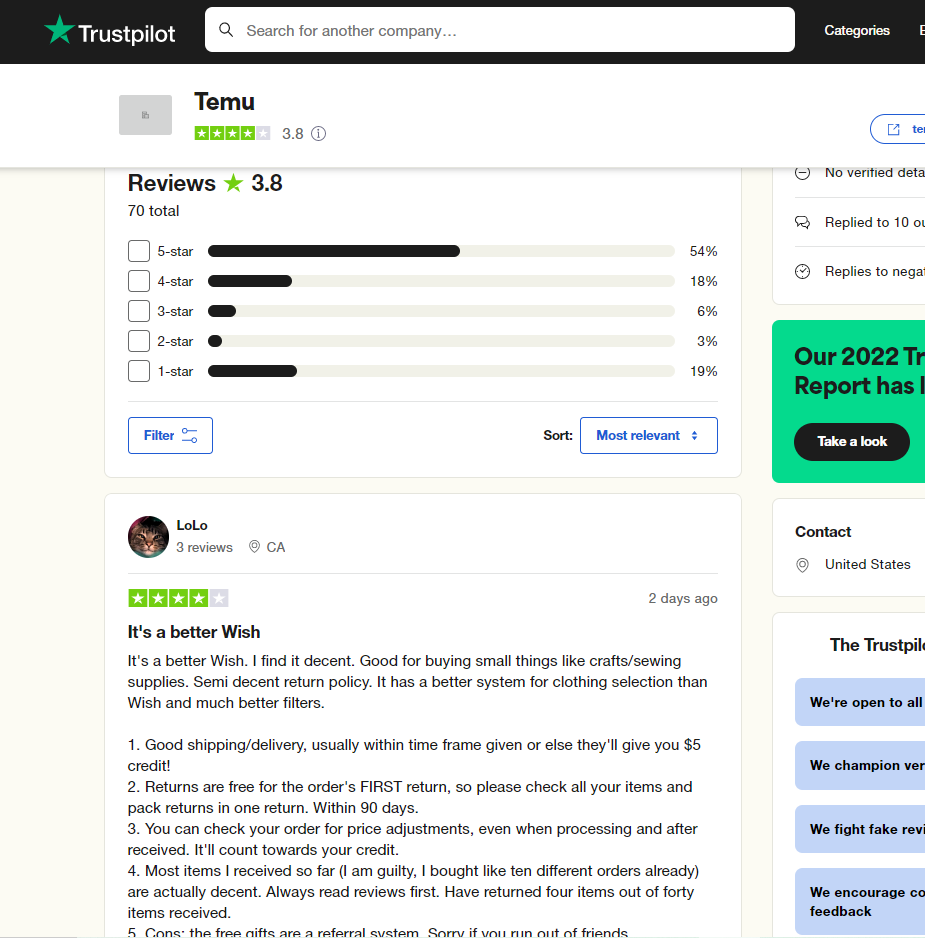 However, most of the negative reviews talk about poor customer service, in some cases not receiving all the items they ordered. Also, some of the customers claim that product quality can be unpredictable.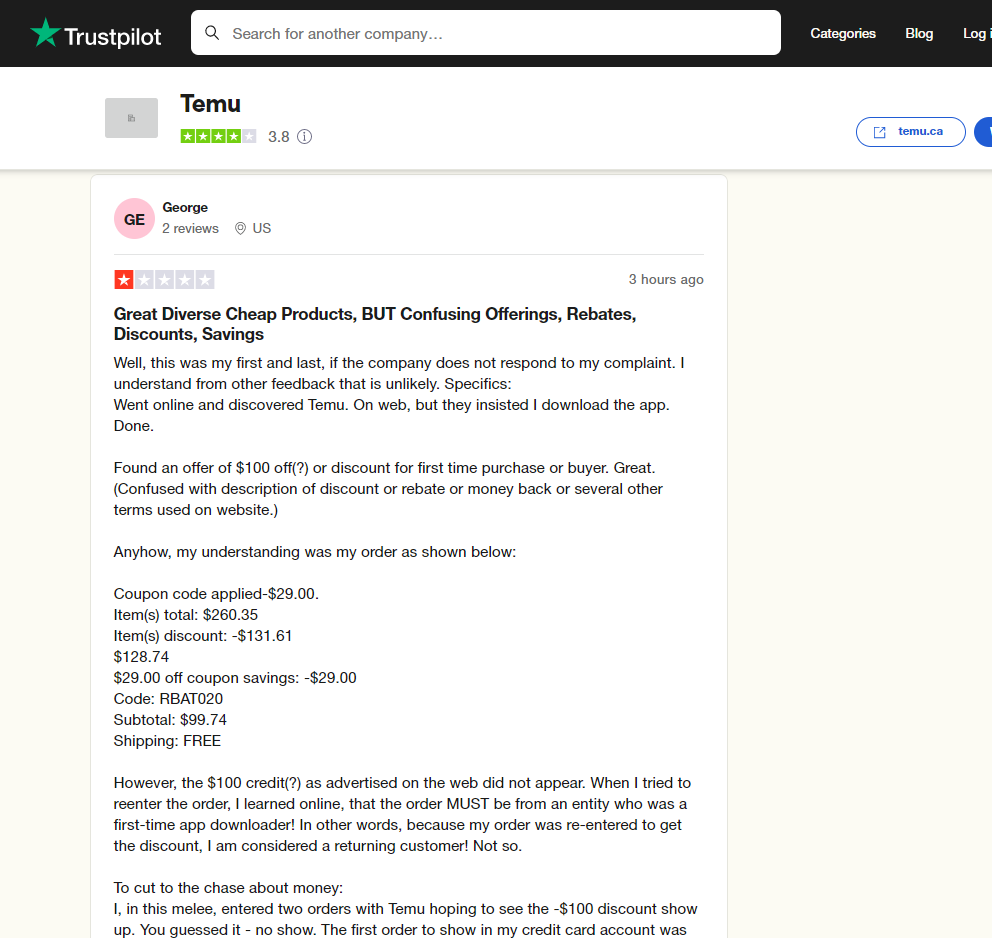 Next on this Temu Review, let's see if it is safe to use!
Is Temu Safe To Buy from?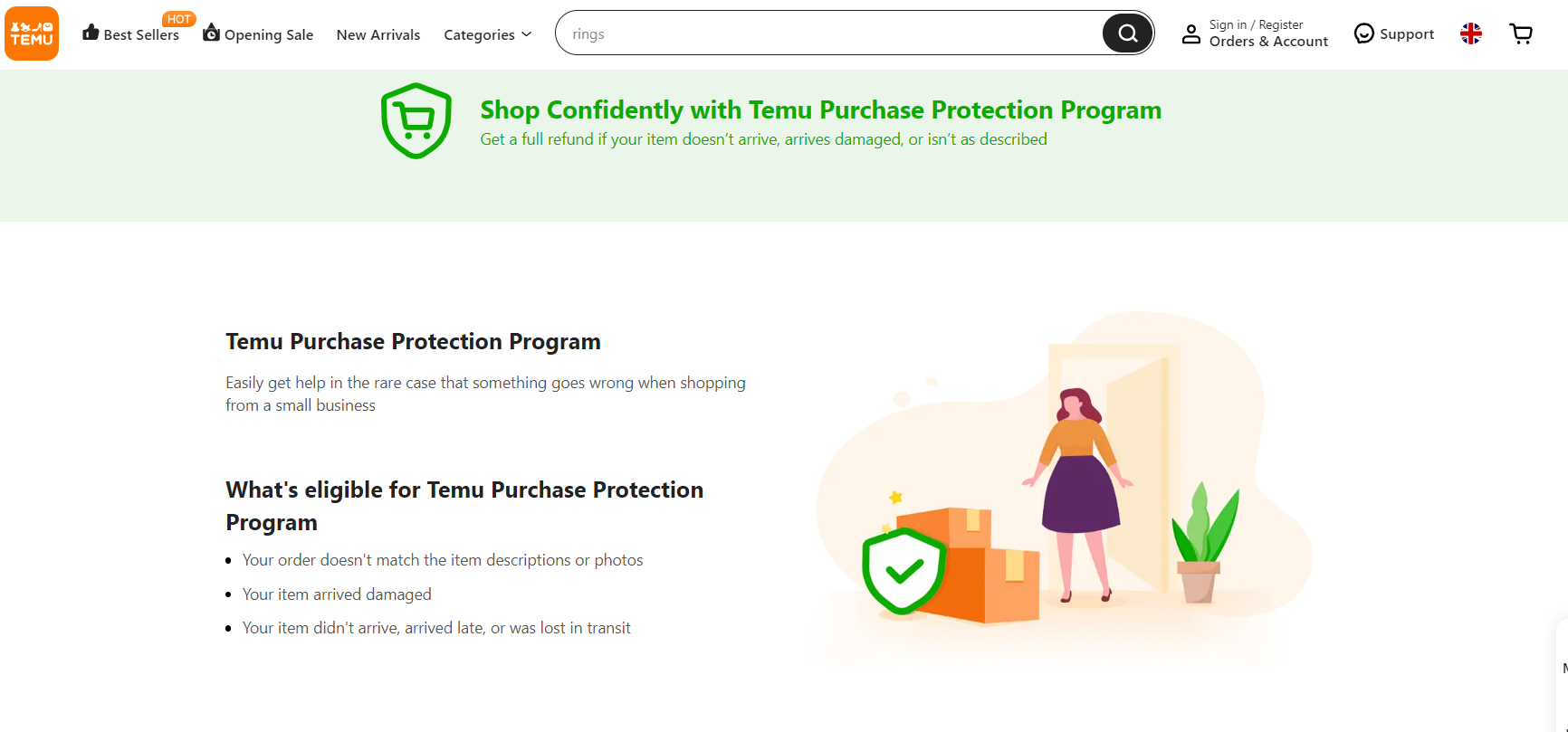 When you buy from Temu, you can feel confident that your purchase is completely safe.
Temu has a special program called the Temu Purchase Protection Program, which is designed to protect buyers in case something goes wrong with their purchase, like receiving damaged items or falling victim to fraud.
Hence, the Temu Purchase Protection Program covers different situations, such as items that don't match the description given in the listing, items that arrive damaged, or items that get lost during shipping.
In addition, the program guarantees you full money back if you return your items within 90 days of the purchase.
Here's how the program works. 👇
Step 1 – To start the return process, go to the "Your orders" page and select the item(s) you want to return. Then click on the "Return/other help" button.
Step 2 – You will need to choose the return method and provide a reason for your return. Once you've done that, you can print the return label and send the package back using either USPS or UPS.
Step 3 – If your order is eligible for the Temu Purchase Protection Program, you will receive a refund for the item(s) you returned.
In addition to the purchase protection program, Temu also gives you an estimated time for processing and shipping your order. Thus, they provide you with a tracking number.
Let's get some more insights into this Temu Review.
How Does Temu Work?
Shopping on Temu is pretty much like on any other online marketplace. Thus, in this Temu Review, we will guide you through the step-by-step process of buying on Temu. 
So, the first thing you need to do is create an account on Temu. Thus, once you are on their website, click on the "Sign in/Register" button, in the right upper corner. Now, a window will pop up. 👇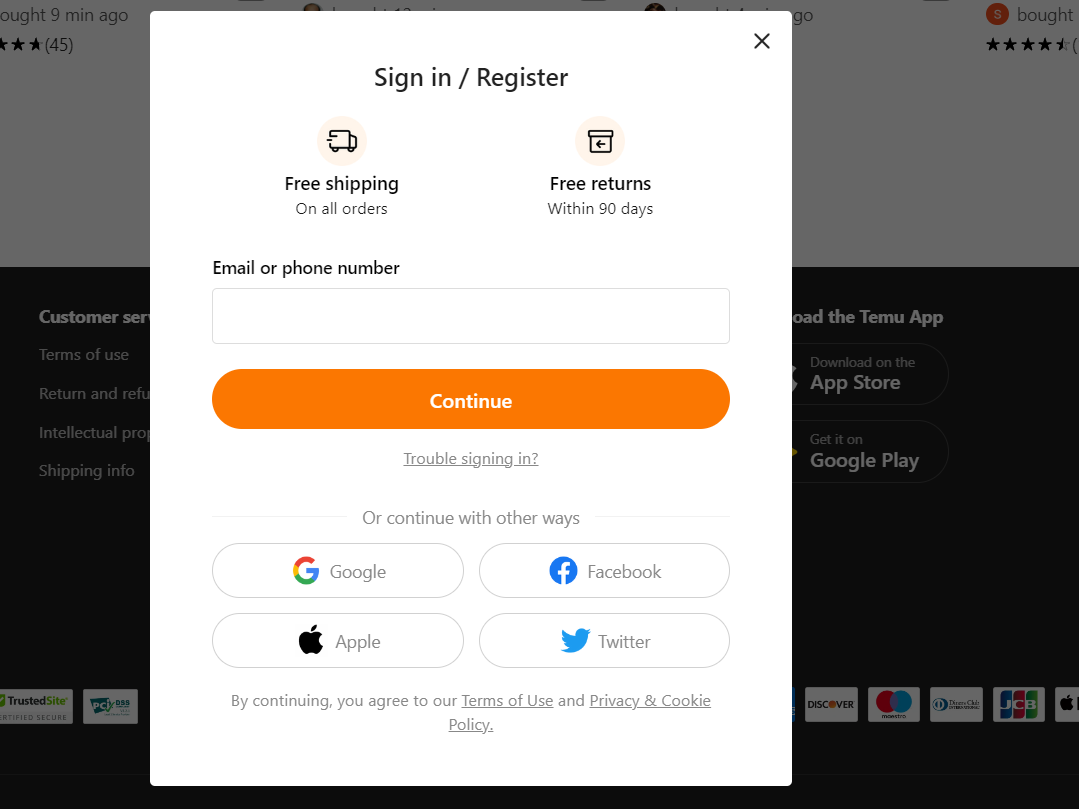 Thus, you need to enter the needed information and register. Once you do, click on "Continue".
And, now your shopping journey can start. So, you can search for products from Temu categories, or simply type in the product's name in the search bar. 👇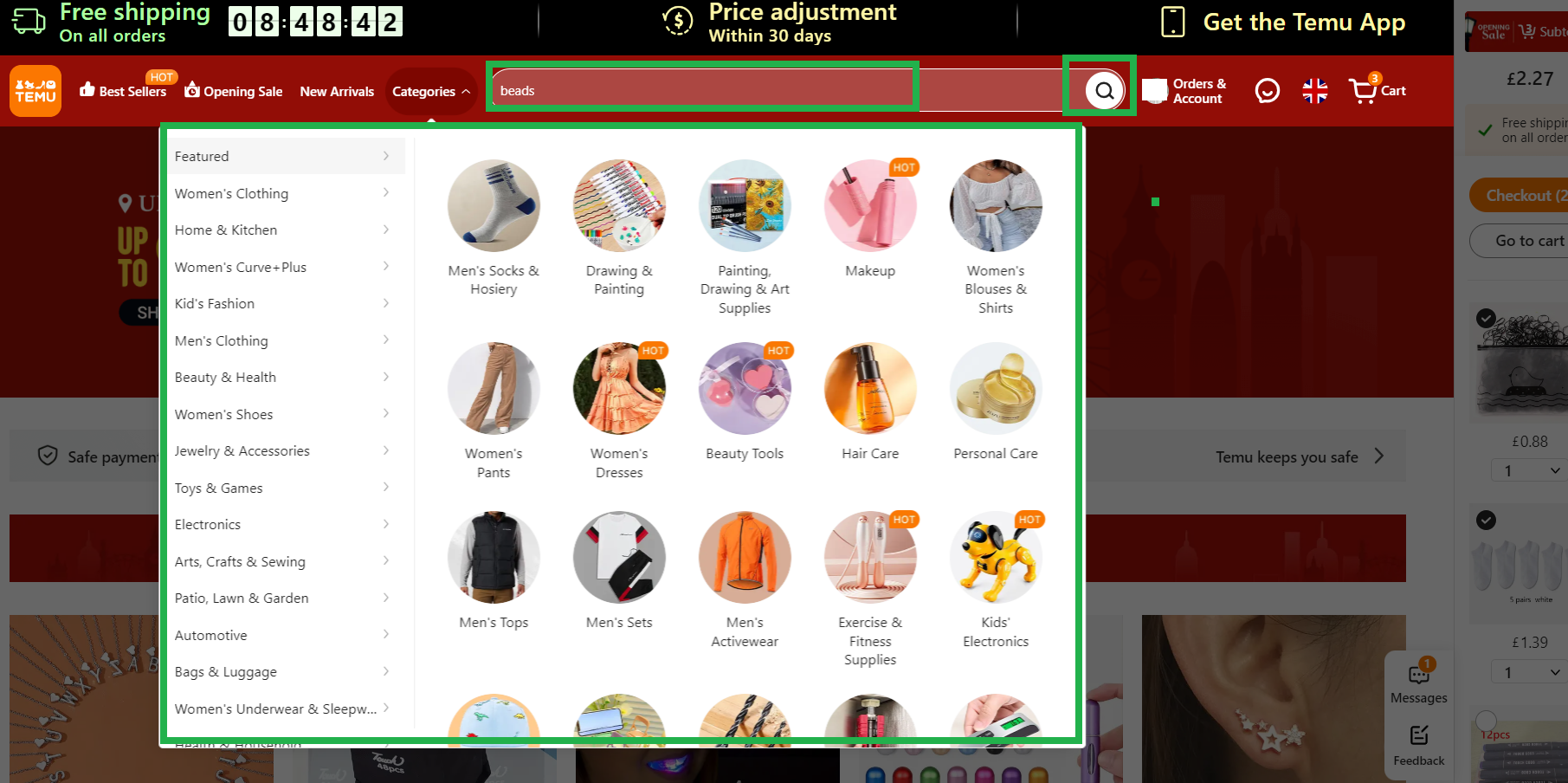 However, once you find the desired product, click on it, and you will land on the products page. Here you can read the product descriptions, check on shipping times, read customer reviews, etc. 👇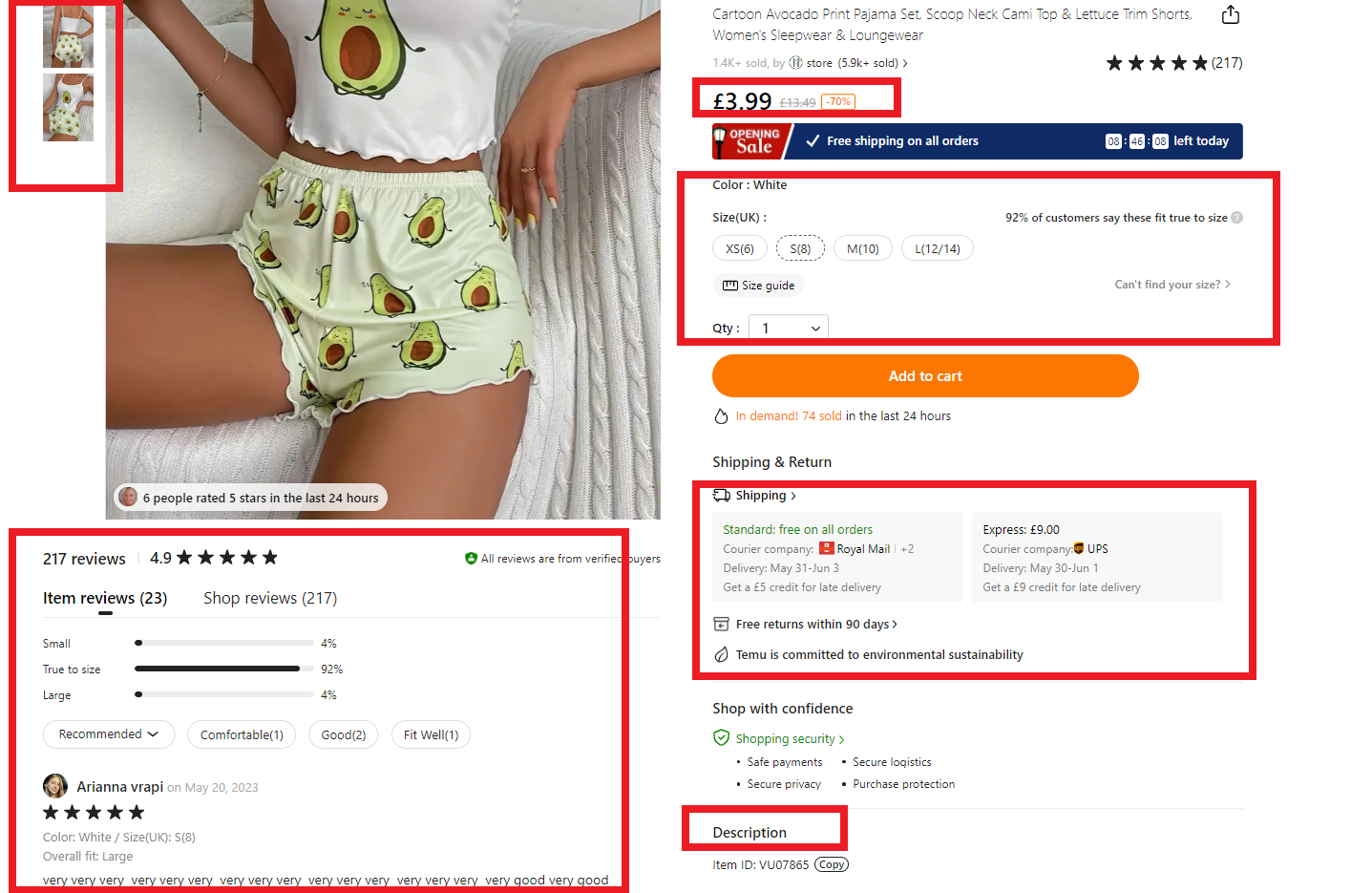 Hence, you have everything you need in order to make a buying decision. So, if you decide you want to buy the product, click on "Add-to-cart". 👇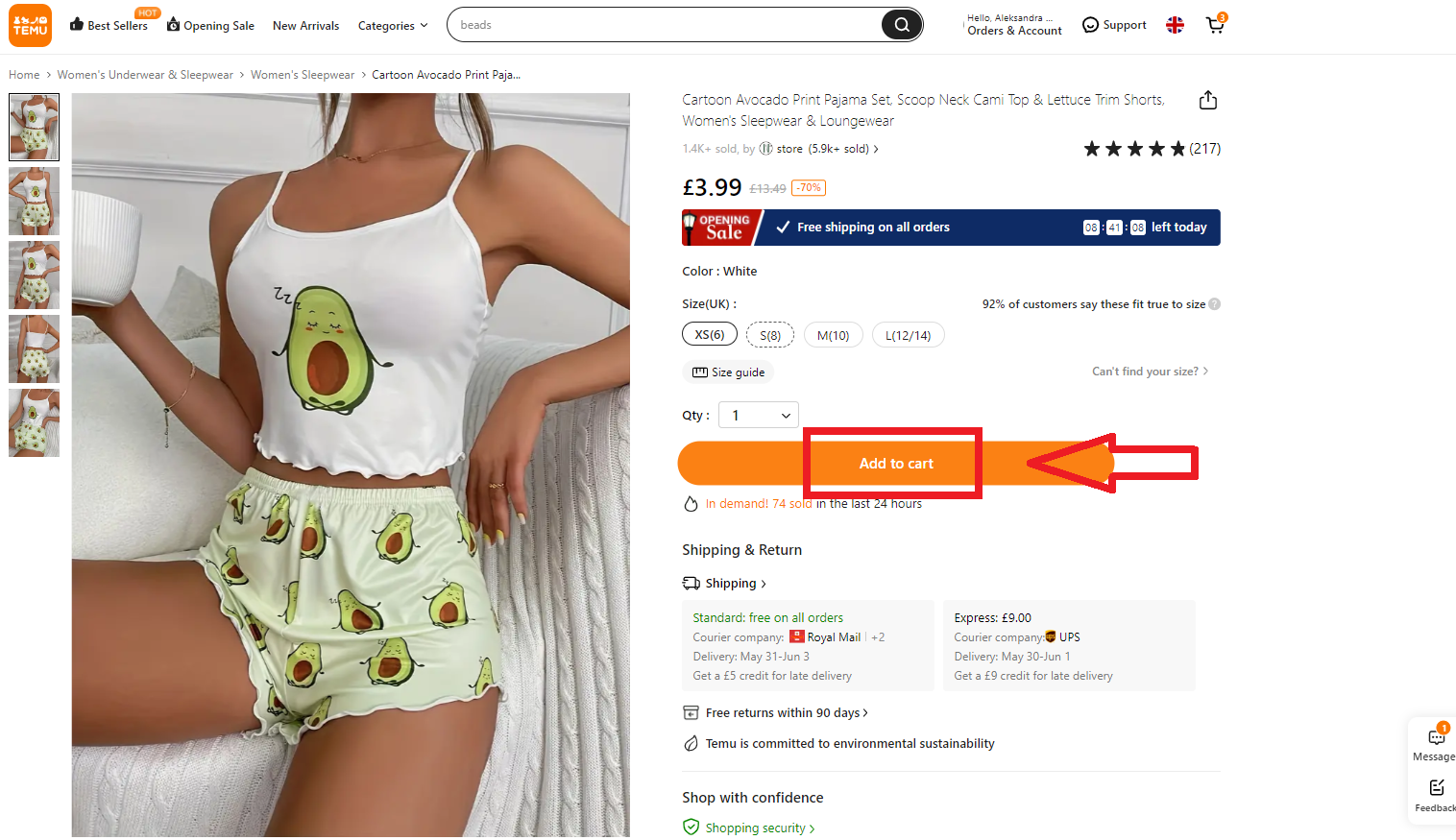 So, once you add the product in your shopping cart, the cart will show up at the right corner. So, you can click on the "Go to cart " button. 👇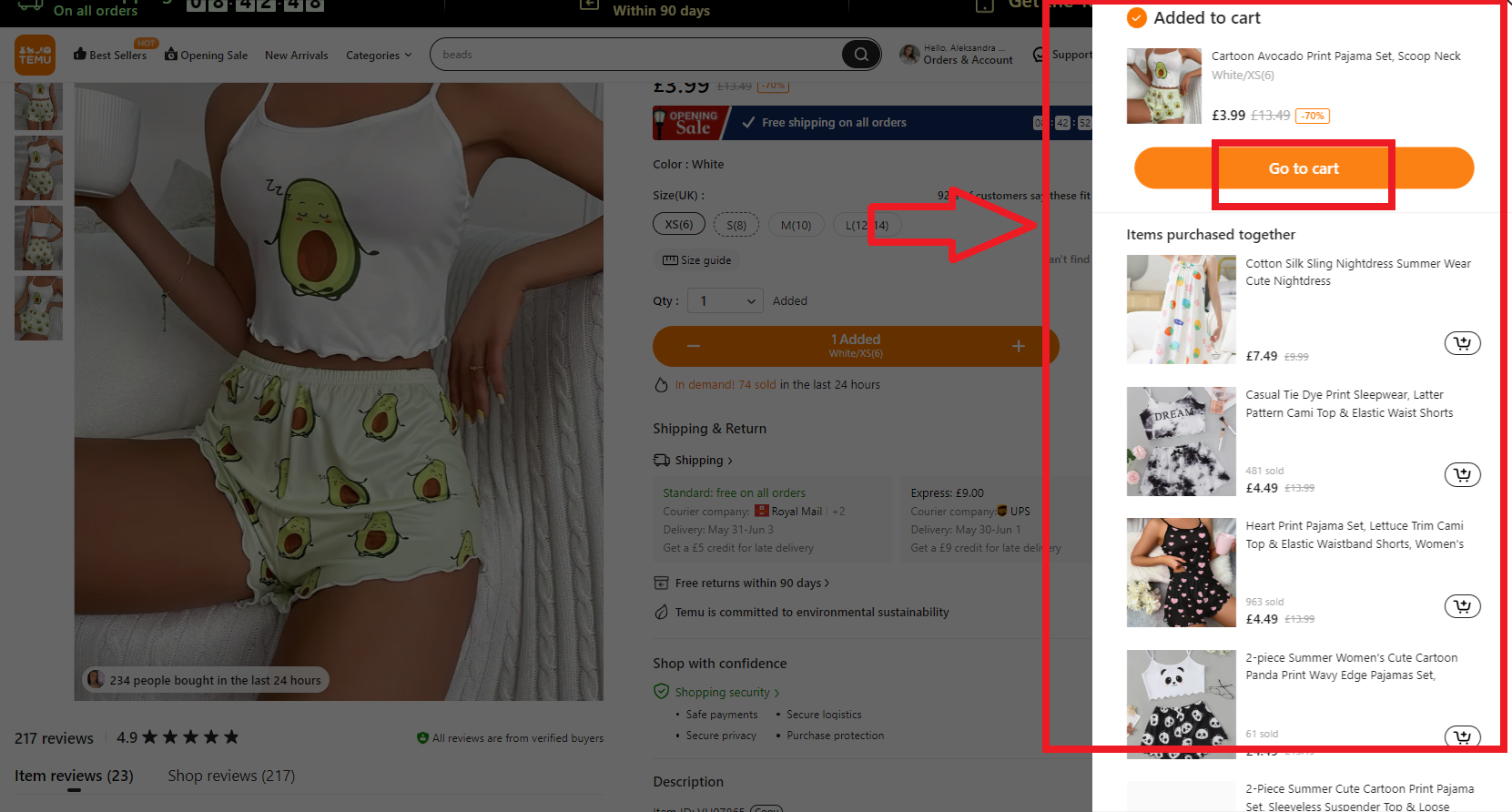 In the shopping cart, you need to select the items you want to buy. Also, you can change the quantity. Thus, once you are ready, click on the "Checkout" button. 👇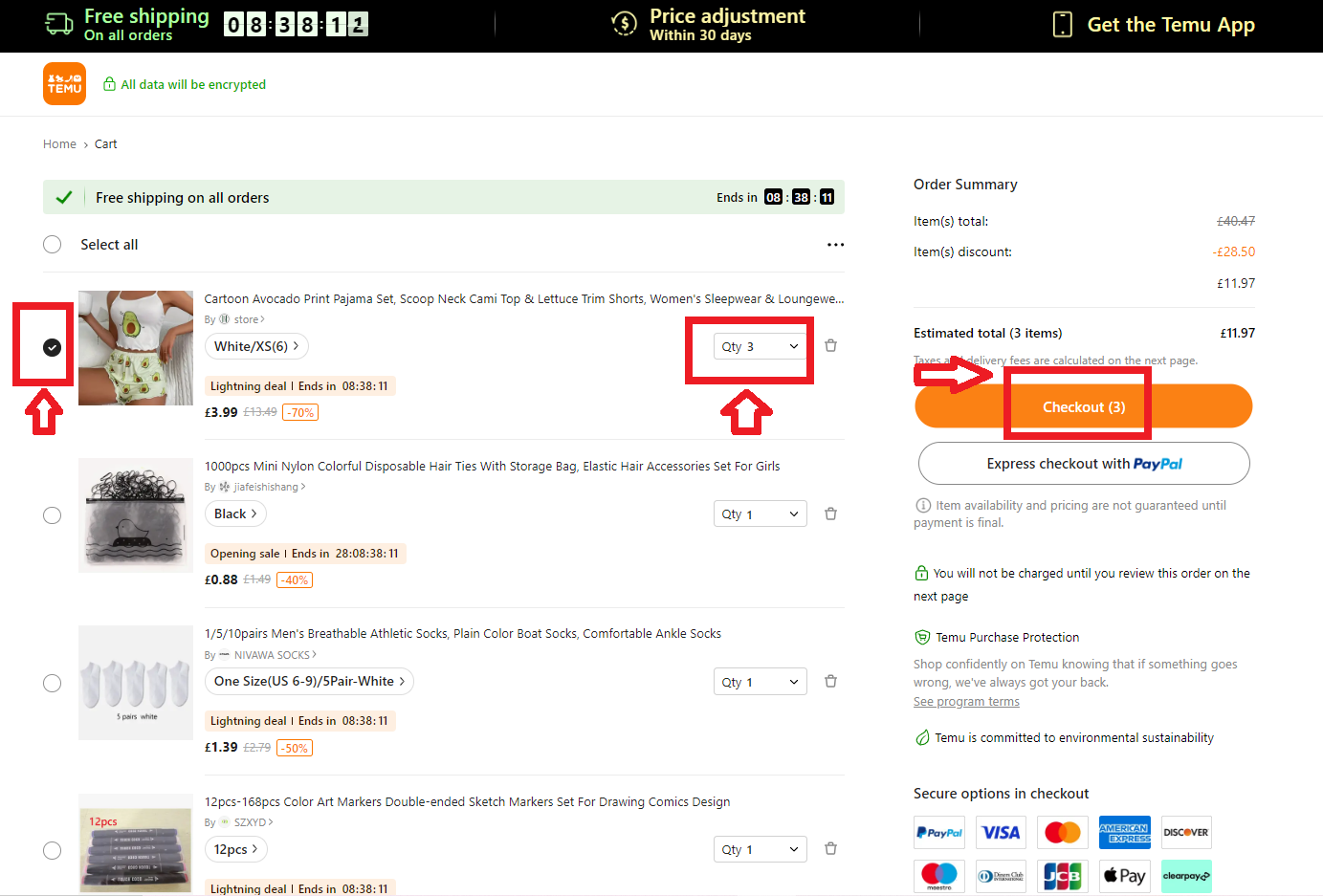 Next, you need to add the address where you want your products to be shipped. Then, click on " Continue to payment". 👇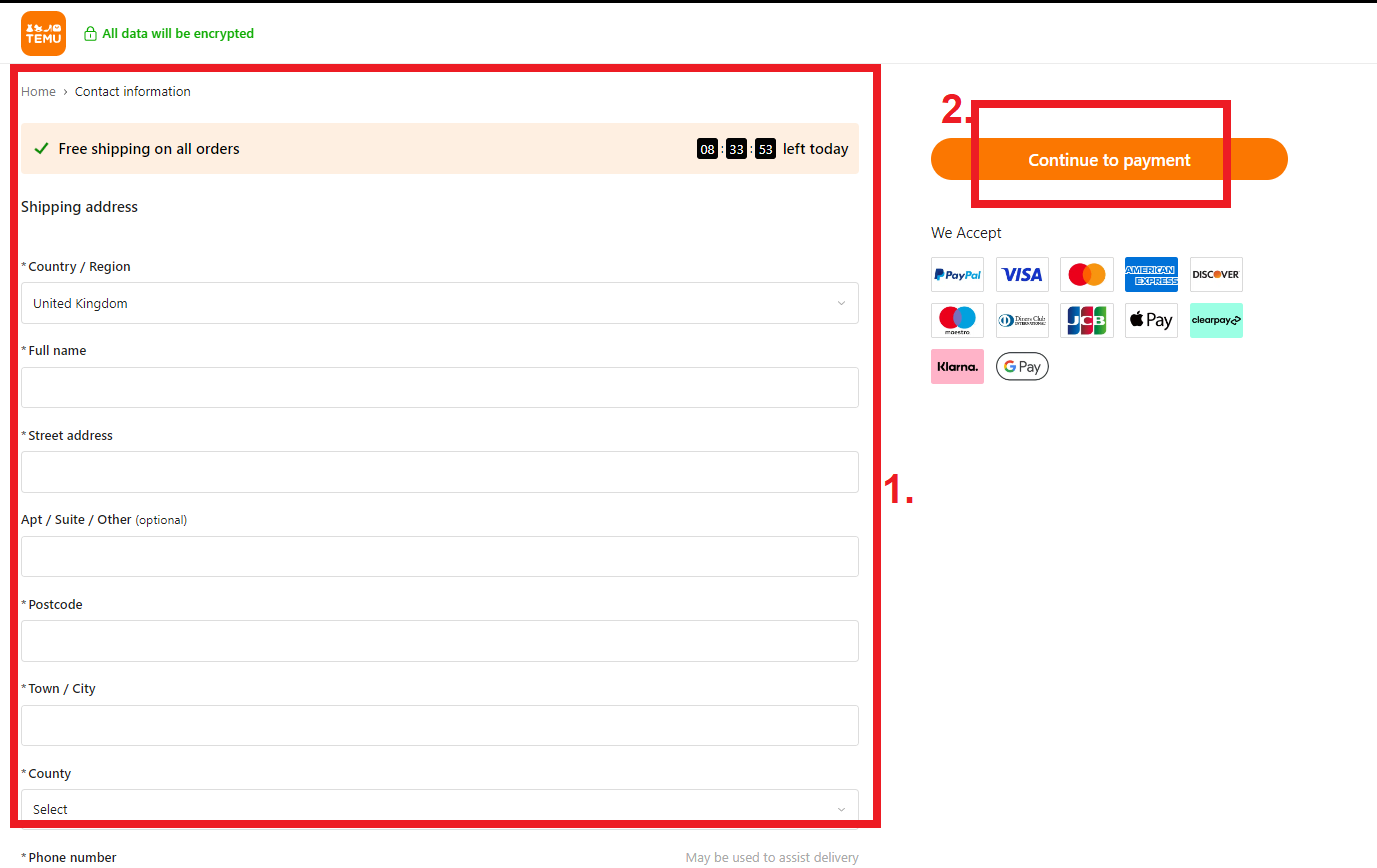 Now, you need to choose your payment method and add the required information. Thus, once you do, you can submit the order. 👇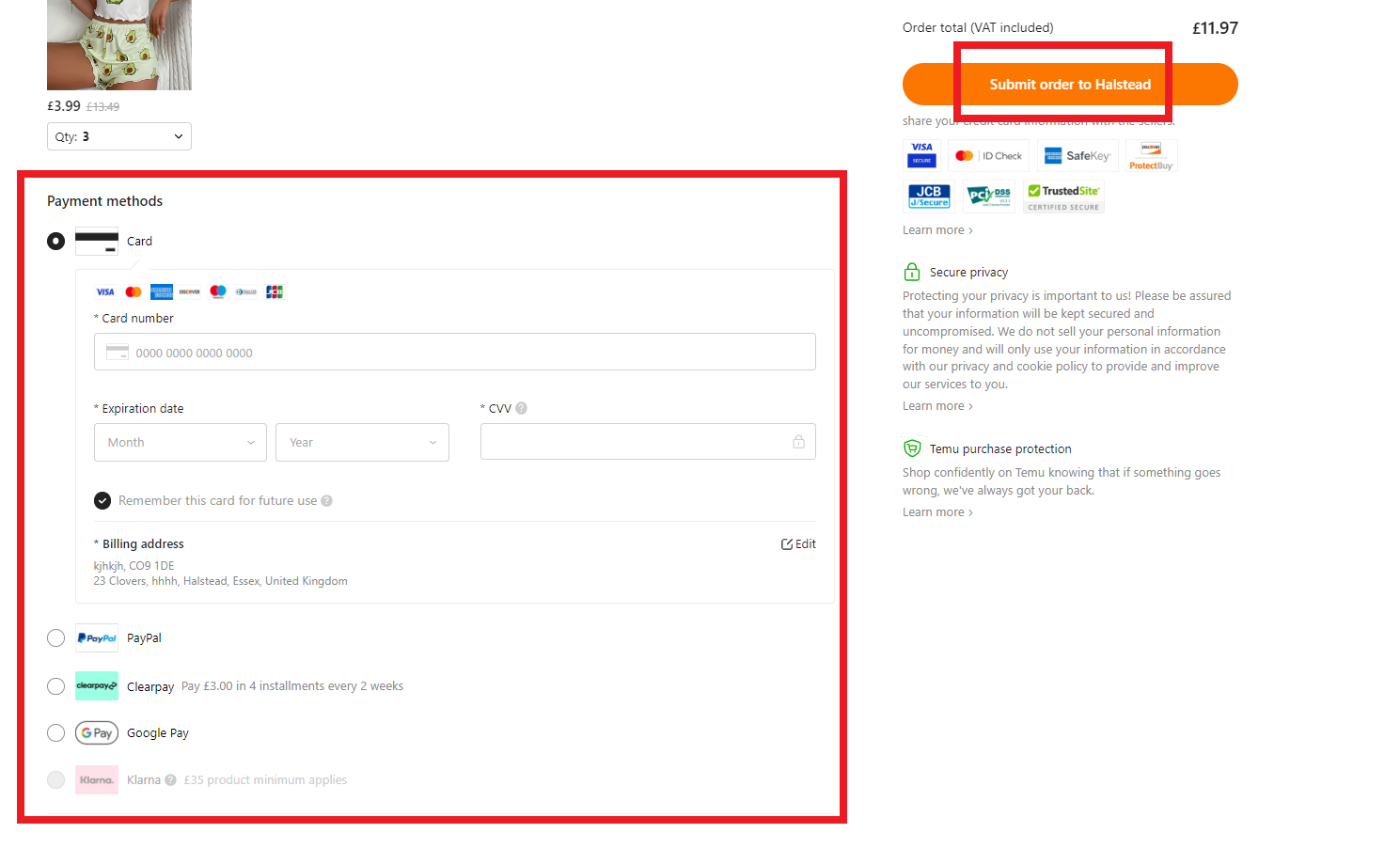 Next, you will get a notification about your order placement, and all you have to do is wait for the order. 

What Is Temu's Return Policy?
You can return your order to Temu within 90 days of purchasing them, but to qualify for a refund, you must send back the item within 14 days of requesting the return.
Thus, they even provide free return shipping labels for your first return within the 90-day period.
However, if you want to return additional items from the same order within the 90-day window, there is a $7.99 shipping fee that will be deducted from your refund.
➡ The Return Process
Here's how the return process works: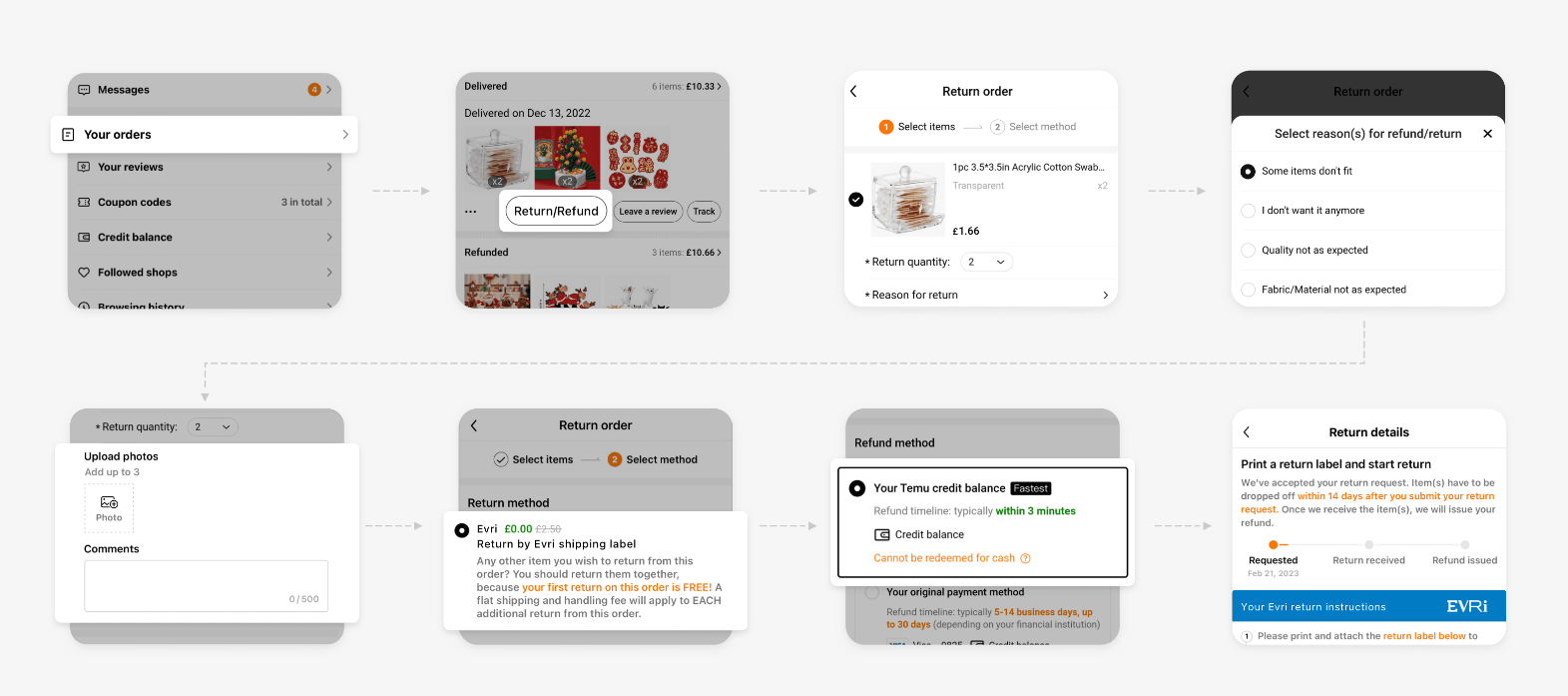 Go to your Temu account on Temu.com or the app to request a refund. If you don't have a Temu account, click on "Save your Order" in your Temu order email to initiate the return.
Find the relevant order in "Your Orders" and click the "Return" button.
Select the item(s) you want to return and provide a reason for the return. Depending on your reason, you might need to provide additional information about the order. Once you've provided the necessary details, click the "Next Step" button to proceed.
If you don't need to physically return your item, your final step is to choose your refund method. You can opt for a refund as a Temu credit balance or have it credited back to your original payment method. Make your selection and click "Submit."
After submitting the request, you'll receive a return label to attach to your package. The first return for any order within 90 days comes with free return shipping.
Print and attach the return label to the outside of your package. Take your package to the nearest Evri or Yodel Direct location to mail it, and you're all set!
Lastly, you can check the status of your refund on your order details page or through Temu's SMS/Email/Push notifications.
➡ The Refund Policy
Once Temu receives your return package, they process refunds within 3 working days. The refund amount will be applied to your account and may take 7 to 30 business days to appear, depending on your payment method.

Also, credit card payments can take up to 18 business days. But, if you choose "Temu credit balance" as your refund method, you should receive the refund amount within a few minutes.
Let's get more insights out of this Temu Review!
Does Temu Offer Free Shipping?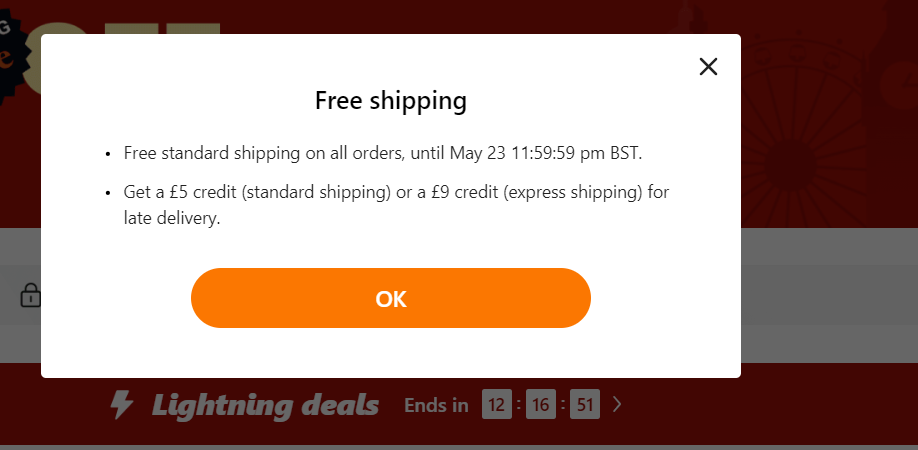 Temu provides free standard shipping for orders over $20.
However, if you're in a hurry to receive your order, you have the option of selecting Express shipping. For orders above $129.00 USD, Express shipping is free of charge.
But, for orders below that amount, there is a fee of $12.90 USD for Express shipping.
How Long Does Temu Shipping Take?
First, the order processing on Temu is within 1-3 days. However, some of the items you purchased might have slower processing times.
Indeed, the shipping time for your order depends on whether you choose standard or express shipping.
Thus, Standard shipping usually takes about 7-15 business days. For express shipping, you can find the estimated shipping time on your order confirmation.
Also, in the product details section of each seller's shop, you will find an estimate of how long it will take for the product to be delivered.
So, if you want to check the estimated delivery time for each item in your order, simply click on the product page.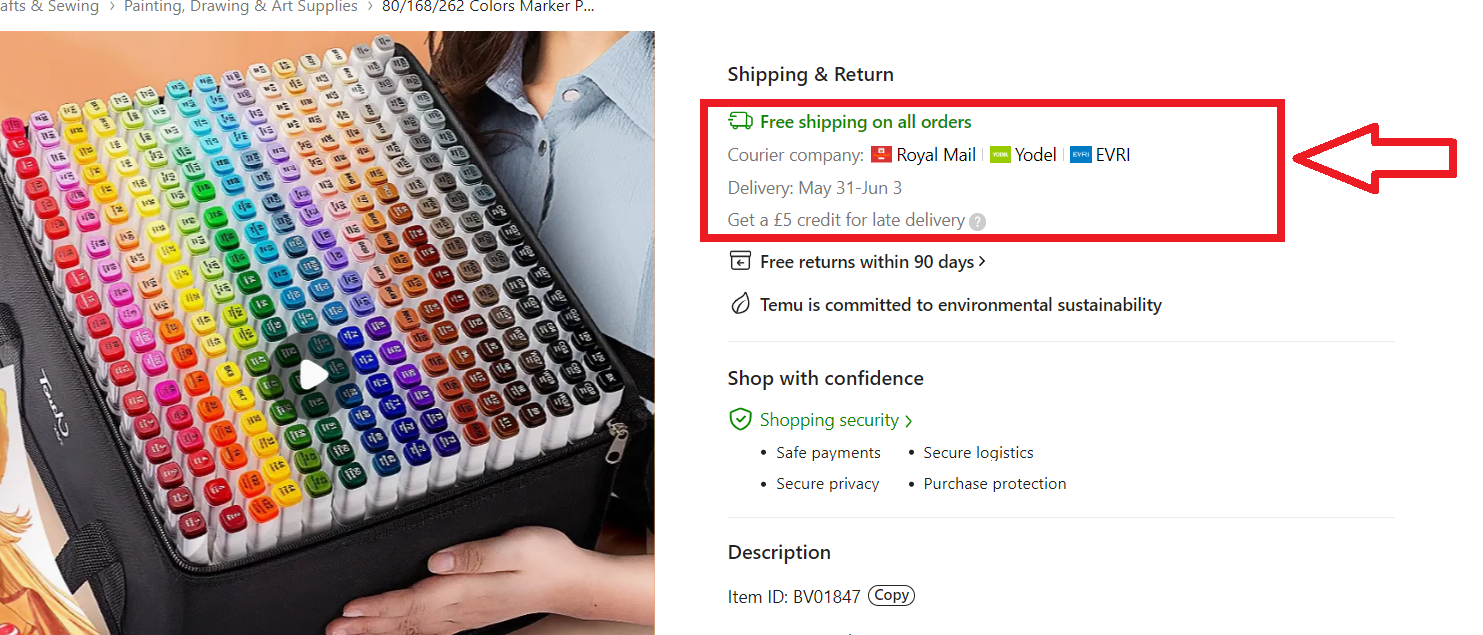 Plus, you can also see the percentage of people who bought the same product and received deliveries within different estimated timeframes.
What Payment Methods Does Temu Accept?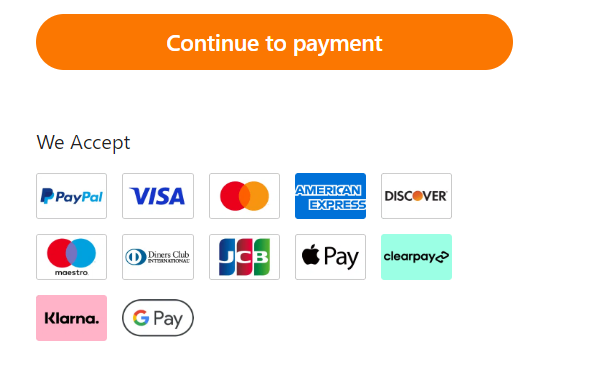 You can make purchases on Temu using various payment methods, including Visa, Mastercard, Apple Pay, Google Pay, PayPal, American Express, Klarna, Afterpay, and more.
Plus, for international orders, Temu also supports:
Afterpay
American Express
Apple Pay
Cash App Pay
Diners Club
Google Pay
JCB
Klarna
Maestro Card
Mastercard
PayPal
How To Cancel A Temu Order?
Canceling a Temu order is a breeze, granted it hasn't been packed yet. Allow us to walk you through the steps to effortlessly cancel your order:
Step 1 – Access your account and navigate to the top right corner of the screen. Thus, click on your profile button.  From the left menu panel, choose "Your orders" for further navigation.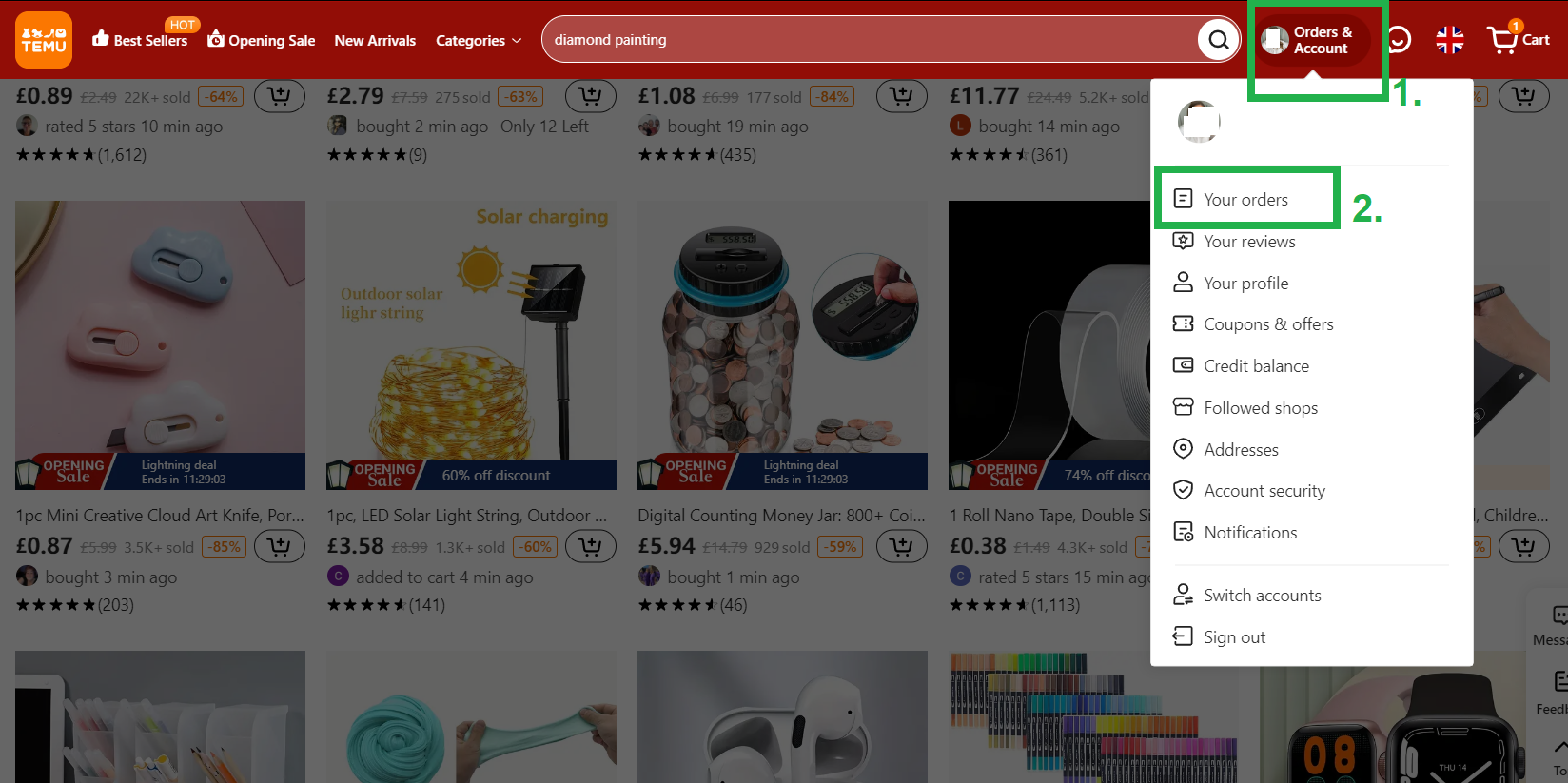 Step 2 – Amongst your orders listed under "All Orders," find the specific one you wish to cancel, then select "Cancel Item."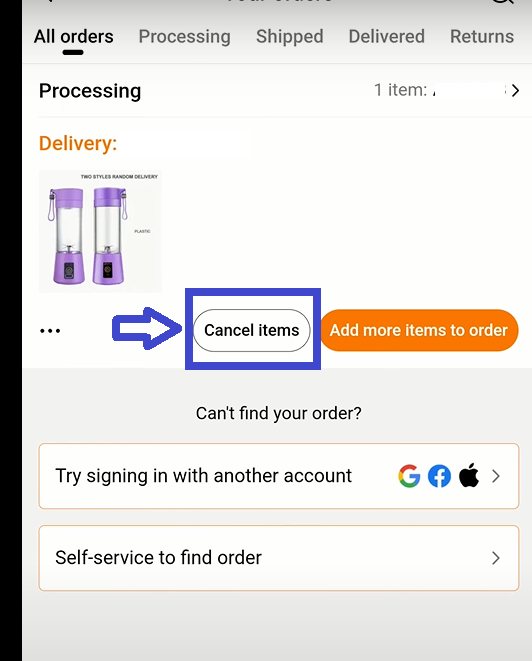 Step 3 – Follow the on-screen instructions diligently. So, now again select the items you want to cancel, and click on " Cancel checked items".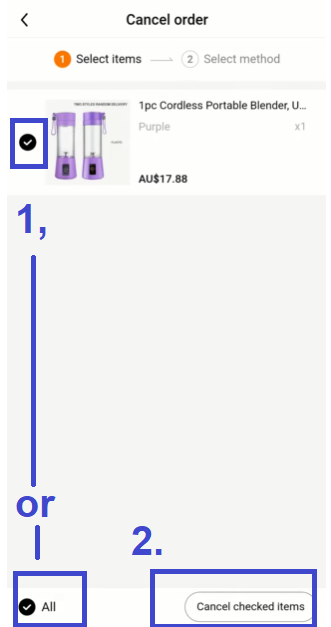 Step 4 – Now, a widow will pop up, asking you why you want to cancel. Once you choose your reason, click on "Next".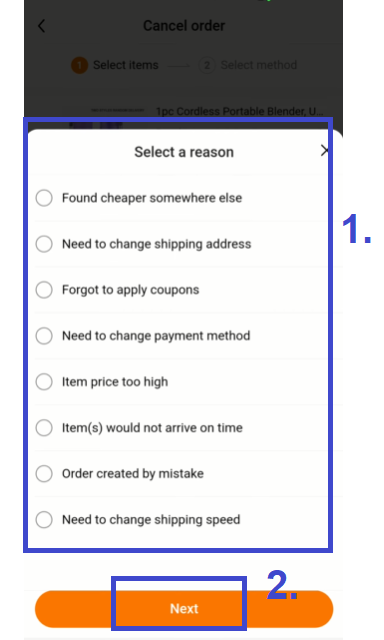 Step 5 – Next, they will ask you, how you want to get a refund. Thus, choose your method, and click "Submit".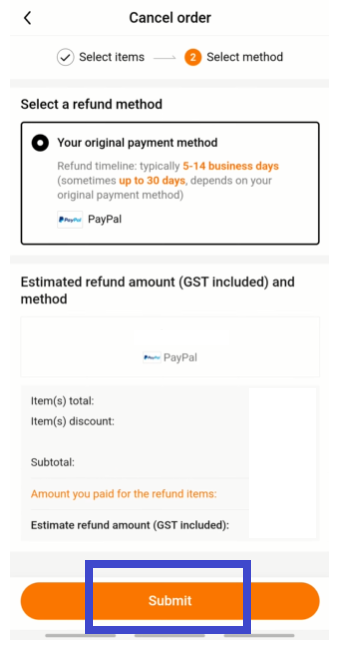 As a testament to your success, an email confirmation of your refund will instantly grace your inbox.
How To Get Free Products From Temu?
It's simple yet rewarding: by enticing others to join the Temu app, you pave your way to get free items.
In fact, it is a win-win scenario: the more referrals you generate, the more credit you accumulate, which can be redeemed for fabulous freebies.
Temu's ingenious referral program has become the driving force behind its rapid expansion.
Hence, influencers and users alike enthusiastically endorse the app, propelled by the enticing prospect of scoring complimentary treasures. 
Is There A Minimum Order On Temu?
Unfortunately, Temu requires a minimum order amount. Thus, if your order is under the minimum order requirement, let's say $10, you cannot place it. 
For example, we tried to make an order of $2.27, and we got this pop-up window. Thus, we couldn't proceed with the checkout process. 👇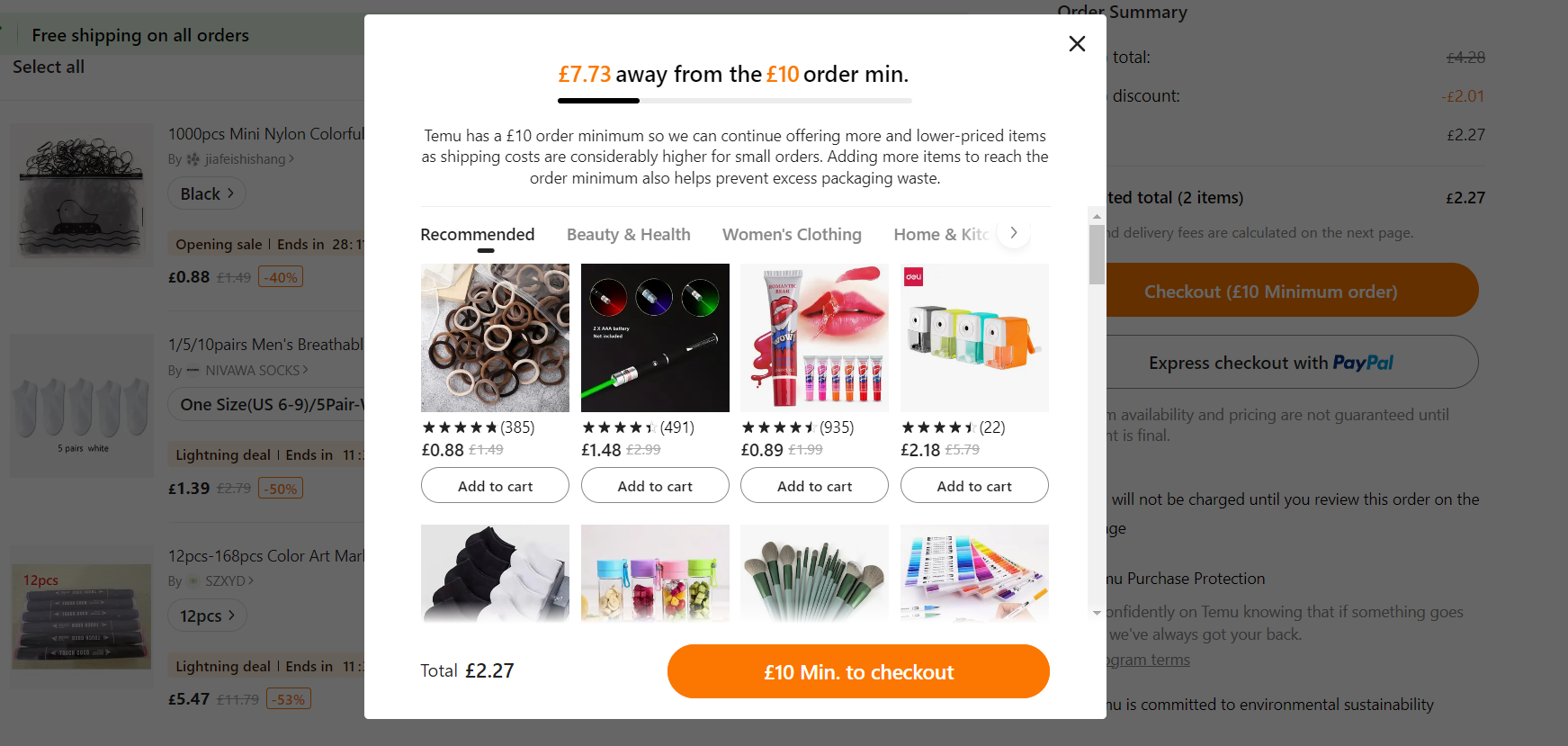 Plus, according to different users, they all got different Minimum order amounts. For example, some got $10, others $20, while some of them claim that these requirements change, and they even got different amounts in the same month.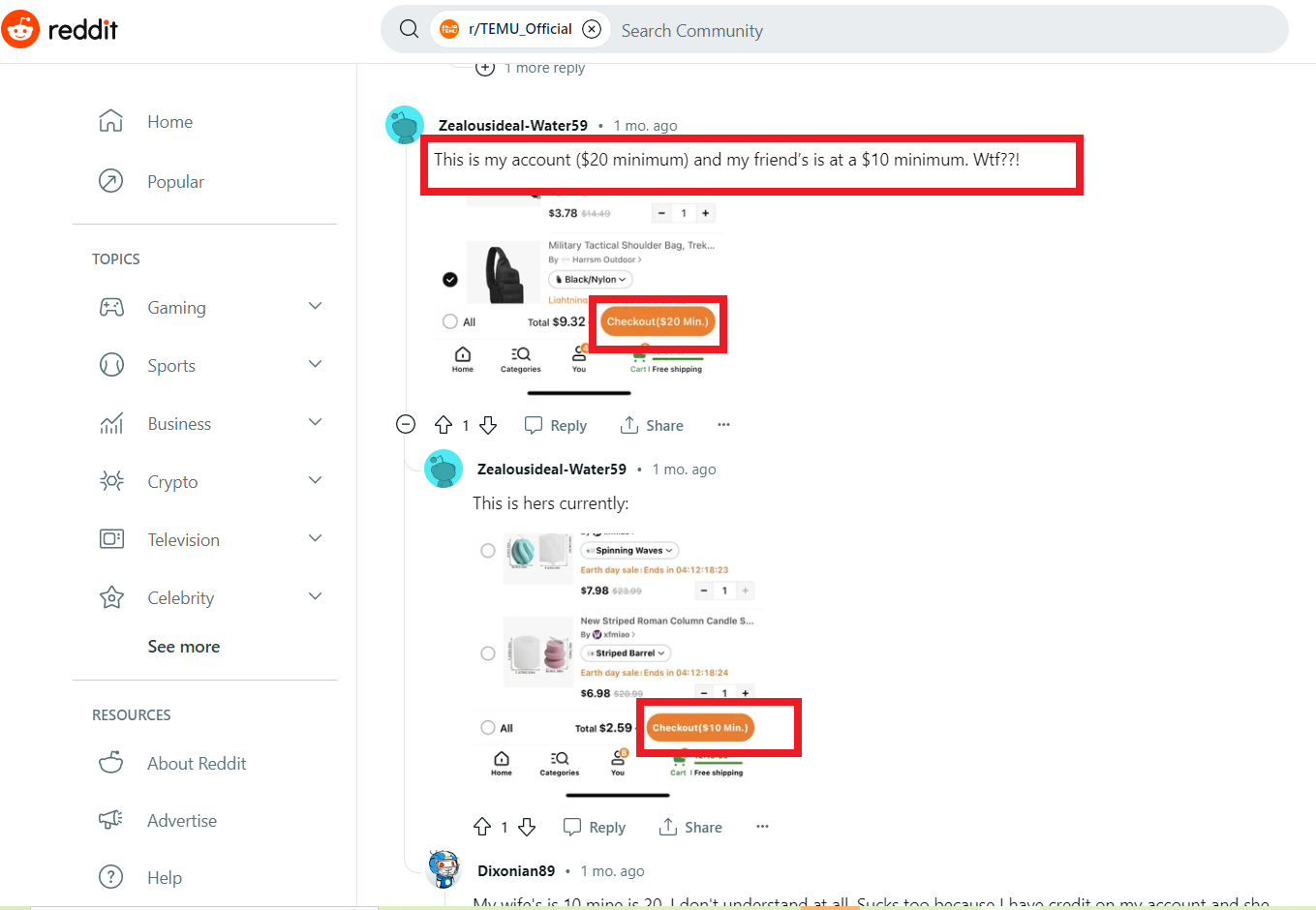 Now, let's check on the Pros & Cons in this Temu Review.
Pros & Cons Of Buying From Temu
Free Shipping and Free return shipping
Minimum order requirements
✅ Pros
Huge product catalog
Temu has a huge product catalog with millions of products. Plus, you can choose products in various dropshipping niches, like clothing, electronics, home decor, beauty products, and even more.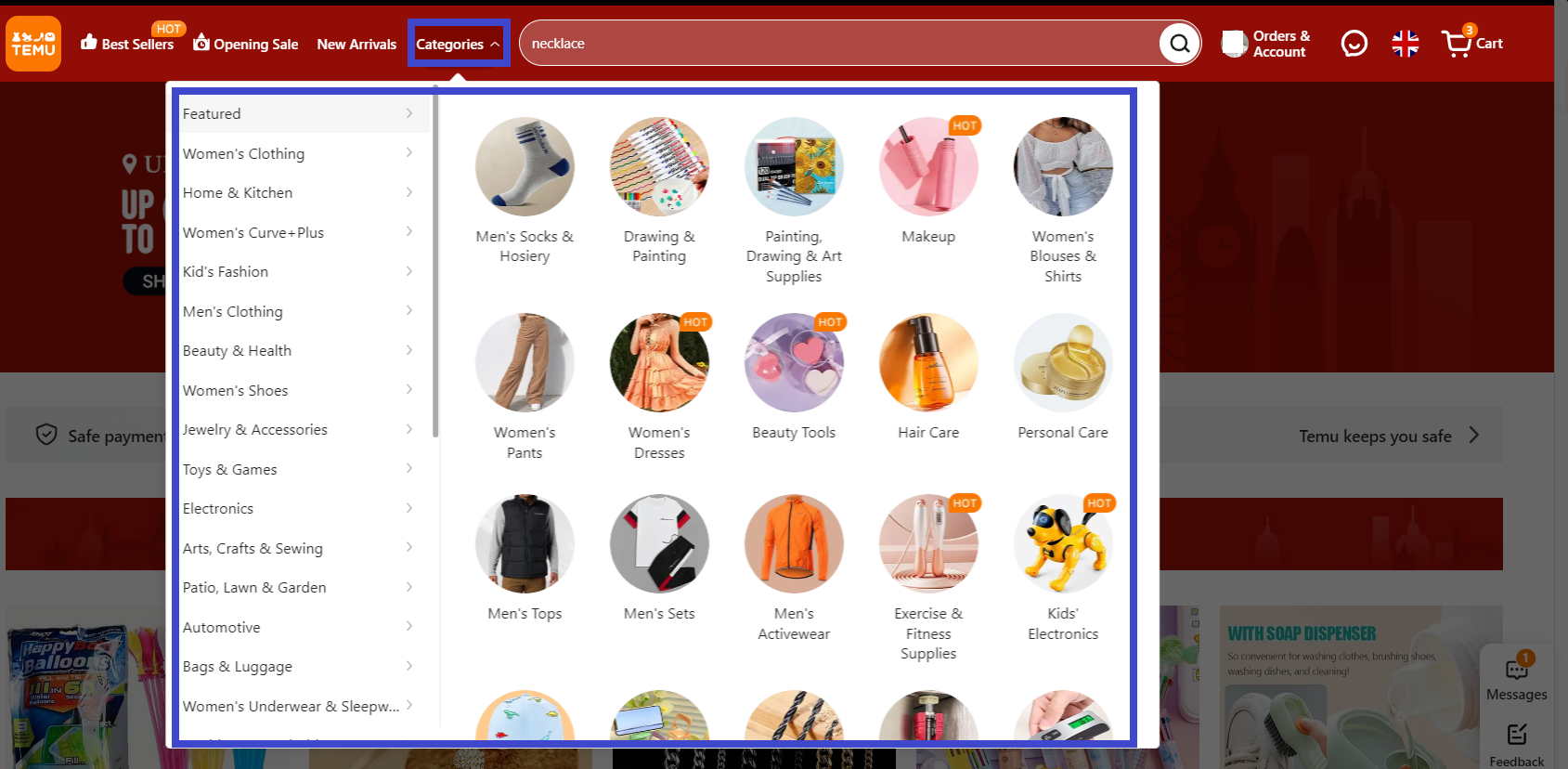 Cheap prices
The prices are very cheap. Thus, you can even buy stuff for prices under $1. Also, more expensive products here are something around $30. 
Free Shipping and Free return shipping
Temu offers free shipping for orders over $20. However, they often have promotions for free shipping for all orders.
Plus, there's free return shipping on your first return for every order within 90 days of purchase.
❌ Cons
Poor customer service
Customers reported poor customer service from Temu. Thus, most of the negative reviews apply to this matter, like not getting an answer at all, putting you on hold, etc.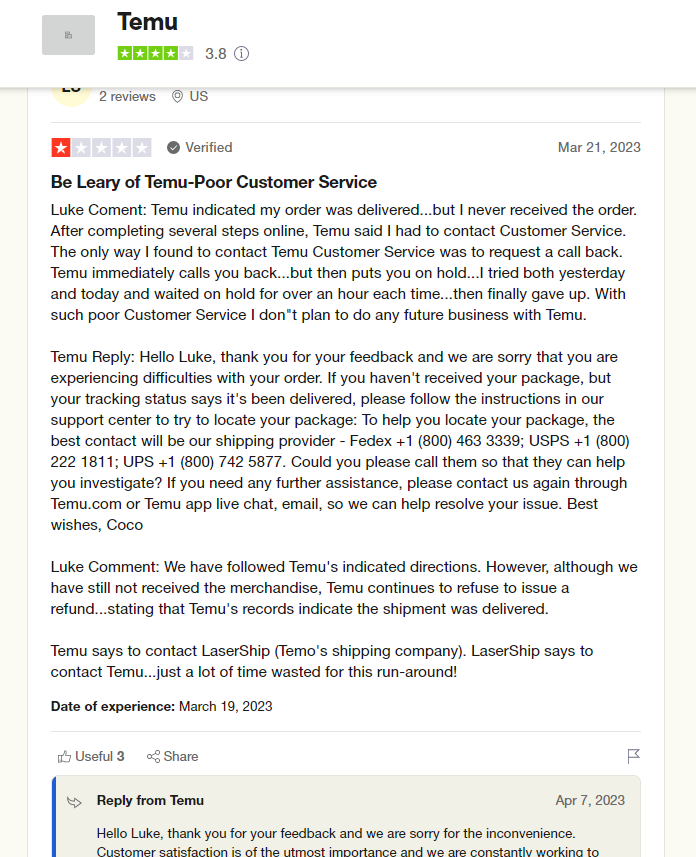 Long shipping times
And, as we already mentioned in this Temu Review, shipping times can be around 7-15 business days, or sometimes even longer.
Minimum order requirements
Temu requires customers for a $10 order if they want to place an order at all. Hence, this is somehow a limit, which other Temu competitors, like AliExpress, do not have.
Should You Buy From Temu?
Well, this mostly depends on your needs. Thus, if you want to buy goods directly from China suppliers, Temu is a good choice. Plus, if you need general products, also you can choose Temu.
However, if you want to start a dropshipping business, it's better to consider more reliable brands and marketplaces like AliExpress, Chinabrands, 1688, or Made-in-China. 
However, if you ever want to start dropshipping with Temu, consider their checkout process too long. So, you can consider improving your checkout process since it can increase your cart abandonment.
Unlike them, Temu doesn't have suppliers who offer extra discounts for buying larger quantities.
Dominate The Ecommerce Space With Zendrop
Start your free dropshipping account and get access to 600K+ ready-to-ship products!
Upgrade to a paid plan for 50% OFF for 3 months → Use code: DROP350
Try Zendrop For Free
Conclusion
To sum it all up from our Temu Review! 👇
Temu is an online marketplace based in Boston, Massachusetts, offering a wide range of products at affordable prices.
While Temu offers competitive prices and a vast product catalog, there are some drawbacks to consider, like poor customer service, difficulties reaching support, and delays in response times.
However, Temu provides a Purchase Protection Program to safeguard buyers in case of issues with their purchases.
Ultimately, whether or not to buy from Temu depends on your individual needs. So, if you are looking for affordable products directly from China suppliers, Temu can be a viable option.
But, if you consider starting a dropshipping business, other more established marketplaces like AliExpress, Chinabrands, 1688, or Made-in-China may offer more reliable options.