DropServicing Ideas & Examples For Making Money Online
by
Aleksandra -
Aleksandra teaches marketing and management at various levels in High School. She writes about marketing, the economics and logistics of the dropshipping business and ecommerce in general.
Chief of Content Marketing
Ever wondered if you could run a business without being an expert in every field? Well, you can, and it's called DropServicing. This blog is your go-to guide to understanding the ins and outs of the best DropServicing ideas.
So, are you curious about how to connect clients with freelancers seamlessly?
In this article, I will break down the concept, share the best niches, and guide you on starting your own dropservicing venture. Get ready to turn curiosity into knowledge and dreams into a digital reality. Let's start!
What is Drop Servicing?
Drop servicing is a business model where you sell services to clients. So, instead of doing the actual work yourself, you hire freelancers or agencies to handle the tasks. So, instead of dropshipping products, you dropship service.
As the owner, your revenue is generated by taking a percentage of the payment from clients after paying the service providers.
Let's say you choose to provide content writing as a drop service. Your process would involve meeting with the client to understand their requirements and then hiring content writers to create blog articles.
Once the project is completed you verify that it aligns with the client's needs pay the developers according to your agreement and deliver the product to the client. In fact, you act as an intermediary between clients and service providers.
💡 Tip: Read about How To Make Money From Home – 30+ Ideas & Examples.
Lifetime deal: Get all-access to everything on Dropshipping.com
Access all DSCOM features, resources, courses, live workshops, discounts, winning products, weekly deep dives, directories and all future updates under all-in-one dropshipping HUB.
DROPSHIPPING IS A REAL BUSINESS, DON'T DO IT ALONE. 4553 MEMBERS ALREADY JOINED. YOU CAN PAY OFF YOUR SMALL INVESTMENT WITH JUST 2 SALES ON YOUR STORE.
Grab the deal before it's gone
How Does DropServicing Work?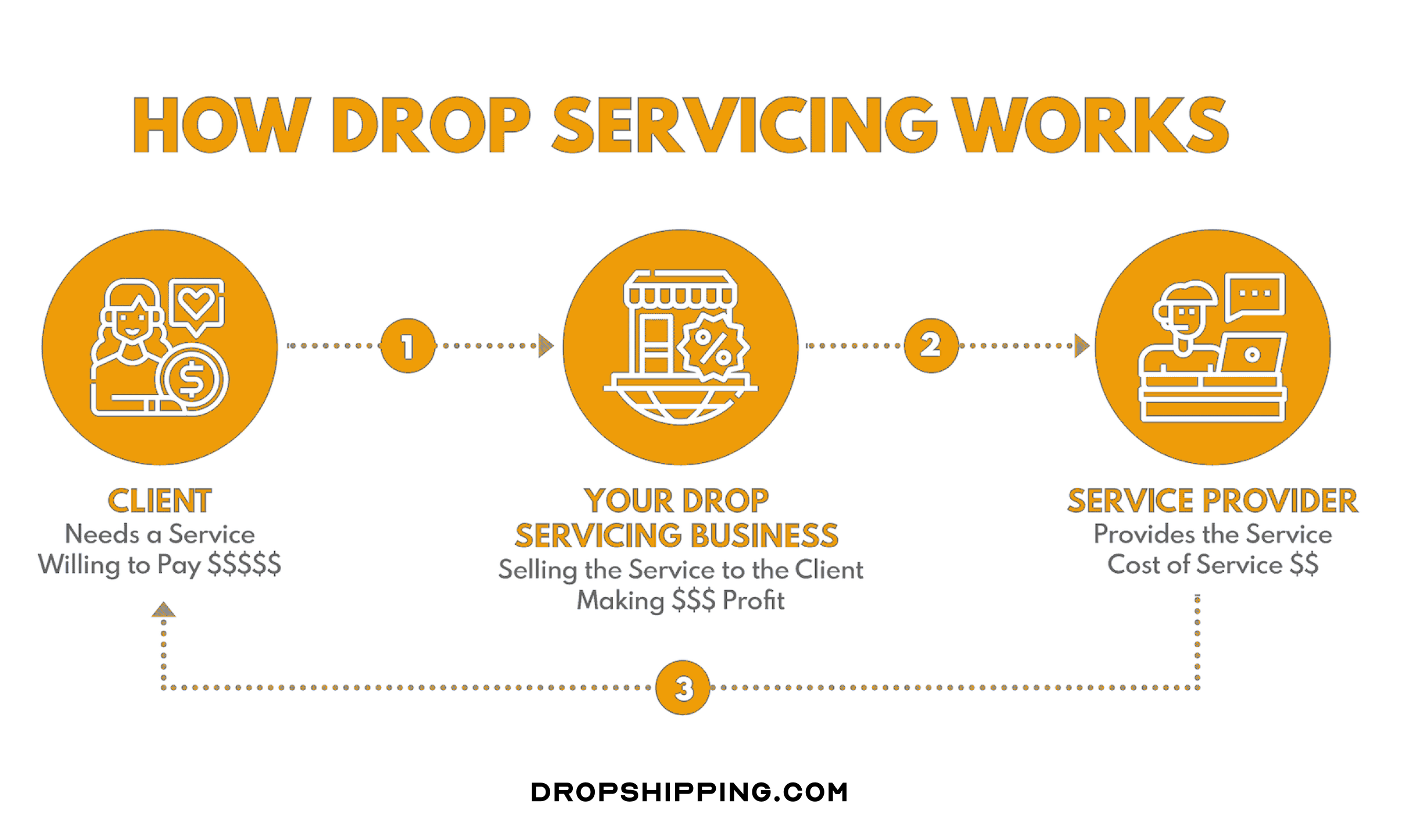 Drop servicing is distinct from dropshipping products. Hence, this dropshipping business model focuses on digital services rather than physical products. In dropservicing, you act as the middleman or intermediary between clients who need a particular service and freelancers or service providers who can fulfill those services.
So, you need to choose a digital service you want to provide, find freelancers, market your digital dropservicing, and set your prices.
Also, you need to communicate client needs, review completed work for quality, and pay freelancers. Moreover, you are also responsible for gathering feedback, addressing client concerns with freelancers, and ensuring the service contract specifies the number of included changes.
Furthermore, it's important to note that dropservicing, like any business model, has its challenges. So, effective communication with both clients and freelancers, quality control, and building a strong online presence are critical components of a successful dropservicing business.
Additionally, being transparent with your clients about the outsourcing aspect is key to building trust.
👉 Check out the Best Side Hustles For Women – Make Money From Home.
19 Best DropServicing Niches To Start With
Next, I will list the best dropservicing ideas you can tap into. Let's see!
👉 Learn about How Does Instacart Make Money – Ultimate Review.
🔸 Copywriting
Producing content for marketing and promotion is what copywriting is all about. Thus, with many companies keen on showcasing their products, copywriting has become a sought-after field. And, that's why this is one of the best dropservicing ideas.
So, if you start a drop service business in copywriting, you can find and hire experts through platforms like Upwork.
For instance, on Upwork, copywriters price their services from $10 to $150 per hour.
However, there are copywriters that price their services based on words written. So, usually for 500 words, they might price you around $15-20.
Also, based on Google Trends, the demand for these dropshipping services is expected to grow even more.
🔸 Transcription
In the transcription niche, you'd look for clients seeking individuals to convert spoken words into written text. Transcription involves creating subtitles for videos or writing texts by listening to audio recordings, like for Instagram stories. Delivering well-written transcriptions could lead to recurring customers.
Thus, the freelancers' price range for their services is between $5 to $65 per hour. However, most freelancers price between $25-35 per hour.
Moreover, based on Google Trends results, the demand for these services is constant, and as far as I can see, there's a growing trend.
🔸 Translating
Being bilingual or knowing multiple languages can make a drop service idea in translation quite beneficial. So, as most websites tend to sell internationally, they want their websites and content translated into multiple languages.
So, yes. In today's era, this is a real job, and running a dropservicing business for it can be beneficial. So, this might be one of the best dropservicing ideas. In fact, based on Google Trends results, there are no signs of slowing down.
Also, there are various sub-niches of translating, like technical translation, writing translation, legal translation, website translation, medical translation, and more.
However, most of the translators price their services between $5 to $37 per hour.
🔸 Scriptwriting
Scriptwriting offers another lucrative dropservicing opportunity. Whether it's a short ad script or a full movie script, the demand is on the rise as the film industry expands.
Also, freelancers prices this dropservicing around $20 to $80 per hour. However, more advanced scriptwriters might also price you between $100 to $200 per hour.
However, based on Google Trends results, the demand for these services is rapidly growing and falling down in short periods. But, there's always interest in such drop services.
🔸 Web Design
Next on my dropservicing ideas list is web design.
With businesses increasingly moving online, there's a high demand for web design and development services.
Launching a web design business and hiring skilled designers from platforms like Upwork can help you tap into this opportunity.
Moreover, web designers pricing range between $20 to $90 per hour.
🔸 Social Media Ads
Social media platforms like Facebook, Instagram, LinkedIn, and TikTok are on the rise. And, running ads on these platforms has become a thing!
In fact, based on dropshipping statistics, as of 2023, Facebook will have over 10 million active marketers. Furthermore, Facebook advertising is seen by 63.7% of Americans over the age of 13.
So, companies seek social media managers to oversee their public interactions. Thus, this might be a great opportunity for your dropservicing business. For me, this is one of the greatest dropservicing ideas.
Moreover, the freelancers pricing range between $20 to $75 per hour.
The best part, the demand for these job titles is always high! And based on Google Trends, the searches for social media marketing job title is rising for 850%.
🔸 Graphic Design
Graphic design involves creating visual content to convey messages. From publication design to logo design, the variety is vast, offering numerous opportunities.
Thus, you can start a dropservicing in graphic design by partnering with experts on Upwork. Hence, these freelancers price their services between $20 to $150 per hour.
Also, in my opinion, this is one of the most demanded job positions nowadays, and that's what Google Trends results show as well.
🔸 Tailoring WordPress
Many WordPress-based websites could benefit from optimization and customization.
So, despite high competition, providing good service in this niche could lead to long-term profitability.
So, hiring a WordPress expert from a web design agency can save time and money.
On Upwork for example, freelancers with WordPress skills price their servicing between $20 to $75 per hour.
💡 Tip: Read about Shopify Or WordPress: Which One Is Better For E-commerce?
However, keep in mind that these job titles are not very stable in certain periods. So, if you want to run your dropservicing business only around it, you might want to rethink it or add more dropservicing ideas.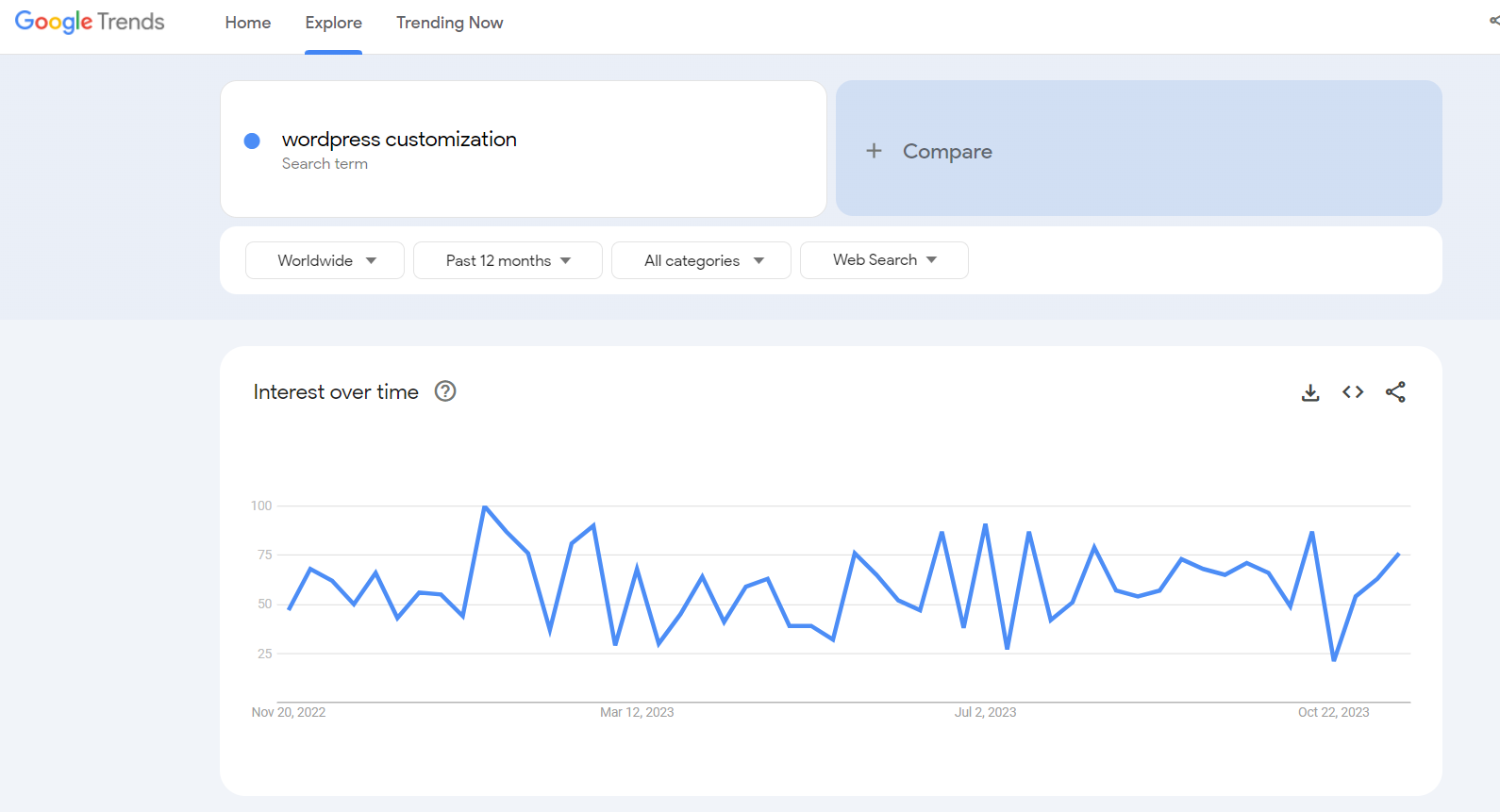 🔸 Search Engine Optimization
Search engine optimization (SEO) is vital for improving a website's visibility. Thus, many businesses invest in SEO to rank higher in search results. And for you, there are plenty great dropservicing ideas in this niche.
Plus, the SEO specialist is always in high demand.
Therefore, starting an SEO dropservicing business by collaborating with SEO experts can be a great opportunity for success. In fact, their services can be On-page SEO, technical SEO, SEO keyword research, SEO audit, Off-page SEO, and more.
Hence, on Upwork SEO specialist price their services between $10 to $200 per hour.
🔸 Creating and Editing Videos
Working in video creation and editing offers a broad range of possibilities. In fact, clients may have various needs, such as animations, short videos, or video ads. So, starting a dropservicing for video creation and editing actually means catering broad customer base.
Also, you can team up with skilled editors on Upwork to make a profit. Thus, these editors price their services between $15 to $80 per hour.
And, are these dropservicing ideas profitable? I am 100% positive. Plus, based on Google Trends, these are in high demand all the time!
🔸 YouTube Marketing
YouTube is the second-largest search engine, making it crucial for businesses to have a presence. Plus, based on Google Trends, the interest in YouTube marketing is always high.
In fact, the richest dropshippers have succeeded and scaled up their business by YouTube marketing.
For example, Sebastian posted his first YouTube video and guided people about how he made $10,000 in revenue while using Shopify. 👇
Next, posted another video which went viral. Well, that was his intention. And, that's how he managed to make money from ad revenue and affiliate deals. 👇
https://www.youtube.com/watch?v=4dNh4EoTI3E&embeds_referring_euri=https%3A%2F%2Fdropshipping.com%2F&source_ve_path=MjM4NTE&feature=emb_title
Thus, many content creators either lack time to optimize their channels or don't know how. Therefore, launching a YouTube optimization dropservicing and help you succeed in dropshipping.
Thus, for these services, freelancers' pricing is between $15 to $175 per hour.
💡 Tip: Learn How To Make Money On Youtube Without Making Videos [2023].
🔸 Lead Generation
Lead generation involves identifying people interested in a product or service and converting them into paying customers.
This service boosts brand awareness, increases revenue, and provides valuable data for decision-making. In fact, there's a high demand for lead generation drop service businesses.
Thus, you can start yours and attract clients by working with lead generation specialists on Upwork. In addition, these freelancers price their services between $10 to $50 per hour.
🔸 Programming
Another profitable dropservicing ideas are related to programming. In fact, many companies seek experienced developers to bring their ideas to life.
Thus, the programming service niche can be profitable, and you can set higher profit margins for yourself. Plus, it is always in high demand.
Furthermore, some programming experience is an advantage, and clients may approach you for various tasks, from creating plugins to coding bots or developing apps.
Thus, businesses need programmers for all kinds of stuff, like admin support, customer service, design and creativity, data science and analytics, web, mobile, and software development, etc.
However, remember, the quality of the service is your responsibility as the owner.
Also, the price range for freelancer services is between $30 to $300.
🔸 Designing Infographics
Infographics visually represent data with minimal language. Thus, businesses use infographics to create visual records of business data. They are a concise way to present information, accurately depicting progress.
So, you can launch a drop service business for infographic designs to meet the demand for visually engaging data representation. Plus, the demand for infographic designers is expected to grow in the next period.
Also, infographics designers price their service between $25 to $125.
🔸 Voice Overs for Content
Many individuals want to start podcasts or YouTube channels but may not be comfortable speaking in a second language. So, any dropservicing ideas about this?
A voice-over artist, a professional whose product is their voice, can provide suitable performances for your content. So, offering voice-over services for your dropservicing business can be a great venture.
Also, these freelancers price their services between $30 to $200 per hour.
Plus, based on Google Trends, these job positions are always in high demand.
💡Tip: Learn How To Make 5k a Month With A Real Business.
🔸 Shopify Experts
Dropshipping and eCommerce businesses mostly use Shopify as their platform for setting up a Store, and running their business. Therefore, you have lots of tasks for Shopify experts to do, like website development, customization, marketing, customer service, custom code, admin support, etc.
So, based on these, the pricing of freelancers for these services ranges between $15 to $150 per hour.
Thus, any dropservicing ideas around this? Well, there are plenty! You can run your dropservicing business around this and offer a variety of choices. Plus, you can serve many customers' needs as well.
Also, based on Google Trends results, the demand for these services is on the rise.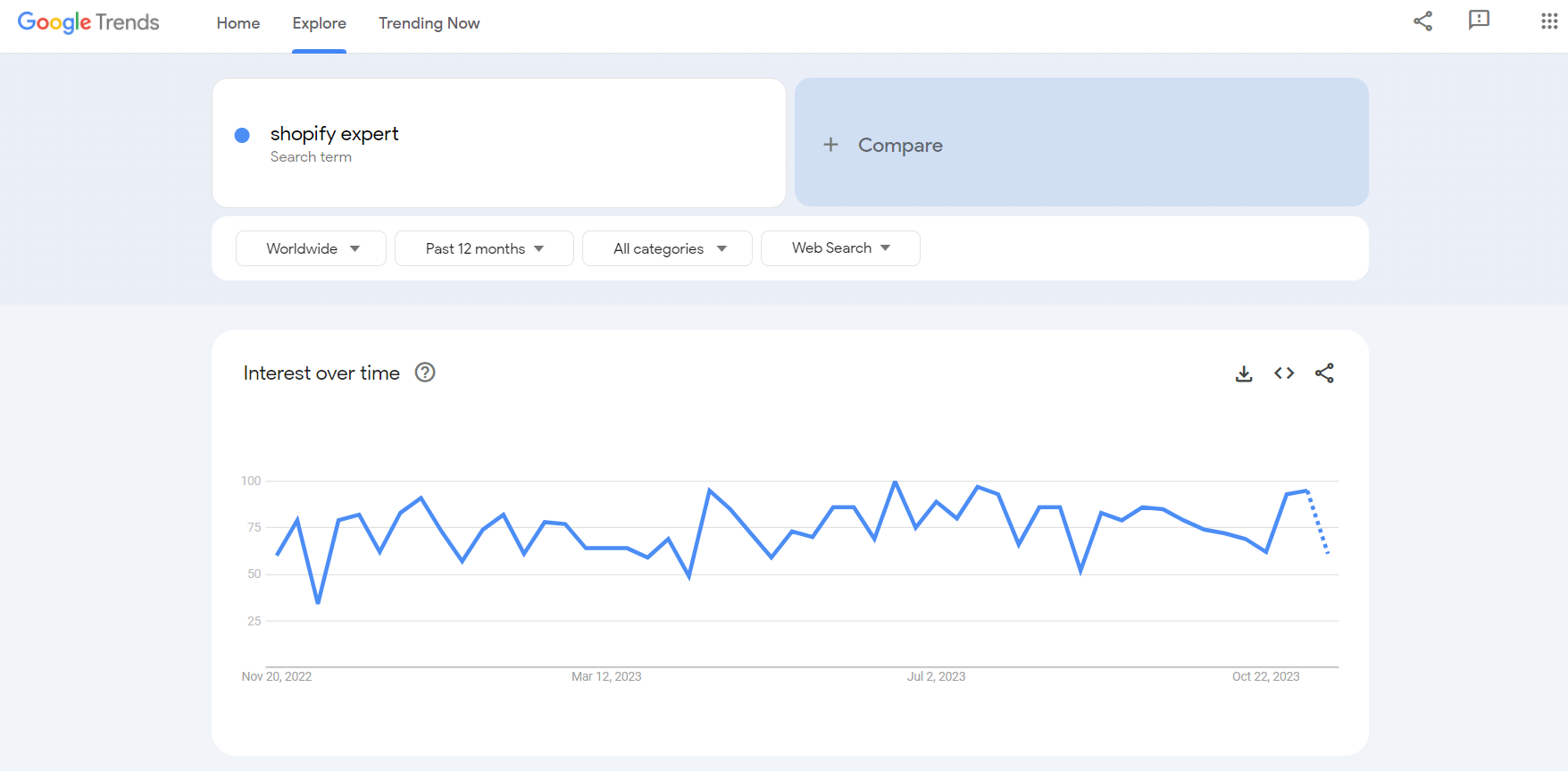 🔸 Data Entry and Analytics
Data entry plays a vital role in various industries like real estate, product import, logistics, and banking. And, you as a dropservicing business can thrive as an intermediary between the clients and data entry providers.
And, the demand for these services is high, based on Google Trends.
Thus, you can opt for entry-level or part-time data entry freelancers for this role. Additionally, clients might need data analytics, requiring a freelancer with specialized experience.
Furthermore, these freelance jobs pricing is between $4 to $18.
🔸 Virtual Assisting
A virtual assistant is someone who works remotely for a business owner.
In fact, this is a dropservicing niche with high demand, especially among online business owners, including small startups.
Thus, these businesses often hire virtual assistants when they lack specific expertise or are too busy with their daily tasks and content creation. Thus, this is mostly about tasks related to managing and administering tasks, phone calls, emails, etc.
Also, the price range for these services ranges between $6 to $30.
🔸 Customer Support
Providing excellent customer support is very important for online businesses. Thus, customers want to feel heard, and that is what eCommerce businesses understand very well.
As an online business need this service, for you as a dropservicing business is a great opportunity for success.
Many freelancers are available on platforms like Fiverr, Upwork, and PeoplePerHour. Thankfully, you can negotiate an hourly rate that ensures a decent profit. In fact, on Upwork, the price range can be as low as between $5-10, and up to $80-150.
Furthermore, this is one of the most demanding jobs over the internet. And, Google Trends results really shows that. Plus, the job topic searches are rising by 1600%.
How To Start Your DropServicing Business? ( My Step-By-Step Process)
Since I listed the best dropservicing ideas, now I will guide you through my process of starting a DropServicing business. 👇
Step 1- Choose Your DropServicing Niche
Firstly, it's important to narrow down your focus by selecting a specific dropservicing niche. Thus, you must consider your target audience and their interests.
Take some time to explore dropshipping stores related to your chosen niche for inspiration from various sources.
For instance, I use Google Trends to check the popularity and demand for keywords like "virtual assisting." So, as I can see, the results show me consistent demand. Thus, this gives me the green light to proceed with my research.
Step 2- Create Your Dropshipping Store
Now, since you have your dropservicing ideas chosen, you need a place to showcase and sell your dropshipping services – your online store.
So, you have various options to do that. Hence, you can hire a professional, use open-source services, like WordPress, or use website builders.
For me, website builders are a convenient option for creating a store, saving time and effort while achieving an impressive look.
Also, in my opinion, Shopify stands out as the top choice due to its user-friendly interface and a variety of visually appealing themes, both free and paid.
💡 Tip: Learn How To Set Up Your First Store On Shopify [No.1 Beginners Guide].
Additionally, Shopify offers customization options so you can organize your store according to your preferences.
This platform seamlessly integrates with various dropshipping apps and tools, helping you automate your supply chain process.
Step 3- Promote Your DropServicing Business
Effective marketing is crucial for success. Without it, how will anyone learn about your dropservicing ideas?
Thus, there are various techniques are available to drive traffic to your e-commerce store.
You can start with search engine optimization, social media advertising, email marketing, and paid promotions to enhance online visibility and reach a broader audience.
Next, platforms like Facebook, Instagram, and TikTok can be used to create engaging content, run targeted ad campaigns, and interact with potential customers. These social media platforms let you use robust targeting tools to narrow down your audience and set specific ad goals and details.
Furthermore, you can optimize your sales by implementing marketing tactics such as cross-selling, up-selling, and offering promotional codes to encourage additional purchases or upgrades, leading to increased revenue.
What's more, I suggest you consider integrating video marketing into your dropshipping strategy to explain your dropservicing process, highlight its features and benefits, and demonstrate effective usage.
Step 4- Find Reliable DropServicing Providers
Finding the reliable freelancer for your job is not easy at all. Hence, it is always challenging to recognize which ones are scam, and which are real.
However, thanks to many platforms like Fiverr, Upwork, PeoplePerHour, etc., you can find reliable dropservice providers.
Thus, on these platforms, you check on freelancers' work experience, check on other dropshippers recommendations, check their work portfolio, etc.
For instance, I am personally using Upwork for my dropshipping busniess. So, here I will show you how you can hire freelancers using it.
1. Set Up Your Upwork Account
To get started, create your Upwork profile by visiting the Upwork website and clicking on the "Sign Up" button in the upper right corner. 👇
On the registration page, the initial step is to decide whether you want to join as a client or a freelancer. Since you're the one hiring, select the "Join as a Client" option.
Lastly complete the form with your personal information to finish the process.
2. Post a Job on Upwork
Now, it's time to post a job and showcase your dropservicing ideas. Click on Jobs > Post a Job from the menu. 👇
You can choose to do this step with or without AI help. Now, you need to create a specific job title, like "Content writer for Shopify how-to-guides," for better results. 👇
➡ Add necessary skills
Next, you need to specify 3-5 skills to get the best results. So, you can choose from Upwork's options or add your specific skills. Click the next step button after adding your skills.
➡ Specify the scope of your job
Furthermore, you have to define job details like duration, length, expertise level, and contract specifics.
➡ Specify the location of your freelancers
Specify the location of freelancers, increasing proposals from a specific region while remaining open to all candidates. 👇
➡ Specify your budget
Indicate the amount you're willing to pay, either hourly or per finished project. 👇
➡ Write a job description
Describe the work clearly, including expectations, required skills, and necessary details on how to complete the job. 👇
Now, post your job. 👇
3. Invite Freelancers to Your Job Post for Dropshipping
After posting, you can proactively invite freelancers. Thus, search for freelancers with specific skills, set filters, and invite them to apply for your project. 👇
Next, review their profiles before inviting them, and check their skills, portfolio, and previous work. The freelancer's profile provides essential information like language proficiency, education, and response time.
After sending an invitation, the freelancer will respond with details, and you can begin the hiring process.
4. Hire Freelancers from the Upwork Search
Once you find a suitable freelancer, press "Hire." You can then promptly send a contract, specifying terms, work description, and weekly limitations. 👇
Pros & Cons Of DropServicing
There are plenty of profitable dropservicing ideas you can tap into. However, just like any other business, drop servicing also comes with its pros and cons.
So, next I will list you the pros and cons of DropServicing. 👇
Minimal Initial Investment and Expenses
No Specific Expertise Required
Quality Control Challenges
Dependence on Service Providers
Risk of Service Provider Issues
Pros
There are several advantages to running a drop service business:
✅ Minimal Initial Investment and Expenses
In contrast to traditional business models, dropservicing involves low startup costs and expenses.
For example, you don't need to include contractor payments in your initial budget. Instead, you deduct this from the client's payment as the business progresses.
The main expenses typically include setting up your dropservicing store, purchasing a domain, and securing online storage from a hosting provider. Moreover, other potential costs may include advertising, branding, and legal fees.
💡 Tip: Read about Dropshipping Profit Margin: A Step-By-Step Guide For Beginners.
✅ No Specific Expertise Required
Dropservicing eliminates the need for specific skills, knowledge, or experience in the service you plan to offer.
So, whether it's content production or software development, you don't have to be an expert in the field. Thus, as a dropshipping business owner, you collaborate with freelancers and independent contractors who handle the specialized work.
This allows you to provide quality service to clients, even if you're a beginner. In fact, you know that multiple minds together can make great work.
✅ Flexible Remote Work
Launching a drop service business provides a high level of flexibility. Thus, you can set your own hours and work from any location with an internet connection.
Hence, you can run your business based on your schedule. However, you also need to make regular check-ins to ensure client satisfaction are recommended.
💡 Tip: Learn How To Escape The Rat Race The Real Way? – Leaving The 9 To 5.
✅ Minimal Hassle
The drop service business model is characterized by low hassle. Since the services are delivered digitally, there's no need to deal with the challenges of packaging and shipping physical items.
Cons
❌ Quality Control Challenges
Since you're relying on third-party service providers, maintaining consistent quality can be challenging. Thus, if the service provider delivers subpar work, it can harm your reputation with clients.
Also, if they send the work right before the due date, you might not have the time to examine everything. So, make sure you always leave extra time before the task needs to get to the client.
❌ Dependence on Service Providers
Your business success is dependent on the reliability and quality of the service providers you work with. If they fail to deliver, it can negatively impact your business.
❌ Profit Margins
While dropservicing can be profitable, the margins are often lower compared to providing the services yourself.
In fact, the difference between what the client pays and what you pay the service provider is your profit, but it may not be as substantial as in traditional service businesses.
And remember, you have other expenses you need to pay, like website builders, hosting, etc.
❌ Communication Challenges
Coordinating between clients and service providers, especially if they are in different time zones or have language barriers, can lead to communication challenges that may affect the smooth running of projects.
❌ Risk of Service Provider Issues
If your chosen service provider faces issues such as delays, technical difficulties, or other problems, it could impact your ability to meet client expectations and deadlines.
Join the only community and resource hub you'll ever need to succeed with dropshipping
Find winning dropshipping products, learn marketing, download templates and engage with real dropshippers
Never pay for a "guru's" course again. See why 4543+ dropshippers joined us this year!
💡Try DSCOM Hub Now
Conclusion
In conclusion, dropservicing isn't just a business model. But, it's a gateway to an entrepreneurial adventure where your skills, creativity, and determination shape the trajectory of your success.
In fact, dropservicing opens the door to a multitude of niches and dropservicing ideas, each presenting an opportunity for you to tailor your business to your passion and expertise. Whether it's copywriting, SEO, or YouTube marketing, the digital realm is your playground.
Also, dropservicing requires a minimal upfront investment. Hence, you can start small, test the waters, and scale your venture as you witness the fruits of your labor. That's why in this blog article, I also guided you through my step-by-step process of making your dropservicing ideas, a reality.
So, why wait? The digital landscape is evolving, and dropservicing offers a seat at the forefront of this transformation. Seize the opportunity, unlock your potential, and let the dropservicing odyssey begin – because your future starts now!