Can You Use Upwork for Dropshipping? – Build With Freelancers
by
Aleksandra -
Aleksandra teaches marketing and management at various levels in High School. She writes about marketing, the economics and logistics of the dropshipping business and ecommerce in general.
Chief of Content Marketing
Are you an e-commerce entrepreneur looking to level up your dropshipping game? Have you ever wondered if you can use Upwork for dropshipping and harness the power of freelancers to supercharge your dropshipping business?
Look no further because I've got the ultimate guide for you. In this blog article, "Can You Use Upwork for Dropshipping? A Guide To Work With Freelancers For Ecom," I'll explore how Upwork, a renowned freelancing platform, can be your secret weapon in the world of dropshipping. So, let's start!
What is Upwork?
Upwork is a popular freelancing platform where you can find trusted freelancers working for the dropshipping niche or even dropshipping agents for your business.
In fact, Upwork serves as an internet platform for freelancers to connect with businesses seeking specialized services.
Freelancers on Upwork offer their expertise across 12 distinct industry categories, covering a wide range of more than 10,000 specific skill sets.
What's more, you can see some social proof regarding their job success rate, their hourly rate, etc.
Also, by using Upwork, you can search by location. This allows you to find dropshipping freelancers based on where your target audience is.
Now, let's see if you can use Upwork for dropshipping.
💡 Tip: Learn How To Make Money From Home – 30+ Ideas & Examples.
Lifetime deal: Get all-access to everything on Dropshipping.com
Access all DSCOM features, resources, courses, live workshops, discounts, winning products, weekly deep dives, directories and all future updates under all-in-one dropshipping HUB.
DROPSHIPPING IS A REAL BUSINESS, DON'T DO IT ALONE. 4553 MEMBERS ALREADY JOINED. YOU CAN PAY OFF YOUR SMALL INVESTMENT WITH JUST 2 SALES ON YOUR STORE.
Grab the deal before it's gone
Can You Use Upwork for Dropshipping?
Absolutely, you can. For instance, you can try typing in 'Dropshipping' in the Upwork search bar. The results will show you numerous skilled freelancers ready to assist you with various dropshipping tasks.
Also, as you can see from the picture below, Upwork gives you additional search options that other dropshippers mostly ask for. 👇
Nonetheless, relying solely on Upwork for your entire dropshipping venture is not the best approach. I don't recommend it.
But if you need a freelancer with a specific skill to help you with your dropshipping business, you can definitely find it helpful.
💡 Tip: Learn How To Escape The Rat Race The Real Way? – Leaving The 9 To 5.
For instance, if you're not skilled at advertising, you could consider hiring someone from Upwork to take care of that aspect!
👉  Discover the DropServicing Ideas & Examples For Making Money Online.
How To Use Upwork For Dropshipping?
Next, I will show you my step-by-step process on how can you use Upwork for dropshipping.
1. Create An Upwork Account
First thing first, you must create an Upwork profile. To do so, go to the Upwork website, and click on the "Sign Up" button in the right upper corner. 👇
So, once you are on the registration page, the first thing you need to do is choose between joining as a client or a freelancer.
Thus, since you are the one who hires, you need to choose the first option. Then, click on "Join as a Client". 👇
Lastly, you need to fill out this form with your personal information, and you are all in. 👐
2. Post A Job on Upwork
Now, it's time to post a job. So, from the menu, click on Jobs>Post a job. 👇
Thus, here you can choose to do this step with AI help or without it. This time, I will do this on my own.
Create a job title
So, the first thing you need to do is create a job title. Thus, since I need a content writer for my blog posts, I will just add that specific job title. Then, I am going to click on the next step button.👇
Thus, I advise you to write more specific job titles, like "Content writer for Shopify how-to-guides".
➡ Add necessary skills
Now, this step is very important, since you are specifying exactly what you are asking from the freelancers. Thus, Upwork advises you to add 3-5 skills to get the best results. 👇
And, you can choose the options given by Upwork, or you can simply write on your specific skills. Once you add all you want, click on the next step button.
➡ Specify the scope of your job
Next, you need to specify the scope of your job, like duration, length, level of expertise, contract specifics, etc.
➡ Specify the location of your freelancers
Furthermore, you will specify the location of your freelancers. In fact, this option increases proposals from talent in a specific region but still opens your job post to all candidates. 👇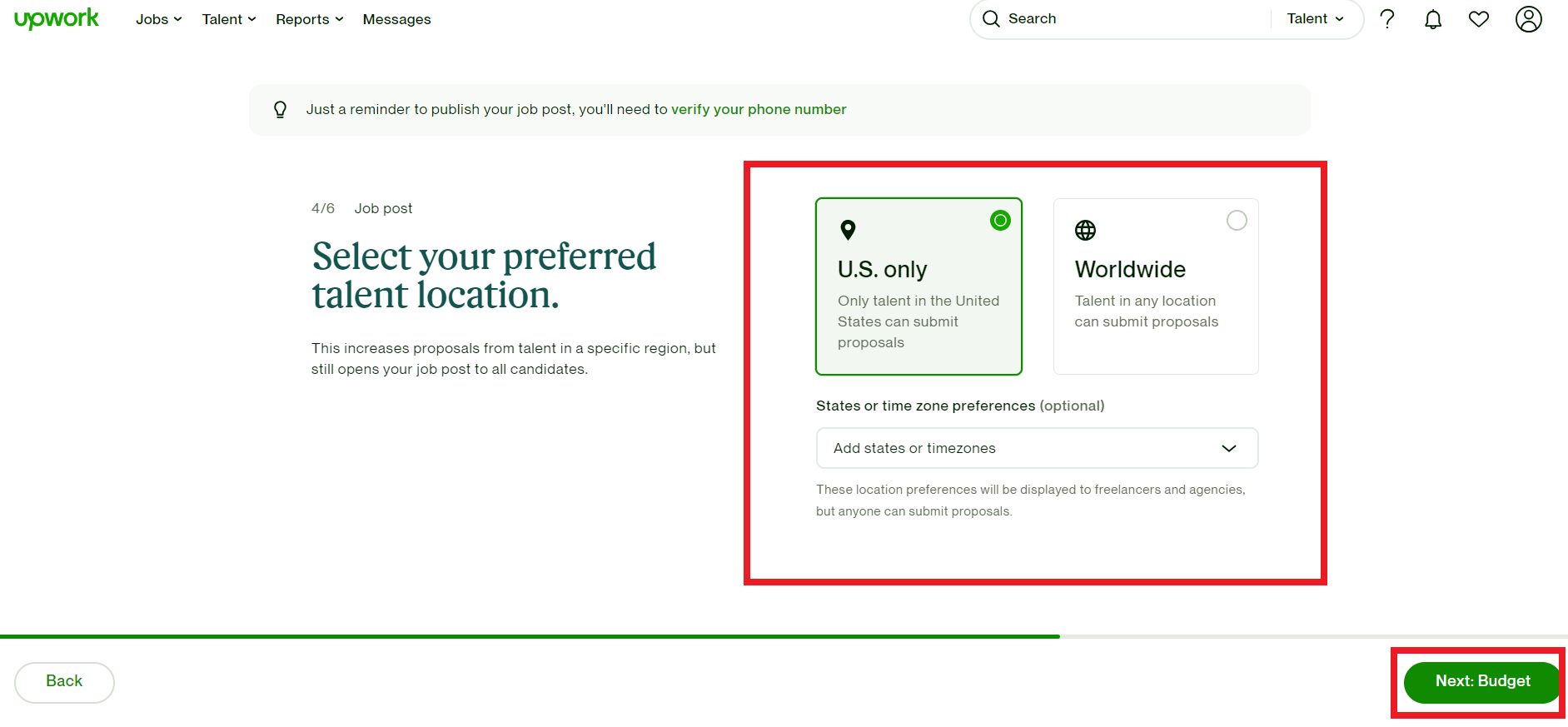 ➡ Specify your budget
Lastly, you must write how much are you willing to pay to the employees. Thus, the payment can be based on an hour or per finished project. 👇
➡ Write a job description
Last but not least, you need to describe the work to the freelancers. So, your description needs to have clear expectations, involve the skills you require, and have all the necessary details on how to be done. 👇
For example, this is when I find ChatGPT useful for dropshipping. I will just write a prompt, and ChatGPT will write me a stunning Job description for how to cancel a dropshipping order. Check this out. 👇
Now, it's time to post your job. 👇
3. Invite Freelancers To Your Job Post For Dropshipping
The next step on how can you use Upwork for dropshipping is actually inviting the freelancers to your job post.
After posting your job listing, you have the option to proactively reach out to potential freelancers and invite them to apply for your project. To do this, you can conduct a targeted search for freelancers who possess the specific skills you require.
For instance, let's say I'm in need of assistance in creating a blog article that guides readers on how to cancel dropshipping orders on a Shopify store. So, I will simply search for "dropshipping orders on Shopify store,", set my filters, and I can identify freelancers who may be capable of helping me. 👇
From the search results, I can select a freelancer and choose the "Invite to Job" option. Subsequently, I can compose a message to the freelancer, outlining the specific requirements and expectations for the project.
It's important to remember that, before extending an invitation to a freelancer, it's advisable to review their profile thoroughly to ensure that their qualifications align with your needs.
Thus, assess their skill set, peruse their portfolio, and examine their previous work, among other relevant details. 👇
Furthermore, the freelancer's profile contains essential information such as their proficiency in various work languages, educational background, and typical response time.
Once you've sent the message, the freelancer will respond with all the pertinent details, and from there, you can commence the hiring process.
4. Hire Freelancers From the Upwork Search
Once you find the freelancer that best suits your needs, you can now press "Hire".
Upon selecting it, you have the option to promptly dispatch a contract to the freelancer, where you can establish the contract's terms, delineate the work description, and set the weekly limitations. 👇
Upwork Dropshipping Pros & Cons
So, since I showed you how can you use Upwork for dropshipping, now let's overview its pros and cons, and see whether is the best fit.
The Pros Of Using Upwork For Dropshipping
✅ Abundant Skilled Professionals
One major benefit of using Upwork is the access to a vast pool of highly qualified individuals. In fact, Upwork is renowned for its abundance of educated and proficient talent.
Thus, more than 70% of Upwork's freelancers have a college degree, with over 20% holding postgraduate degrees.
With a diverse range of skills spanning over 10,000 categories across 12 industry sectors, finding the right talent for your dropshipping needs on Upwork is a reliable possibility.
✅ Versatility in Talent for Various Dropshipping Tasks
Not just that Upwork has various freelancers in various categories. But, also, if you search for freelancers under a certain category, you will find dozens of them. Which, btw, are excellent!
Let's take Facebook ads, for example. In the search bar, I will just type in "Facebook Ads", and here's what I got.
This search on Upwork reveals numerous freelancers offering their expertise. Most of them boast positive reviews on their profiles, and there are various options for hiring social media marketing professionals.
In fact, as you can see, most of the results show that these freelancers have job success of 88% to 99%, which is amazing.
Moreover, you can even narrow down your search even more, using Upwork filters.
💡 Tip: Learn How To Create a Winning Social Media Marketing Plan For Your Dropshipping Store.
In addition, you can find freelancers for other dropshipping responsibilities, including designing logos, refining product advertisements, handling technical optimizations, managing orders and inventory, crafting product descriptions, and much more.
The point is that Upwork offers a diverse talent pool, ensuring that you can find numerous capable professionals.
✅ Easy Assessment of Freelancers' Competence
When you visit a freelancer's profile, there are several indicators of their expertise. Let's go through the key points that showcase their skills:
Work History: Examining a freelancer's work history, which includes reviews from other clients, is an excellent way to gauge their quality.
Total Jobs and Hours: The profile displays the total number of jobs completed by the freelancer and the total hours worked, offering insights into their experience.
Job Success Score: Upwork assigns a job success score, reflecting client satisfaction based on past work, which considers the freelancer's overall work history.
Portfolio: Freelancers can showcase their previous work in their portfolio, helping you assess their quality.
Talent Quality: You can filter your search based on the freelancer's quality, with top-rated freelancers categorized as top-rated plus, top-rated, or rising talent.
By utilizing these factors to compare freelancers, you can confidently find skilled individuals for your dropshipping business.
The Cons Of Using Upwork For Dropshipping
However, there are some drawbacks to using Upwork for dropshipping:
❌ Higher Freelancer Rates Compared to Fiverr
Unfortunately, quality talent often comes at a higher price, and Upwork is known for its slightly elevated costs when compared to Fiverr.
Upwork is commonly used for more complex projects that demand advanced skills, which is why freelancers charge higher fees. Additionally, the highly educated pool of freelancers on Upwork contributes to these higher rates.
❌ Accumulating Upwork Fees
When you hire someone through Upwork, you must pay a 5% client marketplace fee on all payments, whether it's a one-time job or a full-time project.
Moreover, for every new contract you initiate with a freelancer, there's an additional $4.95 contract initiation fee. These fees can add up, especially if you're involved in multiple short-term projects.
How to Stay Safe from Scams on Upwork for Dropshipping?
So, regarding the FAQ -can you use Upwork for dropshipping, I think that this is also an important aspect to consider. So, let's see how to avoid Upwork scams.
⚠️ Upwork Payment Protection
The key safety measure to remember is Upwork Payment Protection. The main aim is to guarantee that both you, as a dropshipper, and the freelancer are paid fairly for the work they do.
Thus, how Upwork actually works is that the freelancer records their completed hours in the work diary, and you'll get invoices on a weekly basis.
Also, to ensure the freelancer is actively working on your project, they need to set a timer, and Upwork captures screen snapshots to verify their activity.
All of this takes place within Upwork, which reduces the risk of either side trying to trick the other.
A big warning sign is if someone asks you to make payments outside of Upwork. Whenever you hire someone on Upwork, it's crucial to keep all payments within the platform.
For instance, I once had an experience where a user wanted to communicate via Telegram and receive payment through a bank account outside of Upwork.
Therefore, my advice is to always conduct your payments within Upwork to ensure payment protection covers you.
💡Tip: Read about Dropshipping PayPal: How To Use It & Not Get Banned.
⚠️ Someone Claims to Work in a Well-Known Company without Proof
It's essential to exercise caution when encountering individuals who assert they work for a reputable company but fail to provide any evidence of their affiliation. To avoid falling victim to this type of scam, remember the following:
Verification: Ask for verification or proof of their employment with the company. Legitimate professionals are usually able to provide some form of evidence, such as a company email address, LinkedIn profile, or work-related documents.
Research: Conduct a quick online search to verify the individual's claim. If no information or verifiable links to the claimed company come up, proceed with caution.
Consultation: Seek a consultation with the prospective hire to discuss the project and evaluate their knowledge and expertise. Genuine professionals can provide detailed insights about their work.
⚠️ Profile Picture Features a Well-Known Public Figure or Celebrity
When a user on Upwork uses a profile picture of a famous public figure or celebrity, it can raise doubts about their authenticity. Here's how to approach this situation:
Inquiry: Politely ask for clarification regarding the profile picture. They may have legitimate reasons for using it, such as symbolizing a particular skill or interest.
Additional Verification: Request further information to confirm their identity. Legitimate professionals can offer additional details to substantiate their authenticity.
Use Common Sense: Trust your instincts. If the use of a celebrity photo seems unusual or doesn't align with the services they offer, it's wise to proceed cautiously.
⚠️ Someone Offers Free Work
While it may seem tempting to accept free work, it's important to understand the potential risks involved. Here's why and how to avoid falling into this trap:
Hidden Agendas: Individuals offering free work may have ulterior motives, such as collecting your data, promoting scams, or delivering subpar quality.
Cautious Evaluation: Scrutinize their intentions. Ask why they are willing to work for free and how they benefit from it.
Professionalism: A genuine professional is more likely to provide a clear proposal, and terms of engagement, and discuss compensation or mutual benefits.
Trustworthiness: Only engage with individuals who can demonstrate their trustworthiness and credibility.
Upwork Alternatives
As you can see, your dilemma about whether can you use Upwork for dropshipping is solved. Of course, you can, but not for all aspects of your dropshipping business.
However, if you think this is not the best place for finding freelancers, here are some alternatives:
Fiverr serves as a platform where you can enlist the services of freelancers for a range of dropshipping-related assignments, encompassing tasks like crafting websites, generating ads, optimizing website speed, and managing orders.
In comparison to Upwork, Fiverr is often perceived as a less formal option and generally offers services at a slightly lower price point. It's commonly favored for projects with shorter durations. Conversely, Upwork tends to feature higher-caliber talent, albeit at a higher cost.
Ultimately, the choice of the most suitable platform depends on your specific requirements.
If you're exploring alternatives to Upwork, PeoplePerHour presents itself as an option with a substantial global talent pool. Also, you can discover a plethora of freelancers capable of assisting with various dropshipping tasks, including:
Product research and advertising.
Streamlining the Shopify store setup process.
Integrations with third-party applications.
Tailored coding solutions for dropshipping stores.
Creative website design
Regarding pricing, PeoplePerHour typically offers more budget-friendly options compared to Upwork. However, it's important to note that PeoplePerHour's system for detecting fraudulent activity may not be as robust as Upwork's, so exercising caution is advisable.
CloudDevs is an up-and-coming contender in the realm of remote talent platforms, positioning itself as a strong alternative to Upwork. This platform specializes in connecting businesses and individuals with top-tier freelance developers and designers.
For those in search of a credible Upwork substitute for hiring pre-vetted tech professionals, CloudDevs is a reliable choice.
Boasting a meticulously screened talent pool of more than 8,000 seasoned developers and designers, CloudDevs can assure clients of a talent match within 24 hours that aligns precisely with their specific requirements.
Notably, CloudDevs places a primary emphasis on serving its U.S.-based clientele while predominantly sourcing its talent from Latin America, thereby ensuring compatibility in terms of time zones for both the talent and clients.
Recognizing the significance of making budget-conscious decisions, whether for businesses or individuals, CloudDevs stands out by avoiding hidden costs and unexpected fees, setting it apart from some of its Upwork competition.
With an impressive array of 1,800 categories and a user base of approximately 32 million individuals, Freelancer has earned its reputation as one of the world's largest marketplace-style platforms.
Over its more than a decade-long presence in the market, it has become the preferred hub for countless businesses and freelancers to collaborate on projects of varying scales.
For freelancers, the primary allure of this platform lies in the vast array of projects available to choose from. In turn, businesses benefit from the ability to discover freelancers with diverse skill sets capable of tackling a wide range of tasks, all at competitive and affordable rates.
Join the only community and resource hub you'll ever need to succeed with dropshipping
Find winning dropshipping products, learn marketing, download templates and engage with real dropshippers
Never pay for a "guru's" course again. See why 4543+ dropshippers joined us this year!
💡Try DSCOM Hub Now
Conclusion
In conclusion, using Upwork for dropshipping can be a game-changer for your dropshipping business. This freelancing platform offers a wealth of skilled professionals across various industries, making it easier than ever to find the right talent for your specific needs.
However, while Upwork is undoubtedly a valuable resource for dropshippers, I advise against entrusting every facet of your dropshipping business to it. Instead, it's wise to cherry-pick the specific areas where you can find it helpful.
Upwork excels and consider taking a hands-on approach to other aspects of your e-commerce venture. Thus, Upwork can shine when it comes to tasks like design, advertising, store setup, or order management.