48 Dropshipping Statistics And Trends To Know For 2023
by
Aleksandra -
Aleksandra teaches marketing and management at various levels in High School. She writes about marketing, the economics and logistics of the dropshipping business and ecommerce in general.
Chief of Content Marketing
Is Dropshipping still profitable? Is Dropshipping worth it in 2023? Your dropshipping journey can be filled with many questions!
Let's face it! This ecommerce business model is actually on the rise. But, we will confirm this by going through the Key Dropshipping Stats & Facts in 2023.
The Global Dropshipping Market Size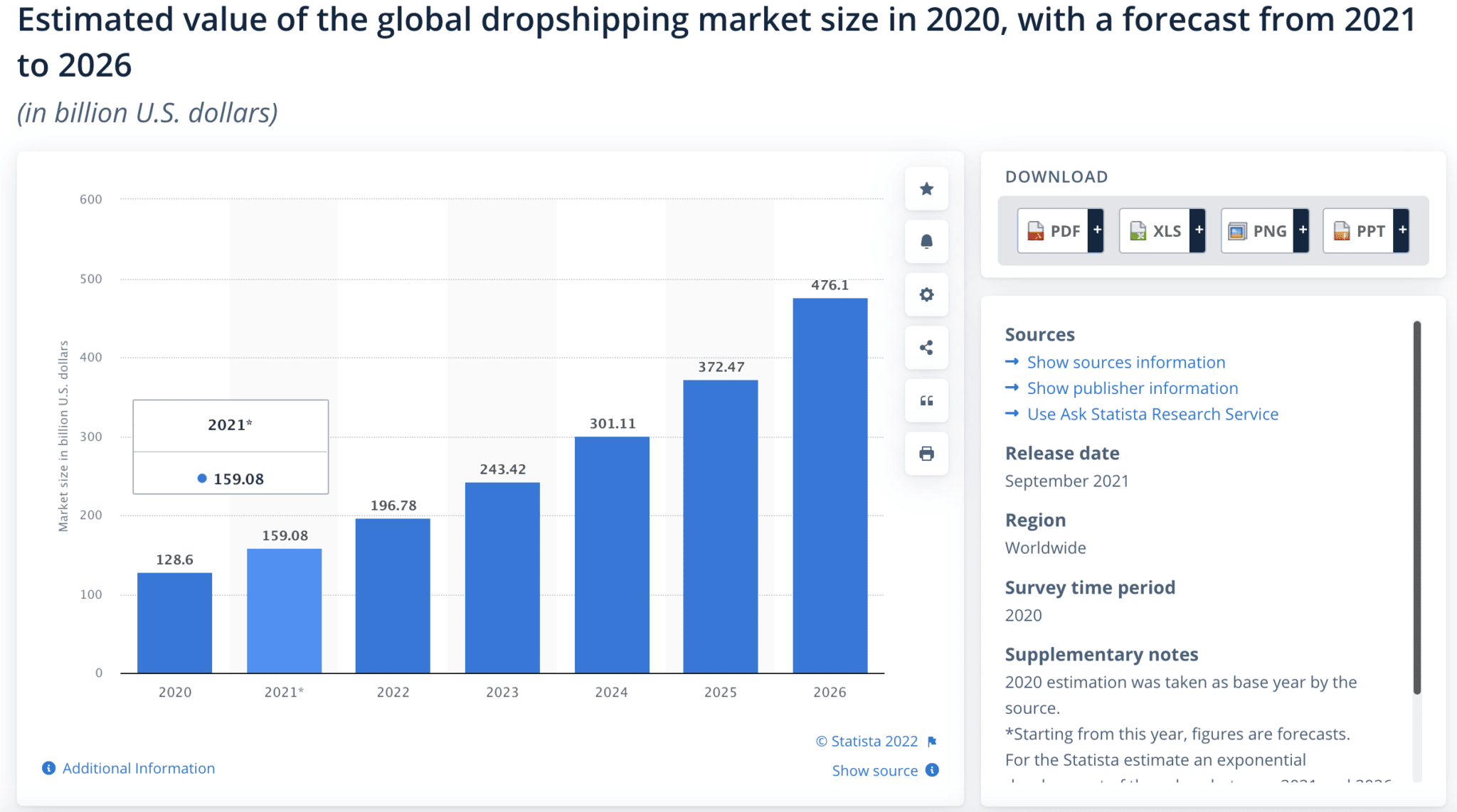 According to the most recent dropshipping statistics, the global dropshipping industry is expected to reach $243.42 billion in 2023. Also, this is the first year it has over $200 billion, following a 23.7% growth from 2022 figures.
Moreover, the dropshipping business will be worth $500 billion by 2027. The great thing is that forecasts show that this industry will increase at a CAGR of 27.1% from 2022 to 2031.
An intriguing fact is that this ratio is expected to rise more in the future years, with evidence indicating a continuous and significant increase. Nonetheless, the dropshipping market is expected to develop further, reaching $301.11 billion in 2024 and $372.47 billion in 2025.
Furthermore, analysts project that the dropshipping market will be valued at up to $476.1 billion by 2026. More precisely, this is more than 3.5 times its value in 2020, representing a remarkable $257.5 billion growth in only six years.
Lifetime deal: Get all-access to everything on Dropshipping.com
Access all DSCOM features, resources, courses, live workshops, discounts, winning products, weekly deep dives, directories and all future updates under all-in-one dropshipping HUB.
DROPSHIPPING IS A REAL BUSINESS, DON'T DO IT ALONE. 4553 MEMBERS ALREADY JOINED. YOU CAN PAY OFF YOUR SMALL INVESTMENT WITH JUST 2 SALES ON YOUR STORE.
Grab the deal before it's gone
Online Shoppers Dropshipping Statistics and Facts
As of 2023, the total number of digital shoppers is 2.64 billion. This accounts for 33.3% of the global population. To put it another way, one out of every three individuals is an online buyer.
In fact, predictions say that there will be 80 million more digital purchasers in 2023 than there were in 2022. This translates to a 3.1% rise year over year.
Furthermore, the number of online shoppers is expected to grow further, reaching 2.71 billion in 2024 and 2.77 billion in 2025.
Also, analysts predict that there will be 218.8 million digital shoppers in 2023 in the USA. This is a 1.9% increase over the previous year.
Another interesting fact is that millennials purchase online more than any other group in the United States.
In fact, research has confirmed that in the United States, 38.4% of online shoppers are under the age of 35.
On the other hand, just 14.4% of internet shoppers here are 65 and older. However, according to Statista, the number of digital buyers over 45 years old is expected to reach 99.3 million in 2023.
Stats About Product Categories For Dropshipping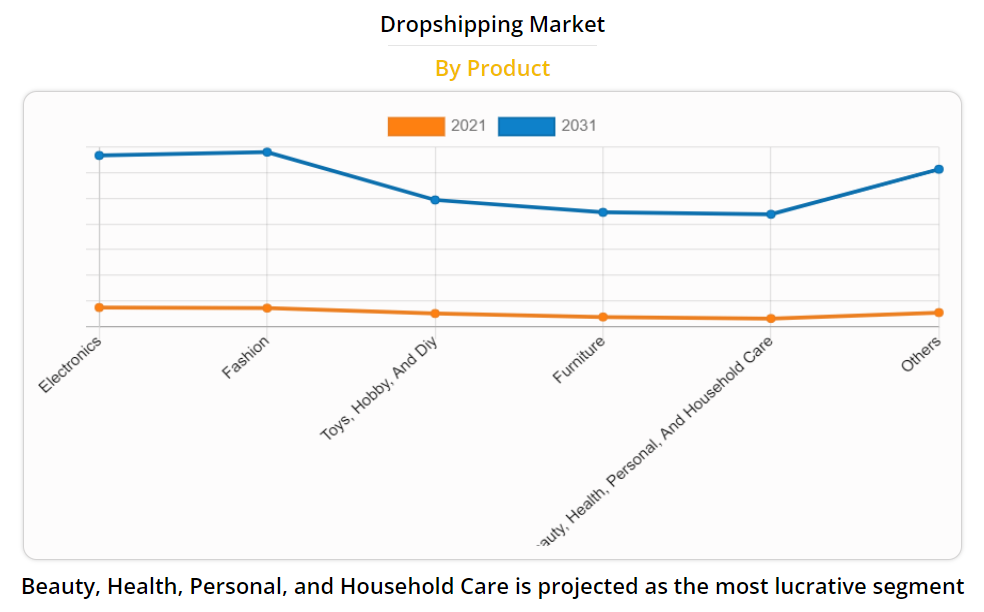 According to Allied Market Research, Dropshipping is now most commonly used in the beauty, health, personal, and household care niche.
As a result, the food and personal care goods market is expected to grow at a 30% CAGR between 2019 and 2025. Thus, customer spending on fragrances, cosmetics, and skincare items, among other things, is propelling this category.
Likewise, dropshipping market stats reveal that the fashion niche is expected to increase rapidly within the same time period. Thus, is predicted to hold the largest market size over the forecast period, Additionally, this market's size is expected to reach about $2 trillion by 2026.
According to a Technavio analysis, the worldwide dropshipping market for fashion and apparel items is predicted to rise at a CAGR of 12.8% from 2022 to 2025.
Furthermore, the worldwide dropshipping market for home and garden items was valued at $29.9 billion in 2022 and is expected to rise at a CAGR of 12.3% from 2022 to 2028.
What's more, the electronics dropshipping niche is on the rise as well! Electronics also represented 30% of the North American dropshipping market.
Furthermore, rising household furniture spending has affected demand for luxury furniture, driving the furniture and appliances industry forward.
The Average Dropshipping Success Rate
According to leading dropshippers, approximately 10% to 20% of dropshipping businesses succeed. But, this does not mean you will not succeed.
It simply indicates that many individuals start this sort of business without fully understanding what it entails.
Let's be truthful, this is not a business model where you can get rich overnight. And, most people think that way and start dropshipping blindly.
Thankfully, there are various dropshipping platforms like Dropshipping.com that have over 200+ educational articles about dropshipping.
So, why not learn how to create your dropshipping business plan, and make the right choices about your business?
The Dropshipping Sales Stats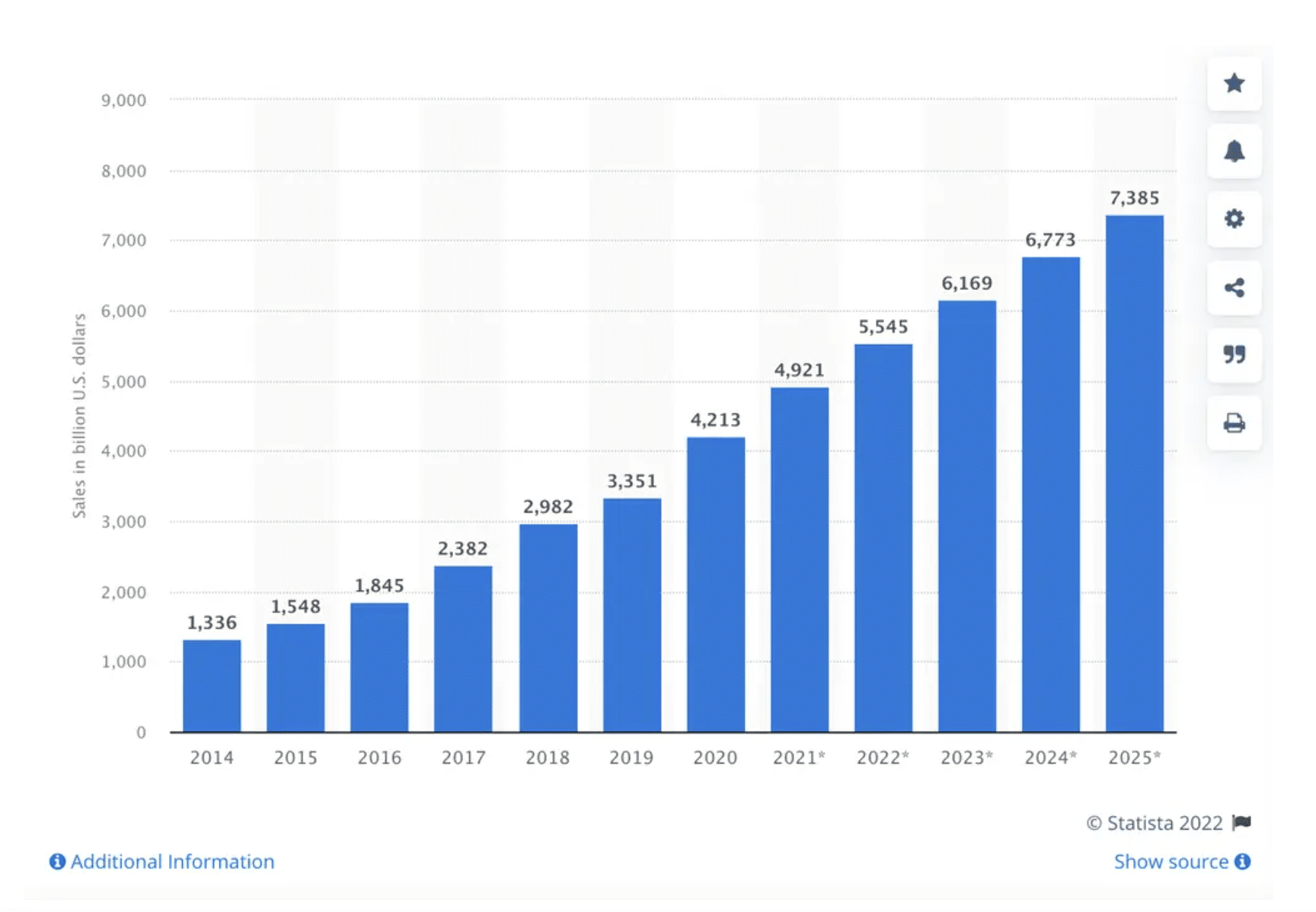 Dropshipping accounts for around 23% of all Internet transactions.
According to Forrester Research, merchants fulfill approximately a quarter of online purchases utilizing dropshipping methods. This corresponds to $85 billion in global sales, demonstrating the model's expanding popularity.
Furthermore, dropshipping data show that dropshipping sales go hand in hand with social media advertising. Stores with active social media profiles on Facebook and Twitter generate 32% higher revenue.
👉 Read about How To Create a Winning Social Media Marketing Plan For Your Dropshipping Store?
Additionally, according to Business Insider, 45% of American ecommerce sales are on mobile devices.
Besides, dropshipping is used by around 27% of online vendors. Not only do online retailers gain from dropshipping, but so do suppliers! Also, dropshipping suppliers' stats reveal that manufacturers that employ dropshipping earn 18.33% more than those that do not.
Also, as dropshipping is a type of eCommerce business, it is important to know that eCommerce sales will reach up to $7.4 trillion by 2025. Interested in joining in?
💡Tip: Check out the Dropshipping Sales: All Proven Tactics & Marketing Strategies That Work.
💡Must-read: Check the ultimate list of Sales Statistics for SMBs.
Facts About the Dropshipping Profit Margins
Profit margins for dropshipping can vary based on a variety of factors such as product niche, supplier pricing, marketing strategy, and more. Yet, the average dropshipping profitability ranges from 15% to 20%.
👉 Check out our Dropshipping Profit Margin: A Step-By-Step Guide For Beginners.
In fact, a decent profit margin for dropshipping is anything greater than 20%. But still, it might vary depending on the sort of things you sell and where you sell them.
In addition, Investigating customer online behavior provides intriguing results! Women make up 84.5% of the customer base, while men make up the remaining 15.5%.
Meanwhile, one of the dropshipping niches with the highest profit margins is the women's clothing niche. Coincidence or?
👉 Learn How To Find The Best Dropshipping Niche for Big Profits [Top 10 Niches].
Remember that the degree of competition in a certain product category can also have an impact on profit margins. As a result, highly competitive niches may have smaller profit margins.
However, some items have profit margins that exceed 50%. These are high-ticket items that are harder to sell but far more rewarding.
The Most Popular E-commerce Platforms for Dropshipping
According to Digital Commerce 360, 27% of ecommerce businesses will be looking to change their ecommerce platform. Thus, they will need reliable research and experienced help in the long and hard process of picking new technology.
Also, according to their survey, six of the seven most popular systems are built by Salesforce, BigCommerce, Oracle, and Shopify.
On the other hand, Forbes makes a list of the best ecommerce platforms for specific areas:
Shopify: Best for Dropshipping
Squarespace: Best Overall E-Commerce Platform
WooCommerce: Best for Versatility
Square Online: Best for Omnichannel Selling
Ecwid: Best for Existing Sites
Shift4Shop: Best Free E-Commerce Platform
Weebly: Best Value
BigCommerce: Best for Boosting Sales
Wix: Best Drag-and-Drop Editor
Big Cartel: Best for Creatives
Cart Abandonment Dropshipping Stats
Cart Abandonment is a serious matter for any ecommerce business. In fact, this is a reason for many dropshipping business losses. Thus, it is essential to learn why customers leave their shopping carts without buying.
According to Baymard's research, 48% of customers leave because extra costs are too high (shipping, tax, fees). Also, other reasons for customers leaving are requirements for account creation, slow delivery, complicated checkout process, etc.👇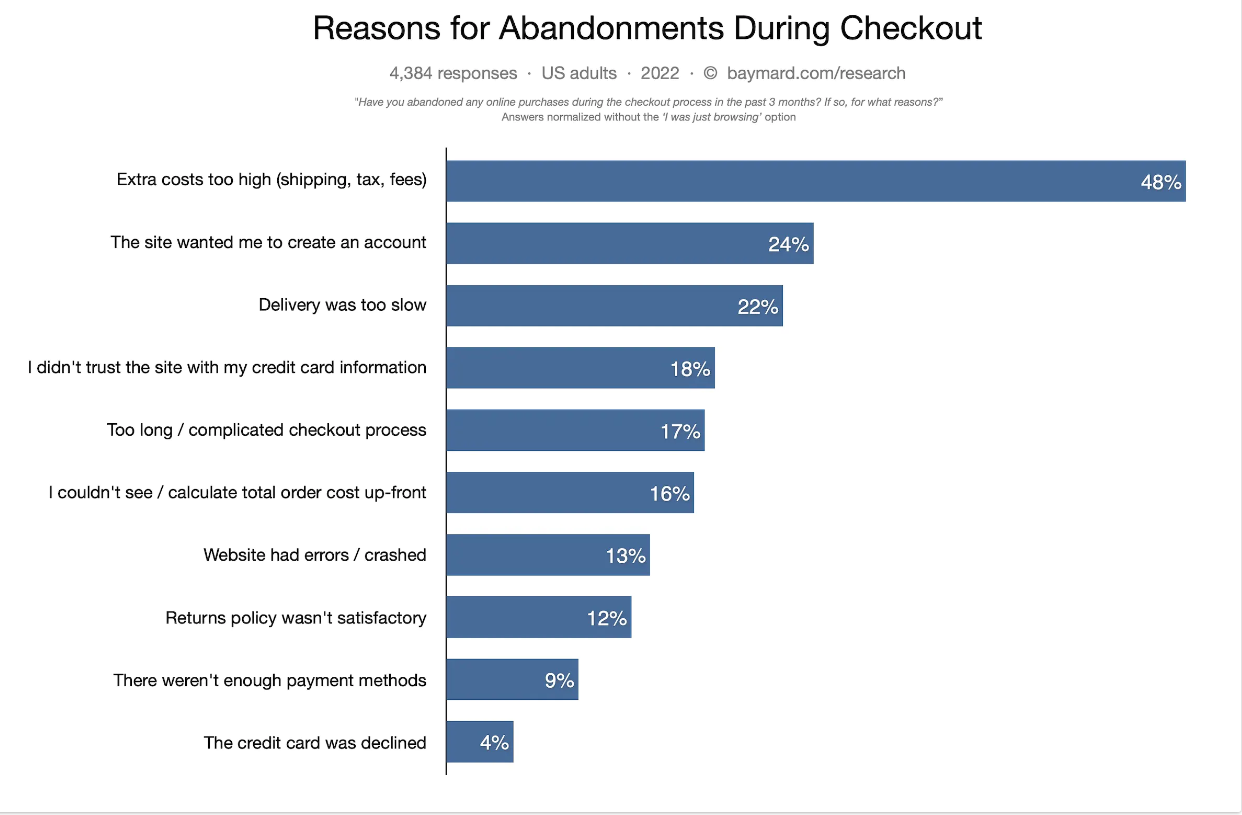 According to BI Intelligence, around $4.6 trillion in items will be left unpurchased in online shopping carts this year, with approximately 60% of that potentially recoverable by skilled online retailers. Hence, recoverable sales will be worth $2.75 trillion.
Cart abandonment is on the rise and will continue to rise as more customers switch to mobile shopping.
According to Financeonline research, mobile phone consumers in the United States had the highest cart abandonment rate of 80.5%. You don't want to be in this dropshipping statistics, right?
💡Tip: Read about How To Recover Abandoned Carts For Shopify Dropshipping Stores.'
Dropshipping Marketing Stats for 2023
SEO Dropshipping Statistics
First of all, SEO! By the year 2027, the SEO sector will be worth $99.4 billion.
In reality, 93% of web interactions begin with a search engine, and Google dominates the worldwide search engine business with 85.55% of the market.
Furthermore, on mobile devices, the first organic listing gets 27.7% of clicks, compared to 19.3% on desktops. Therefore, making mobile-friendly websites should be one of your most essential considerations.
Also, an intriguing statistic is that 88.28% of SEOs charge $150 or less per hour for their services.
Social Media Dropshipping Statistics
Next, social commerce has been on the radar for the past years, starting with the shopping services on Facebook and Instagram, as well as, TikTok shopping nowadays.
Facebook data show that the platform remains the dominant player in terms of demographics, with a large user base of 3 billion monthly active users.
Moreover, in Q3 of 2022, the number of daily active users on Facebook reached 1.98 billion, which implies for possible 3% increase year-over-year.
As of 2023, Facebook will have over 10 million active marketers. Furthermore, Facebook advertising is seen by 63.7% of Americans over the age of 13.
TikTok and influencer marketing are the most promising marketing methods. As a result, influencer marketing is becoming increasingly popular. In fact, 68% of marketers want to raise their budget for influencer marketing in the coming year.
Email Marketing Dropshipping Statistics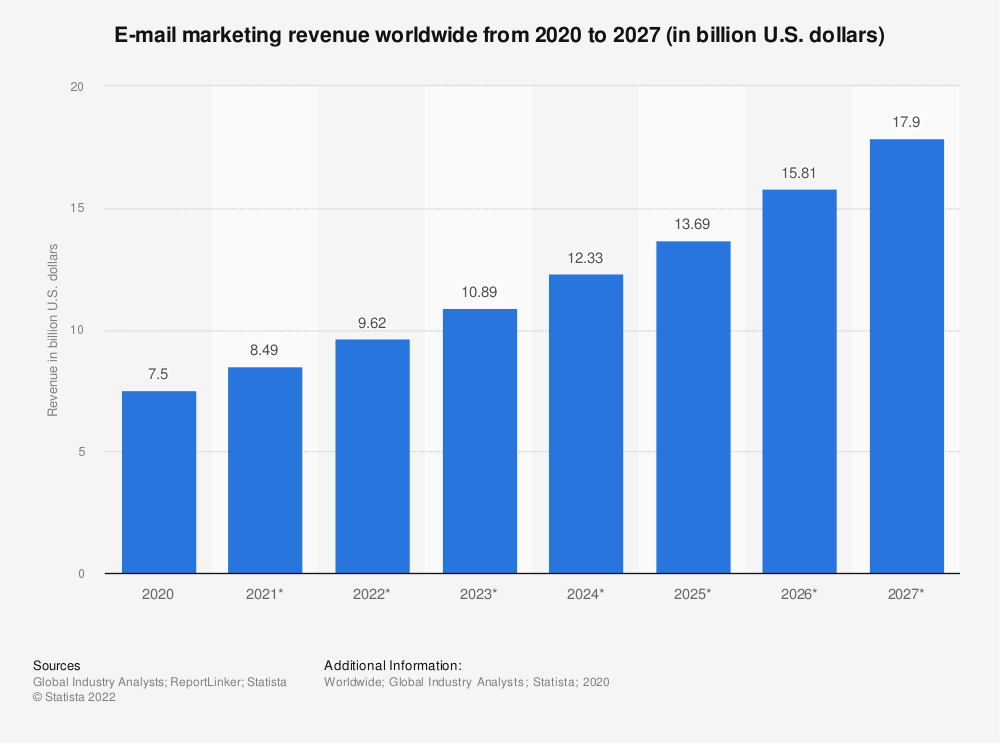 Email marketing also provides fascinating dropshipping statistics! Thus, Email marketing revenue will reach about 11 billion dollars by the end of 2023. (2021, Statista). In fact, 77% of marketers expect email interaction to rise in 2022.
Similarly, the most effective email marketing campaign tactics include subscriber segmentation (78%), message personalization (72%), and email automation programs (71%).
TikTok Statistics For Dropshippers
TikTok has grown in popularity in recent years, particularly among younger Millennials and Generation Z. As of the Q4 of 2022, TikTok has more than 1 billion monthly active users.
According to Statista, over 75% of TikTok users in the United States are 20 years old and over. However, people often believe that younger individuals under the age of 18 dominate TikTok. 👇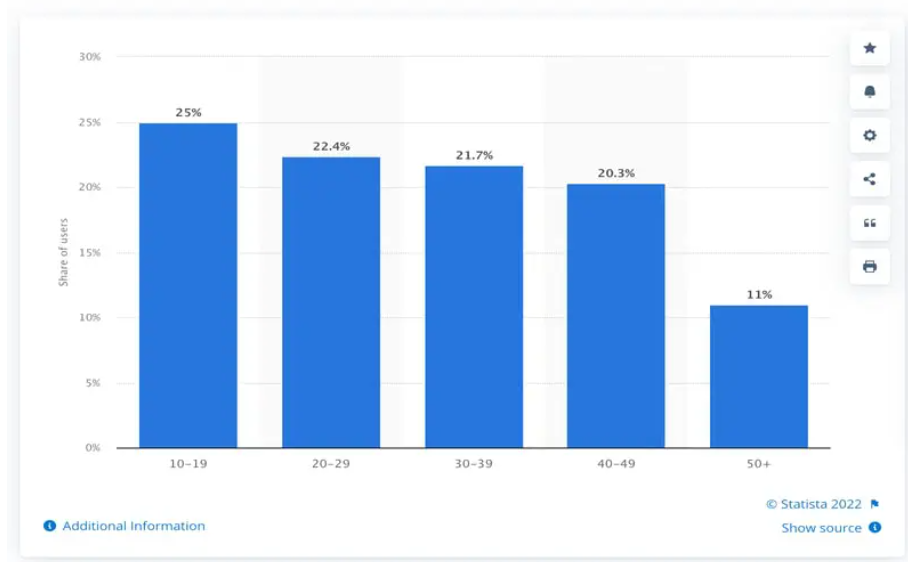 👉 Check out the 10 Best TikTok Ad Spy Tools [Honest 2023 Review].
TikTok is where many users spend the majority of users spend social media time. According to research, the typical person spends 52 minutes every day on TikTok. This compares to a daily average of 2 hours and 22 minutes spent on social media.
👉Check out TikTok Marketing For Dropshipping: How To Go Viral on TikTok.
Thus, if you want to advertise your dropshipping business on TikTok, here are some interesting data about different niches searches:
Fitness/sports – 57 billion
Home reno/D.I.Y. – 39 billion
Beauty/skincare – 33 billion
Fashion – 27 billion
Recipes/cooking – 18 billion
Life hacks/advice – 13 billion
Pets – 10 billion
Outdoors – 2 billion
👉 Check out my PiPiADS Review 2023: Is This The No. 1 TikTok Ad Spy Tool?
AliDropship Statistics
AliDropship is a well-known WordPress dropshipping plugin that allows for simple dropshipping, so it is worth mentioning in this ecommerce stats. Also, 86% of AliDropship registered dropshippers prefer a niche store, whereas 14% are general store dropshippers.
Thus, most of the dropshippiers, or 18.5% of them on AliDropship are in the Gadgets, Devices, and Accessories Niche, next 13.1% are in the baby and children products niche.
👉 Check out the comparison for Spocket vs Oberlo vs DSers vs AliDropship: Which One to Pick in 2023?
Join the only community and resource hub you'll ever need to succeed with dropshipping
Find winning dropshipping products, learn marketing, download templates and engage with real dropshippers
Never pay for a "guru's" course again. See why 4543+ dropshippers joined us this year!
💡Try DSCOM Hub Now
Conclusion
To wrap it all up, dropshipping has become an increasingly popular business model in recent years due to its low start-up costs and flexibility.
The dropshipping statistics presented in this article provide valuable insights into the current state of the dropshipping industry, highlighting both its potential for growth and its challenges.
Overall, the dropshipping stats suggest that while dropshipping can be a profitable business model, success will require careful planning, execution, and adaptation to changing market conditions.