How To Make Money From Home – 30+ Ideas & Examples
by
Aleksandra -
Aleksandra teaches marketing and management at various levels in High School. She writes about marketing, the economics and logistics of the dropshipping business and ecommerce in general.
Chief of Content Marketing
In today's fast-paced and interconnected world, more and more people are searching for ways about how to make money from home. Whether you're a stay-at-home parent, a student, or simply looking to supplement your income, there are a plethora of opportunities available.
In this article, I will explore over 20 ideas on how to make money from home, covering various online job opportunities, e-commerce ventures, and investment strategies. So, let's dive right in!
Understanding the Basics of Home-Based Earning
Before I delve into the different ways you can earn money from home, let's take a moment to understand the basics of home-based earning. Over the years, the concept of remote work has gained immense popularity. With advancements in technology and the rise of the internet, working from home has become more feasible and convenient than ever before.
In fact, in a remote workers survey from February 2023, the Pew Research Center found that now approximately 35% of US employees work remotely all the time.
Working from home offers a myriad of benefits. One of the main advantages is the flexibility it provides. Instead of being tied to a fixed schedule, you have the freedom to set your own working hours. This flexibility allows you to better manage your personal and professional life, leading to a better work-life balance.
In addition to flexibility, remote work also offers increased productivity. So, without the distractions and interruptions commonly found in a traditional office setting, you can focus more effectively on your tasks.
Moreover, this heightened concentration often leads to higher productivity levels and the ability to accomplish more in less time.
👉 Discover How Dropshipping Stores Lose Money? (A Guide To Win In 2024).
➡The Rise of Remote Work
The traditional office environment is no longer the only option. Dropshippers are now embracing the benefits of remote work, allowing individuals to work from the comfort of their own homes. Whether it's full-time remote positions or freelancing opportunities, remote work offers flexibility, increased productivity, and a better work-life balance.
Another factor contributing to the rise of remote work is the cost-saving aspect. For both employees and employers, remote work eliminates the need for commuting, office space, and other associated expenses. This not only saves money but also reduces carbon emissions, contributing to a more sustainable and eco-friendly work environment.
👉 Discover the DropServicing Ideas & Examples For Making Money Online.
➡ Skills Needed for Home-Based Jobs
When considering a home-based job, it's essential to assess your skills and interests. Many remote jobs require specific skills and qualifications. However, there are also opportunities that require minimal training or prior experience. Tailoring your job search according to your strengths and passions can significantly increase your chances of success.
Some of the most sought-after skills for home-based jobs include strong communication skills, time management, self-discipline, and the ability to work independently. Additionally, having a solid understanding of technology and proficiency in relevant software programs can be advantageous in many remote positions.
Moreover, it's worth noting that home-based jobs are not limited to a particular industry. Also, from writing and graphic design to customer service and virtual assistance, there is a wide range of opportunities available.
So, by identifying your skills and interests, you can explore various industries and find a home-based job that aligns with your passions.
👉 Check out the Best Side Hustles For Women – Make Money From Home.
Lifetime deal: Get all-access to everything on Dropshipping.com
Access all DSCOM features, resources, courses, live workshops, discounts, winning products, weekly deep dives, directories and all future updates under all-in-one dropshipping HUB.
DROPSHIPPING IS A REAL BUSINESS, DON'T DO IT ALONE. 4553 MEMBERS ALREADY JOINED. YOU CAN PAY OFF YOUR SMALL INVESTMENT WITH JUST 2 SALES ON YOUR STORE.
Grab the deal before it's gone
Setting Up Your Home Workspace
Before diving into your remote work journey, it's crucial to set up a dedicated workspace within your home. Having a proper home office environment significantly affects your overall productivity and focus. Let's explore some tips for creating an effective home workspace.
Working from home has become increasingly popular in recent years, and with the current global situation, it has become a necessity for many. Whether you're a freelancer, a remote employee, or starting your own business, having a well-designed and functional home workspace is essential for success.
When setting up your home office, it's important to consider the location. Choose a space that is separate from the rest of your living area, if possible. Thus, this will help create a clear boundary between work and personal life, allowing you to maintain a healthy work-life balance.
👉 Learn about How Does Instacart Make Money – Ultimate Review.
✅ Essential Tools for Home-Based Work
Equipping your home office with the right tools and technology will ensure a smooth working experience. Depending on the nature of your work, you may need a reliable computer or laptop, a high-speed internet connection, and a comfortable ergonomic chair. Additionally, investing in noise-cancelling headphones and a separate phone line can help minimize distractions.
For example, if you're a graphic designer or video editor, you may require a powerful machine with ample storage and processing power. On the other hand, if your work primarily involves word processing and internet browsing, a more budget-friendly option may suffice.
Having a high-speed internet connection is crucial for remote work. Thus, it ensures that you can access online resources, collaborate with colleagues, and attend virtual meetings without any disruptions. So, if your current internet plan doesn't meet your needs, consider upgrading to a faster connection.
✅ Creating a Productive Environment
➡ Make a Productive & Motivational Environment
Designing your work environment to promote productivity is key. Therefore, keep your workspace clean and organized, allowing for easy access to essential documents and supplies. For example, I add inspirational quotes or artwork to my office space to boost motivation. Moreover, I suggest you eliminate distractions by setting boundaries with family members or roommates and establishing a dedicated work schedule.
Having a clutter-free workspace can help reduce stress and increase focus. Also, you can invest in storage solutions such as shelves, filing cabinets, or desk organizers to keep your documents and supplies neatly organized. This will save you time searching for important files and help maintain a sense of order in your workspace.
Plus, you can consider incorporating plants into your workspace, as they not only add a touch of nature but also improve air quality and create a calming atmosphere.
Setting boundaries with family members or roommates is crucial for maintaining focus and productivity. Communicate your work schedule and let them know when you need uninterrupted time. If possible, designate a separate room or area as your dedicated workspace, making it clear to others that you are in work mode when you're there.
➡ Schedule Your Work
Establishing a consistent work schedule can help you stay on track and maintain a healthy work-life balance. So, set specific hours for work and stick to them as much as possible. This will also help you avoid overworking and ensure that you have time for relaxation and personal activities.
By following these tips and creating a well-designed home workspace, you'll be able to maximize your productivity and create a conducive environment for remote work. Remember, your home office should be a space that inspires and supports your professional growth. Take the time to set it up properly, and you'll reap the benefits in the long run.
30 Ways On How To Make Money From Home
From the comfort of your home, you can unlock a world of potential income streams. So, in this comprehensive guide, I'll delve into 30 real ways to earn money online, providing you with the knowledge and tools to kickstart your online money-making journey.
1. Freelancing: Unleash Your Skills
Are you a talented writer, graphic designer, digital creator, programmer, or marketer? Thus, freelancing platforms like Upwork, Fiverr, and Freelancer allow you to showcase your expertise and connect with clients globally. Therefore, you can learn how to navigate these platforms and start earning money online through your skills.
For example, I personally have an Upwork profile, and it helps me take on many projects for content writing and make passive income. Plus, it is very easy to start and set up a profile. 👇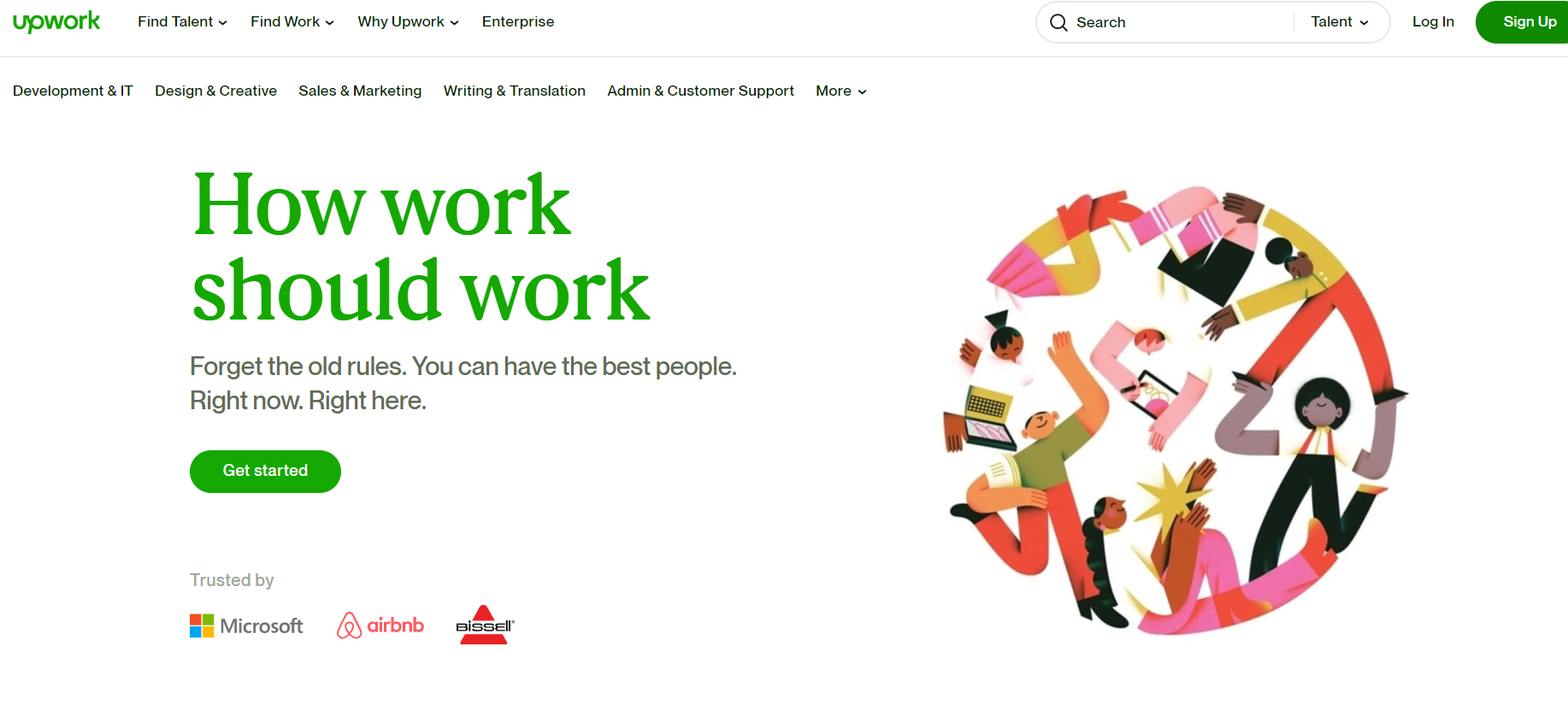 🎬 Call to Action: Explore freelancing platforms today to find clients and gigs that match your skills.
💡 Tip: Read about Can You Use Upwork for Dropshipping? – Build With Freelancers.
💡 Tip: Read about What Is A Digital Creator vs Influencer + How To Boost Your Brand?
2. Blogging: Share Your Passion
Blogging isn't just a hobby. In fact, it's a way to generate income. Discover how to create engaging content, build an audience, and monetize your blog through ads, sponsored content, and affiliate marketing.
🎬 Call to Action: Start your own blog and begin sharing your expertise with the world.
👉 Check out the 15 Best Shopify Blog Examples To Double Your Organic Traffic.
3. Affiliate Marketing: Promote Products for Profits
Become an affiliate marketer and promote products or services relevant to your niche. Hence, learn the strategies to attract an audience and earn commissions for every sale made through your affiliate links.
🎬 Call to Action: Identify potential affiliate programs and start incorporating them into your online presence.
👉 Check out the 10 Best Shopify Affiliate Apps for Shopify Affiliate Marketing.
👉 Read about Is Testerup Legit? Beginners Guide + Honest Review.
4. E-commerce: Sell Your Products
Launch an online store and sell physical or digital products. Therefore, understand the key elements of successful e-commerce, including product selection, website design, and marketing tactics.
🎬 Call to Action: Set up your online store and start selling your products or services.
5. Dropshipping: No Inventory, No Problem
Explore the world of dropshipping, where you can sell products without holding inventory. Thus, learn how to select suppliers, create an e-commerce website, and market your dropshipping business effectively.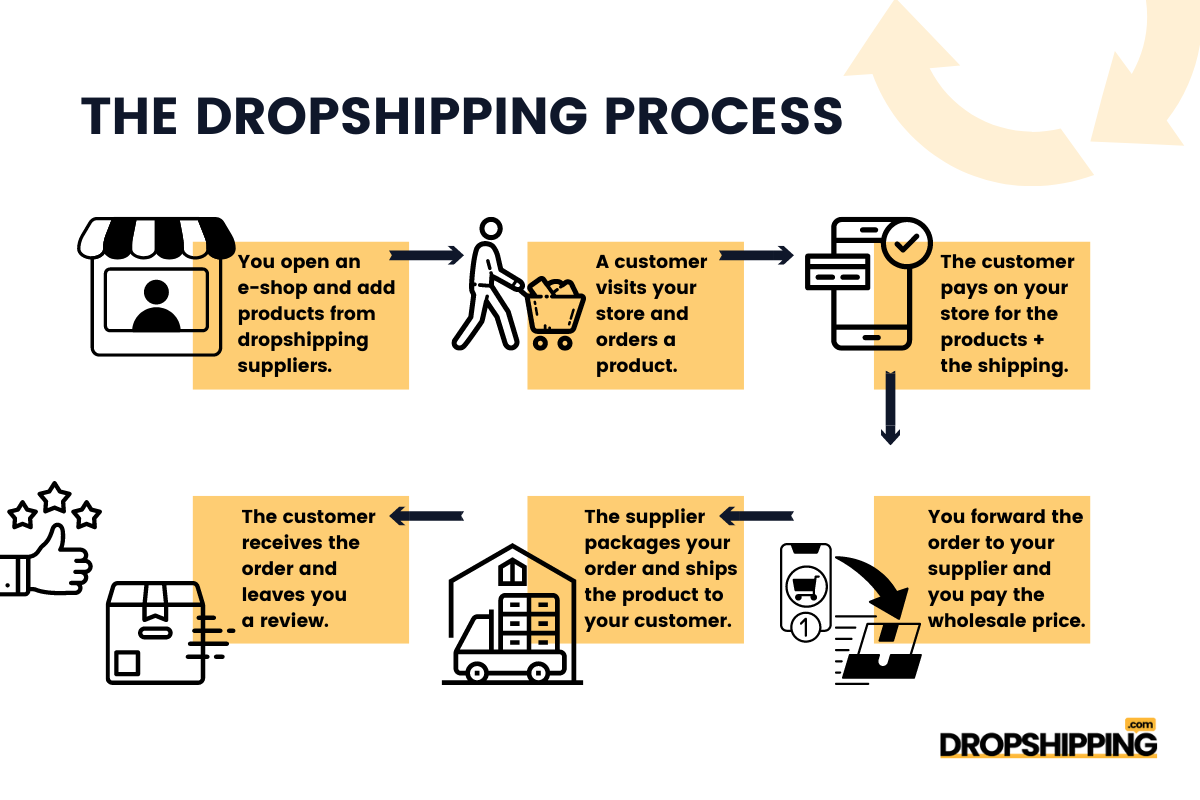 Do you know what dropshipping is? Indeed, I can tell you, that if you are wondering how to make money from home, listen to the richest dropshippers in 2023.
Also, dropshipping is a business model where an online retailer (the dropshipper) sells products to customers without stocking inventory. The process typically involves:
Supplier Selection: The dropshipper partners with suppliers or wholesalers who agree to dropship their products.
Online Store Setup: The dropshipper sets up an e-commerce website or platform to showcase the supplier's products.
Product Listing: Products are listed on the online store with descriptions, prices, and images.
Customer Orders: Customers place orders and make payments on the online store.
Order Forwarding: The dropshipper forwards customer orders and shipping details to the supplier.
Supplier Fulfillment: The supplier processes and ships the products directly to the customers.
Customer Receives Order: Customers receive their orders from the supplier.
Profit Margin: The dropshipper makes a profit by selling products at a markup, as they pay the supplier a lower wholesale price
🎬 Call to Action: Research dropshipping opportunities and develop a dropshipping business plan.
💡 Tip: Learn Everything You Need To Know: Dropshipping Business Model Explained.
6. Online Surveys and Market Research: Get Paid for Your Opinion
Earn extra income by participating in online surveys and market research studies. Discover reputable platforms that reward you for sharing your thoughts.
For example, sometimes, companies or researchers may recruit participants directly from social media groups or forums related to their target audience or industry. Hence, I'm a member of a Facebook community dedicated to dropshipping, which is called Dropshipping.com.
Being part of this group grants me access to a vast network comprising thousands of members, a substantial portion of whom possess valuable insights and strategies that may not be readily available elsewhere.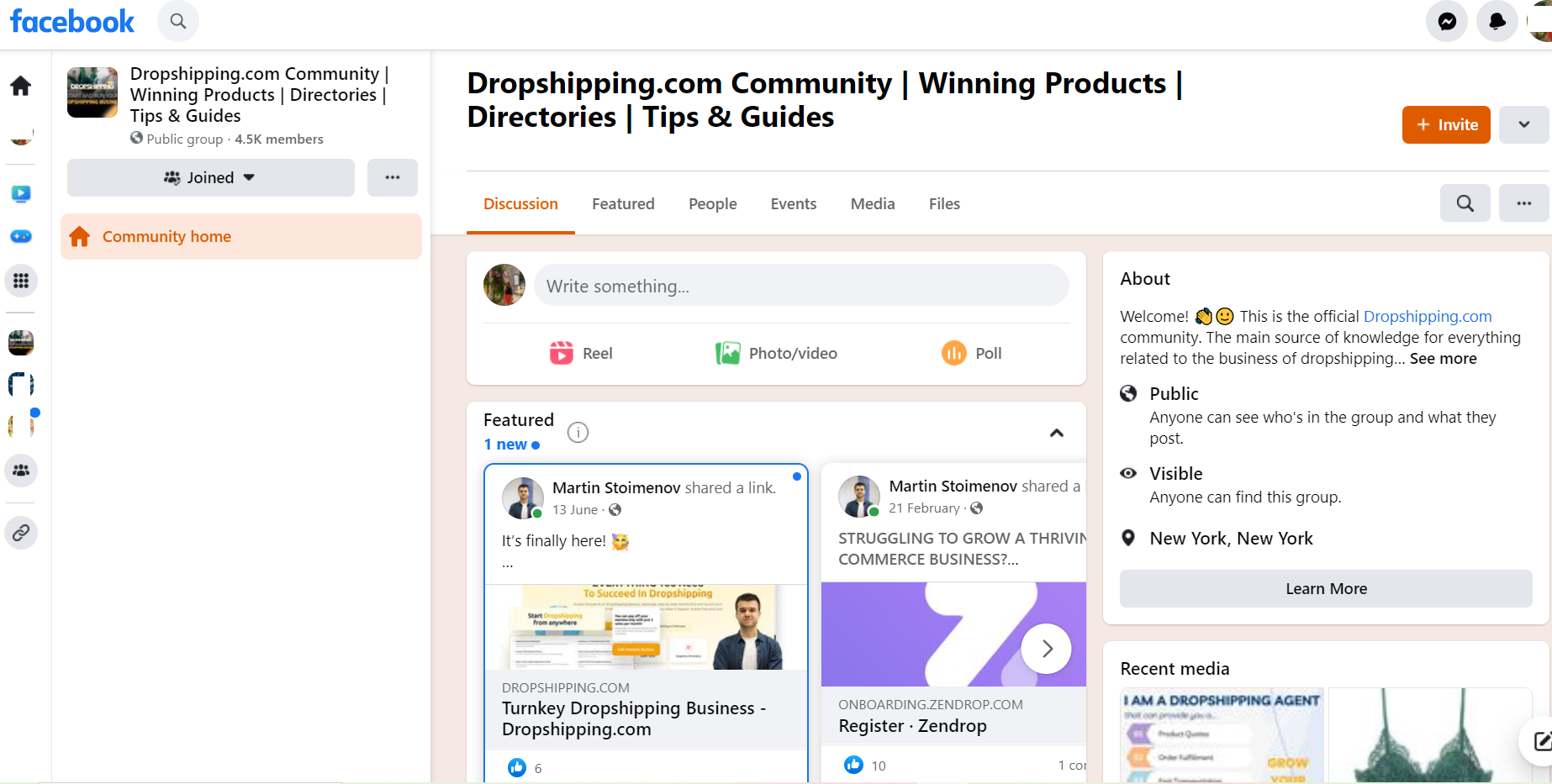 🎬 Call to Action: Sign up for online survey platforms and start sharing your opinions.
7. Remote Consulting: Share Your Expertise
Furthermore, if you are wondering how to make money from home, here's another idea. Thus, you can leverage your industry knowledge by offering consulting services online. Also, find out how to attract clients and provide valuable insights in your field.
For example, there are many dropshippers with Youtube channels that give advice about how to run a dropshipping business successfully and avoid mistakes based on their knowledge and experience.
🎬 Call to Action: Create a consulting profile and promote your expertise online.
8. Online Tutoring: Educate and Earn
If you have expertise in a particular subject, consider online tutoring. Hence, you can explore platforms that connect tutors with students and learn how to excel in this field.
For example, Wyzant connects students with tutors in a wide range of subjects and offers both online and in-person tutoring options. 👇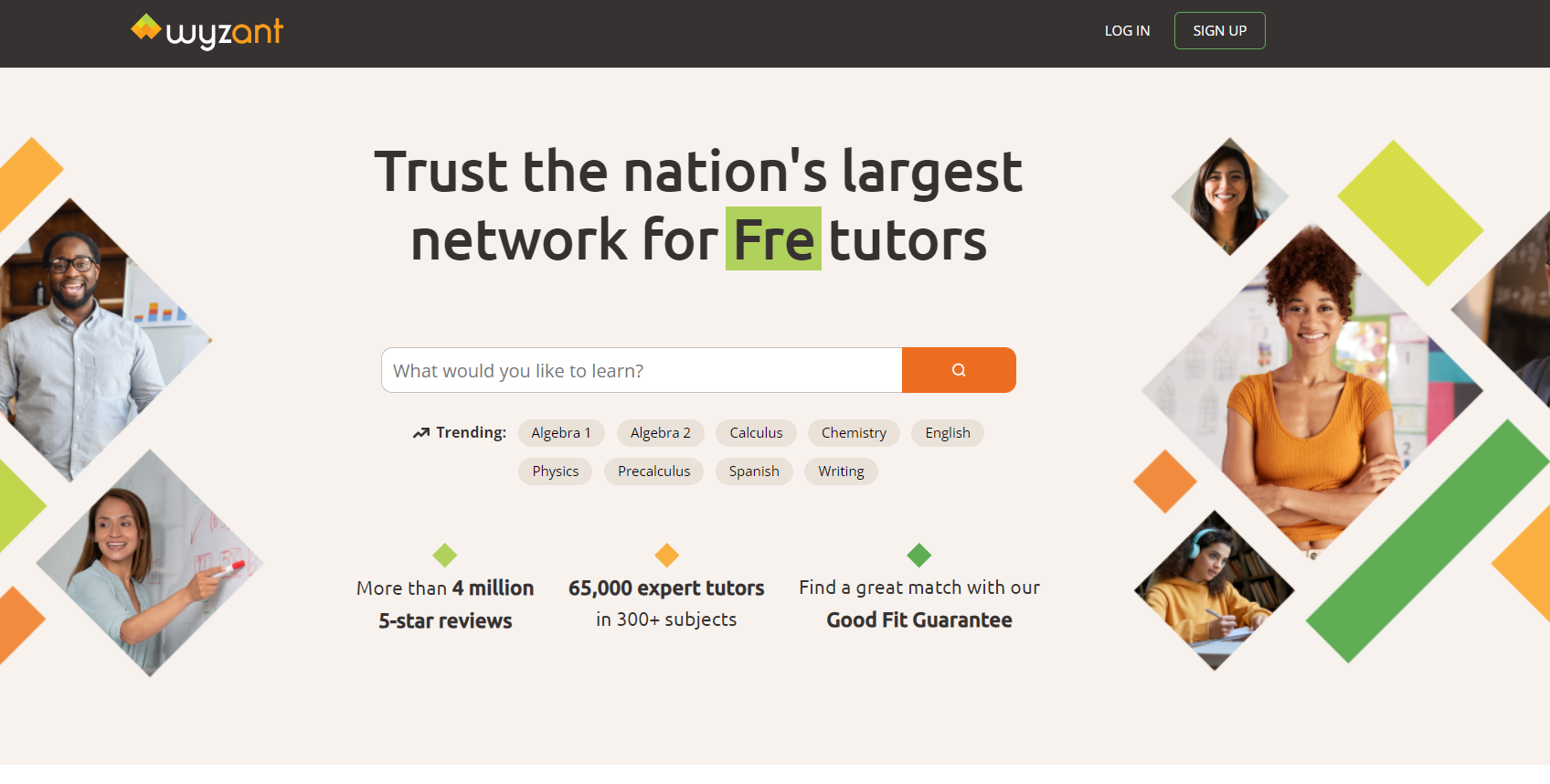 🎬 Call to Action: Register as an online tutor and start helping students succeed.
9. Virtual Assistance: Support Busy Professionals
Furthermore, if you are wondering how to make money from home, one highly profitable way is to offer virtual assistance services to businesses and entrepreneurs in need of administrative help. So, find out how to build a client base and provide top-notch virtual support.
🎬 Call to Action: Create a virtual assistant profile and market your services.
💡Tip: Check out the 14 Best AI Tools for Ecommerce In 2023 (Free + Paid).
10. Content Creation: YouTube and Podcasting
Delve into the world of content creation through YouTube and podcasting. Thus, learn the ropes of creating engaging videos or audio content and monetize your channel through ads and sponsorships.
Call to Action: Start your YouTube channel or podcast and share your unique content.
👉 Learn How To Make Money On Youtube Without Making Videos [2023].
11. Stock Photography: Capture and Sell
If you have photography skills, consider selling your photos on stock photography websites. Hence, explore tips on how to create marketable images and maximize your earnings.
🎬 Call to Action: Begin uploading your high-quality photos to stock photography platforms.
12. Online Courses: Teach What You Know
Turn your expertise into profit by creating and selling online courses. Discover platforms for course creation and effective marketing strategies.
🎬 Call to Action: Develop your online course and start educating others.
For example, Dropshipping.com provides you with full guidance and insights about running your dropshipping business. Also, it is really affordable. 👇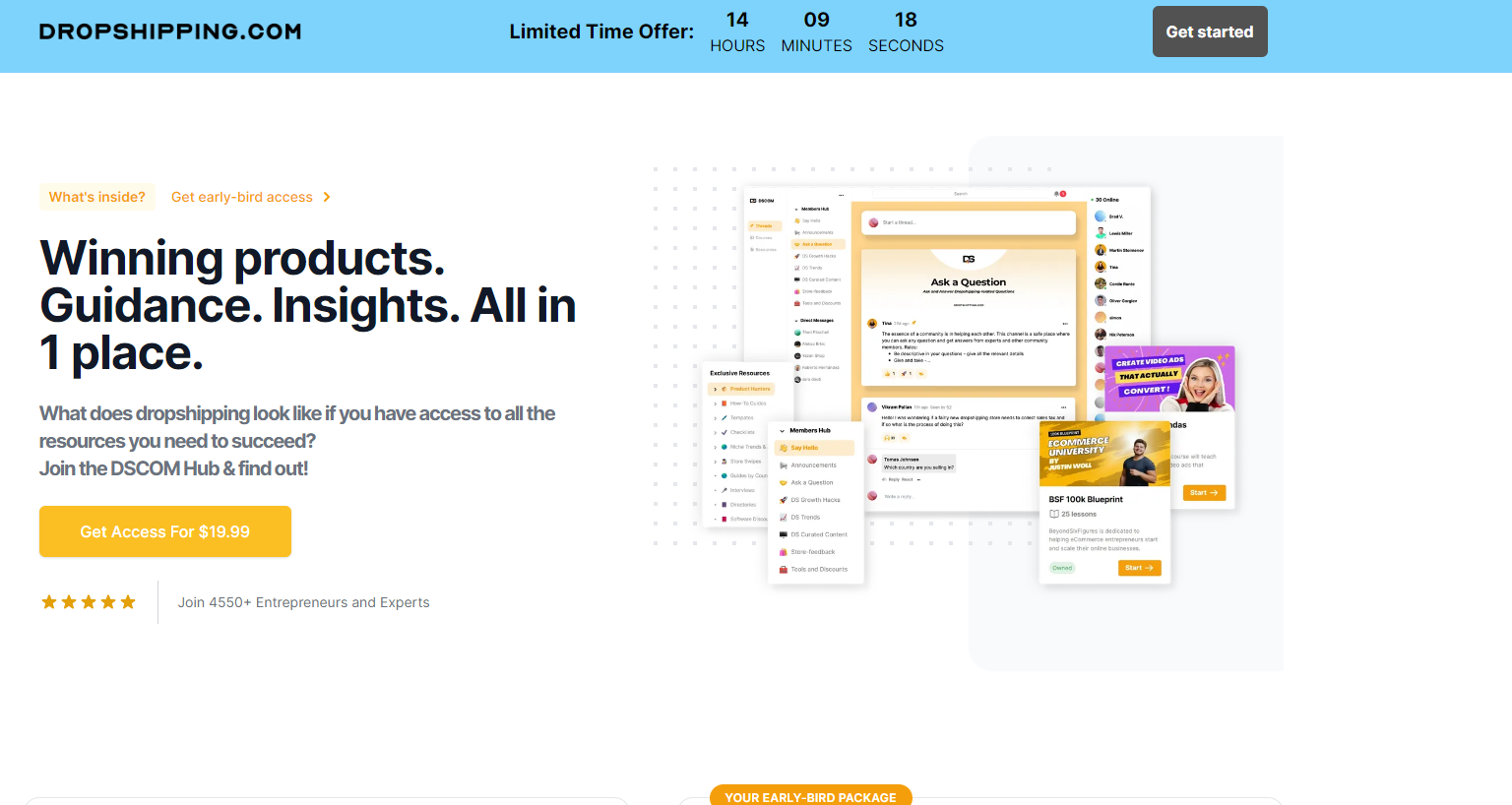 13. Remote Bookkeeping: Balance the Books
Do you have accounting skills? So, why not use them and stop wondering how to make money from home? Thus, unlock the potential of remote bookkeeping.
Moreover, learn how to offer your services online to businesses in need of financial expertise.
🎬 Call to Action: Explore bookkeeping opportunities and market your skills online.
👉 Learn about Dropshipping Accounting: Tips For Managing Your Finances.
14. Social Media Management: Be a Social Guru
Monetize your social media skills by becoming a social media manager. So, if you are wondering how to make money from home, you can find out how to manage accounts, create content, and attract clients.
🎬 Call to Action: Develop your social media management portfolio and start seeking clients.
💡 Tip: Learn How To Create a Winning Social Media Marketing Plan For Your Dropshipping Store?
15. Affiliate Blogging: Combine Blogging and Affiliate Marketing
Merge blogging and affiliate marketing to create a powerful income stream. Hence, discover how to strategically incorporate affiliate links into your blog content.
🎬 Call to Action: Begin incorporating affiliate marketing into your existing blog.
16. Remote Graphic Design: Design Your Way to Profit
If you have a flair for design, consider offering graphic design services online. So, if you want to make money from home, this is a great option for you.
So, you need to learn how to showcase your portfolio and attract clients in need of creative solutions.
🎬 Call to Action: Create an online presence for your graphic design services and start building your clientele.
17. Online Marketplaces: Sell Handmade or Vintage Goods
Do you create handmade crafts or have vintage items to sell? For instance, platforms like Etsy and Amazon offer a marketplace for artisans and collectors to showcase their products. 👇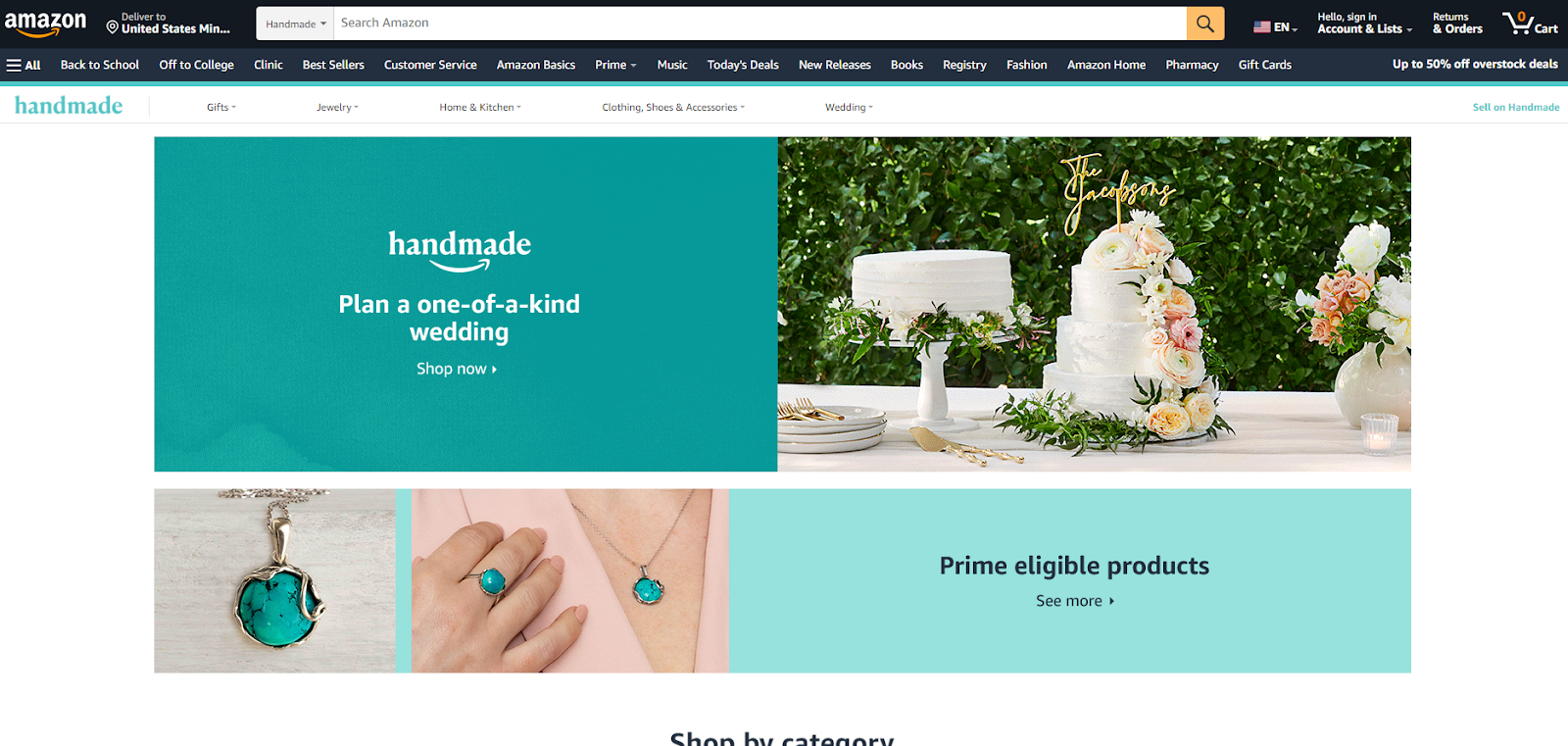 🎬 Call to Action: Open an Etsy shop and start listing your unique creations.
18. Virtual Real Estate: Domain Flipping
Invest in virtual real estate by buying and selling domain names. Hence, you can explore domain-flipping strategies and how to identify valuable domains.
For example, GoDaddy is one of the largest domain registrars globally and offers a wide range of domain-related services.
🎬 Call to Action: Research domain flipping and start hunting for valuable domain names.
Also, check out The 8 Best GoDaddy Alternatives For E-Shop Hosting In 2023.
19. Remote Data Entry: Typing for Dollars
In addition, if you're a fast typist, remote data entry could be a lucrative option. So, discover legitimate platforms and methods to find data entry opportunities.
🎬 Call to Action: Explore remote data entry gigs and apply for suitable positions.
👉 Read about Data In Dropshipping: The Importance & Characteristics Of Data In Ecommerce.
20. Online Language Translation: Bridge the Language Gap
If you're bilingual or multilingual, you can also consider offering online translation services. So, you have to learn how to market your language skills and find clients in need of translation.
🎬 Call to Action: Advertise your translation services online and expand your client base.
21. Remote Writing and Copywriting: Wordsmith Your Way to Income
Explore the world of remote writing and copywriting. Thus, find out how to secure writing gigs, improve your writing skills, and maximize your earnings.
🎬 Call to Action: Build a portfolio of your writing work and start pitching to potential clients.
👉 Check out the 10 Tips for Writing Content That Will Level up Your Dropshipping Store.
22. Affiliate Dropshipping: A Hybrid Approach
Combine the power of affiliate marketing and dropshipping to create a unique income stream. Thus, learn how to select products and promote them effectively.
🎬 Call to Action: Start your affiliate dropshipping venture and see how it can boost your earnings.
23. Stock Trading and Investments: Grow Your Wealth
Next, you can also delve into the world of online stock trading and investments. Hence, discover how to research stocks, make informed decisions, and build a portfolio for long-term gains.
🎬 Call to Action: Begin your journey in online stock trading by opening an investment account.
24. Remote Coaching and Personal Development
Next, a great way about how to make money from home is by sharing your expertise and helping individuals achieve their personal or professional goals through remote coaching. So, learn how to attract clients and deliver impactful coaching sessions.
👉 Read about The Power Of Product Advertisement: How To Increase Your Sales?
🎬 Call to Action: Create your coaching profile and start making a positive impact on others' lives.
25. Virtual Event Planning: Host Online Gatherings
Also, you can become a virtual event planner and organize online conferences, webinars, or workshops. Therefore, you can find out how to market your services and create memorable online events.
🎬 Call to Action: Start offering virtual event planning services and help clients bring their events to life online.
26. Online Voice Acting and Narration: Use Your Voice
If you have a captivating voice, consider online voice acting and narration. Thus, this can be a great way to make money from home. So, learn how to find voiceover opportunities and build a career in this unique field.
🎬 Call to Action: Record a sample of your voice acting and start auditioning for voiceover projects.
27. Online Fundraising and Crowdfunding
Explore the world of online fundraising and crowdfunding. In addition, discover how to create compelling campaigns and attract donors or investors for your projects.
🎬 Call to Action: Plan your online fundraising campaign and make your project dreams a reality.
28. App Development: Code for Profit
If you have coding skills, app development can be a lucrative endeavor. So, learn how to create, market, and monetize your mobile or web applications.
🎬 Call to Action: Start brainstorming app ideas and embark on your app development journey.
29. Remote Video Editing: Craft Visual Stories
Become a remote video editor and use your editing skills to create captivating content. Hence, find out how to secure video editing projects and build a successful freelance career.
🎬 Call to Action: Create a video editing portfolio and start reaching out to potential clients.
👉 Check out my Billo Review: The Best UGC Video Marketplace For Dropshippers.
30. Online Gaming and Streaming: Play and Profit
If you're a skilled gamer, also consider streaming your gameplay on platforms like Twitch or YouTube. Nonetheless, learn how to build an audience and monetize your gaming content through donations, ads, and sponsorships.
For example, live streaming gameplay on platforms like Twitch, Facebook Gaming, or YouTube Gaming can lead to income through ads, donations, and subscriptions from viewers. For example, if you're seeking further inspiration on this topic, I recommend exploring well-known YouTube channels such as PewDiePie. 👇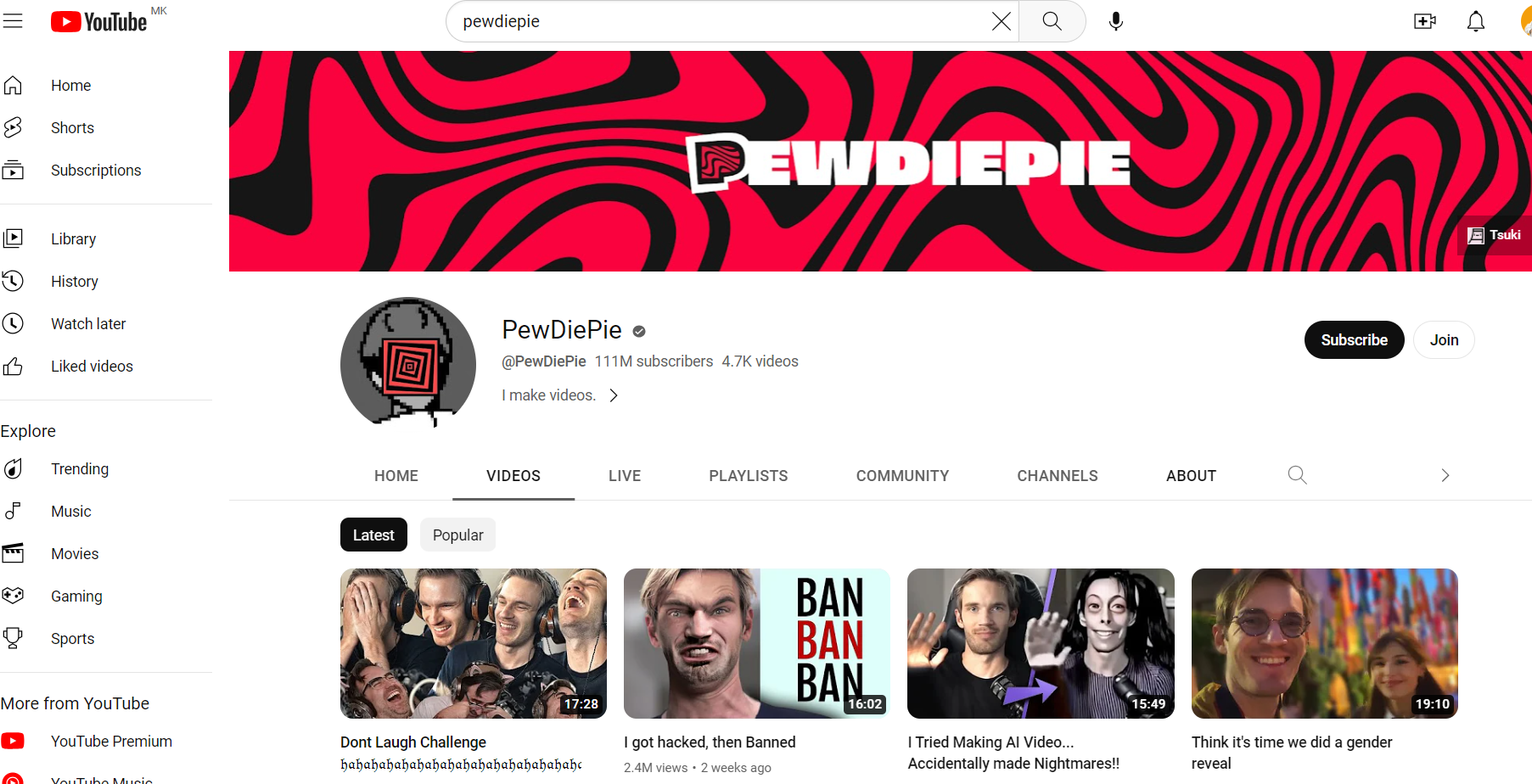 Gaming enthusiast This content creator has certainly discovered a method to create engaging content and deliver it to their audience, all while generating income from advertisements. Also, just consider their astounding 111 million subscribers!
🎬 Call to Action: Set up your gaming streaming channel and start sharing your gaming adventures with the world.
👉 Learn about Video Games Dropshipping – How to Launch Your Gaming Business? [Tips, Suppliers & Product Ideas].
Join the only community and resource hub you'll ever need to succeed with dropshipping
Find winning dropshipping products, learn marketing, download templates and engage with real dropshippers
Never pay for a "guru's" course again. See why 4543+ dropshippers joined us this year!
💡Try DSCOM Hub Now
Conclusion
In conclusion, there are countless legitimate ways to about how make money from home, and this guide has introduced you to 30 real opportunities to explore. Remember, success in the online world often comes down to dedication, learning, and consistent effort.
Which of these online money-making methods are you excited to try first? Share your thoughts and experiences in the comments below, and let's embark on this journey to financial success together.
Stay tuned for more valuable insights and tips on making money online in future posts. Don't miss out on the chance to transform your financial future from the comfort of your home.