If you are thinking about how to start a dropshipping business, it isn't a surprise if you come across many different aspects of dropshipping.
In short, you may have comes across different topics about dropshipping, but did you ever stop to think about what is Reverse dropshipping?
Furthermore, let's go in-depth to find out what reverse dropshipping is? What are its pros and cons, and how does it compare to other dropshipping aspects.
What Is Reverse Dropshipping?
Reverse dropshipping is an e-commerce business model (Check: The Dropshipping Business Model Explained) where high-quality products are being sourced from countries that import products and are sold in countries where they export them.
As a result, let's take an example: If low-quality products are being produced in Asian countries, with reverse dropshipping they would be produced outside these countries but sold within them.
So, this means with reverse dropshipping, a high-quality product would be sold for example in China, but not produced there. One fact before we jump in: E-commerce market in China will reach US$3 trillion in 2024.
Discover top dropshipping suppliers of original US/EU products
You're 2 minutes away from building your ecommerce empire
No credit card required. No commitment.
Get started for free
How Does Reverse Dropshipping Work?
Initially, let's take a quick look at how dropshipping works. With dropshipping, you are shipping the product directly to the consumer from the supplier.
The profit you get from this is the between the price of the supplier and the price from the customer who bought this from your online store, additionally calculating the marketing costs.
In dropshipping, you are just the middleman of the supplier and the customer. Although, in reverse dropshipping, things change up.
Here, you buy items before the time of selling them, so of course, you'll need more money than you do in regular dropshipping.
In dropshipping, you don't need to buy items but just fulfill orders without holding an inventory.
Let's take an example between China and the USA. With reverse dropshipping, you are shipping from the USA or any other country to China.
Best Examples and Practices for Shipping from the USA to China
Many products made in China aren't of the best quality, so many of the locals living in China will avoid purchasing them there.
There are many sellers in China who are putting English labels on products so they can sell them easier.
Although, with reverse dropshipping, your content and labels should be in Chinese, since not the entire population can speak English. Furthermore, you have to be considered a reliable supplier too.
Comparatively, the demand for high-quality goods manufactured in the US is growing day by day in China.
Many entrepreneurs are already thinking about reversing dropshipping.
Without a doubt, product descriptions and marketing tactics should be localized, but reliable distributors in China can indeed build a business out of this.
💡  LEARN: What Does Shipped Mean In Dropshipping?
The Reverse Research Method of Dropshipping
Here are some methods you can use for reverse dropshipping:
1) Find a Dropshipping Supplier
In short, you can find any reliable dropshipping supplier from SalesHoo, AliExpress, Doba, Home Depot, Walmart, etc.
2) Choose a Niche
Go to any of the sites mentioned above, and pick your dropshipping niche. Since you are doing reverse dropshipping, it is good to check the most demanded products in China.
Google Trends is a good way to help, but you can also visit the top categories of the dropshipping site you choose to visit.
Each dropshipping site should have its own way of filtering, so you will need to find out how to do it.
3) Find a Product
Interestingly, this sounds very easy to do. If we are talking about reverse dropshipping, it is easy to do since your competition in China shouldn't be as high.
Many of the products are fake and won't be able to compete with you as easily as they would if you did regular dropshipping.
Is Reverse Dropshipping Legal?
Yes, it is, although, don't forget to ensure high-quality products and fast shipping.
In fact, you have to also validate your legitimacy in the country you are trying to do business in (in this case, China).
Also, find out if Dropshipping Is Legal in general?
Biggest Downsides of The Reverse Dropshipping Model
Below, you will find some of the biggest disadvantages associated with reverse dropshipping.
Unreliable Shipping Partners
In short, this is probably the biggest issue many have when thinking of reverse dropshipping in China.
Whenever a customer buys a product, the online store owner will never see the product as the supplier will ship it directly to the customer.
Expensive Shipping
As a result, this can occur when you are using a drop-down delivery model. For example, let's suppose you ship mobile accessories and use 2 different suppliers to store your products.
Additionally, if your customer ordered from both these suppliers, you will have to pay for both of the shipping costs. This may accumulate to lots of expenses.
Furthermore, it wouldn't be a good idea to pass these expenses to your customer either. They may start abandoning carts and leave as fast as you can imagine.
Language Barrier
Without a doubt, you will have to be writing labels in Chinese and not English.
As we mentioned above, not everyone in China speaks English.
Difficult to Market
Sometimes, it may be difficult to sell winning products abroad. Occasionally, not every market is the same. What may work in the US, may not work in China and vice-versa.
Before entering any market, you should have some essential knowledge of that market.
Otherwise, you may get into contact with Chinese influencers (Learn more about Influencer Marketing for Dropshippers) or someone who may know the Chinese market that can help explain the culture, tradition of Chinese people, or any other Asian country you are aiming to reverse dropship in.
Benefits of the Reverse Dropshipping Model
Low Inventory Management
Of course, this is still dropshipping and this means you don't have to hire anyone to manage your inventory.
Comparatively, your inventory costs will be zero compared to setting up a retail store where you have to manage a bunch of inventory.
Low Startup Costs
In short, just because you don't need to have a warehouse for your products, this also means your overall startup costs are low.
Overall, the business model of reverse dropshipping has a low-budget barrier to entry and makes it impossible to not enter with a low budget.
Broad Options
Generally speaking, this business model allows you to offers a wide variety of products in comparison to a small physical store or even being a regular dropshipper.
Since you are shipping high-quality products, your competition is going to be lower than doing so in regular dropshipping.
Higher Profit-Margins
Comparatively, with reverse dropshipping, you can make higher profit margins than with regular dropshippiing.
Most classic dropshippers are offering low-quality products and shipping, hence, this is how they are harming their overall dropshipping reputation.
Flexibility
This business model allows any brand to do business across the globe and offers many different types of products.
Additionally, sales offers can easily be changed if market preferences are changed too.
Low Competition
In short, reverse dropshipping is considered to be a niche market so there's a lot of space to take the market share.
Instead of competing with a bunch of other dropshippers, you will only compete with a few. Additionally, these businesses may not even have the necessary experience.
Furthermore, this makes you stand out easier.
How to Use Our Free Dropshipping Suppliers Directory
Our free dropshipping supplier directory is composed of hundreds of suppliers across the globe.
Furthermore, once you are on our supplier directory tab, you will see different categories available.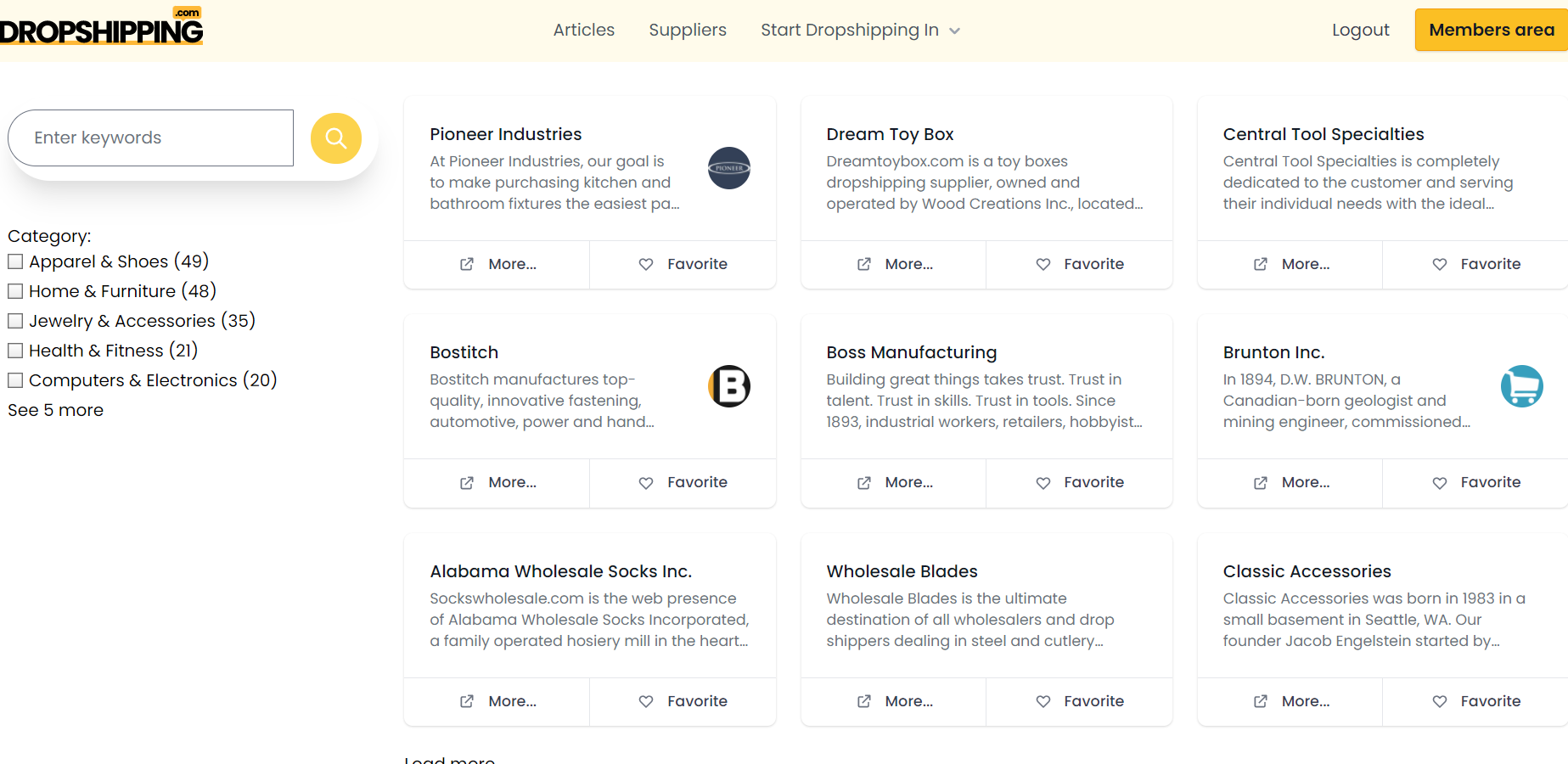 From these categories, you are able to filter your search and make it more simple.
Whichever country you are thinking of dropshipping from, the short description will usually show where the supplier operates when you click on the "more" button.
Since we mentioned the USA, here is a short list of some recommended suppliers you can contact from our directory:
MDS Fulfillment – are located in Milwaukee, Wisconsin, they provide extensive e-commerce order fulfillment services. Some of them include: pack, kitting, packaging, shipping, and mailing operations for B2B and B2C ventures.
Vitalabs – a private labeler of health supplements, offering a custom formulation which means the product is excusively made for your company.
RCC Wholesale – a wholesale distributor of liquidation merchance. Firmly, they supply individuals and businesses with overstock and closeout products.
Although, you shouldn't only be limited to these suppliers. There are hundreds of high-quality suppliers in the directory, so have fun searching!
Here are our top picks from the best UK Dropshippig suppliers (General & Niche).
Find winning dropshipping products & spy on your competitors
Minea analyses all online advertising to help you find the best products to launch, and the best creatives in your niche in just a few clicks.
Use coupon: DROPSHIPPING30 and get a 30% discount
💡Try Minea For Free
Conclusion – Is Reverse Dropshipping Worth It?
To summarize, Reverse dropshipping is in other words a dropshipping strategy, where products are shipped directly from the manufacturer to the customer.
The only thing the seller may do is market the product, whereas the supplier will handle the rest.
Whenever you are getting involved with Reverse dropshipping, you are listing high-quality products and trying to sell them in a market where the quality of the products is not that high. Right?
Products will usually be from US suppliers or other Western countries and sell these products to exporting countries like China.
Comparatively, we would say reverse dropshipping is definitely worth it. It has lower competition than classic dropshipping and if done right, you can be a step away from setting up a luxury brand!