Doba Dropshipping Review: Is It Worth It & How to Use It in 2023?
by
Martin -
Martin is an agency owner and SaaS projects maker. His work is featured in the leading ecommerce brands, magazines and podcasts. Talks about Marketing, Business Development, and Growth Hacking!
CO-founder at Dropshipping.com
Doba has gained quite some great credibility as a sourcing directory for dropshippers.
Doba is an online dropshipping company that assists online retailers in making a profit through retail sales and staying organized while doing so.
Their slogan is "Dropshipping. Simplified.", meaning that they try to make the process as easy as possible.
It gathers vetted suppliers and manufacturers into one single database, giving them access to many different products without having to set up a relationship with dropshippers.
Let's dig in deeper and find out why Doba makes dropshipping easier.
What Is Doba Dropshipping?
The definition of dropshipping is an e-commerce business model that ships products directly to customers from suppliers.
In dropshipping, you are considered the middleman.
Just like all cases with dropshipping, Doba allows you to source products one by one without having to make bulk purchases.
Whenever a customer makes a purchase, Doba will inform the supplier and send the product directly to the customer.
Everyone who wants to sell items online but wants to avoid the stress of having a warehouse full of packages and products will turn to dropshipping.
It can sometimes be difficult to find trustworthy suppliers and the right product to sell, although this is where Doba comes in.
Doba offers millions of products to choose from, and that is a huge beneficial advantage for dropshippers.
Lifetime deal: Get all-access to everything on Dropshipping.com
Access all DSCOM features, resources, courses, live workshops, discounts, winning products, weekly deep dives, directories and all future updates under all-in-one dropshipping HUB.
DROPSHIPPING IS A REAL BUSINESS, DON'T DO IT ALONE. 4553 MEMBERS ALREADY JOINED. YOU CAN PAY OFF YOUR SMALL INVESTMENT WITH JUST 2 SALES ON YOUR STORE.
Grab the deal before it's gone
How Does Doba Make Dropshipping Easier?
If your dropshipping goals are similar to these below, then Doba can make everything easier for you:
Has a huge network of dropshippers that you won't have to enagge with individually.
Millions of products to choose from
Integrates with your e-commerce software
Content you can learn from to imrpove your dropshipping business model
Check our ultimate comparison of the two biggest e-commerce platforms: Ecwed vs Shopify
How to Get Started with Doba Dropshipping?
Here are a few steps to follow when dropshipping with Doba:
1. Find Products and Suppliers
Start searching on the Doba marketplace to find products you want to sell on your online store.
Doba even has a "winning dropshipping products" category that allows you to search throw the hottest products on the marketplace right now.
The platform offers a free 30-day trial in case you want to try the platform.
Doba can integrate with 7 other platforms, which are:
Shopify
Amazon
eBay
BigCommerce
WooCommerce
Wix
Newegg
Furthermore, once you integrate with these platforms, you can use our supplier's directory to find free dropshipping suppliers across the world, and also find dropshipping suppliers for Shopify.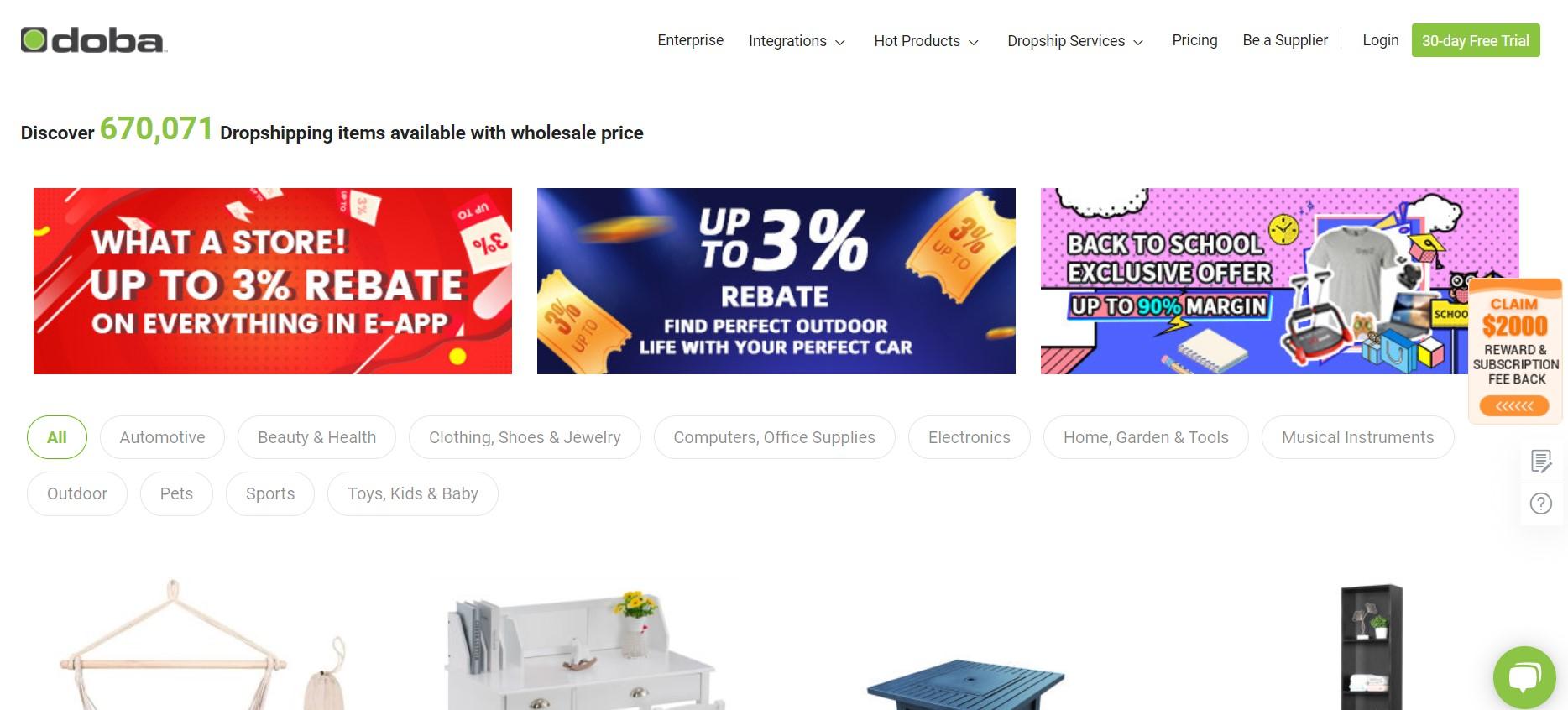 2. Inventory Management
Doba allows you to build your own inventory of products that you are willing to sell. You will see a "my inventory" tab, along with a tutorial video that will guide you through the process. You may later update this to your online store.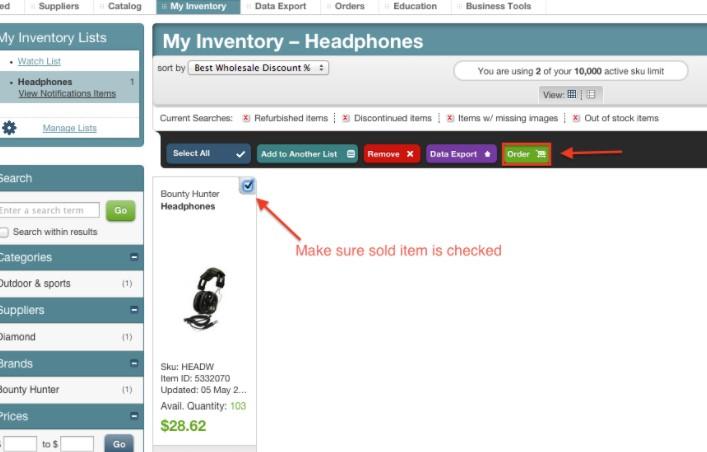 3. Data Exportation
Doba will allow you to export product information (prices, descriptions, pictures) into different formats. There are third-party formats where you also upload product information to sites like eBay, Amazon, etc.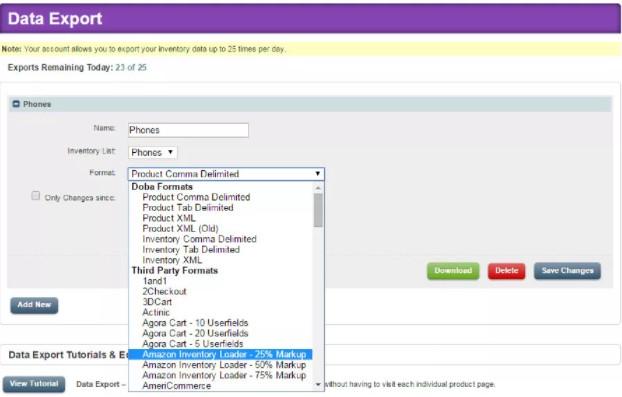 4. Pay Doba After
Doba doesn't have upfront costs, so this means you should pay Doba for the product after you make the sale. The leftover profit will be deposited into your account.
5. Keep Track of Orders
You have the ability to keep track of your details such as the order status, suppliers, buyers, locations, etc.

Dropshipping with Doba is similar to other dropshipping apps, although the only difference is that Doba interviews and examines every single manufacturer and supplier. This is to avoid long shipping times and unreliable suppliers.
D
oba Pros & Cons
Pros
1) Easy navigation
We could say that Doba is a highly user-friendly platform. Nothing is difficult to search for and to get your way around. There are different ways of product filtering and filtering search results.
No matter what you search for, Doba will make it easy to find suppliers and products when you filter your search.
2) Customizable inventories
There is no way you can lose your organized list of products whenever you come back to view your online store.
The platform will inform you in case you are low on inventory, to prevent over-selling when you aren't aware of it.
3) Uploading product information is easy
The integration between Doba and the hundreds of shopping carts makes uploading product information very easy. This uploading is automatic, unlike if you had to manually add them to your listings, which would be highly time-consuming.
4) Educational resources
Doba provides free educational resources (business guides, articles, infographics, etc.) you can read from and learn more about dropshipping. You may read from these resources without having to sign-up on Doba.
Signing up grants you access to additional lessons on how to export data to different formats and so much more.
5) Phone number for customer support
Doba allows you to directly contact them in case you have any issues with the platform. Furthermore, their customer support is excellent and direct.
Cons
1) Expensive membership
A Doba membership costs anywhere from $59.95 to $89.95 per month, depending on which plan you choose to go with.
They don't have a money-back guarantee, but will only allow you to join if you prove that you have put in enough effort.
It definitely isn't a cheap option so you have to think twice and make sure you are earning enough.
2) Products are expensive and difficult to compete with other platforms
Doba claims to have low dropshipping prices for its products, although, it is fairly difficult to find the right products with a good price that can compete against other platforms.
You may find many products that are even more expensive to buy on Doba than it would be to buy from Amazon! Definitely a major downside from Doba.
3) Not everyone is fit for Doba
If you see what the majority say about Doba, sadly, you will see more negative than positive comments.
Doba's Best Features
Doba partners with hundred of reliable suppliers and offer over 2 million products with many different categories.
Many of the products have decent prices so that gives you a better chance to compete with Amazon and other competitors, making some profit for yourself at the same time.
Here are the best features of Doba:
1. No Need for Inventory
Yes, you do import products into your online store, however, the packaging, storing, and shipping is handled by Doba.
This is the entire art of dropshipping, the supplier is responsible for inventories while you don't even need to worry about it.
2. Product Filtering
Doba's advanced searching and filtering are quite impressive. There are many dropshipping marketplaces that will make it more difficult for you to find the product you are looking for, although Doba makes that fairly easy for you.
It has many products to choose from and allows a fast filtering process.
The filtering is quite similar to Amazon, where it looks like you can find any product you can imagine on the platform.
3. Low-inventory Alerts
If in case your inventory gets too low, then you will get alerts. For example, you might have pairs of T-shirts that are running low on stock, the platform will immediately alert you.
This is to avoid selling a product that is out of stock. It happens more frequently than you think.
4. Elite Seller Report
This seller's report is the same as a newsfeed, you will find discounts, deals, trends, suggestions, etc. You will see different types of recommended product lists that may help you with your revenue.
What we think is best about this report is checking the supplier scorecard, a card that gives you an overview of which supplier is best to work with.
5. Seasonal Discounts
From time to time, you may be receiving emails regarding discounts from suppliers. These deals come with trending products or seasonal discounts. This may be good to take advantage of low prices and high-quality products.
6. High Profit Margin Products
Doba provides you with a list of high-margin products you can sell.
Moreover, you may do the research yourself but if you aren't so sure about it you can always contact Doba's experts to help you out with a list of high-margin products.
Who Is Doba Dropshipping for and What Are Your Next Moves?
Doba is the best for dropshippers who are looking to sell products as fast as possible.
Dropshippers who don't have all the time in the world but wish to build an e-commerce store online are the best fit for using Doba.
It is important you first know how the basics of wholesale prices work and how to increase sales through shopping carts.
If you are looking to sell on huge sites like Amazon, then there are prices there that might be hard to compete with.
It is very important you find out how you will make your dropshipping business plan, idea and overall dropshipping business stand out.
We don't recommend Doba if you have difficulties standing out, and lack experience in dropshipping. Membership fees may overtake you and make it difficult for you to actually earn revenue.
As a result, the platform is excellent for product sourcing also, of course when you know how to sell products quickly at the right prices.
This is when you know how to get the best deals out of the dropshipping suppliers you are dealing with on Doba. In this case, Doba is a really good choice for you.
To succeed on this platform, all you have to know is how to use dropshipping suppliers to sell items at high prices.
It is a good idea to be with a free trial to see how you might actually do on this platform. 30 days is enough to see if you belong there or not.
Before you make your decision, check the complete AliShark Review.
Also, here's our Shift4Shop ultimate review.
Join the only community and resource hub you'll ever need to succeed with dropshipping
Find winning dropshipping products, learn marketing, download templates and engage with real dropshippers
Never pay for a "guru's" course again. See why 4543+ dropshippers joined us this year!
💡Try DSCOM Hub Now
Conclusion
Should you go with Doba or not is the real question? This will all depend on what you want. In case you are someone who is good at searching for products that can compete with Amazon and the rest, then Doba is definitely for you.
However, If you are someone who lacks experience in dropshipping, Doba might not be the right choice for you just yet.
Although, but if you're looking to learn more about dropshipping, then Doba might even be your best choice in the future!
CJ Dropshipping
$9 /mo
Quis suspendisse ut fermentum neque vivamus non tellus.
Buy Basic
Features
Feature
Included
Molestie lobortis massa.

Test

Yes

Urna purus felis.

Test

Yes

Tellus pulvinar sit dictum.

No

Convallis.

No
Reporting
Feature
Included
Adipiscing.

Test

Yes

Eget risus integer.

No

Gravida leo urna velit.

No

Elementum ut dapibus mi feugiat cras nisl.

No
Support
Feature
Included
Sit dignissim.

Test

Yes

Congue at nibh et.

No

Volutpat feugiat mattis.

No

Tristique pellentesque ornare diam sapien.

No
Essential
$29 /mo
Quis eleifend a tincidunt pellentesque. A tempor in sed.
Buy Essential
Features
Feature
Included
Molestie lobortis massa.

Test

Yes

Urna purus felis.

Test

Yes

Tellus pulvinar sit dictum.

Test

Yes

Convallis.

Up to 20 users
Reporting
Feature
Included
Adipiscing.

Test

Yes

Eget risus integer.

Test

Yes

Gravida leo urna velit.

No

Elementum ut dapibus mi feugiat cras nisl.

No
Support
Feature
Included
Sit dignissim.

Test

Yes

Congue at nibh et.

Test

Yes

Volutpat feugiat mattis.

Test

Yes

Tristique pellentesque ornare diam sapien.

No
Pricing plan comparison
CJ Dropshipping
HyperSKU

Service
Service

Product sourcing

Product sourcing

Order processing

Picking and packing from their own warehouses

Shipping fulfillment

Order processing

Warehouse services

Express Shipping fulfillment

Photo/video taking

Private label service

Print on demand

Warehouse services

Reporting
Reporting

Sourced by expert staff

Included in Basic

Sourced by expert staff

Included in Essential

Customization
Customization

Thank-you cards

Thank-you cards

Customized packaging

Customized packaging

Logo-embedding

Logo-embedding

Minimum Order Quantity
Minimum Order Quantity

No MOQ

No MOQ

Shipping
Shipping

4-8 days

7-12 days

Integrations
Integrations

Shopify, WooCommerce, eBay, Lazada and Shopee Warehouse and fulfillment

Shopify, WooCommerce Warehouse and fulfillment

Warehouses in China and US

Warehouses in China and US (edited)