Whether you are a dropshipping beginner or an established entrepreneur, chances are you have thought about starting dropshipping from AliExpress to eBay.
Perhaps you are a dropshipping newbie and have no idea how dropshipping works. Or you are already running a dropshipping store and sourcing your products from AliExpress.
But now you want to expand your target audience and start dropshipping from AliExpress to eBay.
If this idea excites you, why wait around? You need to learn how to dropship from AliExpress to eBay. So, let's get started.
Is dropshipping from AliExpress to eBay allowed?
Like AliExpress, eBay is an e-commerce marketplace where millions of people trade daily. Established in 1995 as an online auction site in San Jose, California, the marketplace precipitated a dramatic change in the way people buy and sell goods.
To be more specific, you, as an eBay seller, can now add a "Buy It Now" option to your product page. You can do so to control your product price and enable people to buy something from you, without bidding, at a fixed price.
So, now, let's find out if dropshipping from AliExpress to eBay is allowed. The standard dropshipping business model where you buy an item from a dropshipping supplier and work with them to send that item directly to your customer is not allowed on eBay.
And if you engage in this activity, it may result in a lower seller rating, account suspension, and other kinds of restrictions.
However, eBay allows you to work with a wholesale supplier to fulfill orders on your behalf. Technically, in case you want to dropship from AliExpress to eBay, you have to buy in bulk from a wholesaler that will ship orders to your customers.
This does not mean that you will have to store your inventory in your own warehouse.
But this means that the wholesaler you are about to work with can keep your inventory in their warehouse and ship orders to your customers as needed.
For further information, check out eBay's dropshipping policy.
Discover top dropshipping suppliers of original US/EU products
You're 2 minutes away from building your ecommerce empire
No credit card required. No commitment.
Get started for free
How to start dropshipping from AliExpress to eBay: Step-by-step guide for beginners
Follow our step-by-step guide if you want to become a successful eBay seller/dropshipper:
1. Identify your dropshipping niche
Before you start dropshipping from AliExpress to eBay, you need to find the best dropshipping niche for your business. You might believe that dropshipping success comes from selling as many products as possible.
Or you might even think that if you sell only one "product," you will be unable to attract enough customers.
Although this way of thinking is quite common among dropshippers, it is rarely associated with business success.
In reality, you need to focus on a single niche that has enough of an existing customer base to be profitable. But how can you do so?
• Find trending products on eBay
As you are planning to start dropshipping from AliExpress to eBay, you must find out what people are searching for on eBay.
You can do that by using one or more of the tools listed below.
This is an exclusive eBay insights tool. In addition, it can help you figure out how products and categories are performing across the marketplace.
The tool uses recent eBay demand, supply, and pricing data. And it helps you decide what products to sell and how to price them.
Niche Idea: Start Dropshipping Toys.
As another powerful eBay product research tool, ShelfTrend can help you a lot with your product research.
Moreover, it uses inventory and product listings from many product categories to help you determine the best-selling categories on the marketplace.
However, the tool offers much more than that. For instance, it can even help you find out what items sell well but have low competition.
This is a free online keyword research tool for social media sites, search engines, and online marketplaces, including eBay. It does not give you a list of items to sell or data on product listings that are currently active on the marketplace.
Instead, it provides thousands of keyword suggestions from real user queries on eBay. You can use these keyword suggestions as inspiration for products to sell.
• Find a reliable supplier on AliExpress
Once you have identified which products sell well on eBay, it is time to find out whether they are available on AliExpress. Try to find vendors on AliExpress selling similar or alternative products.
You can use the following tools for this purpose:
• AliExpress Dropshipping Center
This is a tool created by AliExpress that enables you to connect with reliable AliExpress suppliers and find trending products.
By using the tool, you can dig deeper into AliExpress as well as find suppliers that you would have missed otherwise.
• Alitools
You can use Alitools to find high-quality products to dropship from AliExpress to eBay.
It can help you check price changes of an AliExpress product, determine a seller's reputation, read real product reviews, identify similar products sorted by rating, popularity, and price, and much more.
You can check our complete AliShark Review – the best tool for product research and sourcing.
2. Set up your online store on eBay
Before you start dropshipping from AliExpress to eBay and set up your eBay online store, it is important to read and understand eBay's rules and policies.
To set up your eBay store, you need to register as a seller. The next thing you need to do is to choose a subscription level, which fits your needs.
Then, you need to pick a store name and customize the store's home page. Visit this page for more information about how to set up your store.
When it comes to payment methods on eBay, you can only accept eBay-approved payment methods from your customers. And they are as follows:
• Debit/Credit Card;
• PayPal;
• PayPal Credit;
• Apple Pay;
• Google Pay;
• Payment Upon Pickup; (As you are going to start dropshipping from AliExpress to eBay, this payment method wouldn't be applicable for dropshipping products.)
In terms of dropshipping product returns, the marketplace allows you to set up your own return policy. However, you can choose to offer one of these return policies:
• No returns at all;
• 30-day free returns or 30-day buyer-paid returns;
• 60-day free returns or 60-day buyer-paid returns.
And remember that there are different return policy options for certain product categories on the marketplace.
3. Create an account on AliExpress
It is not difficult to create an AliExpress account because you need to sign up as a customer rather than a seller.
Just visit the official AliExpress website and sign up via Google, e-mail, Apple ID, Facebook, or Twitter. You will receive an e-mail with a verification link, so you need to check your e-mail.
Next, click the verification link to set up your AliExpress account.
And before you place an order with a supplier, you need to add payment details and a shipping address to your account page.
4. Add dropshipping products from AliExpress to eBay
Now that you have identified the right dropshipping products and suppliers, you should select your AliExpress products and add them to your eBay store.
Although you can manage your online business manually, you may find that you are unable to keep up with day-to-day operations as your business grows.
This means that you will be unable to search for products and manually import them to your eBay store. You will probably not have enough time to accomplish it.
So, it is advisable to use one of the following dropshipping automation tools to add products to your store:
• Oberlo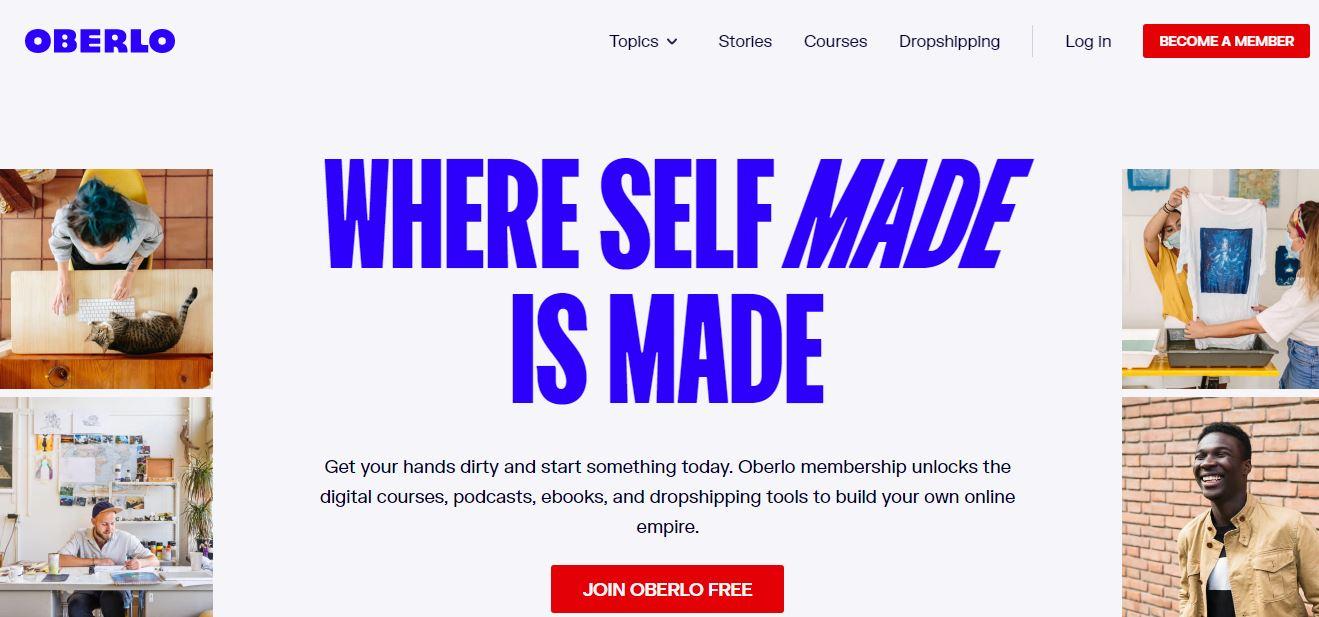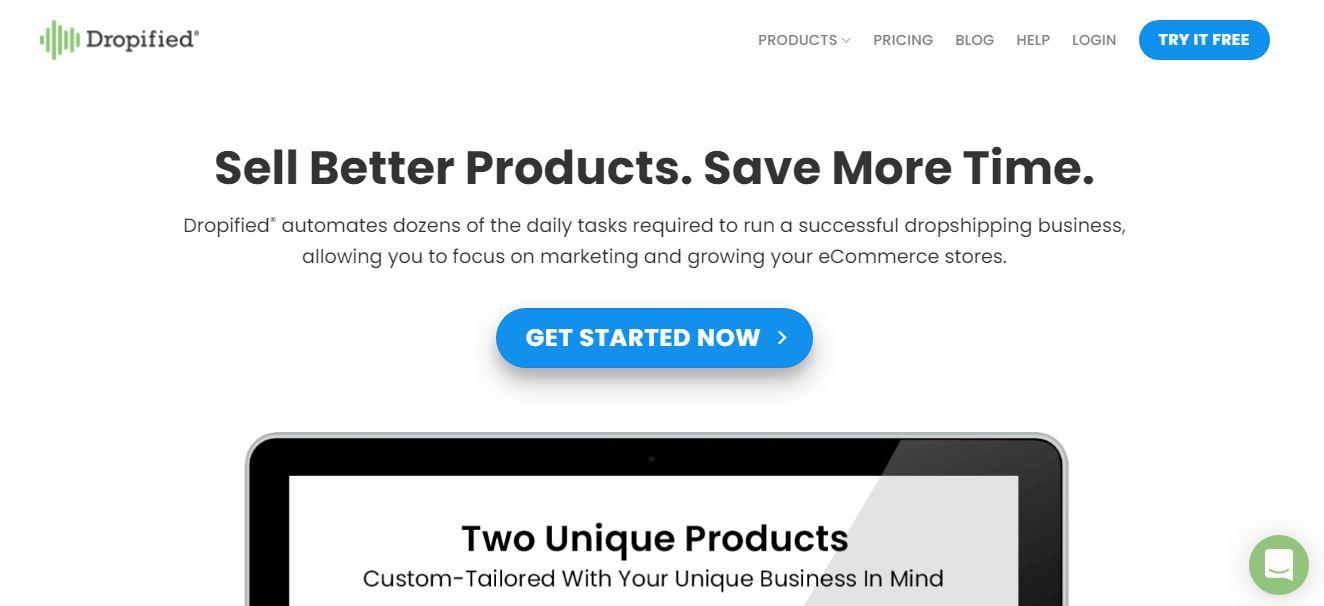 • AutoDS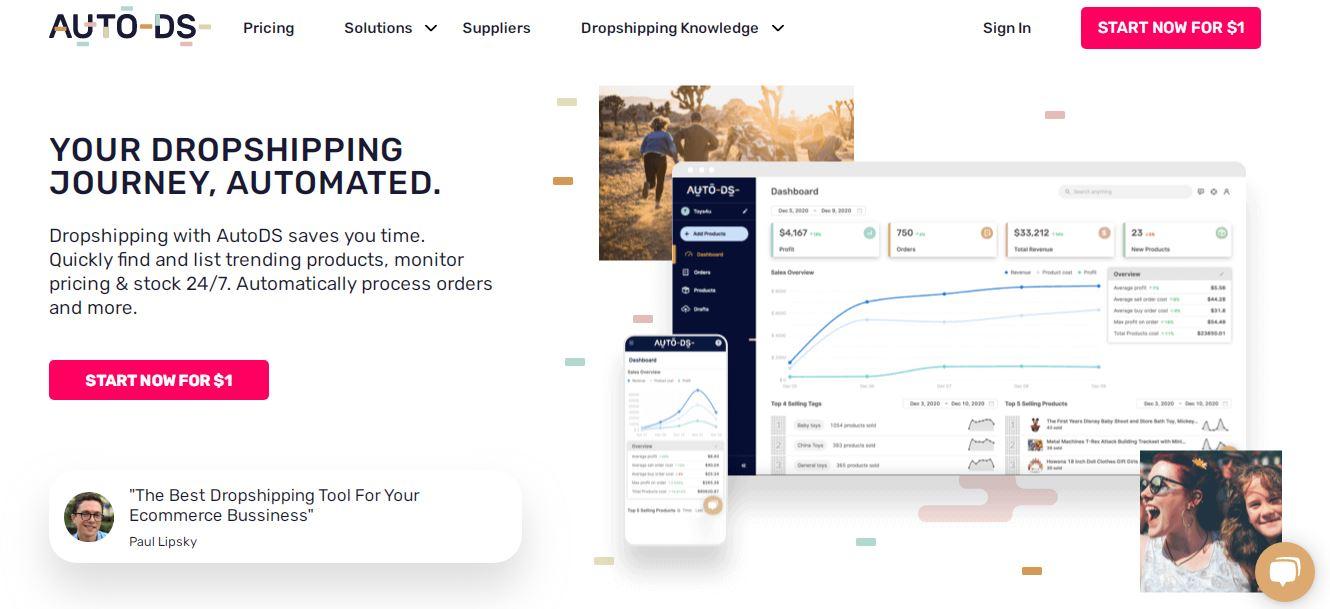 • KalDrop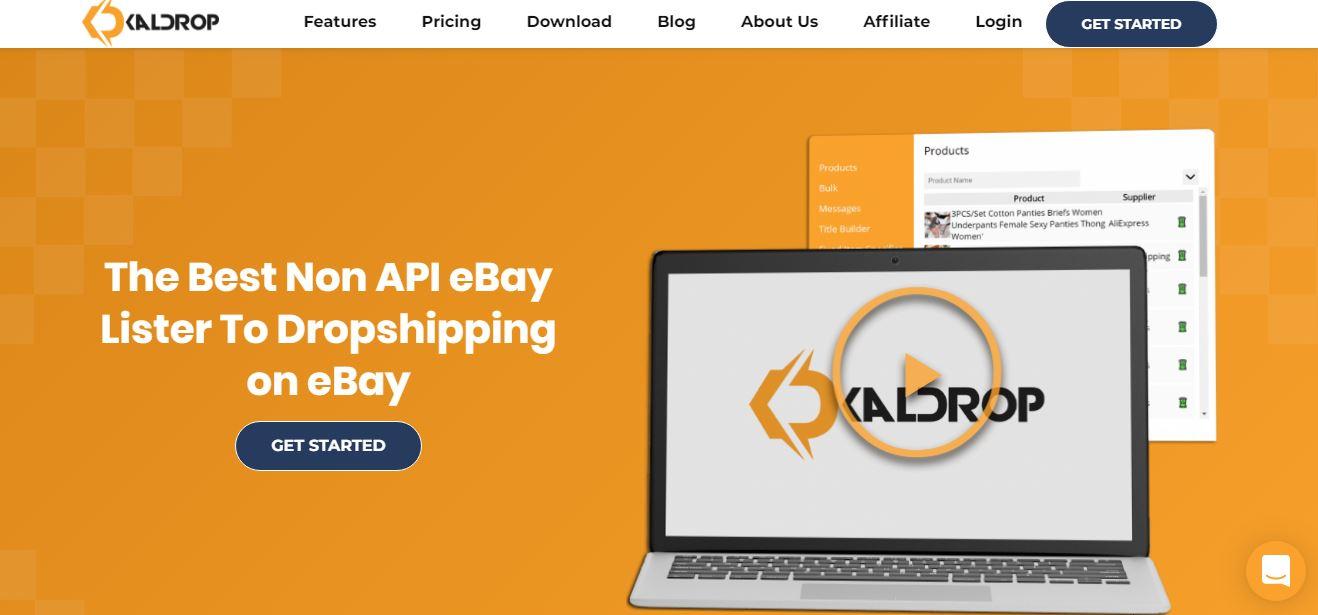 When choosing a tool for your e-commerce business, make sure it:
• Supports every single product from AliExpress. The majority of tools work with an "API". That's to say, it is actually the interface the software uses and fetches all of the data from the marketplace. But the API fails to support all the items.
That's why you must identify if your chosen tool to start dropshipping from AliExpress to eBay supports all products from AliExpress.
• Sends automated feedback. With certain automated dropshipping tools, your customers will receive a "Thank You" note when they receive their order.
Or they will receive a tracking number once an order is shipped. So, ensure that your chosen tool sends automated feedback.
• Supports product variations. Almost all AliExpress products have different attributes like color and size. For example, a bag on AliExpress is available in multiple colors and patterns. And the good news is that when dropshipping from AliExpress to eBay, you can take advantage of this.
In short, when selling on eBay, you pay per product rather than per variation. Therefore, choose a dropshipping tool that supports product variations.
Shipping rules you must know as a new eBay seller to avoid trouble from the outset
When dropshipping from AliExpress to eBay, you have to work with a wholesale supplier that can ship orders as quickly as possible on your behalf.
The reason for this is that eBay requires its sellers to list products that are guaranteed to arrive in 30 days or less.
Since the majority of AliExpress wholesalers are based in China, it might be hard to guarantee 30-day delivery. Here's our simple guide on how to dropship from China to the USA effectively.
But fortunately, you can learn how to reduce AliExpress shipping times. That way, you will comply with eBay's rules and policies as well as make your customers happy.
How much does it cost to start dropshipping from AliExpress to eBay?
Well, it won't cost much to start dropshipping from AliExpress to eBay. Namely, to dropship on eBay, you have to pay two types of fees:
• An insertion fee; (You have to pay this type of fee when you list a product.)
• A final value fee; (You have to pay this kind of fee once you sell a product.)
In its Spring 2023 Seller Update, eBay provides sellers with better opportunities and zero insertion fee listings.
Sure, the fees you will have to pay for dropshipping depend on your eBay Store subscription levels. Please see the image below.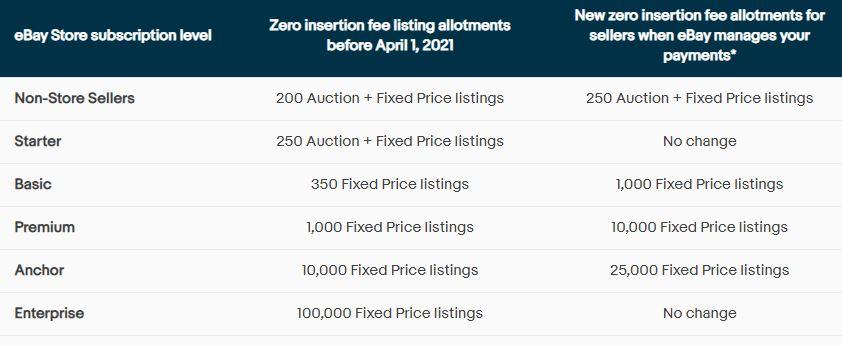 When it comes to final value fees, the fees typically range from 5-10%. Learn more about it here.
💡 Tip: Discover the 9 Reasons About Why Is AliExpress So Cheap [Truth Revealed]
Is dropshipping on eBay worth it?
As previously mentioned, dropshipping is not banned on eBay. However, it is actually restricted.
Some think that it is difficult to start dropshipping from AliExpress to eBay because of the many restrictions.
Or more specifically, eBay may remove their listings from search, display them lower in search results, or remove them completely from the marketplace if they do not buy bulk inventory from an AliExpress wholesaler.
But if you follow the dropshipping rules on the site and our step-by-step guide, dropshipping on eBay may be worth all the hard work.
After all, the marketplace had about 159 million active buyers globally in the second quarter of 2023. This can be a huge potential customer base for your online business.
Still, it is up to you to decide whether you want to dropship from AliExpress to eBay or not.
Find winning dropshipping products & spy on your competitors
Minea analyses all online advertising to help you find the best products to launch, and the best creatives in your niche in just a few clicks.
Use coupon: DROPSHIPPING30 and get a 30% discount
💡Try Minea For Free
Conclusion
Dropshipping from AliExpress to eBay comes with restrictions. However, if you do not violate eBay's rules and use expert advice for starting your first dropshipping store, you will stay in good standing on eBay for a long time to come and achieve success.