With the right dropshipping product research tools, you can ensure your business remains competitive and profitable for a long time. This can help you minimize the risk of product failure and increase the likelihood of selling a profitable product.
These ecommerce marketing tools can help you grow your store faster. 
Perhaps you are an idea guru who comes up with multiple incredible product ideas. But even if this is the case, you still need to conduct product research. And there is a good reason for this – product ideas alone will not lead to success.
You do not want to spend money and time on something that nobody or very few people want, do you? This is the reason why you need to do product research and evaluate the market viability of your product ideas.
This can help you make actionable decisions when it comes to product sourcing and scaling your dropshipping business. But how can you do product research effectively? Let's find out together!
How to carry out product research effectively
Product research is the act of gathering credible information about a potential product for your e-commerce business. To put it bluntly, good product research should help you figure out whether that product will make you money.
In essence, the traditional product research process includes things like:
Looking at the ads in newspapers, magazines, and on TV and online to have an understanding of what the competitive landscape looks like;
Shopping around to see if a potential product is available on the global market or locally.
Nevertheless, this may be a time-consuming process. But, fortunately, many dropshipping product research tools are available to help you simplify the entire process.
What is a dropshipping product research tool?
A dropshipping product research tool is a kind of software that lets you scan through a large number of products.
In addition, it helps you identify which products are popular, available, or actually selling. And with a good dropshipping product research tool, you can do all this within minutes.
The key to success summarized: Try to automate your dropshipping product research activities.
The benefits of using dropshipping product research tools
Making informed, data-driven decisions
One major benefit of using a dropshipping product research tool is that it allows you to collect credible information concerning consumer preferences and product demand.
This means that you can scan multiple products simultaneously and create detailed lists of hot and trending products.
In short, you can rely on accurate, real-time calculated metrics, helping you make the best decisions for your dropshipping business.
Analyzing your competition
It goes without saying that understanding who your competitors are is essential for your e-commerce business. So, another important benefit of using such a tool is that it can help you take a closer look at your potential competitors.
Scanning multiple marketplaces
Aside from helping you make informed decisions and track the actions of your competitors, a dropshipping product research tool can also help you scan a few marketplaces.
In other words, it delivers product analytics and provides a comprehensive overview of particular marketplaces. This enables you to assess and compare the attractiveness of a certain item across multiple marketplaces.
Defining your profit and expenses
Though you do not need a lot of capital to start a dropshipping business, all of your costs will be associated with running your website and marketing. But this does not mean that you should not estimate your expenses when it comes to selecting your products.
Before choosing products for your dropshipping store, you should know your product costs, selling prices, and estimated profit margin. Long story short, with a product research tool, you can calculate your dropshipping profit.
What are the best dropshipping product research tools?
1. Adserea
Adserea combines everything you need to build your dropshipping business. From high-quality products, ad copies, descriptions, ads, and insights to store spy features, this tool covers everything.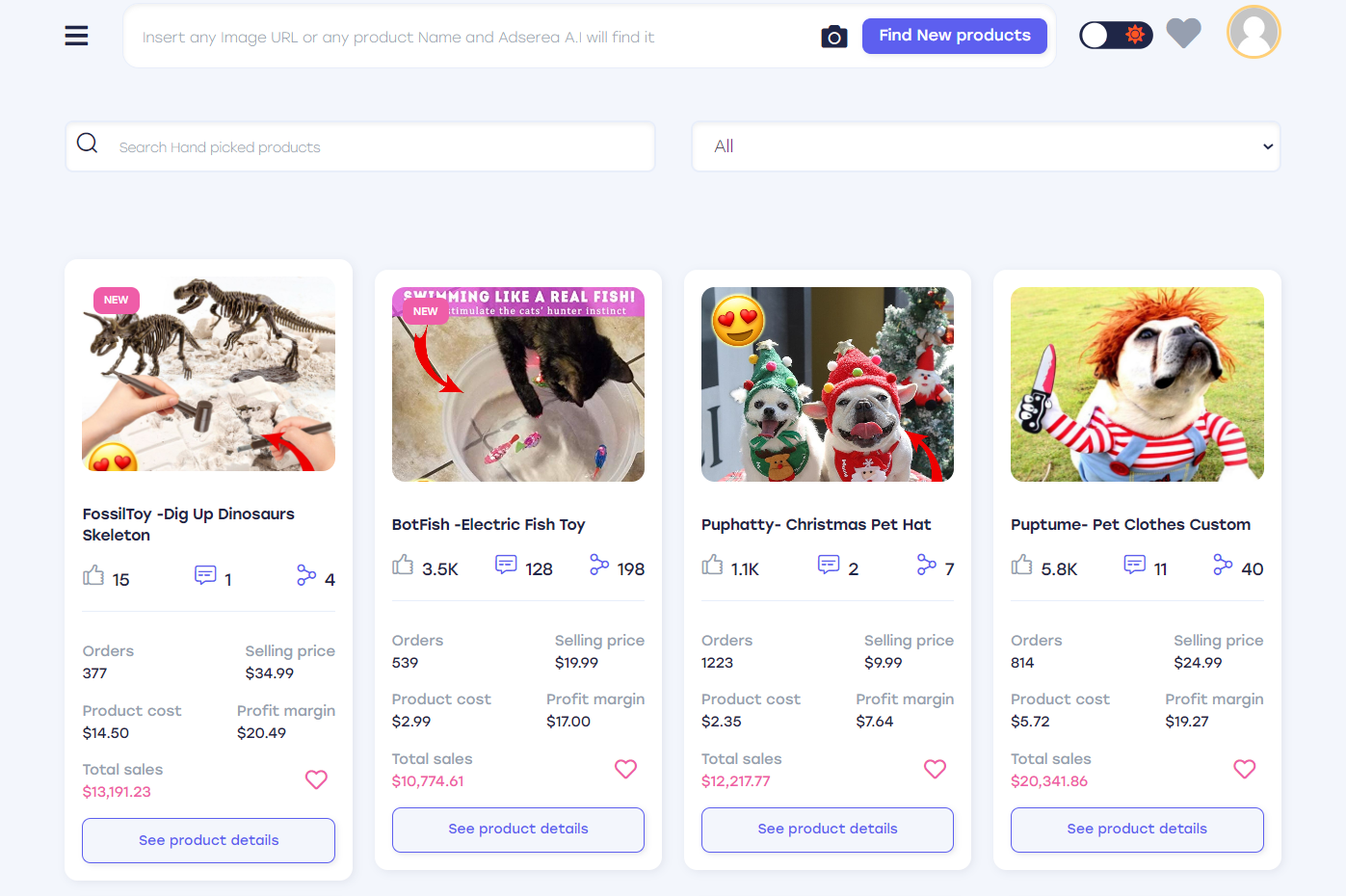 Despite the easy-to-use dashboard and user-friendly navigation menus, Adserea stands out with its innovative features.
Instead of you spending hundreds of dollars on separate tools, with Adserea you can simply:
Access to thousands of high-converting products
2 high-converting products every day
Use the Facebook audience search engine to prepare your campaigns
Here's the list of all features Adserea can offer under the all-in-one package:
Daily Winning Products
Winning Product Analytics
Hand-Picked Winning Products
Live Products Spy
Store Finder
Store Analyzer
Audience Builder
Adserea BONUS features
TikTok Spy Tool
Moving forward, wth every winning product you get a large amount of precise data to fuel your product-picking decision. Here's what Adsersa provides for every product:
Cost price
Sale price
Gross Profit
Profit margin
Number of suppliers
Number of vendors
Number of stores selling the product
Strength index
Engagement analysis (engagement, marketing, audience insights)
Videos from product usage (on TikTok)
Sales Analysis
Competition Analysis
Adserea has three pricing plans, starting at $19.95, each of which has different features available. Take a look at the pricing plans!
Still not convinced? Try Adserea for free!
Created by ex-Instagram and Facebook employees, Niche Scraper is a great dropshipping product research tool.
Moreover, it uses one of the most advanced product web crawlers available. Plus, it scans winning products across multiple e-commerce platforms and marketplaces, including Shopify, WooCommerce, eBay, and Amazon.
Additionally, with this tool, you get access to dropshipping products, which are already proven to be best-sellers in other online stores along with profit estimates.
But if you have some experience creating video ads for your online store, Niche Scraper may be too basic for you.
Monthly pricing plans:
Free – Create an account and get a limited number of scrapes for free;
PRO – Pay a monthly fee of $39 and get access to all the features.
Another solid dropshipping product research tool on the list, Sell the Trend helps in finding trending products for your store. Thanks to its industry-leading proprietary algorithm, the tool uses data sources from Amazon, AliExpress, and Shopify stores.
What is so special about this product research tool? In short, you can find the description, pricing, number of orders, and profit margin of thousands of winning products all in one place.
With this amazing tool, you can find products your customers will be interested in. However, there is a downside: All these features may be overwhelming for you, particularly if you are a new dropshipper.
Monthly pricing plans:
Free – Try Sell the Trend free for 7 days.
Paid – Enjoy a variety of features for $39.97.
This dropshipping product research tool can save you time and give you daily inspiration for your next winning product.
Namely, Ecomhunt updates new winning products on a daily basis. And these products are selected and added manually by seasoned e-commerce experts.
What's more, along with products, they add a lot of information, including suggested selling prices, analytics, video ads, targeting (for pro members), etc.
One of the best parts of Ecomhunt is that you can use the products on any marketplace or a site like Amazon, eBay, WooCommerce, and Shopify. Here, you can discover and explore the ultimate Ecomhunt Review with our dedicated team.
Monthly pricing plans:
Free – Enjoy limited features and delayed access to new products without paying anything;
Pro – Get access to full data, including unlimited products, for $29.
The next dropshipping product research tool on the list is called FindNiche.
It can take the guesswork out of your product research if you are planning on dropshipping on AliExpress or Shopify.
However, the only drawback of this tool is that you cannot filter by "dropshipping" like with some other tools mentioned above. Despite that, it is still popular among dropshippers.
Monthly pricing plans:
Free – While using the free plan, you can perform only a limited number of searches per day;
Pro – Get limited data access for $29;
Elite – Track up to 500 products, export up to 600 products, and enjoy many other features for $59.
The idea for this product research tool started after the founders had been testing products for their own stores in massive "FB tests."
Today, the tool offers dropshippers a few different methods to find winning products. Specifically, it gives you a list of three winning products daily that sell well online and drive real profit.
Pricing plans:
Compared to the above-mentioned dropshipping product research tools, this one offers a different kind of pricing. The current price of this tool is either $20 for one winning item a day, or $30 for three items a day. Unluckily, there is no trial period on the site.
One of the most complete options available for finding profitable products, SaleSource is an all-in-one research tool.
What do we mean when we say "an all-in-one product research tool"? By using SaleSource, you can find best-selling products, top-rated dropshipping suppliers, competitor data, and more in just one dashboard.
Furthermore, the tool is in sync with Shopify, so with SaleSource, you may create your online empire on Shopify. Also, you can use it for analyzing products to sell on AliExpress.
Monthly pricing plans:
Standard – Get access to some essential features, including a global supplier and product database, for $29;
Pro – Get access to more advanced features, including unlimited product analytics, for $83.
This is a comprehensive hunt tool that enables you to do in-depth research and extract the best and in-demand products.
Additionally, it helps you analyze millions of items across hundreds of Shopify stores. With Intelligynce, you can also search for products selling on AliExpress, Amazon, and other marketplaces.
Pricing plans:
Monthly option – $39 per month;
Annual option – $79 per year;
Lifetime option – You can get a lifetime membership for a one-time fee of $99.
Whether you are a new or an already established Amazon dropshipper, you should not overlook this dropshipping product research tool.
Technically, it is an all-in-one platform for selling on Amazon. By using it, you can extract rank, sales volume, and estimated revenue.
Apart from product research, the tool comes with many other incredible features to help you increase your Amazon sales. One of its features is the comprehensive supplier database.
Monthly pricing plans:
Basic – Validate your product ideas with the browser extension for $29;
Suite – Find new products and effectively manage your Amazon store for $49;
Professional – This plan is perfect for experienced online vendors who need more advanced features. And it costs $84.
Here's our take on the best chrome extensions for product research you should have on your browser if you want to automate the process.
Thieve.co is a product research tool that only scans thousands of hand-picked products on AliExpress.
Approximately 350,000 dropshippers from around the globe use ThieveCo. Sure, you can also use it to see what is trending on AliExpress.
Plus, you no longer have to waste your time analyzing current and future trends on AliExpress because this tool will do that for you!
Monthly pricing plans:
Free – Browse products for free.
Dropship – This is the most popular monthly pricing plan among dropshippers and it costs only $15.
Pro – Get access to all the basic features, plus pre-release product access and premium product content for $49.
As its name suggests, Dropship Spy is a product research tool for analyzing winning and promising products for dropshipping.
Thanks to its Shopify store integration, you can import your chosen products to your Shopify store.
Also, the tool provides many other features, including Store Spy, Facebook Ad Spy, Instagram influencer database & research tool, etc.
Pricing plans:
Regarding pricing, Dropship Spy offers only one plan for $30 per month with unlimited access to the hottest products and features.
The Best Dropshipping Product Research Tools
The main secret to finding hot products that sell like crazy comes down to the usage of a solid dropshipping product research tool.
RECOMMENDATION: Use Doba Dropshipping for Product Management.
So, all you need to do is to select the right tool for your dropshipping business. And it will help you solve most issues related to finding products.
For more information about finding winning products to sell online, visit our product directory.