Since you are already here, we bet you know the importance of finding good products for dropshipping!
You are a dropshipper, and you probably know by now that most of the logistic work is done by your chosen dropshipping supplier. But, there's a job that's 100% yours, and you better do it the BEST you can!
So, are you asking yourself – How to find winning products for dropshipping in 2022?
Don't you worry child! We are here to help you with everything.
In this article, we will guide you through how to find dropship products, where to find products to dropship, the best tactics, tools, and more! Ready to start?
Don't forget to finish reading! There's a BONUS for you at the end. Let's go!
How To Find Products For Dropshipping Stores?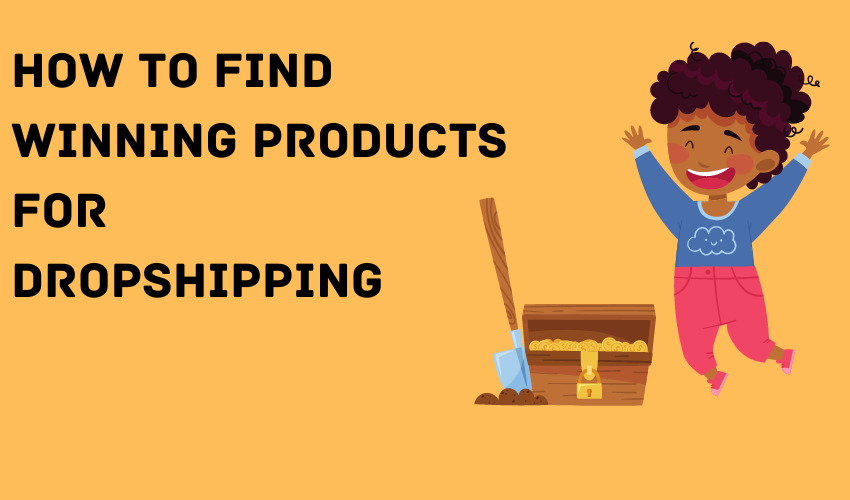 Before you start placing orders, you have to find the "perfect" dropshipping products to add to your eCommerce store.
We have put the word "perfect" in quotation marks because there is no such thing as a perfect product for dropshipping.
But in order to succeed, you have to get as close to perfect as possible when choosing the products for your business.
To put it plainly, there are certain characteristics that make an item "perfect". It goes beyond the product's physical attributes. Thus, it is more about consumer psychology and realizing why people purchase a certain product.
Also, you need to find products that are in demand and likely to generate a high sales volume. The best way to pick and choose a profitable product is by doing the research beforehand.
What are the best places to find products for dropshipping?
Luckily, there are various websites, tools, and automation software available that can help you find new product ideas and give you an understanding of what customers want and need on the market.
Tip: Check out our FREE list of the BEST Dropshipping Products for 2022.
To help you enter the diverse world of e-commerce, choose your products carefully, and start making money online, we have rounded up the top places to find winning products for dropshipping.
What Is A Winning Product For Dropshipping?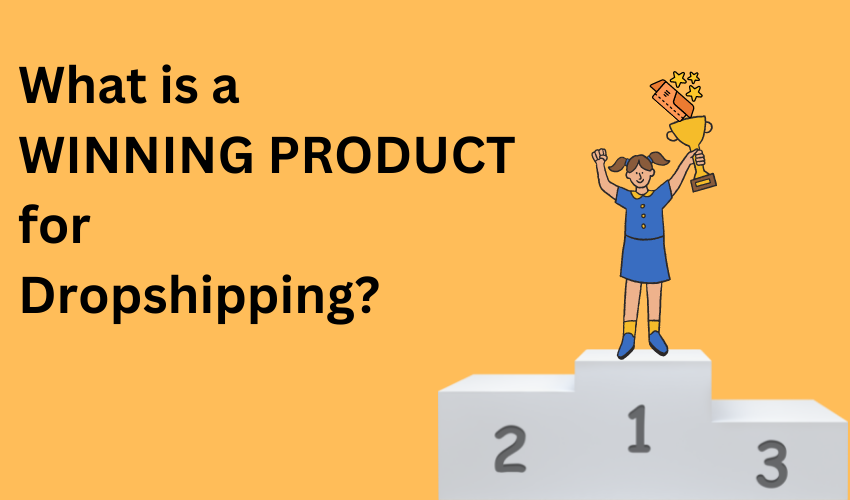 A winning dropshipping product is one that sells quickly. When your target audience sees this product, they want to buy it right away. When you reach that position, you can confidently declare that you have a winning product.
Every dropshipper needs a winning product! They are the ones that motivate you to keep doing your dropshipping business since once you start experiencing quick sales expansion, you are unlikely to want to leave your dropshipping business and close your store.
However, keep in mind that a "winning" product might easily become outdated if something more innovative and new pops up on the market. To keep ahead of the competition, businesses must constantly innovate and produce new goods.
So, as you know the importance of winning dropshipping products, probably your next question is – How to find winning products for dropshipping in 2022? Let's find out!
Best Tactics To Find Products To Dropship
Don't worry about it! Nowadays there are various tips and tricks to find winning dropshipping products for your business.
In this article, not just that we will help you how to find winning products, but also where to find products to dropship. So, let's begin with some of the tactics!
Use dropshipping platforms services
The first of the tactics is to use the services most dropshipping platforms like Dropshipping.com provide for you. Not just that, this tactic might also be one of the best choices for you. So, what can you do?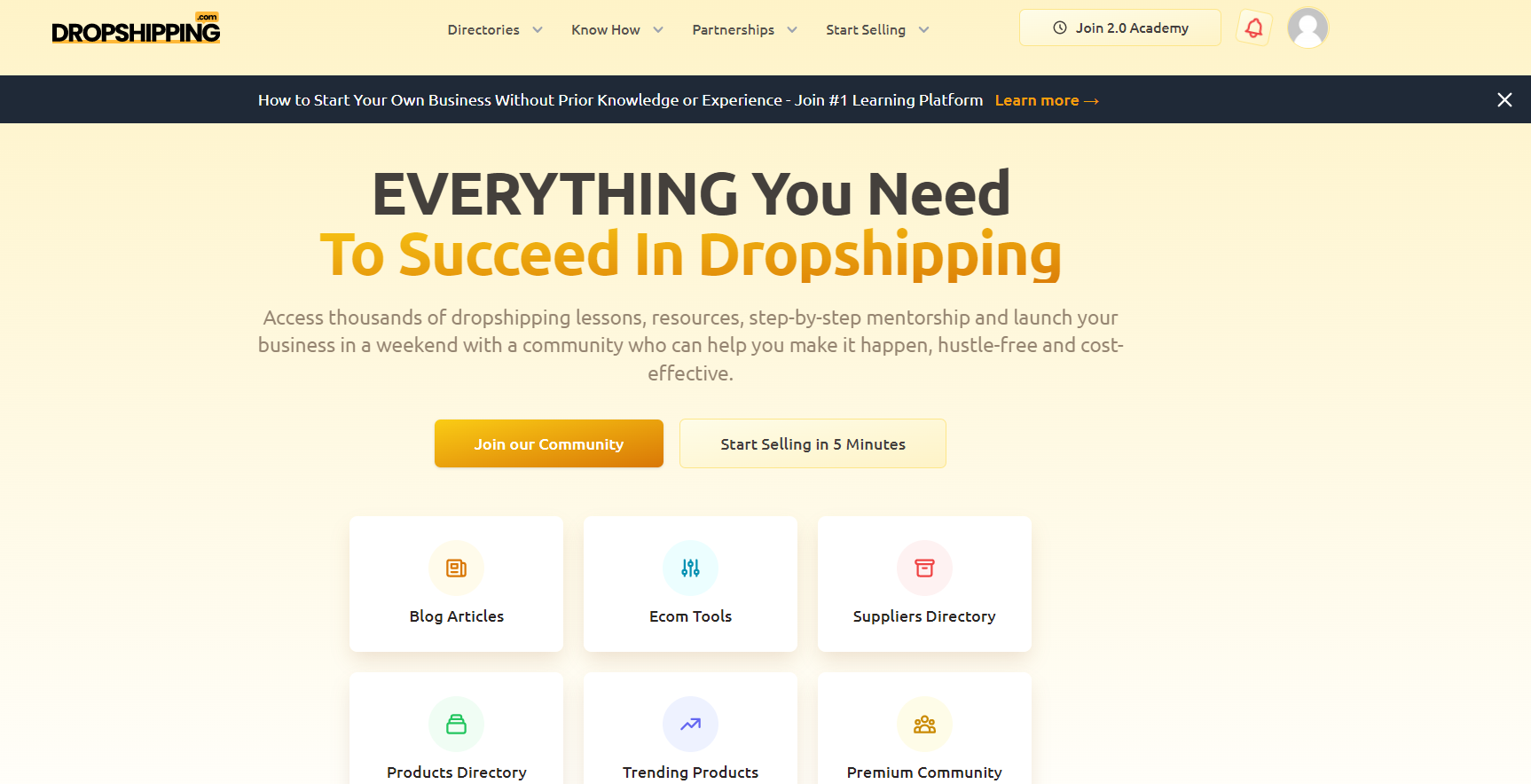 Dropshipping.com can help you find winning products in two ways:
First, you can start a membership and they will provide you with premium advice, insights, and other advantages such as:
Updates on the top dropshipping items on a regular basis
Access to all of the greatest dropshipping suppliers of various dropshipping niches
Access to the most profitable dropshipping stores
Bits of Advice from dropshipping experts.
Second, Dropshipping.com has a full house of dropshipping blog articles and guides about winning products of all times, seasons, and so on. All this is for free! So, the only thing that stops you from starting is you. Then, what are you waiting for?
Moreover, there is a products directory with over 280,000 products and a "Trending products" section.
👉 Learn about Dropshipping.com 2.0 Community.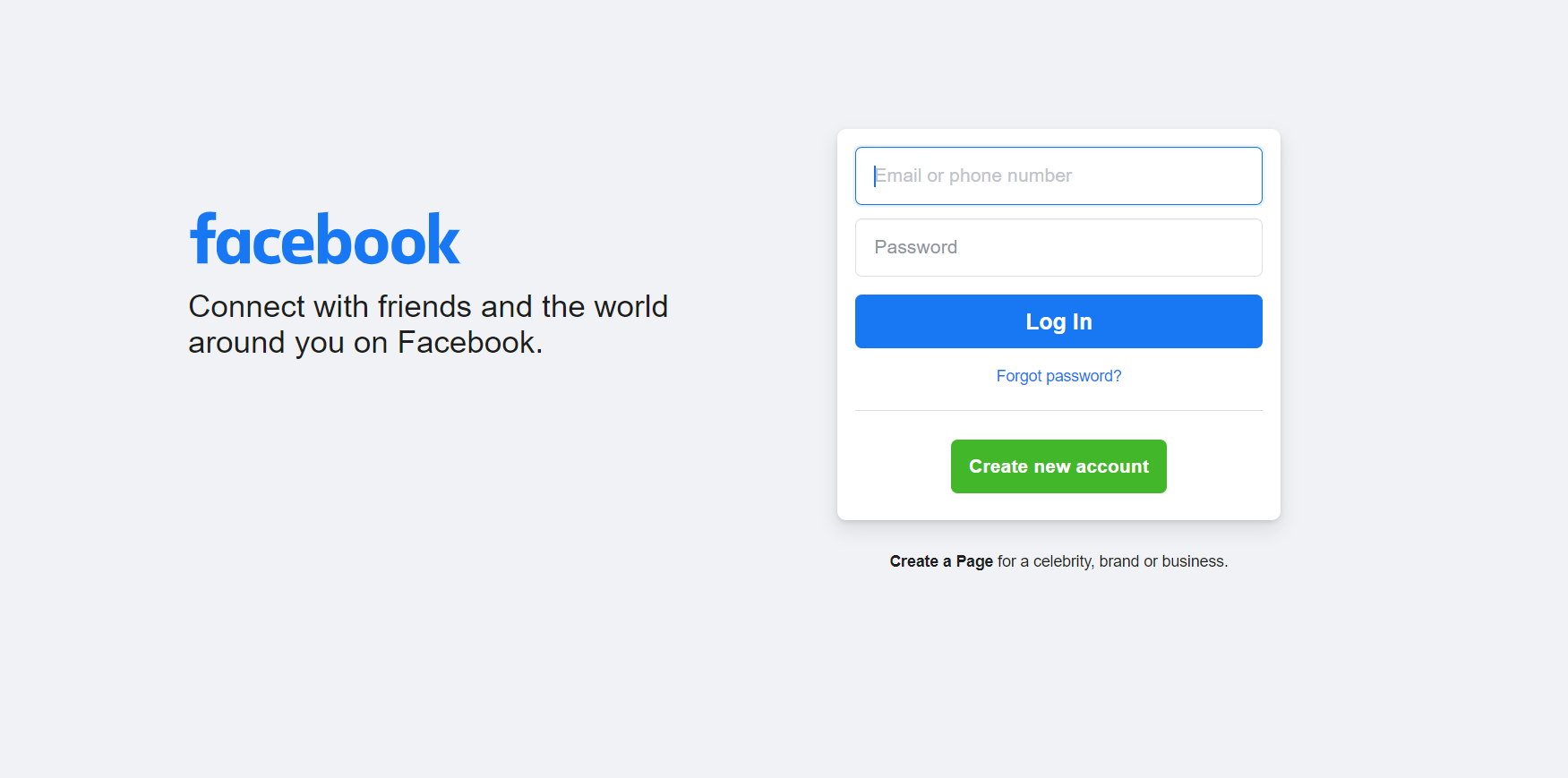 Facebook is another free option to find products for dropshipping and what's trending in the eCommerce industry.
Simply go to Facebook and type "40% off (or any other percent off)" or "free worldwide shipping" in the Facebook search bar. You can also click "Videos".
The items that show up will probably be from e-commerce businesses, and you can see which ones are racking up the likes, comments, and views (all indicate how "perfect" the products are).
👉 Read about Facebook Marketplace Dropshipping: How to Dropship on the Facebook Marketplace In 2022.
You can also do dropshipping product research on Facebook by using a free tool called Turbo Ad Finder. Just install it and it will only show you Facebook Ads.
💡 Learn: Facebook Ads For Dropshipping Businesses
Also, you should definitely check out the Top 5 AdSpy tools for Facebook.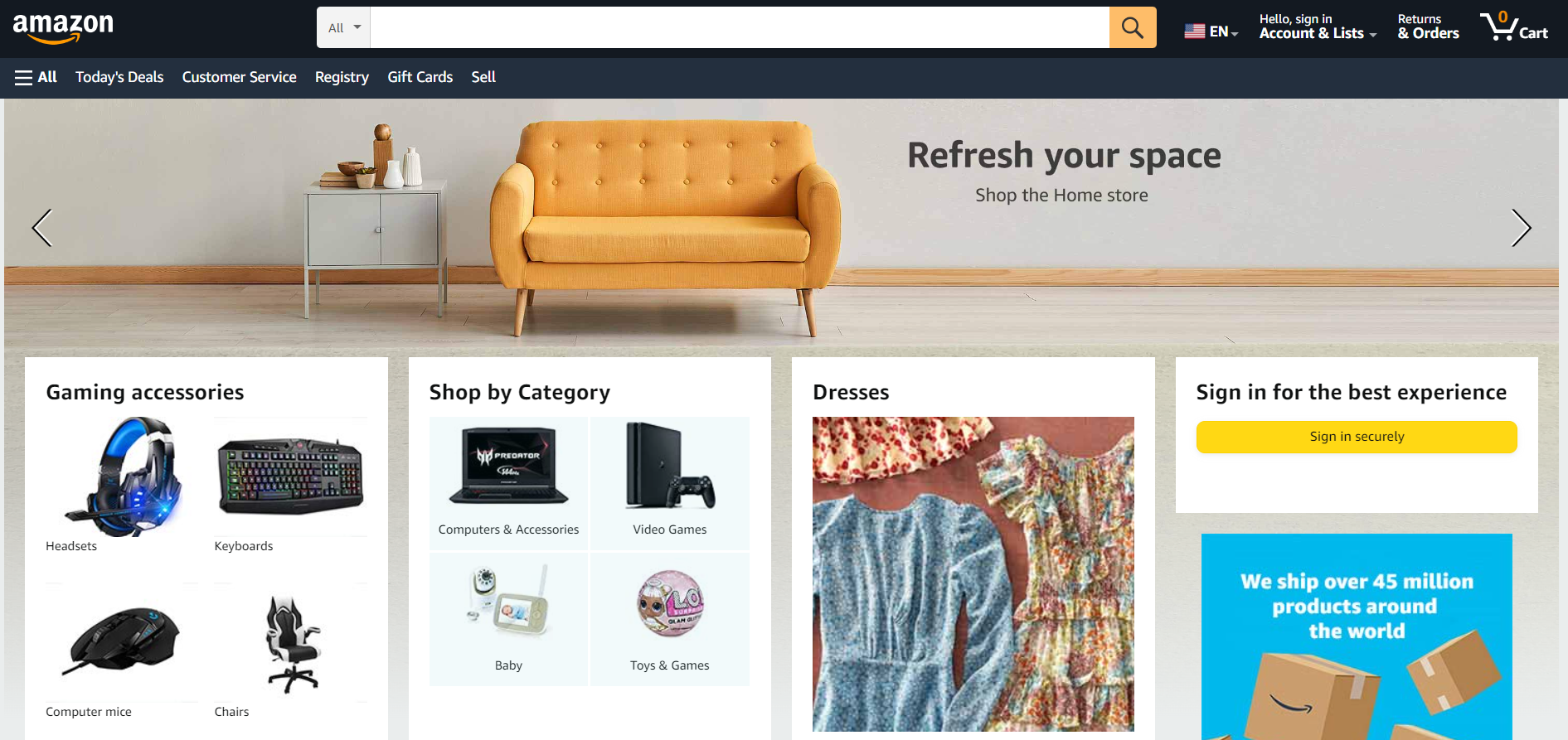 As you already know, Amazon is the largest online marketplace in the world, with headquarters in Seattle, Washington.
The Amazon Movers and Shakers List are one of the most powerful, yet least popular tools for trending market research.
The Movers and Shakers List displays the best-performing products over the past 24 hours, giving you a better perspective on hot and trending products across all of Amazon's categories.
This list gets updated every hour, which means that it is a great indicator of how Amazon buyers are currently behaving. It can help you find trending products for your dropshipping business.

Located in China, AliExpress is one of the largest online marketplaces for buying products at much cheaper prices than Amazon. AliExpress Dropshipping Center is a free product research tool created by this online marketplace.
This tool enables you to learn how to find winning products on AliExpress for your online store by showing you the best-selling products on the market at a given time. But remember that it is available for hot products on AliExpress, not your own country.
Moreover, AliExpress has an amazing tool for product research named AliShark. Read a Full Review for AliShark.
👉 Learn How to source from AliExpress.
The AliExpress Dropshipping Center has a few more functionalities, like the "Product Analysis", which reveals the exact sales volume of a specific product at the moment.
💡 Tip: Take advantage of the Free Step-by-Step Guide for Beginners for Dropshipping from AliExpress to eBay.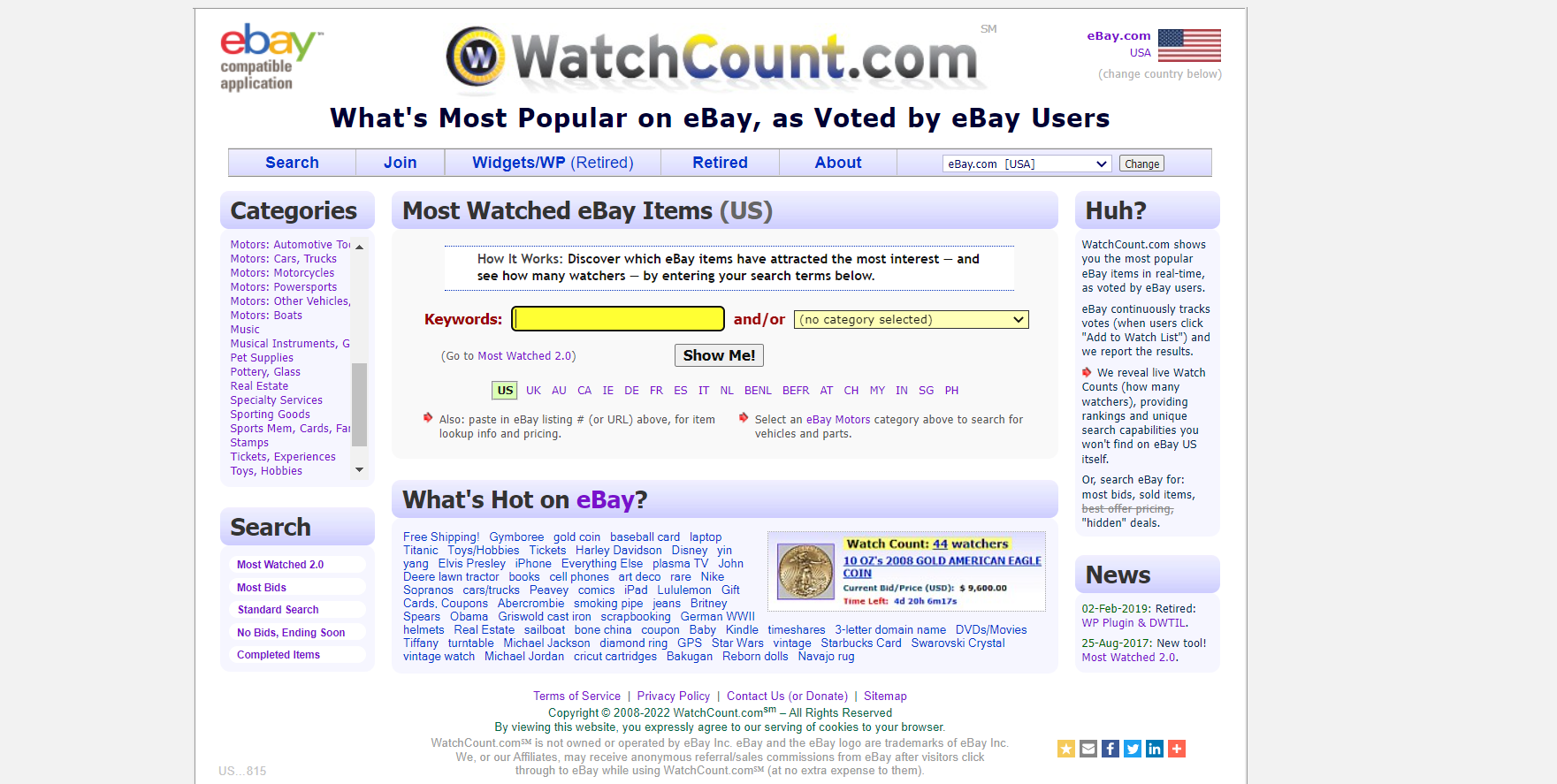 eBay also has a tool for determining which products are currently trending on the site. It's known as Watch Count.
Thus, eBay Watch Count is a tool that can help you discover which products are the most popular on eBay and which products you should sell in your dropshipping store.
Moreover, the software records users who add goods to its lists in genuine and presents real-time results in different locations.
Therefore, eBay Watch Cound can assist you in:
Searching trends by category
Search for products with a keyword. You can look for keywords relating to your business or expertise. Alternatively, you might broaden your keywords to identify the greatest sellers in your niche.
The "What's Hot on eBay?" tab displays numerous trending products among many eBay users.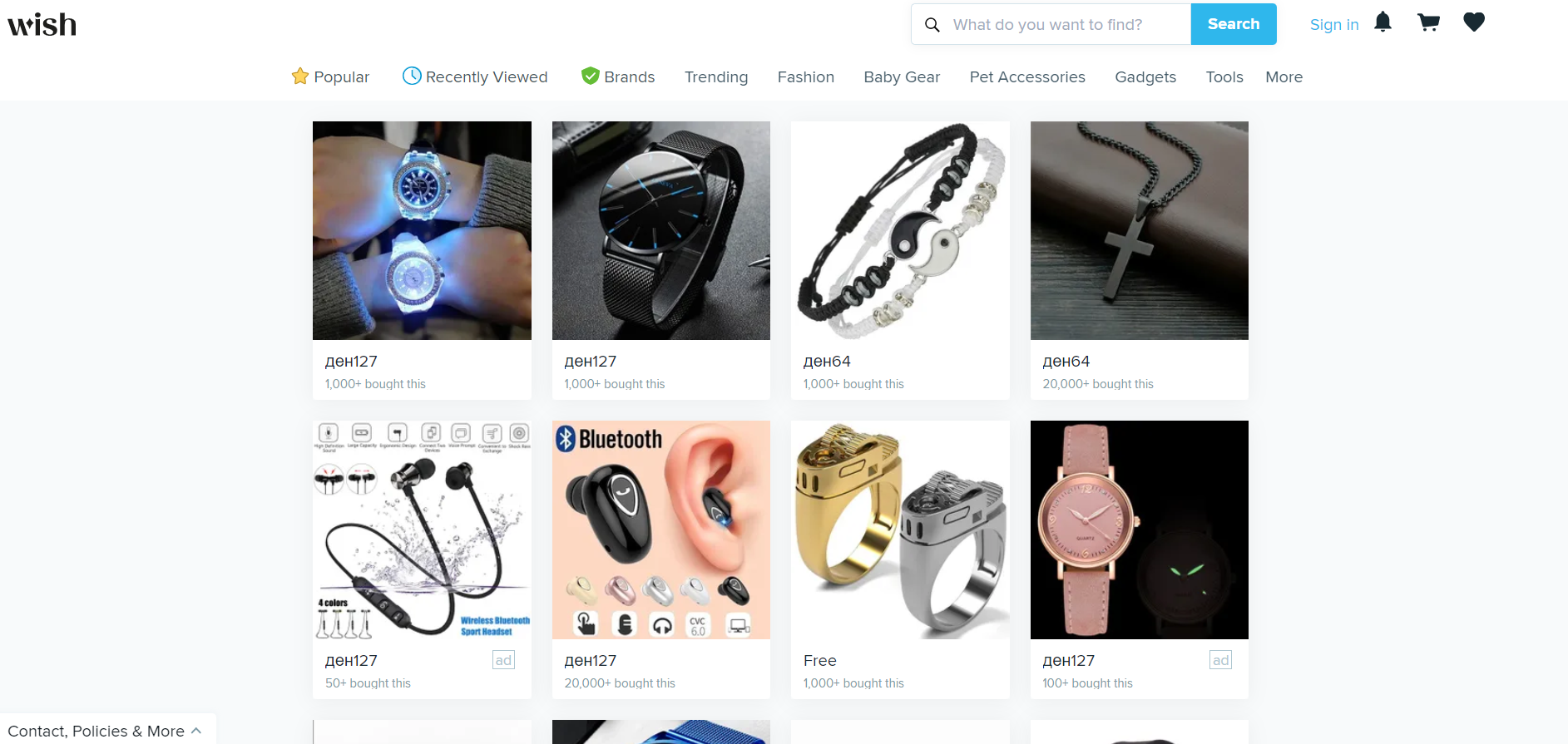 Wish is an e-commerce platform with very active reviews and a rank section that really can assist discover winning products.
One of the unique aspects of this platform is that the majority of the items are intended for impulsive buying. These items are excellent for marketing on social media platforms.
So, some tricks on Wish for impulse purchases are:
bright or aesthetically stand out in the product list;
elicit an emotional response
differentiated and interesting design or style
Consider the WOW factor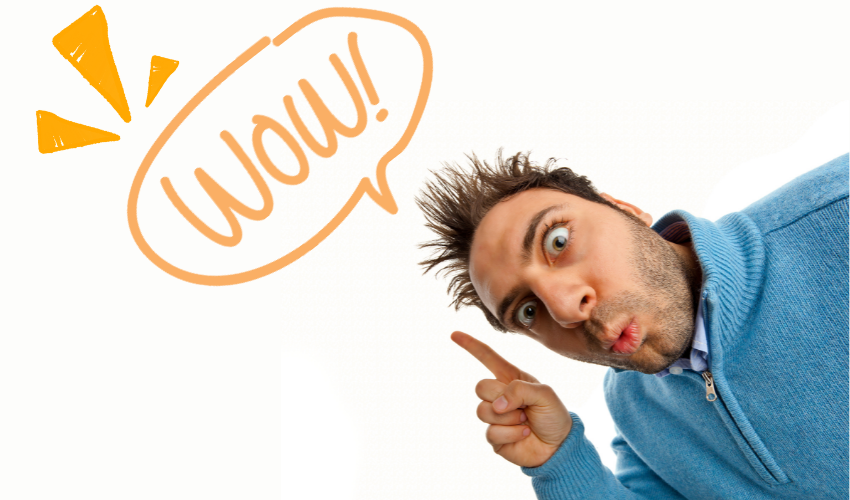 First, what is the WOW factor actually?
This is when a customer has a positive vibe the moment they see your product or service and makes them say WOW immediately, because of the pleasant surprise.
The WOW factor is also known as the "moment of magic".
Moreover, this is the point at which a customer has an overwhelmingly positive experience that makes her eager to return to your store and buy from you again.
So, if you are already considering taking advantage of the WOW factor, the first thing you should do is use an eye-catchy photo or video about the product, so you can catch customer's attention and make them say "WOW, I must have this", the moment they see your product.
Research the products' selling potential
This simply means doing market research for your products, or services.
Market research is basically gathering as much information as you can about a certain sort of product, service, or even niche based on how well or poorly it's been selling over the years.
In other words, it involves making an accurate prediction of whether an item will sell or not.
Therefore, doing market research to check the products' selling potential mainly involves:
Spying on your competitors
Analyze your target audience and their needs and wants
Following trends in social media
This can help you how to find trending products to dropship.
Use Dropshipping product research tool
It would be pointless not to use one of the many product research tools available.
This amazing software helps you not to waste time. Moreover, it helps you maintain product information, and shows you goods with the best possibility of becoming lucrative dropshipping products.
So, let's do a quick review of the best tools to find winning products for dropshipping.
Top Tools To Find Products To Dropship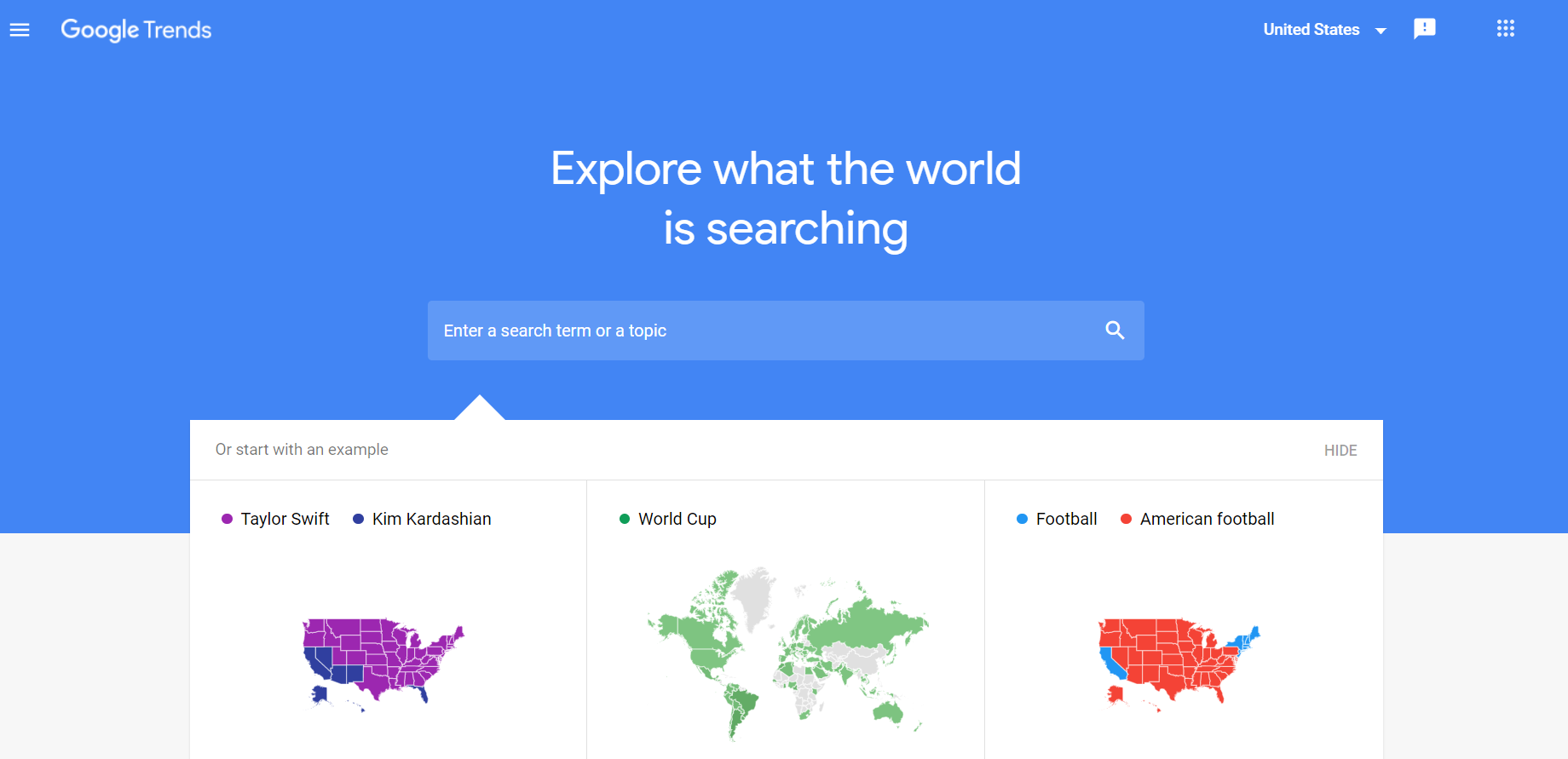 Products that are currently trending are amazing options for your dropshipping business.
You can find trending products to sell online by using a popular free search tool provided by Google called Google Trends. Google Trends shows you what people in your home country or around the globe are looking for.
💡 Tip: Read our Ultimate Guide: How to Use Google Trends for Dropshipping.
This tool displays the most popular current and past search queries. Furthermore, it lets you know how much interest there is in your target product or niche and whether it is currently trending or not.
In a nutshell, it is an excellent tool to find a skyrocketing niche. Also, you can use it to monitor the positions of your competitors.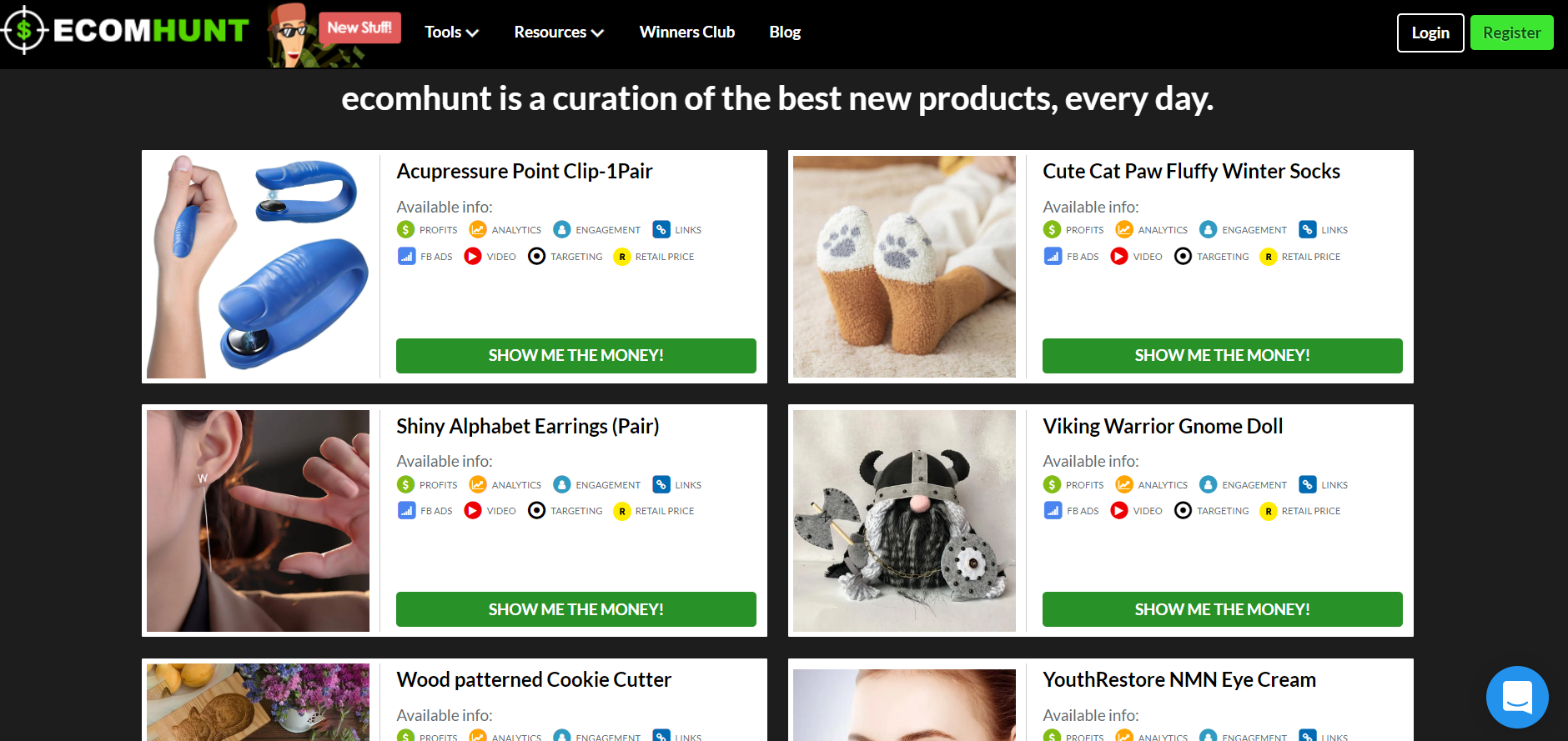 This is a great tool for finding hot, top-trending products, providing you with a lot of useful information about each winning dropshipping product, including product images and descriptions; margins, costs, and profits;
Facebook ad ideas; reviews of buyers; and more. However, you will get access to this information if you are willing to pay $29 per month.
If you want to register for a free membership, you can do so. With this kind of membership, you will approach all its winning products, but with a delay in access to new products and limited features.
👉 Check our comprehensive Ecomhunt Review to decide if the tool fits your needs.
A niche analytics tool for AliExpress and Shopify, FindNiche enables you to find winning products and the most profitable niches for your e-commerce business, depending on your selected criteria.
The database of this niche analytics tool includes millions of AliExpress products, thousands of niche categories, and hundreds of Shopify stores.
With this tool, you can see reviews of buyers, prices, last month's sales, the region/country with the highest sales volume, and more.
You can opt for a free account that gives you 5 search queries daily. But for unlimited queries daily, you will have to pay $29 per month.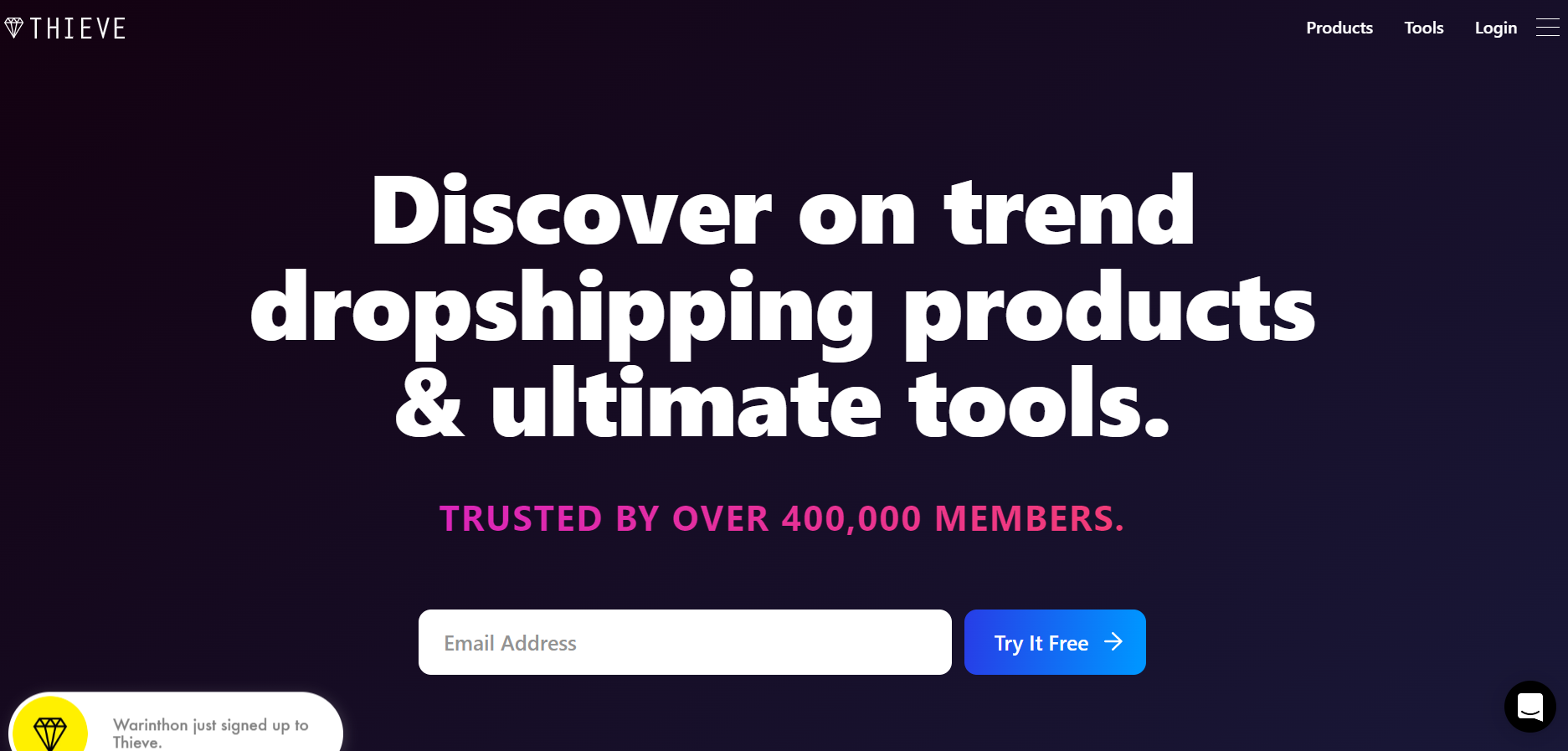 Thieve.co reveals what is trending on AliExpress, offers a curated list of winning products that you can buy directly from this online marketplace, and allows you to sort the products by category.
Here, all the products are handpicked by experts as well as reviewed for quality before publishing.
So, if you are interested in selling on AliExpress, simply sign up for a free account and this product research tool will show you amazing products from this marketplace.
Furthermore, Thieve.co is also known as one of the best product research extensions for Shopify and helps you find winning Shopify products.
Moreover, Thieve.co has recently created a paid plan starting from $29 per month for dropshippers who want to find the right products based on popularity, conversion, and price range on AliExpress.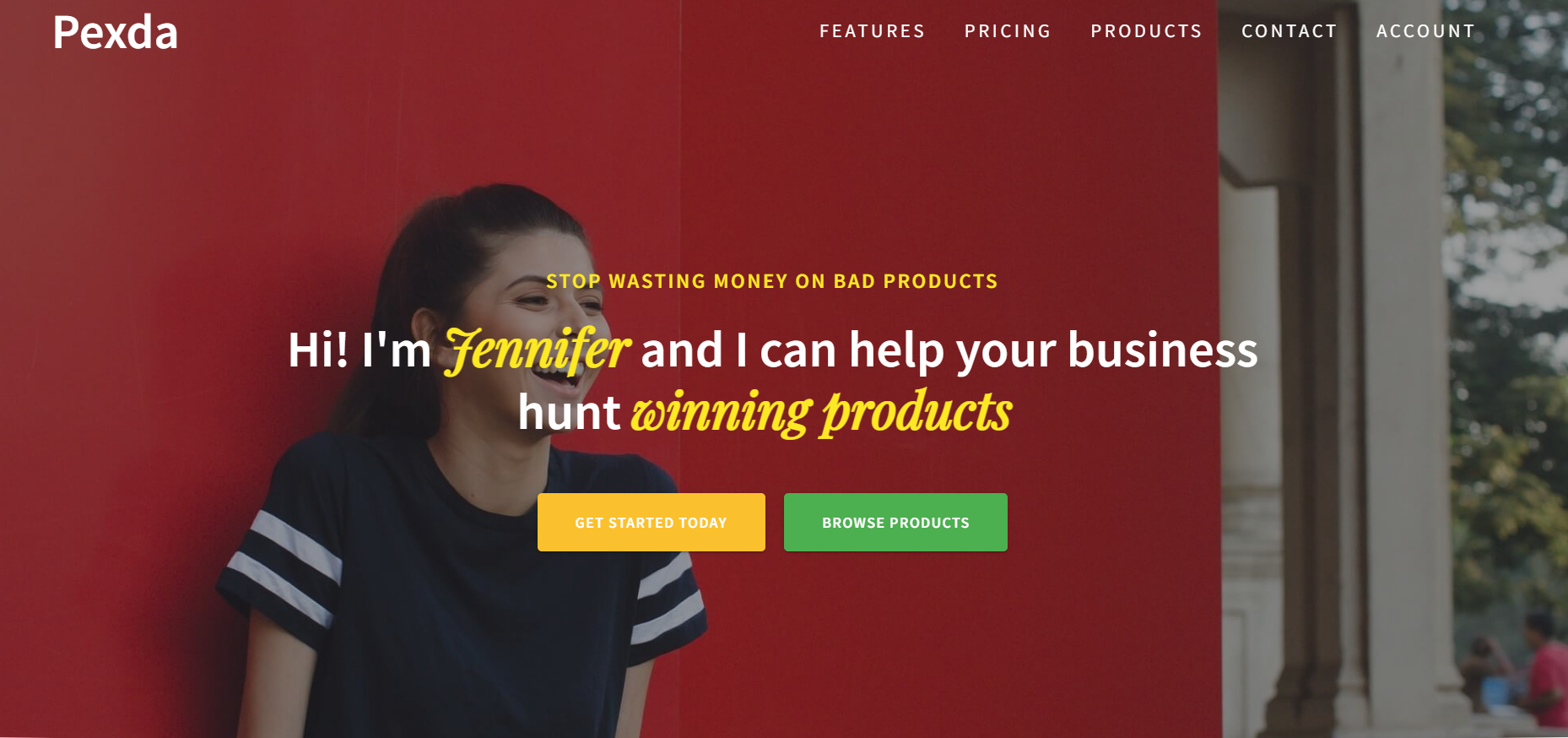 With its tagline "Stop wasting money on bad products," Pexda is similar to the previous product research tools on the list. But the pricing may be a little up compared to the rest.
Pexda offers 3 pricing plans to meet your needs. The standard plan starts from $14.95 per month, with a $1.95 for 14 days to test out the tool, and 3 days delay on new winning products.
The premium plan costs $24.95 per month and the ultimate plan costs $99.95 per month.
The key features that this product research tool provides include 24/7 support, access to unlimited products daily, Facebook Ad/AliExpress/Amazon/eBay reports, an auto hunt tool, etc.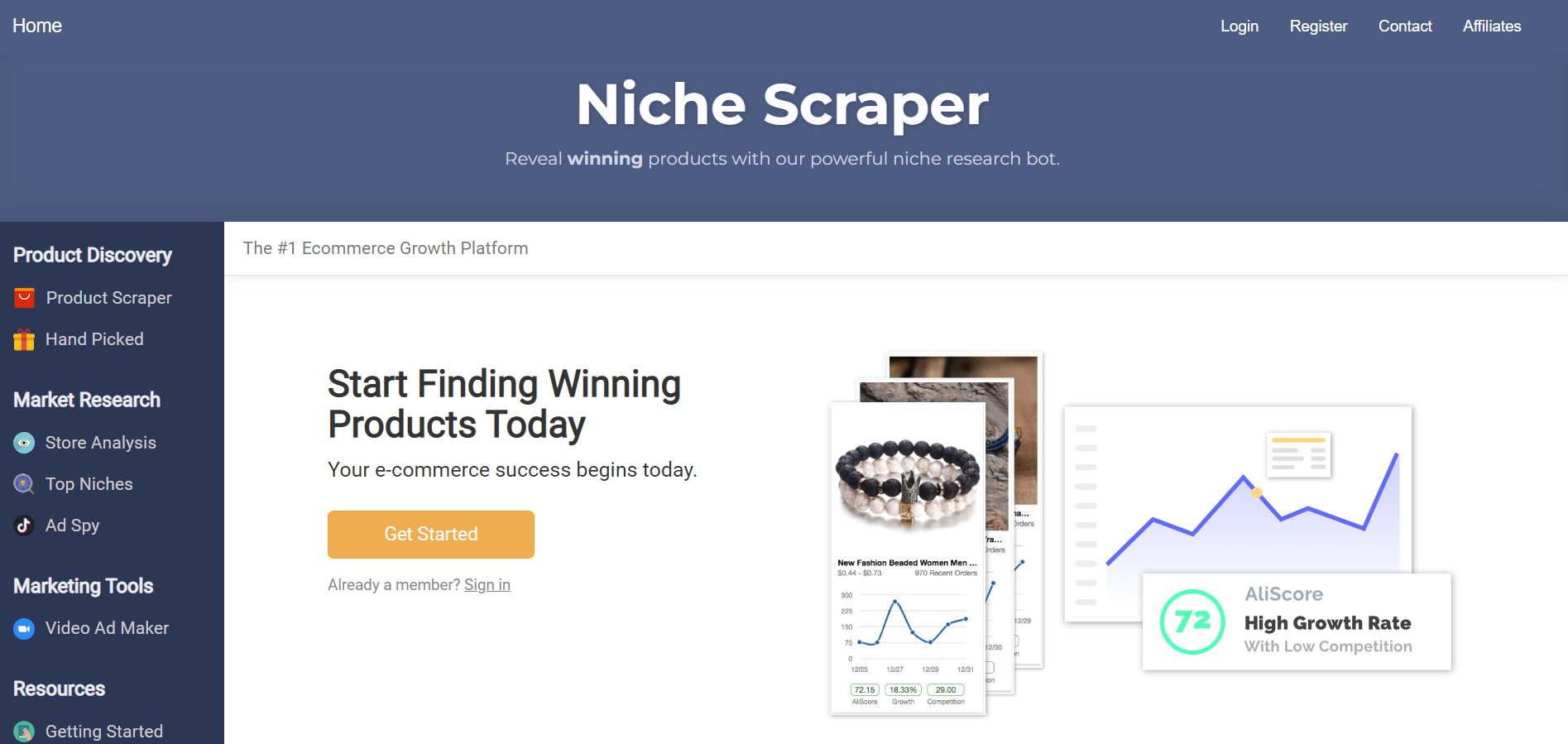 Trusted by many dropshippers worldwide, Niche Scraper is powerful product research software that analyzes thousands of products daily to let you know which ones have the highest dropshipping potential.
It helps you research the winning products to sell on your online store, no matter where you want to sell (on WooCommerce, Shopify, Amazon, eBay, etc.)
The best part about this product research software is that new products are constantly being added here.
Also, it has a section for hand-picked products.
It is free to register for an account to check it out. However, you will only get access to winning products after 3 days delay, together with limited access to other advanced features.
For more advanced features with no limitation, you will be charged a monthly fee of $39 or an annual fee of $199.
👉 Check out the FULL review for Niche Scraper, one of the best "Hunt" tools NOW!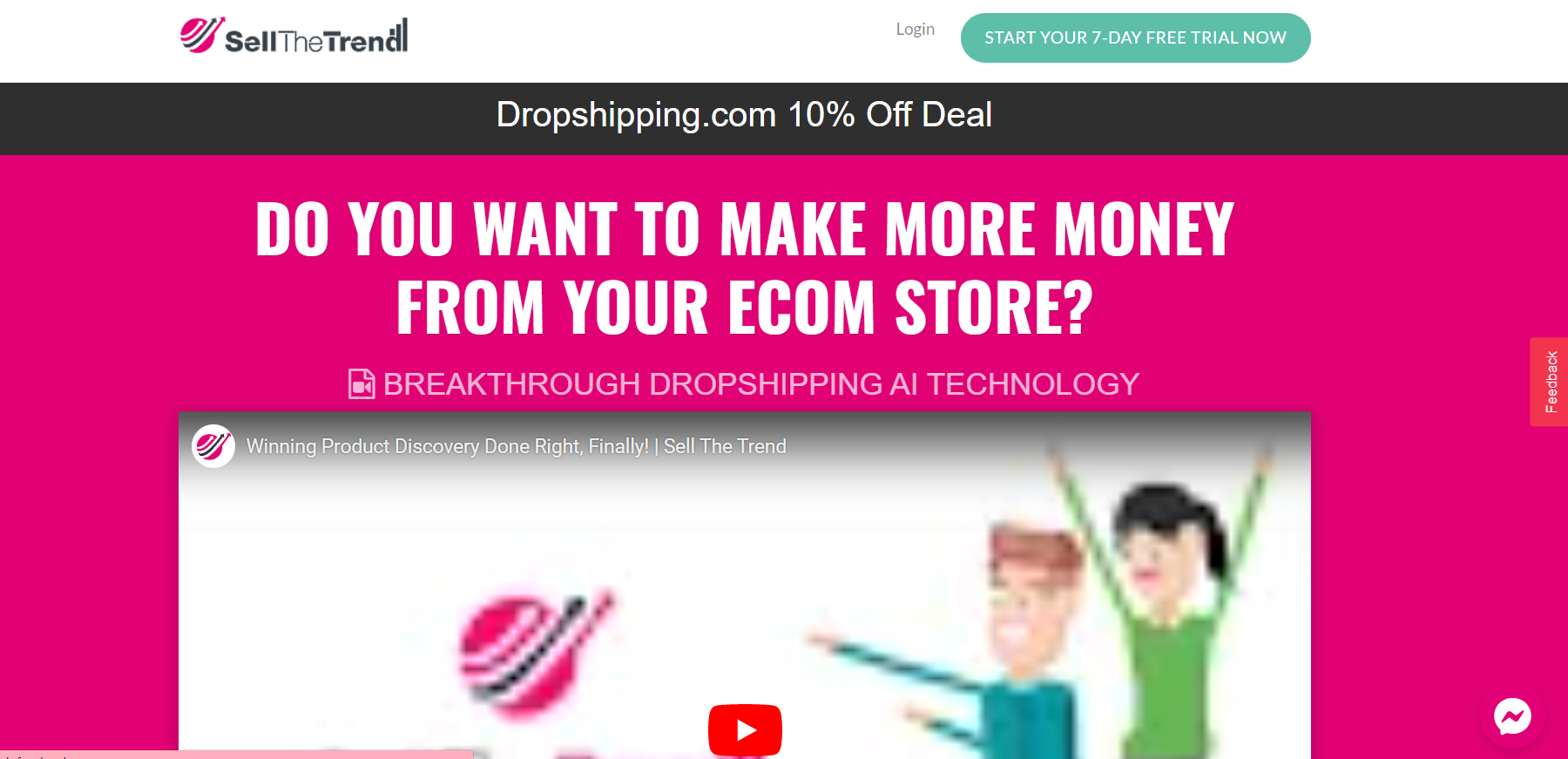 Last but not least, Sell The Trend is a new product research tool. However, its chances of becoming the best are good.
What separates this tool from the others is the dropshipping AI-powered algorithm. This enables you to view product trends across popular online marketplaces and e-commerce stores worldwide.
If you choose to use Sell The Trend, you will get access to an extensive selection of the most trending products from AliExpress, Amazon, Facebook, and Shopify stores.
With this tool, you will find profitable items that are likely to ramp up your sales.
You can sign up for an account and enjoy a free 7-day trial period. Take this time to try out everything this tool offers and decide whether it is useful or not.
If you want to keep using it, Sell The Trend offers a monthly pricing plan of $39.97.
Have you checked the FULL Sell The Trend Review? If not, you should do it now!
Why Using Tools Can Help You Find Winning Dropshipping Products?
You may not have realized it until now, but the most successful dropshipping businesses understand how to use product research tools to make meaningful decisions, particularly when it comes to product sourcing and growing their business.
Actually, you should consider incorporating a product research tool right away since it may assist you in the following ways:
✅ Examine various marketplaces. Scanning the global marketplaces might help you generate fresh product ideas to offer in your own dropshipping store and in your regional market. The more information you can gather on a product and its performance across several marketplaces, the better. Product data is important to successful dropshipping companies because it allows them to make intelligent choices about whether or not to offer a specific product in a given location.
✅ Search several product options at once. For good reason, many dropshipping business owners devote a significant amount of effort to product sourcing. Finding outstanding items is critical if you want to operate a successful dropshipping business. However, this procedure might be time-consuming. Therefore a dropshipping product research tool may help you construct extensive lists of products that are worth researching by allowing you to scan many products at once.
✅ Analyze your competitors. Product research tools allow you to go through hundreds of products to see which ones are generally popular, available, and selling. These insights can assist you to avoid wasting a large portion of your money on needless purchases. You may also see what your competitors are offering, their ratings, the number of reviews they have, and other important information.
✅ Define profits and costs clearly. Another important feature of a product research tool is the estimation of your costs and profits. Products that have high selling prices may appear attractive at first, particularly if you can generate a fair gross profit on sales. However, you must also consider your costs.
What's more, product research tools help you save money by using one all-around tool. Not just that, these tools contain info about Facebook ads, targeting, competition, videos, and more!
Furthermore, you can import products easily since your product research tool is integrated with the eCommerce platform you use. Also, you constantly have up-to-date information about product prices, so you won't have to check it out manually.
And guess what? These amazing tools contain information about each market's trending products based on order rate.
How To Find Your Dropshipping Niche?
Here we are, covering another important question! How do you find the most suitable dropshipping niche for you?
We must say, this one is not difficult at all if you know what you want. But even if you do, there are several things you need to consider, like
Is this dropshipping niche scalable?
Is it profitable?
How about the competition, and target audience?
Don't worry, we got your back! Just follow our link to the answers to all these questions, and you will learn how to do your research!
Moreover, maybe the easiest way to find your dropshipping niche is by paying attention to the content that dropshipping platforms like Dropshipping.com provide for you.
Therefore, we have a lot of blog articles covering the Best Dropshipping Niches of all time! So, we advise you to start from here:
👉 One-product store, Niche store, or General Store? A guide to finding the winning Shopify products.
👉 Jewelry Dropshipping: The Best Niche For Dropshipping In 2022?
👉 Dog Niche Dropshipping: Top Dog Products & Suppliers for Sellers
Once you find your most suitable dropshipping niche, the next step is learning how to start your dropshipping business!
BONUS: Winning Dropshipping Products for 2023 (Niches Prediction)
Wait a minute, we are not done yet! We won't let you go without giving you a sneak peek into 2023 winning products for dropshipping. So, let's see the niche's predictions!
Air Purifiers
This amazing air refreshing product has no signs of stopping in 2023. Google Trends shows us some amazing statistics, with over 646,000 google searches per month.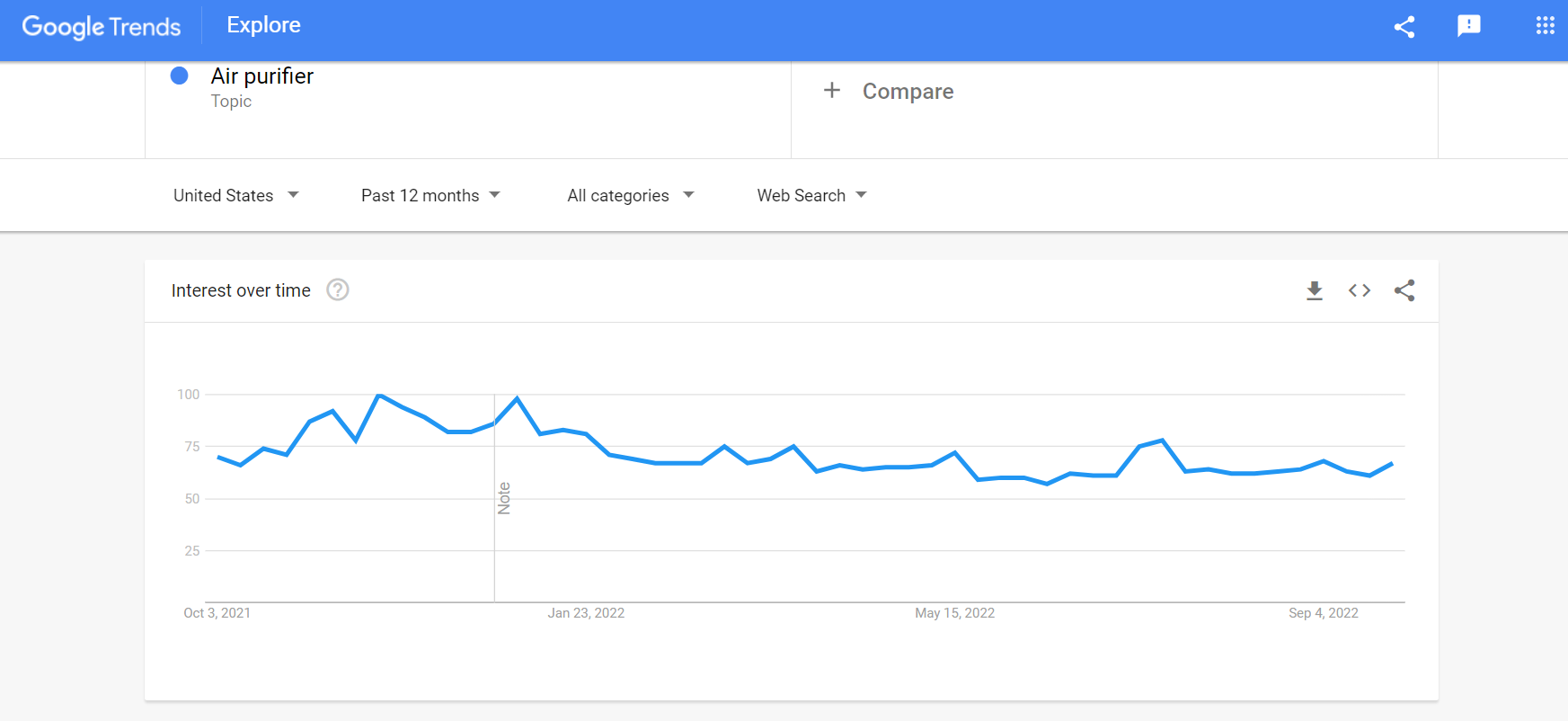 Moreover, the target audience for this product is mostly the general public and health enthusiasts.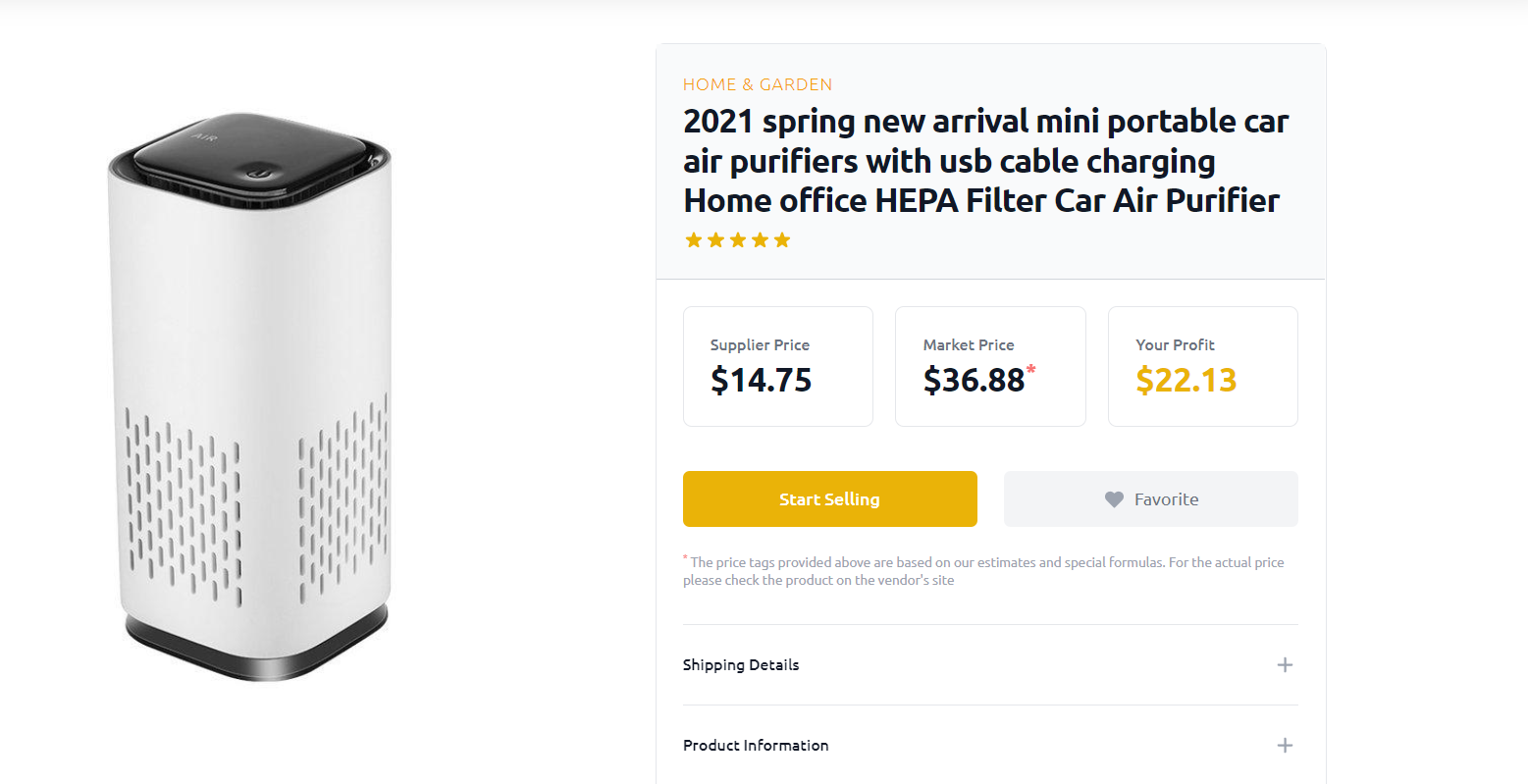 The average selling price for this product is from $80-150.
Fitness fashion products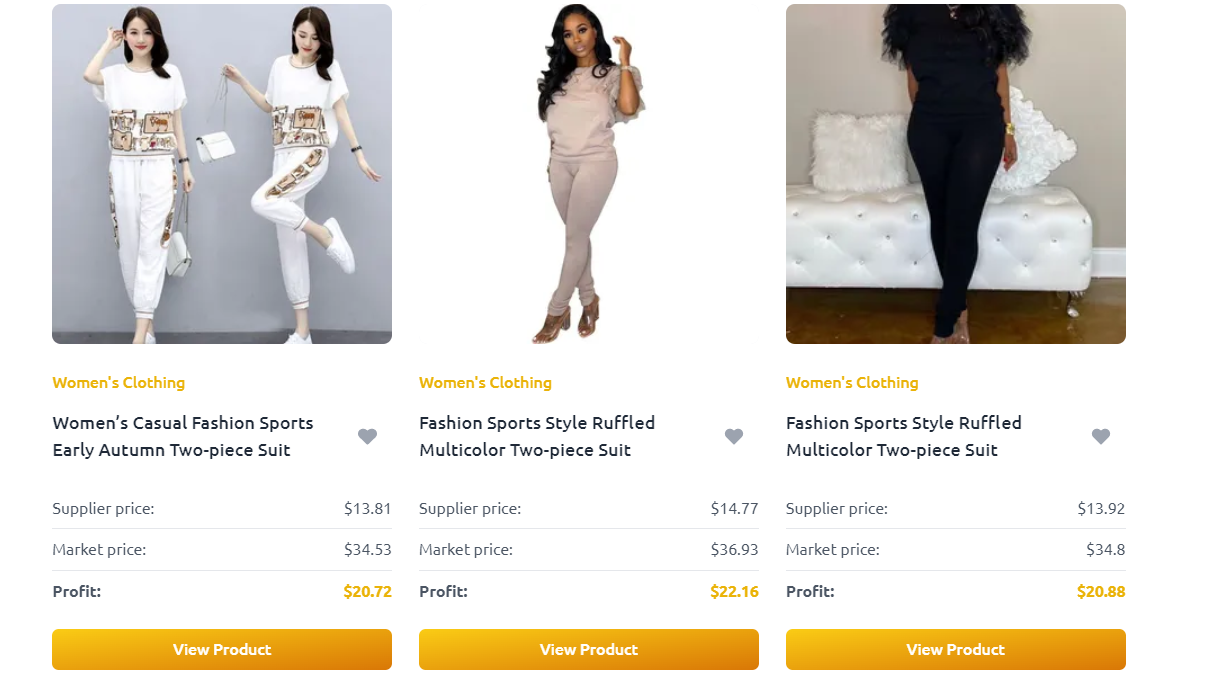 These products are simply a WOW for dropshipping! Great profit margin, higher and higher market segmentation.
Not just the fitness freaks are your target audience, but today almost every female wears leggings, gym shorts, sports bras, t-shirts, yoga pants, etc., as everyday wear, or even a fashion item.
Moreover, the product prices are between $10-25, and as you can see from Google Trends results, fitness fashion products online shopping will continue to grow. There are more than 79,000 monthly searches as well.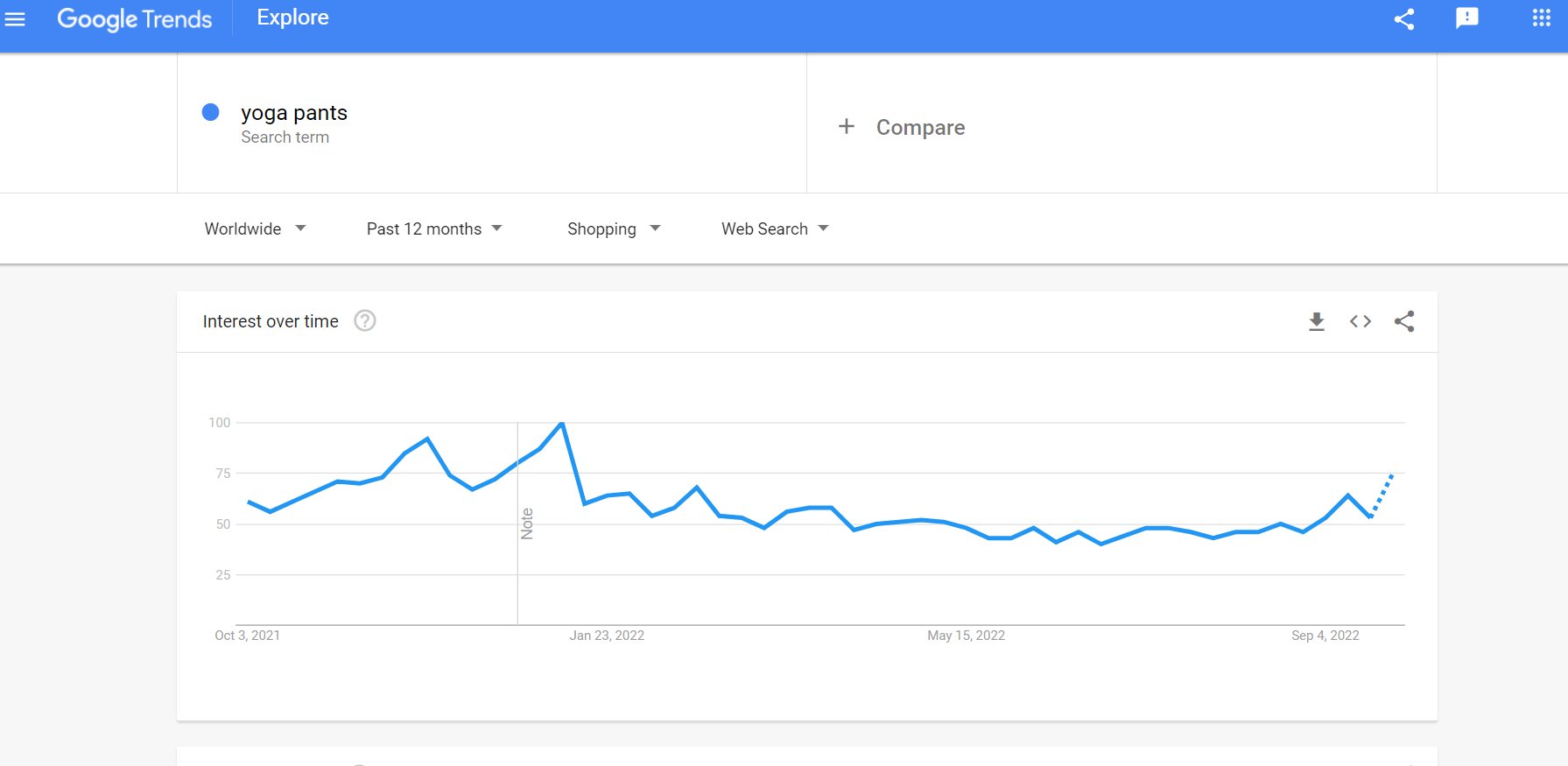 Wearable devices
2 million monthly searches for smartwatches, and you are still in doubt whether this is a winning product? These electronic gadgets have no signs of stopping for sure! They are entering 2023 like "bosses" in the dropshipping world.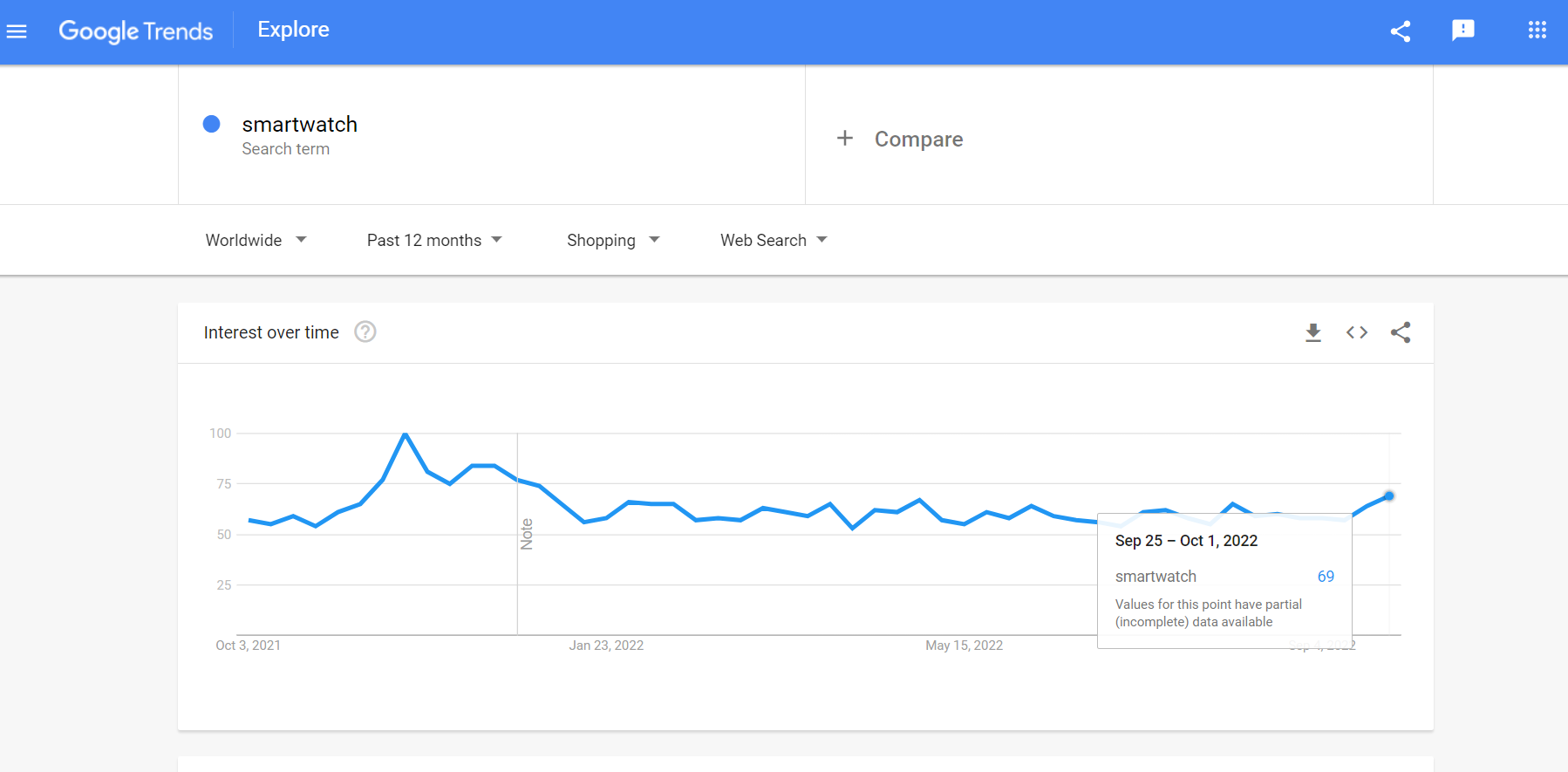 Their average selling prices range between $10-100, and are mostly bought by tech or enthusiasts.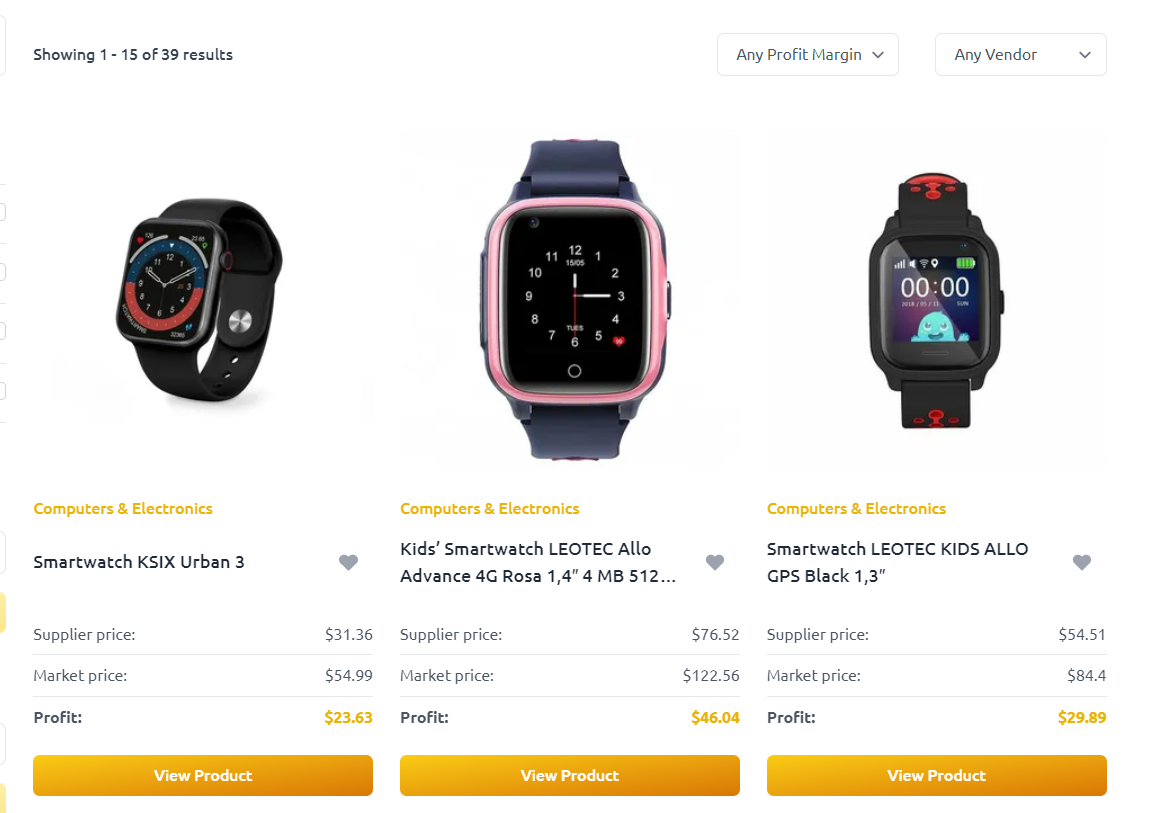 Phone cases
Phone cases are an "all-time" trending product, and will continue to be in 2023 too! This product's monthly searches for online shopping are more than 80,000.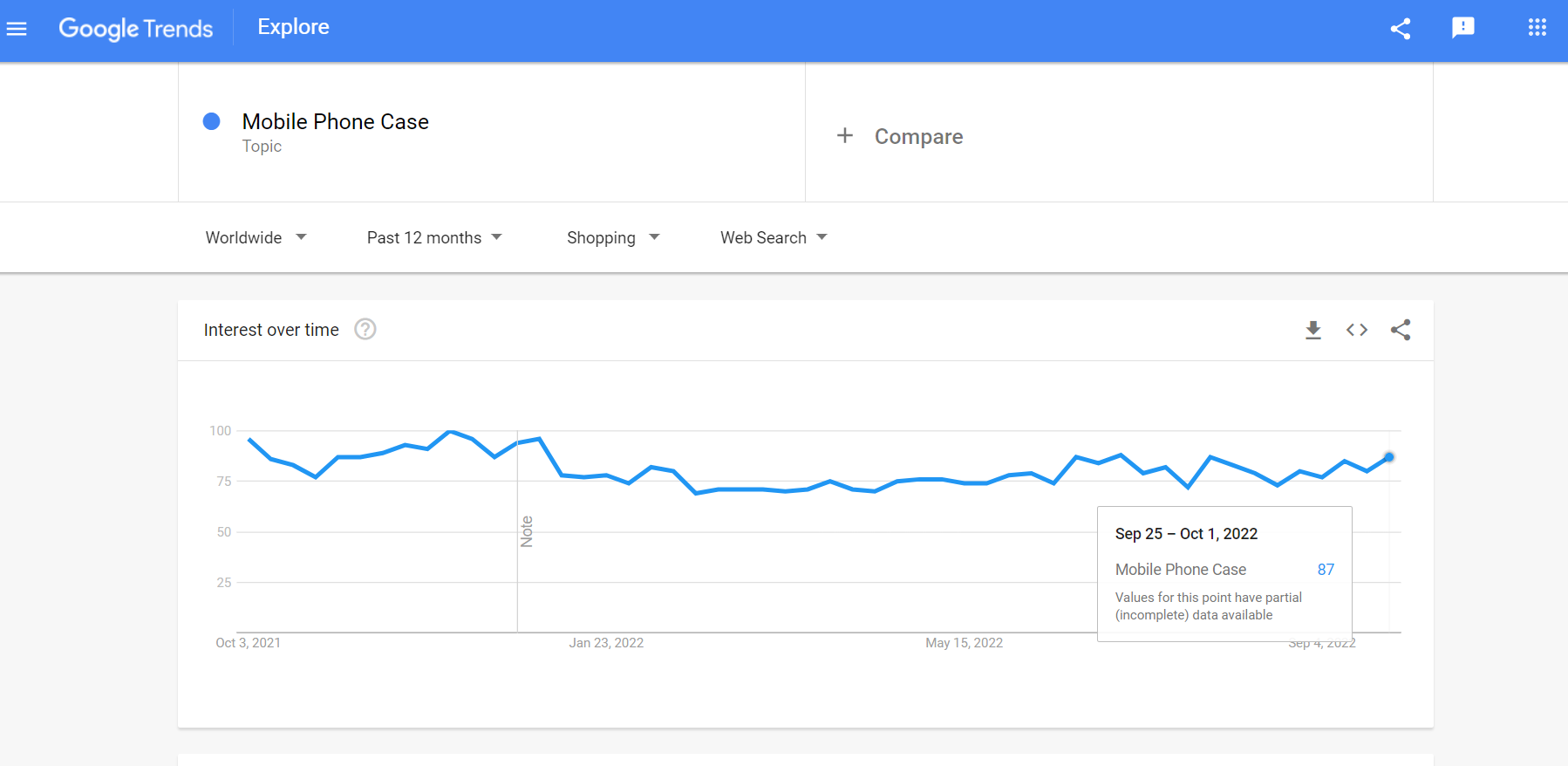 Moreover, their average selling prices are around $3-20, and also they can be very cheap and easy to manufacture and ship. This is yet another thing why these items are winning products for dropshipping.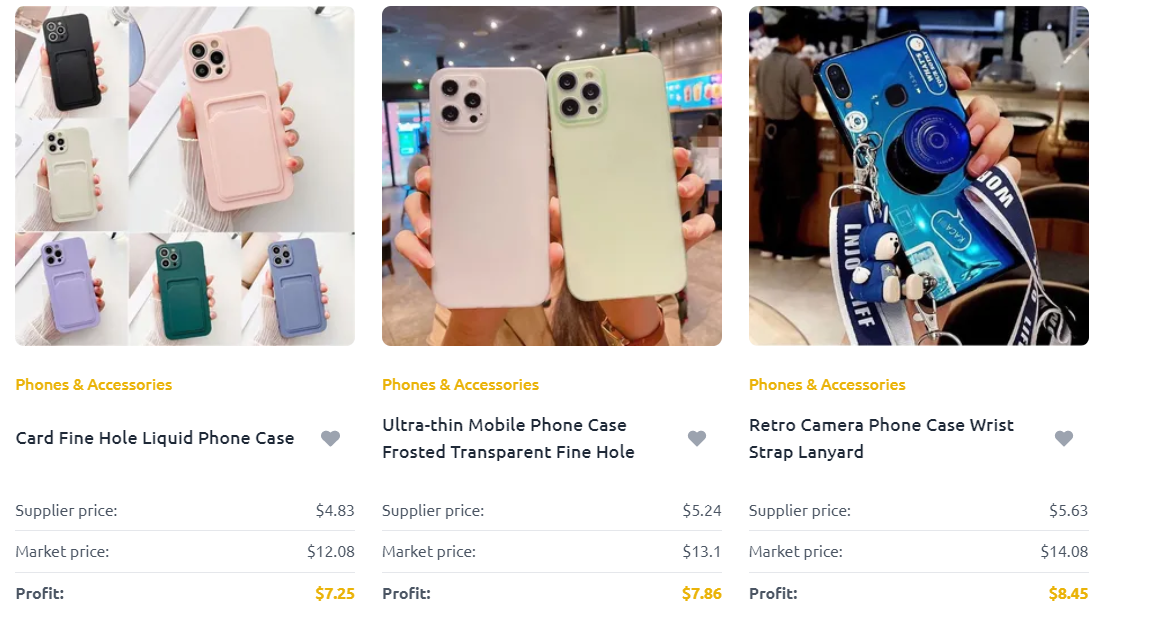 However, if you are willing to sell phone cases, you better offer your customers some unique designs, so you can make your dropshipping successful.
Power banks
The popularity of power banks on the account of shopping is high. Moreover, it is predicted to be even higher in 2023. This product has over 698,000 monthly searches.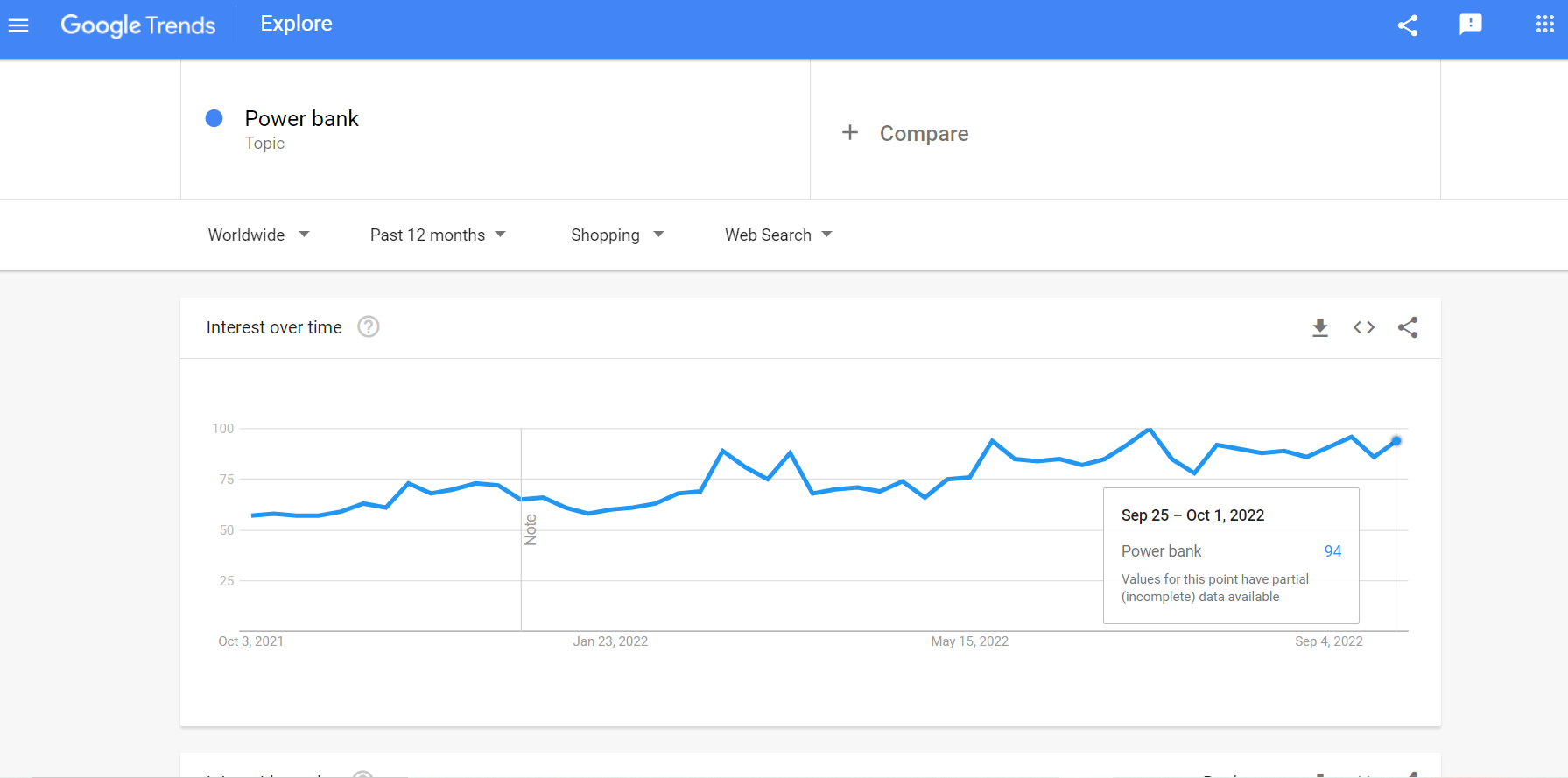 Furthermore, as people started to go out more often again after the COVID lockdown, the sales of power banks increased even more.
The average selling prices for this product are between $20-85.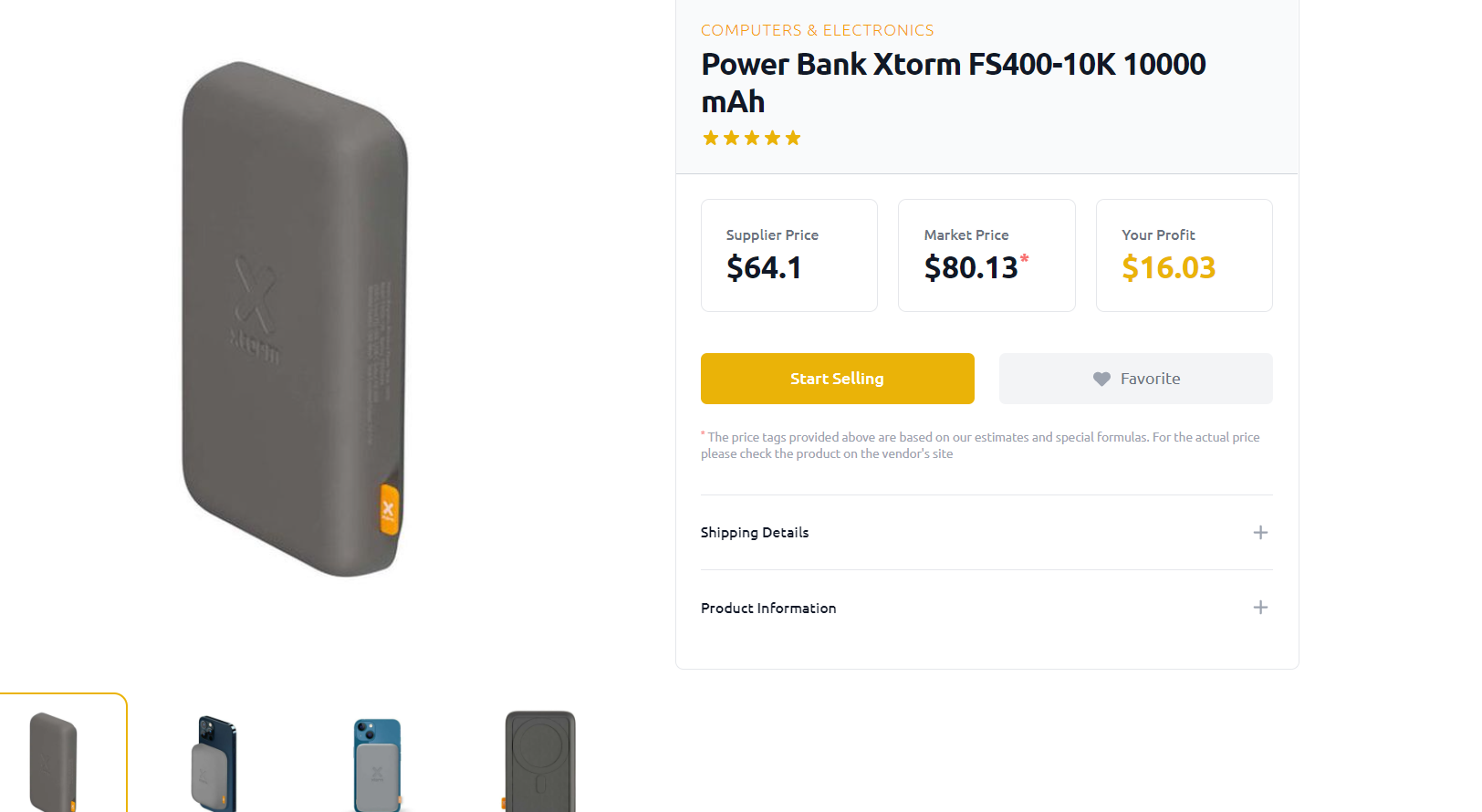 👉 Check out the Top 10 Electronics Dropshipping Suppliers.
Final thoughts
Having all types of products is not a good option for your dropshipping business. Focusing on one winning product is a better idea. By doing so, you will target those buyers who are truly interested in the niche.
But picking a niche or deciding what you are going to sell can be a daunting and time-consuming task, especially if you are new to the whole concept of dropshipping.
So, we are here to help you find products for dropshipping. In this article, you will find out the best tactics, tools, and more on how to find winning products for dropshipping 2022!
By finishing this guide you should be able to simplify the process of choosing what to sell, and have an answer to one of the most FAQs nowadays – How to find trending products to dropship?
Moreover, here you can find the best dropshipping podcasts where you can get product ideas for your next dropshipping store.