E-sniper Review: The No.1 All-In-One Dropshipping Toolkit for Beginners?
by
Martin -
Martin is an agency owner and SaaS projects maker. His work is featured in the leading ecommerce brands, magazines and podcasts. Talks about Marketing, Business Development, and Growth Hacking!
CO-founder at Dropshipping.com
Are you looking for a winning product finder? Or, do you need help with store and product engagement and profitability? What about an all-in-one dropshipping toolkit where you can also create your dropshipping store?
Don't worry, we have a sniper that never misses a shot!
In one single place, E-Sniper dropshipping toolkit finds trending goods and authentic niche influencers, and it allows you to scan all Shopify dropshipping stores quickly.
What's more, with this amazing dropshipping tool you can also customize your dropshipping store.
You can be confident that this extensive toolkit will enhance customer response by at least 70% if you use all the tools properly.

That's where we come into place. To provide an objective and honest review of E-sniper possibilities, and guide you through the process of using it.
In this article, we provide you with the best in-depth E-sniper Review. Let's go!
What is E-sniper?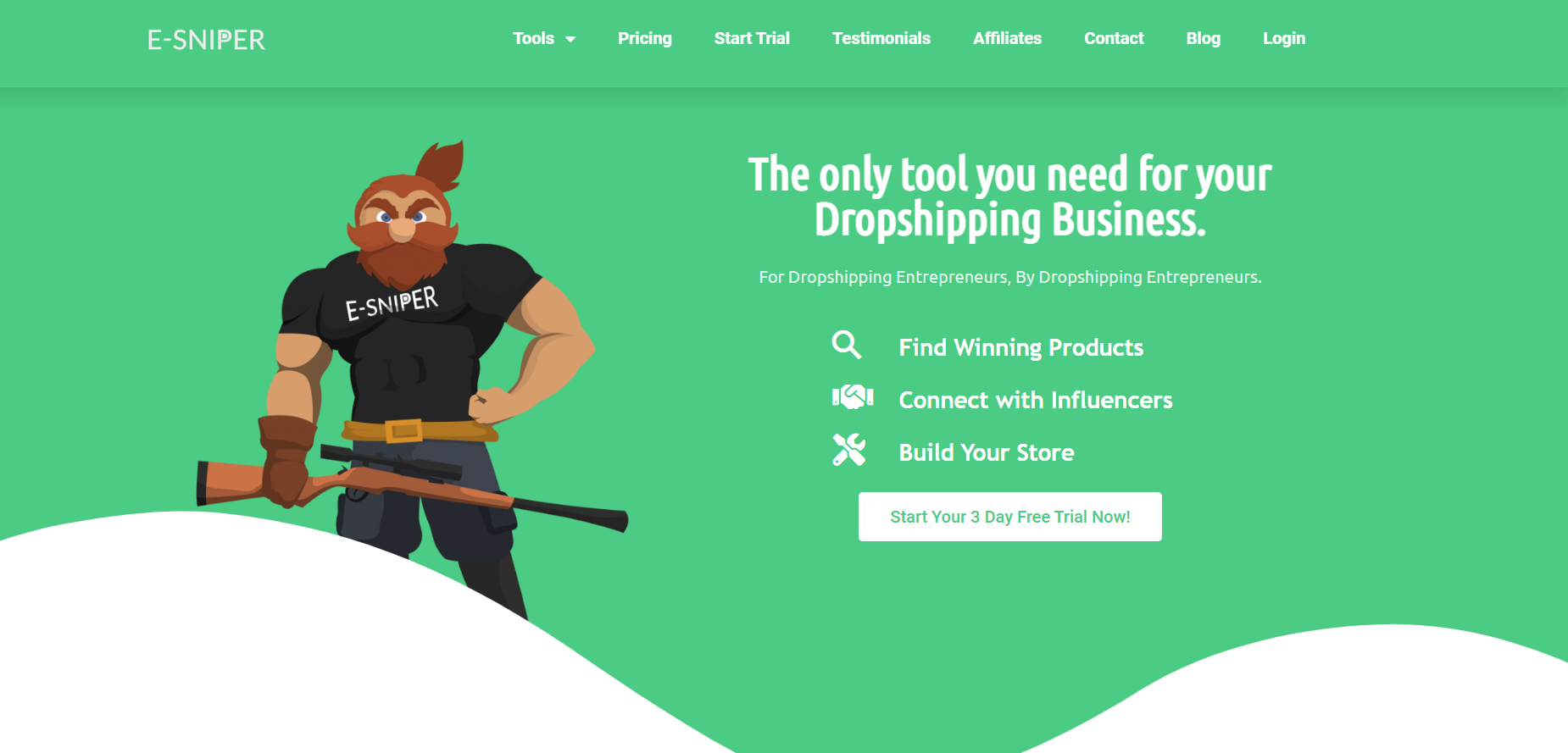 E-sniper is a breakthrough tool that helps dropshippers quickly add items to their websites. Every product is just a click away from your dropshipping store, thanks to the thousands of items accessible from hundreds of suppliers throughout the world.
But, that's not all!
First, dropshippers may explore and monitor the profitability and engagement levels of various products thanks to this dropshipping software.
This premium software has three built-in features – AliSniper, InstaSniper, and ViralSniper, each has a unique use case, but they are indeed focused on helping you make the maximum profit possible from your dropshipping business.
Also, selecting a variety of popular items makes it easy to generate significant sales. On top of that, you can find your target audience for each product, develop your best marketing approach and plan your go-to-market strategy.
But, have you heard about the E-sniper Ecom Platform?
This platform is actually powdered by Ecwid, but let's take a moment here: Now you can customize your dropshipping store, analyze statistics, find your target audience, and find winning products from one place, at only $29. Awesome!
It seems like this E-SNIPER really knows how to shoot!
Besides, E-Sniper is known as one of the best ad spy tools.
Lifetime deal: Get all-access to everything on Dropshipping.com
Access all DSCOM features, resources, courses, live workshops, discounts, winning products, weekly deep dives, directories and all future updates under all-in-one dropshipping HUB.
DROPSHIPPING IS A REAL BUSINESS, DON'T DO IT ALONE. 4553 MEMBERS ALREADY JOINED. YOU CAN PAY OFF YOUR SMALL INVESTMENT WITH JUST 2 SALES ON YOUR STORE.
Grab the deal before it's gone
E-sniper Review 2022: Quick Overview
No time to read it all? Check out our quick E-sniper Review! 👇
The best
Obtain winning items

Easy access to Instagram influencers in various niches

Share content over various social media platforms with one click

Create and custom your own dropshipping store

In-depth store analytics

Detailed and efficient marketing strategies
The worst
You need to read the user guide in order to be familiar with the user interface
Starting from
3-day FREE trial; $29/month
E-sniper Review: All Features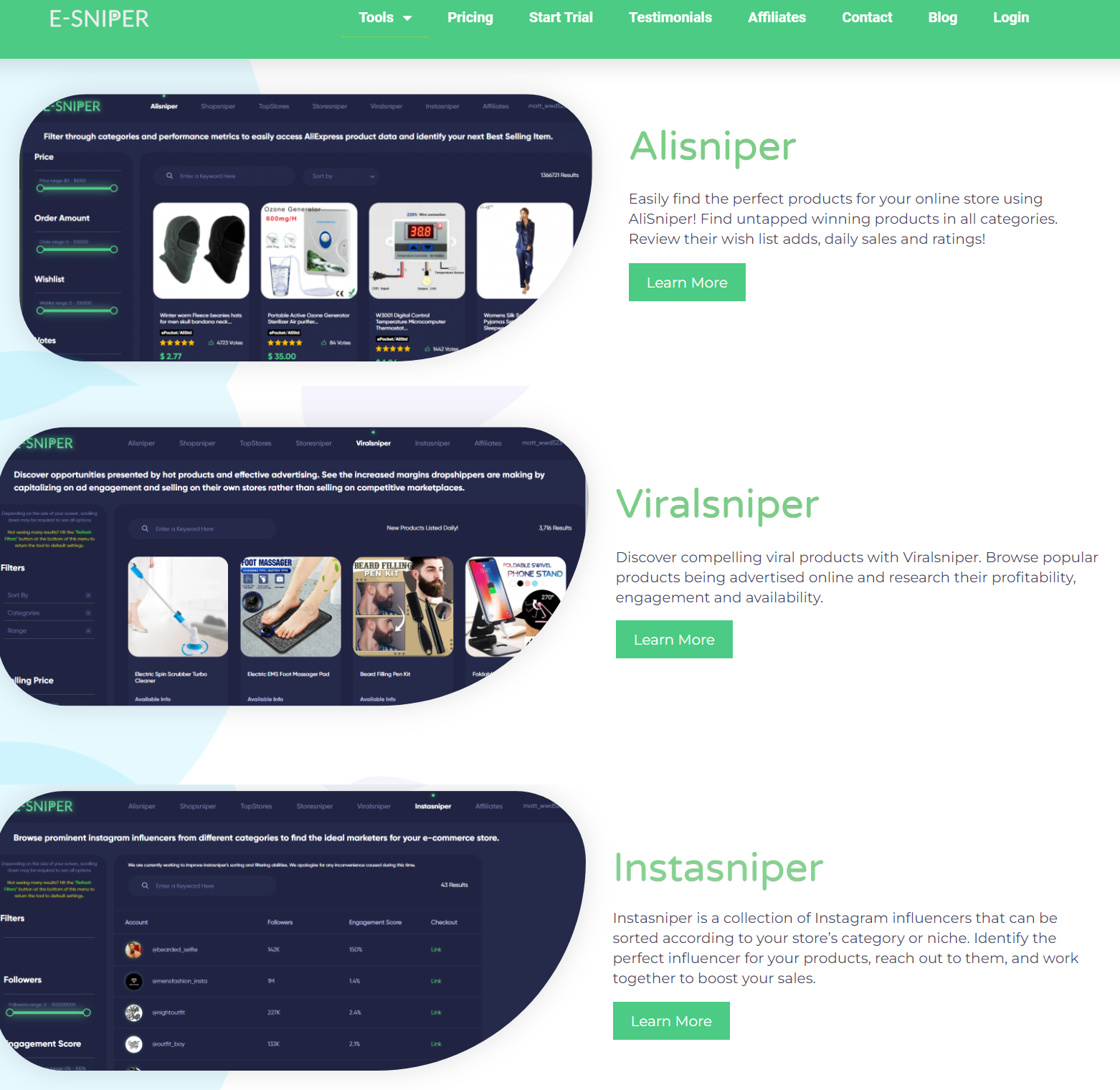 Various E-sniper dropshipping tools help your business.
Thus, by using them you have full help for:
✅ Customizing your dropshipping store completely,
✅ Access various products and find your winning product thanks to their huge product database and in-depth analytics,
✅ Collect information from the biggest online marketplaces and be redirected to the specific product page with only one click,
✅ Social Network Integration,
✅ Promotions Management, etc.
Let's see what we got here. 👇
AliSniper. Using this dropshipping tool you can identify profitable items in any dropshipping category rapidly and import them right into your dropshipping business.
InstaSniper. Dropshippers can increase their sales on Instagram, connect with influencers in a certain dropshipping niche, and collaborate from one place.
ViralSniper. This tool offers a demographic breakdown of each popular product that is currently on the market. It covers market data analysis, advice on which demographics to target for your advertising campaign, and identifying the target market. E-sniper is the number 1 tool in this type of feature.
Ecom Platform. With this option, E-sniper enables you to build your dropshipping store. This is a brand-new, intriguing feature that will continue to become better. With the help of the E-sniper dropshipping toolkit, you can now create and customize your own online store.
Next, we will guide you through our E-sniper Review of the main and most important tools. Shall we begin?
E-sniper Main Tools Explained
Before diving into the E-sniper review of features, let us show you how their Dashboard works.
So, once you log in to the E-sniper dropshipping tool, the next thing you will see is the main dashboard.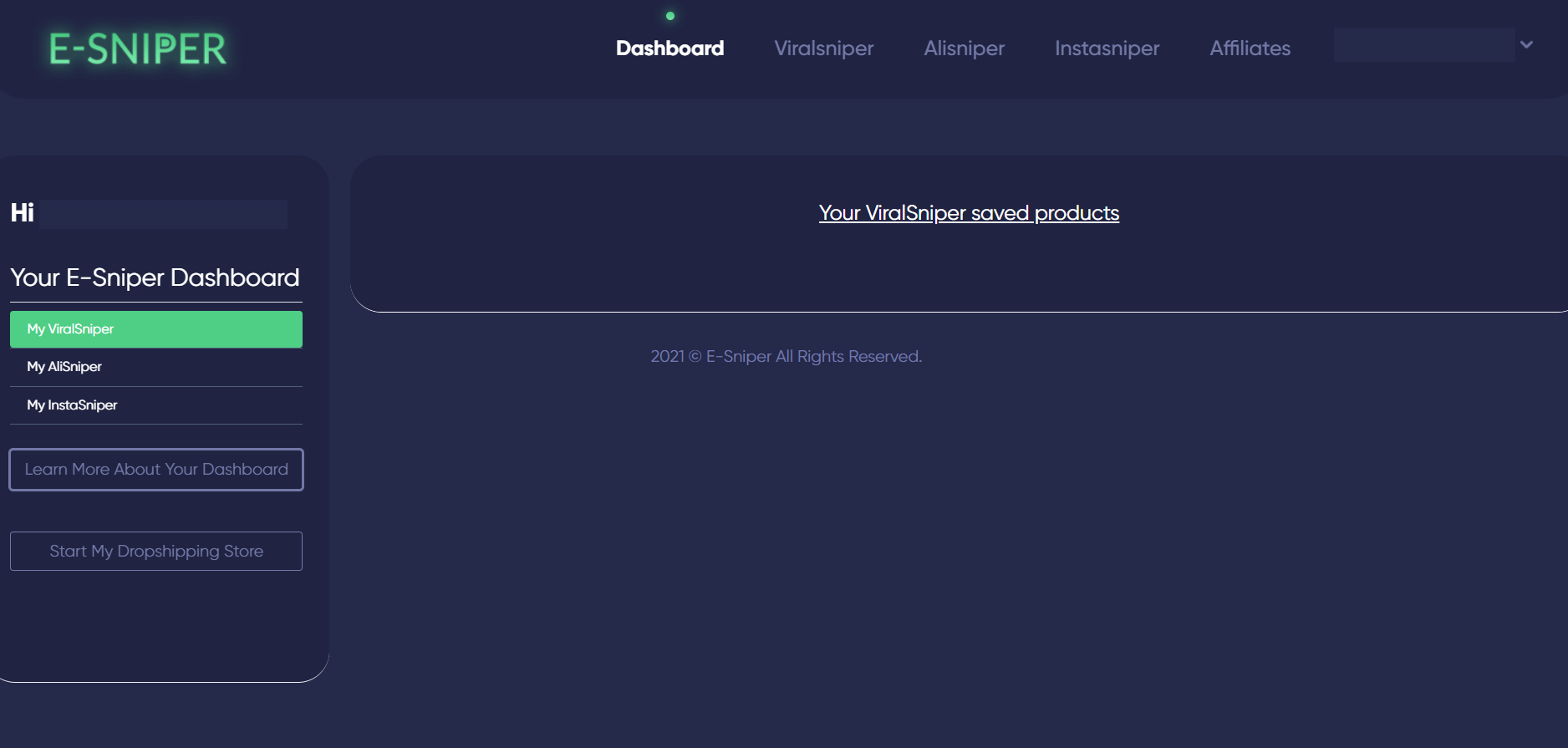 You can check the goods you've saved on the dashboard while exploring E-Sniper. It is quite easy to use and extremely helpful when creating a product catalog for your online business.
Also, each product on E-Sniper includes a save option shown by a green heart icon while examining the product information. The product is saved to your dashboard when the green heart is selected.
More importantly, the Dashboard is actually the place from where you can enter all the E-sniper features.
So, on the left sidebar, and also on the horizontal menu in the page header, there are all the important features that E-sniper dropshipping toolkit provides.
Now, let's review the key E-sniper features. 👇
Alisniper
The Alisniper tool assists you in finding winning items in the niche you choose.
With the help of this feature, you can quickly import any item into your dropshipping store.
This app is an excellent AliExpress API that allows you to perform more precise searches of offers on AliExpress using filters, categories, and keyword searches.
Additionally, it provides you with important tips for expanding your business while assisting you in keeping track of daily sales and your rating.
What's more, you can import the desired product directly to your dropshipping store with only a few clicks.
How Alisniper works?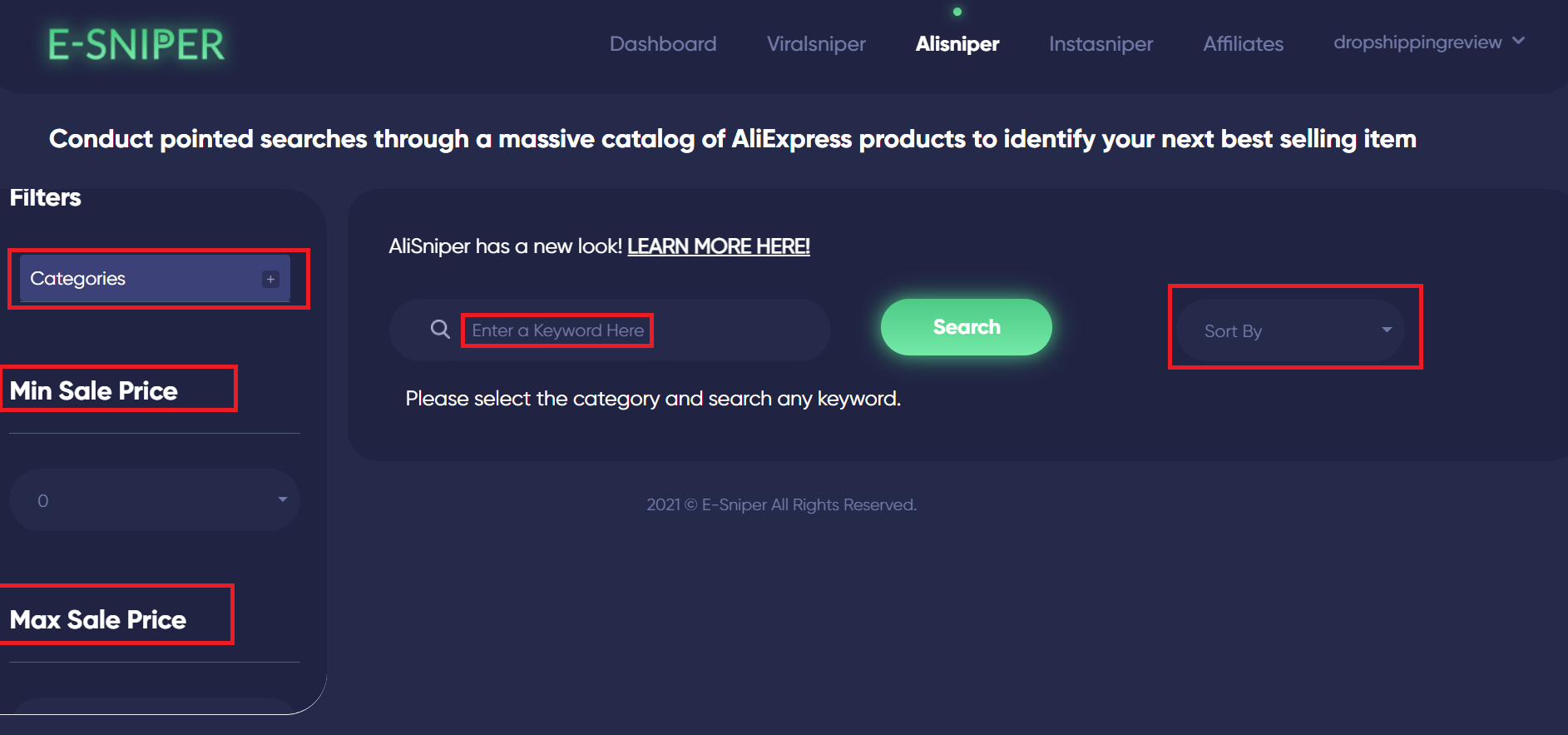 Step 1 – Choose the Alisniper category, from the dashboard's menu (on the header)
Step 2 – Once you click there, the Alisniper tool will display. Here you can search a specific product by keyword, price range ( min/max), and category, and choose how to sort the product results.
Step 3 – Next, you click on search, and product results will show up.
Step 4 – Once you choose the desired product, click on Save.
Step 5 – Go back to the Dashboard, and you can see all the products you saved from the My Alisniper category on the left sidebar. Here you can choose which products you want to add to your dropshipping store.
Let's assume that we want to search for dog toys. Following the steps, here's how the whole simple process will go.
First, we simply enter our keyword – dog toy. Next, we will add a price range (min/max), and then we click on search. 👇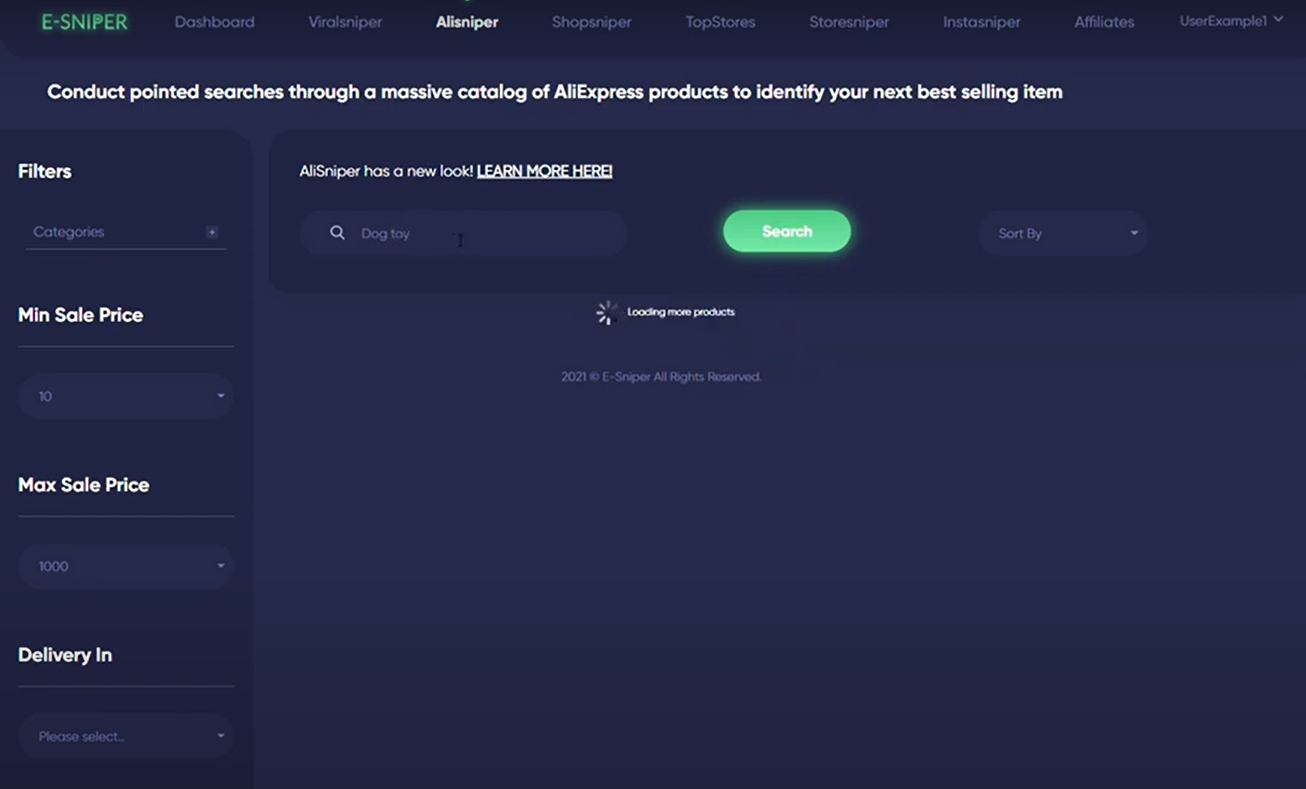 💡 Tip: If you don't know the exact product you are searching for, you can use their filter "category" and search for ideas.
👉 Check out dog niche dropshipping ideas.
Next, the Alisniper dropshipping tool displayed various choices of dog toys for us. 👇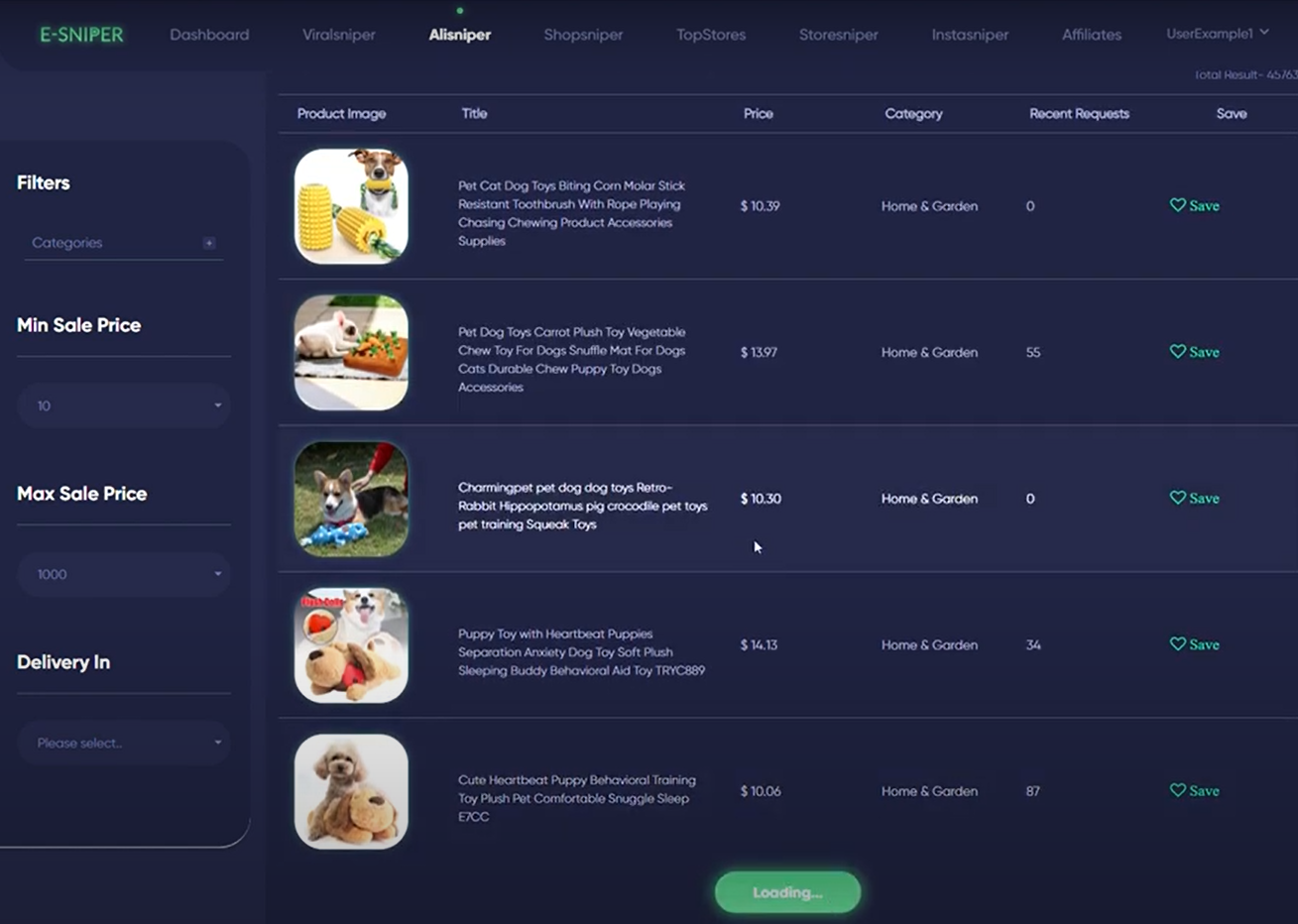 After a few scrolls and an analysis of the product's price and characteristics, we saved the most suitable one for us, by simply clicking on ❤️ Save.
Please NOTE: If you click on the product you desire, you will be redirected to the website from where the product is sourced (in our case – AliExpress).
Lastly, we can see all your saved products in MyAlisniper. 👇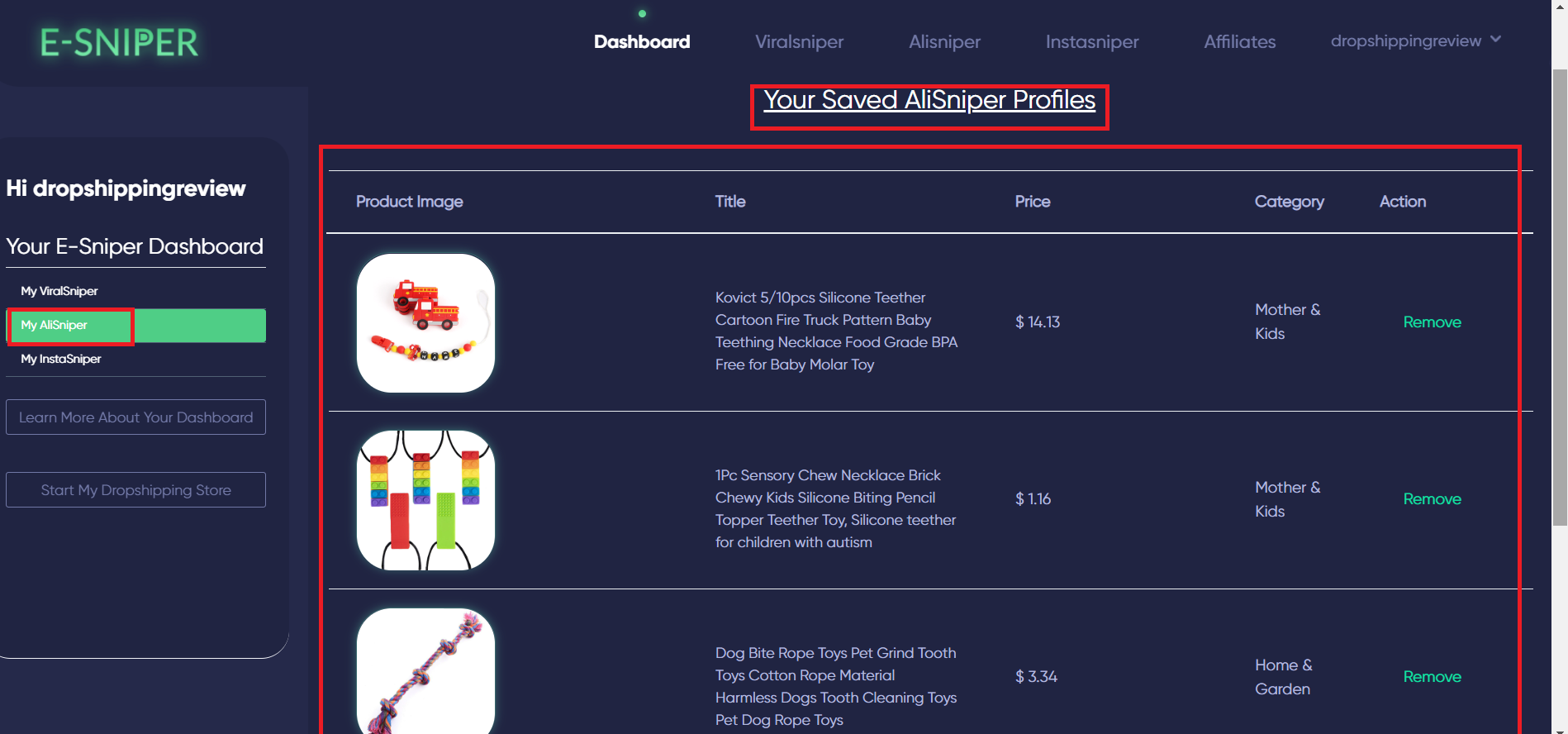 Viralsniper
You can get a thorough statistical analysis of the market's offerings at any given time using ViralSniper.
This is a premium service of product information obtained from sources all over the internet. With it, users get the opportunity to observe an effective product advertisement and compare prices between the dropshipping store from which is the ad running and the well-known online marketplaces.
Also, Viralsniper enables customers to immediately determine a product's earning potential, thanks to the ability they provide with comparing the prices between the dropshipping store and the online marketplace.
Additionally, this dropshipping tool offers links to Facebook Adverts, the product listing on the retailer hosting the specific ad, AliExpress, Amazon, Alibaba, and eBay.
ViralSniper is mostly a collection of manually added items that have been gathered by some of their partners that find highly engaging Facebook ads for dropshipping items.
The E-sniper partners use web-based technologies to identify the Facebook Ads that are receiving the most customer interactions, and then add all the information which you can see on the detail page by analyzing the products in those high-engagement ads. Yet, this really represents data reliability.
Consequently, you receive demographic information on every latest hot product that is currently on the market. Besides, it offers you efficient marketing techniques to use in your dropshipping business.
Also, it assists you in pinpointing the proper geographic regions for your advertising campaign.
Therefore, the ViralSniper is your best friend when it comes to choosing the most suitable winning product for you and developing the best marketing strategy for your dropshipping business.
And honestly, who doesn't want that? Well, we know who does – everyone!
Next, let us show you how this E-sniper tool works!
How does Viralsniper work?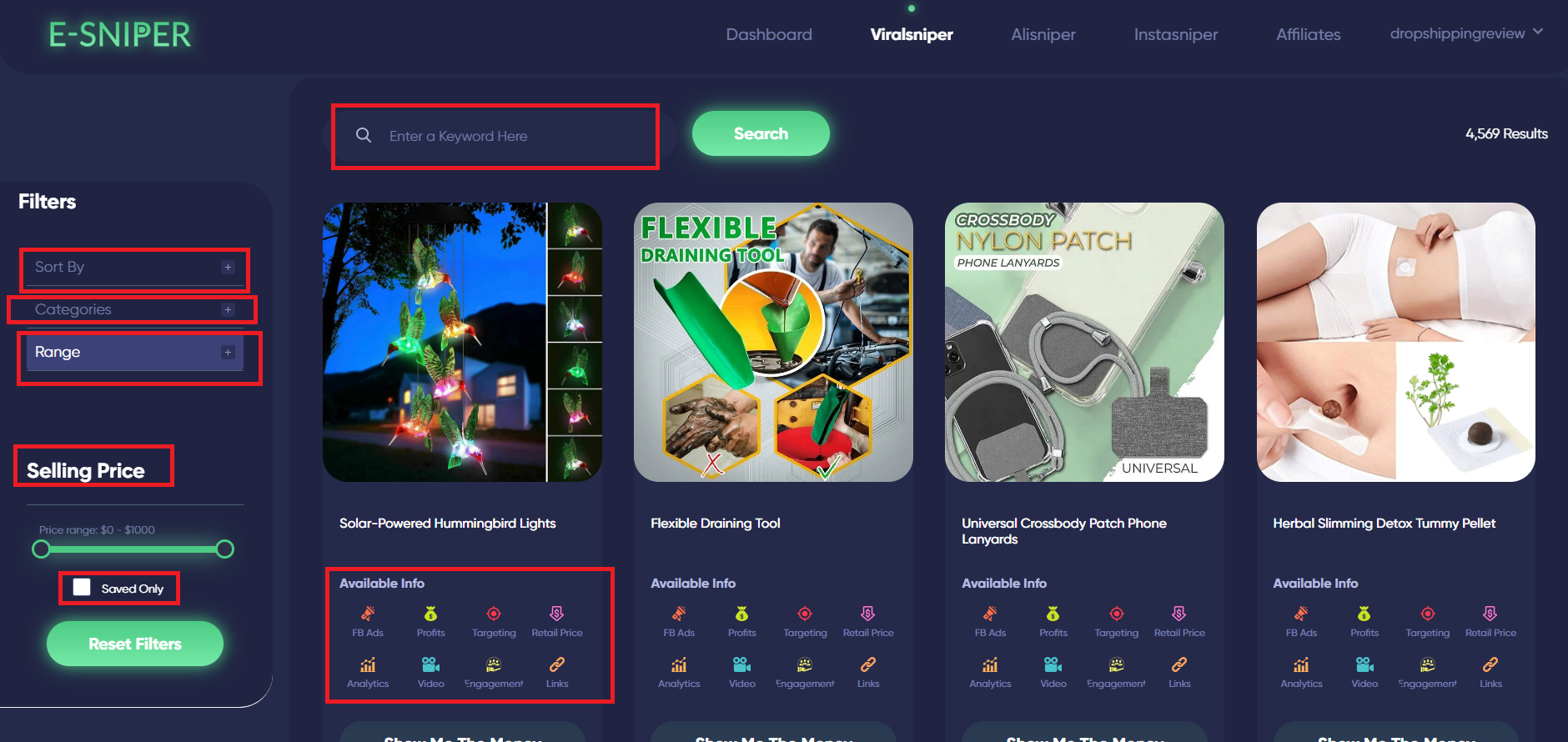 Step 1 – Choose the Viralsniper category, from the dashboard's menu (on the header)
Step 2 – Once you click there, the Viralsniper tool will display. Here you can search for the hot-selling products according to a category, or a certain time range, and sort them out. Also, you can set the price range ($0 – $1000). What's more, here you can display only the saved products in your MyViralSniper section by choosing the "Saved only" option.
Step 3 – Next, click on the search button, and the ViralSniper dropshipping tool will display all the products according to your set requirements.
Step 4 – Once you choose the product you are interested in, click on the product, and you will be guided to the product page.
Step 5 – On the product page, you will get all the needed information for the product, like product photos, videos, description, selling price, cost, profit margin, analytics, Facebook ads, Engagement, Target market, links from various platforms (where the product is available), etc.
Step 6 – Once you have all the necessary info, you can click on ❤️ Save.
Now, we will guide you through our way of using this amazing tool. Here's how it goes.
Of course, the first thing we do is enter the Viralsniper tool. After that, we set all our criteria from the Viralsniper left sidebar.
In this case, we will sort by the newest orders, choose the "Lights & Lighting" category, we will set the range for " Last 14 days" hot-selling products, and click on the "search" button. Now we wait for a second until Viralsniper gives us results. 👇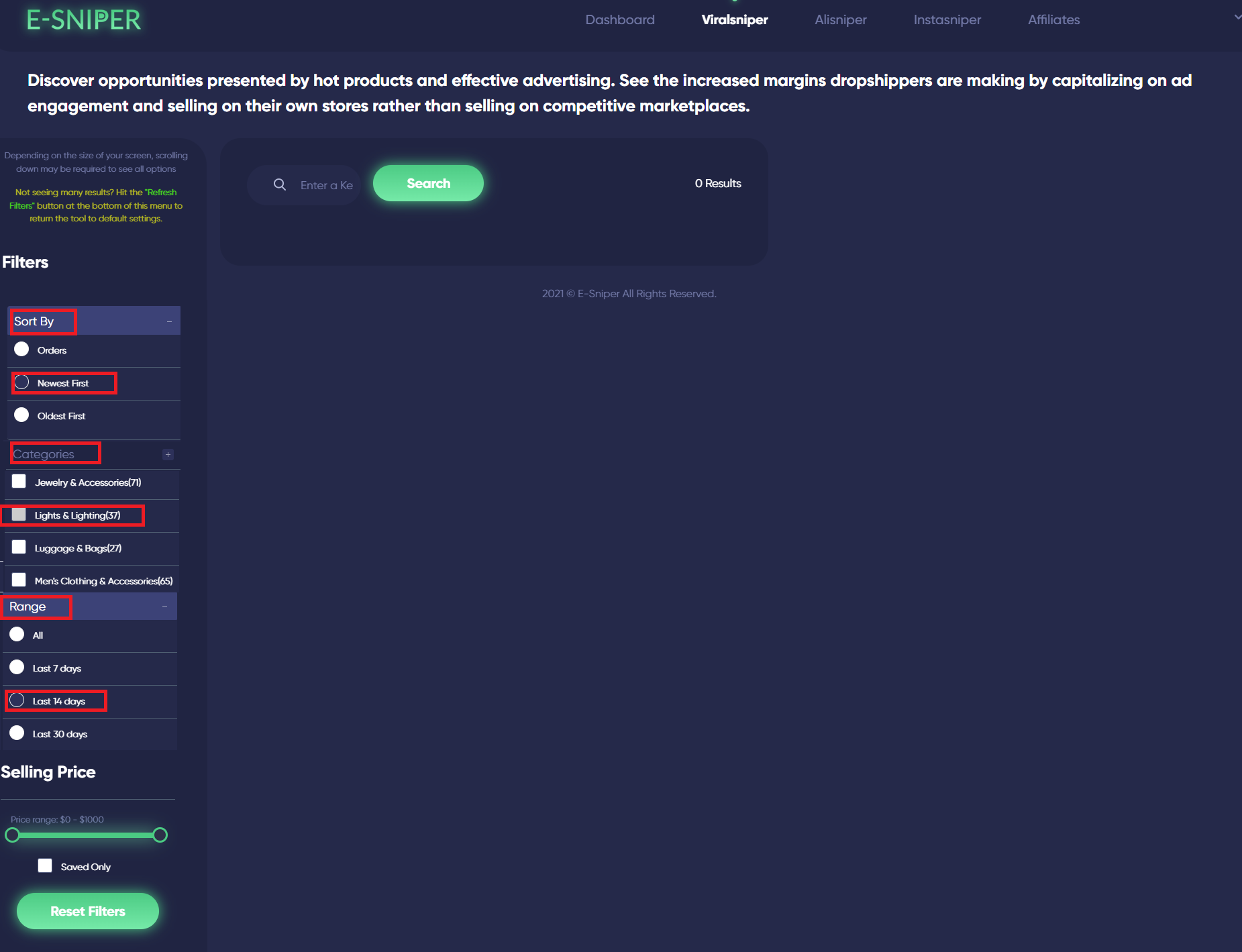 However, please NOTE that if you are searching for a specific product, you can enter its keyword, or if you already have the product in your ViralSniper tool, you can choose the "Saved only" option.
Once the Viralsniper displayed the products, we click on the product we want to sell, and here's what we got! 👇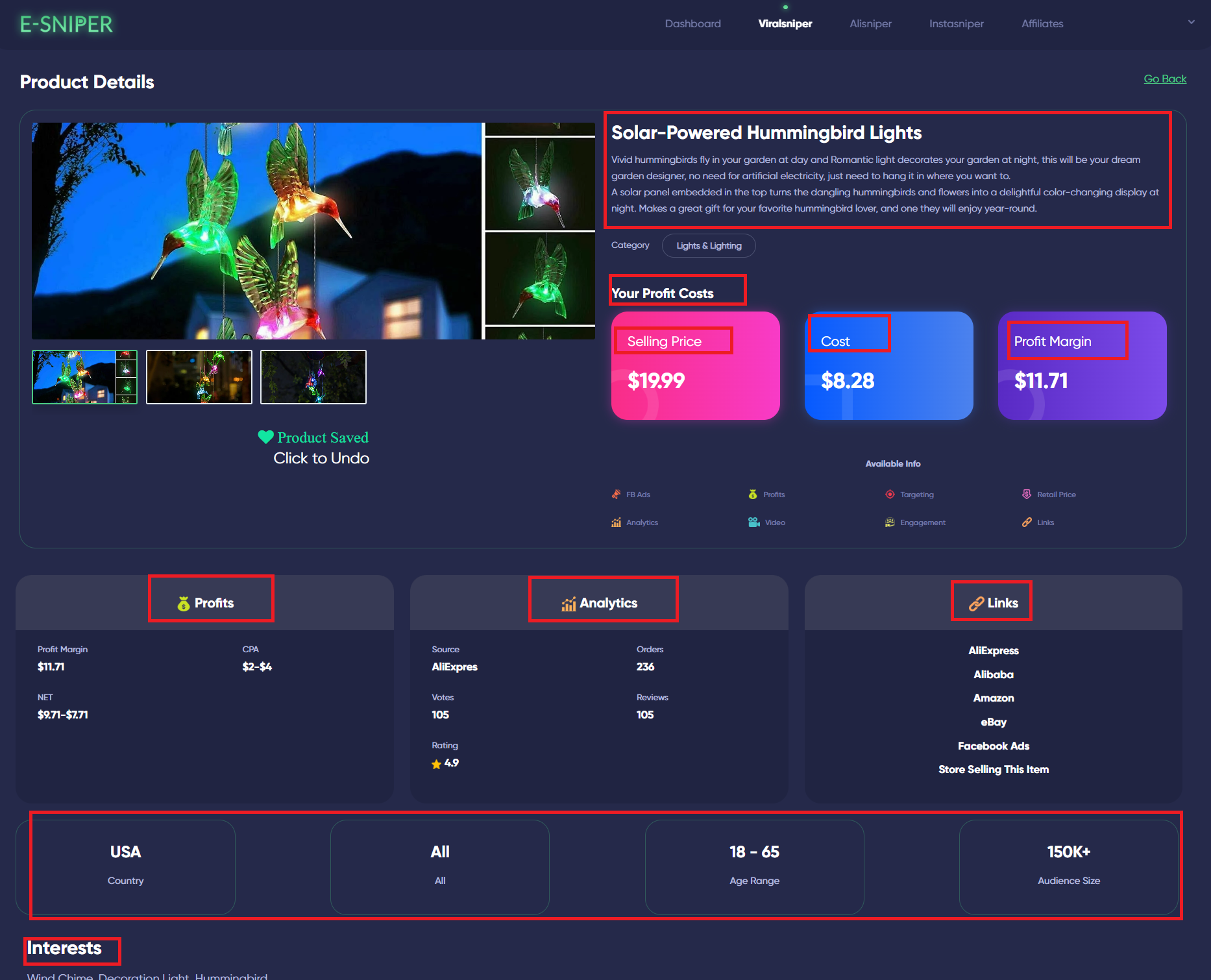 Long story short, we got every piece of info we need in order to build an excellent marketing strategy! Everything from product description and photos to analytics, profit costs, audience, etc. Amazing!
👉 Also, we want to point out one thing that was also value-adding for us – all the links from this product page were clickable and led us to the exact product page on the different platforms.
Instasniper
InstaSniper is quite helpful in giving you access to the best influencers in your preferred niche and providing you with relevant info about their locations and the best ways to get in touch with them using engagement rate analysis.
To browse influencers' profiles right now, Instasniper offers active links.
While the number of followers and interaction rate is great screening indicators, the real sign of a strong fit is whether you can browse the influencer's page and see your items being pushed.
Even more, influencers showcase their availability to promote items in their posts.
How does Instasniper work?

Step 1 – Choose the Instasniper category, from the dashboard's menu (on the header)
Step 2 – Once you click there, the Instasniper tool will display.
Step 3 – Here you simply write down and choose your requirements for finding the appropriate influencer, like their location, the min and max number of followers, gender, interest, language, engagement rate, keyword topics, audience filters, etc.
Step 4 – Click on the "Find influencer" button, and count in 3,2,1…
Step 5 – The Instasniper displays the results from which you can choose.
Step 6 – You can click on the influencer name, and you will get all the necessary data in a window displayed on the right side.
Step 7 – If you want to save the influencer, simply click on ❤️ Save.
Moreover, you can also be redirected to the influencer's Instagram account by clicking on the "link". And, you can see the full report by clicking on the "view full report" button, on the right sidebar.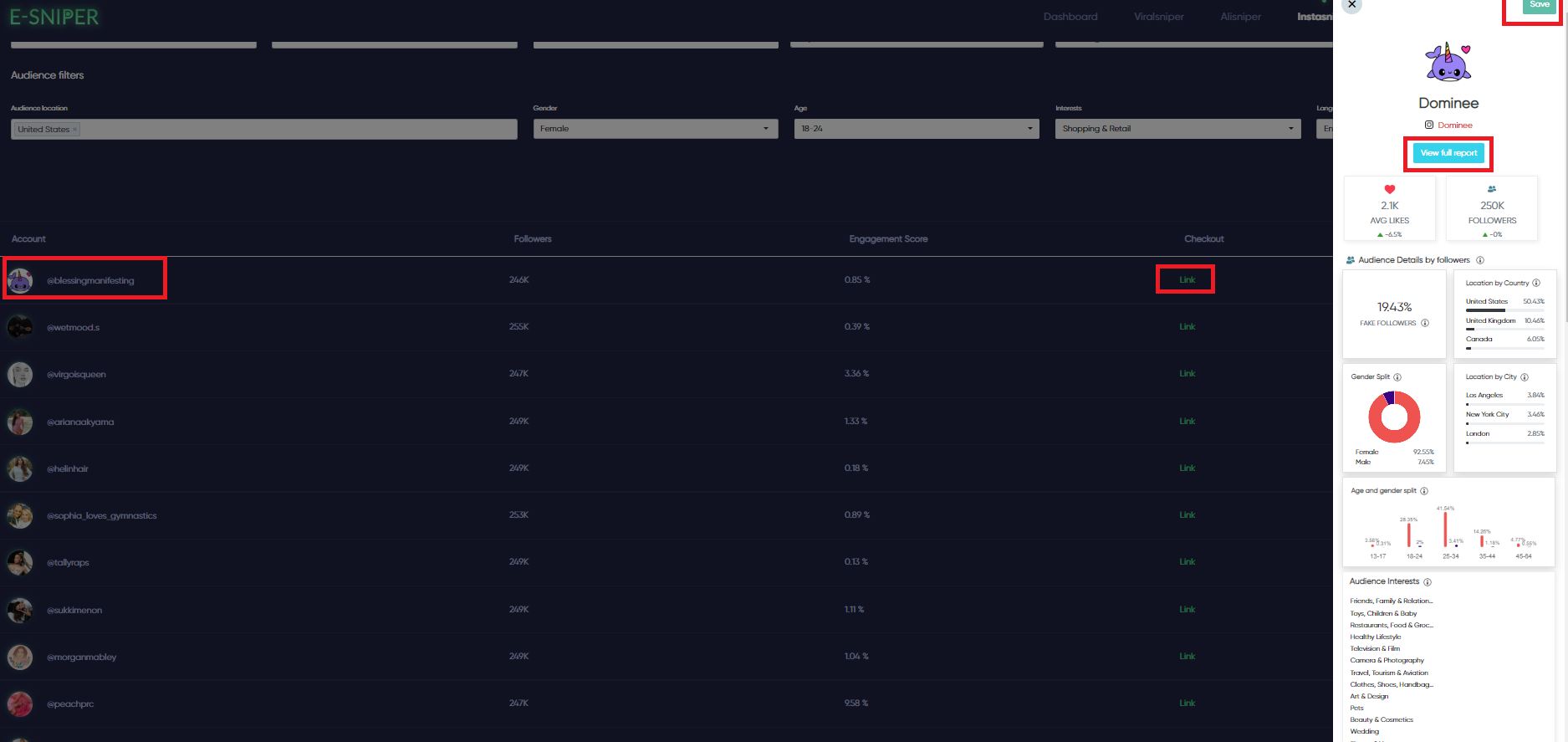 Do you want to see how we use Instasniper?
For example, we need an influencer that is located in the USA, has around 250K followers, and is dedicated to sports, fitness, and yoga. Also, an important thing for us is the audience they attract.
Thanks to Instasniper, all these requirements can be set, and we can see more concrete results without wasting time.
So, the first thing we do is set up our filters. Check it out 👇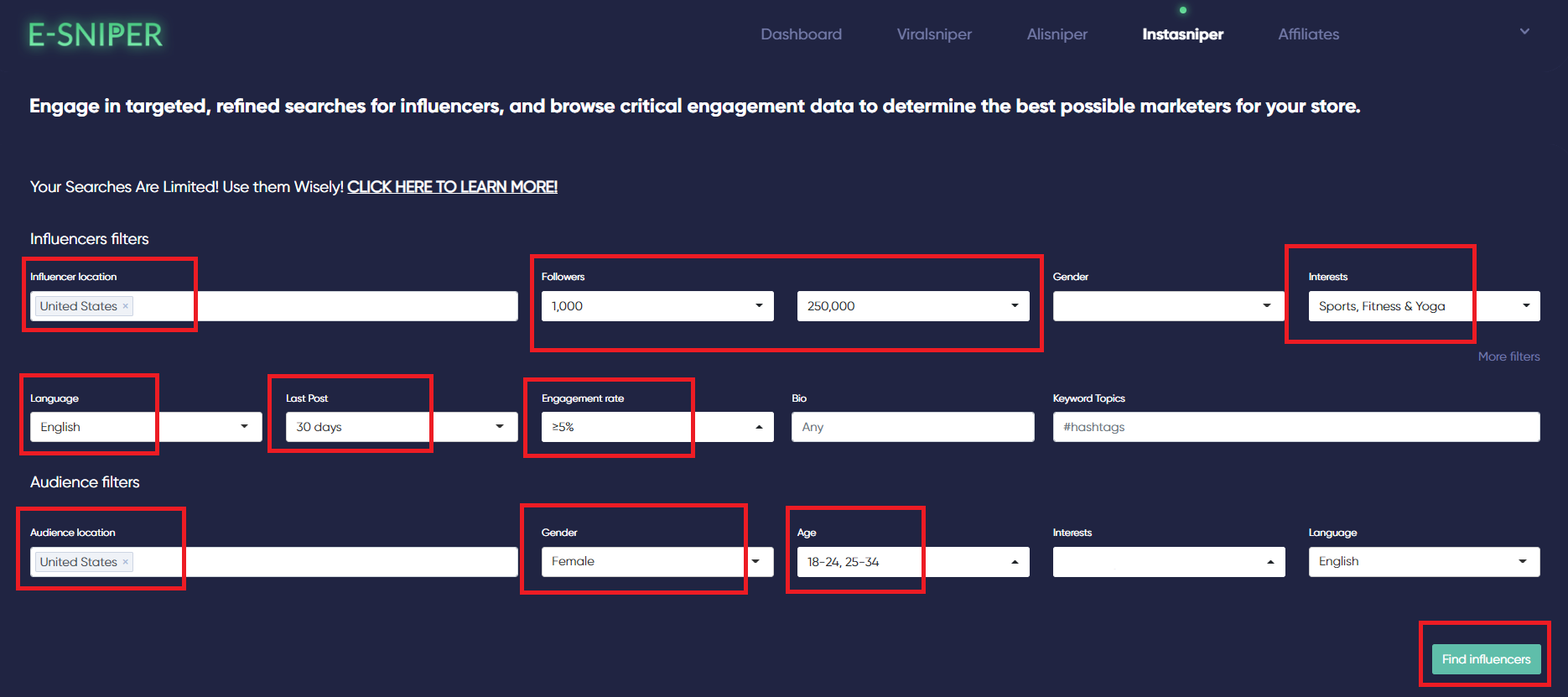 Once we get the results and choose our best match, we pay close attention to the Influencer statistics. Therefore, we choose the " view full report" option.
Next, Instasniper gives us multiple options to look at the info. For example, we can download it as a PDF, or look right at it from the pop-up window.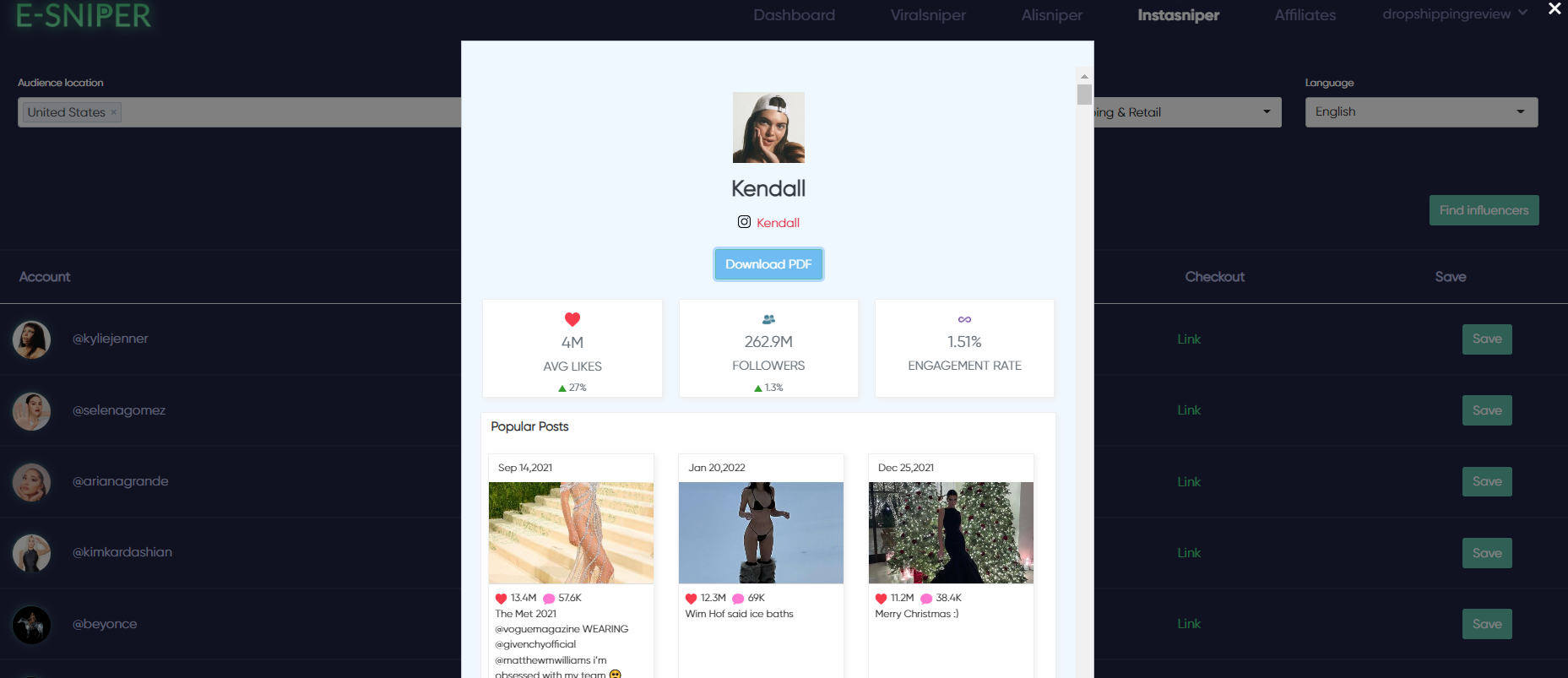 And, dear dropshippers – this is awesome! We get every single piece of info we need, like fake followers, real followers, engagement rate, popular posts, audience info, etc.
Ecom Platform
Last but not least in our E-sniper Review- the Ecom Platform, is labeled as – Create My Store tool.
This is an E-sniper tool that is powered by Ecwid. Thanks to this E-sniper tool you can now set up and customize your own dropshipping store. Let's see how it's done!
Also, each E-Sniper subscription comes with access to an eCommerce store that can easily be customized, managed via mobile app, and used to market products on several different major online marketplaces.
How does the Ecom Platform work?
Once you click on the "Start my dropshipping store" button from E-sniper Dashboard, a pop-up window will display. Thus, it is important to pay attention to the information it is giving you. 👇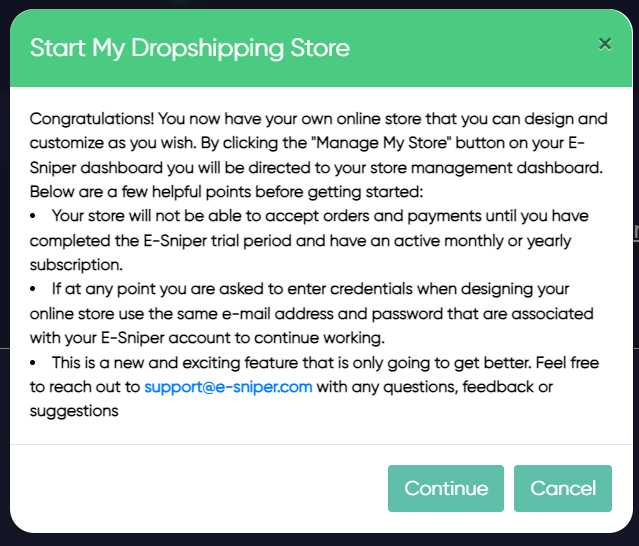 Shortly, you should subscribe to E-sniper in order to accept orders and payments. Also, E-sniper advises you to use the same e-mail address and password that are associated with your E-Sniper account to continue working. Next, click on continue.
Now, let us guide you through the next step of how the Ecom Platform actually works!
Ecom Platform Workflow
In addition to our detailed E-sniper review, we will show you all the features this dropshipping platform holds for you.
⏩ First thing you need to do if you want to customize your dropshipping store is – Go to E-Sniper Control Panel.
Once you are logged in, the Ecom Platform Dashboard will display. So, on the left side, there is a sidebar with multiple categories, from which you can access each feature available.
Hence, we will start the E-sniper Review of the Ecom Platform with the Sales Channels.
🔸 Sales Channels
⏩ Next, click on Add your store to a website or social network. And, this is where the actual work begins! Also, you can access this section from the left sidebar by choosing the Website Section.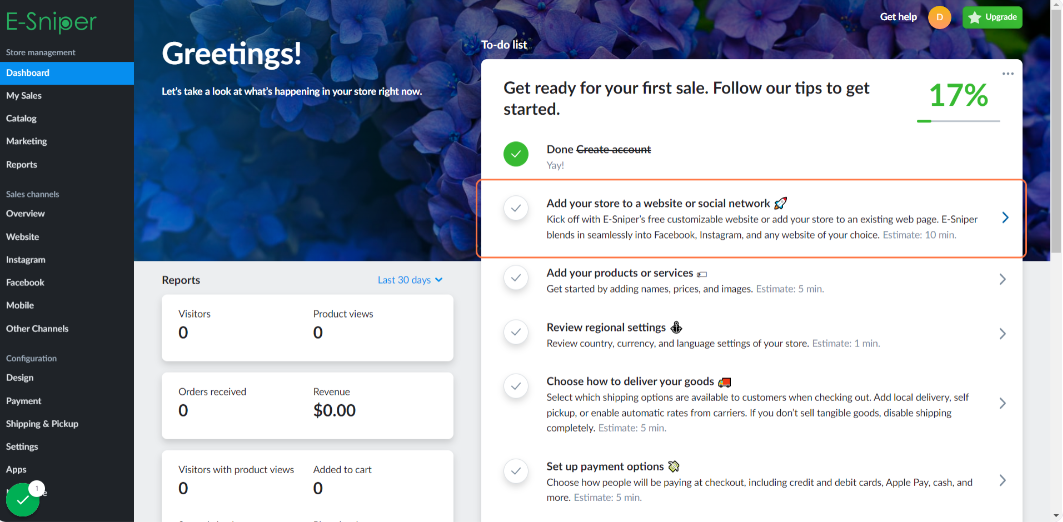 ⏩ Now, you are led to a new page – Your website. Here you can have a global showcase for your dropshipping business. Thus, you can make quick changes to your website, its design, domain, and SEO settings.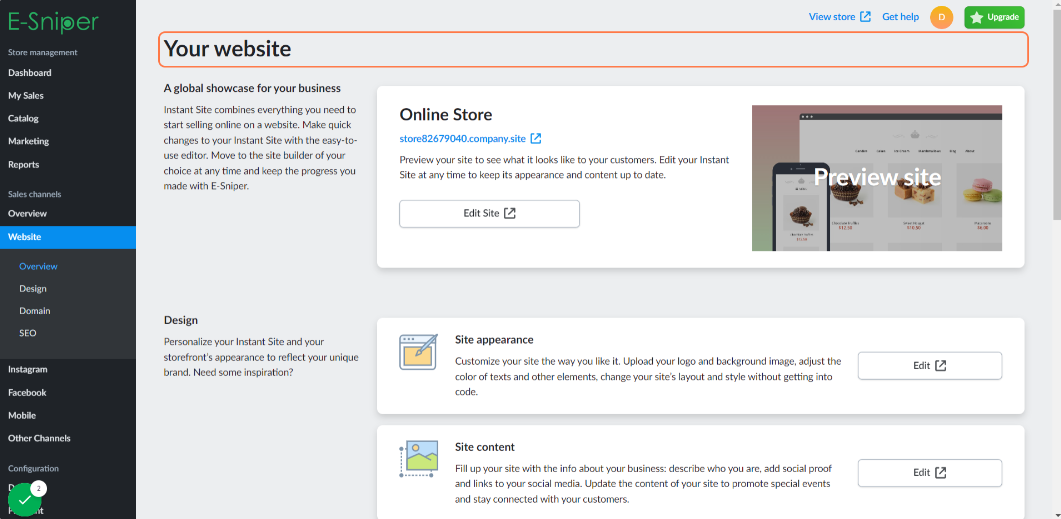 Therefore, some of the features you have here are the following: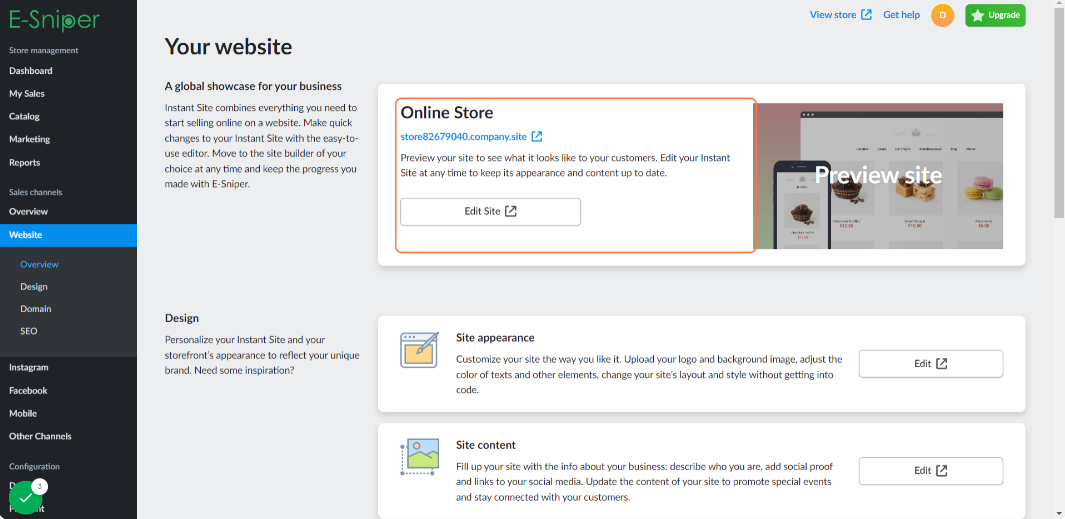 Once you click on the "Edit Site" button from the Online store section, the Online store editor will display.
Here you can change elements and blocks on your website, starting from the header, through all website categories, to the footer. Also, you can change their position, and make changes to every kind of content. 👇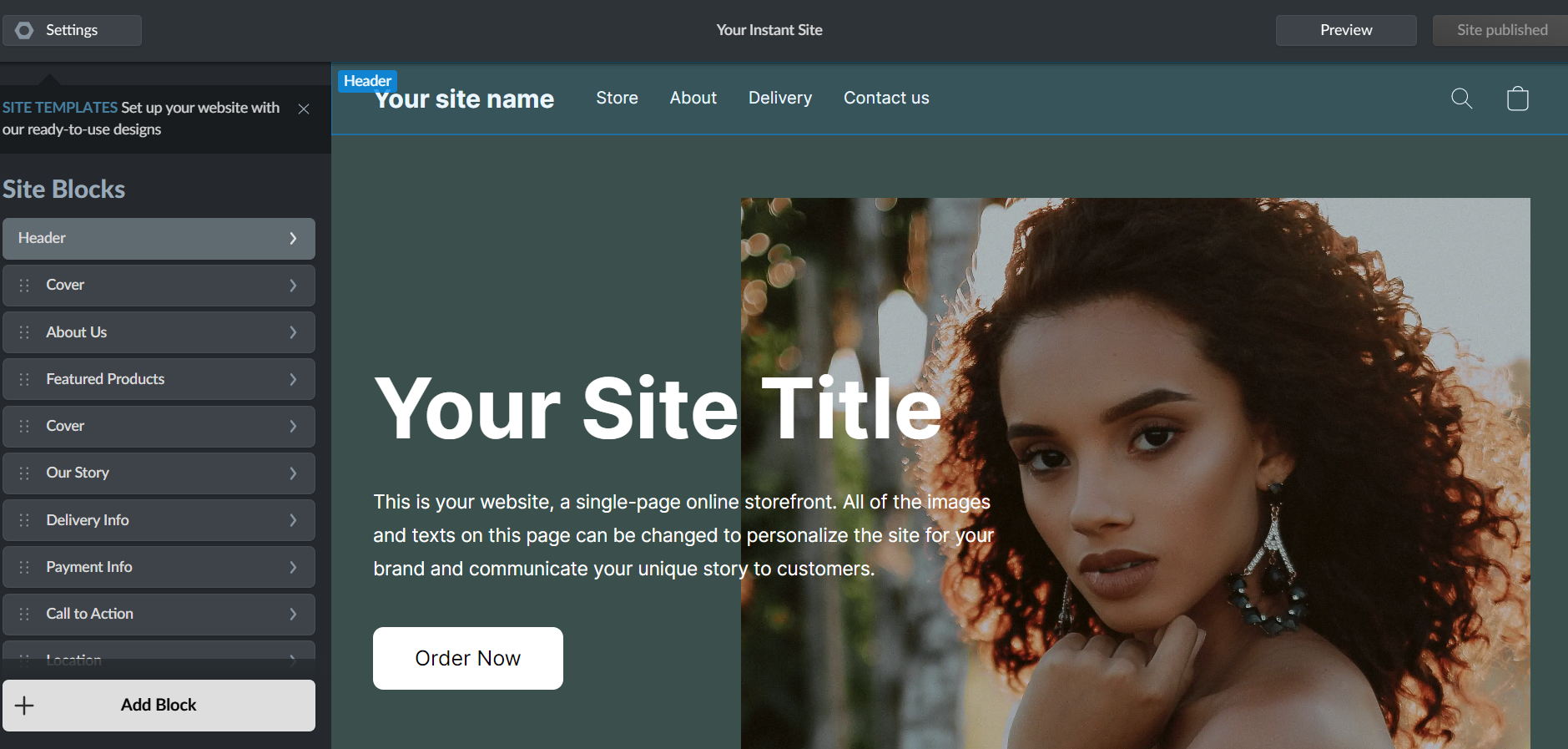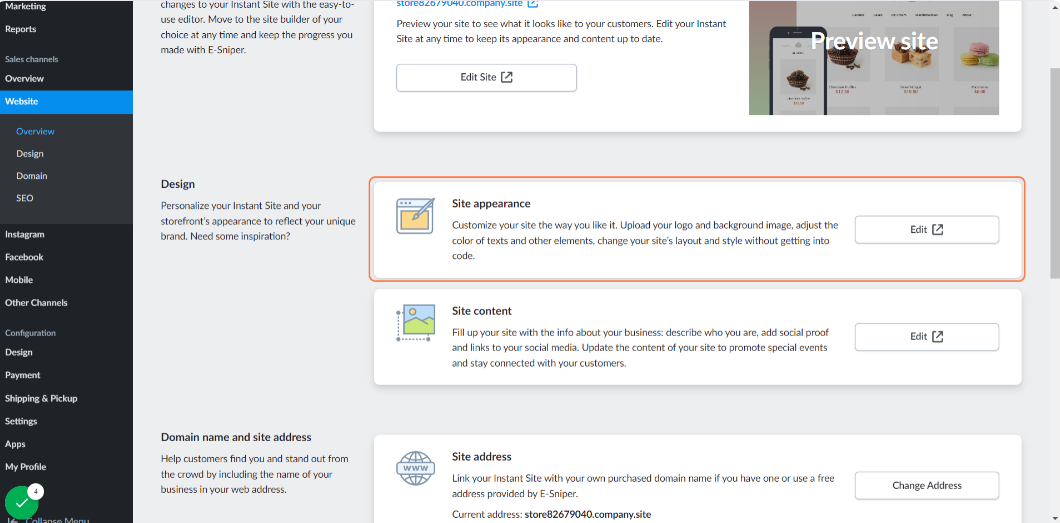 This feature allows you to personalize your dropshipping store. Thus, here you have two options:
👉 Site Appearance – you can customize your site layout, upload your logo, and background images, and edit coloring, fonts, and all other elements (no coding needed).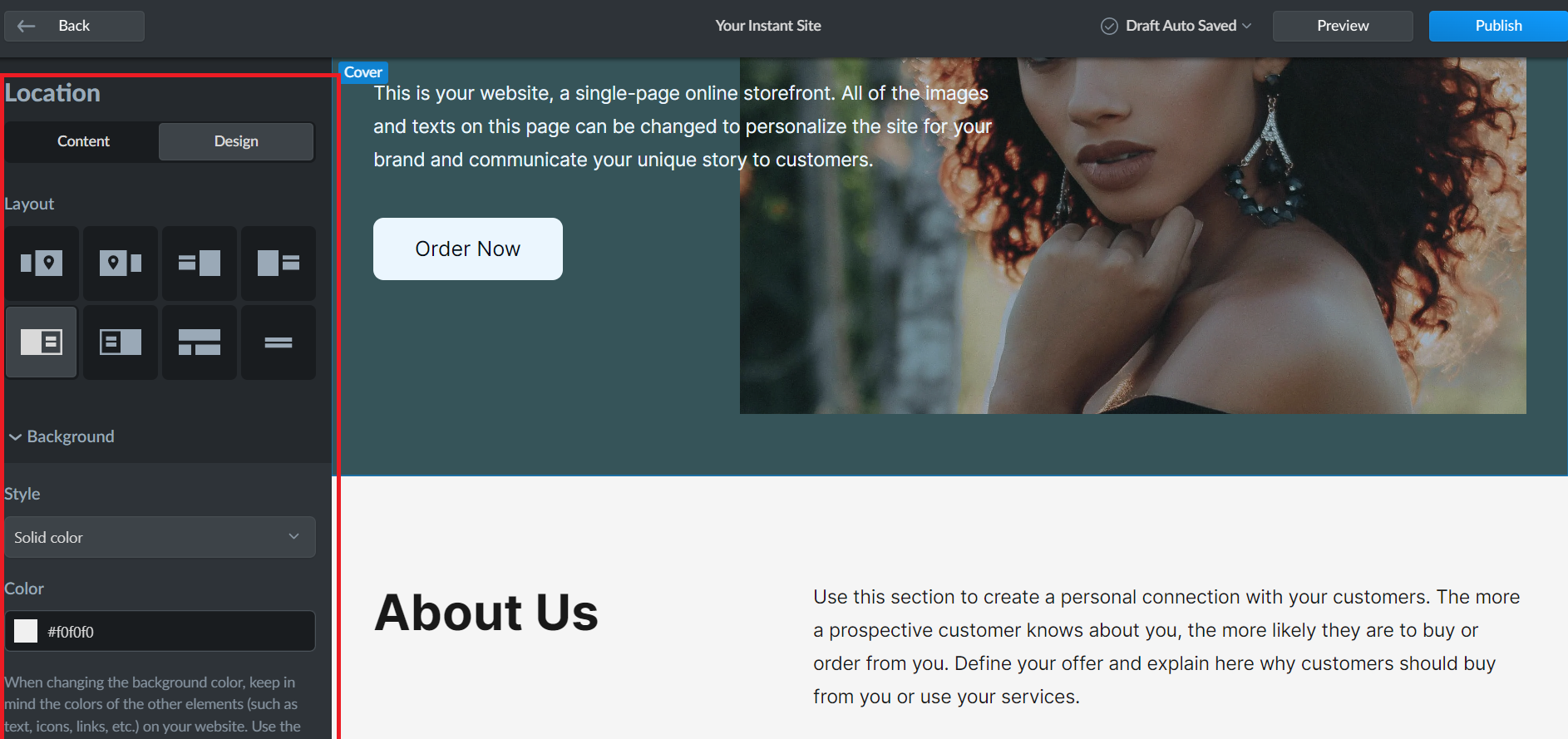 👉 Site content – here you can fill up your website with information about your dropshipping business, including a description of who you are, references to your social media, and social proof.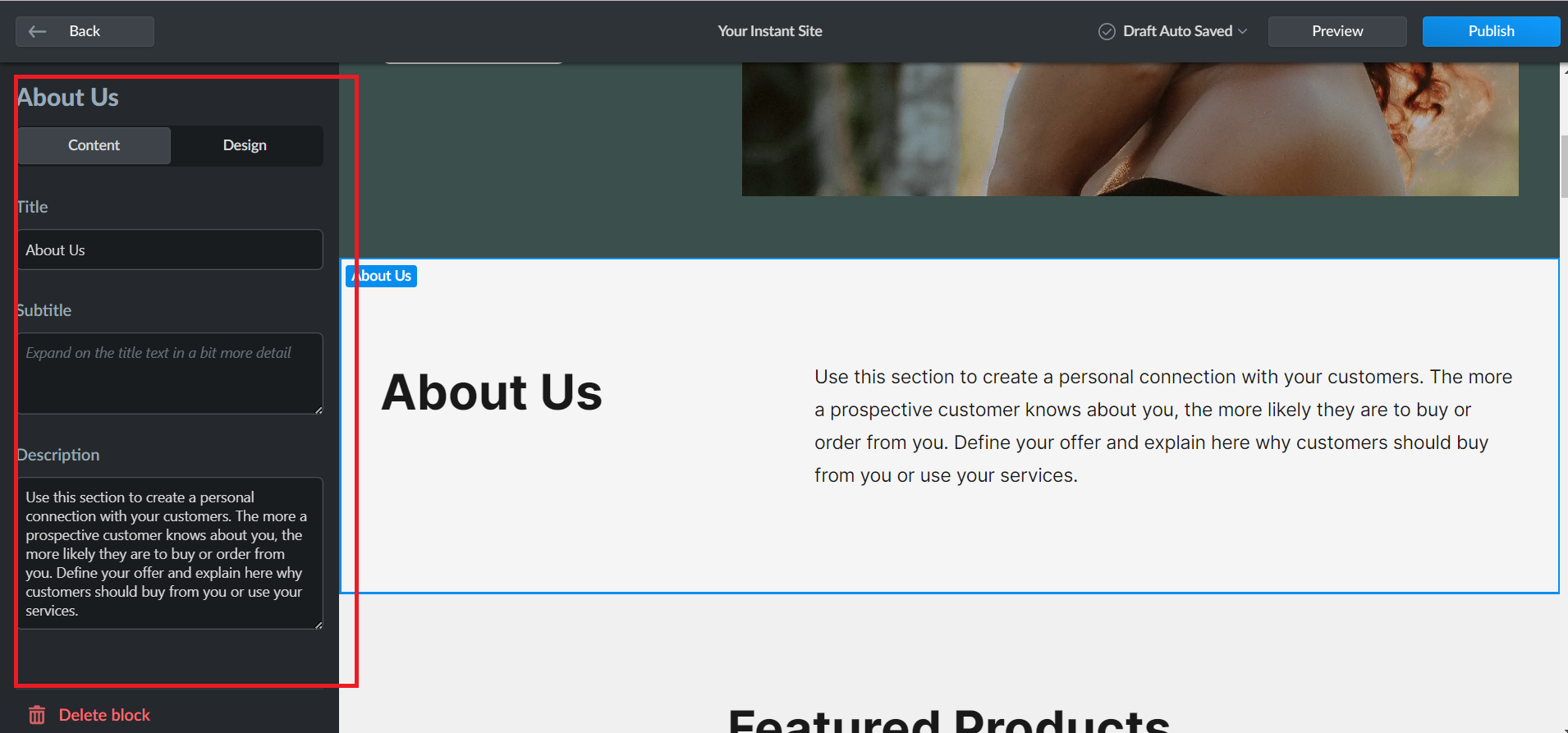 The domain name and site address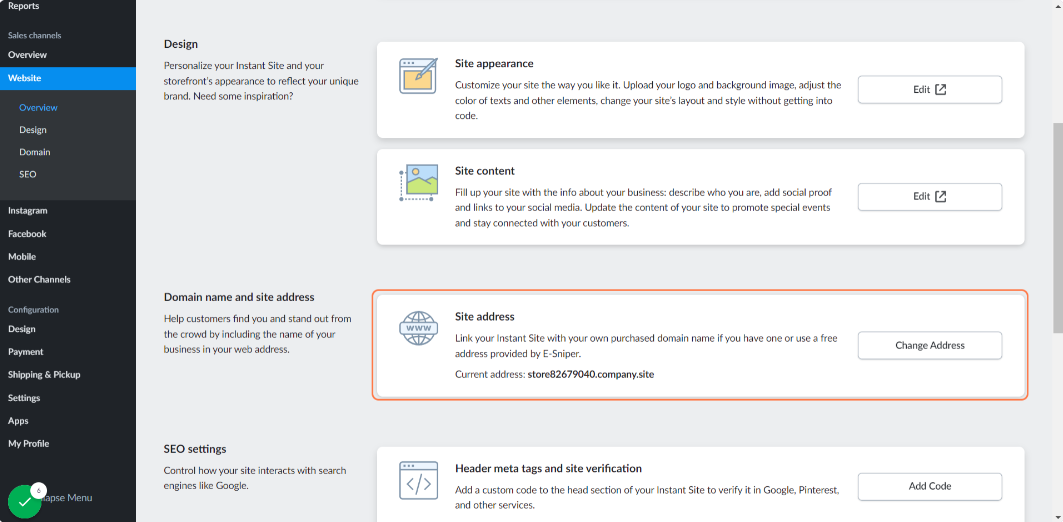 In this section, you can link your dropshipping store with your purchased domain( if you have one).
However, If you don't have your own domain, you can use the basic subdomain for your store. For example, flowercorner.company.site or mystore.company.site.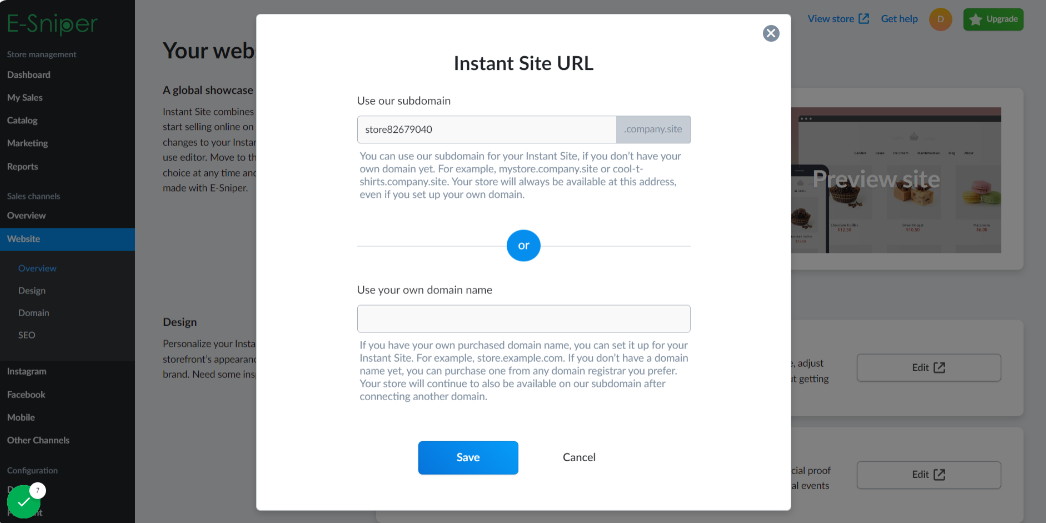 Thanks to this feature you can see how your dropshipping store interacts with search engines like Google.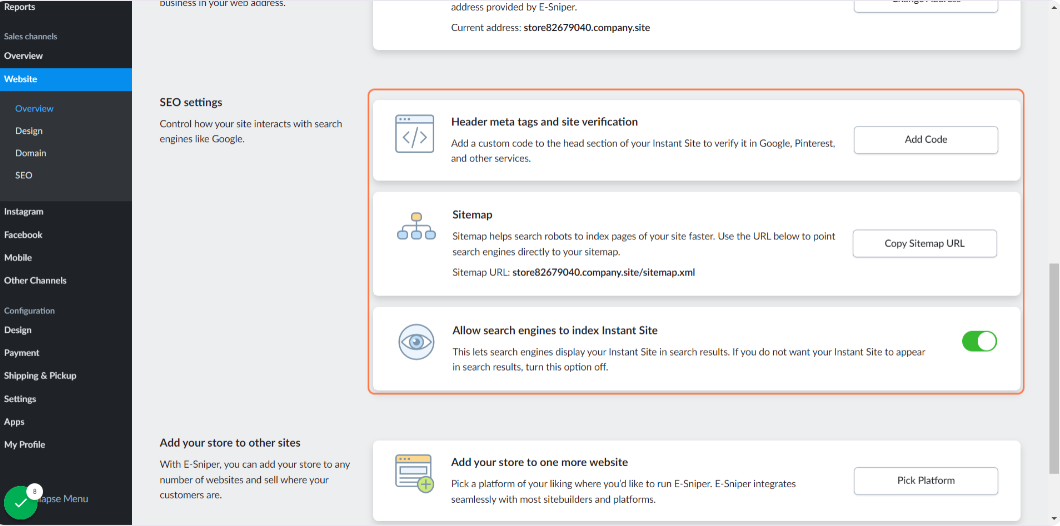 So, here you can add header meta tags, and verify your site on Google, Pinterest, etc. Also, you can generate your Sitemap URL with only one click, and you can enable/disable search engine indexing of your dropshipping store.
Add your store to other sites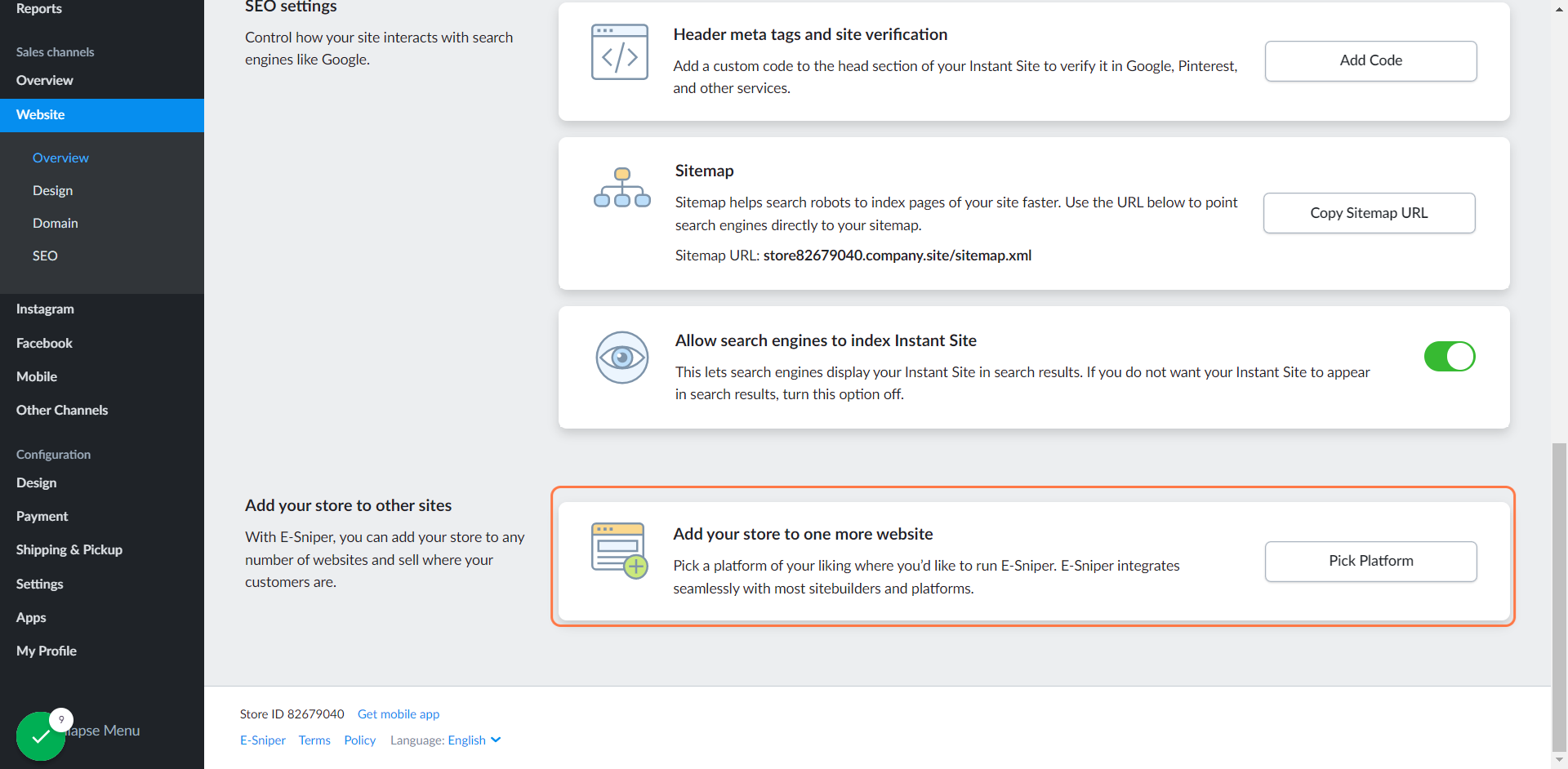 With this feature, you can integrate your store with many site builders and platforms, and sell there. Thus, you can connect it to Facebook, Instagram, Facebook Messenger, other platforms, and site builders. Besides, it only takes a few clicks.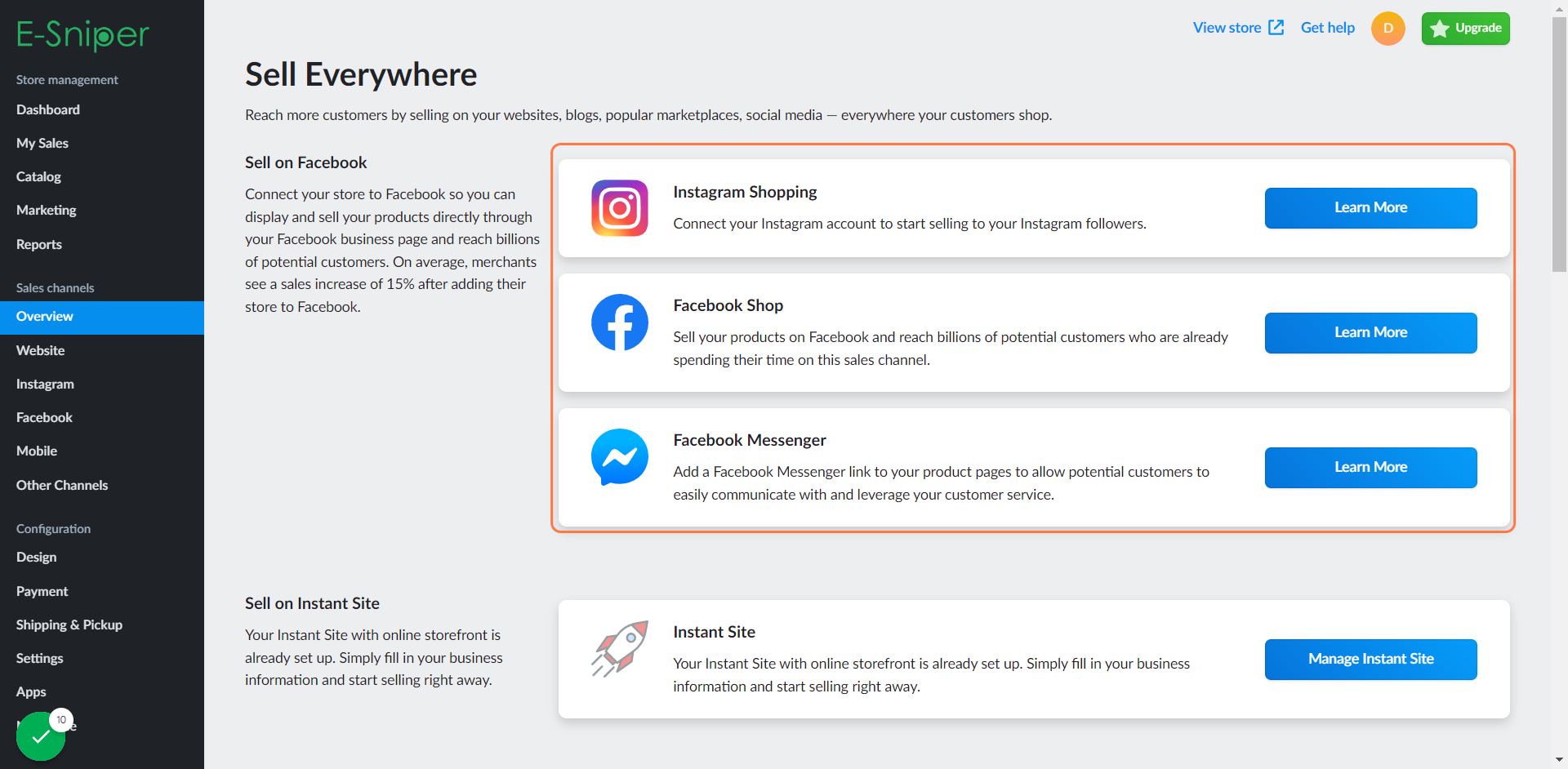 Furthermore, you can sell on various marketplaces like Google Shopping, eBay, Amazon, Square, etc.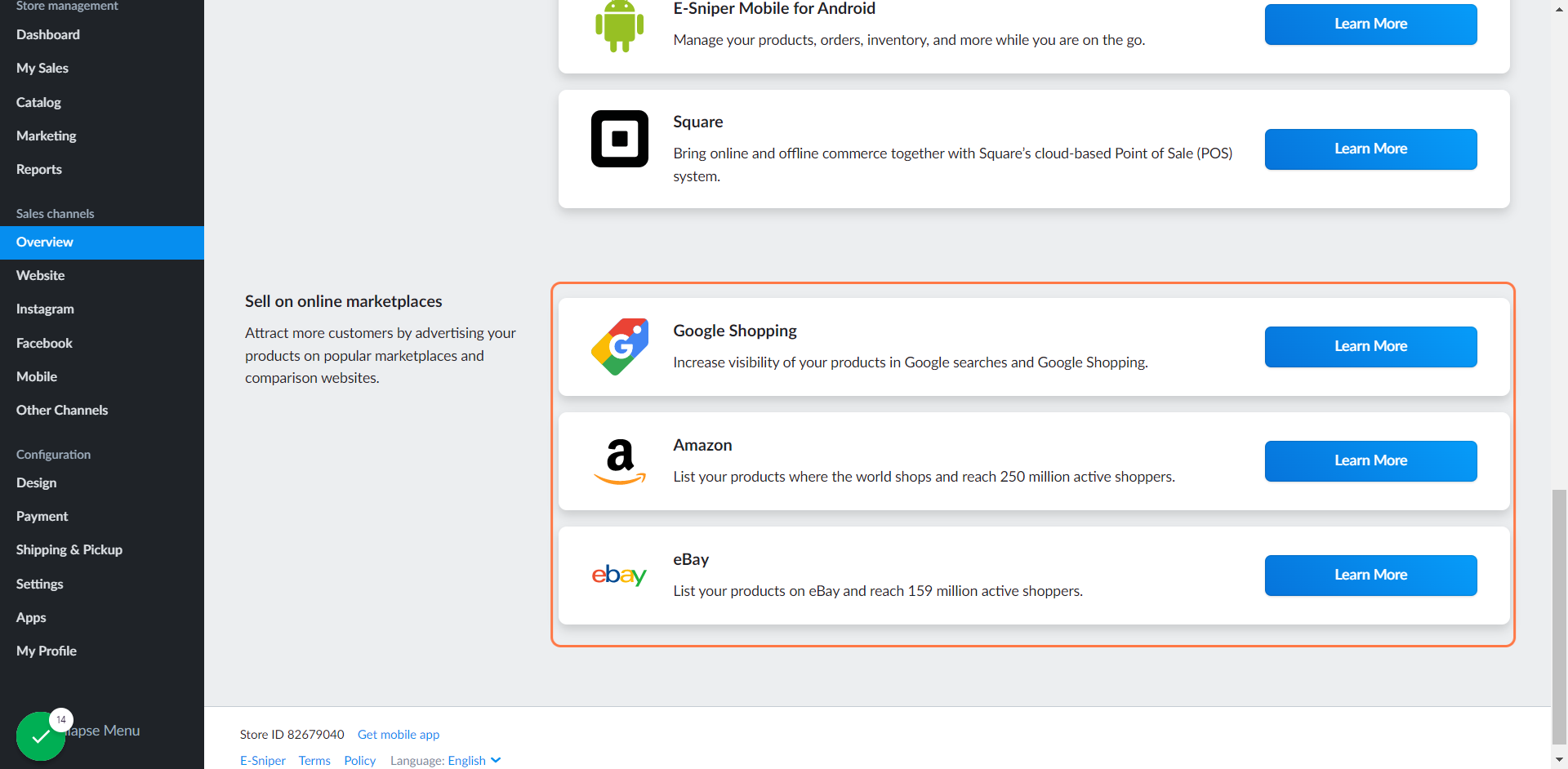 Furthermore, you can Create a Buy Button in only three steps:
Step 1: Select a product
Step 2: Select Layout
Step 3: Copy the integration code to your site
🔸 Configuration
⏩ Next, once we finished setting up the Sales Channels and the Website, we can now proceed to Configuration -> Design Section, from the left sidebar.
And, here we go step-by-step!
First, you can choose the product image size. You can set them as Large, medium, and small images by simply clicking on the option you prefer. Then, click on the product image preview. 👇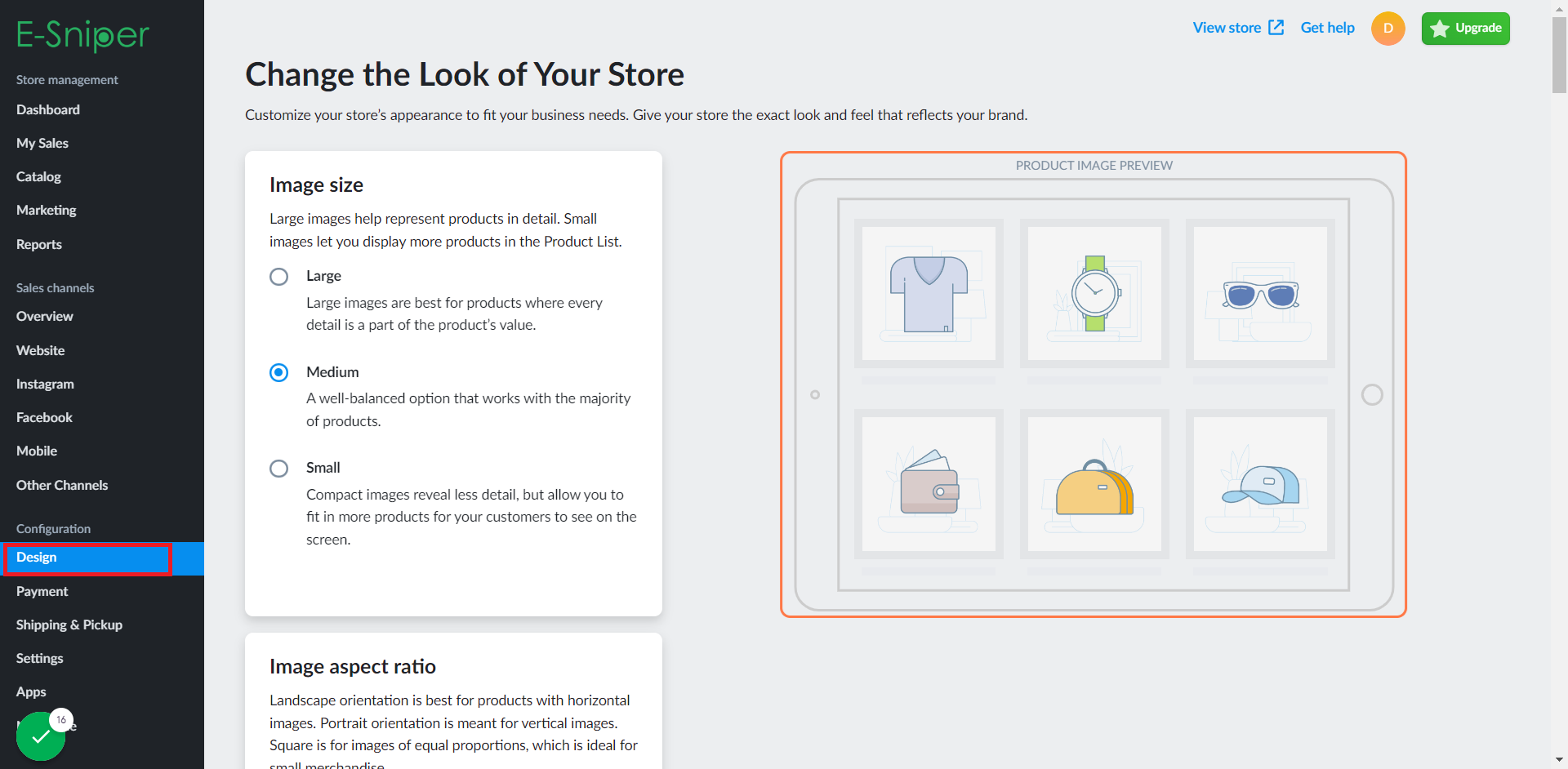 Next, you should set the image aspect ratio. Here you have various options, like Square, Landscape, Portrait, dark image background, etc.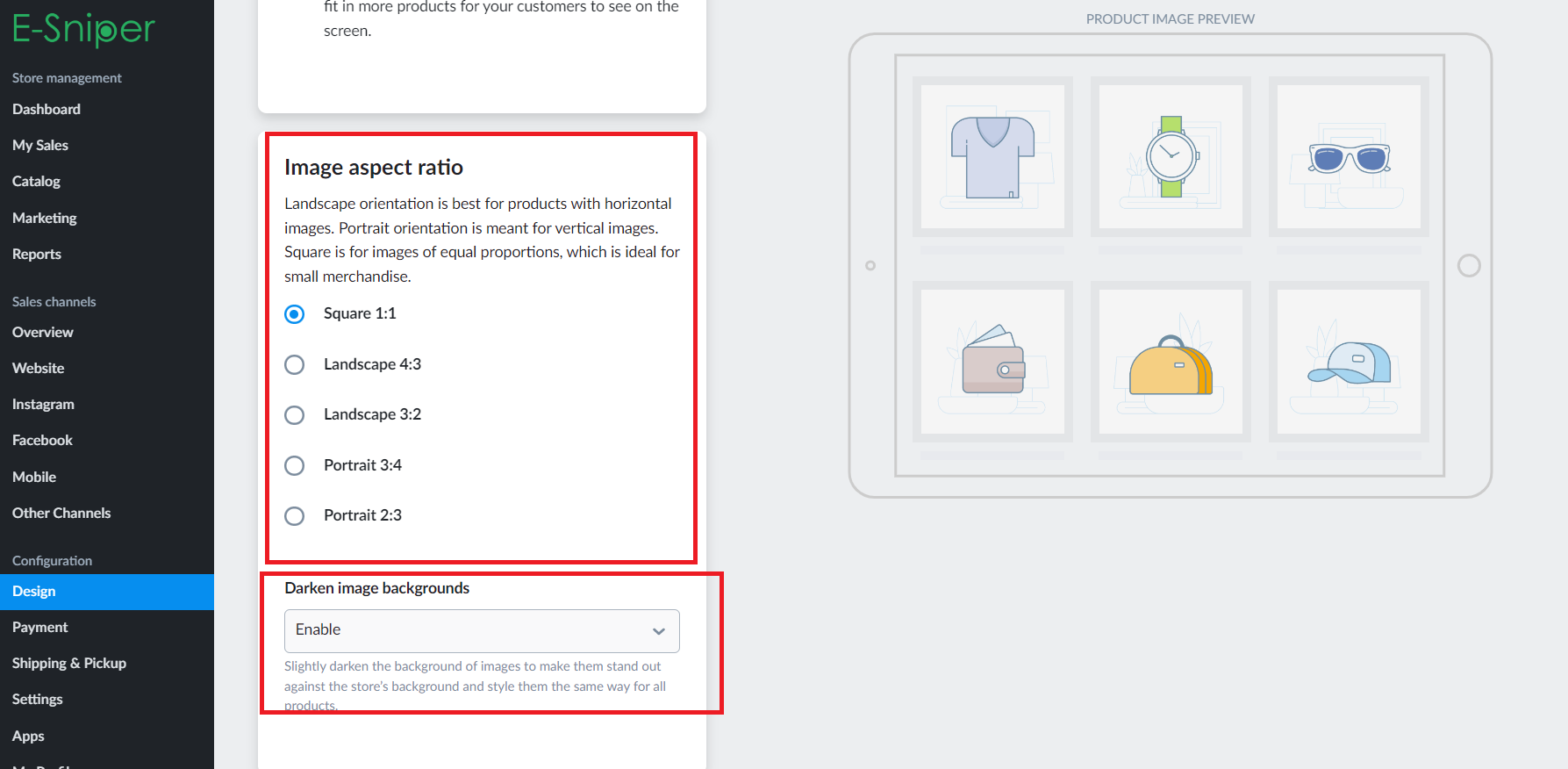 Consequently, you can also set the:
Product Card details and layout – choose how to position the product card, whether on the center, on the left, or on the right, or choose to justify alignment. Then, select a frame, product name, subtitle, etc.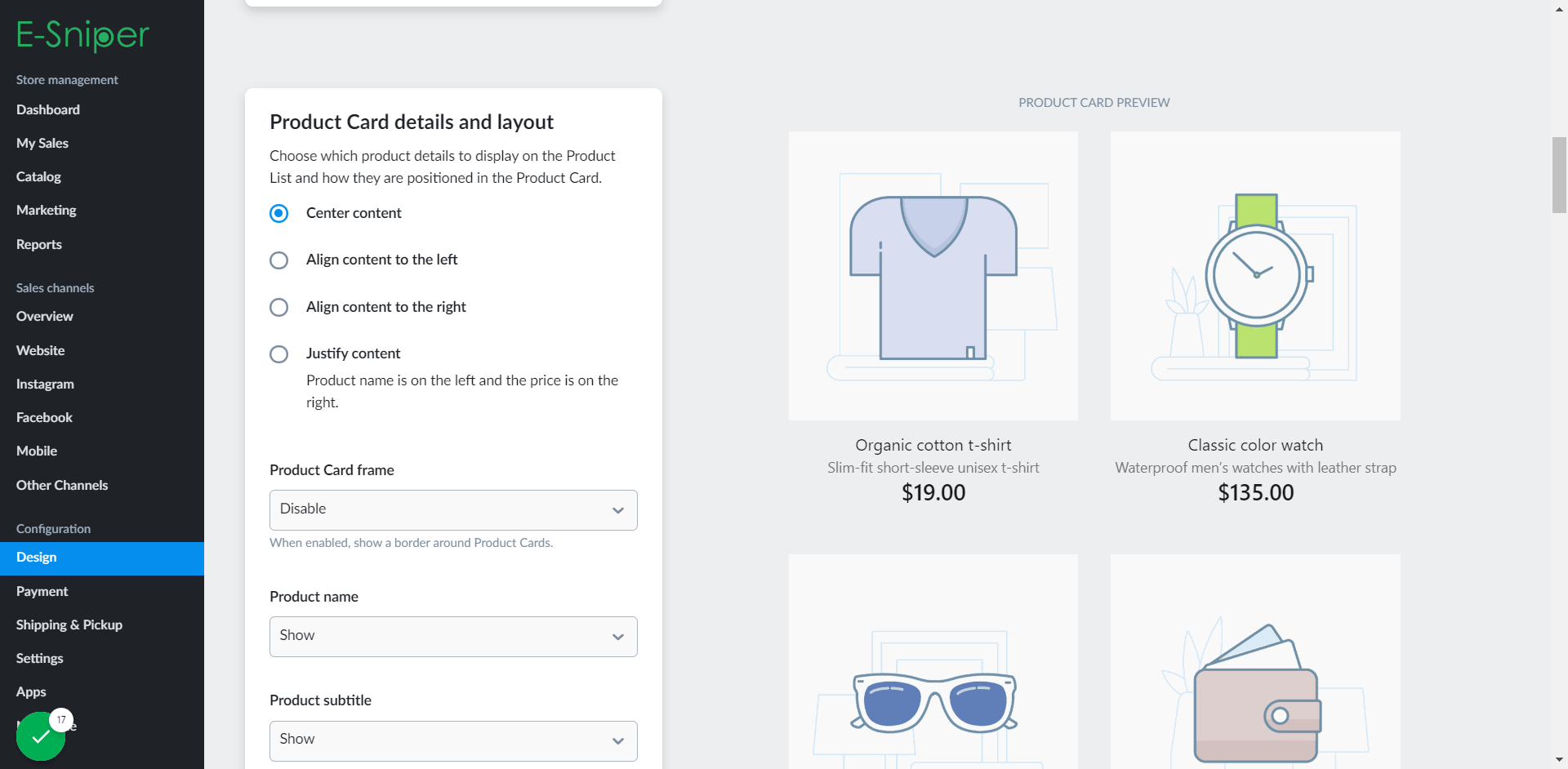 Category name position – on the image, below the image, or name on mouse hover.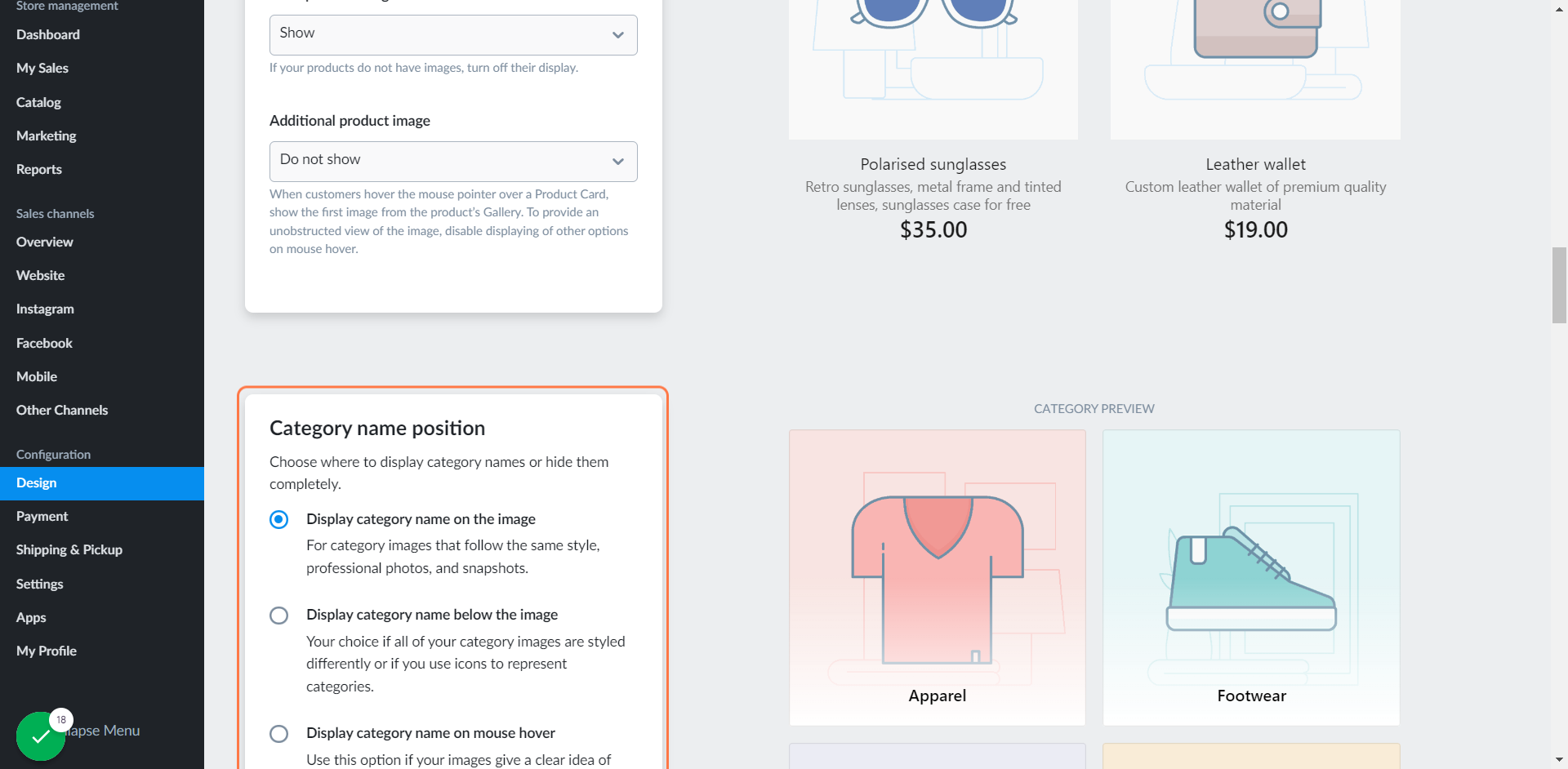 Product Page layout – You can choose the layout for the information displayed on the product's page, and you can select the number of columns in which you want the content to be placed.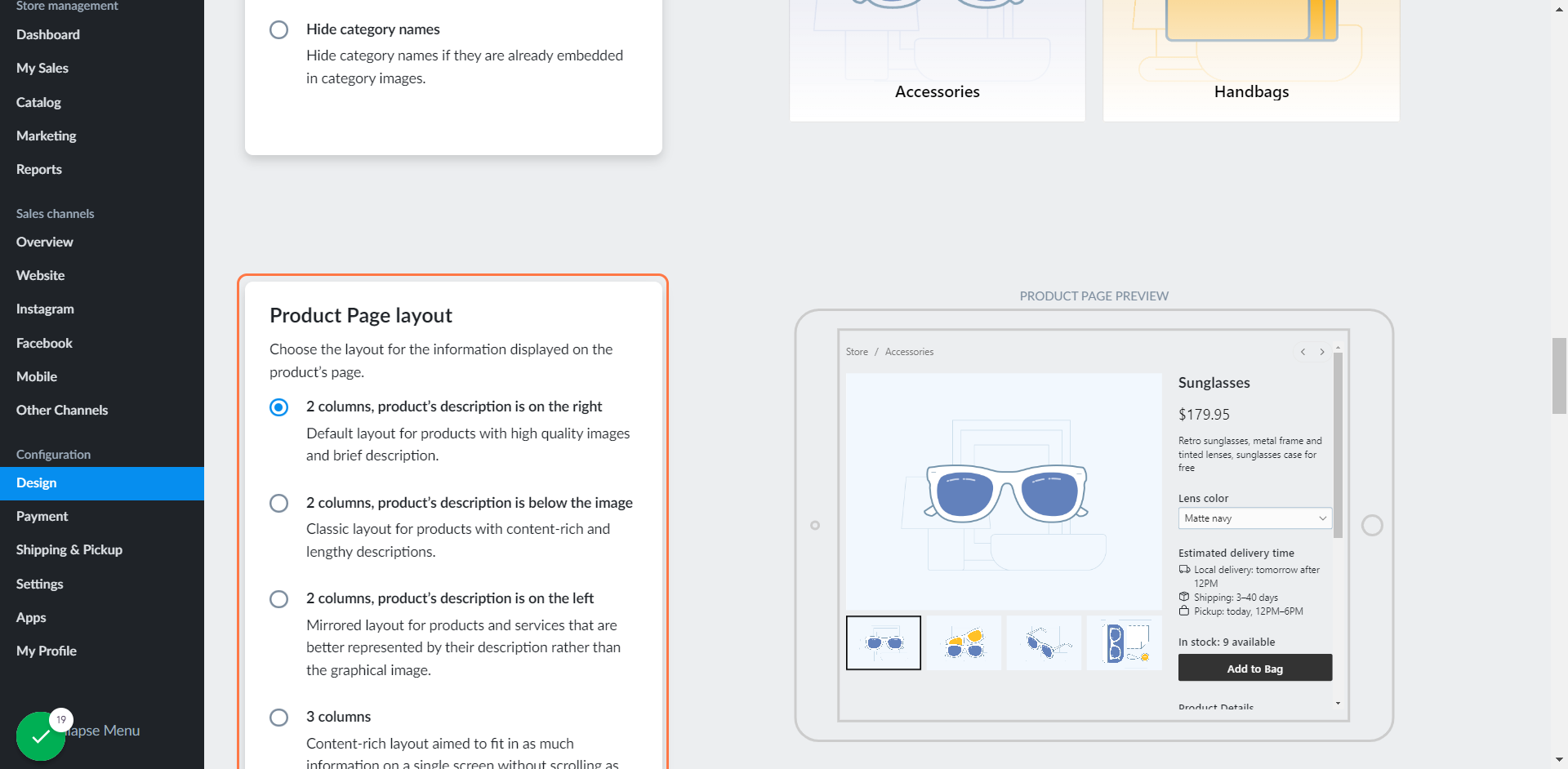 Navigation – you can make your website navigation better thanks to this feature. So make sure you add breadcrumbs, previous and next buttons, etc.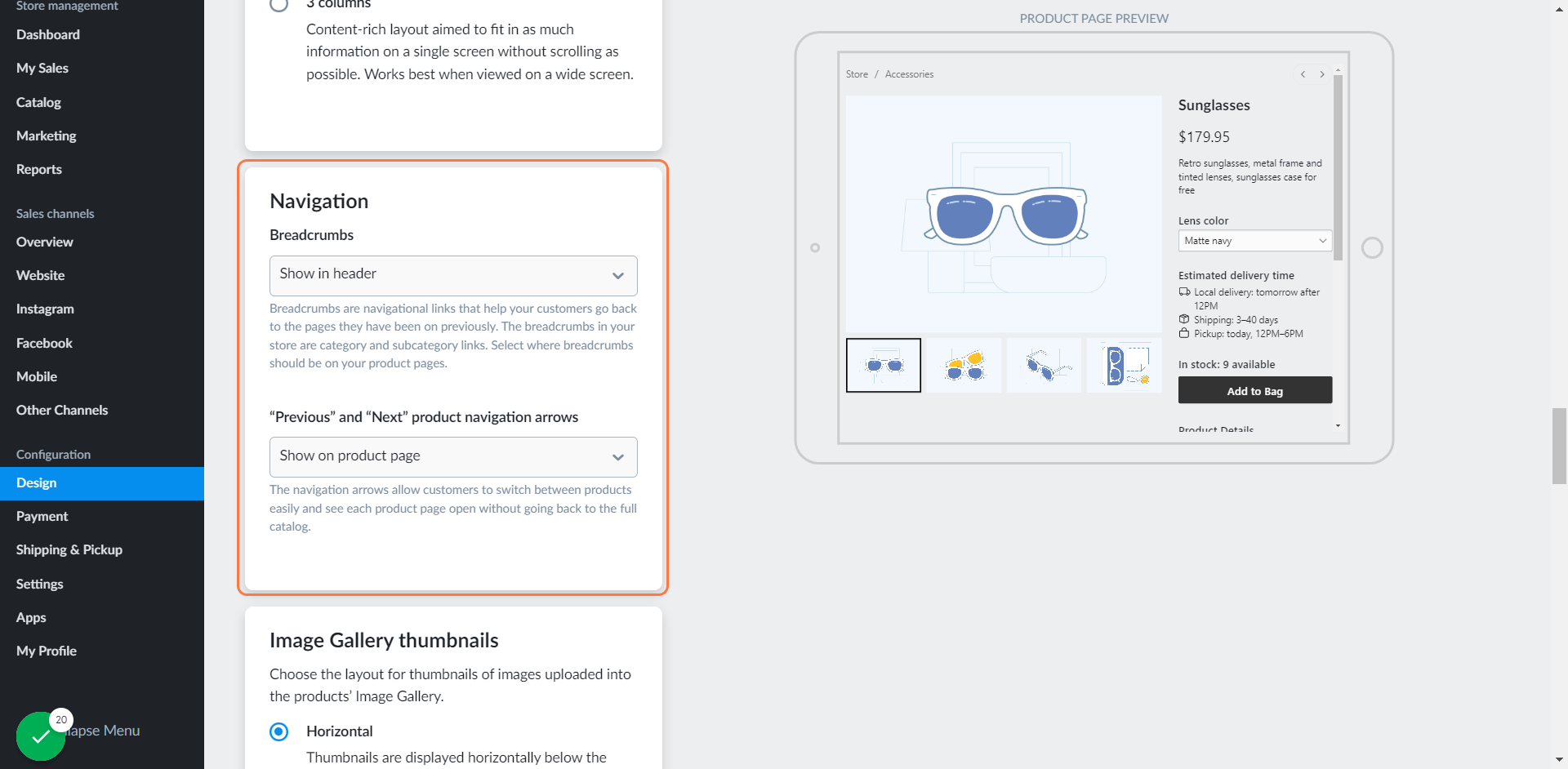 Image Gallery thumbnails – here you can select the layout for thumbnails of images uploaded into the products' Image Gallery.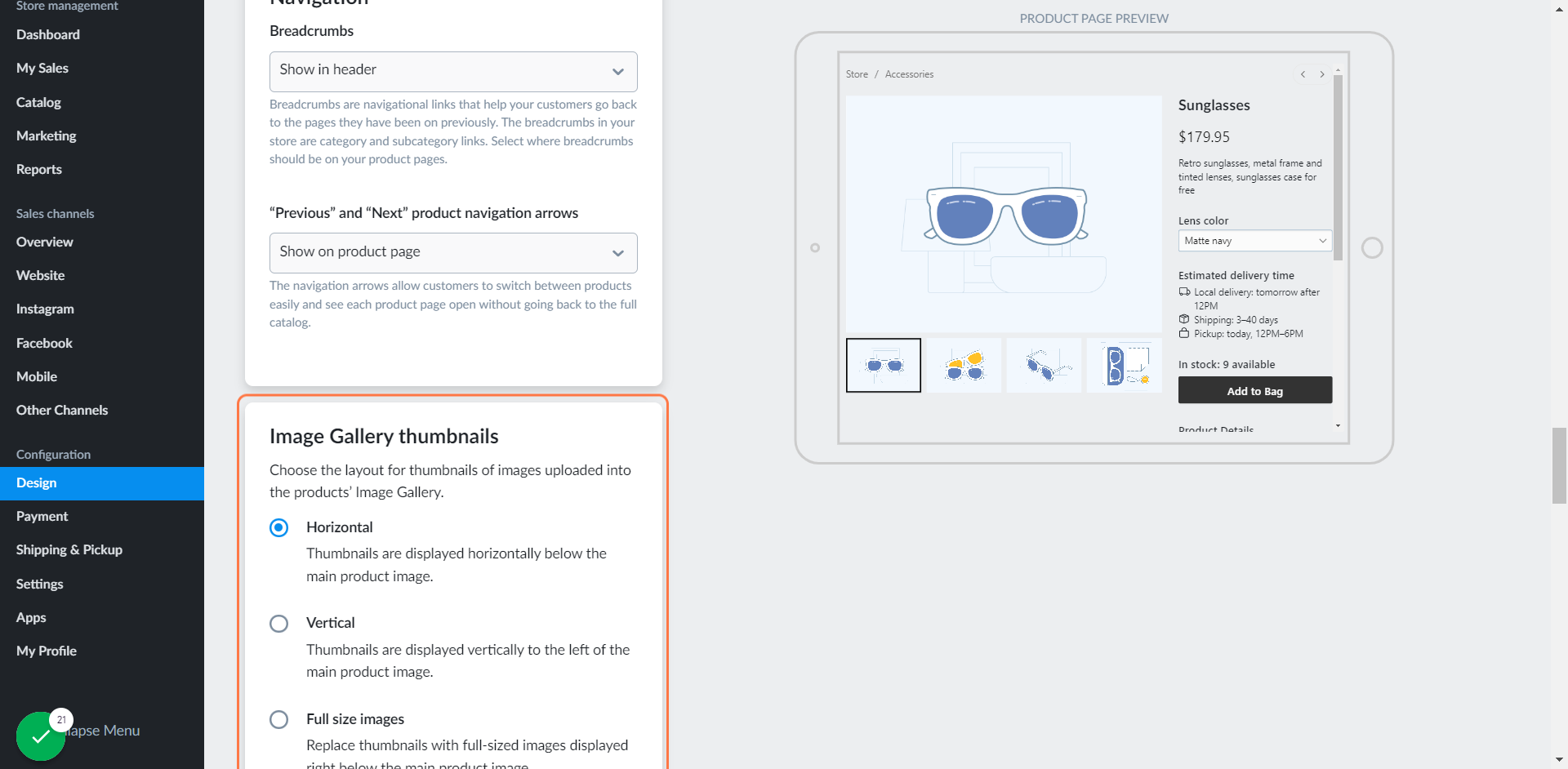 Sidebar – Thanks to their Drag and drop option, You can easily replace the items ordered and change their appearance in the sidebar. Also, you can add additional buttons like the Share button, Favorites, and more.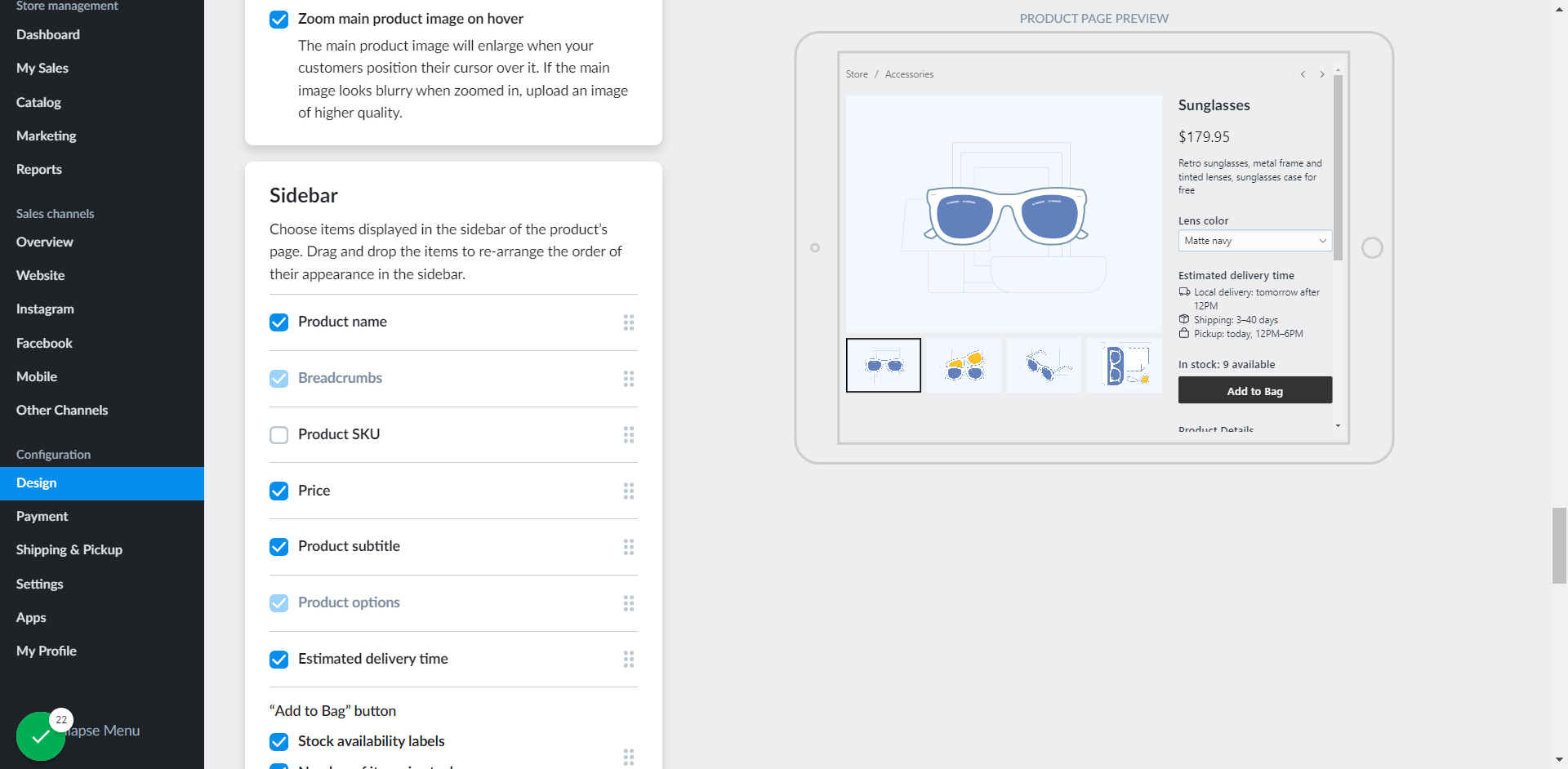 Storefront navigation & colors – This feature selects which navigational and sorting options are available when browsing your store. So, you can select the category view ( Collapse or Expand), and the Color adaptation which will automatically repaint your store to match the colors of your website. Next, you can set the footer menu, "sign in" link, and "sort by" option.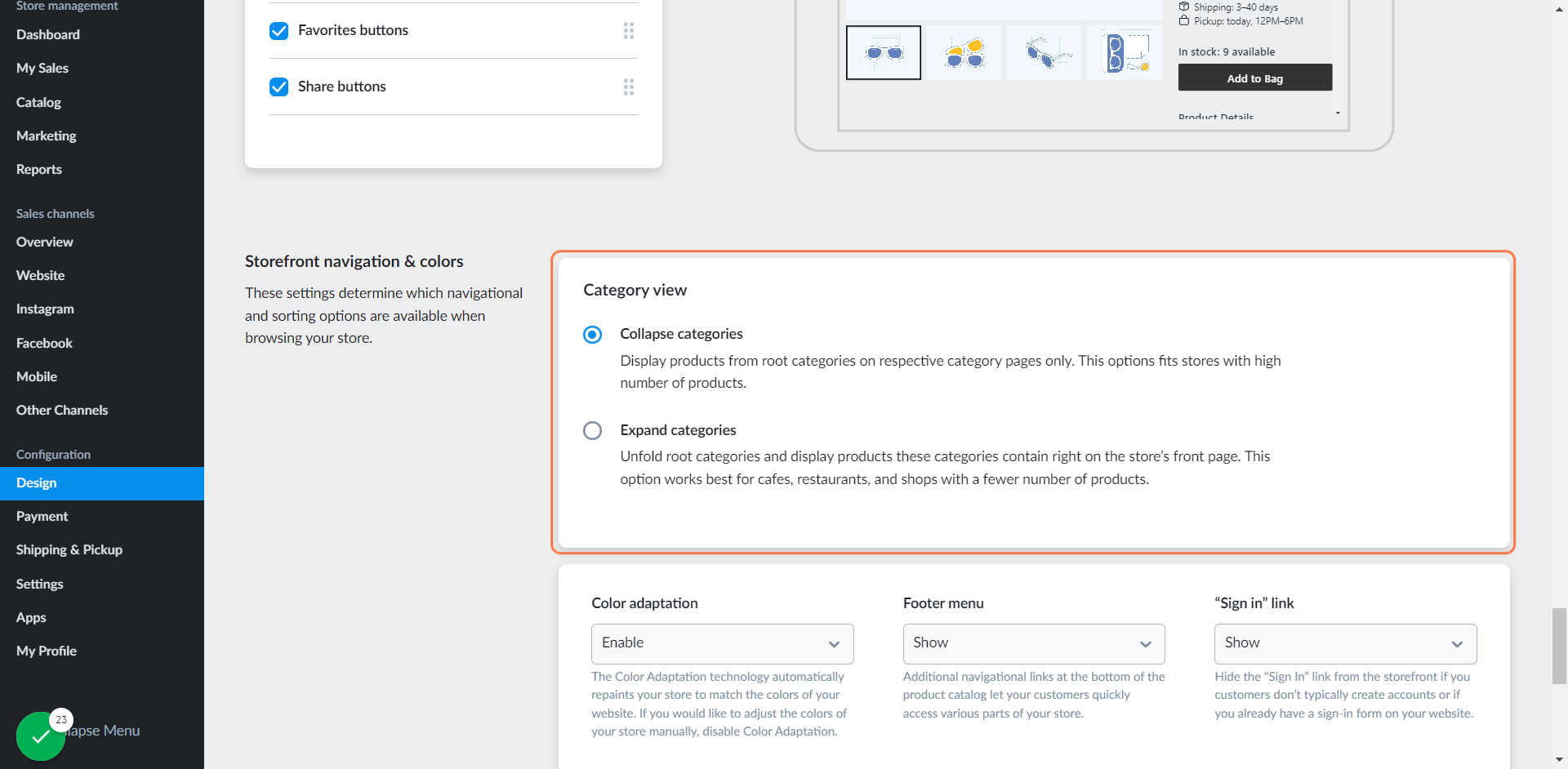 Lastly, set the Edit, Customize, or Create your own theme. With this feature, you can add a completely new CSS theme. But, keep in mind that only one custom theme can be active at the same time.
⏩ Next Configuration -> Payment. E-sniper also enables you to choose a payment method from their Ecom Platform. So, here you have two options to choose from :
👉 Stripe – a powerful payment processor that provides a seamless checkout experience, various payment options, and fraud protection.
👉 Square – offers a fast and secure way to accept payments online and in person, and flexible payout options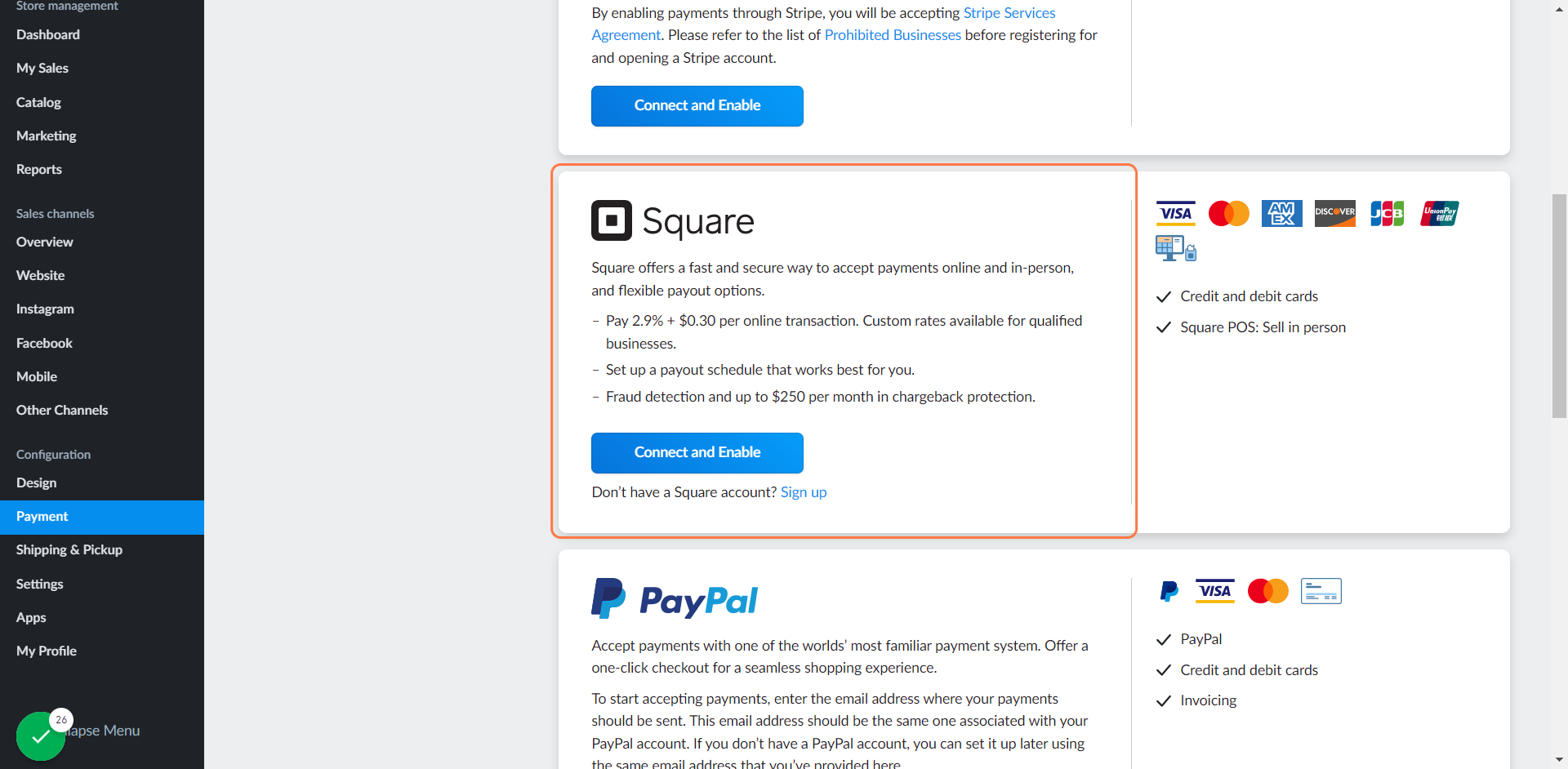 👉 PayPal – offers a one-click checkout for a seamless shopping experience.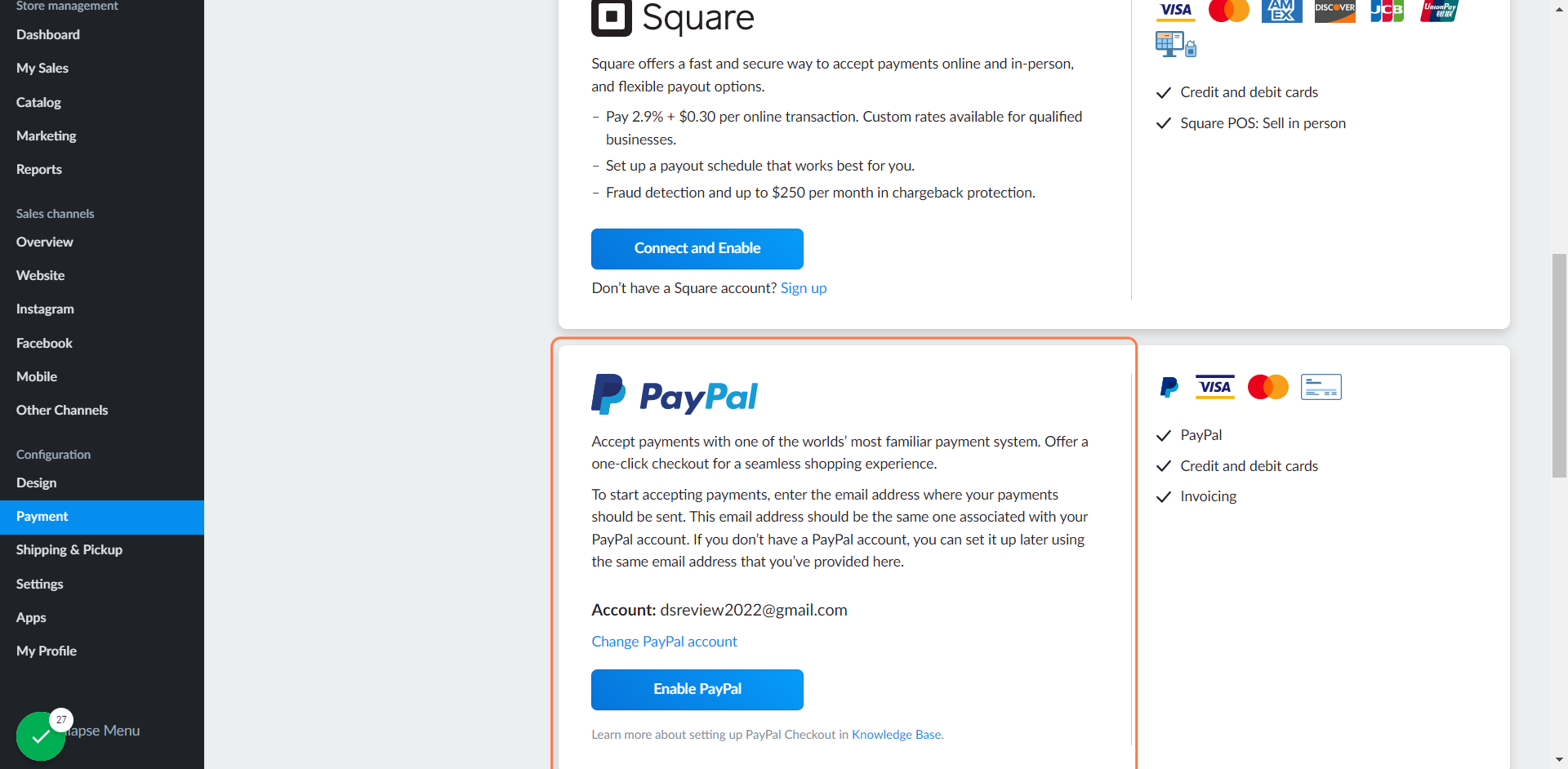 Furthermore, you can choose payment methods manually, add more options to accept online payments in the USA, or choose payment alternatives from their list (there are 100+ on their list)
⏩ Subsequently, we have the Shipping & Pickup Section. Here you can add Shipping, Delivery, and Pickup options. 👇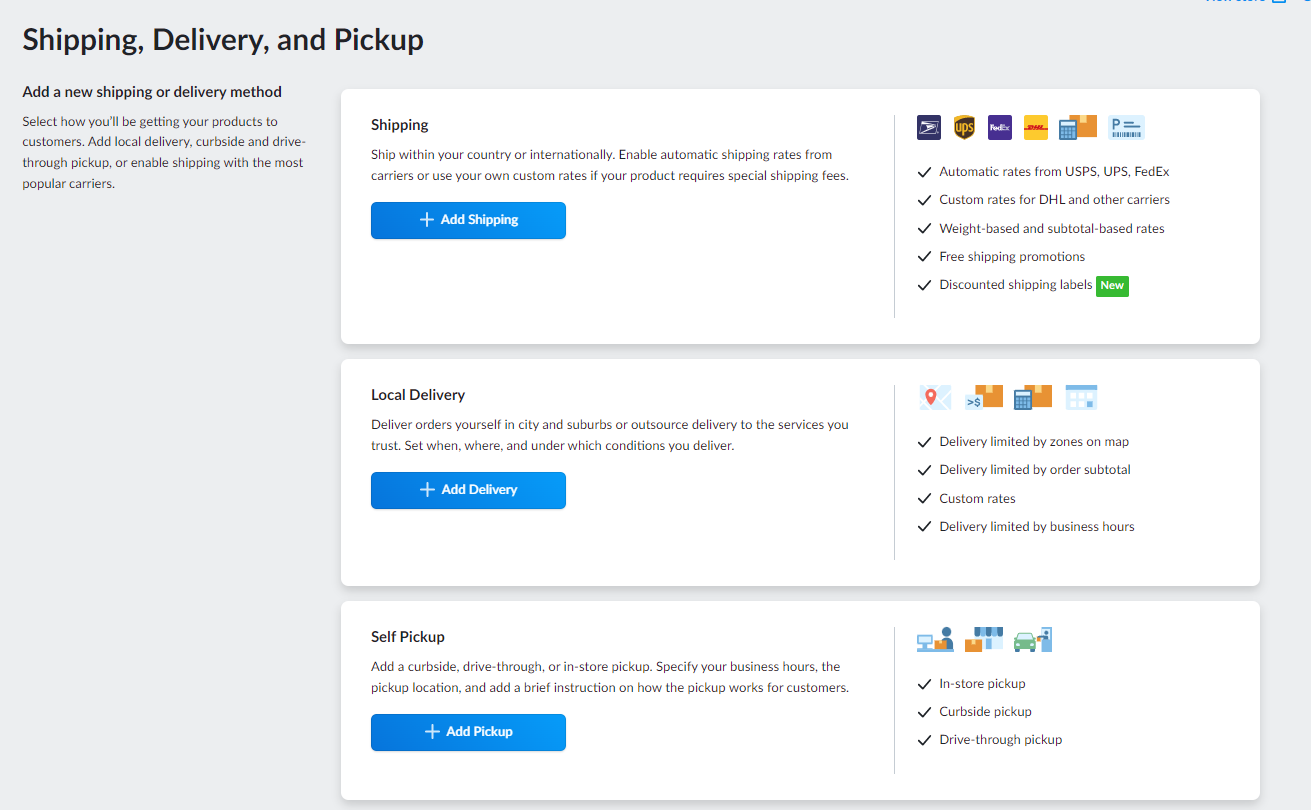 For instance, if you click on +Add Shipping, you can set up how you want your goods to be shipped, and your desired rates and you will get a fill-out form for shipping. So, it is a very simple 3-step procedure.
⏩ Next, this E-sniper Ecom Platform has an app market. You can look into apps according to Free, Featured, or recommended apps. Moreover, you can search for it on your own.
Also, you can browse apps for various purposes, like Marketing, Store Design, Dropshipping, Accounting, and more. Take a look. 👇
Not to mention that this is an all-in-one Ecom Platform. So, here you can also customize your invoice, check taxes, legal settings, and more.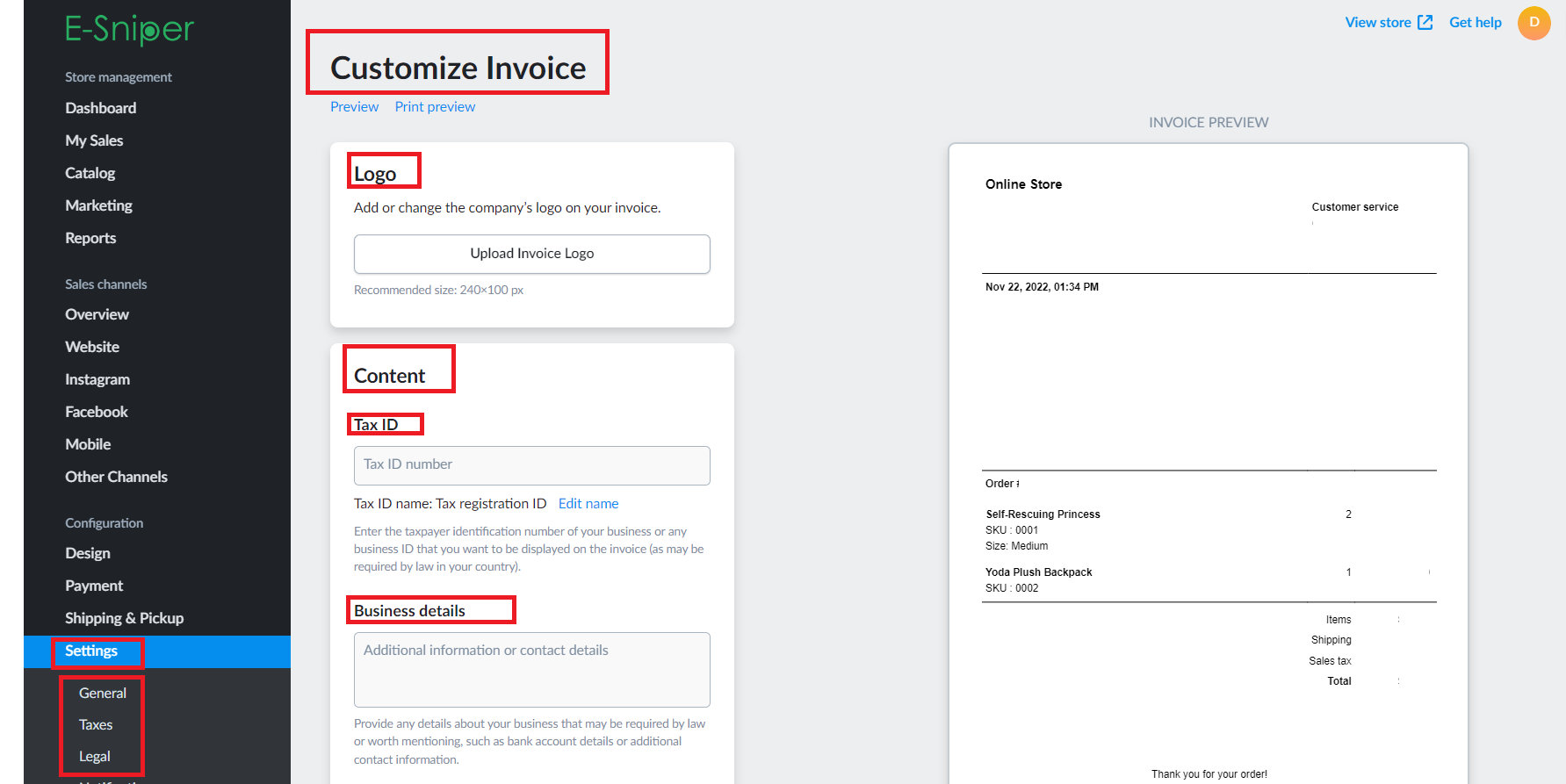 🔸 Store Management
Last, let's get to the start of our sidebar. The store management includes Marketing activities, Managing Sales, Catalog, and Reports.
As a matter of fact, Marketing is of great importance. And here's what E-sniper provides for you.
You can get more traffic by advertising across Google, and selling on Facebook with only one click. For example, if you want to advertise across Google, you simply click Get started -> Enable, and there you go!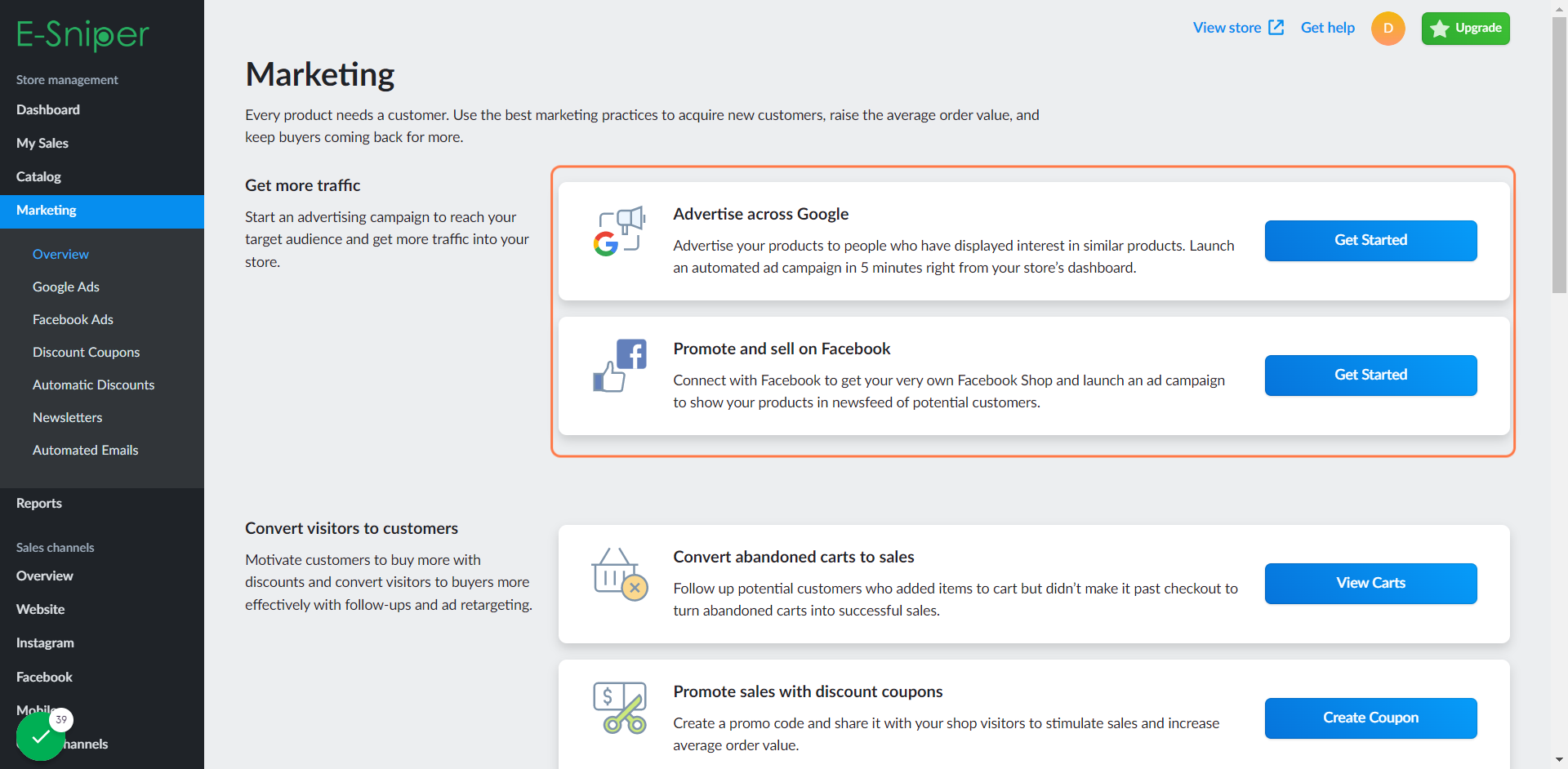 You are able to convert visitors to customers, by creating coupons, and discounts, converting abandoned cards, etc.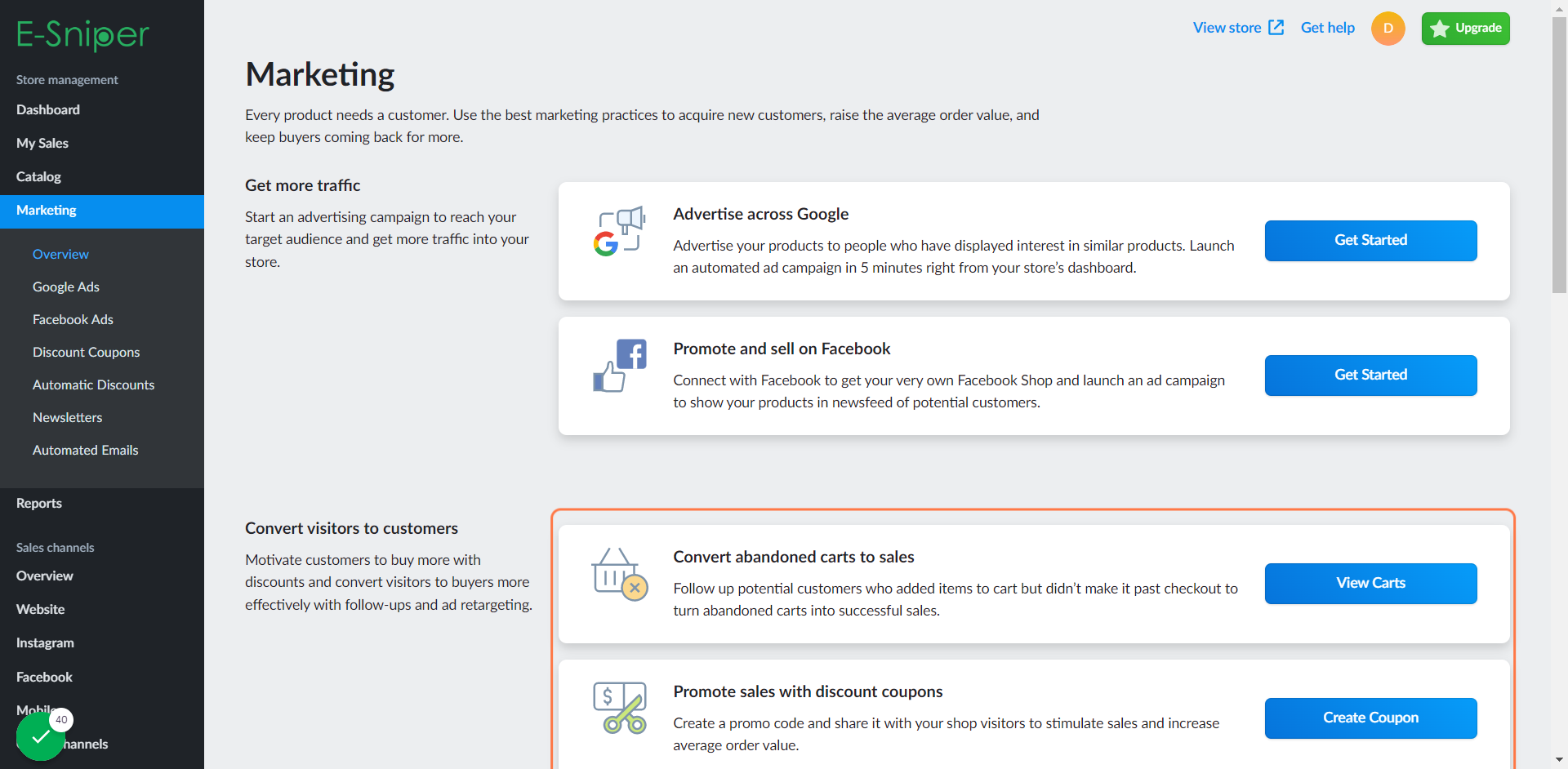 More importantly, you can engage past customers to build loyalty and have them return as repeat buyers.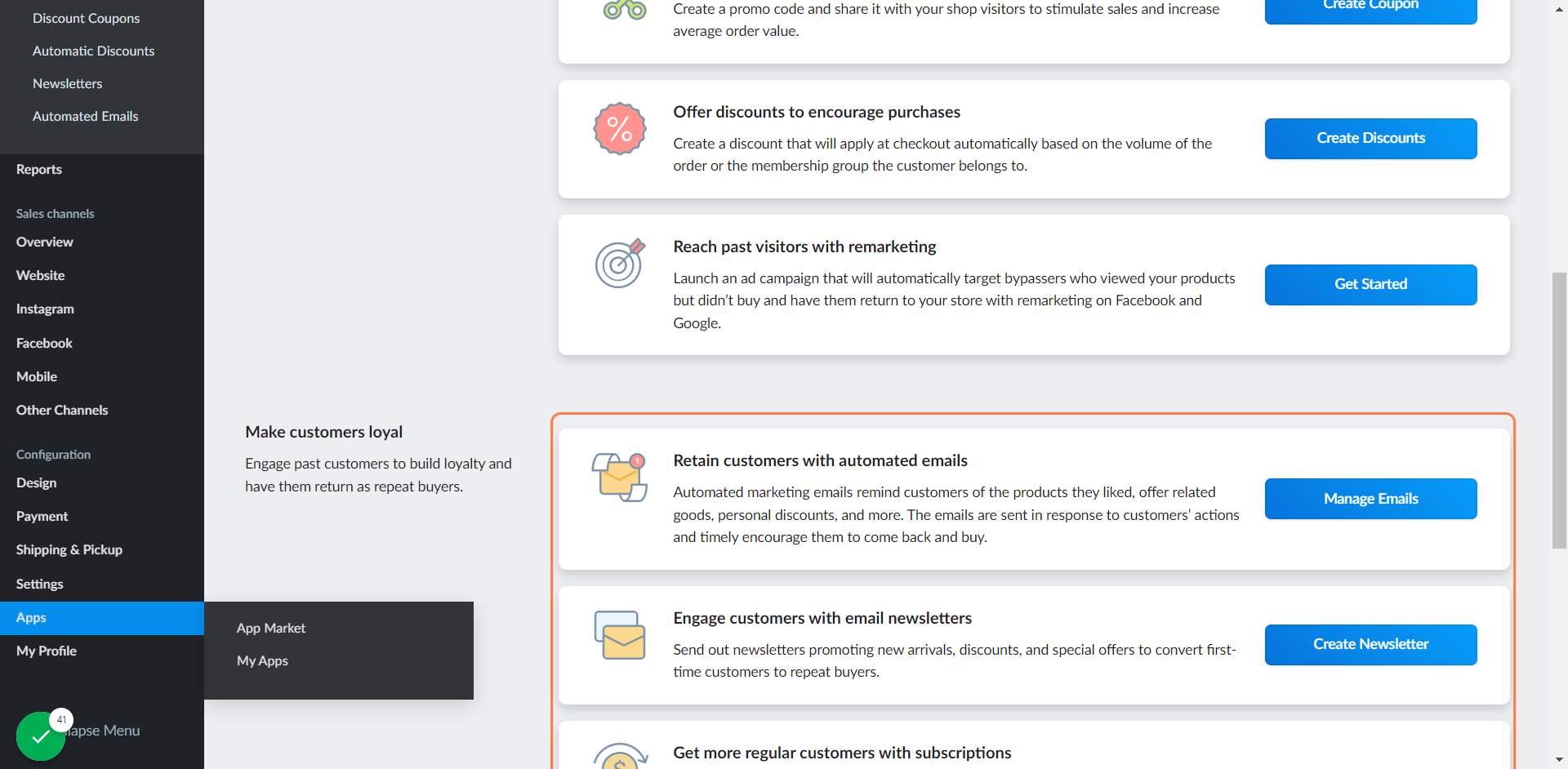 And last, you can always analyze your performance. For example, E-sniper enables you to get to know your customers with Google Analytics.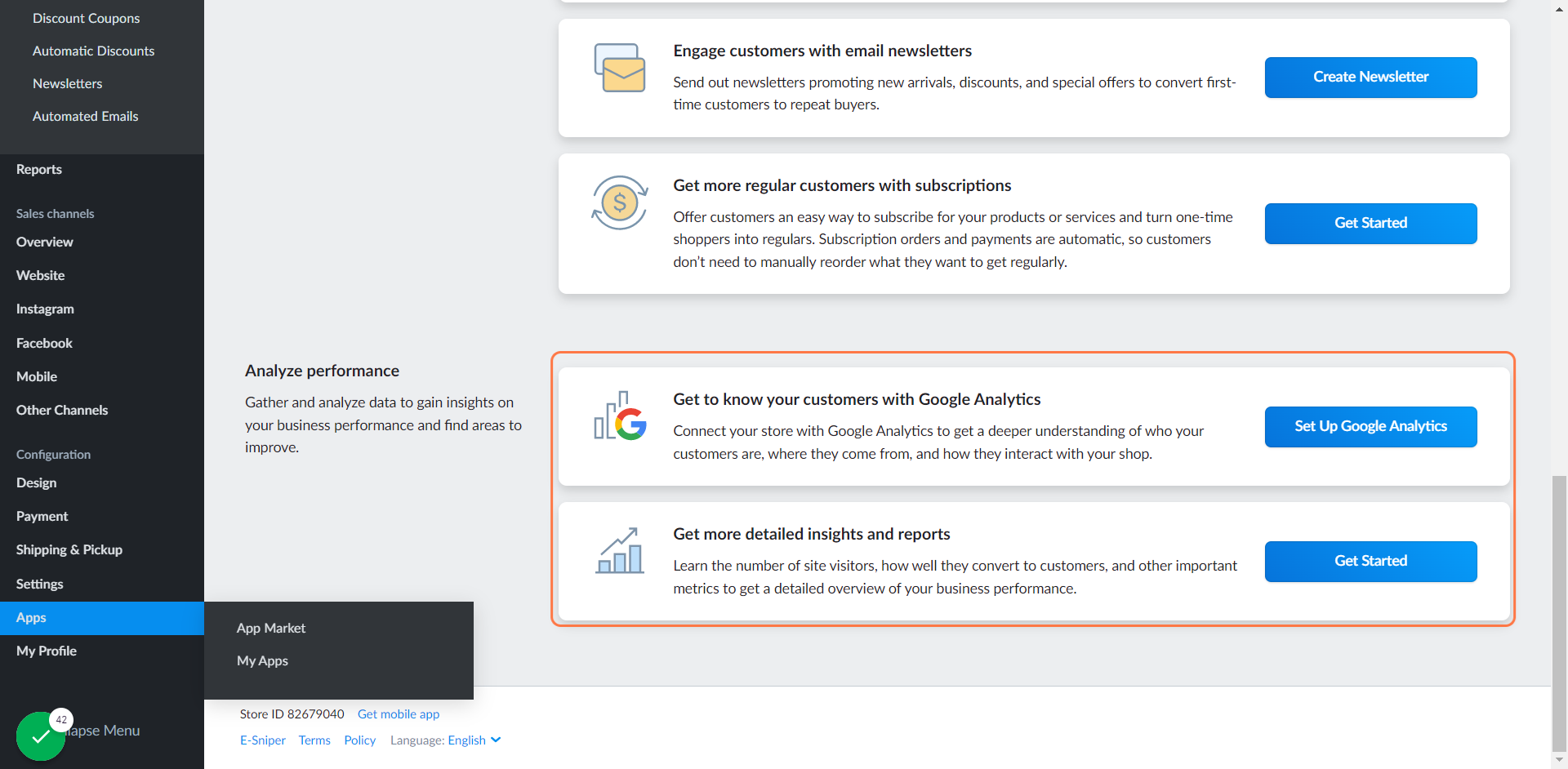 ⏩ Lastly, the Catalog Section helps you manage your products, add a new product, create a bulk, etc.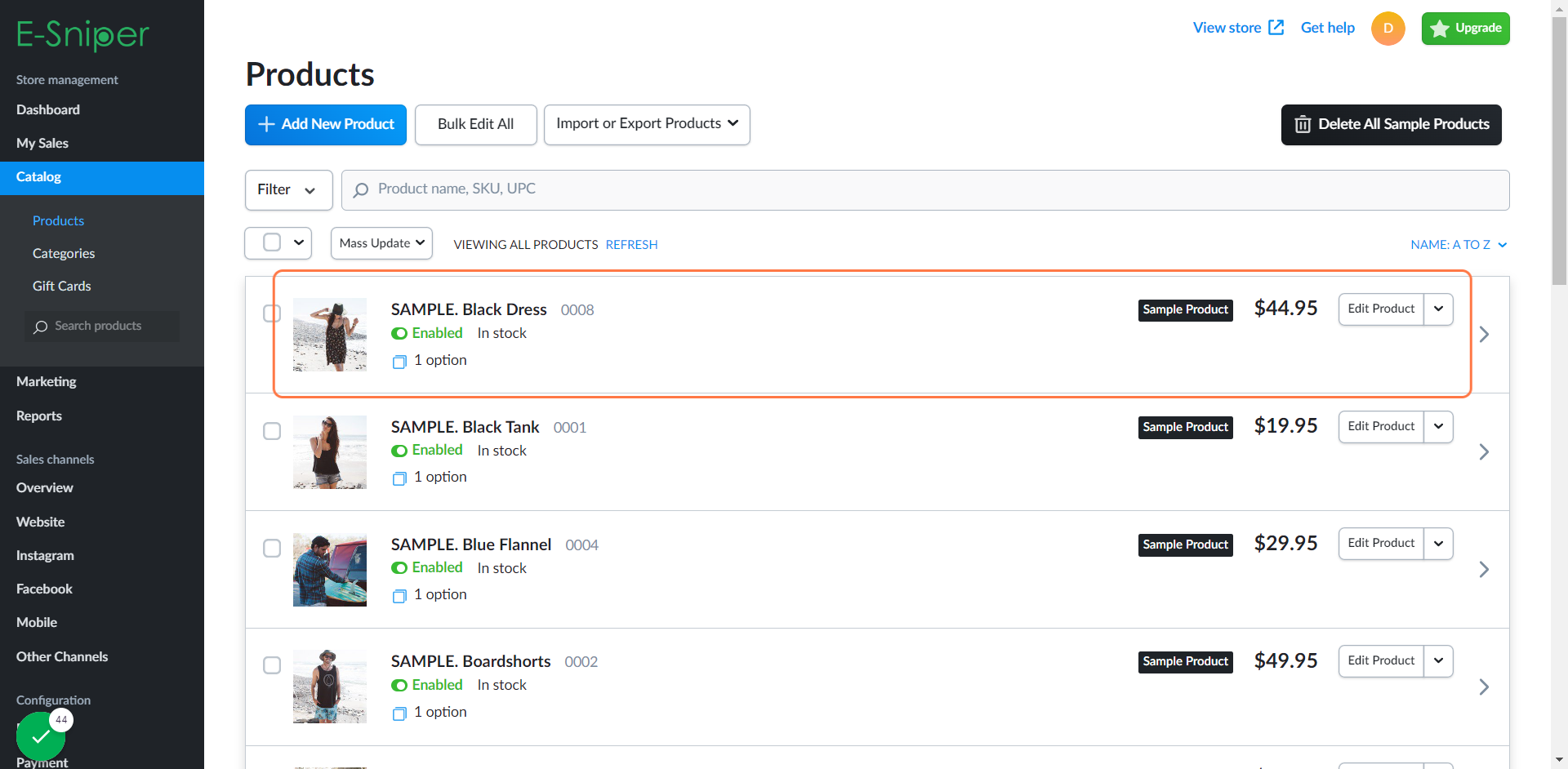 As we promised, this is a very detailed step-by-step E-sniper review. So, if you are willing to start dropshipping with E-sniper, you should pay close attention.
However, don't leave the extensive E-sniper review of features without reading this:
IMPORTANT: Here are some bullet points to highlight regarding the Ecwid integration:
The cost of the Ecwid store is included with the E-Sniper subscription. There is no additional cost for the Ecwid site. A user has access to their Ecwid site right away when starting their trial period, however until a successful payment for an E-Sniper subscription plan is complete your account's store will be on a "Free Demo" which allows you to add products and design your store, but not process orders. Once your first E-Sniper subscription payment is received the store is upgraded to a "Venture Plan" which allows you to set up your payment options for your store and process orders.
Users can assign a custom domain name to their store.
Users can easily connect to Google and Instagram shopping to list, advertise, and sell products on some of the internet's largest marketplaces.
Users can connect their store to Facebook messenger so that browsing customers can reach out to store administrators and administrators can provide those customers with attentive service.
Users have the option of downloading the "My E-Store" App and managing their store on the go with their mobile devices.
E-sniper Pricing
Talking about pricing in the E-sniper review is inevitable. This dropshipping tool offers only one pricing plan that costs $29, which includes:
AliSniper – Unlimited Searches
InstaSniper – Instant Sales
ViralSniper – Viral Products
Furthermore, thanks to their NEW feature – the eCommerce platform, you can now build and customize your dropshipping store as well.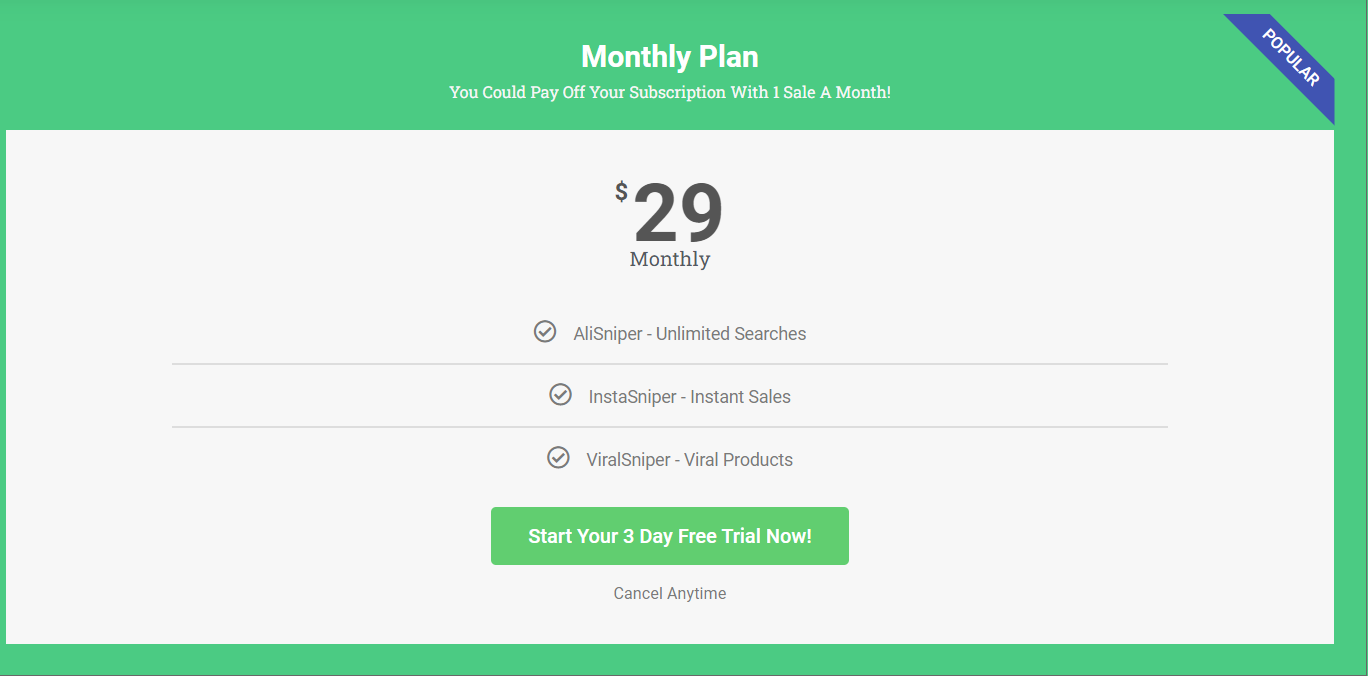 In fact, with only one sale you are able to pay your monthly $29 subscription.
What's more, you can start your E-sniper free 3-day trial.
However, all these features for only $29/month is a really cost-effective opportunity.
E-sniper Alternatives
Next in our E-Sniper review are its Alternatives. So, let's see if this dropshipping toolkit actually better and worth it.
Modalyst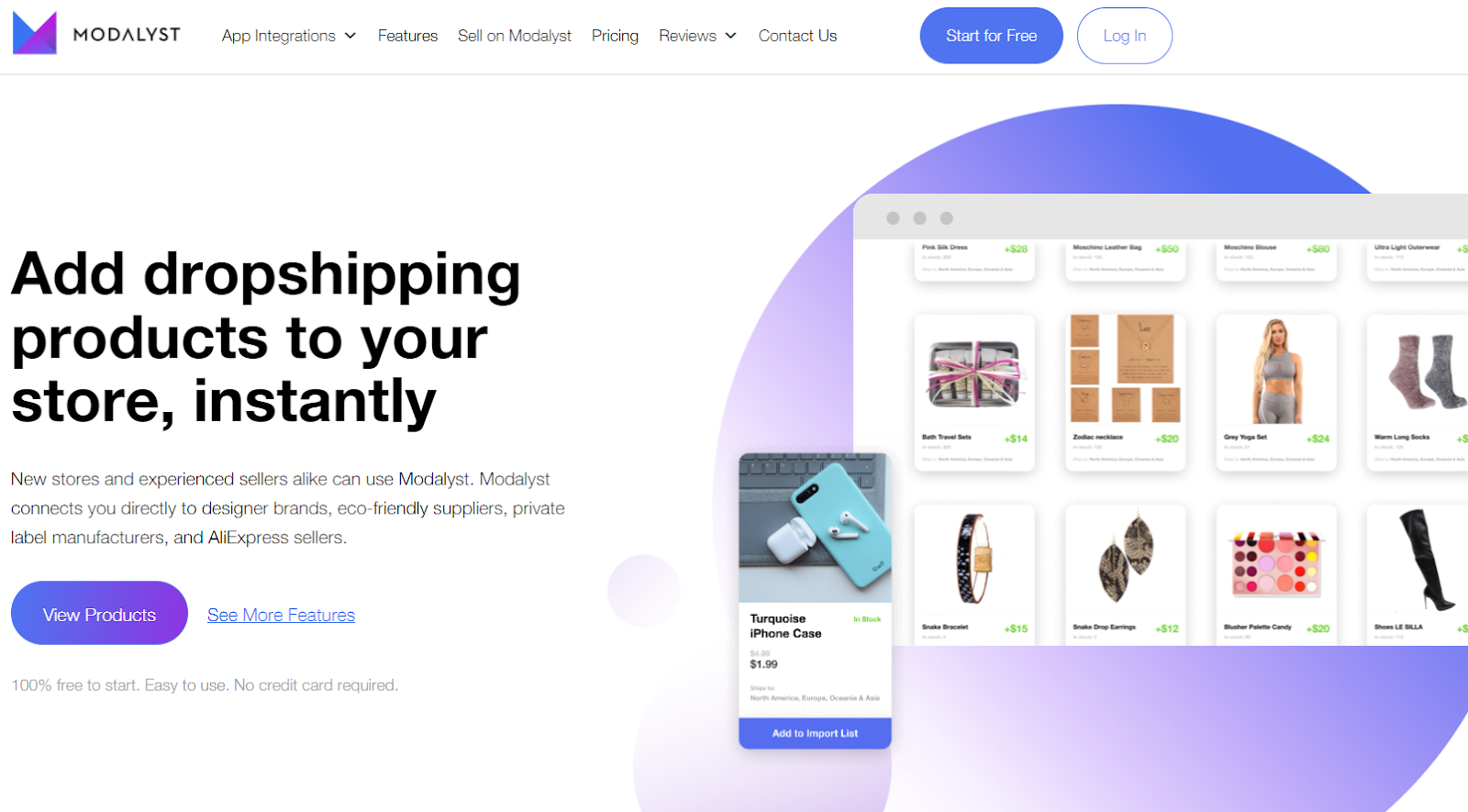 Modalyst enables dropshippers to quickly and easily import fantastic items into their stores.
Obviously, you may add items with a single click, update them in-depth, and connect with several top-notch dropshipping suppliers using the Modalyst app.
Even while that is its primary function, Modalyst has a lot more to offer:
Source from millions of products
Excellent product editor
Dropshipping order fulfillment
Chat with suppliers directly on the Modalyst app
Shipping status updates
Inventory updates
Intuitive profit calculator
Excellent order management
Integrated marketing tools
Payment processing
However, we must admit that E-sniper has all these features that Modalyst offer, and even has more to offer, which not only helps you with order fulfillment, inventory, and all the logistics but goes even further.
E-sniper dropshipping toolkit provides you with ad spy tools and social media platforms connection with only one click.
Also, E-sniper now enables dropshippers to build and customize their dropshipping store, through their eCommerce platform tool. This pushes them a way forward of Modalyst.
What's more, Modalyst costs $35 + 5% fee, which is a higher price than E-sniper.
Dropispy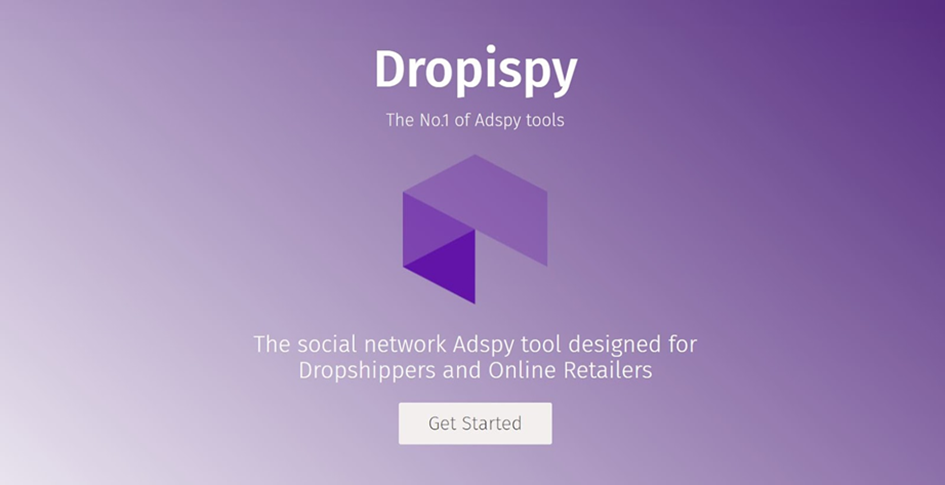 You can use Dropispy to find the winning product for you and the one that will increase your profits.
Similarly, it offers access to online advertising and gives them the finest ones, enabling them to develop a more effective and creative marketing plan.
Additionally, the Dropispy spy tool enables you to learn even the most detailed data about the popular items that your competitors are promoting.
And again, we can say that E-sniper has it all! Moreover, they also offer an eCommerce platform where you can build and customize your store and a variety of ad spy tools.
Consequently, both of the platforms start at $29, but E-sniper's value is greater since it offers website customization for the same price as well!
Adspy
It is a web-based ad spy tool that is frequently considered as the greatest online ad spy tool.
It offers you all the knowledge you need to succeed in your dropshipping business thanks to a large and comprehensive database. Thus, you have a variety of options for searching, filtering, and categorizing ads with this finest ad spy tool thanks to its various features.
But, let's start (or finish) with that – an Ad spy tool, and that is all you got here.
Evidently, E-sniper dropshipping toolkit is not just an ad spy tool like Adspy, but an all-in-one platform from where you can manage your dropshipping store, customize it, find winning products, find dropshipping suppliers, manage inventory and order fulfillment, and spy on competitors.
Also, not to mention that Adspy is a very expensive tool, and it is not suitable for everyone, especially not beginners.
E-sniper Review 2022: Pros and Cons
Before choosing the best platform for your dropshipping business, it's always important to check its pros and cons. Therefore, let us present to you the E-sniper pros and cons! 👇
To sum up, of course, there are Cons you should consider. But, this is also not something that should stop you from taking benefit from all the Pros E-sniper is known for.
For instance, reading the user guide is not that time-consuming, and sometimes you can benefit from it since you can learn new information that you thought you knew.
Is E-sniper Worth it?
Having that many helpful features for only $29, we cannot say that is not worth the money. Because it definitely is!
But, this is not just us talking. Thousands of customers' comments and reviews claim exactly the same.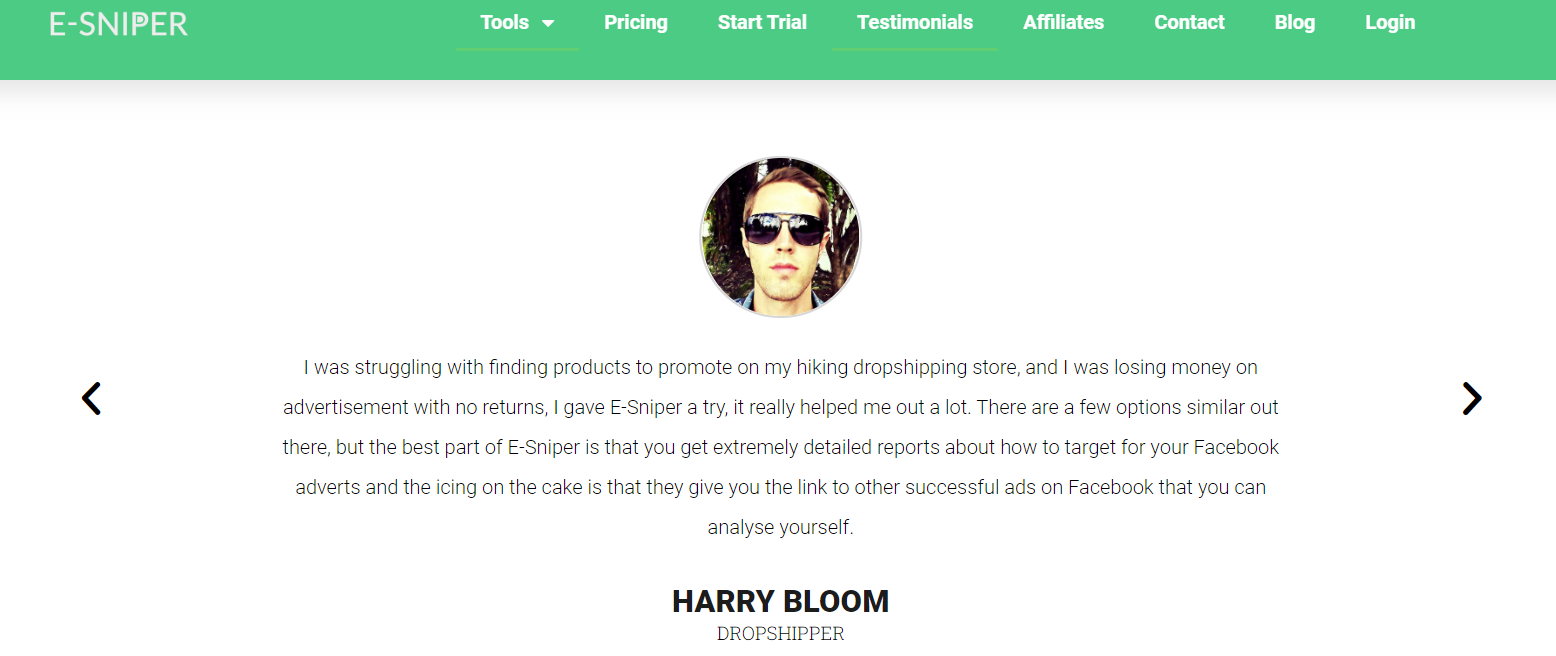 Also, some users point out that they got much more than they expected for only $29. In addition to it, customer satisfaction increased thanks to the ability to find winning products, and customize their dropshipping store all in one place.

Is E-sniper Legit?
YES. E-sniper is definitely not a scam! And we are very certain of our answer.
However, be careful before subscribing, because there are a lot of frauds online that claim to be E-sniper.
For that purpose, we advise you to only trust valuable information from E-sniper's official website. This is the only place where you will find the legitimate tool.
Join the only community and resource hub you'll ever need to succeed with dropshipping
Find winning dropshipping products, learn marketing, download templates and engage with real dropshippers
Never pay for a "guru's" course again. See why 4543+ dropshippers joined us this year!
💡Try DSCOM Hub Now
Conclusion
Finding a winning product in today's dynamic environment with customers' needs changing in a second – is not easy. What's more, keeping track of competitors, and leading an excellent order fulfillment and inventory management process – is not simple either!
Not to mention, the need to create and customize your dropshipping store, analyze its traffic and performance and optimize the store for more conversions.
For that purpose, we highly recommend you take action and explore E-sniper, to test all the features and see if it's a right fit for your dropshipping business.