What is a digital creator vs. an Influencer? Aren't these two the same? Well, no.
With the rise of social media, the terms "digital creator" and "influencer" have become increasingly popular. But what do these terms actually mean and which one is better for promoting your brand?
To understand which option is best for promoting your brand, it's important to first understand the difference between a digital creator and an influencer.
In this article, I will explore the differences between these two terms and help you determine which option is best for your brand.
What Is A Digital Creator & What Does It Do?
A digital creator is someone who makes and shares original content through various digital platforms. This content can come in the form of videos, blog posts, social media posts, and more. The main goal is to produce high-quality content that resonates with a specific target audience.
👉 Check out the 10 Best Dropshipping Video Ads Service For Aspiring Dropshippers.
The content produced by digital creators spans a wide range of topics, including educational, informative, entertaining, creative, and more. They can produce content related to specific niches such as food, fashion, travel, lifestyle, and fitness. Ultimately, the type of content they produce depends on their audience's interests and the goals they aim to achieve.
They are also proficient in using digital tools, such as graphic design software and video editing programs, to produce high-quality content that stands out. Moreover, they need to understand search engine optimization (SEO) to create engaging content that ranks highly in online search results.
One of the most successful content creators today is a beauty influencer named Huda Kattan. She started her beauty blog ten years ago and grew it into a multimillion-dollar beauty empire. 👇
Besides running her cosmetics company, Kattan also actively shares her beauty routines, tutorials, and makeup tips on social media channels such as Instagram and YouTube. She has a loyal and engaged audience who love her quality content, which has helped her become one of the biggest and most successful digital creators today.
So, if you want to be a successful creator like Kattan, you need to create high-quality and engaging content regularly.
Discover top dropshipping suppliers of original US/EU products
You're 2 minutes away from building your ecommerce empire
No credit card required. No commitment.
Get started for free
Is There A Difference Between A "Digital Creator" And an "Influencer"?
As a content writer, I have come across the terms content creators and influencers, and often people use them interchangeably. But are these two terms the same thing, or is there a difference? In my opinion, there is a distinction between the two, and in this blog post, I will discuss why.
Firstly, it's essential to highlight the divergent objectives and methods of the two groups in content creation.
➡ Different Objectives
Digital creators create content for a particular purpose, whether that be to educate, inform, or entertain their audience. In contrast, influencers focus on promoting a brand or product through their personal brand on social media platforms.
Simply put, digital creators create, while influencers influence.
For instance, let's take an example of a fitness influencer and a content creator. The fitness influencer would focus on developing a loyal following by promoting their personal brand and lifestyle while showcasing their workout routines, meal plans, and wellness regime.
On the other hand, a digital creator in the fitness niche would focus on creating high-quality content through keyword research, topic targeting, and content strategies that educate, inform, or entertain their audience.
➡ Income
Digital creators get paid for producing content for others, for instance, copywriting, graphic designing, video creation, and photography.
Hence, they can create content for a brand without promoting its products, and thus, their income comes from the content they produce.
In contrast, influencers are paid to promote products through their personal brand on social media platforms. Their income comes from sponsored posts, partnerships, and affiliate marketing.
Let's take an example of famous fitness influencer Kayla Itsines and a famous content creator in the fitness niche, Jeff Nippard.
Kayla Itsines promotes her personal brand and her fitness program, which offers various plans that followers can subscribe to. 👇
On the other hand, Jeff Nippard focuses on creating educational content concentrating on fitness science, nutrition, and workout techniques. He has a membership program that provides additional resources, training programs, and coaching.👇
Now, let's learn more about what is a digital creator, and what you can do to partner with one.
Should You Partner With Digital Creators To Promote Your Brand in 2023?
In 2023, dropshippers have many channels on the plate to promote their brands. Hence, one popular strategy is partnering with digital creators, who make content for platforms like blogs, social media, videos, and podcasts. I'll discuss if this is a good strategy for brand promotion.
My opinion on this is – Yes, you should definitely partner with content creators. But, why?
Firstly, content creators are often willing to work for lower fees, especially if they believe in your brand's values and mission.
Additionally, partnering with digital creators can be more efficient than traditional advertising methods like TV commercials or print ads. By sponsoring content, you can reach a wider audience and more specifically target your ideal customer base.
Furthermore, they can help to raise brand awareness and improve brand reputation among their niche audience.
Plus, there are various other benefits to partnering with content creators. Let's find out! 👇
What Are The Benefits of Digital Creators in Marketing?
As a business owner myself, I have had the opportunity to collaborate with content creators and see the many benefits of this type of partnership. So, I will list the most important ones. 👇
🔸 Niche Oriented
Having a niche-oriented digital creator can be highly beneficial for businesses looking to establish a strong online presence. In fact, a niche-oriented creator specializes in a particular area or industry and has a deep understanding of the target audience, their interests, and their needs.
Hence, by understanding the specific pain points and challenges faced by their audience, a niche-oriented creator can craft content that addresses these issues and provides valuable solutions. This can help to build trust and credibility with the target audience, ultimately leading to increased engagement and conversions.
Furthermore, a niche-oriented digital creator can help you to optimize your content for search engines. By using the right keywords and phrases, businesses can ensure that their content is more easily discoverable by potential customers who are searching for information related to their industry or niche.
🔸 Collect Materials For Content Creation
Next, digital creators tend to work with a diverse range of content formats, from blog posts to social media updates, videos, podcasts, and more. Regardless of the format, brainstorming original content ideas is an essential step in content creation. These content ideas should not only resonate with your audience but also differentiate your content from what is already available online.
One of the best ways to find inspiration for your content is by staying up-to-date with industry news and trends. And, that's why content creators do it constantly.
They follow industry news websites, subscribe to industry newsletters, and attend industry conferences to stay on top of new trends, technologies, or products.
Furthermore, they always stay informed is to social media trends. With social media, you can quickly observe user engagement rates and start creating content around the trends that show the most potential for audience engagement. 👇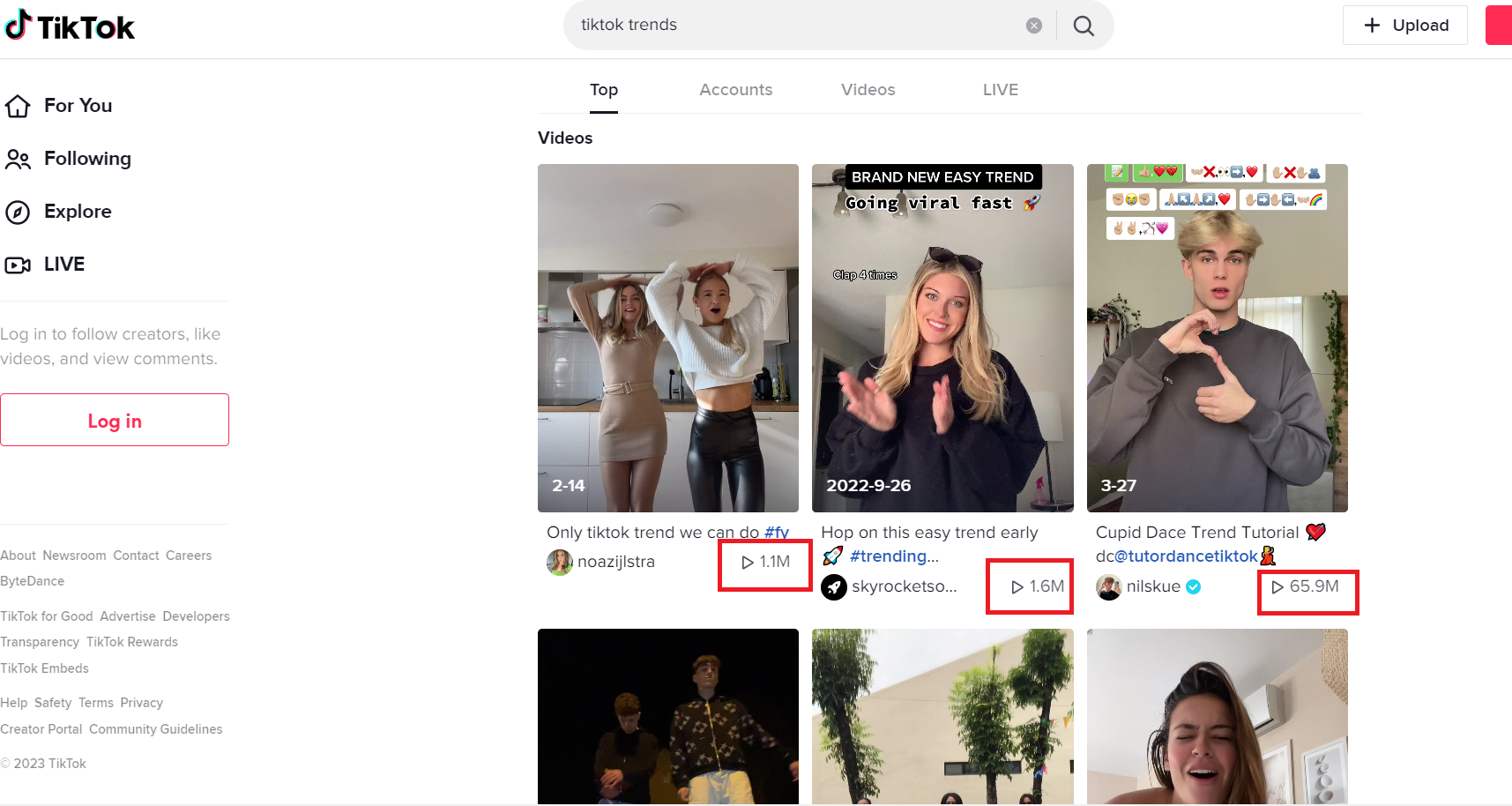 👉 Check out the 100+ TikTok Bio Ideas For Your Dropshipping Business In 2023.
Also, they dig up into user-generated content such as reviews, comments, feedback, or questions, you can find meaningful insights about what users like and dislike about your brand, products, or services. You can also use this content to create more user-focused content that can help you build a loyal and engaged audience.
As a content creator, I use content creation tools such as Canva and Adobe Creative Suite for creating design visuals. Hence, adding unique visuals to text-based content makes my content more appealing, and easier to understand.
🔸 Create Content For Your Dropshipping Business
With digital creators, creating content isn't just limited to blog posts. Hence, they have different types of content. Let's see what you can benefit from. 👇
➡ Product Photos
When it comes to product photos, make sure they are high-quality and showcase the product in its best light. Hence, digital creators shoot the photos themselves or hire a professional photographer to help them create stunning images.
➡ Videos
Another type of content that content creators use is video content. Thus, they use it to provide instructional content, product descriptions, or even product reviews.
High-quality videos can help boost user engagement, increase time spent on-page, and ultimately lead to more sales.
➡ Blog Posts
Creating blog content remains an essential tool for digital creators. Blog posts help you showcase product value, tutorials, and customer reviews.
Blogging can also help you become an authoritative source on certain topics and improve your website's search engine rankings.
For example, the 60 Seconds App helps dropshippers set predefined discounts. But, despite selling a tool, they also hire content creators to write them blog posts and educate their customers. 👇
➡ Social Media Posts
Digital creators have a lot of followers. So, by creating social media content, you can engage with potential customers, showcase your products, and increase social proof among your target audience.
👉 Learn the Step-By-Step Guide to Instagram Marketing For Dropshipping.
With social media posts, they feature product pictures, videos, reviews, testimonials, or promotions.
Furthermore, they use SEO tools to optimize their content and increase their visibility online. For example, I find the Yoast SEO tool very useful when it comes to optimizing my content, meta descriptions, blog length, and how many backlinks I should include in my content.
🔸 Promote Your Dropshipping Business
Lastly, based on the content that the digital creator did for your dropshipping business, they further use various channels to promote it. Hence, they use social media platforms, email marketing, search engines, etc.
Also, they promote a dropshipping business by creating sponsored posts or videos showcasing products and benefits.
👉 Check out The Top 15 Best Facebook Ad Spy Tools For Dropshipping.
Plus, digital creators can promote your dropshipping products on their websites and earn a commission on resulting sales, benefiting both parties.
How To Find The Right Digital Creator Or Influencer For Your Brands?
As a content writer and digital marketer, I know firsthand the importance of collaborating with the right content creators and influencers for your brand.
However, finding the right fit can be challenging since there are so many digital creators and influencers out there. Therefore, I'd like to share some tips on how to find the right digital creator or influencer for your brand.
1. Determine Your Campaign Objectives
Before you start looking for digital creators or influencers, it's crucial to establish your marketing campaign's objectives.
What are your goals? Do you want to increase brand awareness? Drive sales or leads? Promote a specific product or service?
Knowing your objectives will help you narrow down your search for digital creators or influencers that can help you achieve your goals.
💡 Tip: Read about Dropshipping Business Plan: Tips for Creating A Short Business Plan.
2. Define Your Target Audience
Understanding your target audience is critical when it comes to selecting the right digital creator or influencer.
Thus, you want to work with someone whose audience matches your target audience.

So, before you start searching, define your ideal customer and their demographics, interests, and behaviors. Then, search for digital creators or influencers that have a similar audience to your ideal customer.
3. Use Influencer Marketing Platforms
Fortunately, there are now many influencer marketing platforms available to help you find the right digital creator or influencer for your brand. These platforms offer a searchable database of digital creators and influencers based on your campaign objectives, target audience, and budget.
For example, some popular influencer marketing platforms that I use are AspireIQ, Influencer.co, and Upfluence.
Here's how Upfluence work. 👇
4. Utilize Social Media
You can search for creators and influencers over social media. Hence, you can use hashtags, keywords, and location tags to search for potential creators or influencers that align with your brand's values.
Additionally, you can see their engagement rates, content style, and tone of voice to determine if they're the right fit for your brand.
For instance, for my home decor dropshipping business, I go to my Instagram account, and in the search bar, I type in #homedecor. So, from the searches, I can find niche-oriented influencer posts, and contact them.
Or, have you heard about Instagram's creators profile? Here you can find some of the best creators and also collect tips for becoming a creator yourself. 👇
5. Attend Industry Events
Attending industry events such as conferences, trade shows, and meetups can be a great way to network with digital creators and influencers. You can meet creators and influencers in person, view their work, and ask them about their experiences working with brands.
6. Request and Evaluate Their Portfolio
Before you start working with a digital creator or influencer, ask them to send their portfolio.
Reviewing their portfolio can give you a good idea of their skills, talents, and capabilities. Moreover, see whether their previous collaborations were related to your dropshipping niche and go deep into examining their social media channels and their audience.
7. Determine the Budget
Defining your budget is a crucial step in finding the right digital creator or influencer for your brand. For instance, content creators and influencers have different rates per campaign or post, and choosing someone that is within your budget is essential.
In addition, the average cost to hire a content creator can vary depending on the specific job but typically ranges from $25 to $150 per hour. Hence, more complex projects or jobs requiring specialized skills may be more expensive, while basic digital tasks such as website design or graphic design will cost less.
Tips On Collaborating With Digital Creators For Brands
For brands who are looking to amplify their reach and engagement, digital creators can be an asset. However, it is essential to know how to work with digital creators to gain maximum benefits.
Therefore, I will share some tips for collaborating with content creators for brands more efficiently. 👇
1. Clearly Define Your Brand's Goals and Expectations
One of the most crucial aspects of collaborating with digital creators is to establish clear goals and expectations for your brand. It would help if you discussed with the content creators what exactly you want to accomplish through your campaigns. Ensure that these goals are specific, measurable, and achievable.
For example, if your brand's goal is to achieve higher engagement rates on social media, be transparent about it. By setting these expectations from the start, both parties can work together more effectively to achieve the same goals.
2. Trust the Digital Creators You Are Working With
It's important to trust the content creators you collaborate with, especially when it comes to creating digital content. After all, these creators are experts in their field, and they know what kind of content resonates with their audiences best. While it's entirely reasonable to provide some guidance, giving too many instructions and not enough creative freedom can stifle their creativity.
Therefore, it's essential to give digital creators a certain level of autonomy and trust their input. They can bring fresh content ideas and perspectives to the table, leading to more successful campaigns.
3. Determine a Clear Payment Structure and Timeline
It's vital to establish a clear payment structure and timeline before starting any project. If you're working with a professional digital creator, be ready to pay them what they deserve for their services.
It's also essential to agree on the payment structure upfront, whether it's a flat rate, pay-per-post, or commission-based.
4. Respect the Digital Creator's Time and Efforts
Like any other professional, digital creators put a lot of time and effort into their work. Therefore, it's essential to respect their time and efforts.
As a brand, you should communicate with your digital creators regularly and provide timely feedback. If there are any changes to the project scope or timeline, let them know as soon as possible.
Also, understand that digital creators usually have multiple projects they are working on simultaneously. Therefore, it is critical to account for their time and availability when planning campaigns.
5. Collaborate for the Long-Term
Finally, aim for long-term collaboration with digital creators instead of just one-off campaigns. By building long-term relationships with digital creators, you can create a more reliable stream of creative content that resonates with your target audience.
FAQ About Partnering With Digital Creators
1. How Can Partnering With Digital Creators Help My Brand?
Partnering with digital creators can significantly benefit your brand's marketing strategies. Thus, working with digital creators allows you to tap into their loyal audience, giving you access to a more extensive audience.
Plus, they can create unique and creative content that aligns with your brand's message, leading to higher engagement rates. By partnering with digital creators, you can also expand your reach on various social media platforms and achieve your desired marketing goals.
2. Should I Have a Strict Creative Brief or Be Open to Digital Creator's Ideas?
While having a creative brief is essential, it's equally crucial to be open to digital creators' ideas. Remember, these creators are experts in their field and can bring fresh perspectives and ideas to the table.
By giving them creative freedom, you can develop unique and engaging content that aligns with your brand's message.
3. How Can I Ensure My Brand's Message Aligns With the Digital Creator's Content?
Before partnering with a digital creator, establish clear goals and expectations for your campaign. Provide a creative brief that outlines your campaign's messaging, including any keywords or phrases you want to be included.
Finally, give the digital creator time to review and ask questions about your brand's message to ensure they align their content with your campaign's message.
4. What Should I Do If I'm Not Satisfied With the Results?
Not every collaboration will lead to successful results. However, it's vital to communicate with your digital creators to address any concerns or issues.
Discuss why your campaign did not perform as expected and evaluate your collaboration from there. Use this experience to guide future collaborations and improve your marketing strategies.
5. Can Digital Creators Or Influencers Promote Your Dropshipping Business?
Collaborating with digital creators or influencers can be an effective way to promote a dropshipping business. By working with these individuals, you can increase brand awareness, product exposure, and the potential for higher sales.
However, it's important to find someone with a relevant niche and an engaged audience and to set clear goals, expectations, and compensation structures to ensure a successful collaboration. With the right partnership and approach, digital creators and influencers can help your dropshipping business reach new heights.
Find winning dropshipping products & spy on your competitors
Minea analyses all online advertising to help you find the best products to launch, and the best creatives in your niche in just a few clicks.
Use coupon: DROPSHIPPING30 and get a 30% discount
💡Try Minea For Free
Conclusion – What Is A Digital Creator vs. Influencer
In conclusion, while digital creators and influencers may seem similar on the surface, there are key differences between the two.
A digital creator typically focuses on content creation, utilizing various digital tools and platforms to create high-quality and original content. On the other hand, influencers focus more on promotion, utilizing their large and engaged following on social media platforms to promote products and services.
Also, content creators target different audiences, with digital creators typically focusing on educating and engaging their audience through various types of content. This includes written content, video content, and graphic design. Influencers, on the other hand, focus on creating content that resonates with their specific audience, which can require a more targeted approach.
In the end, whether you choose to work with a digital creator or influencer, the key is to focus on creating high-quality and engaging content that connects with your target audience. By doing so, you can build a loyal and engaged following that can lead to increased brand exposure, higher sales, and overall success in the digital world.