With many online dropshipping platforms, long gone are those days when only entrepreneurs who had large investment funds would be able to start a dropshipping business.
The way dropshipping works is that it allows you to launch an online business without having to worry about holding any inventory.
The key is to start small with a minimum budget for your first dropshipping store and scale with your own e-commerce brand. CJ Dropshipping helps you enter the first phase.
Furthermore, today, we are going to go through in-depth CJ Dropshipping reviews, how the platform works, its pros & cons, and what features it holds compared to other dropshipping platforms.
What Is CJ Dropshipping?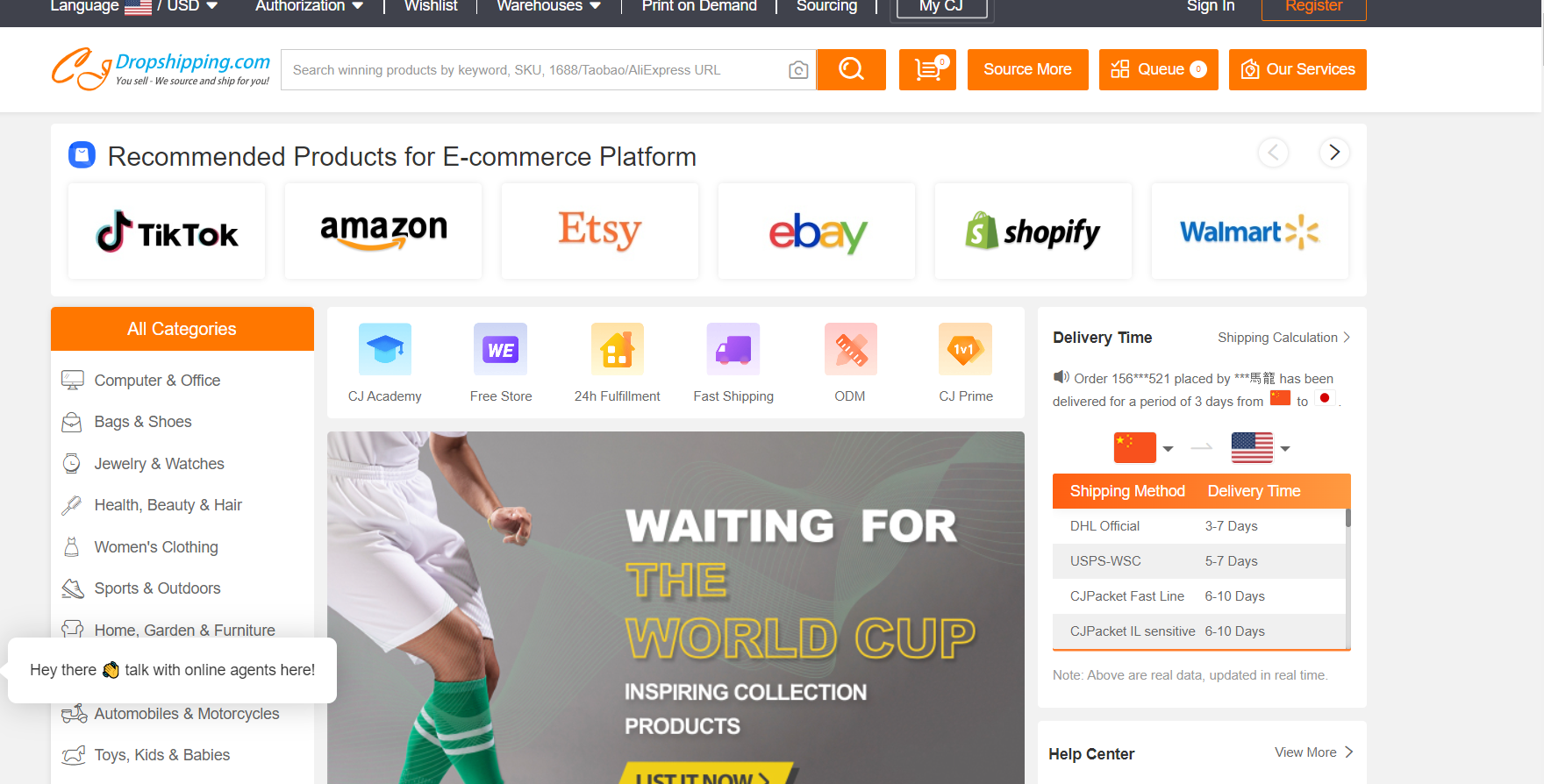 CJ Dropshipping is an all-in-one dropshipping online platform that integrates with product sourcing, order production, and shipping fulfillment. You could consider the platform as a mix of Oberlo & Aliexpress.
The platform offers a no-fee approach. This means, there are no minimum orders, monthly subscriptions, storage fees, or set-ups. Also, there are no costs for selling items.
Discover top dropshipping suppliers of original US/EU products
You're 2 minutes away from building your ecommerce empire
No credit card required. No commitment.
Get started for free
How does CJ Dropshipping work?
Just like every dropshipping platform, CJ Dropshipping does the shipping and sourcing for you.
CJ Dropshipping is a popular platform because they offer the following:
More than 1 million orders are fulfilled each month.
More than 300,000 registered users including Shopify merchants trust the platform.
CjPacket, their own global logistics resource ships orders in only 1 to 2 weeks. That is at least a week faster than its competitors.
Allows you to integrate CJ Dropshipping with Shopify, eBay, WooCommerce, etc.
CJDropshipping has many warehouses located internationally.
Learn more about how CJ Wholesale can help you succeed in the Dropshipping 2.0 era.
Additionally, this is how CJ Dropshipping works:
Product sourcing for you – when dropshipping with CJ, you may post a product sourcing request, whereas you can later search for the right product from reliable suppliers on the platform. When you find the right product, you can post a request to have it added to your CJ product catalog.
Stocking items for you – every single piece of merchandise you wish to sell is stored in CJ's international warehouse. Each stock that is overseas may be purchased earlier by a dropshipper in order to reduce Cj Dropshipping shipping times.
Quality checks – First, there is a quality check, and after that, the products are shipped.
The shipping – CJ shipping will ship the order directly to your customer. Delivery times are fast and sometimes may be faster than four days!
Let's not forget that everything on this platform is manageable through the mobile dropshipping app. You can import products without having to do it on a desktop or a laptop.
Let's continue with the CJ Dropshipping Reviews!
Is CJ Dropshipping Legit and Reliable?
Let's get straight to the point- YES, CJ Dropshipping is totally LEGIT.
Andy Chou (CEO) and his team founded this company in 2000. It was first renowned as a jewelry and commodity manufacturing company around the world. Later on, they decided to focus on dropshipping in 2015, and they changed its name to Yiwu Cu Jia Trade Co., Ltd.
Yiwu Cute Jewelry Co., Ltd.'s official dropshipping website is cjdropshipping.com, which is based in Yiwu City, Zhejiang Province, China.
Also, based on a large number of satisfied consumers, this platform is as legitimate as it gets. There is no way this is a scam!
Furthermore, they do not allow any random merchant to sell on the CJdropshipping website. Every seller must go through a review process if they want to sell on CJdropshipping.
Moreover, their reliability shows through their fast shipping and delivery at low prices, integrations with many eCommerce platforms like Shopify, and the many warehouses they have.
We will speak more about CJ dropshipping integrations below in this CJ Dropshipping Review. Take a look!
CJ Dropshipping Review: Features & Integrations
The platform has many different types of print-on-demand items, and customization options you can choose from.
Whereas right after you have selected and listed your products, you may create product bundles too! Additionally, here are some of the best features that CJDropshipping offers:
Free Application

As of 2020, Shopify included CjDropshipping in its app store. CJ Dropshipping Shopify is fully free and doesn't require any technical knowledge to install and integrate.
With this CJ Dropshipping app, order tracking, control, placing orders, and product listings are all simplified to the maximum.
Large Inventory
The reason many dropshippers like to work with CJDropshipping over AliExpress is because of the extensive inventory available.
There is a "trending products" section where dropshippers are taking advantage of dropshipping order fulfillment demands.
Product Catalog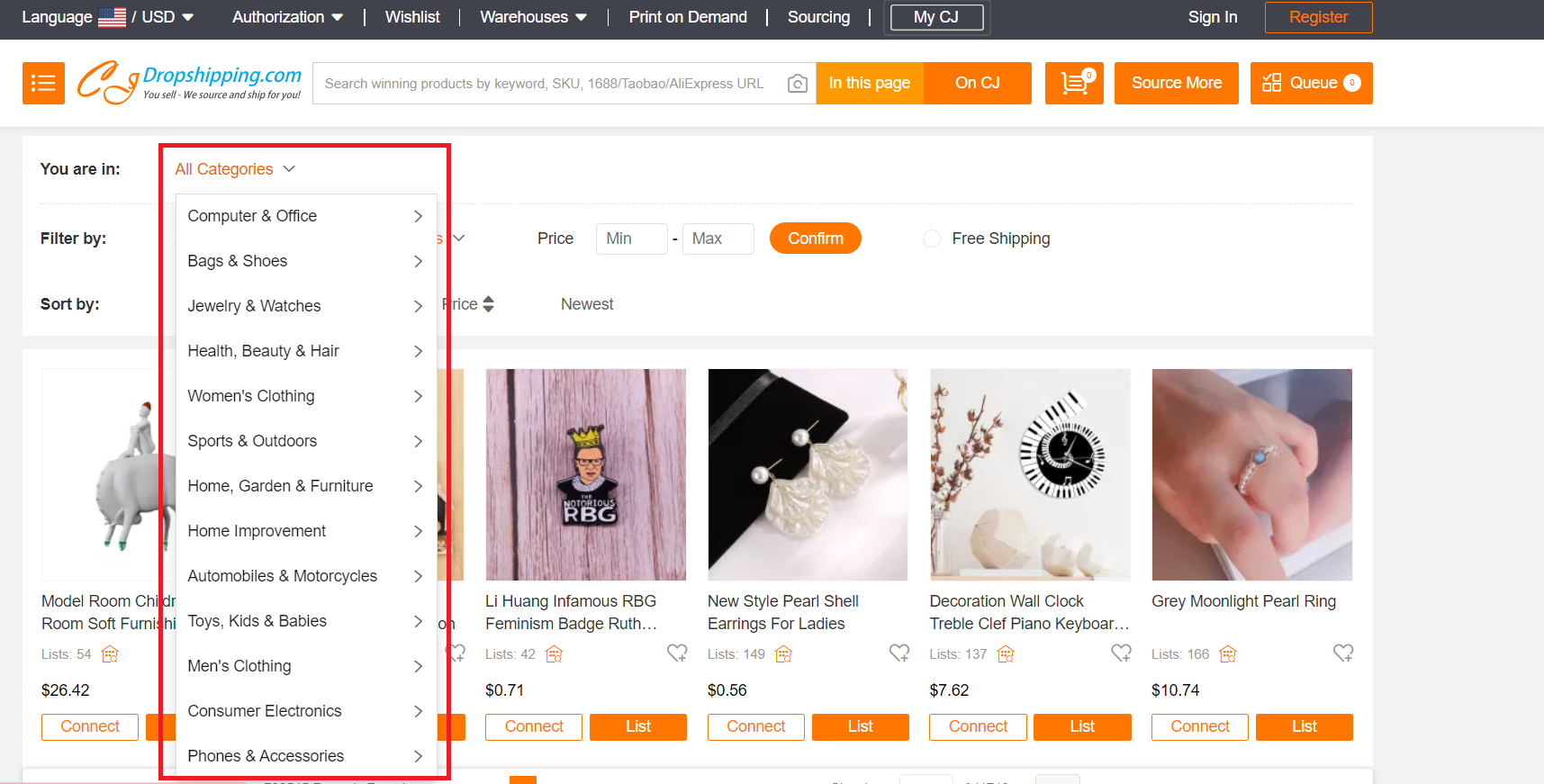 CJ Dropshipping product catalog has nearly half a million items listed along with a supplier base that covers 25% of the global market!
Any product you may think of, CJDropshipping should have it. The platform possesses the following product categories:
IT products
Office products
Sports & Fitness Products
BONUS: Here's a free list of the top Beauty Suppliers worldwide.
Furthermore, CJDropshipping also offers customizable designs for print-on-demand products. Once you find out what you want to buy on the platform, customization options are also available.
Customization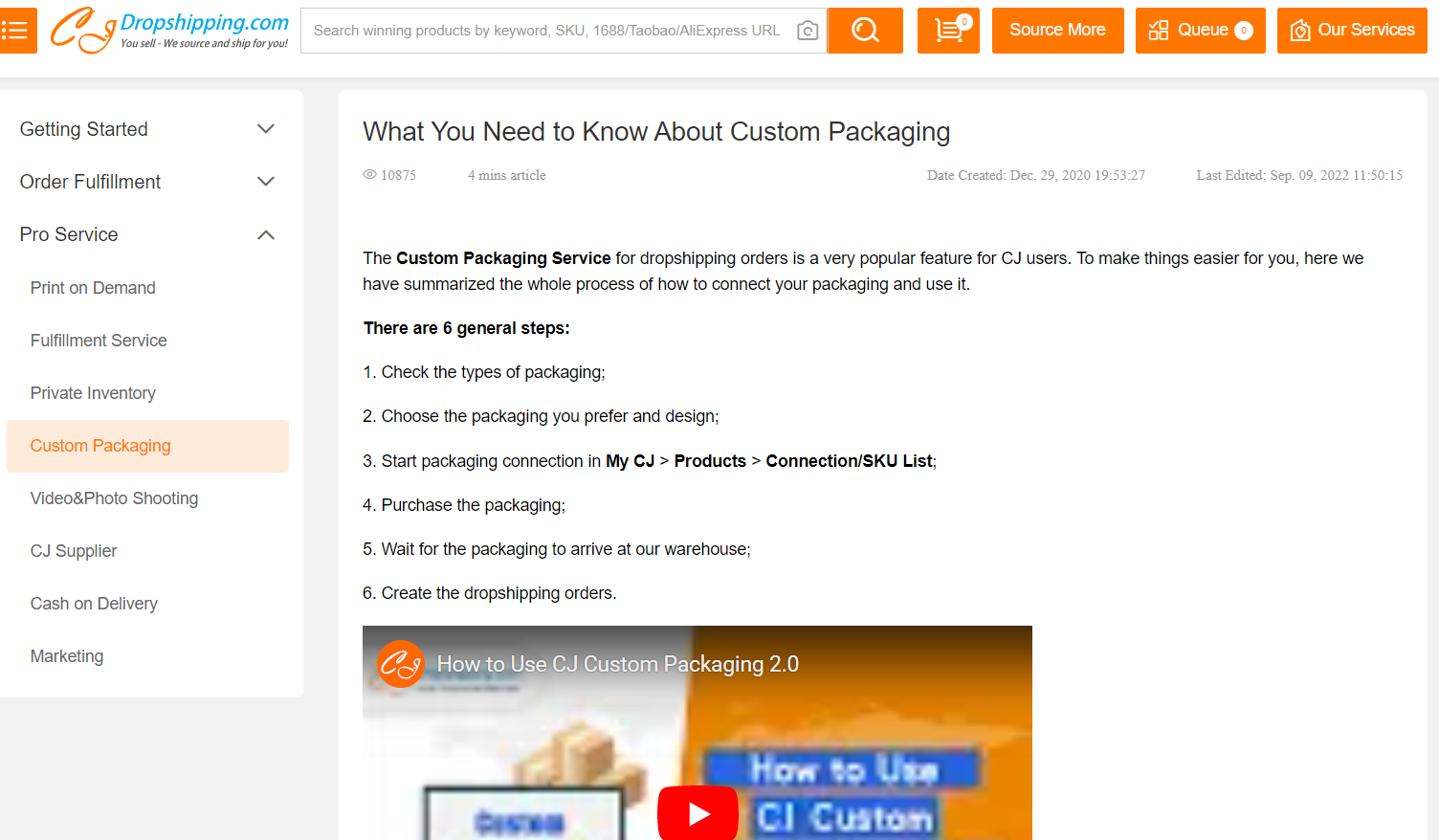 CJ Dropshipping differs from the rest in customization. Many platforms you buy on won't offer you customizable options.
Once you pay a small fee for the customizable options on the platform, there's an agent who takes care of your store's customization.
Furthermore, all you have to do is to provide them with the necessary SKU number, and after they'll upload it to the design model. Let's not forget that you may design your packaging and even put your own brand logo!
You will explore more about this down below in the dedicated CJ Dropshipping reviews.
Warehouse and Suppliers
CJDropshipping has warehouses worldwide that operate globally and distributes products worldwide. Here are their main ones:
Germany – 1
Indonesia – 1
Thailand – 1
United States – 2
China – 3
Whereas, because it has many warehouses worldwide, CJDropshipping offers fast delivery in less than a week.
Quality Control
Quality is a priority at CJDropshipping.Without additional costs, all ordered items will be checked carefully in regard to quality before they are shipped out.
Although in case you opt to ship products from any of CJ's suppliers, then quality checks will include a small fee.
Product Images & Videos
Many dropshippers face the challenge of not having access to the products they're selling.
Although, CJDropshipping offers product photos and videos that help you create promotional ads, photos, and videos regarding the product. Videos and photo creations on the platform will require you to pay an extra fee.
Order Fulfillment & Order Management
Likewise, CJ drop shipping handles this process too! You don't have to worry about shipping any orders.
Additionally, a tracking order is assigned to the customer so they know where their orders are.
Furthermore, CJ might also advise you to split or combine orders to reduce shipping costs. This may be good for you in the long run.
Let's not forget about CJ's shipping methods. CJPacket is much less expensive compared to ePacket which belongs to AliExpress and has much faster shipping times than AliExpress.
Otherwise, CJ Dropshipping has a Shipping calculator, which you may use to calculate the overall shipping costs based on product dimensions and weight. This way you can learn more about CJ shipping offers.
Integrations
CJDropshipping works best when integrated with the following online store platforms:
Shopify
WooCommerce
eBay
Shopee
Lazada
ShipStation
It comes with an API. So, this means you may create custom integrations to connect with other Dropshipping and/or Shopify apps.
Is CJ Dropshipping Free?
So, here we pop up one of the most frequent CJ drop shipping questions: Is CJ Dropshipping free for real?
Well, CJ Dropshipping has many free features and offers but also charges for some of them.
CJ offers free dropshipping on their items. It provides a free product sourcing service with product prices that are often cheaper than those found on AliExpress and eBay.
There will be no processing cost if you buy straight from CJ. However, if you purchase things through other channels, you will just be charged a processing fee.
Furthermore, what makes CJ great is that it does not need you to pay a startup cost, monthly price, storage fee, the fee per item sold, or hidden charges.
Also, if the items exist or are obtained in a CJ warehouse, the warehouse storage is free.
You may also use their application for free and ask for product sourcing.
However, let's find out how much can CJ Drop shipping costs you.
How Much Does a CJ Dropshipping Account Cost?
CJ doesn't have any setup or monthly fees. Costs aren't added later on when you buy the actual product, and product prices may even be lower than those of eBay or AliExpress.
Furthermore, you get 30 days of free storage in US and German warehouses, plus 90 days for warehouses in Indonesia, China, and Thailand when you sign up for the first time ever.
Before setting up an account, here are some costs you need to be aware of:
Product Locations – CJ only charges product price and shipping costs if you are able to find the product at specific warehouses requested. In case the items aren't found in the storage facility, then shipping, warehouse, and processing fees will apply.
Low turnover – Unless your turnover rate is over 50% or at least 100 orders a day, you may be charged $1.50 for a cubic meter per day. Although, if you fulfill the requirements then you won't be paying anything for storage.
US Warehouses – Storage costs vary anywhere from $0.5 to $5 per item, depending on the weight of the product. Don't also forget that the first month is free of charge!
What Products Can You Sell / Source From CJDropshipping?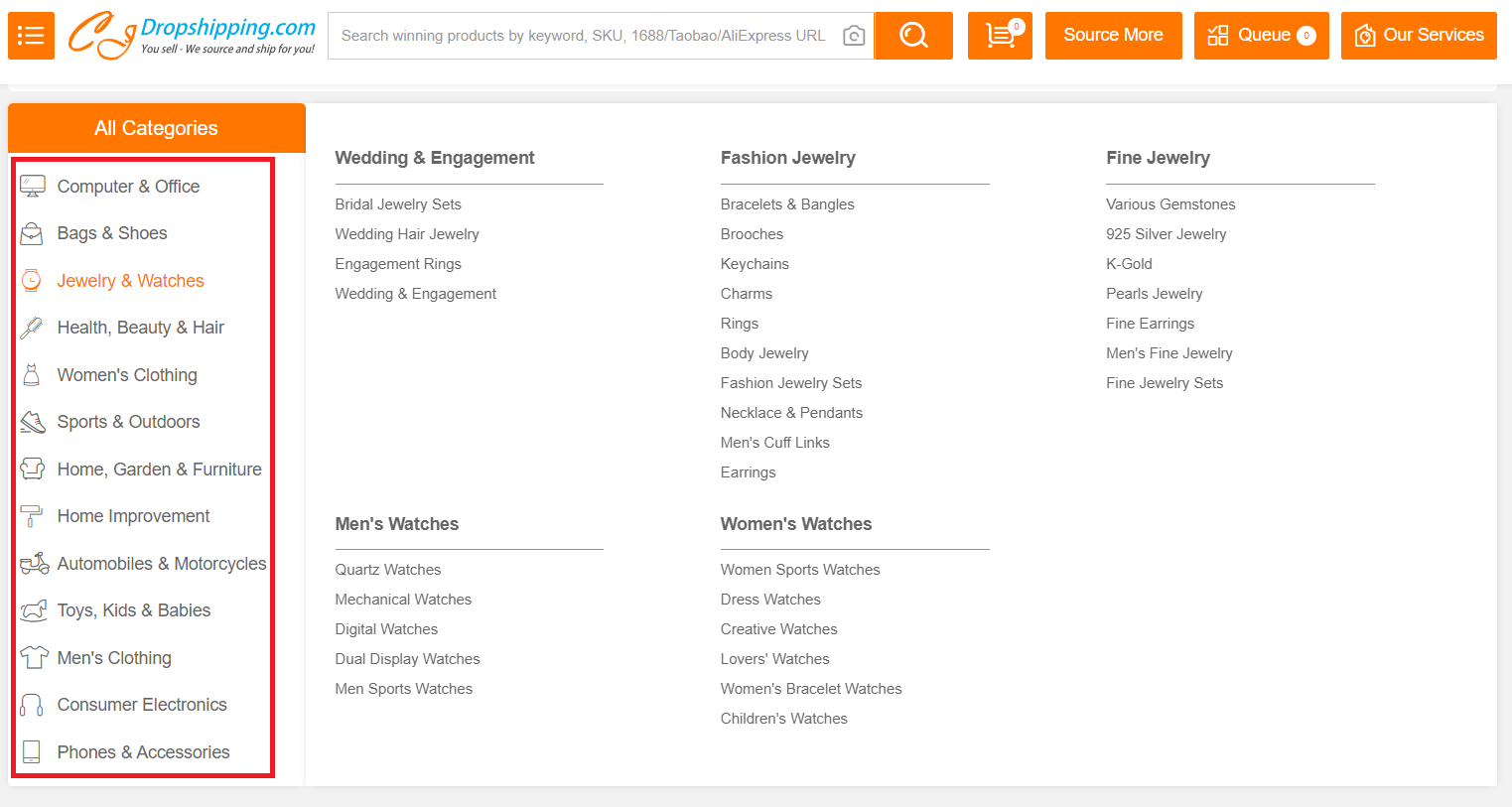 CJ Dropshipping has over 400.000 products, within 13 product categories like :
Computer & Office
Bags & Shoes
Jewelry & Watches
Health, Beauty & Hair
Women's Clothing
Sports & Outdoors
Home, Garden & Furniture
Home Improvement
Automobiles & Motorcycles
Toys, Kids & Babies
Men's Clothing
Consumer Electronics
Phones & Accessories
Moreover, this platform offers a print-on-demand service.
👉 Read more about other print-on-demand services.
How To Find Winning Products On CJDropshipping?
There's no magic trick to finding winning products on CJDropshipping. But, the platform by itself offers you several solutions.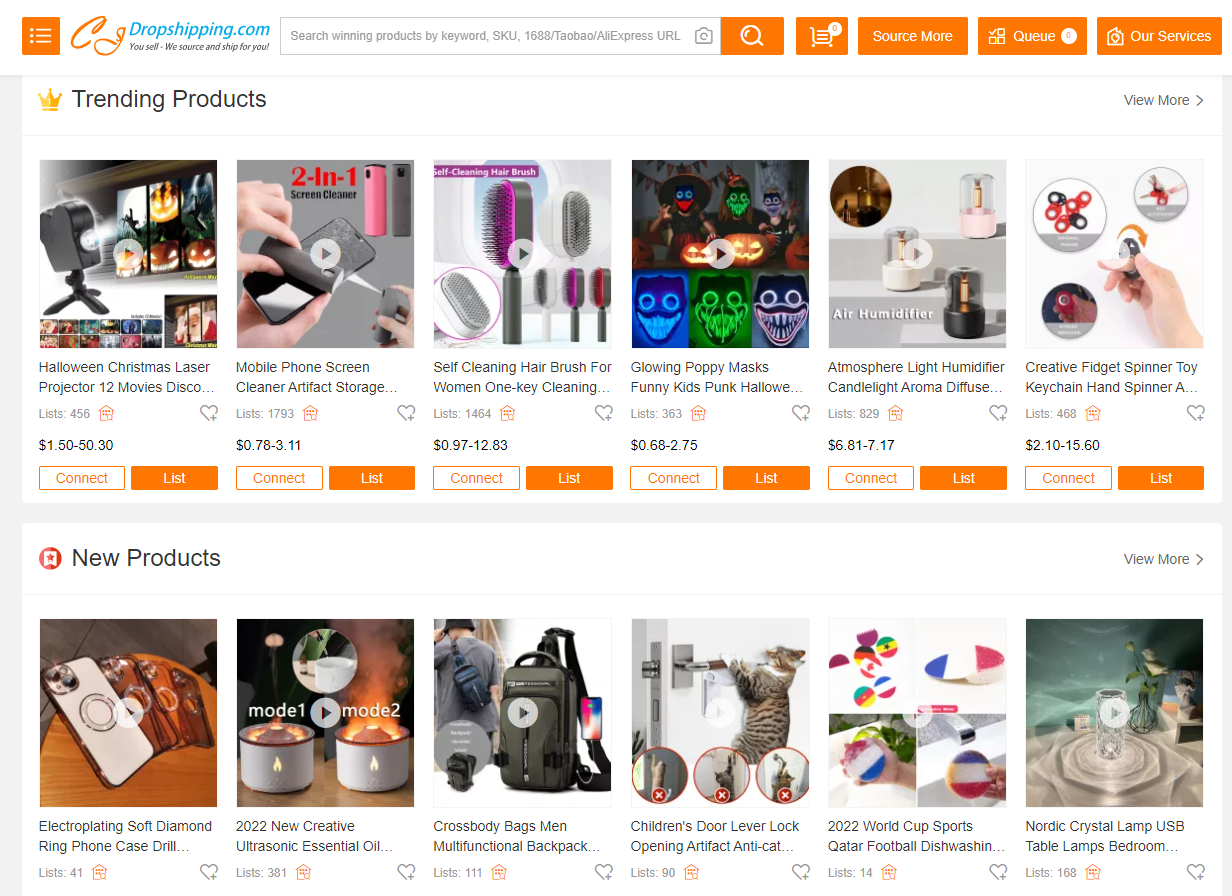 They have sections like "Hot Selling Categories" and "Trending Products" where you can find the ones that are mostly sold in a certain period. This can be really helpful for you as a dropshipper.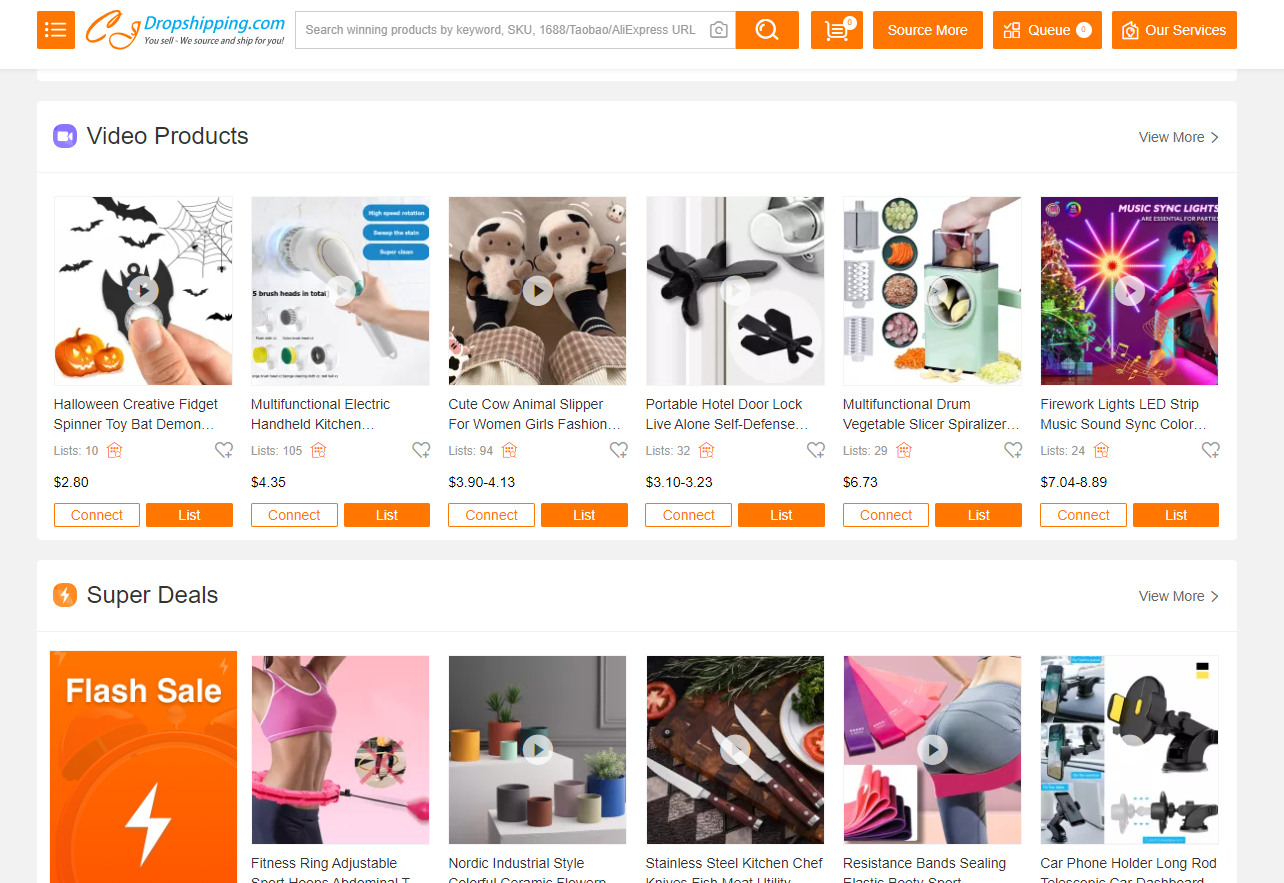 Moreover, there are a lot of other sections that can help you out, like "New Products", "Video Products", "Super Deals", and more.
However, a lot of other sources can help you out in your CJdropshipping product research. Thus, dropshipping platforms, like Dropshipping.com have various Blog articles about CJdropshipping reviews.
You can check out topics and find information about CJ Dropshipping winning products.
👉 Check out this article about CJ Dropshipping Jewelry products.
CJ Dropshipping Custom Packaging Options
CJ Dropshipping provides customized packing. You must develop a brand if you want to differentiate yourself from your competitors in the dropshipping business. Using "blank items" and branding your package is a low-cost, risk-free option.
👉 Learn about Best practices for dropshipping product packaging.
CJ Dropshipping provides custom packages and items to help you grow your dropshipping business by including your logo and brand colors on the packaging.
CJ Dropshipping custom packaging allows you to create your own package. You may include a photo and text. Then you can save the design, and store it on your "My Custom Packaging" page.
What's more, CJ will not display this on the platform because you own the design and have rights to it.
Moreover, they provide personalized packages such as jewelry boxes, express bags, shoe boxes, and so on. They also make personalized items such as metal jewelry, velcro, and more.
Furthermore, Cj Dropshipping has laser engraving equipment and color printers for your bespoke logos and packaging your bespoke logos packaging, have laser engraving equipment and color printers.
They have several alternatives, but simply placing your brand on a box may significantly impact significant impact on the perceived worth of your goods.
Review on CJ Dropshipping Shipping Times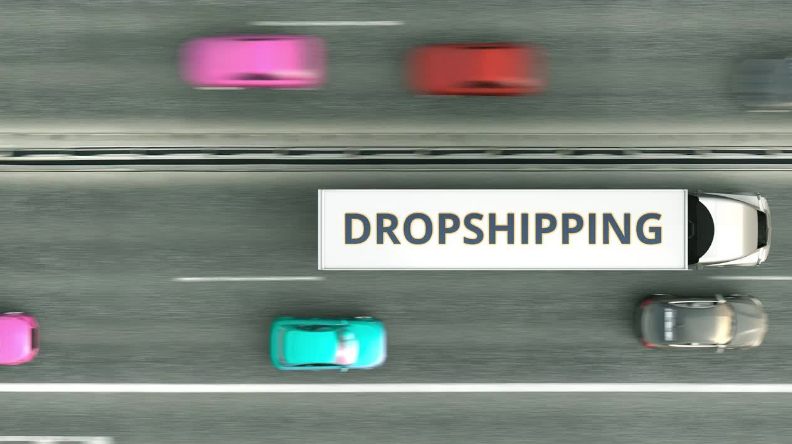 CJ Dropshipping shipping times on several shipment options are possibly their most significant advantage. Major worldwide postal services such as DHL, USPS, ePacket, PostNL, and others are included.
They also have their own unique delivery method, CJPacket, which is quick. Cj Dropshipping shipping times, like with most dropshipping platforms, are determined by the warehouse location, the target country, and the delivery type.
CJ Dropshipping shipping times are reduced by having 8 available warehouses: 3 in China, 2 in the United States, 1 in Thailand, 1 in Indonesia, and 1 in Germany.
Thus, when you ship a package from a US warehouse, the CJ shipping period is typically 2-7 days. Furthermore, if the goods are stored in an Asian warehouse, the package may be delivered to customers in the United States in 10-17 days using CJPacket, and from 7-13 days from USPS.
Simple Guide: How to Sign Up for CJ?
Signing up for CJ Dropshipping isn't anything complicated. Just go to their site and click the Register button.
After you click the Register button, you will be required to add your username, phone number, name, and surname.
Right after, the only thing left is to activate your email and you are all set! You are then officially part of the platform.
How To Connect CJDropshipping To Shopify?
The CJ Dropshipping software is integrated with Shopify. This Cj dropshipping app is also listed in the Shopify App store since January 2020.
This adds a significant amount of trust because the app and its functionality are now regulated by Shopify.
So, how you can connect your CJ Dropshipping with Shopify?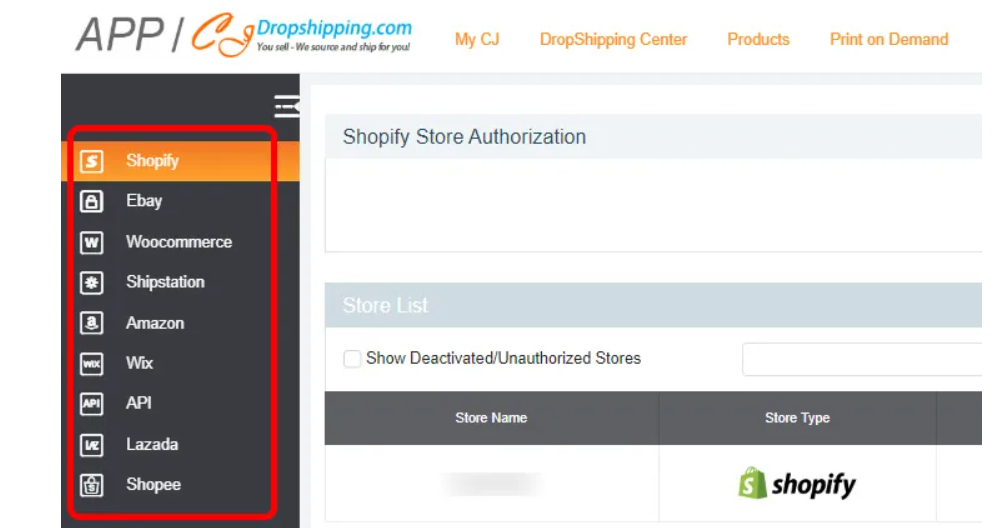 First, if you are going to do this through the CJ Dropshipping dashboard, it goes this way:
To begin, log in to your CJ account and select "My CJ".
Click the "Authorization" button.
Select "Shopify" and then click "Add Store".
Fill up your Shopify address.
Log in to your Shopify account and follow the instructions to download the CJ Dropshipping App.
When the installation is complete, you will see a pop-up window indicating Authorization Success.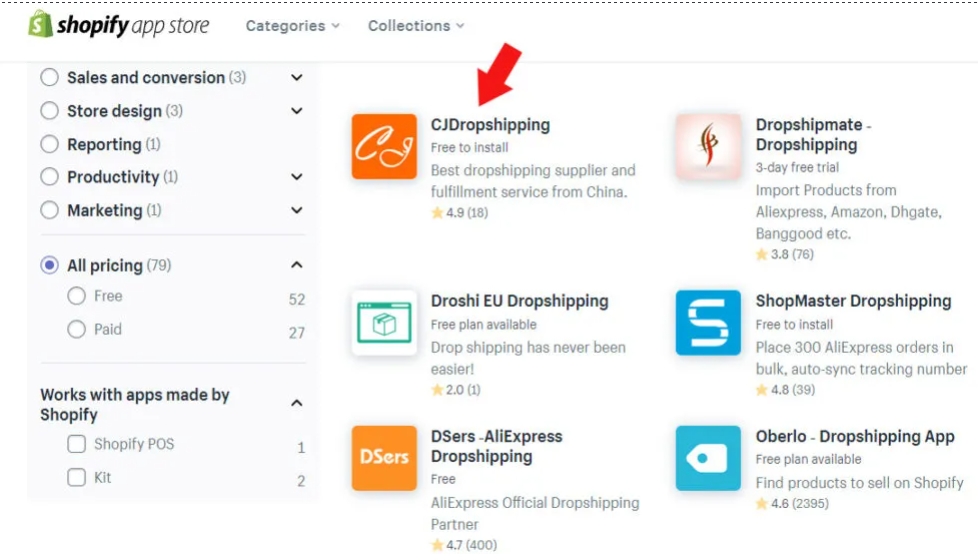 However, if you are going to use Shopify, you may perform the following:
Log in to your Shopify admin account.
The CJ Dropshipping app can be found on the Shopify App Store.
Add the program and install it.
It will automatically establish a CJ Account after installation.
The message "Authorization Successful" will appear.
💡 Tip: Learn about some of the Best Shopify Alternatives.
And, there you go, you are all set, and ready to dropship!
CJ Dropshipping Review: CJ Dropshipping vs AliExpress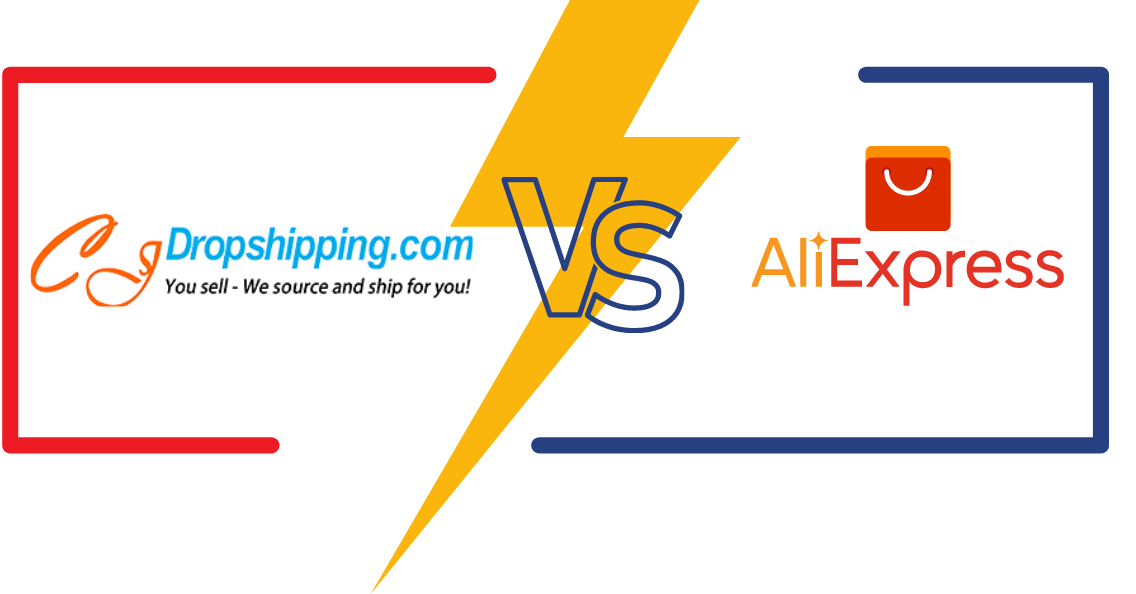 We know that AliExpress is a well-known app that can be great for beginners, but this doesn't mean that is perfect.
CJ Dropshipping is a great competitor of AliExpress. Therefore, there are several distinctions between CJDropshipping vs. AliExpress. However, these distinctions are primarily the consequence of fundamental variances between the two platforms.
So, let's compare these two platforms in terms of items, services, shipping, and so on.
Ease of use
It is easier to start on AliExpress. Aliexpress's system is fairly simpler, as it is merely a platform for users to search and purchase items. It's similar to creating an account and purchasing items on eBay or Amazon.
On the other hand, the CJ Dropshipping platform is far more complex, it integrates the functionalities of Aliexpress and Oberlo and goes significantly beyond what they can. You may save time and energy once you've put the features you need in place.
Product listings
Aliexpress has around 2.5 billion product listings, but CJ Dropshipping has only approximately 400,000, which is considerably behind Aliexpress.
However, CJ Dropshipping has a large selection of different product niches to pick from, as well as lower pricing.
Furthermore, all items on AliExpress are listed and maintained by the vendors (8.7 in 2019). In comparison, the items on CJ Dropshipping are all posted by the CJ team, which ensures higher quality.
Moreover, they have limited personnel, they must choose popular goods to post and source products based on user demands.
Shipping time and costs
The shipping prices displayed on Aliexpress are frequently substantially lower than those shown on CJ Dropshipping, and some even offer free delivery.
The reason for free delivery is that the shipping cost is included in the product price, which is another reason why Aliexpress always charges more than CJ Dropshipping.
When you look at the expected shipping time on AliExpress, you will notice that it might be more than a month, but the CJ Dropshipping package takes from 6-15 days. When it comes to a quicker delivery, the expenses are substantially higher on AliExpress than on CJ Dropshipping.
Payment methods
CJ Dropshipping allows 8 different payment options and even offers COD (Cash On Delivery) for authorized clients.
AliExpress, on the other hand, does not have a clear list of payment services that are supported because they change based on different sellers. Unfortunately, some vendors do not even take PayPal, which is one of the most popular payment options among buyers in Western nations.
Warehousing
AliExpress does not require its own warehouses for product storage. Because most vendors stock their own merchandise, AliExpress' inventory is typically fairly restricted.
CJ Dropshipping has the advantage here since it has 8 international warehouses.
CJ Dropshipping Pros and Cons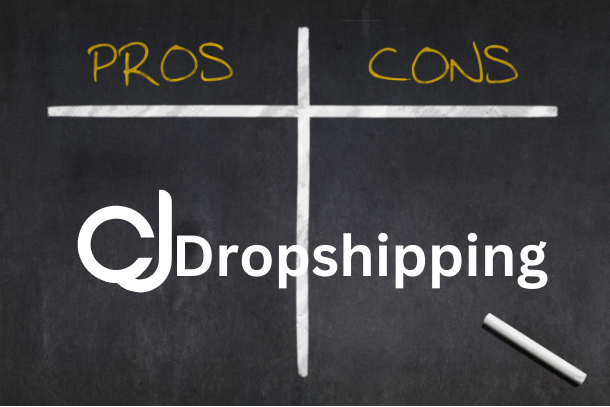 Here's a quick list of the pros and cons of CJDropshipping:
Pros
1) CJPacket
Compared to the other platforms, CJ drop shipping definitely offers faster shipping. CJ Shipping methods include major global services like DHL, ePacket, PostNL, USPS, etc.
CjPacket is the platform's own original shipping option. Of course, all shipping times vary on where the warehouse is located.
The US is considered the country with the largest dropshipping market, so it is always a great idea to have a warehouse there, and guess what? CJ drop shipping has 3 of them in the US!
2) Product sourcing request
Once you search through the platform, you may be fooled into thinking that the items you are searching for are limited.
CJ has a sourcing feature that allows you to find the best supplier and then upload your product with a request.
Furthermore, after a day or 2, you will see the product appear on the CJ Dropshipping market. Although, let's not forget that the number of sourcing requests is limited to 5 per day until you start selling more on the platform.
3) Excellent customer service
If there were only one positive thing to say about CJ, it is that they are super helpful and responsive. Just after you sign up, the platform provides you access to online support and a personal dropshipping agent that will firmly assist you with sales.
4) Free app
CJ easily integrates with other dropshipping/e-commerce platforms.
As mentioned above, it integrates best with Shopify, WooCommerce, Lazada, Shopee, API, & Shipstation.
It is free to download on the Shopify App Store and scores a near-perfect 5-star rating!
Cons
1) App might become buggy
You should be aware that sometimes the app may become buggy. Common bugs on the app may be longer loading times, the app closing on its own, etc.
Otherwise, if we compare the app's performance to other platforms, it is quite lower or more mediocre, especially in loading times.
2) Lack of uniqueness
If you're someone who is looking to sell a highly demanded product that most won't find out about, then CJ isn't the right platform for you.
The CJ team is able to see your profits and can put you at risk of revealing your products quickly. Additionally, this isn't a huge risk but in comparison to other platforms, they can reveal your product faster.
3) User-interface
A huge issue associated with CJ Dropshipping is its cluttered interface. Plenty of the auto-translated content isn't written in proper English and can make it challenging to understand from time to time.
4) Isn't the cheapest alternative
CJDropshipping has comparable prices to AliExpress. It really isn't the cheapest alternative available.
Sometimes, you may need to rely too much on bulk shipments or even hire a private agent to get the best shipping costs.
CJ Dropshipping Reviews – What dropshippers say?
Scoring a near-perfect 5-star rating on the Shopify app store, and on Trust Pilot with feedback from more than 3 thousand users. Here is a photo of some positive reviews regarding the app on the Shopify app store.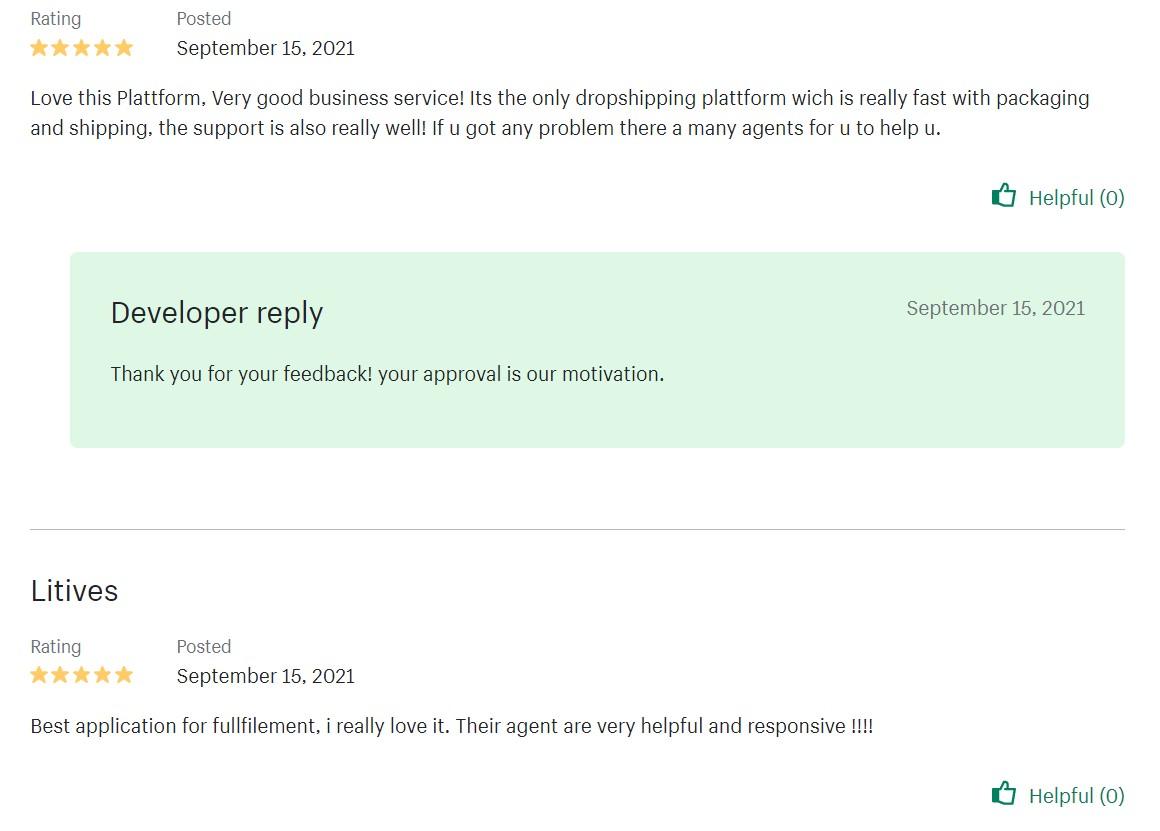 On the other hand, you may also have lower reviews from customers who lack satisfaction with the app. As we mentioned in our "Cons" list, CJ might tend to anger some users with their loading times and how quickly they solve an issue when it arises.

Comparatively, the platform overall is good. We can agree that no platform is perfect. The near 5-star rating from thousands of users shows everything!
Top CJ Dropshipping Alternative
Find winning dropshipping products & spy on your competitors
Minea analyses all online advertising to help you find the best products to launch, and the best creatives in your niche in just a few clicks.
Use coupon: DROPSHIPPING30 and get a 30% discount
💡Try Minea For Free
Overall CJ Dropshipping Review
CJ Dropshipping is a very well-built platform and is strongly helpful when starting out with it.
You have personal agents and video guides/tutorials assigned to you for free! You can contact these agents anytime and even watch the videos at any time.
What the platform has that most don't is the "all-in-one" dropshipping resource. More than 300,000 users are taking advantage of all their trusted features.
Above all, the platform is international, which gives a huge edge in shipping times and many advantages over dropshipping on AliExpress.
CJ Dropshipping
$9 /mo
Quis suspendisse ut fermentum neque vivamus non tellus.
Buy Basic
Features
Feature
Included
Molestie lobortis massa.

Test

Yes

Urna purus felis.

Test

Yes

Tellus pulvinar sit dictum.

No

Convallis.

No
Reporting
Feature
Included
Adipiscing.

Test

Yes

Eget risus integer.

No

Gravida leo urna velit.

No

Elementum ut dapibus mi feugiat cras nisl.

No
Support
Feature
Included
Sit dignissim.

Test

Yes

Congue at nibh et.

No

Volutpat feugiat mattis.

No

Tristique pellentesque ornare diam sapien.

No
Essential
$29 /mo
Quis eleifend a tincidunt pellentesque. A tempor in sed.
Buy Essential
Features
Feature
Included
Molestie lobortis massa.

Test

Yes

Urna purus felis.

Test

Yes

Tellus pulvinar sit dictum.

Test

Yes

Convallis.

Up to 20 users
Reporting
Feature
Included
Adipiscing.

Test

Yes

Eget risus integer.

Test

Yes

Gravida leo urna velit.

No

Elementum ut dapibus mi feugiat cras nisl.

No
Support
Feature
Included
Sit dignissim.

Test

Yes

Congue at nibh et.

Test

Yes

Volutpat feugiat mattis.

Test

Yes

Tristique pellentesque ornare diam sapien.

No
Pricing plan comparison
CJ Dropshipping
HyperSKU

Service
Service

Product sourcing

Product sourcing

Order processing

Picking and packing from their own warehouses

Shipping fulfillment

Order processing

Warehouse services

Express Shipping fulfillment

Photo/video taking

Private label service

Print on demand

Warehouse services

Reporting
Reporting

Sourced by expert staff

Included in Basic

Sourced by expert staff

Included in Essential

Customization
Customization

Thank-you cards

Thank-you cards

Customized packaging

Customized packaging

Logo-embedding

Logo-embedding

Minimum Order Quantity
Minimum Order Quantity

No MOQ

No MOQ

Shipping
Shipping

4-8 days

7-12 days

Integrations
Integrations

Shopify, WooCommerce, eBay, Lazada and Shopee Warehouse and fulfillment

Shopify, WooCommerce Warehouse and fulfillment

Warehouses in China and US

Warehouses in China and US (edited)