Аre you looking for a way to automate your dropshipping business? Do you know that you can use AI tools for eCommerce?
In 2023, the dropshipping industry is set to witness a surge in AI tools that can revolutionize the way you run your business.
These tools offer a range of features that can save you time, increase efficiency, and ultimately drive more sales. Whether you're looking for product research tools, marketing automation, or customer service solutions, there's an AI tool for eCommerce out there to meet your specific needs.
In this article, I will explore the 14 Best AI tools for eCommerce in 2023, helping you stay ahead of the curve and maximize your dropshipping success. Let's start!
What Is AI, And How Does It Relate To Dropshipping?
AI stands for Artificial Intelligence, which refers to the development of computer systems designed to perform tasks that usually require human intelligence.
In the context of dropshipping, AI can improve the way businesses operate by automating and optimizing various processes.
So, how does AI help dropshipping businesses?
By analyzing customer data and behavior patterns, AI algorithms can generate personalized product recommendations, ensuring that customers are shown products they are likely to be interested in, increasing the chances of a sale.
What's more, AI can also help optimize inventory management by analyzing historical sales data to predict demand, allowing dropshipping businesses to maintain optimal stock levels.
Furthermore, AI can assist in detecting and preventing fraud by analyzing transactional data and identifying suspicious patterns or activities. Lastly, AI can improve dynamic pricing strategies, ensuring that prices are adjusted in real-time based on various factors such as demand, competition, and customer behavior.
Overall, AI has the potential to significantly enhance the efficiency and profitability of dropshipping businesses.
Discover top dropshipping suppliers of original US/EU products
You're 2 minutes away from building your ecommerce empire
No credit card required. No commitment.
Get started for free
14 Best AI Tools For eCommerce And Dropshipping
With a wide range of AI-powered tools available, it's crucial to choose the ones that align with your business goals and help you stay ahead of the competition.
In this article, I will introduce 14 of the best AI tools for eCommerce and dropshipping, discussing their benefits and how they can help you improve your online presence and marketing strategies. So, let's dive in!
ChatGPT is an AI-powered chatbot that specializes in AI tools for eCommerce marketing and customer support. With ChatGPT, engaging in conversations becomes seamless, enabling you to enhance your online presence and drive conversions.
This powerful tool serves as a virtual assistant, offering personalized customer support tailored to each individual's needs. So, whether it's answering inquiries, assisting with purchases, or providing support 24/7, ChatGPT ensures customer satisfaction at every touchpoint.
Furthermore, ChatGPT's versatility extends beyond customer interactions, as it can aid in content creation for websites and social media posts, create product descriptions, etc.
🔸 Key Features
Enhance sales and SEO effectiveness by creating compelling and educational descriptions for products.
Use ChatGPT to expand your eCommerce marketing efforts by generating content for blog posts, social media, and email campaigns.
Expand your reach into new markets by producing content in more than 50 languages.
Provide prompt and tailored responses to customer questions.
Deliver support in over 95 languages.
Seamlessly integrate with eCommerce platforms and messaging systems.
Capable of managing a high volume of customer inquiries.
Decrease expenses associated with content creation and customer support.
For example, as a content writer myself, I find ChatGPT very helpful. Hence, I simply type in my requirements and ChatGPT got me an answer. 👇
Also, I use ChatGPT for various marketing reasons. Lastly, I used this AI tool to help me write a stunning TikTok Bio. Check this out. 👇
👉 Read about GPT-4 for Ecommerce: What You Should Know in 2023.
🔸 Pricing
Furthermore, there are two pricing options on ChatGPT, a free plan, and a ChatGPT Plus plan. 👇
Synthesia is an AI video creation platform that is an invaluable tool for dropshipping businesses. With Synthesia, you can easily create promotional videos for your products, helping to showcase your features and benefits to potential customers.
Hence, one of the standout features of Synthesia is its ability to create videos in multiple languages and accents, allowing you to reach a wider audience and expand your customer base.
In fact, this is particularly important in the ecommerce world, because customer experiences and personalization play a crucial role in driving conversion rates.
🔸 Key Features
Choose from 150+ ethnically diverse stock AI Avatars.
Create videos in 120+ languages, accents, and voice tones
Simply type in your text and turn it into professional voiceovers in minutes.
Create your own custom AI Avatar (your digital twin).
Add micro gestures to your avatar such as head nods or raised eyebrows.
Automatically create video scripts with ChatGPT-like prompts.
Record short videos of your screen with our built-in screen recorded.
Get access to millions of royalty-free images, videos, icons, shapes, and more.
Get access to hundreds of royalty-free soundtracks for your video.
Upload your own music or soundtrack for your video.
Automatically add closed captions to your videos to improve accessibility.
Select from 65+ professionally designed video templates.
🔸 Pricing
When it comes to pricing, Synthesia offers two pricing plans starting at $22.5/ month. 👇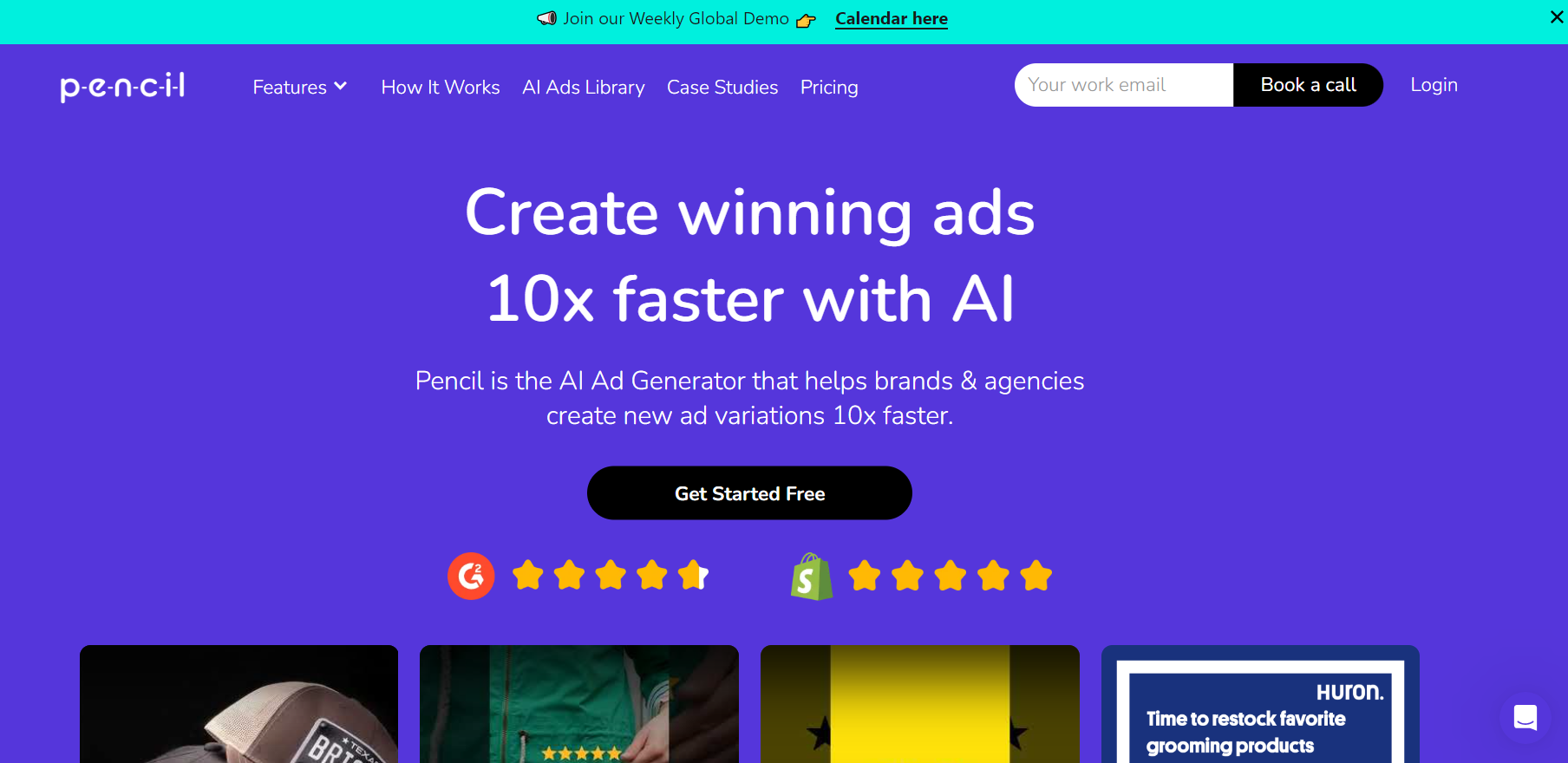 Pencil is an AI-powered tool specifically designed for dropshipping businesses to create compelling ad campaigns. With Pencil, you can easily generate multiple ad variations quickly and effectively, saving time and effort. This tool combines the skills of creative humans with the power of generative AI to provide high-quality ad creatives that resonate with your target audience.
Pencil enables you to generate both static and video ad creatives. Thus, this versatility empowers you to experiment with different formats and optimize your ad campaigns for maximum conversion rates.
🔸 Key Features
Seamless data connectivity. This means you can import your branding assets and market research data directly into the tool, enabling you to create ads that align with your brand identity and target customer preferences.
Generation. Get static & video ad ideas for all social channels and formats in minutes using AI generation.
Prediction. You can save money on ad testing with AI predictions based on over $1B in ad spend.
Editing. You can make changes to your ad ideas easily in real time with a drag-and-drop editing experience.
Insights. You can see which of your ads are working and why with insights into copy, elements, tags, and more.
Benchmarks. Compare your ads' messaging, results, and tactics to other brands in your sector.
🔸 Pricing
Pencil offers three pricing plans starting at $119/month. Also, you can choose to subscribe monthly, quarterly, or annually. 👇
Intelligence Node is one of the best AI tools for Ecommerce. Thus, it is a retail pricing platform that empowers eCommerce store owners with dynamic pricing solutions. Also, with its advanced AI capabilities, Intelligence Node modifies prices in real-time based on market trends, competitor analysis, and customer demand, allowing you to stay ahead of the competition.
By leveraging real-time data, Intelligence Node provides data-driven suggestions for optimizing prices, ensuring that you are offering competitive prices that maximize revenue. This platform also detects inconsistencies in pricing across various channels, helping to maintain pricing integrity and avoid potential pricing errors.
🔸 Key Features
Ability to offer valuable market insights. By analyzing vast amounts of data, the platform provides deep insights into customer behavior, market trends, and competitor strategies.
Offers real-time data-driven pricing solutions for e-commerce platforms.
Facilitates multilingual support for more than 29 different languages.
Examines pricing data to assist online retailers in addressing and rectifying pricing discrepancies.
🔸 Pricing
Intelligence Node offers modular pricing. So, the pricing you will get mostly depends on the revenue, number of competitors, No. of SKUs to track, etc. 👇
Mokker.ai is an advanced AI-powered tool that revolutionizes the way you create video content for your eCommerce store. Thus, with its automated video creation capabilities, you can easily generate high-quality videos without the need for any technical skills.
Additionally, Mokker.ai offers the unique feature of repurposing existing content. Hence, this means you can transform your product images, customer experiences, and blog posts into captivating videos in just a few clicks.
🔸 Key Features
Website Content. You can enhance your website or online shop with Mokker's AI Product Photography. Get tailored, high-quality and engaging product images, elevating your customer's browsing experience.
Social Media Imagery. Mokker's AI product photo generator crafts engaging, high-quality images – perfect for capturing attention on any social media platform.
Print Ready. Generate high-resolution, print-ready product images with Mokker's AI tool, adding unmatched quality to your marketing materials
Add captions to your videos effortlessly. This feature is crucial as it ensures that your message is not only visually appealing but also accessible to a wider audience, including those with hearing impairments.
Also, by harnessing the power of Mokker.ai, you can capture the attention of your potential customers, increase engagement, and ultimately drive more conversion rates for your eCommerce business.
🔸 Pricing
Now, let's talk about pricing. Mokker.ai's pricing starts at $19/month. Also, you can sign up and get 20 photos for free.
As an AI-powered tool, Tweetify.it is a game-changer for dropshippers. It offers a wide range of features and benefits that can greatly enhance your social media marketing efforts.
Firstly, Tweetify.it allows you to create engaging social media content from long-form content. So, as a dropshipper, you can use this AI's advanced capabilities to easily transform blog posts, customer experiences, and product descriptions into short and captivating tweets. This not only saves time and effort but also ensures that your content reaches a wider audience on platforms like Twitter.
In fact, you have numerous features that can help you deliver high-converting content. So, I will list a few of them.
🔸 Key Features
Helps drive traffic to your website. By automatically generating enticing tweets with call-to-action links, you can direct potential customers to your online store effortlessly.
Instantly convert text into tweet format. Tweetify.it allows you to quickly and easily convert any text into a tweet format, complete with the appropriate character count limitations.
Automatic hashtag generation. The tool automatically generates relevant hashtags based on the content of the text, making it easier for you to reach a wider audience and increase engagement.
URL shortening. Tweetify.it also provides URL shortening capabilities, allowing you to include links within your tweets without taking up too many characters.
Customizable tweet templates. You have the option to customize the tweet templates to match your branding or personal preferences, adding a unique touch to your tweets.
Real-time character count. The tool provides a real-time character count, making it easy for you to stay within the 280-character limit imposed by Twitter.
Integration with social media management tools. Tweetify.it can seamlessly integrate with popular social media management tools, allowing you to schedule and publish tweets directly from the platform.
Emoji support. Tweetify.it supports emojis, allowing you to add a touch of personality and creativity to your tweets.
Multi-language support. The tool supports multiple languages, making it accessible to users from different regions and backgrounds.
🔸 Pricing
Also, Tweetify offers a free trial, and the paid plans start from $1.
7. Namogoo
Wondering why Namogoo for dropshipping AI Tools? This tool actually helped many dropshippers to reduce cart abandonment.
With its advanced capabilities, Namogoo smooths customers' digital journeys, removing any hesitations along the way and ultimately increasing sales. Thus, one of the key features of Namogoo is its ability to deliver individualized promotions to customers, ensuring that they receive personalized offers and recommendations that are tailored to their preferences and needs.
🔸 Key Features
It analyzes customer behavior and identifies patterns to better understand their motivations and intentions. This valuable insight can help you to optimize your marketing strategies and provide a seamless experience for your customers.
Namogoo helps you to prevent competitors from stealing customers by leveraging AI technology to identify and address any potential threats to customer loyalty.
Uses artificial intelligence to identify possible obstacles and hesitations in the customer journey.
Delivers personalized communications and discount offers to customers, giving you an edge over your rivals.
🔸 Pricing
Also, if you want to learn Namogoo pricing, you need to request a demo.
PriSync is another valuable option from the AI tools for eCommerce & dropshipping. Also, it offers a range of powerful features that are essential for ecommerce store owners.
With PriSync, you can easily track your competitors' pricing in real-time, allowing you to make informed decisions about your own pricing strategy. The tool also provides valuable insights into your competitors' pricing and product offerings, helping you stay ahead of the competition.
What's more, PriSync offers flexibility in terms of product and pricing management, allowing you to easily update and optimize your listings.
🔸 Key Features
Discover how your pricing stacks up against competitors, on popular online platforms such as Amazon, eBay, and Walmart.
Track prices for individual products or categories and receive notifications whenever there are fluctuations.
Gain valuable insights into your competitors' pricing patterns during specific times of the year, enabling you to make informed decisions when setting your seasonal pricing strategy.
🔸 Pricing
When it comes to pricing, PriSync offers different plans to suit the needs and budgets of different dropshippers.
Firstly, it all depends on the type of syncing you choose. Hence. you can choose URL-based, Channel based, or a Hybrid model. For instance, for the URL Based option, the pricing starts at $99/month and is up to $399 per month, while the Channel based option starts at $199/month and it is up to $599/month.
👉 Also, learn the other pricing options here.
Do you need help with email marketing? Well, here's one of the best options from the AI tools for eCommerce & dropshipping.
Seventh Sense is an advanced AI email marketing tool that provides a wide range of features and benefits for dropshippers. In fact, one of its key strengths is its seamless integration with popular CRM platforms like Hubspot and Marketo. This way, you can also get efficient data synchronization and improved customer experiences.
🔸 Key Features
Send time optimization. It ensures that emails are delivered to each individual at the time when they are most likely to engage with the content. This also increases the chances of the email being opened, read, and acted upon, resulting in higher conversion rates.
Email throttling. Gradually sending out emails in smaller batches, prevents overwhelming the email server and ensures that all emails are successfully delivered without any delays or technical issues.
Email frequency optimization. This ensures that customers do not feel overwhelmed or annoyed by receiving too many emails, which could lead to unsubscribing or negative brand perception. It also helps you to maintain a consistent and relevant communication strategy with customers, improving the overall email marketing effectiveness.
🔸 Pricing
Seventh Sense pricing depends on which integration you choose, Hubspot, or Marketo. Next, you get two pricing options for each of them.
For Hubspot, you have a $64/month pricing plan and a custom pricing plan. While for Marketo you have a Business plan at a cost of $360/month and a custom pricing.
Patterned offers a wide range of powerful AI tools for eCommerce & dropshipping. Hence, it can significantly improve your online store's performance.
One of the standout features is its ability to optimize product catalogs, making it easier for potential customers to find what they are looking for. Also, with Patterned, you can effortlessly organize and categorize your products, which brings you easy navigation.
Moreover, what sets Patterned apart is its AI-powered personalized recommendations. Thus, by analyzing customer behavior and interactions, Patterned understands your customers' preferences and recommends products that are most likely to resonate with them.
🔸 Key Features
Generate one-of-a-kind, free, and adaptable product designs.
Enhance efficiency and gain creative inspiration during the design phase.
Refine the details of your patterns, encompassing fashion, hues, and contours.
🔸 Pricing
Furthermore, Patterned offers four pricing plans, starting at $10/month. Plus, you get 20 patterns for free.👇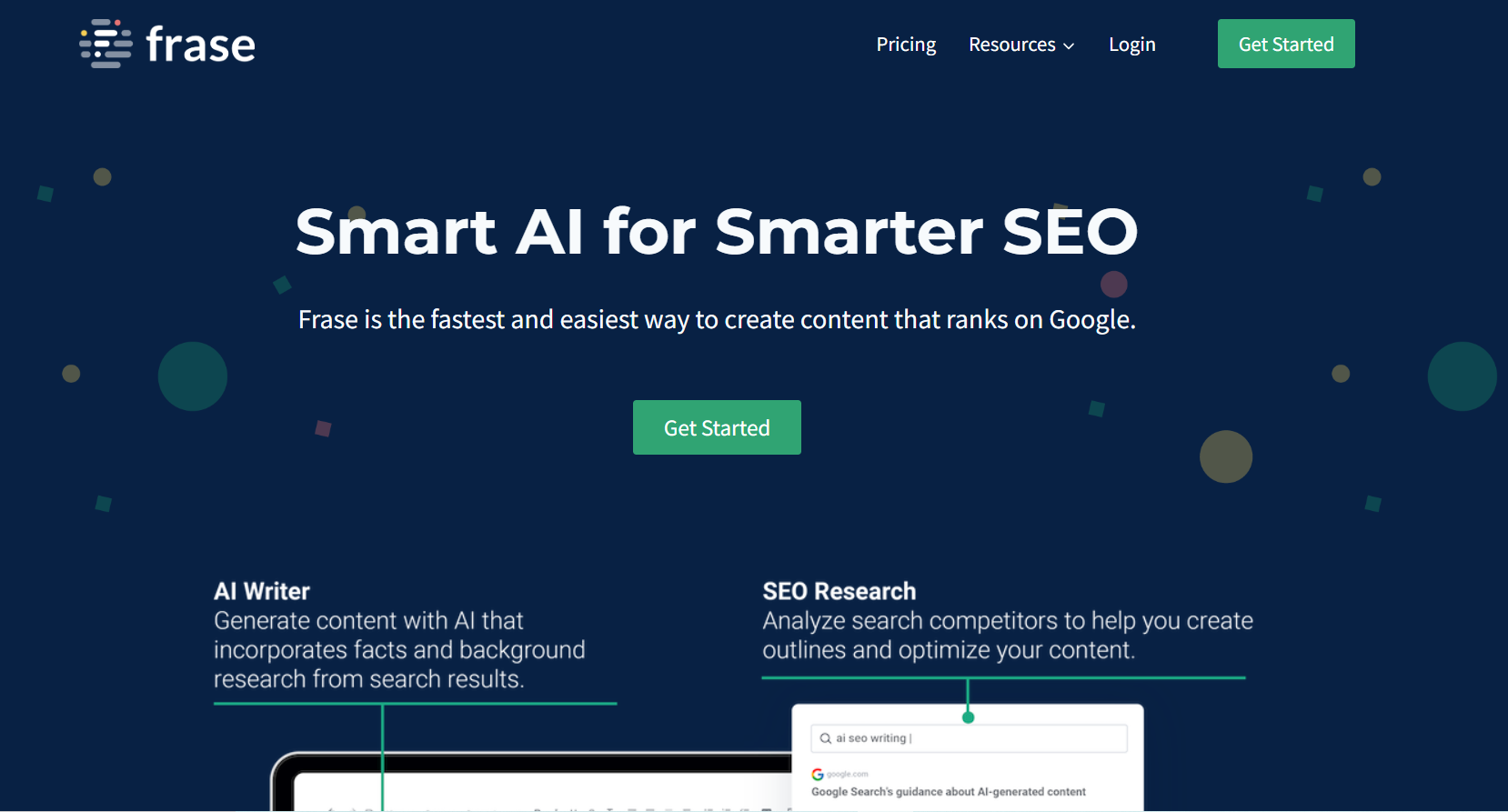 Frase.io is one of the best AI tools for eCommerce & dropshipping I have ever used for my marketing purposes.
It is an innovative content AI software that streamlines the content creation process. In fact, with its research panel, I can easily find relevant information and insights to create high-quality content that resonates with my target audience. Also, it saves me time and ensures that I'm providing valuable insights and information to my readers.
🔸 Key Features
Helps you discover the ideal keywords to focus on for your product pages, blog article, or promotional initiatives.
You can optimize your content for search engines by understanding the keyword usage tactics employed by your competitors.
Frase has the capability to generate a content outline based on your desired keyword in mere moments.
It has various content optimization features, like writing SEO-friendly meta descriptions, title ideas, Attention Interest Desire Action, Blog Introduction, Blog Title Ideas, Bullet Point Answers, Definition, "Explain Why" section, Listing Features, Featured Snippet (Numbered List), and many more.
Analytics. It provides comprehensive analytics that helps me understand the performance of my content and make data-driven decisions to improve my marketing strategies.
🔸 Pricing
Furthermore, Frase.io offers three pricing plans starting at $14.99/month. Also, there's a 5-day trial for $1. 👇
This is one of the best copywriting AI tools for eCommerce & dropshipping.
Tiipe can help your dropshipping business to generate distinctive and innovative product descriptions by using your brand's keywords and product characteristics.
So, by importing essential product information, customizing preferences, and instantly generating numerous professional descriptions, you can save time and effort.
This platform is capable of creating descriptions for diverse product categories, whether it is about fitness, fashion items, home decor pieces, or beauty products.
🔸 Key Features
One of its AI tools for ecommerce & dropshipping is the personalized messaging feature. By analyzing customer behavior and interactions, Tiipe can create customized messages that resonate with individual users, leading to increased engagement and higher conversion rates.
Tiipe also excels in user behavior analysis. By closely monitoring customer interactions and journeys throughout the online store, Tiipe provides valuable insights into customer preferences and behaviors. This information can be used to optimize marketing strategies and tailor the website experience to the target audience.
Another area where Tiipe shines is product recommendation optimization. By utilizing AI algorithms, Tiipe can generate personalized product recommendations for each customer based on their previous browsing and purchase history. This enhances the customer experience by showcasing relevant products and increases the chances of making a sale.
🔸 Pricing
Tiipe offers three pricing plans starting at $29/month. Also, there's a custom pricing option that depends on your specific requirements. Also, there's a 30-day free trial.
13. Murf AI
When it comes to creating AI-generated speech, Murf AI is a text-to-speech software that stands out. With over 130 AI voices to choose from, Murf AI offers a wide range of options to create captivating and realistic speech for various applications.
So, how does this help your dropshipping business? Marketing! Of course. You can create videos, presentations, podcasts, commercials, or e-learning content.
💡 Tip: Learn How To Make Money On Youtube Without Making Videos [2023].
🔸 Key Features
Capture tone and nuances in speech. This ensures that the generated speech sounds natural and engaging, making it perfect for any project that requires high-quality audio.
Voice-over video. Using Murf's AI technology, you can add a well-timed AI voiceover to your videos and make them more engaging. Unlike most video editing software, Murf doesn't require video editing skills.
Voice Editing. You can simply feed your recorded speech onto the Murf Studio and it automatically transcribes the content into an editable text format that you can edit and modify.
Voice Cloning using custom voices. With Murf, you can also create an AI voice clone that delivers life-like diction and the full spectrum of human emotion and conveys all the nuances of human speech
Voice Changer. This tool also supports an AI voice changer feature which offers one access to upload a raw home recording and convert that into a professional quality voice-over with the voice of your choice
🔸 Pricing
Murf offers a free plan, and three other pricing plans starting at $29/month. However, the pricing mostly depends on the number of users you choose for each pricing option. 👇
For example, if you set on #2 users for the basic plan, this means that you will have to pay $58/month, instead of $29/month.
Wisecut is an AI-powered online platform that specializes in video editing. With its advanced voice recognition technology, Wisecut it allows you to edit videos in a simplified and efficient manner.
Thus, this powerful tool offers a wide range of AI tools for ecommerce & dropshipping, including automatic music synchronization, subtitles generation, facial recognition, and auto reframe. This way, you can create engaging content and attract more customers.
🔸 Key Features
Auto cut silences
Smart background music
AI storyboard
Auto subtitles
Transcription
YouTube Integration
AI-powered audio ducking
Subtitles auto-translation
Facial recognition auto punch-in
Studio Voice
Background noise-canceling
Sound waves for audio files
Facial recognition aspect ratio conversion (landscape, vertical and square.)
Priority customer support level
🔸 Pricing
Wisecut offers a forever free plan, and three pricing plans starting at 15/month. 👇
The Benefits Of Using Artificial Intelligence In Dropshipping
As a dropshipper, I have found that using artificial intelligence (AI) tools in dropshipping has numerous benefits. So, I will tell you how I benefit from it.
✅ Improve Product Selection & Customer Experience
Firstly, AI can improve product selection by analyzing customer behavior and purchase history to recommend the most relevant and popular items. This not only improves customer experience but also increases conversion rates.
Also, another tool that helps me find my winning products is Minea. With its AI features, I can spy on competitors' ads and see into what people buy the most.
✅ Optimize Dropshipping Logistics
Secondly, AI can optimize logistics by automatically managing inventory levels and predicting demand, helping to prevent stockouts and reduce shipping times. This ensures a smoother and more efficient operation.
👉 Check out the Inventory Source Review: The Best Automation Software for Dropshipping?
✅ Boost Dropshipping Sales & Profits
Thirdly, AI can boost profits by analyzing customer data and identifying opportunities for upselling and cross-selling. Also, by providing personalized product recommendations, AI helps to increase average order value and drive revenue.
Not just that, also by helping you boost the SEO of your blog posts, or creating captivating videos, you can bring more potential customers to your store.
✅ Automating Various Dropshipping Tasks
Furthermore, AI can streamline operations by automating tasks such as product categorization, pricing optimization, and order fulfillment. This frees up time for you to focus on other aspects of your dropshipping business.
👉 Learn How To Price Dropshipping Products: Definitive Guide For Beginners.
Challenges of using AI in ecommerce
Using AI in ecommerce certainly has its advantages, but it also comes with its fair share of challenges.
❌ Data Privacy
One major concern is data privacy. With AI-powered tools collecting and analyzing customer data, there is always a risk of a breach or misuse of sensitive information. This can have serious consequences for both the customer and your business.
❌ High Initial Investment
Another challenge is the high initial investment required to implement AI tools. While these tools can certainly bring long-term benefits, the upfront cost can be a barrier, especially for small and medium-sized businesses.
It's important to carefully consider and assess the potential return on investment before making such a significant financial commitment.
❌ Potential Poor Customer Service
Additionally, there is the potential for poor-quality customer service with AI chatbots. While chatbots can provide quick and automated responses, they may not always understand nuanced customer queries or provide the level of personalization that human customer service representatives can offer.
This can lead to frustrating experiences for customers and a negative impact on their overall satisfaction.
7 Applications Of AI In Dropshipping And Ecommerce
1. Personalized Product Recommendations
One of the most powerful AI tools for ecommerce & dropshipping is the use of personalized product recommendations.
By using AI algorithms, you can analyze customer behavior, browsing history, and purchase history to offer tailored product suggestions. This not only improves the shopping experience but also increases the chances of customers finding and purchasing items they'll love.
In fact, you can use this to improve your cross-selling and up-selling marketing strategy. So, using features like "People also buy" or "Customers also viewed," AI-powered tools suggest complementary products based on various attributes like size, color, shape, fabric, and brand.
These personalized recommendations create a more personalized and engaging customer journey, leading to higher conversion rates and increased customer satisfaction.
For example, the Tiipe AI tool can generate personalized product recommendations for each customer based on their previous browsing and purchase history. 👇
Also, Amazon stands for its cross-selling and up-selling strategies. Wondering how? Well, they also have their AI Machine Learning for this purpose. 👇
2. Chatbots And Virtual Assistants
Another MUST-HAVE AI tools for eCommerce & Dropshipping are the one that brings the best customer service.
Of course, if you want to deliver good customer service for your dropshipping business, you must think of various possible options to communicate with your customer. Well, that's when these AI tools for eCommerce come in handy.
Chatbots and virtual assistants are powerful tools that can greatly enhance customer interactions in the dropshipping and ecommerce industry. These AI-powered tools are designed to provide quick and accurate responses to customers' inquiries, improving their overall experience.
One of the key benefits of using chatbots and virtual assistants is their ability to collect valuable customer data. Through interactive conversations, these tools can gather information about customer preferences, purchase history, and behavior patterns. This data can then personalize the customer's journey and provide targeted product recommendations, ultimately increasing conversion rates.
For example, I am personally using the Tidio tool which helps me to easily interact with my visitors and answer all of their questions. 👇
Plus, it integrates with Instagram and Facebook Messenger, and it syncs all your different email inboxes.
👉 Read about Tidio Reviews: Is This The Best ChatBot For Ecommerce Stores?
3. Fraud Detection And Prevention
AI tools play a crucial role in fraud detection and prevention in the dropshipping and ecommerce industry. By relying on machine learning technologies, these tools can analyze vast amounts of data, detect anomalies, and monitor transactions in real-time.
With the ability to identify unusual transactions, such as high-value transfers or multiple transactions from unfamiliar locations, AI tools provide an extra layer of protection against fraudulent activities.
For example, SEON offers a range of powerful capabilities, including detailed device fingerprinting to create thorough user profiles, and comprehensive data enrichment using email addresses, IP addresses, or phone numbers.
Plus, it scans over 50 social media and online platforms to uncover relevant user information that can uncover your customers' genuine motivations.
4. Inventory Management
So, why use AI Tools for eCommerce & dropshipping? Yeah, here's another reason why!
By using their advanced algorithms and machine learning techniques, these tools can accurately predict demand, track inventory efficiently, set reorder points, and effectively manage inventory costs.
One of the main benefits of AI-enabled inventory management is its ability to provide accurate demand prediction. By analyzing historical data and customer behavior, these tools can determine the optimal stock levels for each product.
Also, these AI tools offer efficient inventory tracking capabilities. With real-time data analytics, you can closely monitor the movement of your inventory, identify any potential issues, and quickly take corrective action. This allows for better inventory control, improved order fulfillment rates, and enhanced customer satisfaction.
For instance, I am using FlxPoint as my inventory management automation software. It simplifies and streamlines inventory management by providing a centralized platform with powerful features and integrations.
Plus, it helps me optimize inventory levels, improve order fulfillment, and make informed decisions to drive profitability.
👉 Check out the Dropship Automation Software: 12 Best Dropshipping Software To Automate Your Store.
5. Dynamic pricing
AI tools play a crucial role in implementing and automating dynamic pricing strategies. These tools allow you to adjust prices in real time based on user behavior, market demand, and competitor prices.
So, you can analyze vast amounts of data, including historical sales, competitor pricing, and customer behavior, to make accurate pricing decisions. Also, by leveraging machine learning algorithms, these tools can identify patterns and trends, enabling you to optimize prices for maximum profitability.
What's more, what I love the most about them is the ability to offer optimal discounts. By analyzing purchase history, AI tools can identify customers who are price-sensitive and offer them personalized discounts, improving conversion rates and customer satisfaction. Plus, you can also set various prices across different sales channels.
So, here's one suggestion for you. The DynamicPricing AI tool helps you optimize your pricing strategies by leveraging advanced data analysis and machine learning techniques.
It enables you to dynamically adjust prices based on market conditions, demand, and competition, ultimately maximizing revenue and profitability.
6. Customer Churn Prediction
One of the key challenges for any ecommerce business is reducing customer churn. Thankfully, AI can play a crucial role in effectively predicting and addressing customer churn.
Firstly, AI tools can analyze customer engagements and identify key indicators of churn. By examining customer behaviors and patterns, AI can flag warning signs that indicate a customer is at risk of churning.
Once potential churn is identified, AI can automate follow-ups with personalized messaging and offers to re-engage customers. This helps to build customer loyalty and mitigate the risk of churn.
Additionally, AI can analyze customer data and provide valuable insights into why customers are leaving. By understanding the reasons behind churn, you can implement targeted strategies to address those issues and retain customers.
For example, Salesforce Einstein is an AI-powered tool that utilizes machine learning algorithms to predict customer behavior, identify churn risks, and provide personalized recommendations.
Also, Amazon has its own AI tool for this purpose. The Amazon SageMaker is a fully managed machine learning service offered by Amazon Web Services.
It provides tools and infrastructure for building, training, and deploying machine learning models, including models for customer churn prediction.
7. Generative AI
Well, this is quite popular nowadays. Have you heard about ChatGPT, or the new "Google knows everything" era?
With generative AI, you can create marketing collateral that is tailored to different customer segments, allowing for a more personalized and targeted approach.
By utilizing generative AI, you can scale your marketing efforts and create high-quality content at a faster rate.
Hence, popular generative AI tools like ChatGPT and DALL-E have gained recognition for their ability to generate human-like text and images. These tools enable you to automate the creation of social media posts, blog articles, and even product descriptions, saving time and resources.
Find winning dropshipping products & spy on your competitors
Minea analyses all online advertising to help you find the best products to launch, and the best creatives in your niche in just a few clicks.
Use coupon: DROPSHIPPING30 and get a 30% discount
💡Try Minea For Free
Starting Your Dropshipping Business With AI
Starting your dropshipping business with AI can be a game-changer. With AI, you can optimize product sourcing, personalize customer experiences, and implement advanced marketing strategies.
Also, with the ability to analyze customer behavior and provide valuable insights, AI can help you make data-driven business decisions and enhance your overall online presence.
In this article, I've listed the top 14 AI tools for eCommerce & Dropshipping. Plus, I provided you with valuable insights about each app, and the benefits and drawbacks of using AI Tools
So, why not leverage the power of AI to start your dropshipping business and boost your chances of success?