Video games dropshipping – Is it a dream job for any avid gamer? No matter if you truly love to play games or simply want to enter the video game industry, selling video game-related merchandise online is a great place to start.
For instance, it is predicted that the gaming industry will continue its impressive expansion and potentially reach a value of $321 billion by 2026. Also, the revenue-based market size of the video games industry is estimated to be $106.8 billion by 2023.
So, yes. It is a big deal, and it is a lucrative dropshipping niche.
Let's now move to the main focus of our discussion and see why you need to start a video game business and how to do so.
Why Dropshipping Video Games?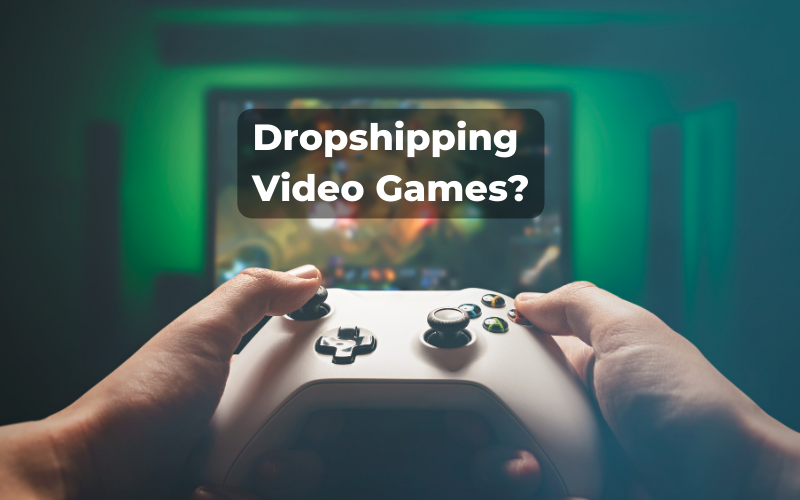 Let's start with the – how many gamers do you know around you? You probably know at least 3-4 people that are in your surroundings and love to play video games. Well, how about every one of us knows even more people?
In today's fast-paced world, people are seeking an escape through video games. Thus, whether it's to unwind or spoil in a thrilling experience, video games offer a captivating adventure.
From fighting demons to rescuing princesses, gamers get to do things they can't do in real life. This is why video games have become big businesses, with billions of gamers worldwide.
Hence, many children, teenagers, and adults around the world spend hours of their day playing a wide range of video games. Therefore, we can certainly say that your customer base is huge! Starting from demographics to their desires.
Also, as a dropshipper, you can leverage this demand by offering a wide range of video games and accessories to gamers worldwide. So, if you're looking to make money online, video games dropshipping is an exciting opportunity to explore.
Discover top dropshipping suppliers of original US/EU products
You're 2 minutes away from building your ecommerce empire
No credit card required. No commitment.
Get started for free
7 Product Ideas For Video Games Dropshipping Stores
If you want to break into the video games dropshipping niche, you need to figure out what you are about to sell. Video games, of course. Also, you should decide what model fits your dropshipping business idea.
But it is safe to say that the industry is diversified. This means that as video games dropshipping store owner, you can sell a wide range of products.
And here are some of the potential items you can sell online:
Video games;
Consoles, hardware (e.g., cables, controllers, etc.)
Health products for gamers (e.g., glasses, posture correctors, etc.)
Game-related merchandise (e.g., gaming chairs, gaming desks, etc.)
Once you have found your dropshipping target audience, you need to identify what resonates best with your audience. In other words, you need to determine what kind of video games to dropship and whether these products might be profitable.
You can use free ways to find winning dropshipping products. But to save you precious time and help you avoid costly dropshipping mistakes, we have done product research for you using Google Trends. Here's our guide on how you can use Google Trends for your store.
This should help you evaluate your idea for a video game product and see if there is a need for it.
Let's get started!
1. PS5 video games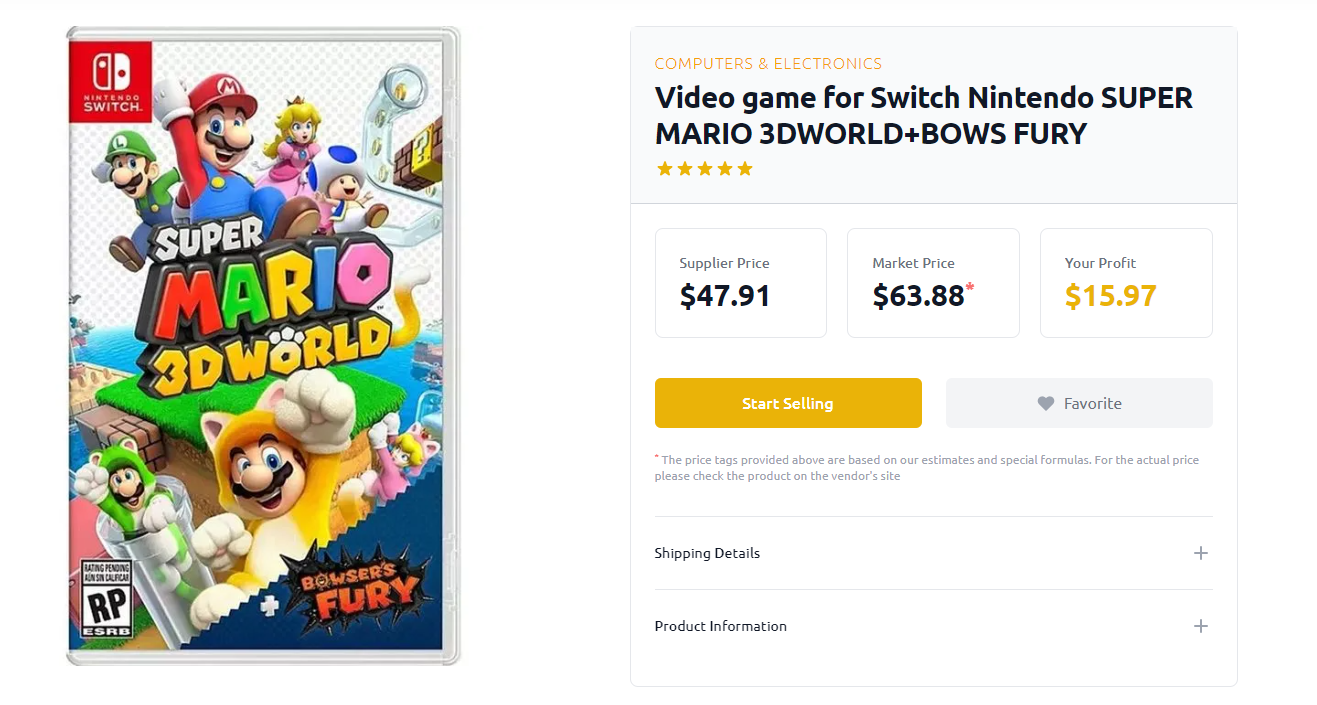 Dropshipping video games may be the first option for your online video game store. You might think that everyone downloads video games through the web today.
Yes, this is true. And it can make dropshipping video games a hard task for online merchants like you.
Also, these product market prices range between $49-69. So, the profit margins are around 30-40%.
However, the demand for these products is always on the rise. Also, PS5 is one of the most popular types of video gaming nowadays. 👇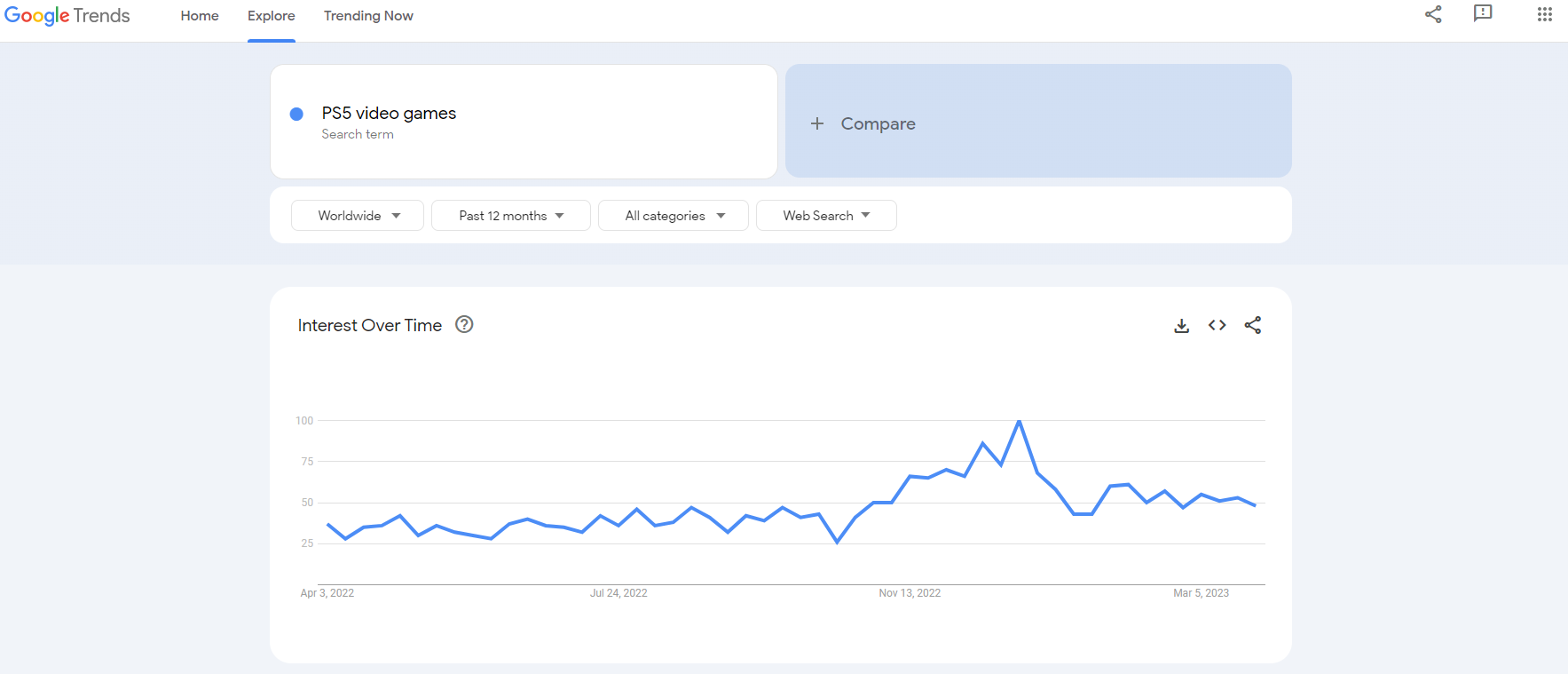 Furthermore, PlayStation 5 keeps dominating the market for both console and video games. Some of the most popular PS5 video games include:
Call of Duty: Modern Warfare II
Fortnite Epic Games
Grand Theft Auto V Rockstar Games
FIFA 23
However, just make sure you include enough genres that cater to a wide variety of gaming preferences.
2. Gaming mice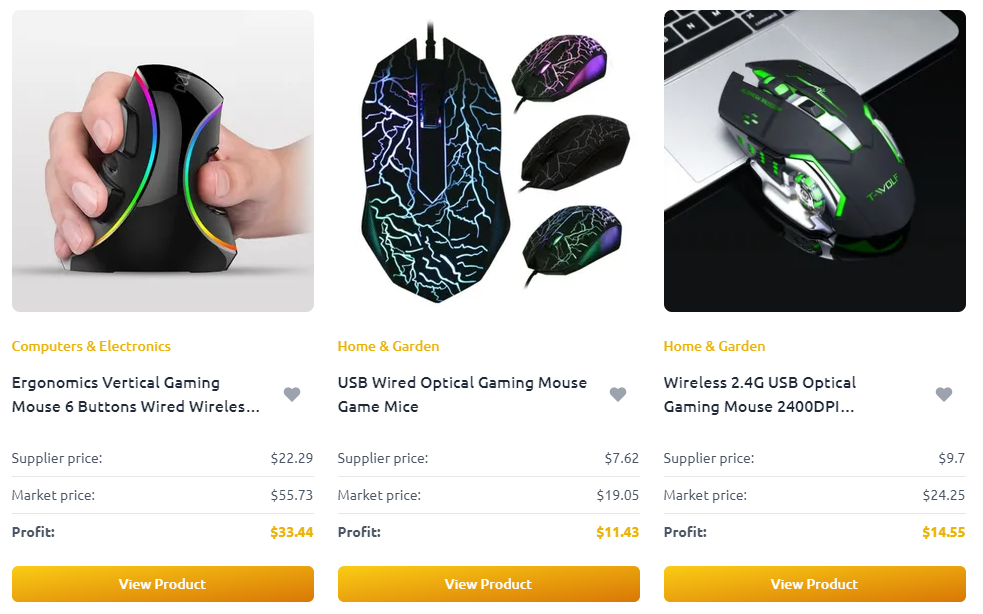 Fortunately, games are not the only items gamers buy. Avid gamers want to be more precise and accurate. So, they use mice for gaming equipment.
In fact, this is a very important matter in many fast-paced games. So, they tend to buy professional gaming mice.
Thus, the product costs are around $7-22, and the selling prices are between $19-55. So, the profit margins are around 60-63%. So, this allows you to offer gaming mice for every game and budget.
The good news is that one thing you will notice while browsing the product catalogs of different dropshipping suppliers is that the majority of mouses do not cost a fortune.
What's more, these video games dropshipping products are in non-stop demand. 👇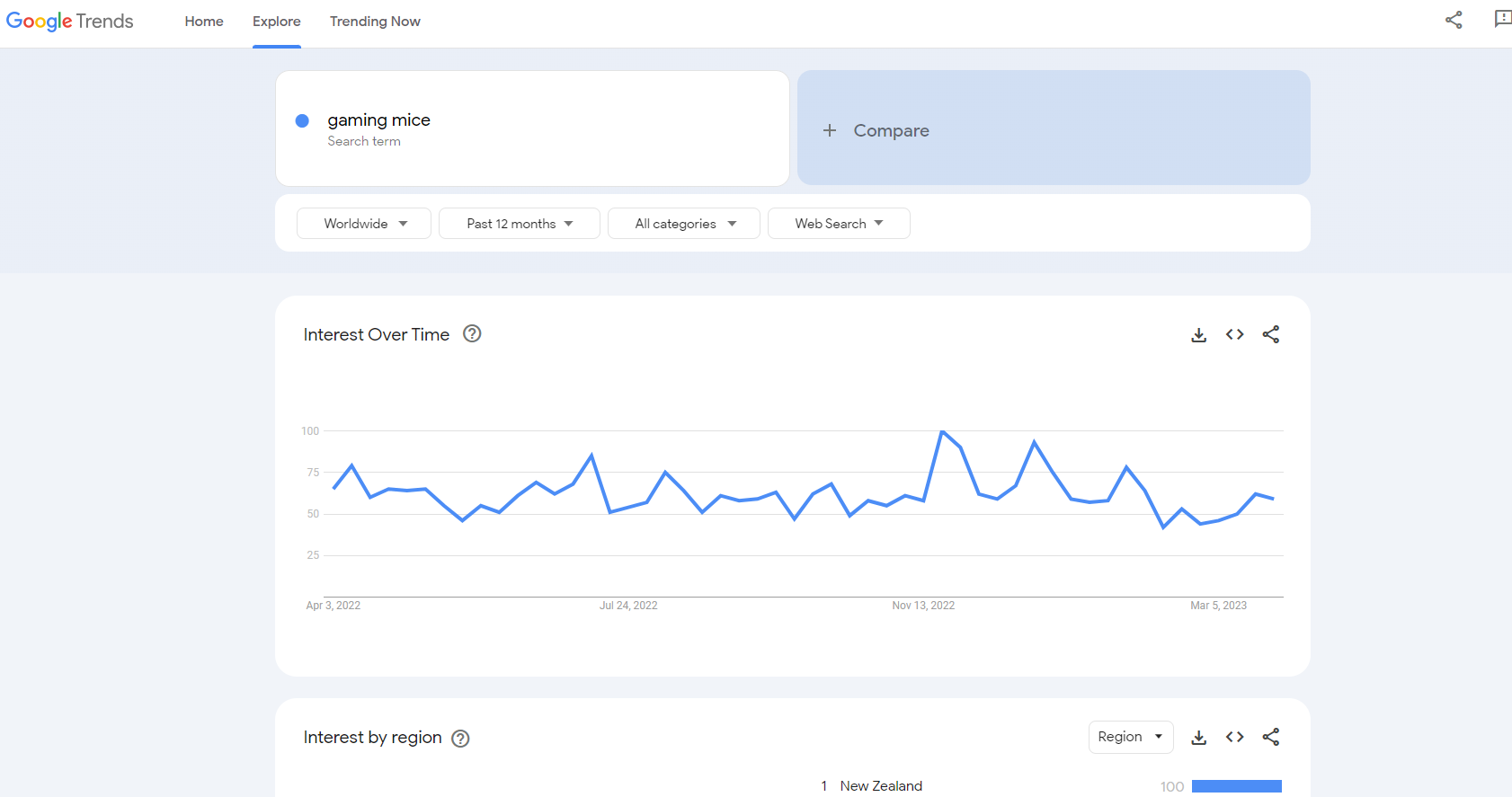 3. Gaming keyboards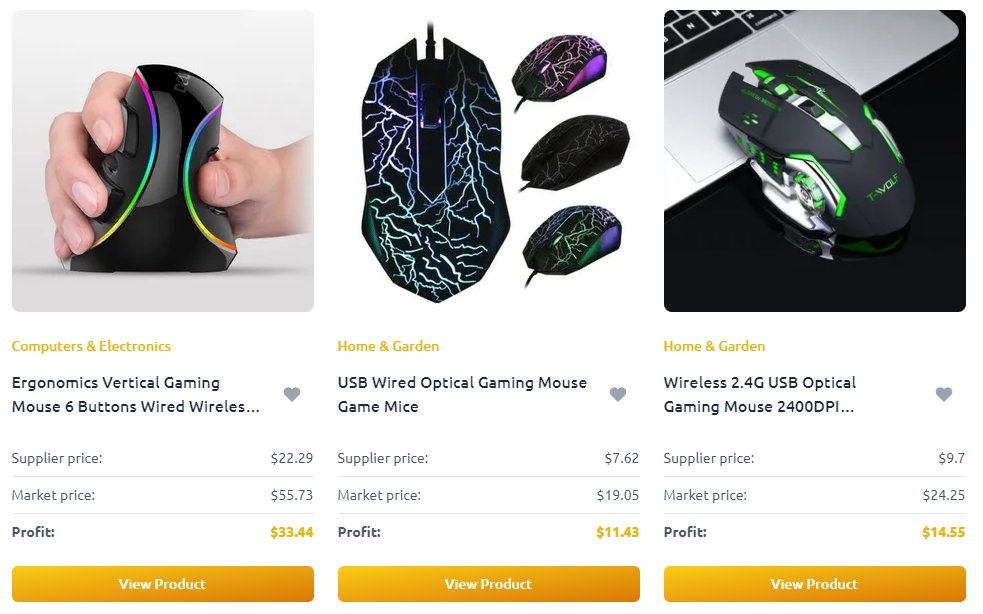 Next, gaming keyboards are also a necessity for video game enthusiasts.
They feature full-sized, well-spaced, mechanical keys, which are easy to use for longer periods of time – some games usually require long play sessions.
So, the product costs range between $18-101, and the selling prices are around $47-176. Thus, the profit margins range between 40-60%.
Therefore, they are great gaming products to sell online. If you decide to dropship video gaming keyboards, your customers will be more likely to celebrate some great PC gaming triumphs.
Also, the demand for these products is constantly on the rise. 👇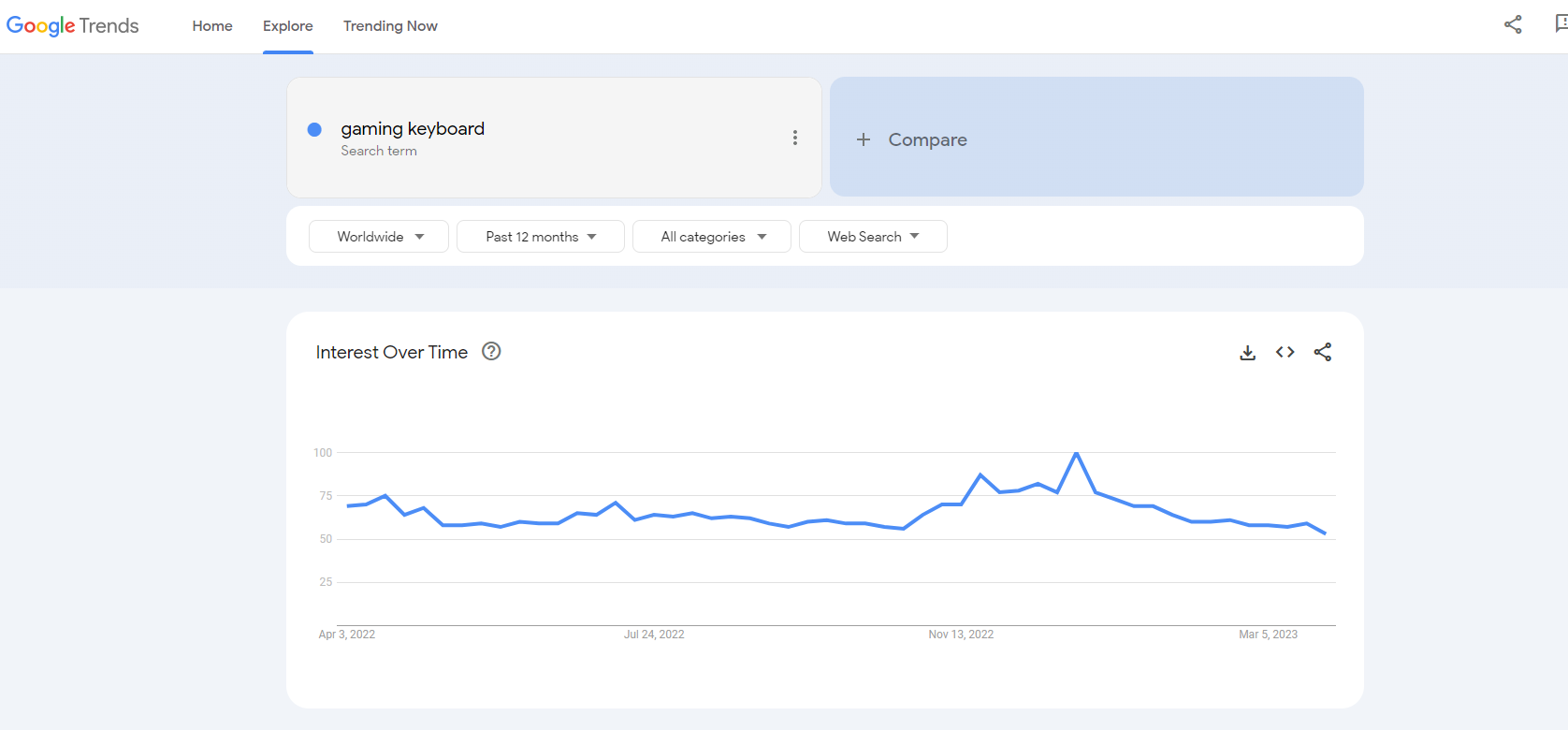 4. Gaming earphones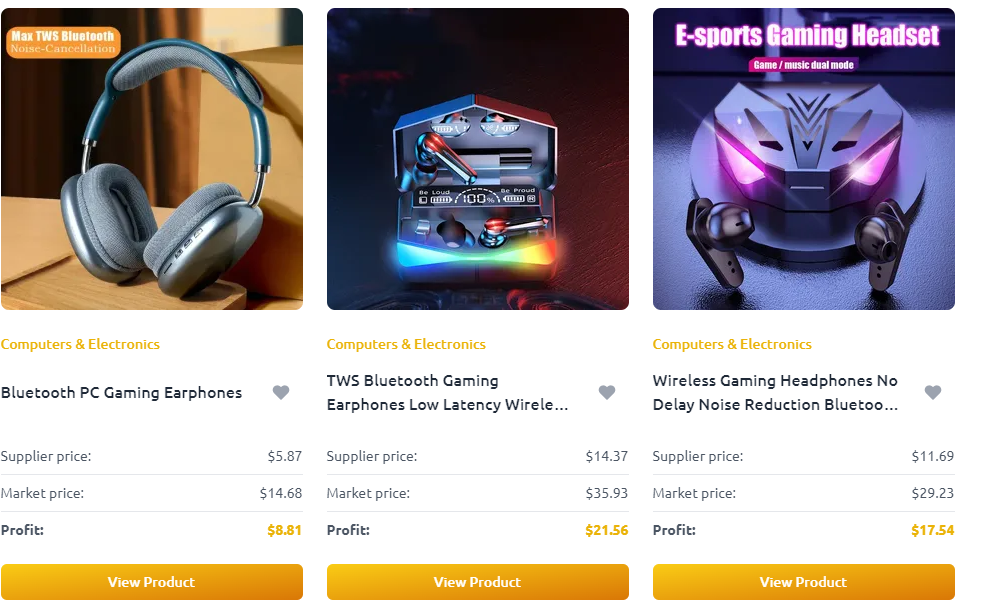 Gaming earphones are a vital piece of equipment that every gamer needs in their arsenal.
What's more, their profit margins are great! In fact, the product costs range between $5-68, and the selling prices are around $14-171. Thus, the profit margins are around 40-60%.
Thus, they are great gaming products to sell to those who seek a more immersive gaming experience and like to make the game feel more realistic.
While examining the data about the market, we have come to the conclusion that they are high-demand video games dropshipping products that you may want to add to your store.
In fact, if we compare last year's stats, we can say that this is the perfect time to start dropshipping these products. 👇
5. Game controllers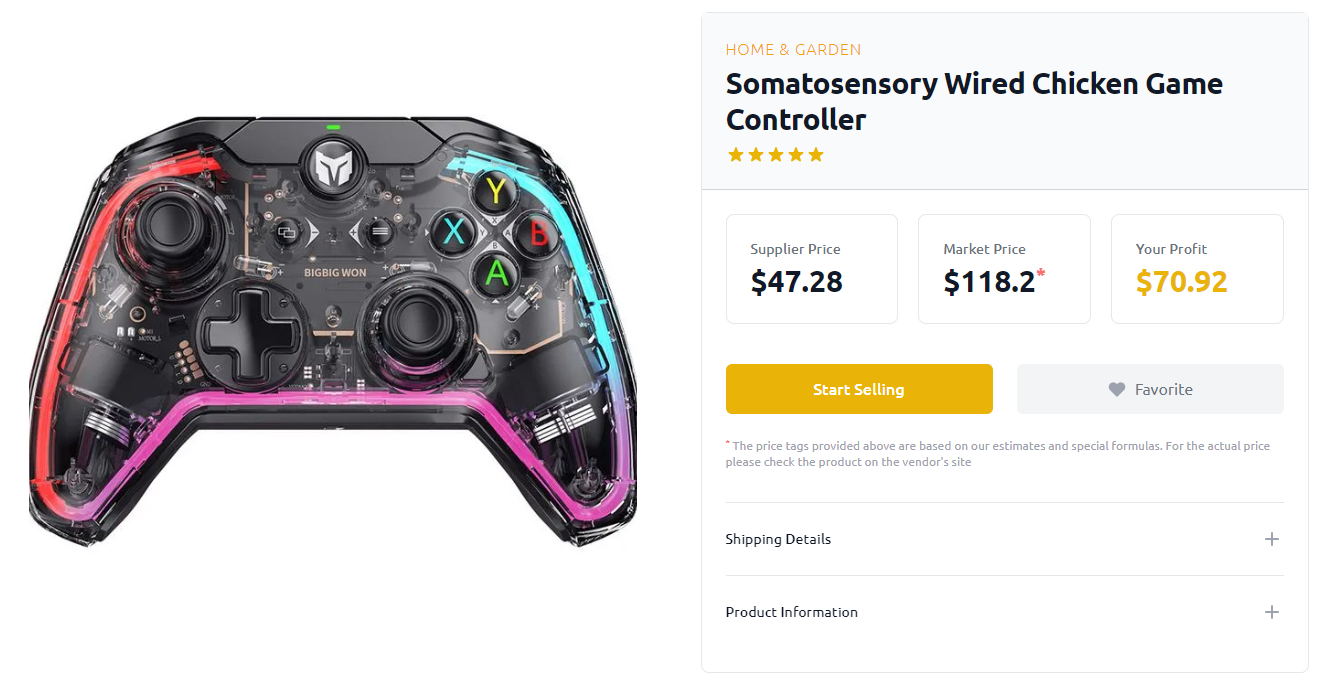 Game controllers are a timeless category of popular gaming products to sell online. Also, the costs for these products range between $10-47, and the selling price is around $25-118. So, the profit margins are around 60%.
Many games are better played with a game controller than with a gaming keyboard and mouse. Gamers know that.
And these video games dropshipping products are a precious piece of kit for video game enthusiasts with varied tastes.
Also, as Google Trends implies, these product searches are constantly IN!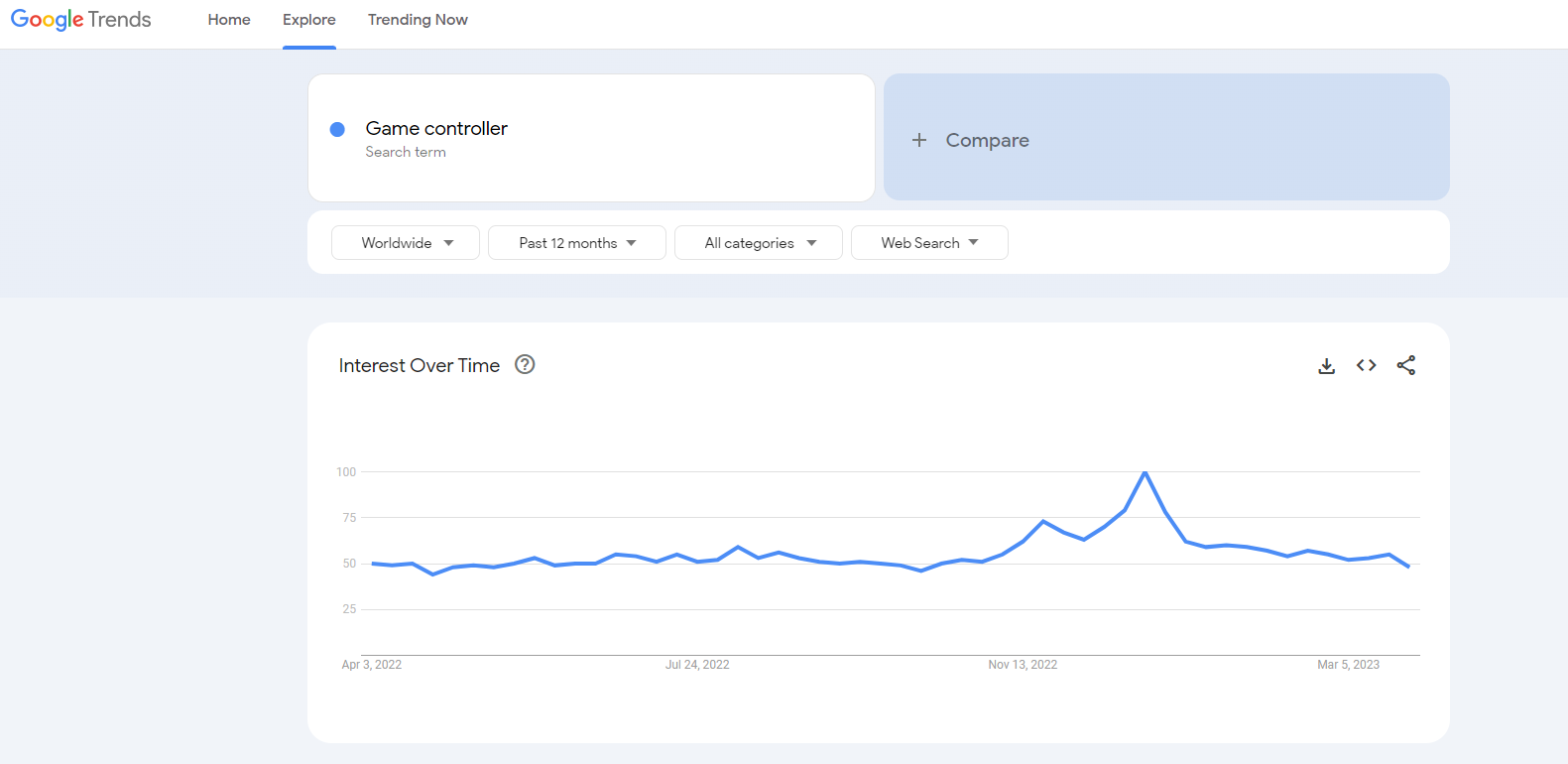 6. Laptop cooling pads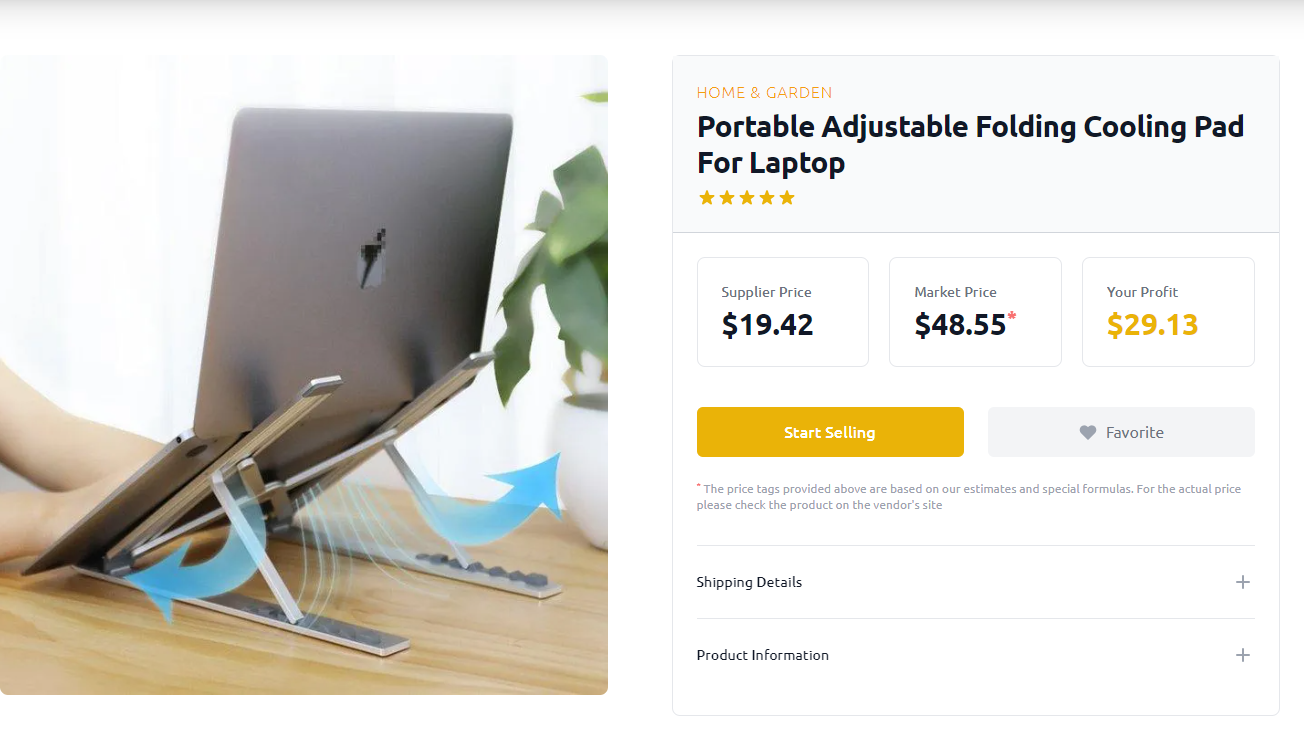 Also, the product costs range between $19-30, and the selling prices are between $48-75. Thus, the profit margins are around 60%.
These video games dropshipping products will do wonders for the performance of your customers' devices. And most gamers agree that investing in a good cooling pad is an absolute must.
Also, there is a slight decrease in the demand for laptop cooling pads in the last couple of weeks. But this does not mean that they do not sell like crazy.
However, the demand for this product is always high. And, if we compare it with the last year, it is expected to grow even more! 👇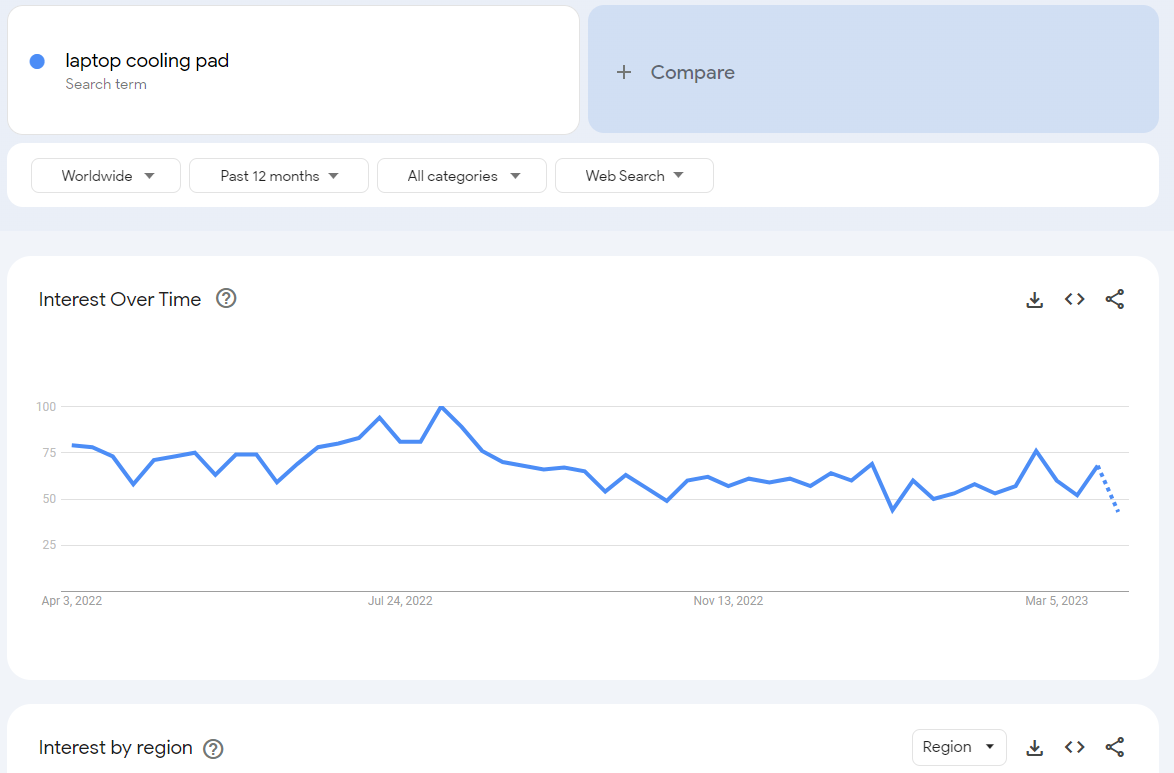 7. Posture correctors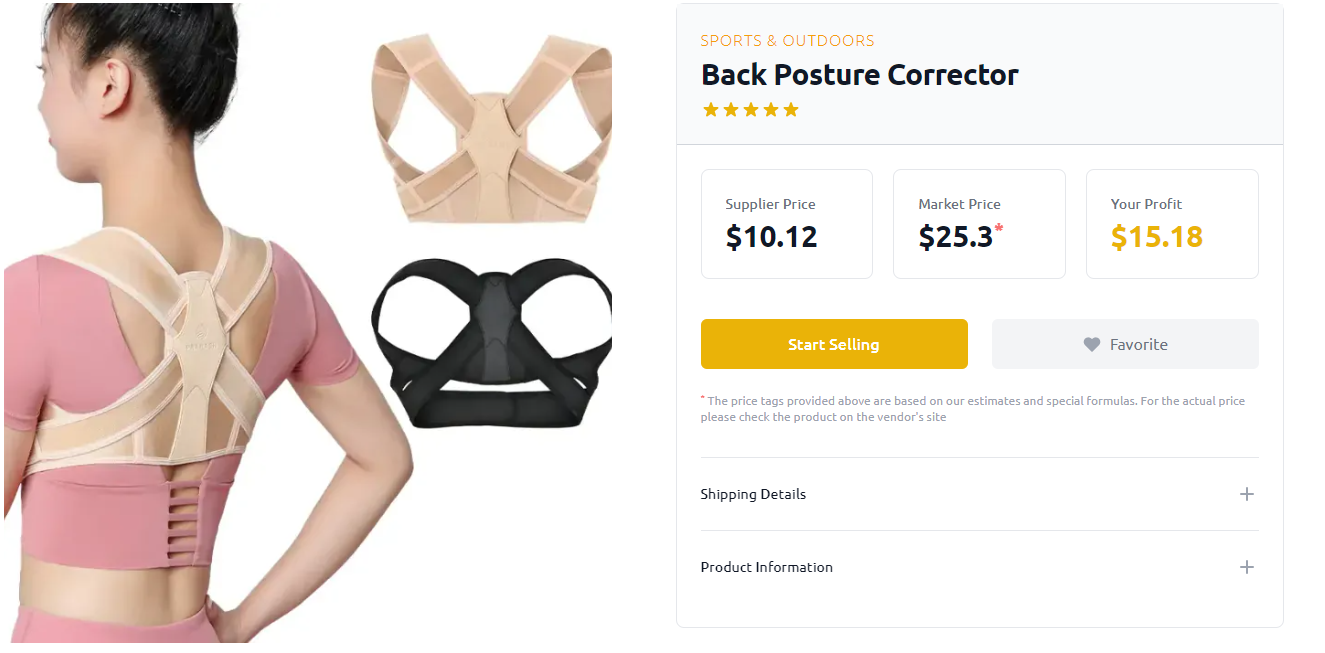 With game lovers leading increasingly sedentary lifestyles, poor posture is a scary side effect that can result in stiff muscles and back pain. However, posture correctors are elastic straps designed specifically to address the issue.
The best part, the product costs range between $2-40. So, you can satisfy many customers' needs according to their budget. What's more, the profit margins are around 30-60%.
So, why not diversify your offerings with high-quality posture correctors and help gamers protect their backs so they can enjoy their marathon gaming sessions without pain?
What's more, posture correctors are always in great demand and the growth in online searches is a good indication of the same.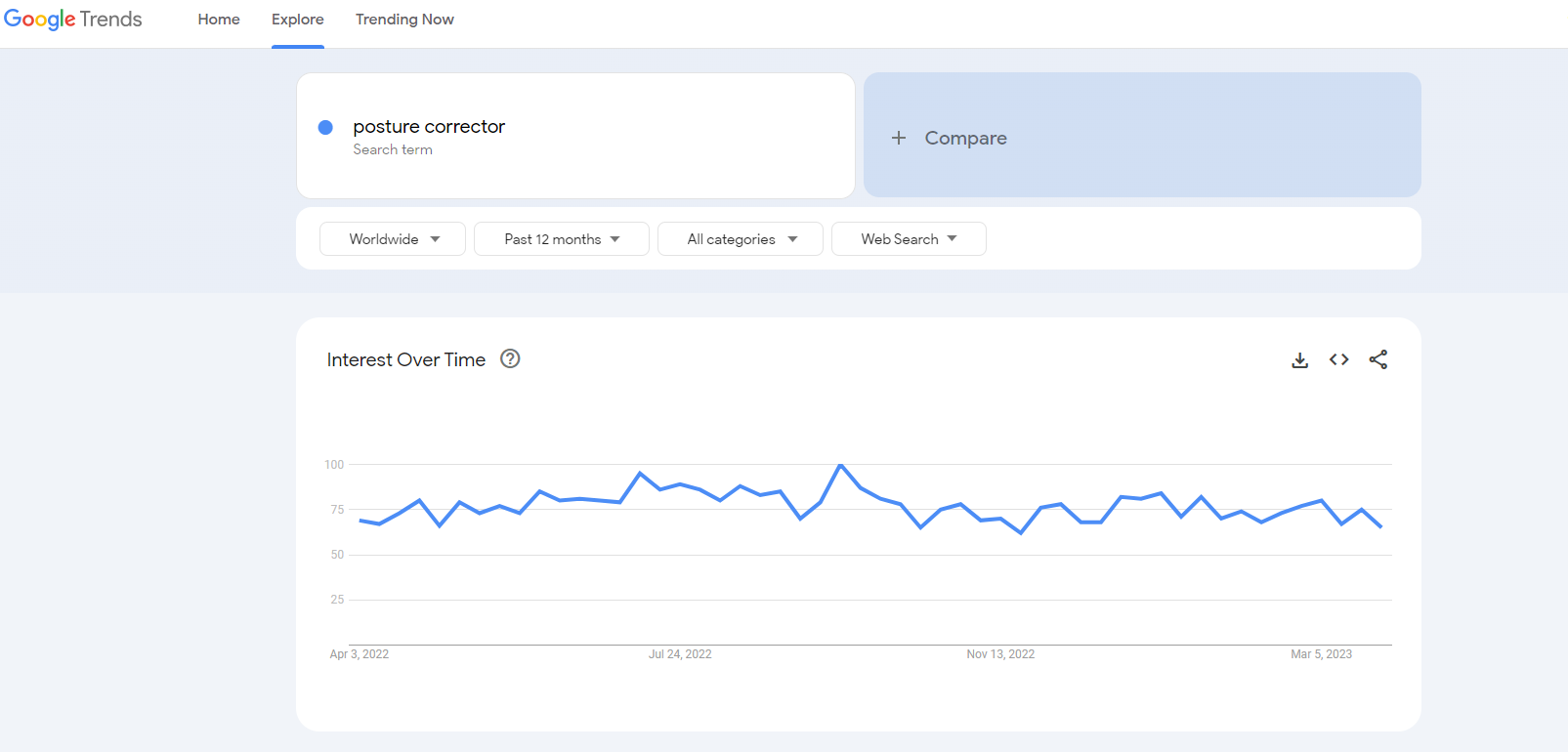 Top 6 Video Games Dropshipping Suppliers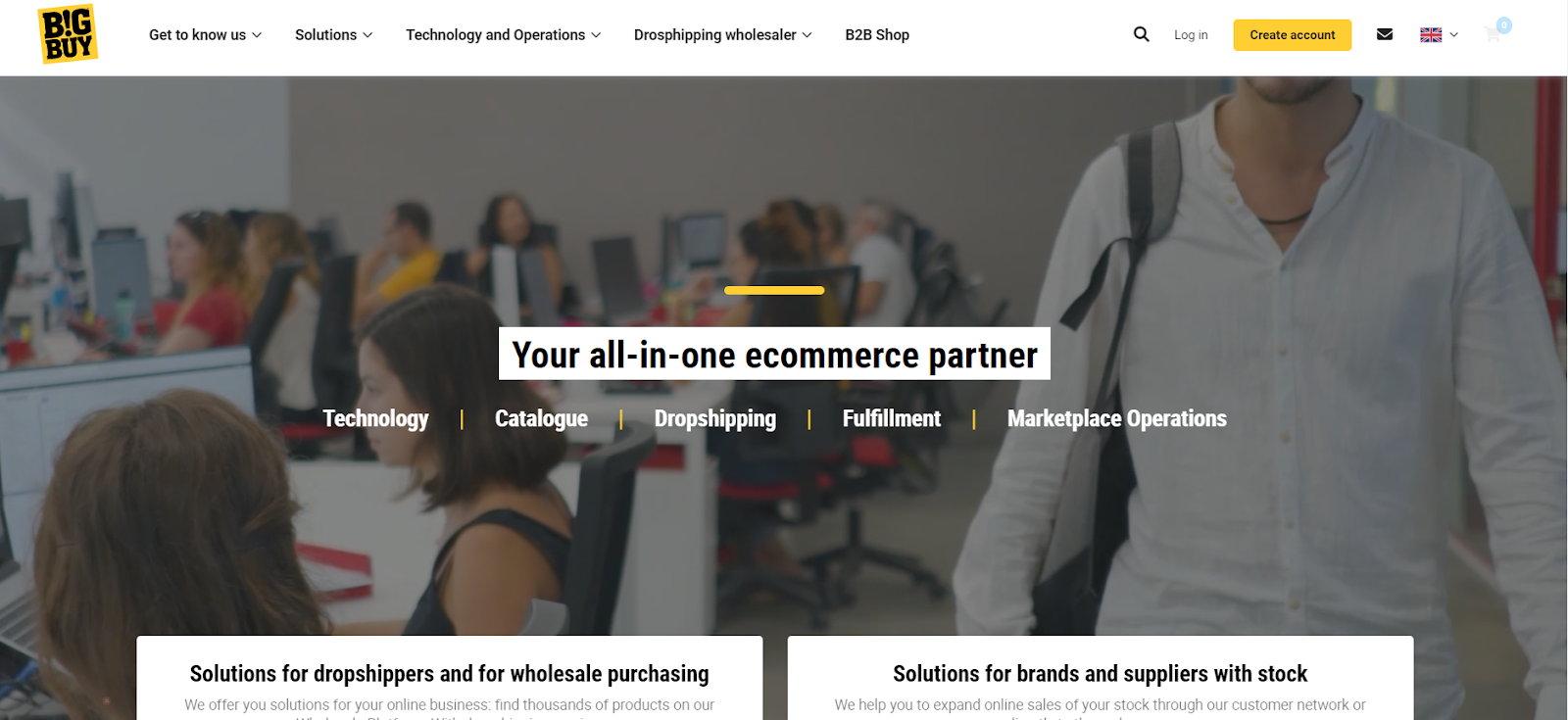 BigBuy is a wholesale and dropshipping supplier that caters to businesses of all sizes, offering a vast selection of items across various categories. What's more, their primary focus is on e-commerce and dropshipping.
The best part, by partnering with BigBuy and launching their dropshipping program, you'll gain access to thousands of affordable items across multiple categories.
More importantly, BigBuy's volume purchasing allows them to offer highly competitive prices on the:
Xbox One
Xbox 360
Nintendo DS
Nintendo Switch
PlayStation 3,4,5
video games
gaming gear for PCs, and other plug & play game console items.
What's more, they do not require MOQ. Also, the average order processing time takes 1-3 days.
Furthermore, their prices are unbeatable, starting from as low as €4.77 for a gaming mouse, €3.61 for a gaming headset, €10.93 for a gaming keyboard, and €3.02 for a video game controller.
Moreover, BigBuy's shipping costs are also very reasonable, with rates starting at €5 for Europe, €11 for the United States, and €15 for other destinations.
👉 Check out BigBuy Dropshipping: Review, Pros & Cons, and How to Start.
With over 500,000 products on offer, Banggood is a dropshipping supplier based in China that provides an extensive range of products across various categories, including a diverse selection of video games.
But that's not all! They also offer video games and gaming gear at competitive prices, such as gaming mice starting at just $7.49, gaming keyboards at $13.99, gaming earbuds at $19.99, etc. On average, their video games and equipment typically range between $4-300.
With such a broad product range, Banggood is an excellent choice for dropshippers looking to expand their offerings and appeal to a wide range of customers.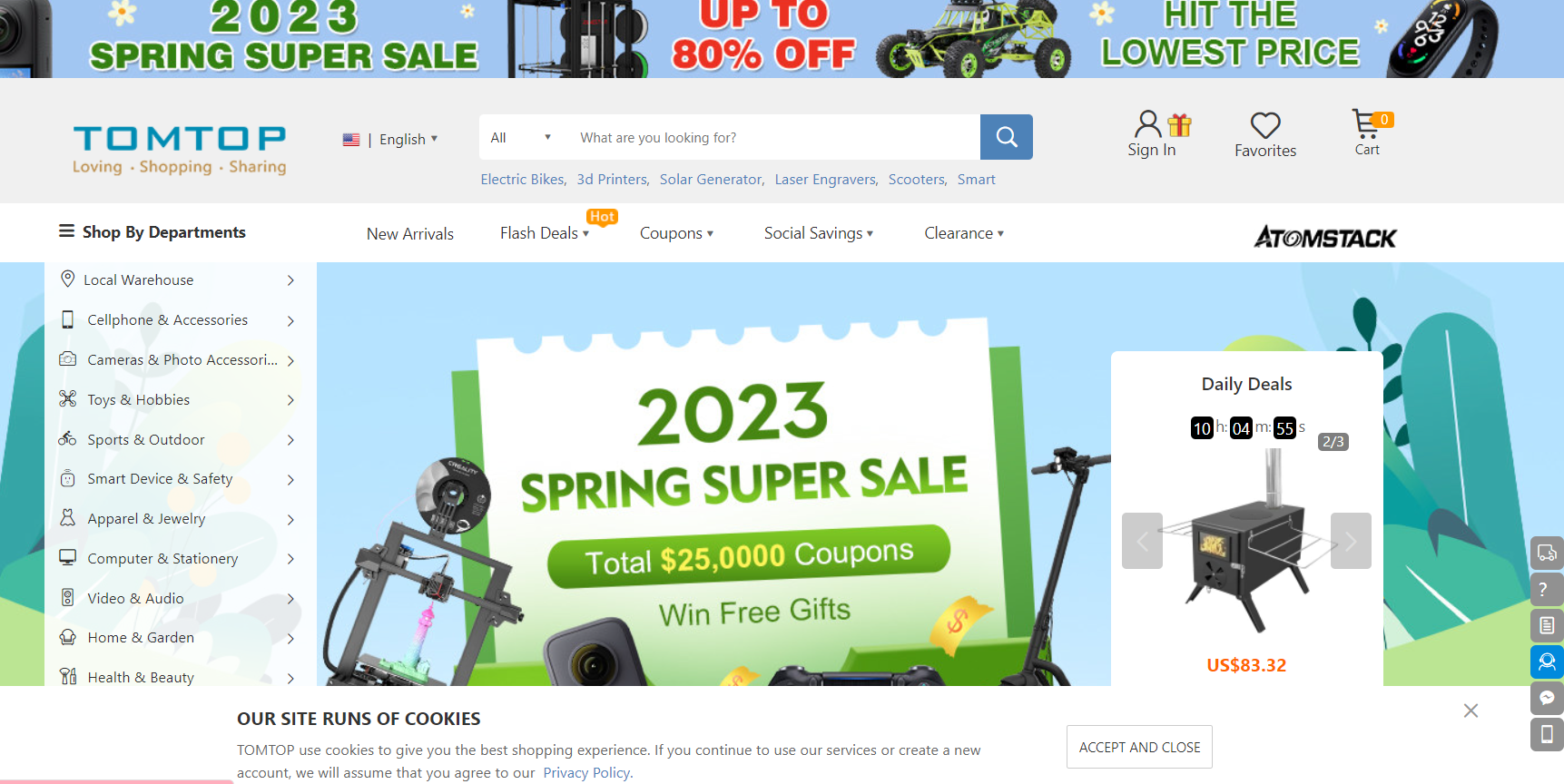 TomTop is a Chinese dropshipping supplier that offers more than a million products. Thus, they offer a wide range of products in the video games dropshipping niche, such as
video games
microphones
gaming earpods
gaming mice
gaming keyboards, and many more.
The product costs for their video games & equipment products range between $9.99-260. Also, the average order processing time is 7+ days. However, they require a MOQ.
What's more, they ship their products worldwide.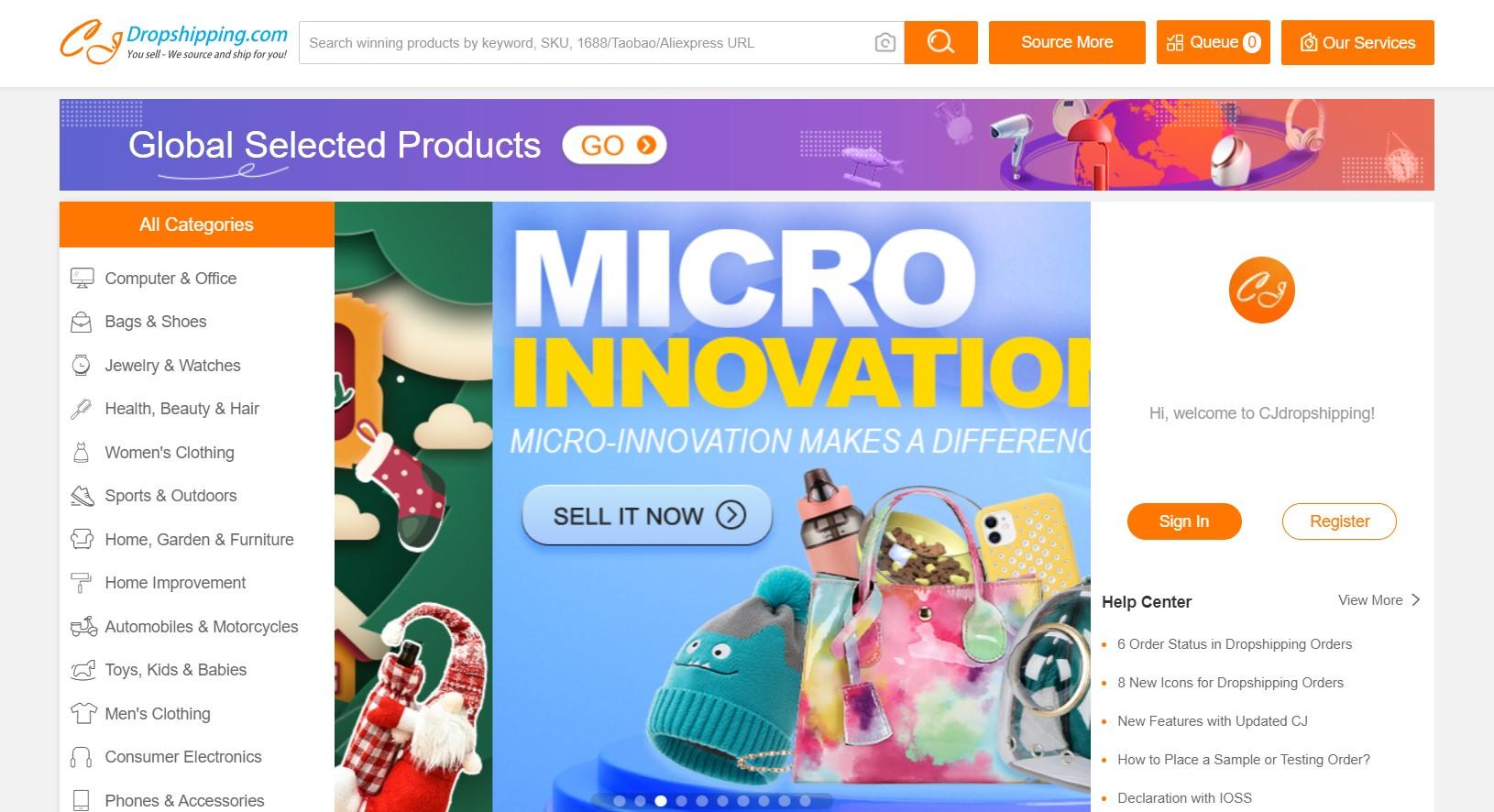 CJdropshipping is not just another run-of-the-mill dropshipping supplier from China. Actually, it has warehouses located in key European countries such as Germany, Britain, Italy, France, Spain, and Romania.
This global presence allows CJdropshipping to offer fast shipping and short processing times.
Thus, the production costs for video games range from $5 to $58. Also, the average order processing time is 1-3 days.
Plus, with a nearby warehouse and fast shipping methods, you can ensure that your customers receive their orders quickly and efficiently, which translates to happier customers and a more profitable business.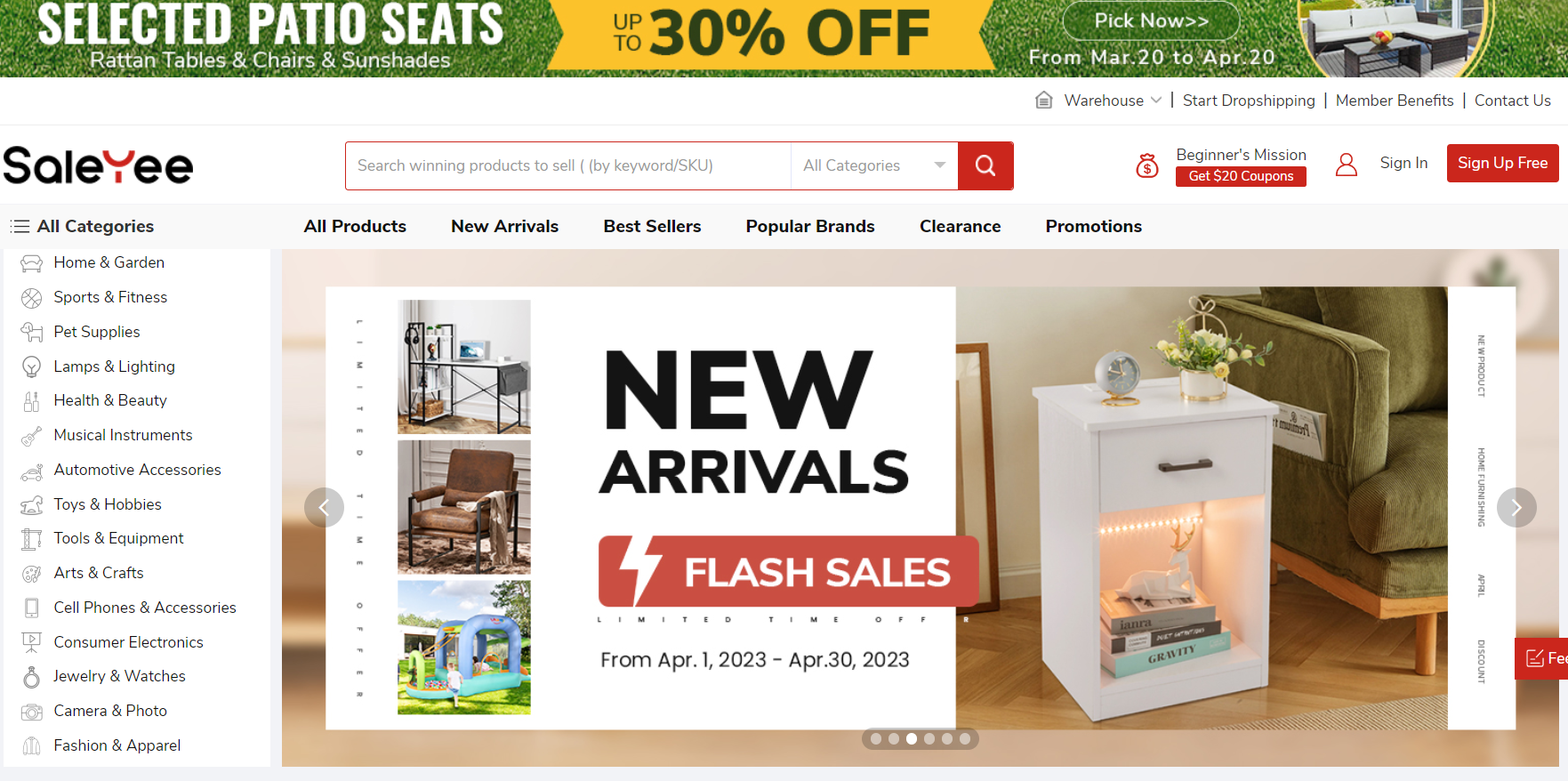 Looking for a video game equipment and gaming gear supplier that will get your products to your customers fast? Look no further than SaleYee.
This dropshipping supplier, part of the Hong Kong-based Tengming Limited, has built an impressive supply chain system with warehouses all over the world, including the US, UK, Germany, France, the Czech Republic, and China.
That means your orders will be dispatched and shipped quickly, no matter where in the world your customers are. And with SaleYee's extensive catalog of gaming gear and accessories, including gaming mats, keyboards, laptop fan coolers, and headsets, you'll be able to offer your customers quality products at affordable prices.
Furthermore, the average order processing time is around 4-7 days. Also, even though they are based in China, they ship their products worldwide.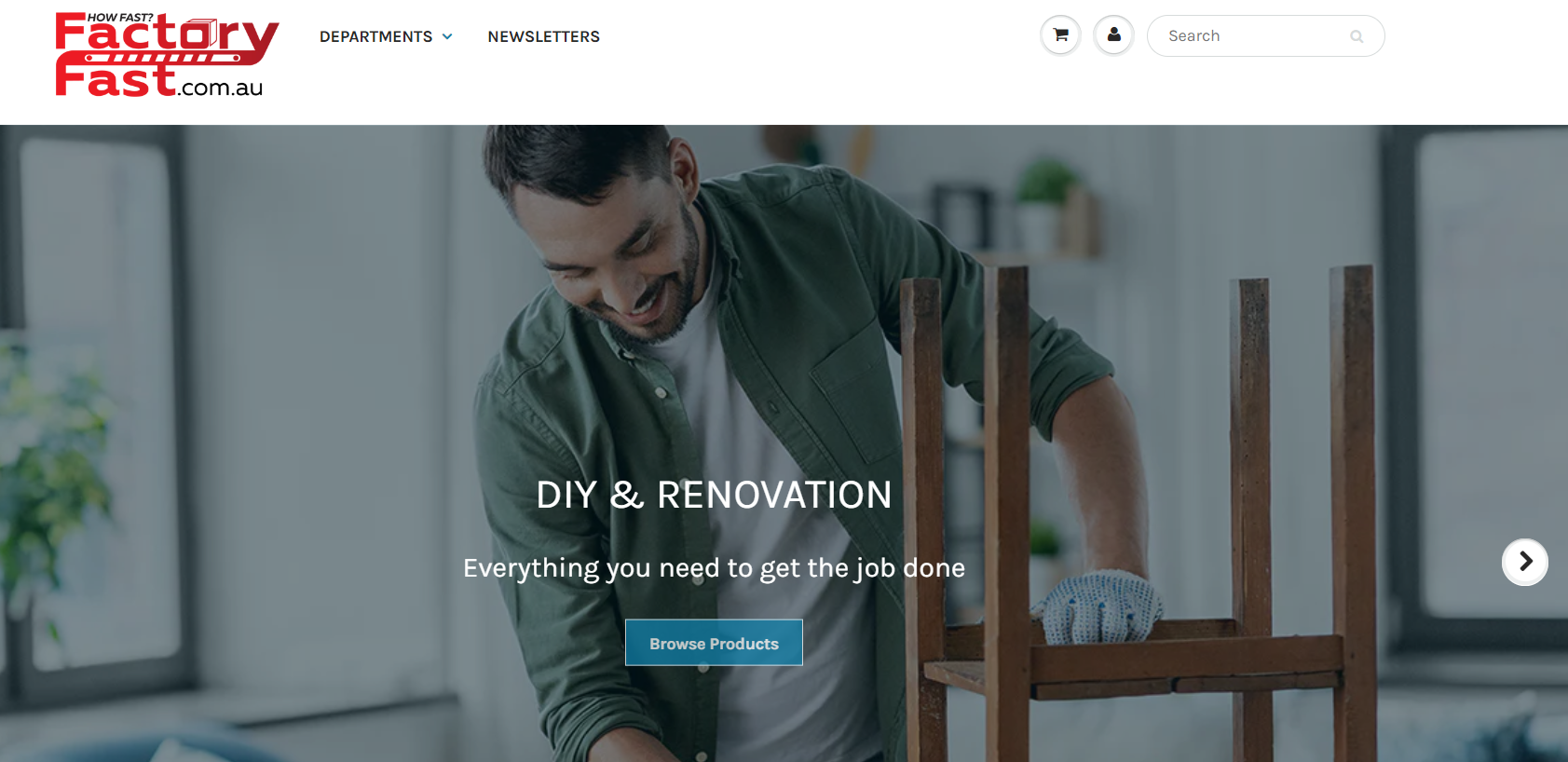 FactoryFast does not have a wide range of video games dropshipping products to offer, but the ones that they have are actually high-quality. Mostly, here you will find gaming equipment like gaming chairs, desks, etc.
Moreover, the product costs range between $29-129, which is affordable. Also, the average order processing time is 1-3 days.
Also, they are based in Australia but ship their products worldwide.
5 Tips For Dropshippers In The Video Games Dropshipping Niche
In this article, we will not discuss the standard steps to start a dropshipping business or the things to do before you start dropshipping. As might be seen, we have discussed these topics in some of our previous articles.
That's why we now want to focus on some expert tips on how to start your video games dropshipping business on the right note and take it to the next level.
👉 Also, check out the 31 Dropshipping Tips All Beginners Should Know in Every Occasion.
🔸 Choose your suppliers wisely
If you are interested in dropshipping video games, you must choose your dropshipping suppliers wisely.
Thus, it is very important to source your gaming products from reliable, reputable suppliers. That way, you will ensure your products are of good quality.
Also, that way, you will reduce the likelihood of dealing with problems like shipping delays, missing items, wrong orders, etc.
For example, the Dropshipping.com supplier directory has more than 2000 reliable dropshipping suppliers. Thus, you can sort them by product category, product costs, shipping costs, location, etc. 👇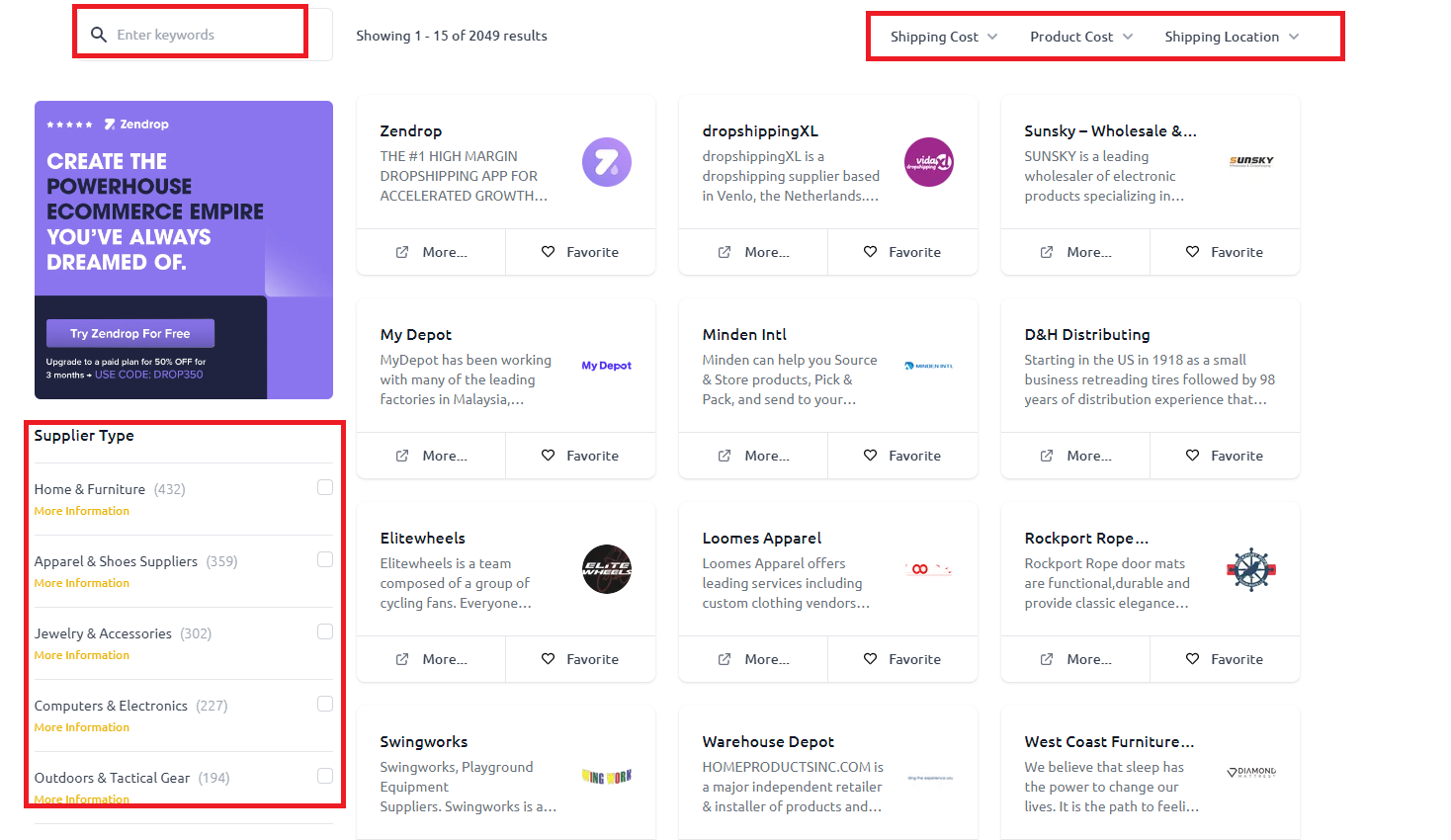 💡 So, it is recommended to join some of these directories to find trusted dropshipping suppliers of video game merchandise.
👉 Check out Fitness Dropshipping: Best Fitness Dropshipping Suppliers, Top Fitness Niche Products & Store Examples.
🔸 Determine where to sell your video game dropshipping products
One of the major decisions you will have to make is where to sell your video game merchandise online. In fact, you can dropship video games:
However, we recommend you dropship video games through your own dropshipping store. Why? Because the competition is fierce on the major online marketplaces.
🔸 Build a strong brand identity
Your video games dropshipping business will succeed or fail by how people perceive your brand, and eventually how they feel about buying from your store. Remember that in the dropshipping industry, authenticity is the key to success.
Therefore, you need to develop a strong brand identity. This can help you differentiate your online business from your competitors.
👉 Read more about Branded Dropshipping: Best Practices for Building a Successful Brand.
🔸 Spice up your video games dropshipping store
Most gamers need to possess various skills, including attention to detail, for a victory. What's more, the best video games in the world have some of the best graphics.
Accordingly, as video games dropshipping store owner, you need to build a store that looks stunning. So, do not be afraid to spice up your site. And you can do that if you:
Add a bit of color to your site. Just ensure everything looks good yet professional.
Dress up your site with more visuals. Just make sure it is not overwhelming.
Add obvious Call-to-Action buttons. In this manner, you will direct your visitors to do something specific, such as buy an item from your store.
Offer Live Chat support. If you decide to do so, make the "Live Chat" button visible on every page. That way, you will provide your website visitors with a simple way to get in touch with you, regardless of where on the website they are.
👉 Check out the 13 Most Successful Shopify Dropshipping Store Examples.
🔸 Stay updated on what is going on in the world of gaming
The video game industry is arguably one of the most important and innovative sectors in tech nowadays.
Since the video game world continues to rush forward with new, modern video games and game-related merchandise, you need to stay well-informed of evolving trends, industry changes, and consumer behaviors.
Simply put, try to keep up to date with news from the industry to give your dropshipping business a competitive advantage over your competitors. Have no idea how to do that? Read on…
Follow game development companies on social media. You need to follow such companies on social media sites because they are often the first to announce the launches of their games.
Visit some popular gaming websites and blogs. You can visit the following sites: Destructoid, Kotaku, That Video Game Blog, and The Game Fanatics.
Join online forums. You need to do that if you want to discuss the latest gaming news with others, share your thoughts on a game, etc. Some popular forums include VGR, Steam Discussions, IGN Boards, and GameFAQs.
Find winning dropshipping products & spy on your competitors
Minea analyses all online advertising to help you find the best products to launch, and the best creatives in your niche in just a few clicks.
Use coupon: DROPSHIPPING30 and get a 30% discount
💡Try Minea For Free
The bottom line
Almost everyone has played a video game at some point in their lives. And the video games dropshipping niche is big business today.
To get a firm grasp on this industry, consider selling the above-mentioned gaming products and follow our advice & tips.
What's more, need any help finding reliable dropshipping suppliers? In this article, we also listed you the Top video games dropshipping suppliers. You got your info, now Happy Dropshipping!
Your next read: 13 Most FAQs About Dropshipping Answered By 6-Figure Sellers