How to Cancel a Dropshipping Order? [A Step-By-Step Guide]
by
Martin -
Martin is an agency owner and SaaS projects maker. His work is featured in the leading ecommerce brands, magazines and podcasts. Talks about Marketing, Business Development, and Growth Hacking!
CO-founder at Dropshipping.com
Wondering how to cancel a dropshipping order? In the fast-paced world of dropshipping, where customer expectations run high and supplier policies vary, mastering the art of order cancellations is essential.
But first, let's address the burning question: Should you accept order cancellations in the world of dropshipping?
The answer lies in a delicate balance between customer satisfaction, supplier policies, and the long-term health of your business.
In this complete guide, I'll walk you through the step-by-step process of how to cancel a dropshipping order, ensuring you maintain good customer relations, adhere to your supplier agreements, and keep your e-commerce business on solid ground. Let's start!
What Is Dropshipping?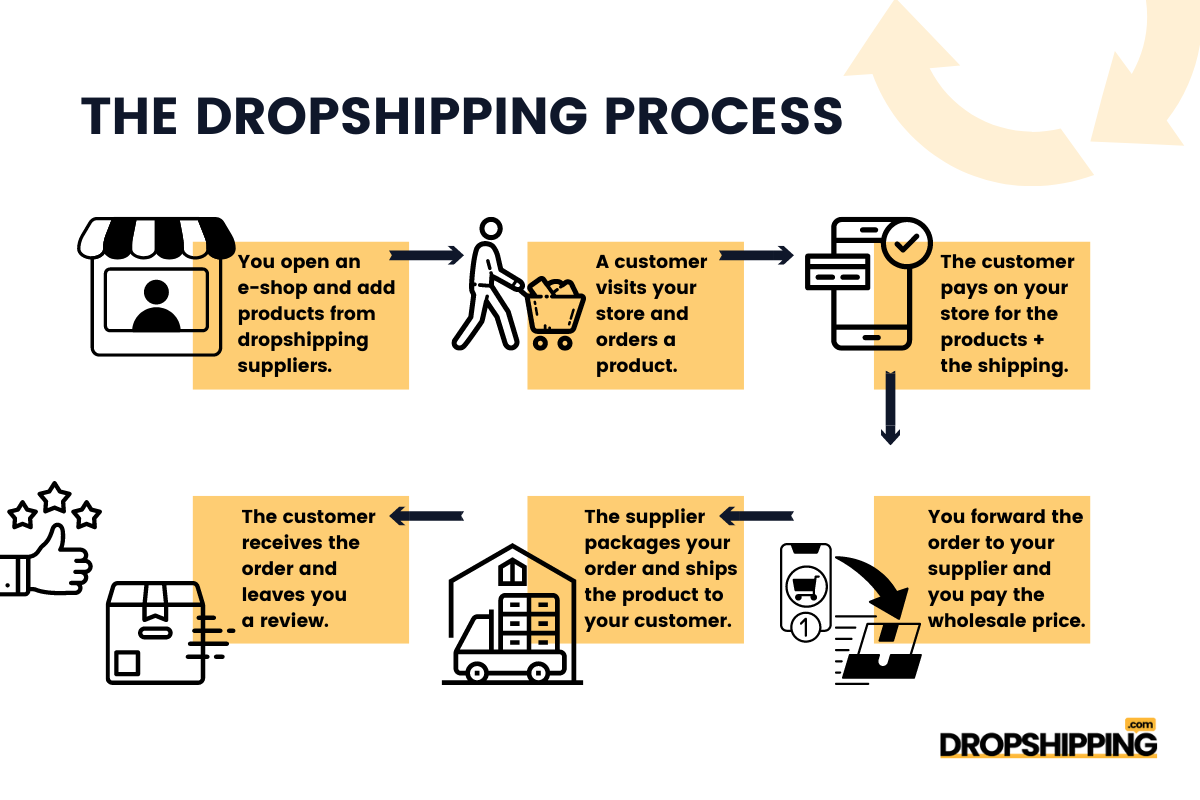 Dropshipping is a business model that has gained immense popularity in the world of e-commerce in recent years.
It is a retail fulfillment method where online store owners, or dropshippers, don't need to stock the products they sell. Instead, when a store sells a product, it purchases the item from a third party (usually a wholesaler or manufacturer) and has it shipped directly to the customer.
This means that the store owner doesn't have to worry about holding inventory or dealing with the logistics of shipping.
However, whether is dropshipping or any other ecommerce model, order cancelations do happen very often. So, let's see how to cancel a dropshipping order, or whether to do it or not.
Lifetime deal: Get all-access to everything on Dropshipping.com
Access all DSCOM features, resources, courses, live workshops, discounts, winning products, weekly deep dives, directories and all future updates under all-in-one dropshipping HUB.
DROPSHIPPING IS A REAL BUSINESS, DON'T DO IT ALONE. 4553 MEMBERS ALREADY JOINED. YOU CAN PAY OFF YOUR SMALL INVESTMENT WITH JUST 2 SALES ON YOUR STORE.
Grab the deal before it's gone
Should I Accept Order Cancelation When Dropshipping?
Deciding whether to accept order cancellations when dropshipping is a critical consideration for any dropshipper. Thus, this decision can significantly impact your customer service and overall business reputation.
So, before taking any steps, here are some factors to consider:
➡ Customer Expectations
In the world of dropshipping, customer expectations are high. In fact, customers often expect the ability to change their minds and cancel orders, just as they can in traditional retail.
Failing to accommodate order cancellations can lead to negative reviews and lost customers.
💡 Tip: Read about Testimonial Advertising: 11 Proven Examples To Sell More.
➡ Consider Supplier Policies
The first step is to understand the policies of your suppliers. Some suppliers may allow cancellations up to a certain point in the order processing, while others may not permit cancellations at all.
So, your ability to accept order cancellations depends on your agreements with your suppliers.
So, this is essential to consider before learning how to cancel a dropshipping order.
➡ Balancing Customer Satisfaction
Accepting order cancellations may incur some inconvenience and potential costs. Therefore, it's essential to consider the long-term impact on customer satisfaction.
Hence, unhappy customers are less likely to return, leave positive reviews, or recommend your store to others.
Here's a great example for you. Built Athletics includes a unique fraud clause that is not commonly seen. This serves as a deterrent to discourage customers from engaging in return fraud by making them reconsider their decision."👇
➡ Communication and Transparency
Regardless of your cancellation policy, clear and transparent communication with customers is vital.
So, make your cancellation policy easily accessible on your website and during the checkout process, and ensure that customer inquiries and requests are handled promptly and professionally.
As an example, I discovered that navigating the Everlast return page is incredibly smooth. Their return policy is uncomplicated, explicitly indicating their acceptance of returns within 30 days from the purchase date, as long as the items are unused and in their original packaging. 👇
➡ Automate and Streamline Processes
To minimize the impact on your business, consider automating and streamlining your order processing and fulfillment. This can make it easier to handle cancellations and minimize the associated costs. Also, it will help you doubt how to cancel a dropshipping order.
👉 Check out my AppScenic Review: Dropshipping Automation App [Who Is It For].
In conclusion, the decision to accept order cancellations when dropshipping should be based on a balance between customer satisfaction, supplier policies, and the long-term health of your e-commerce business.
How To Cancel A Dropshipping Order?
When a customer asks about how to cancel a dropshipping order, it's important to handle the situation professionally and efficiently to maintain good customer relations. Here's a step-by-step guide on what to do:
Step 1- Review Your Cancellation Policy
Start by reviewing your dropshipping business cancellation and refund policy.
Hence, you need to ensure that you understand the terms and conditions related to order cancellations, including any time limits or fees associated with canceling an order.
Step 2- Communicate Promptly
Respond to the customer's request as soon as possible. Timely communication is crucial in providing good customer service.
Therefore, you can provide them with multiple ways to contact you, like phone calls, chatbots, live chat, email, etc.
For example, I am personally using Tidio. This tool helps me easily communicate with my customers and answer all of their questions. Not only that, but it also reduced my cart abandonment rate and gave me the ability to offer gifts to customers who returned.
Step 3- Offer Alternatives
If it's possible to resolve the customer's concerns without canceling the order, offer alternatives.
For example, you could suggest exchanging the item, offering a discount on a future purchase, or resolving any issues that prompted the cancellation request.
Step 4- Request Reason for Cancellation
Next, politely ask the customer for the reason they want to cancel the order. Understanding their concerns can help you improve your services and avoid similar issues in the future.
For example, there are a lot of scammers when it comes to customers as well. So, maybe if they claim the order is damaged, you can ask for photos, etc.
Step 5 – Notify Your Dropshipping Supplier About The Cancelation
This step of how to cancel a dropshipping order requires you to inform your supplier about the canceled order.
It's essential to emphasize that this action is only necessary if you have already initiated the order process with your supplier. Typically, suppliers have established protocols for handling order cancellations, so it's crucial to refer to your agreement with them or consult their policies.
Thus, suppliers often facilitate order cancellations using a brief notification message that informs them of the situation or by submitting the customer's cancellation form as proof.
In most cases, you can expect your supplier to provide a refund for the amount you paid for the product.
However, it's worth noting that in certain situations, such as returns involving custom print-on-demand products, a refund may not be available because the supplier has already created a personalized item.
This underscores the importance of thoroughly reviewing your supplier's policies and having a well-defined return policy of your own in place.
Also, if the order has already been shipped by your dropshipping supplier, you can:
The first option is to attempt to locate the order and request its cancellation with the carrier, although this is a less commonly chosen path.
The more frequently chosen second option is to have the customer return the product to your fulfillment partner, which will result in a full refund.
For example, I have personally used the Aftership automation app for this purpose, and it really helped me track the order down, and deal with my cancellation and refund. 👇
Step 6- Cancel the Dropshipping Order From Your eCommerce Platform
If the order is eligible for cancellation based on your policy and the customer's request, initiate the cancellation process with your supplier or dropshipping partner.
So, since you need to do this from the platform you use, I will show you how to cancel a dropshipping order through Shopify, since this is my ecommerce platform.
Thus, the first thing I do is go to my Shopify dashboard, and click on "Orders". From here, I simply search for the order that has been canceled by the customer, and click on the order number.
Once you are here, in the right upper corner, click on the "More Actions" button. So, from the drop-down menu click on "Cancel order".
Now, a new window will pop up. Here you can determine whether you like to order a refund now or later, and you get to decide whether you want to restock the item to your inventory. Then, you have to give a reason why the order has been canceled.
Once you are done, click on the "Cancel order" button. 👇
Step 7- Notify the Customer
Once you cancel the dropship order from your ecommerce platform, you can inform the customer that the order cancellation has been initiated.
Also, you can provide an estimated timeline for the refund, if applicable. Be transparent and communicate any applicable fees or deductions that may occur during the cancellation process.
Step 8- Process the Refund (if applicable)
If a refund is involved when you need to cancel a dropshipping order, ensure that it is processed promptly according to your refund policy. Provide the customer with a refund confirmation once it's completed.
Thus, in Shopify, if you select option 1, or refund the amount, then a full refund is automatically issued. However, if you chose the option 2- refund later. Here's what you should do.
So, once again, from the "Orders" section, click on the order you canceled, and then click on the "Refund" button.
Now, you can specify the amount you want to refund manually, and click on "Refund $xx.xx"
💡 Tip: Read about Dropshipping Returns: How To Set Up Your Returns & Refunds? [Full Guide].
Step 9- Update the Customer
Keep the customer informed about the progress of the cancellation and refund, if applicable. This will help build trust and demonstrate your commitment to resolving the issue.
Thus, in Shopify, customers are automatically informed about the order refund. 👇
However, if this is not the case with the platform you use, you should contact and update the customer about the order cancellation and refund.
👉 Also, learn How To Pause Or Cancel Shopify Subscription? [2023].
Step 10- Learn from the Experience
Analyze the reasons for the cancellation and take steps to prevent similar issues in the future. This may involve improving product descriptions, delivery times, or customer service procedures.
Also, after the cancellation is complete, consider following up with the customer to ensure they are satisfied with the resolution and to ask for feedback on their overall experience.
Remember that providing excellent customer service is essential in the world of e-commerce and dropshipping. Handling order cancellations professionally and promptly can help maintain a positive reputation and build customer trust.
How To Reduce Dropshipping Order Cancellations?
Now, once you learned how to cancel a dropshipping order, let's see what you can do to minimize this or prevent it from happening.
➡ Carefully Select Your Dropshipping Suppliers
In the world of dropshipping, your suppliers are the ones responsible for sending products to your customers. It's vital to ensure the products they send are of top quality and that delivery times are accurate. How can you guarantee this?
Start by requesting product samples to assess their quality.
Choose suppliers who are closer to your target market to cut down on shipping costs and enhance delivery speed. This improves the overall customer experience and boosts satisfaction.
Moreover, take a close look at supplier reviews. Regularly check feedback from other dropshippers or businesses that have partnered with the suppliers you're considering.
Also, look for positive reviews highlighting reliable shipping, product quality, and excellent customer service. This will help you gauge the supplier's reliability and trustworthiness.
For instance, I always search for reliable dropshipping suppliers from the Dropshipping.com supplier directory, which boasts a vast supplier base of 2000+ suppliers from various dropshipping niches. 👇
➡ Craft a Trustworthy Product Description
If you want to reduce the process of cancel a dropshipping order, this strategy is pretty helpful. Well-crafted product descriptions provide accurate details, comprehensive features, and clear instructions, ensuring your customers know precisely what they're purchasing.
By accurately presenting information about the product's size, material, color, and other crucial details, the likelihood of customers receiving something different from their expectations decreases significantly.
Including specific measurements in the product description can further reduce the chance of returns, allowing customers to determine if the item suits their needs perfectly.
For instance, for me, Shopify Magic Tool is very helpful for writing my product description. It re-writes my product description clear, attention-grabbing, detailed, and SEO-friendly. 👇
Moreover, don't underestimate the power of vivid language and storytelling to evoke emotions, creating a compelling narrative that captures customers' attention and ignites their desire to own the product. This technique works particularly well when selling vintage products.
For instance, if you check on any vintage product page on Etsy you will actually read a story or history facts about the product. 👇
➡ Utilize High-Quality Product Images
High-quality product photos are pivotal in drawing in customers and persuading them to make a purchase.
A great product photo should accurately represent the item's condition, colors, and fit, giving customers a clear and realistic idea of what to expect.
👉 Read about The Power Of Product Advertisement: How To Increase Your Sales?
To achieve this, it's crucial to use high-resolution, real-life product images. Additionally, using live models to showcase your products is highly recommended. This helps customers better understand the product's size and appearance when worn or used in real life.
For example, Gymshark provides an excellent model for what a product page should look like. They showcase their products with actual models and offer multiple high-resolution, quality photos. This allows customers to see every angle of the product. 👇
💡 Tip: Learn Why It Is Essential To Have High-Quality Images For Your Dropshipping Products.
➡ Speed Up Delivery Times
If you aim to reduce delivery times, consider partnering with dropshipping suppliers who have warehouses situated closer to your customers. This can significantly trim shipping times as products can be shipped directly from nearby warehouses.
Alternatively, you can choose to work with a dropshipping agent that maintains a global fulfillment center. This central hub enables faster shipping to customers around the world.
👉 Check out my guide about Dropshipping Agent: How To Find The Best Dropshipping Agents?
In any case, keeping customers informed about potential delivery delays is crucial. Transparency is the key to reducing the likelihood of return requests.
👉 Learn How to Reduce AliExpress Shipping Times in 2023.
➡ Maintain Communication After the Purchase
Staying in touch after the purchase is just as crucial as being in touch before or during the purchase. So, consider sending a post-purchase confirmation email to your customers.
Thus, this email should include order details, tracking information, contact details, and expectations.
For example, Amazon's order confirmation emails are a masterclass in clarity and user-friendliness. They provide comprehensive order summaries, clear delivery information, and easy access to customer support.
By providing this information, you not only reassure the customer that their order is being processed but also equip them with all the necessary information should they have any questions or concerns.
Additionally, offering returnless refunds for items that are costly to return can significantly enhance the overall customer experience.
💡 Tip: Check out the 8 Order Confirmation Email Examples & Templates For Ecommerce.
Join the only community and resource hub you'll ever need to succeed with dropshipping
Find winning dropshipping products, learn marketing, download templates and engage with real dropshippers
Never pay for a "guru's" course again. See why 4543+ dropshippers joined us this year!
💡Try DSCOM Hub Now
Conclusion
Mastering order cancellations in dropshipping is crucial for balancing customer satisfaction and supplier policies.
To cancel an order, you need to review your policy, communicate with the customer, inform your supplier, cancel the order on your e-commerce platform, etc. In fact, this process is of great importance, and that's why I discussed it in detail in this blog article.
However, there's also a way to reduce your dropshipping order cancelation. So, you can benefit from strategies, like choosing reliable suppliers, creating accurate product descriptions, using high-quality images, expediting delivery, and maintaining communication with customers.
These strategies improve satisfaction and lower cancellation rates, enhancing your dropshipping business's success.
In this blog article, I guided you through a step-by-step process on how to cancel a dropshipping order. Also, I listed the best strategies for reducing order cancellations. So, get your free dropshipping ticket to success!