26 Mind-Blowing Shopify Hacks for E-commerce Growth
by
Martin -
Martin is an agency owner and SaaS projects maker. His work is featured in the leading ecommerce brands, magazines and podcasts. Talks about Marketing, Business Development, and Growth Hacking!
CO-founder at Dropshipping.com
If you have been in the dropshipping world for a while, you've probably heard about Shopify by now. But, if you are new to the eCommerce market, let us tell you a few words about this eCom platform 👑!
Shopify is an all-in-one eCommerce platform that helps you build your dropshipping store in many ways! Also, it offers you a wide range of Shopify customization options, payment gateways, shipping solutions, and tools for managing inventory, customer data, and order fulfillment.
Therefore, we must admit that Shopify got your back from the very beginning!
However, if you want to take the best from it, you might need a little push! So, in this article, we will provide you with the BEST mind-blowing Shopify hacks! 👐
Take your pen and note it down! 📝
Shopify Themes Hacks
If you want a successful Shopify store, you must know that themes play an important role here.
Shopify themes determine how a website looks and feels, which is really important for getting and keeping customers. Actually, a good theme can also make it easier for people to use the Shopify website design by making navigation and checkout simple.
What's more, Shopify themes can affect how fast your website loads and how well it works on different devices, which can help the website show up better in search engines and be more enjoyable to use.
Fortunately, Shopify has lots of themes that are professionally made and can be customized, so dropshippers running a store can find the perfect one for their brand and goals.
👉 Check out the 11 Best Shopify Themes for Dropshipping Stores.
Also, there are various apps that help you create the best store design. Therefore, you should definitely check on GemPages, Automizely Page Builder, or Shogun Landing Page Builder.
So, if you want to choose the right Shopify theme for your dropshipping store, follow our Shopify themes hacks. 👇
1. Make Your Dropshipping Store Mobile Responsive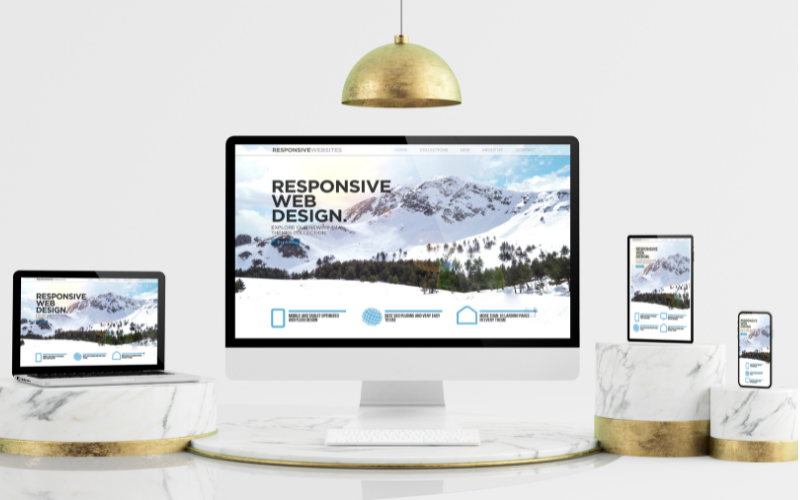 First thing first, when searching for a Shopify Theme, always check on its mobile responsiveness. Wondering why this is so important?
Well, most of the online traffic comes from mobile devices. Thus, online shoppers prefer to shop from their phones, rather than desktops. Therefore, a mobile responsive website is crucial!
You don't want your website elements to be repositioned, or fly around the website when a user visits your dropshipping store from mobile, right? Not just that, but once they see the chaos they will probably leave without even buying as well.
Moreover, faster loading times and greater performance are made possible by designing eCommerce websites and applications with mobile users in mind.
Also, since Google prefers websites optimized for mobile, having a mobile-first website will also increase your website's visibility in search results.
2. Use Call-To-Action Buttons On Your Homepage
As their name suggests, use buttons that provoke customers to take action! First of all, think as a shopper – If there's an eye-catchy colorful button that says "Shop Now", or "See more", would you click on it? We bet you would! And most of the customers do that too!
So, if you want to boost your dropshipping sales this is a great tactic. Nonetheless, call-to-action buttons are great for improving store navigation. Thus, these buttons are actually shortcuts that help users jump to the product page with only one click.
Check out this call-to-action button, hard to miss it, right? 👇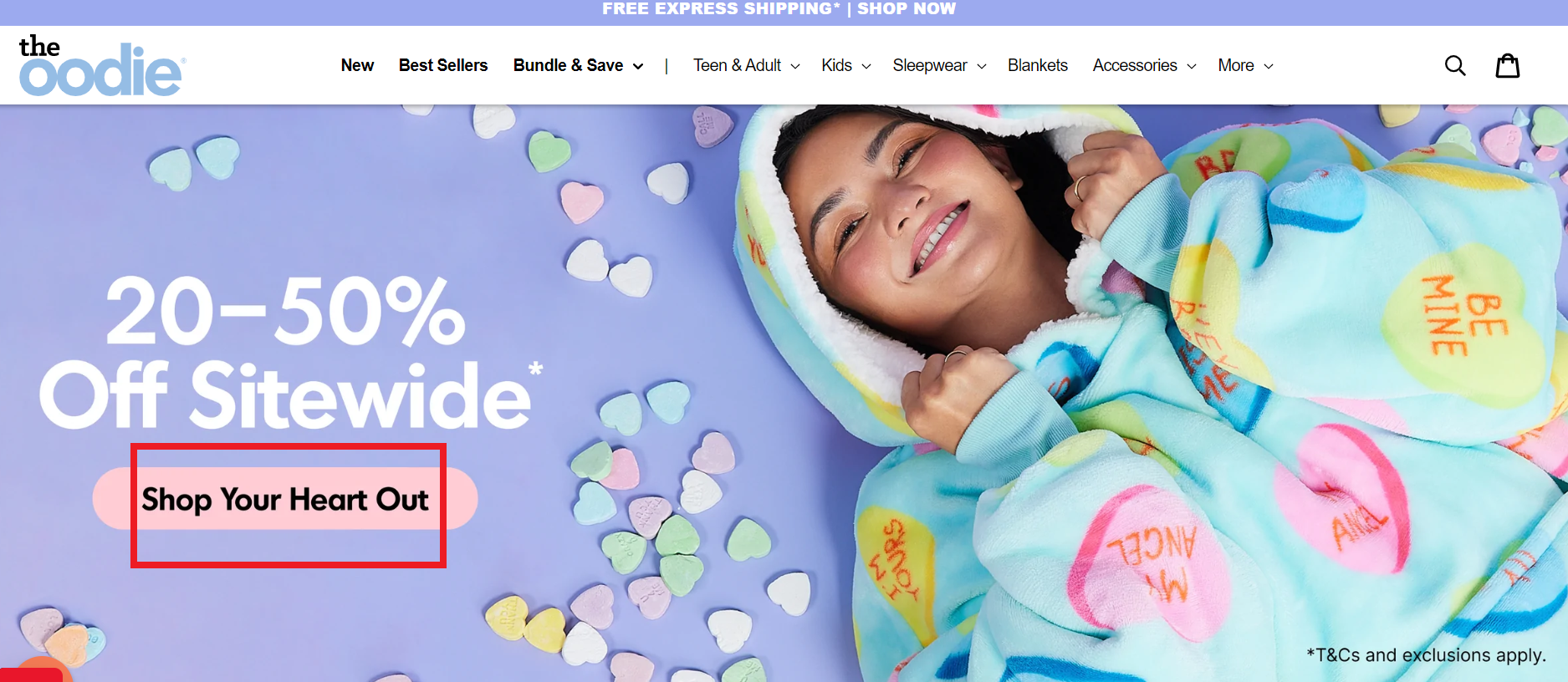 3. Use Interactive Product Visuals
One of the tried-and-true methods for allowing buyers to interact with the products displayed on your dropshipping store is the use of interactive product images. Also, they can examine the products from various perspectives before making a purchase
Moreover, customers may use interactive product images to engage with your items and concentrate on certain elements or features.
So, integrating 3D animations, hover effects, or 360-degree product views, are some of the greatest methods to increase your web store's product engagement.
For that purpose, have you heard about the Shopify app – Spin Studio? This one can help you achieve your goal!
👉 Also, check this dropshipping store as an example – Taleo webflow.
4. Include Chatbots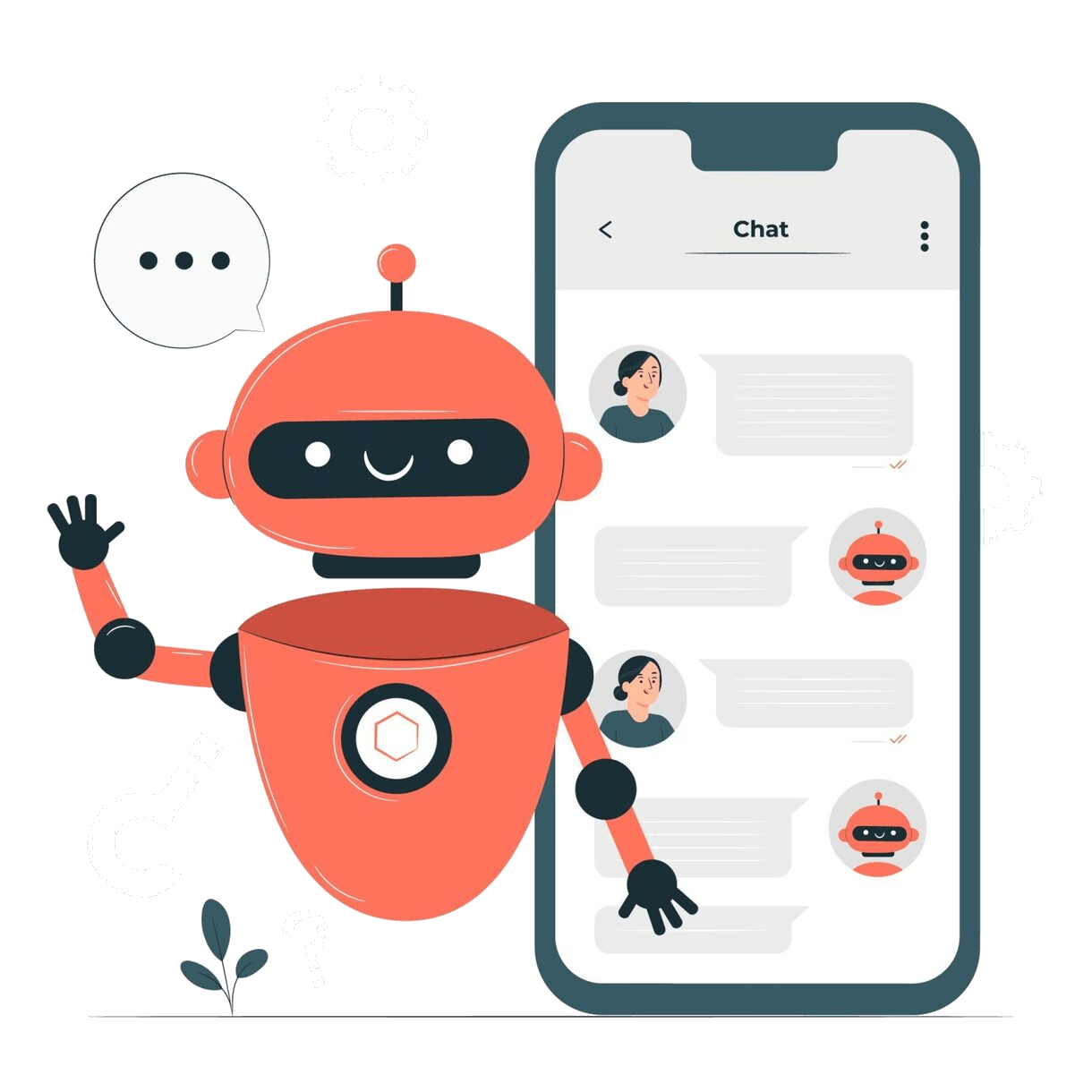 Customers love it when you give them signs that they are important! So, the best way to show them they are not left on their own while shopping on your dropshipping store – use chatbots!
These are artificial intelligence assistants that help companies in giving customers tailored online shopping experiences by offering information that is specific to their search intent and recommending goods or services a potential customer may be interested in.
Thanks to this technology, customers won't wait for a response if they have a problem, and you can focus on other stuff related to your business. So, chatbots increase customer satisfaction and save you tons of time.
For example, take a look at the Quad Lock chatbot that displays once you click on the message button on the bottom right side. 👇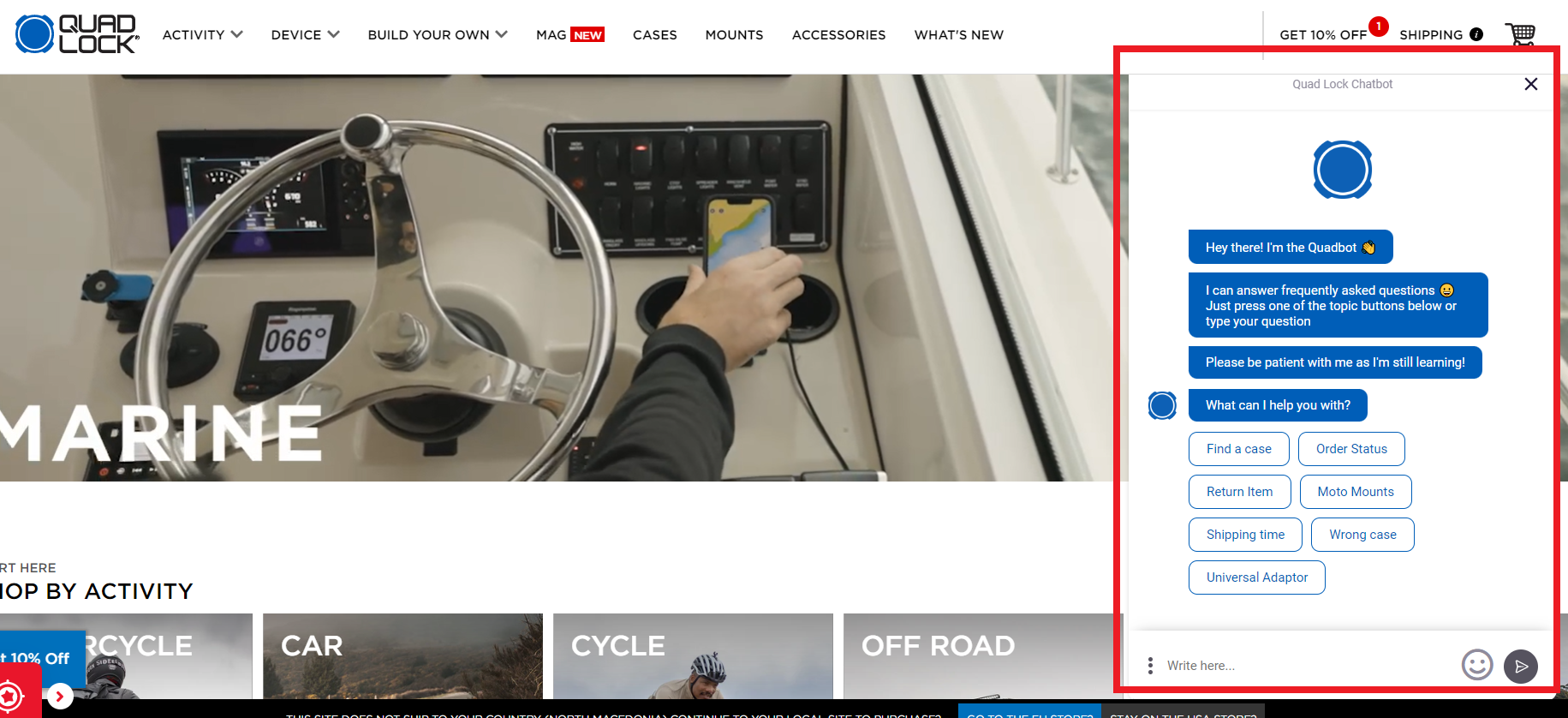 With this brief introduction and help offer, customers may feel safer to make a purchase.
👉 Check out Tidio Reviews: Is This The Best ChatBot For Ecommerce Stores?
5. Add Customer Reviews To Your Dropshipping Store
Social Proof! Of course! This is online shopping, and customers don't have physical contact with your products, or you! So, if you want to gain customers' trust, and encourage them to make purchases quicker, consider adding customer reviews.
Also, why not show off your success? Thus, you can add customer reviews on each product page, or you can display a few of your customer reviews on the homepage. Or, why not do both?
💡 Tip: Learn about Customer Service for Dropshipping: The Ultimate Guide of 2023.
For example, take a look at Rosamiss.store Shopify store product page reviews. Customers can also sort out the comments and reviews from the lowest to the highest rating. 👇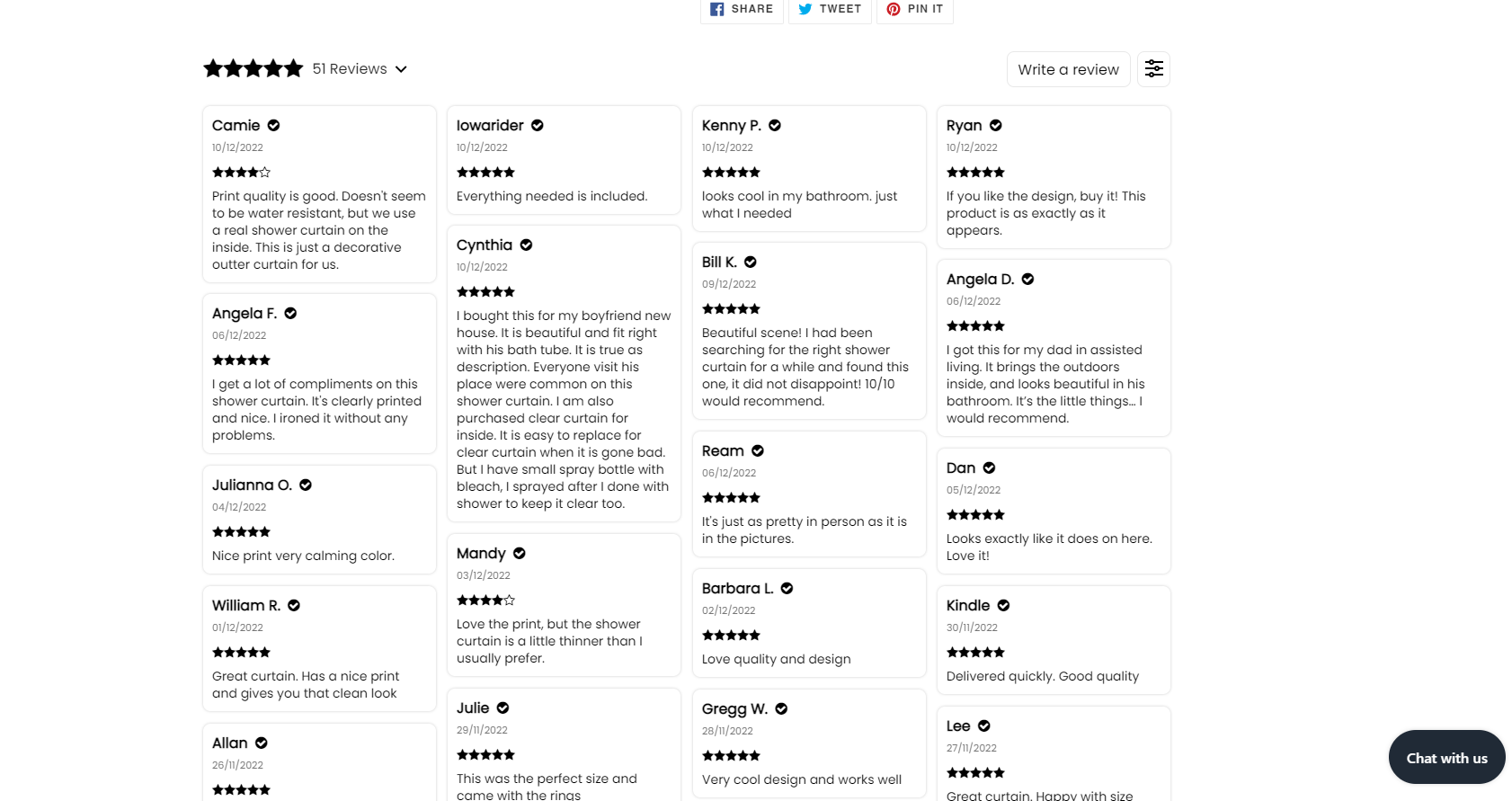 6. Optimize Your Checkout Process
The largest potential source of ecommerce income loss is cart abandonment.
👉 Learn How To Recover Abandoned Carts For Shopify Dropshipping Stores.
But keep in mind that if your consumer has gotten this far, there isn't much you can say; simply let them check out as quickly as you can.
Additionally, confusing the checkout procedure is one of the biggest errors made by any eCommerce store.
Even if a customer has added something to their basket and made up their mind to buy from you, they can still quickly change their mind if the payment procedure isn't quick and simple.
So, here are some Shopify tips and tricks about this:
Get their email address so you can get in touch with them later if they decide to leave their cart empty.
Include a "Continue Shopping" button on the checkout page.
Add a checkbox so customers can utilize the same shipping and billing info. They won't need to re-write them all over again.
Name, email, and address may be automatically filled up for clients.
For example, check the SKKNbyKim Shopify store product page. Right before the customer tends to leave the shopping cart without clicking on "the checkout button, the store displays a popup offering discount.
👉 Explore our ultimate list of the top 11 Shopify Checkout Apps.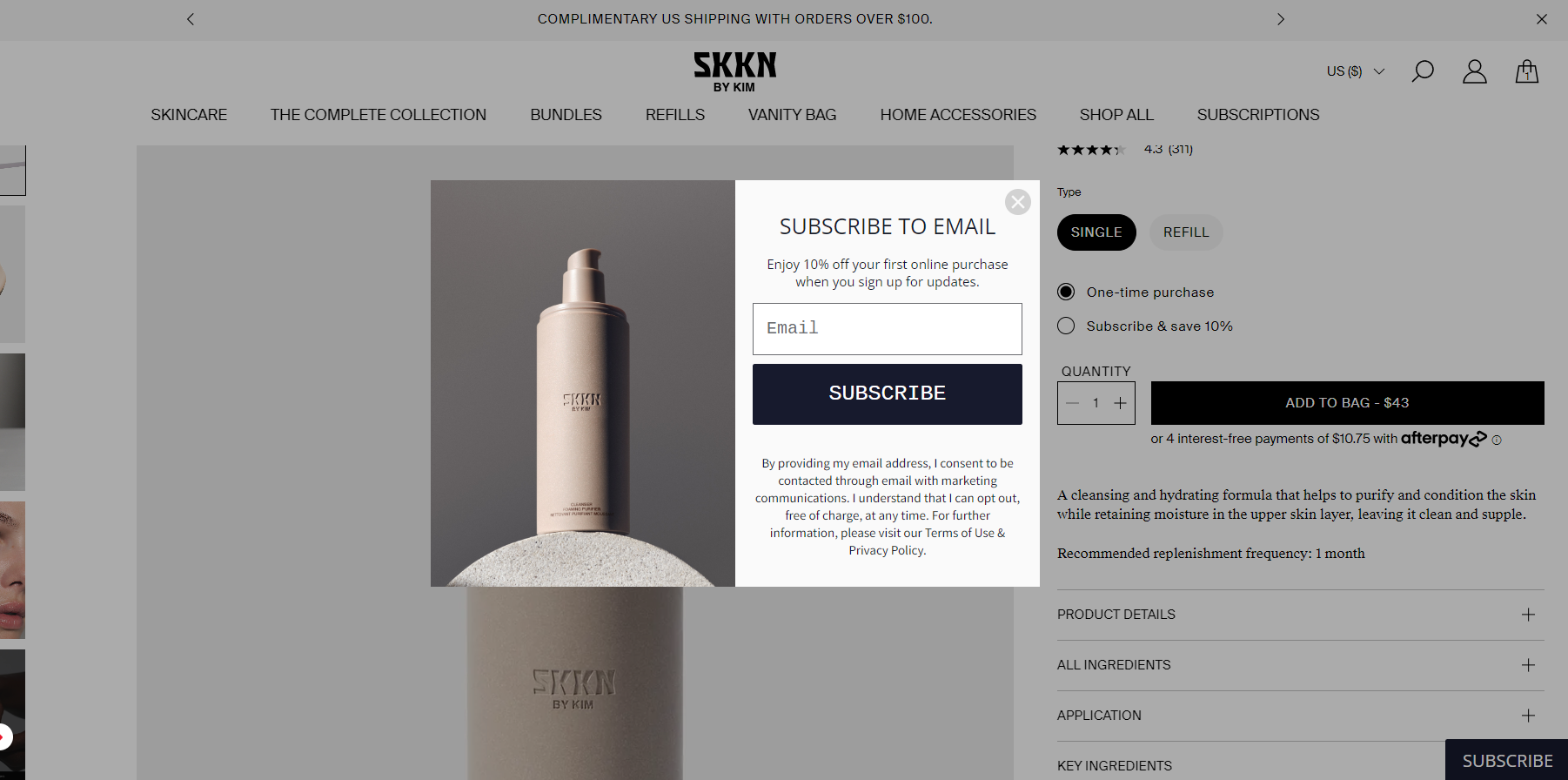 7. Use Welcoming And Intent Pop-ups
First, welcoming and intent popups are a great way to actually welcome and engage your first-time visitors. This way, you can invite them to join your customer base.
Also, this is a very effective way to make them subscribe and get their email for promotional purposes. For instance, take a look at the Quad Lock popup offering discounts if they subscribe. 👇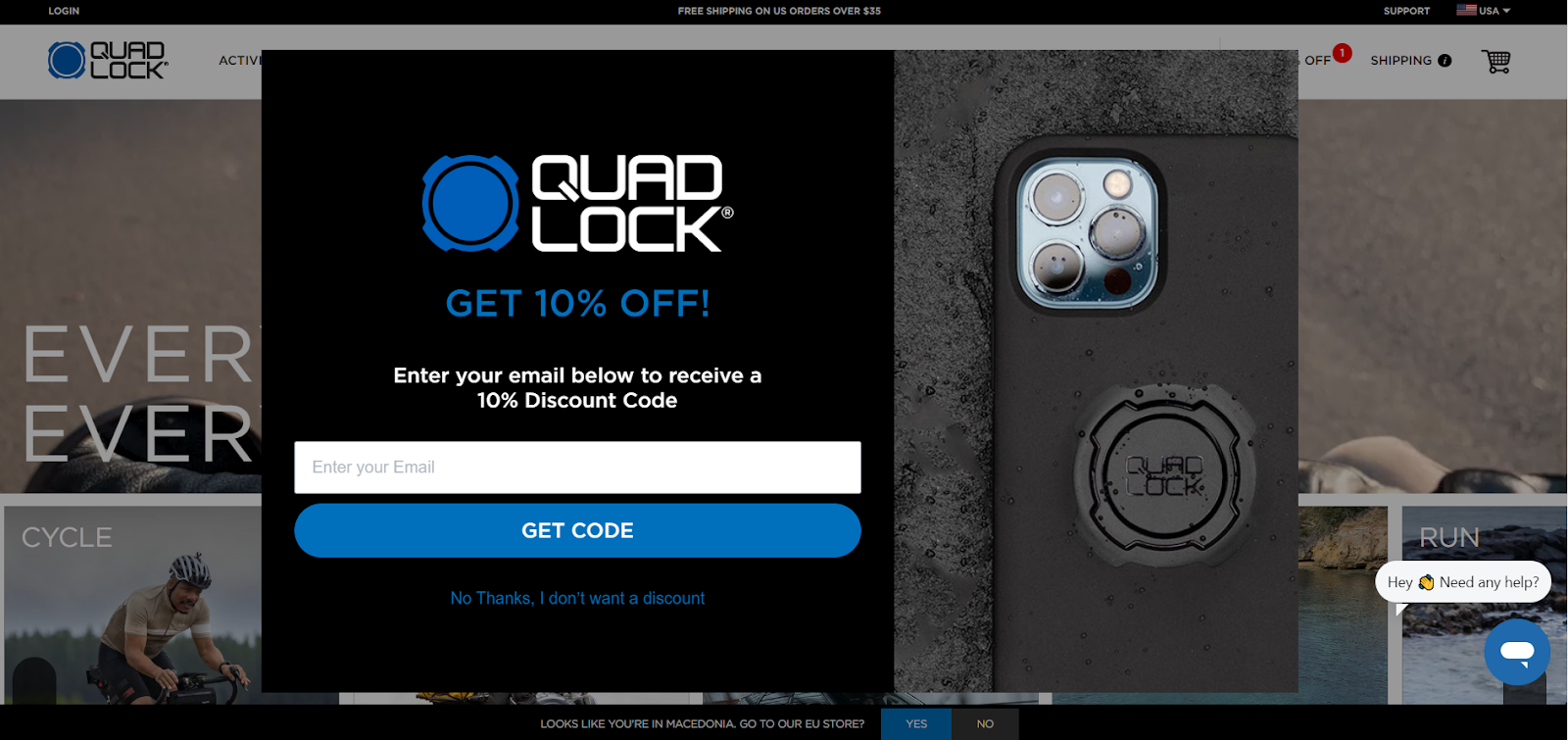 Furthermore, an interesting kind of popup is also the spin-to-win popup. It actually says, give us your email and get a good discount! And yet, a great way to increase conversions. For example, look at Nutriseed's wheel. 👇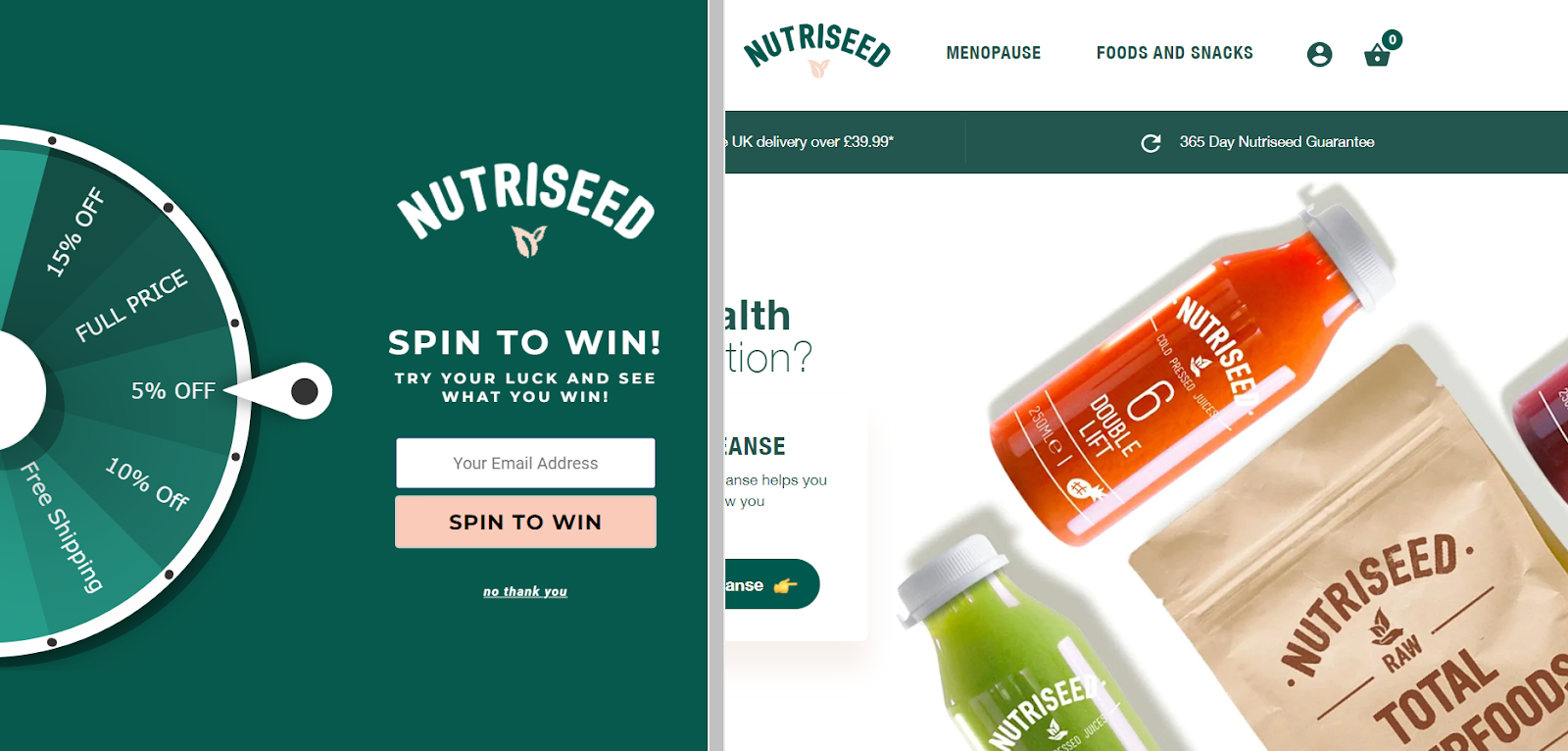 However, don't forget to add the escape hatch in a more visible place. There are people that do not want to leave you their email. So, you don't want them to spread negativity about your website navigation.
8. Build Attractive and Engaging Product Pages
Product page Shopify customizations are no game! You must consider all the necessary content a customer needs to see.
Therefore, if you want to succeed, consider adding high-quality photos, and even use 360 photo rotation if you can. Moreover, don't forget the detailed product descriptions, videos, customer reviews, etc.
Next, the call-to-action buttons, like add-to-cart, the wishlist button, etc., all must be in the right place. For example, you can consider making them more eye-catchy by using some coloring.
Furthermore, don't forget to add your social presence links. This way, if customers like your products they can always share them over social media.
👉 Also, read the 5 Expert Tips to Create a High-Converting Ecommerce Landing Page + Examples.
Now, let's get to the best Shopify hacks for apps. 👇
Lifetime deal: Get all-access to everything on Dropshipping.com
Access all DSCOM features, resources, courses, live workshops, discounts, winning products, weekly deep dives, directories and all future updates under all-in-one dropshipping HUB.
DROPSHIPPING IS A REAL BUSINESS, DON'T DO IT ALONE. 4553 MEMBERS ALREADY JOINED. YOU CAN PAY OFF YOUR SMALL INVESTMENT WITH JUST 2 SALES ON YOUR STORE.
Grab the deal before it's gone
Shopify App Hacks
Shopify apps are important because they provide you with additional features and Shopify customizations options to help optimize your store.
In fact, they help your dropshipping business in many aspects like boosting sales, improving user experience, inventory management, order fulfillment, Shopify store management, and more.
And, that's why you actually need to learn the Shopify app hacks so badly, so you can take the best from them. Let's start! 👐
9. Select the Right Apps for Your Dropshipping Business Needs
Choosing the right Shopify app for your dropshipping business is not that easy. However, be ready to give some of your time doing research.
But, keep in mind that there are lots of dropshipping platforms like Dropshipping.com that provide you with valuable information about Shopify apps and when to use them, so you can save your precious time. Now let's get you some Shopify hacks about this. 👇
👉 Figuring out what you need:
The first step to finding the perfect Shopify app for your dropshipping business is to understand what your store needs. Think about your goals and the features you require.
👉 Exploring your options
Once you have a good idea of what you're looking for, it's time to research the available Shopify apps that offer those features. Check out app ratings, reviews, and pricing plans to see what's out there.
👉 Making sure it's a match
You want to make sure the app you choose is compatible with Shopify. Some apps might only work with specific versions of Shopify, or they might need extra plugins or themes.
Customer support is key: When using a Shopify app, it's important to have good customer support. Choose an app that offers reliable support options, like a help center, email, or live chat.
👉 Reading what others say
User reviews can give you great insight into the real-life experiences of other business owners who have used the app. Read through the reviews to see what people are saying about ease of use, reliability, and customer support.
👉 Give it a try
Before making a commitment, it's a good idea to test the app. Most apps offer a free trial or demo, so take advantage of this chance to see how the app works and if it meets your needs.
10. Streamline App Integration for Improved User Experience
Luckily Shopify allows many app integrations with your dropshipping store. And also, these integrations cover any aspect of your business.
But, sometimes quantity is more important than quality. In other words, sometimes is more important to integrate only with the exact apps you need, and not slow down your store.
Therefore, before integrating any apps into your Shopify store, it's important to have a clear understanding of your goals and what you hope to achieve through app integration. This will help guide your decision-making process. Next thing, review the app's features!
Once you are sure about the app integration, simply integrate the Shopify apps. However, make sure each app is set up in a way that streamlines the user experience. This may involve customizing the app's settings, adjusting its placement on your site, or adding complementary apps to enhance its functionality.
One more thing ✌️! Shopify app integration is an ongoing process. Therefore, regularly review your integrated apps and make changes as necessary to improve the user experience and achieve your goals.
11. Use Automation to Save Time and Boost Efficiency
In today's era automation is everything! There are a million reasons why you need automation, and thanks to Shopify you got your back covered!
By using automation, dropshipping businesses can streamline their processes and see a big boost in efficiency!
What's more, your dropship tasks can be completed much quicker and with less chance of errors. This means that employees can focus on more important tasks and the business can handle increased workloads without having to add more resources.
Not only that, but automation can also help save on costs and improve overall productivity.
So, picking up an automation Shopify tool depends on what part of your dropshipping business you want to automate.
💡 For that purpose, check out the 12 Best Dropshipping Software To Automate Your Store!
In short, automation is fantastic for any business looking to stay ahead and streamline its processes.
12. Stay Up-to-Date with App Updates and Enhancements
Staying informed about the latest updates and enhancements to your Shopify apps is essential for the smooth running of your store. Here are some simple Shopify hacks you can take to make sure you're always in the loop:
Subscribe to notifications: Most Shopify apps have an option for you to subscribe to updates and notifications, so you can stay informed about new features, bug fixes, and enhancements.
Check the changelog: Many apps provide a changelog, which lists all the updates and changes that have been made. This is a great way to see what's new and what's been improved.
Stay connected on social media: Some apps have social media accounts, like Twitter and Facebook, where they announce updates and new features. Following these accounts can keep you informed.
Read reviews: The reviews on the Shopify app store can also be a good source of information about updates and enhancements. Check the latest reviews to see if there have been any significant changes or improvements.
Test before updating: Before updating an app, it's a good idea to test the new features and enhancements in a development environment to make sure everything works as expected.
13. Take Advantage of Free Trial and Discount Offers
Thankfully, Shopify offers a free trial to almost every app in their store. So, you can always give it a try and check if this app actually meets your business needs. Also, this dropshipping platform offers discounts often.
This way you can get the most from Shopify and benefit your dropshipping business! Who doesn't want to save money, right?
Now, let's get some more Shopify hacks! 👇
Shopify Marketing Hacks
What's sales without marketing? Hmm.. something like Mr.Bean without his bear we suppose. Thus, when you launch a dropshipping store you must promote it as well because you need to bring the customers there! So, the only way to do that is through Shopify marketing strategies!
Therefore, follow our marketing Shopify hacks if you want to level up fast! 👇
14. Be active On Social Media Platforms
Did you know that over 59% of the world's population, today uses social media? Not just that, but the average user usage is 2 hours and 31 minutes. (Smart Insights, 2023)
This means that social media platforms are real traffic drivers for your dropshipping store. More importantly, this means increased dropshipping sales.
Therefore, make sure you are present on different social media platforms, like TikTok, Instagram, Facebook, Pinterest, Snapchat, and more.
That's why we recommend you follow our Tips to Launch And Optimize Your Social Media For Dropshipping. You won't regret it!
For instance, have you heard about the Shopify app Outfy? This app actually helps you to automate your social media. Thus, it helps you promote your store, create reels, and gifs, schedule content, create smarter hashtags, and more. 👇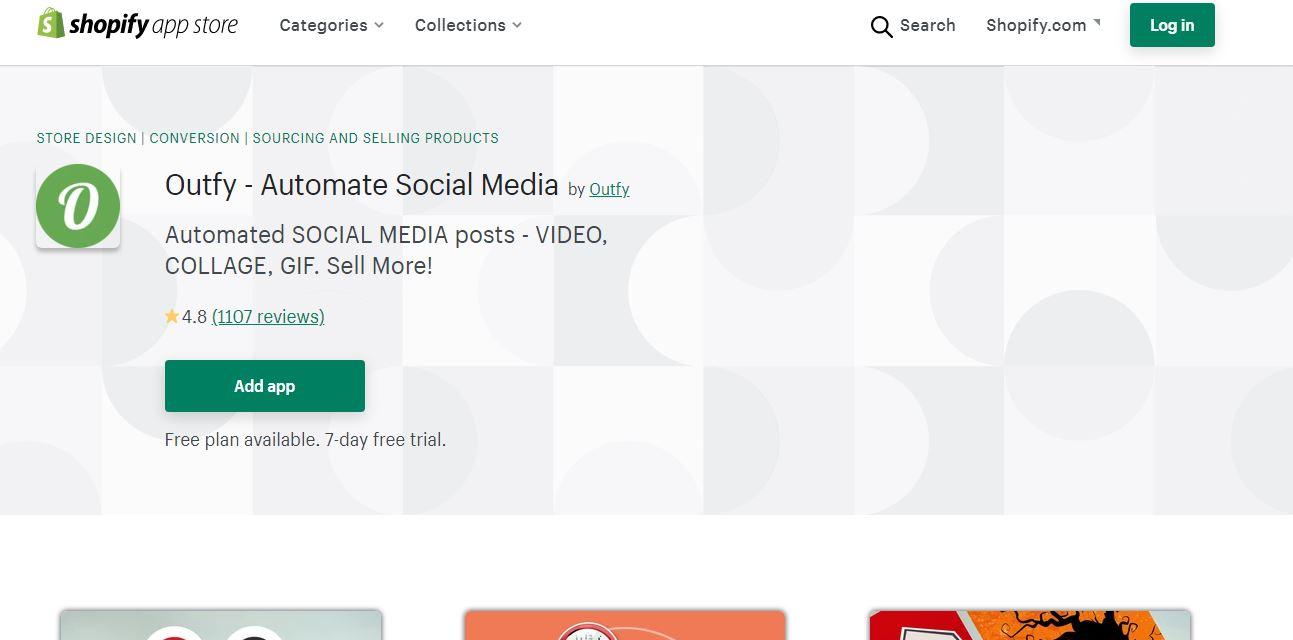 15. Collaborate With Influencers
Working with an influencer has a lot of advantages, including increased social media exposure. Influencers may expand your reach more quickly than any other marketing method since they have a lot of followers.
Moreover, influencers help you target a specialized niche in addition to their broad reach.
Also, they have devoted followers, so when they link posts to your social media page, their followers will fall into line.
👉 Learn about Influencer Marketing For Dropshipping In 2022 – Beginner's Guide
16. Launch Giveaways and Contests
People love getting stuff for free. We mean, who doesn't? So, since giveaways usually have requirements for customers, like "follow this profile in order to get the product for free," it helps you reach a broader customer base.
Therefore, the key to a successful giveaway is to provide gifts that are worthwhile enough for your audience to want to participate in the contest and win.
So, you must encourage them to start following you, share the giveaway post, like your pages, and tag new friends.
Thankfully, Shopify has various apps for launching giveaways and contests. For example, the Giveaway Ninja Shopify app helps you run effective product giveaways, raffles, competitions, and catchy promotions on your Shopify Store. 👇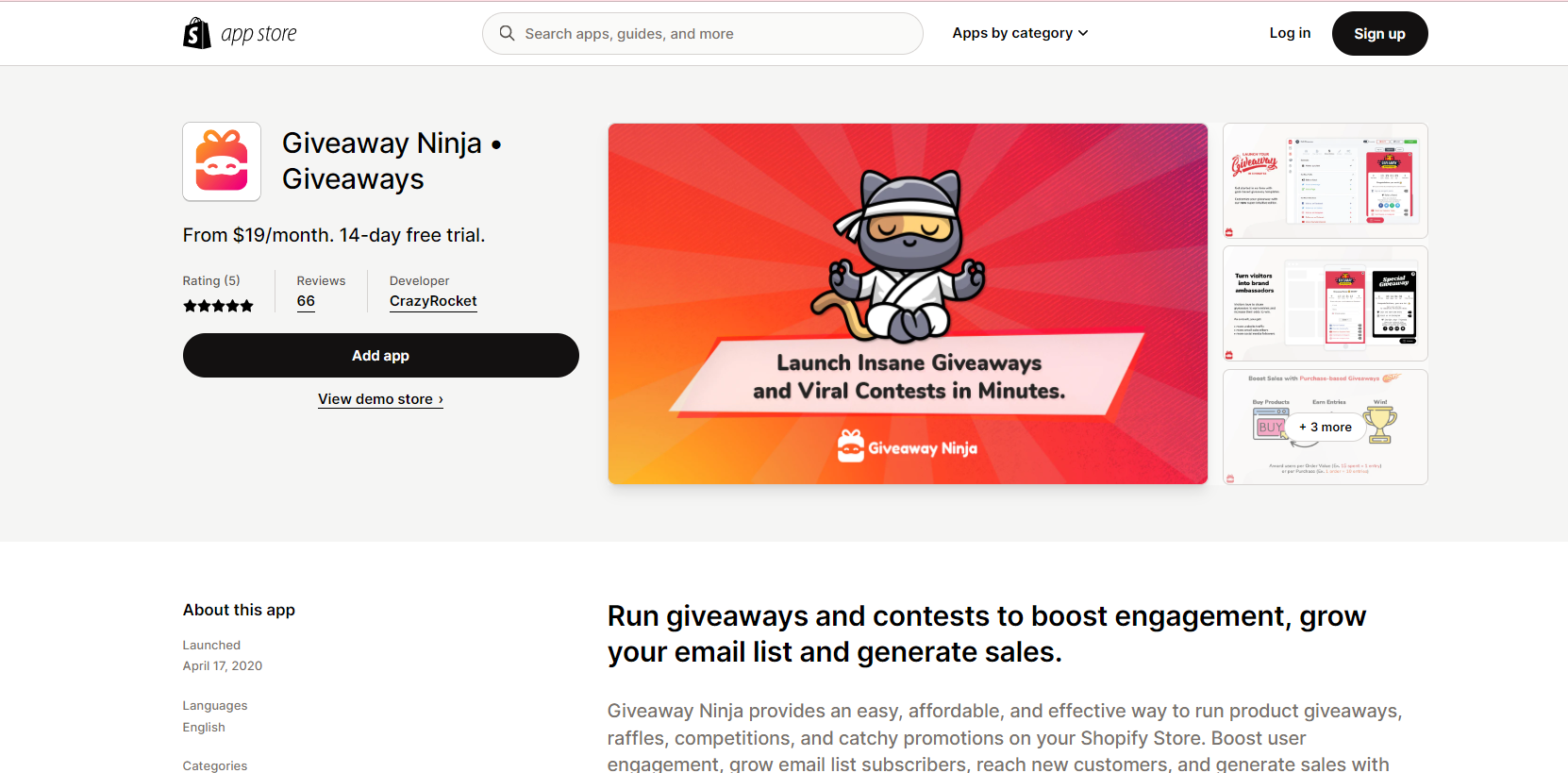 Moreover, keep in mind that the people that start following you during the giveaway may leave after it finishes. So, make sure to provide them with interesting content, and make them stay!
Also, doing giveaways more often increases customer satisfaction, and helps you transform them into loyal customers as well.
17. Make a Loyalty Program
You can increase your dropshipping sales and the number of repeat customers by creating a program that rewards those who are frequently buying from your dropshipping business.
Therefore, if you want to achieve this, just provide them with special offers or discounts if they purchase something more than once. Furthermore, you can also give individuals points for each purchase they make, and allow them to swap those points for prizes.
However, there are various Shopify applications available that can manage your loyalty program if it seems hard for you. For example, you can try the Shopify Smile.io app, which will help you create your loyalty program. 👇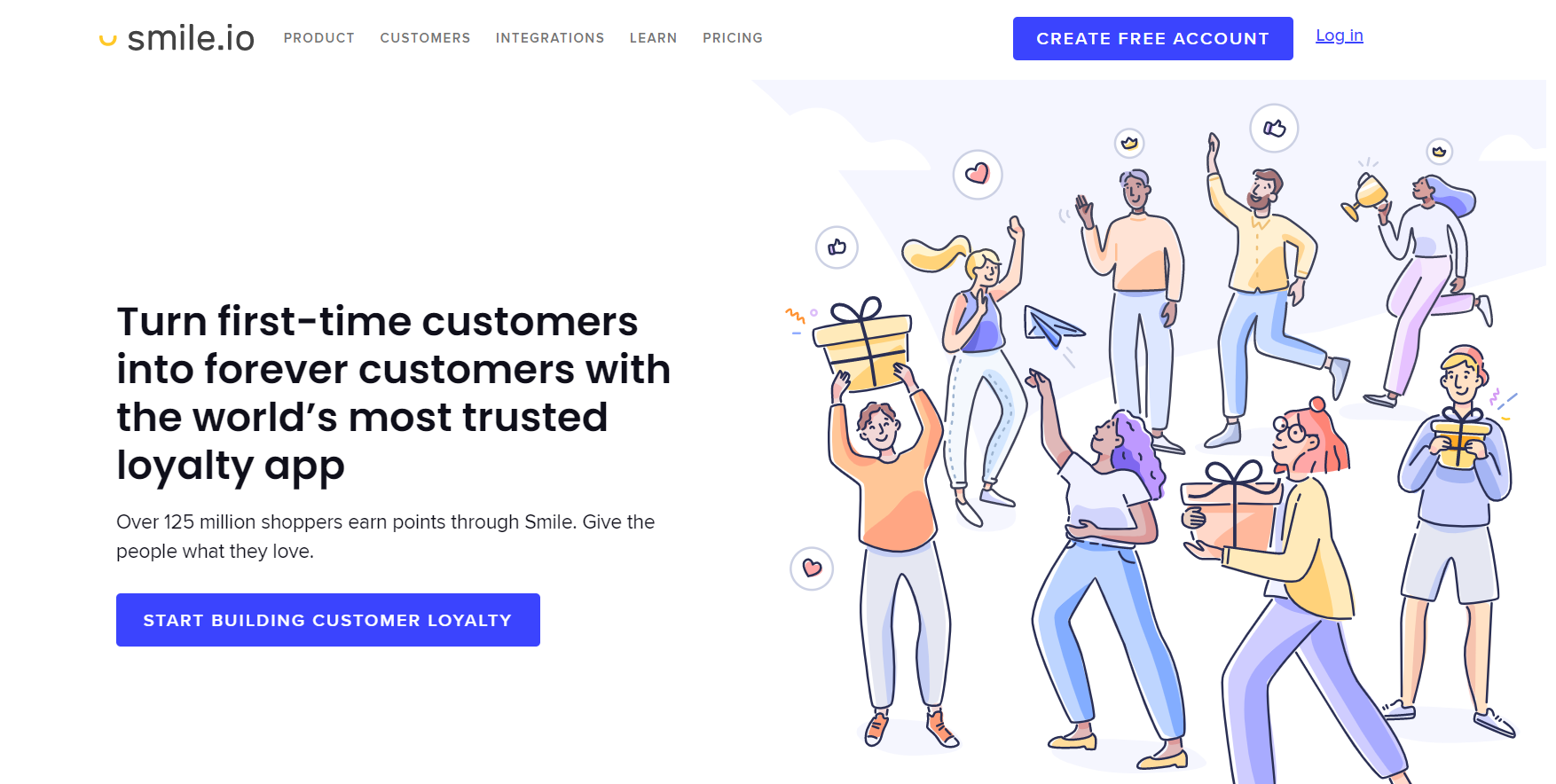 18. Use Upselling and Cross-selling
If you want to increase your loyal customer base, or simply boost sales, don't forget about upselling and cross-selling marketing.
Imagine buying your favorite coffee, and they ask you whether you like it small, medium, or large for the same price as you get your regular. Of course, you will get the large one. And, that's upselling.
Actually, you increase the shopping experience of your customer. And, even if you don't sell more now, you increase customer value. And, this always pays off!
Now, imagine that you also want to try something new, and the company offers you similar products that other customers buy because they also like your favorite coffee? Well, that's how cross-selling helps you boost customer satisfaction.
Therefore, consider using Shopify apps if you want to do this correctly. So, check out the ReConvert Upsell & Cross-sell Shopify app. 👇

💡 Tip: Read about Boost Sales by 47%: Why Upselling and Cross-Selling When Dropshipping.
In fact, these two marketing dropshipping tips are focused on providing the highest value for long-term customers, and this is what your dropshipping store needs!
19. Make a Referral Program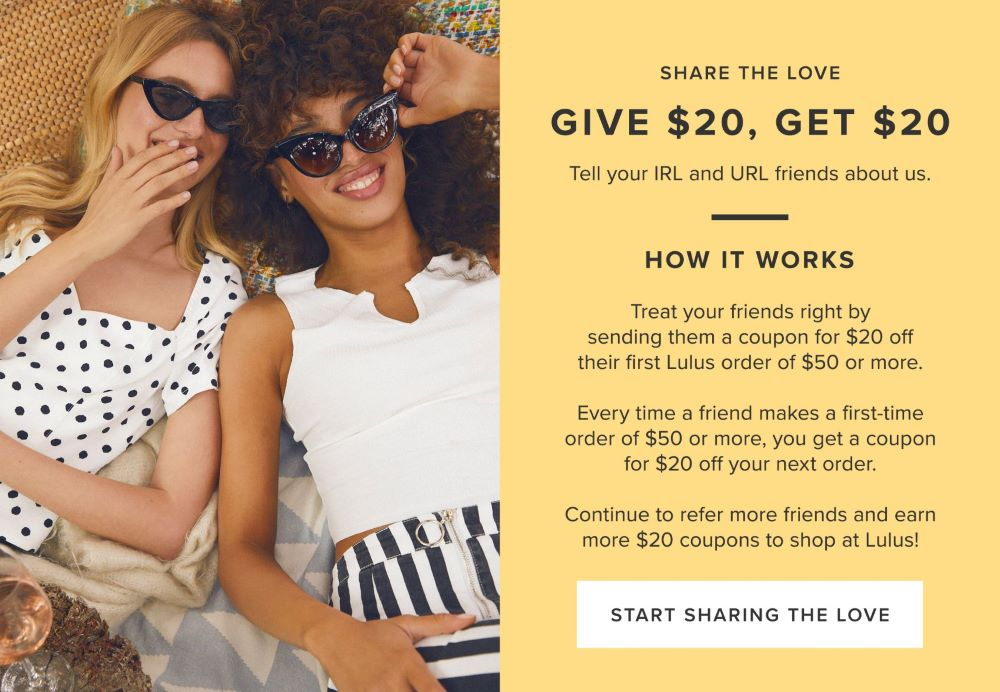 No matter how far marketing goes, word-of-mouth strategy never dies! So, why not take advantage of it in your dropshipping store?
A referral program encourages your customers to recommend your goods to their friends and encourages them to make purchases from you. For that purpose, they will get something in regard. Thankfully, Shopify has various apps for referral programs, you just need to pick the best for you.
💡 For example, you can consider using apps like LoyaltyLion, Referral Candy, or Smile.io, which are best for developing and running referral programs.
20. Implement Countdown Timers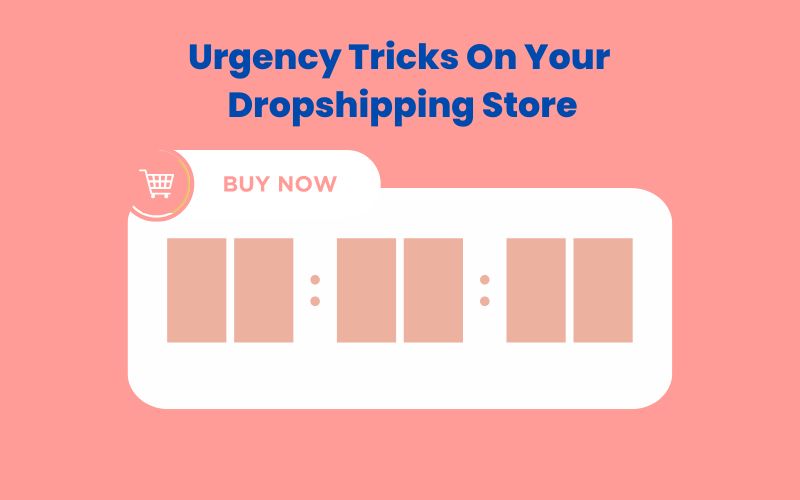 It's the final countdown! Just inform your customers that the big SALE you provide has an expiration date and time, and they will gladly hurry up to purchase that item.
Actually, this is a fantastic method to generate buzz for your dropshipping business and increase sales for a particular product. Because it generates a sense of urgency to purchase the goods while it is on sale, it works especially effectively.
Also, this might be one of the easiest of our Shopify hacks. All you need to do is install a plugin.
For that purpose, Countdown Timer Ultimate is a Shopify app that can help you increase your dropshipping conversions and provoke customers' urgency.
21. Optimize Your Dropshipping Store for SEO
Now, let's review some facts.
First, imagine having the best brick-and-mortar clothing store in town, but your location is bad and there are no signs around the city about it. So, literally, nobody knows where to find you. And, instead of buying from you, they will prefer to buy from your competitors that are easy to be found. 👎
Now, as you are a dropshipper and you sell online, your dropshipping store must be found over the internet. And, what's the first thing you do when you search for something? You google it, of course!
However, it is very probable that customers will click on the top-ranking businesses on Google when they search the Internet for the item they need. In that case, for your Shopify store to rank you need content that is SEO-driven. 👍
💡 Read: SEO for Dropshipping Stores: How to Improve Your Rankings?
Now, let's get to the best Shopify SEO hacks! 👇
Shopify SEO Hacks
22. Fast Loading Speeds: A Crucial Factor for User Experience
First of all, a fast-loading dropshipping store can improve your search engine ranking and drive more traffic to your store. Additionally, users are less likely to abandon a website that loads quickly, resulting in a better user experience and increased conversions.
However, if you are concerned about how to do it, here are some quick Shopify hacks from us! 👇
Optimize images: Large, high-resolution images can slow down your site. Instead, use image e-commerce optimization tools, like Booster SEO & Image optimizer to reduce the size of images without sacrificing quality.
Use a Content Delivery Network (CDN): A CDN stores a copy of your website on servers around the world, so that users can access the site from the closest server, reducing load times.
Minimize HTTP requests: Every time a page loads, it makes multiple HTTP requests to the server. Minimizing these requests can help speed up your site.
Enable browser caching: Browser caching stores certain elements of your dropshipping store, such as images and stylesheets, on the user's device, so they don't have to be downloaded again with each page visit.
Use a fast and reliable hosting provider: Your dropshipping store hosting provider can greatly impact its speed. Thus, choose a fast and reliable provider to ensure fast load times.
💡 EXTRA TIP: Check out the PageFly Review: Website Builder To Customize and Optimize Your Shopify Stores.
These Shopify hacks really helped many dropshippers. So, consider using them!
23. Gaining an Edge with Keyword Research
Keywords play a crucial role in SEO. In fact, keywords are the terms or phrases that potential customers enter into search engines when looking for specific information or products.
Imagine that you are a customer and want to buy yourself a yoga mat. How would you start your research on Google? We bet you are going to write exactly this – yoga mats, or maybe yoga mats USA stores, etc. Well, these are keywords, and customers have the same mindset as well!
By targeting relevant keywords, you can improve your chances of appearing in search results and attract more organic traffic to your dropshipping store.
For example, you can incorporate keywords into your dropshipping store content and meta tags. Thus, this can help search engines understand the content of your dropshipping store and match it with the intent of the user's search query.
Thankfully, there are various keyword research tools nowadays, so you can use them to identify the most popular and relevant keywords, and then incorporate them into your store content in a way that is natural and informative.
👇 Check this out 👇
24. Eliminating Duplicate Content: A Must for Search Engine Optimization
Duplicate content can be a bummer for your dropshipping store's SEO and affect your search engine rankings. But don't worry, there are some easy ways to avoid it in your Shopify store.
First, you can add a "canonical tag" to each page. This tag tells search engines which page is the main, authoritative version. Simply use the "rel='canonical'" link tag in the HTML header of each page to make it happen. 👇
Furthermore, if you do have duplicate pages, use "301 redirects" to send users and search engines to the original, main page.
More importantly, make sure each page on your site has unique content and avoid creating pages with similar information. For example, don't create multiple pages for the same product with slight variations in descriptions.
Shopify also has "rel='next' and rel='prev'" tags to help search engines understand paginated content and avoid indexing multiple pages with similar information.
Finally, try to minimize the use of session IDs. In fact, Shopify uses these IDs to keep track of customer activity, but they can sometimes lead to duplicate content. To avoid this, use Shopify's built-in URL handling, and don't use session IDs in your URLs. 👇
25. Optimizing Metadata for Improved Visibility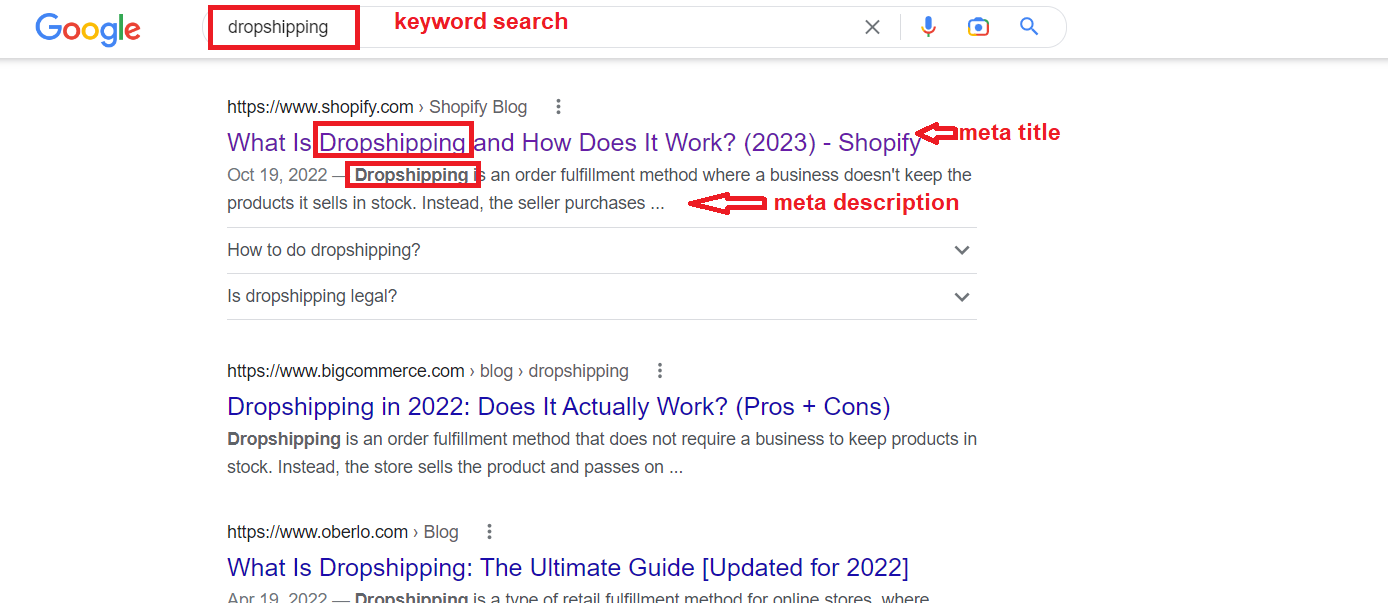 Metadata provides essential information about your pages, including their titles, descriptions, and keywords. This information makes it easier for users to find what they're looking for and navigate your site.
So, optimizing your metadata can help improve your website's visibility in search engine results pages (SERPs) and increase your chances of attracting more traffic.
First, it can help search engines understand what your pages are about and improve their rankings.
In Shopify, you can edit the title tag, and meta description for each page by going to Online Store > Pages and clicking on the page you want to edit. 👇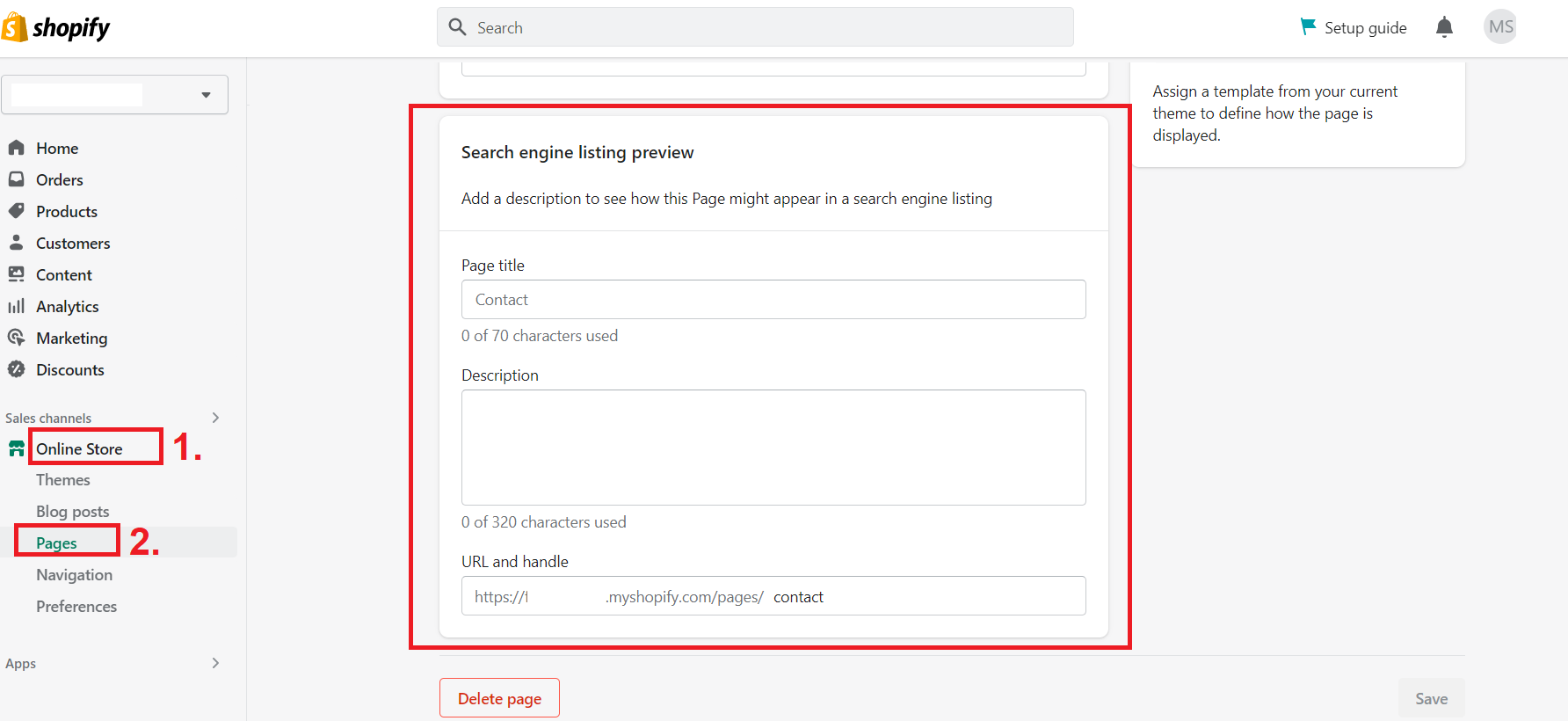 Moreover, Metadata also appears in search results and can influence whether users click on your link or not. Therefore, by including a clear and compelling title tag and meta description, you can entice users to click through to your site, increasing your traffic. Check this out. 👇
Therefore, consider this one of the most important SEO Shopify hacks.
26. Integrating Your Sitemap with Google Search Console
Integrating your sitemap with Google Search Console is an important step in improving your website's visibility in search engines.
Thankfully, Shopify automatically generates a sitemap for your store, which can be found at your store URL, like "https://your-store-name.com/sitemap.xml".
However, if you want to integrate it with Google Search Console, the first thing you should do is log in here.
After that, you just need to perform several steps:
In Google Search Console, select your website and click on the "Sitemaps" option in the left-hand menu.
Click on the "Add/Test Sitemap" button and enter the URL of your sitemap.
Once you've entered the URL, click on the "Submit" button to submit your sitemap to Google. And, you are done!
Lastly, Google Search Console can also help you identify any crawl errors on your dropshipping store. Because, these errors can prevent search engines from crawling your site effectively, reducing your visibility in search results. So, these Shopify store hacks are pretty important as well!
Join the only community and resource hub you'll ever need to succeed with dropshipping
Find winning dropshipping products, learn marketing, download templates and engage with real dropshippers
Never pay for a "guru's" course again. See why 4543+ dropshippers joined us this year!
💡Try DSCOM Hub Now
Conclusion
As we all know, Shopify is the KING of eCommerce! This platform has it all about running a dropshipping business. Starting from apps and tools to build your store, optimizing it to boosting your sales and logistics.
However, if you want to benefit the most from it, you might need a little help. Don't worry, no more running here and there. We got you covered!
With our 26 Shopify hacks, you will save a lot of your time, money, and effort. So, why wait? Take advantage and start! Best luck 🤩.