Are you looking to start a dropshipping business in Texas? Finding the best dropshipping suppliers in Texas is crucial for your success. With so many options available, how do you know which ones are the best?
To help you kickstart your dropshipping business in Texas, I have compiled a list of the best dropshipping suppliers in the state. These suppliers have been carefully selected based on their product range, reliability, and customer service.
By choosing the right suppliers, you can ensure that your customers receive high-quality products in a timely manner, while you focus on growing your business. So, let's start!
Best Dropshipping Suppliers In Texas – Short List
Firstly, here's my shortened list of the best of the best dropshipping suppliers in Texas.
| | | | |
| --- | --- | --- | --- |
| Dropshipping Supplier | Types of Products | Shipping Times | Pricing |
| Dropship Direct | Home decor, beauty products, kitchen items, home and garden, clothing, and electronics. | Ship their products from 1-3 days | Basic – Forever free plan; Premium – $19/month; Custom – $49/month |
| FohFurniture | Furniture dropshipping niche | 2-7 business days | you must log in to their platform for this information |
| Pet Stores USA | Pet dropshipping niche | Global shipping service/ must sign up to acess the information | Dropshipping platform is free to use |
| Texas Wholesale Natural Beauty Supplies | Beauty and Health dropshipping niche | 10-14 days for bulk products; with UPSP within 48 hours. | MOQ-100 pieces; you must log in to see the prices |
| Sunrise Wholesale | Electronics, tools, home décor, and toys. | 5-7 business days. | monthly fee of $49 to access its exceptional services; No MOQ. |
Now, let's continue with my in-depth guide to the best dropshipping suppliers in Texas. 👇
Discover top dropshipping suppliers of original US/EU products
You're 2 minutes away from building your ecommerce empire
No credit card required. No commitment.
Get started for free
The 10 Best Dropshipping Suppliers In Texas
In this article, I'll introduce you to the 10 best dropshipping suppliers in Texas, highlighting their range of products, customer service, shipping options, and more. So, let's dive in!
👉 Read my FULL review of Trendsi Dropshipping: Is It Good For Fashion-Based Dropshipping?
When it comes to finding the best dropshipping suppliers in Texas, one name that comes to mind is Dropship Direct.
With their wide range of product offerings and commitment to timely and secure delivery, they have established themselves as a go-to option for dropshippers in Lone Star State. Hence, they ship their products from 1-3 days.
Whether you're in the market for home decor, beauty products, kitchen items, home and garden, clothing, or electronics, Dropship Direct has got you covered. Their extensive product catalog ensures that you have a wide variety of options to offer to your customers.
Also, this dropshipping supplier has three pricing options for dropshippers:
Basic – Forever free plan
Premium – $19/month
Custom – $49/month
EWorldtrade has established itself as an experienced player in the online retail industry, bringing with it 17 years of expertise. They provide superior quality products across various categories, including:
Cosmetics and personal care items
Home furnishings and decorations
Clothing and fashion accessories
Automotive and motorcycle supplies
Chemical substances
Beverages
Machinery and equipment
Security and protective gear
This dropshipping supplier ships its products worldwide. Hence, eWorldTrade has gained recognition as one of the rapidly growing B2B marketplaces for wholesale trade online.
They continuously innovate and introduce new features tailored specifically for traders, empowering them to expand their reach globally and set new benchmarks for success.
This is one of the best dropshipping suppliers in Texas. Hence, its office belongs to the renowned FOH furniture group, a leading brand in the furniture and furnishings industry.
Their focus is on enhancing the customer ordering experience through their exceptional service. They provide customized customer support that offers a comprehensive solution delivered right to your doorstep, available round the clock.
Fohfurniture has established an office situated in Plano, Texas, catering to customers in the United States, Canada, Mexico, and nearby countries. Also, their in-stock products are shipped within 24 hours. However,
Once an order has been dispatched, it is generally anticipated that the delivery will be received within a span of 2-7 business days, provided that the delivery address is located within the United States, Canada, or Mexico.
What's more, in their product catalog you can choose from a variety of furniture, like office furniture, restaurant furniture, hospitality furniture, lighting, etc. And, they have a 30-day money-back guarantee.
💡 Tip: Check out the 10 Best Furniture Dropshipping Suppliers In the USA.
This Texas dropshipping supplier specializes in providing wholesale and dropshipping services to retailers in the pet industry. They have gained a strong reputation as one of the leading suppliers in the world of pet dropshipping.
Pet Stores USA prides itself on being a pioneer in the online pet dropshipping sector in the United States, having operated over the Internet for more than two decades. They also offer global shipping services, ensuring that their products reach customers worldwide.
With a vast selection of over 2,500 pet products available for drop shippers, they cater to various pet categories such as dogs, cats, birds, fish, and small animals. However, for pricing details, interested individuals are encouraged to reach out to the seller directly.
Furthermore, if you require personalized pet website solutions, this company is more than willing to assist. All you need to provide is a domain URL and your desired design for the website. This service comes at a cost of $1250 and includes an advanced shopping cart feature to enhance your return on investment.
They also emphasize that their dropshipping service is supposedly free to use. By simply contacting them, they will handle the sign-up process on your behalf.
👉 Check out the Top 10 Pet Dropshipping Suppliers & Products [2023 UPDATED]
Texas Wholesale Natural Beauty Supplies is a leading dropshipping supplier in Texas that offers a wide range of high-quality skincare products. They have a comprehensive selection of natural and organic beauty products, making them a trusted choice for those seeking clean and sustainable options.
One of the key features of Texas Wholesale Natural Beauty Supplies is its extensive range of products. They offer a diverse selection of skincare items, including cleansers, moisturizers, serums, and more.
With their wide product range, they cater to various skin types and concerns, ensuring that both customers and dropshipping businesses have ample options to choose from. Additionally, the processing time for bulk items is within the range of 10 to 14 business days.
Also, for dropshippers, orders are shipped via USPS regular or flat rate mail only directly to your customer within 48 hours of receipt of payment. Plus, they have a MOQ requirement of 100 pieces per item.
👉 Read about Beauty Products To Sell Online: Top 15 Beauty Products For Dropshipping.
Bosuk Jewelry is a family-owned business that specializes in wholesale distribution of fashionable jewelry, accessories, and more.
They are dedicated to offering high-quality fashion products at competitive prices. Their focus is exclusively on wholesale transactions, with a minimum purchase value of $100. To make a purchase from Bosuk Jewelry, a valid Tax ID is required.
Also, Bosuk ships its products within 2 business days.
When it comes to fashion jewelry and accessories, Bosuk Jewelry is a family-owned wholesale dropshipping supplier that stands out from the competition. They offer a wide range of trendy and stylish pieces that are perfect for any fashion-forward individual.
What sets Bosuk Jewelry apart is its competitive prices, allowing dropshipping businesses to maximize their profits while providing high-quality products to their customers.
👉 Check out the Best Products & Suppliers for Jewelry Dropshipping.
When it comes to finding the best dropshipping suppliers in Texas, one name that stands out is Katydid Wholesale.
They specialize in supplying women's clothing and boutique items, making them an ideal choice for those looking to cater to the fashion-forward crowd. Hence, in their catalog you can find:
shackets
jackets
knit cardigans
sweatshirts
sweaters
slippers
body wraps
vests
short sleeve
swim cover-ups
loungewear & robes
overalls
tank tops
pullovers, and more.
What sets Katydid Wholesale apart is its zero-order minimum value, meaning you can start your dropshipping business without any financial strain. Also, they ship their products within 5 days.
💡 Tip: Check out the Shopify Clothing Stores: Top 10 Examples For Dropshippers [2023].
Sunrise Wholesale distinguishes itself as one of the top dropshipping suppliers in Texas, seamlessly integrating with the marketplace. Their vast inventory of approximately 20,000 products spans across a variety of categories, including electronics, tools, home décor, and toys.
Furthermore, they offer a diverse selection of products from well-known brands like Apple, Dolce & Gabanna, Gucci, Canon, Dior, Disney, and more.
Additionally, their warehouse is conveniently situated in California, ensuring efficient order processing within a mere day. Moreover, orders are typically shipped within a reasonable timeframe of 5-7 days.
To assist you in making informed decisions for your dropshipping store, Sunrise provides research tools that facilitate product discovery and comparison. This enables you to identify the most suitable products for your business.
While Sunrise does require a monthly fee of $49 to access its exceptional services, they do offer a generous one-week free trial. It's important to note that there is no minimum order quantity (MOQ) requirement, allowing flexibility to meet your business needs.
The Immediate Resource stands out as one of the best dropshipping suppliers in Texas for clothing. They specialize in providing wholesale supplies of various clothing styles for women, including both plus-size and missy apparel.
What sets them apart is their commitment to offering high-quality products at an affordable price range. So, whether you're looking for trendy tops, stylish dresses, or comfortable bottoms, The Immediate Resource has you covered.
The Immediate Resource sources its merchandise directly from world-class manufacturers, ensuring that its customers receive top-notch items. Also, they ship their products to many countries in the EU, Australia, and New Zealand.
CROV is a dropshipping platform that facilitates connections between retailers and carefully selected suppliers, providing a diverse selection of products at competitive prices.
This intuitive platform offers a variety of useful resources to help businesses effectively handle their inventory and streamline their order management processes. One of its standout features is its pre-vetted suppliers, ensuring that you have access to high-quality products for your dropshipping business.
Also, they have a wide range of products in their product base, like arts & crafts, electronics, home decor, clothing, sports, beauty and health, pet products, medical suppliers, and more.
Regarding shipping from a U.S. warehouse, when the products are shipped with an express carrier such as UPS or FedEx, shipping times are around 2 business days. However, if your package is handled by a trucking company, the seller must dispatch your package within 4 business days.
In the case of packages being transported by sea, the seller is required to dispatch your package within 7 business days. Conversely, if your package is transported by air, the seller must dispatch your package within 3 business days.
How To Find Trustworthy Dropshipping Suppliers In Texas?
When searching for reliable dropshipping suppliers in Texas, there are several key factors to consider.
➡ First, you must consider the range of products that this customer provides. Hence, you probably want to offer numerous options to your customers and satisfy different customer needs. But, when it comes to products, quality is the no.1 criterion you should look after.
➡ So, what I do in such cases is ask the suppliers for product samples. Or, if they don't provide product samples, I act as a customer and order products from this specific supplier. This way, I check on their product quality, packaging, shipping times, and the over customer services at once.
➡ One of the most important factors is communication. A supplier who is responsive and communicates effectively is crucial for a successful dropshipping business.
In fact, you operate in the dropshipping business world, and you need to make sure that these suppliers are 100% responsive to you. Because, if anything goes wrong with the customer's order, you are the one to blame, and you might not have all the answers.
➡ Customer feedback is another essential aspect to consider. Checking reviews and ratings from other customers can give you valuable insights into the supplier's reliability and the quality of their products.
➡ Additionally, paying attention to shipping details is crucial. You want to work with a supplier who offers reasonable shipping costs, fast delivery times, and various shipping options.
However, I also find the Dropshipping.com supplier directory very helpful in finding reliable dropshipping suppliers.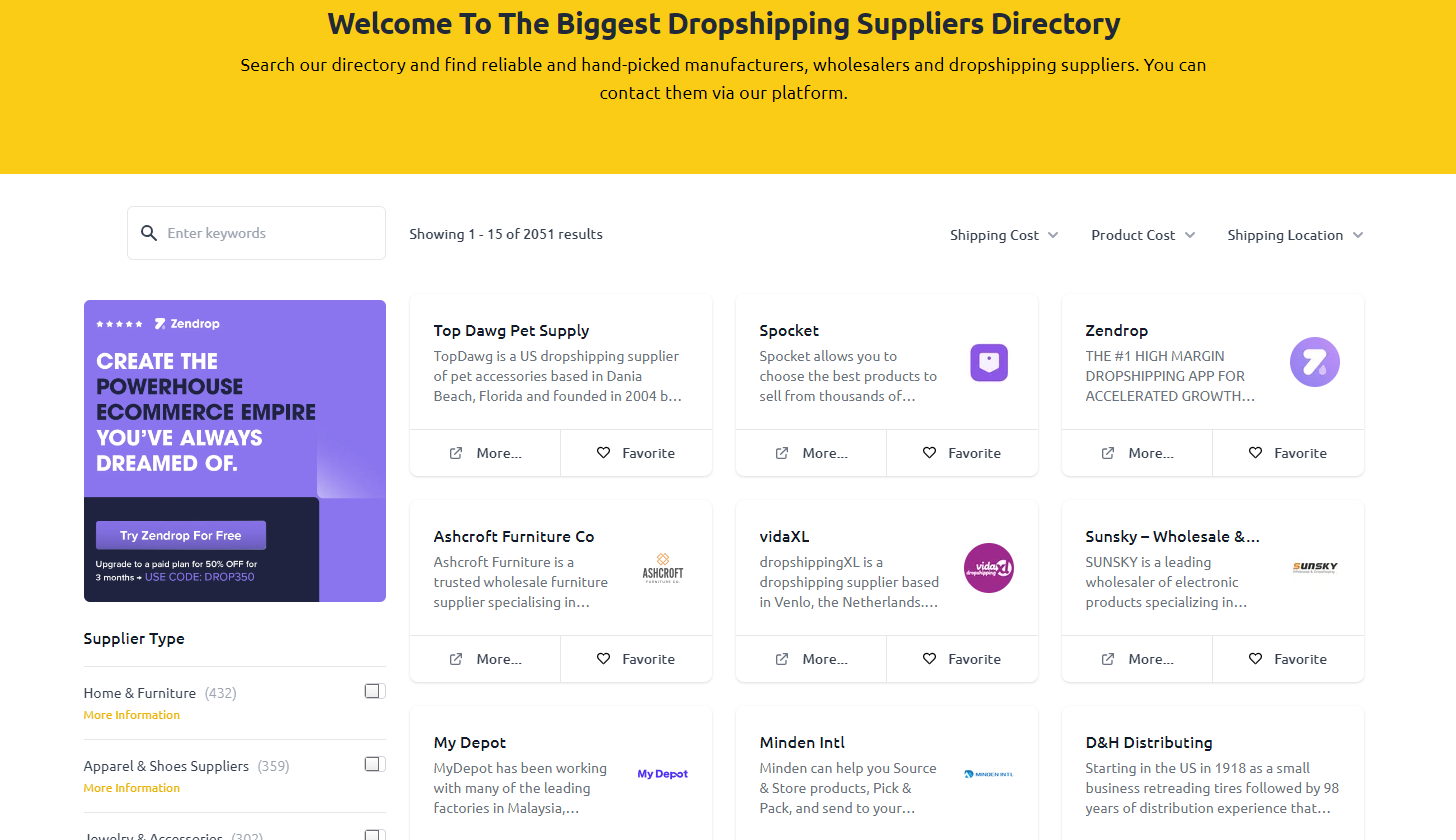 Thus, I can filter my results based on the supplier's location, shipping cost, product costs, dropshipping niche, etc.
Also, the platform gives me in-depth information about the suppliers, like MOQ requirements, product costs, average order processing time, contact info, and more.
How To Contact Wholesale Dropshippers From Texas?
First thing first, you need to check on the communication channels that this dropshipping supplier provides. Next, is up to you.
For example, you can initiate contact by sending them an email, aiming to establish a connection and having a point of reference for future phone conversations.
While you will receive responses to your emails, keep in mind that these suppliers also receive numerous emails from dropshippers looking to collaborate with them. Therefore, it is crucial to craft an email that will capture their attention. Start by using an engaging subject line that will entice them to open and read your message.
Additionally, make a phone call! This may be a more effective approach as it allows for direct communication with the best dropshipping suppliers in Texas.
However, make sure you have a well-prepared speech, as first impressions are significant. Ensure that you speak with key decision-makers within the company. Furthermore, ask pertinent questions such as their supply programs, warehouse locations, shipping times, refund and return policies, MOQ requirements, and more.
Is Dropshipping In Texas Profitable In 2023?
Definitely! Dropshipping in Texas is a profitable venture, and first of all, it is because of the low barriers to entry. Hence, you don't need to rob a bank to start dropshipping here, but you do need to work with the best dropshipping suppliers in Texas.
Also, it is projected that the revenue from online sales in Texas will reach 26,1 billion U.S. Dollars by 2024.
Does Texas Refund Sales Tax To Foreigners?
While shopping in Texas as a foreigner, you can indeed obtain a refund on your sales taxes through the services of TaxFree Shopping Ltd. However, you need to have the necessary documentation in order to get a refund, such as:
Passport
I-94 (White or Green card in your passport)
U.S. Visa (If required for your country) or foreign voter picture identification card
Boarding Pass/Flight Information (e-tickets are acceptable) showing your journey from Texas to the foreign country in which you reside (including any stops)
Original sales receipts and purchased items.
💡 Tip: Read about Dropshipping Returns: How To Set Up Your Returns & Refunds? [Full Guide]
Do You Need A Business License To Dropship In Texas?
It is not necessary to obtain a business license for dropshipping in Texas. However, the specific requirements and regulations for obtaining a business license may vary depending on the city or county in Texas where you plan to operate your business.
📝 I suggest you get more information about Texas Business Licenses and Permits here.
Additionally, it is also recommended to obtain a sales Tax ID, as you will be responsible for collecting and remitting sales taxes on the products you sell.
👉 Read about Seller's Permit vs. Business License: What Do You Need to Start Selling Online?
Find winning dropshipping products & spy on your competitors
Minea analyses all online advertising to help you find the best products to launch, and the best creatives in your niche in just a few clicks.
Use coupon: DROPSHIPPING30 and get a 30% discount
💡Try Minea For Free
Conclusion
When it comes to finding the best dropshipping suppliers in Texas, there are several factors to consider. Firstly, the range of products offered by the supplier is crucial for catering to a wide range of customer needs.
Also, you must ensure that these suppliers offer efficient customer service to maintain a positive online reputation. That's why, checking on customers' testimonials and feedback about the dropshipping Texas supplier is a must.
As a dropshipper, you should also consider the shipping costs and delivery times offered by the suppliers to ensure a seamless shopping experience for their customers.
In this article, I provided you with the 10 Best dropshipping suppliers in Texas. Plus, I gave you answers to the most crucial questions when dropshipping in Texas. So, take advantage of this valuable info & Start!