Klaviyo vs Privy: Comparison of The Top Shopify Email Marketing Apps
by
Aleksandra -
Aleksandra teaches marketing and management at various levels in High School. She writes about marketing, the economics and logistics of the dropshipping business and ecommerce in general.
Chief of Content Marketing
Klaviyo vs Privy, who is the real king of Shopify email marketing?
Both Klaviyo and Privy are great email marketing apps. Compared to the rest, they excel in their field. Although, there can always only be 1 winner.
There has to be something small that one has that the other doesn't. What exactly is that?
Let's find out who is the real winner!
What Is an Email Marketing App?
Email marketing apps are programs that allow you to create and send emails to a list of people. Email marketing apps that are better optimized will allow you to track and collect your contact's data.
This way, you can improve your personalization and send better emails over time.
We are talking about the Best Shopify Dropshipping Apps and comparing their features and prices in our previous article.
💡 Tip: Get inspiration from the 8 Order Confirmation Email Examples & Templates For Ecommerce.
Lifetime deal: Get all-access to everything on Dropshipping.com
Access all DSCOM features, resources, courses, live workshops, discounts, winning products, weekly deep dives, directories and all future updates under all-in-one dropshipping HUB.
DROPSHIPPING IS A REAL BUSINESS, DON'T DO IT ALONE. 4553 MEMBERS ALREADY JOINED. YOU CAN PAY OFF YOUR SMALL INVESTMENT WITH JUST 2 SALES ON YOUR STORE.
Grab the deal before it's gone
Why Do You Need an Email Marketing App?
Email marketing apps do most of the hardest work for you and that is automation. Automation can simplify the email marketing process by increasing personalization, staying in touch with your clients, and sending out multiple emails at once.
BONUS: Check our extended list of the best marketing apps on Shopify.
It helps decrease the workload of your dropshipping store just through the sending process.
Klaviyo vs Privy Detailed Comparison
Here are a few main comparisons between Klaviyo and Privy to see who stands out on top:
Features
Both Klaviyo and Privy possess a certain amount of features between each other.
Here are the main features of email marketing software and a comparison of which one of the platforms (Privy or Klaviyo) possesses these features:
2-way messaging- Klaviyo
A/B Testing- both
Analytics/ROI Tracking- Klaviyo
Auto-responders- both
Campaign management- both
Contact database- Klaviyo
Contact management- both
Drip Campaigns- both
Customizable CTAs- Klaviyo
Dynamic Content- both
Email Marketing- both
Event-triggered actions- both
Landing pages/web forms- both
Image library- Klaviyo
CAN-SPAM Compliance- both
List management- both
Mobile commerce- Privy
Promotions management- Privy
Segmentation- both
Subscriber management- both
WYSIWYG Editor- both
When we go into a detailed comparison, Privy takes an upper hand in providing a suite of conversion tools that will be shown at the top of your website. Here are some other advantages Privy has in its features:
Cart savings display- reduces the amount of cart abandonment just by scanning what the issue might be in the pre-abandonment indicators at the checkout phase, and based on product or cart value.
Cross-sell displays- shows add-to-cart features to customers that have already included a product in their cart. (Learn more about Cross-selling and Upselling for Dropshippers)
Privy is excellent in offering customizable options, post-purchase follow-ups, etc.
Privy offers mobile commerce, online purchases through a wireless device such as a mobile or tablet, and promotions management. When it comes to dropshipping optimization on a website, Privy definitely takes the upper hand.
Klaviyo on the other hand is much better in email flows, segmentation of email contacts, and deliverability rates. If you are looking for lots of customizable options, 2-way messaging, image libraries, and customizable CTA's, then Klaviyo is the clear winner here.
When we compare Klaviyo vs Privy in features, Klaviyo takes the win in most features and for being the better platform for email marketing.
Although, if you are taking into consideration promoting your dropshipping business through email marketing, then Privy is the winner here as it seeks to reduce cart abandonment, and offers customizable options for port-purchase follow-ups.
Klaviyo does handle email contacts greatly but still struggles in affecting your dropshipping store when it comes to cart abandonment optimization.
Price
Prices are relatively the same between both of the platforms. Klaviyo and Privy start with prices of $20 per month. They both offer a free trial and version available for their clients.
Klaviyo's pricing is based on the number of SMS sent and the number of contacts you have. It starts at $20 per month with over 250 contacts. An SMS sent costs $0.01 and $0.03 for an MMS.
Privy offers an unlimited 15-day free trial that includes targeting rules, design features, and all display types. When you are starting at the beginning and have less than 5 thousand monthly viewers, Privy allows you to use its platform for free. Once you surpass this number, then, Privy will start charging you $20 per month.
Comparing pricing options, Privy is a clear winner here. The 15-day free trial and the free cost of using the platform until 5 thousand visitors give Privy the edge in pricing.
Ease of Use
When it comes to choosing who is easier to use, Privy and Klaviyo both have some things that need some critical thinking.
Although, many start thinking a little more deeply when using Privy. Users tend to see the platform as more complicated when they use it day in and day out.
Klaviyo might be a bit confusing when it comes to the many customizations available, customer tracking metrics, and interface options. Although, it still takes a slight advantage here and seems to be the winner.
If you care about ease of use, then go for Klaviyo, although, the difference isn't very big.
Customer Service
According to reviews done by a few customers on Trust Radius, customers claimed that Privy comes out on top with its top-notch customer service for dropshipping stores.
Customers rated Privy's customer service on a maximum 5-star level, or 10/10. They classify Privy as very responsive to all their inquiries, flexible in the process, and polite.
Here are a few things customers had to say about Privy's support team.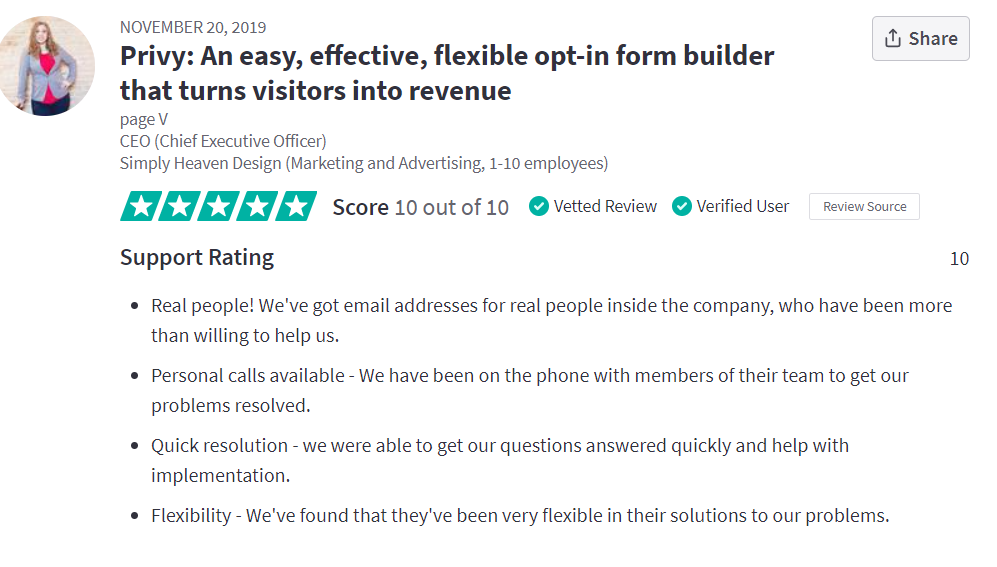 Klaviyo Pros and Cons
With both so many pros and cons, here are the pros of Klaviyo:
Fast and easy to set up campaigns. Not very complicated to use at the beginning
Excellent customer support, quick responses, and maximum politeness.
A great platform for sending and segmenting emails. Offers great personalization and excellent deliverability rates.
Effective in driving sales with its email software. Very reliable and has a bunch of customizable options.
Here are some downsides of Klaviyo:
Weak API functions, and also the server bandwidth itself isn't too powerful.
Tricky fees about monthly plans don't inform you too much about add-ons
When Klaviyo changed its pricing structure, many customers complained about losing $20 because of the change. Klaviyo claimed it wouldn't count toward the new charges.
Privy Pros and Cons
Let's now take a look at the good sides of Privy:
All features work excellently and have many different kinds of useful features.
Allows SMS marketing and email marketing to be used as one with multiple different functions
Easy website setup, greatly optimized on desktop and mobile.
Amazing list growth and email tool. Allows you to customize the pop-up, based on how your website looks like.
Here are the biggest issues with Privy:
Pricing and plans change fairly often, making customers feel uncomfortable from time to time.
De-duplicating isn't automatic, but you have to do it yourself. Still hasn't been fixed from the many complaints filed.
Price changes make it difficult to think if the price of the platform is worth it or not.
Final Verdict – Klaviyo vs Privy
So, it comes down to giving a final opinion on whether you should go with Klaviyo or Privy. Let's see who was the winner in each battle:
Features – Klaviyo has more features, but Privy has more value in each of its features. If you are concerned about email marketing, Klaviyo is the winner. If you are concerned about reducing cart abandonment, then Privy is the winner for you. This comes down to perspective and what your dropshipping goal is.
Price – Privy took the advantage of price as it offers its services free of charge until 5 thousand views per month. Although, at the same time, many customers have been complaining about its price changes that happen quite often.
Ease of use – Klaviyo took the win in being easy to use when you start using the platforms in depth. Although, in the beginning, we could say that both platforms come out with a good draw for their easy navigation.
Customer support – even though both of the platforms have great customer support, Privy had many great reviews about its customer service. Klaviyo has great customer service too, but if we rated them out of 10, Klaviyo would score 9, and Privy would score a perfect 10.
Join the only community and resource hub you'll ever need to succeed with dropshipping
Find winning dropshipping products, learn marketing, download templates and engage with real dropshippers
Never pay for a "guru's" course again. See why 4543+ dropshippers joined us this year!
💡Try DSCOM Hub Now
Key Takeaways
So, it comes down to an overall opinion. If you are more concerned about reducing cart abandonments and having the maximum support when you are using an email software platform, Privy is the clear winner for you.
Save for later: Free List Of The Best Dropshipping Software.
Although, if you want to use a platform that is easy to use, and has excellent customizable options when you write an email for your email marketing campaign, Klaviyo is the winner.
Klaviyo mainly serves e-commerce stores that seek to integrate with Shopify, WooCommer, and Magneto. It is also integrated with B2C and B2B companies while you use custom websites.
Privy is the best when you are managing small and mid-sized e-commerce Shopify stores.
If you are looking to grow your list and your revenue, then Privy brings the power of Enterprise marketing tools to you.
So, Klaviyo vs Privy, who is the real winner? It'll all be based on what your dropshipping goals are.
Learn:
The Best Marketing Practices For Your Dropshipping Store
The Shopify Marketing Strategy that leads brands to $1M in sales