What Is ShopPay And How To Use It As A Shopify Seller
by
Aleksandra -
Aleksandra teaches marketing and management at various levels in High School. She writes about marketing, the economics and logistics of the dropshipping business and ecommerce in general.
Chief of Content Marketing
What is Shoppay? Well, it is one magical tool that can help you achieve all of your goals.
As a Shopify seller, you are always looking for ways to save time, increase dropshipping sales, convert more people, do great marketing and customer support, and a lot more!
In this article, we'll take a closer look at what is Shoppay, how it works, how to use it, its features & more. Let's start!
What Is Shoppay?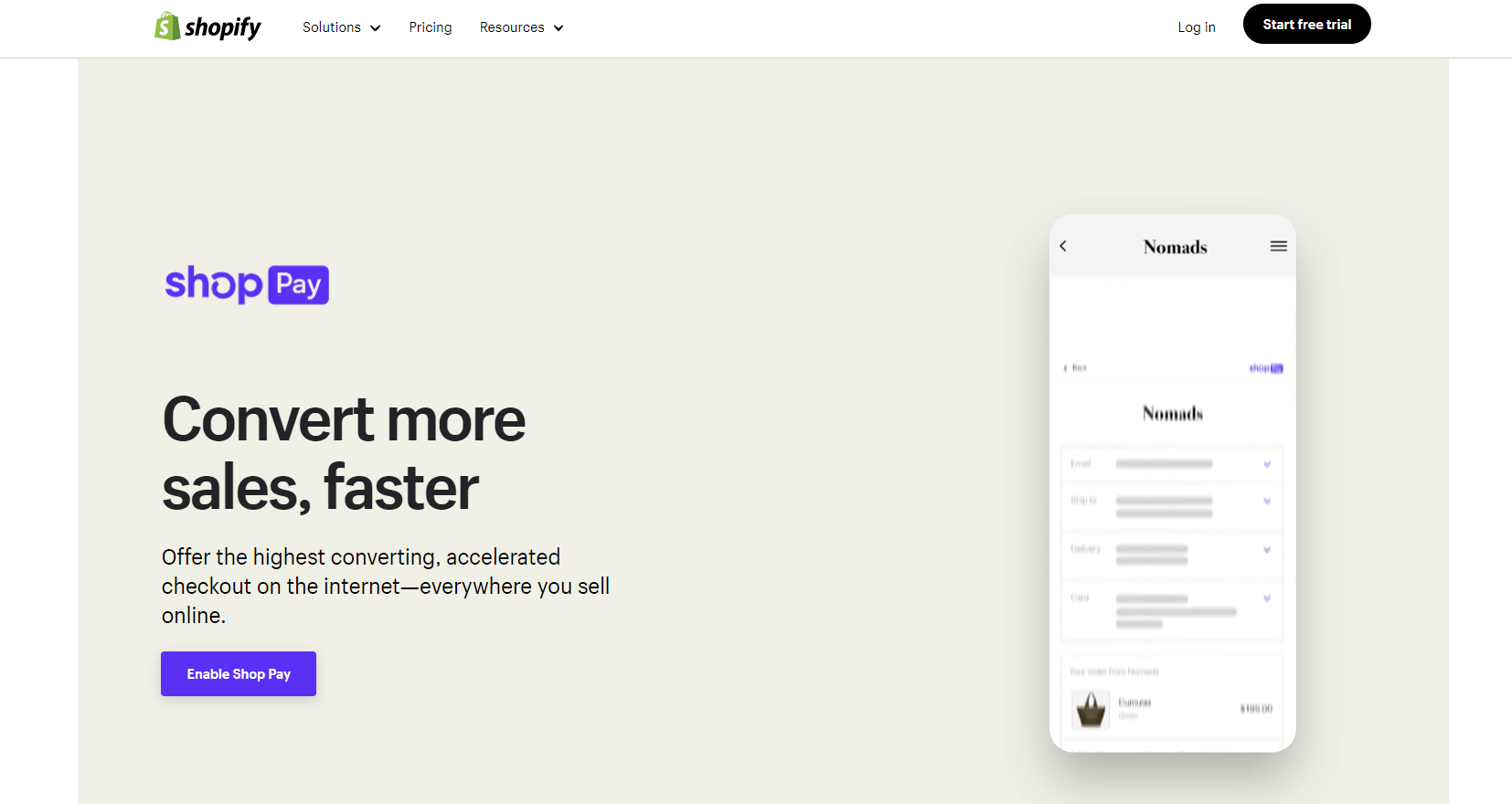 Shoppay is a mobile payment and marketing platform designed specifically for Shopify sellers. It allows customers to pay for their purchases using their mobile devices.
Moreover, Shoppay also integrates with your Shopify store, providing a suite of marketing and customer engagement tools to help you grow your dropshipping business.
Thus, with Shoppay, you can create custom loyalty programs, send offers and promotions, and provide customers with a seamless shopping experience.
Moreover, you can also use Shoppay to track customer behavior and get valuable insights that can help you optimize your marketing and sales strategies.
👉 Discover Is Shopify Legit in 2023? +6 Common Shopify Scams.
Lifetime deal: Get all-access to everything on Dropshipping.com
Access all DSCOM features, resources, courses, live workshops, discounts, winning products, weekly deep dives, directories and all future updates under all-in-one dropshipping HUB.
DROPSHIPPING IS A REAL BUSINESS, DON'T DO IT ALONE. 4553 MEMBERS ALREADY JOINED. YOU CAN PAY OFF YOUR SMALL INVESTMENT WITH JUST 2 SALES ON YOUR STORE.
Grab the deal before it's gone
How Does Shoppay Work?
In a nutshell, Shoppay works by integrating with your Shopify store and providing a mobile payment gateway for your customers.
So, when your customer makes a purchase using Shoppay, the payment is processed through their mobile device. Then, the transaction is recorded in your Shopify store.
Also, you can activate or deactivate Shoppay in your Shopify account settings. This gives you full control over the customer experience.
What's more, Shoppay encrypts and safely stores customer payment data, which is only accessible to you (as a seller) once a customer places an order.
Also, your customers can securely save their payment information, email, shipping, and billing details in one convenient location. So, they don't have to waste time filling out the same information every time they visit your store.
💡 Tip: Read about Shopify vs. Custom Store for Dropshipping – What's Better & Why?
Who Is Shoppay For?
Shoppay is for all Shopify sellers and dropshippers who are looking for ways to increase sales, improve customer engagement, and improve their payment processing.
In fact, It's particularly useful for businesses that have a significant mobile presence, as Shoppay provides a seamless mobile payment experience for customers.
How To Use Shoppay As A Shopify Seller?
Now, let's explain step-by-step how to start using Shoppay. In fact, it only takes a few minutes like setting up any other payment option. And there you go! Let's get you through our process! 👇
Step 1 – Set up Shop Pay to Shopify
First, log in to your Shopify account, and navigate to Settings > Payments. Next, once you enter the Payments section, you will see a blue button " Manage" in the right upper corner. Click on it. 👇
So, once you are at the "Payments" section, scroll down to this page, and click "Visit Shopify App Store". 👇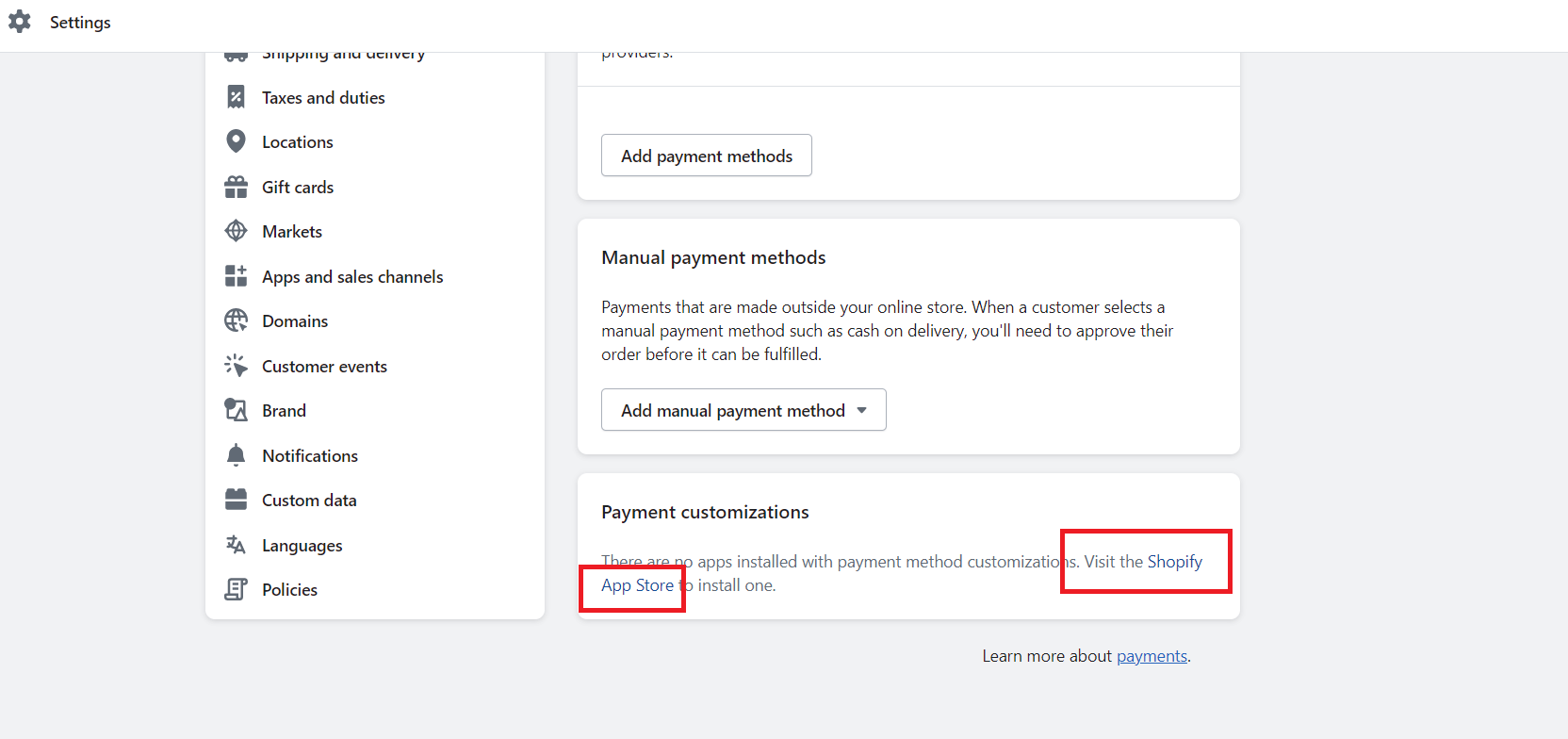 Once you are at the Shopify App Store, type in "Shop Channel". Next, click on "Add App". 👇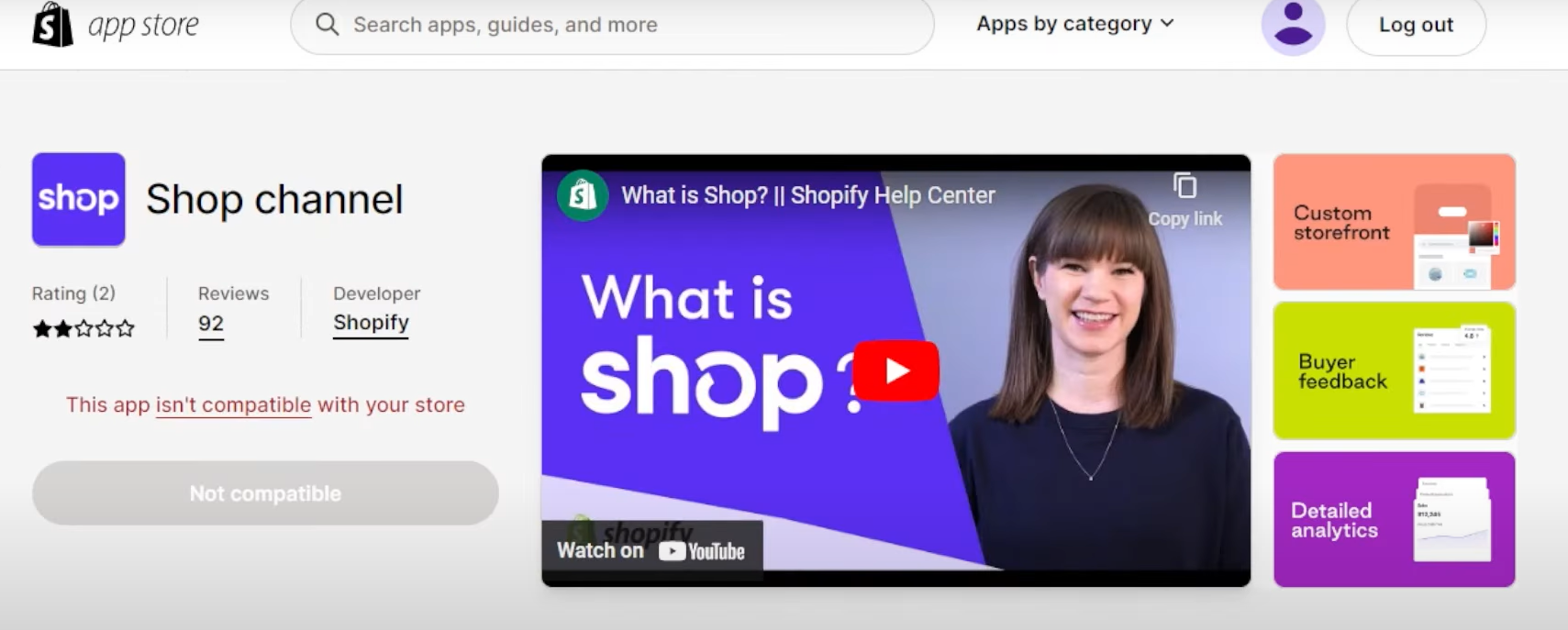 Also, to install the app you can go this way: navigate to "Sales Channels", then click on the "+" icon, and a new window will pop up. 👇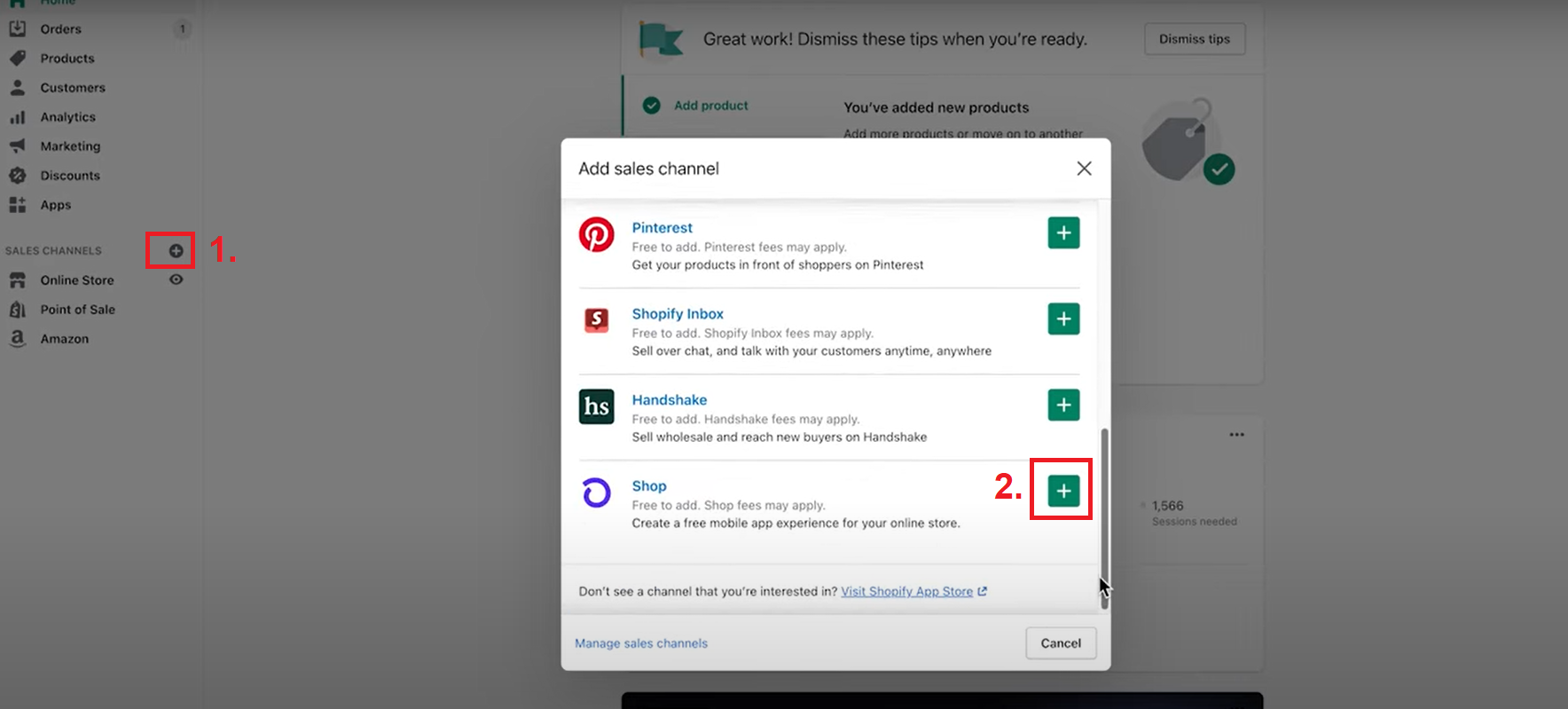 Now, once you review all the permissions, and privacy settings listed, click on "Add Sales Channel". 👇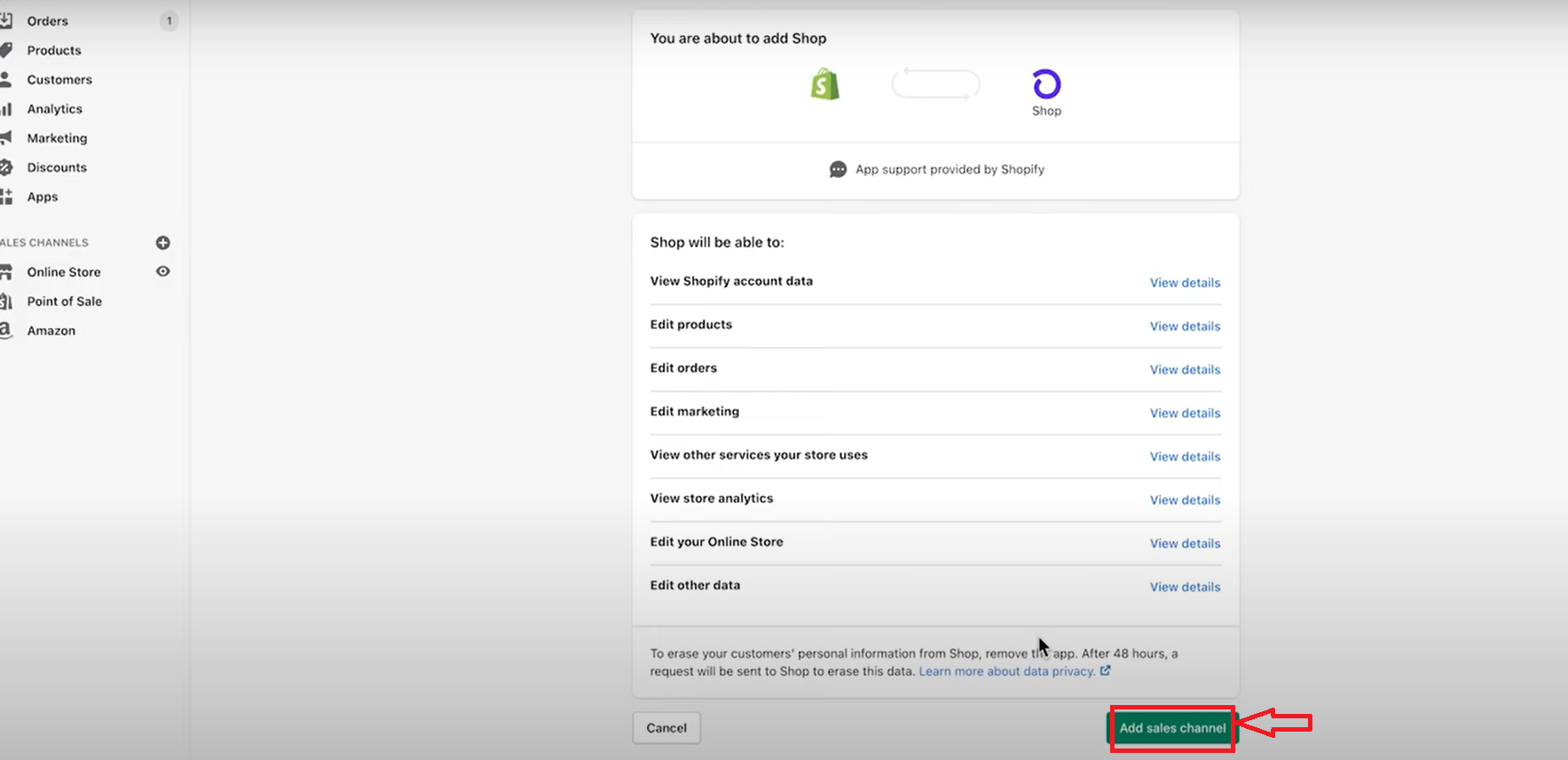 As of this moment, Shop Pay is added to your Sales Channel. Next, click on " Review in settings". 👇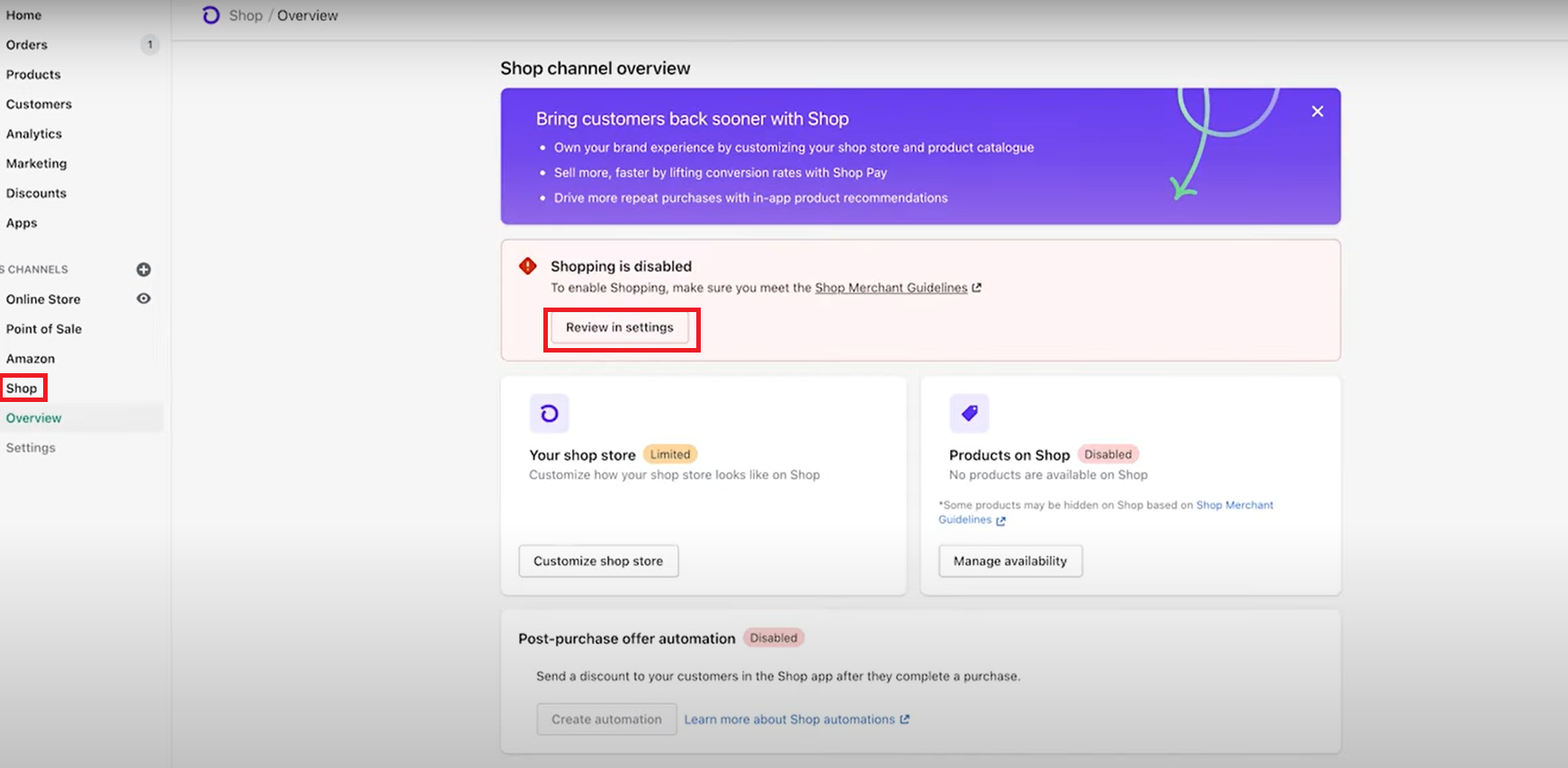 Here you can manage all of the app settings, such as payment, checkout, shopping settings, etc. 👇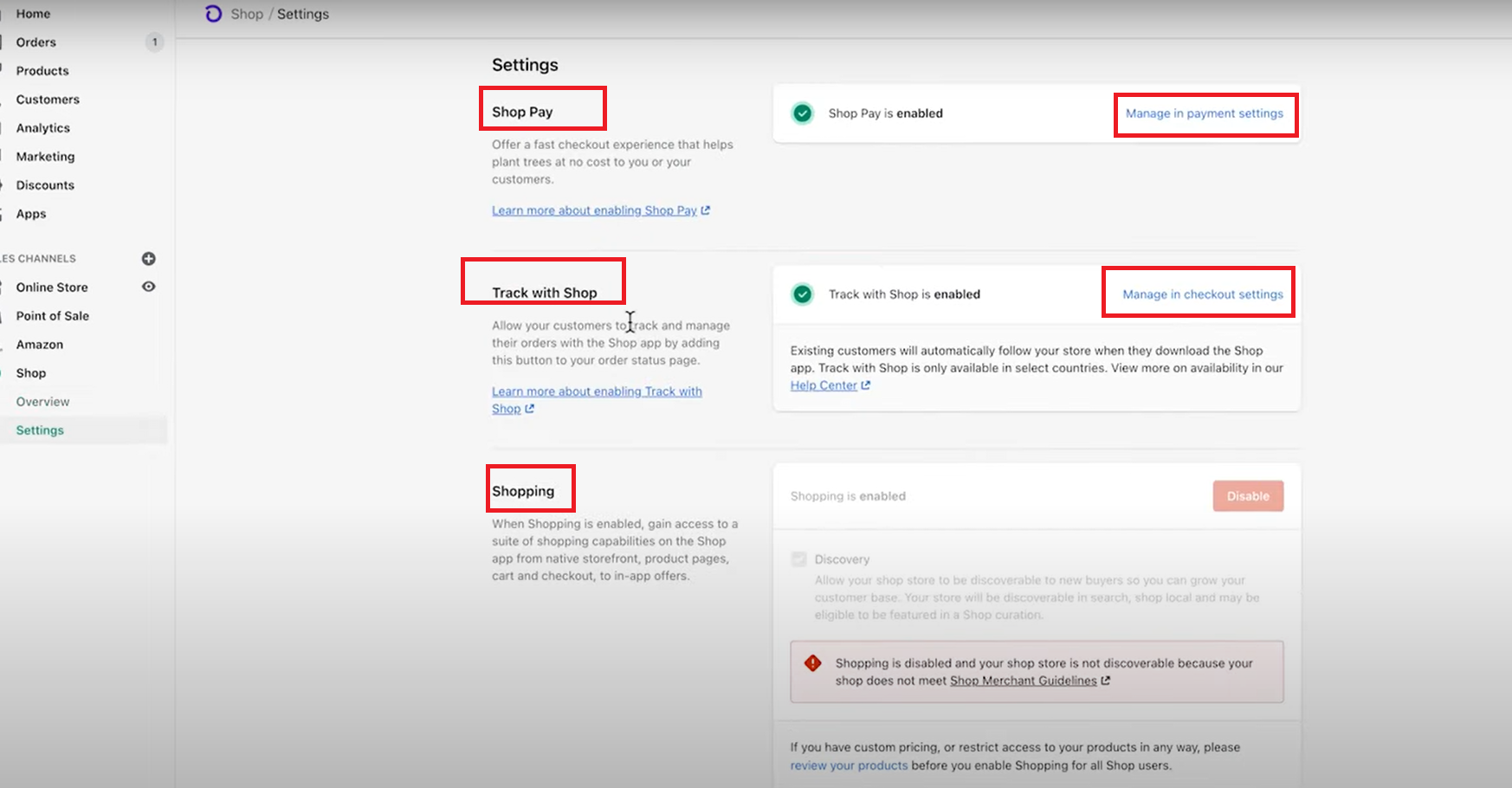 However, the most important thing to do here is to set up your shopping requirements. Once you do that, you will now realize that Shopping is enabled, and you can continue your journey with Shoppay. 👇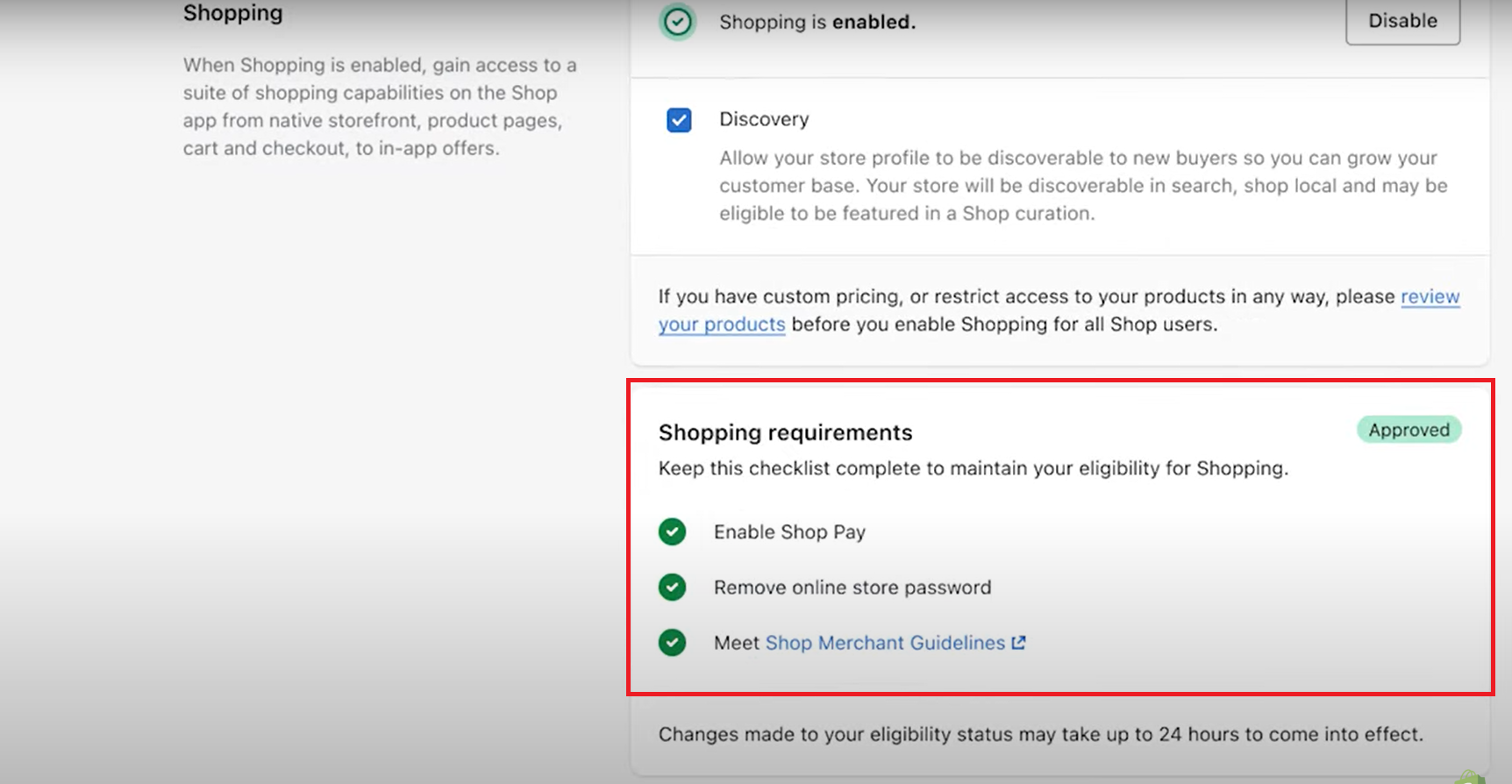 Step 2 – Customize your Shoppay store
Now, go back to your Shopify dashboard, and click on Shop > Preview > Customize Shop Store. 👇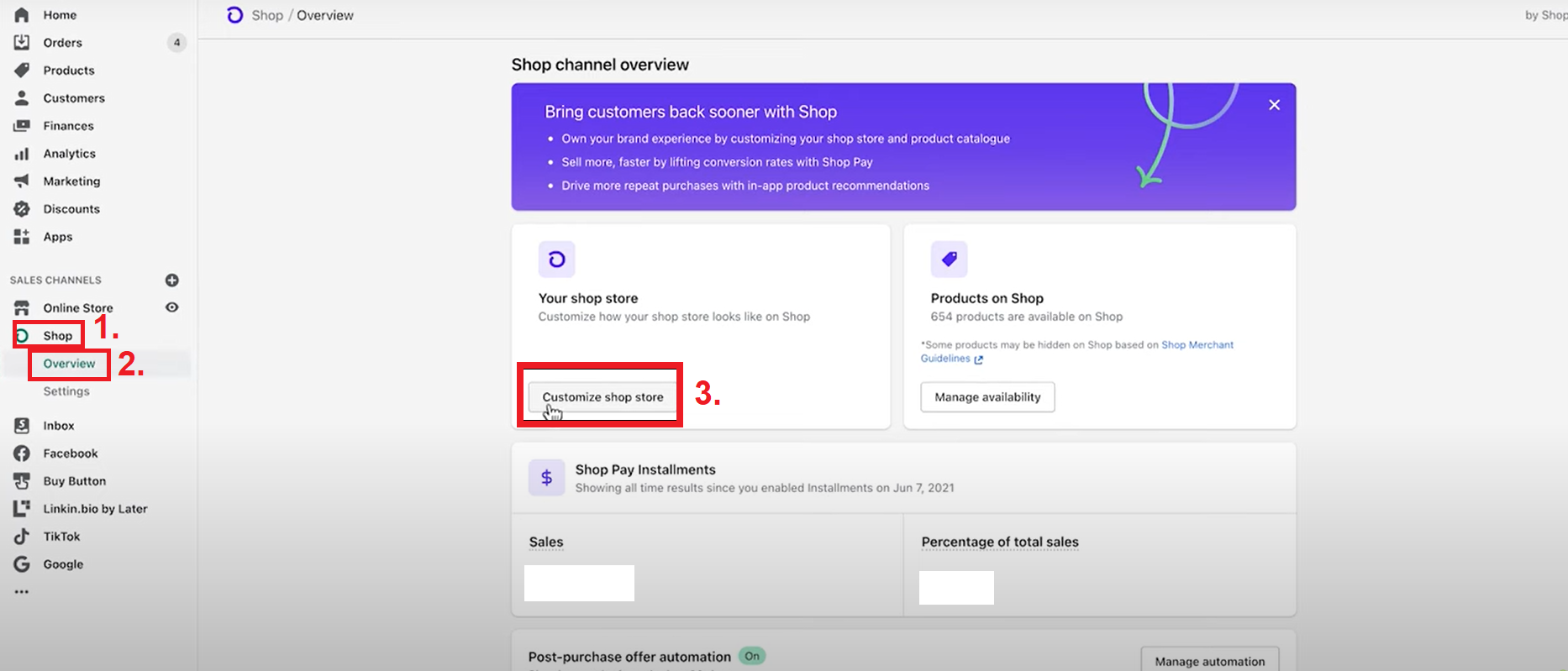 Furthermore, here you can add your logo, and cover image, write a description, social media links, contact, etc. 👇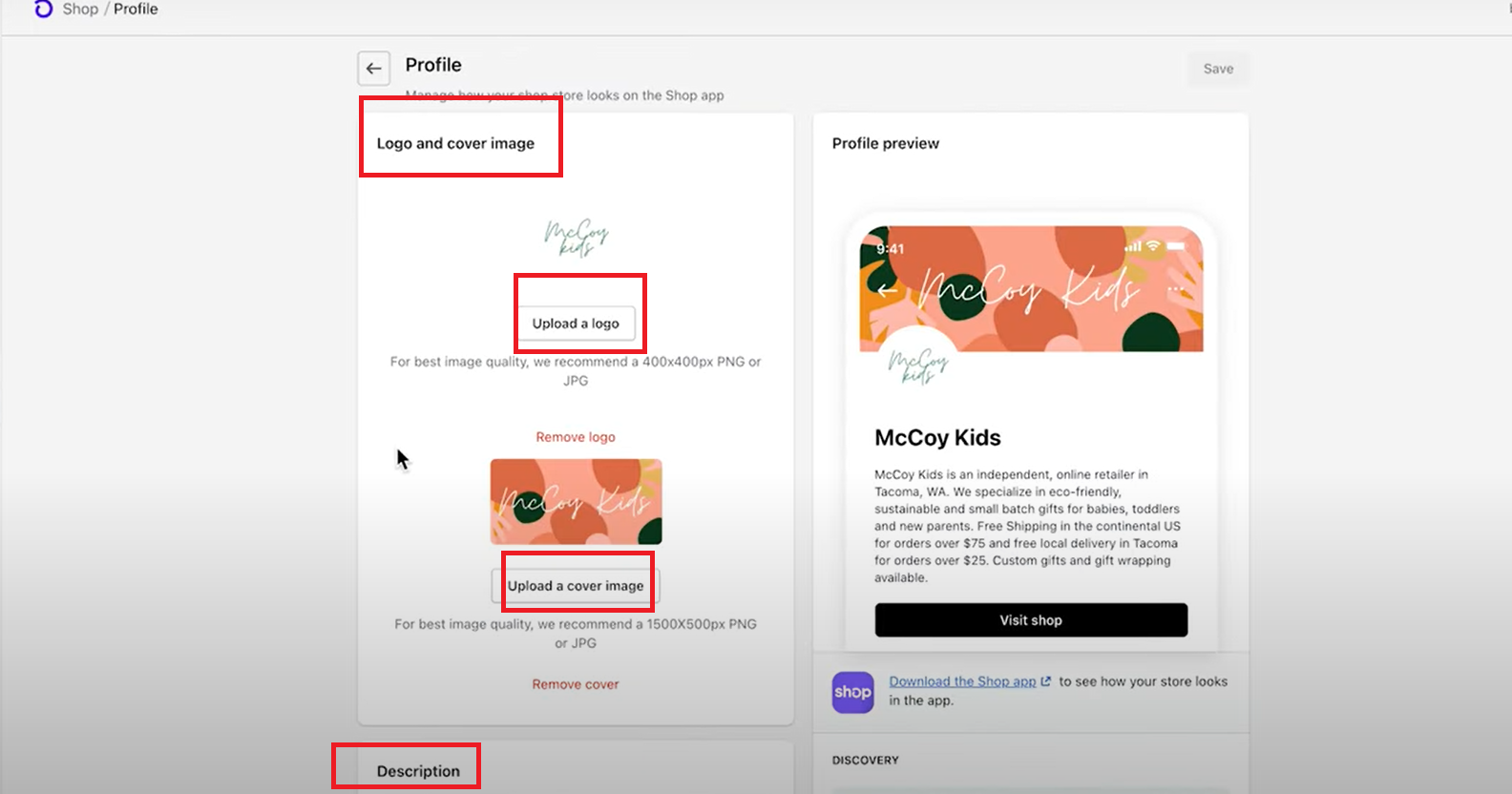 Step 3 – Set up and Review Performance
What's more, you can also set up and review your Shopify Installments, Post-purchase offers, Shop performance, etc. 👇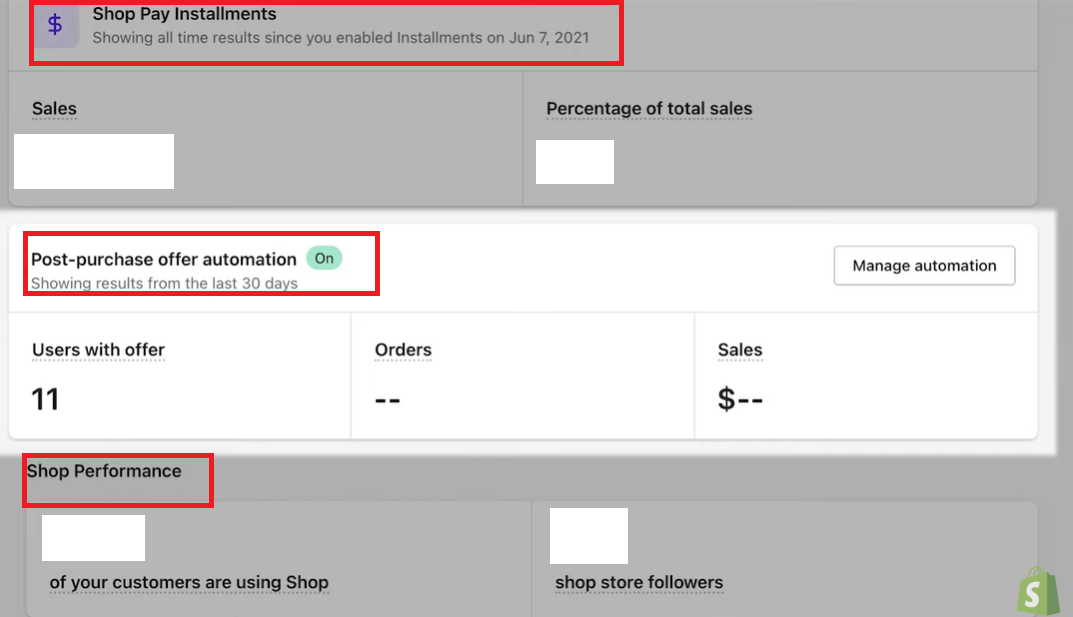 You can also review specific information about sales, orders, users, impressions, etc.
Now, let's review, how this actually looks. 👇
Furthermore, when a customer reaches your checkout page, they'll see a purple button labeled "Express checkout." This button is displayed alongside other popular payment options like PayPal and Google Pay.
💡Tip: Read about Dropshipping PayPal: How To Use It & Not Get Banned.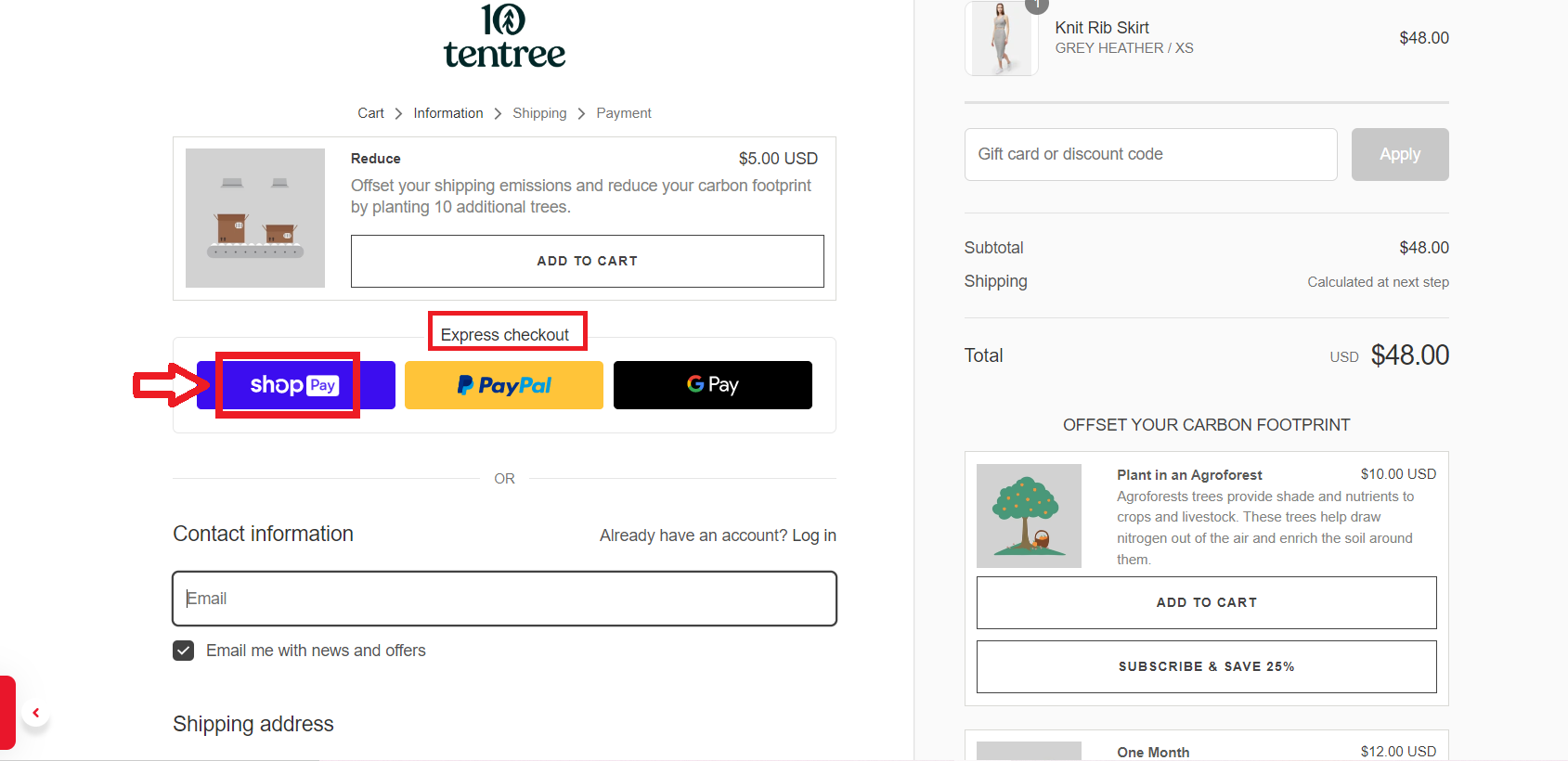 Also, if your customers choose to check out with Shop Pay and have already entered their payment and shipping information, they'll have the option to save that information for future purchases.
This means that the next time they shop with you, they can complete their transaction with minimal effort.
👉 Learn How To Pause Or Cancel Shopify Subscription? [2023].
What is Shoppay Review: Key Features
Shoppay Installments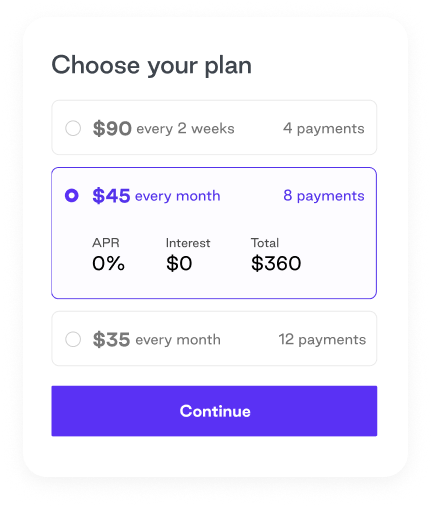 Shop Pay offers customers the ultimate flexibility in payment options, thanks to its Installments feature. This feature allows customers to choose between paying in full at checkout or splitting their purchase into regular payments, both online and in-store.
👉 Learn How To Pause Or Cancel Shopify Subscription? [2023].
However, Shop Pay Installments are available for orders over $50 USD, including discounts, shipping, and taxes. What's more, it gives customers two options:
pay in 4 interest-free installments every 2 weeks for orders between $50 to $999 or
pay monthly for orders between $150 to $17,500 with terms of 3, 6, or 12 months at rates from 0-36% APR.
The best part? There's no impact on the customer's credit score to apply.
For example, let's say a customer wants to order an $800 item. In this case, they can choose to split the payment into 12 monthly installments of $72.21 at 15% APR or opt for 4 interest-free payments of $200 every 2 weeks.
👉 Here you can read all the requirements for Shoppay Installments.
Cart Filler
When it comes to online shopping, convenience is key. And that's where Shop Pay Cart Filler comes in.
By storing customers' payment information in a secure, encrypted format, Shop Pay eliminates the need to manually enter billing details every time a customer wants to buy something from your dropshipping store.
So, with just a single click of the "Buy Now" button, Shop Pay auto-fills the checkout form with the necessary information.
But that's not all. Shop Pay recognizes customers' profiles automatically, so they don't even have to remember their login info or search through emails for order proofs.
Checkout Page Customization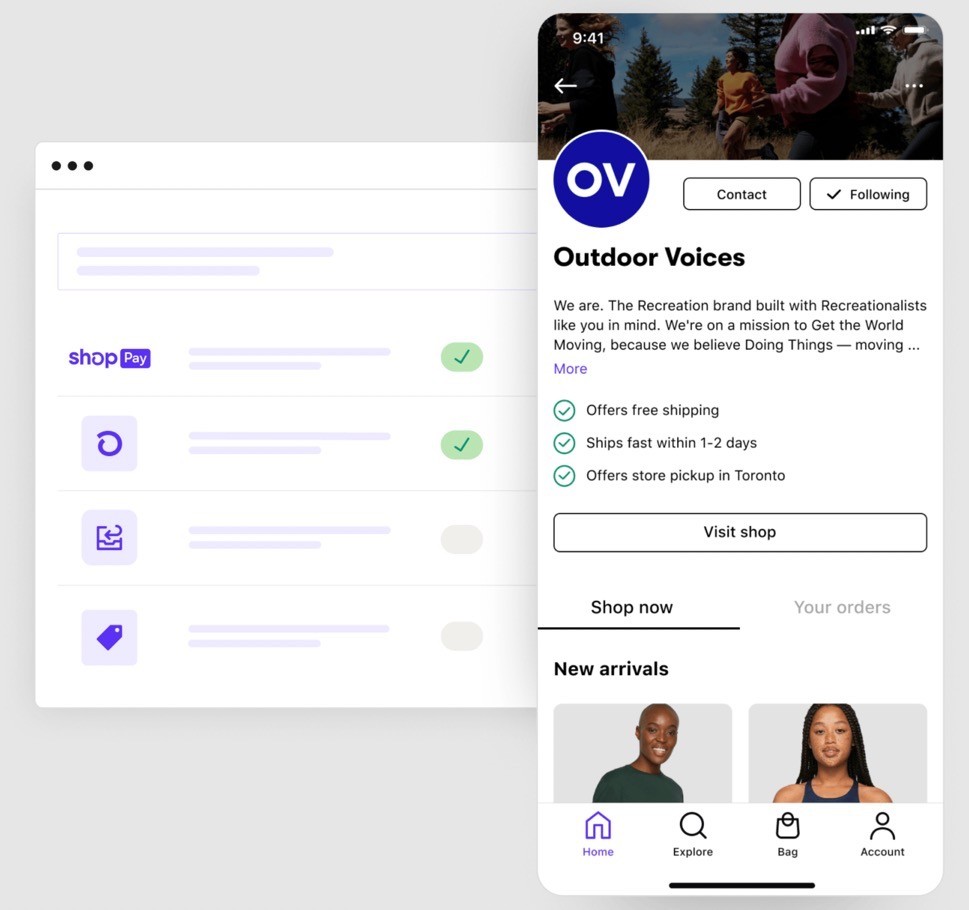 Of course, Shop Pay does not leave you without customization options. So, you can customize your checkout page content and layout to showcase your dropshipping store.
Thus, you can add branding elements, contact info, and more. Shop Pay makes sure that your brand experience extends to your checkout page.
👉 Learn about Branded Dropshipping: Best Practices for Building a Successful Brand.
Also, you can pick and choose what you want your customers to see, including shipping and pickup options, product recommendations, or past orders.
💡 Tip: Check out the Top 11 Shopify Checkout Apps: How to Optimize Your Checkout Page?
Shoppay Marketing Automation
Shop Pay also offers marketing automation features, allowing you to set up automated messages and more to drive conversions.
Hence, some of the marketing automation options are:
Shipment tracking notifications with links to other products
New arrival messages
Hot deals
Trending product notifications
Post-purchase offers to bring customers back
Thus, whether it's before, during, or after the purchase, Shop Pay's checkout modules allow for plenty of marketing automation.
👉 Check out the 12 Best Dropshipping Software To Automate Your Store.
Dedicated Buttons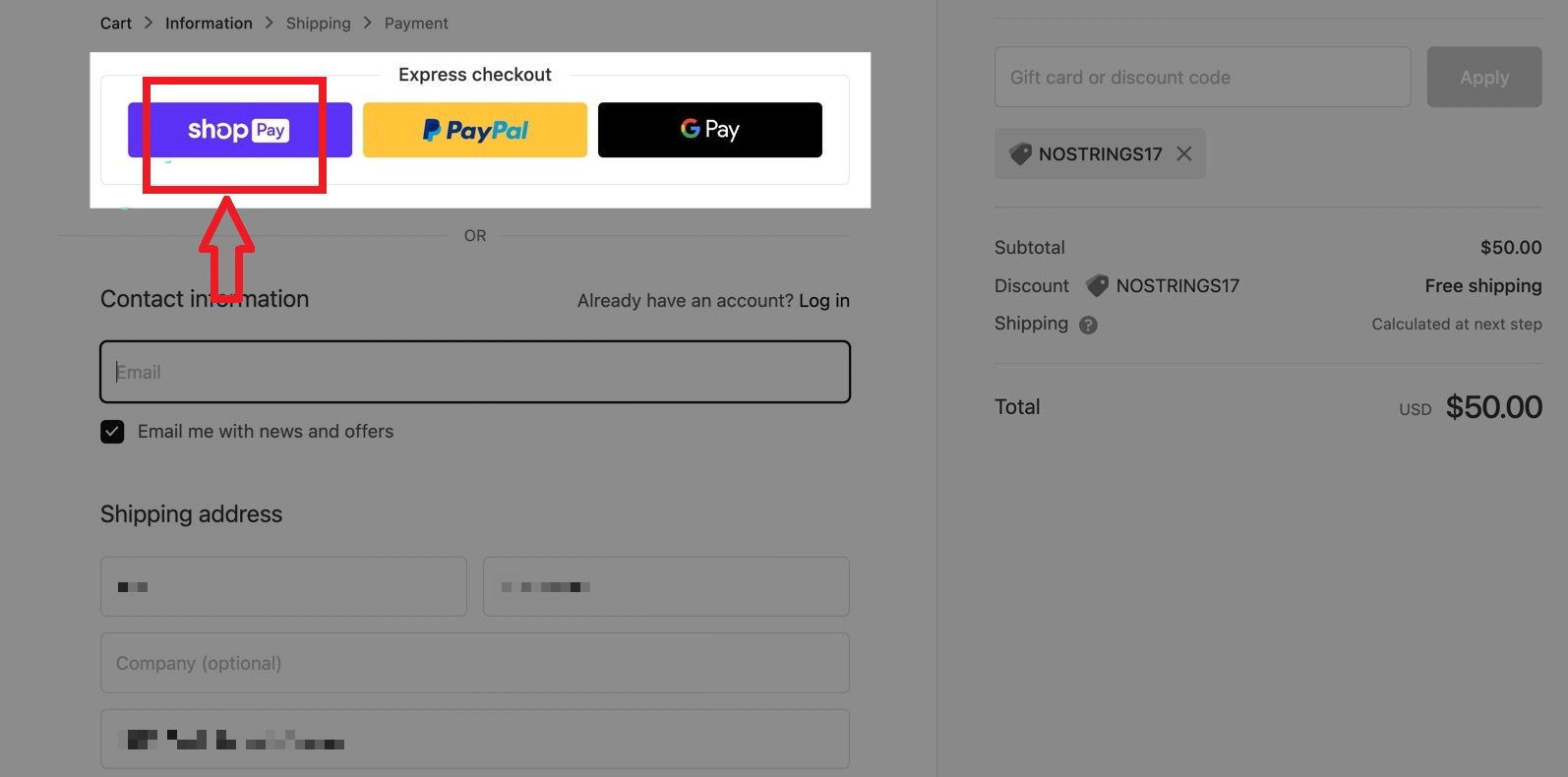 One of Shop Pay's unique features is the dedicated button, which provides added convenience for both the dropshippers and the customer.
In fact, it's easy to recognize and you can place it directly on your checkout page. What's more, you can add it to social channels like Facebook, Instagram, and Google.
However, it's important to note that your online store needs to be hosted on Shopify to use the Shop Pay button on your storefront.
Returns and Customer Support
Even though Shop Pay does not have a direct connection with any dropshipping store, still it detects where the customers buy at the moment and direct them to any available online resources, FAQs, and customer support links offered by that dropshipping store.
So, this means that customers can quickly and easily chat with you as a seller, request a return, or even view their shipping policy, all within the convenience of the Shop Pay app.
💡 Tip: Discover How To Optimize Shopify Image Sizes In 2023 + Pro Tips
Performance Tracking
With this Shop Pay feature, you can track your sales and see how efficient they are. What's more, this feature provides information on things like how quickly people buy products, how many people actually buy from your dropshipping store, and how long it takes for orders to arrive.
This data can help you improve your sales process and make customers happier.
In fact, both you and your customers get messages about orders. So, as the seller, you get messages when orders are processed, shipped, and delivered.
On the other hand, customers get updates about their order's status and shipping information. This helps build trust between the two parties.
Shoppay Mobile App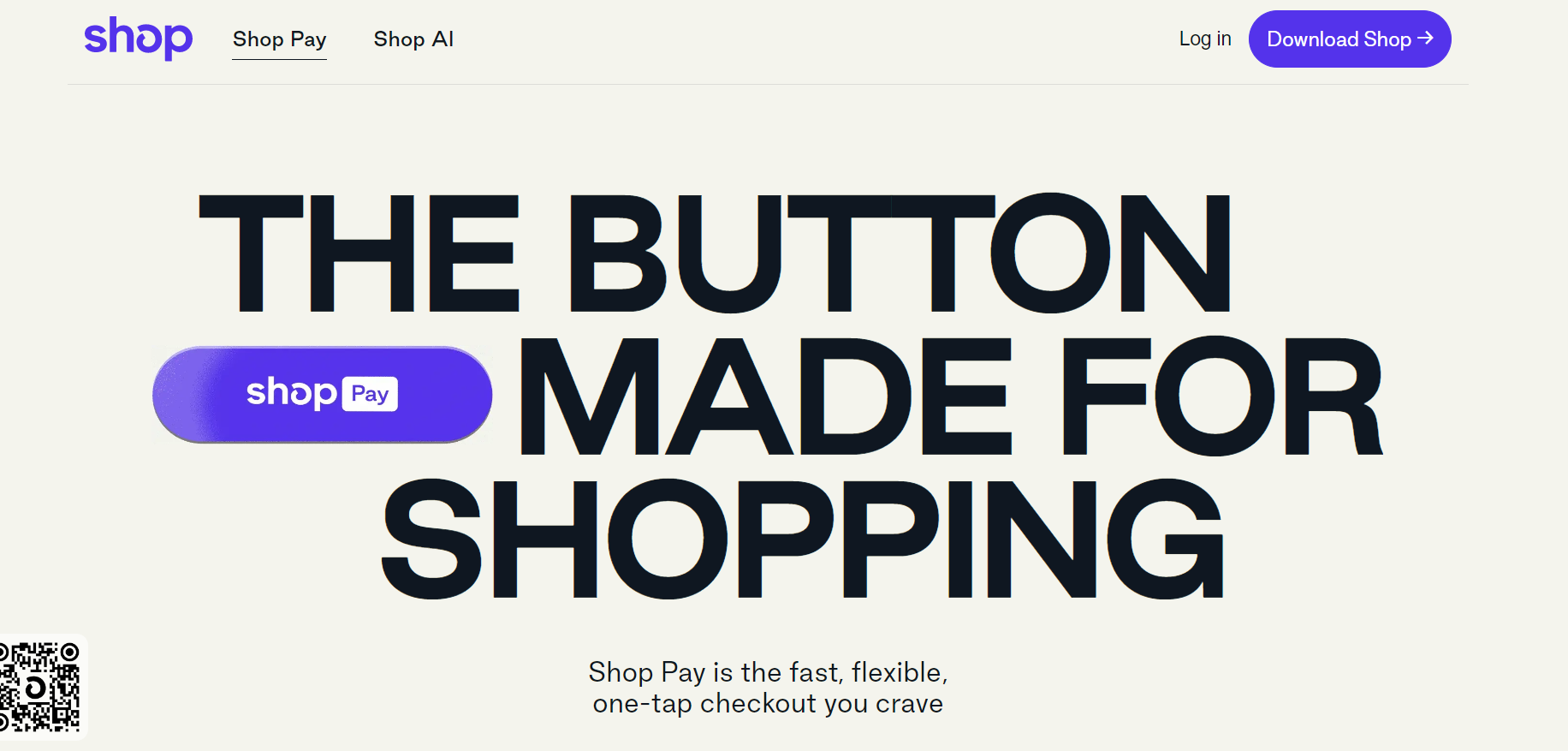 Shop Pay offers a mobile app that lets you do business anytime, anywhere. This is particularly useful for dropshippers who don't have the luxury of tapping away at their computers all day.
So, this way you can access all of the features listed above from your phone or tablet.
What Is Shoppay Review: Pricing
Shoppay is completely free to install and use. However, in order to use it, you must subscribe to any of Shopify's pricing plans. Therefore, Shopify pricing starts at $32/month. Check out the other two. 👇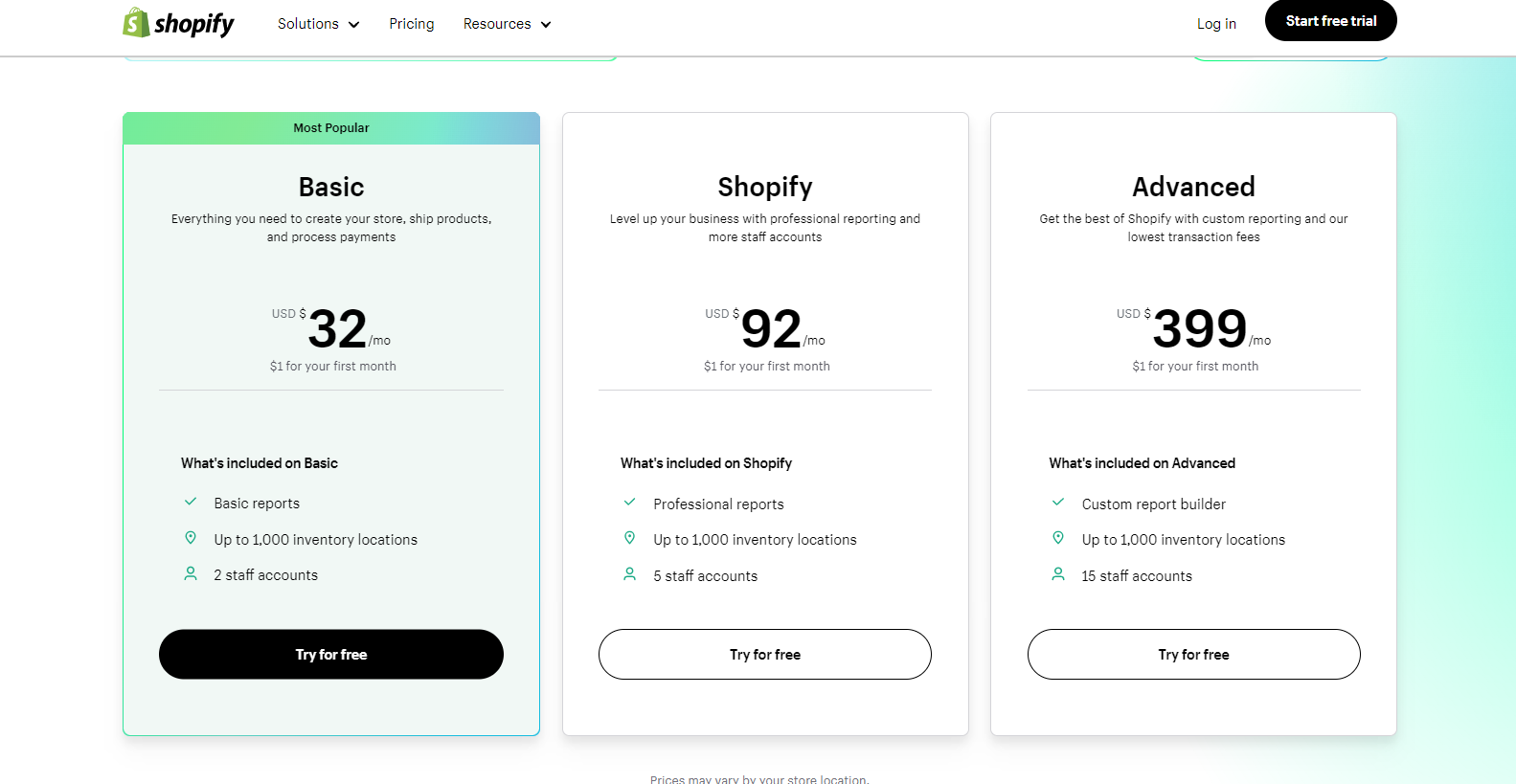 Also, here you can check out our FULL Review of Shopify Pricing Plans, and see which one is best for you.
What Is Shoppay Review: Pros & Cons
Mobile payment functionality
Marketing and customer engagement tools
Detailed analytics and reporting
Higher order-to-checkout rate
Limited customization options
Limited availability in regions
✅ Pros
Mobile payment functionality
Shoppay provides a seamless mobile payment experience for customers, making it easy to complete transactions on the go. Thus, with the option to save customers' personal info, this tool makes their checkout process faster and easier.
Loyalty program
Furthermore, their loyalty program is a powerful tool for building long-term customer relationships and increasing repeat business.
Marketing and customer engagement tools
Shoppay provides a suite of marketing and customer engagement tools to help you grow your business and improve customer satisfaction.
💡 Tip: Learn How to Create Your E-commerce Customer Journey Map.
Detailed analytics and reporting
Next, this Shopify app provides detailed analytics and reporting, giving you valuable insights into customer behavior, preferences, and purchase history.
Higher order-to-checkout rate
This Shopify tool reduces cart abandonment and boosts your dropshipping store conversions. This way, it helps you increase your dropshipping sales.
👉 Read about 15 Ways to Double Your Dropshipping Conversion Rate On Your Store.
❌ Cons
Additional fees
Shoppay charges additional fees on top of Shopify's standard transaction fees. So, this might not be the most cost-effective option.
👉 Read about Dropshipping Taxes and Payments – Must-Know Facts.
Limited customization options
Shoppay's customization options are somewhat limited, which may not be ideal for dropshippers with more complex needs.
Limited availability
Shoppay is currently only available in select regions, which may limit its usefulness for some businesses.
💡 Tip: Check out Shopify vs Squarespace For Dropshipping – Which is Better in 2023.
Shoppay vs Shopify Payments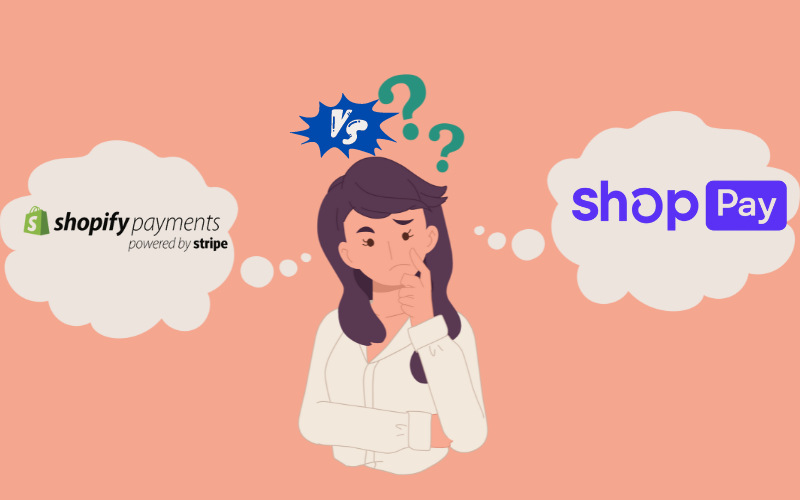 While Shopify Payments and Shop Pay are both payment processing services offered by Shopify, they serve different purposes.
➡ First, Shopify Payments is an integrated payment processing service that enables small businesses to accept credit cards and other payment methods after creating a Shopify account and turning on the feature. Shop Pay, on the other hand, is all about speeding up the payment process.
➡ Next, with Shop Pay, customers can save their credit card information and other crucial details, making the checkout process quicker and easier for future purchases. This feature is especially useful for customers who make multiple purchases from the same store.
However, it's worth noting that Shop Pay relies on Shopify Payments or third-party providers to process transactions.
➡ Furthermore, Shopify Payments and Shop Pay both come with transaction fees. However, Shopify Payments can save you some money on fees and checkout solutions. Unlike Shop Pay, Shopify Payments doesn't offer the option to save payment information for future use.
➡ One significant difference between the two services is the branding. Shopify Payments appears as an unbranded checkout option on your website, while Shop Pay comes with the iconic Shopify logo. Additionally, customers can use Shopify gift cards with Shop Pay, and it doesn't require a shipping address if your checkout process doesn't ask for one.
It's important to note that Shop Pay doesn't force customers to use it every time. They can always opt for the full checkout journey instead. By installing Shop Pay, you're giving your customers another convenient purchasing option.
👉 Learn How to Remove 'Powered by Shopify' – Short Guide.
Shoppay FAQs
Is Shoppay Safe?
Absolutely, yes! When it comes to data security, Shop Pay is a standout. It employs multiple layers of security to protect customer information, including end-to-end encryption, PCI compliance, and SMS text verification.
Are There Eligibility Requirements For Using Shoppay?
Yes, there are some eligibility requirements for using Shoppay:
Your dropshipping store needs to be on an active Basic subscription plan or higher
Your store needs to have Shopify Payments
Your dropshipping store needs to have Shop Pay enabled
Your first Shopify Payments transaction needs to be at least 90 days ago
You're not using any password control, or page verification apps
Can I use Shoppay without a Shopify Store?
The answer is yes! The convenient accelerated checkout is available to dropshippers with Google, Facebook, and Instagram shops.
However, it's important to note that using Shop Pay without Shopify means you won't be able to take advantage of Shopify's payment gateway, which waives transaction fees.
What is Shoppay code?
It's a six-digit code sent to a customer's phone during checkout to verify their identity. All your customer has to do is enter the code into the checkout screen and wait for Shop Pay to automatically fill in their payment details and process the transaction.
Join the only community and resource hub you'll ever need to succeed with dropshipping
Find winning dropshipping products, learn marketing, download templates and engage with real dropshippers
Never pay for a "guru's" course again. See why 4543+ dropshippers joined us this year!
💡Try DSCOM Hub Now
Conclusion
Shoppay is a mobile payment and marketing platform designed specifically for Shopify sellers.
With Shop Pay, customers can choose between paying in full at checkout or splitting their purchase into regular payments, both online and in-store, which offers the ultimate flexibility in payment options.
In summary, Shoppay is a magical tool that can help you achieve all your goals, from saving time to increasing sales and customer engagement.