Tabs Sex Chocolate Review: The Booming Million Dollar Store
by
Martin -
Martin is an agency owner and SaaS projects maker. His work is featured in the leading ecommerce brands, magazines and podcasts. Talks about Marketing, Business Development, and Growth Hacking!
CO-founder at Dropshipping.com
Need help with organizing your website? Don't worry! We will guide you through a Full Tabs Sex Chocolate Review and their online store.
In this article, we will talk about Tabs Sex Chocolate's website navigation, design, marketing tactics, social proof, & more. So, get your pen and collect ideas. Let's start!
What Is Tabs Sex Chocolate?
Tabs Sex Chocolate is a dropshipping store that sells unique products. In fact, they sell dark chocolate that helps customers increase their sex performance.
However, even though they offer a unique product that is not easy to be copied, and as we know is easier to make a brand, they still need to drive traffic first.
Therefore, one of the most important things is having a high-converting website. And, that's exactly what this dropshipping store has. So, let's start our Tabs Sex Chocolate Review about its website functionality.
💡 Tip: Check out the 13 Most Successful Shopify Dropshipping Store Examples.
Lifetime deal: Get all-access to everything on Dropshipping.com
Access all DSCOM features, resources, courses, live workshops, discounts, winning products, weekly deep dives, directories and all future updates under all-in-one dropshipping HUB.
DROPSHIPPING IS A REAL BUSINESS, DON'T DO IT ALONE. 4553 MEMBERS ALREADY JOINED. YOU CAN PAY OFF YOUR SMALL INVESTMENT WITH JUST 2 SALES ON YOUR STORE.
Grab the deal before it's gone
Tabs Sex Chocolate Review: Website Navigation
First thing first, if you want to make customers' journey on your dropshipping store easier, start with easy navigation! Of course, this is step 1 to gaining conversions.
👉 Check out 11 Best Free Shopify Themes For Dropshipping Stores.
Imagine yourself taking the road and going on a trip to a specific place. Now, imagine not having a single sign on the road to get there, or google maps with you. How will you get there?
Well, customers need navigation on your website as badly as you do on that trip! Now, let's see how Tabs Sex Chocolate does deliver easy navigation.
Therefore, we will start from the first page they land on – the Home page, and after that, we will navigate through all other important pages.
Home Page
Thus, once a potential customer lands on your dropshipping store, the first thing they see is your home page. And, if you want to make their life easier while being there, you must take care of certain points, and make sure it is easy to navigate.
➡ The header
Hence, the website's header contains important information for the customers. So, if they want contact info, track their order, or learn information about shipping, they are only a click or a single look from it!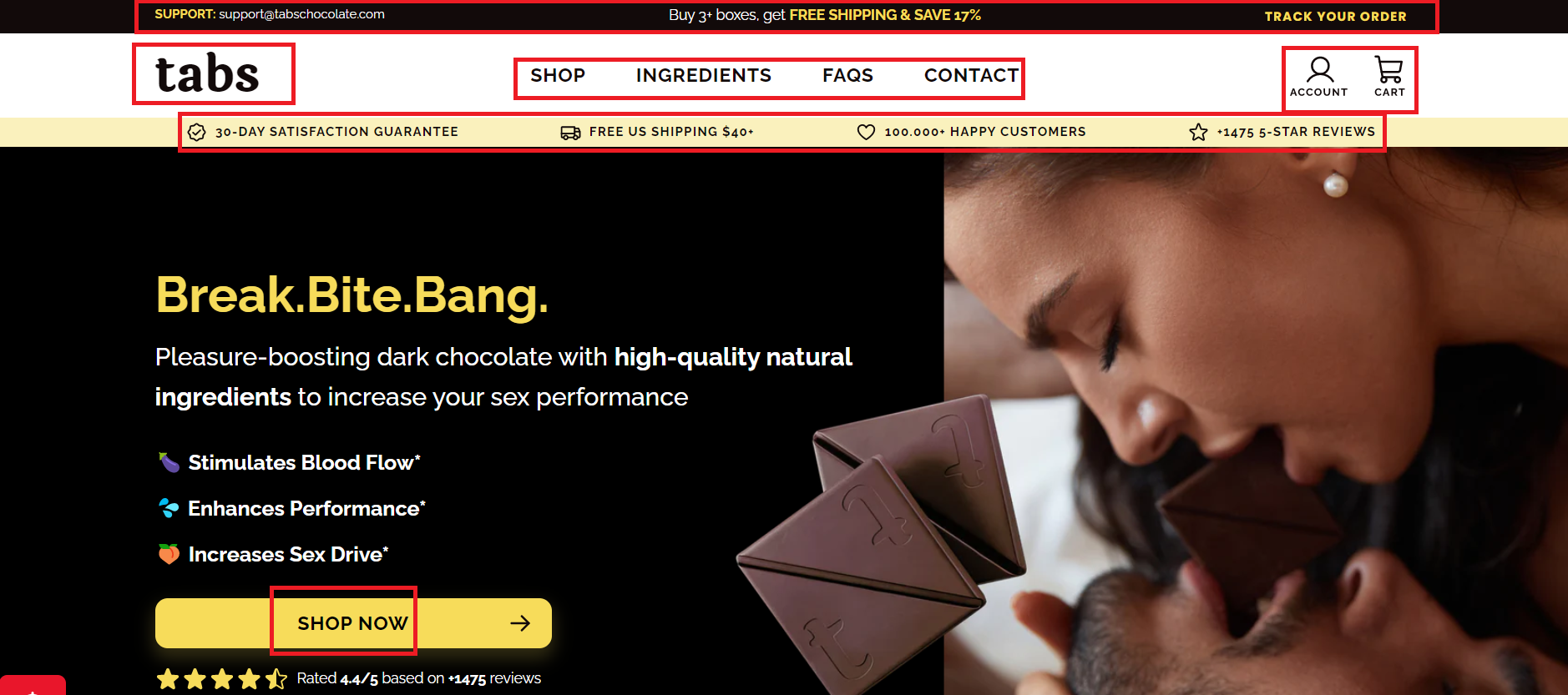 Next, right below this header, you can see other navigation elements. First, on the left side, there's the Tabs logo. Of course, the placement is just great, since customers are used to searching for logos at the top of the page, and it's on the left side, or in the middle. So, this implies easy navigation.
Let's dive into more details in this Tabs Sex Chocolate Review.
So, the logo is also a link to the home page. So, if the customer is on any other page on this website, they can always go back by clicking on the logo. Of course, a 1+ score is on the side of easy navigation.
Furthermore, their navigation menu has 4 well-organized and well-defined categories. This way, customers know exactly what they will find once they click there. Also, there's no fly-out, nor drop-down, but just 4 straightforward categories.
However, remember that this is a one-product store, and there's no need for more sub-categories.
For inspiration, also check our BlendJet Review.
Next, in the left upper corner, there is the log-in button and the shopping cart button. And, this is exactly the place you should put them on your website as well.
➡ The Body
Furthermore, as we scroll down, we can see that this website actually has the Z-pattern, which implies easy navigation. The "Shop now" button has a strong yellow coloring, which is really eye-catchy. But, more importantly, it leads customers to a click from their checkout process.
Also, the Tabs uses the symmetrical grid layout to sort out various information on the home page. So, what do we get? Lots of information in one place, and still does not look fuzzy!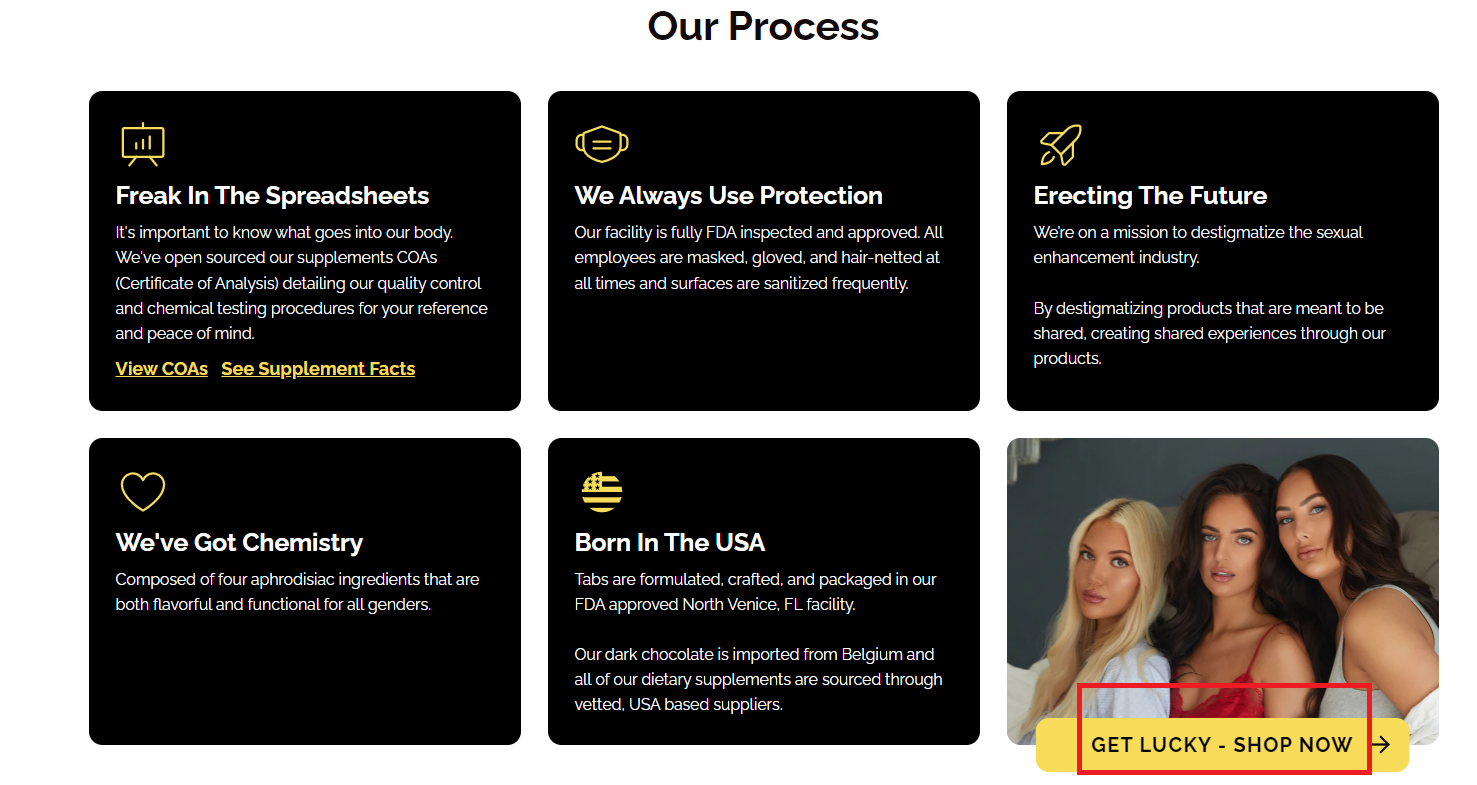 And, let's not forget the call-to-action buttons ( like "Shop now", or "Get Lucky – Shop now") that are all over their home page. Do not forget to use them, because they trigger a customer to take an action, which is a score for you, and they make their shopping experience easier!
➡ The Footer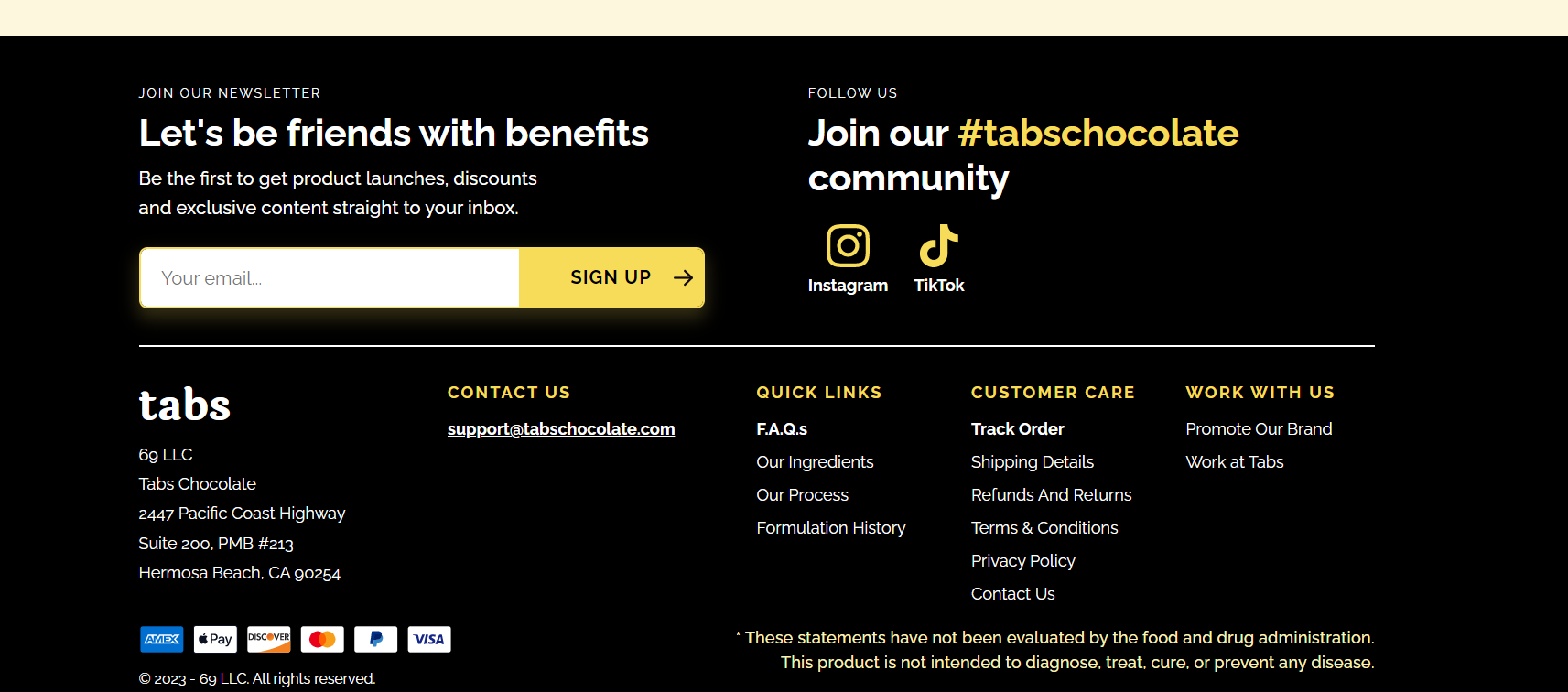 Lastly, their footer is a WIN! It contains all of the information that customers might need and serves as a sitemap. So, as you can see from the picture above, here you can place information like:
Important categories or sub-categories links
Social channels buttons
Payment gateways information
Shipping Info
contact info
Newsletters info, etc.
Products Page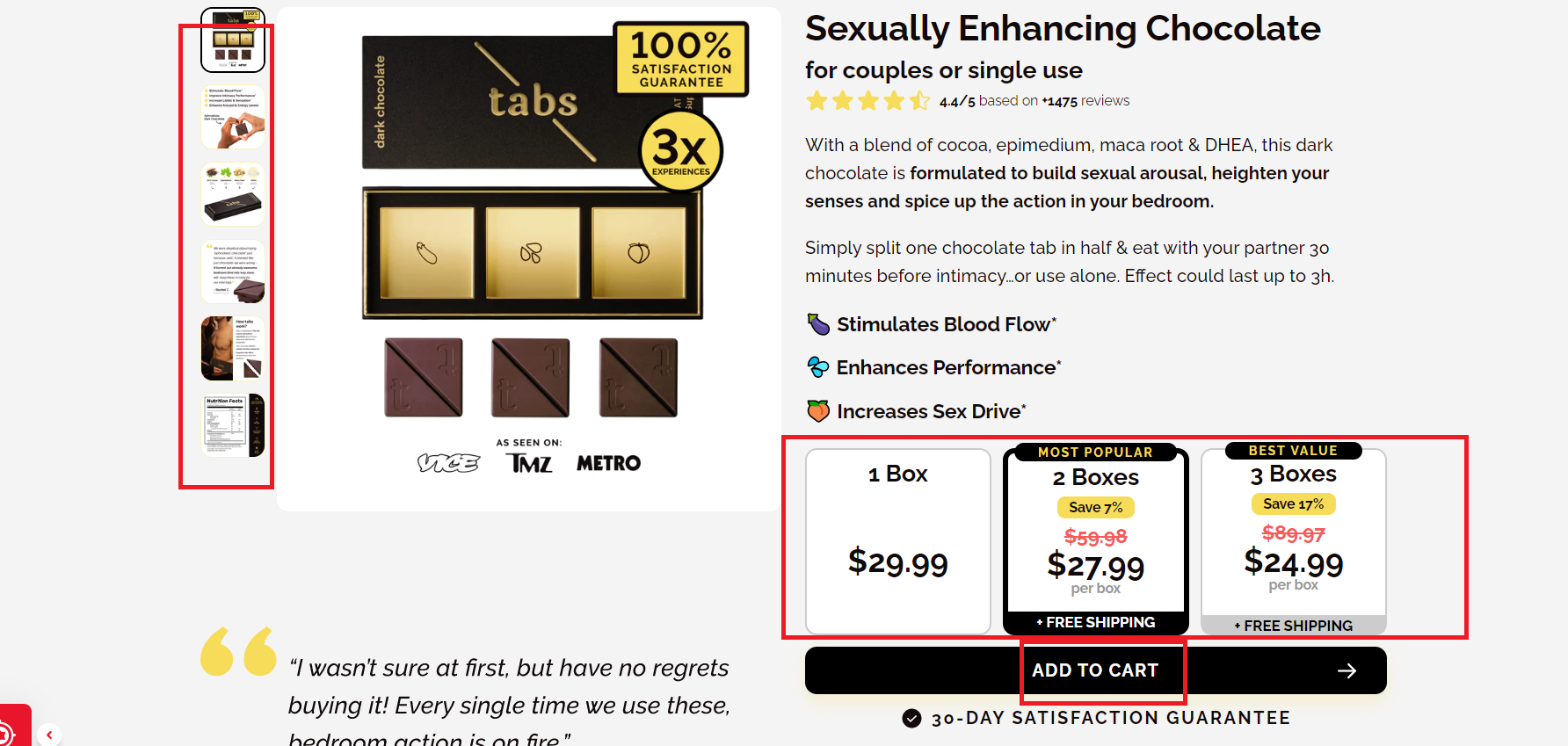 From a single page, customers can get all the information about Tabs products. So, if you want to deliver a high-converting product page, consider adding these elements to your dropshipping store as well.
👉 Check out the 10 High-Converting Shopify Landing Page Examples.
Plus, when you click on each paragraph, it leads you to the specific section of this page. For example, if you try and click on the stars and ratings, it will navigate you to the customer reviews section.
First, on the left side, next to the featured product image, customers can see all other images they can preview from the product.
Next, there's a call-to-action button (add to cart), which is placed in a viewable place, and it is really eye-catchy. Furthermore, there are product options, product ratings, etc.
Once you scroll down the product page, you can check on more product information, like how to use it, shipping, faqs, reviews, etc. And, there's a drop-down button right next to each section.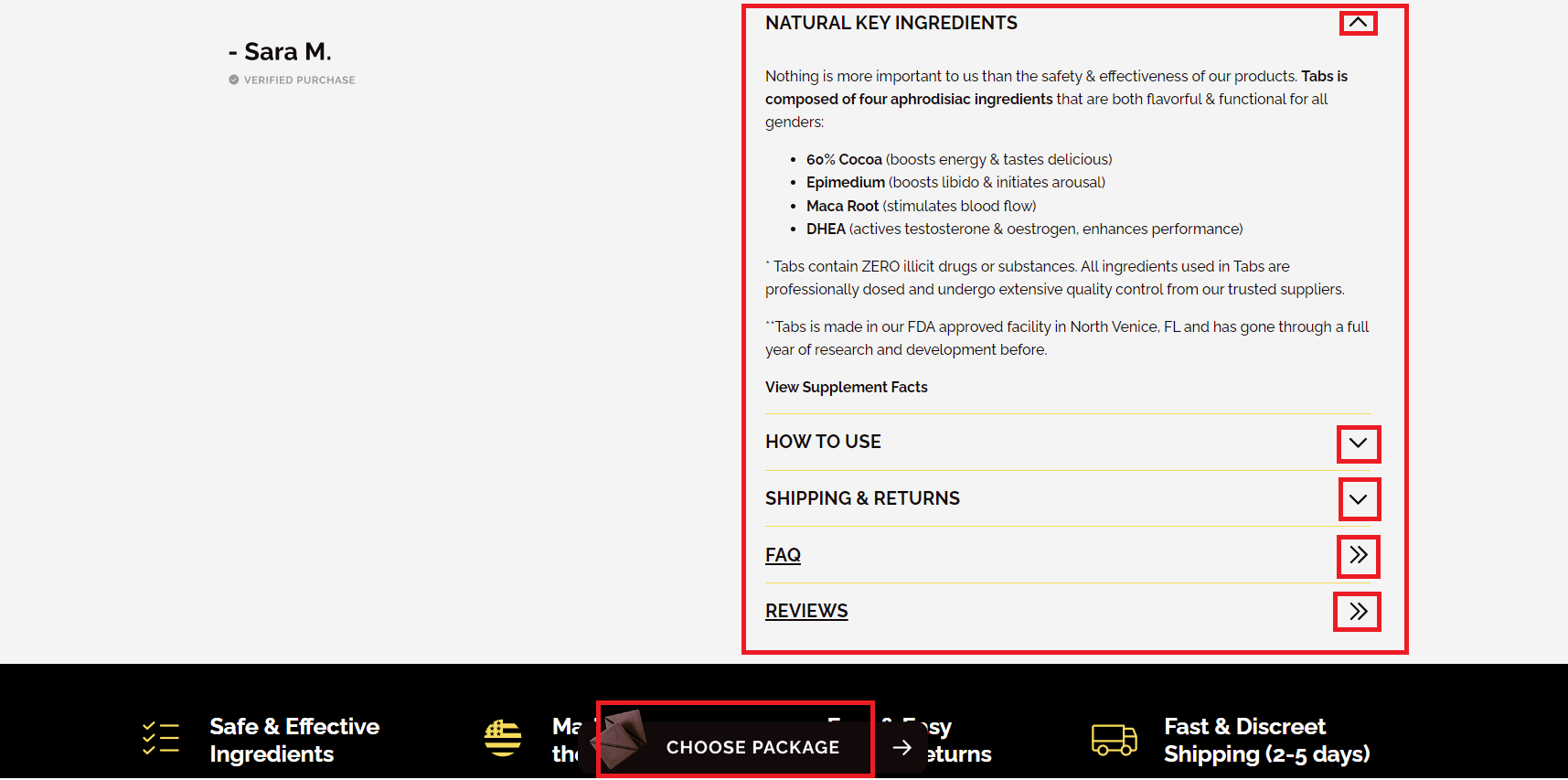 Also, an interesting thing is that they have another call-to-action button "Choose package", which is a link that navigates you to the beginning of the product page.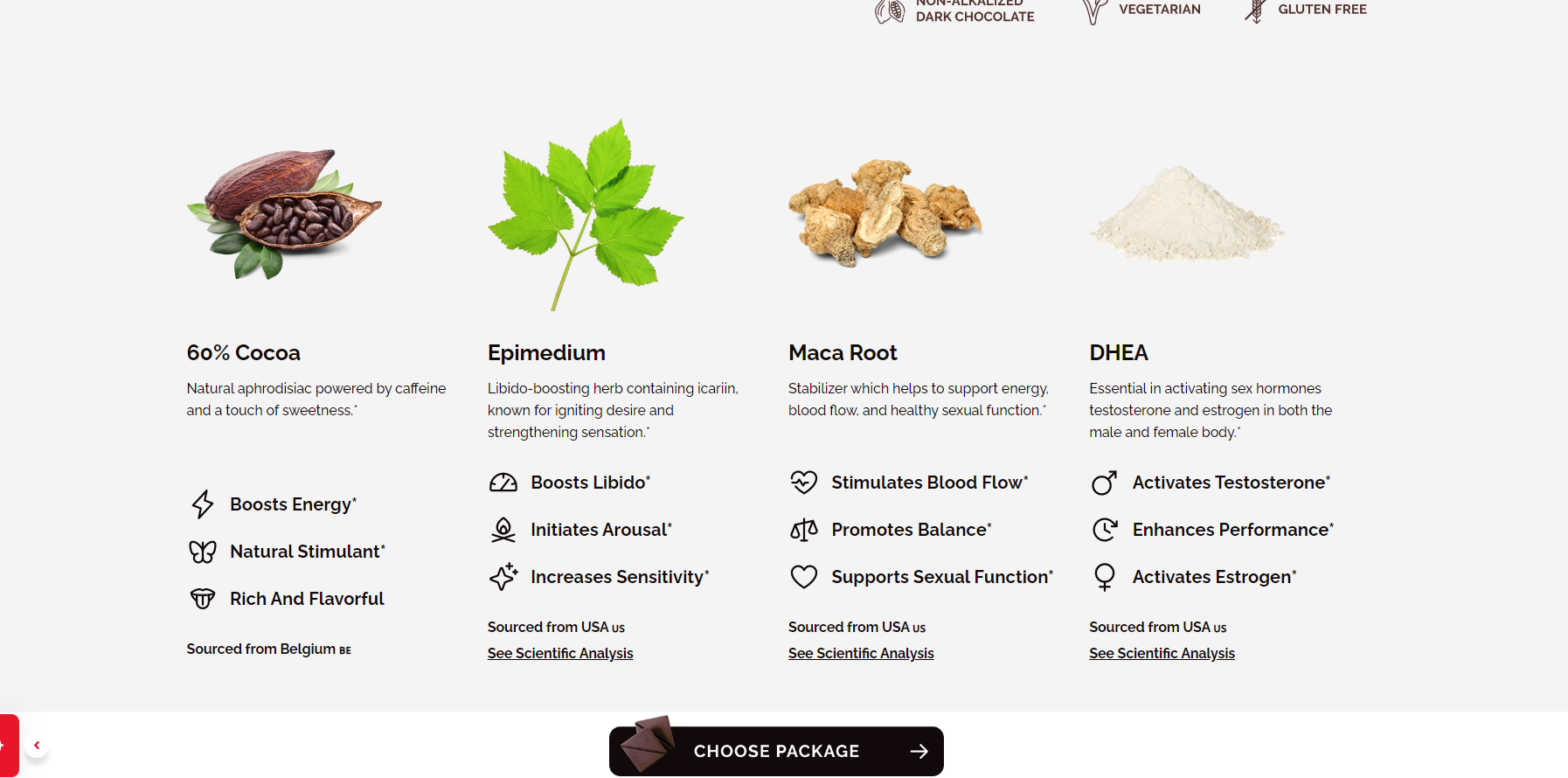 Lastly, there's also a customer reviews section. And for better navigation, you have the option to sort out the information you want to get. 👇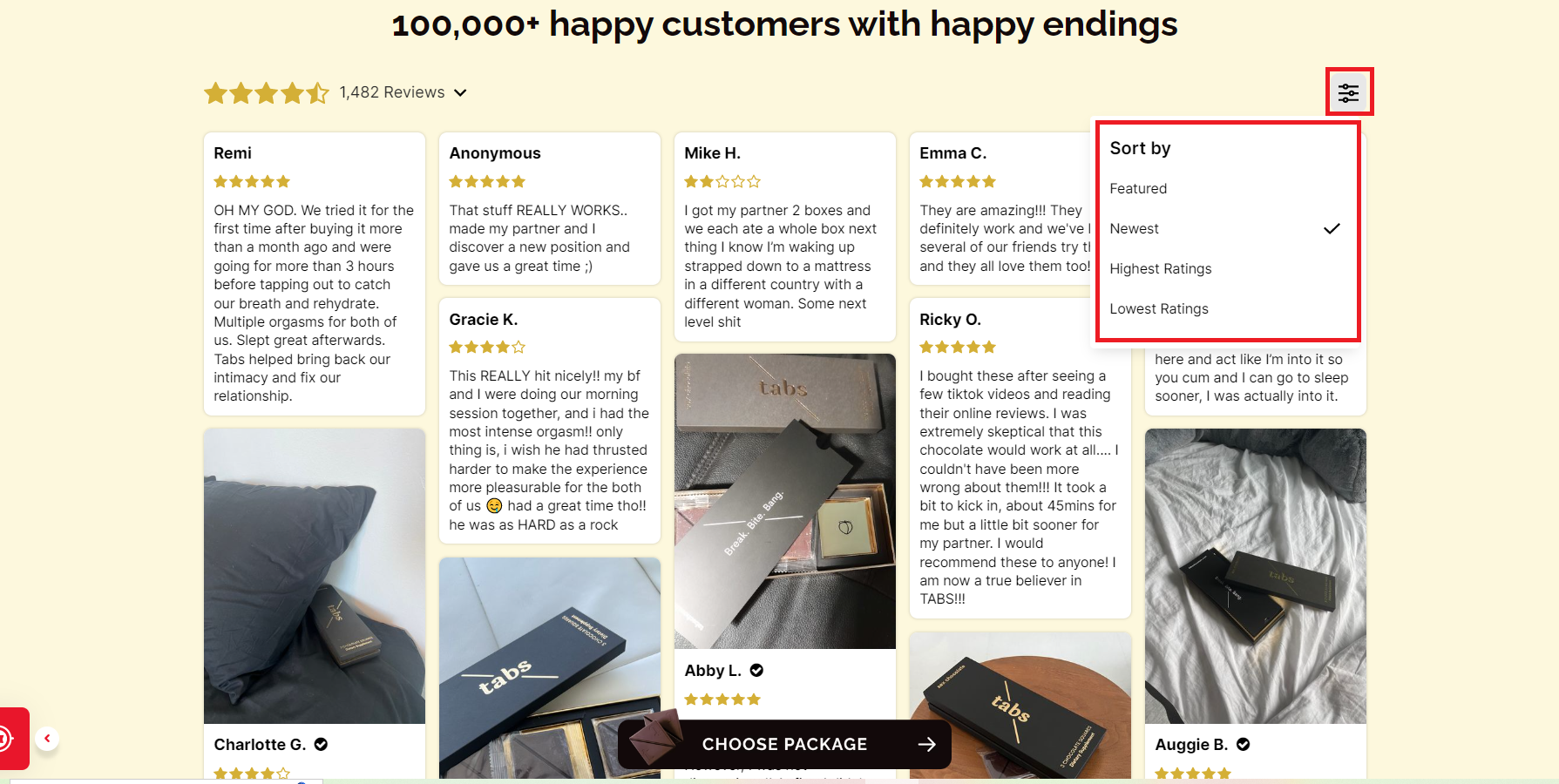 Our advice is don't leave customers without options. This is what makes a website satisfactory and high-converting!
Next on our Tabs Sex Chocolate Review – the checkout page.
Checkout Page
Did you know that around 20% of customers abandon their shopping carts because of poor checkout page navigation? Well, yes, and that's why you need it to be as simple as possible.
Tabs have an excellent one-page checkout process. So, customers can fill out the required shipping information, read necessary information, enter gift card codes & more, from a single page.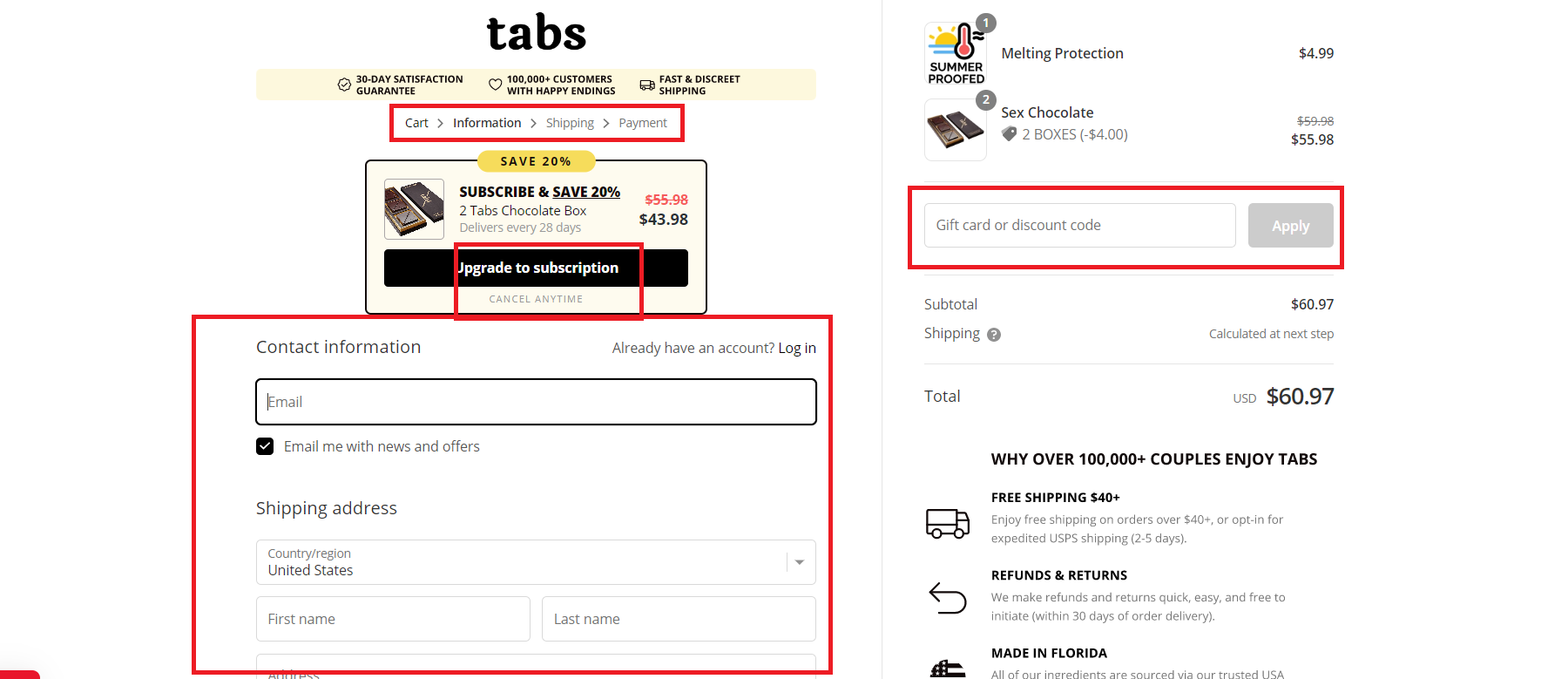 What's more, to make the navigation even simpler, there's a breadcrumbs section that informs customers where they are right now on their journey.
Also, not just that there's a call-to-action button for finishing up the checkout process, but there's also a button if a customer wants to return to cart.

💡 Tip: Read about Top 11 Shopify Checkout Apps: How to Optimize Your Checkout Page?
Tabs Sex Chocolate Review: Website Design
First and foremost, once you land on their homepage, there's a Full-Screen high-quality image of their product. Not just that, but the picture represents the purpose of their product and the brand.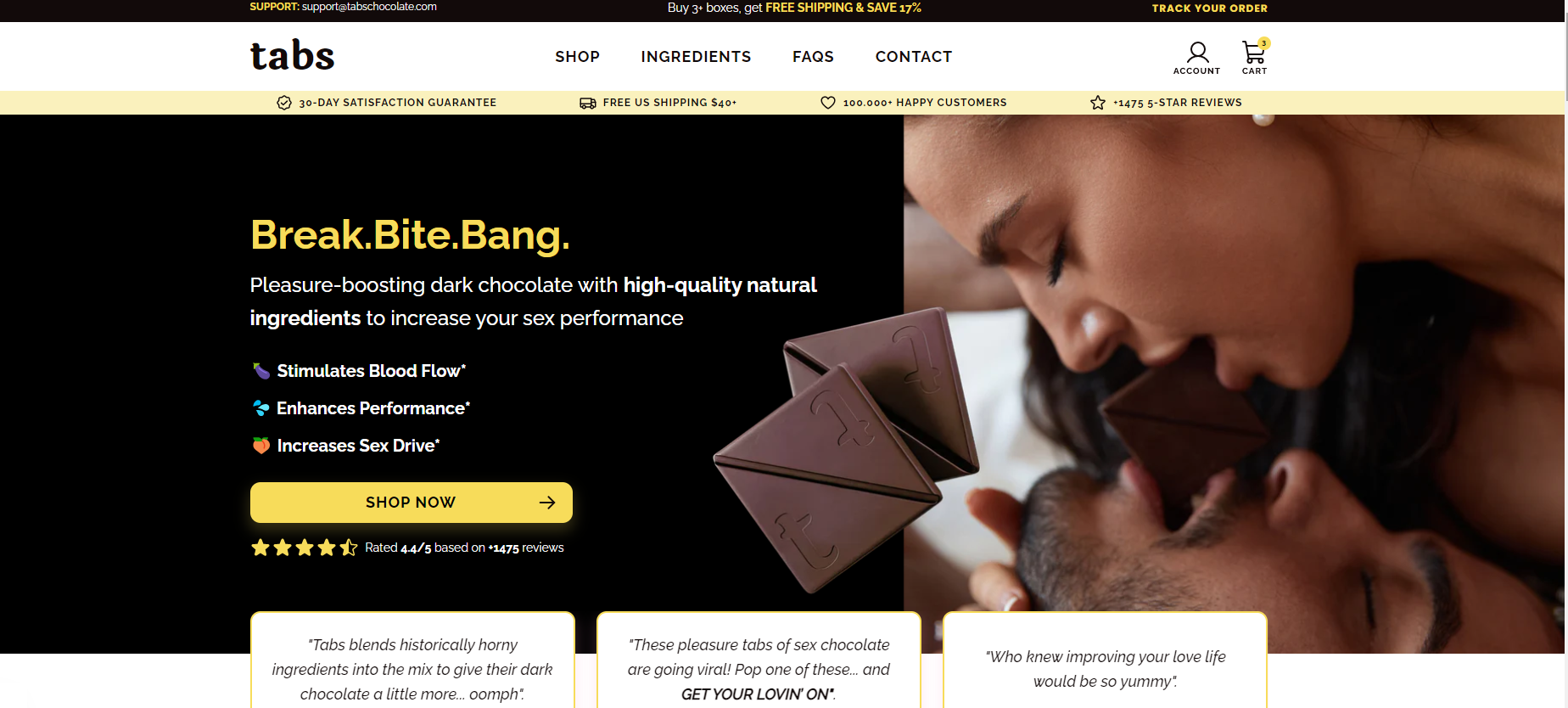 And, all other images on the website are of high -quality, which is very important if you want to build a brand and engage customers.
Also, the Home Page has a perfectly aligned asymmetrical design, and the typography and coloring speak up for themselves as well! The text is bold, and very well pointed out.
What's more, the black and white contrast with the background and text is perfect. It helps you keep it simple, and still point out the elements and text. In addition, the yellow coloring on the most important navigational elements and buttons is another PLUS.
Also, Tabs uses interesting graphics to present information, and this makes it more playful and engaging for customers.
Furthermore, as the grid layout is helpful for navigation, it is helpful in a visual aspect as well. All the information looks perfectly neat and organized.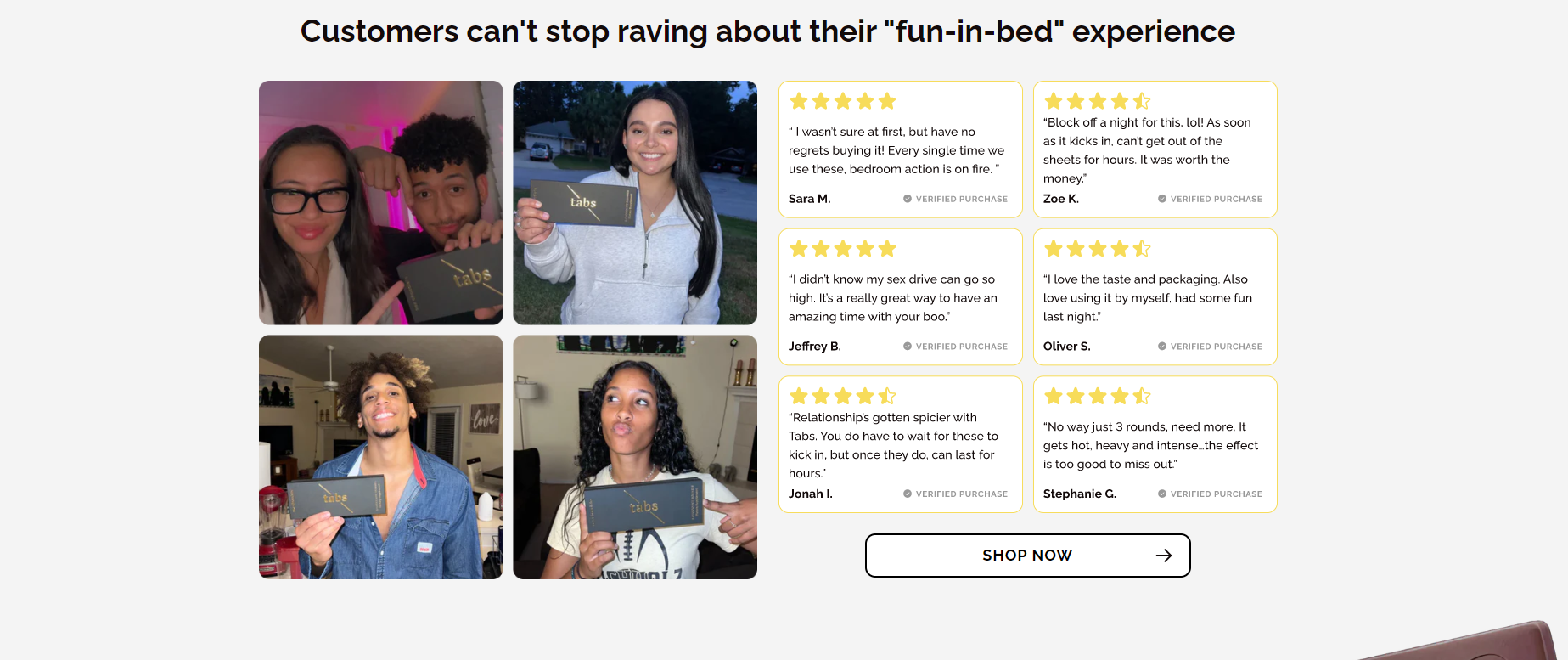 Tabs Sex Chocolate Review: Marketing Tactics & Social Proof
Tabs use multiple marketing strategies for boosting its brand. Starting their powerful slogan"Break. Bite. Bang.", is maybe the first thing you see when you land on their website.

This catchy and memorable phrase captures the essence of their product and leaves a lasting impression on potential customers.
Next, email marketing. They offer a Newsletter, and email support for customers. So, they can subscribe and get every piece of information like promotions, discounts, stock availability, and more.

Moreover, social media marketing! Tabs are active over Instagram and TikTok. Not just that, but they have their own hashtag – #tabschocolate. Also, you can find their social media CTA in their website footer.
However, let's see other important aspects in our Tabs Sex Chocolate Review.
Furthermore, customers trust other customers. So, placing customer reviews and testimonials on your dropshipping store is a great way to promote yourself. This is what Tabs does as well!
If you scroll down on their website, you can see dozens of dropshipping videos and comments from customers.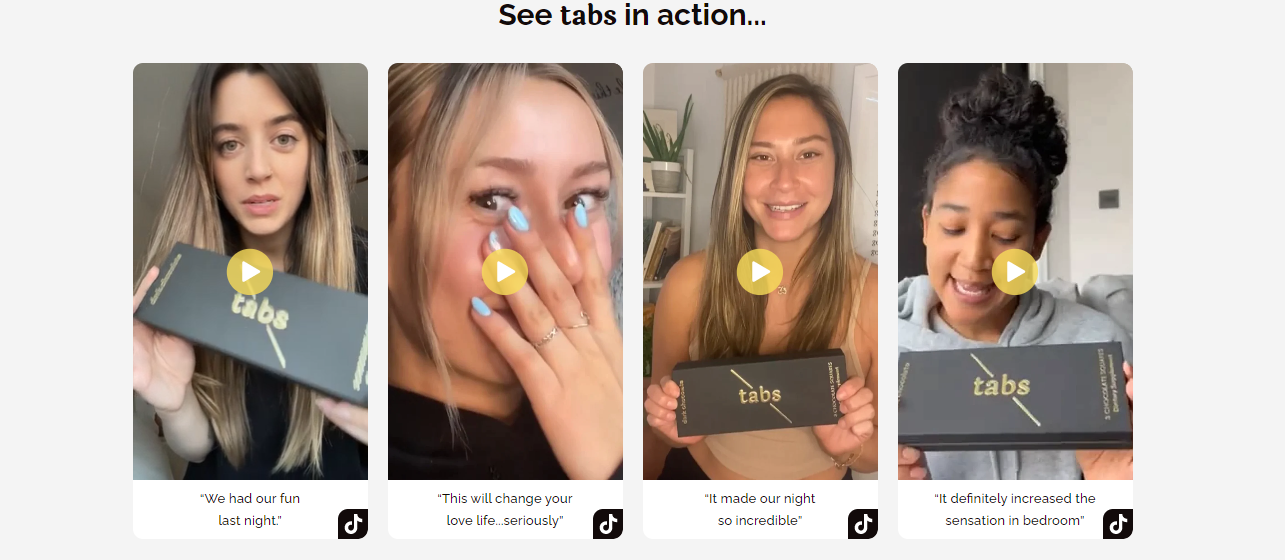 Moreover, there are a rating and customer comments on their product page as well.

And with a rating of 4.4/5 stars and more than 1475 comments, we can't say either that this product is a scam, right?
Last but not least, another marketing engaging tactic is also the FAQs section. So, if you want to show your customers that you care about them, and the experience they get from your dropshipping store, consider adding FAQs, just like Tabs Sex Chocolate.
👉 Read about Dropshipping Questions: 20 Most FAQs About Dropshipping Answered.
Tabs Sex Chocolate Review: Pros & Cons
✅ Pros
Easy-to-navigate
This eCommerce store contains various call-to-action buttons, and navigational elements to make their customer experience easy to navigate. Starting from Tabs Sex Chocolate's well-organized menu to the grids of layout sorted info, and more.
Single-page checkout
Tabs have a single-page checkout process, so customers don't have to make multiple clicks to finish their buying process.
Also, there's an option for them to save their data and not type it the next time they shop.
Great website layout
Other Tabs Sex Chocolate advantage is the website design has black-and-white contrast, which is simple, and still points out their content. Also, the call-to-action buttons and important information comes in yellow eye-catchy color.
Informative footer
The footer acts as a sitemap since it has all the information customers need in one place.
Furthermore, we will also discuss the Cons in this Tabs Sex Chocolate Review.
❌ Cons
There are broken links
There are links on the website that doesn't work and aren't changed or removed. For example, their Instagram link doesn't work. Thus, this can deliver customers the wrong message about the brand.
No Live Chat
There's no 24/7 Live Chat on the website, which most of the dropshipping stores offer.
Lack of Content
Tabs Sex Chocolate is a single-product store. So, there are not many images or content to be placed. However, you can always deliver additional value to customers in many other ways. For example, by adding a blog articles section.
What's more, this can help you improve your search engine ranking.
Join the only community and resource hub you'll ever need to succeed with dropshipping
Find winning dropshipping products, learn marketing, download templates and engage with real dropshippers
Never pay for a "guru's" course again. See why 4543+ dropshippers joined us this year!
💡Try DSCOM Hub Now
Conclusion
Tabs Sex Chocolate is a dropshipping store that sells unique products, or as its name implies – chocolate that stimulates sex drive.
However, no matter how unique your product is, you still must deliver the best store environment for your customers!
For that purpose, in this article, we give you a FULL Tabs Sex Chocolate Review. So, you can get ideas for easy navigation, eye-catchy design, marketing tactics & more for your dropshipping business.
Get ideas & Start!