Dropshipping Hair Products: 10 Dropshipping Hair Vendors & Best Products To Sell
by
Aleksandra -
Aleksandra teaches marketing and management at various levels in High School. She writes about marketing, the economics and logistics of the dropshipping business and ecommerce in general.
Chief of Content Marketing
Working in the dropshipping hair products niche, or are you willing to start?
Do you need help with finding the best hair product dropshipping suppliers, or maybe the high-ticket hair products?
Well, lucky you, because this is the right place for you! We will guide you through everything you need to know to boost your dropshipping hair products business and an in-depth guide before starting dropshipping hair products! Let's begin.
Why Dropshipping Hair Products?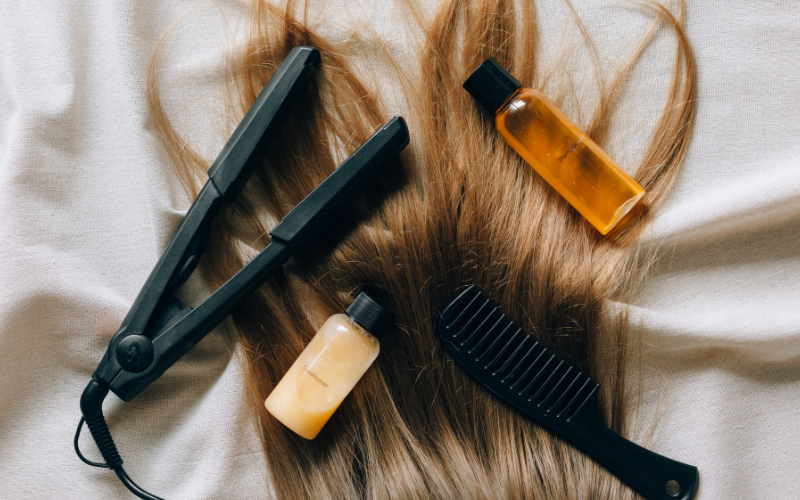 There are hundreds of reasons why dropshipping hair products, but let us mention some of them!
First, it feels exhausting talking about COVID, but yeah we must mention this.
During the pandemic, lots of routines of customers changed, and that resulted in increasing sales of many eCommerce businesses – hair products as well.
Not to mention that actually, this is a type of product that is used on a daily basis, and for most of the customers is human essential!
Also, if we check Google Trends results we can see customers seeking these products from 2022 till now is always on the rise.👇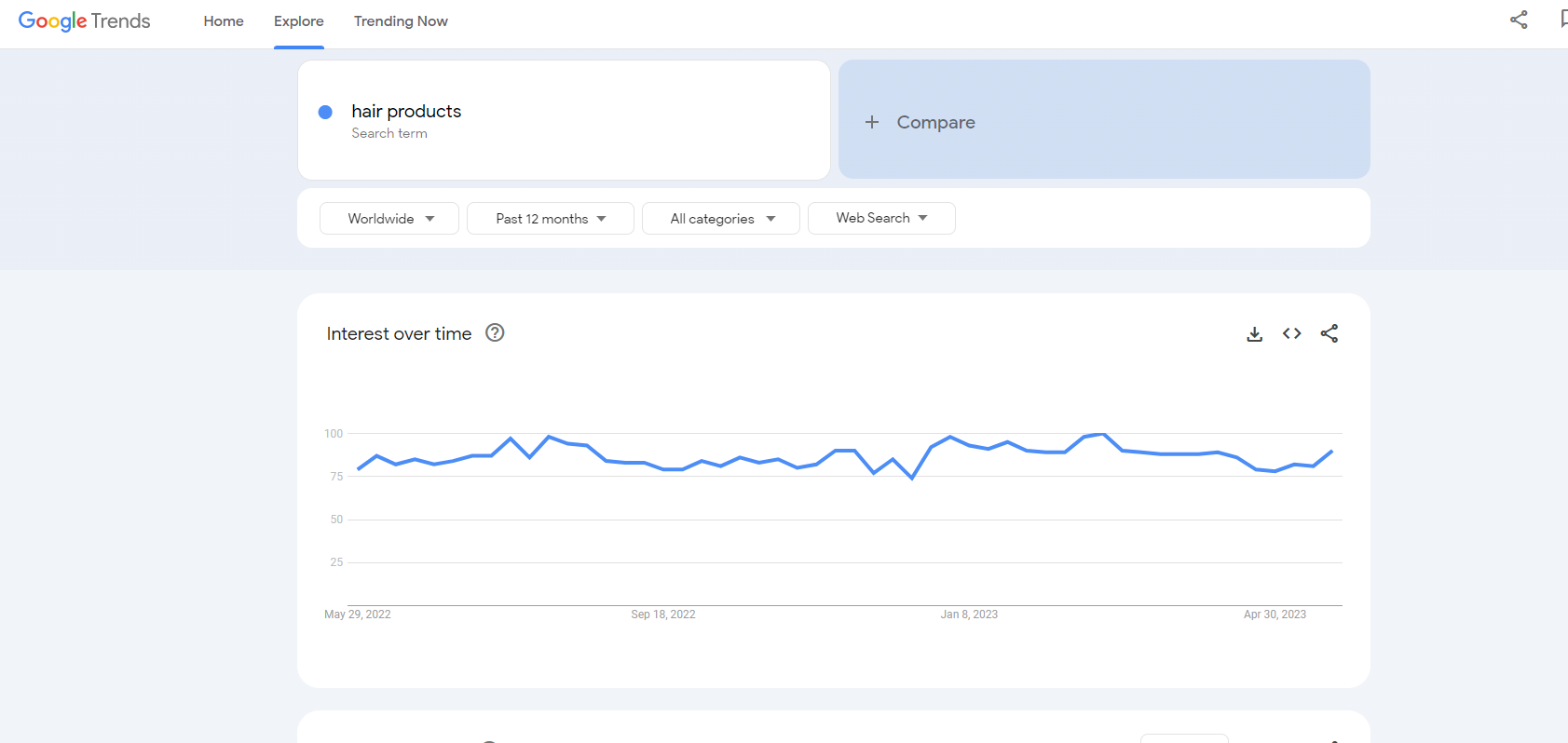 💡 Check out The Ultimate Guide: How to Use Google Trends for Dropshipping.
Next, there are various hair types, colors, and customer requirements that you can satisfy. So, the options you have to offer are huge! You can easily make a stunning dropshipping store with various offers for customers.
Moreover, dropshipping is not the basic eCommerce business model, so you are a step ahead of other eCommerce business owners of hair products. There's no need of ordering products before customers do, and no need for keeping inventory.
All you have to do is, find the most reliable dropshipping supplier for you, promote the products to your dropshipping store, and wait for your customers to place the order. That's the moment when you make any costs.
Now let us guide you through the best dropshipping hair products vendors!
Lifetime deal: Get all-access to everything on Dropshipping.com
Access all DSCOM features, resources, courses, live workshops, discounts, winning products, weekly deep dives, directories and all future updates under all-in-one dropshipping HUB.
DROPSHIPPING IS A REAL BUSINESS, DON'T DO IT ALONE. 4553 MEMBERS ALREADY JOINED. YOU CAN PAY OFF YOUR SMALL INVESTMENT WITH JUST 2 SALES ON YOUR STORE.
Grab the deal before it's gone
10 Best Dropshipping Hair Companies
Dropshipping hair vendors are an important part of your supply chain. They can even make or break your business.
So, we are here to help you out! Take a look at the list of the Best Dropshipping Hair companies from our huge database.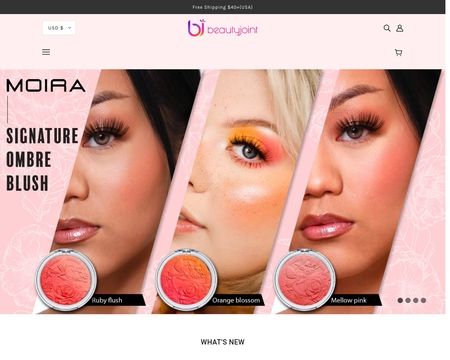 Beauty Joint is a dropshipping hair supplier based in the US. However, this supplier ships its product worldwide with NO shipping costs.
They offer a variety of beauty products, and the best hair care products as well. Therefore, this is a one-stop store for looking your best, exploring the season's newest hair trends or learning what you want to explore the season's newest beauty trends, or learning about basic haircare needs.
Their product prices vary between $20-50, and the average order processing time is only 1 day.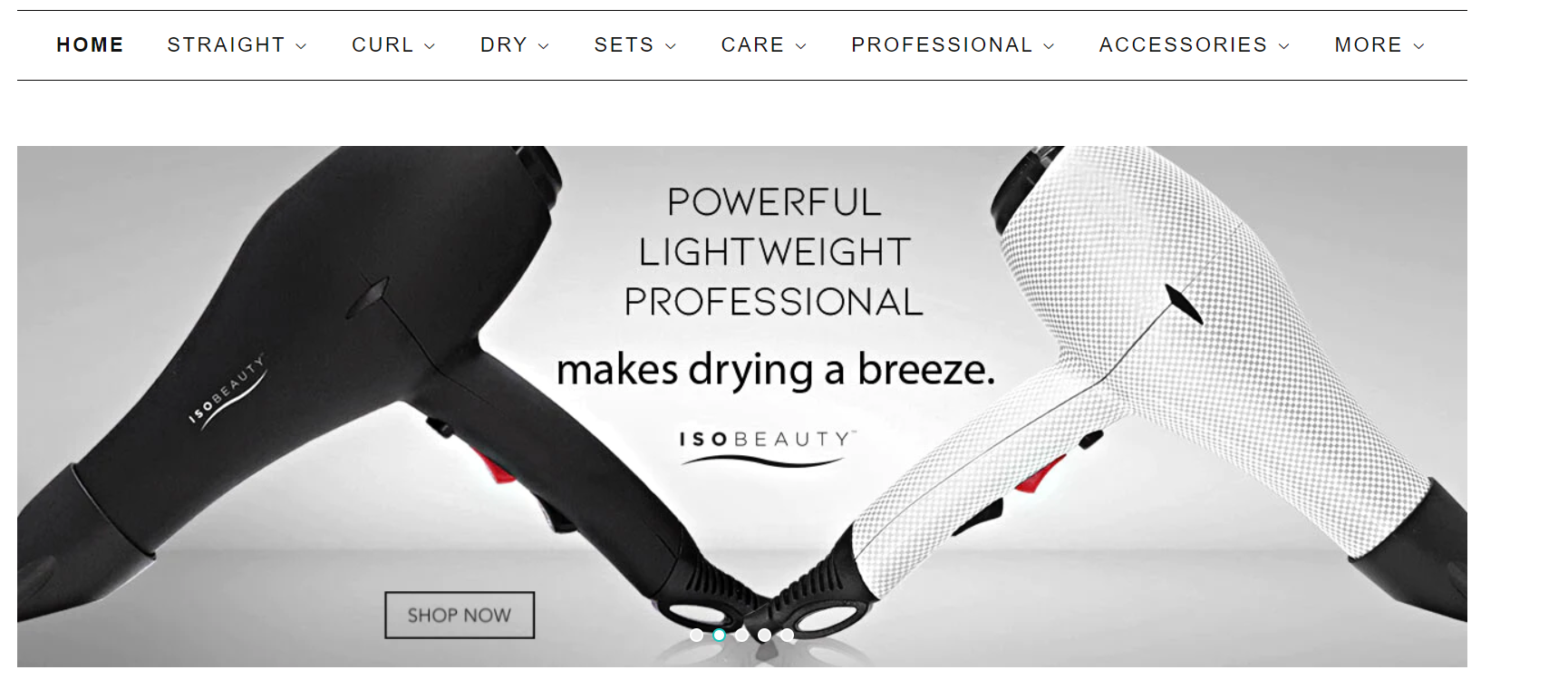 ISO Beauty is a US-based dropshipping hair products supplier based in the US, but ships worldwide for FREE.
In the beauty sector, ISO Beauty is regarded as a leader. By consistently offering our devoted customers cutting-edge products, ISO Beauty has emerged as the most popular and dependable brand.
Hence, they offer a dropshipping program, and setting up an account costs $200 all at once.
They offer a wide range of haircare products, like hair straighteners, moisturizers, dryers, and also general care products.
However, ISO Beauty product costs are a little more expensive, so they vary around $100-500. Also, the average order processing time is around 7 days.
They also provide four free samples, but any more than that will need you to for shipping costs.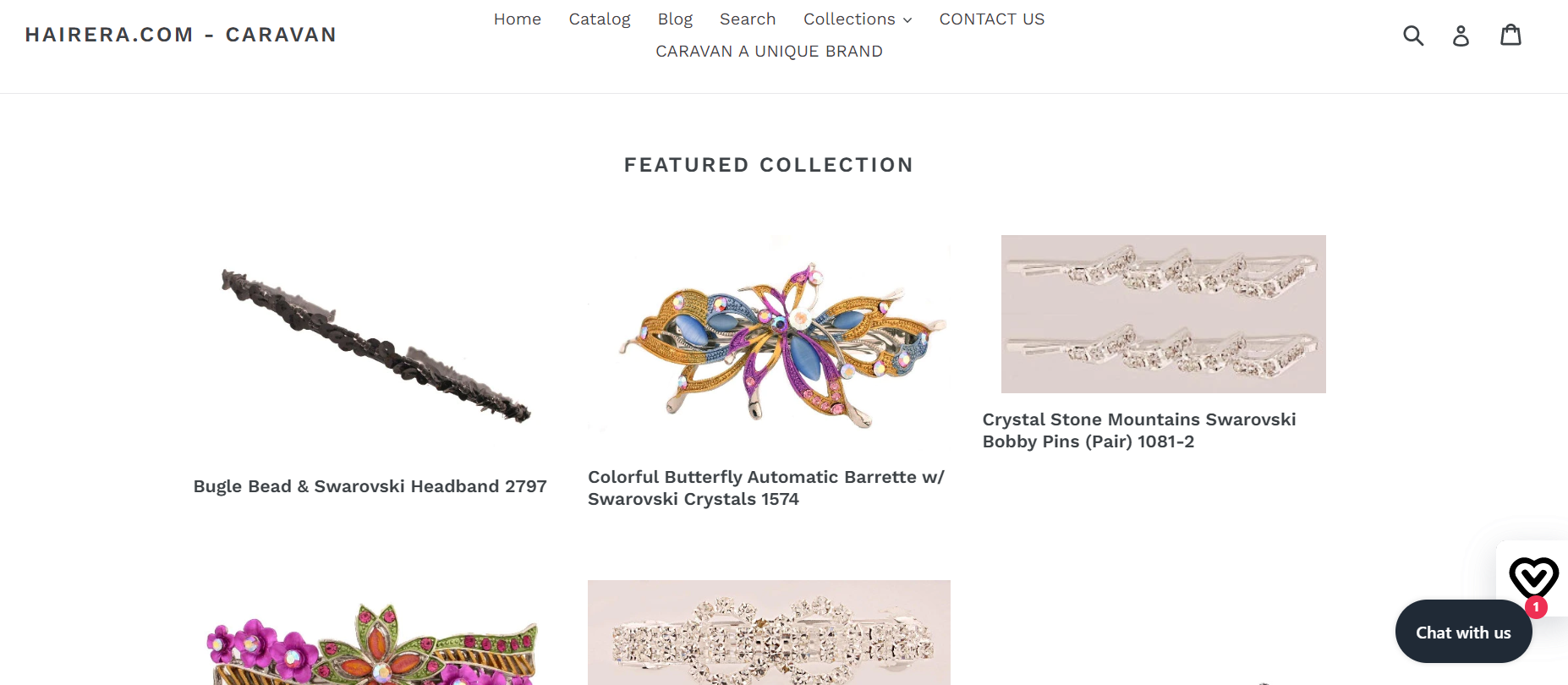 Hairera is a dropshipping hair products supplier that sells hair accessories, like barrettes, pins, headbands, and more. Moreover, there are products made with Swarovski that have affordable prices.
This dropshipping hair supplier is based in the US but ships its products worldwide at variable shipping costs.
Furthermore, their product prices are around $10-20, and the average order processing time is 4-7 days.
Strawberry Net is one of the leading eCommerce suppliers of beauty products and vendors of hair products.
With over 20 years of experience in this niche, they provide a streamlined shopping experience so that you can purchase your favorite skincare, makeup, hair care, and fragrances at affordable prices.
However, they have a great selection of hair products, like shampoos, conditioners, styling products, tools and accessories, intensive treatments, and hair sets. All that for women, men and kids.
This dropshipping supplier is based in Hong Kong but ships its products worldwide for free.
Moreover, their product prices vary from $20-50, and the average order processing time is 7+ days.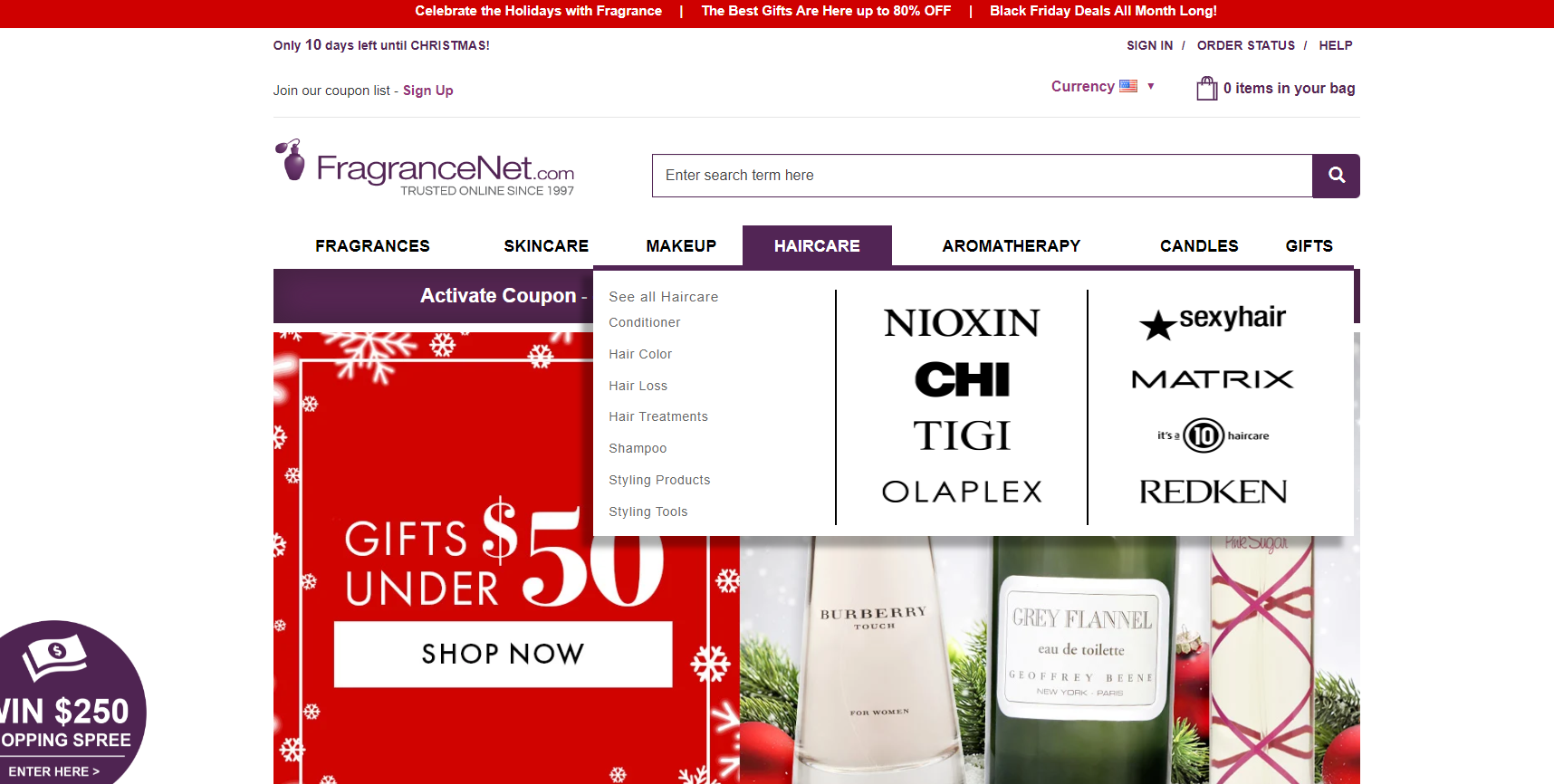 Since 1997, FragranceNet.com is one of the most trusted eCommerce stores for beauty products. They have sold more than $1 billion worth of cosmetic items and dispatched over 10 million shipments.
Additionally, they provide discounted pricing on 15,000 authentic, name-brand perfumes, skincare, cosmetics, hair care, and candle products.
Thus, from hair products, you can find shampoos, styling products, tools, hair treatments, coloring, hair loss products, etc.
They also provide FREE shipping in the United States with a minimum order.
FragnanceNet product costs are around $50-100, and the average order processing time is more than 7 days.
What's more, this dropshipping supplier has an A+ rating from the Better Business Bureau.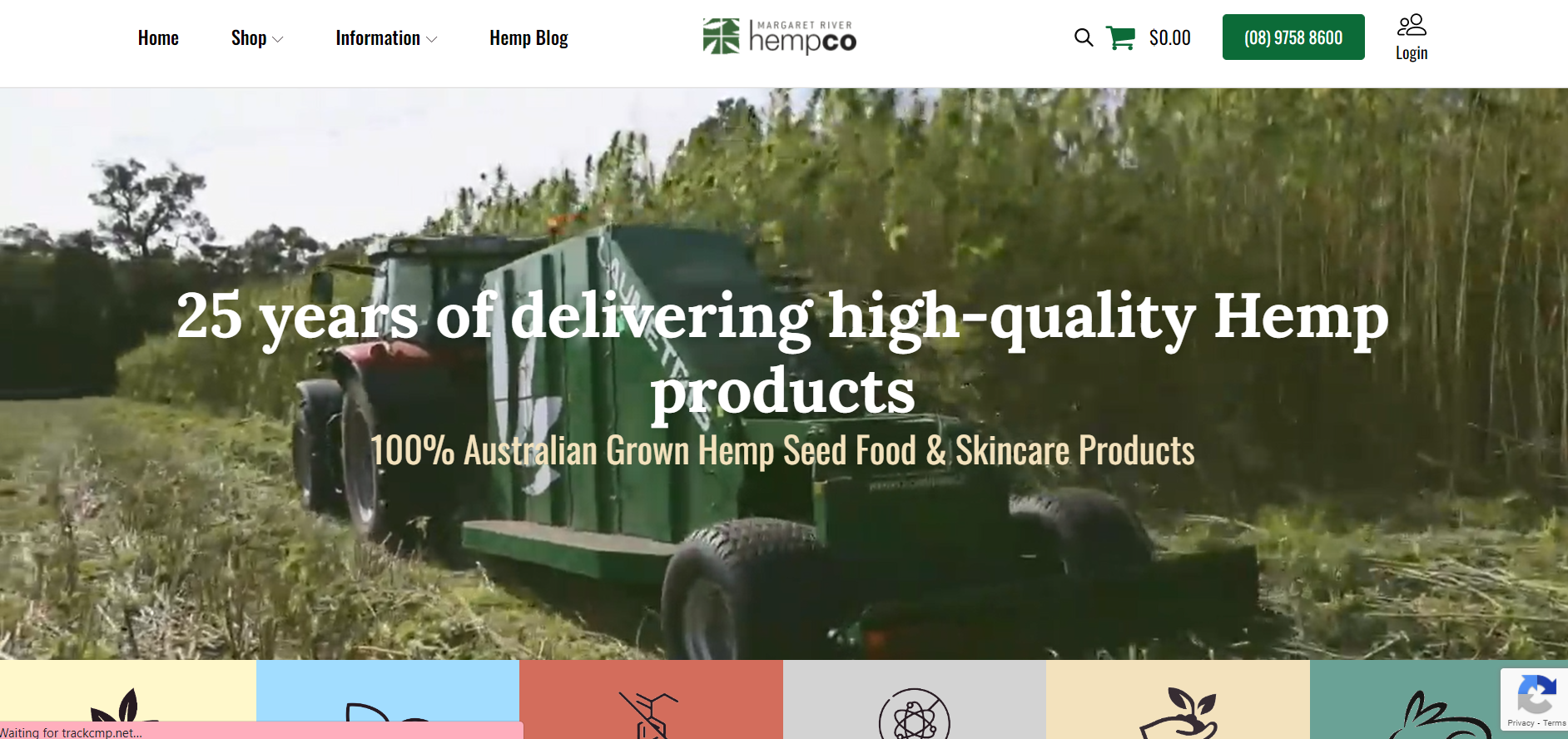 This is a dropshipping supplier based in Australia but ships its products worldwide. Margaret River has a great experience in this business for almost 25 years.
👉 Check out Dropship Australia: 10 Best Australian Dropshippers.
They produce and offer produces a variety of hemp soaps, skincare, body care, hair care, bath and shower products, and more, all of their chemical free and vegan-friendly.
Besides, when it comes to hair care, they offer very affordable product bundles that contain conditioners, shampoos, hair gels, serums, and more.
So, if you are one of those dropshippers that want to show support for vegans and organic products, this dropshipping supplier is a great choice.
What's more, their product costs range between $20-50, and the average order processing time is 7+ days.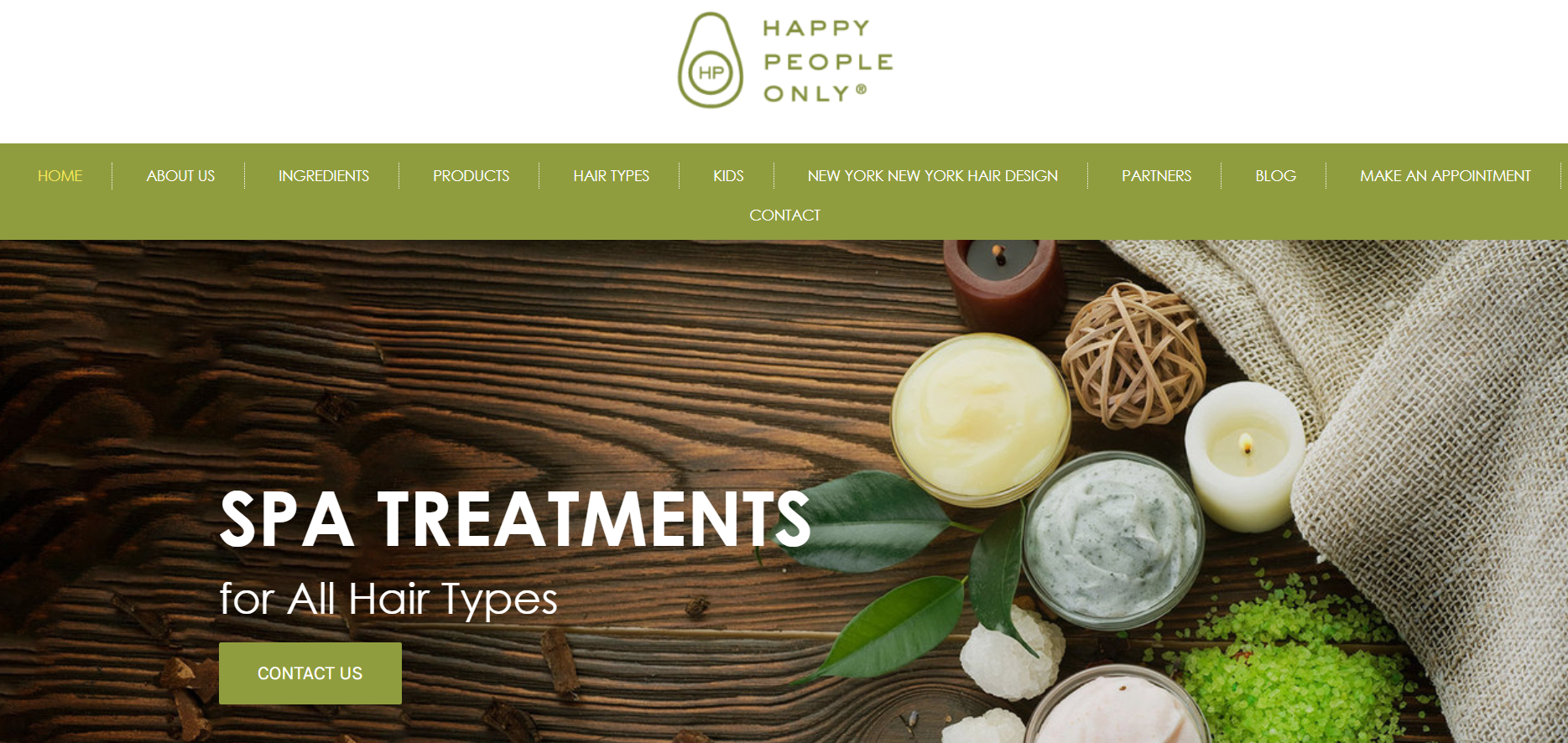 HPO Spa Treatments is a dropshipping supplier that offers non-chemical products at affordable prices.
Hence, in their product catalog, you will find a variety of dropshipping hair products and treatments for all hair types and for men, women, and kids.
Moreover, HPO product costs range between $10-20. Also, the average order processing time is 7+ days, but they require MOQ.
However, this supplier is based in the USA and ships its products worldwide.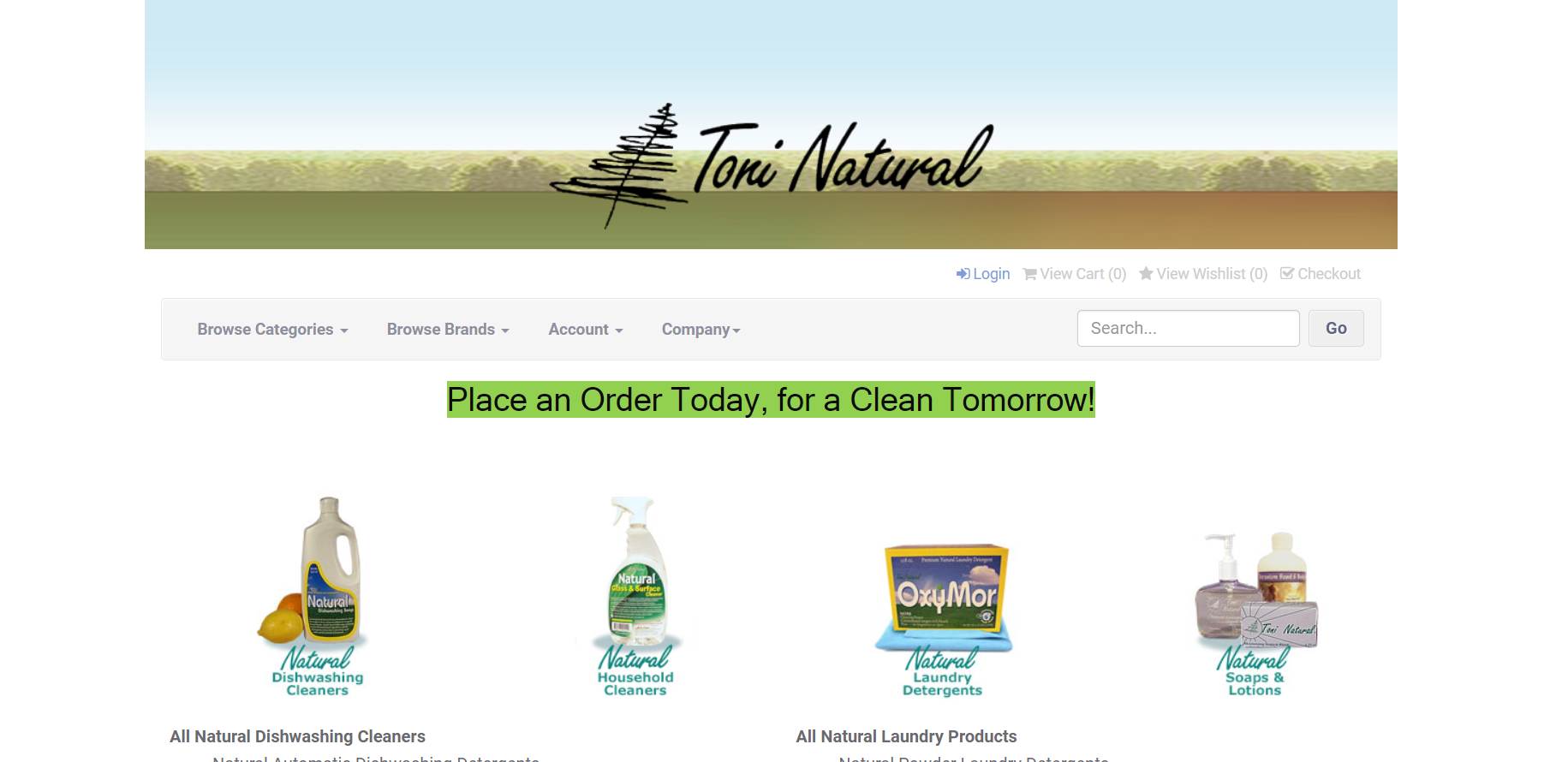 Toni Natural is a dropshipping supplier that offers a variety of hair products that are all-natural and earth friendly with no harsh or harmful chemicals. It is based in the USA, and ships worldwide.
Plus, in their dropshipping hair products category, you can find shampoos, conditioners, serums, etc.
Furthermore, their production costs are between $10-20, and the average order processing time is 4-7 days. However, Toni Natural Products require MOQ.
You've probably heard of BigBuy by now since it is one of the top general dropshipping stores.
However, even though that is general, we can certainly say that BigBuy is a great hair dropshipping company since it has more than 4300 hair products to offer.
Besides, BigBuy is located in Spain but ships its products worldwide for free.
What's more, their product costs are around $20-50, and the average order processing time is around 1-3 days.
This dropshipping supplier has a lot to offer for supporting your dropshipping business, starting from value-adding services, superior logistics, and cutting-edge technology to very affordable prices.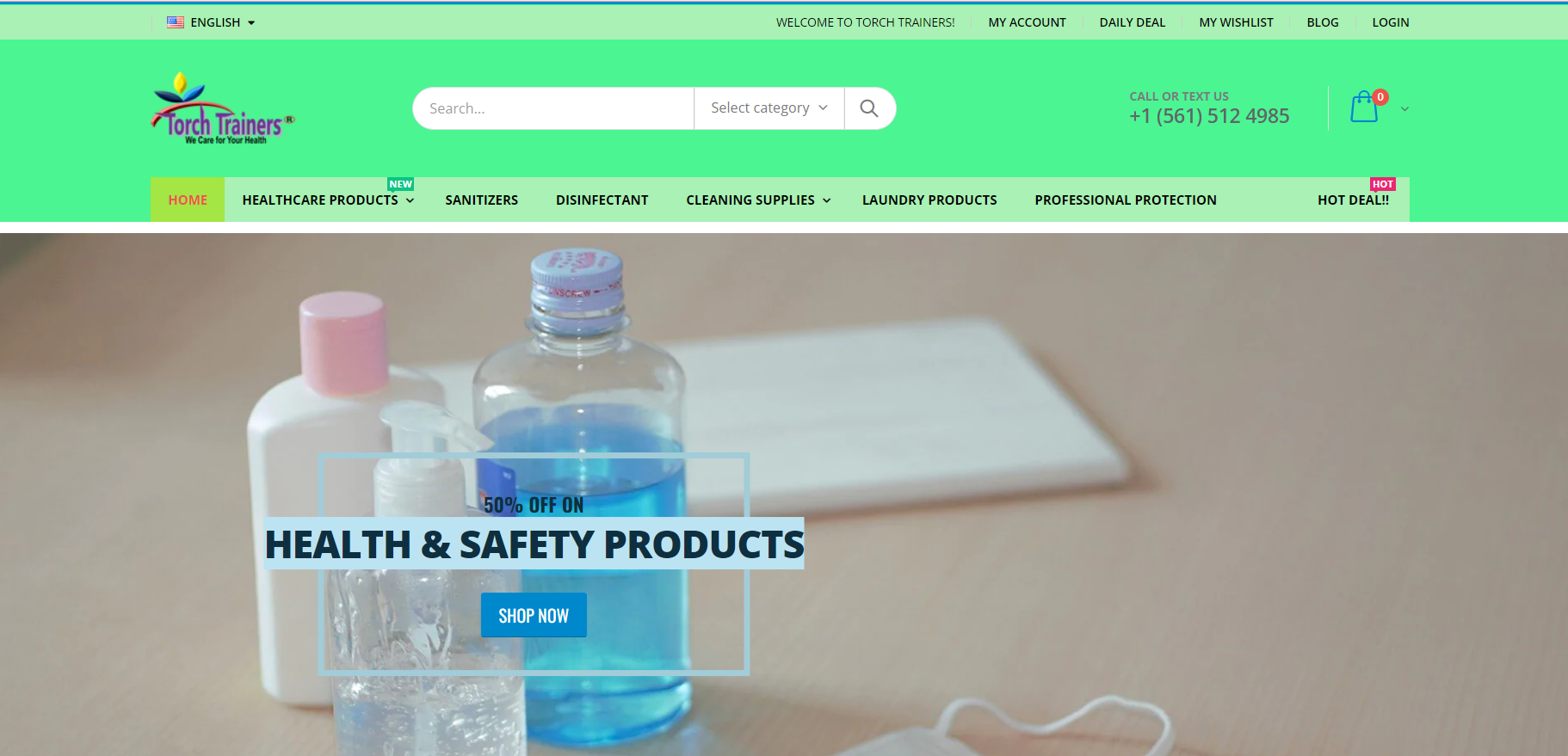 Torch Trainers is a dropshipping supplier based in the US, and ships its products worldwide. They offer only all-natural wellness products for healthy skin, hair, body, and mental well-being.
Also, their entire line of goods is made from natural ingredients and has no negative side effects.
As a result, you may get weight loss products, beard care, hair care, vitamin supplements, and sports nutrition here.
Their product costs range from $100-500, and the average order processing time is around 1-3 days.
5 Evergreen Dropshipping Hair Product Ideas
Hot-Air Hair Brushes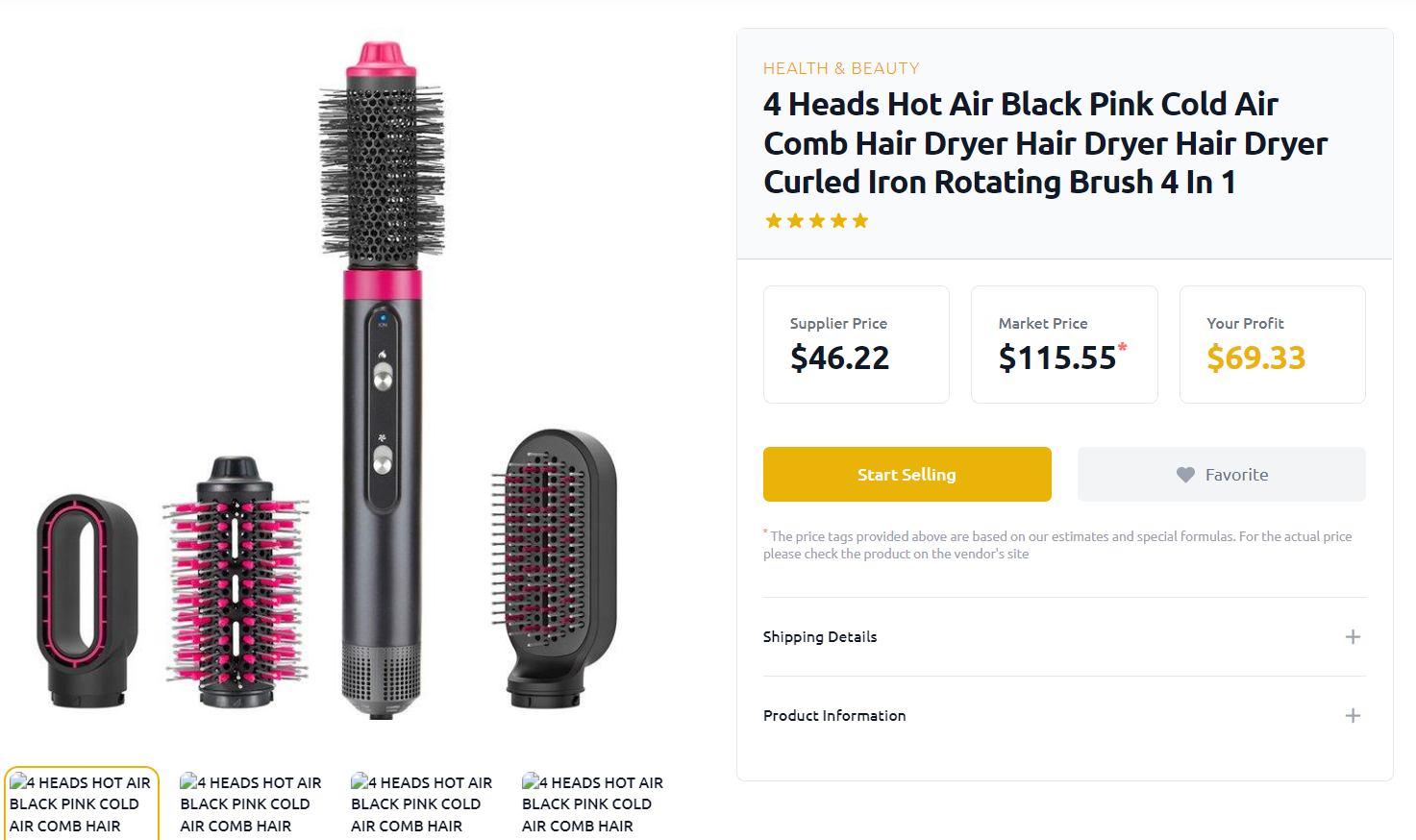 The most often used products are hot-air hair brushes.
However, customers can search for a variety of hair brush types, like hot hair brushes, Hot-air brushes for wet hair, Hot-air brushes for dry hair, and Barrel brushes that volumizes dry or wet hair. Therefore, be ready to have it all to offer.
Correspondingly, these products' costs range between $15-46, and the selling prices are between $37-115. Therefore, the profit margins are around 60%.
The target audience for these dropshipping hair products is women, and they are usually one-time buyers. Also, if we check out the Google Trends results, we can see that customers are constantly searching for these products. 👇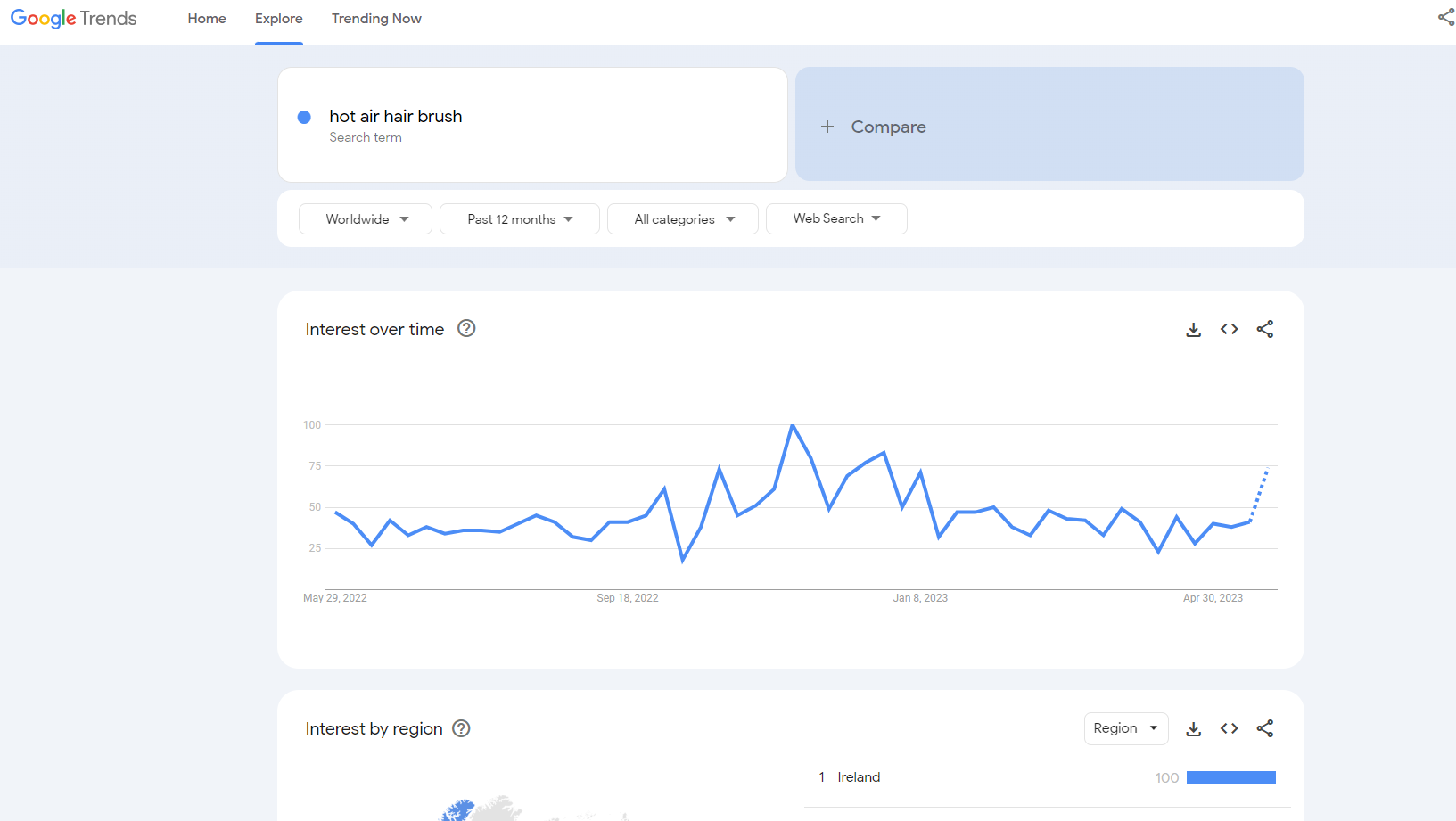 Furthermore, these products are quicker and less destructive than conventional straightening irons, easy to use, and don't require any specialized hairstyling abilities.
Halo Hair Extensions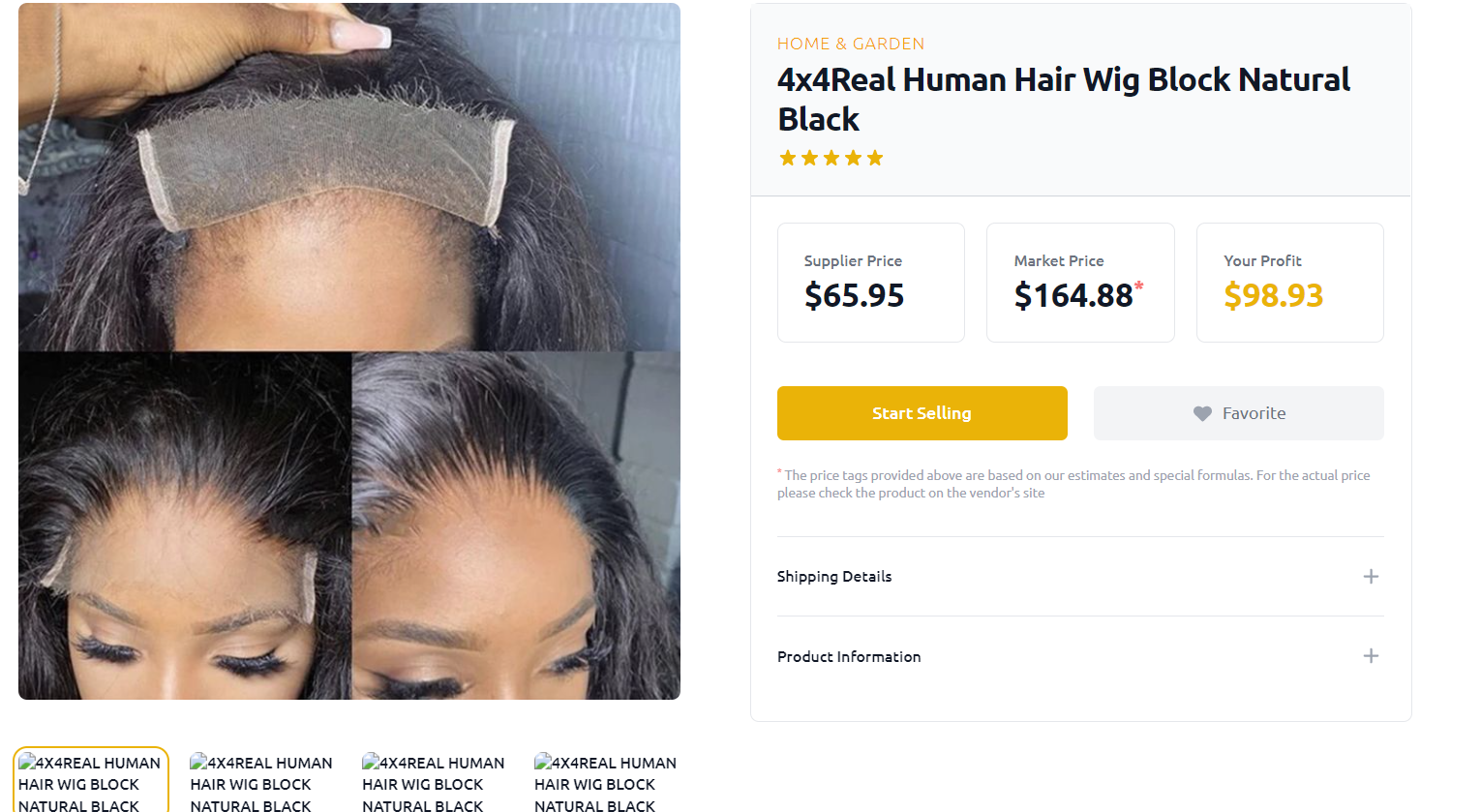 Whether used for regular usage, special events, or beauty salons, these goods are flying off the shelves. If you want to sell these dropshipping hair products, we recommend you offer a range of colors, styles, lengths, and types, so you can meet various customers' needs.
Market prices for hair extensions range from $16 to $270, while supply costs range from $6 to $105. Thus, Profit margins are greater than 60%.
Moreover, most of the customers are women, and they are characterized as repetitive buyers. Also, as we can see on Google Trends, dropshipping hair extensions is really a trend! 👇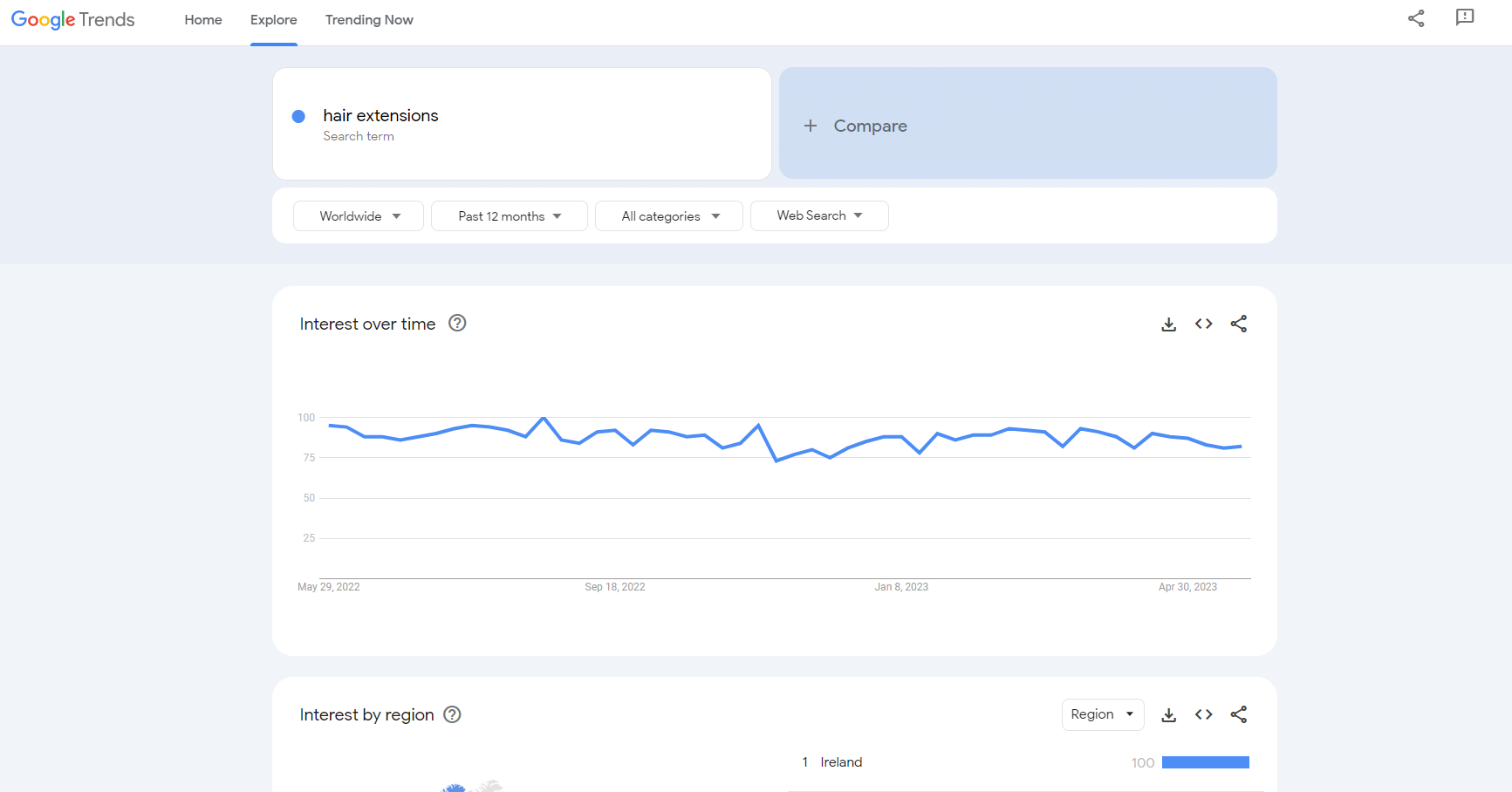 💡 Tip: Read about Beauty Products To Sell Online: Top 15 Beauty Products For Dropshipping.
Hair Shadow Powder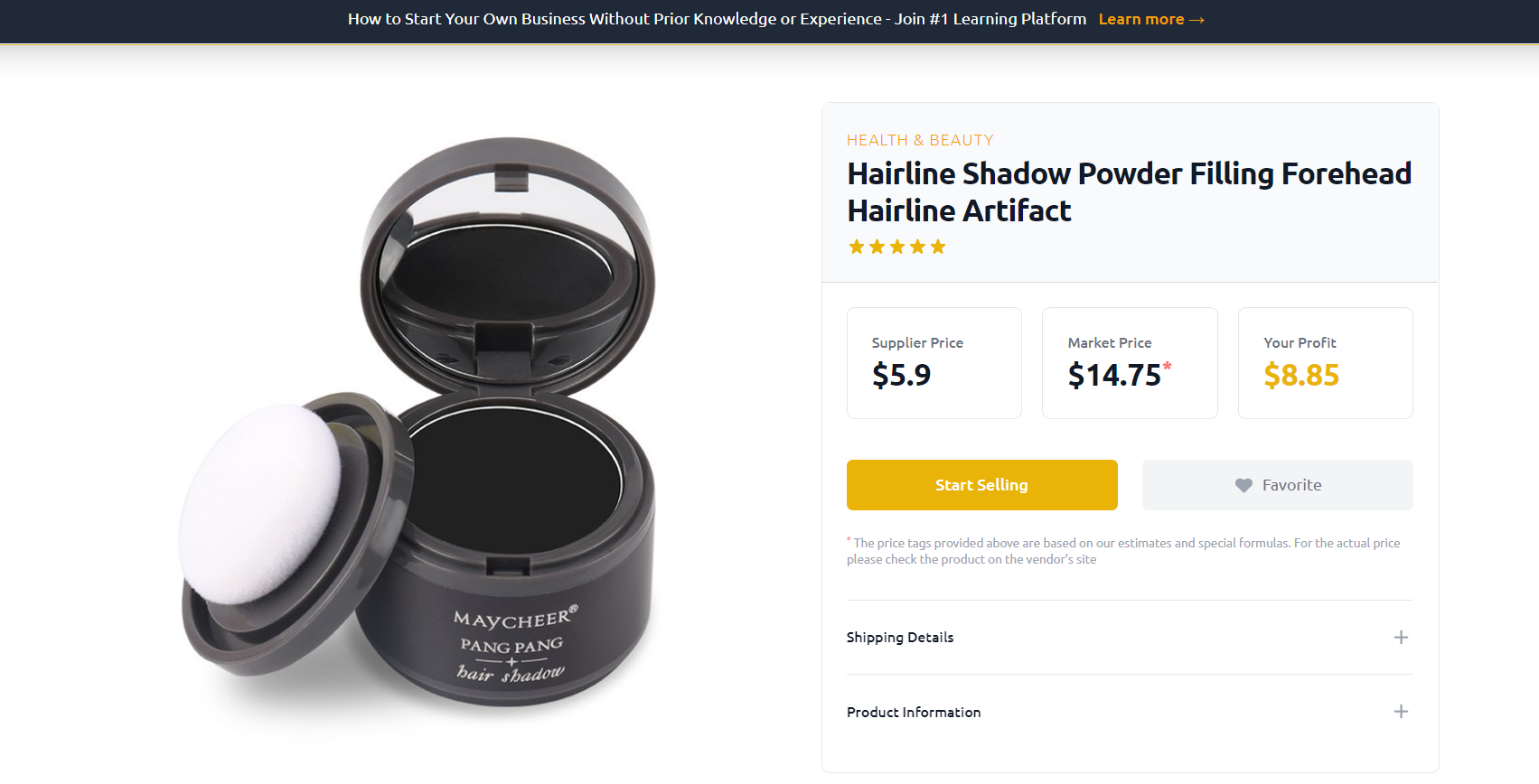 We can certainly say, this drop shipping hair product is the 2020's trend! The product is selling like crazy.
Also with the affordable supplier prices, you can get, you can also gain better profit margins. Thus, the profit margins for this product are around 40-50%.
Not convinced? Just take a look at Google Trends results for this product – Always on the rise, and expected to grow even more! 👇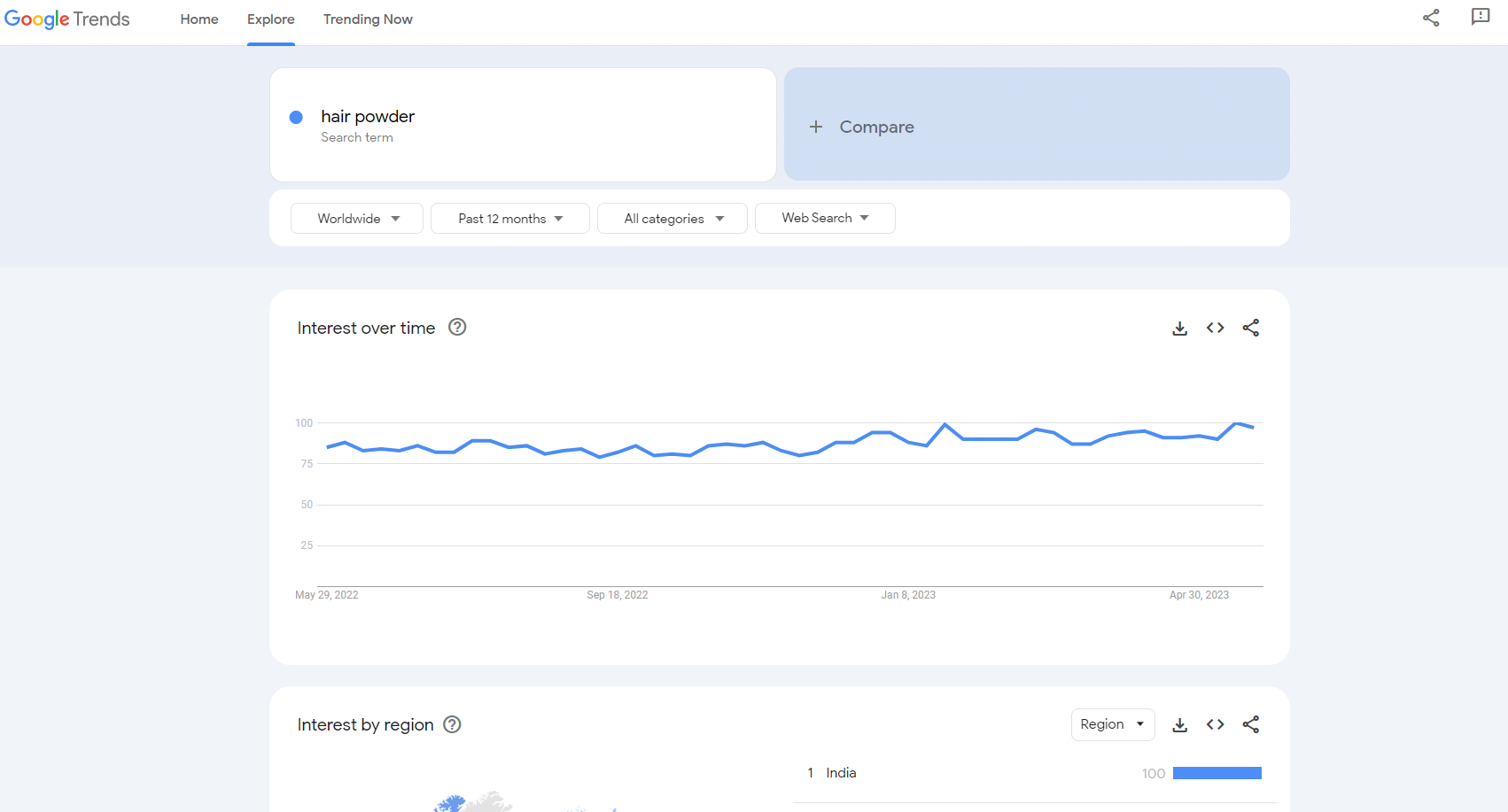 👉 Check out the Top 10 Best Health and Beauty Dropshipping Suppliers + Trending Products.
Electric Hair Cordless Clipper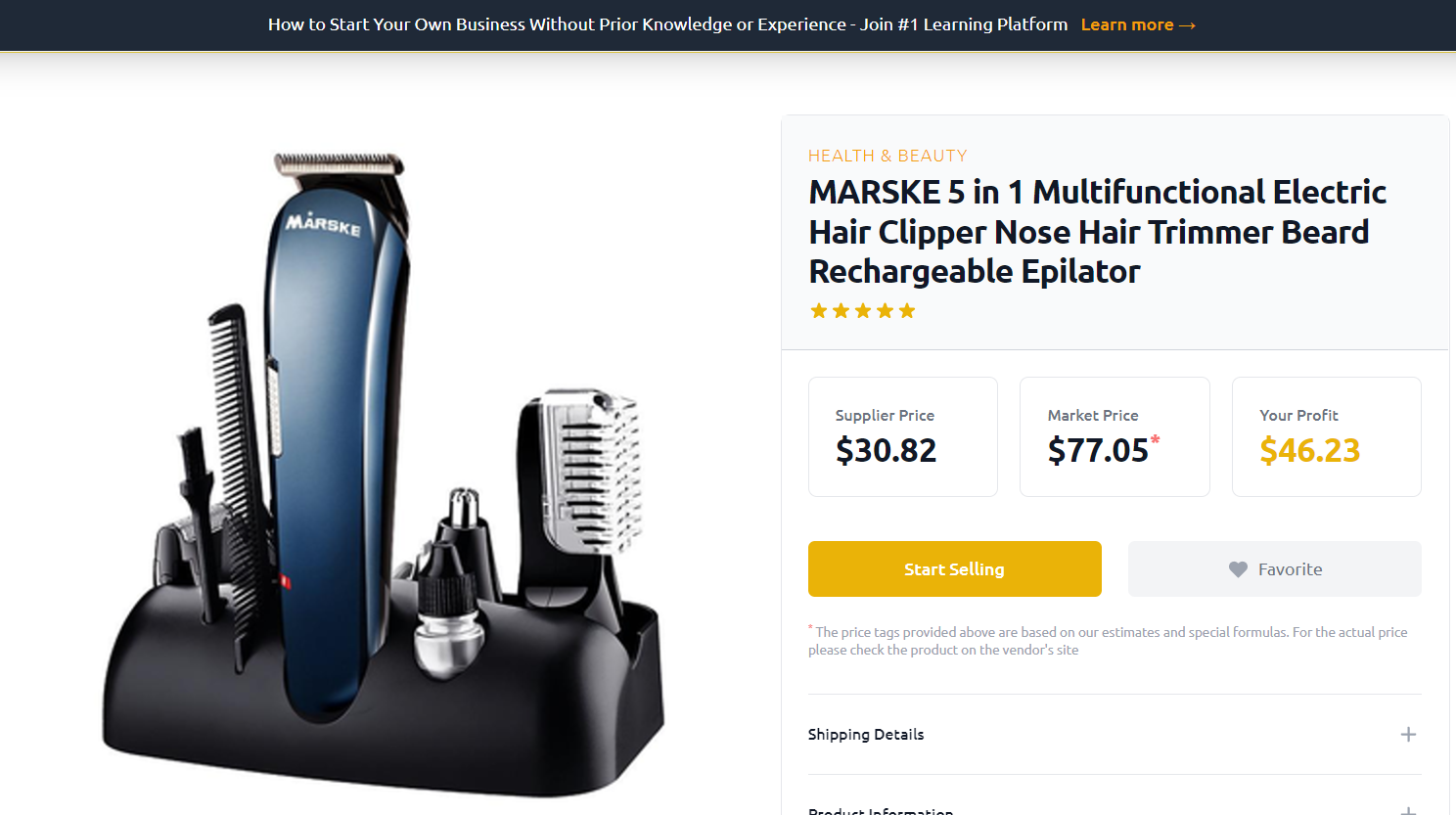 Also, this dropshipping hair product is great looking at the supplier prices. These products' costs range from $24-56, and the selling prices are between $65-140. Hence, the profit margins are around 60-63%. High right?
However, consider making great keyword research before selling this type of product. Plus, as Google Trends imply, this is a hell of a trendy product!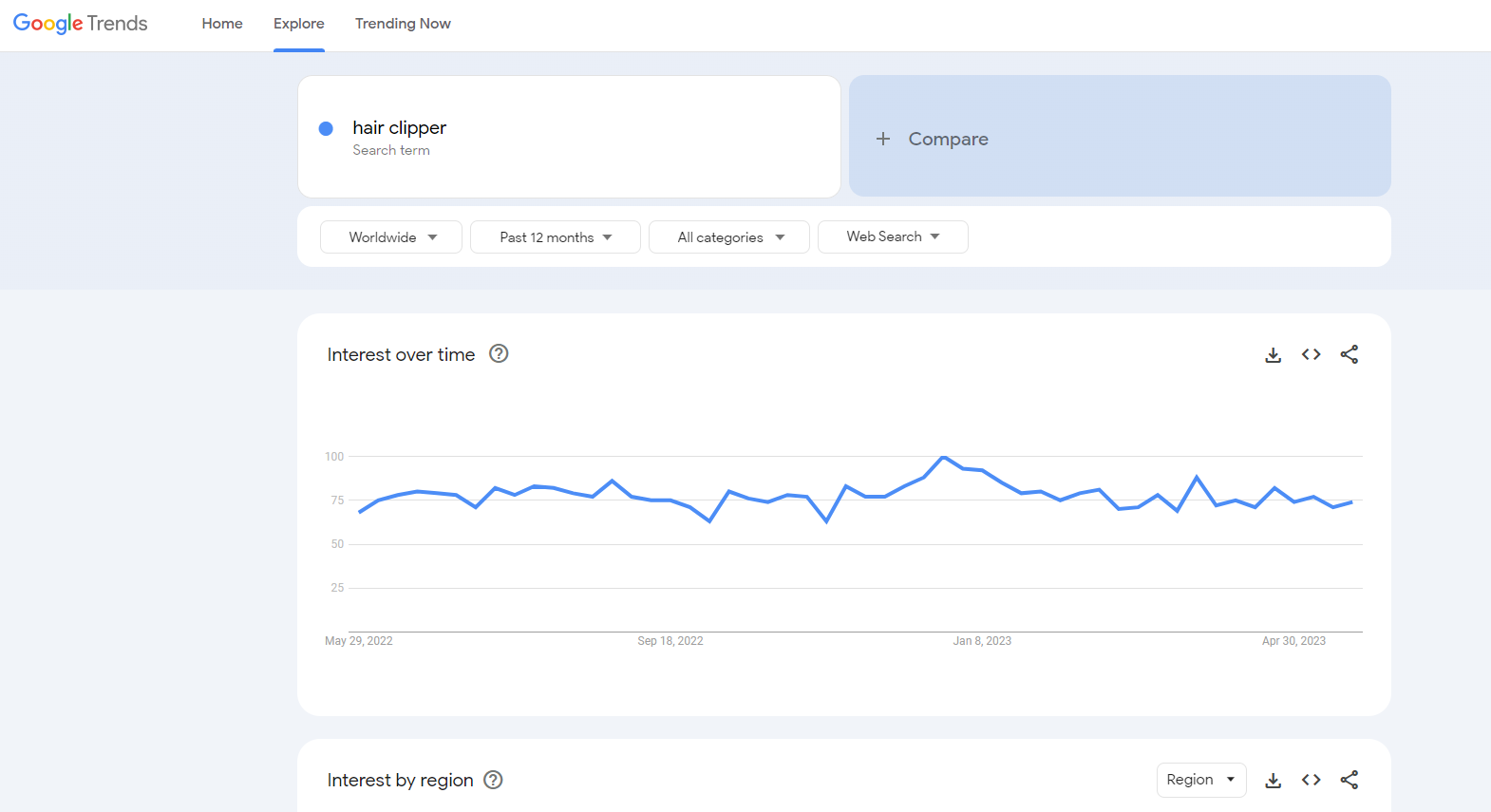 Organic Shampoo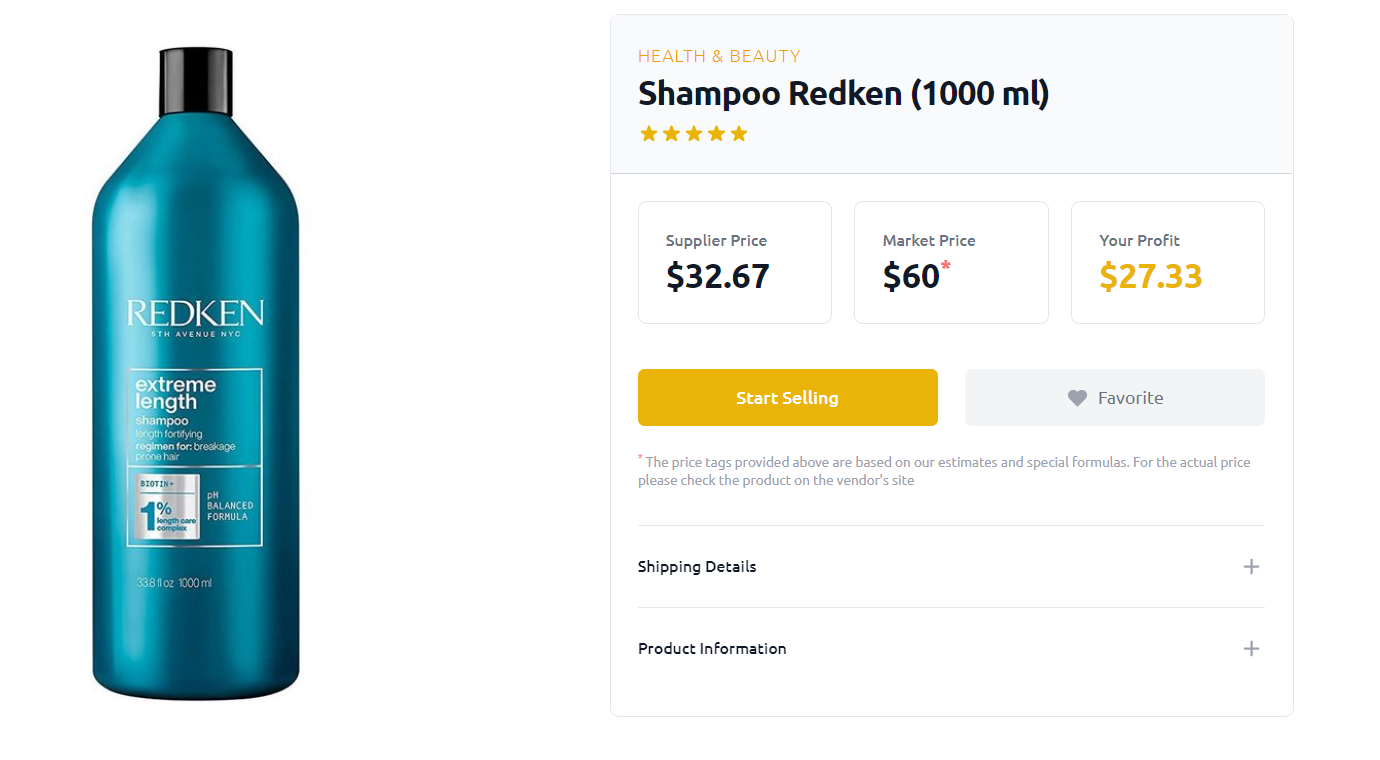 Organic shampoos rank very high on Amazon and Google. Not to mention, that even though you can make great profits, but also you can show that your business is eco-friendly, vegan-friendly, and non-chemical!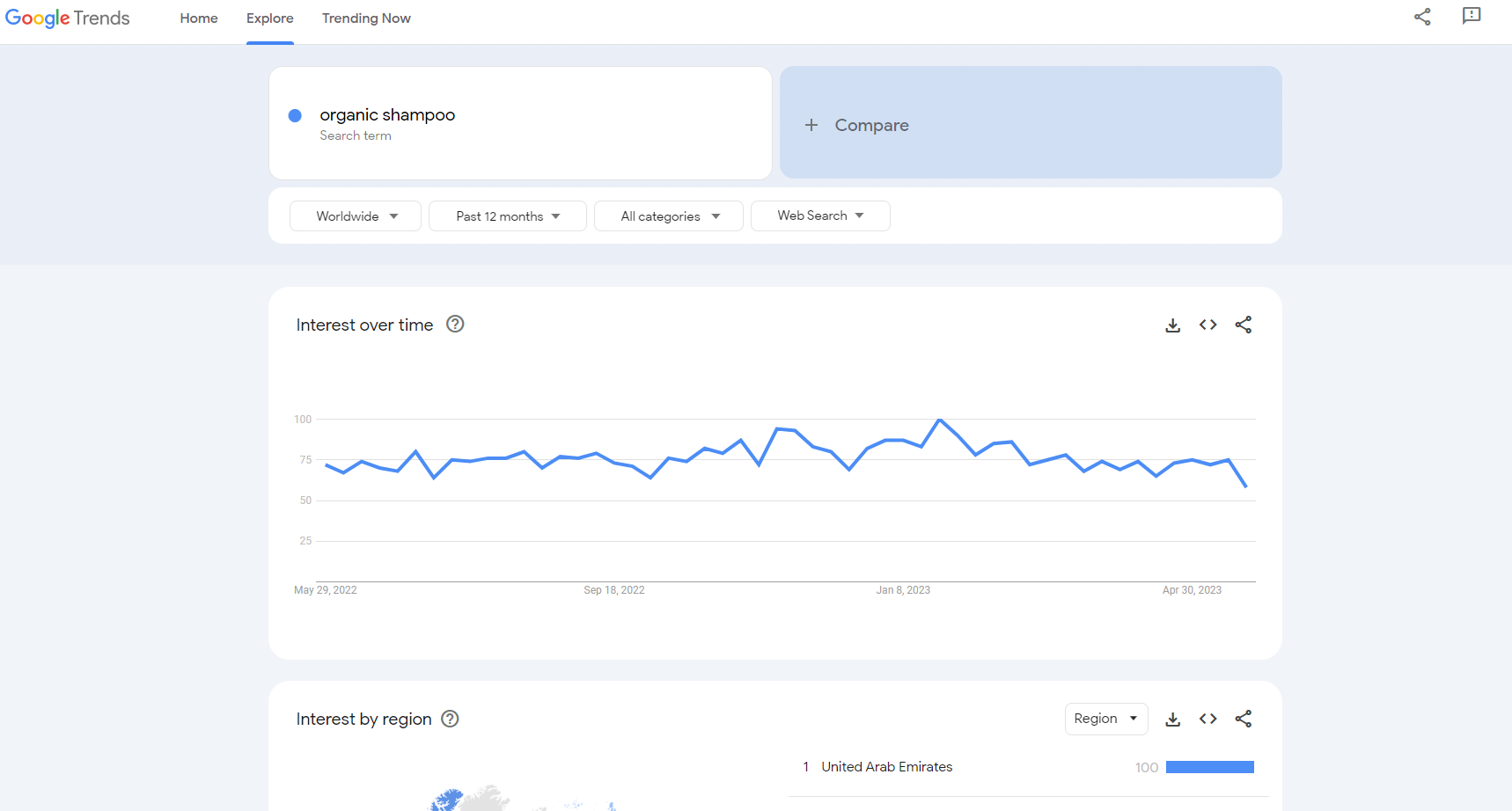 Furthermore, the profit margins for this product are around 40% to 50%.
Thus if you are considering adding this product to your dropshipping store HPO Spa Treatments and Margaret River Hemp Co are great choices.
Pros & Cons of Hair Dropshipping
Just like any dropshipping business, so does dropshipping hair products has its pros and cons.
Firstly, your drop shipping hair items normally have profit margins of approximately 40%, which is quite significant and enables you to expand your business and control expenses with ease.
Furthermore, this dropshipping niche is totally scalable since there will always be a need for new features, goods, and services.
However, drop shipping hair has a number of disadvantages as well. First off, there is a lot of competition for your dropshipping hair extensions. So it's critical that you invest some time in researching the industry and discovering your biggest rivals.
Additionally, it might take a lot of effort, trial, and time to discover the ideal hair dropshipping suppliers.
However, let's take a look at the list of the most important hair dropshipping pros and cons. 👇
It is simple to promote "impulse buys"
Variety of product types to offer
Scalable dropshipping niche
Problems with finding reliable suppliers
5 Tips To Start Dropshipping Hair Products
1. Do a Market Research
First thing first, conducting in-depth marketing research is essential. As we already mentioned above, competition for these kinds of products is high, so you better do a little spying.
Thus, do not copy your competitors, but see how they are running their dropshipping business. Check which products are their Best sellers, check their product prices, marketing tactics they use, etc. Next thing- react!
Furthermore, you can do a little research about the product's profit margins.
👉 Read about Sellvia Review: How It Works and Is It Worth It In 2023?
For example, let's say that we decided on selling hair wigs. So, the next thing we would do is visit a reliable dropshipping website's product directory. Thus, we enter Dropshipping.com and take advantage of all the information they provide for us.
Then, we search for hair wigs, under that exact keyword, and here's what we got! Results from the product's selling prices, supplier prices, and of course profits you can earn.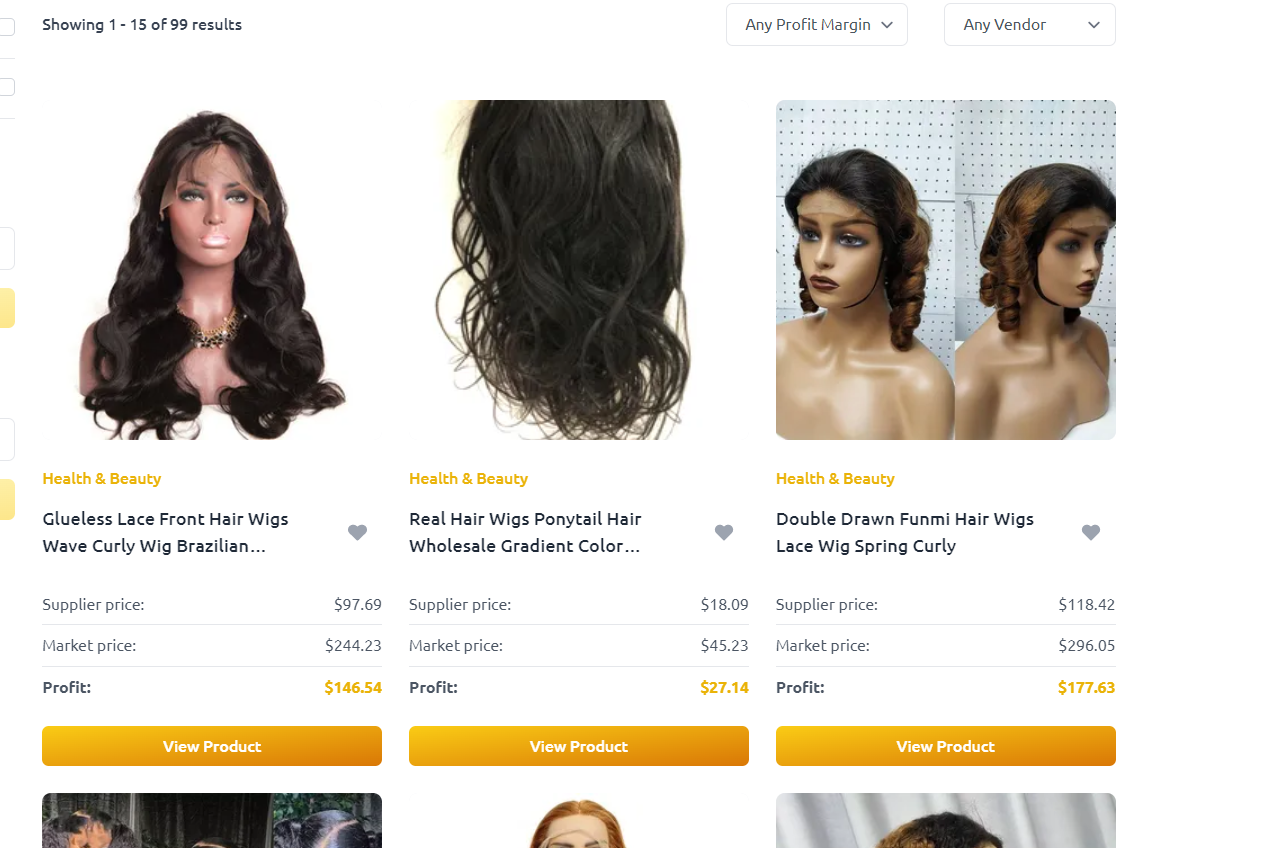 Reviewing the results, we can conclude that the supplier prices of this product vary from $11.50 to $119, and the selling prices are between $28 to $177. Therefore, the profit margins are around 40-60%.
And of course, don't leave the customers out of the game, because a customer is always right!
Therefore you can constantly check the new trends on TikTok, customers' comments about products on Reddit, etc. This will help you satisfy your customers' needs and wants, but at the same way, be a step forward from your competition.
2. Make a Decision – One product store, or a niche store?
You have a variety of product types you can choose to sell in your dropshipping hair products store. Thus, this leaves you with a choice of whether you want a one-product store, or maybe multiple hair product types in your niche store.
Either way, you win! Even if you choose to have a one-product store, let's say hair wigs, you have a variety of hair wigs to offer. Different colors, curly hair, straight hair, long hair, middle length, short – it's up to you! But still, the choice options are huge.
What's more, this way you can build a brand across the hair wigs market and be easily recognizable. This way you can gain customer trust easily.
💡Tip: Read about One Product Dropshipping Store – Pros & Cons, Guide & Examples.
On the other hand, choosing several types of hair products is also a great choice, because, in one place (your dropshipping store), various customers' needs can be fulfilled.
Of course, you have a wider choice of marketing tactics you can use to boost your sales. For example, selling products in bundles? Hmm, interesting!
👉 Check out How Many Products Should I Start With When Dropshipping With Shopify?
3. Build Your Website
Next, build your dropshipping store – the place where you interact with your customers.
Perhaps you think that this will be the most difficult step, but believe us—it won't be. And it doesn't even take much time.
When creating a website today, there are several alternatives to consider:
The first option is to hire a website developer and assign the task to them with only a list of instructions.
Second, if you have the necessary expertise, you may create it entirely on your own using an open-source content management system (CMS).
Last but not least, without the requirement for technical knowledge, create your website using a range of features and themes by using a website builder.
👉 Check out PageFly Review: Website Builder To Customize and Optimize Your Shopify Stores. Also, you can look for the Best Alternative Dropshipping Website Builders.
More importantly, be smart when you are choosing themes for your dropshipping store. They need to be easy to navigate, good-looking, and provide a great product description. Customers seek simplicity, remember!
However, you can read more about the best pretty hair dropship themes above in the article.
👉 Learn How to Build an Ecommerce Website from Scratch – Dropshipping Store.
4. Find Reliable Dropshipping Suppliers
We can certainly say that this can be the most challenging part.
You can search for days over the internet, and of course, you will find some information about dropshipping hair suppliers, but the question is, how do you know if they are reliable?
Therefore, you should use some help from reliable dropshipping directories, like Dropshipping.com. Just take a look at our supplier directory, you will certainly find hair dropshipping suppliers under 15+ categories.
Likewise, there are huge supplier directories on AliExpress (25,000 results), Amazon (200,000 results), and eBay (7000 results) as well.
Correspondingly, some of the most important criteria you should look after are:
They should unquestionably have a strong dropshipping strategy
To provide a fast shipping service
To have the best customer support 24/7
To have a product samples policy
5. Build the Best Marketing Strategy
Last but not least, building the most suitable marketing strategy for your dropshipping business is essential. You can spy on competitors and see what they are doing, but keep in mind that you are not the same.
Also, the amount of online transactions is rising year over year and doesn't appear to be slowing down anytime soon. Hence, people are making purchases like never before.
Thus, the best-known marketing strategies nowadays are email marketing, PPC advertising, and content marketing. Also, we think that your hair dropshipping business might be perfect for influencer marketing as well.
💡 Tip: Read the 7 Tips For Creating a Bulletproof Dropshipping Marketing Strategy in 2023.
4 Dropship Hair and Dropshipping Hair Extensions Store Examples
The design and navigation of your dropshipping store are the first impressions that customers get about your business's reliability.
Also, design elements like color, font, and images may have a huge psychological influence on customers and can even change how they see your store.
If you need some design ideas for your dropshipping store, here are some of the best dropshipping hair extension websites.👇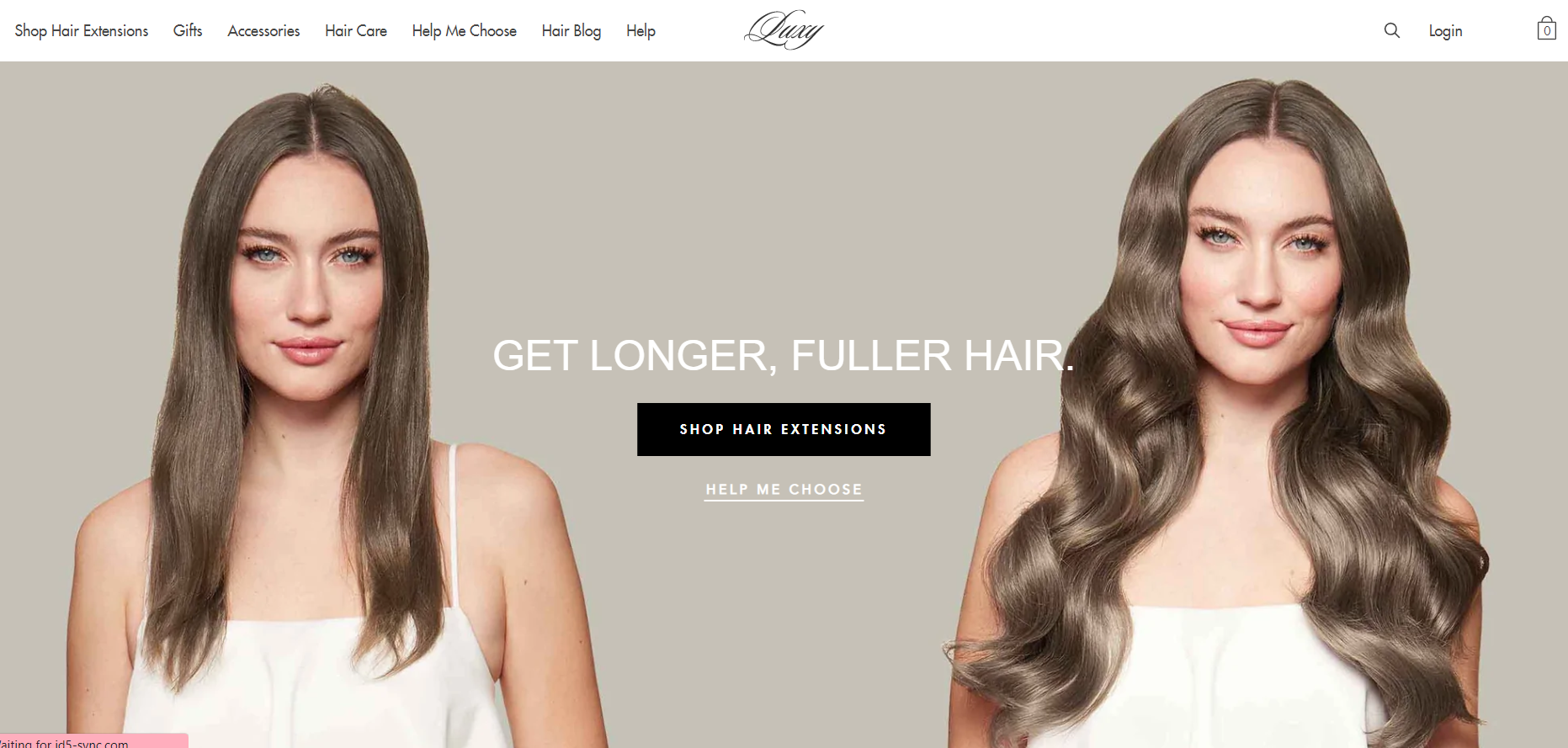 This dropshipping store is one of the best dropshipping hair extension businesses.
First, their store is easy to navigate. The content is well organized, and it contains various call-to-action buttons that lead customers to take any action on their website. Furthermore, the girds layout makes the content looks neat and clean store design as well.
Next, they show great social proof, presenting influencers using their products. Not to mention their "Help me choose" option.
Furthermore, you must pay particular attention to and understand its techniques if you want to be as successful as Luxy Hair. They have a broad selection of amazing hair collections, clear photographs, and informational blog articles.
Also, you can pick a free gift for your purchase from Luxy Hair's list of options on the checkout page. Additionally, the shop shows a cross-selling item underneath that.
This is an excellent sales-boosting strategy since clients are astonished by the substantial gift, which increases their likelihood of accepting the further offer.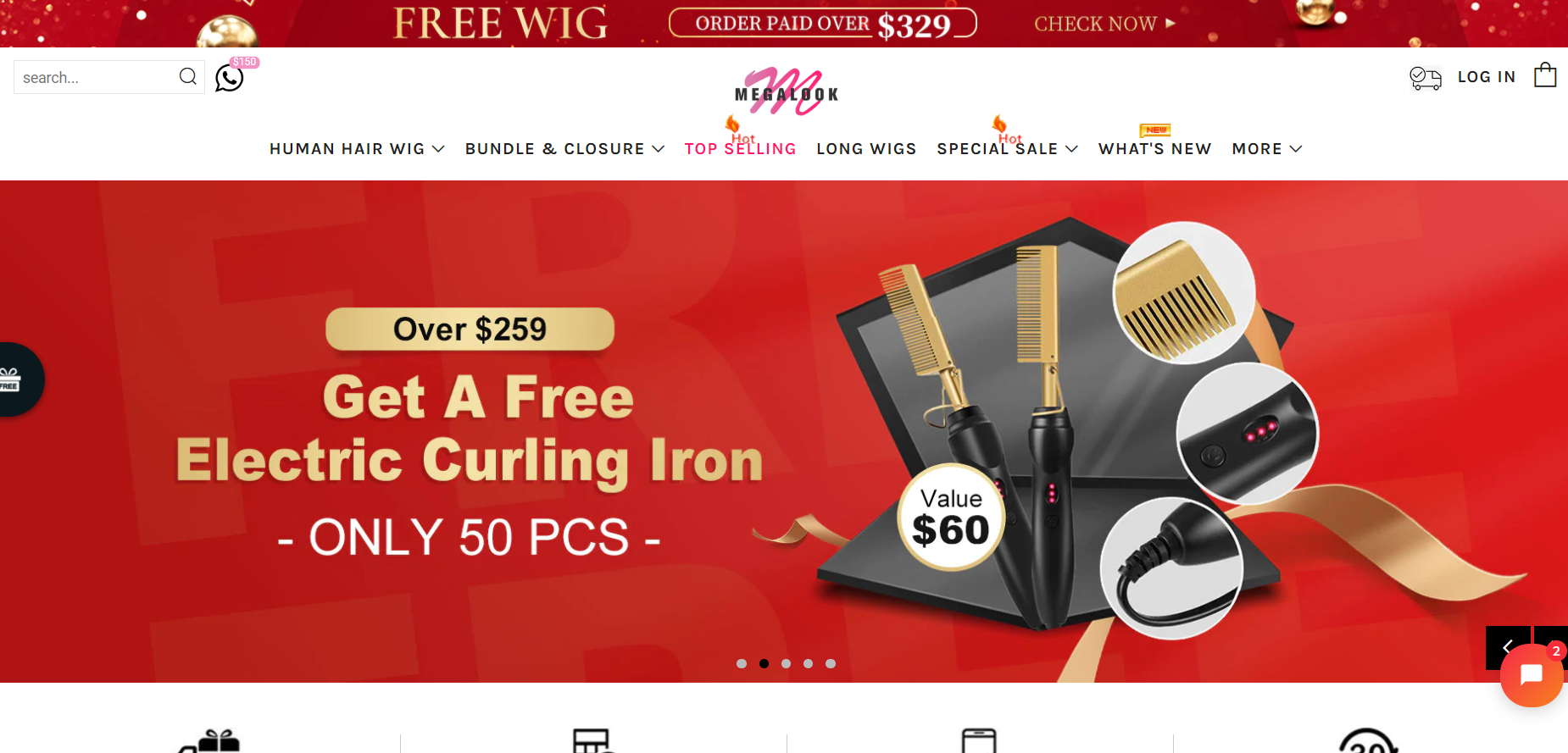 Mega Look dropshipping store that sells hair wigs. They offer a wide range of hair wigs in almost every color and dimension.
What's more, they are great at using marketing tactics to boost sales. Thus, starting from the lucky wheel popup once you enter the homepage, to the discount banners and codes all over their homepage.
However, we don't recommend you use this type of layout, since it is not easy to navigate. Also, they provide a lot of content that is not organized in the best way.
For example, they could use the grid layout to help users navigate through the homepage. Moreover, where are the call-to-action buttons?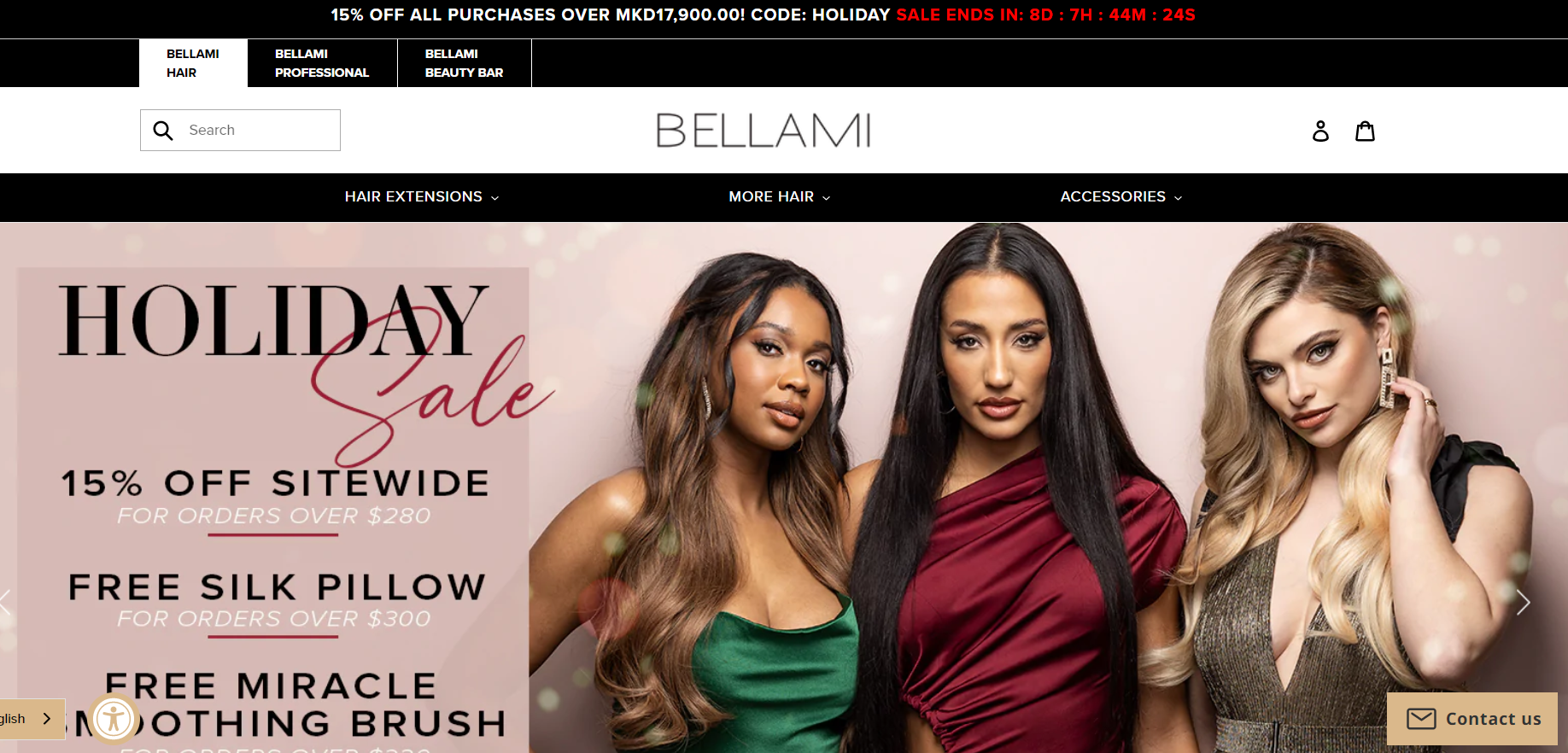 Bellami is a dropshipping hair products store that offers a variety of different hairs like human hair, synthetic hair wigs, faux ponytails, human hair ponytails, volumizing wefts, and more.
Moreover, they expand their product lines with accessories like hair tools, lashes, etc.
On the other hand, when we look at their design we can say that the content is well organized using the gird layout.
Also, they have all of the important buttons (shopping cart, search, login) on the homepage, a well-defined menu, a great footer, and social presence buttons which are great for providing simple navigation.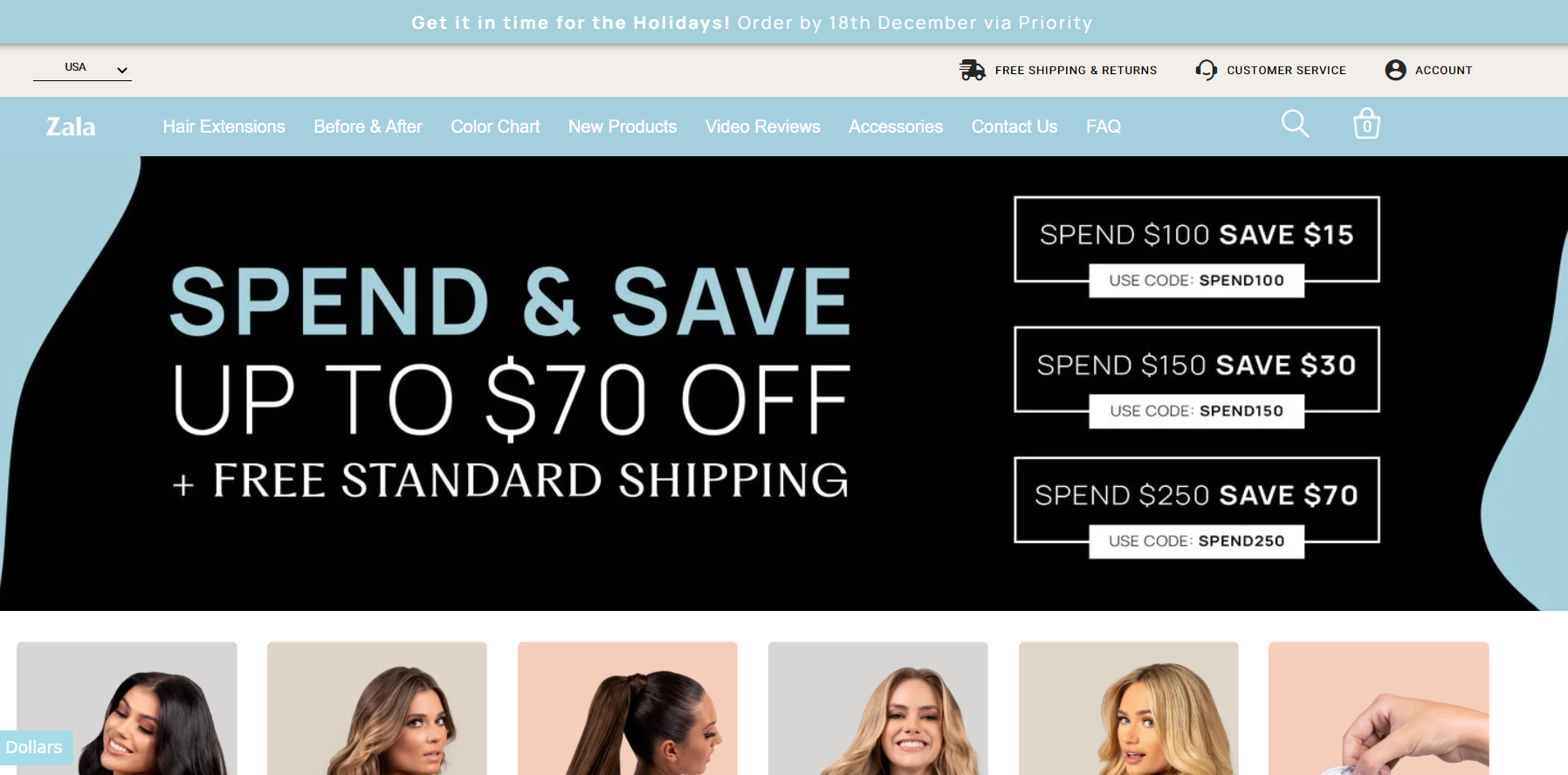 You can take examples from Zala when it comes to the products they offer, and the marketing tactics they provide, like Before and After, Video Reviews, FAQ, 24/7 customer services, etc.
However, because of how chaotic and clustered its layout appears to be, we do not advise copying its store design.
Join the only community and resource hub you'll ever need to succeed with dropshipping
Find winning dropshipping products, learn marketing, download templates and engage with real dropshippers
Never pay for a "guru's" course again. See why 4543+ dropshippers joined us this year!
💡Try DSCOM Hub Now
Conclusion
Starting a hair dropshipping business can be challenging, but also a very profitable niche.
All you need to have is valuable information and resources.
Knowing the struggles, we provided you with a full list of the best dropshipping hair companies, hair products, and tips to start NOW.