Have you ever wanted an easy way to make money online? Trust me, easy ways to make money exist but it only gets easy after you learn how to do it. Without proper guidance and help, you'll waste months, even years learning from your mistakes.
For this sole purpose, this Sell The Trend review will introduce you to a new way to significantly facilitate making money online with dropshipping.
What Is Sell The Trend?
Sell The Trend is a tool and online platform that is designed to help anyone make money with dropshipping. In its simplest form, it makes it super easy for you to start a dropshipping store and find winning products.
A while back, Sell The Trend only focused on helping users find high-selling dropshipping products.
However, now they've added Sell The Trend Shops – a genius new feature that guarantees any user a ready dropshipping store in just 5 minutes.
Sell The Trend Shops
Sell The Trend Shops is a platform that allows you to create an online store in FIVE minutes or less.
This is not a marketing gimmick. It's not a trick or meant to deceive anyone. It has been tested and proven. If you're still not convinced, you can test it for yourself. All you need are five minutes! That's how simple it is.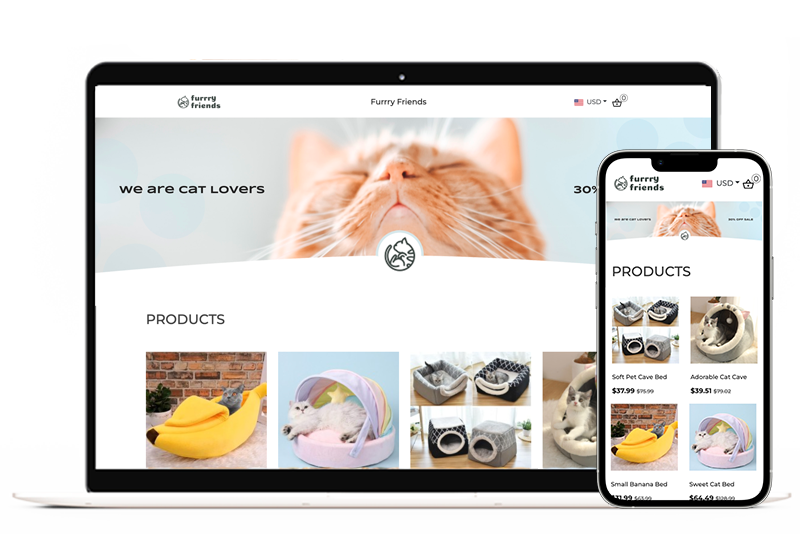 So, the basic features of Sell The Trend Shops will be explained below. All you need to know for now is that you won't require any other resources to create your online dropshipping store other than Sell The Trend Shops.
Everything is integrated inside – from product research to importing products to your store, to editing your store, communicating with suppliers, and all the rest.
Sell The Trend Shops Tools
The GOAL of Sell The Trend Shops is to make selling online EASY! Considering there are so many other services that offer this, Sell The Trend actually delivers on its promise.
Just have a look at all of these incredible features that you're getting for next to nothing.
Trust me, I know it sounds too good to be true. But all of these features actually do an amazing job. There are a lot of them. The full list includes:
Shopify Product Explorer
AliExpress Product Explorer
CJ Dropshipping Product Explorer
Amazon Product Explorer
NEXUS Hot Products Explorer
Audience Builder
Engagement Calculator
Store Spy Tool
Shopify Explorer
Sell The Trend offers a few product explorer tools that individually scrape and organize winning products from Amazon, CJ Dropshipping, Shopify, and AliExpress.
The Shopify Explorer only focuses on products that have already been added to Shopify stores. With the statistics that this tool offers, you can determine whether a particular product is successful in other stores.
AliExpress Explorer
The Sell The Trend AliExpress Explorer displays trending products on AliExpress – products that are seeing increased sales, searches, and so on. These are the products that have higher chances to go viral than any of the rest.
This tool also instantly gives you access and all necessary info about each product's supplier on AliExpress.
CJ Dropshipping Explorer
The CJ Dropshipping Explorer works exactly like the AliExpress explorer. The only difference here is that instead of displaying trending products from AliExpress, it shows the trending products from the CJ Dropshipping platform.
Also, you get the contact info for every CJ supplier that sells the trending products that this tool displays.
Amazon Explorer
The Sell The Trend Amazon Explorer is the best and simplest tool you can use to find winning products on Amazon. It gives you products that are on their way toward becoming best-sellers, so why not jump in on the opportunity just as many others are doing?
Nexus Hot Products
The Nexus is Sell The Trend's most popular and helpful tool to date. It is the brand's own proprietary AI-powered algorithm that effectively discovers winning products worldwide.
It combines the previous Sell The Trend explorers we mentioned, plus more, to bring users new products that are extremely likely to sell well online.
Once you click on a product, the Nexus tool shows you incredible data that you can use to increase dropshipping conversions.
If you scroll down even further, this tool gives you more insights about your competition and where other stores that are selling the same products are located.
Real Trends Chart
Every product that you will find on Sell The Trend has its own Real Trends Chart. It shows the product's pricing, orders, reviews, and rating over a certain period of time.
This is what each chart looks like:
Video Ads Creator
YES, you heard it right. Sell The Trend even creates your dropshipping videos for your ads. Best of all, all you have to do is click 5-6 buttons and it does the rest. You don't even need to turn on your brain – it's that simple.
Now, you're probably saying, "if it's that simple then it probably isn't very good". Well, if you find a good product, the video ads that this tool creates are all you will ever need.
Just look at this:

It's a simple 7-step process that doesn't even require having your own images. You can paste a link and source them from your supplier.
Here's a little video I made in literally 60 seconds. That's 1 MINUTE! Imagine what would happen if you spend 3 minutes creating the video. 😱
Audience Builder
The Sell The Trend Audience Builder is one of the simplest tools you can use to find your target dropshipping audience.
Let's say you're selling a pet product or a product for pet dogs to be more specific.
If you type in "Dogs", Sell The Trend shows you everything you'll need to start your Facebook ads dropshipping campaign.
List of interests to target:
A list of websites and pages your audience follows or likes:
A list of public figures these people follow and adore:
And more.
As a result, all of this information can help you determine who is most likely to buy your product. By doing so, you end up wasting less of your dropshipping budget.
Engagement Rating Calculator
The Sell The Trend rating calculator is a unique tool that lets you know whether a particular influencer is worth partnering with.
It lets you analyze the accounts of influencers on TikTok, Instagram, and Twitter. Here is an example of how it works:
Sell The Trend Pricing
To keep things simple, Sell The Trend has only one pricing model where they give everything they have inside. It costs only $39.97/month to get access to all of their features, resources, and courses.
BONUS: What's The Best Course To Learn Dropshipping?
Although, you can actually save quite a bit of cash if you pay yearly. This way, Sell The Trend costs only $32.97/month with the two first months being completely free.
Is Sell The Trend Legit?
At this point, it's widely known that Sell The Trend is legit. There is no doubt about this. The brand and its tools have been reviewed by other respected brands such as TrustPilot, Kasa Reviews, Dropshipping.com, and many others.
Sell The Trend Review – Final Verdict
If you don't want to waste years learning how to set up an online store, how to run it, how to find products that sell, and how to find suppliers – Sell The Trend has everything you'll ever need to avoid that.
It will literally allow you to start selling a great product on the same day you start your business.
Frequently Asked Questions About Sell The Trend
Q: What other tools or apps do I need to start selling online?
A: With Sell The Trend Shops, you do not need any other tools, services, or apps. Everything you will ever need is inside your Sell The Trend dashboard.
Q: How do I get paid with Sell The Trend
A: Sell The Trend is partnered with Stripe, Paypal, and other payment gateways so that you can easily withdraw your earnings.
Q: Are there any tutorials on how to use Sell The Trend?
A: Yes, every one of their tools and features has an explainer video showing you how to take full advantage of it.
Find answers to even more questions related to Sell The Trend here.