BigBuy Dropshipping: Review, Pros & Cons, and How to Start
by
Aleksandra -
Aleksandra teaches marketing and management at various levels in High School. She writes about marketing, the economics and logistics of the dropshipping business and ecommerce in general.
Chief of Content Marketing
You probably already know that choosing the best dropshipping supplier for your online store is far from easy. But this is something you will have to address at some point if you are looking to enter the dropshipping industry.
How many suppliers have caught your attention recently? Is BigBuy one of them?
If so (and you want to learn more about BigBuy dropshipping,) you have come to the right place. In this article, our aim is to help you determine whether you should start dropshipping with this company.
BigBuy dropshipping: What kind of business is BigBuy?
BigBuy is a wholesale and dropshipping supplier based in Spain, and Europe. Since its launch in 2012, this B2B company has been supplying businesses of all kinds with products across many different categories.
This multi-product supplier sells to traditional stores, wholesalers, and distributors.
But it is mainly focused on e-commerce, meaning that it works with online merchants who are willing to resell its products through online marketplaces or their own online stores.
Again, BigBuy offers dropshipping services. And this means that you can have all of the company's stock at your disposal without having to own a warehouse or keep any inventory.
If you are still unsure whether working with this supplier can benefit your business, read our comprehensive BigBuy dropshipping review below and make yourself familiar with the pros and cons of dropshipping with this supplier.
👉 Check out the 10 General Dropshipping Store Examples To Inspire Yours.
Lifetime deal: Get all-access to everything on Dropshipping.com
Access all DSCOM features, resources, courses, live workshops, discounts, winning products, weekly deep dives, directories and all future updates under all-in-one dropshipping HUB.
DROPSHIPPING IS A REAL BUSINESS, DON'T DO IT ALONE. 4553 MEMBERS ALREADY JOINED. YOU CAN PAY OFF YOUR SMALL INVESTMENT WITH JUST 2 SALES ON YOUR STORE.
Grab the deal before it's gone
Pros & cons of BigBuy dropshipping
We have spent a huge amount of time analyzing each aspect of choosing BigBuy as a dropshipping supplier. And our list of pros and cons should enable you to make the best decision for your business.
So, instead of being afraid of making the "wrong" decision, keep reading. Also, make sure you know what the most common dropshipping mistakes are.
Plus, follow some general dropshipping tips in order to become a better dropshipper.
Pros
• All-in-one supplier
BigBuy provides you with everything you need in one supplier. By getting involved with this supplier, i.e., by starting BigBuy dropshipping, you will get access to thousands of products across many categories at competitive prices. Of course, most of its products are always in stock.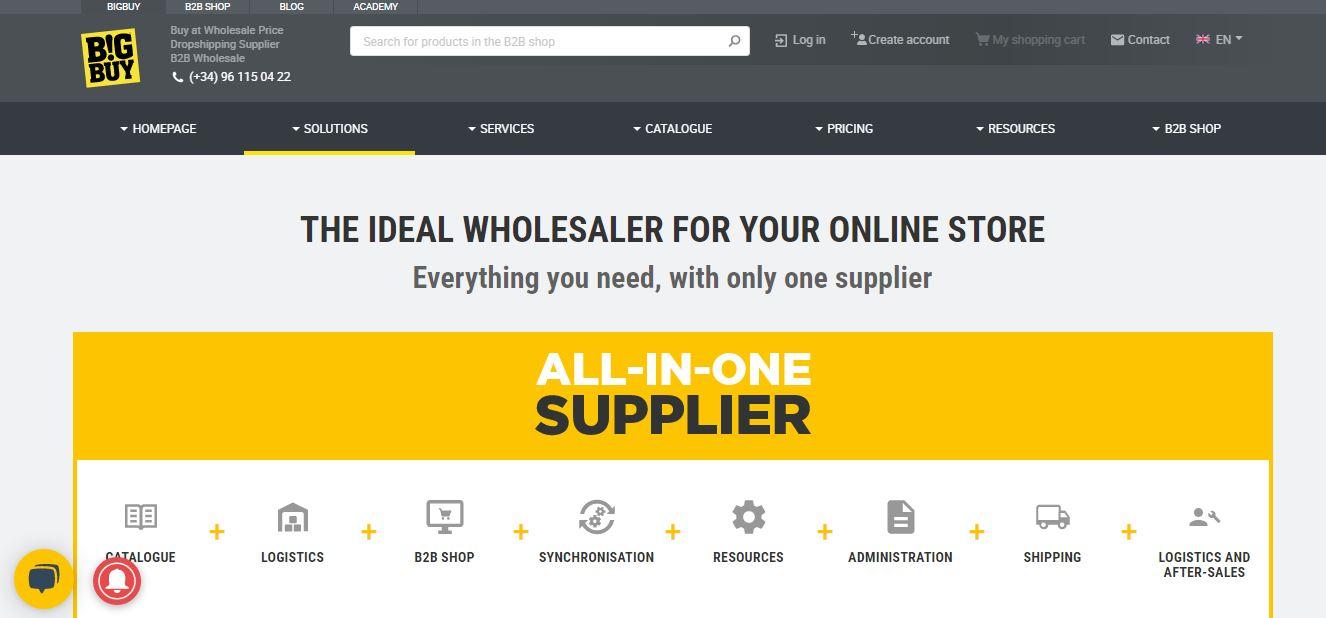 Furthermore, this supplier offers urgent shipping to almost all countries worldwide. And its product catalog is translated into 24 European languages, including English, Spanish, Italian, German, French, Russian, etc.
This allows you to make things easier for your customers, improve accessibility, and inspire more trust.
And if your goal is to target the European market, this all-in-one supplier might be just the right thing for what you need.
• Multi-channel integration platform
With BigBuy dropshipping, you can also take advantage of its multi-channel integration platform. But what does this mean?
Well, BigBuy helps you centralize the management of your dropshipping activities and sell via different sales channels from one platform.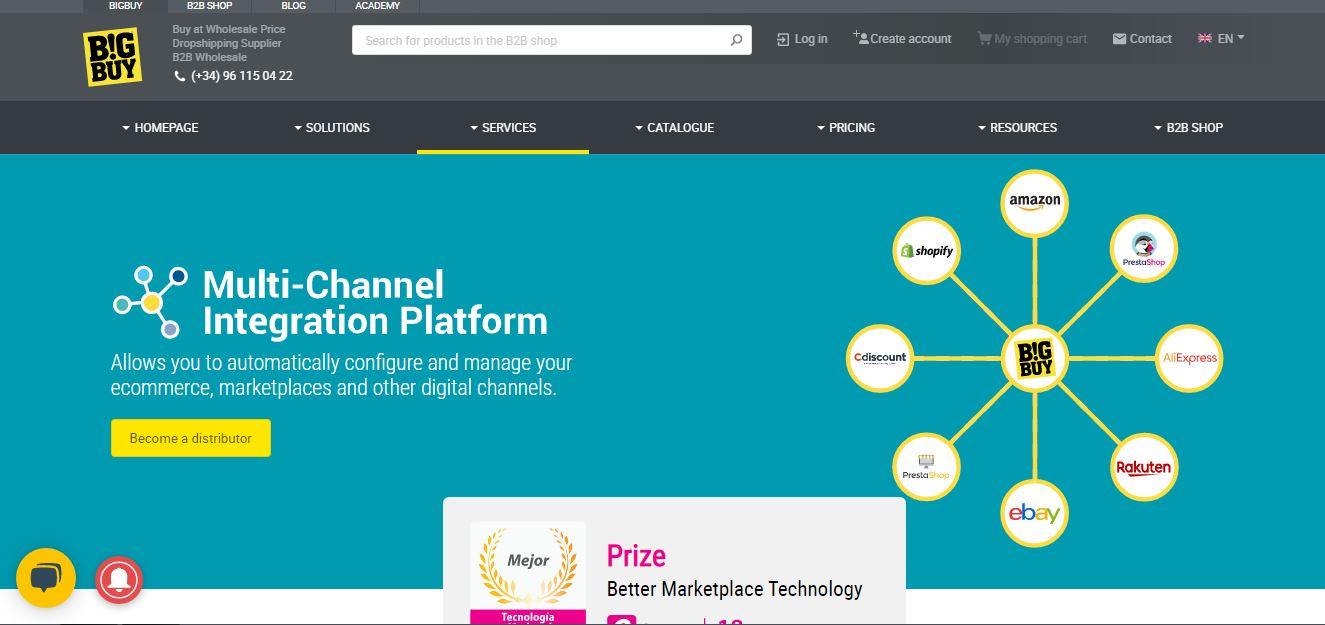 In short, you can manage all your orders from just one platform, regardless of whether you are selling on an online marketplace or through your own dropshipping store powered by some of the biggest and most popular ecommerce platforms. (We will talk about that in a minute.)
This can increase your chances of getting as many customers and sales as possible.
• 360° Dropshipping Shop
BigBuy's 360° Dropshipping Shop provides everything you need to sell online. With it, you can start your dropshipping business without having to worry about any technical aspect.
It is a comprehensive, turnkey solution tailored to your business needs and synchronized with BigBuy.
Not only will it be ready in 2-5 days, but it is also fully optimized for conversion with a multitude of dropshipping automation tools. This can greatly increase your dropshipping conversion rate.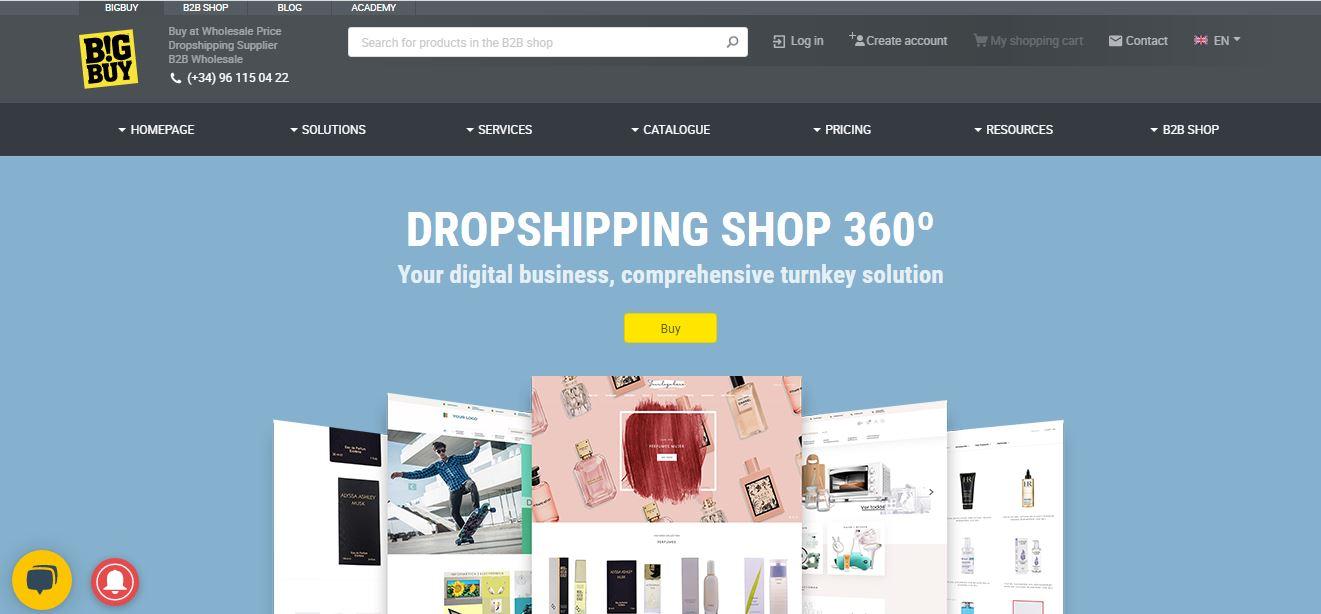 But do you really need a turnkey solution when you can create a dropshipping store yourself? It depends on your needs and preferences.
For instance, if you have weak technical skills and do not want to waste time creating an online store, BigBuy's 360° Dropshipping Shop may be a good option for you.
But the bad thing about taking this route is that you may have to compete with many other dropshipping stores similar to yours.
However, by following the best dropshipping marketing practices, you may be able to stay ahead of the pack.
Cons
• Fees
Having to pay fees may be one of the main disadvantages of BigBuy dropshipping.
Namely, to start dropshipping with this supplier, you will have to pay two types of fees – registration and a monthly fee. (Also, we will cover this topic in more detail later.)
However, the benefits do outweigh the costs. Just read on!
BigBuy dropshipping review
Now, let's focus on this supplier's products, shipping policy, return policy, etc.
1. Products
This dropshipping supplier boasts an extensive catalog of products across many categories like:
Home & garden;
Computers & electronics;
Health & beauty;
Perfumes & cosmetics;
Fashion & accessories;
Sports & leisure, etc.
Plus, with new items being added daily, BigBuy makes it easy for you to expand your product offerings.
BigBuy dropshipping also gives you access to wholesale prices including for single units, which can be great for dropshipping. This may also result in good dropshipping profit margins.
2. Shipping times
This Spanish dropshipping supplier does not place limits on itself as it wants to make its mark in the e-commerce world on a global scale. The company offers worldwide shipping, but it mainly ships to Europe.
In addition, it works with urgent carriers that can contribute to fast shipping times. Most orders are processed and shipped within 24-48 hours.
Also, thanks to this supplier's shipment tracking software, your customers can get real-time tracking and check the delivery status of their orders.
Here's the ultimate list of the Best Dropshipping Software for 2023.
3. Returns
BigBuy has a refund & return policy that clearly states that it does not accept returns in case a product is delivered in perfect condition to your customer but your customer changed their mind once they received the product.
You, as a dropshipper, should not accept the return in such a case. Otherwise, it will be your responsibility to deal with that issue.
However, BigBuy accepts returns of wrong products. And it will be BigBuy's responsibility to cover the shipping costs, provided that you inform the supplier about the issue within 48 hours of delivery.
Another important thing to mention here is that in some cases, if your customer asks for a return (a low-cost product) because the product arrived in bad condition, BigBuy is more likely to refund the money to your customer instead of sending a new product to them.
Check out our previous article about how to deal with dropshipping returns.
4. E-commerce platform & marketplace integrations
BigBuy always strives to integrate new sales channels into its Multi-Channel Integration Platform mentioned above.
And as you can assume, with BigBuy dropshipping, you can sell on various online marketplaces like Amazon, AliExpress, eBay, Rakuten, and many more.
What's more, you can also sell through your own dropshipping store hosted on Shopify, WooCommerce, PrestaShop, and Magento.
Again, thanks to its Multi-Channel Integration Platform, you can manage all these sales channels from one platform. And it is no more complicated than that!
5. Pricing
As you can see in the picture below, BigBuy has three pricing plans.

Choose the one that is most suitable for you:
Ecommerce Pack: A registration fee of €90.00 & a monthly fee of €69.00; Keep in mind that the Ecommerce Pack is ideal for you if you want to source products from BigBuy and resell them through your own online store. With this pricing plan, you can take advantage of unlimited dropshipping shipments; e-commerce software connectors; API for products, orders, carriers, & tracking; the Multi-Channel Integration Platform; and so on.
Marketplaces Pack: A registration fee of €90.00 & a monthly fee of €99.00; As its name implies, the Marketplaces Pack is perfect for you as long as you want to sell BigBuy products on online marketplaces. Why? Because once you have activated it, you can get access to the marketplace connectors of your choice.
B2B Pack: A registration fee of €45.00 & no monthly fee; This pricing plan has certain limitations. It involves up to 3 dropshipping shipments per month. So, it is not the best option for you as you are about to become a dropshipper.
How to start dropshipping with BigBuy
Interested in BigBuy dropshipping? You can start dropshipping with this supplier in no time because doing so is pretty easy.
First, you need to hit the yellow "Register for free" button to create an account.
Once you have provided some information about yourself and your business, i.e., created your account, you need to choose a pricing plan based on your needs.
Final thoughts
Looking to target the European market and find an EU-based dropshipping supplier carrying general merchandise?
Then, BigBuy may be the most promising dropshipping supplier to partner with.
With BigBuy dropshipping, you may be able to sell literally wherever you like and have good dropshipping profit margins.
Sure, money is not everything. Still, for many new e-commerce entrepreneurs, it is the top priority.
Join the only community and resource hub you'll ever need to succeed with dropshipping
Find winning dropshipping products, learn marketing, download templates and engage with real dropshippers
Never pay for a "guru's" course again. See why 4543+ dropshippers joined us this year!
💡Try DSCOM Hub Now
Top BigBuy Alternatives