The Top 10 Products To Dropship In July 2023
by
Aleksandra -
Aleksandra teaches marketing and management at various levels in High School. She writes about marketing, the economics and logistics of the dropshipping business and ecommerce in general.
Chief of Content Marketing
Your dropshipping store's success is dependent on you and your ability to select winning products from your dropshipping niches. Once you've decided on a niche, you must carefully pick the best products to dropship to maximize your profits.
As July is knocking on your doors, customers' needs change too. Hello Summer, hello vacay, hello beach!
Of course, there will be a variety of different products that will be demanded, instead of ordinary work office, home décor, and basic clothing stuff. It's time for freshening and coloring.
But if you still have no idea about what is your win-win choice for the upcoming month, don't worry! We got your back!
We offer you an overview of the Top 10 products to dropship in July this year! Let's take a look.
10 Best Products To Dropship In July 2023
In this article, I will go over the top ten products to dropship in July, along with a detailed breakdown of each item.
I will also analyze sales potential and show you how to expand your dropshipping store.
Plus, if you need reliable dropshipping suppliers, read about Sellvia Review: How It Works and Is It Worth It In 2023?
1. Swimwear
The swimwear market is expected to grow by $6.63 billion between 2021 and 2026. During the forecast period, the market is expected to grow at a CAGR of 6.43%.
There is a variety of swimwear types, starting from one-pieced to two-piece swimsuits, but the most desirable this year are:
Cutout One-Piece
Halter Longline Bikini
Leopard Bikini
Classic Triangle Bikini
Crochet
Strappy Ties
Cut-outs
Barely-There Bikinis
Sparkly Swimsuits
If you choose to dropship swimsuit, you need to know that your target market consists mostly of women, aged between 18-24 years old and 25-44 years old.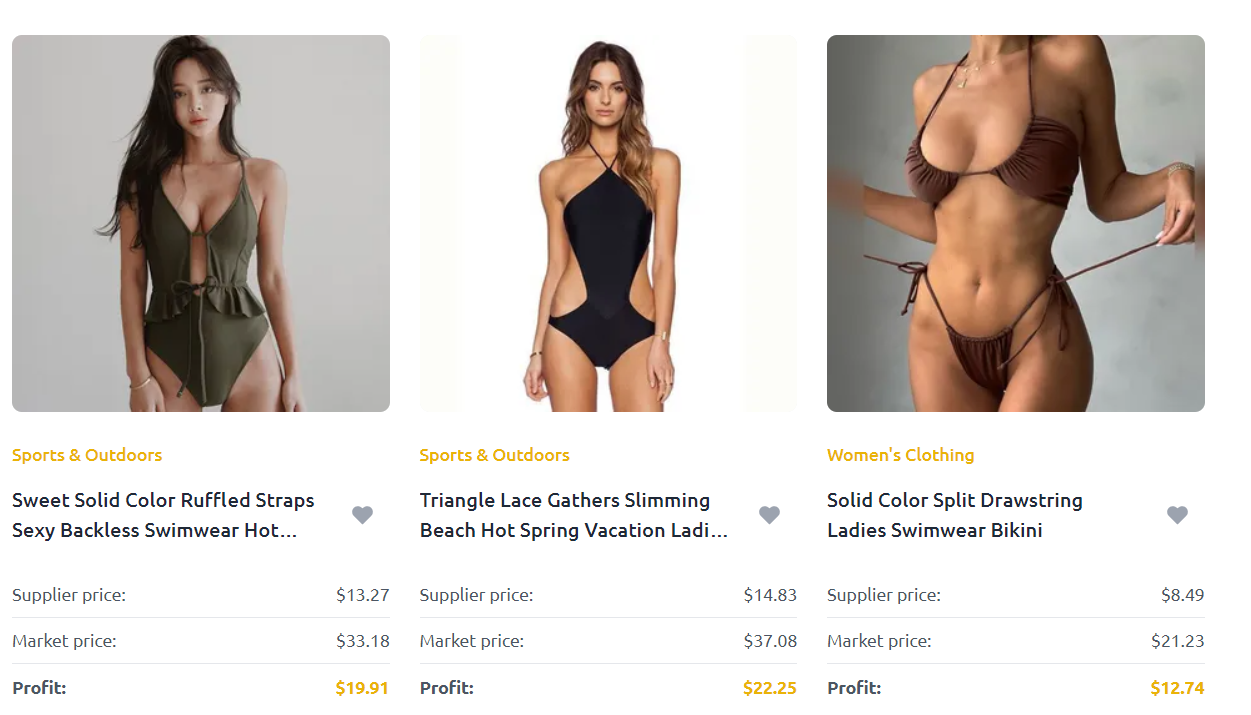 Profit margins vary from 60% to 80%, which is high.
Customers seek different types of materials for a swimsuit, like polyester, nylon, and spandex. But most demanded is polyester. As quality and material are very important to customers, you need to choose your dropshipping suppliers very carefully. Leading suppliers in this niche are:
Nordstrom
WorldWide Brands
Kiefer
Wholesale Central
Lovely Wholesale
AliExpress
CN Bikinis,
Alibaba
2. Sunglasses
Sunglasses are a highly profitable and rapidly expanding industry, making them an excellent choice for dropshipping.
In 2023, according to Statista, revenue in the Sunglasses market is expected to be $23.42 billion. The market is expected to grow by 5.82 % per year (CAGR 2022-2025).
This year, customers' demand for sunglasses is colorful! Instead of looking for sunglasses which are black or brown, now they seek a variety of colors, like pink, purple, blue, white, yellow, red, and many more! Types and brands of sunglasses that you might what to dropship are:
Vintage retro gothic steampunk mirror sunglasses
Small rectangle Sunglasses
Classic retro rivet polarized square-framed sunglasses
Classic retro rivet polarized oval-framed sunglasses
Oversized big sunglasses
Vintage gold sunglasses
Triangle cat-eye flame style sunglasses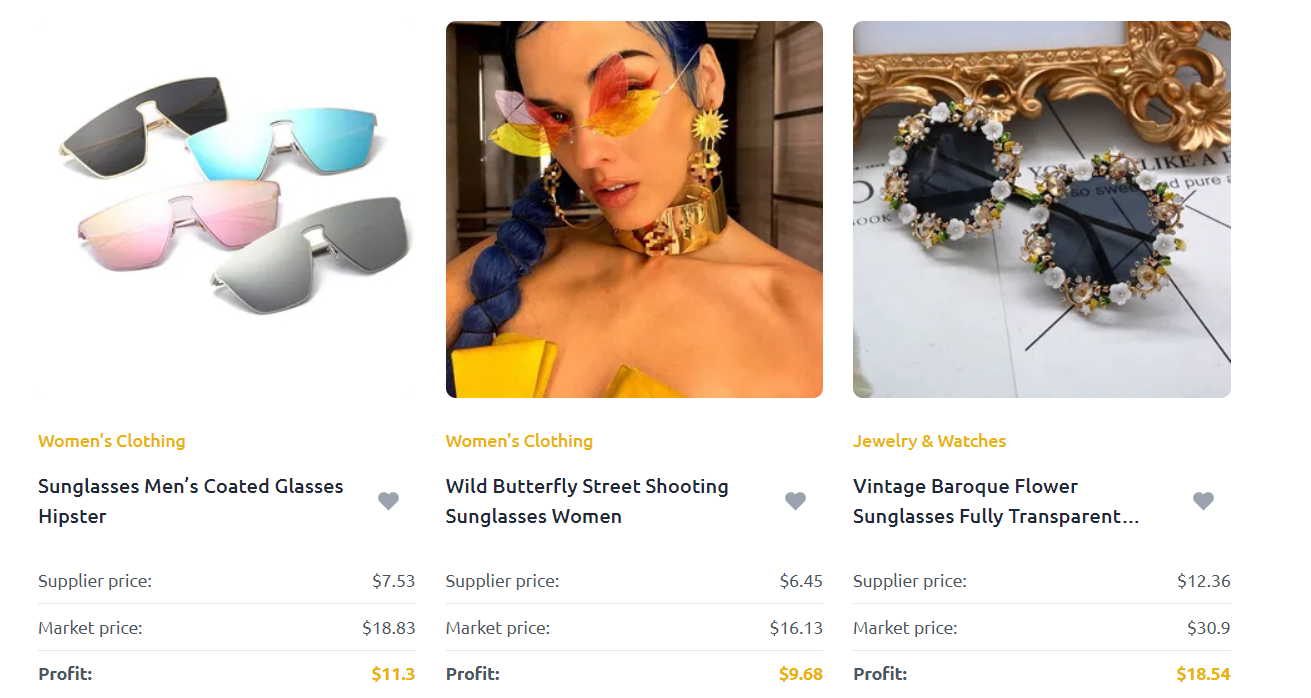 Profit margins of sunglasses vary from 40% to 70%. The target audience for sunglasses is men and women, aged between 18-35 years old. They buy sunglasses as a fashion accessory and as sun protection.
BONUS: Check our mens fashion dropship guide and top suppliers list.
Dropshipping.com offers you a wide range of suppliers for dropshipping sunglasses. But, we recommend you take a look at these popular suppliers :
Miami Sunglasses
SaleHoo
CJDropshipping
AliExpress
Alibaba
3. Inflatables
Inflatable pools are one of the best-selling items in July and are very suitable for your dropshipping business.
In 2019, the global inflatable pool market was worth USD 1.85 billion. It is expected to grow at a CAGR of 7.2% between 2020 and 2026.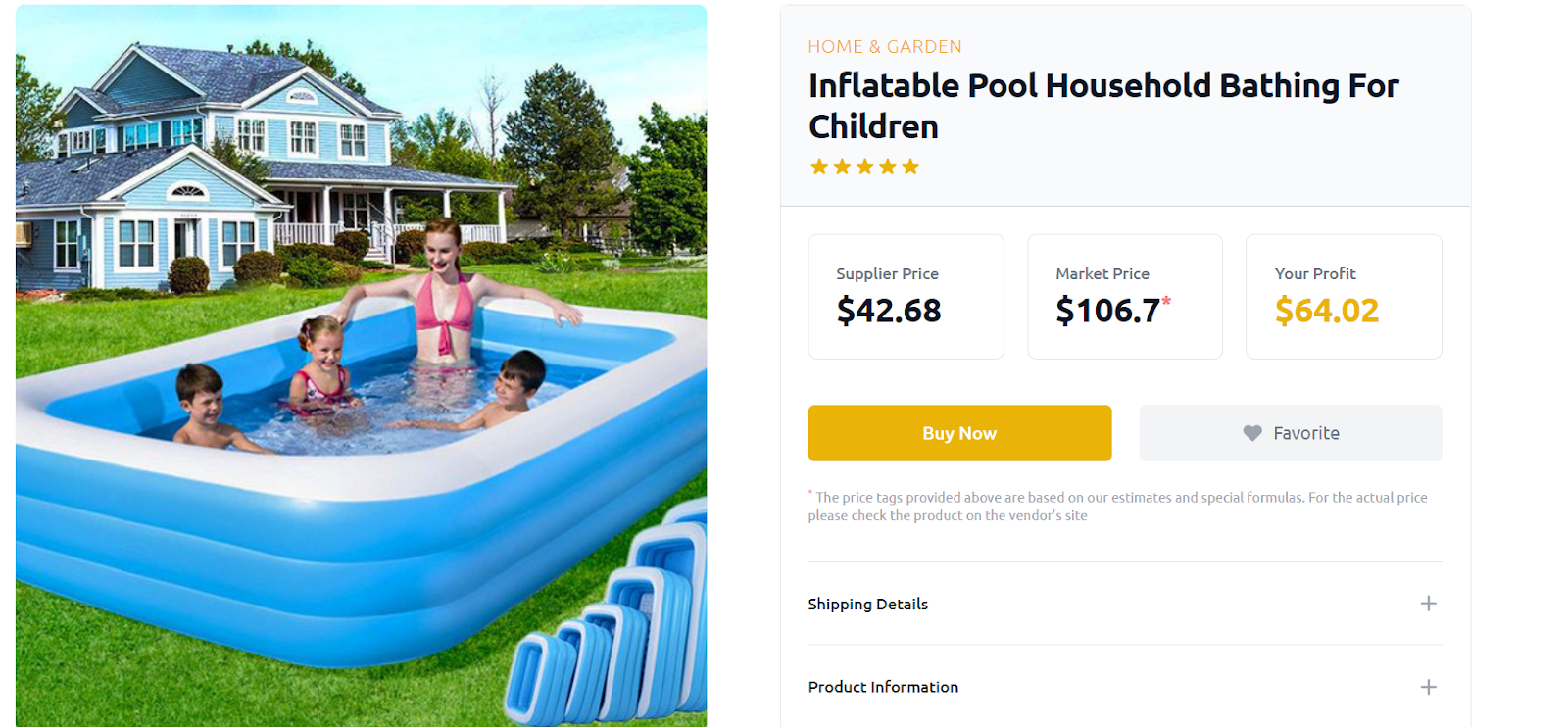 Inflatable pools are sold in a variety of shapes, like, round, rectangle, square, or oval, for a person of ages around 4 years old, from 5 to 10 years old, and 11 and above.
Nowadays most demanded pools are the ones for kids around 4 years old with round shapes.
Costs vary from $10,50 to $100. Selling prices are around $29 to $245. Profit margins are around 50% to 60%.
👉 Read about How to Sell Plants Online in 2023 – Step-by-Step Guide.
4. Electric Rotating BBQ Grill
The American barbecue grill market is expected to be worth approximately $2.75 billion in 2023.
Barbecuing is extremely popular during the summer and holidays. The 4th of July is the most popular holiday for grilling. So, if you think about dropshipping this product, it might be a smart idea.
Costs for a BBQ grill vary from $20 to $80, selling prices are around $40-$145. Profit margins are around 50% to 60%.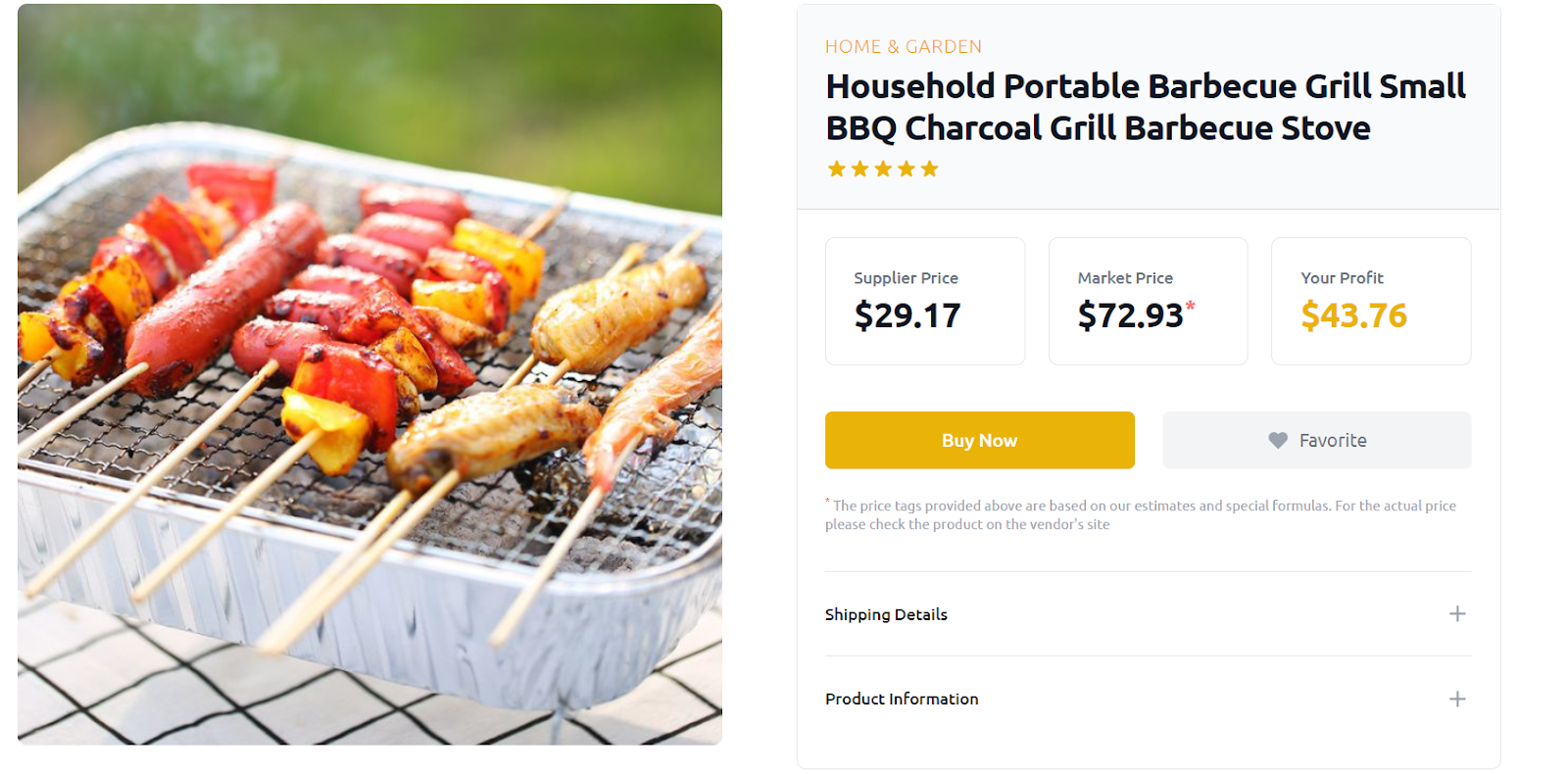 Quality and functionality are very important when it comes to the dropshipping BBQ grill. You must choose trustworthy suppliers. Leading dropshipping suppliers of BBQ grills are:
BBQ Grill Supplier
LongBank
Aliexpress
Alibaba
Greendropship
Jutianyue
If you want to discover more suppliers, we offer you a huge list of them with our premium plan
5. Beach Umbrellas And Tents
Beach Umbrellas and Tents market is expected to grow rapidly this season because COVID is calmed and July is a month for relaxation and vacation.
If you plan to sell beach umbrellas or tents consider the different sizes, colors, and protective power of each. Small tents should take place for at least 4 people, while big ones for 10-15 people. This one is most desirable.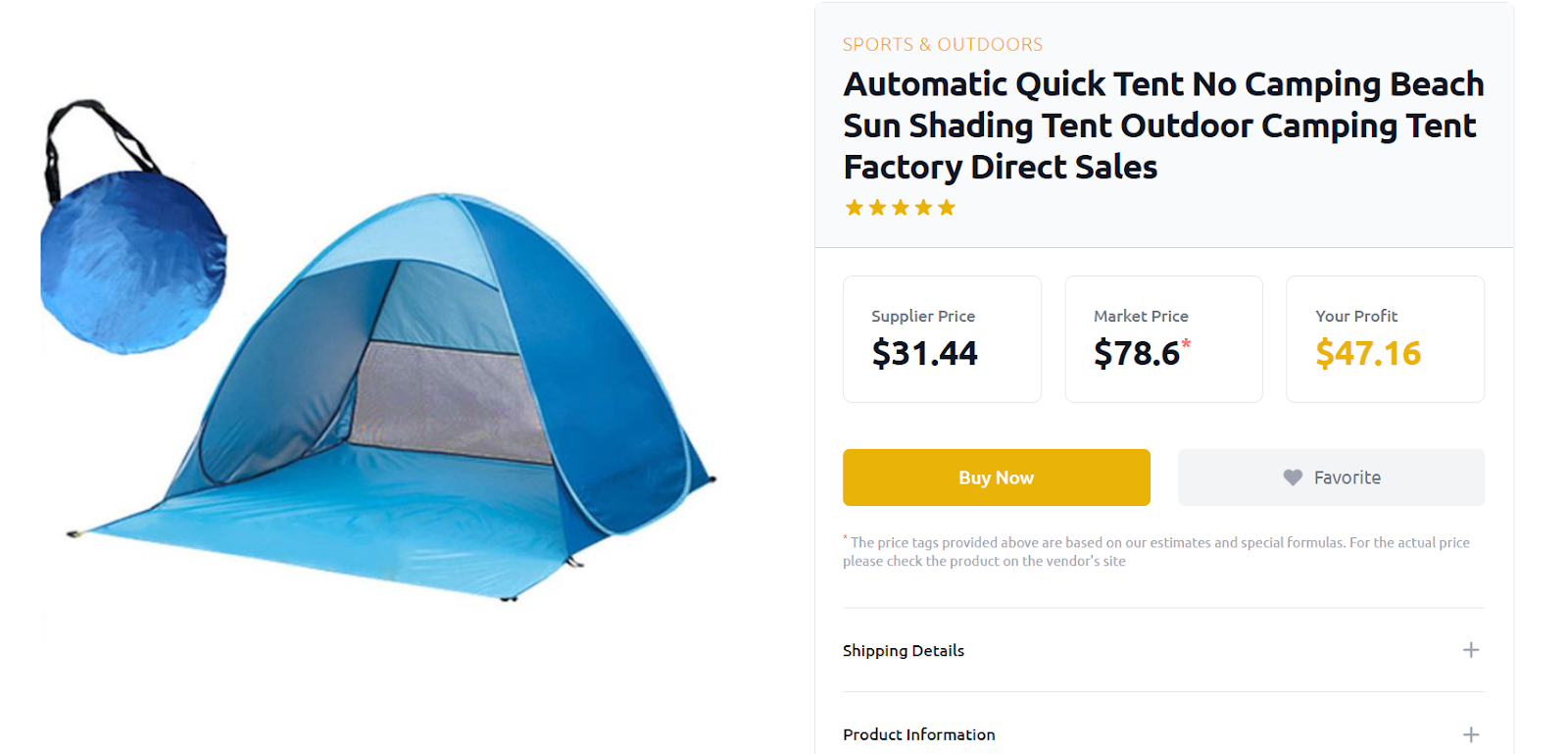 The selling prices of these products vary from $6 to $59, depending on the size and quality. Profit margins reach levels of 60%, which is very good for your dropshipping business.
Dropshipping suppliers you should consider checking out:
Atlantic Coral Enterprise
Beach store
Dhgate (check our full DHgate Review)
Alibaba
Bellavisions
👉 Check out the 10 Best Dhgate Sellers In 2023 & How To Pick The Best One?
6. Large Capacity Backpack
People use large capacity backpacks mostly when they pack for holiday and want to collect more stuff or mountain climbing.
July is a month for taking a rest from the routine and giving yourself a break, and this item has shown sales rise this month, over the past year. This trend is continuing, and it is a great opportunity for dropshippers who want to expand their business and sales!
Costs for large capacity backpacks vary from $10 to $60, and selling prices are between $25 to $140. This product's profit margins are around 60%.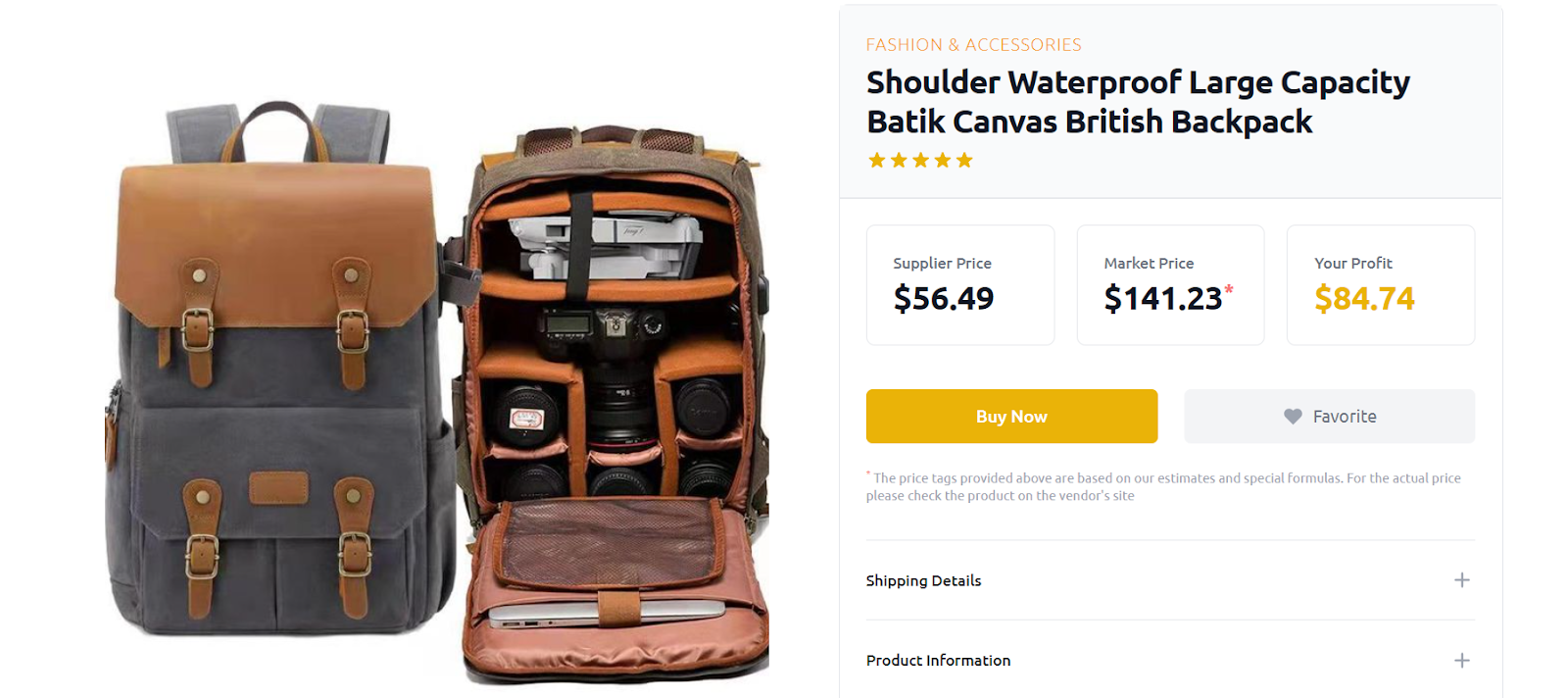 We recommend you a list of dropshipping suppliers for a large capacity backpack, that can offer you quality:
J.D Backpack Factory
Alibaba.com
Youccoo
Luggage Factory
7. Floral Dresses
Floral dresses are becoming not just a fashion trend, but basic clothing for women! But this is the season that this item is mostly demanded, and if you haven't dropshipped it yet, you better start quickly!
Floral dress costs vary from 3 to 30 dollars. Average sale prices of this type of product are between $6 -55 USD. Profit margins are between 40- 60%.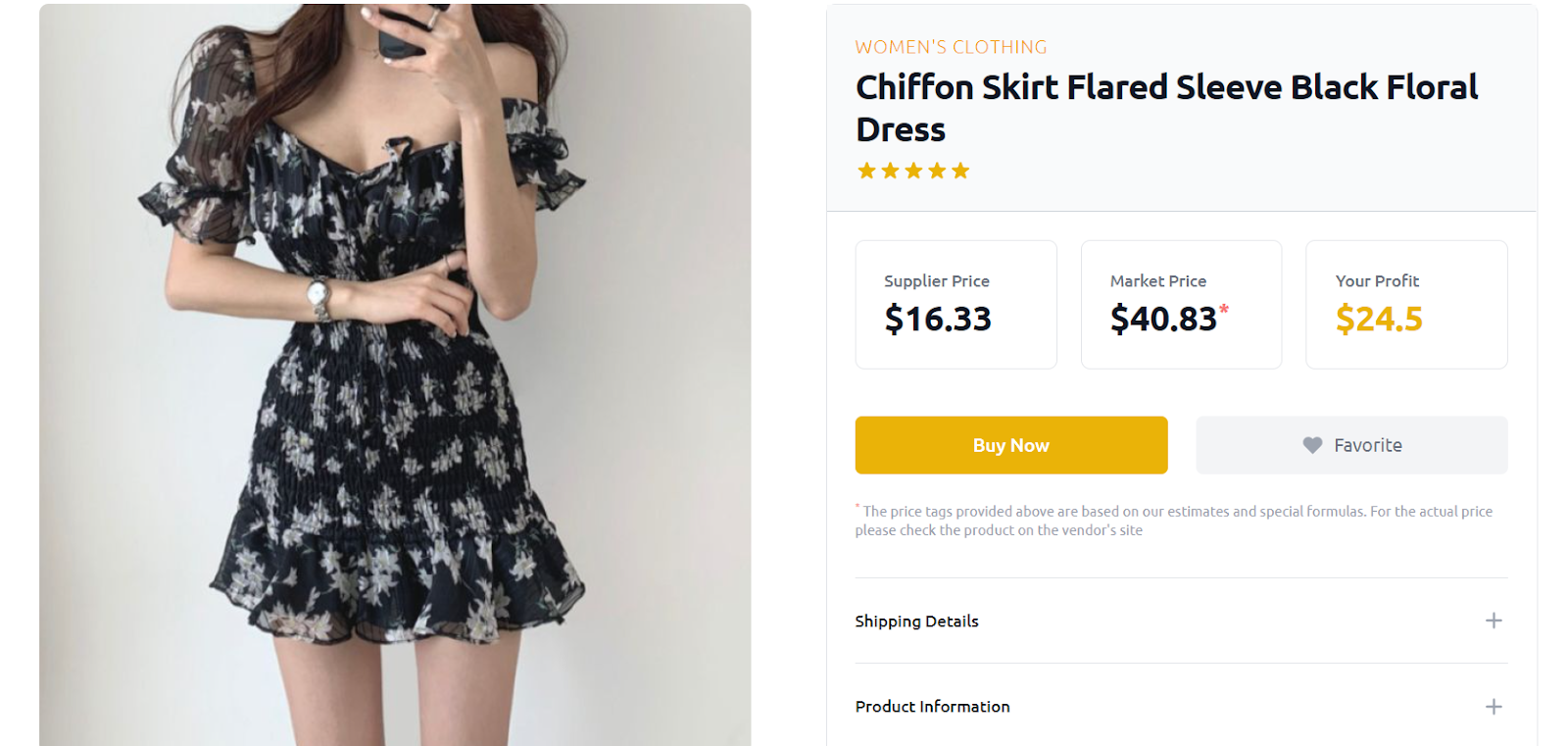 Women aged between 18-24 and 25- 34 years old make the greatest base of customers, for this type of product.
Dropshipping.com offers you a great base of dropshipping suppliers for floral dresses.
8. Sunhats
And here we have, another perfect product for dropshipping this month- Sunhats!
Sunhats are mainly demanded by customers as sun protectors, but also as a fashion accessory.
If you consider dropshipping this product, have in mind that today being colorful is a trend, so instead of including just the basic brown sunhats, include some colors in your offers!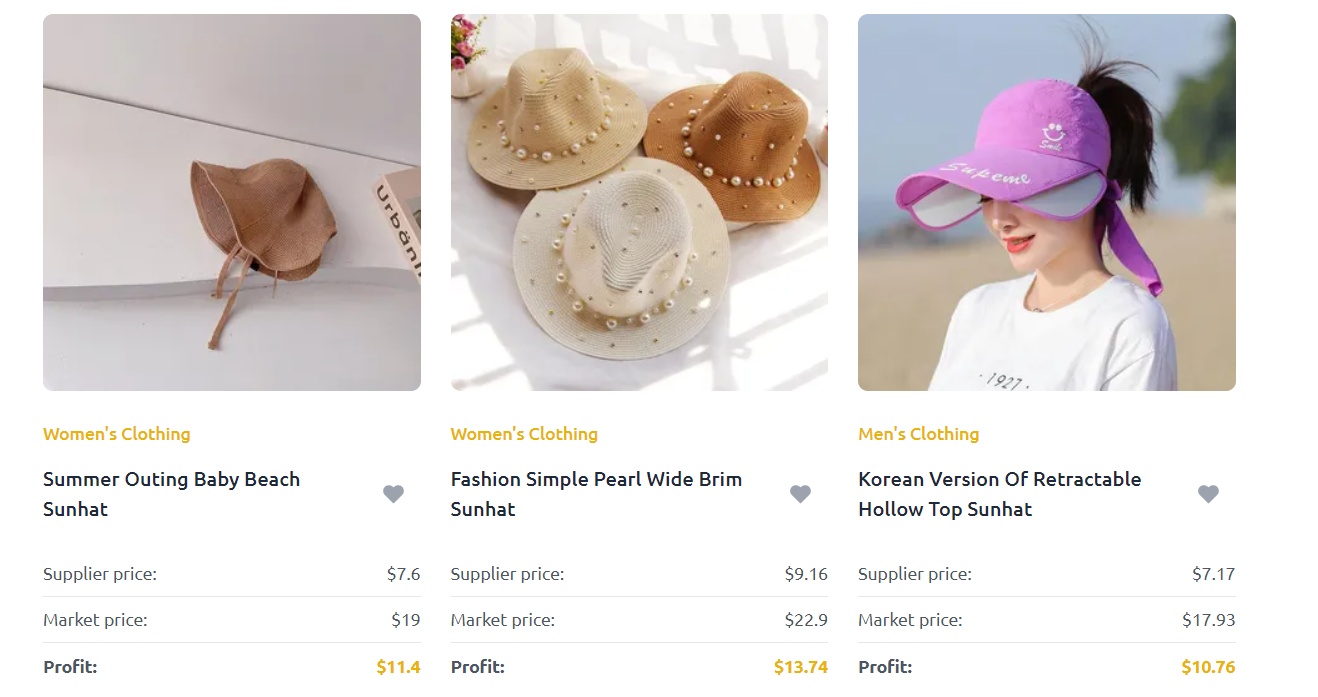 Sunhats for men, women, and kids! All of them are selling very well. Profit margins for these products are also a good reason you should consider starting dropshipping them! They vary from around 60%-70%.
Popular dropshipping suppliers for sunhats are:
Doba
Sellvia
Alibaba
Aliexpress
Cjdropshipping
Contrado
9. Skincare products
The skincare product market has been growing substantially in recent years. In 2023, the value of the skincare market is estimated at $135.83 billion.
For warmer days in July, mostly sold skincare products are sunscreens. Customers also demand moisturizers, serums, and masks that contain vitamins C and E. Also, there is high demand for light moisturizers which are not oil-based.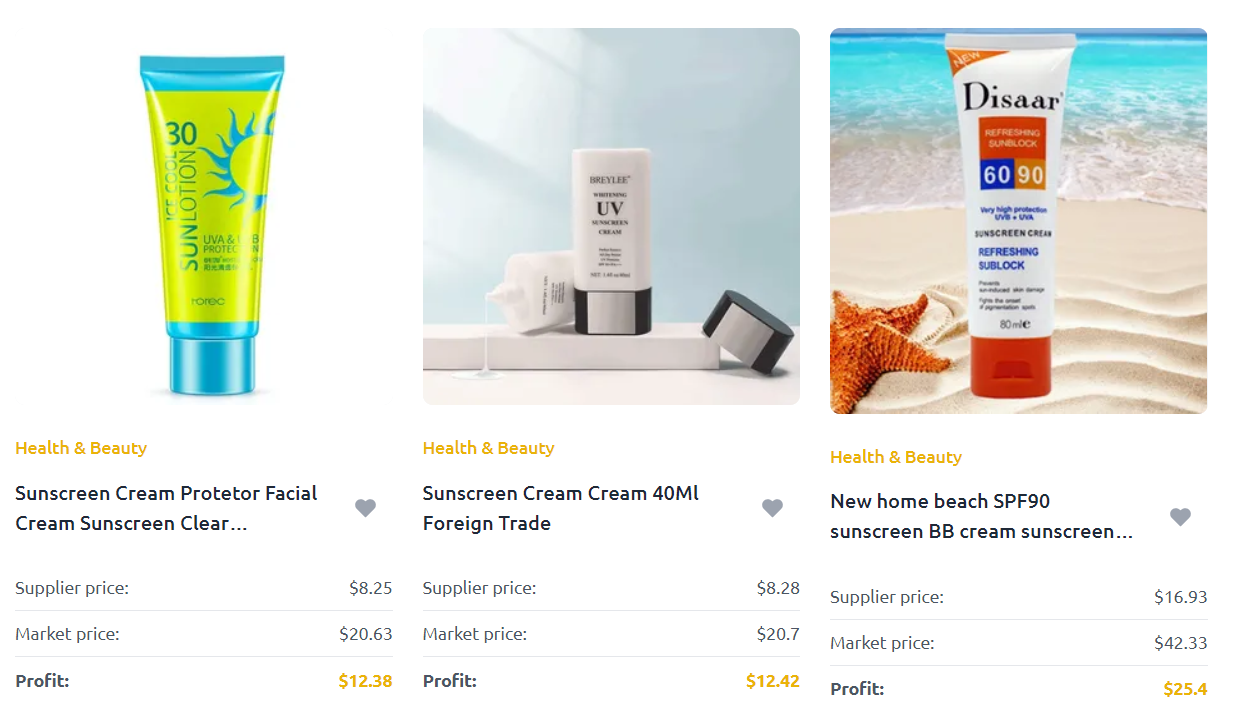 One of the most popular dropshipping suppliers today are:
Nordstrom
Alibaba
BigBuy
Beauty Joint
Bestfulfill, etc.
The target audience of the skincare products is millennial women aged between 18-34 years old.
10. Portable fans
Portable fans are an ideal product for dropshipping in the hottest month of the year! Due to their practicality and usefulness, they are high-demanded products.
There is a variety of portable fans that are selling well, like:
Rechargeable Clip-On Fans
Handheld Fans
Neck Fans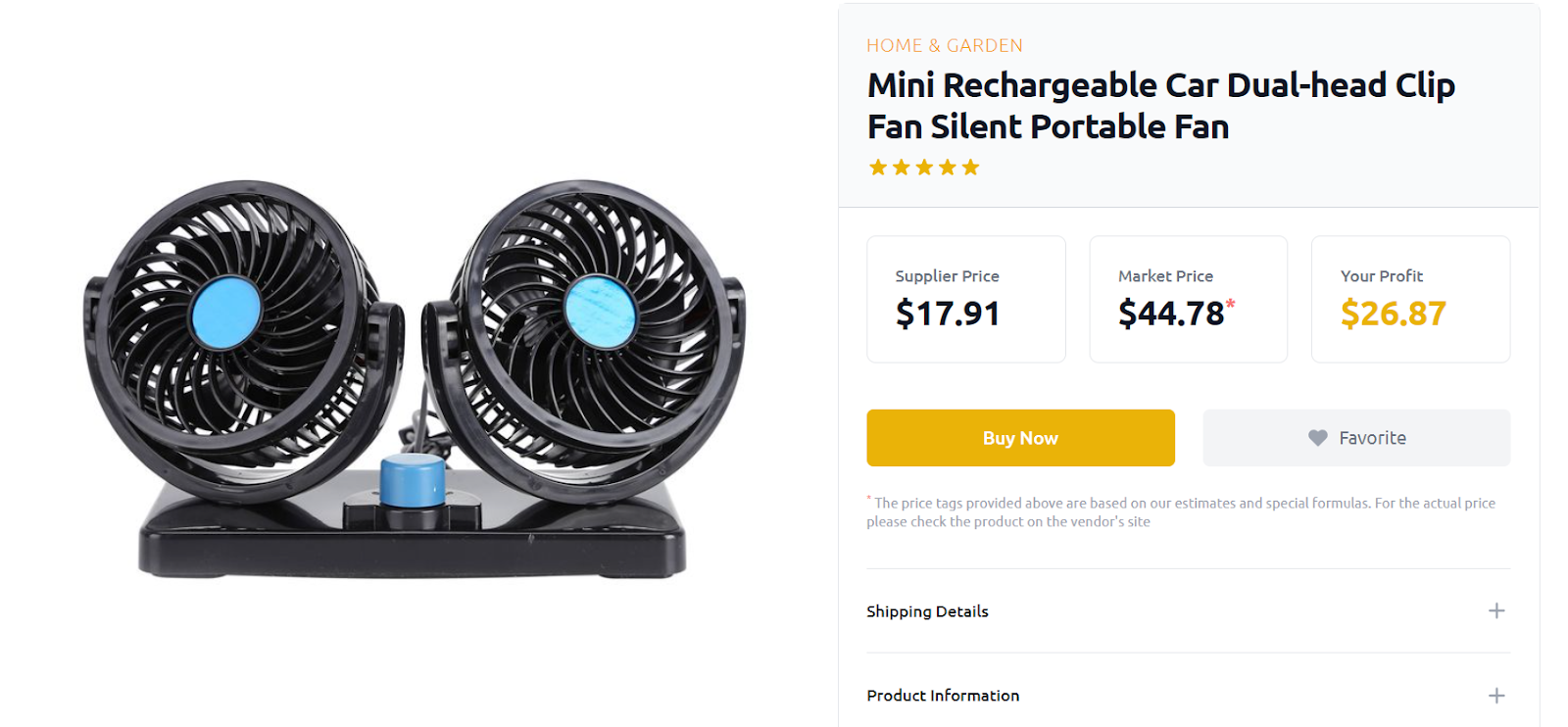 Costs of this product are around $9 – $30, and selling prices vary from $24- $70. This led to profit margins of around 50%-60%.
You should pay more attention to their variations, and track their performance, instead of just looking for different colors or sizes.
Join the only community and resource hub you'll ever need to succeed with dropshipping
Find winning dropshipping products, learn marketing, download templates and engage with real dropshippers
Never pay for a "guru's" course again. See why 4543+ dropshippers joined us this year!
💡Try DSCOM Hub Now
Lifetime deal: Get all-access to everything on Dropshipping.com
Access all DSCOM features, resources, courses, live workshops, discounts, winning products, weekly deep dives, directories and all future updates under all-in-one dropshipping HUB.
DROPSHIPPING IS A REAL BUSINESS, DON'T DO IT ALONE. 4553 MEMBERS ALREADY JOINED. YOU CAN PAY OFF YOUR SMALL INVESTMENT WITH JUST 2 SALES ON YOUR STORE.
Grab the deal before it's gone
Wrapping up the best products to dropship in July
As July is knocking on our dropshipping doors, we should start thinking about how to boost our sales this month quickly.
But Dropshipping.com is always here to save you! We offer you a list of the Top 10 products to dropship in July this year. And not just a list, but a detailed overview of each product. Take a look, make a decision, and start!