BDroppy Review: A to Z Look At The Fashion Dropshipping Platform
by
Martin -
Martin is an agency owner and SaaS projects maker. His work is featured in the leading ecommerce brands, magazines and podcasts. Talks about Marketing, Business Development, and Growth Hacking!
CO-founder at Dropshipping.com
Looking to break into the lucrative world of designer fashion dropshipping? A BDroppy review is all you need!
With over 100 designer brands and integration with the biggest ecommerce platforms, it is the perfect solution for tapping into the lucrative designer fashion market.
Interested in more information? Let's see how you can start dropshipping with BDroppy!
Quick BDroppy Review
Before we dive into our FULL BDroppy Review, here's a quick glance at our busy dropshippers.👇
The best
Integrates with the Most Popular Ecommerce Dropshipping Platforms

Offers a Multilingual and Multi-Currency Dashboard

Guarantees Quick Support

Offers Free Trial
The worst
No Custom Packaging

No same-day shipping option is available
Starting from
Social – $9/month; Plugin – $99/month; Plugin+ – $199/month
Lifetime deal: Get all-access to everything on Dropshipping.com
Access all DSCOM features, resources, courses, live workshops, discounts, winning products, weekly deep dives, directories and all future updates under all-in-one dropshipping HUB.
DROPSHIPPING IS A REAL BUSINESS, DON'T DO IT ALONE. 4553 MEMBERS ALREADY JOINED. YOU CAN PAY OFF YOUR SMALL INVESTMENT WITH JUST 2 SALES ON YOUR STORE.
Grab the deal before it's gone
What is BDroppy?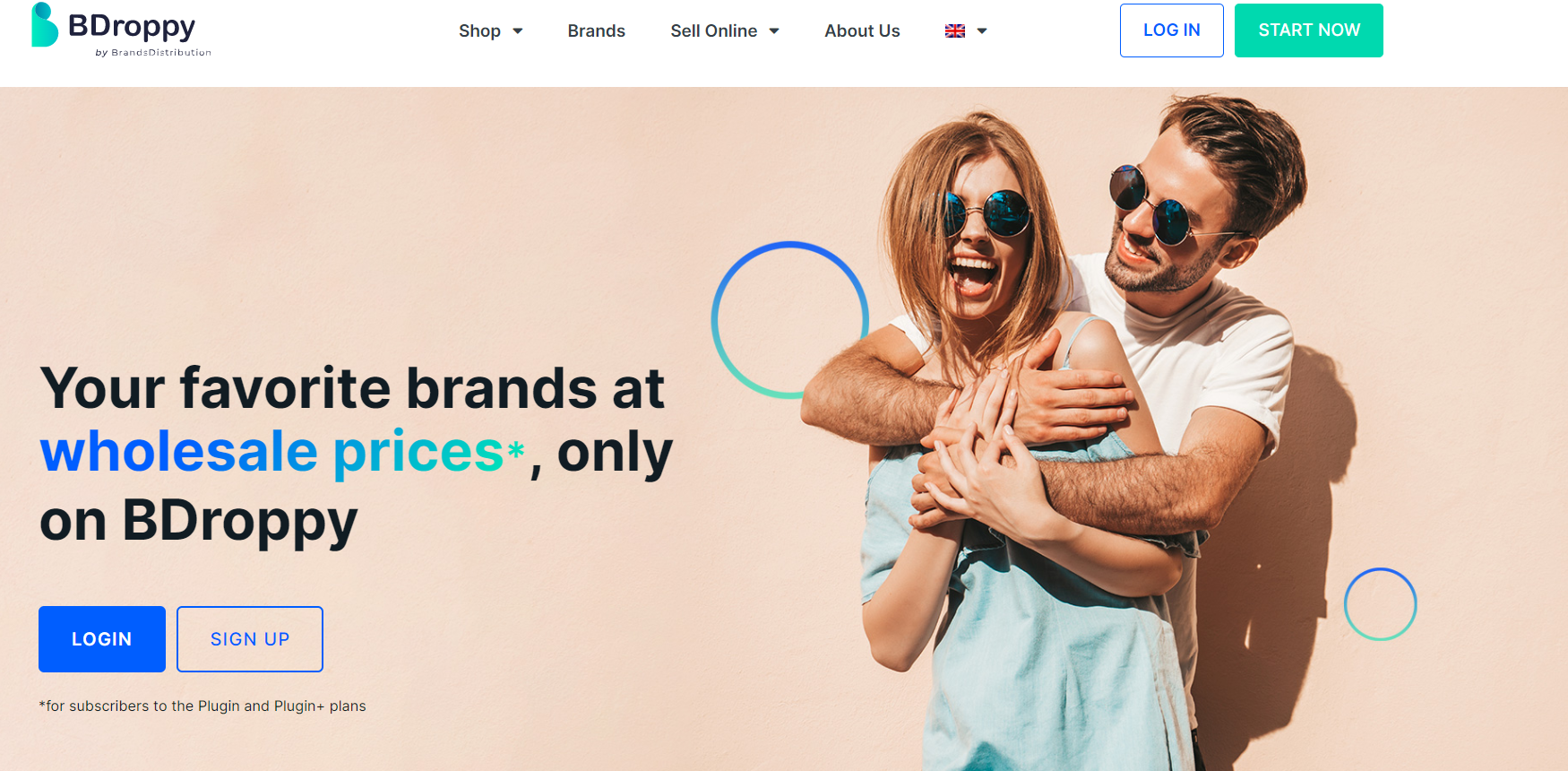 BDroppy is an extented platform of BrandsDistribution that offers a one-stop-shop solution for your business needs. Wondering how? It serves as your warehouse, fulfillment team, and shipping partner, all rolled into one convenient package.
But unlike other dropshipping platforms, which cater to a broader range of dropshipping niches, BDroppy is focused exclusively on the designer fashion market.
Thus, it has a catalog of over 100 brands, including
Armani Exchange
Calvin Klein
Dior
Guess
Nike
Gucci
Prada
That's why it is the perfect platform for those looking to tap into the high-end fashion market.
And the best part? BDroppy takes care of everything! From managing your inventory to handling the shipping process.
Thus, you won't need to worry about a thing, as they've partnered with top shipping providers like FedEx and DHL. This way, they ensure that your products arrive safely in over 50 countries worldwide.
👉Learn Branded Dropshipping: Best Practices for Building a Successful Brand.
Now, let's continue our in-depth BDroppy Review!
How Does BDroppy Dropshipping Work?

The process is pretty simple.
Thus, the first thing you need to do is register for BDroppy and set up your account. Just go to their website and click the button "Start Now" in the right upper corner. Thus, you will be redirected to their registration page. So, type in your personal information and create your account.👇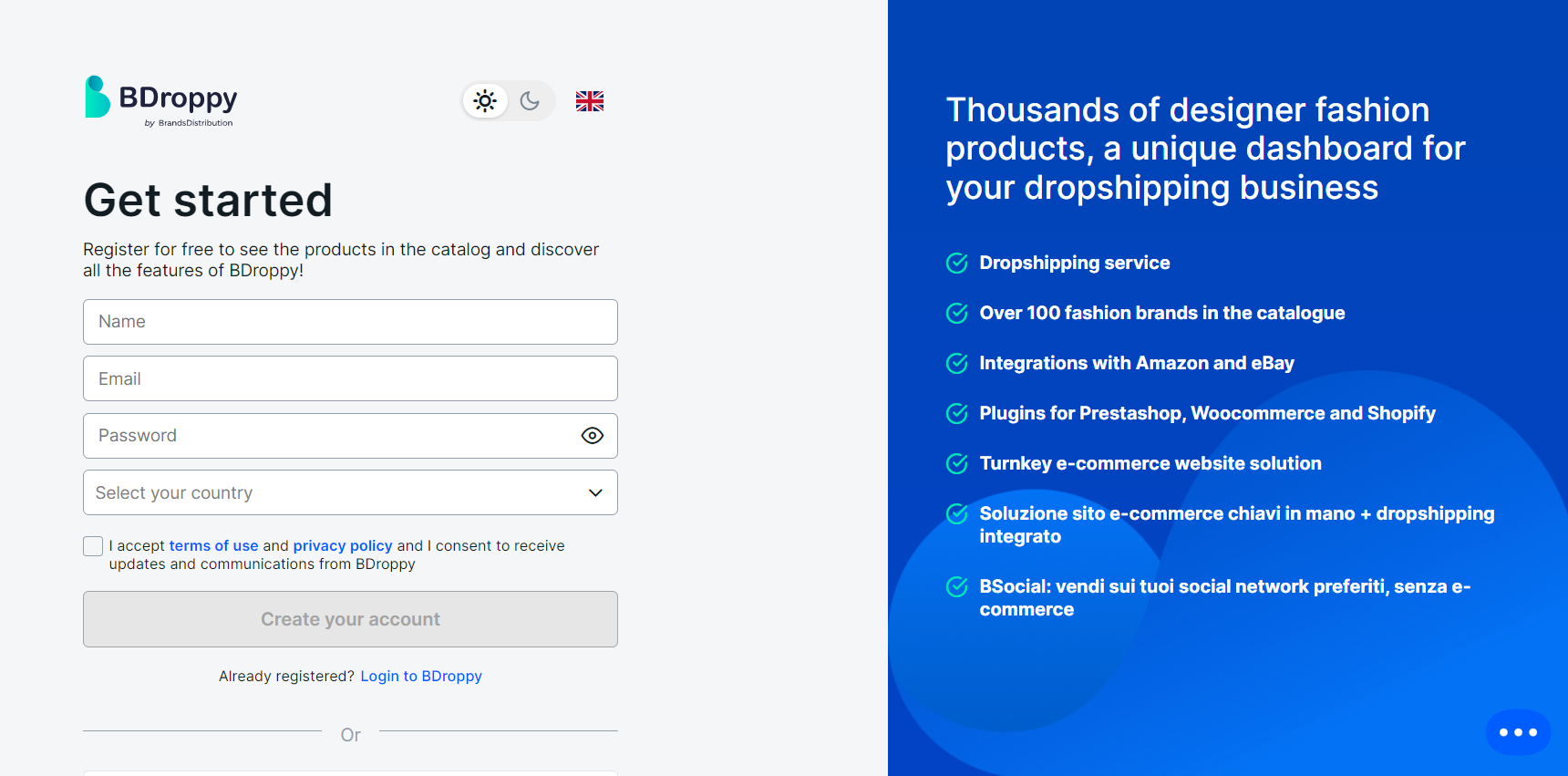 From there, you can easily select the products you want to feature in your catalog, choosing from over 100 designer fashion brands.
Once you've built your catalog, it's time to connect BDroppy to your sales channel for easy automation. So, you can integrate with Bdroppy whether you're using Shopify, WooCommerce, eBay, or Amazon.
From there, the process is completely hands-off. When a customer places an order on your website, the order is automatically sent to BDroppy for fulfillment.
Next, they take care of everything, from managing your inventory to shipping the goods directly to your customer within 24 hours of payment.
Also, you can check on the order status any time you want, get an order tracking number, etc.
BDroppy Review: Features
Here we share and review BDRoppy's most useful features for fashion dropshipping:
Original Branded Fashion Products

BDroppy offer a wide range of branded products from various fashion categories, like
What's more, you can choose fashion-branded products from 100+ brands, like
Gucci
Prada
Versace
Fendi
Moschino
Balenciaga, and many others.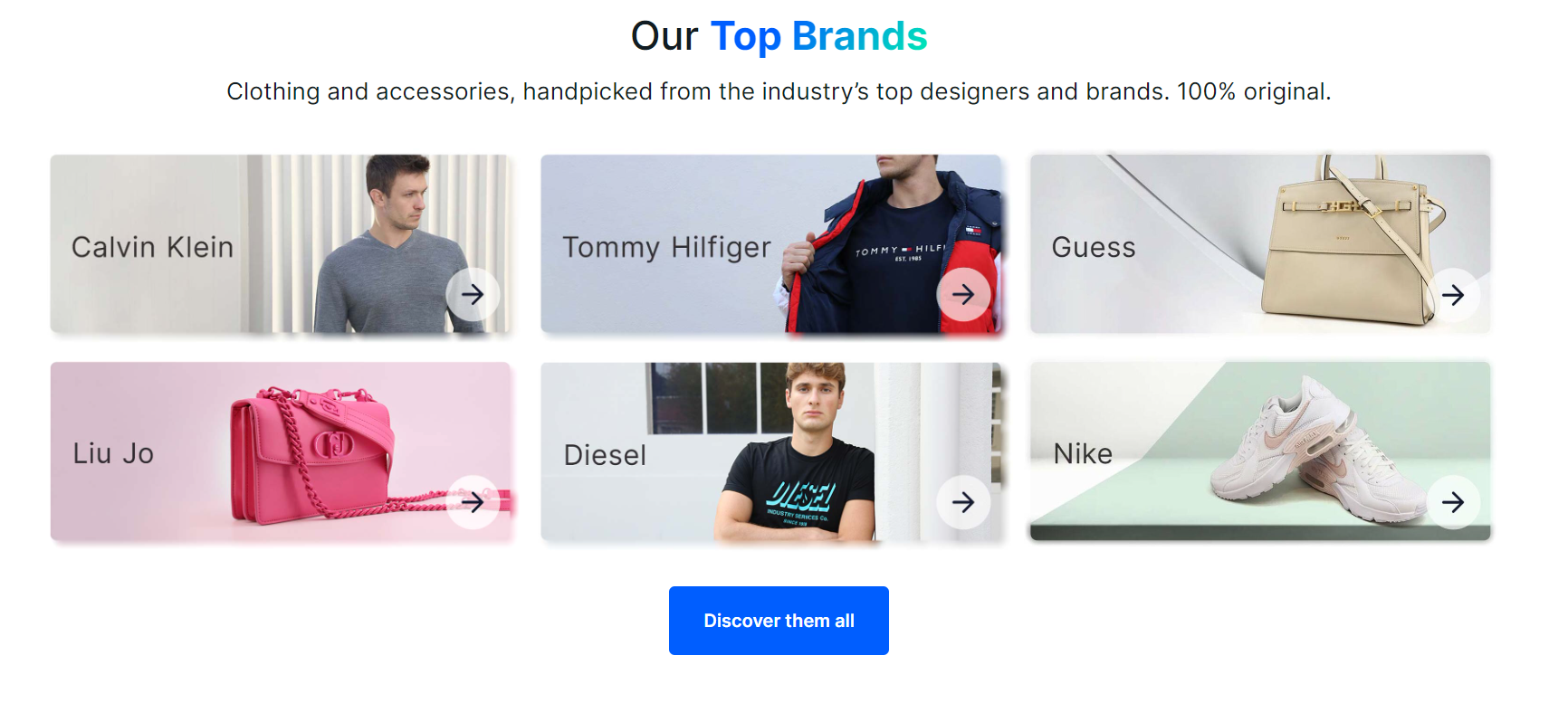 Easy-to-use Interface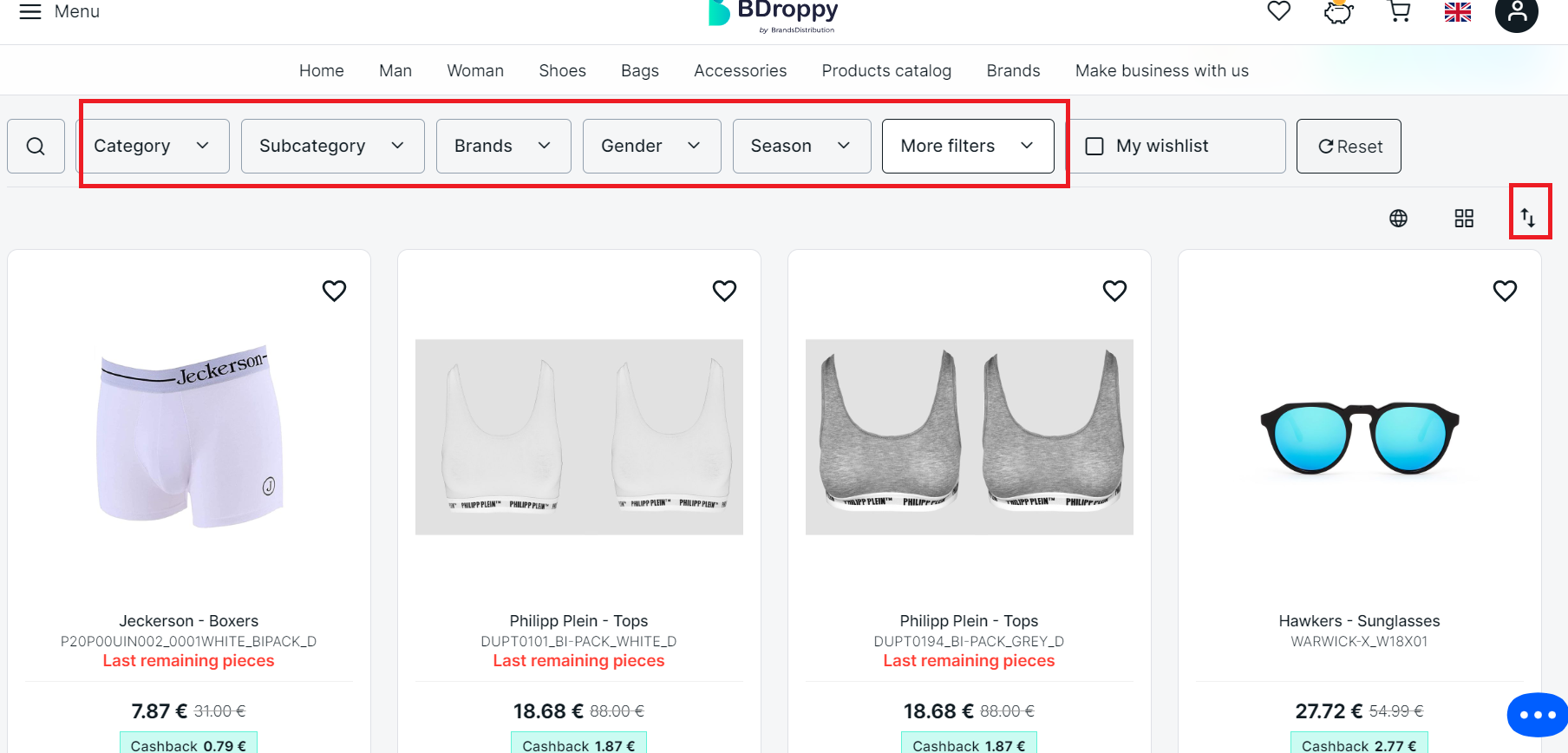 When you first start using our platform, it might seem easy to navigate. But don't be fooled – it's designed to make your B2B shopping experience seamless and easy to understand.
To start exploring their wide range of products, head over to the Product Catalog. There, you'll find many options to choose from.
Now, you can filter products by category, sub-category, brand, gender, season, or price type, giving you a lot of convenience and precision.
If you already know what you're looking for, you can use their search feature to quickly find the product you need. Once you find it, you can save it and add it to your catalog.
But that's not all. If you want to manage your import list, BDroppy offers tools to adjust markup rules, prices, language, and currency all in one place.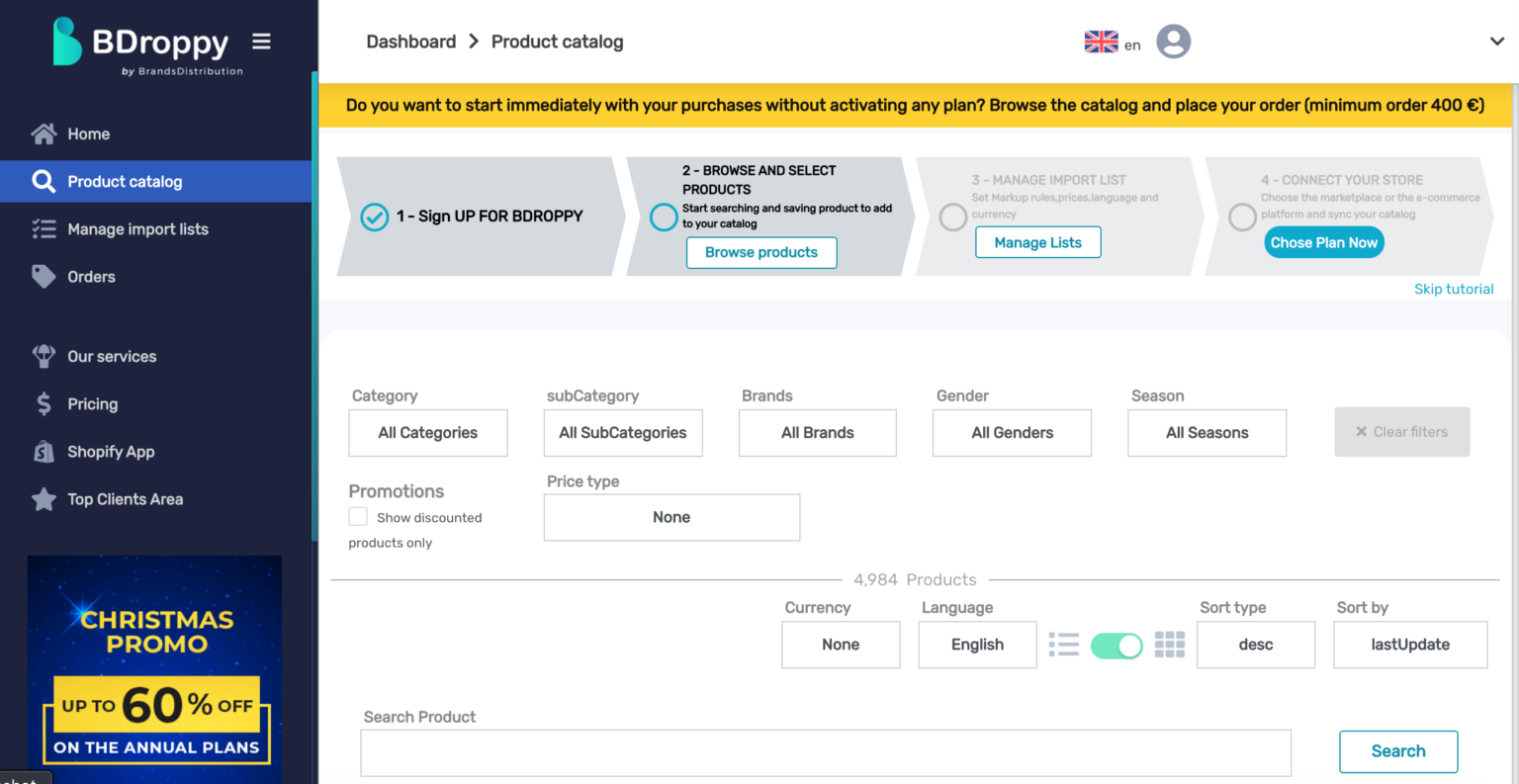 Multi-currency & Multilingual Management
As a dropshipper with an online store that operates in multiple countries, you need to cater to the diverse needs of your customers. This is where the multilingual and multi-currency options provided by BDroppy come in handy.
With 24 different currency options, you can easily choose the one that works best for your customers.
What's more, as a user, you also have the option to build your catalog in one of 20 different languages. This is crucial in the current eCommerce landscape, where global expansion is the key to success.
In fact, the benefits of this function go beyond just currency and language options.
Also, with a mobile-friendly web design, integrated payment system, social-oriented website, domain and hosting included, and website customization features, BDroppy offers everything you need to succeed in the online marketplace.
Next in this BDroppy Review – their integrations.
BDroppy Integrations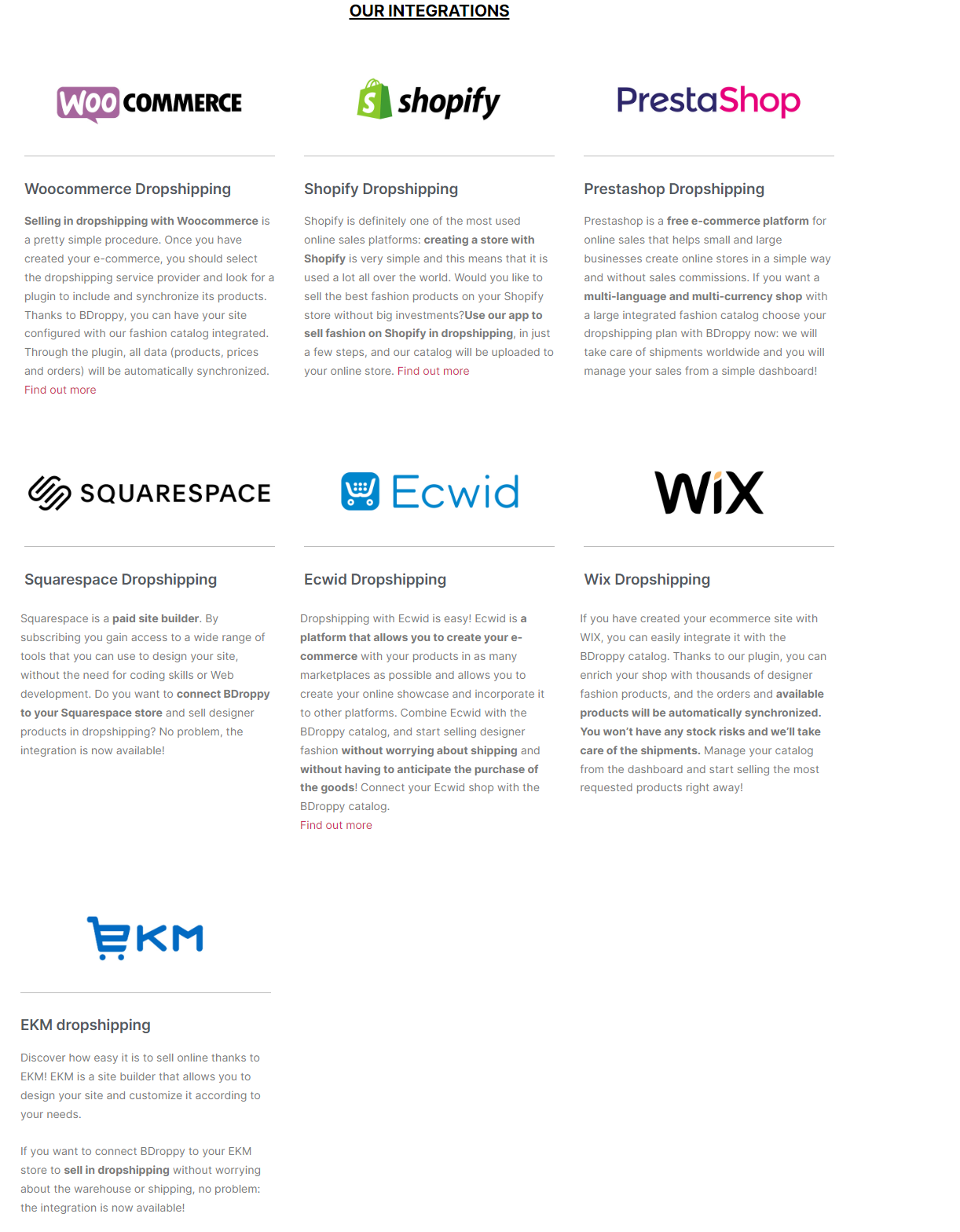 BDroppy makes it easy to connect with their catalog of designer fashion products to your online store, without having to worry about stock risk or managing shipments.
Plus, the good news is that BDroppy seamlessly integrates with the most popular eCommerce platforms, so you can start dropshipping in no time. So, they offer integrations with:
Shopify
WooCommerce
PrestaShop
Ecwid
Squarespace
Wix
EKM Dropshipping
Thus, integration with all these platforms is very easy. And, it goes like this. 👇
Step 1 – Register to BDroppy
Step 2 – Create an online store with one of the dropshipping platforms
Step 3 – Add and Install the BDroppy app to the selected dropshipping platform
Step 4 – Import products from BDroppy
Step 5 – Start selling!
What's more, BDroppy also integrates with the biggest online marketplaces Amazon, and eBay.
Shipping
BDroppy takes the hassle out of shipping for online store owners by providing a reliable and efficient logistics service to over 50 countries worldwide.
Also, they ship their products with shipping providers like:
Boxberry
FedEx
DHL
Poste Italiane
The company boasts three logistics centers and three operating offices in Italy, USA, and UK, ensuring that your orders are processed and shipped from the location closest to your customer.
Also, as you can see from the picture below, the shipping costs vary, depending on customer location, and the plan you choose.
So, if your customer is in Europe, the shipping times are around 2-8 days. On the other hand, for the UK, or the US, the shipping times can take even 15 days.👇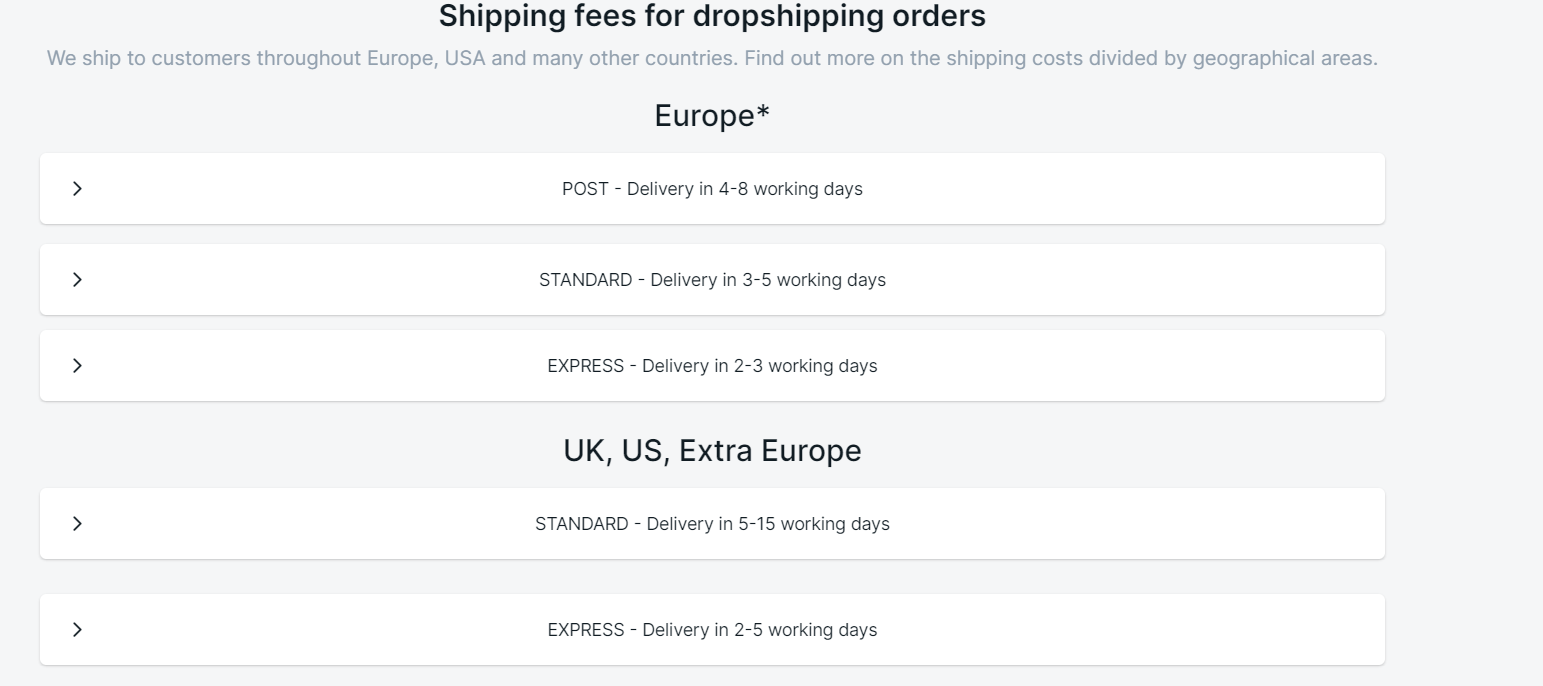 And while BDroppy doesn't offer same-day shipping, it does provide next-day shipping directly to end customers in over 50 countries.
BDroppy Review: Pricing
BDroppy has four pricing plans, of which one is FREE. Thus, other pricing plans start at $9/month, if you subscribe on monthly basis.👇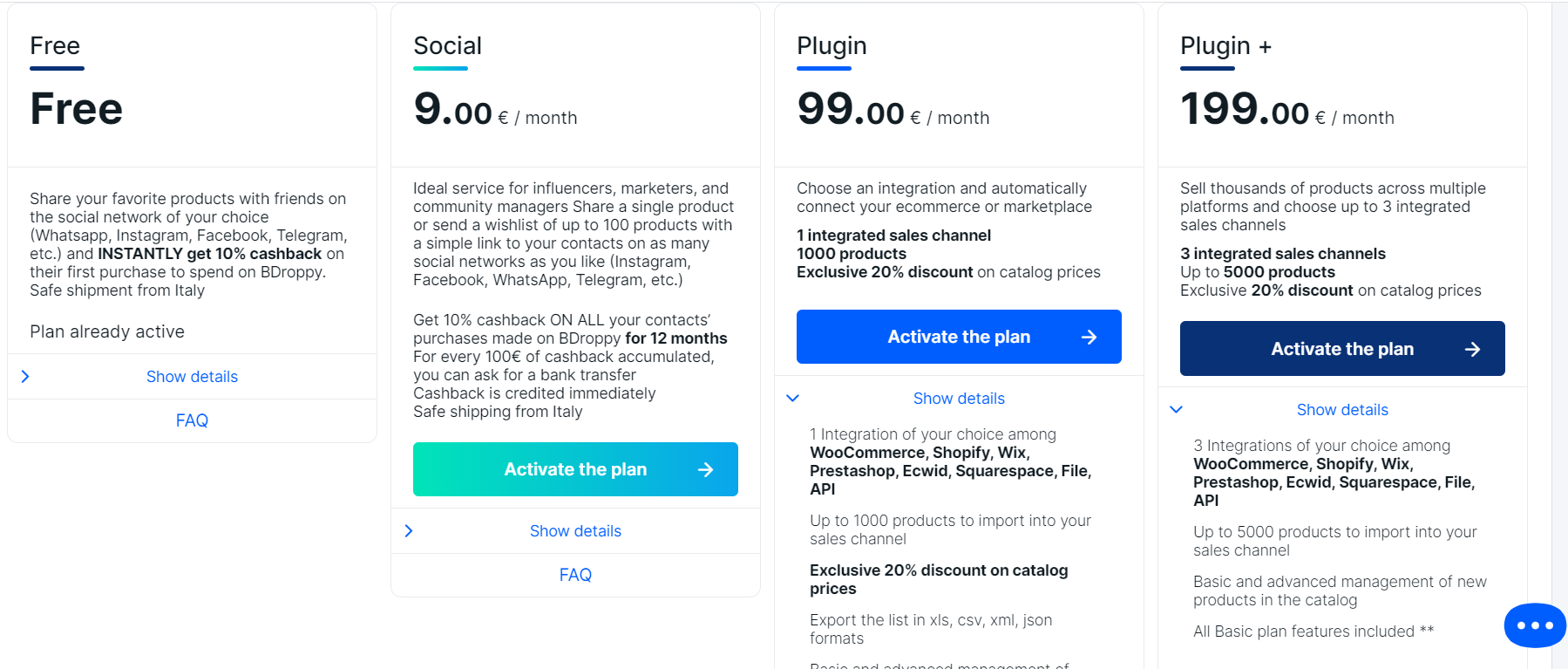 Thus, if you are an influencer, or marketer that dropships over social media the Social plan is perfect for you.
However, if you are using dropshipping platforms like Shopify, WooCommerce, or Wix then you should choose the Plugin pricing plan. or Plugin+.
First, the Plugin plan offers one integrated sales channel from a range of options including
PrestaShop
Amazon
eBay
WooCommerce
Squarespace
Moreover, with next-day shipping, automatic order transmission, and real-time order tracking, you can provide your customers with a seamless experience.
Plus, you'll benefit from automatic product and price synchronization, as well as the basic and advanced setup of new product imports. Although Amazon and eBay channels have a maximum of 1,000 references, the plan offers standard support via ticket.
Moreover, if you use more than one of these sales channels Plugin+ is the pricing plan for you. Also, you get a premium template, hosting, and domain name with AWS Memory. Not just that but you can also create a multi-language website, install a MailChimp plugin, and accept payments through Stripe and PayPal.
Furthermore, if you subscribe to annual billing, this is the pricing you will get.👇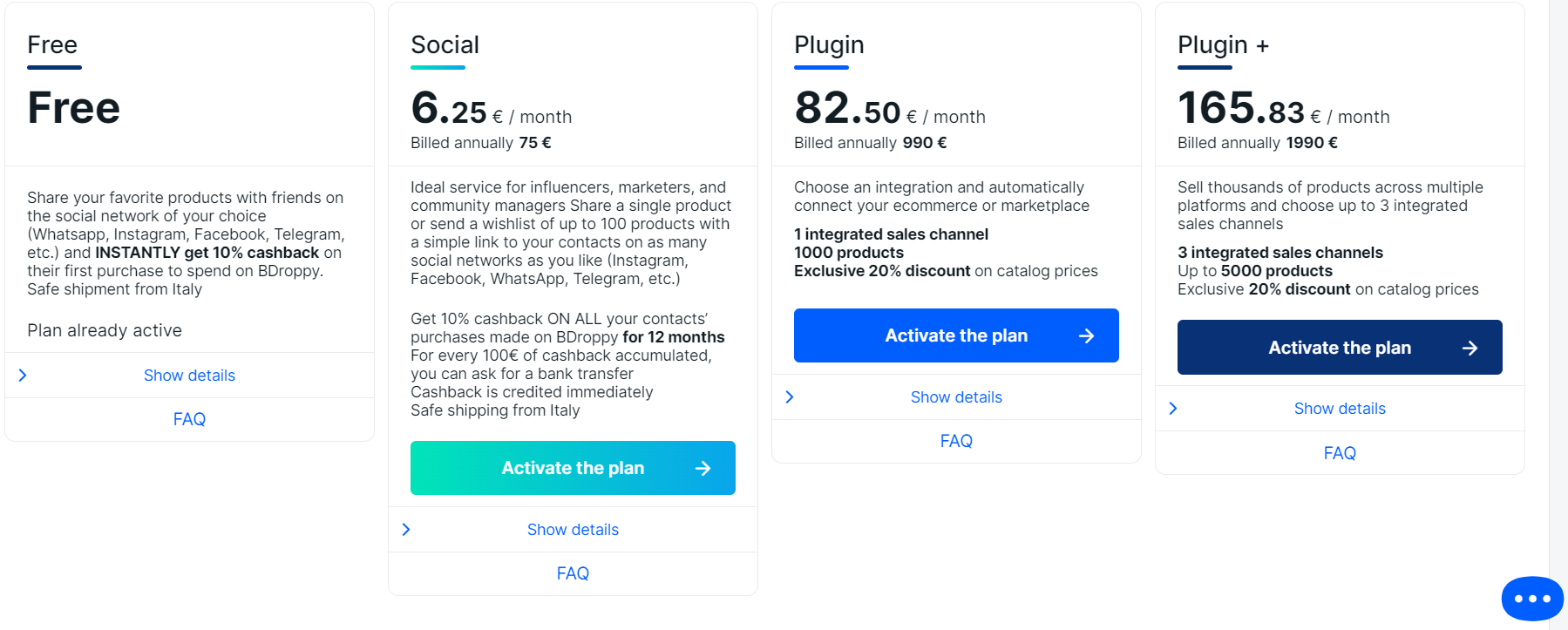 BDroppy Review: Pros & Cons
✅ Pros
Integrates with the Most Popular Ecommerce Dropshipping Platforms
In this fast dropshipping world, time is money! That's why BDroppy's seamless integration with all the major ecommerce platforms is a game-changer.
Also, you won't have to waste any time on complicated setup processes or tedious technical integrations. Instead, you can focus on growing your business.
Offers a Multilingual and Multi-Currency Dashboard
With BDroppy, you can reach a global audience without breaking a sweat. Their platform offers a range of language and currency options, so you can cater to your international customers with ease.
And, with 24 different currency conversion options and 20 language choices, you'll be able to tailor your online store to the specific needs of your target audience.
Guarantees Quick Support
When it comes to ecommerce, quick and reliable support is crucial. That's why BDroppy's 48-hour response time for technical support is a major selling point.
So, you won't be left in the dark if something goes wrong – their team of experts will be on hand to provide fast and efficient solutions to any issues you may encounter.
Offers Free Trial
BDroppy knows that the proof is in the pudding. That's why they offer a free trial for anyone interested in their platform.
Thus, you can explore their product catalogs, test their user interface, and get a real feel for what the platform can do before committing to a purchase. It's a risk-free way to see if BDroppy is the right fit for your business.
❌ Cons
No Custom Packaging
Firstly, if you're looking to create a strong brand image, you may be disappointed to find that there is no option to personalize your packaging. This means that your customers will receive products with generic packaging, which can make it difficult to establish brand recognition and loyalty.
No same-day shipping option is available
Also, if you're looking for a fast and reliable shipping option, BDroppy may not be the ideal choice for your business. They do not offer same-day shipping options, which can be a challenge for businesses that need to fulfill orders quickly to keep customers happy.
BDroppy Review: Customer Reviews
As we can see from the customer reviews on Trustpilot, the overall rating is 3.2 ⭐. Thus, the customers have separate opinions, and some of them either rate BDroppy 5-star or 1-star. That's why, we got 3.2 as an average value.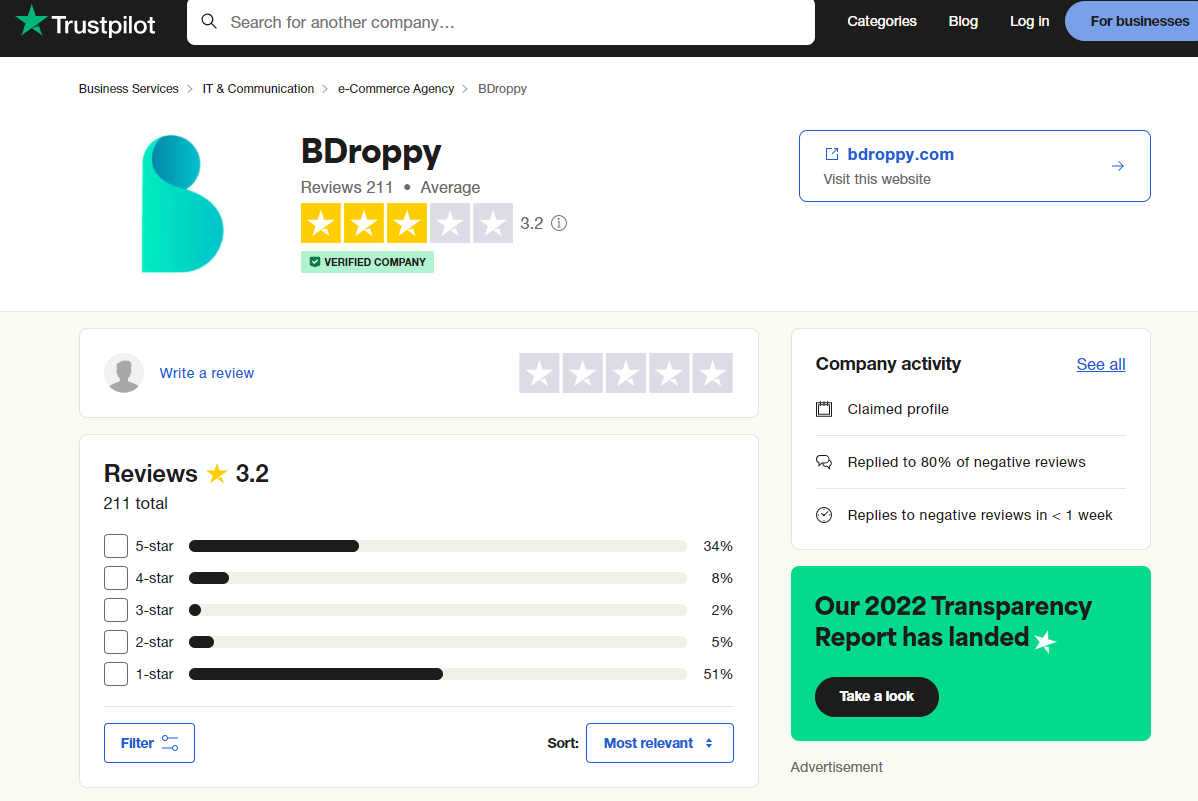 However, most of the customers claim that the bad review is because of customers impatience over the process.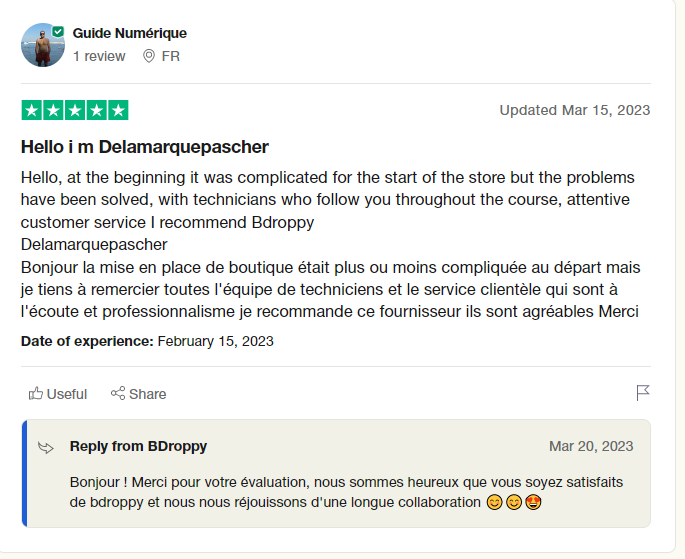 While, if you let things take time, their professional team gives you fast problem-solving.
However, we can't rely on our review based only on frustrated customers since there are 35% of them happy.
In that case, in this BDroppy review, we will give you information about one of the best BDroppy Alternatives.👇
BDroppy Alternatives
BDroppy vs BrandsGateway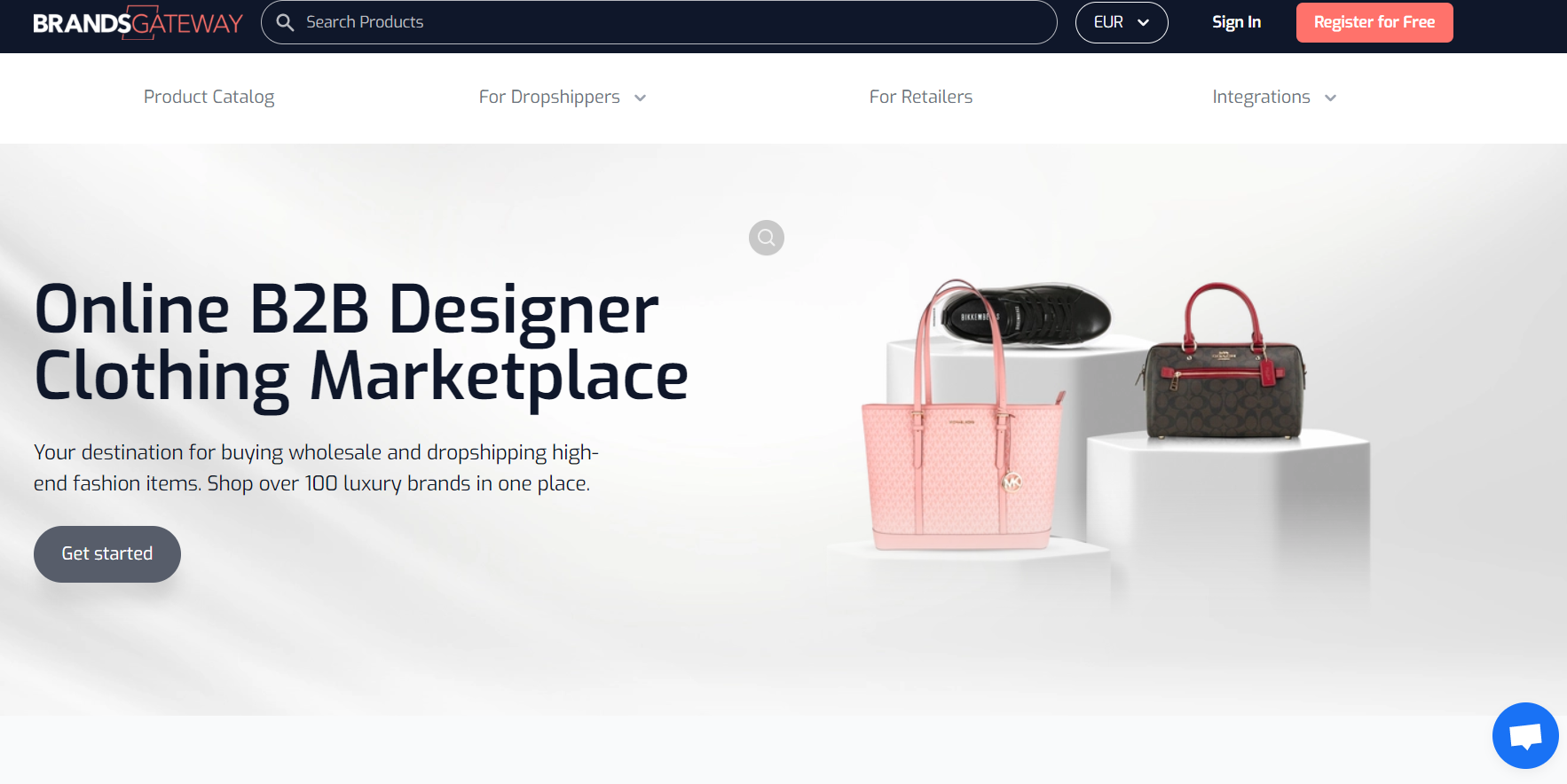 Both BDroppy and BrandsGateway are B2B luxury fashion marketplaces that offer dropshipping services for retailers and wholesalers.
However, they do differ in some of their features. First, both of them offer similar high-quality products, from more than 100+ top-tier fashion brands.
Also, they both integrate with the biggest dropshipping platforms like Shopify, WooCommerce, Wix, etc. Plus, as we already mentioned in this BDroppy Review, BDroppy also integrates with Amazon and eBay.
Next, when it comes to shipping times, BrandsGateway offers faster shipping from 3-7 days max. While, BDroppy shipping times take longer, which can be even up to 15 days.
Furthermore, BDroppy offers cheaper pricing plans than BrandsGateway.
👉 Read our FULL BrandsGateway Review.
BDroppy vs Griffati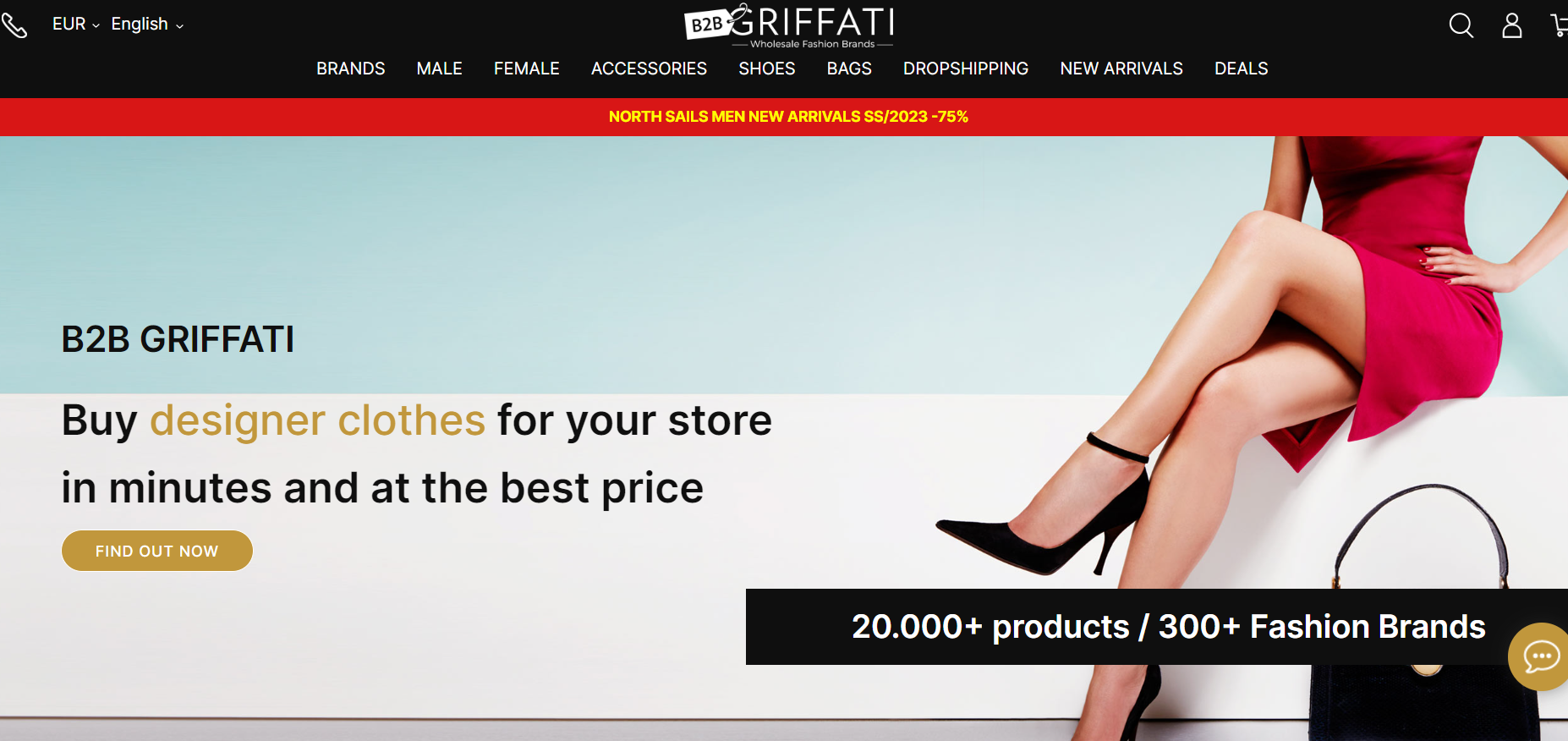 BDroppy and Griffati are both websites where fashion retailers and wholesalers can sell items without having to physically store them. Even though they are similar, they have some differences.
Both websites have a lot of fashion items from many different brands. But, Griffati only has products from Italian brands, while BDroppy has products from over 100 brands from all over the world.
Also, BDroppy integrates with various dropshipping platforms like Shopify and Amazon. But, Griffati only offers a way to import items through a CSV file.
However, BDroppy's shipping time is around 3-5 days. However, for shipment in the EU, it can even take up to 15 days. Griffati ships items from Italy, and it usually takes between 2 to 5 business days for the items to arrive. But, for worldwide shipping, their shipping times vary.
Join the only community and resource hub you'll ever need to succeed with dropshipping
Find winning dropshipping products, learn marketing, download templates and engage with real dropshippers
Never pay for a "guru's" course again. See why 4543+ dropshippers joined us this year!
💡Try DSCOM Hub Now
Conclusion
If you're looking to break into the designer fashion market, BDroppy is the one-stop-shop solution you need.
The platform offers a catalog of over 100 designer fashion brands. Also, you get a user-friendly interface and easy integration with popular eCommerce platforms. The best part, you can use your dashboard in multiple languages.
Simply put, BDroppy provides everything you need to succeed in dropshipping.